Spending 3 days in Madrid, Spain brings to mind all sorts of adjectives, but for us, one always comes to mind above all else: livable.
Every time we visit Spain's capital city, we seriously dream about moving there.
With its stunning architecture, delicious food, affordable prices, excellent transportation system, and an endless number of fun things to do, spending even a few days in Madrid is an opportunity worth cherishing.
If it's your first time in the city, this 3 day Madrid itinerary will help you experience the best of Madrid's attractions… while leaving plenty of time to stuff your face with Spanish food along the way.
Here's how to enjoy 3 perfect days in Madrid!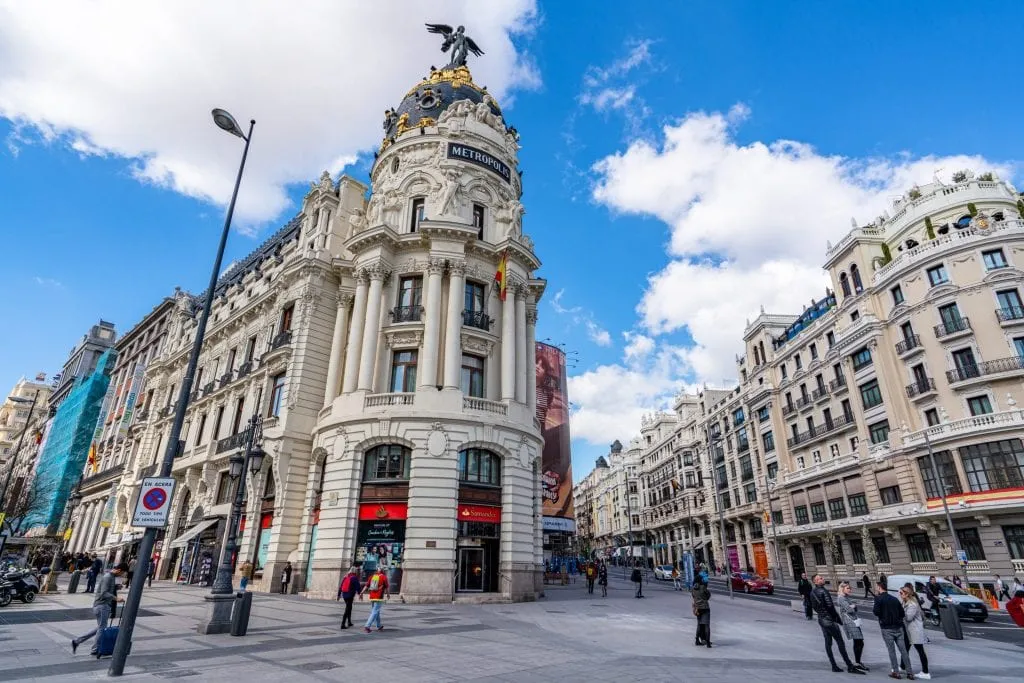 Some links in this post may be affiliate links. If you make a purchase through one of these links, we may earn a small commission at no extra cost to you. Please see our

disclosure policy

for more detail.
How to Structure Your 3 Days in Madrid, Spain
When putting together your 3 day Madrid itinerary, keep in mind that the best way to experience the city is to get on Spain's time–and I don't just mean swapping your phone's timezone.
Madrid, like Spain in general, is a place that runs late.
Dinner at 9:00 PM or 10:00 PM is normal–and good luck finding a table at 7:00 PM. If you do, you'll likely be alone in the restaurant.
If you're the nightlife sort, clubs get going after midnight.
I often recommend waking up early when exploring European cities to see them at their best, but Madrid is different.
Photographers will still want to rise with the sun for the gorgeous morning light, of course, but for typical sightseeing?
Don't expect to visit a museum before 10:00 AM.
The Ultimate 3 Day Madrid Itinerary
Day 1 Madrid Itinerary: Get Acquainted + Major Sights
Start your morning with a typical Madrid breakfast.
Sweet or salty, take your pick: typical Spanish breakfasts in Madrid can include sweet pastries, toast with olive oil, toast with tomato, or even–if you're feeling particularly indulgent–churros con chocolate.
Personally, we recommend airing on the side of at least a few nutrients with breakfast!
Toast served with olive oil and tomato, accompanied with coffee, of course, is a fabulous way to kick off your few days in Madrid.
We'll be heading to Plaza Mayor after breakfast, so we recommend finding somewhere close by.
Unfortunately, the spot we enjoyed in the past, el b_US, is now closed, but the popular Spanish chain La Rollerie has a location nearby that serves a good mix of traditional breakfast and more standard brunch options.
Head over to Plaza Mayor.
Once the center of Madrid and still the city's main square, Plaza Mayor is an absolute must-see in Madrid.
Incredibly beautiful and ornate, the square is lined with shops and restaurants, and the center holds–what else–a statue of a man on a horse (you'll be seeing a lot of these in Madrid–this one is of King Phillip III).
Enjoy a stroll through the plaza, and be sure to keep an eye out for any festivals or demonstrations!
We've stumbled our way onto everything from a feast day celebration to small political demonstrations when visiting Plaza Mayor.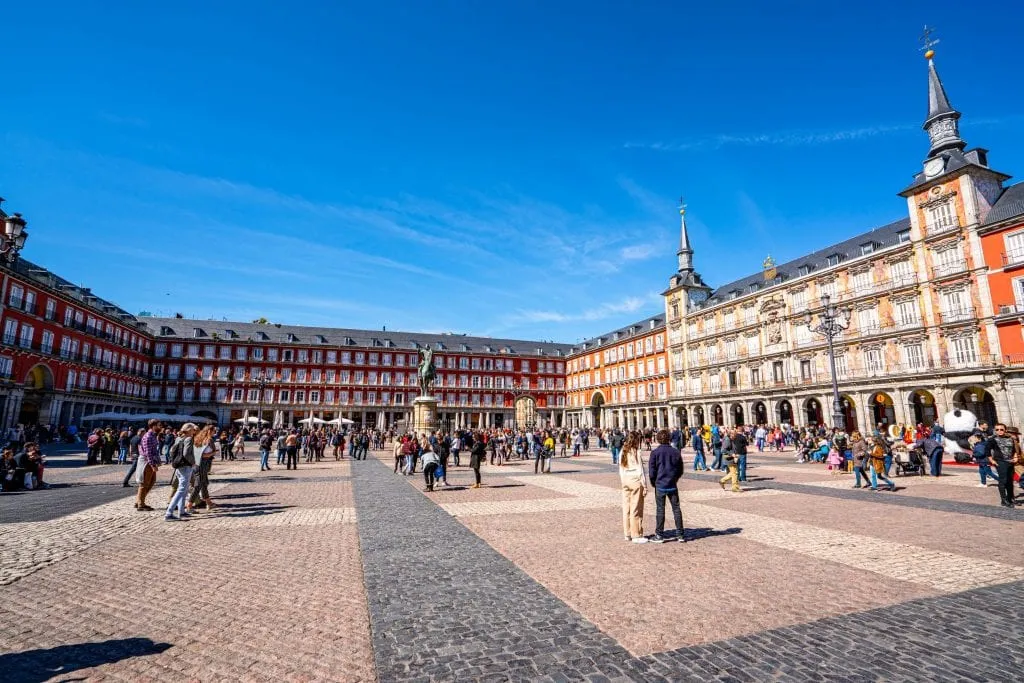 Visit the Royal Palace of Madrid.
The stunning Royal Palace of Madrid is not only beautiful to look at, but it's also still very much in use!
This palace is the official home of the King of Spain and his family, though they don't actually live there (at nearly 1,500,000 square feet, it's a bit much for modern daily use!).
The palace is still used for state ceremonies, though, and is definitely worth touring during your 3 days in Madrid.
Every except the interior of the palace is free to visit, and we recommend booking skip-the-line tickets in advance or a guided tour to ensure you get a chance to visit!
Book your fast-track tickets for the Royal Palace today!

Prefer the context of a tour? This one gets excellent reviews!
Kent Wang from Barcelona, Spain, CC BY-SA 2.0
, via Wikimedia Commons

Royal Gardens

The royal palace is home to some truly gorgeous gardens–two of them, in fact!

Both the Jardins del Campo del Moro and the Jardins de Sabatini are worth a visit, but be sure to check out the Sabatini Gardens in particular!

In addition to being lovely in their own right, the Sabatini Gardens boast a stunning view of the palace.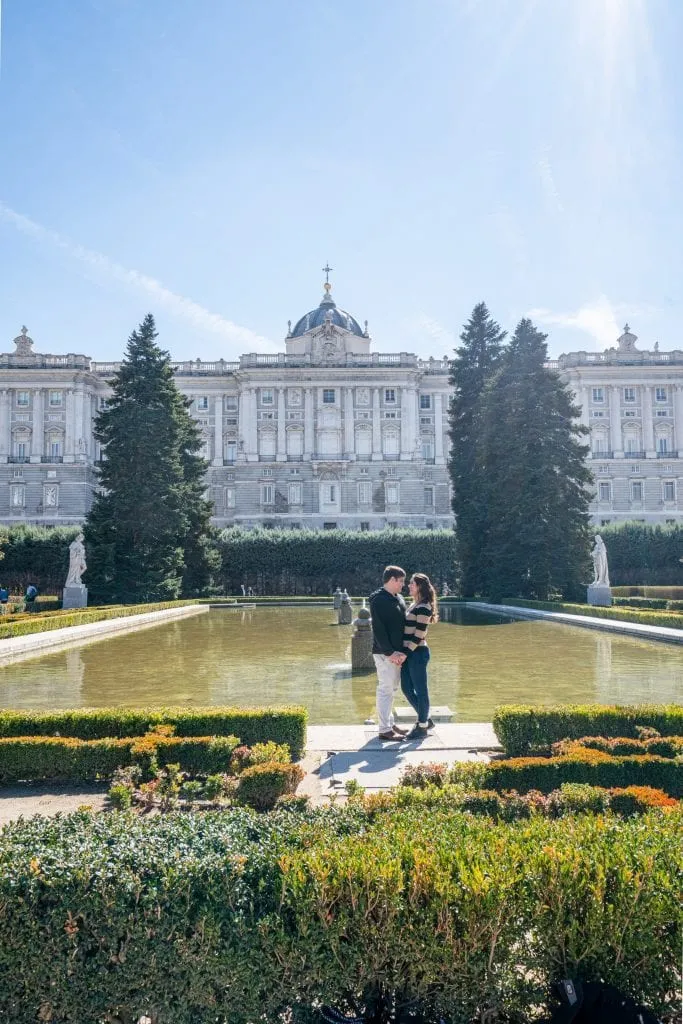 Almudena Cathedral
The Almudena Cathedral, like a certain other famous cathedral in Spain, took a very long time to be built.
Construction began in 1879… and wrapped up a mere 114 years later in 1993.
Admittedly, there was a rather long pause in construction due to the Spanish Civil War, but still–it was quite the project.
The end result is modern, beautiful, and well worth seeing during your trip to Madrid!
Interior
The interior of the royal palace is a magnificently beautiful place, and like many palaces, it also doubles as an almost-art-museum.
Works from famous Spanish artists like Goya and Velázquez hang on the walls, and rooms like the Throne Room, royal apartments, and banquet hall are all stunning and able to be visited.
Buy your skip-the-line guided tour of the palace now!
Alberto-g-rovi, CC BY 3.0 , via Wikimedia Commons
Check out Plaza España.
After leaving the area surrounding the palace, stroll to the lovely and peaceful Plaza España for the great city views and the chance to rest your feet for a moment if you like.
Visit the Templo de Debod.
Built in the 2nd century BCE in Egypt, the Templo de Debod was donated to Madrid by the Egyptian government in the 20th century.
The Templo de Debod offers a unique opportunity to see an intact Egyptian temple while in Spain, and it is free to visit.
The park the temple is located in is also a lovely and peaceful place to relax.
Be sure to walk to the edge behind the temple to appreciate the views over the Spanish countryside!
Close out your first day in Madrid with a tapas tour.
Madrid and tapas: it's hard to imagine a more suitable pair.
Tapas–small bites of food included in the price of a drink in Spanish bars–are extremely popular throughout Spain, and Madrid is no exception.
Heading out on a tapas tour on your first of 3 days in Madrid ensures you'll walk away with some new cultural knowledge and get the lay of the land in order to better enjoy your second two nights independently… plus, food tours are tons of fun!
This tapas tour gets amazing reviews and also includes a bit of history, making it the perfect way to enjoy your first evening in Madrid!

Book your Madrid tapas tour today!
Day 2 Madrid Itinerary: Art + Retiro Park + Gran Via
Begin your morning with a visit to the Prado.
The largest and one of the best museums in Madrid, the Prado is home to an absolutely phenomenal collection of art.
If you are the type who wants to see the Louvre in Paris and the Uffizi in Florence, you should absolutely see the Prado during your 3 days in Madrid.
Focused on European art from the 12th to 20th centuries, the Prado is especially known for its collections by Spanish artists Francisco Goya and Diego Velázquez (including Velázquez's masterpiece Las Meninas).
Like most art museums of its caliber in Europe, the lines at the Prado get extremely long–we highly recommend booking skip-the-line tickets before you arrive.
If you are interested in learning more about the works as well as the context behind them, strongly consider booking a well-reviewed tour of the Prado to get the most out of your visit.
Grab your skip-the-line ticket to the Prado today!

Prefer the context of a guided tour? This one is popular and gets great reviews!
Take your time exploring Retiro Park.
After wrapping up at the Prado, it's time to enjoy some Spanish sunshine in the deservedly famous Retiro Park!
Retiro Park is one of my personal favorite parks in the world: it's beautiful, it's laid back, it's relaxing, and it's full of interesting things to do.
Retiro is definitely worth more than a quick walk through it–here are a few things to consider seeing in the park.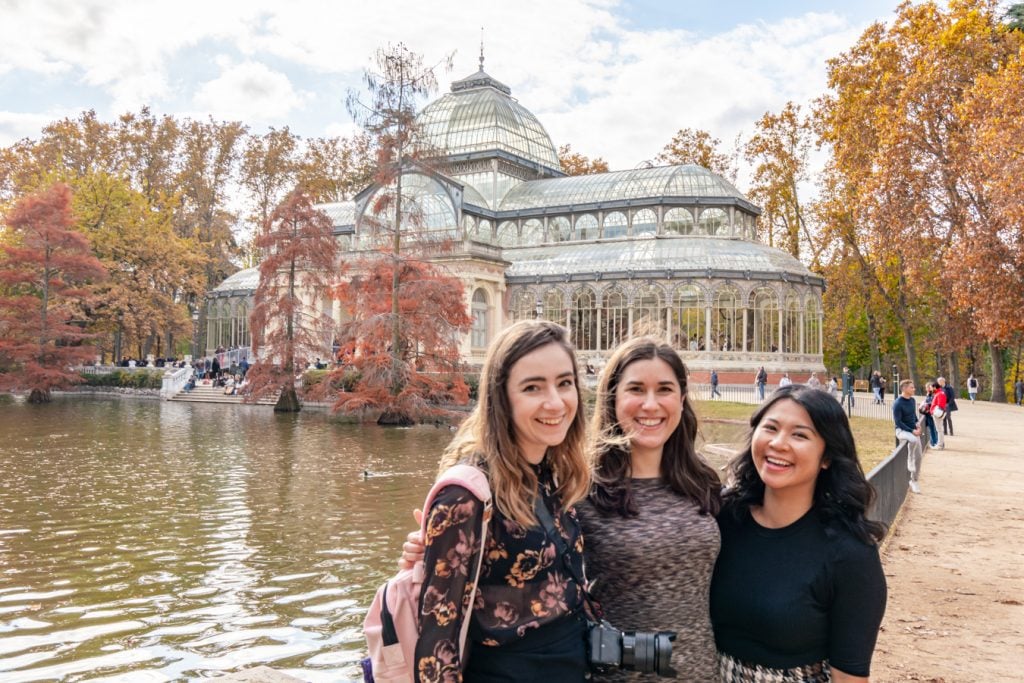 Retiro Park Lake + Rowboats
The Retiro Park Lake may be man-made, but it's still a delight to row across on a sunny summer day.
While you're visiting the lake, be sure to glance across the water to note the highly recognizable monument to King Alfonso XII.
If you've seen photos of Retiro Park before, you've probably seen this monument!
Cecilio Rodriguez Gardens
Checkered walkways, beautifully sculpted trees, lovely flowers and fountains, and… peacocks.
The Cecilio Rodriguez Gardens are a must-see in Retiro Park if you'd like a chance to spot some very beautiful birds!
Palacio Cristal
The Palacio Cristal, or glass palace, is one of the most recognizable features of Retiro Park, and it's definitely worth seeing in person.
Built as a conservatory in the late 19th century, it no longer serves its original function today, but rather is used for temporary art exhibits.
You never know quite what you're going to find in the building when you stop by!
Paseo de la Argentina
Also known as the Alley of Statues, the walk down this part of Retiro is beautiful all on its own.
…But if you happen to like your nature paired with art, the walk also happens to be lined with statues of Spanish kings that date to the 18th century.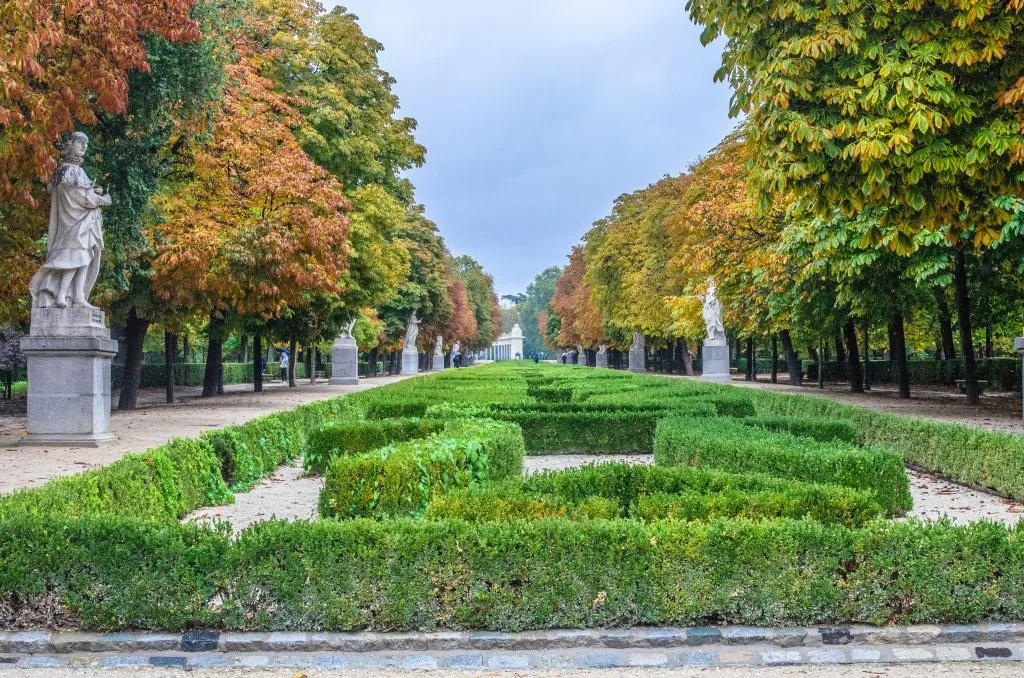 Stop by the Puerta de Alcalá.
Built in the 18th century and located in the Plaza de la Independencia, the Puerta de Alcalá is Madrid's triumphal arch, Spain's answer to the Arc de Triomphe in Paris.
(Or perhaps it would be more accurate to say that the Arc de Triomphe takes after the Puerta de Alcalá, as the Puerta de Alcalá came first–though you don't have to spend long in Europe to realize just how many cities feature a triumphal arch of some kind!)
The Neo-classical monument is beautiful, a recognizable feature of the city, and is an easy and interesting addition to your 3 days in Madrid.
As the Puerta de Alcalá is located right by the exit to Retiro Park that it makes the most sense to exit from when using this Madrid itinerary, heading there after Retiro Park will also help orient your wandering a bit.
Snap a photo of Cybele Palace.
Initially built as a distribution center for telegraphs, mail, and phones, the Cybele Palace was unsurprisingly once known as the Palace of Telecommunications.
Today, it's an unmistakable and lovely sight along Gran Via, and one of the most-photographed buildings in Madrid.
I'd say to be sure not to miss it, but–you won't!
Check out the Metropolis Building.
Arguably the most recognizable and photographed building in all of Madrid, the Metropolis Building may have been built by an insurance company, but it certainly has plenty of personality of its own.
Grab a drink at Círculo de Bellas Artes.
When you walk into the lobby of the Círculo de Bellas Artes building, it's not immediately apparent what lies at the end of the ride up the nondescript elevator.
… But the rooftop bar at the top hosts a phenomenal view of the Metropolis Building and is definitely worth checking out!
Stroll up Gran Via.
Madrid's Broadway is a fantastic place: all Art Deco buildings and busy shops, walking up Gran Via is an unmissable feature of sightseeing in Madrid.
It's also a great place to indulge in a little shopping if you'd like to pick up some Spanish souvenirs as part of your itinerary for Madrid!
Stop by Puerta del Sol.
As one of the most famous and bustling squares in the city, it's definitely worth stopping by Puerta del Sol during your 3 days in Madrid!
In the 15th century, Puerta del Sol was located at one of the city gates in the walls that surrounded Madrid, and it has been a popular place for gatherings and daily life ever since.
Think of it, in a way, as Madrid's Times Square–New Year's Eve celebrations and dressed-up character artists soliciting tips from tourists included.
Devour some churros at Chocolatería San Ginés.
Churros con chocolate is a treat best eaten after a long day's sightseeing–so now that you've wrapped up another day of your Madrid itinerary, it's time to sit down and enjoy one of the city's best treats.
A pile of churros served piping hot with a side of hot chocolate so thick it's closer to chocolate syrup than what we as Americans think of as hot chocolate make up the dish, and it is both phenomenal and quite the sweet treat.
Dip the churros into the chocolate, yes, but once you run out of churros, make like a Spainard and drink the rest of the chocolate for an extra sugar rush.
Chocolatería San Ginés is the most famous place for churros con chocolate in the city, and while it is delicious and affordable, it's also often very busy.
If you'd prefer a quieter atmosphere, we also love the churros con chocolate at nearby Los Artesanos 1902 Chocolate.
Day 3 Madrid Itinerary: Barrio de la Latina + A Day Trip to Toledo
Start the final day of your Madrid itinerary by exploring La Latina.
Made up of a delightful maze of winding, narrow streets that mostly date back to the Middle Ages, La Latina is one of the most picturesque neighborhoods in the city, and well worth exploring as part of your 3 day Madrid itinerary.
La Latina is known for its huge amount of bars and restaurants, making it a lively neighborhood at all hours and an excellent place to walk around, explore, and snap photos.
Visiting La Latina on a Sunday? Hit up El Rastro!
If your 3 days in Madrid happen to fall over a Sunday, rearrange whatever you need to in this Madrid itinerary in order to explore La Latina–and therefore El Rastro–on Sunday morning.
As the largest and most popular open-air flea market in Spain, El Rastro is an explosion of color, sight, and sound.
There's souvenir shopping, antique shopping, clothes shopping, and furniture shopping, just to name a few!
There are also bands that play, crowds of people chatting and shopping, and goods swapping hands left and right.
It's tons of fun, and well worth experiencing if you have the chance during your few days in Madrid.
Explore Mercado San Miguel.
Highly touristy but full of delicious bites worth experiencing, stop by Mercadeo San Miguel mid-morning for some snacks and a walk through one of Madrid's prettiest and most beloved food markets.
The options are endless, from all kinds of tapas to literal paper cones filled with meat, so bring some cash (small bills are great to have on hand here), and take some time to dive into Spanish cuisine.
Mercado San Miguel is lovely and well worth seeing, but it's also one of the most crowded places in Madrid.
We recommend getting there as close to the 10:00 AM opening time as possible in order to make sure you have some elbow room!
Head to Toledo for a taste of Spain outside the capital.
Home to a castle dating back to the 16th century, a stunning cathedral with an interior absolutely coated in gold, an impressive nearly 2000-year-old history, and some truly gorgeous views both in and outside the city, Toledo makes the perfect day trip from Madrid.
With only 3 days in Madrid, you won't want to spend too much time exploring Spain outside the capital.
However, at less than an hour away from Madrid, spending half a day in Toledo is the perfect way to get a taste of Spain outside of Madrid without eating up too much of your precious time.
Be sure to prioritize part of your time in Toledo for seeking views of the city itself from the outside (most tours will take you there, as will the Hop On/Hop Off bus in Toledo).
With the Tagus River curving gently around the base of the city and looking remarkably like a moat, the views of Toledo are insanely picturesque and well-worth seeking out.
Visiting Toledo from Madrid independently is fairly simple by either train or bus, but if you'd like the structure and simplicity of a tour, this one gets fabulous reviews!
Book your day trip to Toledo today!
Experience dinner + a flamenco show.
Though flamenco originally hails from southern Spain, not Madrid, the dance has become synonymous with Spain, and flamenco shows are incredibly popular in Madrid.
Close out your 3 days in Madrid with a colorful show: this flamenco show is affordable, gets fantastic reviews, and has the option to add on dinner!
Book your tickets to a Madrid flamenco show now!
Optional Madrid Itinerary Addition: Santiago Bernabeu Stadium
Are you a big football fan?
If so, touring the Real Madrid stadium just may be high up on your list of priorities when spending 3 days in Madrid–and if so, you should definitely see it!
We didn't include the stadium on this Madrid itinerary simply because it is far out of the way as compared to the rest of these sights.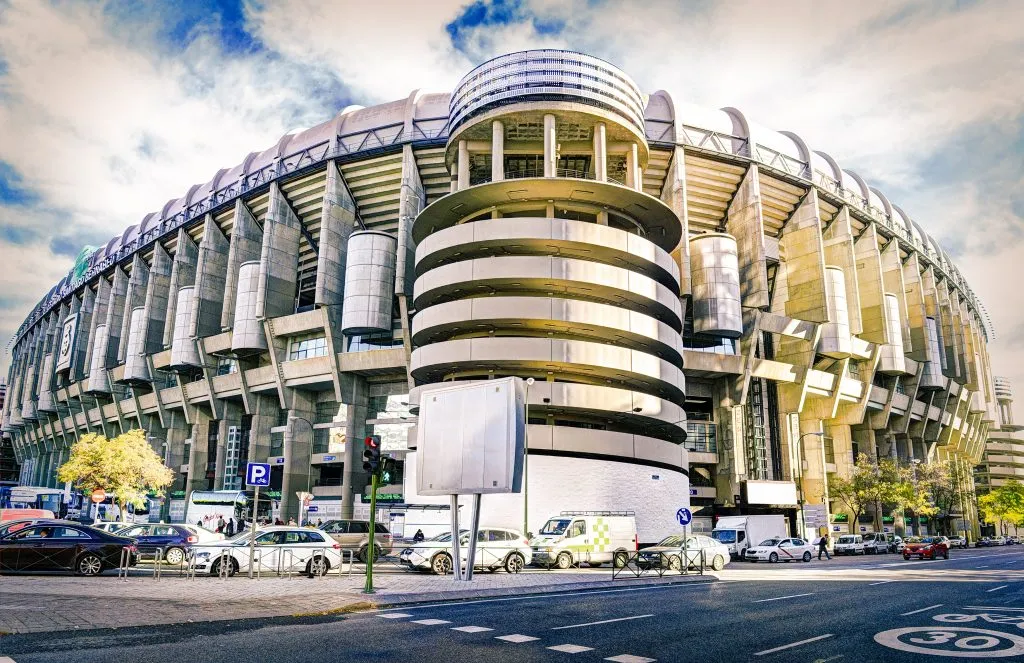 If you want to pay it a visit, though, it can easily be swapped for the trip to Toledo (or anything else that doesn't sound like your style).
You can book tickets to tour the stadium here, and of course, if you're lucky enough to be in town when the team is playing, you might be lucky enough to snag tickets to a game!
Grab tickets to tour Santiago Bernabeu Stadium today!
Where to Stay When Visiting Madrid
Budget
Hostal Adis — Located just off Puerta del Sol and boasting excellent reviews, you couldn't ask for a better location in Madrid–and at a budget price, too!
Hostal Adis is an excellent property for budget travelers looking for an excellent location and plenty of privacy–rather than being a traditional hostel, Hostal Adis is more like a budget hotel.
Mid-range
Hotel Regina — Featuring plush beds, spacious rooms, excellent customer service, and a perfect location near Puerta del Sol, mid-range travelers can't go wrong with a stay at the popular Hotel Regina.
If you're feeling like a bit of a splurge, upgrade to a room with a panoramic view for an experience you won't forget anytime soon!
Luxury
Catalonia Las Cortes — Simultaneously sleek and cozy, modern and traditional, Catalonia Las Cortes is housed in an 18th-century building in the heart of Madrid and has blended together all the best of classic atmosphere and modern convenience.
An excellent location near Puerta del Sol, rave reviews, and beautiful rooms make Catalonia Las Cortes the perfect luxury hotel choice for those looking for a blend of traditional and modern during their 3 days in Madrid!
Getting Around During 3 Days in Madrid
Wondering how to get around during your 3 days in Madrid?
Here's a quick overview of the transportation you're most likely to use.
We absolutely do not recommend renting a car while in Madrid: like in most large European cities, a rental car in Madrid is an expensive annoyance, not a convenience.
Walk
Madrid is a delightfully walkable city, even if you happen to be visiting Madrid in winter, and if you enjoy exploring cities on foot, you'll have plenty of opportunities here.
We use our feet as our primary way of getting around Madrid and never tire of all the beauty we pass along the way!
Metro
Madrid has a well-developed and easy-to-use metro system–for anywhere you need to go beyond walking, the metro is a great option.
It's easy enough to get into the city via the metro as well–and personally, I'll never forget the first time we did so!
It was late at night, we were staying right off of Puerta del Sol, and it was the very first day of our supposed-to-be-six-month trip around the world (depending on how you count it, that trip ended up lasting more than 4 years… or never ended!).
Taxi/Uber
Taxis are easy enough to pick up in Madrid's center, and they do have meters that are consistently used.
If you're looking for an easy and fast way to get around and you're not near a metro stop, taxis are a solid option.
Uber does operate in the city as well, and we've gotten into the center from the airport via Uber as well.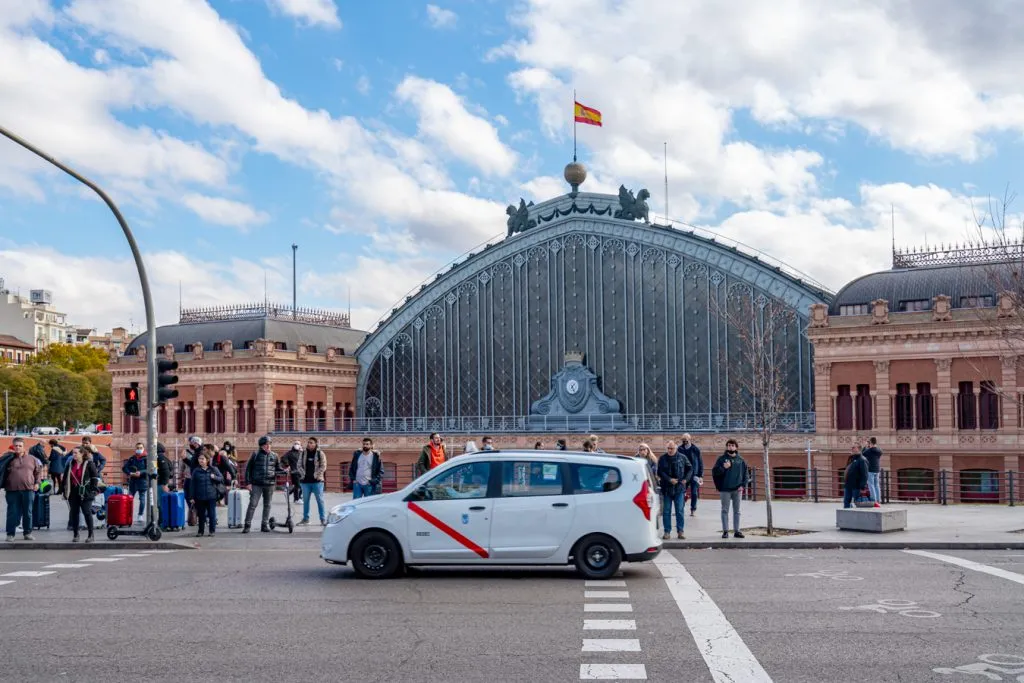 More Than 3 Days in Madrid?
Lucky enough to have a bit longer to spend in the capital city?
If so, you'll find plenty more incredible things to do in Madrid!
First things first: due to time limits, we stuck with one major art museum on this itinerary for Madrid in 3 days.
However, the Reina Sofia Museum is also one of the absolute best places to visit in Madrid and should be at the top of your list with any extra time!
Focused on 20th-century art, the Reina Sofia is home to–among many other masterpieces–Picasso's Guernica.
Less-visited spots worth checking out include the Naval Museum (it's enormous!), the Sorolla Museum, and the National Museum of Anthropology (small, quirky, and home to the skeleton of a "giant" who was paid during his lifetime for the rights to his body once he passed away).
For those who love uncrowded and offbeat churches like us, the Church of San Antonio de los Alemanes–often nicknamed the Sistine Chapel of Madrid–is worth the 10-minute walk from Gran Via!
For art buffs, the Thyssen-Bornemisza National Museum is the third leg of Madrid's "Golden Triangle of Art" and is also worth a visit.
Looking for more day trip ideas?
Segovia, Avila, the Valley of the Fallen Monument, and Salamanca are a few more options for memorable additions to your Madrid (and beyond) itinerary!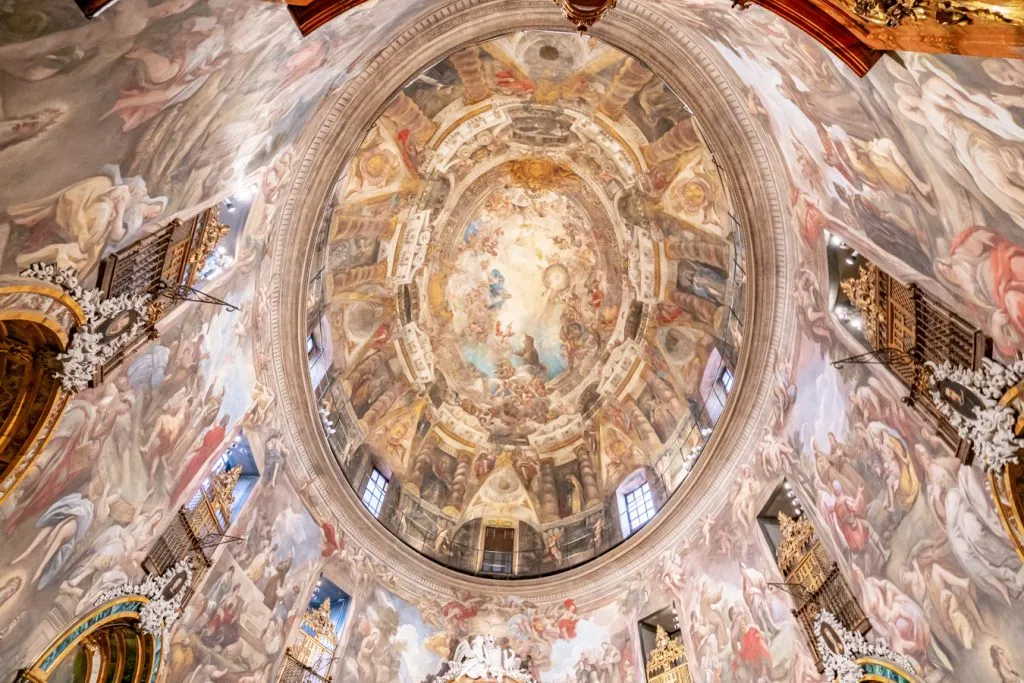 More Travel Tips for Madrid and Spain
Planning a trip to Spain soon?
These blog posts might help you out, too!
---