Winding streets through whitewashed villages, the clink of tinto verano glasses scraping against tapas plates, sweeping views across gorges, endless sour orange trees, and 700-year-old palaces: these are just a few of the incredible things that you'll find on an Andalucia road trip.
As Spain's southernmost region, there are a downright overwhelming number of places to visit in Andalucia, ranging from whitewashed hilltop towns (pueblos blancos) to Mediterranean beaches to snowcapped mountains, and everything in between!
Planning a southern Spain itinerary can be tricky, if for no other reason than that it's hard to narrow down exactly where to go.
After two long trips spent falling in love with the south of Spain, we've put together this road trip itinerary for Andalucia in the hopes that you come away loving it as much as we do (and avoid some mistakes that we learned the hard way).
If you're ready to soak up the magic of Andalucia, this southern Spain road trip itinerary is for you!
How We Structured This Southern Spain Itinerary
With a region as large and diverse as Andalucia, narrowing down the best places to visit on a 10 day southern Spain road trip is quite the challenge!
We structured this Andalucia road trip as a loop beginning and ending in Seville, home to one of the largest airports in the region.
Since it's a loop, you can easily reverse this itinerary if you wish, or start in a different city (such as Malaga).
We designed this southern Spain itinerary around visiting whitewashed villages, historic cities, and stunning landscapes.
It's a fairly fast-paced itinerary in the sense that it packs a lot in and involves visiting many beautiful towns, but to drive this route straight through without traffic would actually take less than 10 hours.
You'll drive a bit more than that, counting day trips and such, but the bottom line is that it's a very doable distance in 10 days!
We don't dedicate much time to the famous Costa del Sol on this travel guide, as this is more of an enjoy-all-the-attractions itinerary rather than a relax-on-the-beach itinerary, but we do include a bit of time to soak up views by the Mediterranean as well.
In addition to the detailed 10 day southern Spain itinerary we've outlined here, we've also made notes of more incredible places to visit in Andalucia that you can add or swap in, depending on your travel style.
This guide to road tripping Andalucia is quite long, so feel free to use the table of contents above this section to navigate to the most important parts for you if you wish!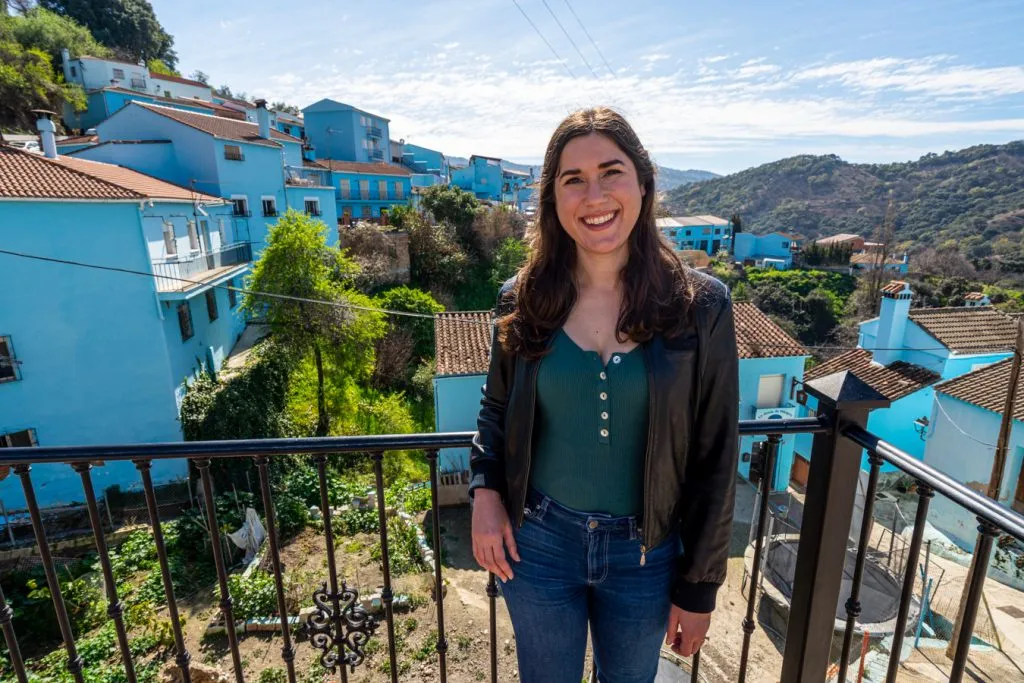 Renting a Car for Your Andalucia Road Trip
For most people, of course, taking an Andalucia road trip will require renting a car
We recommend renting a small car through Discover Cars, which will allow you to compare the prices and inclusions of multiple companies at the same time and choose the best car for you from there.
For the purposes of this southern Spain itinerary, we recommend picking up a car the morning you leave Seville.
There's no reason to pick one up for your time in the city, as parking it will be a hassle and you won't need it for exploring Seville.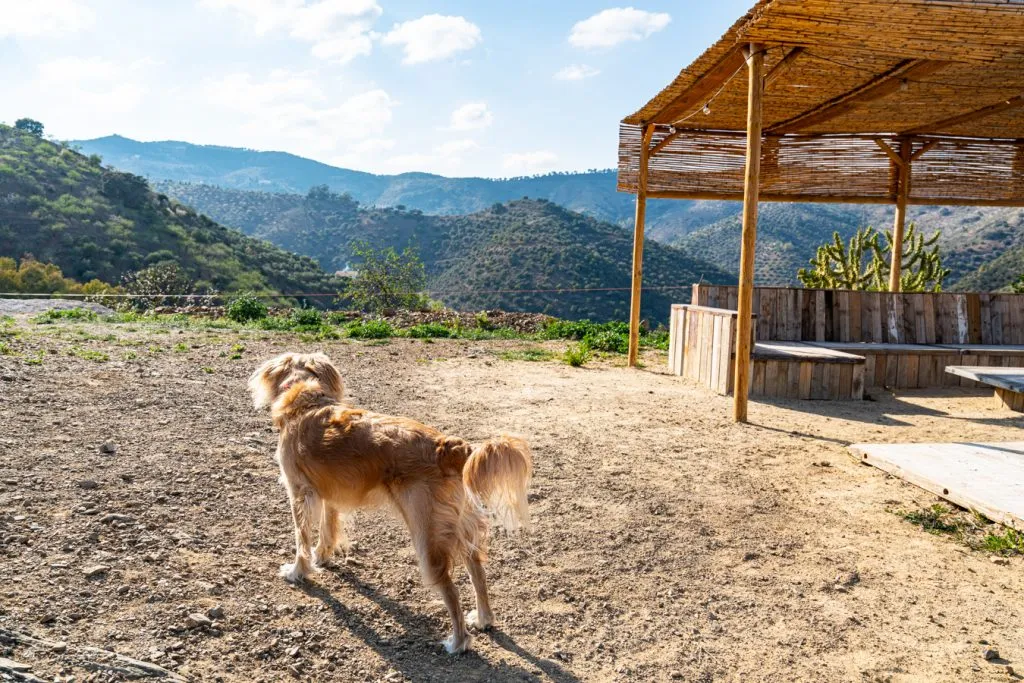 Can This Andalucia Itinerary Work Without a Car?
This southern Spain itinerary is specifically designed as a road trip, and we do strongly believe that driving is the best way to visit Andalucia!
From offbeat villages to charming hikes to out-of-the-way beaches, your trip to Andalucia will absolutely be enhanced by having your own set of wheels.
That being said, if you can't or would rather not drive, you can still cover the vast majority of the sights included on this Andalucia road trip itinerary through a combination of public transportation and guided tours.
If you're not planning to drive, we recommend basing yourself in larger cities like Seville, Granada, and Malaga, and taking day trips (independently, guided, or a combination of both) from there.
As much as we love Ronda, we wouldn't recommend spending more than perhaps one night there without a car.
If you want to structure your itinerary for southern Spain without a car, we highly recommend using Omio to check exact ticket schedules and pricing for trains and buses in Andalucia!
Check schedules and shop train and bus tickets in Andalucia today!
The Ultimate Southern Spain Road Trip Itinerary
Day 1: Arrive in Seville and start exploring.
Starting your southern Spain travels in Seville means diving right into the heart of Andalucian culture!
Depending on what time your plane lands, kick off your Andalucia vacation with a visit to the Seville Cathedral–once the biggest church in the world–and a climb up its bell tower.
The Giralda (bell tower) not only includes a beautiful view but is part of Andalucian history.
Before the Reconquista (when Christian powers overtook the Moorish kingdom that once ruled this area), this bell tower was the minaret of a mosque on the same site.
When the sun starts to set, head out for tapas and tinto verano (similar to sangria, but less elaborate and beloved by locals).
We don't recommend picking up your rental car until day 3 of this itinerary–you won't need it when exploring the heart of Seville.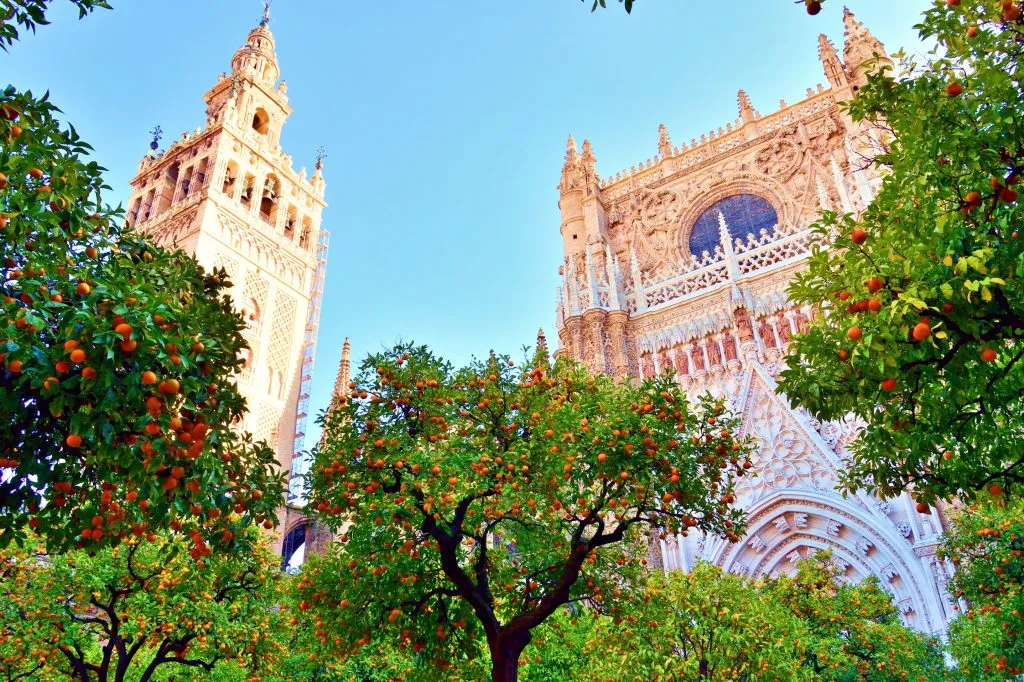 Where to Stay in Seville, Spain
When deciding where to stay in Seville, location is key as ideally, you'll want to stay within walking distance of Seville's best attractions.
We had a fantastic experience at Petit Palace Puerta de Triana on our most recent trip to Seville.
The hotel has a fantastic location (central but also quiet–a far from guaranteed combination in Spain), a delicious breakfast, and comfortable rooms.
Looking for something a bit different?
The incredibly popular Hotel Rey Alfonso X is an excellent choice, and their rooftop views are sublime!
If you'd like to stick to more of a budget, Hotel America Sevilla gets wonderful reviews and doesn't sacrifice too much in terms of location.
Meanwhile, for the height of luxury, you can't beat the absolutely stunning Hotel Alfonso XIII!
Day 2: Dive into Andalucian culture and history in Seville.
Today, it's time to explore the rest of the major attractions in Seville!
Be sure to visit the famous Plaza de Espana, wander through the picturesque Barrio Santa Cruz (the former Jewish Quarter), and potentially see a Flamenco show.
Touring the gorgeous Alcazar is also a must: parts of this unique palace were built in the Moorish style, by Islamic craftsmen, for Christian rulers.
The result is a unique and beautiful combination of cultures that brings together several aspects of Andalucian history.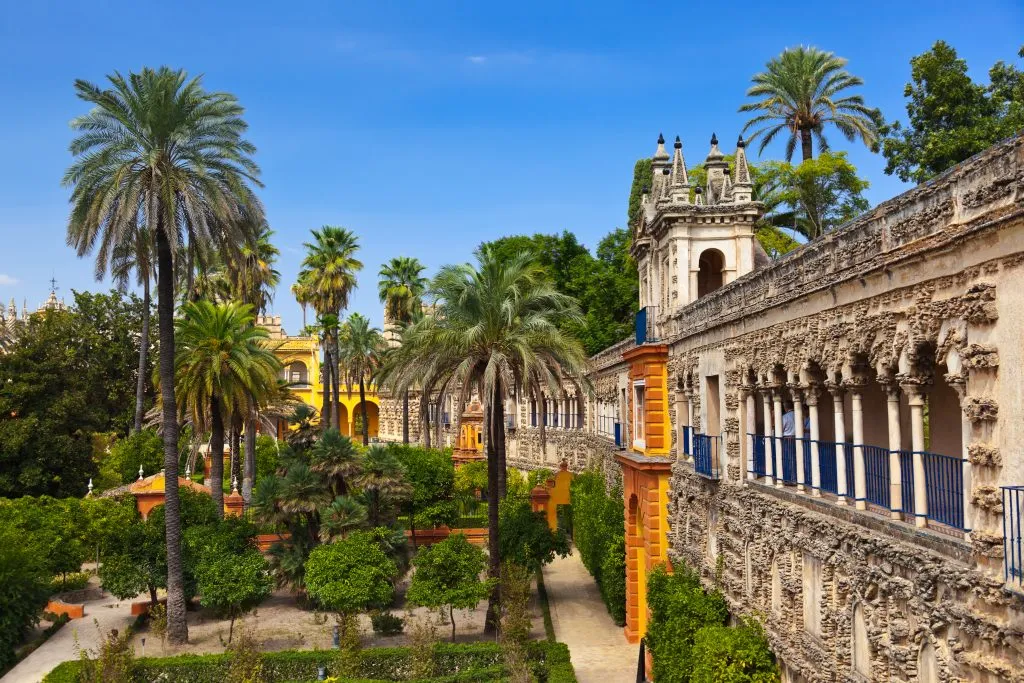 If you're interested in experiencing more modern architecture in Seville, the famous Metropol Parasol is a fun spot with great views.
For foodies, we highly recommend taking a food tour in Seville on the first full day of your trip: not only is it incredibly fun, but it will help you know exactly what to order during the rest of your southern Spain itinerary!
And, if you'd like to explore the history of bullfighting in Spain, the Plaza de Toros is one of the most famous bullfighting rings in the world and can be toured (for obvious reasons, we do not recommend attending a fight).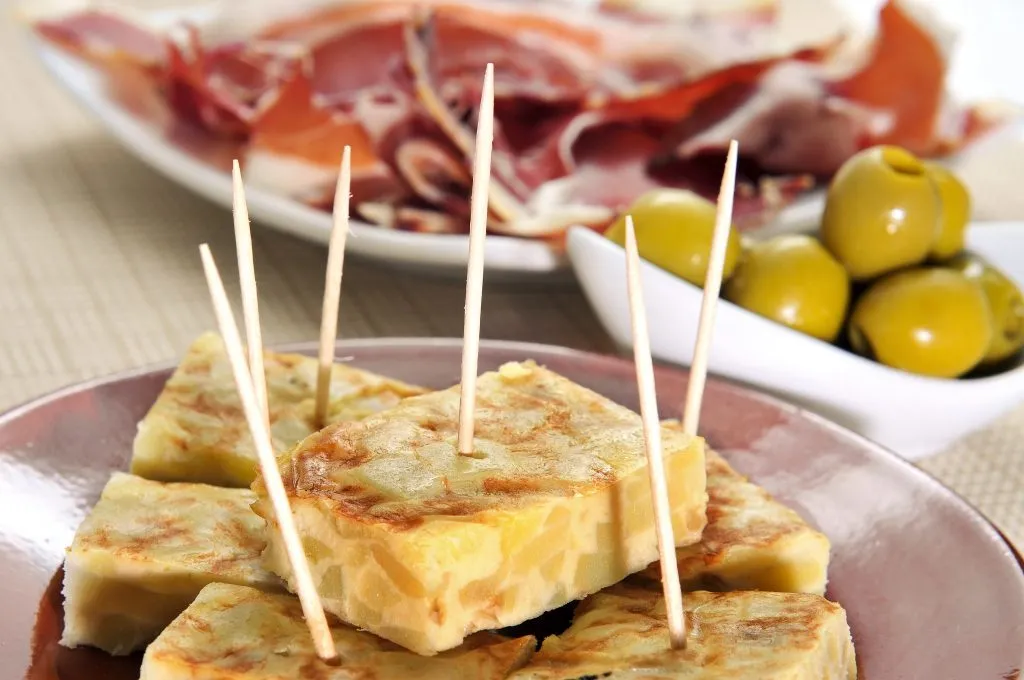 Day 3: Explore Cordoba.
Today, pick up your rental car and hit the road to Cordoba!
Lying about 1 hour, 45 minutes northeast of Seville, Cordoba is famous for its incredible Mosque-Cathedral, which is exactly what it sounds like–a cathedral built literally inside a former Moorish mosque.
It's one of the most unique houses of worship we've ever set foot in, and it alone would be worth visiting Cordoba for!
While Cordoba's history dates back to the Romans (and you can stroll across the aptly named Roman Bridge while there), its Moorish period is responsible for much of the city's stunning architecture and fame.
Cordoba peaked in the 10th century, when it was, for a brief moment, the biggest and one of the most powerful cities in the world.
In addition to the Mosque-Cathedral, be sure to explore Cordoba's many flower-filled patios, check out the Alcazar of the Christian Monarchs, and visit the winding streets of the Jewish Quarter during your day in Cordoba.
Where to Stay in Cordoba, Spain
We loved our stay at Hesperia Cordoba!
Set just over the river from Cordoba's historic center and a very short walk from the Roman Bridge, Hesperia Cordoba features spacious rooms, excellent customer service, and a rooftop with one of the best views in the city.
For those traveling Andalucia on a budget, Cordoba Carpe Diem is a great option in the heart of the city.
And, if you're looking to stay in a hotel so luxurious that it's practically a museum, the popular Hospes Palacio del Bailio is the clear winner (it even features actual Roman ruins!).
Day 4: Make your way to Granada.
Winding roads, stunning hilltop towns, and olive trees as far as the eye can see: these are the views that you'll enjoy when driving from Cordoba to Granada on your Andalucia road trip!
If you'd like to add an extra stop or two to your morning, the Medina Azahara (a UNESCO World Heritage recognized archaeological site) and the Castle of Almodovar del Rio (a magnificent castle dating to 760 that was a Game of Thrones filming location) are both excellent options.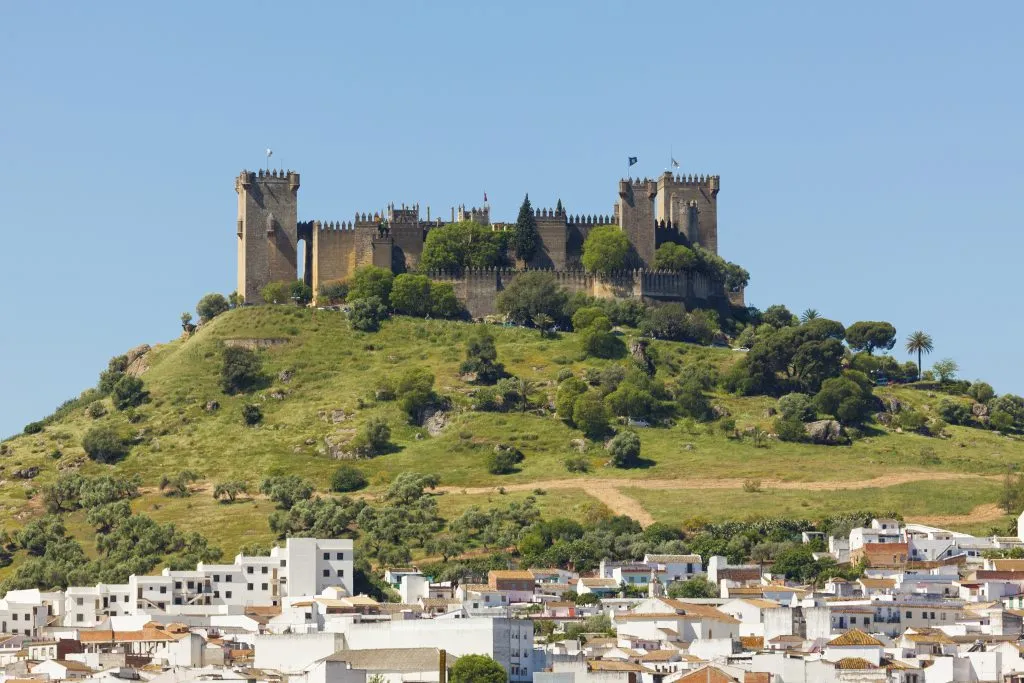 Both places are a bit out of the way, but as the drive between Cordoba and Granada is only about 2.5 hours long, you'll have plenty of time if you'd like to stop.
Once you get to Granada, settle in and start sightseeing!
Depending on what time you get in, we recommend exploring the picturesque Albayzin (Arab Quarter), climbing up to the Mirador San Nicholas (it's worth every step!), and enjoying plenty of tapas.
If you have time, consider heading up to Sacromonte to visit the interesting cave museum and to attend an an intimate flamenco show–the neighborhood is famous for them!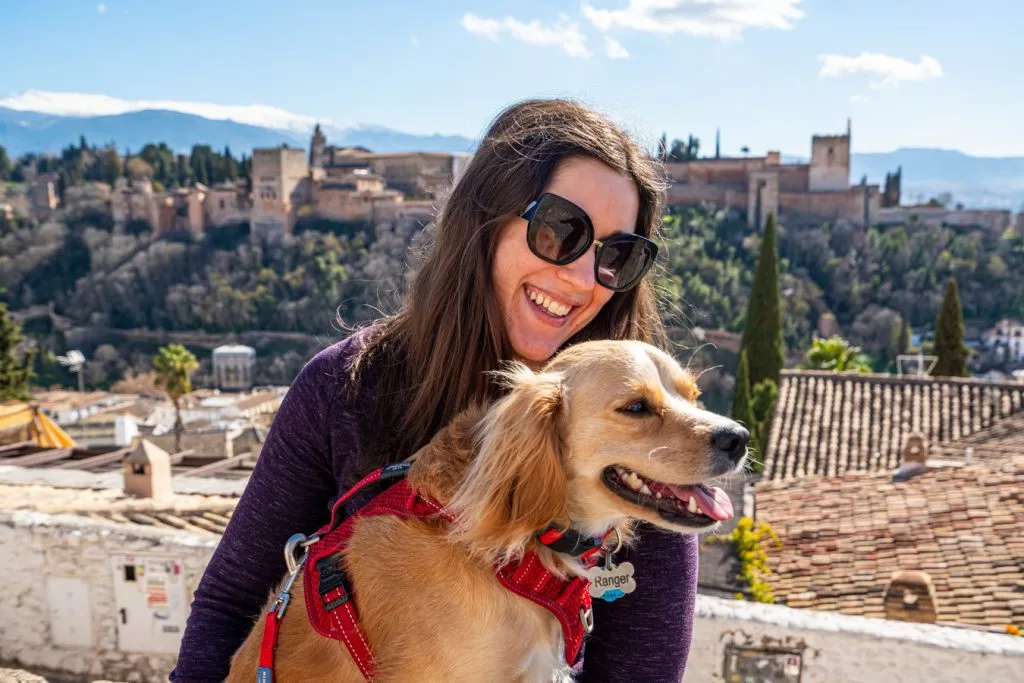 Where to Stay in Granada, Spain
We rented an apartment from Mosaiko Homes in Granada, and could not have had a better experience: the owner was responsive, the apartment fantastic, and the location unbeatable!
Mosaiko Homes is located on a quiet street a short walk from many of Granada's top sights, offering the combination of a convenient location and a lack of noise at night–two things that can be difficult to find together in Andalucia!
Another excellent option with near-perfect reviews is the incredibly unique Casa de Reyes (that decor!).
For a bit of luxury, the popular Shine Albayzin is not only housed in a 16th-century palace, it overlooks the Alhambra!
Generally speaking, lodging in Granada is much more affordable than in, say, Seville or the resort towns of the Costa del Sol.
If you're going to splurge on a luxury property during your 10 day southern Spain itinerary, Granada is a fantastic place to do so!
Day 5: Discover the Alhambra and other Granada gems.
On the fifth day of your road trip in Andalucia, it's time to visit the region's top attraction: the Alhambra!
While the Alhambra is most famous for its stunning Nasrid Palaces built by the Moors, there is an overwhelming amount of things to see at this iconic fortress.
From Generalife and its gardens (a summer retreat for the Nasrid dynasty) to the Alcazaba (the oldest portion of the fortress, which dates to the 1200s) and beyond, there are many sides to the Alhambra to visit.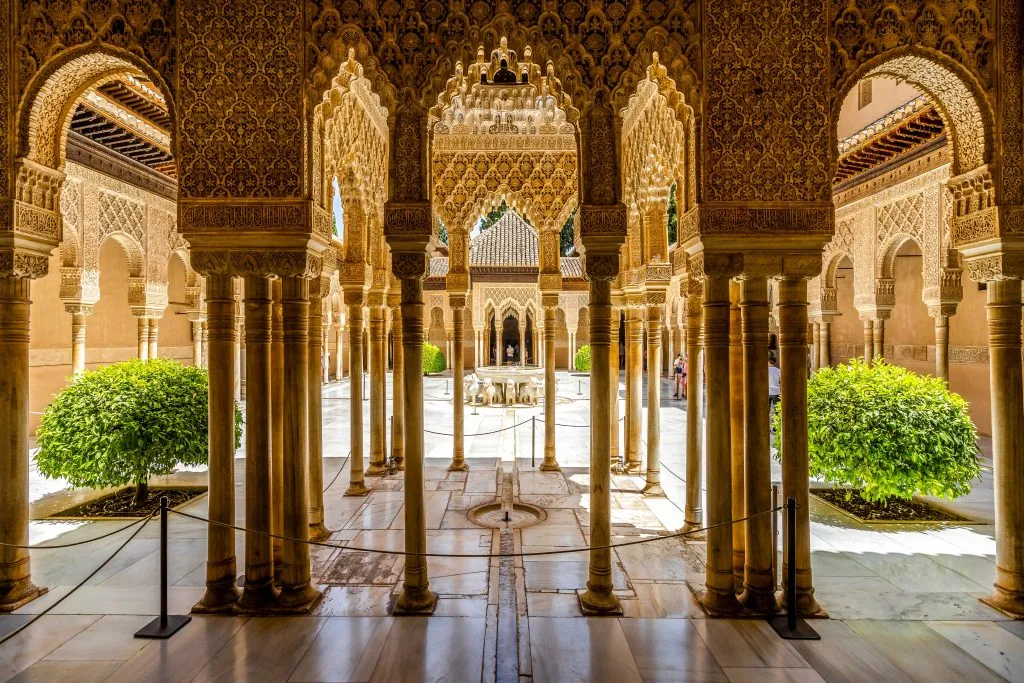 General tickets to the Alhambra are competitive and often sell out far in advance (you can check available dates here), but luckily, organized tours and skip-the-line tickets (which are only slightly more expensive than general tickets) are very easy to come by.
Deciding whether to take a tour of the Alhambra or simply use an audio guide is a personal choice, and both have pros and cons.
We took this popular tour, and while we got frustrated with how much it dragged in certain places, we loved having the context of a live guide–especially in the Nasrid Palaces.
We also loved not having to manage the tightly controlled timed entry system for the Nasrid Palaces ourselves.
Keep in mind that not all Alhambra tickets include entry to the Nasrid Palaces.
Make sure that your ticket does, though, because they are truly the star of the show!
You will likely be exhausted after visiting the Alhambra, which makes this afternoon the perfect time to visit one of Andalucia's gorgeous hammams.
Hammam Al Andalus is well-known, gorgeous, and accessible to English speakers. We loved our time there!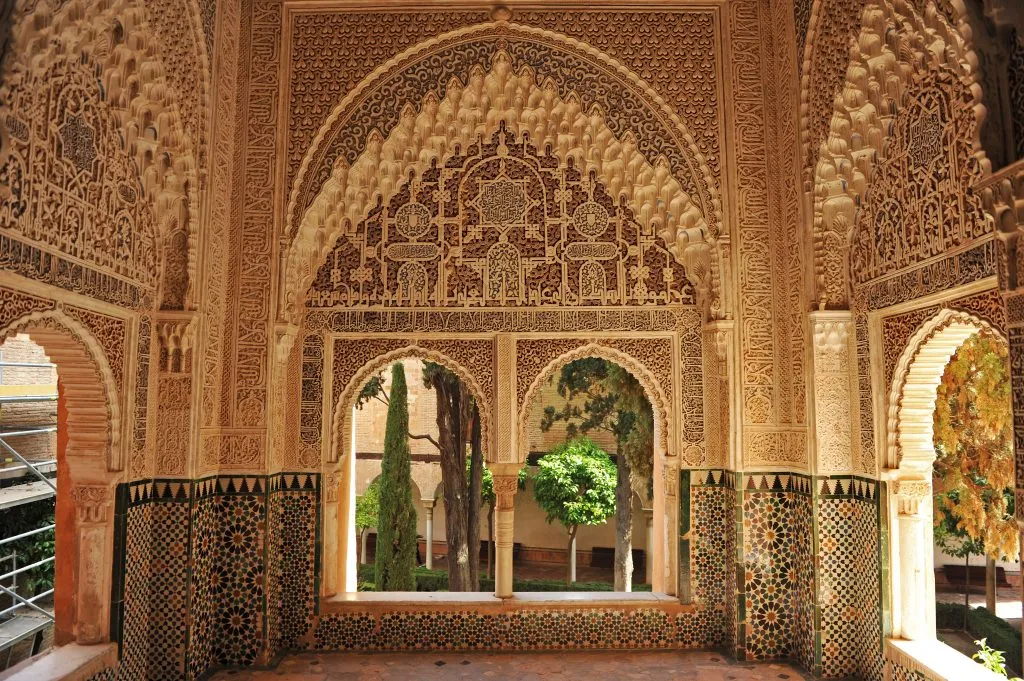 Day 6: Take the scenic route to Malaga (or nearby).
Today, start your morning by enjoying any sightseeing you haven't had a chance to enjoy in Granada, such as visiting the stunning Granada Cathedral and Royal Crypt.
Depending on what time you get started in the morning and how much time you want to spend on the beach, you can also consider heading 20 minutes outside of Granada to enjoy the popular hanging bridges at Los Cahorros Gorge in Monachil.
From there, it's time to make your way to the Costa del Sol: no southern Spain itinerary would be complete without soaking up some sun!
We recommend heading toward Malaga via the A-44 to A-7 route–it's slightly longer than going the A-92 route, but you can't beat the views driving along the Mediterranean for half the drive!
Day 7: Soak up the sun on the Costa del Sol.
There is an endless number of options when it comes to deciding what town to stay in on the Costa del Sol!
Malaga, the biggest city in the region, is perfect for those who want to potentially take an afternoon road trip to a nearby beach but want to dedicate most of their time to culture.
The best things to do in Malaga include visiting the celebrated Picasso Museum, Alcazaba, Roman Theatre, Cathedral, and beyond, which make for a compelling, but not beachy, trip.
If you're looking for idyllic beaches, Nerja is the place to go (that's where the above photo was snapped!).
A beautiful resort town with a promenade?
Estepona might be right for you.
No matter where you end up staying, make sure that you spend at least part of the day admiring views of the Mediterranean with a gelato or glass of tinto verano (or both) in hand.
Since you're visiting via a Costa del Sol road trip, you can also easily stay in one town and squeeze in a quick afternoon visit to another!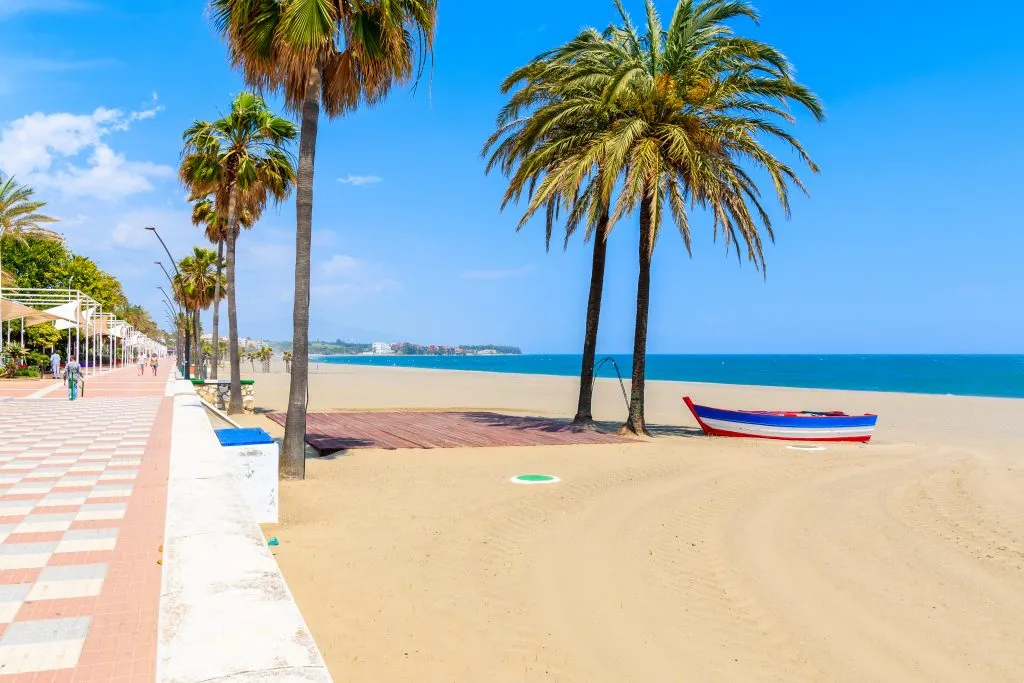 Day 8: Continue your Andalucia road trip and head to Ronda.
Last but certainly not least, say goodbye to the Costa del Sol and head north again to Ronda, one of our absolute favorite places in Spain.
Situated on a ridge, Ronda features sweeping views, a gorge, an 18th-century bridge that is earnestly referred to as the "New Bridge", ties to the Lost Generation, and idyllic whitewashed streets–and that's without even leaving the town center.
Much smaller than Seville or Granada, Ronda is nonetheless well worth savoring.
Once you arrive, start by exploring a few of the best things to do in Ronda, such as visiting the Cuenca Gardens, marveling at Puerto Nuevo (and Puerto Viejo and the Arab Bridge, while you're at it), and visiting the historic Arab Baths (now a museum, though there is also a functioning hammam in Ronda!).
For sunset, there is absolutely no better place to be than admiring the views of Puerto Nuevo and the surrounding landscape from the Alameda del Tejo!
Where to Stay in Ronda, Spain
We can't rave about our stay at Catalonia Reina Victoria in Ronda enough–it may just be one of our favorite hotels we've ever stayed in!
Unbeatable views over the countryside (we upgraded to a terrace room, which was absolutely worth it), excellent customer service, comfortable rooms, easy parking on site, and walking distance to all the best things to do in Ronda–it's hard to beat that!
The popular Hotel Montelirio, with views of the Puerto Nuevo, is also a great option.
However, as Ronda is the last stop on your Andalucia road trip and finding parking in the city center is fairly simple, you may want to go the complete opposite route and stay in a country hotel just outside of town!
The beautiful and well-reviewed Hotel Cortijo Las Piletas is located a 15-minute drive from Ronda, offers a pool, gorgeous views, and a bit of peace and quiet to end your trip with.
Day 9: Explore unique places to visit near Ronda.
In addition to being a fantastic town to visit in its own right, Ronda is also surrounded by excellent day trip options!
Our first choice would undoubtedly be a visit to Setenil de las Bodegas: if you only have time to visit one place outside of Ronda, make it here.
This historic town features many homes and businesses built directly into the surrounding gorge, and the result is one of the most unique towns we have ever laid eyes on!
Other fun places to visit include Juzcar (also known as Spain's "Smurf Village"–it is painted entirely blue!), and the Cueva del Gato swimming hole.
If you want a unique perspective on Ronda's famous Puerto Nuevo, you can also drive to the bottom of the ridge and view it from an entirely different angle (keep in mind that there are some tiny dirt roads involved here, but it is doable).
Looking to ditch the car entirely?
You can find plenty of horseback riding tours in the area!
Day 10: Head back to Seville and wrap up your 10 day southern Spain itinerary.
It's time to wrap up your Andalucia road trip!
Today, make your way back to Seville to drop off your rental car and head home.
If you have time for a little extra sightseeing, consider spending the morning visiting any attractions you didn't get a chance to see in Ronda or Seville.
Or, for an incredibly relaxing end to your 10 days in southern Spain, book yourself a visit to a hammam in either city!
Other Destinations to Add to Your Andalucia Itinerary
A mere 10 days in Andalucia could never hope to cover every incredible destination that southern Spain has to offer!
If you're lucky enough to have a longer timeframe to work with, here are a few more places to consider adding to your itinerary for southern Spain, from beach towns to mountainous parks.
Cadiz
Over 3,000 years old and almost entirely surrounded by water, Cadiz is visually stunning and historically fascinating.
It's fairly small, given that it is physically constrained by its location, but packed with interesting sights, including over 100 watchtowers!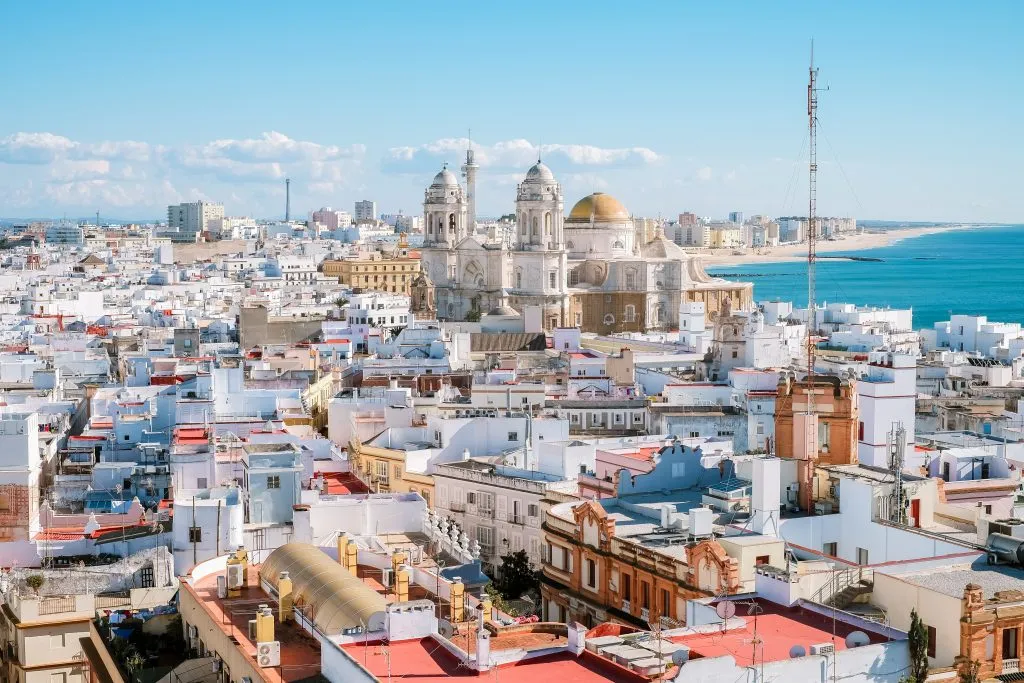 Gibraltar
Technically speaking, your Andalucia road trip doesn't have to only take place in Spain!
Head to Gibraltar to enjoy views from the famous Rock of Gibraltar, check out the resident wild monkeys, and enjoy the excuse to walk (literally) across the border of Spain to the UK.
Don't forget to pack your passport!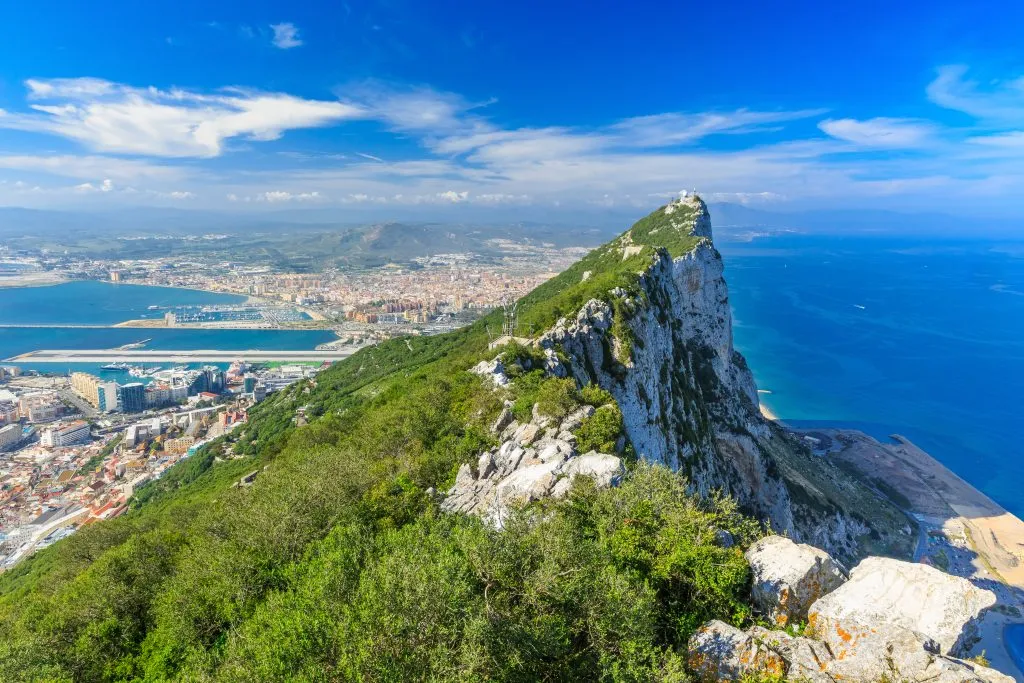 Jerez de la Frontera
A great alternative to cities like Seville, Jerez de la Frontera offers many of the usual Andalucia highlights–Moorish castle, riding school, festivals–but is (slightly) more off the beaten path.
It's also famous for its sherry production, making it a fun stop for spirit lovers!
Sierra Nevada National Park
Offering skiing in the winter, hiking in the summer, and gorgeous mountain views year-round, Sierra Nevada National Park makes an excellent addition to an itinerary for southern Spain for those looking for a place to relax in nature.
Located just east of Granada, Sierra Nevada National Park is easy to add to this itinerary–or, if you're not much of a beach person, you can even swap the Costa del Sol for some time here!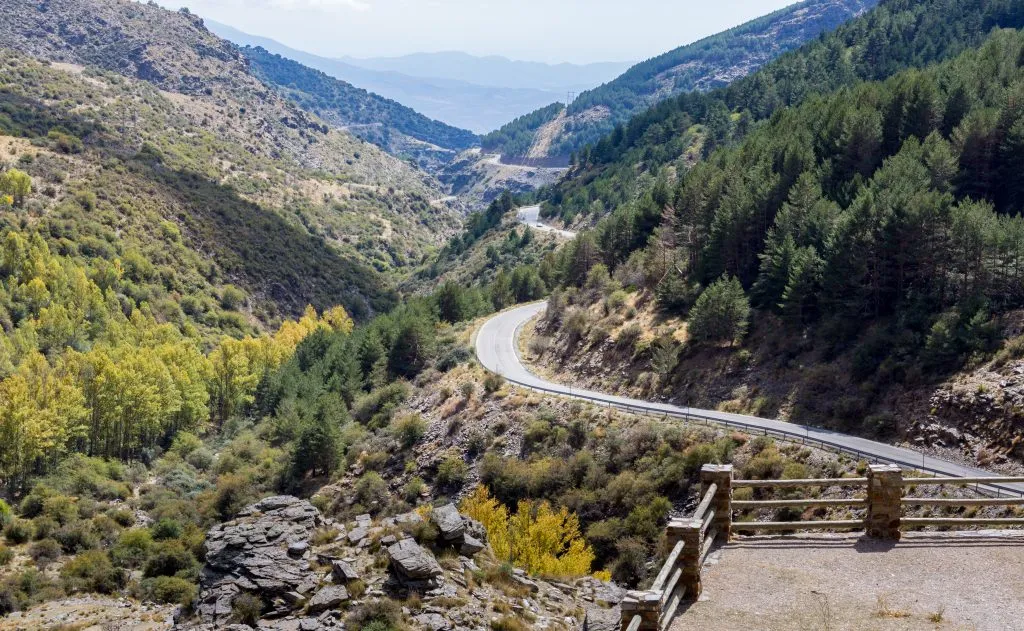 Puerto Banus
Looking for luxurious yachts, high-end nightclubs, and–essentially–the Spanish version of St. Tropez or Monaco?
Head to Puerto Banus, just next door to Marbella, and you'll find exactly what you're looking for.
Start by checking out the Golden Mile!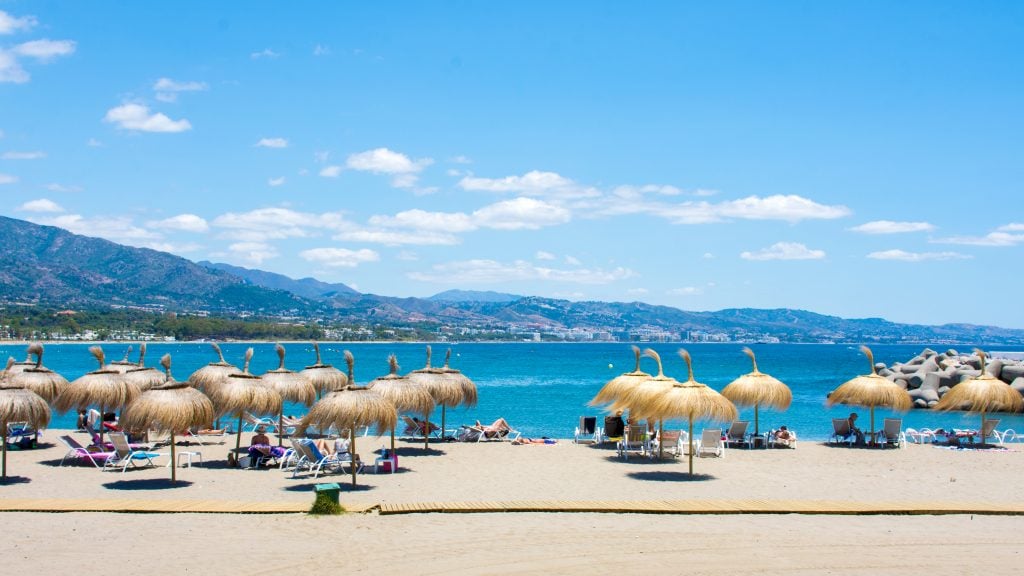 Arcos de la Frontera
Surrounded by the Guadalete River on 3 sides and–like Ronda–situated on the edge of a ridge, Arcos de la Frontera is visually stunning and one of the best whitewashed towns (pueblos blancos) to visit in Andalucia.
Don't miss the views from the Castillo de los Arcos while you're there!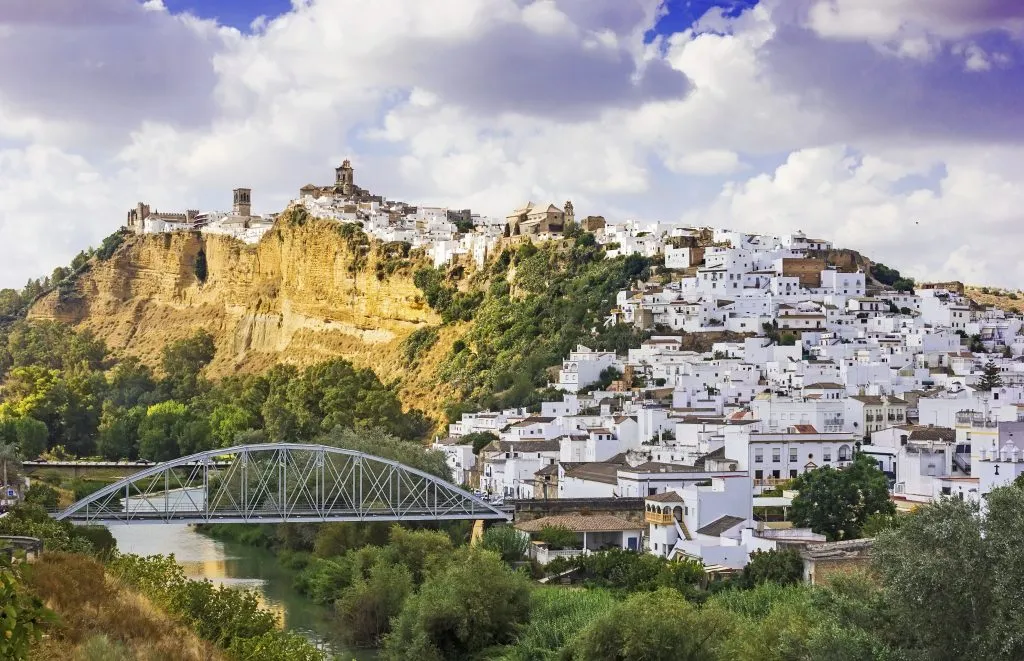 Tarifa
Located at the far southern tip of the Iberian Peninsula, Tarifa is far enough out of the way that it doesn't see quite as many visitors as the famous Costa del Sol (among those who aren't kitesurfing enthusiasts, anyway)–but it's absolutely worth a visit.
Featuring wide, sandy beaches famous for kitesurfing and a charming whitewashed town center, Tarifa is a laid-back delight.
It also lies a short ferry ride away from Morocco, and you can take a day trip to Tangiers as part of your time there!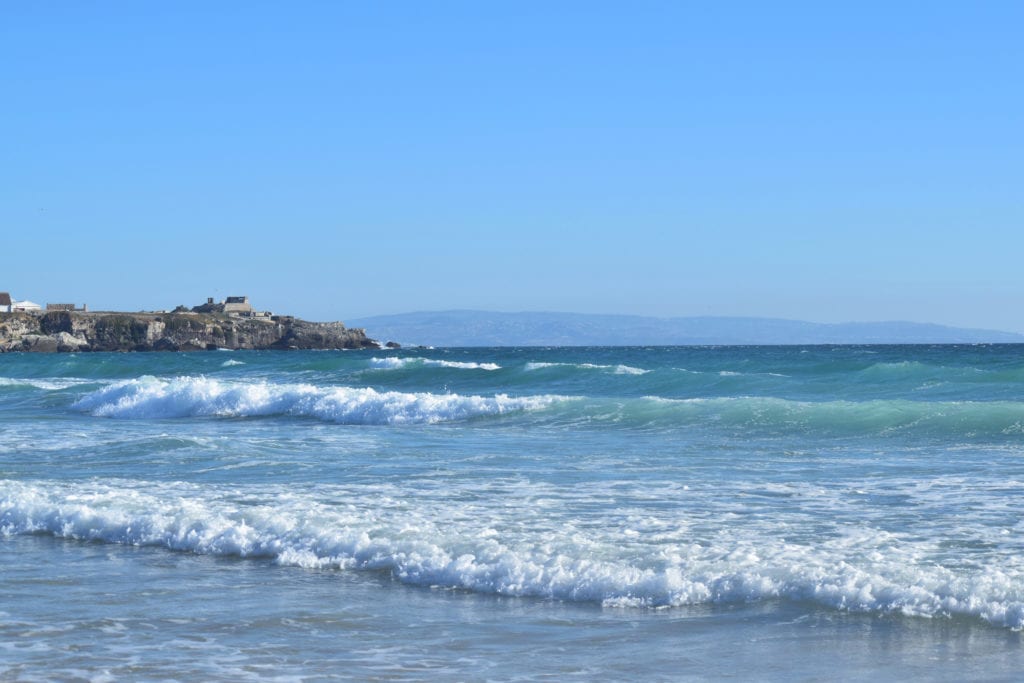 El Caminito del Rey
With stunning gorge views and adrenaline-inducing heights, El Caminito del Rey is one of the most iconic hikes in Andalucia!
A decade ago, it was often touted as being the most dangerous hike in Spain–or even the world–but it has now been restored to be much more accessible.
… For those of us with a fear of heights, though, it can still pose a mental challenge!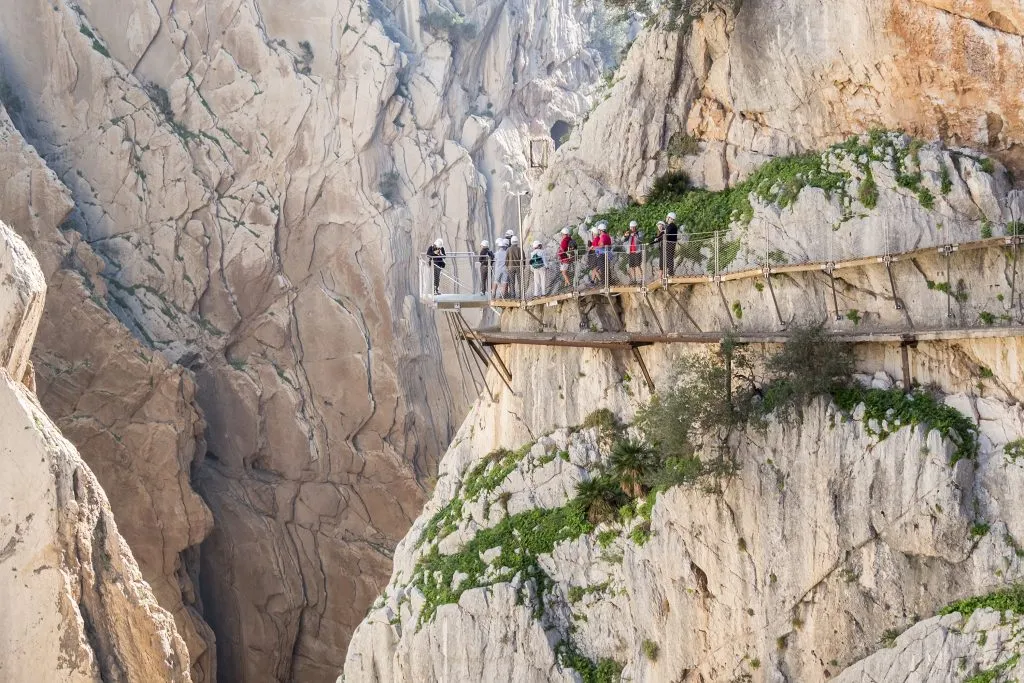 The Best Time to Road Trip Andalucia
Andalucia can be a year-round destination–if you can brave the summer heat, that is.
Southern Spain, particularly cities like Cordoba and Seville, are known for being some of the hottest places in Europe.
Summer temperatures can easily reach 98°F (36°C) in the inland cities, which is why during July and August, you'll find the crowds down at the Costa del Sol, where the temperatures are milder and there's the Mediterranean to cool off in.
Ideally, this itinerary for southern Spain is designed for the spring or fall, when temperatures are warm but reasonable, the sun is usually shining, and the flowers are in bloom everywhere you look.
If you're willing to bundle up a bit, winter can also be a wonderful time to take this Andalucia road trip.
The prices and crowds will both be smaller, and if you're so inclined, you can even go skiing in Sierra Nevada near Granada–the southernmost ski area in Europe!
What to Pack for a Road Trip in Southern Spain
Here are a few essentials you should definitely add to your packing list as you prepare for your road trip in Andalucia, Spain!
Travel Insurance — We don't ever suggest traveling without travel insurance–anything can happen, and a fast-paced road trip is definitely a case of better safe than sorry.
We use and recommend Safety Wing for trips to Spain.
Travel Adaptors for Spain — If you're coming from outside of Europe, you'll definitely need adaptors for your electronics.
Hands-Free Phone Mount — This is especially important if you don't have a reliable co-pilot: the last thing you want to do is be fumbling with the GPS on your phone during your road trip in Andalucia.
Pack a cell phone holder to attach to the car and you'll be able to drive much more safely!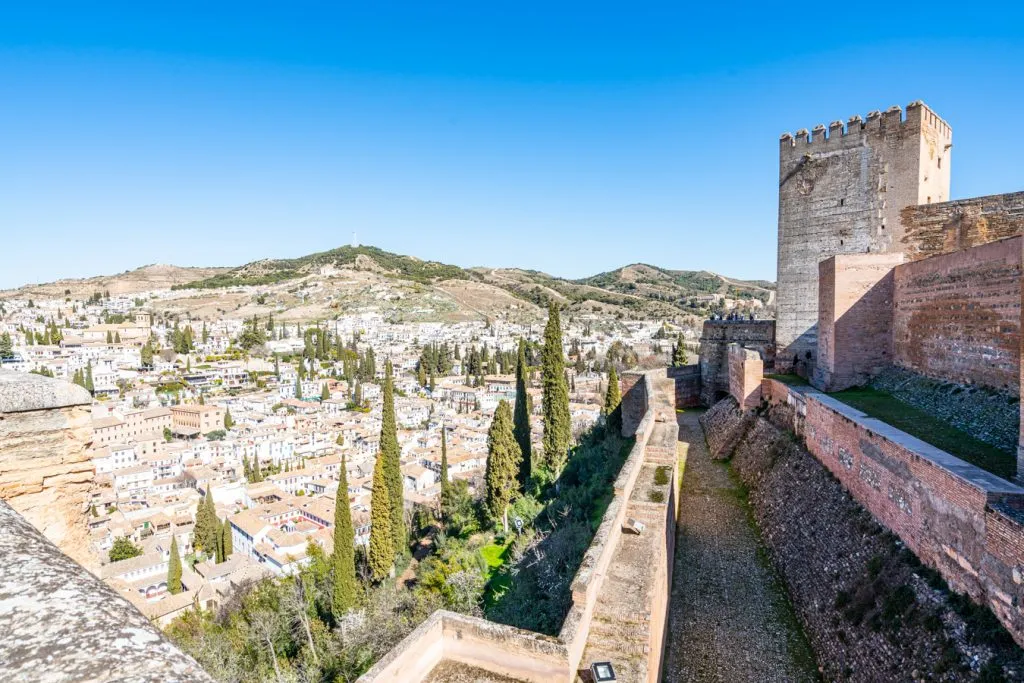 Additional Car Insurance — Whether you purchase a policy that covers car rental (only some of theirs do, so double-check!), purchase a policy through the rental car company, or something else, be sure you have coverage: it's worth the peace of mind.
Portable USB Charger — Don't stress about your phone dying while you're spending long days driving from village to village: add a portable charger to your southern Spain packing list.
Swiss Army Knife — Want to open wine bottles in your hotel room, slice cheese from the market, or cut up that fresh bread from the bakery?
You'll be so glad you brought a Swiss Army Knife along on your Andalucia vacation!
Camera — We absolutely adore our Sony a7R III, but whatever camera you're comfortable with works.
Just make sure you have something with you to preserve your memories!
Reusable Water Bottle(s) — Cut down on plastic waste, save money, and make sure you don't have to stop for water constantly: a reusable water bottle has lots of benefits on a road trip. We personally love and use these.
Hand Sanitizer — We carry this everywhere, and have never been sorry to have it floating around in our day bag.
Andalucia Road Trip Itinerary Map
Take This Map With You! Click each highlight to pull up the name of the destination. To save this map to "Your Places" on Google Maps, click the star to the right of the title. You'll then be able to find it under the Maps tab of your Google Maps account! To open the map in a new window, click the button on the top right of the map.
---