If you've heard one thing about things to do in Copan, Honduras, you've heard about visiting its ruins.
The Copan Ruins are set in the jungle in northern Honduras, far from any coastline. They're known for being beautiful, for having some of the most interesting carvings of any ruins in the region, and for being "pretty cool, but not as cool as Tikal in Guatemala".
The ruins, however, are not the only reason you should spend time in Copan.
Come for the ruins, sure. But stay for the birds.
Some links in this post may be affiliate links. If you make a purchase through one of these links, we may earn a small commission at no extra cost to you. Please see our

disclosure policy

for more detail.
Why You Should Visit Macaw Mountain, Honduras
Copan is home to one of the most memorable and ethical animal encounters we have experienced abroad: Macaw Mountain.
Macaw Mountain is a tropical bird reserve and rescue, committed to rescuing and rehabilitating exotic parrots, toucans, and more.
Our one hour tour of Macaw Mountain on our first visit took us up close against–and occasionally inside–the enormous enclosures where the birds live.
Not only did we see plenty of scarlet macaws (the national bird of Honduras), we saw green macaws, various types of parakeets, peacocks, toucans, vultures, and more types of parrots than I can count (including a yellow-headed parrot, which endangered and expected to have its population continue to drop).
It was magical to get so close to these magnificent birds–not only are they incredibly beautiful, many of the species were so obviously bright and engaged with us. These are curious and playful creatures, making them a joy to watch.
While the birds in the enclosures we initially visited were being prepared for eventual release into the wild, not all the birds who come to Macaw Mountain are so lucky: some, either due to injury or simply being too adapted to human care, are going to be living at Macaw Mountain for the rest of their days. Those birds, I am delighted to say, we got to play with.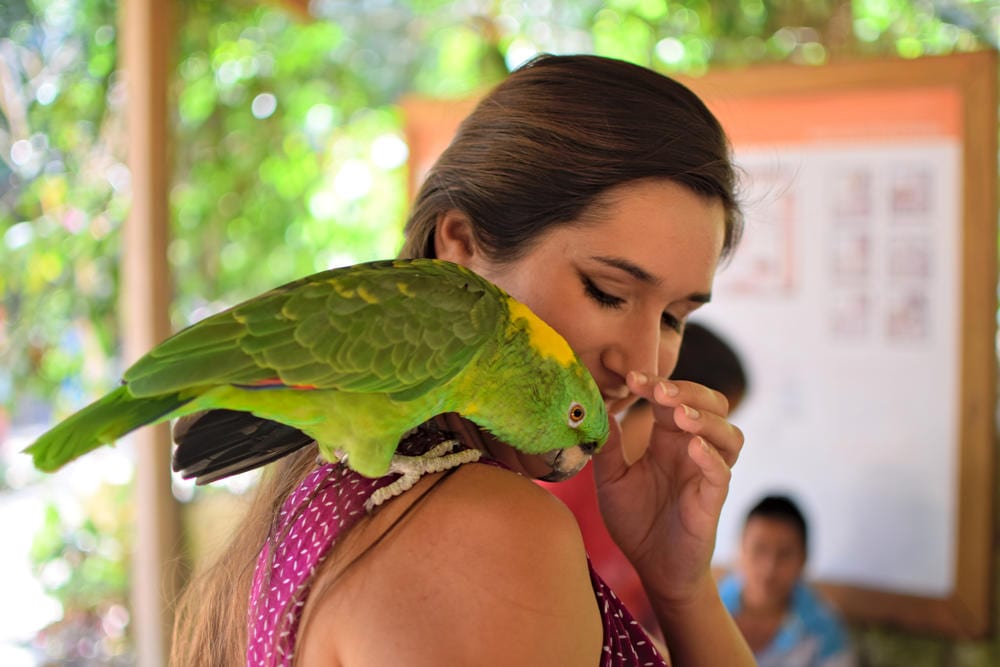 The interaction area of Macaw Mountain is home to several macaws (scarlet, green, and yellow), toucans, and a few other assorted parrots and birds. These guys are incredibly friendly and curious, and don't object to being placed on your shoulder or letting you get a very close look at their sweet faces.
According to our guide, one macaw in particular loves to tease the children who come to visit–mimicking the cries of those who get frightened, and then their laughter once they loosen up.
Once I got into the interaction area, it was hard to get me out–I just can't resist the charm and beauty of such loving birds.
Attending a Release at Macaw Mountain
We had planned for our Macaw Mountain experience to take up just one day–but as we were leaving, our guide let us know that the next day they were going to be releasing a flock of parakeets to the wild from an enclosure right by the interaction area.
Not wanting to miss the opportunity to see a wildlife release, we immediately rushed back to Macaw Mountain the next day–oddly, we didn't have a hard time entertaining ourselves in the interaction area while waiting for the release to begin.
Truthfully, the release itself was not really worthy of a photograph–the parakeets seemed a bit confused about the whole ordeal, took awhile to notice the door was open, and only a few were interested in taking off once they knew that it was.
We learned that the enclosure would be kept open for the next few weeks, and that while most of the parakeets would move on, a small number would likely settle into the trees surrounding Macaw Mountain, essentially remaining informal members of the family.
The release did give us an opportunity to meet the founder of Macaw Mountain–a Tennessee native whose drawl was still evident to us, even after more than 30 years of living in Honduras first as a fisherman, and later running the reserve.
It never ceases to amaze me how varied the pasts and presents of all the different travelers and expats we meet around the world are: it's a constant reminder that there's no way to predict where life will lead.
The Other Best Thing to Do in Copan, Honduras: The Ruins
We did, eventually, make it to the Copan Ruins, consistently touted as one of the best things to do in Copan… but we have a confession to make: even there, the bulk of our time was spent hanging out with birds.
The Copan Ruins themselves were exactly what we expected them to be: interesting but not extraordinary, with their highlight being the intricate carvings present in some areas and the general lack of crowds.
That being said, the Copan Ruins are also home to something far more interesting to me than the ruins themselves (while we enjoy visiting ruins, frankly, we've seen too many for our tastes this year–and nothing lives up to Angkor Wat).
The Copan Ruins are home to the flock of scarlet macaws that Macaw Mountain has worked to release there over the last several years.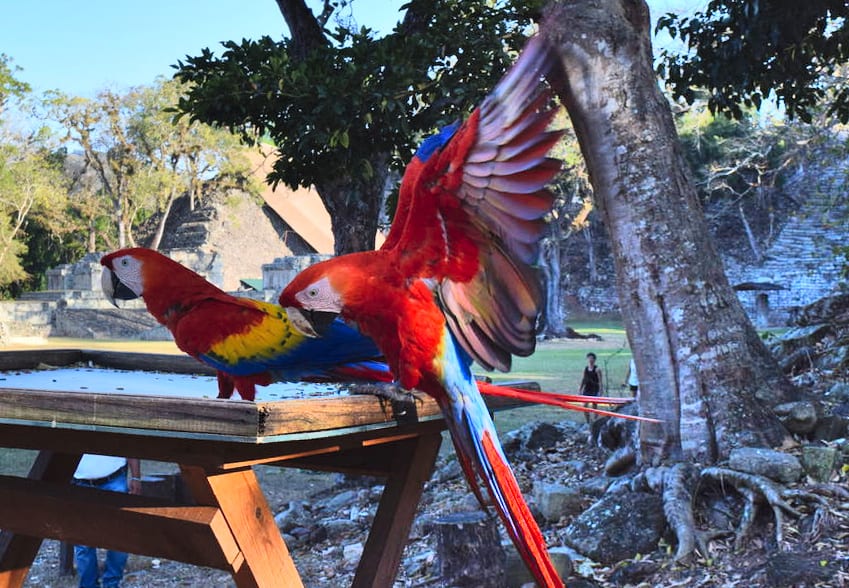 While the macaws are still somewhat supported by the project (Macaw Mountain brings in food for them), they have the option of moving on if they like.
After learning about how the population of scarlet macaws has dipped dramatically in recent decades due to human interference (many are illegally captured as pets), it was incredibly enriching to watch dozens of them swoop over the ancient ruins where their likeness is carved, free and happy where they belong.
Whether due to being used to human contact or just a generally curious and trusting nature, the macaws were happy to come close to us and to let us close to them.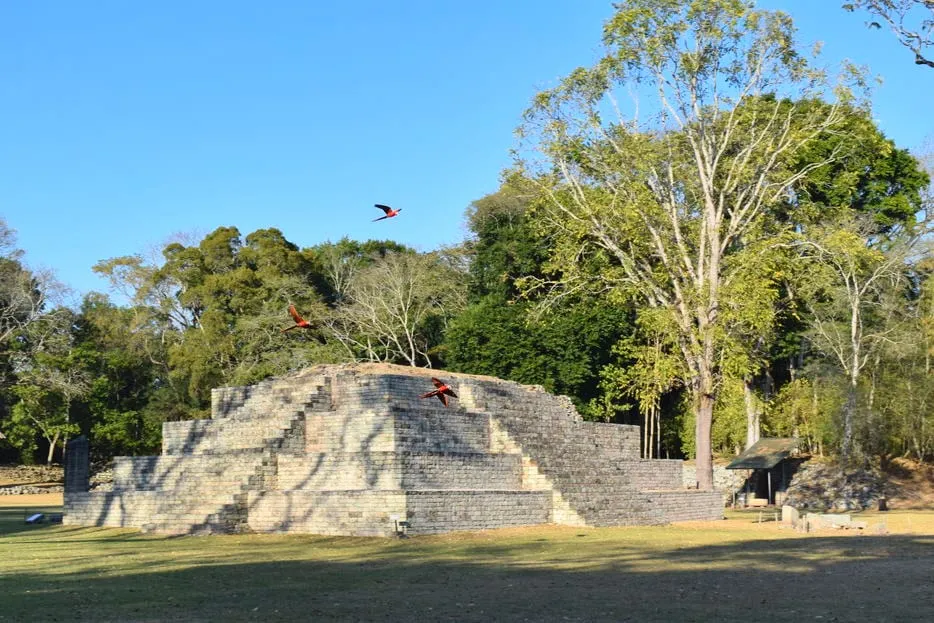 The Logistics of Visiting Copan Honduras
Macaw Mountain and the surrounding experiences were easily one of our top three experiences in Honduras: if you're backpacking through Central America, it is truly worth a stop in Copan to see them.
Buses run regularly through Copan on the gringo trail–we arrived via shuttle from Antigua, Guatemala and headed to La Ceiba, Honduras via a Hedman Alas bus when we left (these are considered "nicer" buses in Honduras–they were not nearly as nice as the ADO buses we got used to in Mexico, but they felt safe enough).
Tickets to visit Macaw Mountain are $10 USD per person, and good for three days each.
In addition to the guided tour we took (which was included in the cost), you can also wander around the enclosures yourself, swim in the swimming hole built into the river, check out the interaction area, and eat lunch at the onsite restaurant.
To get to Macaw Mountain from Copan, take a tuk-tuk from the center of town. The cost should be about 20 lempira ($0.85 USD) per person, each way.