Planning a visit to gorgeous Guatemala, and curious about what a trip to Guatemala costs?
Our real-life example for traveling Guatemala on a budget can help you estimate your costs!
Our Guatemala trip was not only tons of fun, but it also ended up having a very reasonable price tag: our Guatemala travel budget reflects the lowest trip cost per day of anywhere we have been since starting to travel full-time.
Though we did do several things to keep prices low, we didn't hold back on the experiences!
Swimming in Semuc Champey, hiking (and camping on) Volcano Acatenango, going horseback riding around Lake Atitlan, and studying Spanish with private tutors for a week were all part of our Guatemala travel experience!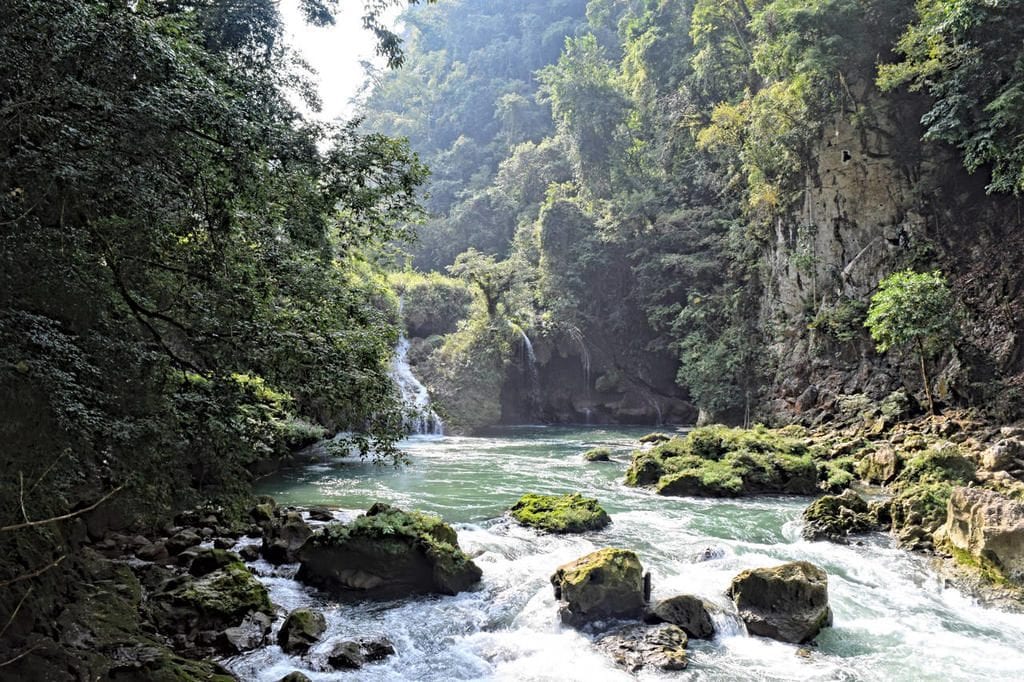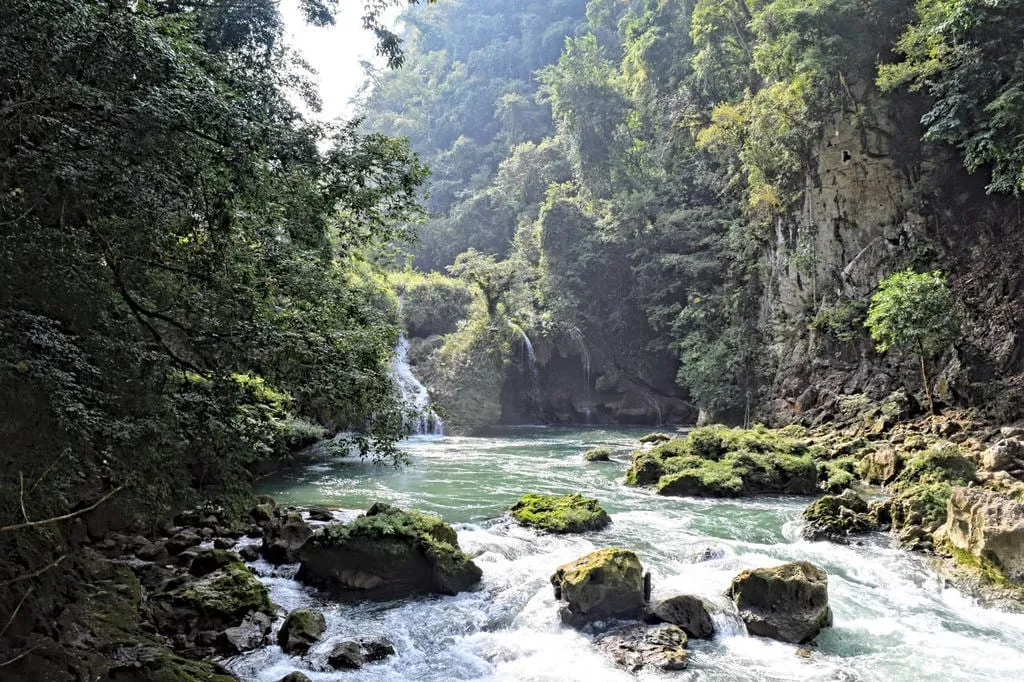 Some links in this post may be affiliate links. If you make a purchase through one of these links, we may earn a small commission at no extra cost to you. Please see our

disclosure policy

for more detail.
The Guatemala trip costs outlined here represent our time spent backpacking Guatemala on what we would consider a flashpacker budget. Basically, no to dorm rooms, (mostly) yes to a/c, and no to major luxuries.
We spent 29 full days in the country, averaging a total Guatemala travel budget of $65.52/day for two people, or $32.76 per person, per day. This added up to a total cost of $1900.18 for our month-long trip.
All prices for our trip to Guatemala costs are listed in USD unless otherwise noted, and, as usual for our travel budget roundups, we don't include the costs of entering or leaving the country here, as those expenses can vary so dramatically depending on your starting point.
In our case, we both entered and left Guatemala via bus, entering via Belize and exiting to Honduras.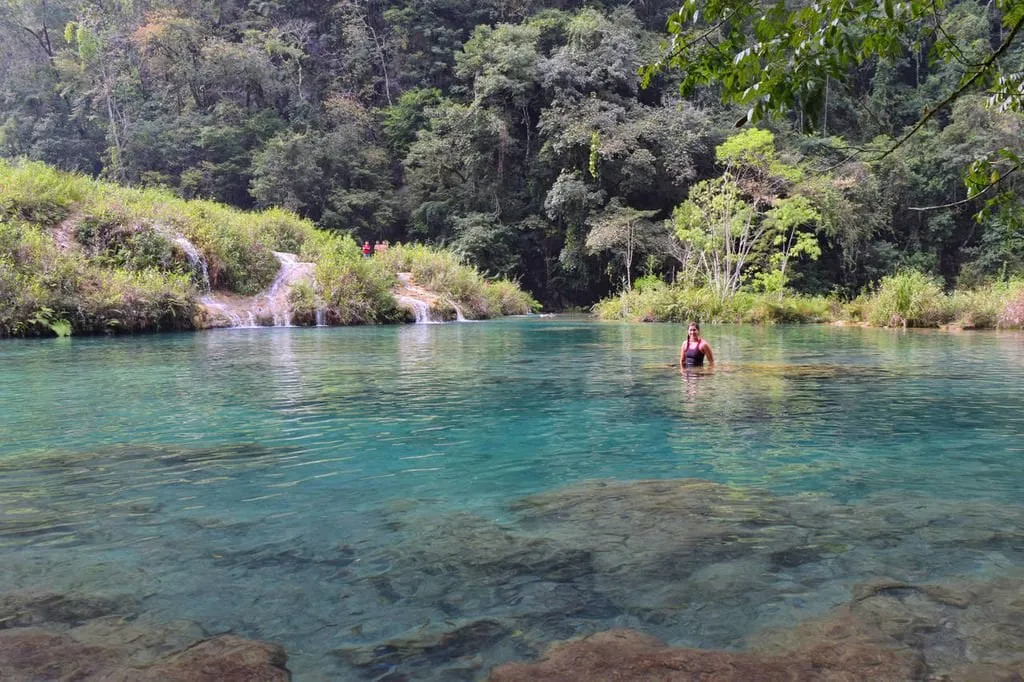 Our Lodging Costs in Guatemala
Total: $745.39
The best part about visiting Guatemala for 29 full days is that we can get a clear and easy look at "monthly" expenses.
$745.39 in "rent", including all utilities, wifi, and some toiletries isn't bad!
Our most expensive lodging (and food, and mere existence) in Guatemala was in Flores, where we spent around $40/night for a mediocre room.
Our most affordable was at Lake Atitlan, where we rented a stunning Airbnb for $20 a night in the tiny village of San Pablo.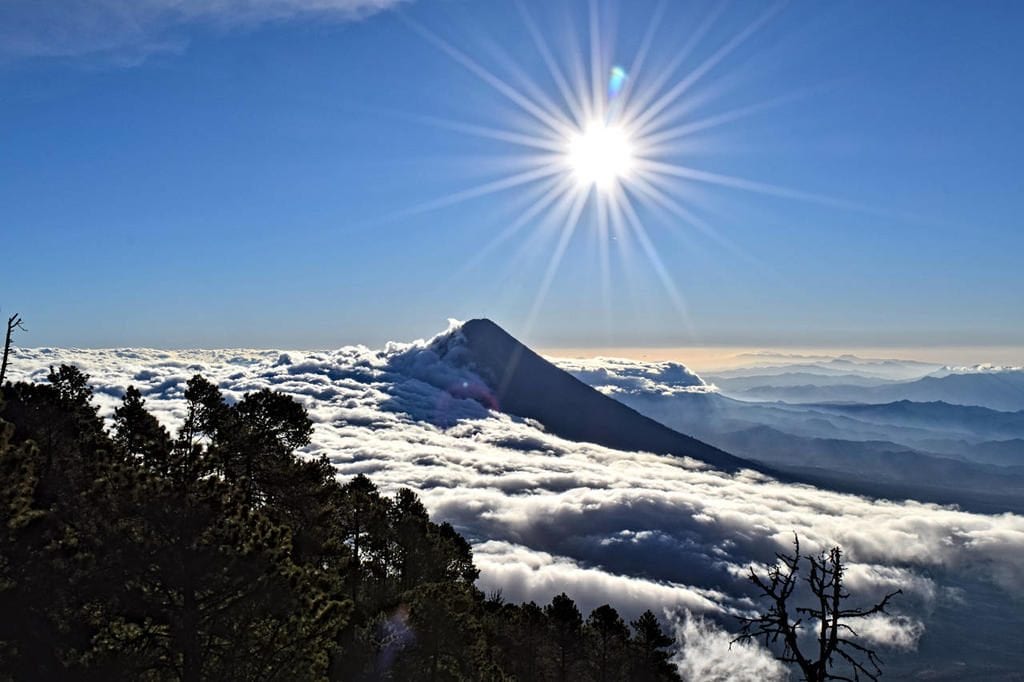 Where We Stayed in Guatemala
Flores
Hotel Villa Margarita — If we had to sum this hotel up in a word, it would be "bland". I
t wasn't good enough to rave about (and the shower mildly electrocuting me a couple of times definitely dampened any goodwill I felt for the place), but there was nothing terrible about it either.
I would consider this a solid choice for a quick stay in Flores, but don't expect to be wowed.
Lanquin
Vinas Hotel — Located less than a 10-minute walk from the center of town, the only issue we had here was with the lack of electricity for most of our stay–but there wasn't anything the hotel could do about that.
The room was clean, the property well kept, and the restaurant had good food at low prices. We would not hesitate to stay here again if we returned to the area!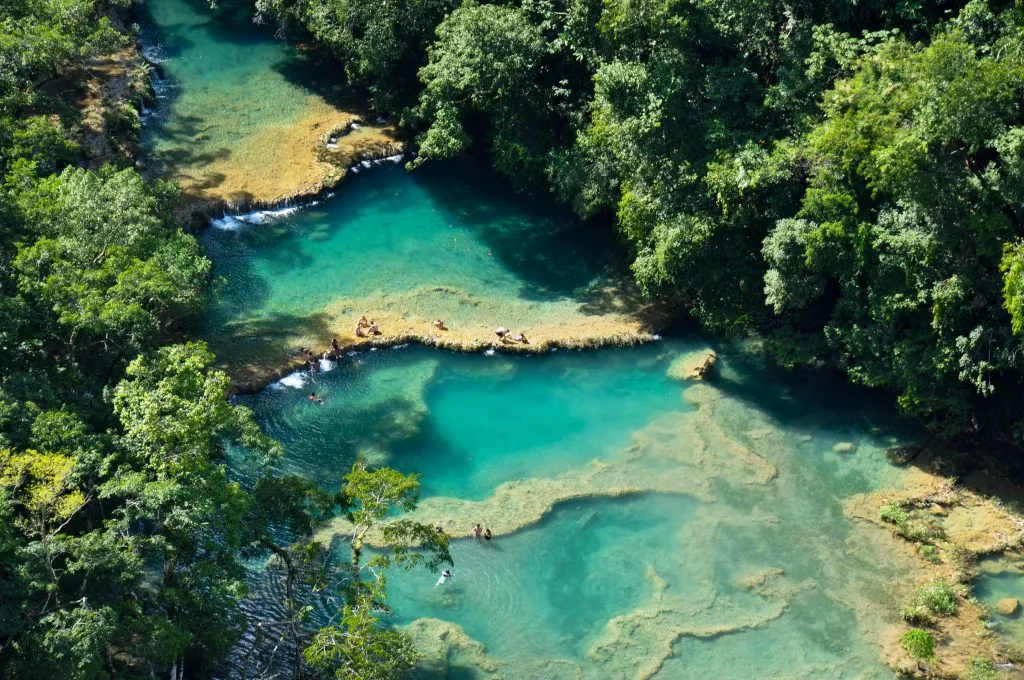 Antigua
La Dolce Vita Guesthouse — Sadly, the hostel that we loved so much in Antigua has permanently closed.
Here are two similar properties we would consider staying at these days (highly rated, with private rooms, wifi, and an excellent location):
Casa Gitana (9.3 rating on Booking.com) — Just 400 meters from Antigua's central plaza, you can't find a better location in Antigua. A shared kitchen is also available.
Un hotel en la Antigua (9.0 rating on Booking.com) — Perfect for someone who's looking for a quiet place to stay not far from the action, Un hotel en la Antigua is located a 7-minute walk from the main plaza, while still being located in the heart of downtown Antigua.
Lake Atitlan
Stuart's Airbnb — We loved this bungalow on Lake Atitlan!
The views were incredible, there was plenty of hot water, there was decent enough wifi considering the location, and the host was wonderful.
This was an incredibly comfortable place to work and relax. The downside was that it's in San Pablo, a tiny village on Lake Atitlan with no tourism infrastructure whatsoever.
To experience the best of what Lake Atitlan has to offer to tourists, you'll need to visit some of the other villages by tuk-tuk or lancha.
Our Transportation Costs in Guatemala
Total: $117.34
Most of this cost on our Guatemala travel budget came from the use of shuttles: just under $15 per person took us from Flores to Lanquin and from Lanquin to Antigua in bearable comfort.
Our shuttles from Antigua to Lake Atitlan and visa versa ran around $10 USD per person, each way.
The rest of our transportation expenses were made up of tuk-tuk rides, primarily in Lake Atitlan, where we commuted to San Marcos to study Spanish in Guatemala for five days and visited the larger village of San Pedro a couple of times.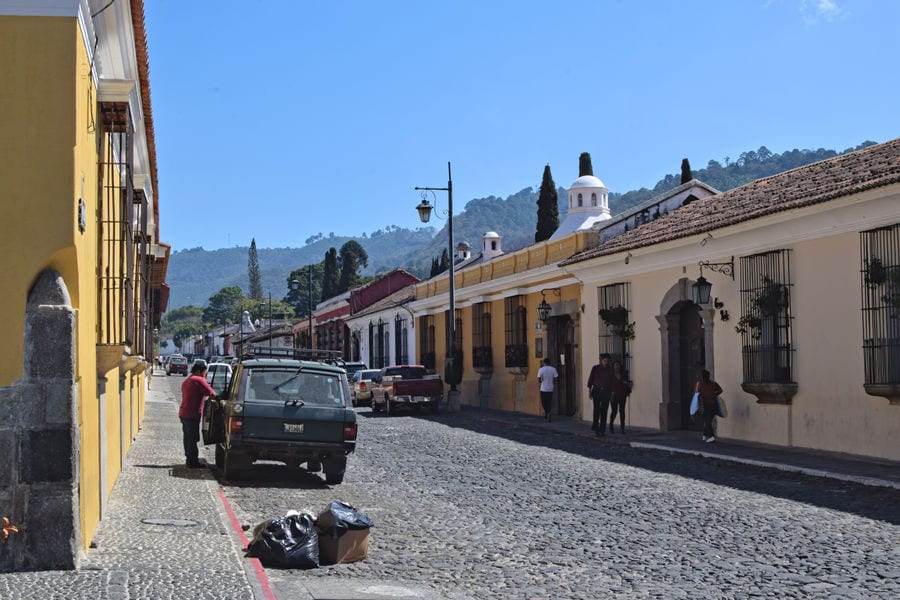 Our Restaurant Travel Budget in Guatemala
Total: $362.95
There is an enormous problem with this number in our travel budget for Guatemala: not only is it extraordinarily high for where we were, it includes way too much American fast food.
We'll just chalk that one up to personal failures and giving in to temptation a few too many times.
Our Grocery Expenses in Guatemala
Total: $214.00
Groceries in Guatemala were reasonable, particularly in the markets and at food stalls where we were able to get fruits, vegetables, and eggs for reasonable prices.
As in most places in the developing world, there was a premium on boxed goods and familiar Western brands, though we didn't find the markup to be nearly as dramatic as what we saw in Belize.
Our total food cost on our Guatemala travel budget, including both restaurants and groceries, came to $19.89/day, or $9.95/person/day.
Our Tour + Excursion Expenses in Guatemala
Total: $377.60
About $220 worth of this number in our travel budget for Guatemala is accounted for by our week attending Spanish school in Guatemala (including the tips that we gave our teachers at the end of our classes).
The rest of it is a hodgepodge of costs, notably including our hike up Volcano Acatenango, Jeremy's hike up Volcano Pacaya, and horseback riding at Lake Atitlan (at under $15/person for 3 hours of riding, including tip, this was a fantastic deal!).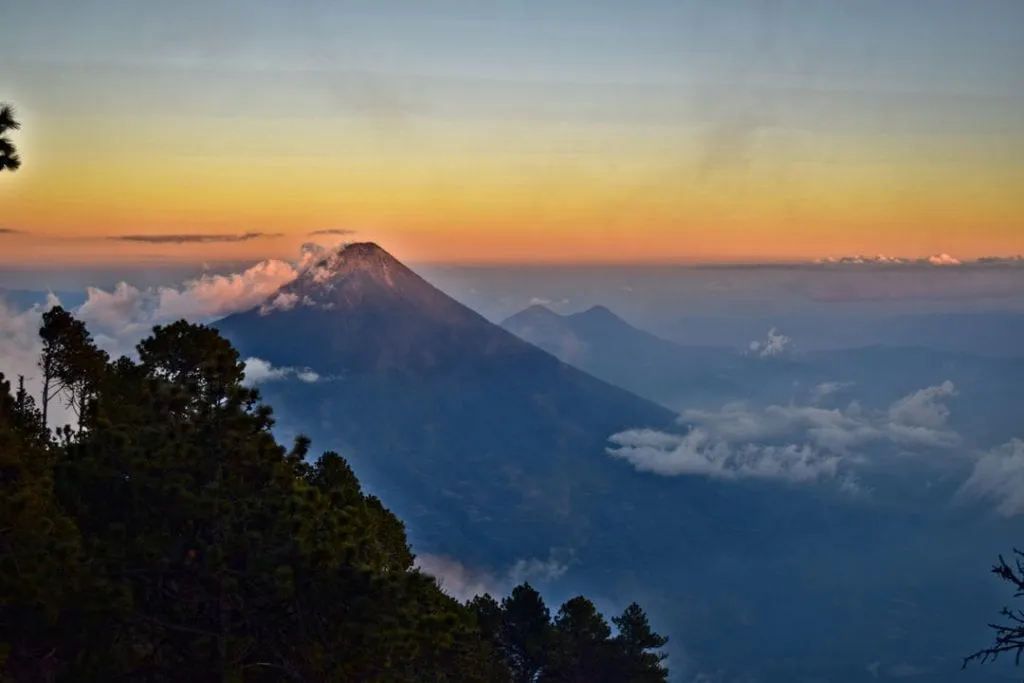 There's a fairly obvious attraction missing from our travel budget for Guatemala: Tikal National Park.
We fully intended to visit (it's why we went to Flores!), but by the time we got there, we had seen oodles of ruins in Mexico and were not remotely interested in paying around $30/person to drive two hours each way in a van and check out even more ruins–no matter how stunning they are supposed to be.
Who knows, maybe we'll come back to see them one day!
We also didn't pay for a tour at Semuc Champey, opting to explore independently instead.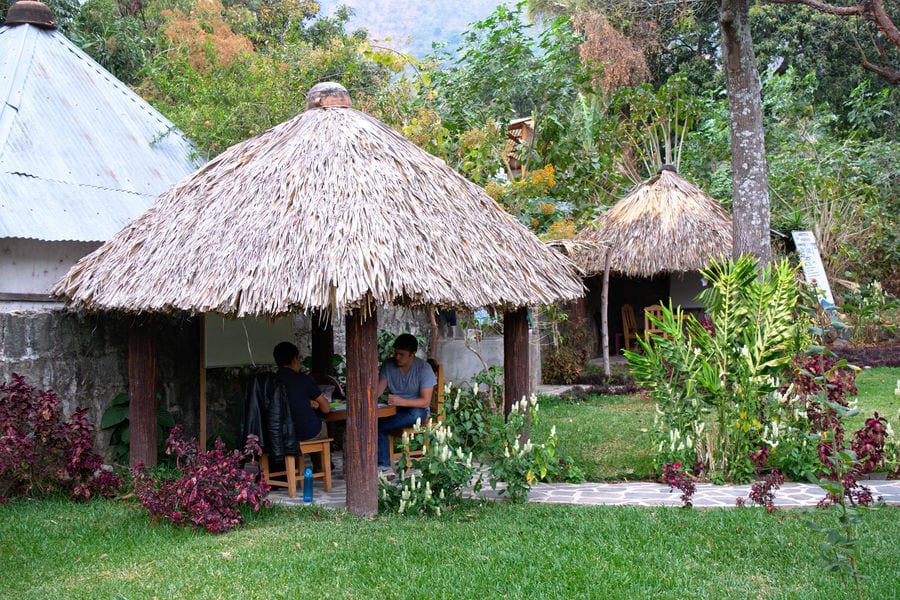 Miscellaneous Guatemala Travel Budget Costs
Total: $82.90
A little over half of our miscellaneous trip to Guatemala cost ($46.05, or $23.03/person) is from getting our teeth cleaned in Antigua–our first small foray into medical tourism!
The rest is made up of small odds and ends: laundry, hats, and walking sticks for our hike up Acatenango, and replacing the HDMI cable we lost a while ago, for example.
Tips for Traveling Guatemala on a Budget
Guatemala uses the Guatemalan quetzal, available at any ATM (our preferred method for getting cash abroad. Foreign debit cards are easy to use with ATM machines.
Guatemala is a very cash-based country, so don't expect to use your credit cards for much of anything while on your trip.
Like in most developing countries, you can book tours and activities online in advance–but you will pay a steep markup.
If you're comfortable with a bit of uncertainty and traveling Guatemala on a budget (or simply don't like overpaying for things), consider negotiating all tours and activities in person once you arrive.
We are very satisfied with the cost of our Guatemala trip: this is the lowest per day cost we have recorded since we started tracking our full-time travels, beating out even Morocco and Bosnia.
The big reason for the low price tag? Slow movement. We spent a full 14 days of this time at an Airbnb in Lake Atitlan, where we not only snagged a discount for staying for two full weeks but also had access to a kitchen to lower our temptation to eat at restaurants.
Because of this, we didn't go to every place we were interested in while in Guatemala… but the tradeoff was absolutely worth it.
While our next stop, Honduras, absolutely came at a higher price tag than Guatemala did (hello, scuba diving!), we would love to recapture numbers reminiscent of our travel budget for Guatemala again in several spots around the world!