Travelers in Honduras generally visit one or two places: Copan for the ruins (and hopefully the birds!), and/or the Bay Islands for scuba diving and the generally laid-back island life.
While that was mostly our path as well, we had one more stop we were determined to make: right outside of the sprawling city of La Ceiba sits the Cangrejal River Valley, home to the beautiful jungle and excellent whitewater rafting (at Honduras prices).
The desire to skip Honduras' enormous and congested cities makes sense, but here's the thing: if you're traveling to Utila or Roatan via ferry, you're going to need to stop in La Ceiba at some point.
Pause there. Take a day. Go whitewater rafting in Honduras on the Rio Cangrejal.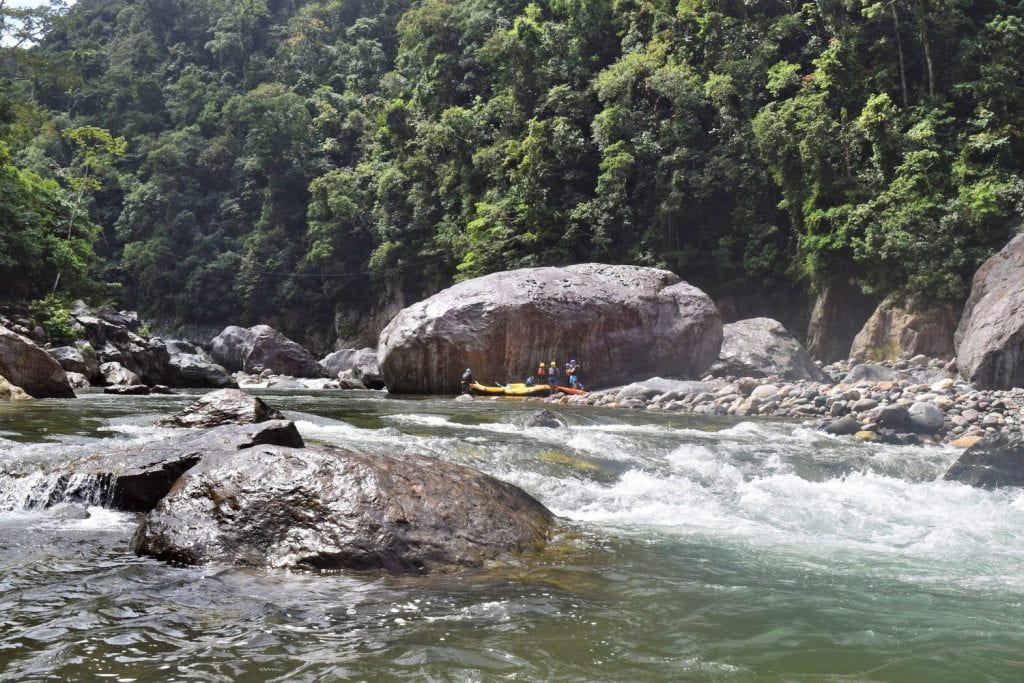 Some links in this post may be affiliate links. If you make a purchase through one of these links, we may earn a small commission at no extra cost to you. Please see our

disclosure policy

for more detail.
Our Experience Whitewater Rafting in Honduras on the Rio Cangrejal
Whitewater rafting in Honduras was one of the highlights of our time in the country–and considering how much fun we had at Macaw Mountain and going scuba diving on Utila, not to mention how many incredible things to do in Honduras that there are, that's saying something!
The rapids were the perfect combination of excitement without being treacherous. We have essentially no whitewater rafting experience, having only gone once before while visiting Colorado, and were nervous that that might lead the tour guide to keep things boring.
Not so: we passed through multiple Class III rapids that had our hearts pounding and shoulders aching with the effort of paddling.
As if more than an hour of that excitement wasn't enough, we also spent some time cliff jumping at the beginning of the tour, hurling ourselves off of giant boulders into the waiting river. A deluge of rain decided to show up about halfway through our time cliff jumping, which rather than detracting anything, only added an extra layer of fun.
Toward the end of the tour, whitewater rafting on Honduras' Rio Cangrejal went from invigorating to relaxing, and we got to spend some time sitting back and enjoying the beautiful views of the jungle–as well as the giant waterfall that was visible high in the cliffs.
Don't go whitewater rafting in Honduras without a dry bag!

Ours allowed us to take our DSLR onto the river without worrying about losing or damaging it.
See a different side of Honduras in the Cangrejal River Valley.
Not many tourists stop in La Ceiba or visit the nearby Cangrejal River Valley.
Honduras' cities are not well known for their safety or what they offer to tourists, and it makes sense that many people head right to the boats to jump a ferry to Utila or Roatan.
While we were more cautious in La Ceiba than anywhere else we have traveled and didn't seek out a lot of things to do while there, we're so glad that we stopped to see to Cangrejal River Valley.
Outside the city, where the whitewater rafting in the Cangrejal River Valley takes place, you won't see any crowds or smell any pollution pumped into the air by too many cars.
The only things you'll see while on the river are beautiful pieces of nature, perhaps the occasional tour group, and maybe a fisherman or two.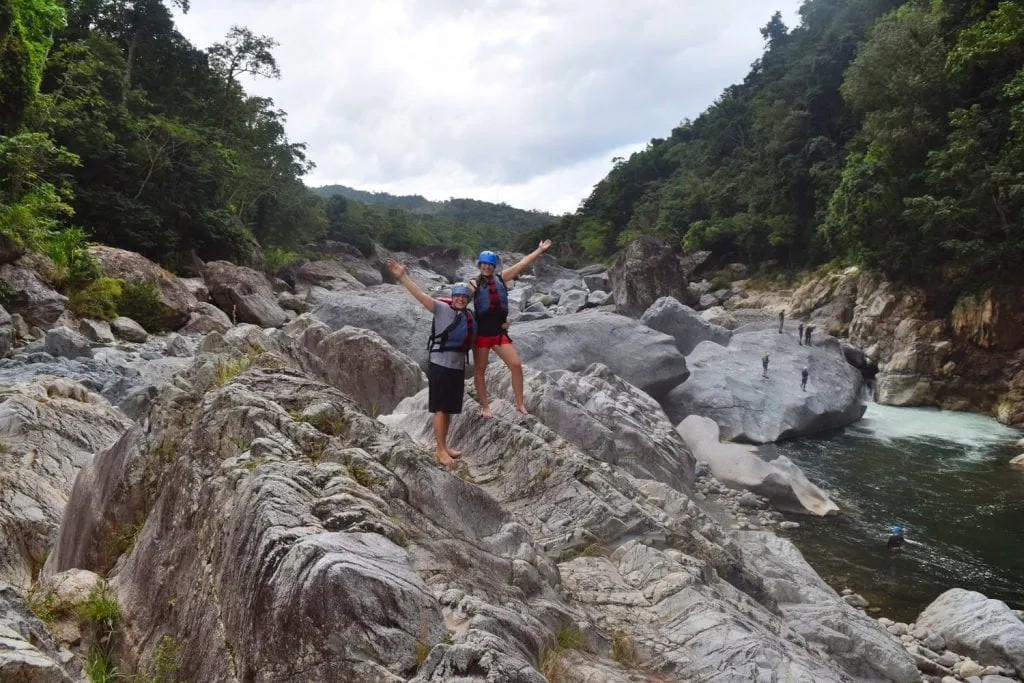 Get a great bargain on whitewater rafting in Honduras.
Whitewater rafting is not exactly known as a bargain adventure activity in the developed world, but Honduras prices make a trip onto the river a more affordable splurge.
Our half-day whitewater rafting in Honduras with the Jungle Lodge came in right around $40 USD per person–and a little shopping around may yield even better prices!
Due to the lack of crowds on the river (even though we visited at the beginning of March, considered part of the high season), Jeremy and I even had a private tour–just us, a guide, and our raft. We passed a couple of other tour groups from different outfits while on the river, and none of them had more than six people.
If you're looking for a great outdoor adventure in Honduras, don't just go scuba diving–stop on the way to or from the islands and give whitewater rafting in the Cangrejal River Valley a try.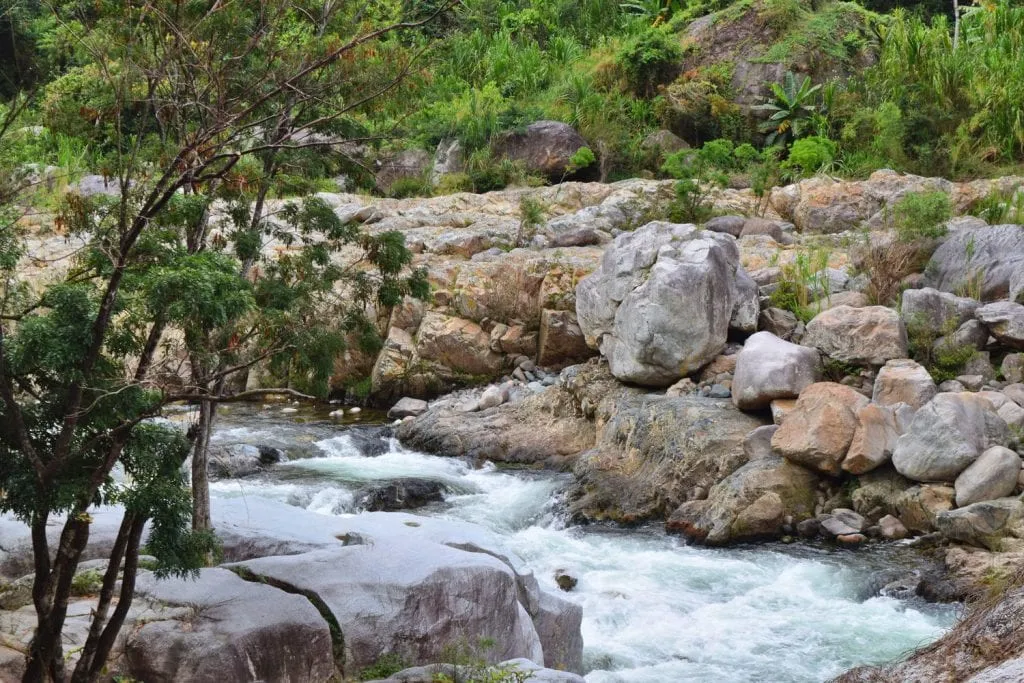 Where We Stayed (And Rafted!)
Hotel Carnaval — This hotel near La Ceiba's major malls had giant rooms, a great included breakfast, and felt very safe… until one of our taxi drivers remarked that it was one of the only hotels in the area with a "soft door" (ie, no armed guard at the door).
We didn't feel unsafe while there at all, but that comment did put us a bit on edge!
Jungle Lodge — We booked our whitewater rafting trip through this company, which is also the name of the hostel on site. Located about 45 minutes outside of La Ceiba, the lodge is fairly isolated (there are a few other lodges within a mile radius), so don't count on a lot of dining options around here–though it does give you the option of staying outside of La Ceiba.
We loved our Rio Cangrejal rafting trip and can definitely recommend them for rafting excursions!