We have an intense love of traveling in Italy–and after visiting Italy so many times that we've each spent about a year there, we have a huge collection of travel tips for Italy to share!
Italy is a delightful and fairly easy country to travel in, but it's absolutely a world all its own.
Cultural quirks, transportation snafus, tax confusion, and how exactly to buy fruit in a supermarket are just a few of the possible challenges you'll run into while traveling in Italy.
And, while getting out of your element is part of the fun of visiting another country, reading through these Italy travel tips will definitely make your experience a bit smoother, especially if it's your first visit!
We have traveled Italy extensively over several years, with our most recent trips taking place in 2022.
We've traveled to 14 of Italy's 20 regions, from the northern reaches of the Italian Dolomites to the beaches of Sicily.
We've traveled by plane, train, rental car, taxi, ferry, and bus. We've traveled on a budget, and we've splashed out on luxury experiences.
We've mostly traveled Italy as a couple, but also with friends and on multigenerational trips with family.
We've paused to experience certain areas more deeply at times, spending a month each "living" in Florence and Bologna, and 2 months in Rome.
In other words, we've seen a lot of Italy (and published 100+ Italy blog posts and counting along the way).
Here is the best advice for traveling Italy!
A Quick Note on Who We Are
We are Kate and Jeremy Storm, a travel blogging couple from the USA, and these tips are written from our perspective.
Because of this, a couple of these tips speak to cultural differences between the USA and Italy specifically.
However, the focus here is very much on Italy, not the USA, and the vast majority of these Italy travel tips will be useful for travelers coming from anywhere outside of Italy!
Consider this an Italy 101 guide for anyone planning their very first trip to Italy.
Advice for Staying in Hotels + Apartments in Italy
Hotels and Airbnbs will make a copy of your passport.
… Or take a picture, or write down the number… you get the idea.
This is done for tax purposes on their end and is totally normal, so don't worry about it!
Leaving your room key at the hotel is common.
It's not done 100% of the time, but it's a very common practice in Italy to drop your key off at the front desk as you head out for the day and to pick it up when you come back to the room.
This is much more common at historic hotels, as many of them still use "real" keys!
Beds are tiny and generally don't come with comforters.
Don't be surprised if you find only a sheet and a very light blanket on your bed, especially if you're visiting Italy in the summer!
Oh, and two twin beds being pushed together to make a double bed is common too, especially if you're renting an apartment rather than staying in a hotel.
You'll need to pay a tourist tax in each city you visit.
This is collected by your hotel and increasingly by private apartments/Airbnbs (they're required to do so).
This fee is set per person, per night, and is usually around 2 Euros, though it does vary, and some places are more expensive.
So, for example, if you're a couple spending 4 nights in a city with a 2 Euro tourist tax, you would owe 16 Euros: 2 Euros per person (aka 4 Euros per night for you as a couple), for 4 nights.
This tax must be paid in cash.
There are exceptions–some higher-end hotels will let you charge it and then handle the cash on their end–but we've only had that happen a couple of times.
Cash is always deeply preferred.
Hotels will generally request the tax at the beginning of the stay, but most won't make a big deal out of having you pay anytime before check out if you don't have cash on you at check-in.
These taxes are never paid before arrival–so even if you paid for your hotel in full through a service like Booking.com before checking in, you'll still owe the tax.
Occasionally you'll also owe a tourist tax on day trips.
The only place we've run into this is the highly touristed Capri, but it does happen.
As of 2023, Venice is expected to introduce a tax for day trippers at some point very soon, but it has been repeatedly delayed.
Air conditioning is not a given.
If you're visiting Italy during the summer, double-check your hotel or apartment before booking.
Air conditioning isn't always standard, but it's often very necessary in our opinion!
Don't expect a clothes dryer.
Even if your apartment rental or Airbnb comes with a washer, you won't find a dryer–but there will be a rack to line-dry your clothes on.
If you have mobility concerns, choose a place to stay carefully.
Narrow, steep staircases are very common in Italy–we've climbed many of them to reach apartments or hotel rooms.
Elevators/lifts are far from a guarantee, especially at small, family-run properties.
Food-Related Tips for Visiting Italy
Restaurant Tips for Italy
Food is extremely local, and you'll eat well by sticking to regional specialties.
In other words, you won't be likely to find great Napoli-style pizza in Rome or pasta carbonara in Sicily.
Because of this, food tours in Italy are fantastic.
Everywhere you go in Italy, you can learn about new foods, dishes, and eating habits from locals–and that variety makes food tours extra special.
We love taking food tours in Italy and have taken several incredible ones.
Some of our favorite food tours include this one in Florence, this one in Emilia-Romagna, and this one in Rome!
Don't use a spoon to eat your pasta!
In Italy, this is for children.
… And don't cut it.
It takes a while to get the hang of twirling neatly with a fork, but it's worth it!
The house wine is usually delicious.
… And even if you don't see it on the menu, there's a 95% chance that it exists.
You just have to ask for it (vino della casa).
House wine is sold by the liter.
Generally, you'll order a quarter, half, or entire liter, and you'll have your choice of red (vino rosso) or white (vino bianco).
The bread is not included. Sort of.
Some restaurants will bring bread to the table before your meal, and it's typically not "free".
However, more often than not it's included in the coperto, or cover charge (usually 1-3 Euros/person), so you're likely going to pay for it regardless and might as well eat it.
If you're not sure what the deal is, ask!
Garlic bread does not exist here.
It is merely a delicious American delicacy.
… And neither does fettuccini alfredo, or chicken on literally any kind of pasta.
Italian-American food is tasty, but it's not Italian.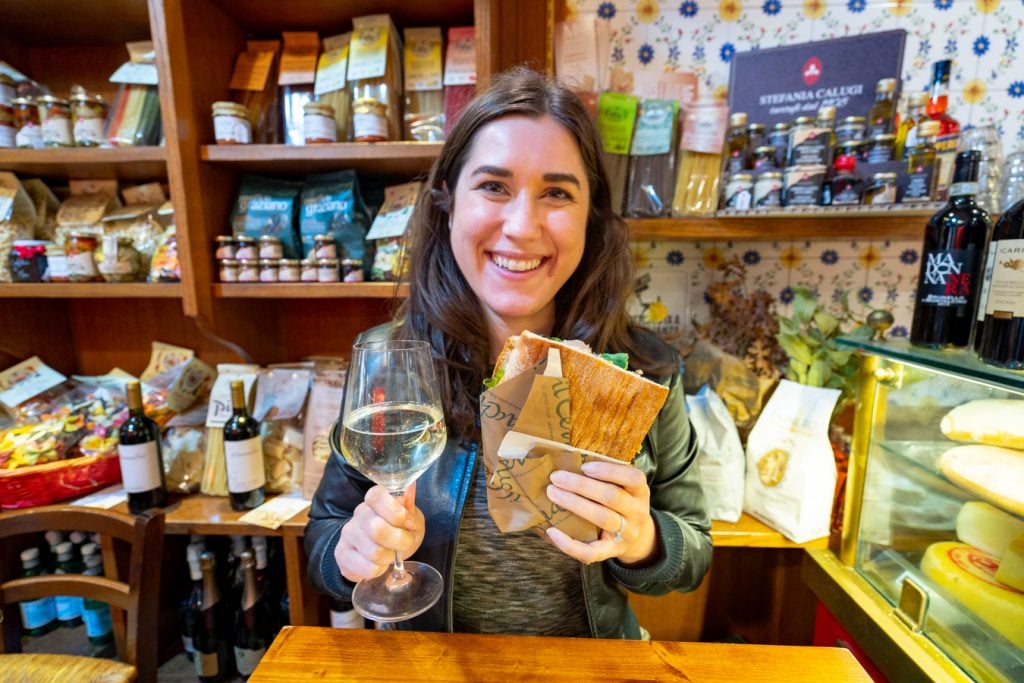 Cappuccino is a breakfast drink.
The reason for this is digestion–everything about eating in Italy revolves around digestion, and frothy milk in the afternoon?
Not great for digestion, as the local thought goes.
Obviously, you can order it–Jeremy does–but if you're a "when in Rome" sort of traveler, stick to espresso after about 10:00 AM.
Coffee is espresso, and it's not called espresso.
If you order un caffè (sometimes clarified to un caffè normale if they want to confirm you're not looking for an Americano/if you know how to order coffee Italy), you'll be given espresso.
We have a full Italian coffee culture guide here to help your parse the specifics!
… And it is considered great for digestion.
Espressos are typically served after a meal, even dinner, and though I can't fathom being able to handle that much caffeine at night, it's a very common practice!
If you want to stick with the ritual but also sleep, you can request decaf, or café déca (the locals won't, though).
If you see an omelet for sale in Italy, you're at a tourist restaurant.
Italian breakfast consists of coffee and maybe a pastry (a cornetto cioccolato is a delightful treat, take advantage of it), consumed standing at the bar and not sitting down at a table.
Here's our full guide to Italian breakfast culture!
Italian sparkling wine is generally prosecco.
Prosecco, like French champagne, comes specifically from the prosecco region of Italy (it's up north in Veneto and makes a great day trip from Venice, if you're interested!).
Prosecco is delicious, and if you like sparkling wine, you need to drink some while in Italy!
Bars are not just for the evening.
Italian bars serve alcohol, yes, but they also serve coffee and pastries.
Think of them like a coffee shop + bar hybrid!
You'll go here to get your breakfast… and then also to get your aperitivo in the evening.
Get your stomach on Italy's schedule.
This varies a bit by region, but it's definitely something to keep in mind–the best restaurants don't stay open all day!
Here's a vague schedule to keep in mind:
Breakfast of coffee and pastry at the bar when you wake up (pretty flexible, the bars will stay open through the day, though the best pastries can go early-ish).
Lunch is between 12-3. Aperitivo is between 5-7.
Restaurants open for dinner at 7:30–occasionally 7. They'll really start to fill up around 8:30-9.
We go into this and many more Italian dining habits in our guide to eating in Italy!
Reservations matter.
If you want to eat at a particular restaurant, especially in a major city like Rome, make reservations!
Your hotel concierge can help with this if you like, but many restaurants have an online reservation option as well.
Specify what kind of water you want.
Acqua naturale is flat, and acqua gassata is carbonated.
They're both generally the same price and will come in a bottle.
You can also usually request an acqua grande, or big water, which is typically one liter to share amongst the table.
Don't dip your bread in olive oil.
A small amount of olive oil drizzled over fresh bread?
Delicious.
Dipping your bread in oil and letting it get soaked?
Too heavy–according to the Italians, anyway.
My American self still loves it (but I generally save that indulgence for home).
Pasta noodles are not interchangeable.
Pasta shapes don't exist for fun–they're designed to be served with certain kinds of sauces, and what you order matters!
Don't special order different noodles with a dish (in fact, as a general rule, avoid special ordering in Italy unless it's due to dietary restrictions).
If you have your choice of noodles and sauce, ask which is the best noodle for the dish you're after.
Slow service doesn't mean bad service.
Courses aren't rushed in Italy, and your waiter will never bring your check until you ask for it.
If you want to pay by card, ask for the card machine when you ask for the check.
Your waiter will bring the machine right to the table and run the card in front of you.
In Italy, and in Europe overall, it is considered a major faux pas to ever remove a credit card from the sight of its owner!
If you order pepperoni on your pizza in Italy, you'll receive a pizza with peppers.
The closest approximation to American-style pepperoni pizza in Italy is a diavolo, which is served with cheese, salami, peppers, and sometimes olives.
We go into more specifics on typical Italian pizzas and toppings in this pizza guide!
Travel Tips for Grocery Shopping in Italy
The most common supermarket brands in Italy are Spar, Carrefour, and Conan.
You'll find at least one of these in any given Italian city.
Size varies dramatically, though, from giant supercenters in the suburbs of major cities to tiny "express marts" that are barely more than a corner store.
Use plastic gloves when handling produce in the supermarket.
I've actually found that this one varies by region, but when in doubt, look and see what the other shoppers are doing, and choose whether or not to use gloves accordingly.
You'll weigh your produce in the supermarket yourself.
In the USA, you'll bag your produce and then it will be identified and scanned at the register–but in Italy, that's your job.
When browsing, you'll notice that each type of produce will be marked with a number.
Take the number to the nearby scale, place your bag of produce on it (one type at a time, obviously), and press the respective number.
A sticker will automatically print with a barcode, weight, and price.
This is the opposite of what happens in markets.
In markets, the vendors will select your produce, though you can sometimes point to a particular piece if you want a certain apple or orange.
Vendors do not take kindly to people, say, rooting through their pile of apples.
If you love Italian wine, go to the grocery store.
… And delight at finding what would be a $30 bottle in the USA for a mere 5-10 Euros!
Consider buying produce at the market.
You'll often find better quality produce for less money than the supermarket, especially in smaller towns.
Major supermarkets often stock fine produce, but the smaller stores, not so much.
Don't expect free plastic bags to carry your groceries in.
Plastic bags come with a small charge in Italy.
They're available at the register in the supermarket, and you'll either place however many you need on the conveyor belt yourself, or, if they're stored under the register, the cashier will ask you how many you want (if any).
Of course, the best thing to do is to bypass this problem entirely and bring a reusable bag!
We love our tote bag and have been using it to buy groceries in Italy (and for a myriad of other things) for years.
Tips for Transportation and Getting Around Italy
Tips for Driving in Italy
Your normal car insurance company may not cover car rental in Italy.
Be sure to double-check before renting a car!
It's important to make sure that they cover Italy specifically, not just some places in Europe.
You may not know if you get a ticket while driving.
Tickets are often given out by mail based on violations caught on camera, so you may come home to an unexpected bill!
It's forbidden to drive into most historic centers.
These are called "ZTL zones" and it is imperative that you avoid them when driving except under very limited circumstances (like having permission to park your rental car at a specific hotel).
… If you accidentally violate that rule because you're lost, you may come home to one of the tickets mentioned above.
Ask us how we know…
You need an International Driving Permit to rent a car in Italy.
The rental company may or may not ask you for it, but the last thing you want is to be pulled over by a police officer and not have one.
International Driving Permits translate your license into local languages, and the official ones (the only ones that count) must be arranged for before your trip.
We usually obtain ours through AAA.
International Driver's Licenses, offered for a fee by various online services, are not the same thing and don't fulfill the requirement.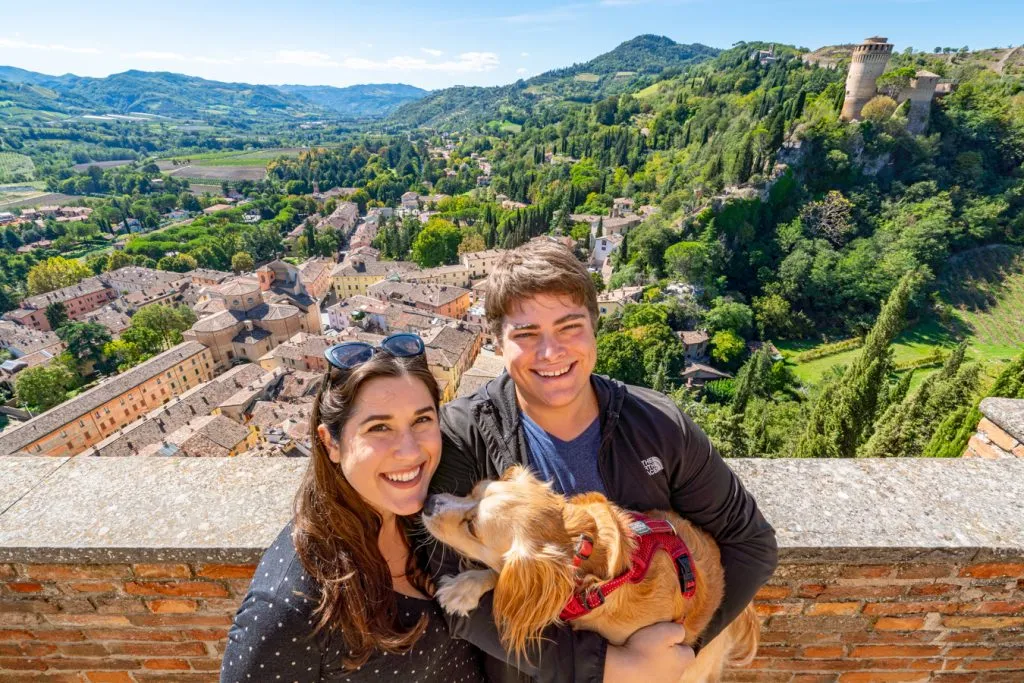 Rent the tiniest car that you can fit your belongings into.
Italian roads, parking spaces, and vehicles are all much smaller than their North American counterparts.
It's a simple but essential piece of advice for traveling in Italy that life will be much easier if you're driving a small car!
Knowing how to drive a manual will make life simpler.
Most car rental companies keep a few automatics on hand for international visitors, but manual cars are standard in Italy (and all over Europe).
You'll pay much less–and have much more vehicle choice–if you can drive a manual.
Pay attention to the color of your parking space.
Generally speaking, white parking spots are free to use, blue spots are paid (look for the nearby meter), and yellow spaces are to be avoided.
Train Travel Tips for Italy
Trenitalia is the most prevalent train company in Italy.
This is Italy's national train company.
They have the most routes, and in our experience, typically the best prices.
You'll also see Italo trains and (rarely) Trenord trains in Italy.
Italo is a private company that operates some routes in the country, especially high-speed ones.
Trenord is similar, but much more limited in scope.
You can expect to find these trains in Lombardy, such as around Milan and Lake Como.
Omio is a great place to plan train travel in Italy.
Omio is a transportation aggregate that simplifies planning transportation routes in Italy (and beyond).
You can check prices and compare rates, schedules, and more on Omio to ensure you're getting the best deal on train (or bus) travel in Italy.
We use Omio regularly throughout Europe and have always had good experiences with it.
You must validate your train ticket!
… If you have a paper ticket, that is.
Instead, consider downloading the Trenitalia and/or Omio app.
This will allow you to purchase train tickets on your phone, and the conductor will then be able to easily scan your ticket from there–no validation required.
However, you'll need to download or screenshot your tickets immediately after purchase.
Without an Italian tax ID number, you'll need to use the Trenitalia app as a guest, and therefore your tickets won't be saved within the app itself.
This sounds more intimidating than it is, but it's something to be aware of.
You can buy regional train tickets whenever you want.
These are the "slow" trains, and their prices are set by the government.
For example, if you want to travel from Florence to Bologna on the slow/regional train, you can simply show up and buy your ticket that day, and no advance planning is required.
If you wanted to take the high-speed train though (for this route, roughly 30 minutes of travel versus an hour), booking in advance would yield the best price.
However, high-speed rail tickets must be purchased ASAP.
These tickets escalate in price as the date of travel gets closer.
So, for example, if you want to travel from Florence to Venice, it helps to plan ahead!
Fast trains are called AV (or Alta Velocità) trains.
You'll most commonly see them marketed as Frecciarosa, Frecciabianca, or Frecciargento, depending on what region you are in.
Bus Travel Tips for Italy
Tabacchi are your friends.
An Italian tabaccheria (aka tobacco shop) sells cigarettes, but also bus tickets.
… And lotto tickets, and sometimes SIM cards, and usually snacks.
Think of them like gas stations in the USA, but you know, without selling gas.
… This is important because not all Italian buses sell bus tickets.
Looking at you, Rome.
Before boarding a bus in Italy, it's best to always have a ticket in hand–and don't forget to validate it once you board!
Make sure you have enough bus tickets for Sunday.
Since many tabacchi and other small shops are closed on Sundays, you might not be able to buy more.
For inter-city travel, check Flixbus.
The low-cost budget carrier has quite a few routes in Italy, and if you're trying to visit Italy on a budget, it might be the cheapest way for you to get around.
Flixbus tickets are also available through Omio.
Tips and Advice for Flying in Italy
Double-check your airports.
Many budget airlines fly to airports just outside of major cities, so be sure you're headed to the right place before packing your bags!
… And also your prices.
It's not great for the globe, but from an economic standpoint, it can often be less expensive to fly domestically in Italy than take the (fast) train.
If you're on a budget, check both (plus buses) before booking anything.
Don't bother showing up at the airport more than 2 hours before your flight.
If you have to check bags, the counter won't take them, and you'll be stuck outside security until the 2-hour mark.
This actually goes for most of Europe, not just Italy, but it's a huge change as compared to flying in the USA!
Other Tips for Getting Around Italy
Train and bus strikes are common in Italy.
Be sure to leave yourself plenty of extra time to get around on important days (like when catching a flight).
Luckily, Italians schedule their strikes in advance, so if you're worried about a particular date, ask around to see if anything is coming up.
This isn't an everyday thing–I think we've run into it about 3 times in all of our time spent in Italy–but it's far from unheard of.
Taxis are notorious for ripping people off.
Not just an Italy problem, of course, but you definitely need to be aware of it.
The FreeNow app–sort of a local Uber that connects to local taxis, if you will, can help with this, and you can then use a credit card to pay through the app.
Have a transportation plan before leaving the airport.
Train, bus, taxi?
Know exactly how you'll be getting from the airport to the hotel before you arrive, and your day will be much easier for it.
If you'll be taking a taxi, look up and see if there's a flat/set fare to get to the city center from the airport–there usually is, and it's government regulated.
However, that won't always stop drivers from telling you that your hotel isn't in the center (it probably is).
Bags may cost you.
Everyone knows that you have to pay for luggage on airplanes, but in Italy, luggage can also cost you on the bus or in a taxi.
This is another thing to confirm with your taxi driver before getting into their vehicle!
Uber only exists in a very limited form in Italy.
Currently, the only form of Uber that exists in Italy is Uber Black, and it only has a presence in Rome and Milan.
Uber has been engaged in back-and-forth legal battles in Italy for years, but as a general rule, don't count on using Uber in Italy.
FreeNow is a great alternative and is what we use in Italy (and in many places throughout Europe).
Tips for Paying for Things in Italy
Card payments are increasingly prevalent in Italy.
You'll be able to use your credit card regularly to purchase meals, groceries, train tickets, etc.
However, don't use a card for small purchases.
For small items like gelato or coffee (both very important parts of any trip to Italy), it's best to have cash on hand.
In fact, always have Euros on hand.
You never know when you'll accidentally walk into a cash-only restaurant.
Bring a Visa or Mastercard to Italy.
Discover, Diners Club, and American Express are not as commonly accepted.
… And ideally one with no foreign transaction fees.
Credit cards with no foreign transaction fees are so common these days that it's a shame to use anything else when visiting Italy!
ATMs are the best way to get Euros in Italy.
If you're from the USA like us, we love having our checking account with Schwab for this reason!
They refund all ATM fees worldwide, making getting cash from ATMs in Italy a breeze.
Even if you do have to pay an ATM fee, though, the ATM (or bancomat in Italian) is still the simplest way to get cash in Italy.
Avoid Euronet-branded ATMs.
Euronet ATMs are all over Europe, generally in very convenient places, and their exchange rates and fees are absolutely abysmal.
Instead, look for ATMs at the branches of local banks.
Logistical Travel Tips for Italy
Strongly consider purchasing a SIM card in Italy.
They are very inexpensive, can be put into any modern unlocked phone, and having data will make your trip to Italy infinitely easier.
We usually use TIM, but Vodafone is also popular.
Bathrooms aren't always free.
Half a Euro for a restroom is a good price. One Euro is acceptable. More than that, find somewhere else.
If you have a tiny bladder like me, planning ahead for restroom use is one of the most important travel tips for Italy (or at least it'll feel that way when you're wandering around Rome and can't find a public bathroom).
Make a habit of visiting the restroom in any places you visit that have one included–this includes restaurants, bars/coffee shops, and museums.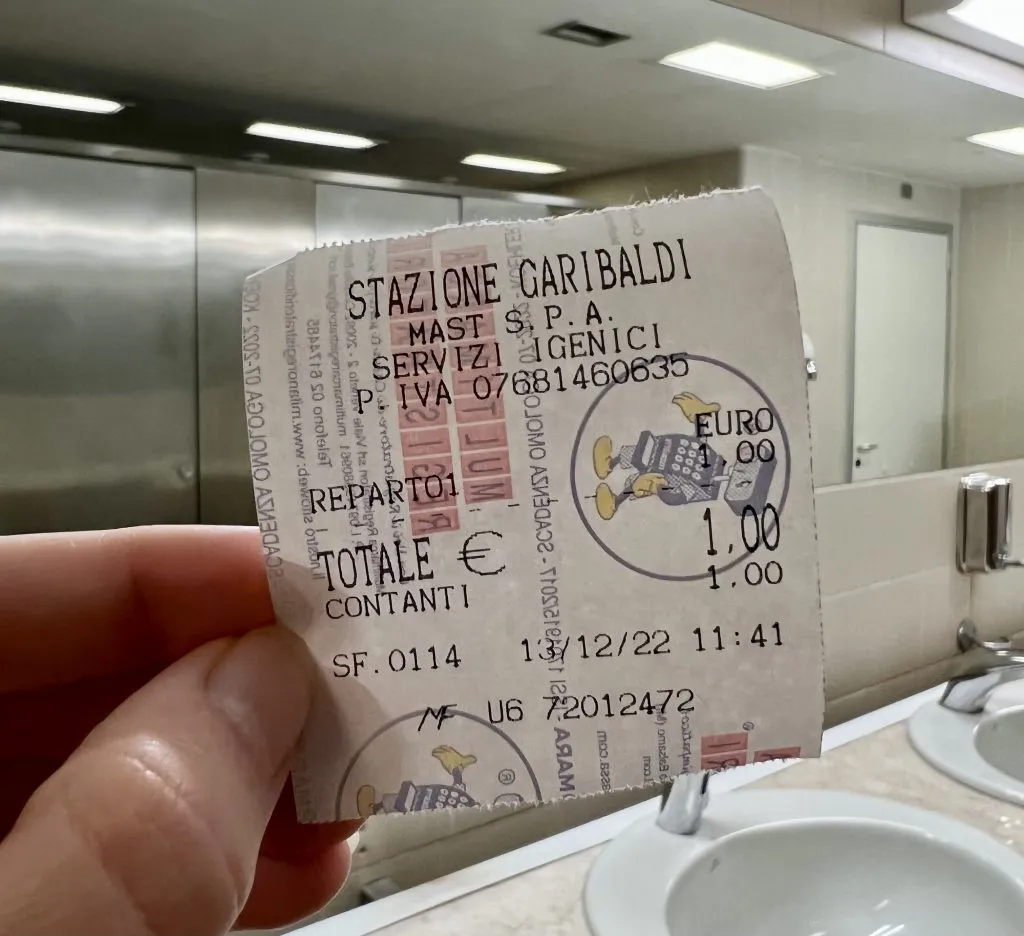 Squat toilets exist in Italy.
They're not incredibly common, but the first squat toilet I ever saw in my life was in a Tuscan train station!
Carry a small pack of tissues, just in case.
Finding a restroom in Italy that is out of toilet paper is far from uncommon.
I usually carry a pack of these around in our day bag, as well as a small bottle of hand sanitizer
.
Be prepared for the Italian riposo.
This is Italy's answer to the Spanish siesta, and you'll find some shops closed in the mid-afternoon for this reason.
You won't notice it as often in major cities in northern and central Italy, but in smaller towns and in southern Italy, it's very apparent.
The exception is restaurants–you'll see a riposo at restaurants just about everywhere.
Seek out lesser-known piazzas in Italy.
Every city in Italy has its famous, central piazzas, from Piazza Navona in Rome to Piazza San Marco in Venice and beyond.
These places are beautiful and historic, of course, but they are also–inevitably–the most expensive place to enjoy a coffee or aperitivo in the city.
However, each city in Italy also has many piazzas to choose from (here are 15 of the best piazzas in Rome, and that's just a small sample of what the city has to offer).
By heading to a smaller, lesser-known piazza, you'll pay far less, be in a much more laid-back (and often local) environment, and get to indulge in just as much people-watching.
We love Campo Santa Barbara in Venice's Dorsoduro neighborhood, for example–but there's no limit to the number of charming piazzas you can find in Italy!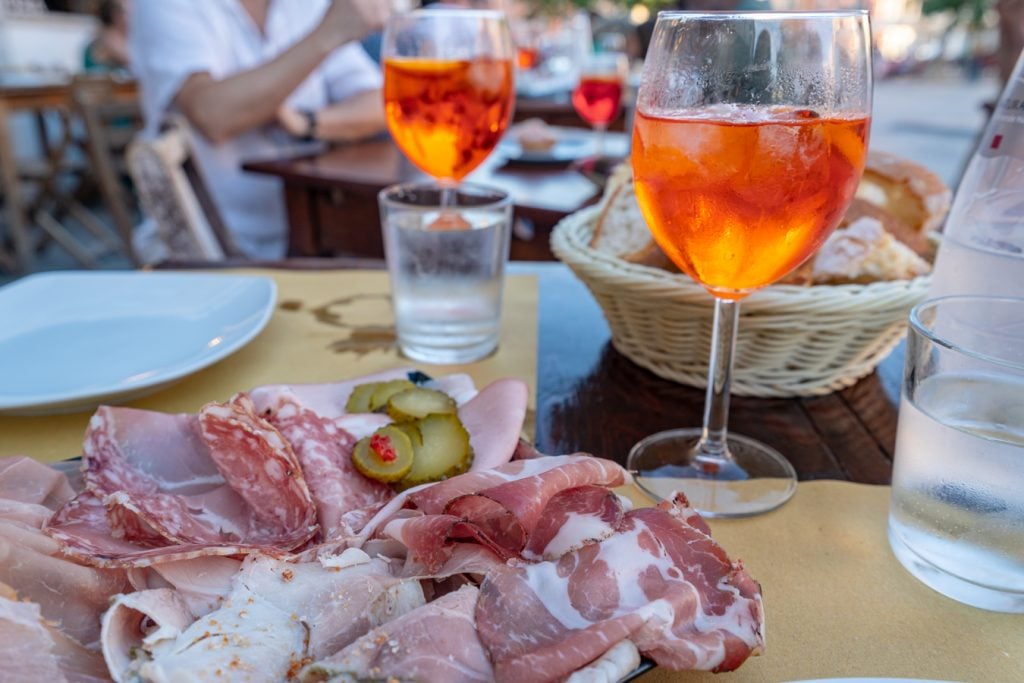 Monday is generally a terrible day to visit museums in Italy.
This is a very common day for museums to be closed, including the Uffizi Gallery in Florence, the Borghese Gallery in Rome, and the Galleria dell'Accademia in Florence.
The Vatican Museums are, unsurprisingly, closed on Sunday instead of Monday.
Take advantage of skip-the-line tickets at all popular attractions.
They're generally available for a small upcharge (sometimes even no upcharge!) and will make your visit to Italy so much smoother.
We book all of our tickets for major Italian attractions like the Uffizi Gallery, Colosseum, Vatican Museums, Doge's Palace, etc, on Get Your Guide.
You can drink from the fountains.
The small, pretty fountains found all over Italian cities?
That water is potable, and you can absolutely take a swig or even refill your water bottle there.
We love taking advantage of these fountains every chance we can and always miss them when we're traveling in cities outside of Italy (and our dog Ranger is an even bigger fan than we are).
Fall is the best season to visit Italy.
Unlike many of these travel tips for Italy, this one isn't objective truth but only our opinion!
Fall brings cooler weather (though still decently warm in most parts of Italy in September and October), the harvest, lessened crowds, lower prices, and plenty of crisp, sunny days.
There is nowhere on this planet I would rather spend the month of October than central Italy.
Winter also has its perks!
One of our favorite travel tips for Italy is to consider traveling in the offseason–it is both peaceful and lovely!
If you're visiting Italy on a budget and want to see the country's classic attractions for cheap, winter has a lot to offer.
We are often downright shocked at how empty the cities are in winter, and they're still lovely to visit.
… But don't expect great Christmas markets.
Those are more of a Central Europe thing.
The closest you'll get to "real" Christmas markets like what you'll find in Austria or Germany is in Bolzano, which is home to the oldest Christmas market in Italy, and the smaller South Tyrolian towns that surround it.
… No big surprise, since the area was Austrian until 1918!
Be prepared to carry your luggage for decent distances.
This is especially prevalent in city centers, where transportation may not be able to deliver you all the way to your door.
If carrying your luggage sounds terrible, you might be able to hire a porter!
They're especially common in places like Venice and Cinque Terre, and many hotels offer the service.
If you try to politely stand back in a line/queue, your turn may never come.
… And this becomes more and more prevalent the further south you travel in Italy.
English is the international language of tourism, and that includes Italy.
… So don't worry about being fluent, especially in large cities and particularly touristy areas (like hotels and big tourist attractions).
However, everyone in Italy does not speak English.
You should absolutely learn at least a few basic Italian phrases before coming to Italy!
Here are a few to keep in mind.
Basic Italian Phrases
Buongiorno. — Good morning.
Buona sera. — Good evening.
Ciao. — Hello/goodbye. (More casual than above.)
Per favore. — Please. (When requesting or accepting something.)
Grazie. — Thank you.
Prego. — You're welcome, or please. (When offering something–as in, "Please, have a seat.")
Non capisco. — I don't understand.
Parla inglese? — Do you speak English?
Il conto. — The check. (In a restaurant.)
Advice for Avoiding Common Scams in Italy
Sign no petitions.
I don't care what they say it's for, pay attention to this Italy travel tip: sign nothing. Smile and walk away.
Take no flowers.
This is a very common scam throughout Europe and seems to be particularly prevalent in Venice.
If someone hands you or your partner a flower, they will try to extort money from you for it.
Don't let anyone give you a friendship bracelet.
Yet another common scam in Italy–the friendship bracelet.
Someone will approach you to offer a "free" friendship bracelet.
As soon as it's tied to your wrist, it's not free anymore.
Keep an eye out for pickpockets.
This goes double in busy train stations, on crowded buses and trains, and in highly touristic areas like near the Colosseum, St. Mark's Square, Duomo di Milano, etc.
Naples and the surrounding area, especially the Circumvesuviana train, are particularly packed with pickpockets (the Circumvesuviana is the only place we've ever knowingly seen someone get pickpocketed!).
If you're particularly concerned or not used to watching your belongings in a crowded urban area, you might want to consider using an anti-theft backpack or a money belt for a little extra security.
Now, to be perfectly clear–all pickpockets know to check for money belts, and we no longer choose to use one ourselves.
That being said, they do offer a bit more protection than a normal pocket!
What to Know About Packing for Your Trip to Italy
You'll need European travel adapters for Italy.
We recommend purchasing travel adapters for Italy before you arrive, though you can find them on the ground in Italy as well.
Leave your hair tools at home.
The voltage, not just the plug, is different in Italy.
To use your hair tools, you'll either need a converter (which is both heavier and more expensive than an adapter) or a dual-voltage device.
However, most hotel rooms will have a hairdryer.
So you won't be left completely without styling tools if they're important to you!
Bring at least one church-appropriate outfit.
That means no knees (men can usually get away with shorts that hit at the knee), no shoulders, and no cleavage.
Trust me–it's not fun being turned away from a religious site!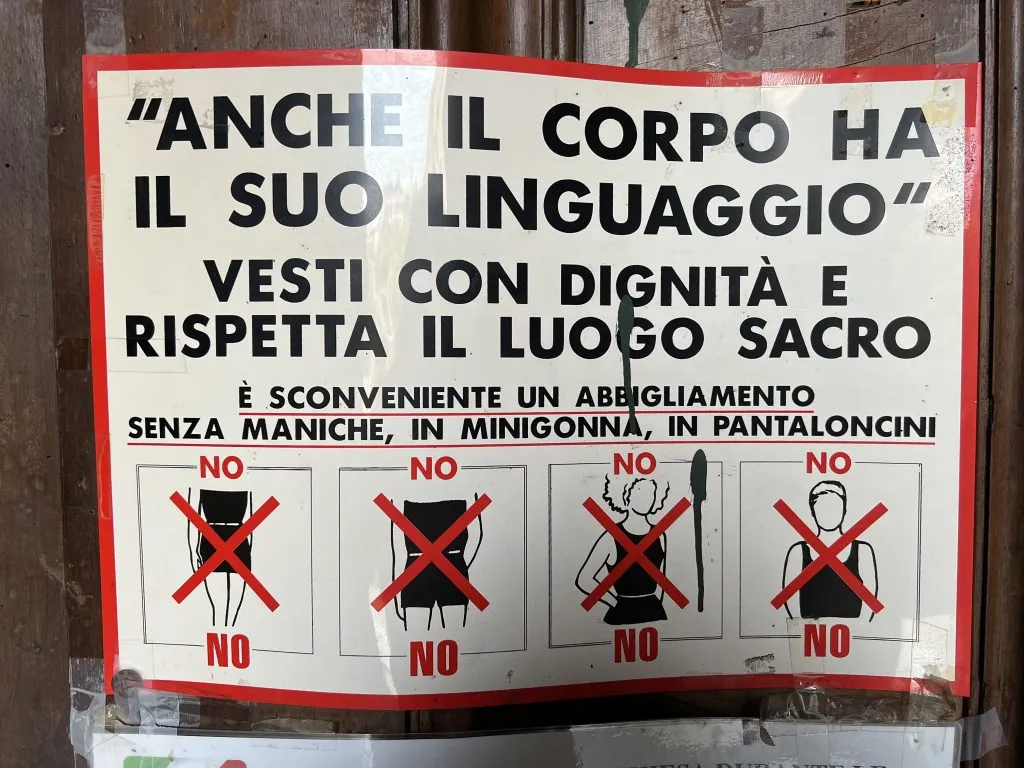 Bring (or buy!) a scarf.
Not only are scarves fashionable year-round in Italy for both men and women, but it's also a cheap and easy way to make a church-ready outfit in a jiffy during the hot summer.
You won't always be hot in the summer, though, so bring a jacket.
When Italians turn on the a/c, they really turn it on.
If you tend to get cold like me, definitely follow this Italy travel advice and bring a jacket–otherwise, you might be freezing in a train or museum.
Other Things to Know Before Visiting Italy
There are two countries inside Italy.
Everyone knows about Vatican City, but are you familiar with San Marino?
Located in the eastern part of Italy between Emilia-Romagna and Marche, this tiny country styles itself as the oldest republic in the world!
It's also incredibly beautiful, and definitely worth visiting.
The emergency phone number in Italy is 112 (the equivalent of American 911).
Hopefully you'll never need it, but it's good to make a note of it just in case.
The northern, central, and southern portions of Italy are very distinct.
Everyone talks about the stark difference between the north and south when discussing travel tips for Italy, but central Italy has its own flavor as well!
In fact, if you've never been to Italy, central Italy will likely initially feel the most "Italian" to you based on the photos, videos, and stories we're exposed to abroad.
Central Italy is where you'll find Tuscany, Umbria, and Emilia-Romagna, which are home to rolling hills bathed in golden light, hilltop villages, and "classic" Italian foods like parmigiano-reggiano and tagliatelle al ragù (aka the real version of what non-Italians know as spaghetti bolognese).
Here's our guide to the differences between northern, southern, and central Italy.
In fact, all 20 regions in Italy are distinct.
Italy was only unified in 1861 (and that date is a bit fluid), and the regional differences are still incredibly stark.
Italy didn't gain its current borders until after WWI!
Vittorio Emanuele II was the first King of Italy.
This is why you'll see his name just about everywhere!
Examples you might recognize are the Galleria Vittorio Emanuele II in Milan and the Vittorio Emanuele II Monument (aka Altare della Patria/Altar of the Fatherland) in Rome.
Dialects definitely still exist.
You won't hear a lot of it as a tourist, especially without seeking it out, but Sicilian dialect, Napoli dialect, Roman dialect… all of these languages (and more!) still exist and are spoken in the small towns of Italy.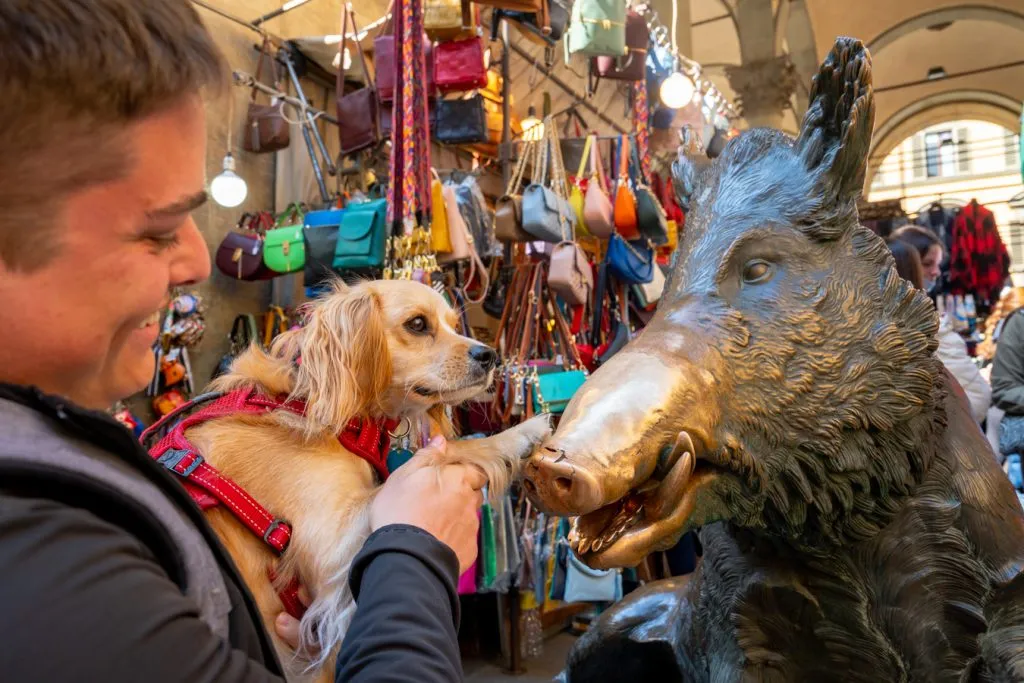 Italy has some of the best dog-watching around.
… Especially if you're into tiny, fluffy dogs.
We'll end this Italy travel tips post on a light note: if you're a dog fan like us, be prepared for all kinds of cuteness in Italy!