Isla Holbox is a place that demands that you relax: it has a slow pace, exclusively dirt roads, a very small town center, and no high rises.
The sprawling all-inclusive resorts of Cancun and Playa del Carmen feel a world away here on Isla Holbox (though the Riviera Maya definitely has its charms!), where the most upscale options available are small, boutique hotels.
Home to roughly 1500 locals (mostly fishermen and their families, though tourism is a growing industry) and 3000 travelers/transients at any given time, traveling to Isla Holbox is like taking a step back in time to an older, quieter version of the Yucatan peninsula.
As a bonus, it's beautiful: the water is calm and bright, the sandbars reach out for hundreds of feet, and hammocks are everywhere.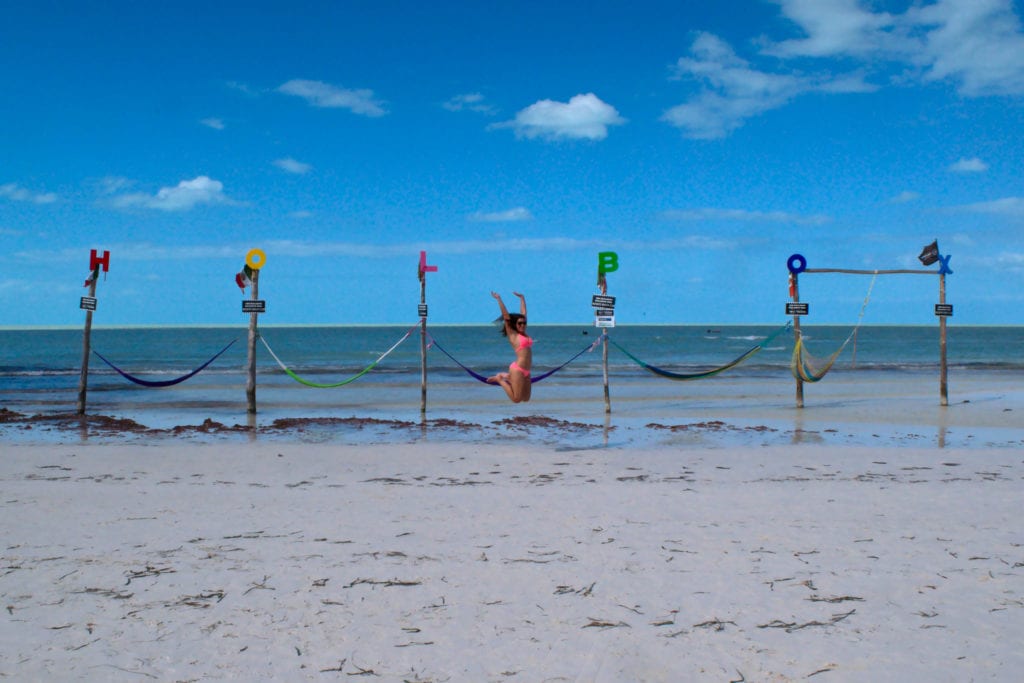 We didn't take any official tours while on Isla Holbox. Instead, we explored things to do on Isla Holbox ourselves–down paths through the woods, along beaches that stretched on and on, through the town streets to hunt for the best street art.
Whether you want to wander like us or take a more targeted approach to the island, there is no shortage of ways to explore Isla Holbox:
…. By boat
The most popular (or at least the most advertised) tour on Isla Holbox is the "three islands tour", which includes visits to Isla Pajaros (the hangout of Isla Holbox's famed flamingos, among other winged friends), Yalahau to visit a spring-fed swimming hole, and Passion Island for a view of Isla Holbox and the lagoon.
We didn't go, mostly because the flamingos are around from April to October, and we visited in January.
Looking for a different kind of boat trip when picking things to do on Isla Holbox? From June to September, Isla Holbox is home to hundreds of whale sharks, and a trip to swim with the whale sharks is said to be unforgettable.
… By bike
Bike rentals run 20-30 pesos ($1.00-$1.50 USD) an hour, or 150-200 pesos for a day.
I believe biking is one of the best ways to explore Isla Holbox: it's relatively flat and easy riding, the island is small enough to visit large chunks of it by bike, and the lack of heavy traffic makes riding very safe.
We loved our first day of exploring Isla Holbox by bike so much that we went back for a second–and if we headed back to Isla Holbox again, we may be tempted to negotiate a decent price for an entire week!
Avoid adding more plastic to the ocean: we used our SteriPen to treat the tap water while on Isla Holbox (and everywhere else we visited in Mexico!) and had absolutely zero issues with the water as a result. Be sure to pick up a reusable Nalgene before heading to the island as well!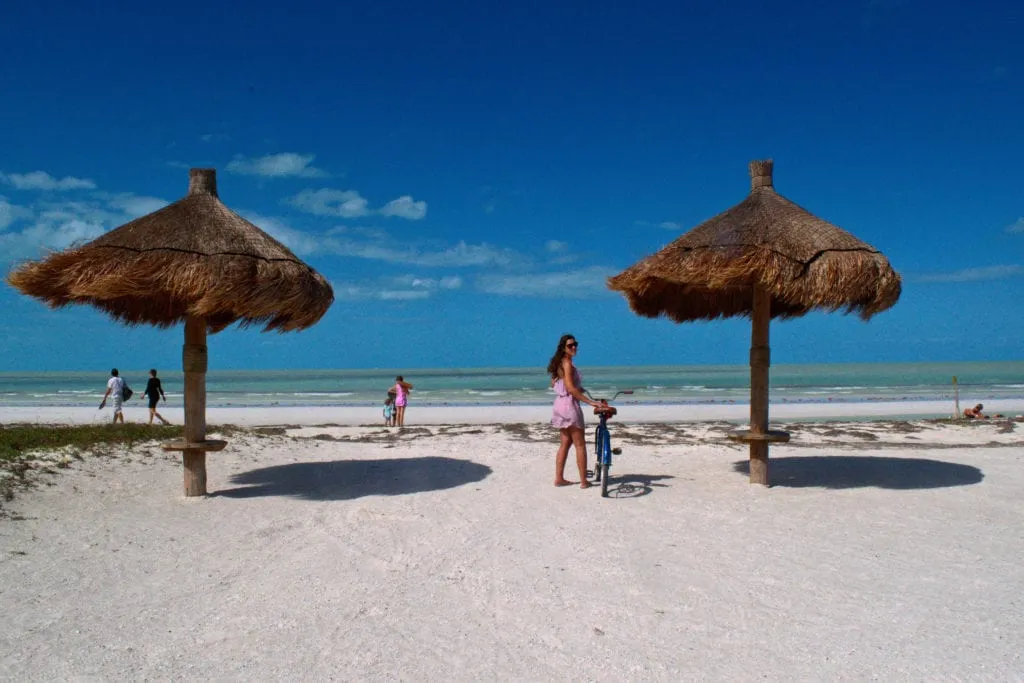 … By golf cart
Because of the lack of cars, golf carts are the main motorized method of transportation on Isla Holbox. Rent one to drive yourself either by the hour or the day or take an inexpensive taxi ride!
Isla Holbox has a fleet of golf cart "taxis" that congregate around where the ferries drop off new guests, and they are happy to take you anywhere you need to go.
… By ATV
We didn't see anyone advertising ATV rentals when looking for things to do on Isla Holbox, but we definitely saw several tourists driving them–perhaps they are owned by hotels? If you're interested in an ATV, start asking around when you get to Isla Holbox and see what you can find!
… By kayak
Kayak rentals are available on the beach, and we loved the views that we got from the water! Only downside? There was a fairly strong current when we were there, so to "go" anywhere was a big challenge–we mostly settled for paddling up and down the coast a bit and enjoying the views of the island.
… By horseback
There is one horseback riding company on the island, and if you've always dreamed of riding a horse on a beach, it's hard to imagine a more idyllic place to do it.
Fair warning: it's unclear how negotiable the prices are. We first asked an older lady at the property, who quoted 300 pesos/person for a 1.5 hour ride. The next day, we spoke to a man who said it was 600 pesos/person and wouldn't budge–we ended up passing on the ride, but if you want to go, definitely ask around!
The man we spoke with claimed that the prices were much higher booking through a hotel, which I don't doubt–just walk along the beach toward Punta Cocos and you'll come across the horses just 5-10 minutes away from town.
… By air
Have some spare cash lying around and want to add something unforgettable to your list of things to do on Isla Holbox? There are scenic flights of Isla Holbox available in small planes–think 5 passengers max! If you want to combine a trip with transport, you can also fly to Cancun or Playa del Carmen from Isla Holbox–for a price.
… By kiteboard
Isla Holbox is considered an incredible place to learn how to kiteboard, due to its combination of shallow and calm water, and enough wind to learn how to ride (especially in the winter).
When Jeremy spoke with the kiteboarding school out of curiosity, they stated that they required you to take 3 days of lessons or more, because it generally took 3 days to learn how to stand up properly. If this is one of the things you want to do on Isla Holbox, don't leave it until your last day on the island!
… By foot
Who could forget the simple idea of walking along the beach? Isla Holbox is the perfect place for beachside walks, as the water is so shallow and generally so serene that it's not a struggle to walk along the coast for hours with the water lapping at your ankles.
There are exceptions: we were caught in a huge rainstorm on our first day that agitated the water, but everything was peaceful again within a couple of days.
You'll notice an obvious method of transport missing from this list: car. There are no cars on Isla Holbox, with the exception of a few work trucks that the tourists don't see. The lack of cars made for an incredibly laid back island experience: no exhaust smell, no traffic, no gas stations.
Though we did pay inflated "island prices" for some goods here, this island paradise was actually a bargain (roughly $40/night for a private room with A/C and wifi at a nice hostel, and an average of $5.00 spent per inexpensive restaurant meal) compared to many parts of the Riviera Maya.
If you're looking for a laid-back destination with beautiful wildlife, plenty of nooks and crannies to explore, stunning beaches and reasonable prices, you will find plenty of amazing things to do on Isla Holbox. The extra travel from the Cancun airport is worth the trip!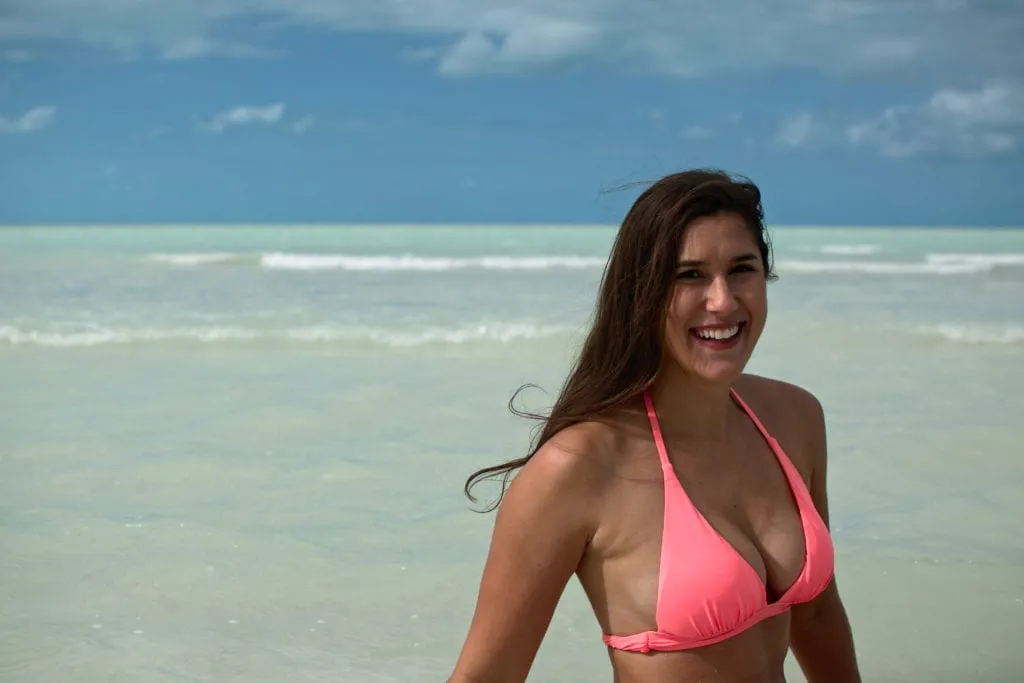 Getting to Isla Holbox
Private transfers of all types from Cancun, Playa del Carmen and similar are sold at obscene prices, advertised everywhere from hotels to tour companies. Unless money is truly no object and you're just after the most luxurious experience possible, it's all nonsense.
Here's what you need to do: take an ADO bus from either Cancun or Playa del Carmen to Chiquila. The bus will likely be a first-class bus (you can ask if it's important to you), perfectly comfortable and complete with A/C.
When the bus drops you off in Chiquila, walk five minutes down the road in the same direction the bus was headed. You'll come to a pier–you can't miss it, and all the other travelers from the bus will be headed there too.
Buy a ticket for the next ferry, either from Nine Hermanos or Holbox Express, it doesn't matter: at the time of writing, the companies sell at the same price (140 pesos per person). The companies swap off every half hour, so there's almost always a ferry getting ready to leave. We took Nine Hermanos on our way to Isla Holbox and Holbox Express on the way back, they seemed to be virtually the same quality and we had no issues with either.
The ferry ride takes about 20 minutes and will drop you off in Holbox right in front of taxis. If you walk straight down the main road past the taxis, you will be in the center of town in five minutes and standing on the beach in about eight minutes… or you could have one of the taxis take you to your hotel. Either way, your time on Isla Holbox has begun!
Where We Stayed on Isla Holbox
Golden Paradise Hostel — The charm of this hostel is less about the rooms (clean, basic, nothing remarkable one way or the other), than the beautiful yard that is complete with colorful hammocks shaded by palm trees. There's a large kitchen available, though we didn't use it. Though the hostel isn't on the beach, nothing is far on Isla Holbox: about a 10-minute walk will get you all the way through the center of town, past the biggest concentration of restaurants and shops, and onto the beach.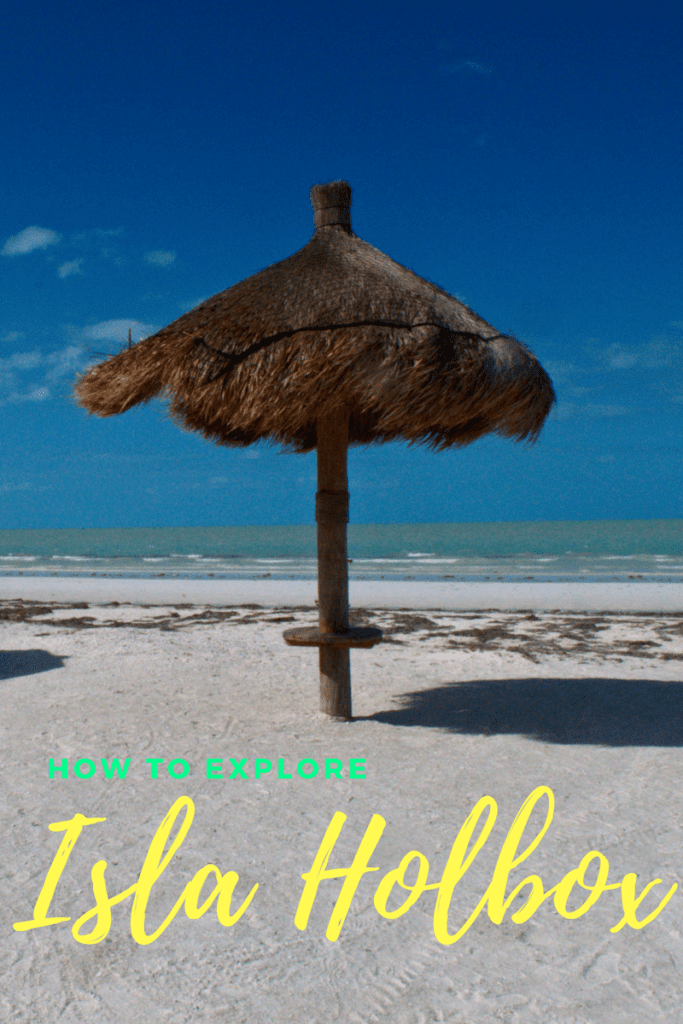 Some links in this post about things to do on Isla Holbox are affiliate links. If you click through one of these links, we may earn a small commission at no extra cost to you. We are committed to only ever recommending products and services that we personally use and like.