Isla Holbox, Mexico is one of those islands that calls to mind cliche words like "paradise". Really, though, what other word makes sense when the best things to do in Holbox range from enjoying some of the most beautiful and relaxing waters in Mexico to swimming with awe-inspiring whale sharks?
Famous for its beautiful, shallow waters, its wildlife, its lack of cars, and its lack of chain-anything (only boutique hotels and independent restaurants here), Holbox Island is a place that it's possible to fall completely head-over-heels in love with… while spending your days not doing much of anything at all.
Curious about visiting Isla Holbox? Here's everything you need to know, from what to do on Isla Holbox to the details on how to get there!
Some links in this post may be affiliate links. If you make a purchase through one of these links, we may earn a small commission at no extra cost to you. Please see our

disclosure policy

for more detail.
The Best Things to Do on Isla Holbox, Mexico
Go swimming with whale sharks.
Without a doubt, swimming with whale sharks is one of the best things to do in Holbox and a big part of the reason why many travelers visit the island in the first place!
The whales are in town from June to September each year.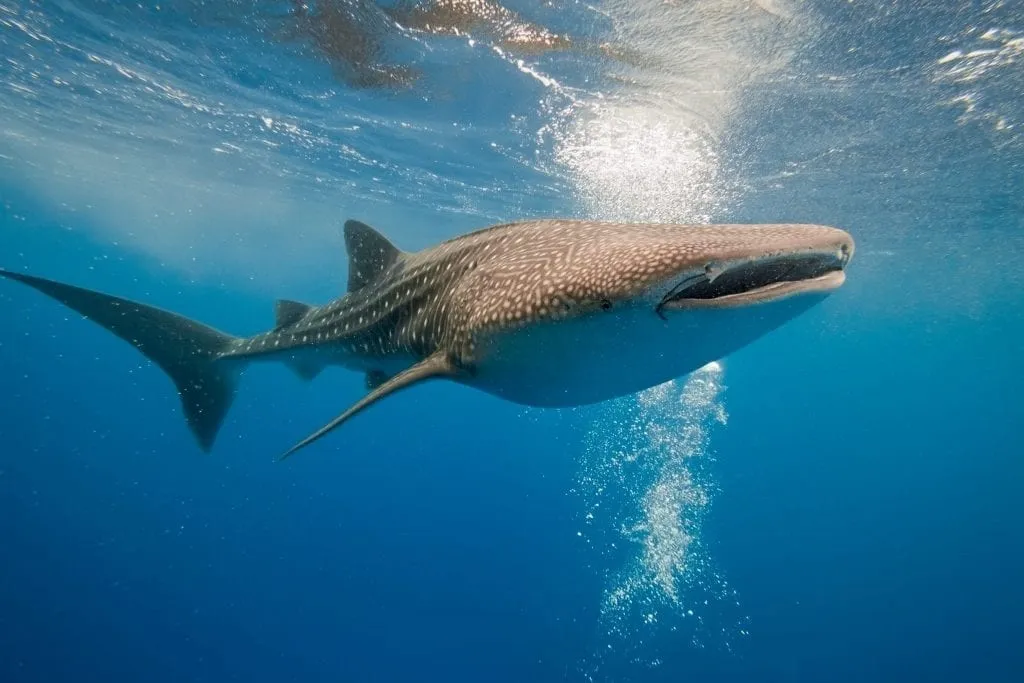 Relax on the beach.
Isla Holbox is an incredibly relaxing beach destination, where you'll find a few beach bars serving drinks, lots of lounge chairs to sprawl out on, and a more-than-average number of colorful hammocks suspended over the water.
While swimming isn't really a thing at Isla Holbox's beach–knee-deep water will have that effect–wading, sunbathing, and general relaxation make it a fantastic place to spend a day (or several).
Rent a bike for the day.
Want to get away from the crowds?
There's no better way to set off for the island's quieter corners than to rent a bike for the day.
Isla Holbox is extremely flat, with small, sandy roads and no cars to navigate around. In other words, it's the perfect biking destination.
Bike rentals run 20-30 pesos ($1.00-$1.50 USD) an hour or 150-200 pesos for a day.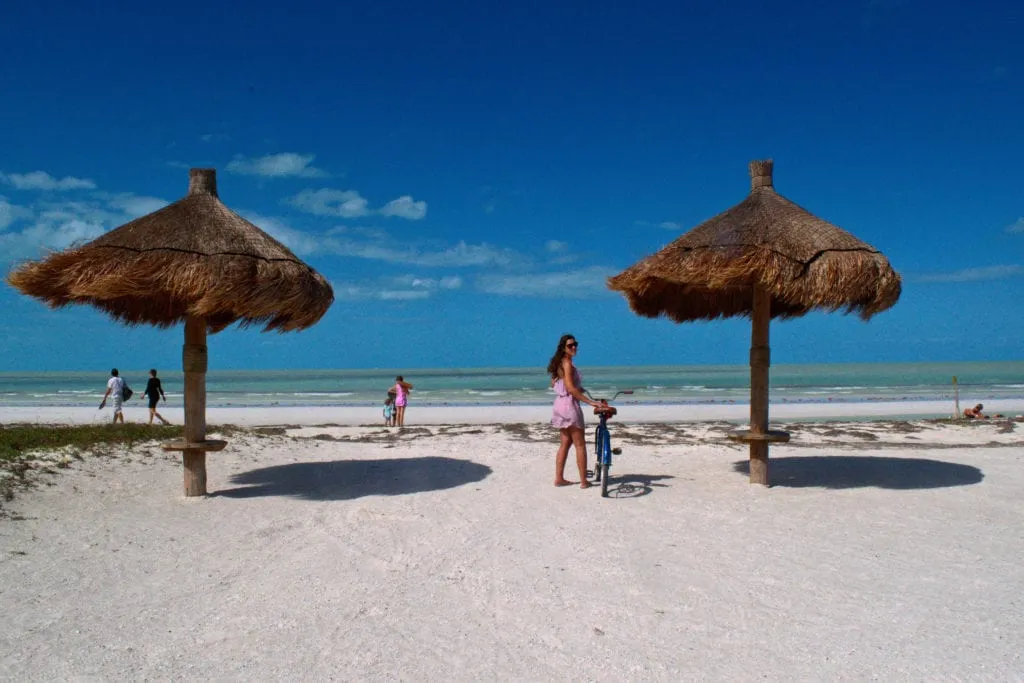 … or a golf cart.
Don't feel like biking your way around the island? Consider renting a golf cart instead!
Because of the lack of cars, golf carts are the main motorized method of transportation on Isla Holbox. Rent one to drive yourself either by the hour or the day or take an inexpensive taxi ride!
Isla Holbox has a fleet of golf cart "taxis" that congregate around where the ferries drop off new guests, and they are happy to take you anywhere you need to go.
Pay a visit to the flamingos. 
The most popular tour on Isla Holbox is the "three islands tour", which includes visits to Isla Pajaros (the hangout of Isla Holbox's famed flamingos, among other winged friends), Yalahau to visit a cenote, and Passion Island for a view of Isla Holbox and the lagoon.
The flamingos are in town from April-October each year.
Seek out Isla Holbox's murals.
Holbox Island is packed with colorful, vibrant street art–be sure to snap photos as you meander through town!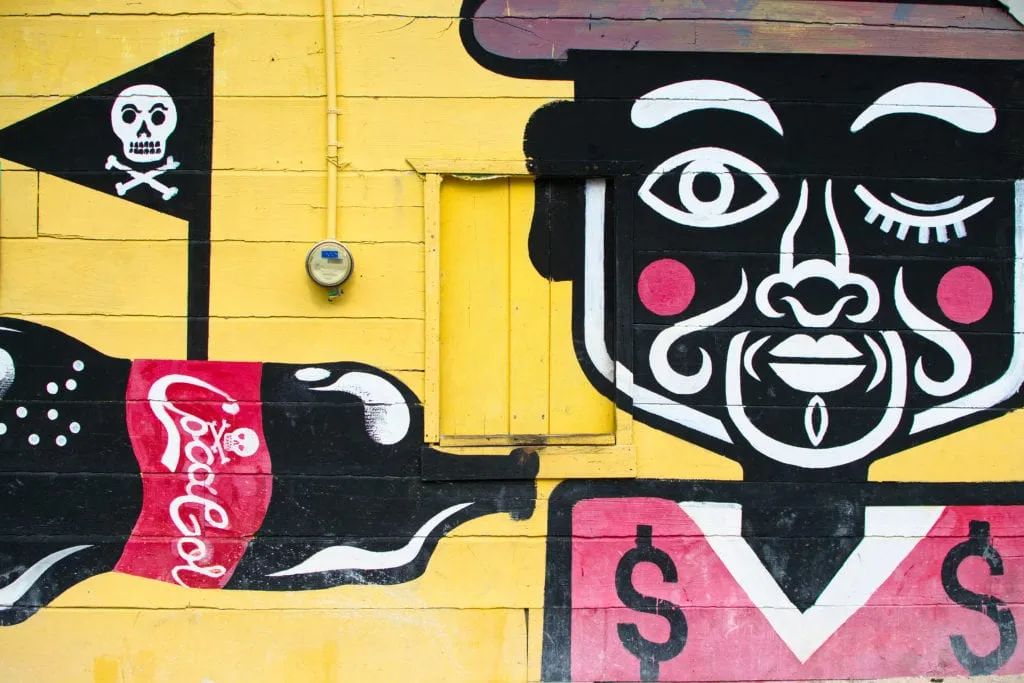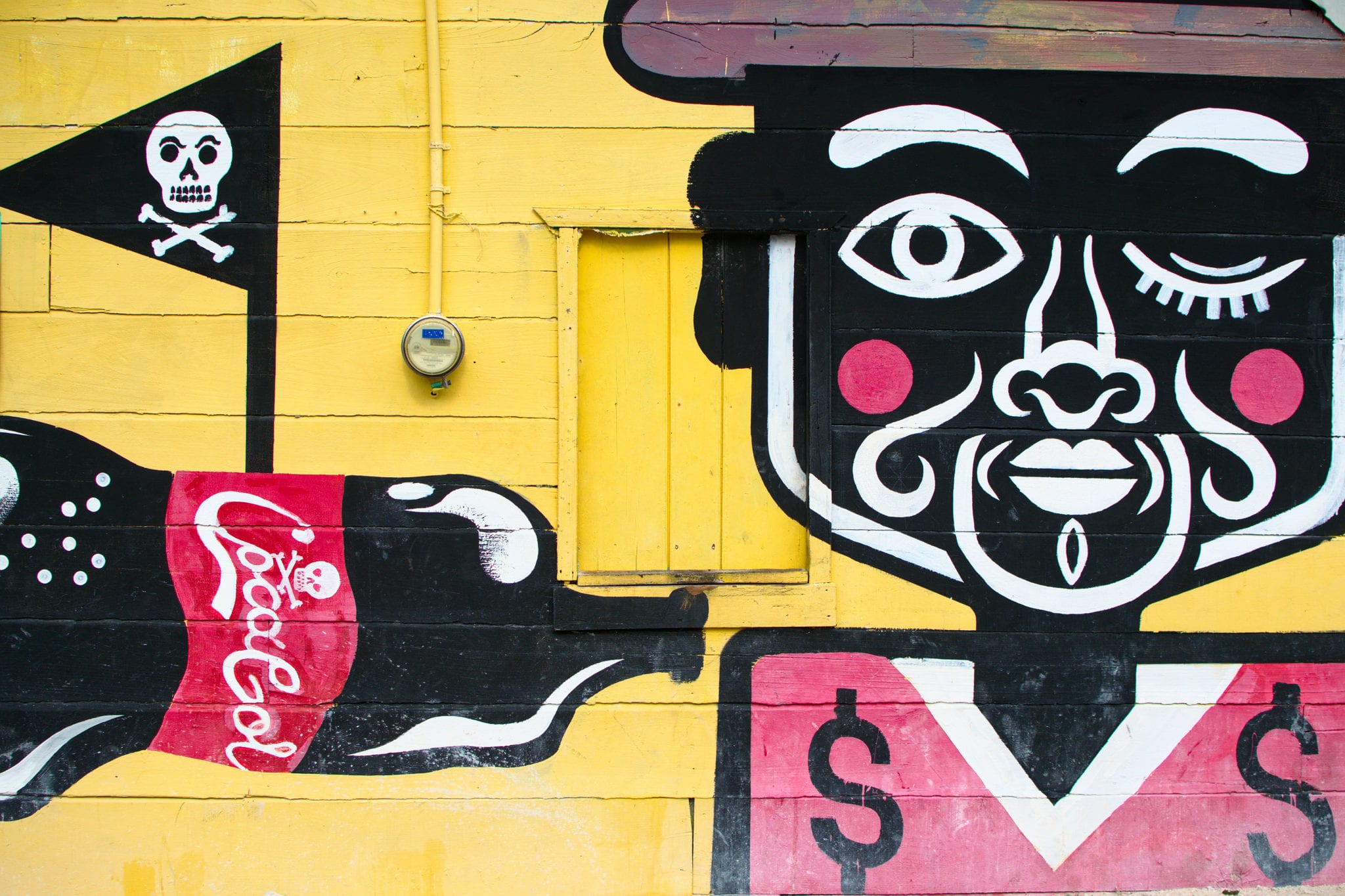 Admire the bioluminescent phytoplankton.
The bioluminescent phytoplankton aren't always easy to see–you'll have the best luck aiming for nights with little-to-no moonlight in the summer and fall–but if conditions are right, it's a magical sight.
Enjoy views from the water via kayak.
Kayak rentals are available on the beach, and we loved the views that we got from the water! Only downside? There was a fairly strong current when we were there, so to "go" anywhere was a big challenge–we mostly settled for paddling up and down the coast a bit and enjoying the views of the island.
Try your hand at kiteboarding.
Isla Holbox is considered an incredible place to learn how to kiteboard, due to its combination of shallow and calm water, and enough wind to learn how to ride (especially in the winter).
When we spoke with the kiteboarding school out of curiosity, they stated that they required you to take 3 days of lessons or more, because it generally took 3 days to learn how to stand up properly.
If this is one of the things to do on Isla Holbox that's toward the top of your list, don't leave it until your last day on the island!
Watch the sunset on the beach.
Years of full-time travel to nearly 50 countries later, Isla Holbox still boasts some of the best sunsets we have ever seen in our lives–don't miss the chance to enjoy them each and every night of your trip.
Take a scenic flight.
Have some spare cash lying around and want to add something unforgettable to your list of things to do on Isla Holbox? There are scenic flights of Isla Holbox available in small planes–think 5 passengers max! If you want to combine a trip with transport, you can also fly to Cancun or Playa del Carmen from Isla Holbox–for a price.
Enjoy the view from one of the island's iconic hammocks.
These hammocks are among the most famous on the island, but Holbox has no shortage of hammocks to enjoy–and jumping in one is a quintessential part of exploring Holbox Island!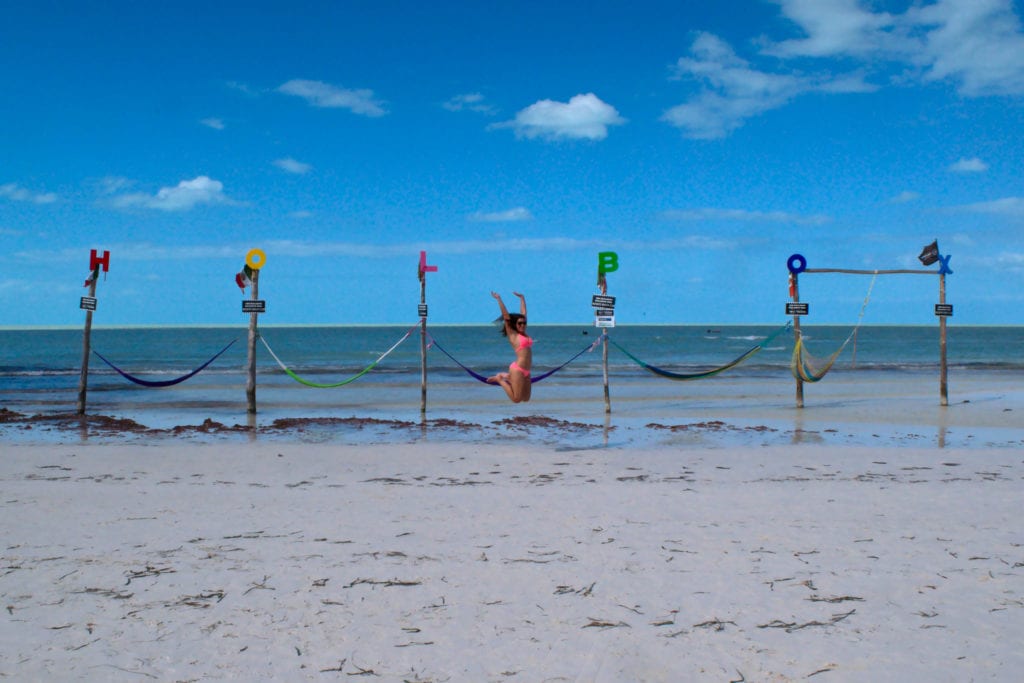 Go horseback riding.
Dream of horseback riding on the beach? Isla Holbox is a fantastic place to do so!
Where to Stay on Isla Holbox
One of the most beloved aspects of Isla Holbox is the complete lack of chain hotels, flashy resorts, and high-rises on the island: the skyscrapers of Cancun feel a million miles away here!
Instead, Isla Holbox offers a combination of laid-back hostels and beautiful boutique hotels to choose from–here are some of the best places to stay on Isla Holbox!
Budget
Golden Paradise Hostel — We stayed in this well-reviewed and popular hostel during our first trip to Isla Holbox, and loved the excellent location (not right on the beach, but very close to town), the quiet atmosphere, the outdoor hammocks, and the reasonable rooms.
There is also a large kitchen on-site!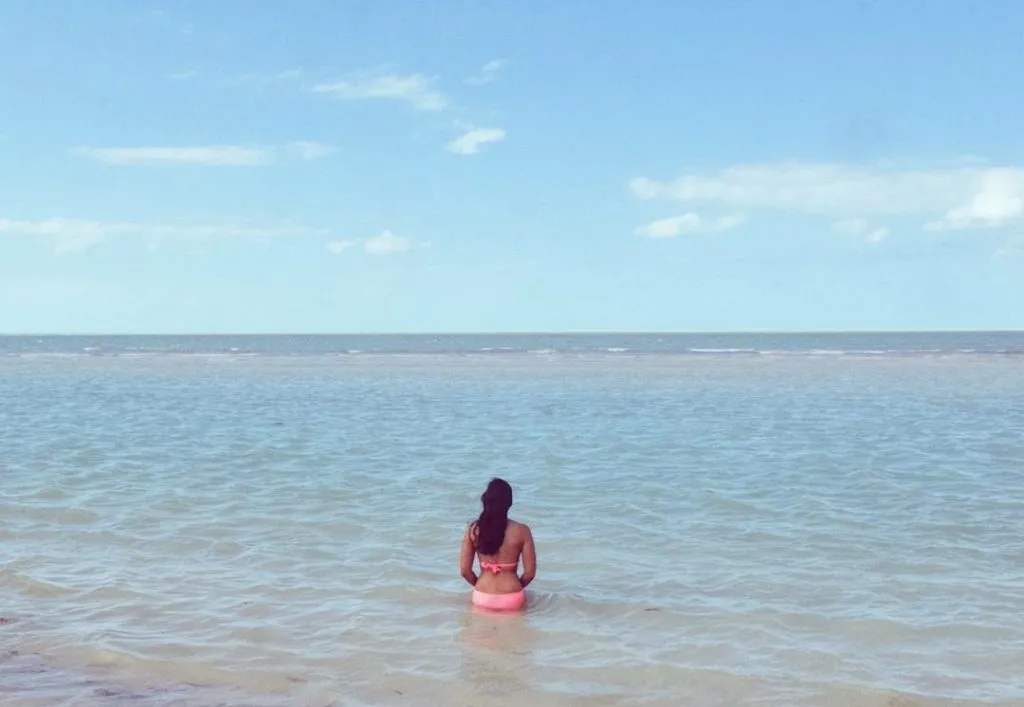 Mid-range
Hotel Mittoz Holbox — Featuring spacious, air-conditioned rooms, a beachfront location, and a rooftop pool, you can't beat this gorgeous hotel in Holbox if you're looking for something in between hostel life and a luxury stay!
Luxury
Palapas del Sol — Dreaming of your own private, luxurious beachfront cottage on Isla Holbox? Head to Palapas del Sol!
This beachfront property is known for its stunning views (including a thatched-roof tower to enjoy them from), excellent customer service, carefully decorated suites, and fantastic location.
How to Get to Isla Holbox from Cancun (Or Anywhere Else)
Private transfers of all types from Cancun, Playa del Carmen, like this one, are the simplest but indisputably most wildly expensive way to get to Isla Holbox from Cancun (or the Riviera Maya in general).
Assuming you don't want to splash out on luxury, here's what you need to do: take an ADO bus from either Cancun or Playa del Carmen to Chiquila. The bus will likely be a first-class bus, perfectly comfortable and complete with A/C.
When the bus drops you off in Chiquila, walk five minutes down the road in the same direction the bus was headed. You'll come to a pier–you can't miss it, and all the other travelers from the bus will be headed there too.
Buy a ticket for the next ferry, either from Nine Hermanos or Holbox Express, it doesn't matter: the companies sell at the same price (140 pesos per person). The companies swap off every half hour, so there's almost always a ferry getting ready to leave.
We took Nine Hermanos on our way to Isla Holbox and Holbox Express on the way back, they seemed to be virtually the same quality and we had no issues with either.
The ferry ride takes about 20 minutes and will drop you off in Holbox right in front of taxis (aka golf carts operating as taxis). If you walk straight down the main road past the taxis, you will be in the center of town in five minutes and standing on the beach in about eight minutes… or you could have one of the taxis take you to your hotel. Either way, your time on Isla Holbox has begun!
Prefer a private transfer? Book your transfer to Isla Holbox today!
The Best Time to Visit Isla Holbox, Mexico
The interesting thing about narrowing down the best time to visit Isla Holbox is that the right time to visit depends entirely on what you hope to do–or, to put it another way, there's always a good reason to visit Holbox.
Roughly speaking, December through April is the dry season in Isla Holbox, and this is when you'll find the sunniest skies on the island. It also happens to correspond with the high season on the nearby Riviera Maya.
However, Isla Holbox's most acclaimed draw–the whale sharks–come to town from June to September each year, and as a result, this is when you'll find the island at its busiest.
Similarly, the flamingos that are so popular to spot on the Three Islands Tour are in town from April to October.
No matter when you have a chance to visit Isla Holbox, though, it's a fantastic time to visit–all times of year offer fantastic upsides for planning a trip to Isla Holbox.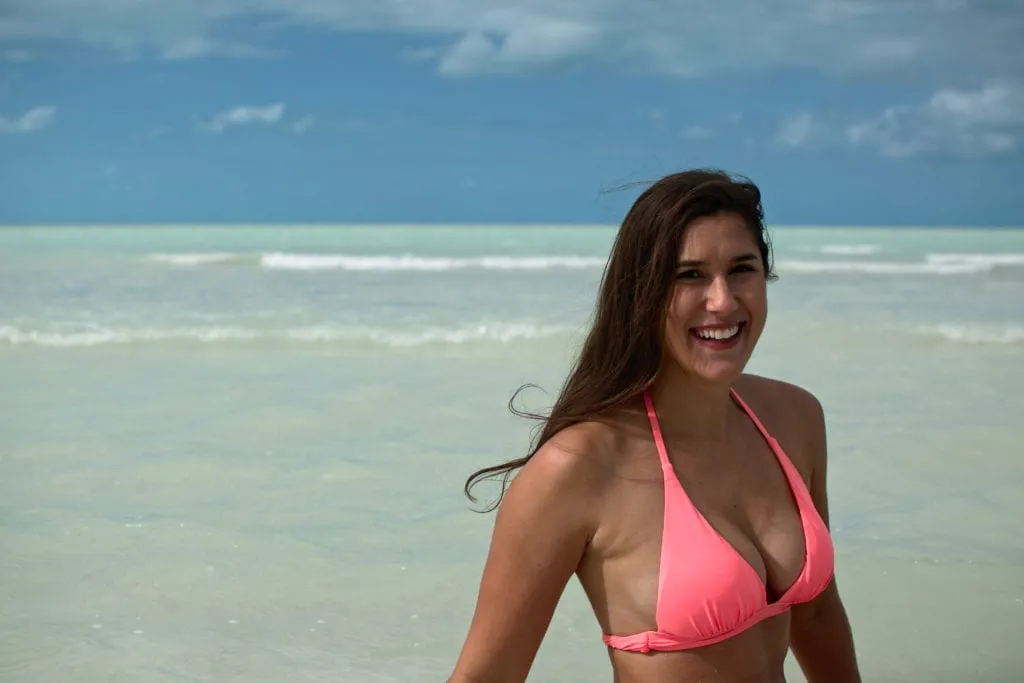 Tips for Visiting Isla Holbox
Come prepared with cash.
There are two ATMs on the island, but they have a tendency to run out of pesos… and the businesses in Isla Holbox have a tendency not to accept cards.
Come prepared with enough pesos for your stay! 
We've heard that the ATM in Chiquila can run out of cash at times too, so to be safe, we recommend stocking up before leaving the Riviera Maya.
Don't expect fast wifi.
You'll be able to check your email and use social media a bit, but if you're a digital nomad, don't come to Holbox expecting to catch up on work!
Prepare for the seaweed.
Many of the most famous photos of Isla Holbox tend to obscure this reality, but unfortunately, you're likely to encounter lots of seaweed on the beach on Holbox Island!
It's not a big deal–when you can walk for what seems like an eternity without the water reaching past your knees, who needs the shore anyway?–but it is something to make note of.
You won't find any cars here.
This is one of the distinctive traits of Isla Holbox: with very limited exception, there are zero cars on the island–golf carts and roads made of sand do just fine.
Enjoy island time.
This is a laid-back, relaxed place, with a slow pace of life–it's a quintessential beach island, in other words. There's a reason that so many of the best things to do in Holbox involve relaxing on or near a beach!
If you're ready to slow down and kick back for a few days, Isla Holbox, Mexico, is the perfect place to be.
What to Pack for an Isla Holbox Getaway
Travel Insurance — We don't ever suggest traveling without insurance–anything can happen, and this is definitely a case of better safe than sorry. Traveling to Mexico is generally safe, of course, but it also likely involves stepping outside your comfort zone and trying out new adventures in a foreign land… where you may or may not speak the language. We use and recommend Safety Wing for trips to Mexico.
Reef-Safe Sunscreen — Protect the sensitive coral reefs that live in the area by bringing reef-safe sunscreen along on your Isla Holbox vacation!
Pacsafe
 — We can't recommend our Pacsafe
enough: this travel safe is affordable, sturdy, easy to pack, and will help keep your valuables safe in your hotel room during your trip (not that you should need to worry much about theft in your hotel, but it's better to be safe than sorry!).
Comfortable Day Bag — We currently use Pacsafe's sleek anti-theft backpack and love it, but if you don't want to shell out the cash for this trip, that's totally understandable. Just aim for something comfortable to wear, not flashy, and medium-sized–we used a Northface Jester backpack for years and loved it as well.
Cute Beach Coverup — You won't want to walk around town wearing only your bathing suit, but dealing with wet clothes is also a pain. Something like this is the perfect solution!