Tucked away in a quiet, northeastern corner of the Yucatan peninsula, the now-famous pink lakes of Las Coloradas, Mexico are just as brilliantly pink in person as they are on Instagram–but what are they, exactly?
How do you get there, and are they even worth visiting?
We've now visited Mexico's pink lakes twice, first in January 2017 and more recently in February 2020, and for reasons that will be obvious by the end of this blog post, many of the photos in this pink lakes travel guide were taken on our 2017 visit.
During our first visit, the lakes were just beginning to rise to fame and were still a fairly obscure attraction.
In fact, we had a very hard time getting there from Valladolid, because no tours existed and no one working in tourism seemed to understand why we wanted to drive 2 hours each way to look at a salt factory.
We made it, though–one very long, expensive, and entertaining cab ride later–and ended up having a fantastic time exploring the lakes.
Except for one other couple and our bemused taxi driver, we were the only visitors around.
Some links in this post may be affiliate links. If you make a purchase through one of these links, we may earn a small commission at no extra cost to you. Please see our

disclosure policy

for more detail.
Needless to say, things have dramatically changed for the pink lakes of Las Coloradas.
On our second visit, we pulled up to a full-on parking lot, with a couple of tour buses parked nearby and hawkers soliciting visitors as they arrived.
Since we originally published this pink lakes travel guide in 2017, it's high time for an update.
Here's everything you need to know about visiting the pink lakes in Mexico–and our thoughts on whether you should.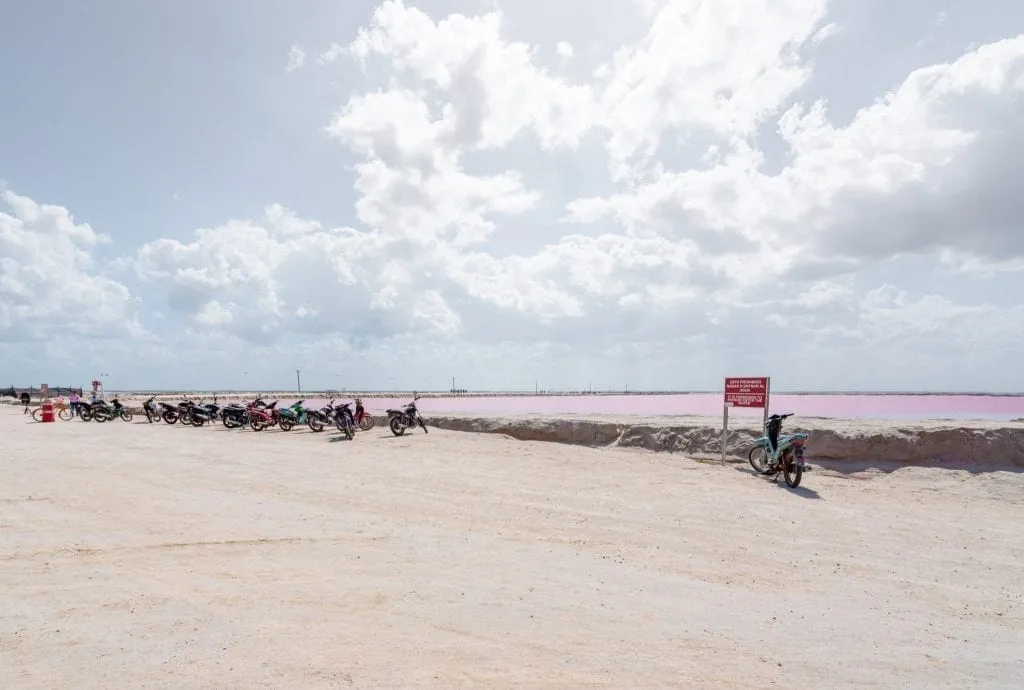 Where Are the Pink Lakes?
Mexico's pink lakes are located in the northeast of the Yucatan peninsula, next to the small fishing village of Las Coloradas (population: around 1000).
While beautiful, they are, quite frankly, ridiculously out of the way for most visitors to the Yucatan peninsula.
This is a place you visit intentionally, not somewhere you stumble across!
Here's the drive time, each way, from some of the peninsula's biggest tourist hubs to the pink lakes:
Cancun to Las Coloradas
3 hours, 30 minutes.
Playa del Carmen to Las Coloradas
3 hours, 15 minutes.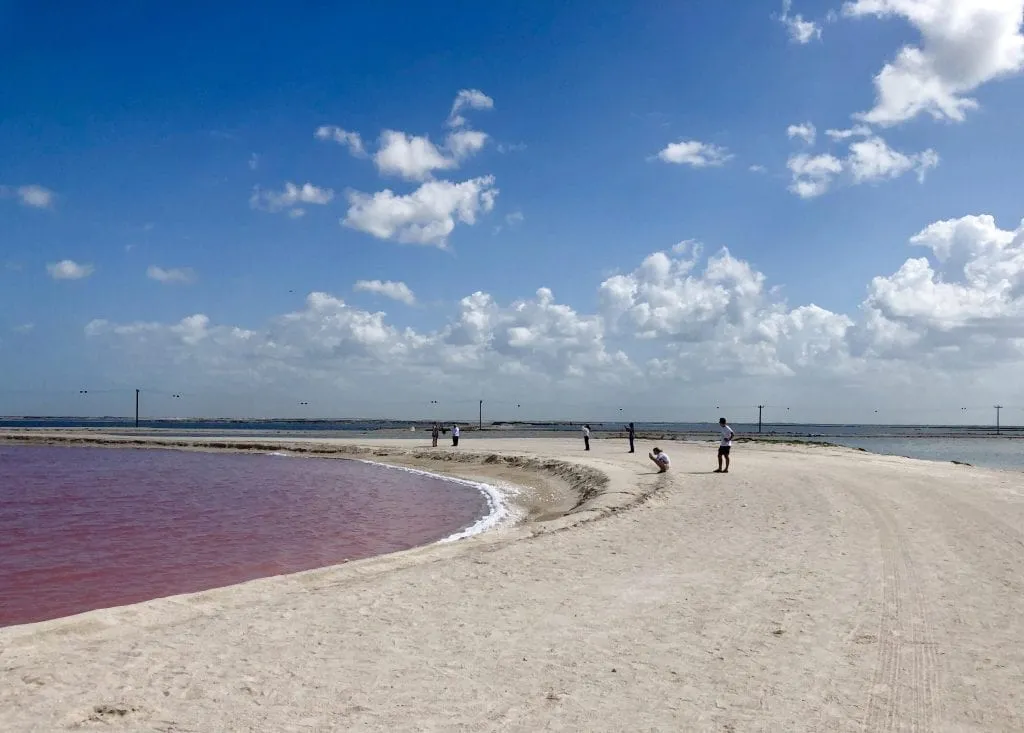 Tulum to Las Coloradas
3 hours, 15 minutes.
Valladolid to Las Coloradas
2 hours.
Merida to Las Coloradas
3 hours.
Location of Las Coloradas on a Map
Take This Map With You! Click each highlight to pull up the name of the destination. To save this map to "Your Places" on Google Maps, click the star to the right of the title. You'll then be able to find it under the Maps tab of your Google Maps account! To open the map in a new window, click the button on the top right of the map.
What the Pink Lakes Are (And Aren't)
The pink lakes of Las Coloradas are currently operated by a private salt production company that exports salt around the world.
But while the size and scale of the salt production happening at the pink lakes is definitely a man-made creation, some of the salt creation itself is natural, and the harvesting of salt in this area has been happening for thousands of years.
In the natural salt production process that the local Mayan people once used, saltwater from the nearby ocean flooded the salt plains, leaving shallow lagoons, or what we would call an early version of the pink lakes, behind.
As the water evaporated, salt was left and then harvested.
The Maya shipped this salt all over the peninsula–in fact, when we visited Calakmul in the southeastern portion of the Yucatan peninsula, our guide mentioned that they traded for salt from the Las Coloradas area.
Today, the salt company that owns the lagoons has vastly expanded the size and scale of the operation, creating enormous pink lakes from which to harvest the salt.
The lakes are "dyed" pink by a natural process: brine shrimp, plankton, and red algae live in the lakes, giving them their distinct pink color (and give the local flamingos their pink color, too–they're dyed pink by eating the creatures they find swimming around in the lakes!).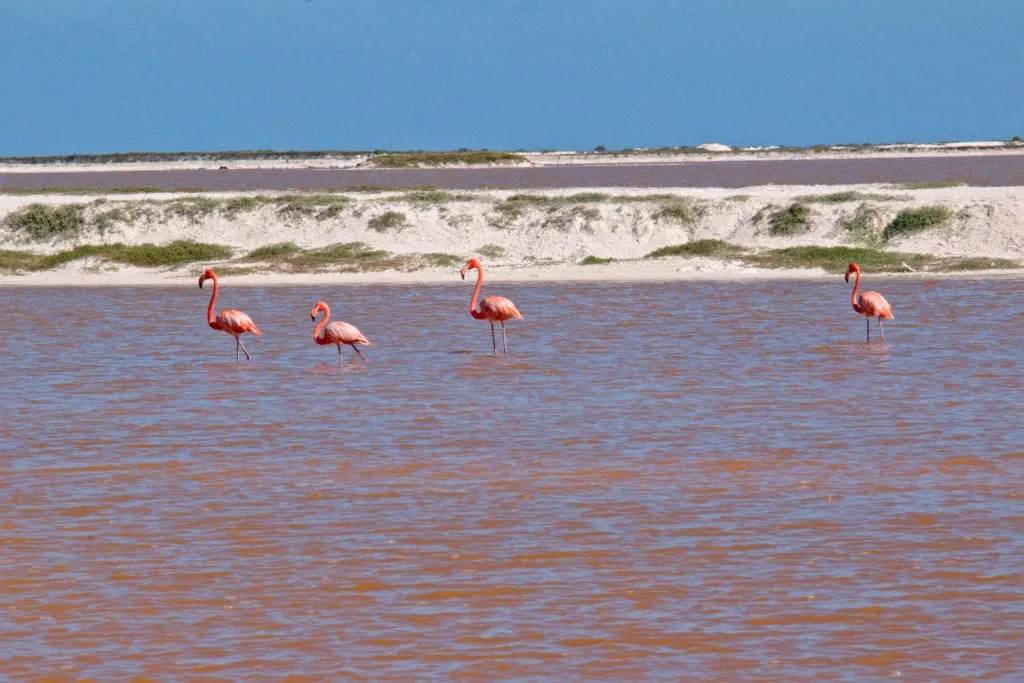 What You Need to Know Before Visiting the Pink Lakes
These tips are based on our February 2020 visit to the Las Coloradas pink lakes–virtually none of them applied in 2017.
Things have definitely changed since then!
You can't swim in the pink lakes.
"Can you swim in the pink lakes?" is probably the most frequently asked question about visiting, especially after some epic drone footage of people in the lakes went viral several years ago.
Swimming has informally been banned for years.
When I got into one of the lakes during our January 2017 visit without being aware of the rule, a guard on an ATV eventually came around and got me out.
The lakes are very, very shallow, though–literal swimming was never really possible in them, just wading.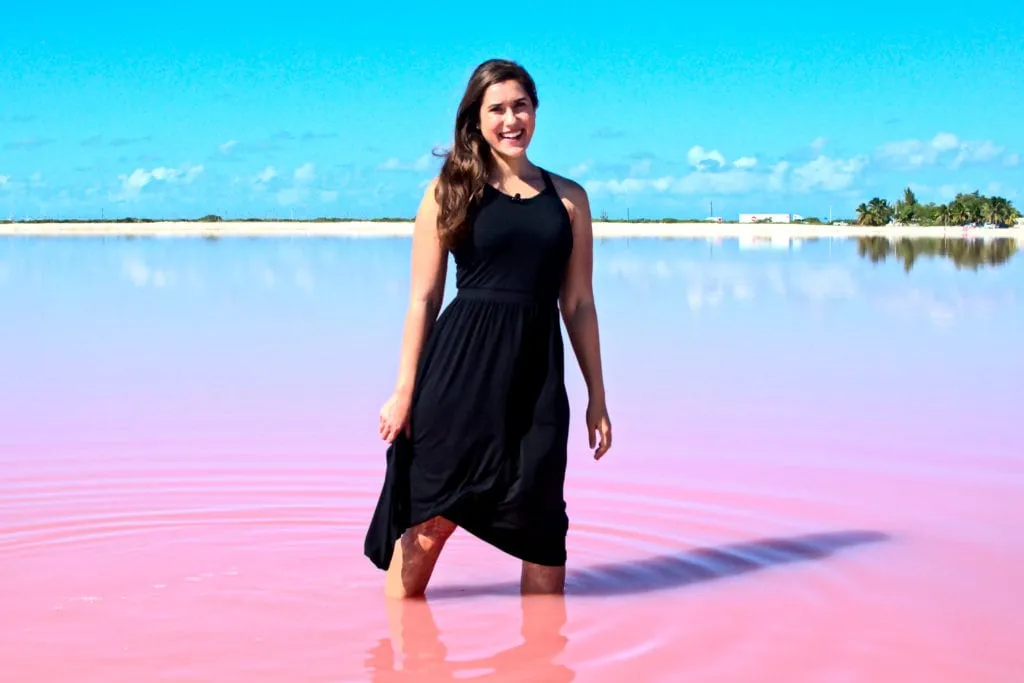 There is an entrance fee.
During our February 2020 visit, we were charged 75 pesos each (about $3.20 USD) before being allowed past the gate (yes, literal gate) and into the area that houses the best views of Las Coloradas' pink lakes.
You'll need to keep a guide with you.
This is less for actual tour guide purposes–though our guide was extremely friendly, happy to answer all of our questions, and took lots of (phone) photos for us–and more to make sure that you, the visitor, don't wander off or do something you shouldn't.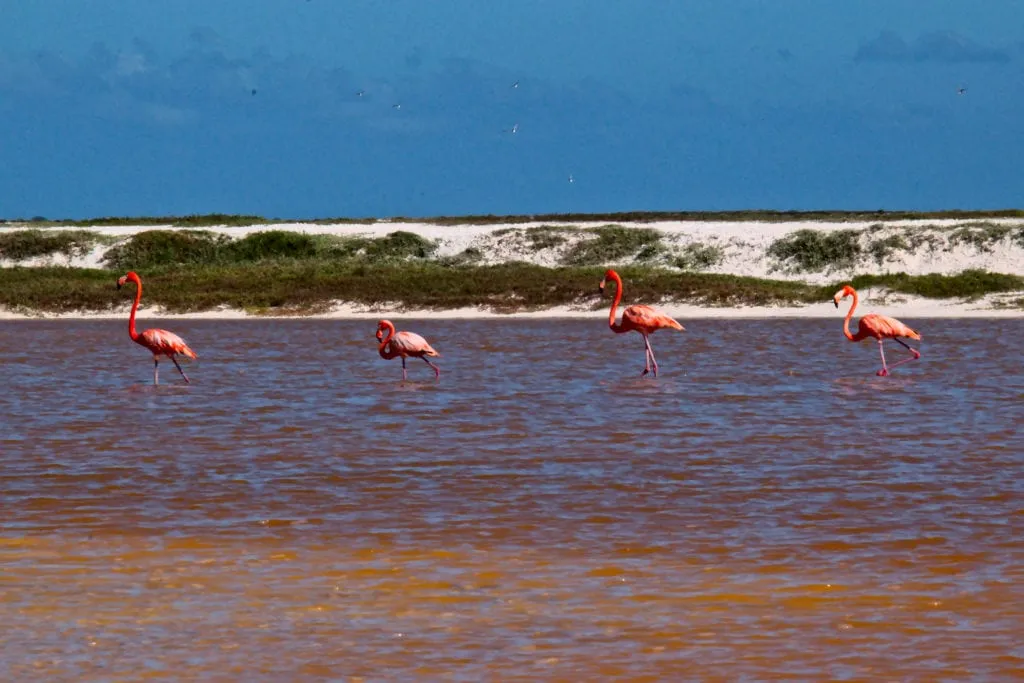 Only phone photos are allowed.
That's right–no DSLRs, mirrorless cameras, or even point and shoots.
Given how important photography is to our travels and our business, it was a blow to learn we wouldn't be able to take updated photos of the pink lakes on our return visit, especially since we've never been thrilled with the quality of many of the ones we took in 2017.
According to our guide, someone once dropped a camera into the pink lakes, which is why they are now banned.
You can snap a few photos from the parking lot before the gate where the camera ban takes effect, but the view isn't particularly great, especially since…
A moat has been dug around the main lake.
Yep, a full-on moat has been put in around the biggest (and typically pinkest) lake.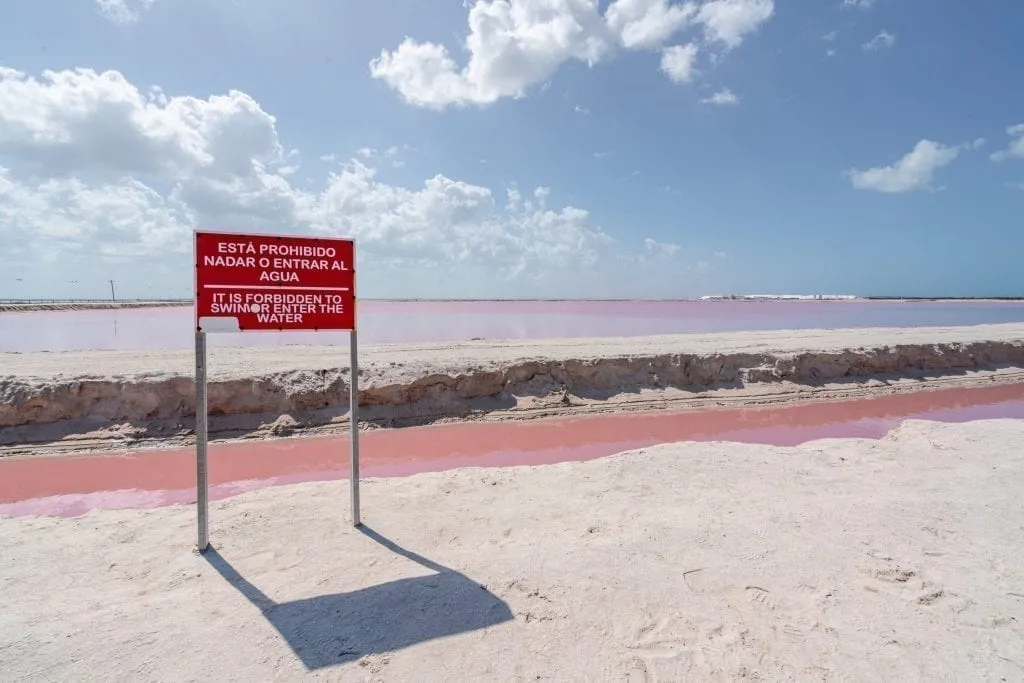 There are restrooms on-site.
They're nothing fancy, but they get the job done.
The color of the lakes changes based on many factors.
These include both the salt processing and the weather.
On our first visit, several of the lakes were bright orange, and on our second, clouds rolled in after a bit and slightly dulled the bright pink of the main lake.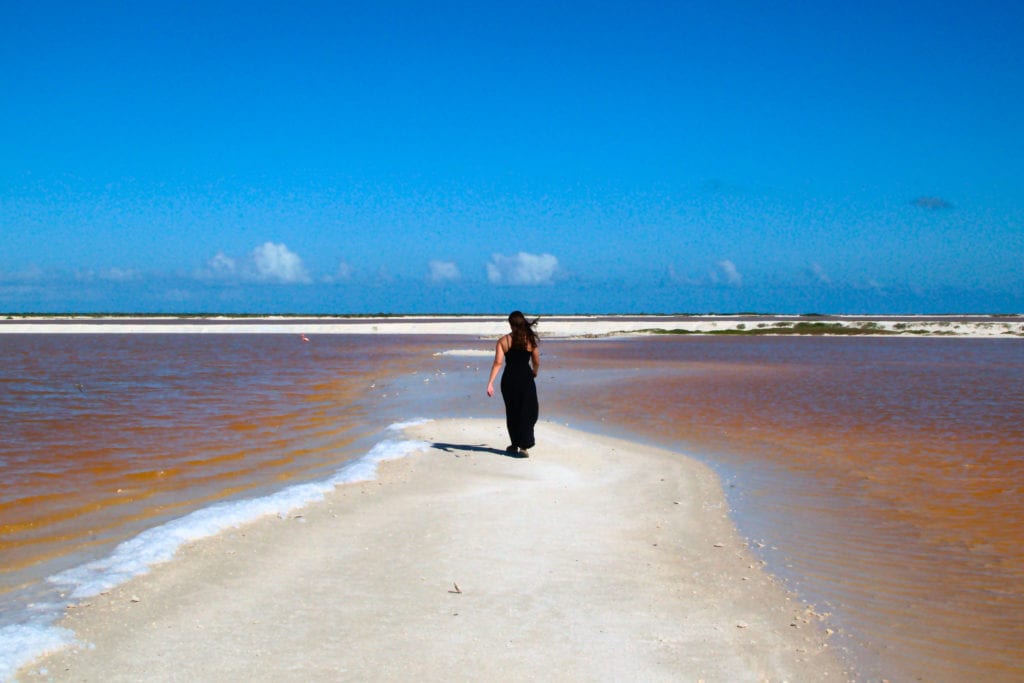 How to Visit the Pink Lakes of Las Coloradas in 2020
Wondering how to get to the pink lakes in Mexico?
Luckily, you'll have more options than we did back in 2017–due to the increased popularity of the lakes, there are now several ways to get there.
By Car
In our opinion, the ideal way to visit the pink lakes of Las Coloradas is by rental car.
That's how we visited in 2020, and it was a very smooth drive.
Plus, by driving yourself, you will have immense flexibility in planning your day.
The final part of the drive to the pink lakes, for example, is lined with gorgeous white sand beaches, which may just call you over for a bit.
You could also add on a trip to visit the flamingos of Rio Lagartos or the even mangroves of Celestun, depending on where you're coming from and how early of a start you get.
The actual drive to Las Coloradas is very easy, primarily made up of laid-back driving on two-lane highways.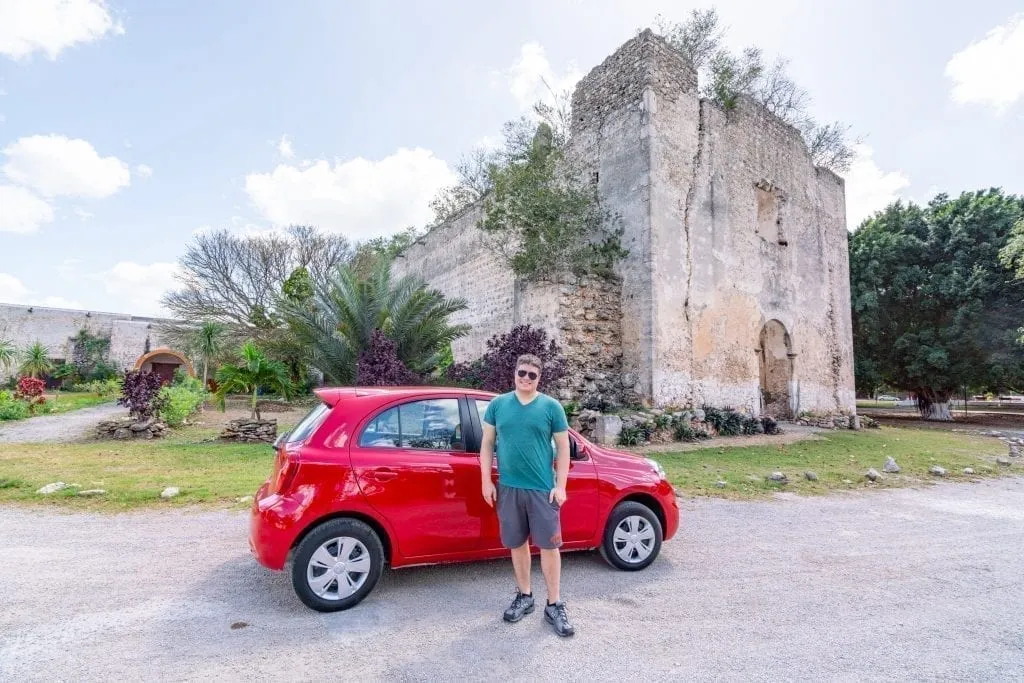 If you're planning to rent a car in Mexico, we recommend searching for rental cars through Discover Cars, which will search multiple companies to find the best rates and inclusions.
Keep in mind, though, that Valladolid (where we visited the lakes from both times) does not have any rental car agencies–you'll want to plan to pick up your car on the Riviera Maya or in Merida.
Check prices & shop rental cars for your trip to Las Coloradas today!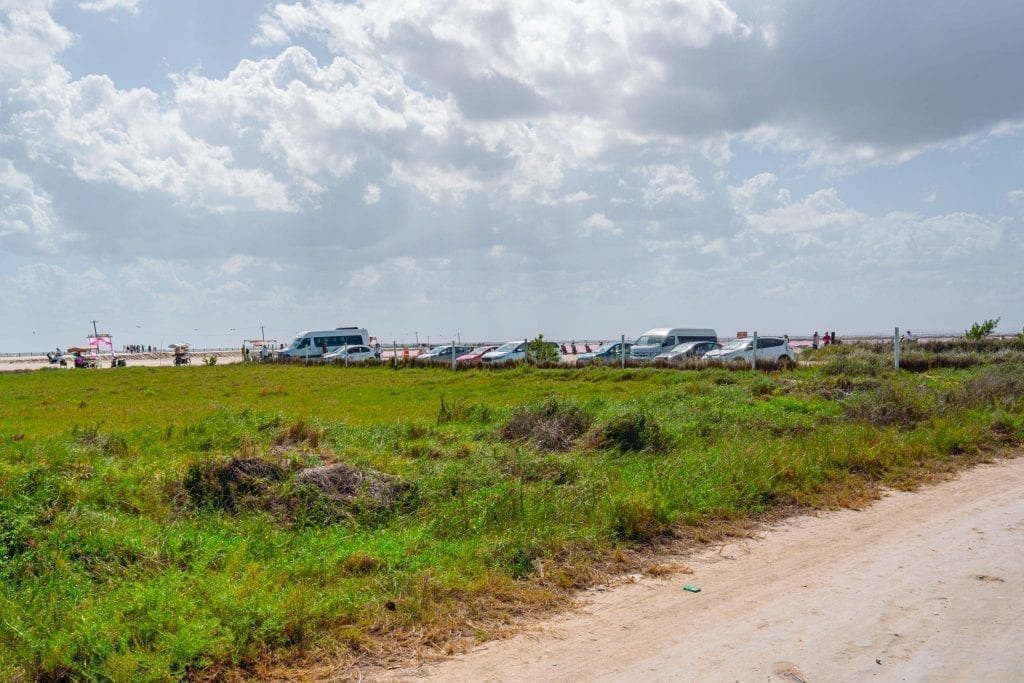 By Tour
These days, plenty of tours run to the pink lakes of Mexico, including all the way from Cancun and Playa del Carmen (but check out those driving times at the beginning of this pink lakes blog post before committing a full day of your vacation to that, just saying…).
Most tours are primarily focused on the incredible Rio Lagartos, another nearby fishing village that boasts an enormous concentration of flamingos, as well as many other bird species, among its mangroves.
It's a wonderful place to visit, but unfortunately for those hoping to see Las Coloradas' pink lakes, many of the tours that advertise including them with Rio Lagartos only let you glimpse them from afar.
If you have your heart set on seeing the pink lakes of Las Coloradas, be sure to ask your tour operator about the details of the schedule before committing.
By Taxi
Alternatively, if you'd rather not drive or book a tour, you can hire a taxi to drive you out to Mexico's pink lakes for the day.
This will give you the comfort of not navigating the roads yourself while allowing you to control the schedule of your day.
This is how we visited the pink lakes in 2017, and we were perfectly satisfied with how the day worked out.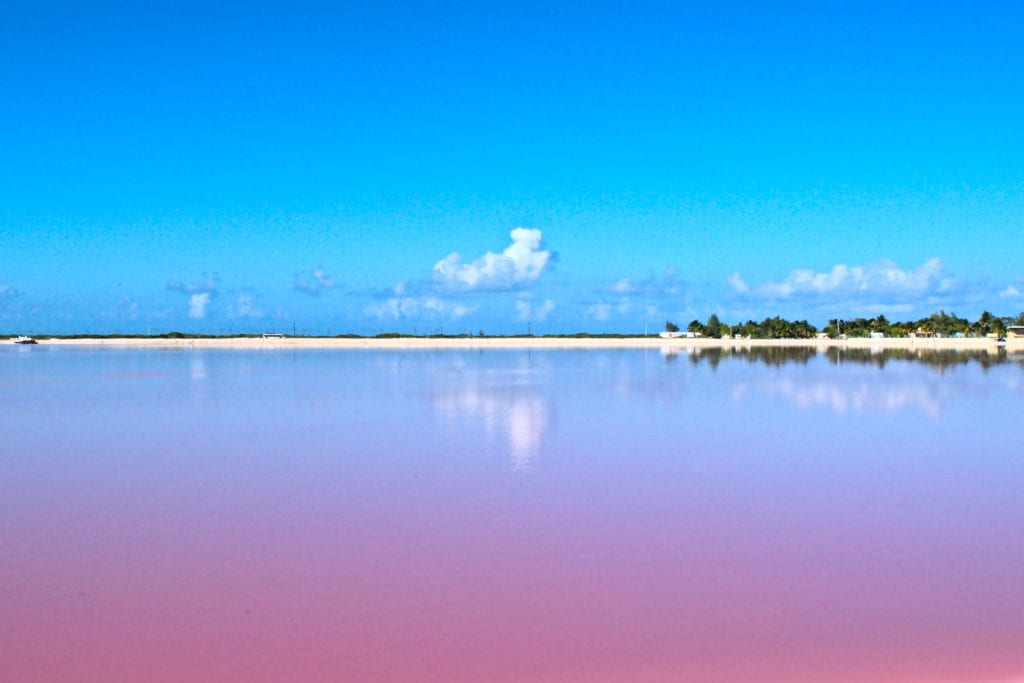 Visiting Mexico's Pink Lakes in 2020: Is it Worth it?
I am the last person to ever tell anyone not to live out a travel dream–and if you desperately want to see the pink lakes and don't know of another chance you'll have to see such a striking phenomenon, you should absolutely consider it!
(Though, heads up, there are many other pink lakes around the world, including in Australia, Colombia, and Bulgaria.)
However.
Unless you have an extremely strong desire to see the lakes, and/or you are already planning a trip to nearby Rio Lagartos, and/or you have a long time to spend in the Yucatan and you're not in a position where you need to prioritize some sights over others, I'd reconsider visiting the pink lakes of Mexico in 2020 and beyond.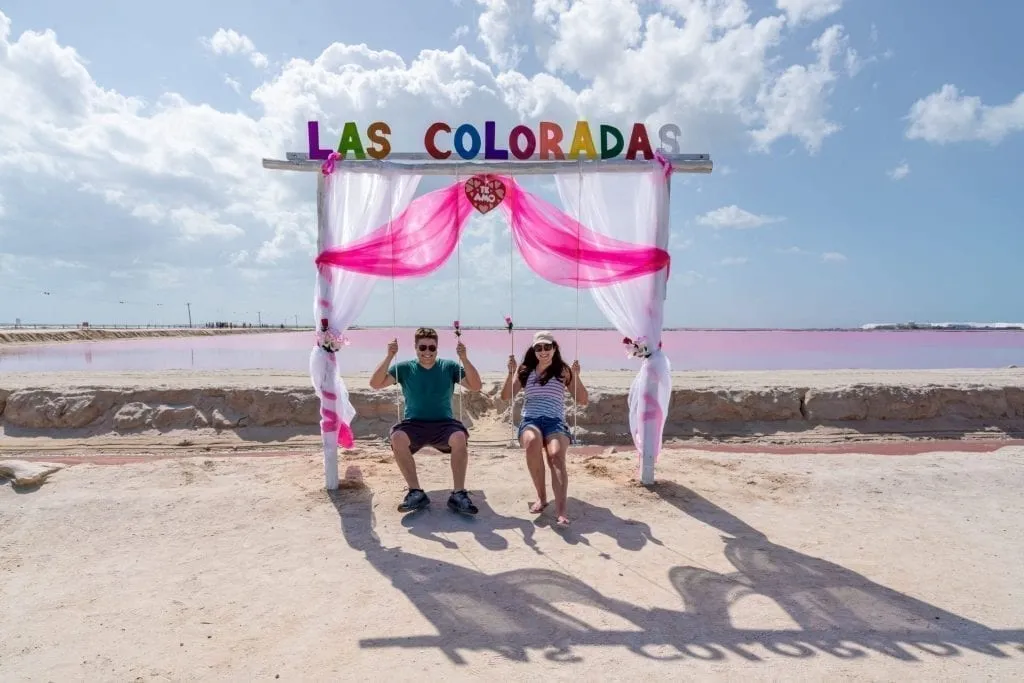 In my opinion, they are simply too far out of the way and too limited in the value they provide to be worth the effort to reach them for most travelers.
This is especially true given the new restrictions that give visiting the pink lakes a bit of a Disney-esque feel and the immense concentration of stunning places to visit in the Yucatan that could be a better use of your time.
I completely understand why the regulations are there and am not criticizing them in the slightest–ultimately, these lakes are private property belonging to a salt production company that, according to our guide, exports some salt for human consumption.
It makes perfect sense why the rules exist, but they are a double-edged sword, simultaneously creating an environment where tourists can visit the pink lakes of Las Coloradas in a way the owners are comfortable with while making it difficult for the visit to be worth it.
Ultimately, though, the decision is yours, and the right decision truly depends on how badly you want to visit Las Coloradas' pink lakes and your expectations for when you arrive.