May 14, 2018
How To Visit the Pink Lakes of Las Coloradas, Mexico
Mexico
My obsession with all things pink dates back longer than I can remember: as far as I'm concerned, bright pink is the world's most cheerful color.
So, when I discovered that there were not only pink lakes in Mexico but that they were located just a couple of hours from where we would be staying in Valladolid, I knew that we simply had to go.
A couple of days of asking around town after arriving, two negotiations with taxi drivers, and one change of taxis when our first driver's car decided that 20 minutes outside of Valladolid would be a swell time to break down, and we were on our way.
The pink lakes of Mexico (some of which are actually orange, which surprised me!) are located in the minuscule town of Las Coloradas in Yucatan, near the famed Rio Lagartos. Part of a salt factory, the lakes are naturally occurring, but have been enlarged by the salt company.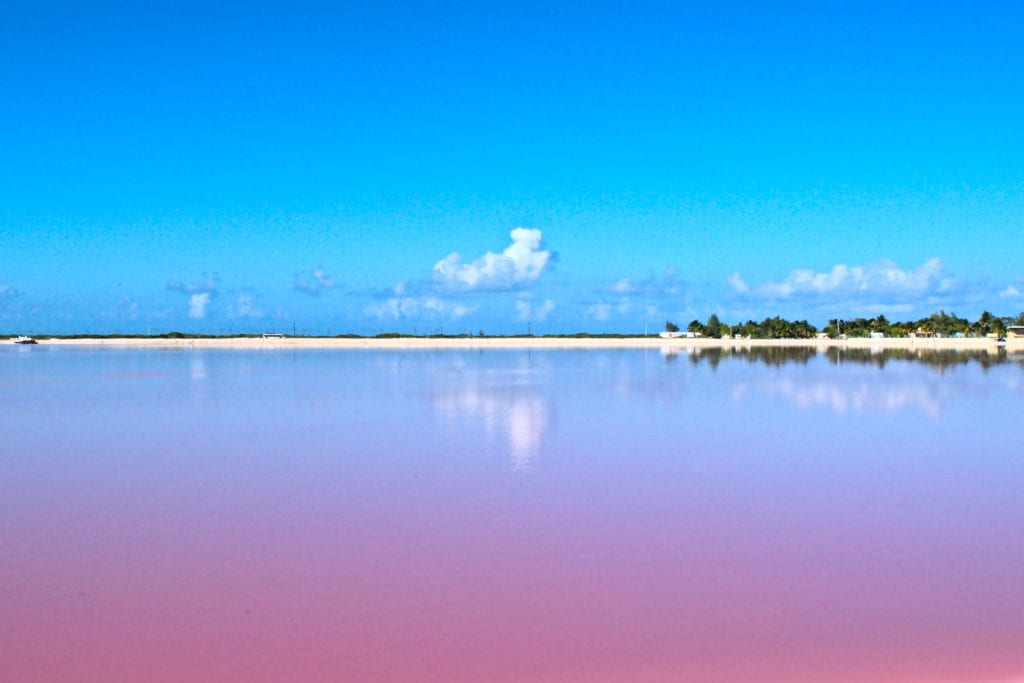 The pink lakes of Mexico make for quite an unusual sight–really, the main draw of coming here is simply to look at them and photograph them, so if neither of those things appeals to you, this probably isn't the day trip for you. We found it fabulous, though, and even lucked out by seeing dozens of flamingos while we were there!
Though I've seen plenty of photos online of people actually in the lakes (they aren't deep–just a foot or two), a man in an ATV came by to demand that I get out only a few minutes after I dipped my feet in, so I'd say it's a bit up in the air as to whether or not it's a good idea to head in. Definitely don't try it if you have any wounds on your feet–the salt content of the lakes will be sure to remind you exactly where your injuries are!
We ended up spending a couple of hours at the pink lakes of Las Coloradas, walking around both the main (and pinkest) lake and some of the others.
Read Next: The Ultimate 2 Weeks in Mexico Itinerary for First Time Visitors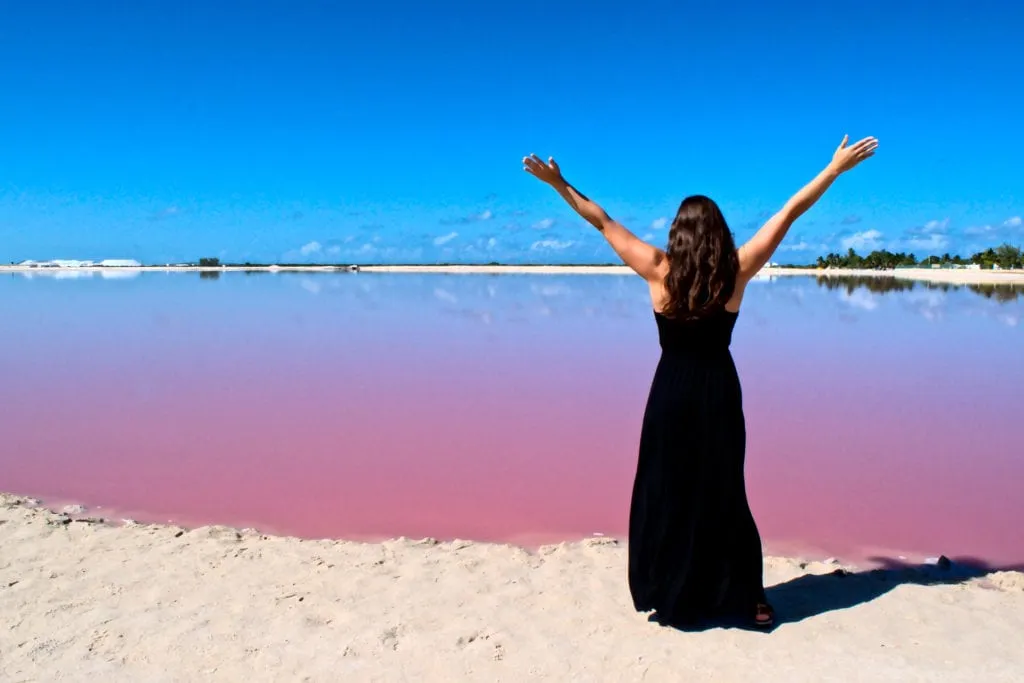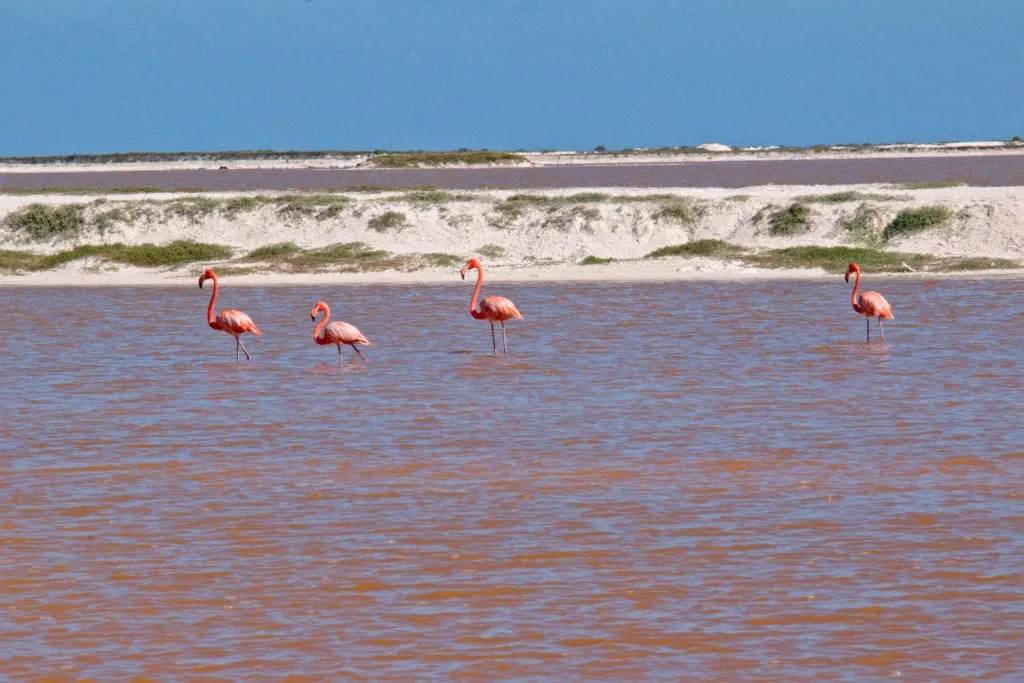 Don't visit the pink lakes of Mexico without travel insurance! We use and recommend World Nomads for their affordability, ease of purchasing & the clarity of their contract!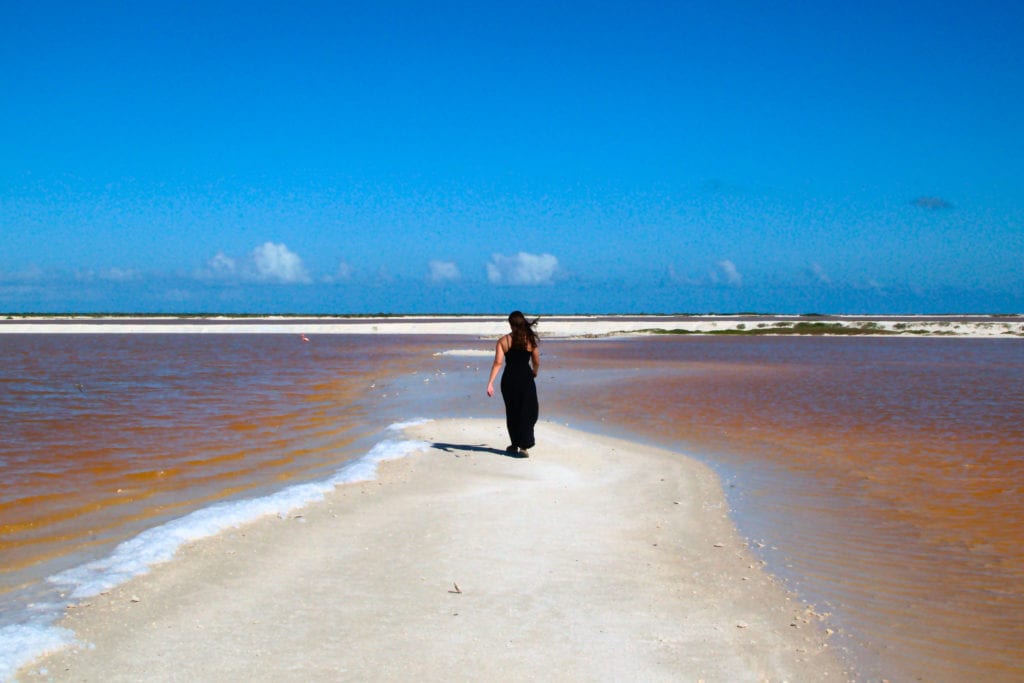 Read Next: 25 Reasons You Should Backpack Mexico Next
Getting To & Around the Pink Lakes of Las Coloradas:
The pink lakes of Las Coloradas are located about two hours from Valladolid, or three hours from Cancun. Given how close they were located and how unusual they are, we expected to be able to find a tour or collectivo of some kind to from Valladolid to Las Coloradas, but were shocked to find that nothing was available.
Everyone in town knew of the lakes, but the tour companies and even the tourism office just shrugged when we asked about going there.
Eventually, we determined that our options would be to A) rent a car from the one and only car rental company in Valladolid, which seems to have several addresses and may or may not actually exist, or B) hire a taxi for the day.
We ended up hiring a taxi for 900 pesos (a little over $40 USD) to take us from Valladolid to Las Coloradas and back, which was a little pricey compared to many of our days in Mexico but worth it to us for the totally unusual experience.
If you are planning on heading to Rio Lagartos independently, this would be a great add-on, but none of the tour companies we talked to had the pink lakes as part of their itinerary–and we didn't see anything that looked like a tour group while we were at the lakes, either.
We saw several other tourists snapping photos at the pink lakes of Las Coloradas, but they overwhelmingly appeared to be Mexican nationals–we seemed to be the only English speakers around.
If you're looking for something out-of-the-way, off the beaten path, and memorable, day trip to the pink lakes of Las Coloradas may be worth the ride!
Where We Stayed in Valldolid:

Hotel Posada Osorio — This was the perfect budget hotel for us. Located less than a 10 minute walk from the center square of Valladolid, the location was central to anywhere that we wanted to go in town. The room was bigger than average, and was cleaned daily–not something to take for granted at this price point!

In addition to our day trip to the pink lakes of Las Coloradas, Valladolid is popular for accessing Chichen Itza (about 45 minutes away by bus, though we didn't go), Ek Balam, and the many surrounding cenotes–we visited several and enjoyed them all!
Some links in this post are affiliate links. If you click through one of these links, we may earn a small commission at no extra cost to you. We are committed to only ever recommending products and services that we personally use and like.