If you ask us, there are few more perfect places on the Yucatan peninsula than Valladolid, Mexico–if you're willing to sacrifice access to a beach, that is.
Between the number of fun things to do in Valladolid (hello cenotes!), the easy access to any number of day trips, and the laid-back and affordable nature of the beautiful city, there is no shortage of reasons to visit Valladolid.
While Merida is arguably a bit trendier and the coastal cities of the Riviera Maya are hard to pull yourself away from, independent travelers find that Valladolid is easy to fall in love with–and for us, it's one of those cities that we've visited multiple times and will continue to return to again and again.
Considering a stop in Mexico's colorful city of Valladolid? Here's everything you need to know before you go, from what to do in Valladolid to where to stay and how to get around!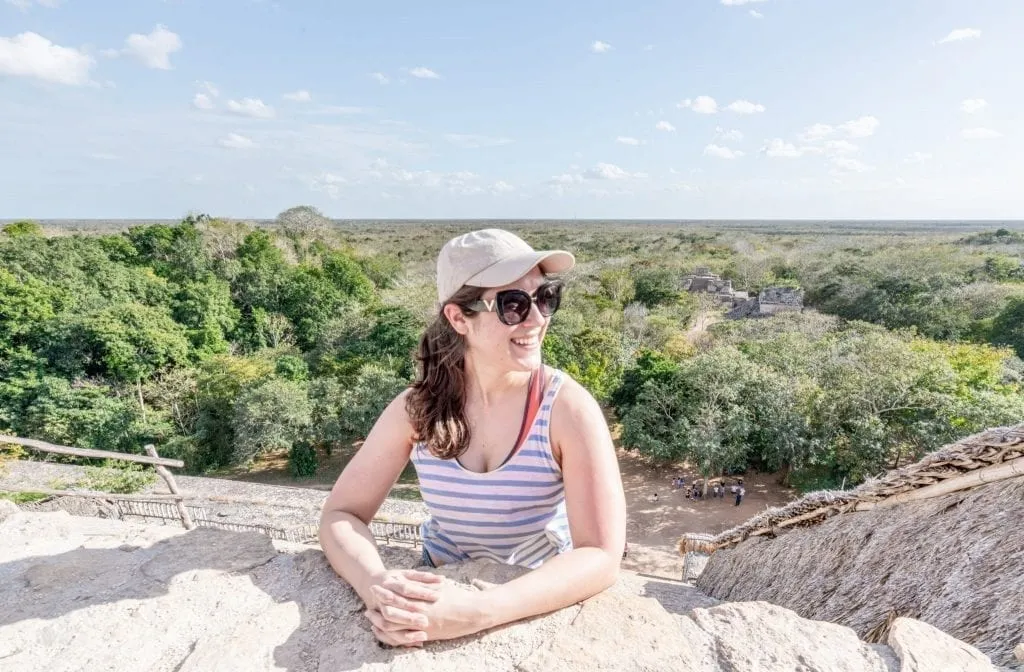 Some links in this post may be affiliate links. If you make a purchase through one of these links, we may earn a small commission at no extra cost to you. Please see our

disclosure policy

for more detail.
19 Best Things to Do in Valladolid, Mexico (+ Nearby!)
Check out Calzada de los Frailes.
This vibrantly colorful street is one of the most popular places to visit in Valladolid!
Lined on either side with brightly painted buildings, this street dates to the 16th century and is part of the reason that Valladolid is listed as one of Mexico's "pueblos magicos", or magic towns.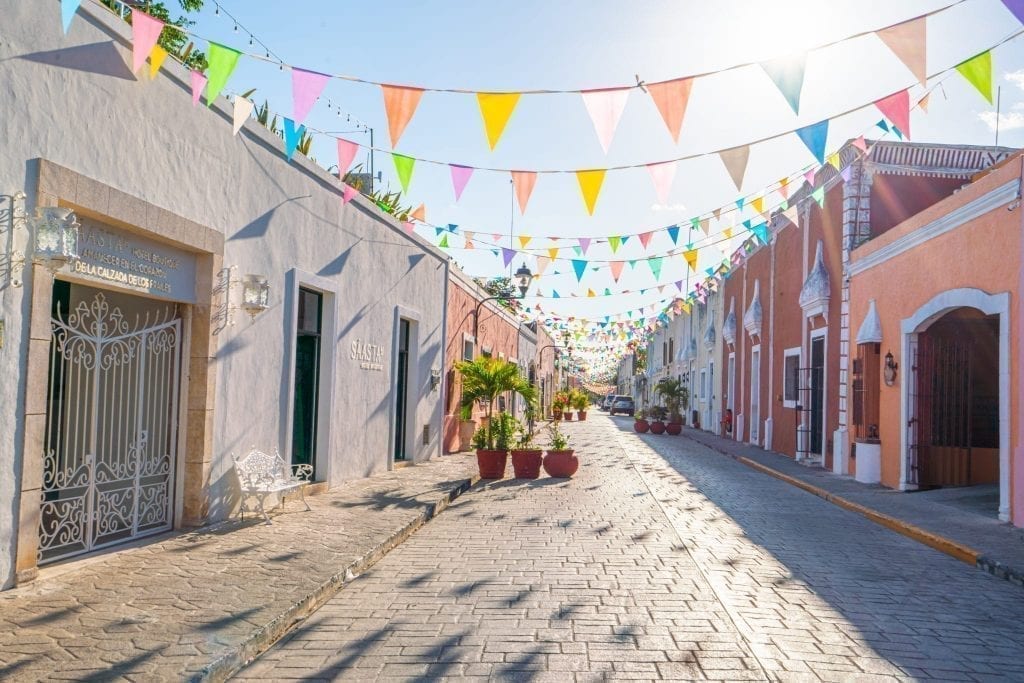 Stroll through the Convent of San Bernardino de Siena.
Considered to be one of the oldest colonial sites in the Yucatan, the former Convent of San Bernardino de Siena dates to the mid-16th century and is definitely worth a visit.
It even has a cenote on-site, which was used as part of an irrigation system during the time that a Franciscan order called the convent home.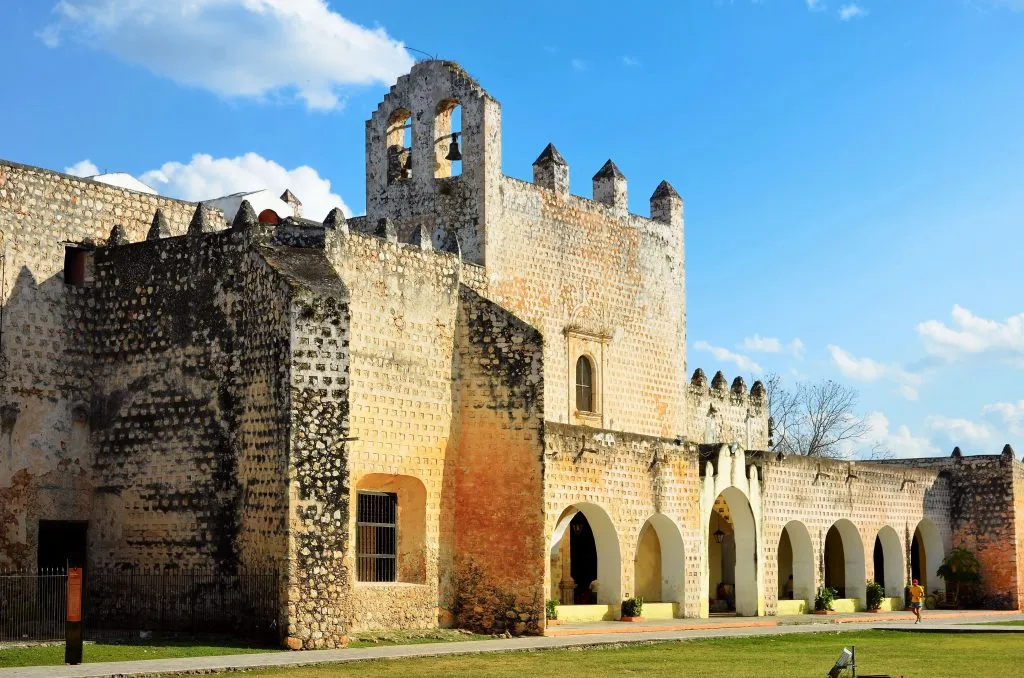 Pay a visit to Chichen Itza.
One of the best things to do near Valladolid, a huge part of the reason that travelers choose the city as a base is its proximity to Chichen Itza.
Chichen Itza is less than an hour by car from Valladolid, and with an early alarm clock, you can arrive at the gates right as the site opens–and beat the crowded tour buses that have to drive more than 2 hours from Cancun to the pyramids.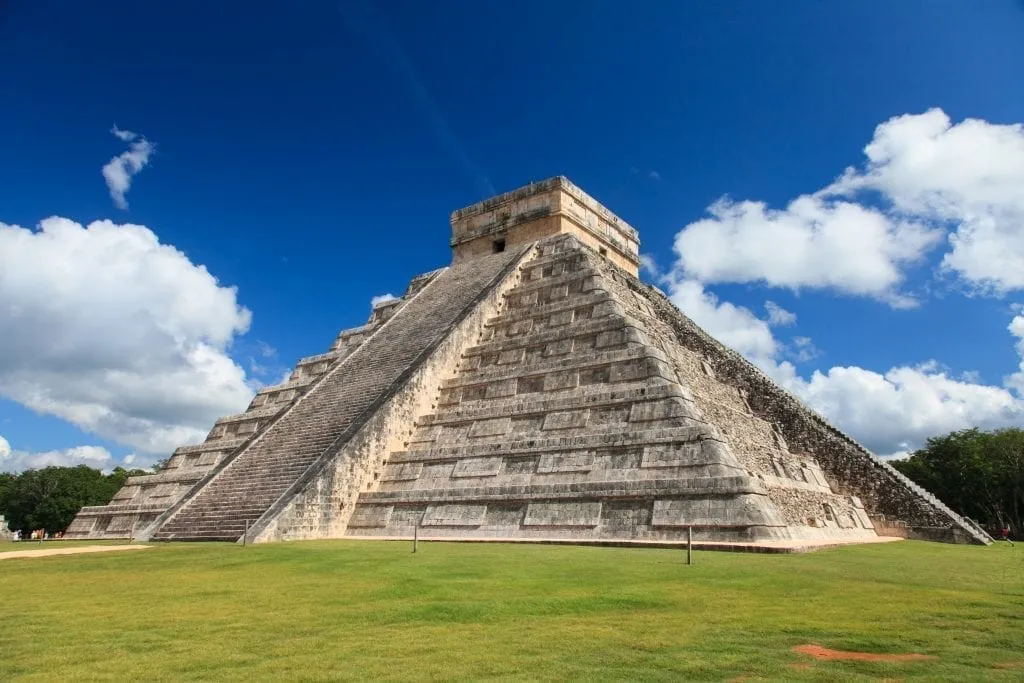 … and Cenote Ik Kil.
One of the area's most famous cenotes, Cenote Ik Kil is located near Chichen Itza and is frequently combined with a trip to the pyramids.
It also happens to be absolutely beautiful!
Marvel at the beauty of Cenote Suytun.
Once fairly obscure, Cenote Suytun has risen to enormous fame in the age of Instagram thanks to its incredibly photogenic nature–and if you catch it at the right time, it is indeed as magical as the photos would suggest.
To avoid the crowds, you'll want to go early in the morning… but to try to capture the famous sunbeam, you'll want to aim for a sunny day at mid-afternoon (you'll also need the air to be a bit dusty and cooperate inside the cenote, though–there's no guarantee you'll get the shot).
We took the Cenote Suytun photos in this Valladolid blog post as soon as the cenote opened in the morning!
Cenote Suytun is only a 15-minute drive from the center of town and is one of our favorite things to see in Valladolid, Mexico.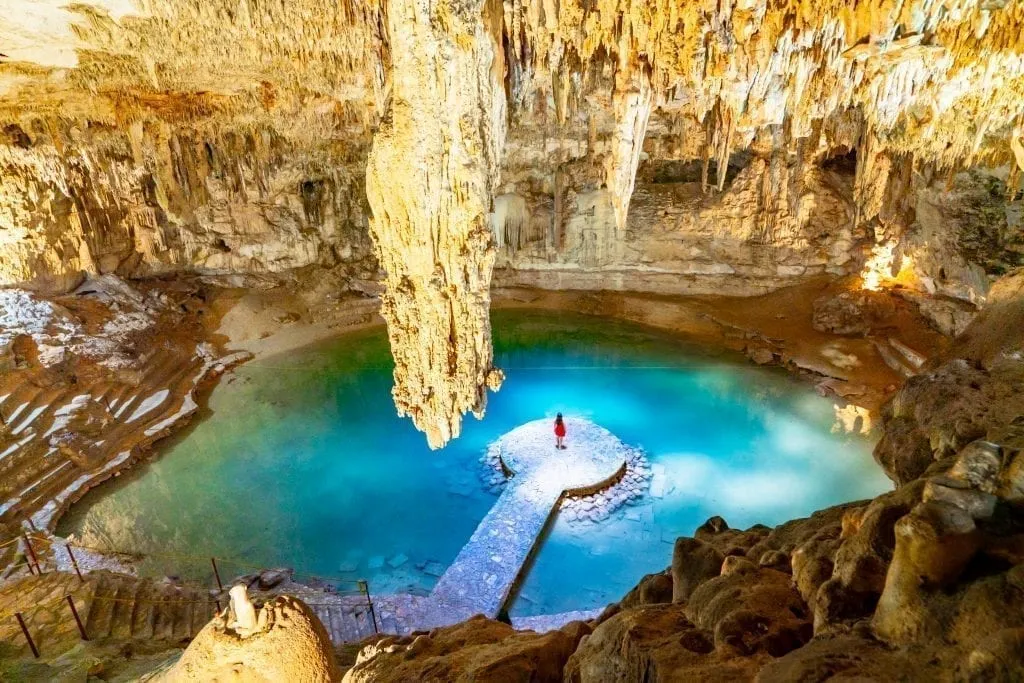 … and Cenote Ka Peh.
There's a second cenote on-site with the famous Cenote Suytun: Cenote Ka Peh.
You can't swim in it, and it's not as beautiful as Cenote Suytun, but it is gorgeous in its own way and well worth the quick walk to see it.
Visit the Iglesia de San Servacio.
Located right on Valladolid's zocalo, or main square, this beautiful church dates to 1705 and is the most striking building on the square.
Climb the pyramids of Ek Balam.
Located just 30 minutes from the city center, the stunning Mayan city of Ek Balam belongs on any list of what to do in Valladolid–and with a fraction of the crowds of Chichen Itza, I'd argue that it's even more impressive to visit (also unlike Chichen Itza, you can still climb the central pyramid here).
… and jump into Cenote X'canche.
Located in the same complex as Ek Balam, though you'll pay a separate entrance fee to visit, Cenote X'canche ranks among my personal favorite cenotes in Mexico, and I highly recommend a visit!

Stunningly beautiful, the cenote boasts bright blue water and a waterfall.
There is a small restaurant, changing rooms, and restrooms on-site, as well as hammocks to relax in, and it's incredibly enjoyable to spend an afternoon here.
Visit the Casa de los Venados.
This beautiful museum in Valladolid features over 3000 pieces of Mexican folk art… and it also happens to be located in a private home.
It's definitely one of the most unique things to see in Valladolid and is worth a visit.
Snap a photo of the colorful Valladolid sign.
These colorful signs denoting the town names of Mexico's pueblos magicos can be found all over the country–and for us, they never get old!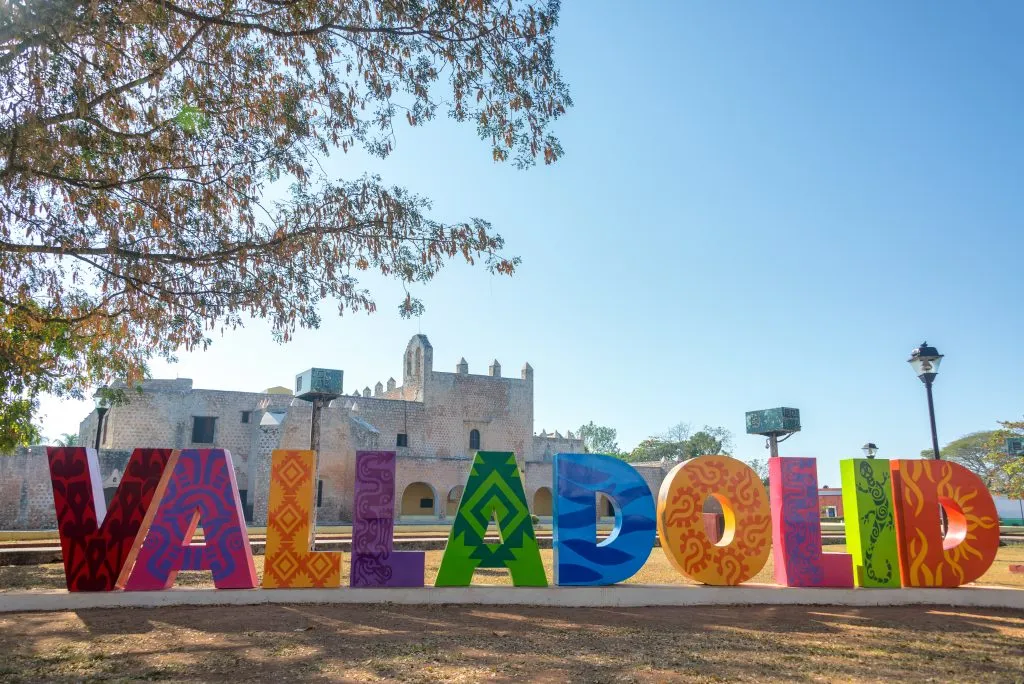 Shop at the Mercado Municipal.
Whether you want to shop for local ingredients to cook with, grab a cheap meal at a taqueria, browse clothes, or just snap photos of the colorful fruit and vegetable stands, the centrally located Mercado Municipal is worth a stop when you're looking for the best things to do in Valladolid.
Take a dip in Cenote Zaci.
Cenote Zaci is widely considered to be a lovely-but-not-magnificent cenote (as compared to the other nearby options like Cenote Suytun and Cenote X'canche)… but it does have one major advantage over the others, and that it is that it's located in the center of town!
If you're staying within walking distance of Valladolid's zocalo, you'll also be able to take a quick stroll to Cenote Zaci.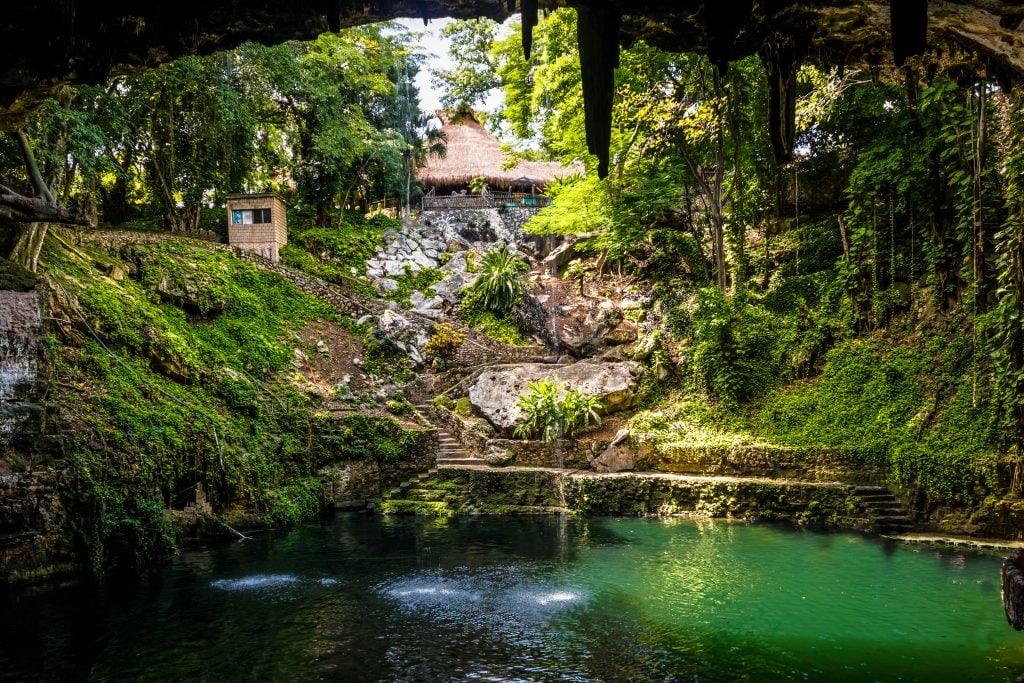 People-watch in the zocalo.
Valladolid's zocalo, or main square, is a delightful blend of attractions for locals (helado carts, balloons for sale for children) and attractions for tourists (dancers performing traditional Mayan dances in costume, souvenir stalls).
It's a charming, peaceful place, and one of the best places to visit in Valladolid.
In addition to tourist attractions like (arguably overpriced) restaurants and the local tourism office, you'll also find practical things you'll likely need for your time in Valladolid here, like the taxi stand in front of the Iglesia de San Servacio, where you can negotiate rates for trips out of town.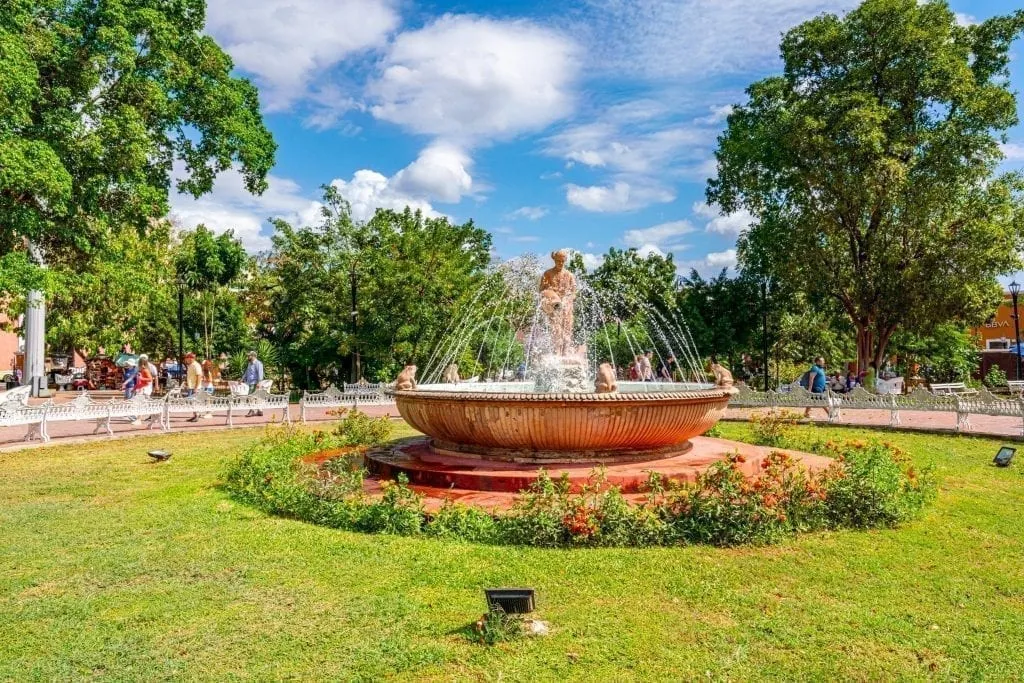 Take a day trip to Izamal, Mexico's yellow city.
Featuring a historic convent, Mayan ruins in the center of town, a chance to escape the crowds, and more beautiful yellow buildings than you can imagine, Izamal is arguably one of the most photogenic towns on the Yucatan peninsula… and it also happens to be only an hour and a half by car from Valladolid!
Check out the Museo San Roque.
Housed in a former convent, this museum is free to visit and focuses on the history of Valladolid and on Mayan culture more broadly.
Take a day trip to the pink lakes of Las Coloradas.
Years ago, on our first trip to Valladolid, we naively arrived in town hoping to find a tour company that would take us to Mexico's pink lakes in Las Coloradas, which were then just starting to rise in fame.
As it turned out, there were no tours (still aren't, as far as we could tell on our most recent visit), but a long taxi ride or an easy 2-hour drive in a rental car will get you there.
We have a full guide to visiting the pink lakes, so I won't repeat myself much here, but suffice it to say that they're one of the most unique day trips from Valladolid!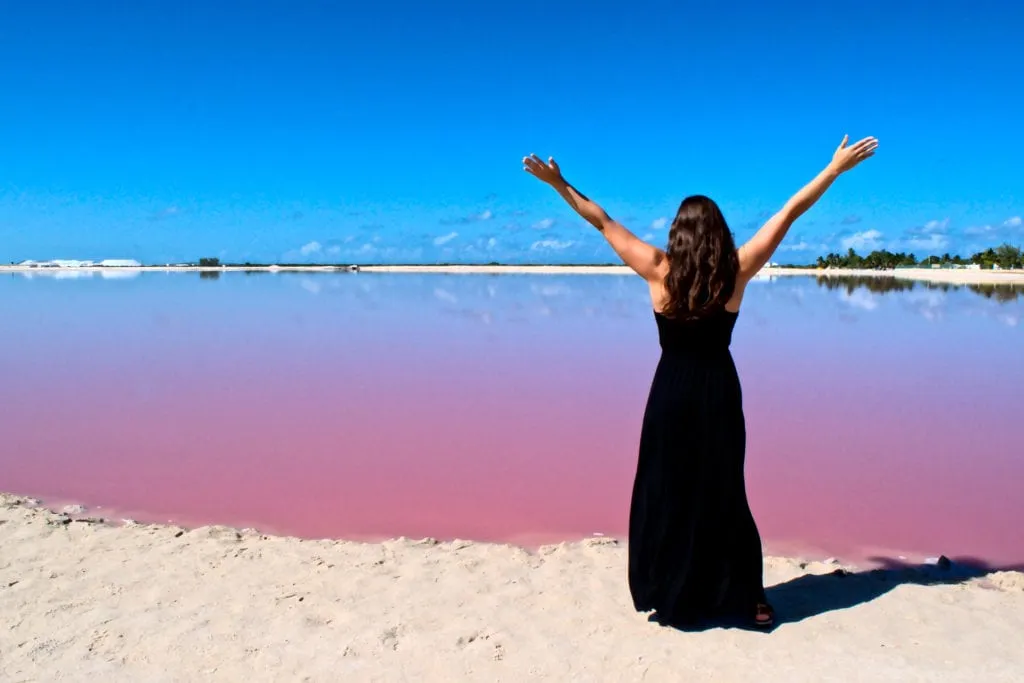 Spend the day at Cenote X'keken and Cenote Samula.
Cenote X'keken and Cenote Samula are located in the same complex, about a 15-minute drive from Valladolid.
Of all the cenotes included on this list of what to see in Valladolid, these are arguably the most developed, with everything from tourist trinkets to snack stalls to lockers available to rent available to you on-site.
Both cenotes are beautiful and worth enjoying, but due to their popularity, we'd recommend visiting on a weekday if you can.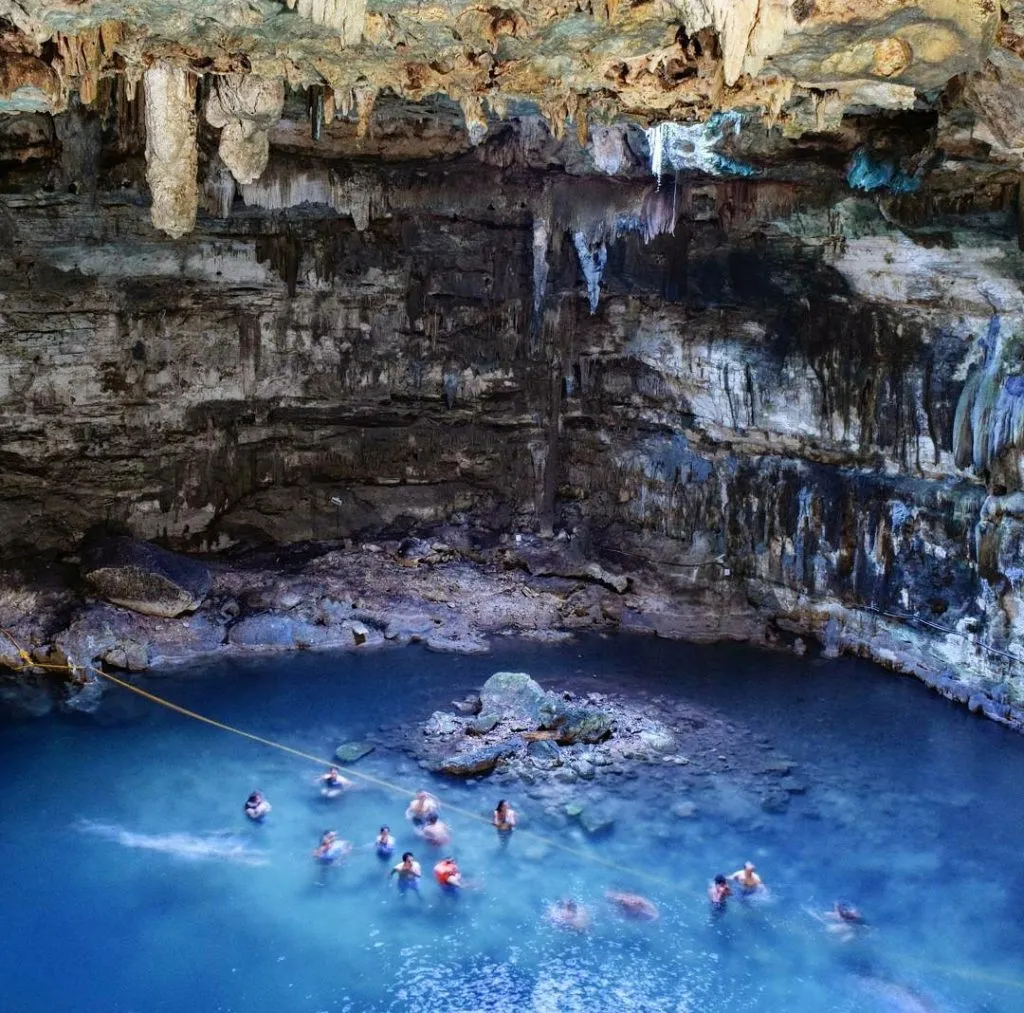 Getting To + Around Valladolid
Getting to Valladolid from hubs like Cancun and Tulum by bus is very easy: ADO bus routes run right to Valladolid.
However, we strongly prefer to rent a car and drive to Valladolid because of the freedom that it allows in visiting surrounding attractions like Chichen Itza, Ek Balam, Cenote Suytun, and more.
If you're planning on renting a car, it's very important to note that there are no car rental agencies in Valladolid (a lesson that we learned the hard way on our last trip when we ended up having to double-back to Tulum to pick up a car).
You'll want to pick up a rental car on the Riviera Maya before leaving–the easiest and cheapest way is generally to rent a car in Cancun (even at the airport), but Playa del Carmen and Tulum are also options.
Check prices & shop rental cars for your trip to Valladolid today!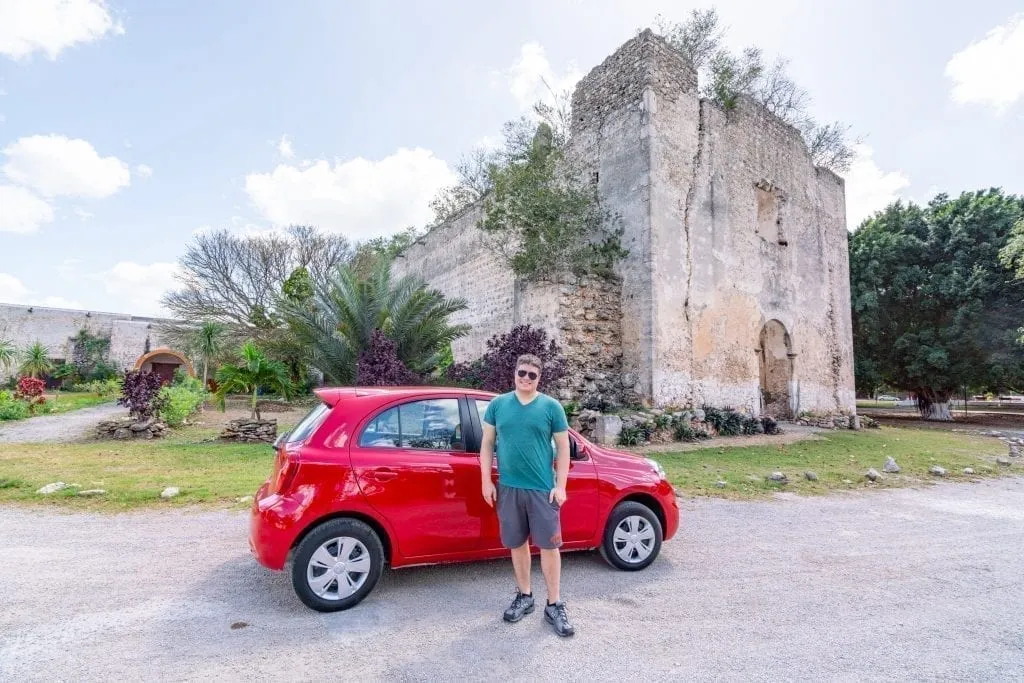 If you visit Valladolid without a car, you'll need to reach the cenotes and ruins through a combination of taxis, collectivos, bikes, scooter rental (for nearby sights like Cenote Suytun) and organized tours. It's also worth noting that organized tours for attractions that are further away, like the pink lakes, are scarce to non-existent. Tours to Chichen Itza, on the other hand, are easy to find.
It's entirely doable, especially if you're comfortable negotiating prices in Spanish–however, having visited Valladolid both ways, the freedom that a car provides is fantastic, and we absolutely prefer it.
Driving to and around Valladolid is fairly easy, and we find driving in Mexico's Yucatan peninsula in general easier than in many places in Europe!
The best company to rent a car for your Valladolid vacation from will likely vary dramatically depending on exactly when you're traveling. Sometimes large international carriers offer the best prices, sometimes local outfits. Sometimes one company has an excellent base price, but terrible rental requirements.
The best way to find your rental car is to search through Discover Cars, which will sift through dozens of companies to find the best combination of low prices and reasonable rental terms for your trip.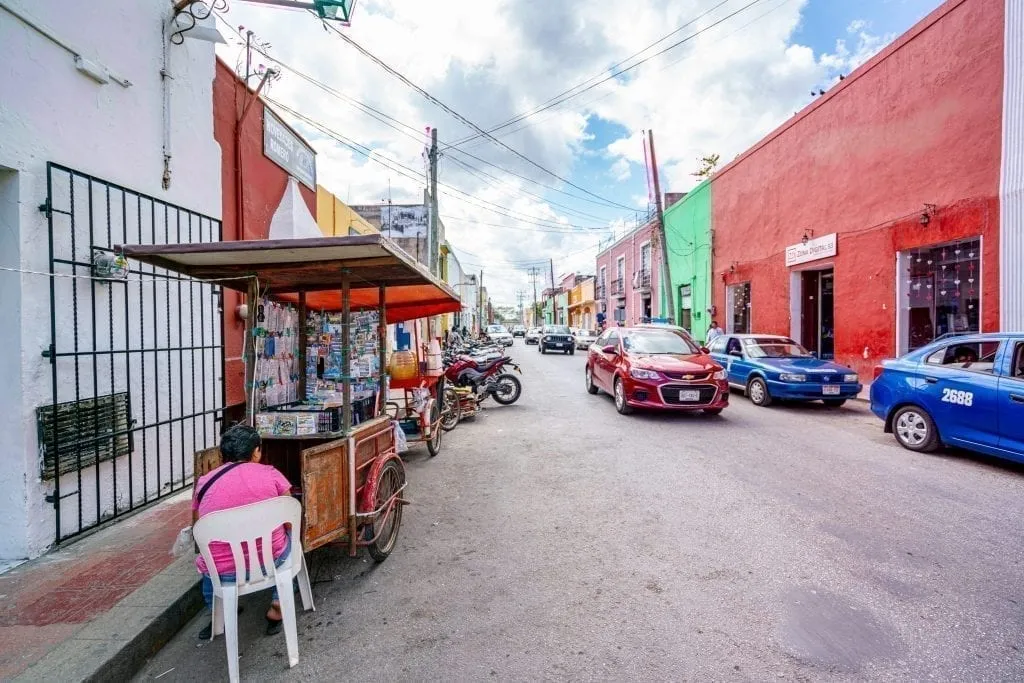 Where to Stay in Valladolid, Mexico
Valladolid has a fantastic selection of places to stay, ranging from budget hostels to beautiful boutique hotels.
Here are some of the best, including the hotel we adored on our most recent visit!
Budget
Hostel Candelaria — Featuring a perfect location in the center of Valladolid, colorful decor, hundreds of near-perfect reviews and plenty of dorm and private room lodging options, Hostel Candelaria is a go-to choice for budget travelers to Valladolid.
Mid-range
Casa Aluxes Hotel — We absolutely adored our stay at this boutique hotel. The breakfast is fantastic, the service perfect, the inner courtyard and pools beautiful, and their location excellent. When we return to Valladolid yet again, we'll definitely consider staying again.
Luxury
Le Muuch Hotel — This luxury hotel in Valladolid offers spacious family rooms, excellent service, and a fantastic breakfast, all housed in a convenient location within walking distance of Valladolid's major sights. The grounds include two beautiful pools, and the hotel's hundreds of excellent reviews make it a sure bet when visiting Valladolid.
Where is Valladolid, Mexico?
Valladolid is centrally located in Mexico's Yucatan peninsula, far from any beaches but perfectly located for exploring Mayan ruins, cenotes, and more.
It's about 2 hours (155 kilometers) from Cancun, about 1 hour, 45 minutes (140 kilometers) from Playa del Carmen, 1 hour, 30 minutes (100 kilometers) from Tulum, and 1 hour, 45 minutes (160 kilometers) from Merida.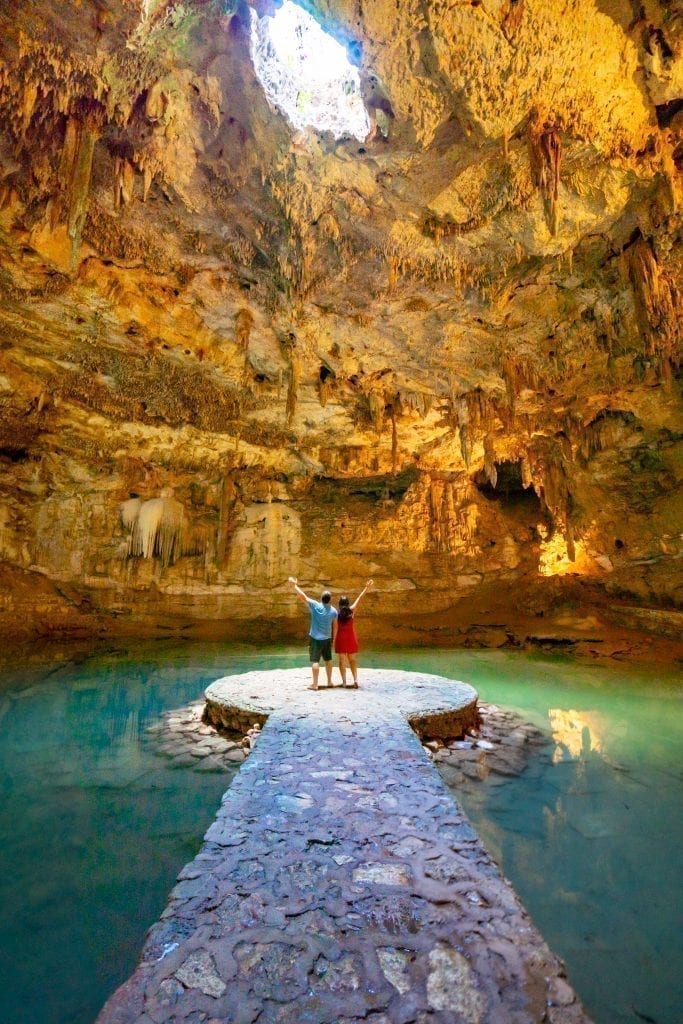 Taking a Day Trip to Valladolid
While you could technically take a day trip from the Riviera Maya to Valladolid, in our opinion, the city is best used as a base–we'd only recommend visiting Valladolid as part of a day trip if you're combining it with a visit to nearby attractions like Chichen Itza or Cenote Suytun.
If you'd like to visit Valladolid as part of a greater day trip from the Riviera Maya, we recommend this popular tour leaving from Cancun that includes a visit to Chichen Itza, Cenote Ik Kil, and Valladolid.
Book your day trip to Chichen Itza, Cenote Ik Kil, and Valladolid today!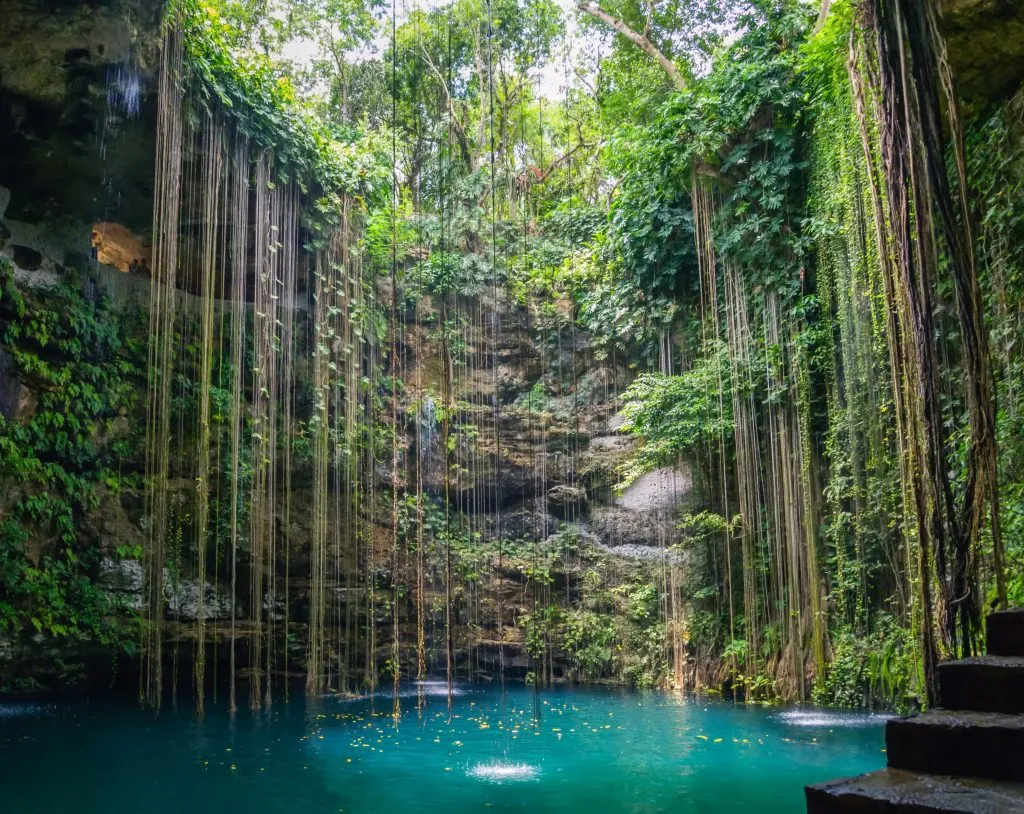 The Best Time to Visit Valladolid
Though Valladolid can easily be considered a year-round destination, the best time to visit Valladolid is from roughly November through March, when the temperatures are at their mildest and skies the clearest.
The late spring and summer months are extremely hot and humid, and a trip during these months will likely mean more time spent at the cenotes than on average in an effort to stay cool (not that that is a bad thing, exactly).
August and September are the rainiest months in Mexico's Valladolid.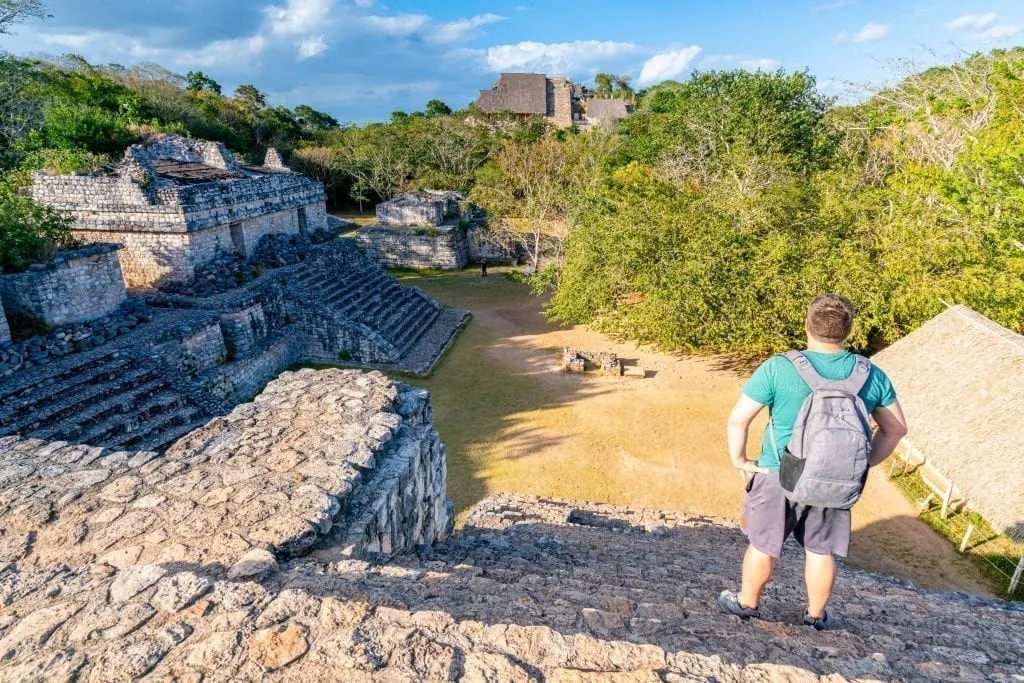 What to Pack for Valladolid, Mexico
Wondering what to pack for your trip to Valladolid? Be sure to throw these items in your bag!
Travel Insurance — We don't ever suggest traveling without insurance–anything can happen, and this is definitely a case of better safe than sorry. Traveling to Mexico is generally safe, of course, but it also likely involves stepping outside your comfort zone and trying out new adventures in a foreign land… where you may or may not speak the language. We use and recommend Safety Wing for trips to Mexico.
Pacsafe
— We can't recommend our Pacsafe
enough: this travel safe is affordable, sturdy, easy to pack, and will help keep your valuables safe in your hotel room during your Valladolid vacation (not that you should need to worry much about theft in your hotel, but it's better to be safe than sorry!).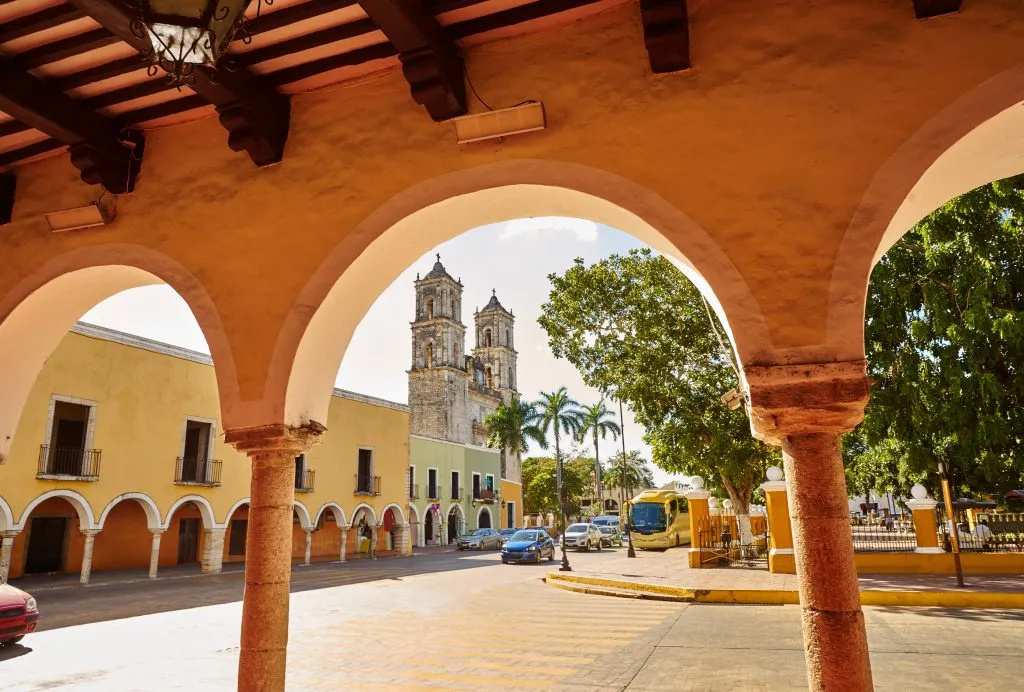 Comfortable Day Bag — We currently use Pacsafe's sleek anti-theft backpack and love it, but if you don't want to shell out the cash for this trip, that's totally understandable. Just aim for something comfortable to wear, not flashy, and medium-sized–we used a Northface Jester backpack for years and loved it as well.
Swim Goggles
— We love packing our own goggles when visiting cenotes. They're cheap, small, easy to pack, and make swimming so much more fun!
Purell Hand Sanitizer
— We carry this everywhere, and never been sorry to have it floating around in our day bag.