Mexico isn't just one of our favorite countries to travel in, it's one of our favorite countries to eat in–and that starts with enjoying a delicious Mexican breakfast every morning.
A typical breakfast in Mexico is filling and varied, with plenty of different dishes on offer and portion sizes big enough to get you ready for a day of exploring.
While, like the rest of Mexican cuisine, breakfast can vary quite a bit depending on what region you're in, there are some staples that are fairly easy to come by just about everywhere.
Planning a trip to Mexico and wondering what a typical Mexican breakfast will look like during your trip?
Here's what to expect to see on the menu!
Popular Breakfast Dishes in Mexico
Huevos Rancheros
Perhaps the most popular Mexican breakfast food outside of Mexico, huevos rancheros consist of fried eggs covered in a tomato-based sauce.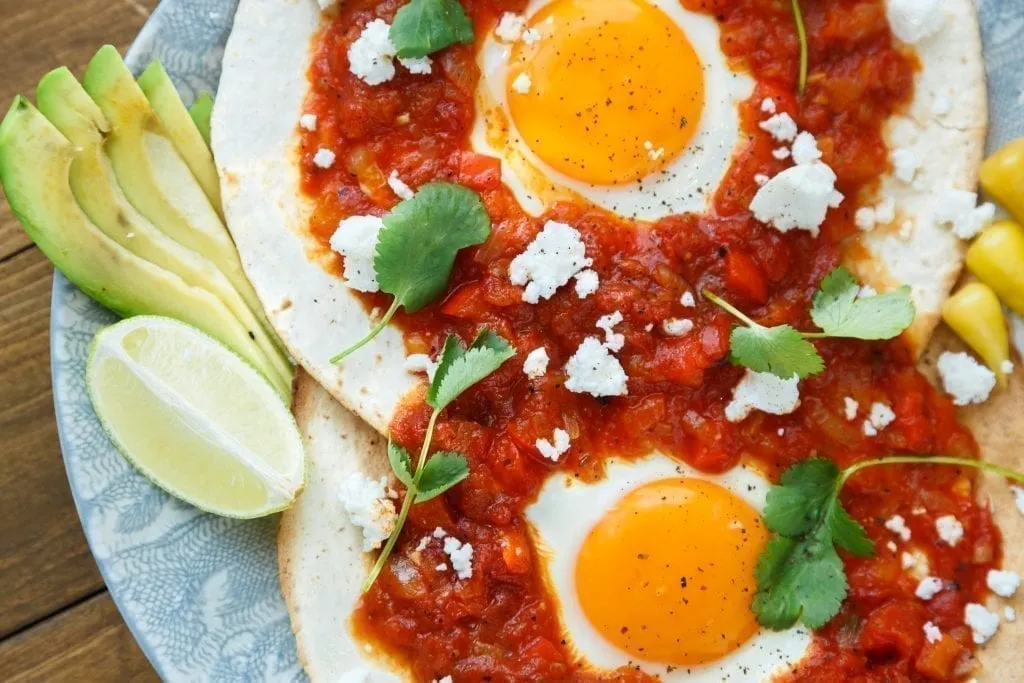 Some links in this post may be affiliate links. If you make a purchase through one of these links, we may earn a small commission at no extra cost to you. Please see our

disclosure policy

for more detail.
Huevos Divorciados
Very similar to huevos rancheros, huevos divorciados include two fried eggs each covered in a different sauce, typically one red sauce and one green sauce.
Chilaquiles
Corn tortillas that are cut into quarters and then lightly fried make up the basis of chilaquiles.
The pile of fried chips is then coated with sauce (red or green) and toppings, often including raw onions, avocado, and fried eggs, are added.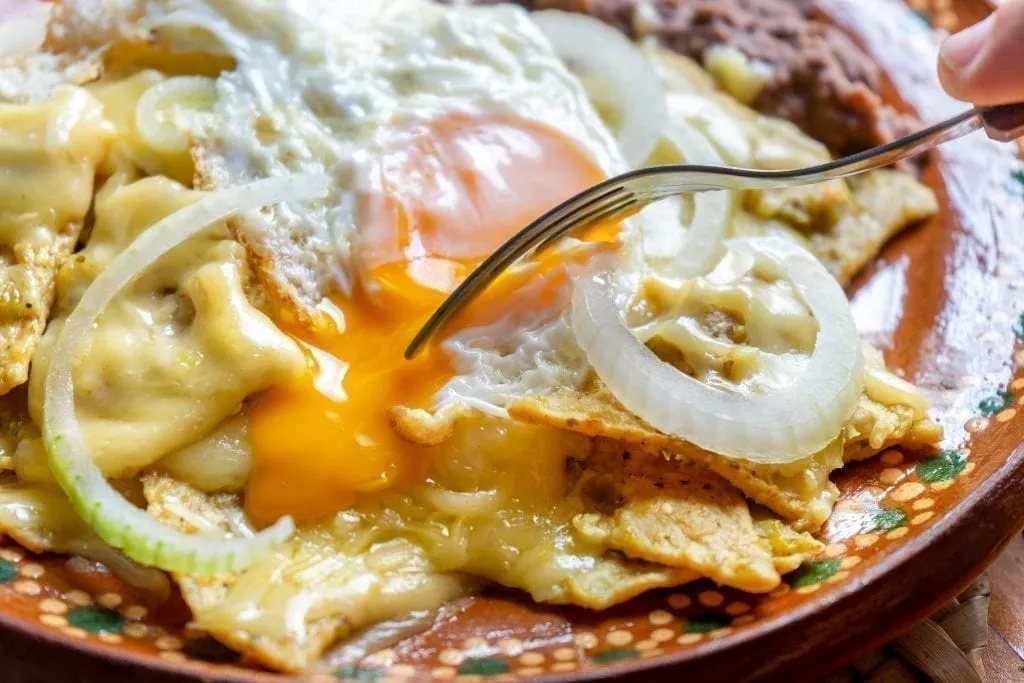 Tamales
Tamales are popular in Mexico during any time of day, of course, but these masa-based delights make for an excellent breakfast in Mexico!
Huevos Motuleños
Originally from the town of Motul, this Mexican breakfast dish is popular in the Yucatan.
With a base of fried eggs (you'll notice these feature in lots of typical Mexican breakfasts!), to make huevos motuleños the eggs are then topped with a variety of things, often including cheese, beans, ham, and–perhaps most surprisingly, at least to me–peas.
Fried plantains are generally served on the side.
Huevos a la Mexicana
Huevos a la Mexicana is the most common Mexican breakfast food to be made with scrambled eggs.
The scrambled eggs are mixed with onion, tomato, and chilis, and are delicious!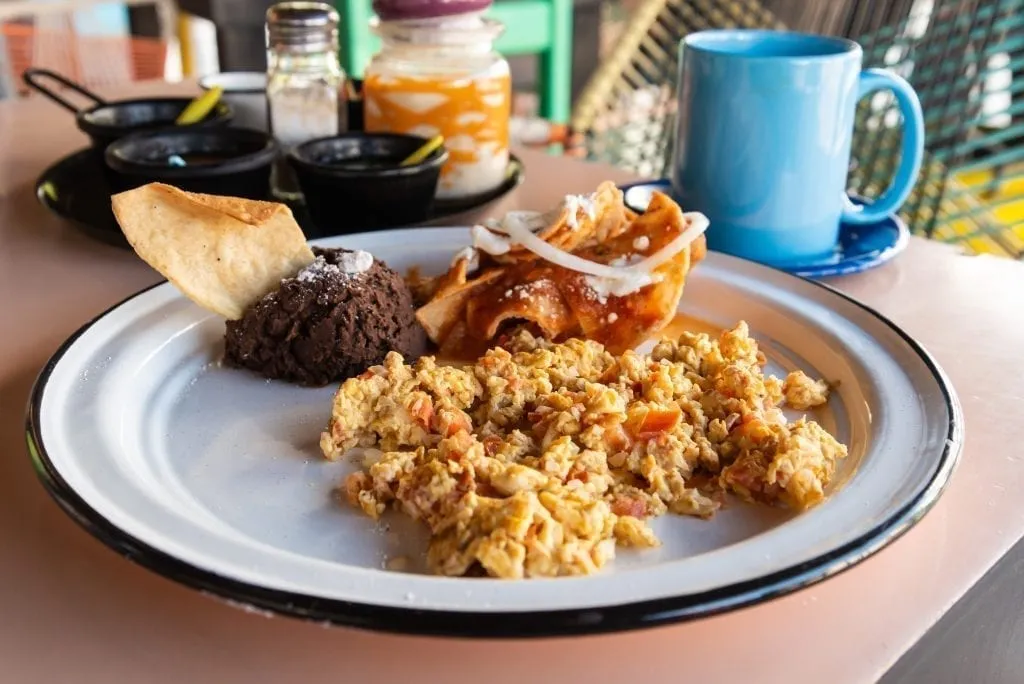 Enfrijoladas
Traditionally made with leftovers, enfrijoladas can vary dramatically in their fillings, but the basics remain the same: enchiladas smothered in a black bean puree.
This is one of the first things I ever ate in Mexico City, and it was so tasty that it has stuck with me for years!
Molletes
You can think of molletes as an open-faced sandwich, or perhaps as a tostada on bread.
To make molletes, toasted bread is covered in beans, cheese, and perhaps other toppings, and then enjoyed as an easy breakfast (or snack).
Pan Dulce
Literally translated as "sweet bread", pan dulce is a broad term that covers sweet pastries, breads, and cookies.
You won't generally find them on a menu at a restaurant when eating breakfast in Mexico, but they're very popular for breakfast at a bakery or as a street food–and they go excellently with coffee.
Typical Sides With a Mexican Breakfast
Beans
Beans, usually refried but sometimes whole or partially crushed, are popularly served on the side of a Mexican breakfast.
Tortillas
Fresh corn tortillas–perfect for scooping up virtually any of the egg dishes outlined above–are a fantastic addition to any breakfast table.
Of course, it's not the only carb you'll see–Mexican bolillos, a type of bread roll, are commonly used for a torta (sandwich) breakfast on the go.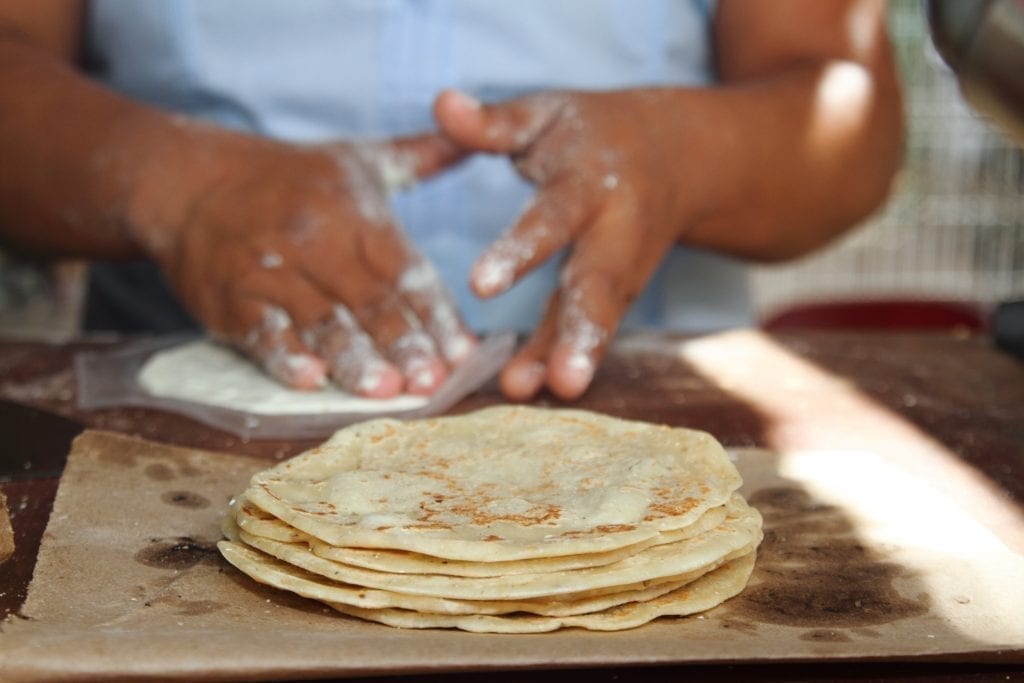 Fried Plantains
This is my own bias talking, but well-fried plantains may just be one of the best foods on the planet!
Crispy on the outside, gooey and sweet on the inside, they make the perfect side dish when eating breakfast in Mexico.
Fruit
Fresh, local fruit is a popular and delicious side.
Rice
A small scoop of rice is a typical Mexican breakfast side.
What to Drink With Breakfast in Mexico
Atole
Atole is a sweet drink made with a starch base (usually masa), which is mixed with water and sweet spices like sugar and cinnamon to create a creamy, warm drink.
Atole is particularly popular with tamales, and it's definitely worth trying when in Mexico!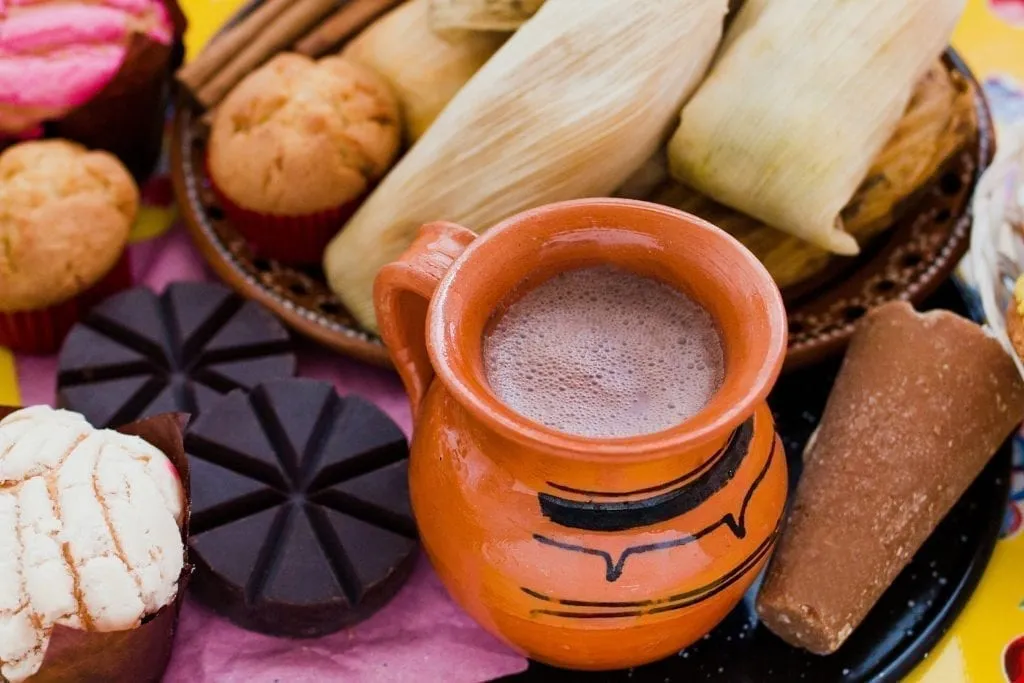 Coffee
Popular, self-explanatory, and definitely a common sight on breakfast tables in Mexico!
Fruit & Vegetable Juice
Fruit or vegetable juice is often offered as a side with breakfast in Mexico, and not just basic options like orange or mango.
Versions that mix the juices of a few local fruits and vegetables together onsite are common and tasty!
A Typical Mexican Breakfast at a Restaurant
If you go to a restaurant in Mexico for breakfast, you can usually expect to see, at the very least, huevos rancheros, chilaquiles, and huevos a la Mexicana on the menu, and usually a few options beyond that!
Sides vary, so ask if you're curious, but a small serving of beans is extremely common, and sometimes other sides will be included as well.
Unless you specify or the dish calls for something else, eggs are typically served fried with a runny yolk.
If you have dietary restrictions, such as if you are traveling as a vegetarian in Mexico, keep in mind that you will need to watch your food closely (for example, beans in Mexico are often prepared with lard).
A Typical Mexican Breakfast at a Hotel
Many hotels in Mexico include breakfast, and while the quality of the breakfast can vary, if it's a cooked (not continental) breakfast, it'll usually be great!
Depending on the size of the hotel, there may be a limited menu, or the waiter may simply ask how you would like your eggs cooked.
While this post does outline specific, popular breakfast foods in Mexico, at a small hotel it wouldn't be uncommon to be served a basic breakfast of eggs cooked to order, tortillas, a small side of beans, and coffee.
Often other options for sides, like rice and avocado, will often be available as well.
Spanish Phrases for Ordering Breakfast in Mexico
Traveling abroad is always a fun opportunity to stretch your language skills, and there's no better chance to try out some Spanish when ordering breakfast in Mexico!
Since it's something you'll do every day, you'll likely retain vocabulary more easily than you would for something you say once, and while you can often get by with pointing, it's much more satisfying to be able to communicate well.
Here are a few simple Spanish phrases to keep in mind when ordering breakfast in Mexico.
Me gusta/Me gustaría… — I would like… (The second is more formal.)
Con — With
Sin — Without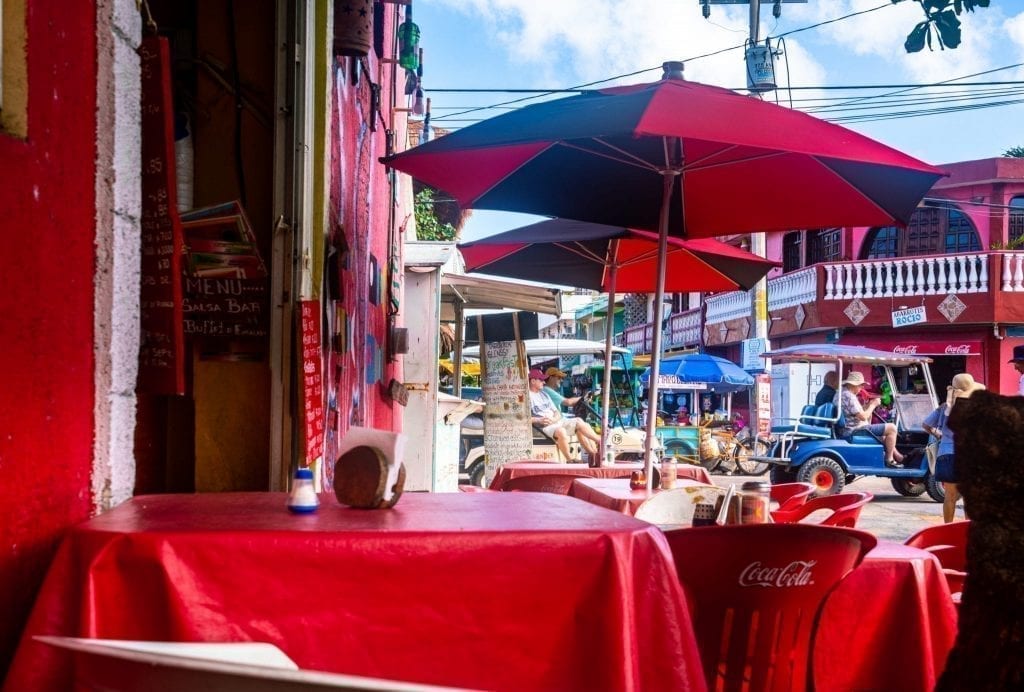 Gracias — Thank you
Huevos — Eggs
Huevos Revueltos — Scrambled Eggs
Café — Coffee
Leche — Milk
Plátanos — Plantains
Frijoles — Beans
Arroz — Rice
Aguacate — Avocado
Queso — Cheese