On the long list of things that Jeremy and I have in common, a desire to learn how to scuba dive has always been included.
It's adventurous.
It involves swimming, which we both adore.
There's an opportunity to discover a whole new-to-us world.
And, of course, we get to breathe underwater. As run-of-the-mill human beings, that is just so cool.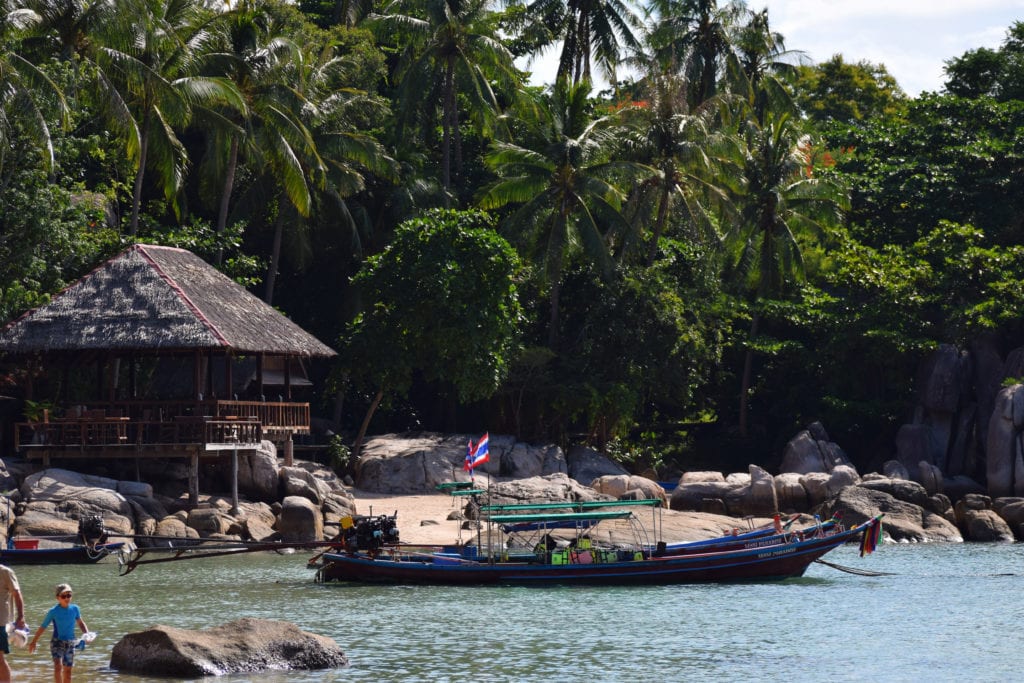 But when to learn? And where?
During our first few visits to tropical beaches, we declined to get our Open Water Diver scuba certifications for both time and money reasons: the course takes 3-4 days, and costs hundreds of dollars (though the amount is highly variable by region). For a one week trip, that's a heck of an excursion.
Enter Koh Tao.
Thailand is an excellent place to get open water certified, and we ended up on Koh Tao specifically (as opposed to one of the many, many other Thai islands) for a few reasons: the gulf of Thailand was much more "in season" than the Andaman coast at the beginning of August, Koh Tao was considered to be the most quiet/laid back of the major islands in the gulf, and… it's considered to be one of the best–and cheapest–places in the world to go diving and to get your Open Water Diver certification.
We were sold instantly: before even arriving in the country, we knew that we wanted scuba diving to be part of our first trip to Thailand.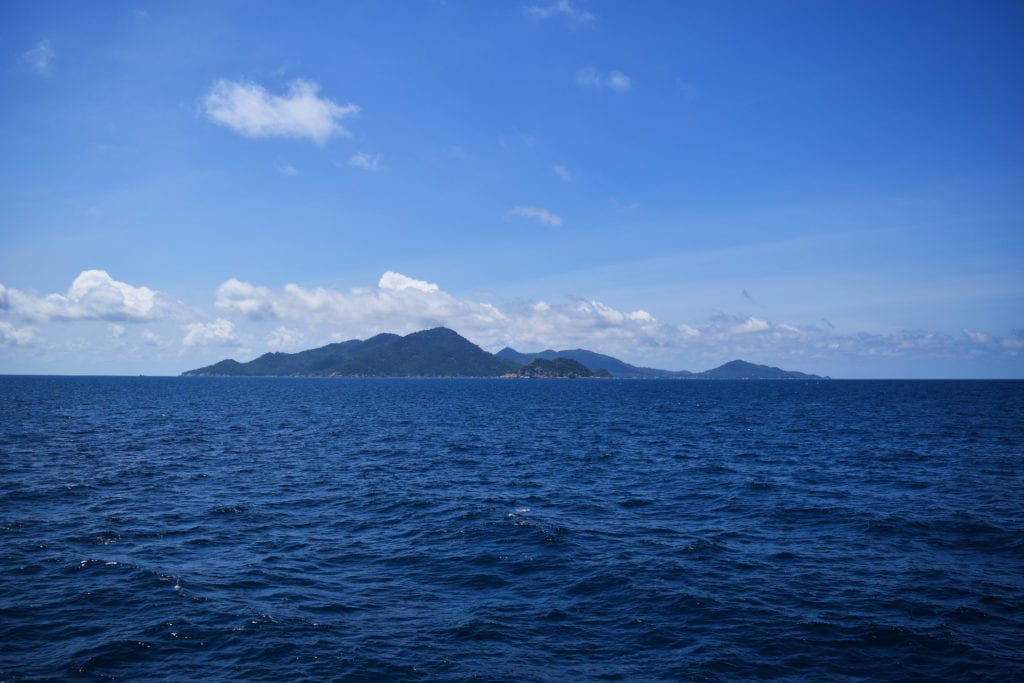 Getting to Koh Tao
There are a handful of different ways to get to Koh Tao, but we used one of the most common: a joint ticket for an overnight train from Bangkok to Chumphon, a bus transfer from Chumphon train station to the pier of Chumphon, and a ferry to Koh Tao. We purchased these tickets at the Bangkok train station a few days before leaving.
I'd recommend booking as soon as you get to Bangkok: we had slim pickings for trains and air-conditioned compartments both getting to Koh Tao and coming home.
Choosing a Dive Shop
To say that there is a lot of choice in dive shops on Koh Tao is a laughable understatement.
We asked our dive instructor how many dive shops there were on the island, and he said about 70. I've read other numbers that put it closer to 40-50, but either way, that is a ton of shops.
Talking to other new divers around town, there didn't seem to be any major benefit to booking ahead of time.
Prices were generally the same, and even though July/August was one of Koh Tao's peak seasons, there was still same or next day availability at every shop we talked to–there's just so much supply!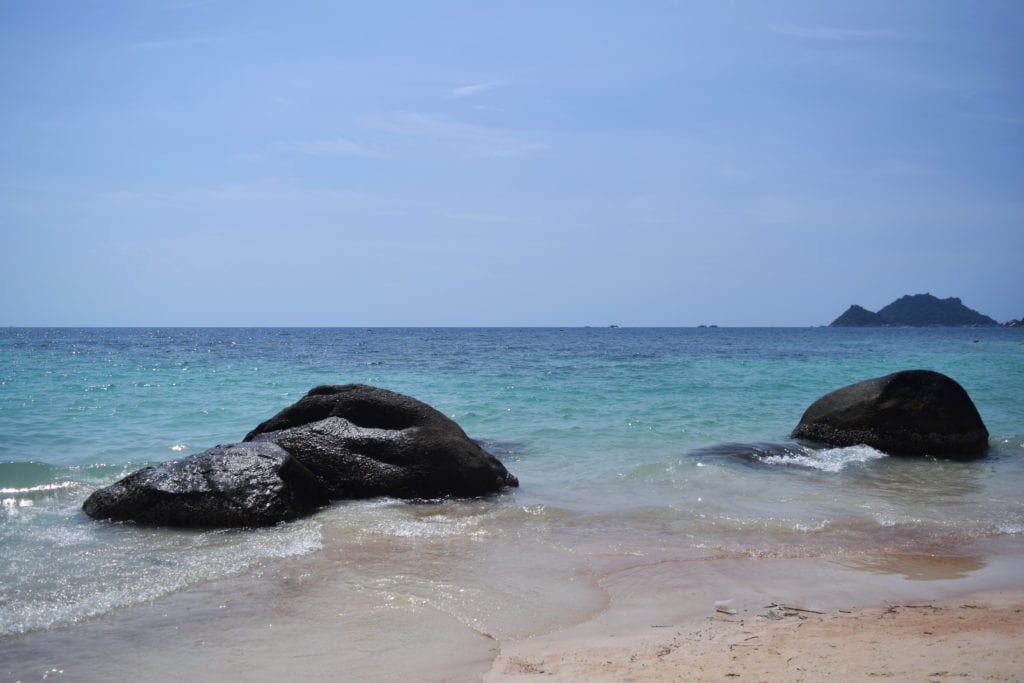 We landed on our shop the old-fashioned way: hitting the pavement and comparing prices. Almost every shop that we passed had an advertised price for an Open Water Diver course listed, along with any perks they included. Some shops were willing to negotiate a bit, others weren't.
In the end, we landed on a German-run dive shop, Dive Point, that offered a competitive price (8200 baht/$237.86 USD each). The shop also included 6 dives during the course (some schools only do four, spending the first day in a pool), a very small group (max of four people, it ended up being just us) and–most importantly–we felt very comfortable there.
Where to Stay
There are two heavily populated areas on Koh Tao: Mae Head, the village right next to the pier, and Sairee Village, next to the longest beach on the island. The two are not far apart–maybe a 20-minute walk.
Several of the more secluded bays on the far side of the island from the pier have lodging, but they are mostly resort properties–for a large choice of restaurants and dive shops, Sairee Village and Mae Head are the places to be.
We stayed in Mae Head for simplicity upon arriving and then got comfortable there so stayed in the area. Nothing is far on Koh Tao (the entire island is about 13 square miles), though many of the roads outside of the villages are not well developed.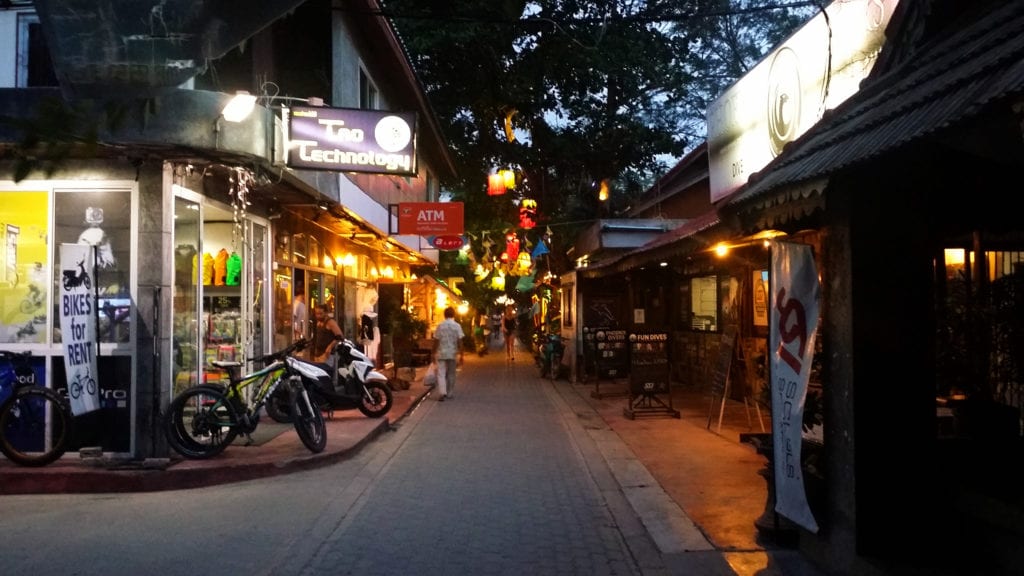 Our Favorite Dives of the Week
Full disclosure for scuba novices like us: you won't have 100% control over the dives that you do. Each dive shop has a schedule of which dives they head out to each day, which are obviously subject to change based on weather conditions (our friends at Dive In have a lot more information about scuba gear, liveaboards, and diving in general if you're new to the sport!).
We got lucky (okay, lucky and tried to find a schedule that would accommodate this dive): we had the opportunity to visit Chumphon Pinnacle, considered by some to be the best dive in the Koh Tao area.
I have just this to say: wow.
We didn't try our hand at any underwater photography on this trip, but that will be changing shortly. Learn from our mistakes: bring or rent a camera that is usable underwater.
I already regret not having photos of the gigantic schools of fish, the intimidating-looking great barracudas, the spooky moray eels, and, of course, the enormous and breathtaking corals.
Other favorite dives included Japanese Gardens (though, this was our first dive and we had great visibility that day, so we may be biased), and Red Rock, where we got to swim in a small cave.
We were less impressed with Hin Ngan. The submerged Mini Cooper was cool and all, but I'll take natural reefs over man-made ones any day of the week (except for wrecks. I am very excited to eventually get our Advanced certification and go wreck diving).
Even with clearing eight dives in the week we were on Koh Tao, we barely scratched the surface of the diving available–which just means that there are lots of dive sites left for when we go back!
For more on Koh Tao's best dive sites, check out this post by part-time Koh Tao resident and full-time dive enthusiast, Alex. She normally blogs at Alex in Wanderland, though this particular article was for a different site.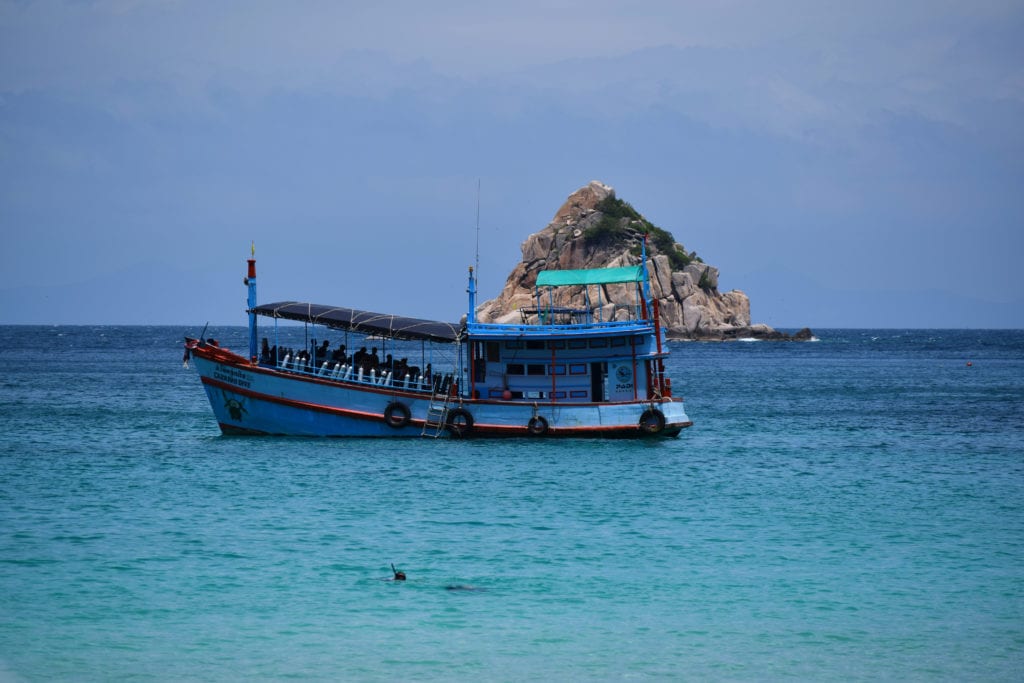 Our Thoughts on Scuba Diving around Koh Tao
Did scuba diving live up to the hype? YES.
We are so glad that we made the leap–gorgeous Koh Tao was the perfect place to learn. I'll never forget taking that first deep, full breath of air underwater–it is bizarre to say the least, though it rapidly becomes a new normal.
Similarly, I'll never forget kneeling on the floor of the ocean, a few brightly colored fish swimming around us, while we practiced the standard beginner exercises.
The only major disappointment we had was not getting to see a turtle, but alas–no luck there. Hopefully next time!
If you're thinking about starting to scuba dive (or you're already a diver who just wants to visit a beautiful place), I cannot recommend Koh Tao highly enough.