Visiting bright and colorful Burano from Venice is one of the most popular day trips from the City of Canals–and it is well worth the boat ride!
Heading from Venice to Burano will help you see a whole different side of life on the Venetian Lagoon, far from the hustle and bustle of hotspots like the Rialto Bride and St. Mark's Square.
This is a place where life moves a little slower, the homes are a bit more colorful, and where the canals are filled with fishing boats instead of gondolas.
It's also just, to be quite frank, too pretty to avoid–there are few towns on Earth as colorful as Burano.
Planning to head from Venice to Burano for a day?
Here's what to know before you visit Burano!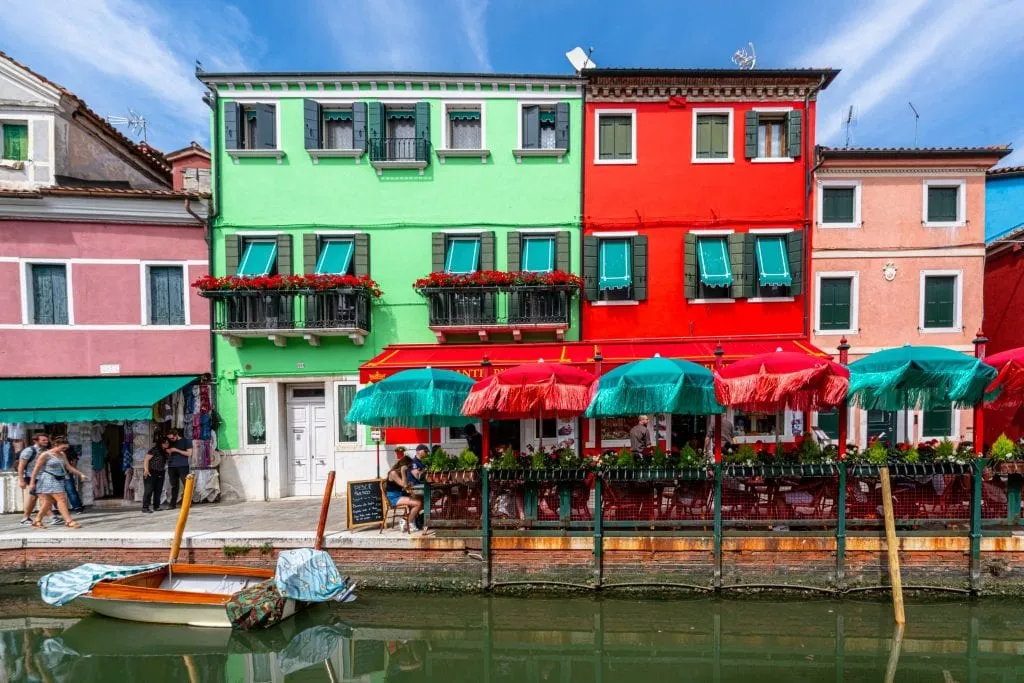 Some links in this post may be affiliate links. If you make a purchase through one of these links, we may earn a small commission at no extra cost to you. Please see our

disclosure policy

for more detail.
How to Travel from Venice to Burano
Burano is one of several outlying islands in the Venetian Lagoon, and visiting Burano from Venice is a fairly simple endeavor.
Essentially, you can choose between two options to get there: take public transportation or book an organized day trip.
Here are the pros and cons of each, plus how to book!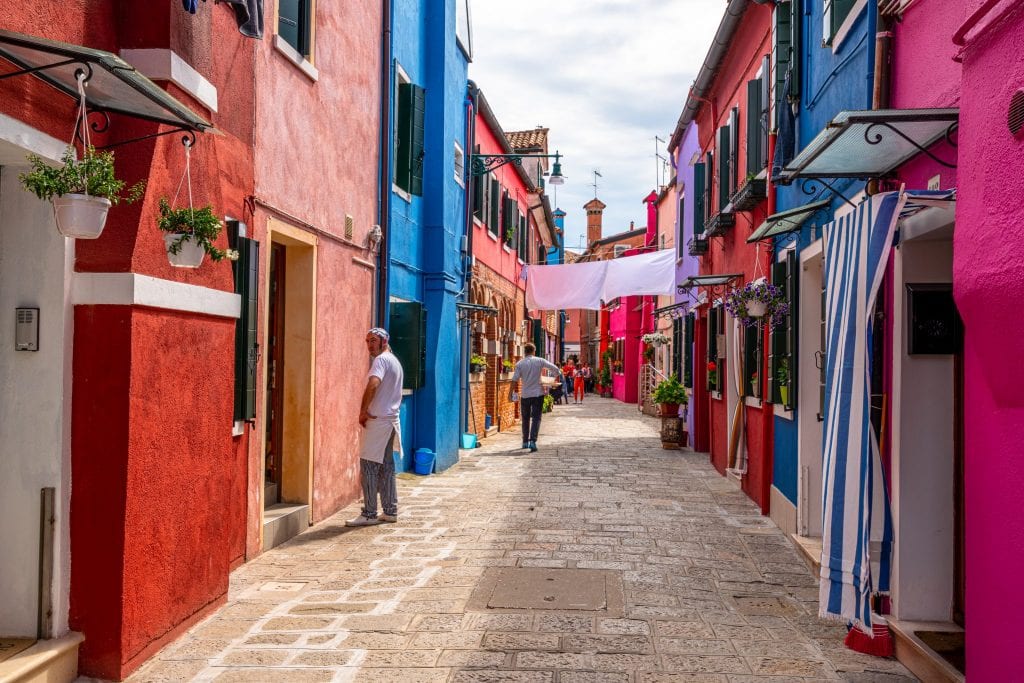 Option 1: Take a Vaporetto.
In Venice, vaporettos are large, public boats that act as public transportation, essentially serving the same function that buses, trams, or metros do in more land-based cities.
Vaporetto #12 will deliver you right to Burano–and to the glass-blowing island of Murano as well if you're so inclined.
We've seen estimates online ranging from 30-40 minutes to reach Burano from Venice.
Personally, it took us 45 minutes to reach the colorful island.
As of 2023, one-way vaporetto tickets to reach Burano cost 9.5 Euros each way–it's not the cheapest public transportation in the world!
With a trip to Burano via vaporetto running 19 Euros round-trip per person, not including a stop at any other islands, you'll likely want to purchase a transportation pass to get there (and also plan any other nearby trips you want to take, like to Murano, Torcello, or Giudecca, for the timeframe that the pass is active).
Option 2: Book a day trip to Burano.
Want to add a little more context to your visit, hit 2 or 3 islands in one day without stress, or avoid spending any energy navigating Venice's public transportation system?
If that sounds like you, booking a tour that heads to Burano is an excellent option!
Tours to Murano, Burano, and Torcello are incredibly affordable–especially by Venetian standards–and offer a low-stress way to get a taste of the islands.
This incredibly popular tour will take you to all 3 islands and allow you to briefly explore each, plus allows you to visit a glass factory on Murano.
And, since this day trip only costs slightly more than a round-trip vaporetto ticket to Burano, it's arguably one of the best deals in the city!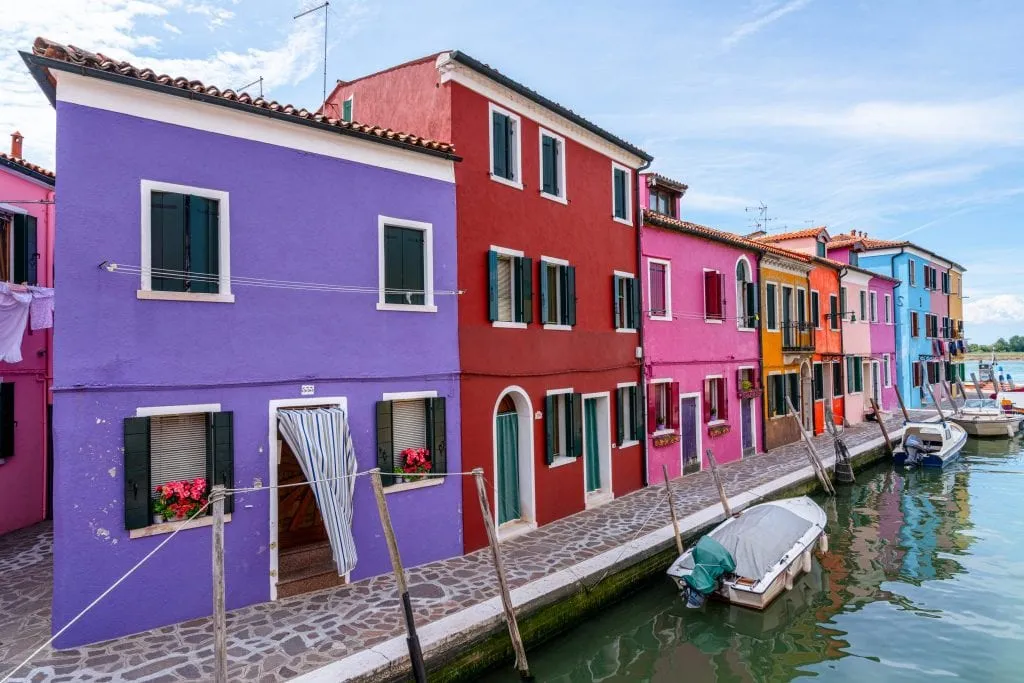 The Best Things to Do in Burano, Venice
Photograph your heart out.
Most people travel from Venice to Burano for one major reason: to photograph it!
The colorful houses are truly a marvel (seek out Bepi's House for something special!), and admiring them from every angle with a camera in hand is an absolute joy.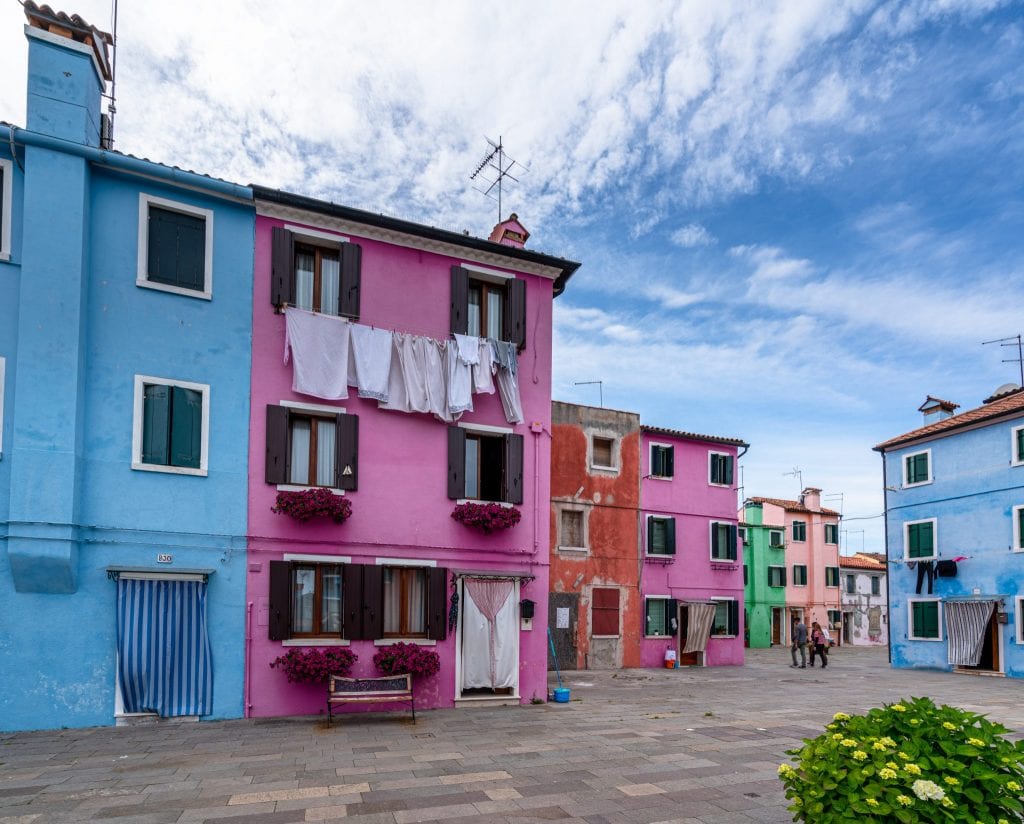 Shop for local lace.
Much like the nearby island of Murano is world-famous for its glass, Burano has been well-known for its lace production for centuries.
One of its best-known customers was Leonardo da Vinci himself, who bought a piece for the altar of the Duomo of Milan!
While most of the lace you'll see for sale in Burano these days is made by machine or a hybrid of machine work and handmade touches (the traditional handmade pieces take months to create and cost thousands of dollars), it is still stunning!
If you're looking for the best souvenirs from Venice, there's no doubt that Burano lace ranks among them.
There's a small lace museum on the island (you can find it on Piazza Galuppi), so if the craft interests you, consider adding a stop there to your trip to Burano from Venice.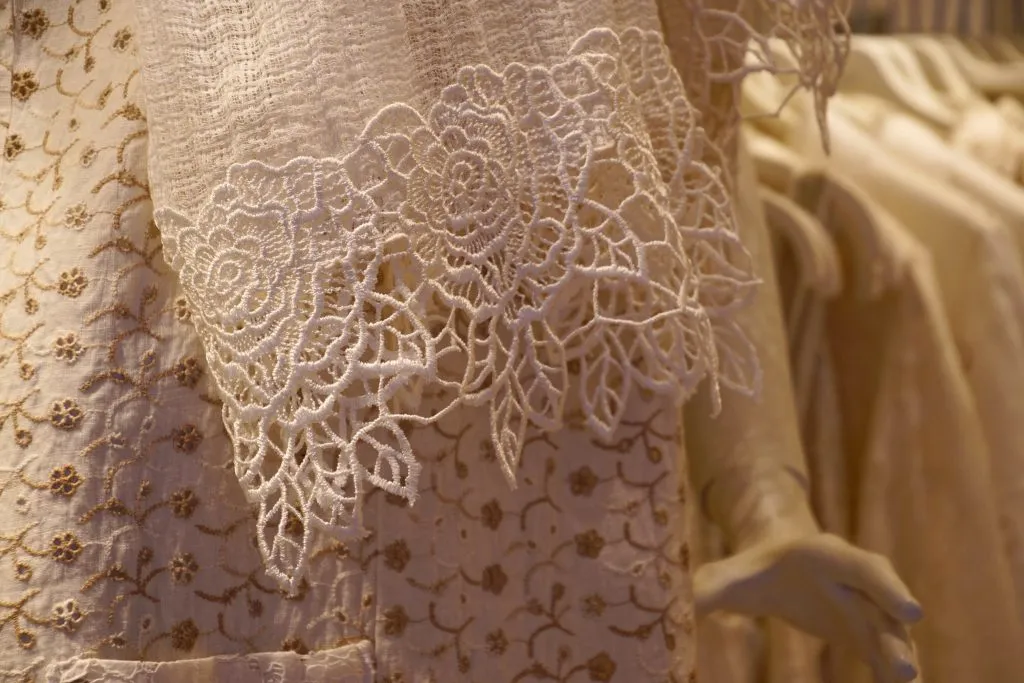 Eat some delicious seafood.
It should come as no surprise that a fishing village serves up some tasty seafood dishes, right?
If your trip from Venice to Burano happens to coincide with a mealtime, consider sitting down for a plate of risotto de gò, aka fish broth risotto–a local specialty.
Stroll across the Tre Ponti.
The Tre Ponti (or "three bridges", though it is technically all one bridge) offer some of the best panoramic views of Burano's delightful streets and quaint canals.
Be sure not to miss this popular spot during your day trip to Burano from Venice!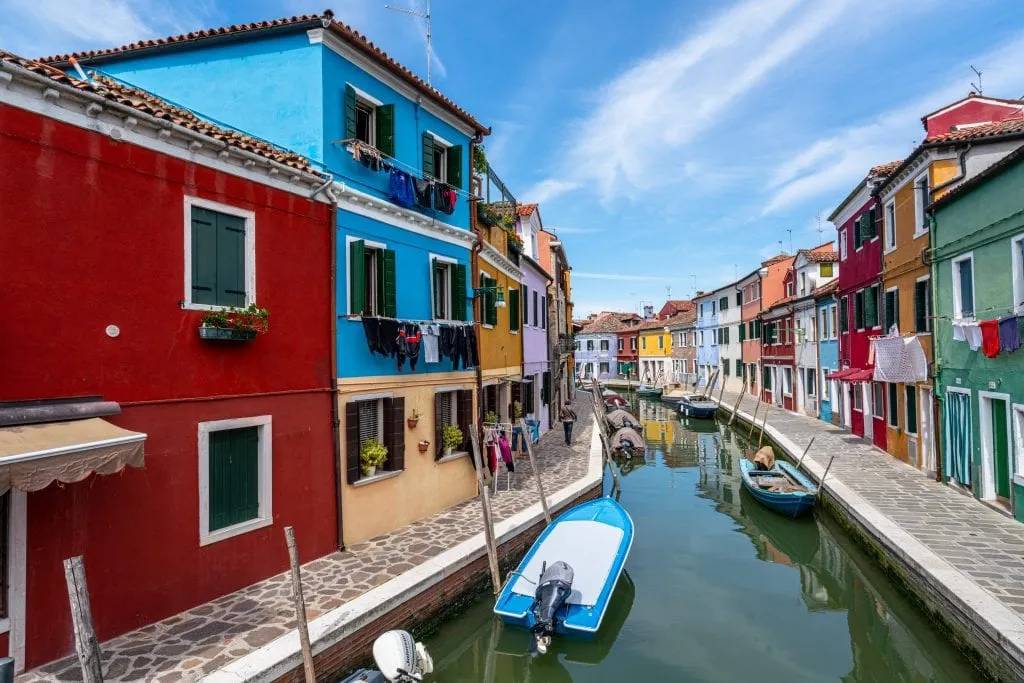 Visit Pescaria Vecia (the old fish market).
Every fisherman's village needs a fish market–and Pescaria Vecia is Burano's adorable version.
If you happen to be visiting Burano around sunset, this is the place to be for beautiful views!
Check out the leaning tower of Burano.
The leaning tower of Pisa is far from the only leaning tower in Italy, even if it is the most famous–and for another example, you don't need to look any further than Burano.
For a unique photo op on the island, head to Via Giudecca and check out the sharp lean of the bell tower of St. Martin's Church.
Snack on Burano's traditional cookies.
As a big fan of butter cookies (and cookies in general), bussolai (or bussolà in the singular) cookies from Burano are one of my favorite snacks on the island!
Crisp and delicious, the cookies were traditionally made as durable snacks for fishermen to take out on their boats with them, but they remain popular to this day (particularly for Easter).
Bussolai cookies go by several names, including buranelli and essi (for the "S" shape that they're sometimes made into.
Whatever you call them, though, they are tasty, affordable, easy to transport, and worth trying when visiting Burano from Venice.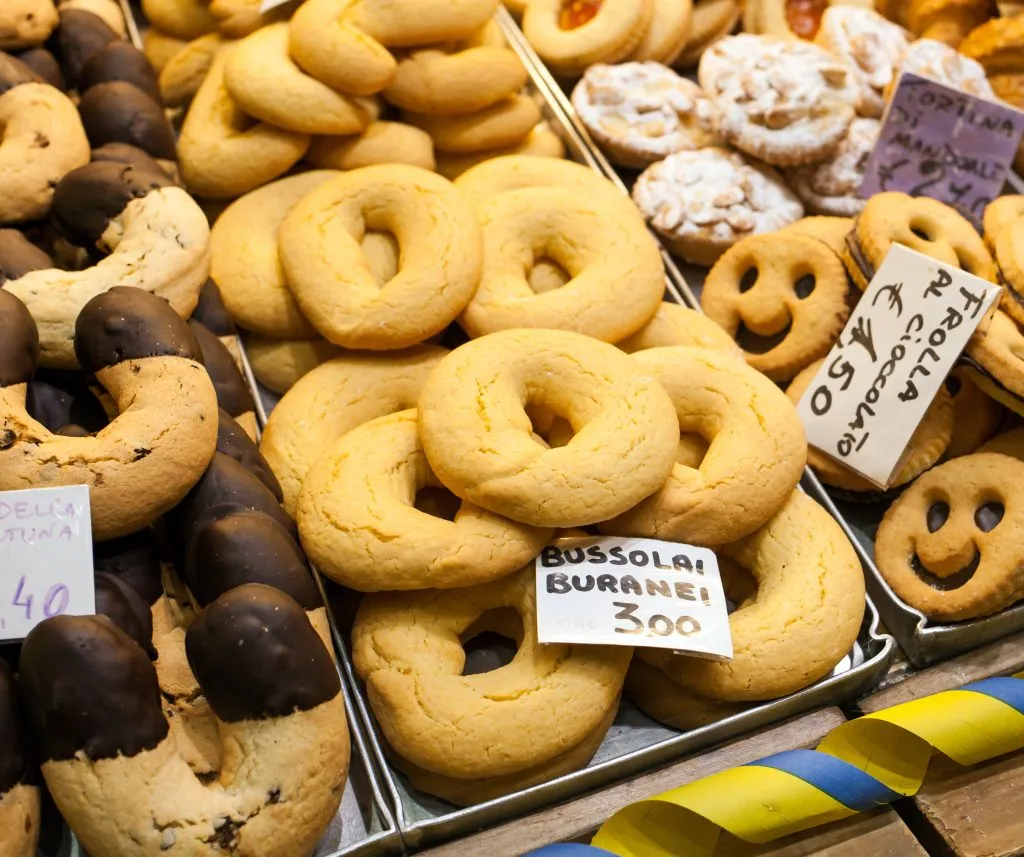 How Long to Spend Visiting Burano
As much as we love heading from Venice to Burano for a day, you really don't need a lot of time here!
The village is incredibly small–for context, it is home to under 3,000 people as compared to Venice's nearly 60,000–and doesn't require any intense sightseeing in order to to fully appreciate it.
Simply walking around, checking out the best-known views, admiring the lace, and taking 10,000 photos is enough to truly enjoy your time visiting Burano from Venice.
For that reason, we wouldn't hesitate to recommend booking a tour that covers Murano + Burano or even Murano, Burano, and Torcello in one day.
As lovely as Burano is, Venice itself has so many incredible views and hidden gems to explore that it's hard to justify any additional time taken away from the city.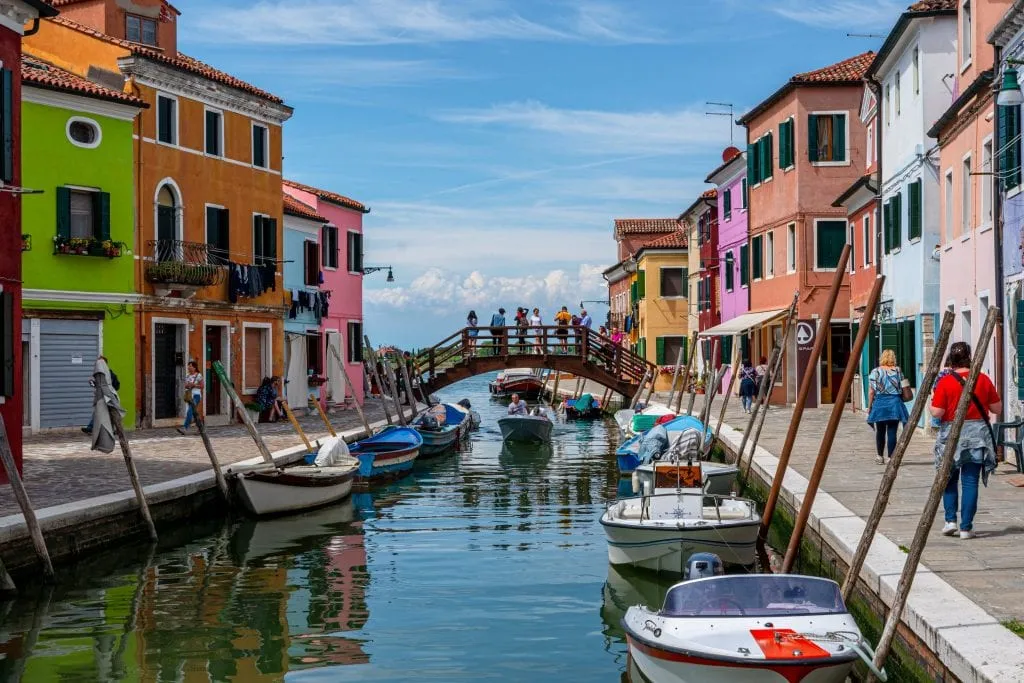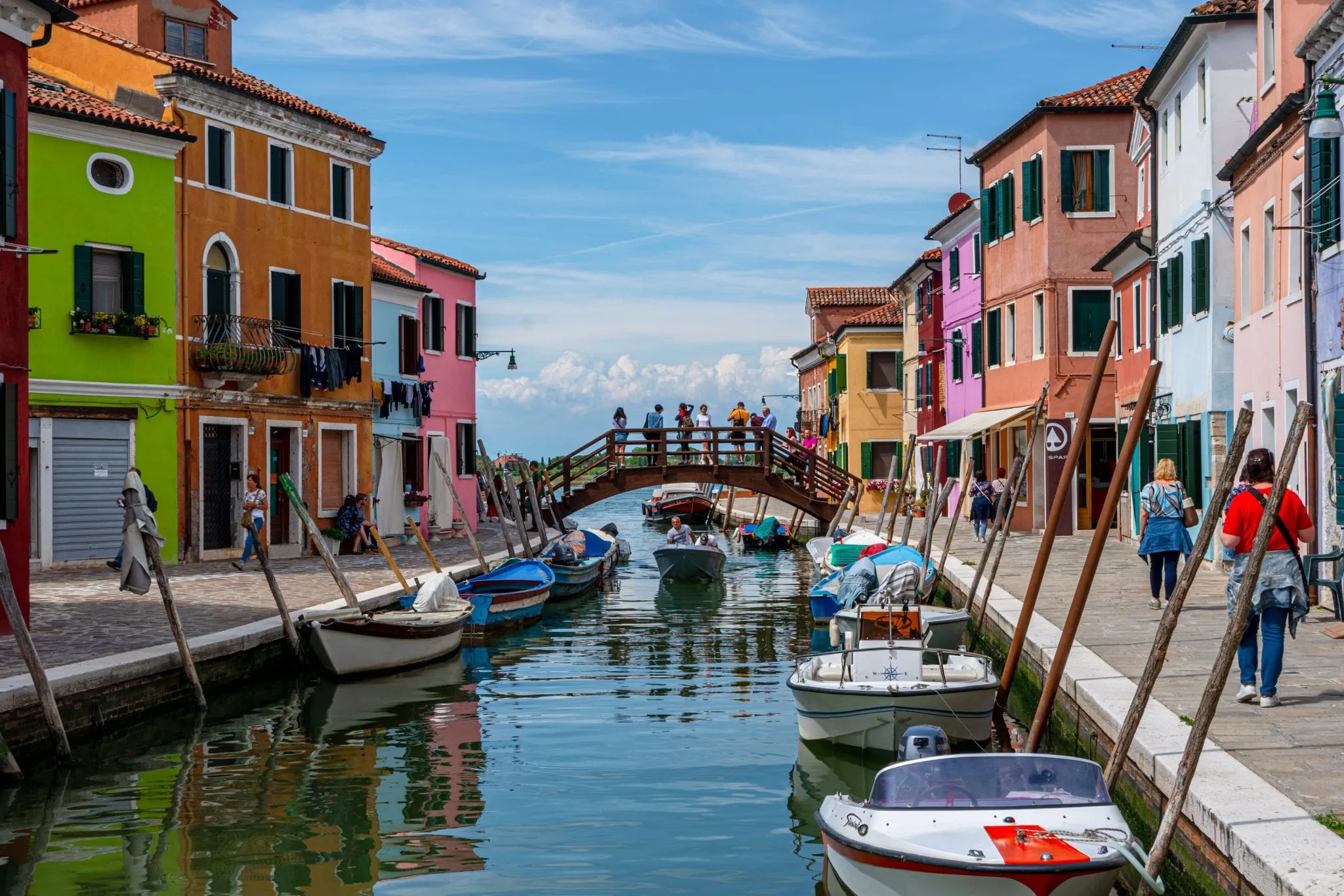 Read More About Visiting Venice (and Italy)
Planning a trip to Venice soon and want to keep reading?
You can browse our 100+ Italy blog posts here, or check out these guides: