It's hard to imagine a city with more photogenic corners than Venice–which makes finding the most instagrammable places in Venice surprisingly difficult, as there are just so many to choose from!
Venice is a city that oozes beauty and history from every canal, every church, every piazza. In the days of the Venetian Empire, Venice was incredibly wealthy, and it was not the least bit afraid to show off that wealth (and subsequently, the beauty that wealth created).
If you're headed to Venice and want to make sure to snap some incredible shots while you're there, these photo spots in Venice should be on your list!
Most Instagrammable Places in Venice
Piazza San Marco
Venice's largest and most famous piazza is certainly among the most instagrammable places in Venice–here are a few corners of it that you shouldn't miss.
Doge's Palace
While the exterior of Venice's Doge's Palace in Piazza San Marco is incredibly photogenic, the interior is magnificent as well, especially the gilded Great Council Chamber.
Also–don't forget to look out the windows!
St. Mark's Basilica
Once the church of Venice's doges, and built mostly in a Byzantine style with Venetian twists, St. Mark's Basilica is ridiculously beautiful–and perhaps one of the most unique churches in Italy.
St. Mark's Campanile
The lovely tower standing tall in Piazza San Marco is St. Mark's Campanile, and while the tower itself is certainly worth a few photos, it's the view from the top that truly deserves to be considered one of the most instagrammable places in Venice.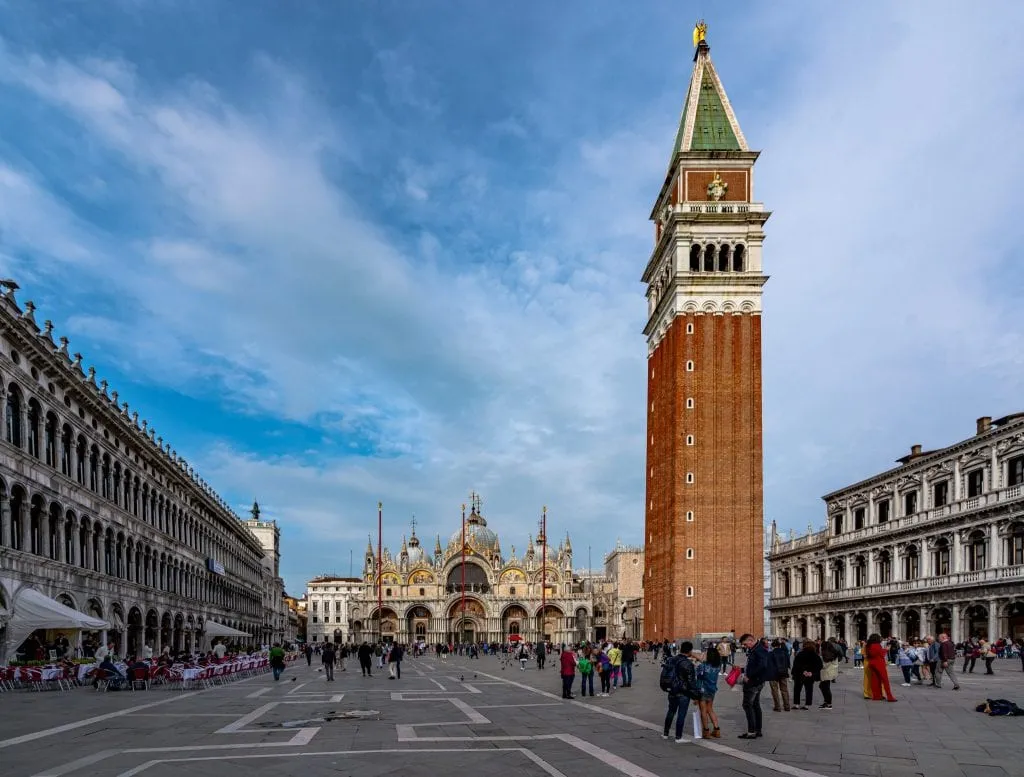 Cafe Florian (+ Other Instagrammable Cafes)
Piazza San Marco is full of glamorous and gorgeous (and expensive) cafes–and none of these is more beautiful or photogenic than the stunning Cafe Florian.
Grand Canal
Venice's Grand Canal is visible from many of these instagrammable spots in Venice, but it deserves to be honored in its own right: the Grand Canal is an icon of Venice, and it is incredibly photogenic.
Want to snap photos of it from the water without paying for a gondola ride? Take a vaporetto, aka Venetian water bus!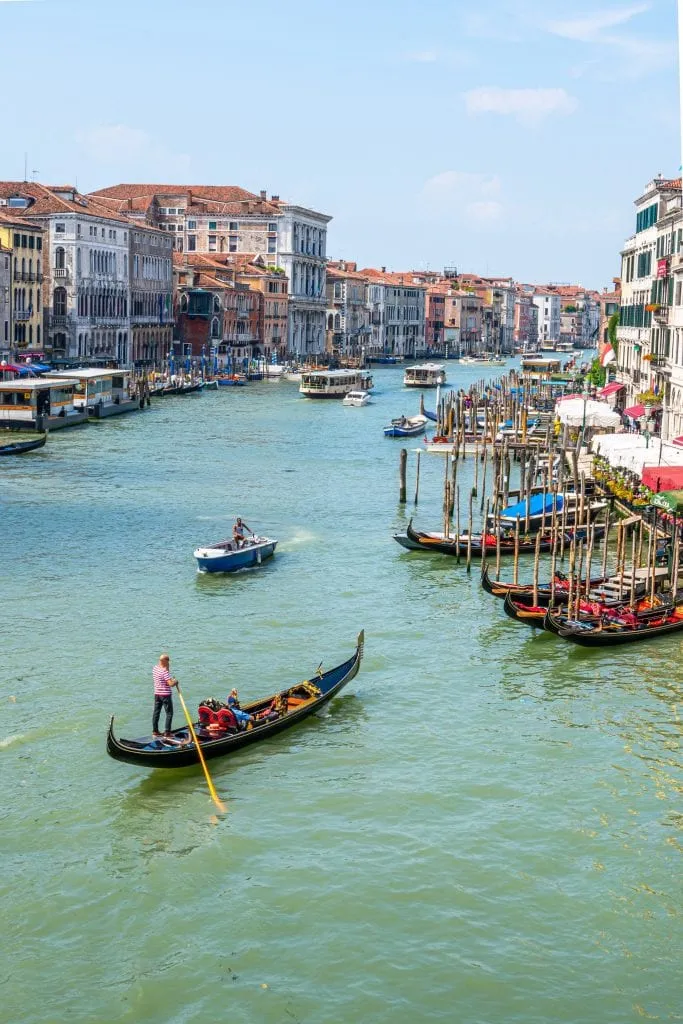 Tiny Canals + Footbridges
With over 400 footbridges and nearly limitless angles to photograph small canals, there truly is no end to the instagram spots in Venice you can find if your goal is to take beautiful shots of a picturesque canal.
Ponte dell'Accademia
The Ponte dell'Accademia is home to one of the most iconic views in all of Venice–don't forget to snap an Instagram photo or two here!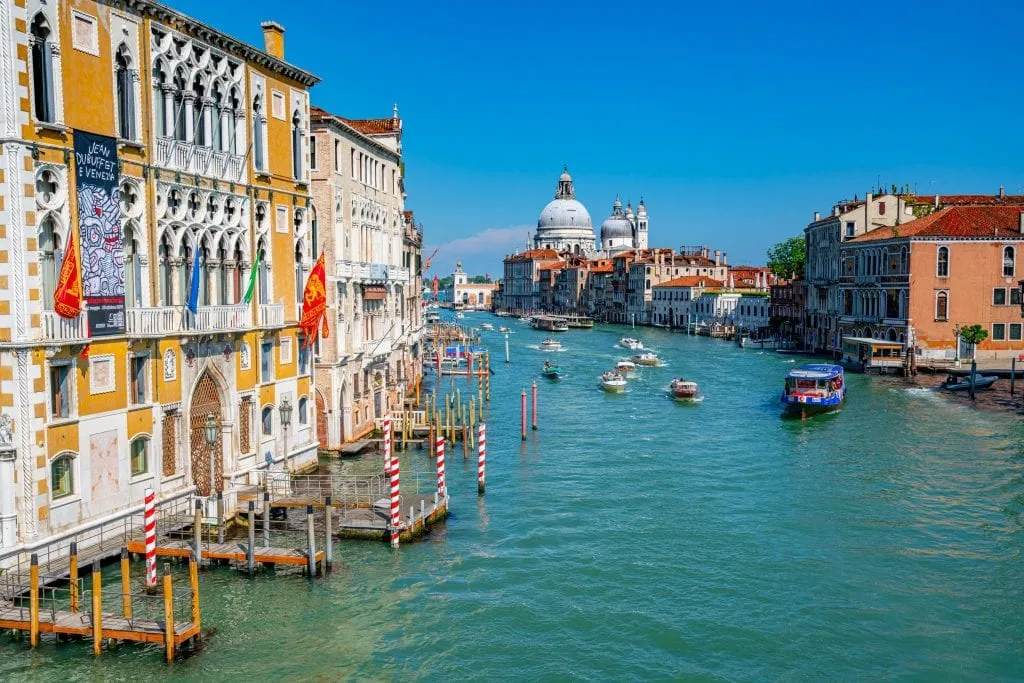 Bridge of Sighs
The Bridge of Sighs may technically be famous for the view of Venice and the Venetian Lagoon when looking out–but when listing photo spots in Venice, there's no doubt that it is the lovely exterior, not the rather small interior, that belongs on the list.
Here are a few of the best angles to photograph the Bridge of Sighs from!
From the Ponte della Paglia
Located along the Riva degli Schiavoni, this bridge offers one of the best views of the Bridge of Sighs.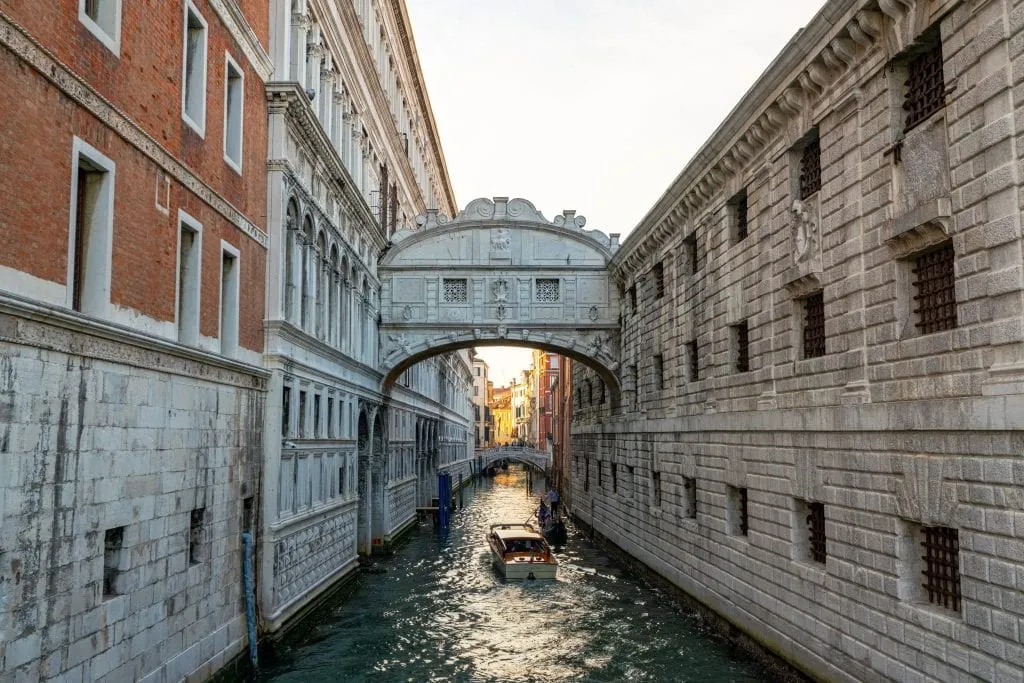 The Platform Beneath the Ponte della Paglia
If you look down and to the right from the Ponte della Paglia, you'll see a small platform wrapped around the corner of the building that boasts a great view of the Bridge of Sighs.
If you have a model down there and a photographer on the bridge, you have all the makings of a fabulous, instagrammable photo in Venice.
From the Bridge Near Osteria Calle 21
I can't find the name of this bridge, but it's pretty easy to find and offers another lovely view of the Bridge of Sighs, this time looking out toward the Venetian Lagoon.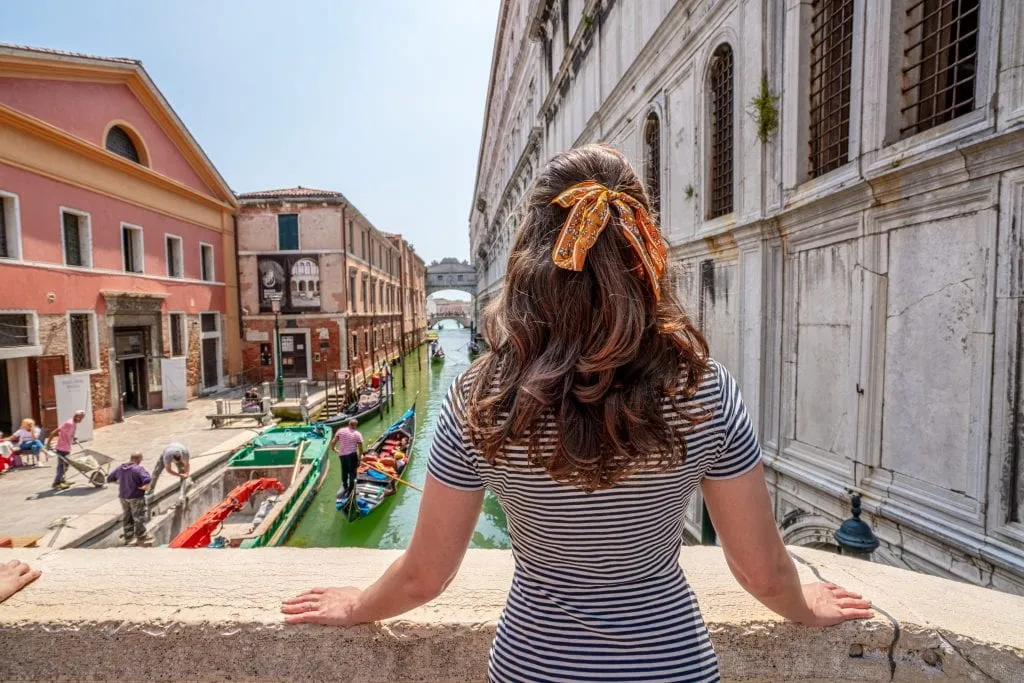 Libreria Acqua Alta
This gorgeous bookshop is well-known for being one of the most instagrammable spots in Venice.
While you're there, be sure to check out both back porches (especially the one boasting a staircase of books!), and the porch leading to the secondary entrance to the shop.
Rialto Bridge
As the oldest and most ornate of the four bridges crossing the Grand Canal, the Rialto Bridge deserves to be on everyone's list of places to photograph in Venice–here are a few of its best angles.
From the Bridge
Whether you're shooting the view of the Grand Canal, the bridge itself, or both, be sure to climb the Rialto Bridge when hunting down the most instagrammable places in Venice.
From the Docks
The wooden docks near the Rialto Bridge offer a fabulous angle to photograph it from–just be sure to stay out of the way of any boats that may park there!
From the Sidewalk Near the Market
If you walk to the Rialto Market, down to the Grand Canal, and then turn to start walking back toward the Rialto Bridge along the canal, you'll come across some excellent angles to take photos of the bridge–like the docks mentioned before, though, just be sure to stay respectful–this area is used for more than just Instagram photos.
From the Corner Next to Al Buso
Next door to the Al Buso restaurant is a small corner of land jutting out toward the canal, and someone standing there can have a beautiful photo taken with the Rialto Bridge rising up behind them.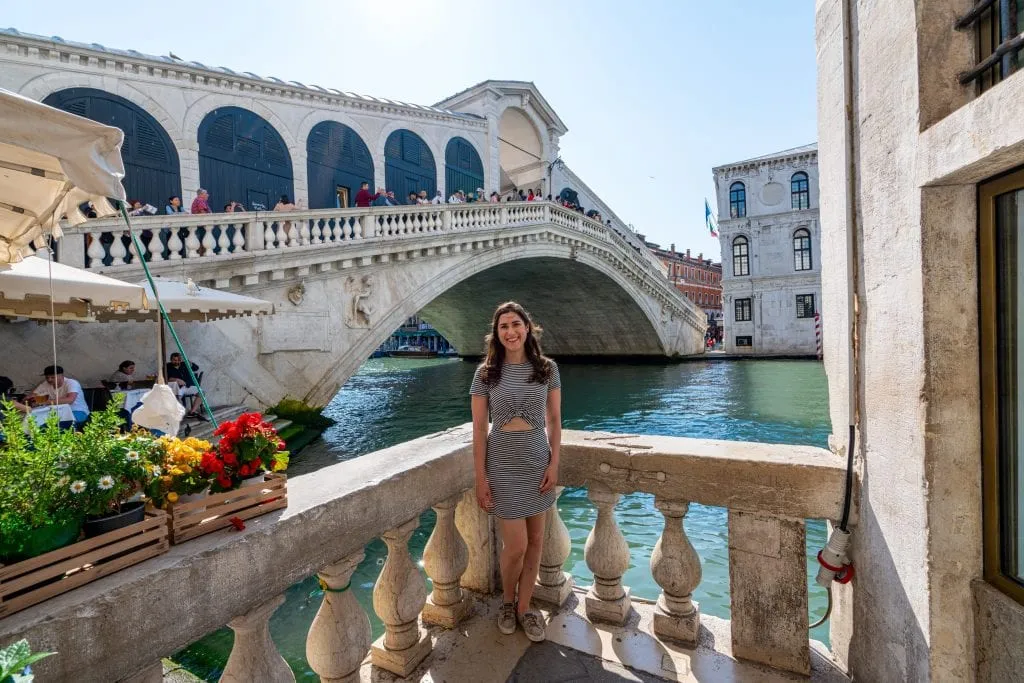 Vegetable Barge of Dorsoduro
Quirky and adorable, the floating vegetable shop of Dorsoduro absolutely deserves a place on any list of the most instagrammable places in Venice!
Scala Contarini del Bovolo
Of all the instagrammable spots in Venice, this may be the most photogenic of them all. As of our most recent visit to Venice, it's still a surprisingly uncrowded. place!
If you'd like to photograph Scala Contarini del Bovolo, be sure to use your GPS to find it–you need to take a few turns down very quiet streets to get there.
Burano
The colorful fishing village of Burano is easily among the most instagrammable places in Venice–while certain bridges and angles do tend to get most of the love, the entire village is bursting with color and worthy of being photographed.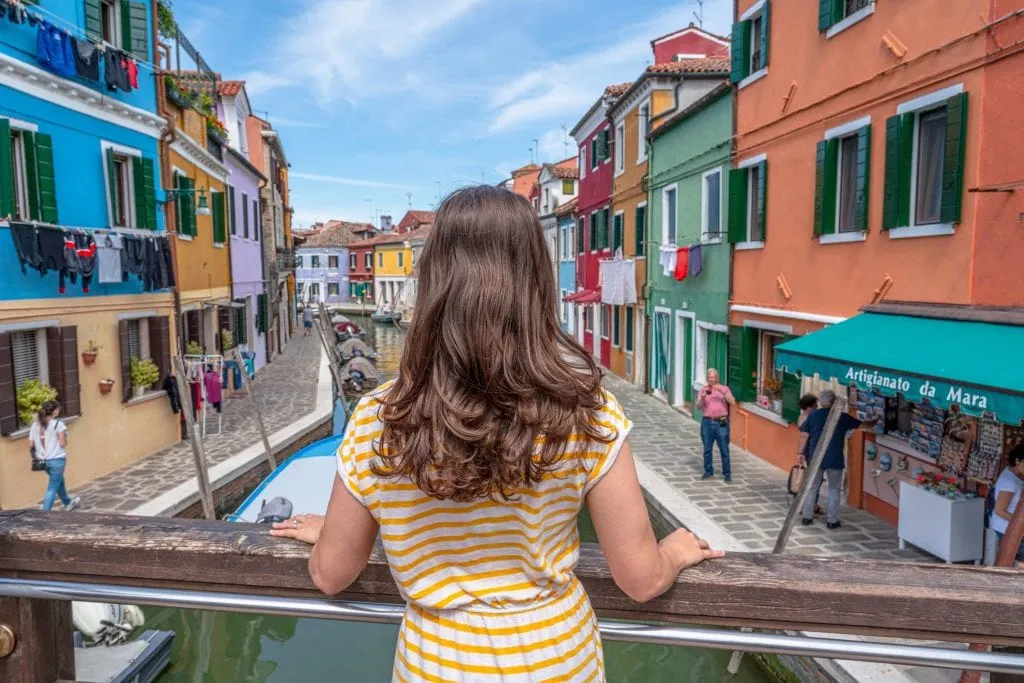 Gondolas
Gondolas parked. Gondolas in motion. Gondolas on the Grand Canal. Gondolas in tiny canals. You in a gondola.
There is no limit to the ways to photograph gondolas in Venice–but rest assured that if you are planning on taking lots of photos in Venice, you'll run into near-limitless opportunities to photograph gorgeous gondolas.
Rialto Market
Once considered the souk of the world and an enormous international trading hotspot, the Rialto Market dates to the 11th century and–like most food markets around the world–is incredibly photogenic.
Riva degli Schiavoni
This promenade along the Venetian Lagoon boasts incredible views of the outlying islands (including a great perspective on San Giorgio Maggiore), lovely shots of gondolas, and plenty of opportunities to photograph the promenade itself.
Basilica di Santa Maria della Salute
Visible in the most iconic photos of Venice's Grand Canal (you can see it from the Ponte dell'Accademia) the beautiful Basilica di Santa Maria della Salute is also worth photographing up close!
Literally Anywhere in a Venetian Mask
Taking photos in Venetian masks is an incredibly fun way to add another layer to your photos in Venice!
Whether you opt for a modest 3 Euro mask or an enormous, custom beauty, there's a Venetian mask out there for you.
A Note on the Hands Supporting Venice
The "Support" statue by Lorenzo Quinn, featuring two hands positioned to act as if they were holding up a Venetian building along the Grand Canal, made many lists of instagrammable places in Venice.
The statue was designed to call attention to climate change, particularly as it impacts Venice, and we were lucky enough to see it in person in 2017.
However, the statue has now been taken down.
It's worth noting that Lorenzo Quinn has designed another magnificent statue in Venice that was installed in spring 2019, which just may become another instagrammable spot in Venice!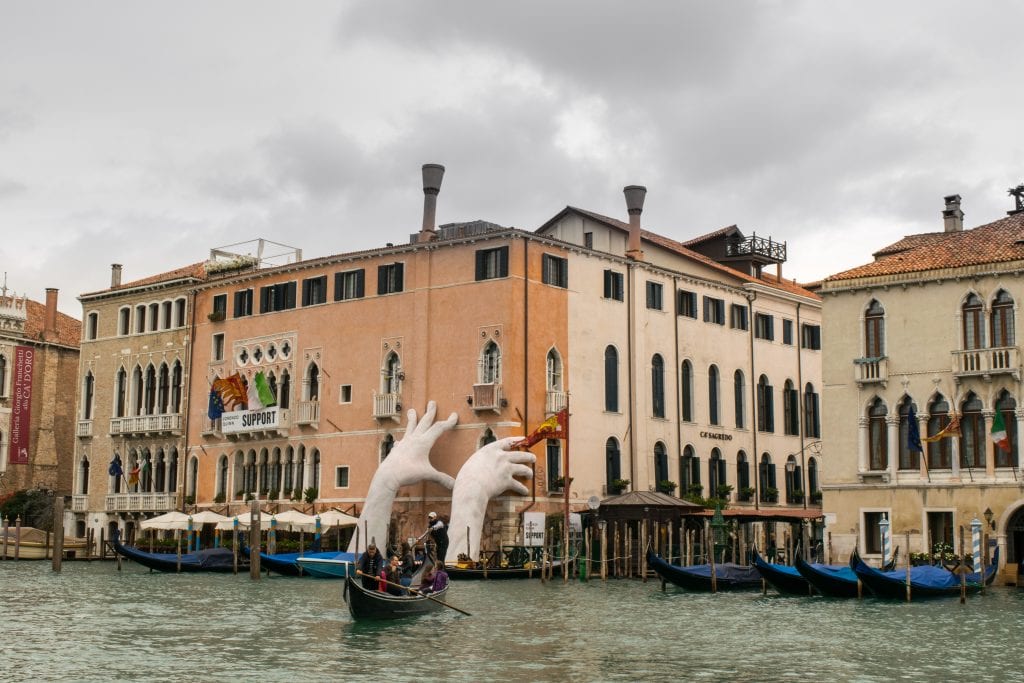 Tips for Visiting Instagrammable Places in Venice
Be respectful.
Always keep in mind respect for the city, its citizens, and its other visitors when photographing Instagrammable places in Venice. Don't climb on or touch anything (buildings, boats, you name it) that should not be climbed on or touched.
Don't trespass.
Don't get in the way of functional delivery boats trying to unload their wares (saw this one firsthand near the Rialto Bridge).
Show respect for your fellow visitors and photographers, too–be polite, and don't hog spots if you see other people waiting.
In other words, just be a reasonable person. It's not that hard, and we'll all be better off for it.
Photographing Venice lends itself to using props.
Venetian masks, scoops of gelato, souvenir gondolier hats… Venice is one of those places where props just work!
Consider buying some of your souvenirs early in your trip and using them in your epic Venice photos.
The earlier you get up, the better.
It's no secret that Venice deals with enormous crowds (especially during the summer).
The earlier you get up to explore Venice, the better your photos will be, and the fewer crowds you'll have to contend with to get them.
On our first trip to Venice, we woke up at 6am to take some photos–and some of the shots we got that day are still among our favorites.