Mexico is, by and large, a very budget-friendly backpacker destination–but with options ranging from bare-bones dorm rooms to luxury resorts, it's safe to say that a trip to Mexico costs exactly what you make it. Whatever your preferred Mexico travel budget is, you'll almost certainly be able to create an itinerary to suit it.
The Mexico trip costs outlined here represent our time spent backpacking the country on what we would consider a flashpacker budget. Basically, no to dorm rooms, (mostly) yes to a/c, and no to major luxuries.
When we made our Mexico travel budget, we hoped to spend about $80 total per day, or $40/person–a huge departure from our first trip to Mexico, where we stayed in an all-inclusive resort!
And, after 43 full days of travel (not including one half day), it turned out that our trip to Mexico cost almost exactly that, coming in at an exact total of $3465.07.
Not only are we happy about sticking to our travel budget for Mexico, we're thrilled with how far our money went.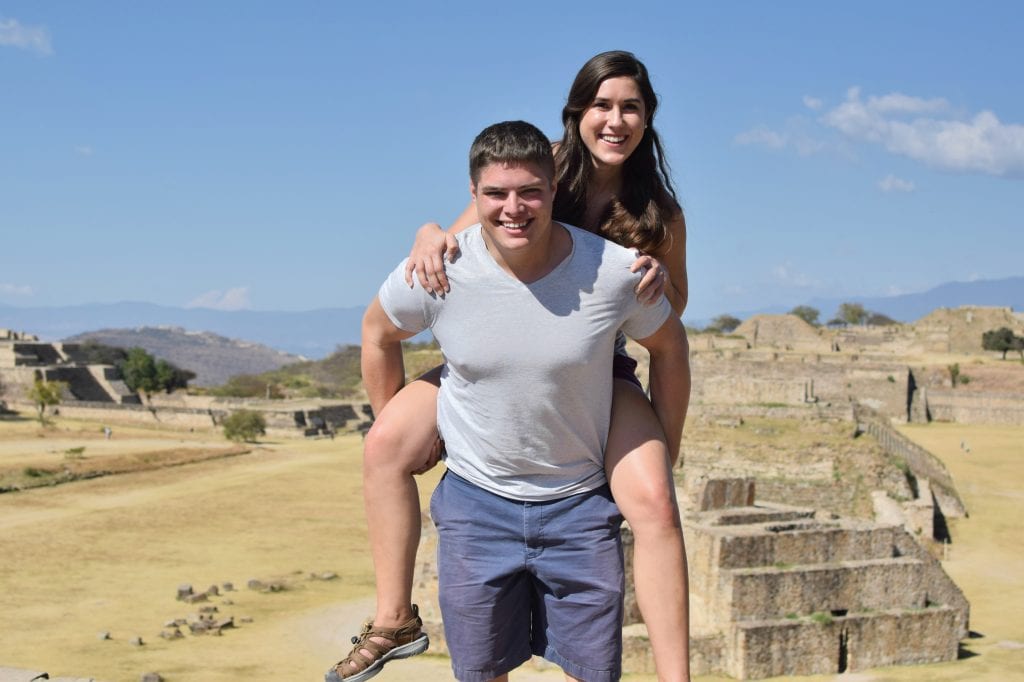 Some links in this post may be affiliate links. If you make a purchase through one of these links, we may earn a small commission at no extra cost to you. Please see our

disclosure policy

for more detail.
The trip to Mexico outlined here took us to Mexico City, Teotihuacan, Oaxaca City and the surrounding area, Puerto Escondido, San Cristobal de las Casas and the surrounding area, Palenque, Merida, Rio Lagartos, Valladolid, Isla Holbox, and Playa del Carmen–quite the expansive list of destinations!
Among many other experiences, we took surfing lessons, toured the area surrounding Oaxaca City, went horseback riding, visited waterfalls, spent a week on an island paradise, and saw five different sets of ruins.
All prices for our Mexico travel expenses are listed in USD unless otherwise noted, and, as usual for our travel budget roundups, we don't include the costs of entering or leaving the country here, as those expenses can vary so dramatically depending on your starting point.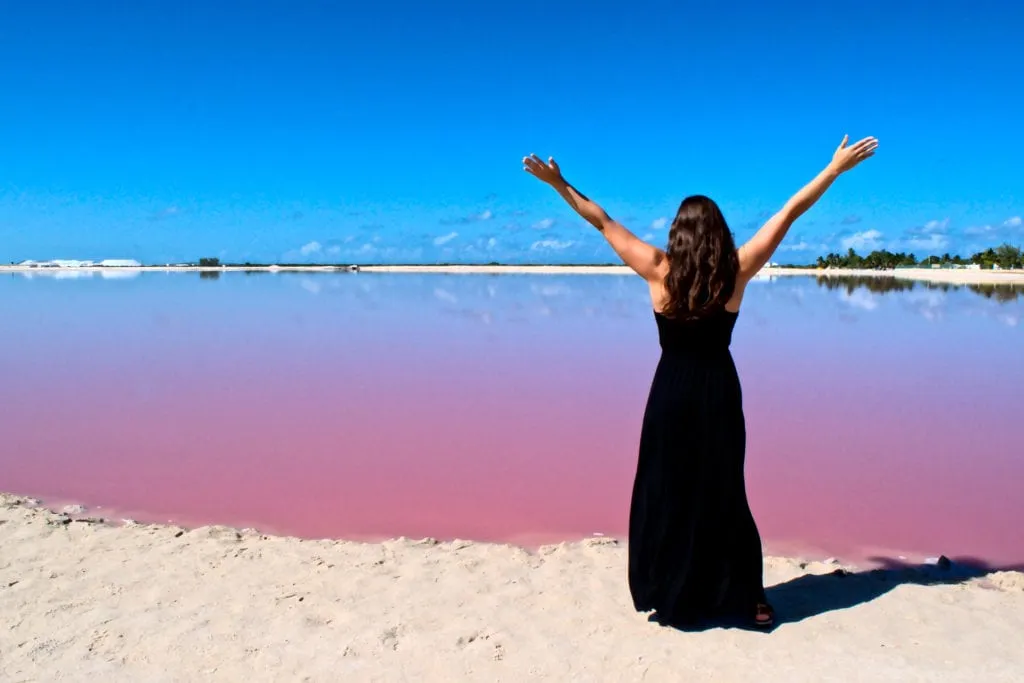 Our Lodging Costs in Mexico
Total: $1716.27, 43 nights, an average of $39.91/night.
Lodging was incredibly affordable in Mexico–we stayed in a combination of Airbnbs and comfortable budget hotels (wifi and air conditioning where the climate demands it are always a must!). As always, we rented apartments on Airbnb, rather than private or shared rooms.
With the exception of Playa del Carmen, where we spent around $72/night (gulp), our lodging fell comfortably into the $30-$40/night range.
We weren't too surprised by the costs in Playa del Carmen, though–generally, you can expect when deciding where to stay in the Yucatan that it'll be the most expensive lodging of the trip!
Some Places We Stayed in (+ Liked) While in Mexico
Oaxaca City
Hotel Oaxaca Magico — This hotel was exactly what we were looking for: clean and in a great location.
A budget hotel means a small room, but the 10-minute walk to the Zocalo, daily maid service/replacement of toiletries, and overall smooth experience left the tiny room in the back of our minds. We would be happy to stay here again!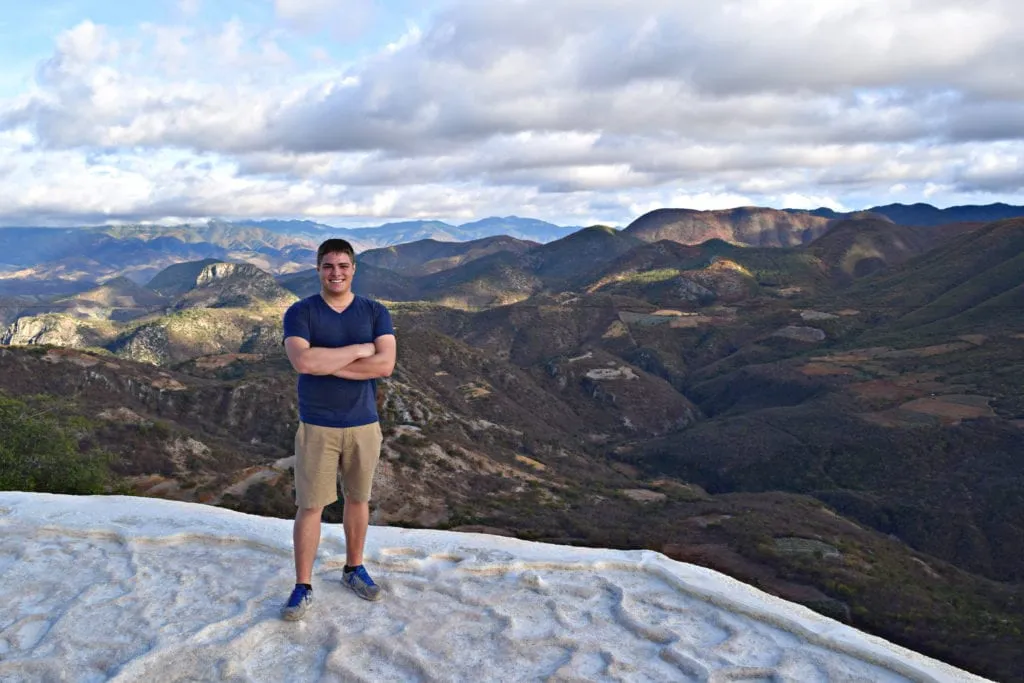 Valladolid
Hotel Posada Osorio — This was the perfect budget hotel for us.
Located less than a 10-minute walk from the center square of Valladolid, the location was central to anywhere that we wanted to go in town. The room was bigger than average, and was cleaned daily–not something to take for granted at this price point!
In addition to our day trip to the pink lakes of Las Coloradas, Valladolid is popular for accessing Chichen Itza (about 45 minutes away by bus, though we didn't go), Ek Balam, and the many surrounding cenotes–we visited several and enjoyed them all!
Isla Holbox
Golden Paradise Hostel — The charm of this hostel is less about the rooms (clean, basic, nothing remarkable one way or the other) than the beautiful yard that is complete with colorful hammocks shaded by palm trees.
There's a large kitchen available, though we didn't use it. Though the hostel isn't on the beach, nothing is far on Isla Holbox: about a 10-minute walk will get you all the way through the center of town, past the biggest concentration of restaurants and shops, and onto the beach.
Our Transportation Costs in Mexico
Total: $366.41
Transportation was extremely easy, comfortable (with the exception of the extremely unpleasant van ride from Oaxaca to Puerto Escondido), and inexpensive–most of our major bus trips cost $10-20 per person.
The exceptions were 9 hours on an overnight bus from Puerto Escondido to San Cristobal de las Casas, which ran about $35/person.
Taxis normally cost about $1-2 (inflated to $2-3 in Playa del Carmen), and the metrobus and subway in Mexico City each cost about $0.25/ride.
Our Restaurant Budget in Mexico
Total: $567.59
The food in Mexico is easily one of the greatest joys of traveling the country–Mexican cuisine tends to be both delicious and affordable!
Unsurprisingly, restaurants were most expensive in Playa del Carmen and Isla Holbox. In general, though, food was very inexpensive–about $5-8 for a meal at a sit-down restaurant and a couple of dollars for street food.
Unlike Southeast Asia, where American-style fast food is more expensive than at home, the American chains in Mexico had lower prices than in the USA–in Oaxaca, I bought a 6-inch Subway sandwich, chips and a cookie for $2.70.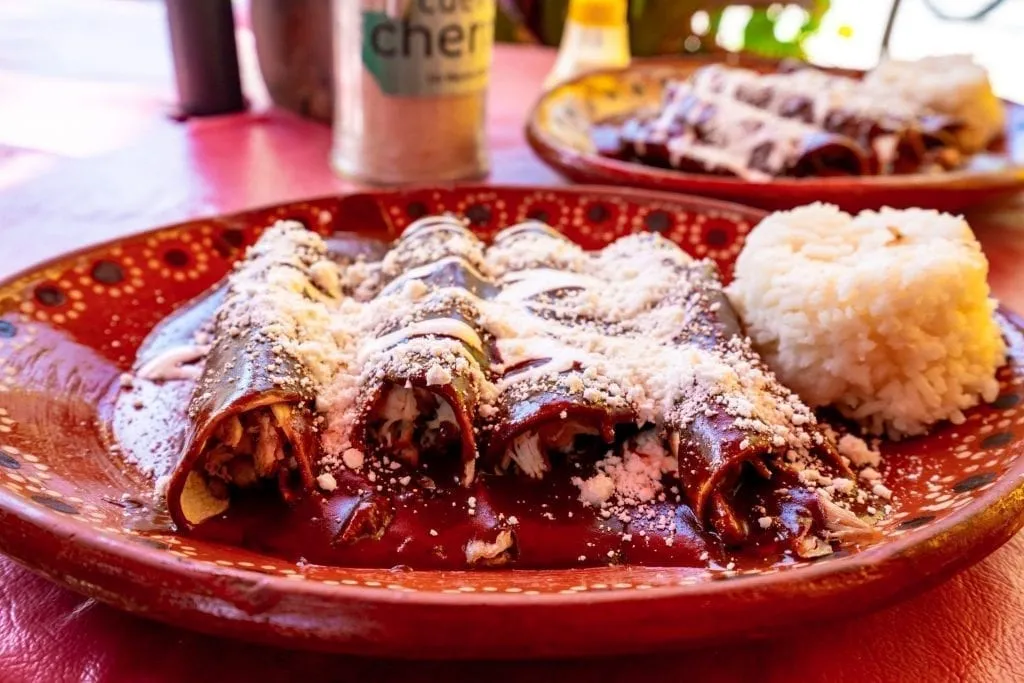 Our Grocery Expenses in Mexico
Total: $197.01
Groceries in Mexico were generally cheaper than in the USA–especially since we were willing to be flexible on brands.
We shopped extensively in Mexico City, Puerto Escondido, San Cristobal de las Casas and Playa del Carmen, eating 50% or more of our meals at home in those destinations.
Including restaurant food, we averaged a food cost of $8.89 per person, per day.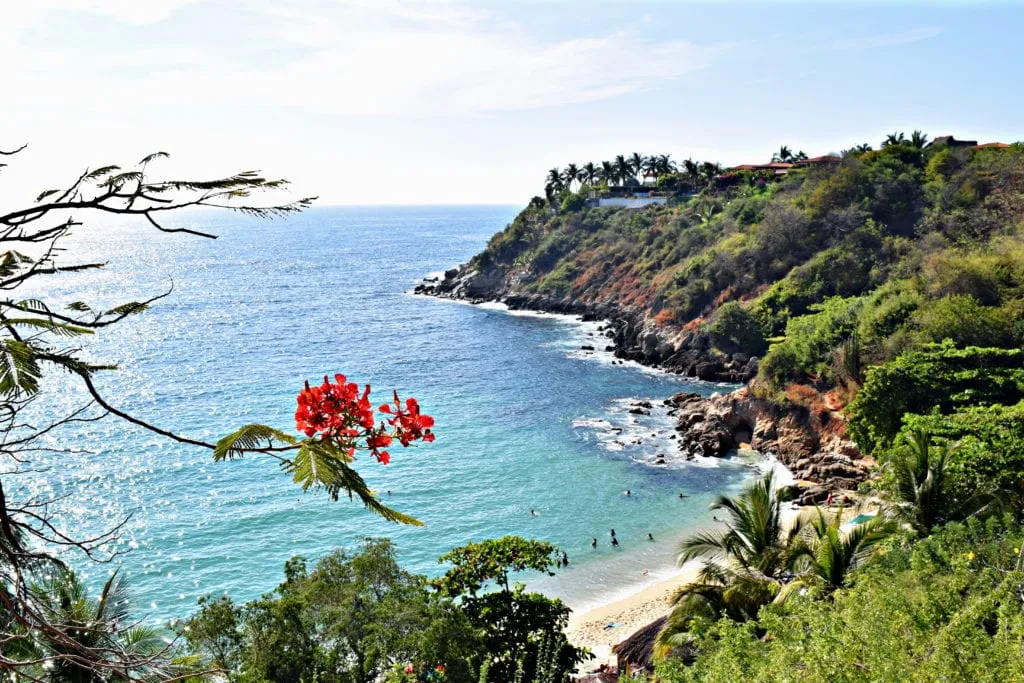 Cost of Tours + Excursions in Mexico
Total: $403.23
There are so many incredible things to do in Mexico–and most of them are surprisingly affordable!
The inexpensive tours and excursions were one of our favorite aspects of traveling in Mexico!
In Oaxaca and Chiapas, an all-day, multistop tour ran $15-25/person, and three hours of horseback riding in Chiapas cost us $10/person. We paid just under $20/person per two-hour surfing lesson in Puerto Escondido.
Prices rose dramatically once we reached the Riviera Maya, and that was part of the reason we passed on taking tours there.
Overall, we loved that we were able to take part in all kinds of activities throughout the country without enormously impacting our Mexico travel budget.
Miscellaneous Mexico Travel Budget Costs
Total: $214.56
This category on our travel budget for Mexico includes more money than we would have preferred to spend, but we had several unexpected costs, as well as some random expenses like tips, bathroom fees, small Mexico souvenirs, and mascara. 
Most notably, we had to buy a new camera charger in San Cristobal de las Casas for far more than it would have cost on Amazon, and we had to pay a bogus fee to exit Mexico.
Quick rundown: Mexico has a tourism tax.
If you fly into Mexico on a commercial flight, this cost is almost always built into your ticket, which was true for us. If you show proper documentation (check out this post which has a great rundown) to the Mexican officials on your way out of the country via bus or car, the immigration agents should not charge you again. If you fly back, you shouldn't run into this issue at all.
We exited Mexico via overnight bus to Belize, documents in hand. The agents we spoke to almost certainly knew the rules regarding this tax, and many other people on our bus knew the rules as well–one well-traveled couple even said that it was their fourth time at this border crossing and they had never paid the tax.
Almost everyone who was familiar with the departure procedure got upset when the agents insisted that we all owed additional money, and more than one person got into a loud argument with the agents.
It didn't matter: we weren't getting out of Mexico and into Belize until each person gave the grumpy officers in the isolated office 500 pesos (about $25 USD) in cash at 4:00am.
While not an enormous deal in the long run, it was not our favorite way to spend $50.
Tips for Planning a Mexico Travel Budget
Mexico operates with the Mexican peso.
Major bank cards work at all ATM's, and we relied on our Charles Schwab debit card throughout our trip to withdraw funds.
Mexico is a very cash-based country, so while you'll be able to use credit cards for some purchases in large cities (think some hotels, chain restaurants, etc), for the most part, plan on operating with cash throughout your stay.
If you're trying to budget for the cost of a trip to Mexico, we recommend taking your daily target spending amount ($30-40/day will work if you're traveling on a budget, especially if you're willing to sleep in hostel dorms, and of course the sky is the limit), multiplying that by the number of days you plan to stay, and using that as your baseline.
Don't forget to include the costs of travel insurance, plane tickets, and gear purchased before arrival, as well!
We are extremely happy with how much we spent in Mexico. Not only did we stick to our Mexico travel budget, we feel that we got great value for our money on most things.
If you're hoping to get by in Mexico on $40/day per person, or even $30 (if you're willing to sleep in hostel dorms)–you'll definitely be able to do it.
Though we have likely said goodbye to Mexico for the rest of the year, we consider it one of our favorite countries and I know that we will visit again.
Trip to Mexico Costs Update
Since finishing up this backpacking trip, my prediction did come true–we absolutely have returned to Mexico, and intend to keep visiting over and over again for the rest of our lives.
Though we don't travel on as tight of a budget these days as the one reflected in this Mexico travel budget round-up, the cost of travel in Mexico hasn't changed significantly since our backpacking days, and a similar trip on the budget we used here is still absolutely doable.