Exploring Provence's famous Luberon Valley in the south of France was a series in setting aside expectations–and nowhere was that more apparent than when we visited Goult.
I expected to be most wowed in the Luberon Valley by sprawling lavender fields (which admittedly weren't at their best when we visited in April) and the famous hilltop village of Gordes, but there's no doubt that it was tiny, picturesque Goult that stole my heart.
I've seen Goult, France described online as one of the least-visited villages in the Luberon Valley, and while that is quite possibly true, it boggles my mind as to why.
Goult is stunningly beautiful, easily accessible from other villages in the valley, and rather quiet, with an understated charm that's lacking from some of the more popular places.
Some links in this post may be affiliate links. If you make a purchase through one of these links, we may earn a small commission at no extra cost to you. Please see our

disclosure policy

for more detail.
Pulling up to Goult, we immediately felt at peace.
How could we not, surrounded by incredible beauty and a just-right level of visitors: not so few that it felt like a ghost town, and not so many that it felt like a theme park?
I've hesitated to write about Goult because, well, what is there to say about a town so small that the highlight of our time there was spending a luxuriously long lunch sipping cold white wine in the sunshine while not-so-subtly trying to make friends with the golden retriever at the table next to us?
But I can't not write about it–because even months later, when I close my eyes and remember exploring the Luberon Valley, my mind wanders immediately to Goult.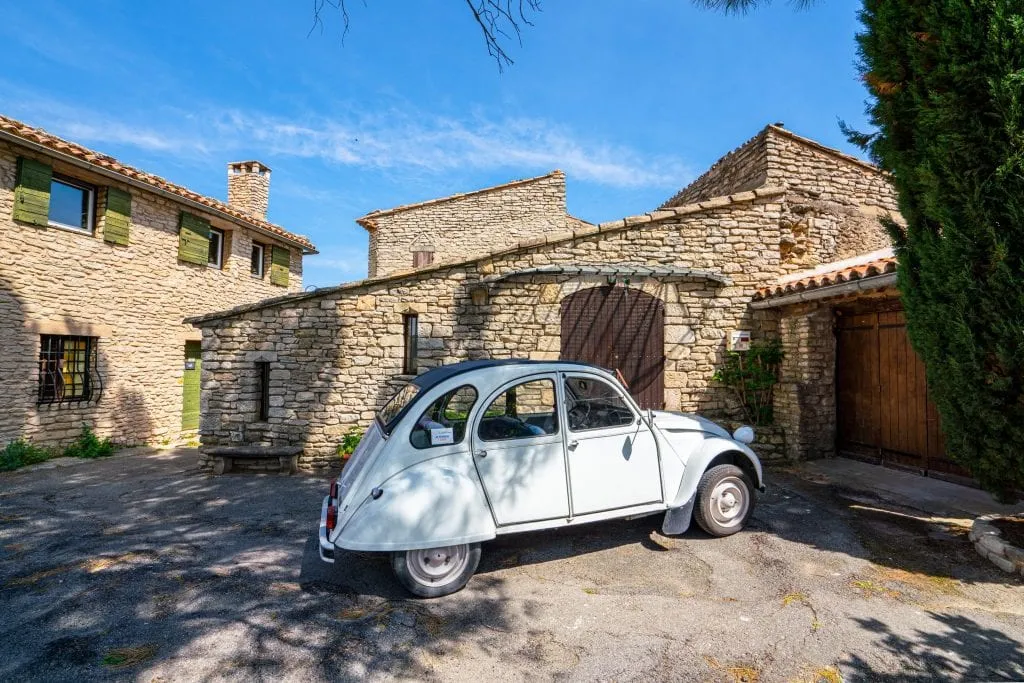 Where is Goult, France?
Goult is nestled on a hilltop overlooking the Luberon Valley, less than a 15-minute drive northwest of Bonnieux and about 20 minutes southeast of Gordes.
In other words, if you're touring the most popular villages in the Luberon Valley and looking for a laid-back addition to your time in Provence, it's not hard to add on a visit to Goult!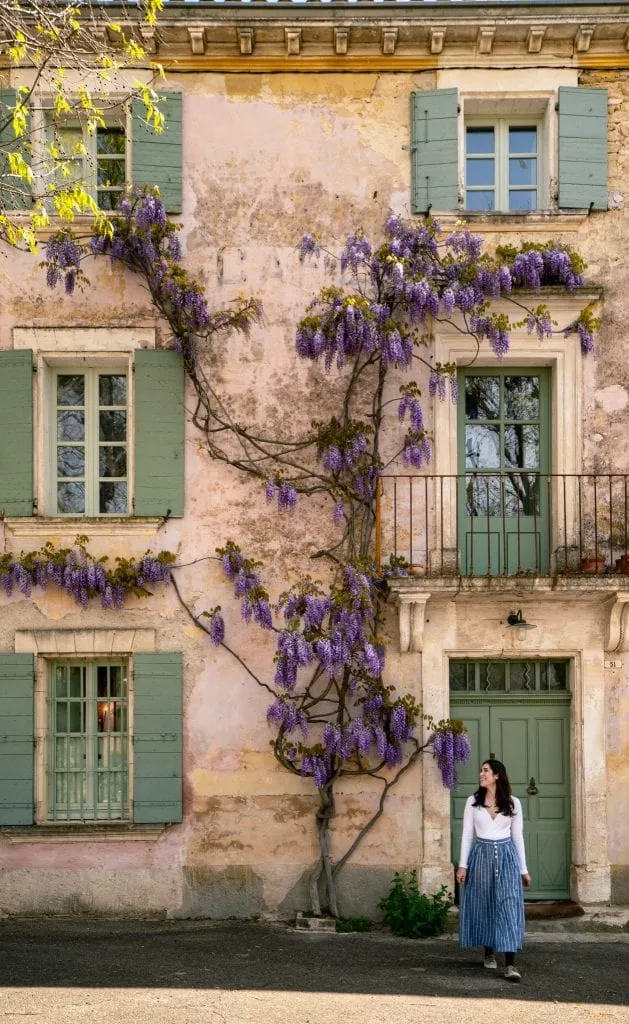 Fun Things to Do in Goult
Is it too much of a travel writing cliche to write here that the best thing about Goult is that there's very little to do in it?
Seriously: if you Google "things to do in Goult", the responses mostly assume that you mean the region around Goult, and provide suggestions for things as far away as the Sénanque Abbey or Bonnieux.
That's no reason to stay away, though–that's a reason to come.
If you're looking for ideas, though, here's what to do in Goult if you stop by while you're touring the Luberon Valley in Provence!
Mark your calendar and visit on Thursday.
Thursday is Goult's market day, a day when the town comes alive with what my friend Allison describes as "a hedonistic celebration of the senses", all cheeses and fruits and satchels of lavender wafting their smell in your direction.
Sadly, we didn't get a chance to visit Goult on a Thursday, so missed out on this gem–but if you're willing to sacrifice a little quiet time (the town is understandably most crowded on market day) to experience a truly remarkable market in Provence, come to Goult on Thursday.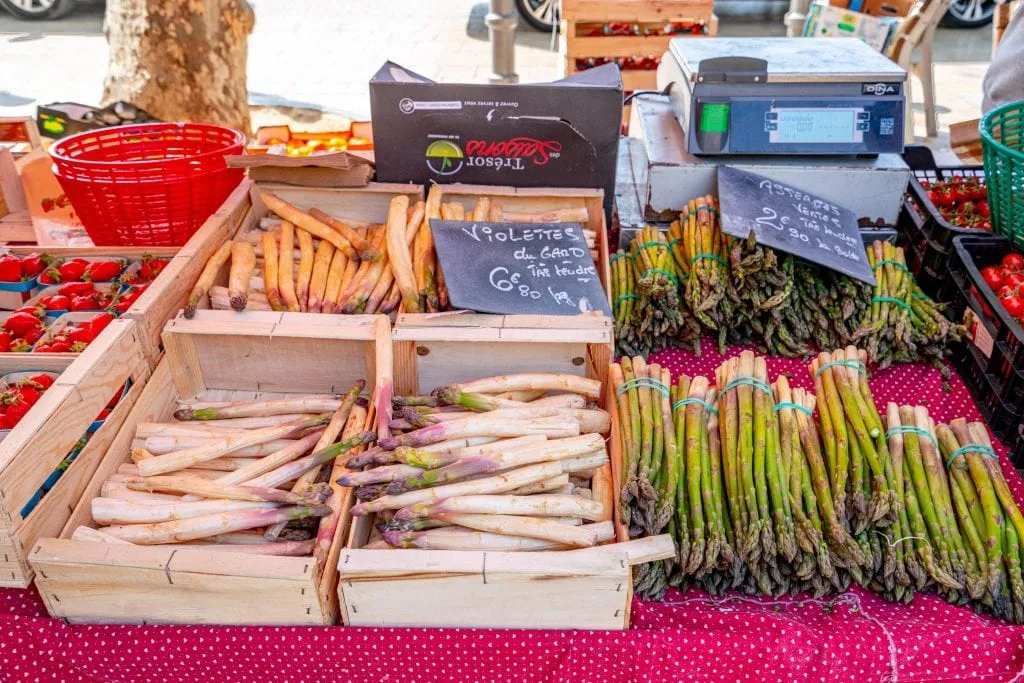 Have a leisurely lunch at a cafe.
Dining outside–specifically dining outside in the sunshine, on a cobblestone street, while eating a ridiculously delicious meal over a table so small it doesn't seem like it should be able to handle the plates, bread basket, wine glasses, and water glasses that descend upon it in quick fashion once you sit down–is an essential experience of any trip to Provence, and that includes Goult.
Our lunch in Goult is, quite honestly, one of our top ten memories of all our trips to France combined.
While the food was tasty, it was the atmosphere that really sold the meal–we were so relaxed by the end of our lunch that we completely blew off our plans to visit Roussillon and declared that we needed to spend longer exploring and savoring Goult instead.
There are several restaurants in Goult, serving up everything ranging from unpretentious takeaway dishes to luxurious, high-end cuisine, so you'll have an option regardless of your taste.
We ate at the casual and sunny Cafe de la Poste when visiting Goult, and had a fabulous time.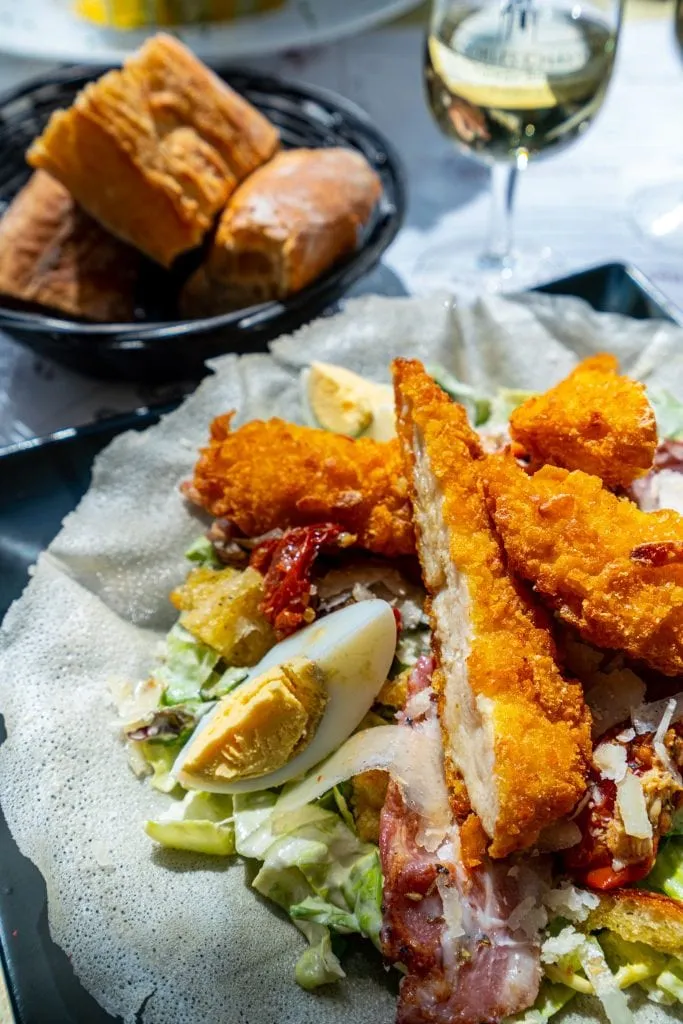 Walk up to the windmill at the top of town.
Named the Jerusalem Windmill, this lovely, 17th-century windmill is situated right at the top of Goult–and the area surrounding it provides gorgeous views of the valley.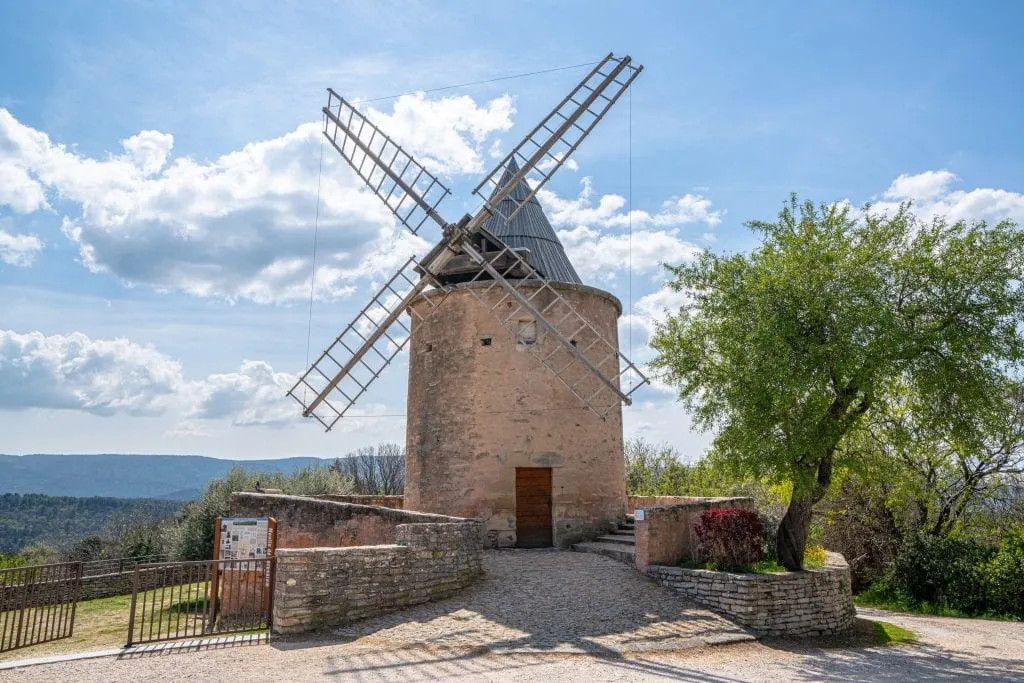 Admire the views over the Luberon Valley.
Goult is dotted with beautiful terraces, often complete with benches, that provide an incredibly peaceful place to sit and admire the Luberon Valley–we sat down to enjoy the view at more than one of these terraces when visiting Goult!
Meander through the quiet streets.
Goult is, above all other things, simply beautiful.
All stone buildings with colorful wooden shutters on the windows, simply walking through the streets here–and maybe stepping into the patisserie for a sweet treat–is a delightful way to explore one of the best small towns in France during a quiet afternoon in Provence.