Chock full of storybook-worthy villages, beautiful castles, and incredibly epic and diverse nature–from the Alps to the beaches of the Riviera to the lavender fields of Provence and the cliffs of Etretat and beyond–it's not hard to understand why taking a France road trip tops so many bucket lists around the world.
Throw in excellent roads, a great travel infrastructure, and enough exciting places to see that you could spend a lifetime traversing it without turning over every stone, there's no doubt that a road trip through France is an amazing way to see the country.
Before you sign the rental car contract and book your stays at adorable bed and breakfasts, though, be sure that you read over these France road trip tips to ensure your visit is as smooth as possible.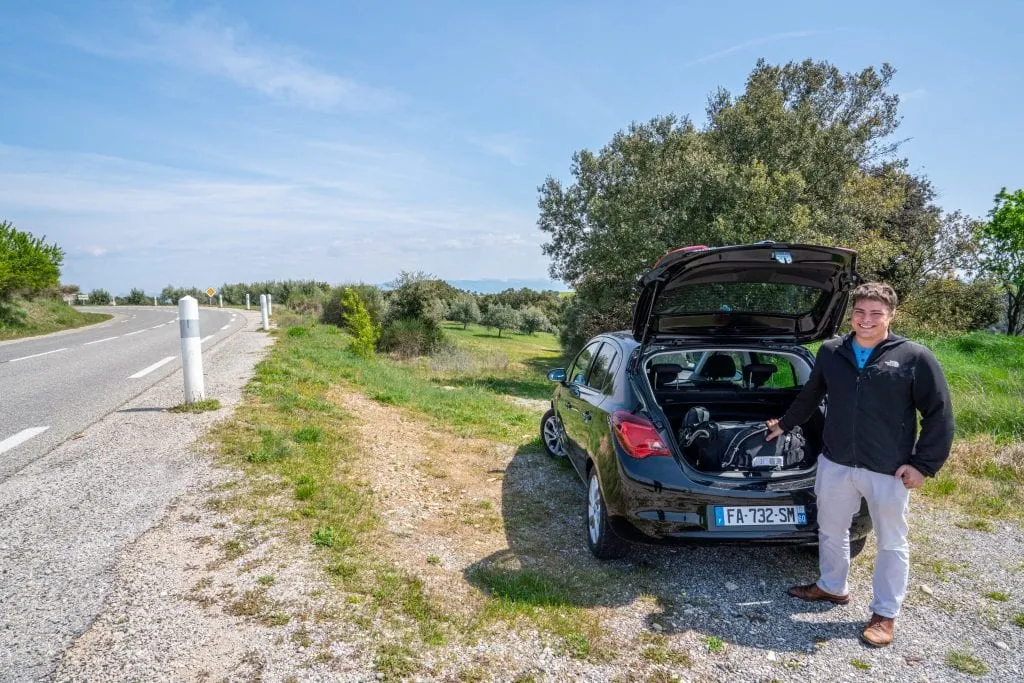 Logistical Tips for Driving in France
Rent the smallest car you can.
Especially if you're coming from the USA like us, you'll likely find French roads–especially in small villages and in the countryside–are smaller than what you're used to.
Save on gas, rental costs, and stress while driving in France by renting the smallest car you can manage to fit yourselves and your belongings into.
We recommend searching for your (tiny) rental car through Discover Cars, which will allow you to sift through all your options and choose the right car for you based on price, the reputation of the company that is renting it, and the terms of the rental contract.
Book your rental car for your France road trip today!
Plan on renting a manual, or prepare to pay.
Like the rest of Europe, manual cars are the norm in France.
If you only drive automatic, you'll absolutely be able to find a car to rent for your France road trip… but be prepared to plan ahead (especially if you're traveling during the busy season when the cars get reserved quickly), and to pay extra fees for the privilege.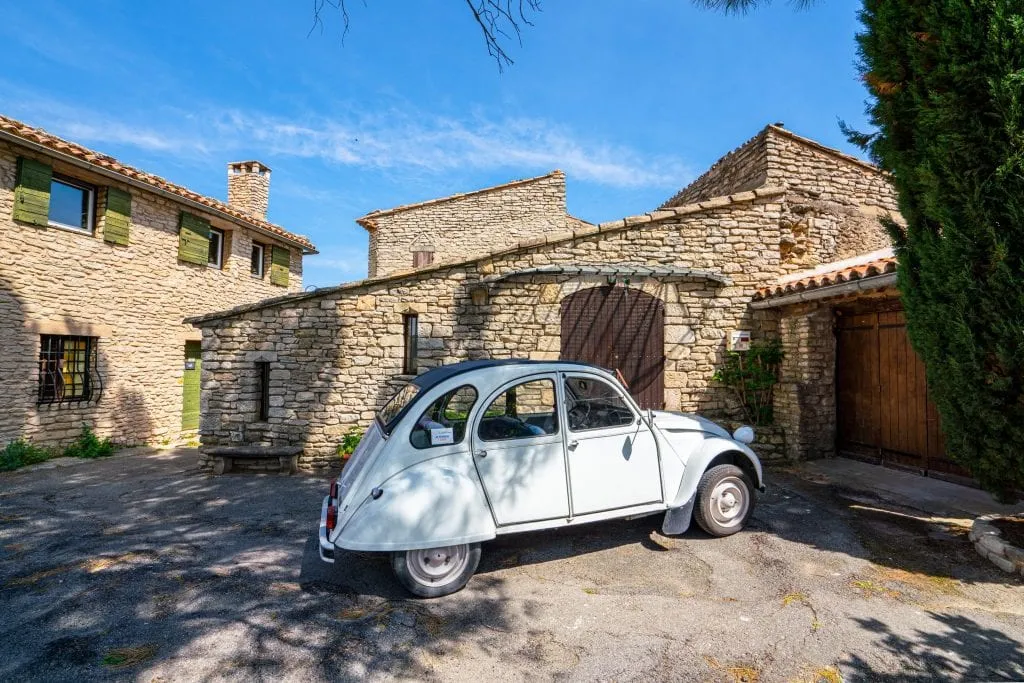 Always carry cash… just in case.
While you can generally pay tolls (and they are pricey–budget accordingly!) with a Visa or Mastercard in France, you never know when you're going to need cash for gas or small restaurants.
When taking a France road trip, it's best to always have some Euros with you–and don't forget to carry small coins for bathroom fees!
Plan your parking in advance.
This especially applies overnight–ie, look for hotels that include parking or have a plan for parking listed–but also during day trips.
For example, our trip to Cassis would have been much easier if we had researched the parking situation beforehand and paid to reserve a spot in one of the parking garages in town.
For hotels, we use Booking.com and ideally look for places using the "free parking onsite" filter.
Depending on where you are going during your road trip in France, though, free parking may not be possible–in that case, carefully check and see what hotels have reasonably-priced parking nearby.
A hotel that is an extra 20 Euros/night may end up being an excellent deal if there's inexpensive parking nearby!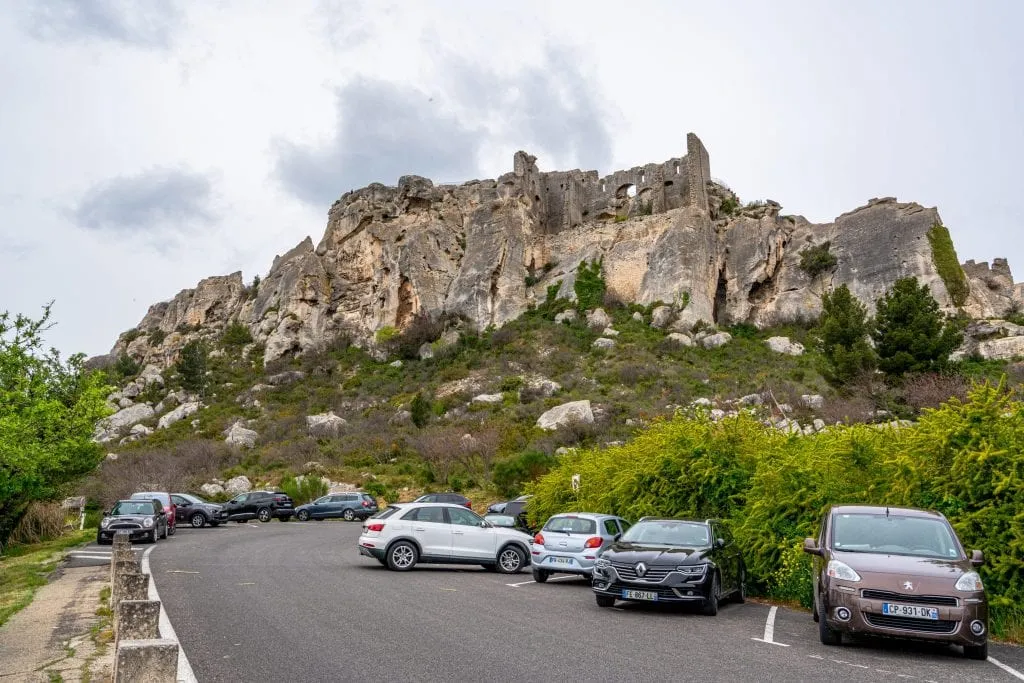 Strongly consider purchasing extra insurance.
Driving on unfamiliar roads in a foreign country is always going to be an exercise in risk-taking.
While driving in France is typically perfectly safe, if you're not used to driving in congested urban environments or driving abroad, we'd recommend that you strongly consider purchasing additional CDW (collision damage) insurance for your vehicle–though going through the rental agency is often the most expensive place you can buy this coverage.
Check first to see if your credit card covers it (and in France specifically–not just in your home country), and if they don't, some World Nomads policies do.
As a bonus, with World Nomads you can kill two birds with one stone, and buy your standard travel insurance in a package that covers rental car insurance as well.
Not all gas stations are self-service.
We've come across both self-service and attendant-provided gas stations in France–when you pull up to get gas, take a quick look around to see what the other drivers are doing before jumping out of your car!
An International Driver's Permit isn't required.
Unlike in Italy, an International Driver's Permit isn't required to rent a car or drive in France (though you do, of course, need to be licensed to drive–for example, driver's licenses from our home country of the USA are valid for driving in France as a tourist).
However, if your license is written in something other than English or French, or you just want to make any potential communication easier, you may want to consider getting one anyway.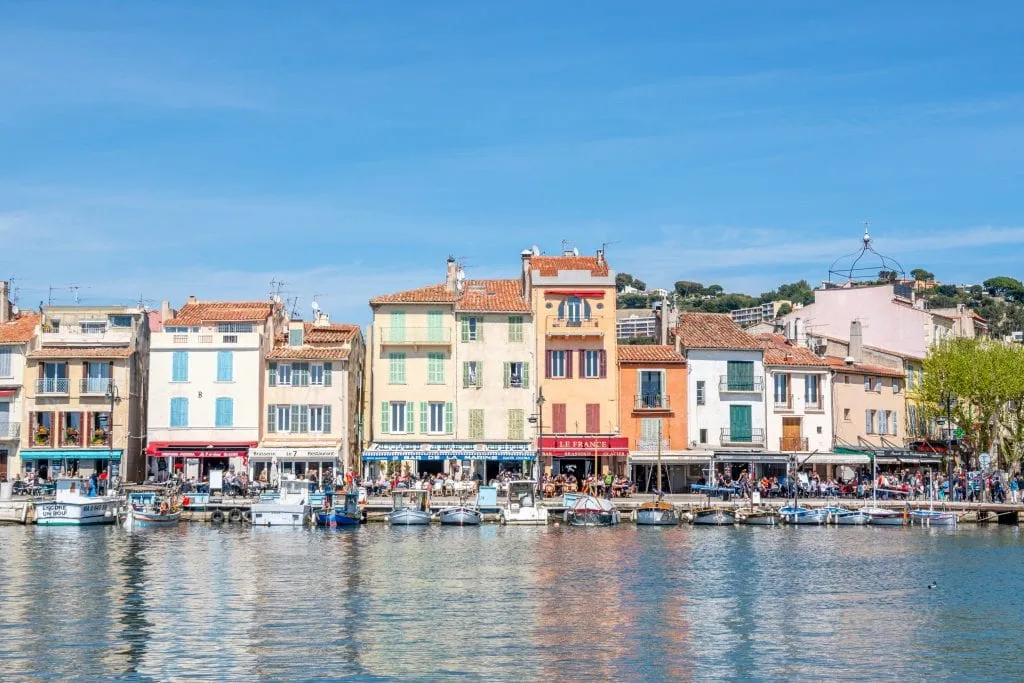 Your life will be easier if you buy a French SIM card.
This assumes your phone is unlocked, of course, but seriously: getting a local SIM card before taking off on your France road trip will make your life so much easier!
Having access to everything from a GPS to restaurant reviews is a huge benefit of traveling in the modern age, and bringing those tools along with you as you explore France by car is a fantastic idea.
You can absolutely purchase a local SIM card once you arrive, but if you want to get everything set up before you go, you can also purchase a France SIM card at home in advance.
Pack toilet paper.
Rest stops along highways in France will generally have toilets, but toilet paper is far from guaranteed–best to bring your own just in case.
I usually carry a pack of these with me in my purse when I travel, and they've come in handy more than once when driving in France.

Brush up on your French.
Ubiquitous advice for traveling in France, I know, and not exclusive to a road trip in France, but I promise that at least being able to ask for (and follow) simple driving directions in French–not to mention reading basic road signs–will make your France road trip much better!
Other France Road Trip Tips
The first rule of road trips in France: leave room for spontaneity!
One of the best things about taking a road trip in France is that no matter how carefully you plan, no matter how much research you do, you're still bound to show up in the country and be blown away by something you had never heard of before.
So, just roll with it… and leave room for new discoveries.
I'm a big planner myself, so I get the urge to organize every. last. detail.
… But I'm also so glad that we randomly decided to spend extra time in Saint-Paul-de-Vence, that we gave Port Miou a chance when we saw photos of how lovely it was, that we delayed our departure from Annecy because its market was coming to town, and that we ended up cutting Roussillon from our Luberon Valley trip because we simply weren't ready to say goodbye to Goult.
In other words: sketch an outline of your days and nights, yes, but be open to changes. Those stops may just end up being some of your favorite stops during your France road trip!
Pay attention to market days (and show up early).
Visiting local markets in all of France's adorable villages is one of my favorite parts of taking a road trip in France: with a car, there's no need to worry about managing train times or having to skip the tiniest villages.
If at all possible, aim to visit towns on their market days. Depending on the town, this is generally one, two, or three times a week. Many villages have a small daily market, with larger markets on certain days–those are the ones to aim for.
Also: show up early! Early in the morning is the absolute best time to visit markets on your France road trip. You'll get to experience both the smallest crowds and also have your pick of the best products before they potentially sell out for the day.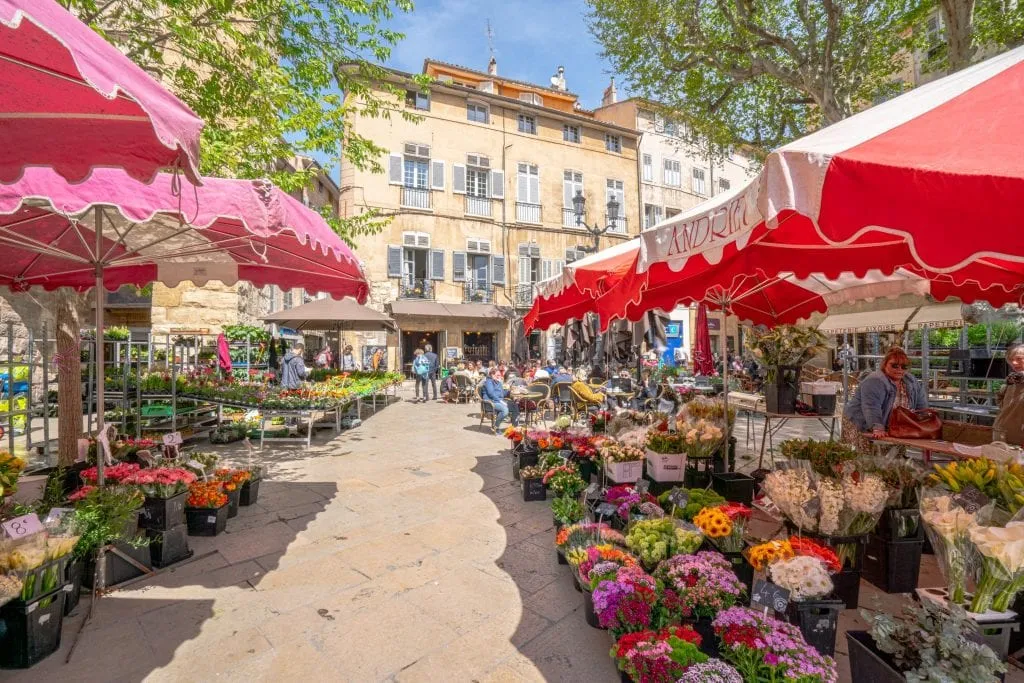 Pack a picnic on travel days.
All those markets full of delicious bread, cheese, meat, and produce that you pass each day? Those are your future lunch!
Double up on practical purchases and fun experiences in France by using market days to stock up on picnic materials to use during your France road trip.
Rest stops in France are plentiful along the highways (look for the signs for "aires"), and are generally very clean and well-stocked, with some even including restaurants.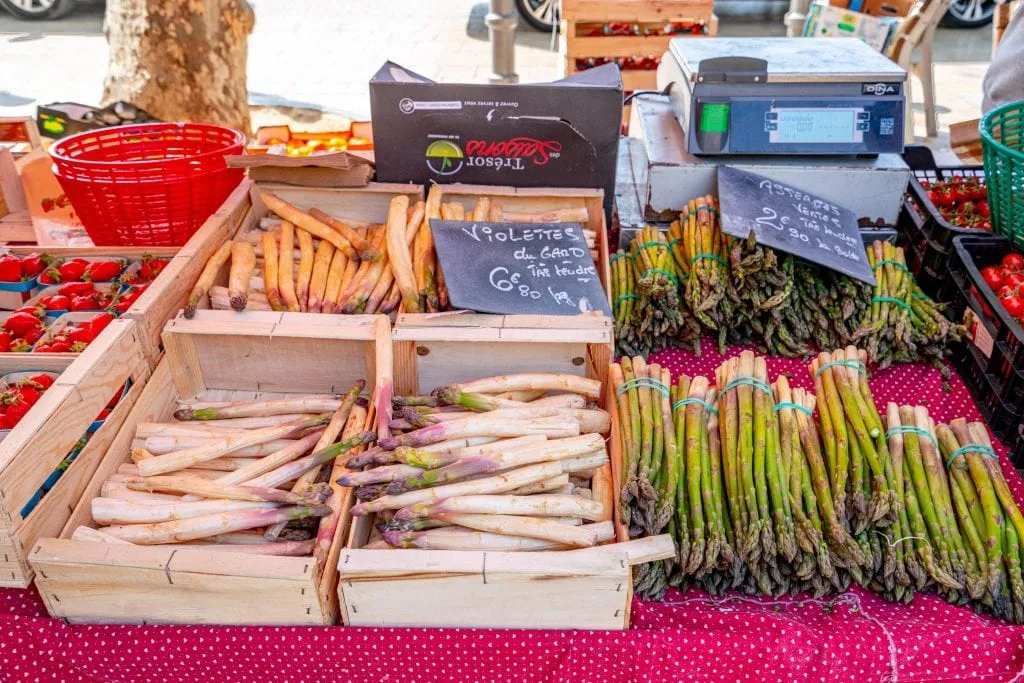 Don't change locations every day.
Packing your bags, checking in and out of a hotel, loading the car, unloading the car… all of these things may not seem like much, but by the fifth or sixth day in a row, you'll be incredibly tired of doing it.
These kinds of transitions eat up way more of each day of your France road trip than the estimated driving time between whatever two towns you're visiting–so do yourself a favor and limit the number of times you swap lodging.
Instead, set up a series of bases for at least a few days each, and use your rental car to take day trips from there.
For example, we used Avignon as a base to visit the Luberon Valley and Alpilles, and Aix-en-Provence as a base to visit Cassis!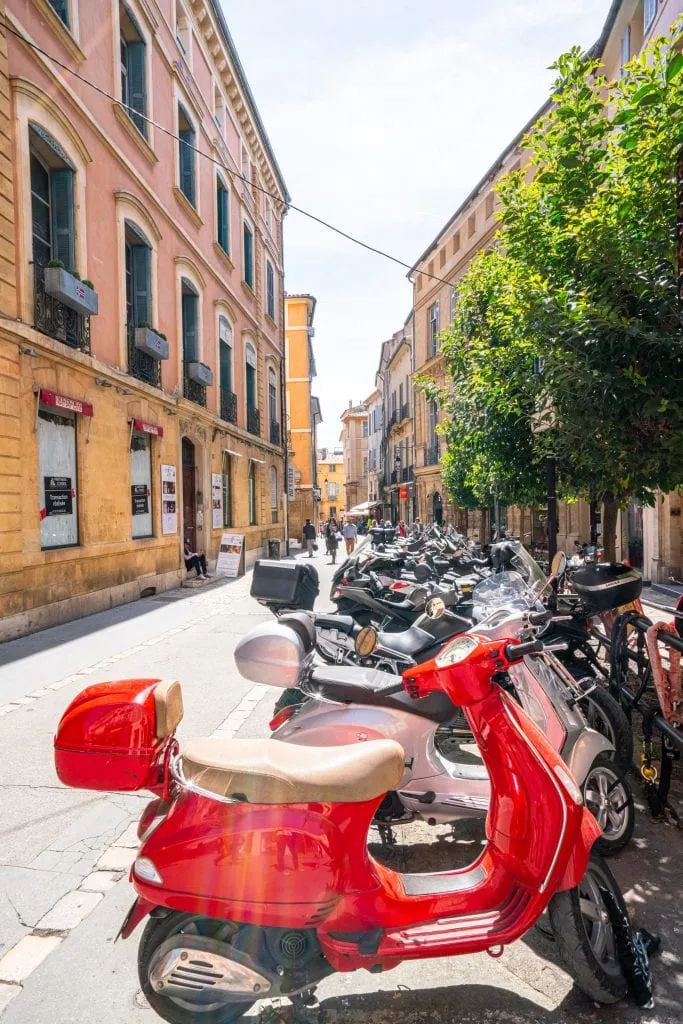 Focus primarily on smaller towns & natural attractions.
Don't get me wrong–we adore France's cities, but places like Paris, Lyon, and Nice don't require a car to visit–quite the opposite. A car is a hindrance there!
Use your France road trip to focus on the smaller towns, beautiful countryside, dramatic castles, and endless natural highlights (beaches, lakes, mountains–you choose!) that make up this incredibly diverse and beautiful country.
If you hope to include any of France's major cities as part of your itinerary, we recommend visiting them at the beginning or end of your trip and only renting your car when you're ready to leave and head to smaller towns.
The slow pace is part of the fun.
Often, the best memories from a trip are the ones where you let go of the long wish list of towns and villages you hope to see, the markets you want to visit, and the tourist sights you can't miss and just. breathe.
I learn this again virtually every time I go to France: some of my best memories in the country are of the day we did literally nothing but walk around Colmar and admire how beautiful it was, the day we lounged in Paris' Luxembourg Gardens all afternoon, the days we've sat at outdoor cafes for hours because the sunshine and people-watching felt too good to leave behind, and the long, leisurely lunch we ate in Goult during our own France road trip this spring.
Each and every one of those memories is something we exchanged for missing out on a piece of sightseeing or photo-taking or research we had planned to do–something that seemed important at the time.
I wouldn't trade those memories for anything.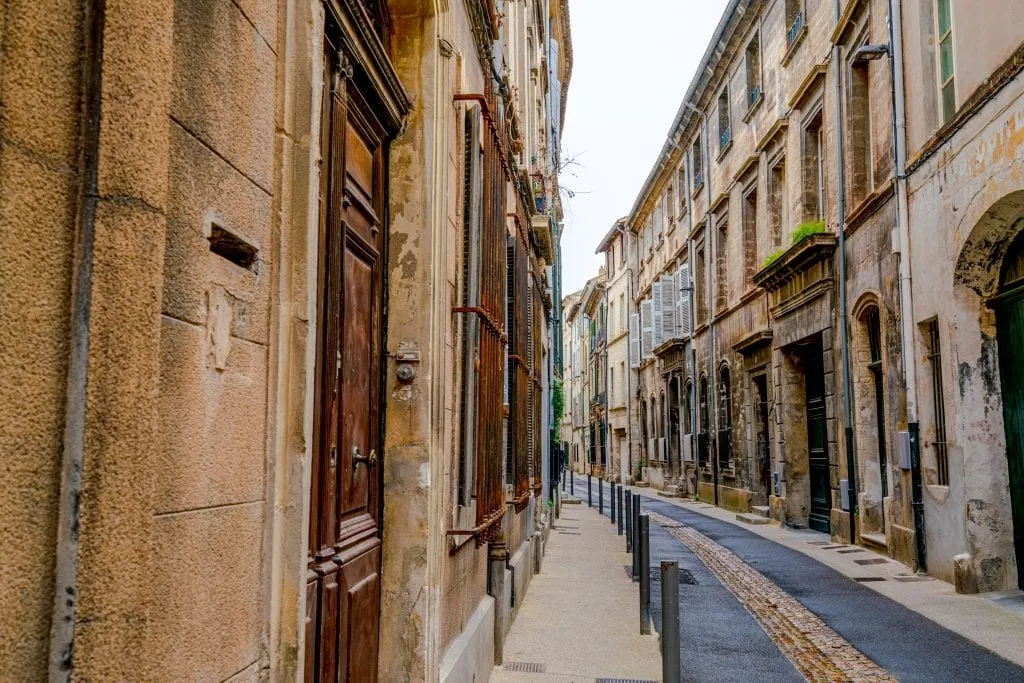 Write down where you go.
Sure, no one is going to forget visiting Nice or Aix-en-Provence… but that tiny town with the cute fruit stand you passed through that one afternoon? Yeah, that name will fade almost immediately.
You'll want to remember the names of all the small villages you visited, pretty beaches you swam at, cozy restaurants you ate at, and hiking trails you conquered long after your France road trip is finished, so write them down as you go!
Jeremy loves to star the places we visit on Google maps, and I keep my own record in my One Line a Day journal that I've been keeping daily for years (and highly recommend!).