Home to everything from sprawling lavender fields to hilltop towns to fishing villages to the sparkling Mediterranean Sea, it's no wonder that traveling through Provence and the French Riviera is a dream trip for many–and this south of France itinerary makes it easy to enjoy the perfect trip.
We absolutely love exploring southern France and have enjoyed a handful of road trips, train trips, and more throughout the region.
We designed this south of France itinerary for first-time visitors to the region who want a little taste of everything that Provence-Alpes-Côte d'Azur has to offer, from the cobblestone streets of the Luberon Valley to the glamour of Nice's promenade.
Hoping to visit southern France and find yourself overwhelmed with village names and potential places to visit?
This south of France itinerary is for you!
Where Exactly is Provence?
When planning a trip to the south of France, Provence is often the first region that comes to mind–but what exactly is Provence, anyway, other than an endless collection of photos of blooming lavender fields?
Short version: Provence is part of the French administrative region of Provence-Alpes-Côte d'Azur, which is located in southeastern France.
Provence-Alpes-Côte d'Azur is then divided into six subregions, whose names you'll probably notice around you as you work through this south of France itinerary–Vaucluse is one example.
The bulk of this recommended south of France itinerary takes place in what is colloquially known as Provence (the southern and western part of the region).
The destinations mentioned toward the end of the trip like Nice, Cannes, and Saint-Paul-de-Vence are located along the Côte d'Azur–aka the French Riviera–in the eastern part of the region.
Getting Around During Your Trip to Southern France
While the cities and towns visited throughout this south of France itinerary are generally walkable (even Nice!), you will likely need a car to get between them.
In a pinch, you can certainly complete this itinerary with a combination of buses, trains, and booked tours, but that would be far less efficient than a road trip!
A few tips on driving in southern France: budget generously for gas and tolls, book your lodging each night with the parking situation in mind, and rent the smallest car you possibly can.
We cover our tips for driving in France a lot more thoroughly in our broader France road trip guide, so be sure to check that out before taking off on your trip to southern France!
To book your rental car for the south of France, we recommend checking prices, inclusions and availability via Discover Cars.
They'll search both local and international brands that have available cars, and allow you to compare prices, reviews, and inclusions side-by-side.
Shop rental cars for your trip to the south of France today!
How Long Does This South of France Itinerary Take?
We've structured this South of France itinerary with the assumption that you'll be spending roughly 2 weeks in the region, and the number of days noted by each city is the minimum number of full days that we recommend spending in each spot.
In other words, when you pull into town at 7:00 PM, that doesn't count as a "day" in the destination on this suggested route.
That's not to say you couldn't stay longer–you absolutely could!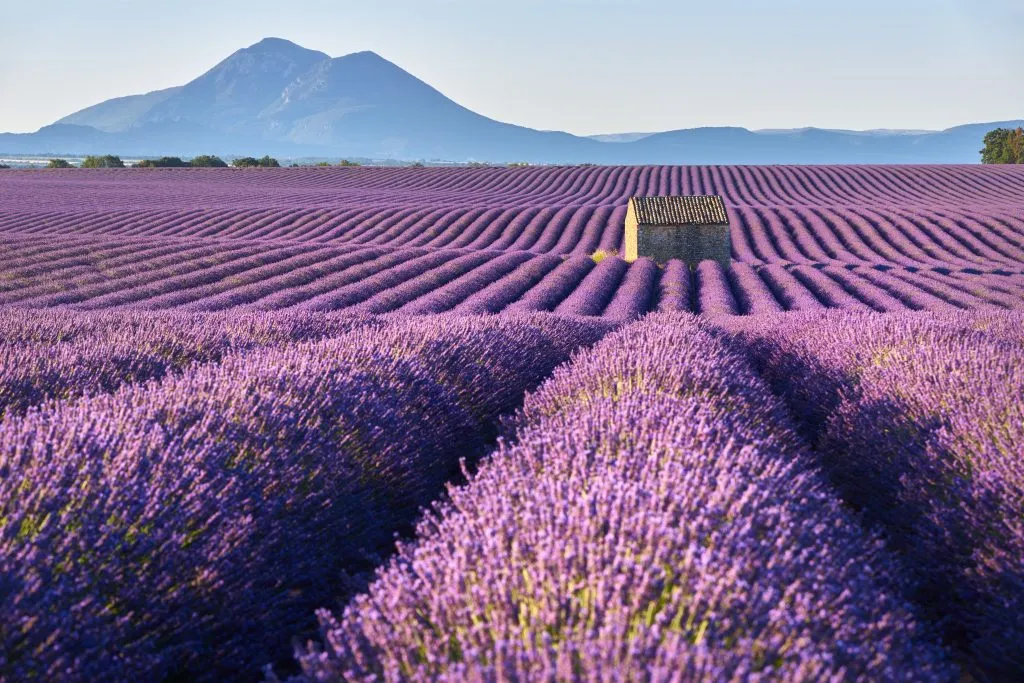 Provence-Alpes-Côte d'Azur is an immense region that is absolutely packed with things to do, from strolling past lavender fields to perusing markets to going on adventurous hikes to relaxing on the beach, and so much more.
There's truly something for every interest here–and then some–so be prepared to start plotting your return visit by the halfway point through your trip!
If you have less than 2 weeks in the South of France, we recommend narrowing your focus to either the Cote d'Azur or Provence, rather than trying to squeeze both destinations into your limited time.
South of France Itinerary Note: Pay Attention to Market Days!
Perusing the open-air markets of the villages of Provence is an iconic part of any trip to the region–so make sure to structure your South of France itinerary so you don't miss the best ones!
Most markets are open 1-3 days/week and different markets focus on different things.
Some will be about food, and others will be French flea markets/brocantes that focus on textiles, clothing, or antiques.
If you manage to time it right, on Thursdays Aix-en-Provence has three markets in town at once, so you can get the perfect experience all in one spot.
The Complete South of France Itinerary
Avignon: 1 Day
Once the home of popes, Avignon is the perfect place to kick off your south of France itinerary.
Spend the day exploring the town, hitting up the impressive Papal Palace, the Pont d'Avignon, and the Les Halles Market in between wandering the streets and marveling that you're finally in southern France!
If you have time, also consider ducking into one of the other beautiful art museums in the city.
If you'd like to get out of town for a bit in the afternoon, the 2,000-year-old Pont du Gard aqueduct is incredibly impressive and only a 30-minute drive from Avignon.
Luberon Valley: 2 Days
Ah, the Luberon Valley: this is the area that tends to come to mind immediately when someone says the word "Provence".
All hilltop villages and rolling countryside filled with lavender fields, the Luberon Valley is absolutely stunning and a must-visit on any Provence itinerary.
It also happens to be one of our favorite corners of France and one that we love to visit repeatedly!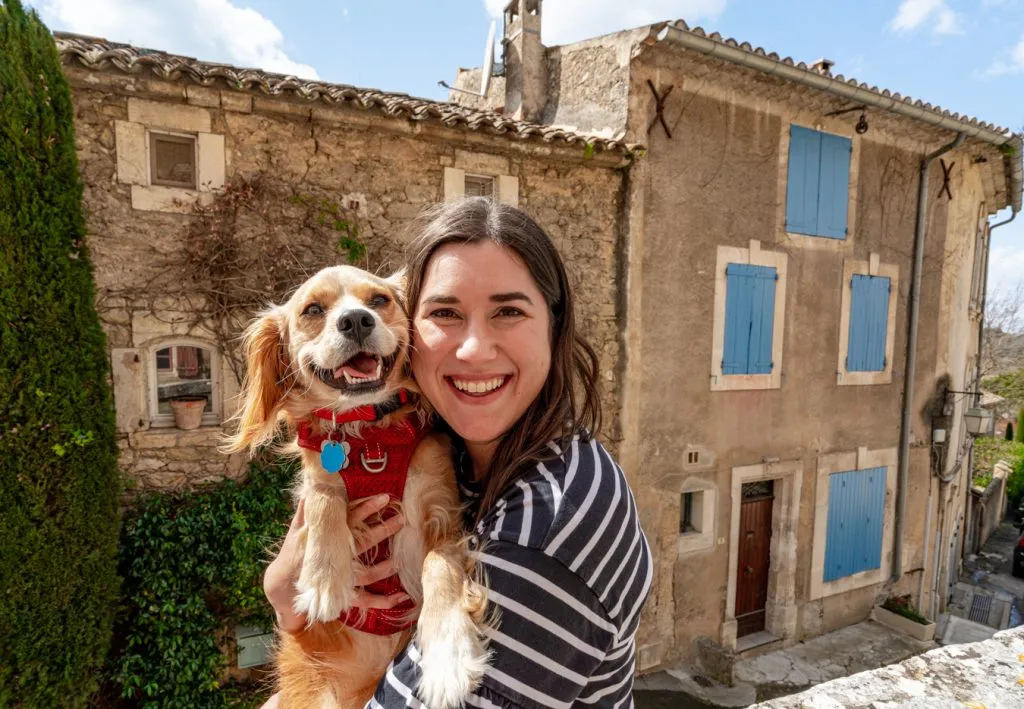 Be sure to visit the town of Bonnieux for some of the best views over the valley, Gordes for its impressive location built into a hilltop, Fontaine-de-Vaucluse for its lovely spring and river, Roussillon for its majestic red cliff, and Goult for its understated and quiet beauty.
Other favorites include Lacoste for its picturesque views, Menerbes for its delightful charm (if you ever read A Year in Provence, this is the town!), and Lourmarin for its idyllic beauty.
That's merely the tip of the iceberg, of course: Sénanque Abbey and Isle sur Sorgue are just a couple of the other spots that might hold your attention during this section of your south of France itinerary.
You probably won't have time to visit all of those–but the great thing about exploring the Luberon Valley is that going slow and savoring the journey is half the fun anyway.
Depending on how fast you tend to go and how much each village captures your heart (okay, and how much French wine you indulge in at lunch), you can comfortably visit 2-3 villages a day.
The Alpilles: 1 Day
The first two towns on your list in the Alpilles?
Les Baux-de-Provence, often considered one of the most beautiful villages in France, and Saint-Rémy-de-Provence, the former home of Van Gogh and a bit of an artistic enclave.
Both towns are absolutely lovely, but in our biased opinion, we do think that Saint-Rémy-de-Provence is slightly prettier than Les Baux-de-Provence.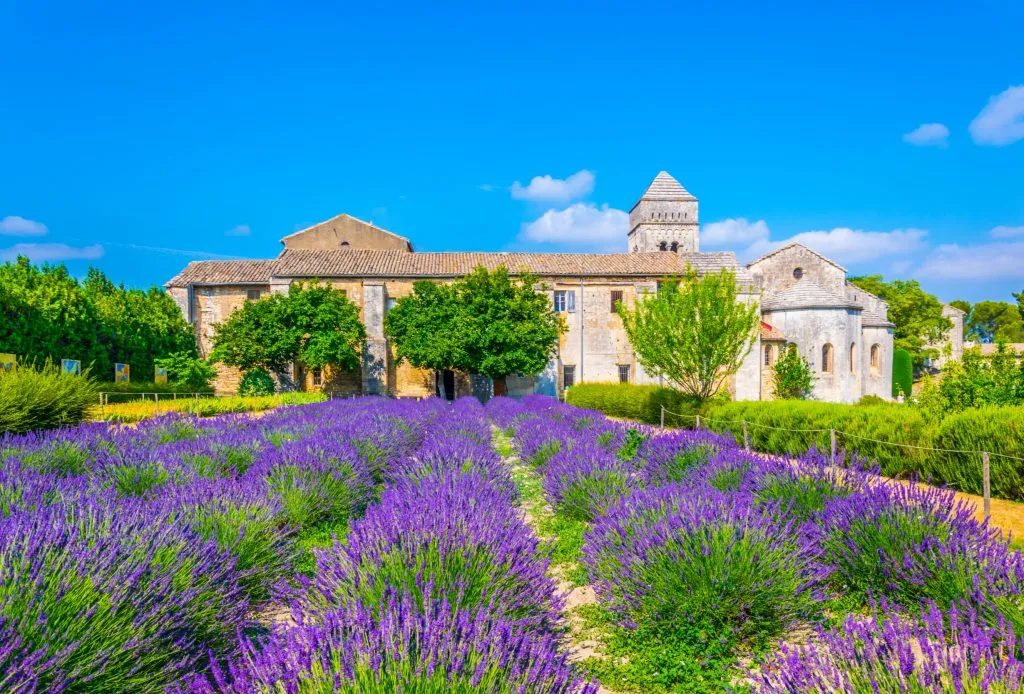 However, we do recognize that the views from Les Baux-de-Provence themselves are top-notch!
While you can whip through these highlights in a day if needed, outdoor enthusiasts–especially hikers and bikers–might prefer to set up shop in the Alpilles a bit longer.
We enjoyed Saint-Rémy-de-Provence so much the first time around that when we later returned to southeast France, we based ourselves there for almost a week!
It's a beautiful, conveniently located place that makes an excellent addition to any France trip.
Aix-en-Provence: 1 Day
The gorgeous city of Aix-en-Provence is known for its beauty, its accessibility–this is a great place to base yourself for part of your southern France trip–and most importantly, its markets.
I'm not exaggerating when I say that the markets in Aix-en-Provence, which sell everything from flowers to fruits to fedoras, are some of the best that we've ever seen.
We have loaded up our backpack more than once on shopping extravaganzas here!
Though Aix-en-Provence does have daily markets, to see the markets at their biggest and best, plan to spend a day here on either a Thursday!
Tuesday and Saturday are great backup options.
Cassis + Calanques National Park: 1 Day
The adorable fishing village of Cassis is a delightful addition to any south of France itinerary.
Much smaller and prettier than nearby Marseilles, Cassis is also the perfect jumping-off point for visiting Calanques National Park.
And, whether you want to go for a hike or simply take a boat tour past the beautiful calanques, visiting this stunning part of the French coastline is a must!
While you're in and around Cassis, be sure to also check out to picture-perfect Port de Cassis, visit the (extremely accessible) Calanque de Port Miou, and admire the views from the Cap Canaille.
Valensole Plateau + Verdon Gorge: 1 Day
Of all the suggested stops on this south of France itinerary, this one is probably the most anticipated for many summer visitors.
The Valensole Plateau is the iconic home to those never-ending lavender fields pictured on tourism brochures around the world!
Sure, the Luberon Valley also has stunning fields, and they're definitely worth seeing–but in Valensole, be ready to pull your car over nearly constantly, because every field seems to be more gorgeous than the last.
Early July is considered the absolute optimal time for enjoying the lavender fields on the Valensole Plateau, though late June, the rest of July, and maybe the very beginning of August can work as well.
That being said, we have visited the Valensole Plateau outside of lavender season as well, and while it's certainly not as magical as it is when the lavender is at its peak, it's still a striking and beautiful part of Provence.
After you get your fill of snapping photos, head to the Verdon Gorge, home to cascading cliffs, turquoise water, the nearby Lake of Sainte-Croix, some incredible hiking, and–again for summer visitors specifically–excellent kayaking and rafting.
Though I've noted you can see the major sites of the area in one day here, like in the Alpilles, photographers and/or outdoor enthusiasts will probably want to spend at least a couple of days here if at all possible.
Saint-Paul-de-Vence: 1 Day
Perched high above the Mediterranean Sea along the Cote d'Azur, Saint-Paul-de-Vence is one of those destinations that we expected to enjoy but quickly move on from, but in actuality knocked us off our feet and charmed us completely.
For that reason alone, I can't resist adding a day here to this suggested itinerary for the south of France!
Come here for a delightful combination of all the things that makes the south of France so charming, from the delicious food to the winding stone streets to the sublime views.
Stand on the medieval walls of the town, and you'll be smitten with the views of the countryside and sea.
Stroll through the tiny cobblestone streets of the village, and you'll feel like you're back in the Luberon Valley.
Sit down for a fantastic French meal on a stunning terrace, and you'll immediately feel all the glitz and glamour of the Cote d'Azur.
Oh–and definitely grab a cup of coffee at the cafe just outside the town walls.
The coffee is merely average (by impeccable French standards, anyway), and I wouldn't take chances on the touristy food, but it's worth sitting down just to see if the adorable corgi who passes through regularly happens to come by!
Nice + The French Riviera: 3 Days
There's no better place to close out your south of France itinerary than soaking up the sun along the French Riviera.
As the largest city in the region and home to a good airport, glamorous Nice is the obvious final stop for your south of France trip.
That being said, it certainly doesn't need to be your only destination along the French Riviera!
Antibes is another great option for a base in the area, and of course trips to places like Menton, Eze, and Monaco are all fabulous ways to spend a day.
(For travelers who happen to be visiting in the offseason, look up Menton's February lemon festival!).
Of course, if all you want to do with the final days of your south of France vacation is lay on Nice's famous beach, we certainly can't blame you for that!
Be sure to at least make time for a quick stroll along the Promenade des Anglais, admiring the view from Castle Hill, and lunch spent diving into a plate of Nicoise salad.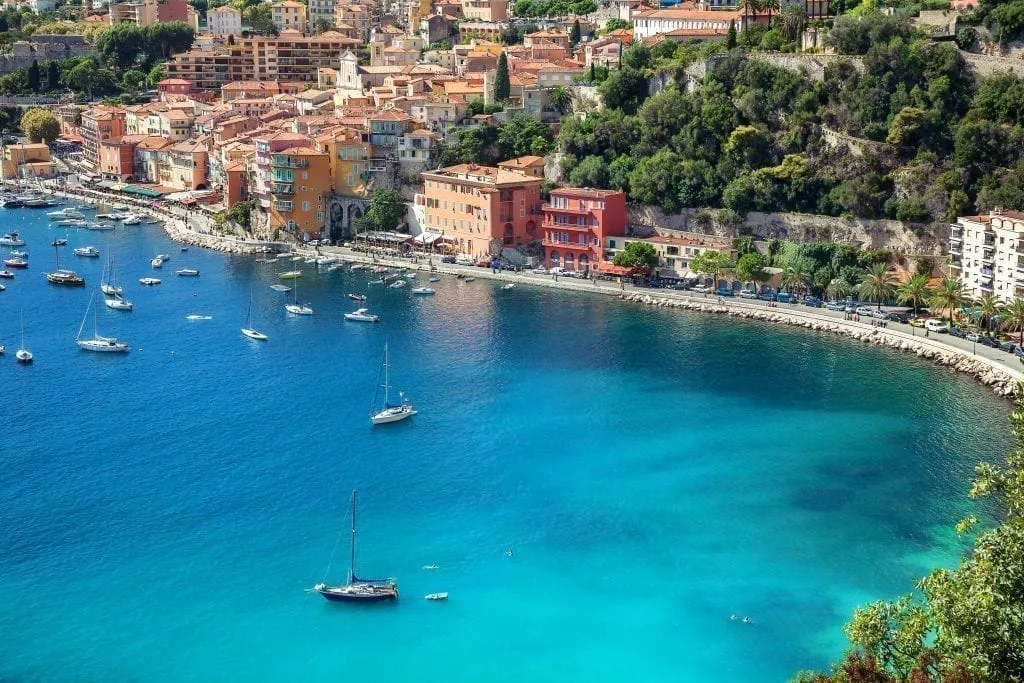 More Time in Southern France?
If you have significantly more time than the south of France itinerary outlined here suggests, we would recommend doing one of two things.
Option 1: Beaches
With more time in southern France, you can't go wrong with spending a lot more time along the French Riviera, especially if you're visiting during the high season.
Highlights like Saint-Tropez, Cannes, and Antibes would be a great place to start, but there are endless gorgeous small towns and rural beaches to choose from in the region.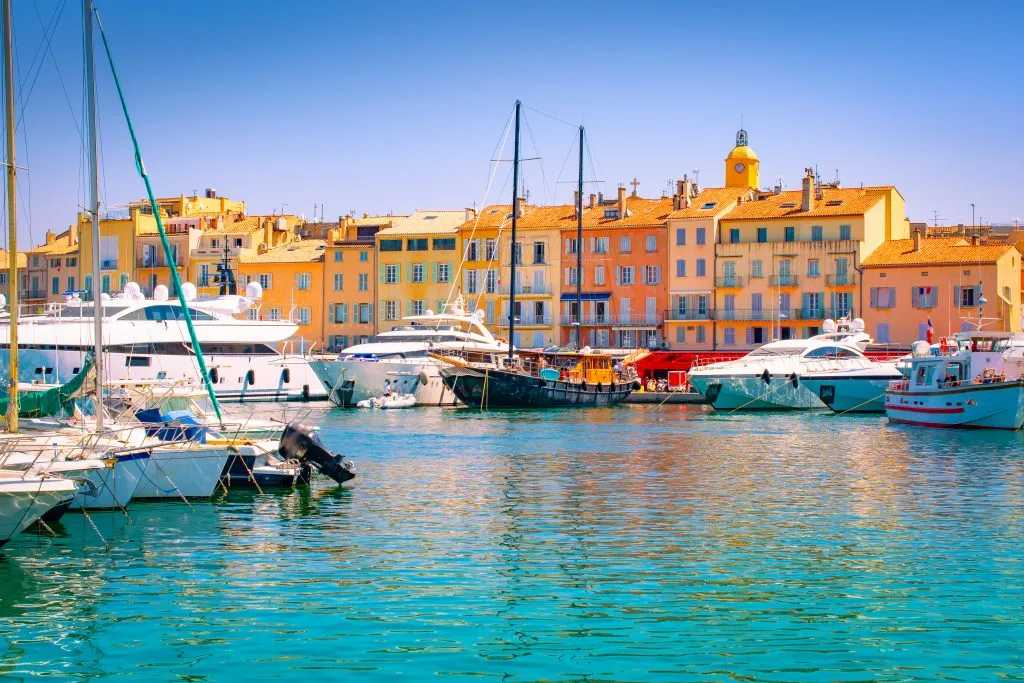 Option 2: Small Town Vibes
Prefer to dive into the slower pace of village life for a few days?
After wrapping up this itinerary, pick your favorite place–maybe a tiny village like Lourmarin, maybe a city with plenty of day trip options like Aix-en-Provence, your choice–and settle into Provencal life for a while, savoring your experiences and slowly soaking up everything that makes southern France special.
Where to Stay in the South of France
The most important thing to keep in mind when deciding where to stay in the south of France?
Limit your changes in lodging.
Packing and unpacking your belongings, loading and unloading the car, checking in and out of your hotels and/or apartments… all of these things take up more time than you might initially think.
Even as European road trip veterans of sorts, we still got too excited when planning our most recent trip to France and booked ourselves into an itinerary that moved around too much–and we paid for it in exhaustion.
We'd recommend only changing lodging every 2-3 days at the absolute maximum, and structuring your trip to the south of France as a series of day trips taken from various bases instead of actually sleeping in each location.
I've outlined some popular, well-reviewed, and well-located options in two of the most popular bases visited during this south of France itinerary: Aix-en-Provence and Nice.
That being said, we highly recommend basing yourselves at least once in a smaller village, too!
We've stayed in Saint-Rémy-de-Provence and Lourmarin and absolutely loved our experiences in both.
Aix-en-Provence
Budget
Séjours & Affaires Aix-en-Provence Mirabeau — This is where we stayed when visiting Aix-en-Provence, and we loved it!
These studio apartments are within walking distance of central Aix-en-Provence and all its best markets, have access to affordable parking across the street, and are very clean and comfortable.
They're not particularly charming, and the vibe is very "could be a modern hotel anywhere in the world", but they absolutely get the job done for a budget or even mid-range traveler visiting Aix-en-Provence.
Having the kitchen was a huge benefit for us (especially after visiting the markets in Aix-en-Provence), and we'd be happy to stay again.
Mid-range
Les Quatre Dauphins — Located in the heart of Aix-en-Provence, Les Quatre Dauphins boasts light and bright decor–this is the kind of hotel that you dream of when booking a trip to the south of France!
Street parking is available nearby, and everything you could hope to visit within the center of Aix-en-Provence is at your fingertips when staying at Les Quatre Dauphins.
Luxury
La Maison d'Aix — This converted townhome makes the perfect luxury boutique hotel in Aix-en-Provence!
Boasting impeccable reviews–especially for the breakfast, cleanliness, and customer service at the hotel–luxury travelers will love both the creature comforts and central location of La Maison d'Aix.
Nice
Budget
Boutique Hôtel Neptune Nice — This small hotel in central Nice is perfect for travelers hoping to stay (somewhat–Nice is pricey!) on a budget while still keeping themselves within walking distance of Nice's best highlights.
Rooms are small, but customer service is wonderful! The hotel is known for its impeccable location, and you can't go wrong staying here on your south of France trip!
Mid-range
Le Dortoir — Featuring near-perfect reviews and a crisp, bright interior, Le Dortoir is an excellent option for visitors to Nice who want to enjoy a spacious hotel room… without Nice's top-end luxury prices.
From Le Dortoir, you'll be able to reach all of Nice's highlights on foot, and its fabulous customer service ratings mean that you'll be able to ask for advice on just about anywhere you want to go!
Luxury
Hotel Negresco — If you've seen photos of the French Riviera, there's a good chance you've seen photos of the iconic Hotel Negresco, with its tiled dome and bright white facade.
This is one of the most famous luxury hotels in France and has built up quite the storied history (and held a number of famous guests) since it opened in 1913–and it's also a whimsical and wonderful place to stay today.
Located right along the Promenade des Anglais, a stay at the ever-popular and unique Hotel Negresco is not something you're likely to forget anytime soon.
Getting to Provence-Alpes-Côte d'Azur
The two biggest airports in the Provence-Alpes-Côte d'Azur region are Marseille and Nice, and you can easily fly into either to start your trip to southern France.
If you fly into Nice, consider completing this south of France itinerary in the opposite order that I've written it.
Alternatively, check the prices of flights to Geneva (on one of our trips to France, we flew into Geneva, spent a few days in the delightful city of Annecy, and then drove to Avignon to start exploring Provence-Alpes-Côte d'Azur).
And, of course, there's always Paris!
You can easily take a train from Paris to Nice, Marseille, Avignon, or Aix-en-Provence, but be sure to account for that cost and travel time when planning your southern France itinerary!
South of France Itinerary Map
Take This Map With You! Click each highlight to pull up the name of the destination. To save this map to "Your Places" on Google Maps, click the star to the right of the title. You'll then be able to find it under the Maps tab of your Google Maps account! To open the map in a new window, click the button on the top right of the map.
Best Time to Visit the South of France
Each season brings with it a reason to visit the south of France!
Unlike many other places, though, traveling during the high (read: summer) season here comes with enough advantages that unless you're entirely allergic to crowds and high prices, I'd recommend planning your trip then.
Here are some quick pros and cons of completing this south of France itinerary in each season.
Summer
Summer is the best time to visit the south of France if you're hoping for a classic trip.
The lavender fields will be blooming (July is the best time to aim for, though you might be lucky and still find some fields in early August), the beaches will be warm and lovely, and the sun will (most likely) be shining.
The downsides?
Everyone else also thinks this is the best time to visit the south of France, so prices will be high and crowds will be large.
Fall
While you'll experience a bit more rain than in the summer, fall can be a lovely time to visit the south of France if you're looking for reduced crowds and prices while still experiencing quite a bit of sunshine and some lovely markets.
Except for perhaps in the very early fall during a hot year, though, you likely won't want to swim during this time of year, and of course, there won't be any lavender around.
Winter
Winter is very quiet in the south of France, and if you visit during this time, expect to find some businesses (including accommodation) closed.
Winter definitely isn't an ideal time to be experiencing this south of France itinerary, but if cold weather and closed businesses are a worthy trade for rock-bottom prices and a lack of crowds, winter might be an option for your trip!
Plus, as a bonus, Provencal Christmas traditions (and markets!) are lovely.
Spring
We love the south of France in the spring, and would happily visit in the spring again.
Spring brings increased sunshine and temperatures, and businesses start to wake back up after the long winter.
Spring is also an excellent time of year to be exploring Provencal markets, something that we have taken full advantage of when visiting during this time of year.
And sure, there isn't lavender, but you do get to enjoy wisteria, which is the next-best thing!
If you come during spring, though, pack for varying temperatures, and definitely bring plenty of layers to guard against the viciously cold mistral winds that whip through the region during this time of year.
What to Pack for the South of France
Books About the South of France — What's better to add to your packing list than a book about the region you're visiting?
Provence in particular has spawned countless novels and memoirs–if you're looking for an excellent starting point, Peter Mayle's A Year in Provence is a classic.
Travel Insurance — We don't ever suggest traveling without insurance–anything can happen anywhere, and this is definitely a case of better safe than sorry.
We use and recommend Safety Wing for trips to the south of France.
Travel Adaptors for France — If you're coming from outside of Europe, you'll definitely need adaptors for your electronics.
Portable USB Charger — Don't stress about your phone dying while you're spending long days driving from village to village: add a portable charger to your south of France packing list.
Pacsafe — We can't recommend our Pacsafe enough: this travel safe is affordable, sturdy, easy to pack, and will help keep your valuables safe in your hotel room (not that you should need to worry much about theft in France, but it's better to be safe than sorry!).
Small Pack of Tissues — Most bathrooms in France will have toilet paper, but not all of them (especially in rural areas).
Bring a small pack of tissues, toss them in your day bag, and you won't have to worry about it.
Having these saved me more than once during our last trip to France!
Tote Bag — Trust me: you'll want a very sturdy reusable bag with you when you visit Provencal markets!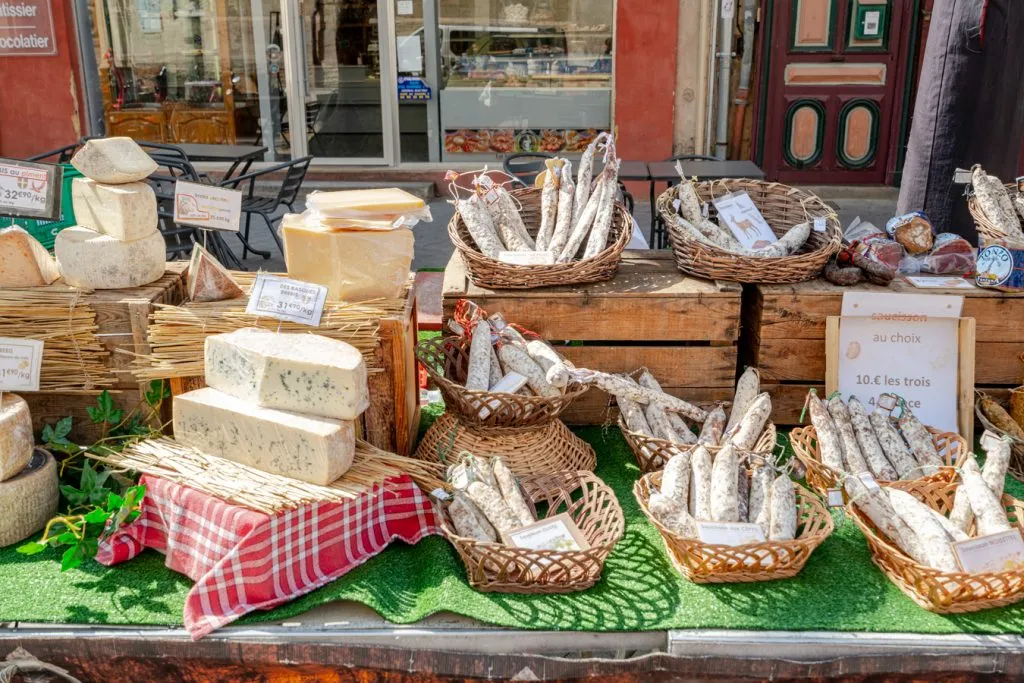 Hand Sanitizer — We've never been sorry to have this floating around in our day bag.
Swiss Army Knife — Want to open wine bottles in your hotel room, slice cheese from the market, or cut up that baguette from the bakery?
You'll be so glad you brought a Swiss Army Knife along for your south of France vacation!
---