Planning a trip to France and curious about what a typical French breakfast (petit déjeuner) is like?
Like in much of Europe, breakfast in France is typically a very simple affair, with a heavy focus on carbs (hello, croissants) and coffee.
We've been lucky enough to enjoy hundreds of traditional French breakfasts over the years (and some not-so-traditional ones as well), and have used all of those memories of cafes, boulangeries, and hotel buffets to create this guide to enjoying breakfast in France.
Here's how to enjoy a typical French breakfast, whether you'll be eating breakfast at a hotel in Paris or a cafe in Nice!
Some links in this post may be affiliate links. If you make a purchase through one of these links, we may earn a small commission at no extra cost to you. Please see our

disclosure policy

for more detail.
Typical French Breakfast at a Cafe
As a visitor to the country, odds are high that you'll want to eat some of your breakfasts in France at an idyllic, outdoor cafe.
Here's what you're likely to find there!
Coffee
While café au lait (coffee with hot milk) is known as a typical French breakfast drink, these days you're just as likely to find an espresso or a simple black drip coffee being served at a French cafe.
And if you do order a café au lait?
It will almost certainly be served in a bowl!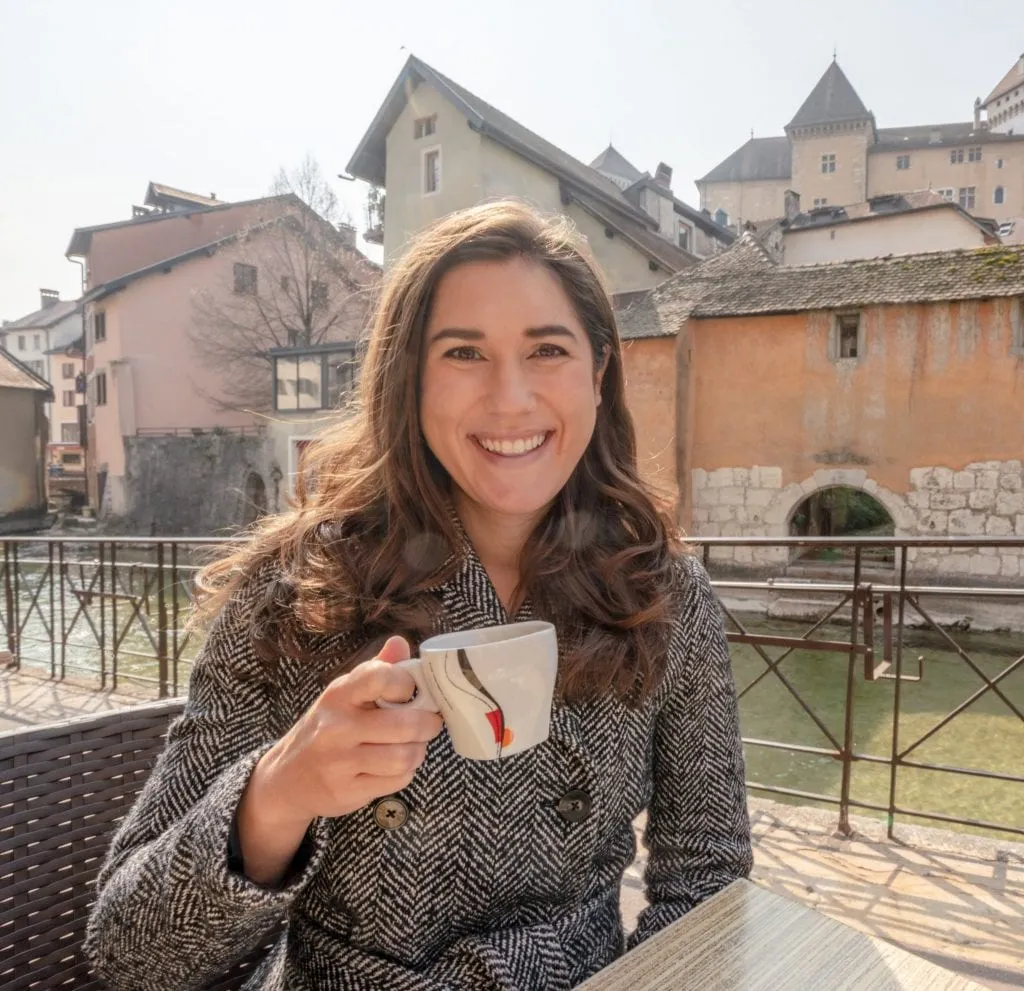 Pastries + Breads
Croissants and pain au chocolats are among the most popular French breakfast foods, but simple breads served with butter and jam are also very common.
A tartine, or slices of bread traditionally served with butter and jam (though you'll sometimes find more elaborate toppings in less-traditional restaurants), is an extremely common French breakfast food.
Frequently, at cafes, you'll see an offering of a coffee (usually espresso) and a tartine or croissant listed as a sort of breakfast "combo".
This often costs around 3-4 Euro, depending on which city and neighborhood you're visiting at the time.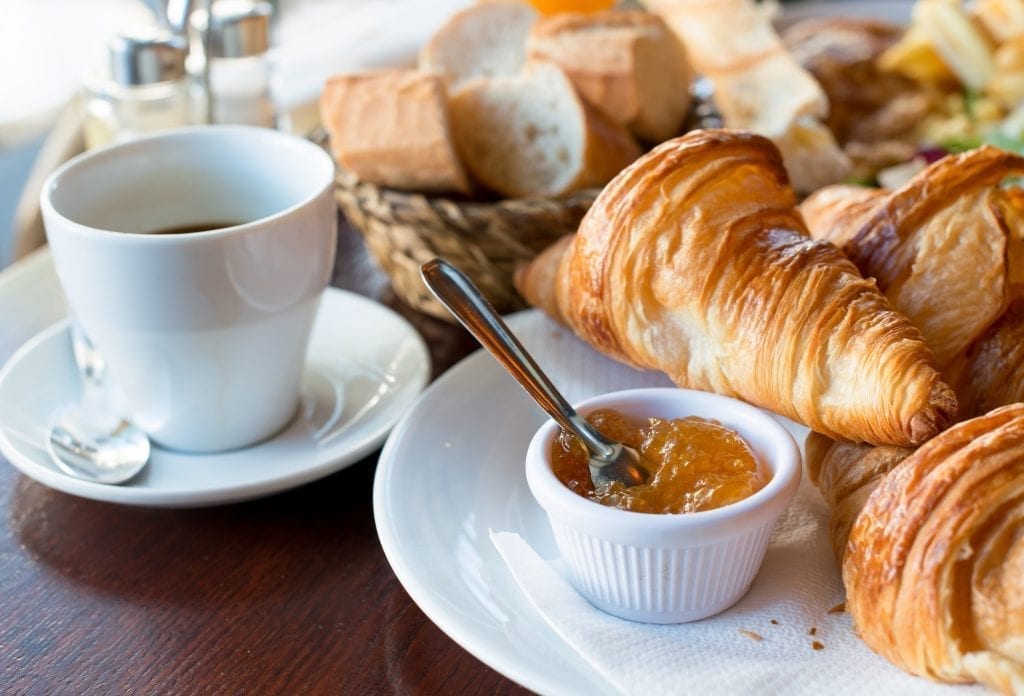 Juice
If you order a breakfast combo at a cafe in France, odds are that it will come with a selection of bread and/or pastries, butter, jam, coffee or tea, and last but not least, fresh juice.
Orange juice is the most common offering, but you'll frequently find other fruits available as well!
Breakfast in France When Sightseeing
Prefer to eat a small breakfast in France while setting off to your first travel destination of the day?
For a classic experience of ordering breakfast in France, head to a boulangerie (bakery) and order a warm croissant or pain au chocolat to go, fresh from the oven!
This is a delightful way to enjoy a typical French breakfast, but be aware that French people generally frown on eating while walking down the street.
Instead, if you want to eat breakfast the French way, find a park bench with a pretty view before diving into your pastry!
A Note on Visiting a Boulangerie vs. a Pâtisserie
Quick note: a boulangerie in France is a bakery, and that's where you'll find fresh breads and bread products, including croissants and pain au chocolats.
In other words, that's where you want to head when looking for breakfast in France.
A pâtisserie is, in essence, a pastry shop–but a different kind of pastry than a croissant.
In France, a pâtisserie is where you'll find sweets, candies, and cakes. Think eclairs, mille-feuilles, and petit fours. 
In other words, pâtisseries are home to all kinds of delicious treats, but nothing you'd typically eat for breakfast!
Typical French Breakfast at a Hotel or Bed and Breakfast
If you're headed to a hotel that offers breakfast in France, here's what you can generally expect!
Service Style
Depending on the hotel, breakfast at a hotel or bed and breakfast in France may be served buffet-style, as ordered at the table, or as a combination of the two styles.
For example, coffee and tea may be set out and self-served, while eggs may be offered as cooked to order.
If you're concerned about your travel budget, be sure to ask about the cost of anything "extra" that is available to be ordered to your breakfast table, like eggs.
If most of the breakfast is set out as a buffet, there may be a charge for additional dishes.
Common French Breakfast Foods Served at a Hotel
Coffee
This is generally fairly basic coffee, sometimes served out of a Keurig-style machine, sometimes an espresso machine, and sometimes served as a fresh drip coffee.
Occasionally, at a budget hotel, it will be instant coffee.
Tea is generally also available, but it is far less common as a breakfast drink in France than coffee.
Pastries + Breads
Much like in a cafe, croissants, pain au chocolats, and simple breads served with butter and jam can be expected with a continental breakfast at a hotel.
Fruit
When eating breakfast in France in a hotel or bed and breakfast, a side of sliced fruit is commonly served with the meal.
Yogurt + Muesli
If the hotel or bed and breakfast offers a heartier breakfast, you'll often see a choice of yogurt with muesli (similar to granola).
Meats + Cheeses
Cured meats like salamis, as well as a selection of cheeses, are frequently offered in the morning at nicer French hotels and bed and breakfasts.
If there is a choice to order eggs, they're typically served soft-boiled, but some places will also offer omelets or scrambled eggs in order to cater to foreign guests.
Other French Breakfast Foods You Might See
Depending on how expansive the breakfast is, you may also see cold cereals, milk, and crackers on a French breakfast buffet.
In addition to butter and jam, honey or Nutella is sometimes also available as a spread.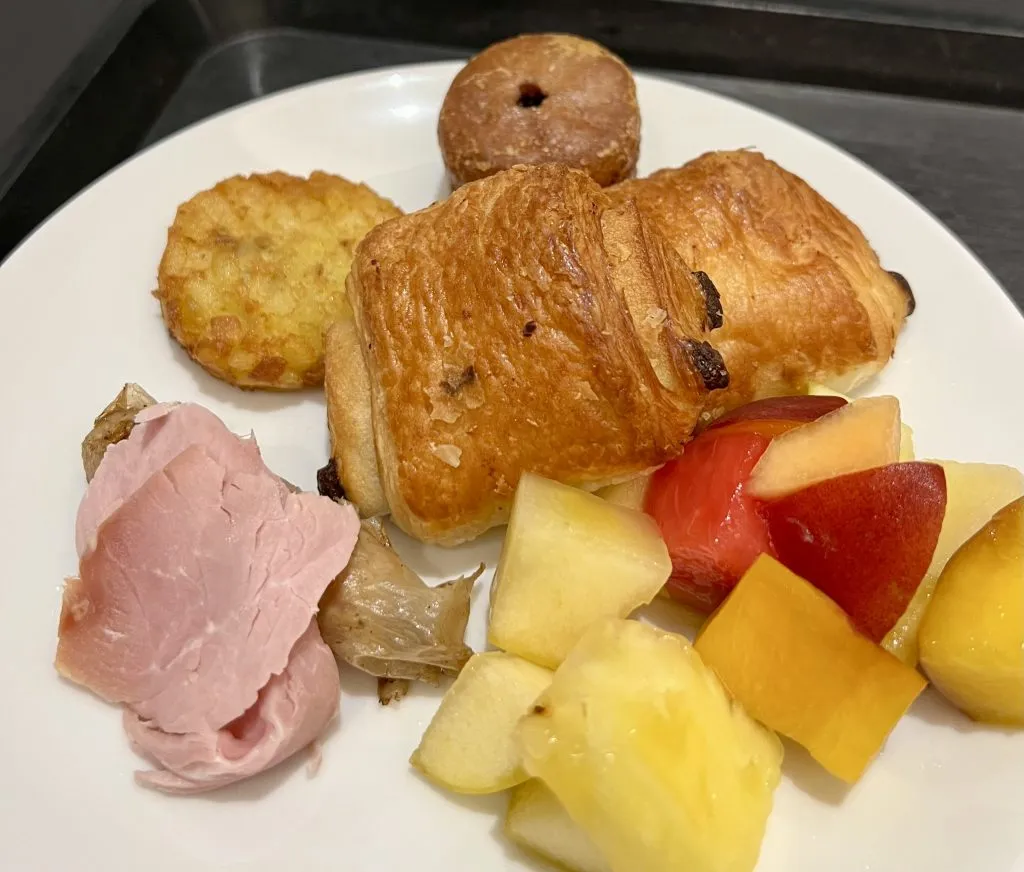 Should You Book a Hotel With an Included Breakfast in France?
It depends on your travel style, but possibly!
If you like having breakfast before sightseeing and would prefer something heartier than stopping at a boulangerie or cafe but more of a typical French breakfast than ordering an omelet at a brasserie, an included hotel breakfast can be nice.
However, this is generally more true for mid-range and luxury options.
Budget hotel breakfasts in France can often be so uninspired that you're better off ordering an affordable croissant at a boulangerie than sticking around your hotel in the morning.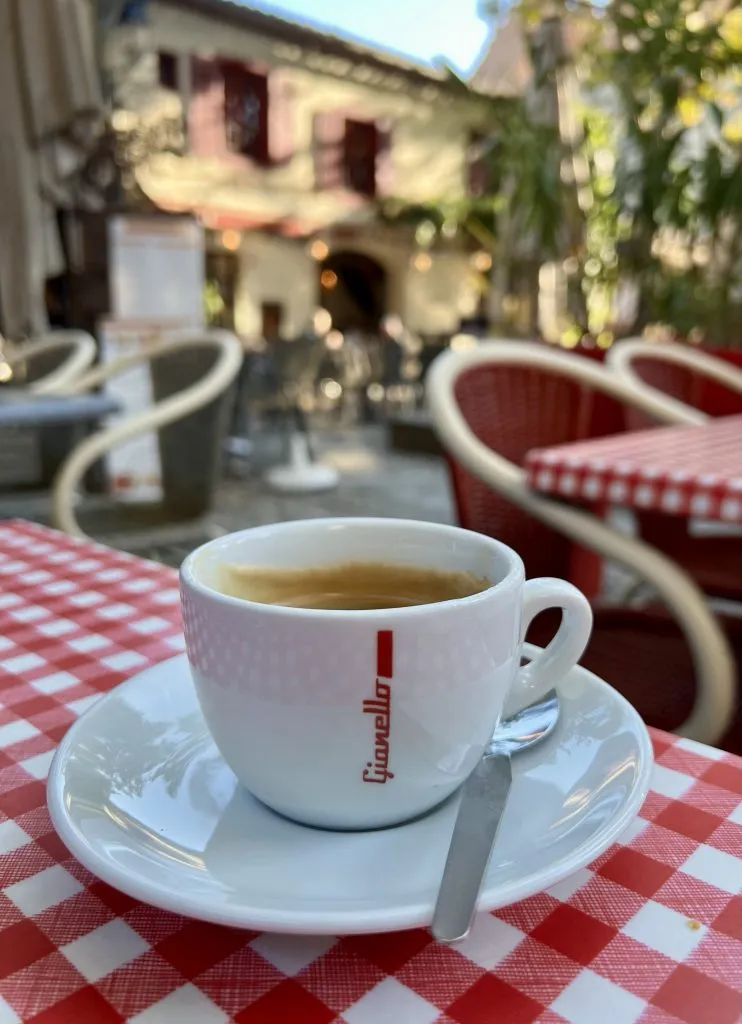 What About Omelets?
Omelets are an extremely popular–and delicious–food in France, made with lots of butter and a smooth, soft texture (you won't catch a French person overcooking their eggs!).
You'll generally find them on the menu at brasseries (informal, diner-like restaurants in France), and while they're often served all day, they're typically eaten by French people for lunch or dinner.
If you see someone eating an omelet for breakfast in France, they're probably a foreigner.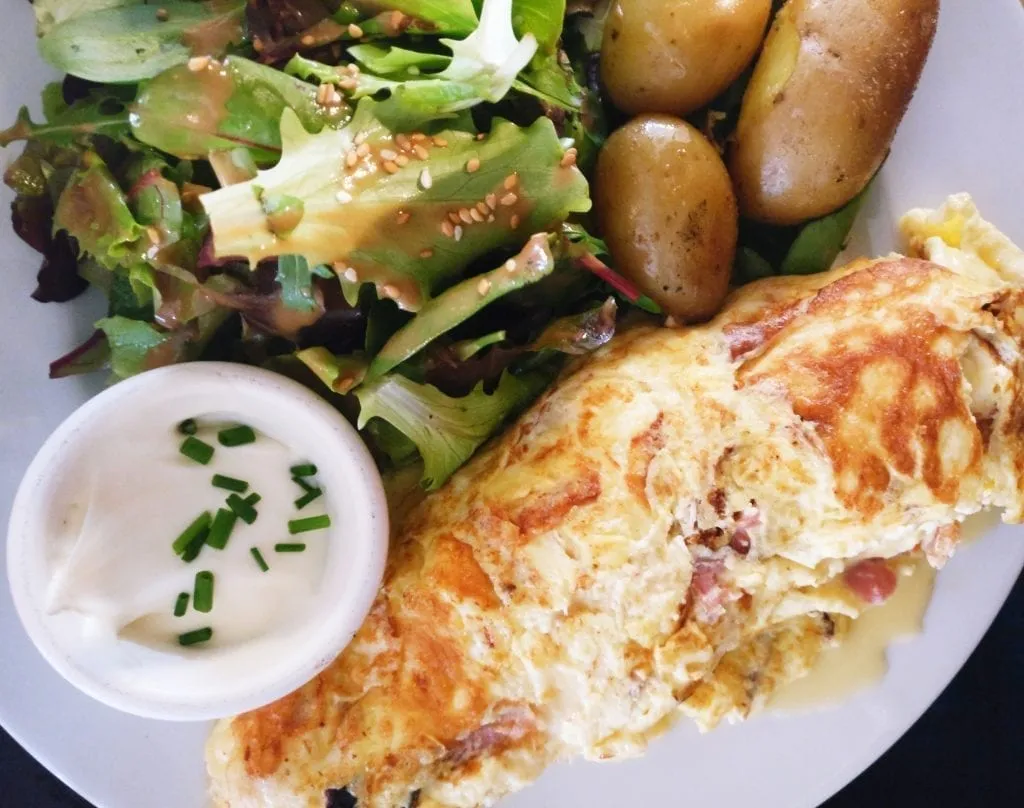 What Do French People Eat for Breakfast at Home?
While the bulk of this French breakfast guide is focused on those of us who travel from outside the country to visit, if you're staying with a local family in France or simply renting an apartment, you may be curious to know what French people eat for breakfast at home!
While the idea of waiting in line at the boulangerie for a fresh croissant every morning is a nice image, in reality, that's about as common as American families sitting down to fresh-cooked pancakes every morning.
In other words, it's an occasional treat, mostly done on the weekends, not a daily occurrence!
Breakfast at home in France is generally a light affair, with coffee (sometimes even instant coffee), bread or crackers served with butter and or jam, and sometimes cereal or muesli.
For the French, keeping breakfast simple ensures that they leave plenty of room for the incredible lunch they're probably planning on eating later in the day!
---