Hiking into Bryce Canyon is a sublime experience no matter what trail you're on–but if you have the chance, it's well worth seeking out Wall Street, Bryce Canyon National Park's only slot canyon and one of the most remarkable corners of an already stunning place.
Here's what to know about hiking Wall Street in Bryce Canyon!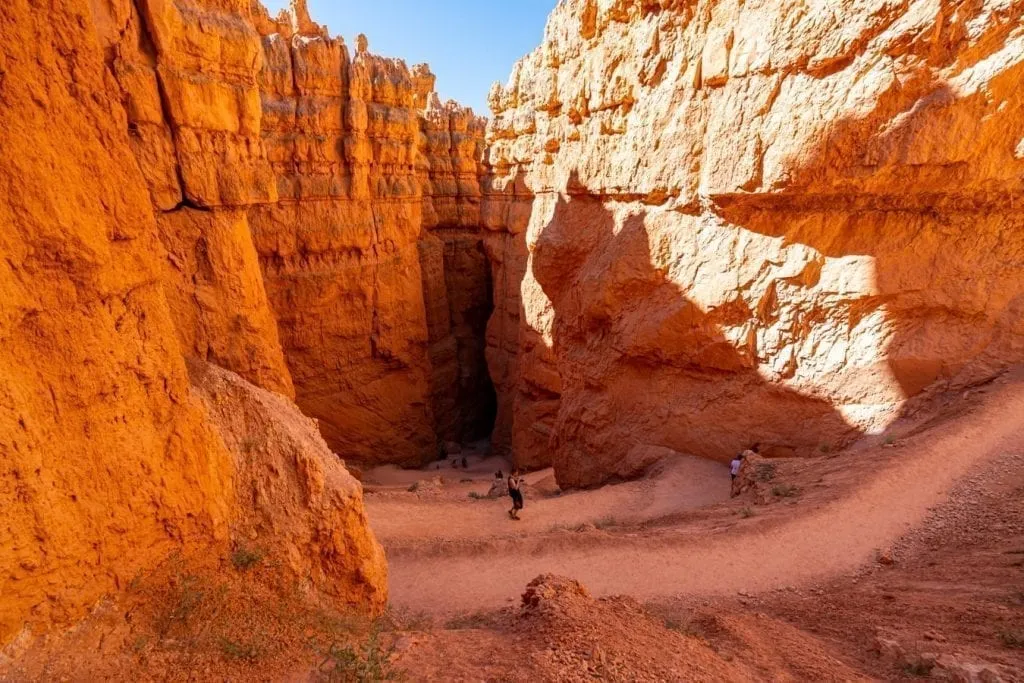 Some links in this post may be affiliate links. If you make a purchase through one of these links, we may earn a small commission at no extra cost to you. Please see our

disclosure policy

for more detail.
What's it Like to Hike Bryce Canyon's Wall Street?
Short, but incredible!
Wall Street is not a long slot canyon–by the time you're fully descended into the canyon, you're mostly done hiking Wall Street–but it is an impressive one, with soaring walls and incredible light depending on the time of day.
To reach the bottom of Wall Street, you'll descend along a series of wide, sandy switchbacks until reaching the floor of the slot canyon. From there, it's an easy, but incredibly scenic, stroll through the canyon to get back to the main section of the Navajo Loop trail.

The views descending into Wall Street are topped only by the beauty of being fully inside the canyon–and as arguably one of the most accessible slot canyons in the southwest, Wall Street is absolutely worth prioritizing during your trip to Bryce Canyon.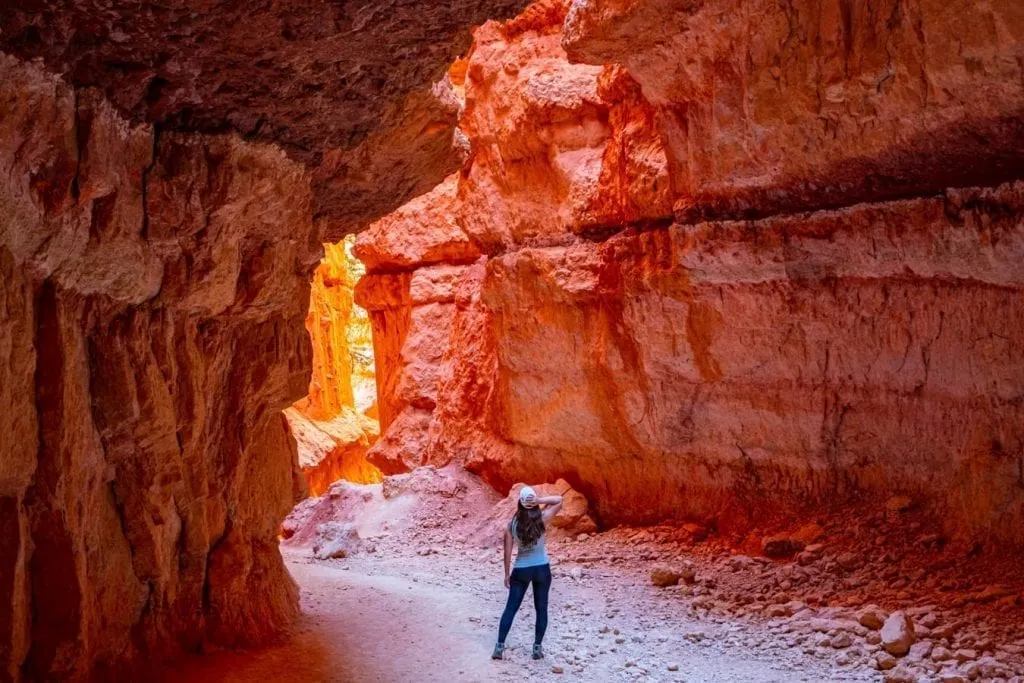 How to Get to Wall Street in Bryce Canyon
To reach Wall Street in Bryce Canyon, you'll need to start from either the Navajo Loop trailhead at Sunset Point (our preferred route) or from the Queen's Garden trailhead at Sunrise Point.
If you start at Sunset Point, you'll descend into Wall Street toward the beginning of your hike. If you start at the Queen's Garden trailhead, you'll climb out of Wall Street toward the end of your hike.
Wall Street is a specific part of the Navajo Loop trail in Bryce Canyon, and one of two ways to climb in and out of the canyon along the Navajo Loop trail (the other is Two Bridges).
As you start hiking into Bryce Canyon along the Navajo Loop trail, within a few minutes of leaving Sunset Point you'll reach a fork in the road pointing to the right for Wall Street and the left for the Two Bridges.
Tips for Visiting Wall Street in Bryce Canyon
Keep an eye on the weather.
Like all slot canyons, Wall Street can be dangerous during flash floods. 
If rain is in the forecast, it's best to avoid it.
Don't count on visiting Wall Street in winter.
The trail is typically closed for safety during the winter months.
You don't necessarily need boots.
When deciding what to wear when hiking Wall Street, hiking boots are always the most comfortable option, but any closed-toe shoe is really fine during dry weather.
I'd recommend against hiking sandals here, as the loose sand has a tendency to build up in them.
Hike in the middle of the day for the best light.
During midday, light will stretch all the way to the bottom of Wall Street, illuminating the floor and the dramatic orange walls of the canyon. It is an incredible sight.
It's beautiful at other times of day too, of course, but Wall Street will be harder to photograph with less light in the canyon if that is important to you.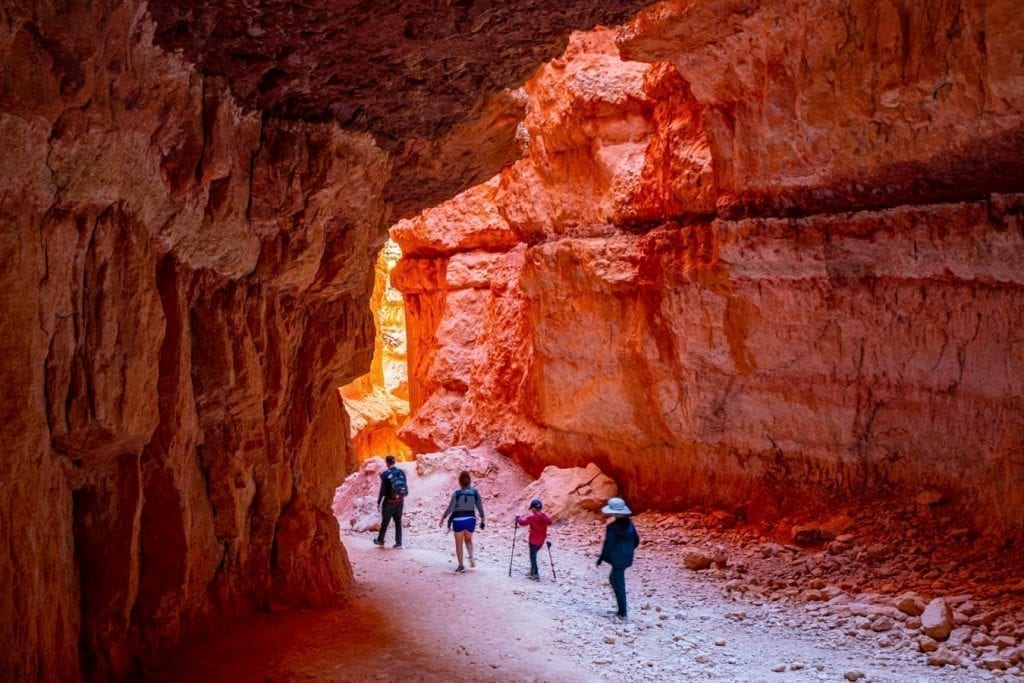 The best Wall Street hike combines two trails.
The Navajo Loop Trail and Queen's Garden Trail are technically two separate hikes in Bryce Canyon National Park, but to sample some of the best hiking in Bryce on limited time, we recommend combining these two trails and doing them both, including Wall Street, all at the same time.
It comes to a hike that's a little over 3 miles and is packed with stunning views.
… but start on the Navajo Loop Trail if possible.
While you can visit Wall Street by starting with either the Queen's Garden Trail or the Navajo Loop Trail, we recommend starting with Navajo Loop.
That way, you'll descend into Wall Street rather than climb up it–and the views looking down into the slot canyon are definitely worth having in front of you the whole time!