Compact, stunning, and devastatingly unique, Bryce Canyon is a mesmerizing place, and even a quick peek into the amphitheater from one of its viewpoints is enough to show why this national park absolutely deserves to be considered one of Utah's Mighty Five. With a slew of fun things to do in Bryce Canyon National Park, though, there's no reason to stick to just the popular viewpoints!
Wondering what to do in Bryce Canyon?
From hikes to views, we've rounded up the best things to see in Bryce Canyon here.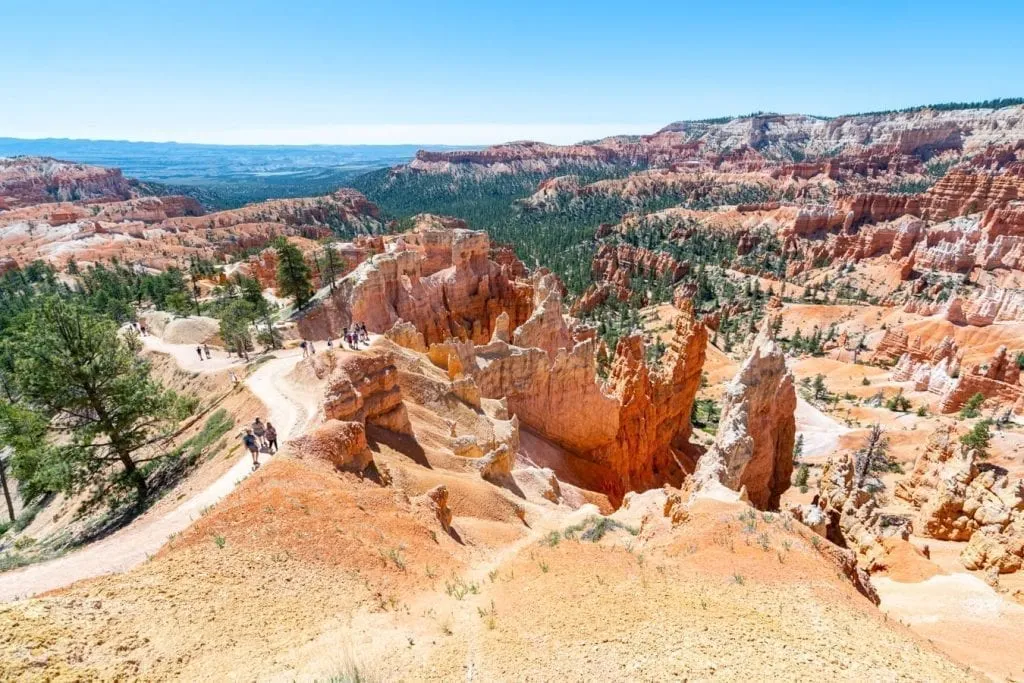 Some links in this post may be affiliate links. If you make a purchase through one of these links, we may earn a small commission at no extra cost to you. Please see our

disclosure policy

for more detail.
The Best Things to Do in Bryce Canyon NP
Popular Hikes in Bryce Canyon
Hike to the Queen's Garden.
This 1.8-mile trail is not only considered the easiest way to hike into Bryce Canyon's amphitheater, but it's also incredibly beautiful and worth visiting for hikers of all skill levels!

From Sunrise Point, you'll slowly descend into the amphitheater, surrounded by increasingly stunning views, before coming to the "Queen's Garden" of hoodoos, including the famous Queen Victoria hoodoo.
Enjoy the Navajo Loop trail.
A steeper-yet-shorter option than the Queen's Garden Trail, the 1.3 mile Navajo Loop trail starts from Sunset Point and is also a popular way to visit the amphitheater.
As a bonus, visiting the Navajo Loop trail may give you a chance to access a slot canyon, which leads me to…
Descend into Wall Street.
Wall Street, frequently touted as Bryce Canyon National Park's only slot canyon, is an absolutely stunning way to descend into the amphitheater as part of the Navajo Loop Trail, and you shouldn't miss the opportunity if you have a chance!
However, this portion of the trail closes during the winter, during which time you'll need to take the also-beautiful Two Bridges route instead.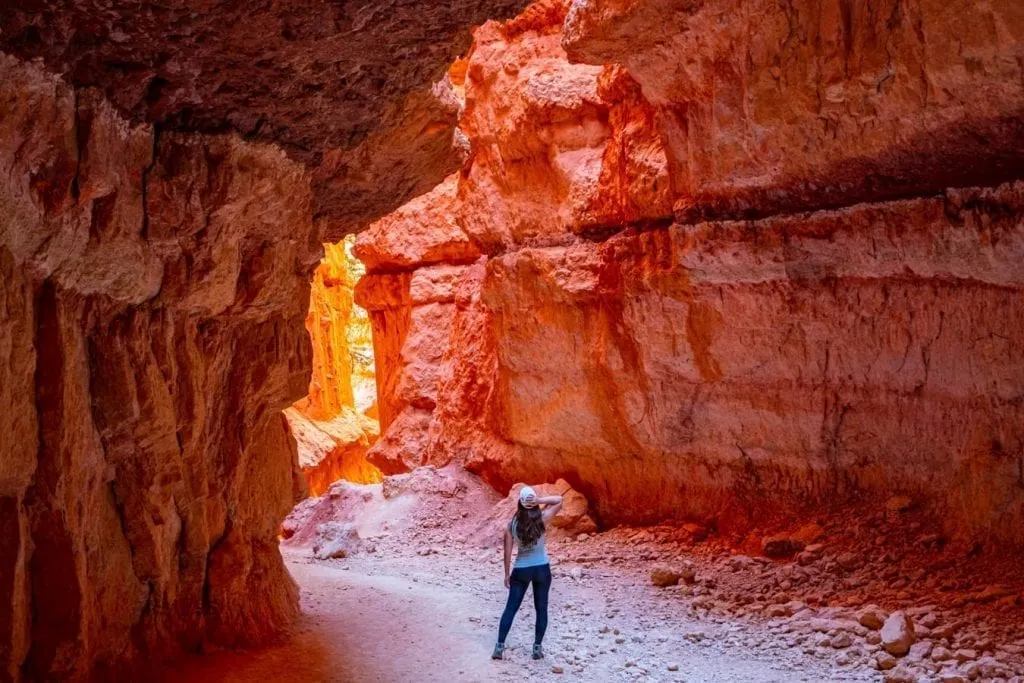 Discover Fairyland Loop.
This 8-mile trail is considered more difficult than those discussed above, but the Fairyland Loop trail also provides a unique view of the Bryce Canyon amphitheater and tends to be much less crowded than the Queen's Garden Trail and Navajo Loop Trail!
Seek out the Peekaboo Loop trail.
5.5 miles of steep climbing make the Peekaboo Loop trail strenuous, but rewarding!
The Peekaboo Loop trail remains under the rim for its duration and rewards hikers with magnificent, unique views.
This trail can also be combined with the Navajo Loop trail for an even more fantastic hike in Bryce Canyon!
Consider joining a night hike. 
What could possibly be more enchanting than being surrounded by otherworldly hoodoos while hiking in Bryce Canyon?
How about doing so at night, when thousands of stars light up the sky!
If you're trying to decide what to do in Bryce Canyon and are looking for a way to experience the canyon from a unique perspective, joining a ranger-led night hike is a fantastic option.
… or check out one of Bryce Canyon's other fun hikes!
While we've outlined some of the most popular Bryce Canyon hikes here, the amphitheater does boast additional trails and routes–you can check out the full list on the official park map here.
Excellent Viewpoints to Visit in Bryce Canyon NP
Visit Sunset Point.
Stunning Sunset Point is probably the most popular of all these Bryce Canyon viewpoints–and for that reason, we recommend getting a very early start if you'd like to see it without the crowds (but for an incredible show, of course, the sunsets are also stupendous).
… and Sunrise Point!
Sunrise Point is one of my personal favorite viewpoints in Bryce Canyon, and is a can't-miss spot!
Sunrise and Sunset Point are a quick, leisurely walk along the rim away from each other, and can be visited at the same time.
Being able to capture these incredible views so easily is one of the reasons that Bryce Canyon is one of the most fantastic national parks for kids.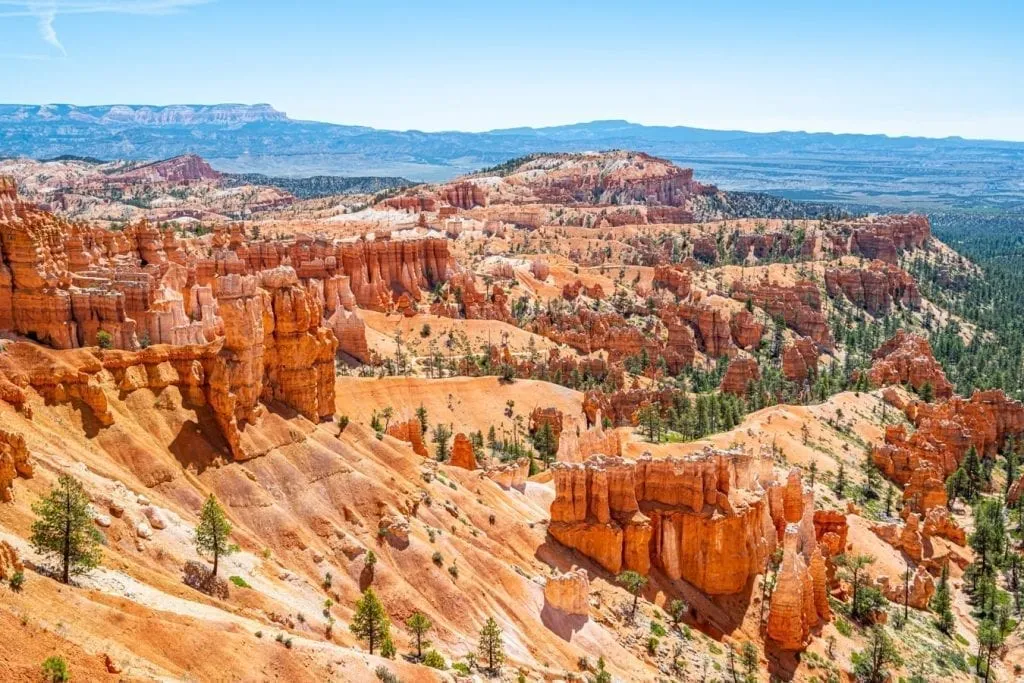 Marvel at the beauty of Bryce Point.
For a dense view of the amphitheater's incredible hoodoos, head to Bryce Point!
Get inspired at Inspiration Point.
With fantastic views of the amphitheater, one look at Inspiration Point is enough to prove that it is aptly named.
Check out Thor's Hammer.
This popular rock formation doesn't require any squinting to understand the inspiration behind its name: it does indeed look like the Norse god simply left his hammer in southern Utah!
Find the Natural Bridge.
This beautiful, naturally-occurring arch is easily accessible and is worth stopping to admire while in Bryce Canyon NP.
Other Things to Do in Bryce Canyon National Park
Complete the scenic drive.
Most of these things to do in Bryce Canyon, from trailheads to viewpoints, can be found near its scenic drive–an afternoon drive here can take you to all of the best viewpoints fairly quickly, depending on how much time you have to spare.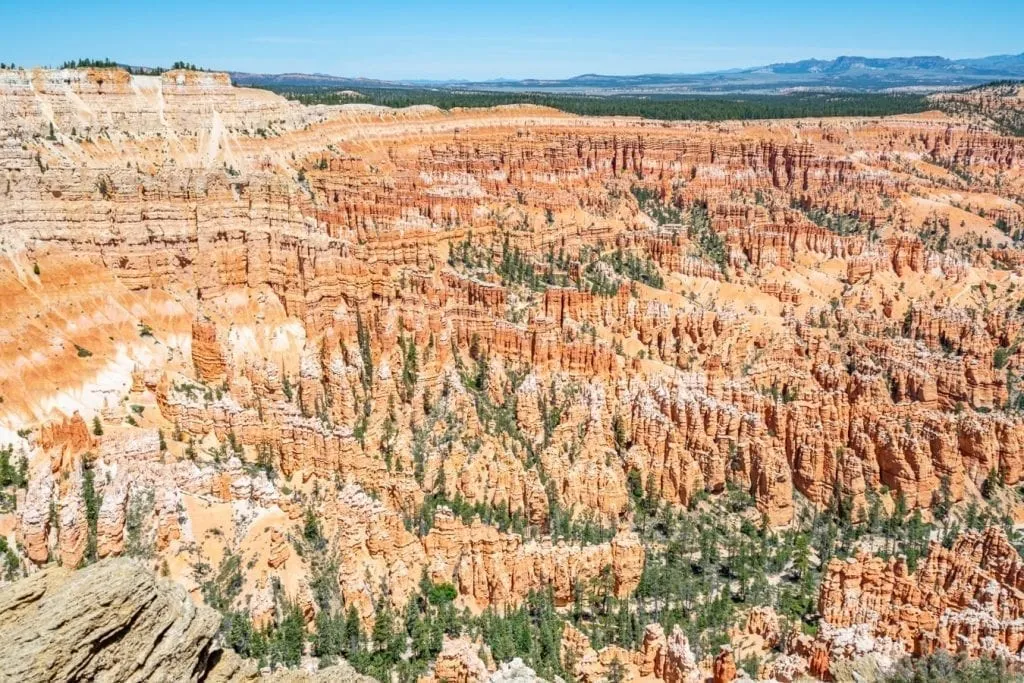 Go horseback riding.
Want to descend into the amphitheater on horseback? You absolutely can!
Whether you want to join a ranger-led horseback ride or bring your own horse for a visit, you can go horseback riding in Bryce Canyon.
Marvel at the night sky in Bryce Canyon NP.
If possible, Bryce Canyon's viewpoints are even more remarkable at night, when the mesmerizing sea of hoodoos is accompanied by one of the darkest–and therefore most incredible for stargazing–skies in North America.
Where to Stay Near Bryce Canyon
Bryce Canyon City is located right outside Bryce Canyon National Park and is the best place to stay when visiting. Here are a couple of great places to consider!
Budget
Bryce Canyon Pines — For basic, comfortable accommodation with a wildly popular restaurant on-site, Bryce Canyon Pines is an excellent option! We stayed here during our most recent trip to Bryce Canyon and found it to be exactly as advertised: basic but decent enough for a quick stay.
Mid-range/Luxury
Best Western Plus Bryce Grand Canyon Hotel — After staying in literally hundreds of hotels over the last several years, we still count this as one of our most memorable stays–in part because of the hotel's absolutely phenomenal breakfast, and in part because of the excellent location and customer service.
This is our #1 choice of where to stay near Bryce Canyon, and we will always check if it's available before booking anywhere else when we return to the park!
Tips for Visiting Bryce Canyon National Park
Grab an America the Beautiful pass before you go.
For the incredibly affordable price of $80, an America the Beautiful pass will grant you general access to all US national parks and federal lands for an entire year!
It's truly one of the best deals in travel, and considering that Bryce Canyon National Park costs $35/car to visit, national park lovers will break even on the cost very quickly.
Spend more than half a day at Bryce Canyon.
As tempting as it is to spend only half a day at Bryce Canyon when trying to visit most or all of Utah's Mighty Five with limited time, the park truly does deserve more than that!
If nothing else, we recommend spending one night nearby, and visiting the park both the afternoon you arrive and the following morning.
To experience some of Bryce Canyon's best hiking fast, combine two trails.
An extremely popular option, for example, is to combine the Queen's Garden trail and the Navajo Loop trail into one phenomenal hike!
Expect a different experience when visiting Bryce Canyon in winter.
Some trails (like Wall Street) will be closed, and which trails are open is often impacted by the weather.
However, visiting Bryce Canyon in winter is also a delightful experience in its own way: there are far fewer crowds, and the hoodoos look absolutely stunning when enhanced by a blanket of snow.
Don't skimp on sun protection.
Regardless of what season you're visiting Bryce Canyon, you'll need to protect your skin from the harsh sun. We recommend bringing sunscreen, a hat, and plenty of water on any hike.
Get an early start.
Not only is this excellent for avoiding crowds (the last thing you want to do is show up at Sunset Point to realize the parking lot is already full), mornings are also when Bryce Canyon's light tends to be at its best, meaning that you'll be able to see the hoodoos and other formations at their prettiest as you work your way through some of the best things to do in Bryce Canyon National Park!