With its otherworldly landscapes, Mighty Five national parks, fascinating slot canyons, and its seemingly endless number of state parks and other beautiful natural spots, Utah is, without a doubt, one of the most unique states in the USA–and nothing puts that uniqueness on display quite as well as a Utah national parks road trip.
Utah was made for road tripping: there is no shortage of dirt roads to meander down, quiet corners to explore, stargazing to enjoy, and iconic landscapes to seek out.
We've taken several road trips in Utah at this point, and every time we visit, we end up even more enchanted with a state whose landscapes encompass the word "otherworldly" so perfectly that I will no doubt overuse it in this blog post.
Planning your first (or third) Utah Mighty Five road trip and want to make sure you make the most of your time in southern Utah?
We have you covered: this Utah national parks road trip itinerary covers all of Utah's Mighty Five national parks, along with several state parks, small towns, and interesting side trips.
Here's how to structure the ultimate road trip through Utah's national parks!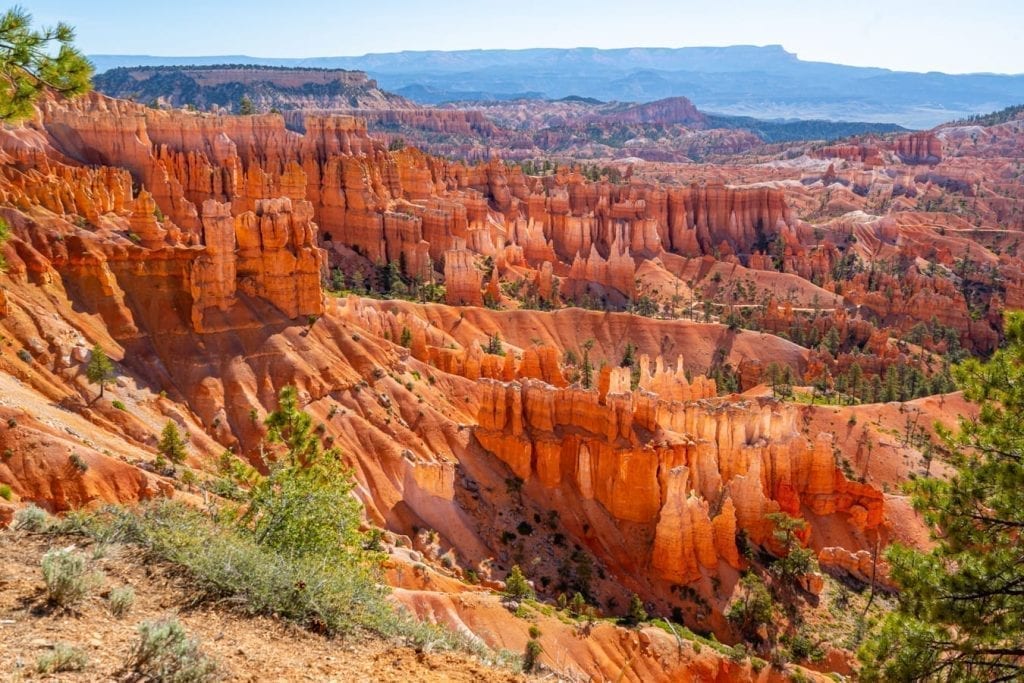 How We Structured This Utah Road Trip Itinerary
We structured this Utah road trip itinerary not as a loop, but as a trip with different starting and ending points.
Since this Utah national parks road trip takes place in primarily very rural areas, you'll need to get yourself to the starting point of Moab if you fly into the region–we'll cover more on how to do that later–and back to the airport (or a different airport) from Zion National Park after your trip is over.
Later, we'll also cover possible additions to this road trip, including in neighboring states, if you'd like to consider turning your trip into a Utah and Arizona road trip or even a general southwest road trip.
This blog post is quite long, so feel free to use the table of contents above in order to navigate through different sections!
We also have many, many more blog posts about exploring Utah's national parks and the southwest in general here on Our Escape Clause.
While we'll link them throughout the post, you can also use the search bar in the top right of the screen (on desktop) or on the pop-out menu (on mobile) to search for blog posts about various parks and topics!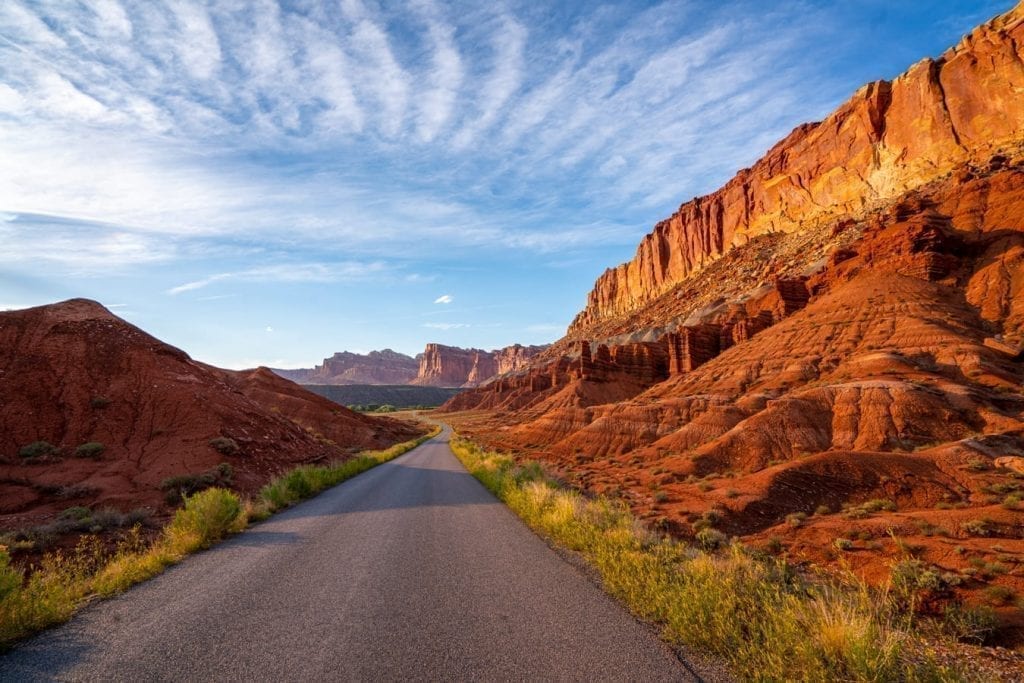 Getting Around During Your Utah National Parks Road Trip
If you're planning to rent a car for your Utah road trip, the best company to rent from will likely vary dramatically depending on exactly when you're traveling.
Sometimes large international carriers offer the best prices, sometimes local outfits.
Sometimes one company has an excellent base price, but terrible rental requirements.
The best way to find your rental car is to search through Discover Cars, which will sift through dozens of companies to find the best combination of low prices and reasonable rental terms for your road trip.
We've taken several road trips in the southwest over the years, and have never used or needed a 4-wheel drive–but if you want to get far off the (literally) beaten path, you may want to consider renting one!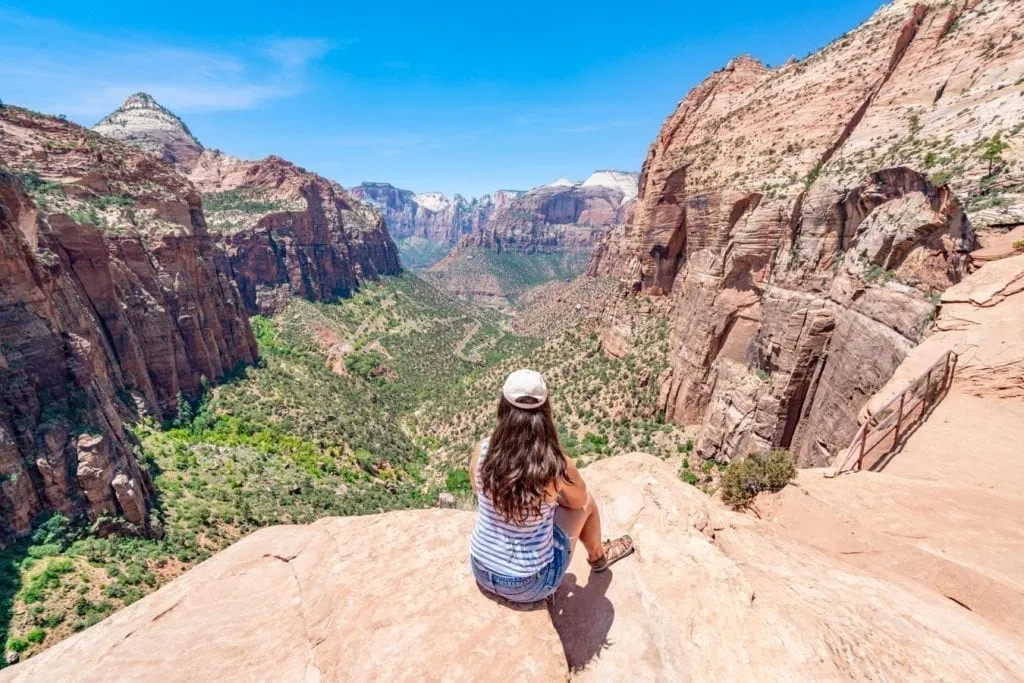 The Ultimate Utah National Parks Road Trip Itinerary
The Utah national parks road trip outlined here takes place over 9 days.
In other words, it takes just enough time to take one week off of work and make a trip through the southern part of the state at breakneck speed, which is similar to what we did on our very first Utah road trip back in the day (no regrets).
However, any of Utah's Mighty Five national parks could easily soak up more time, so if you have more days to work with, you'll definitely find plenty to do!
Day 1: Kick off your Utah National Parks road trip in Moab.
Moab is the perfect starting place for your Utah road trip itinerary!
This small, outdoorsy town in southeastern Utah is perfectly positioned to access not one, but two of Utah's Mighty Five national parks, as well as state parks and other highlights!
If you get into town early enough, consider spending the afternoon and evening kicking off your explorations of Arches National Park, which is located just outside of town!
Where to Stay in Moab
Moab has plenty of hotels and motels to choose from, but fair warning–it's one of the priciest destinations covered during this road trip, so don't expect to nab a great deal during high season!
Budget
Red Stone Inn — Centrally located in Moab, the Red Stone Inn feels like a callback to another era of American road trips.
If you're looking for an inexpensive slice of Americana, the Red Stone Inn is a great option–and the swimming pool and laundry services located on-site are a selling point, too.
Mid-range
Comfort Suites Moab — We stayed here during a recent visit to Moab, and couldn't have been happier with the comfortable rooms, exceptional customer service, and great location in town.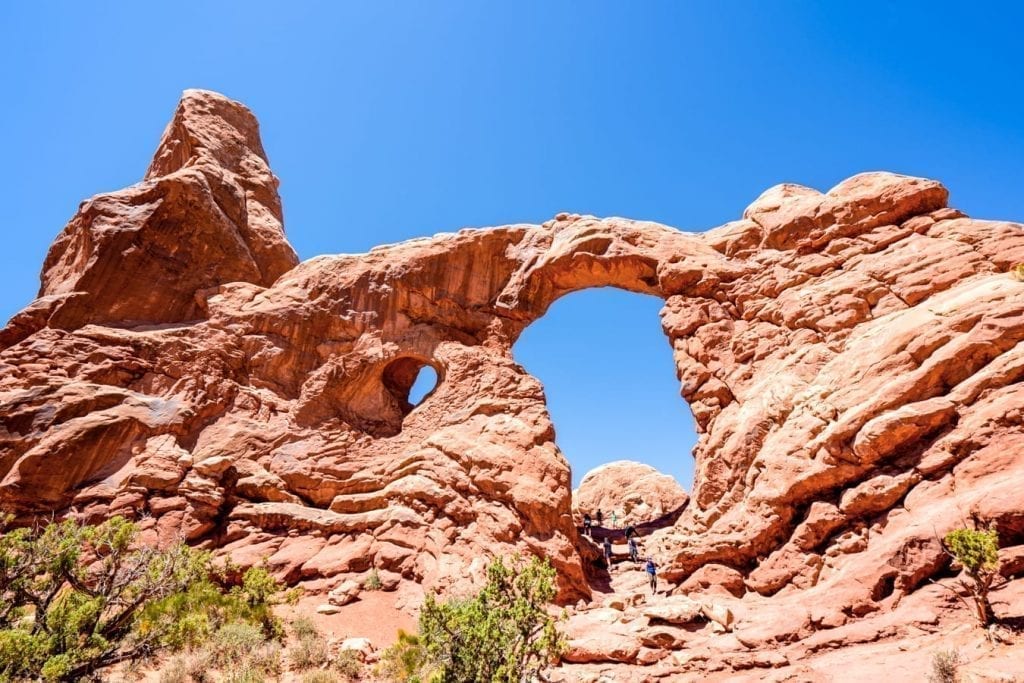 Luxury
Hyatt Place Moab — Moab isn't exactly a destination that lends itself to luxury, but those looking for some great creature comforts during their trip will find them at the new, swanky Hyatt Place Moab, which is just a few years old!
In addition to its swimming pool, included breakfast, and great rooms, Hyatt Place Moab also boasts an exceptional location on the edge of Moab, just minutes from the entrance to Arches National Park.
Vacation Rental
My Place Hotel — Need access to a kitchen while exploring the best activities in Moab? Consider the studios at the brand-new My Place Hotel!
We stayed here on our most recent trip to Moab and loved the kitchen access (though be warned, it's not stocked, so bring your own plates/pans), the view, the extreme cleanliness, and beyond all, the location.
My Place Hotel is located on the edge of town, a short drive from Arches National Park, making it an ideal place to stay for hikers.
It's also pet-friendly, a must for Ranger!
Check rates & book your stay at My Place Hotel!
Day 2: Explore Arches National Park.
On day 2 of your national parks road trip in Utah, head (back) to Arches to knock off at least one of its iconic hikes.
We have a full post detailing the best hikes in Arches here, so I'll try not to repeat myself much, but the Delicate Arch trail and the full Devils Garden trail are among our favorites.
Even if you'd rather not go more than, say, a mile along a trail, though, Arches still has plenty to offer!
In the evening, head back to town to enjoy dinner at one of the great restaurants in Moab.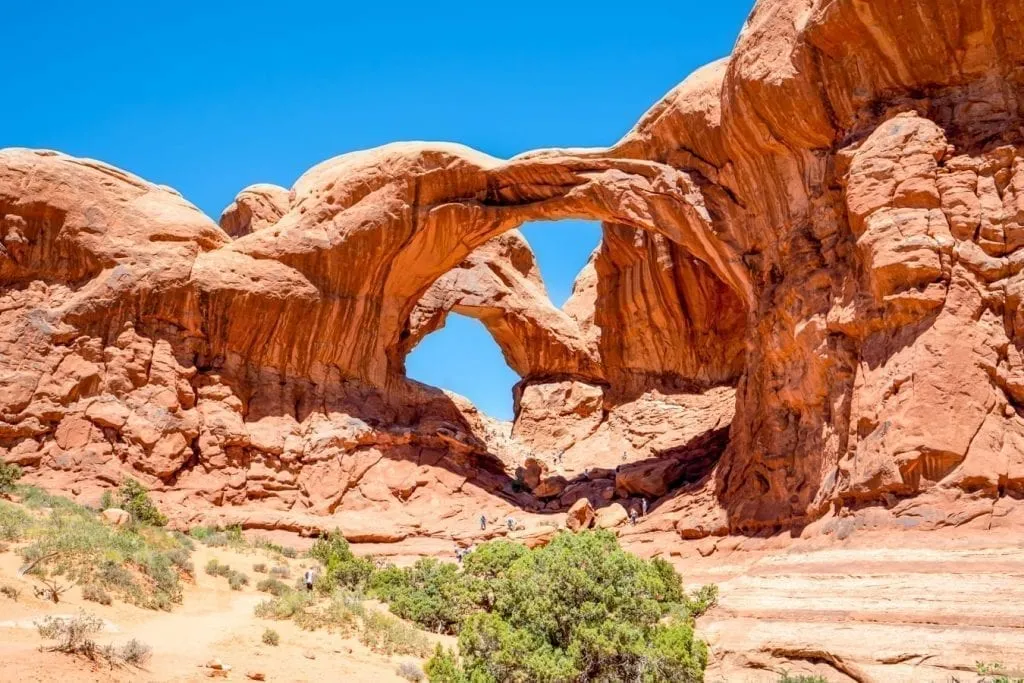 Day 3: Check out Canyonlands + watch the sunset at Dead Horse Point State Park.
Canyonlands National Park is enormous, and it is divided into three distinct sections: Island in the Sky, the Maze, and the Needles.
This Utah road trip itinerary includes a visit to Island in the Sky, both because it is the easiest section to access from Moab and because it is the district that is most accessible in general.
Be sure not to miss the iconic (and short) hike to Mesa Arch: it's popular at sunrise for a reason, but even if you're not willing to get up well before dawn, it's still worth visiting at any time of day.
You'll want to pack a picnic lunch for this part of your Utah road trip because after spending the bulk of the day on the Island in the Sky, we recommend stopping by Dead Horse Point State Park on your way back to Moab to enjoy the sunset from one of Utah's best sunset spots.
If you're on a strict budget, you may want to skip Dead Horse Point State Park as it's an additional $20 fee per car to enter–but the sunsets are magical enough that we have visited more than once.
Day 4: Drive to Capitol Reef National Park + stop at Goblin Valley State Park.
Today, it's time to leave behind popular Moab and head off to the least-visited of the Mighty Five national parks in Utah: Capitol Reef National Park. 
We recommend traveling along beautiful Highway 24–the scenic drive is worthy of being considered a tourist attraction itself!
Along the way, consider making a detour to Goblin Valley State Park.
This valley is populated by a unique set of hoodoos that look remarkably like goblins! 
A stop here doesn't necessarily need to be longer than a couple of hours to be worth the effort, but be sure to come prepared for lots of heat and sun exposure: the valley floor is mercilessly hot and exposed.
Once you finish checking out the goblins, head to Capitol Reef to finish your day with some absolutely stunning views.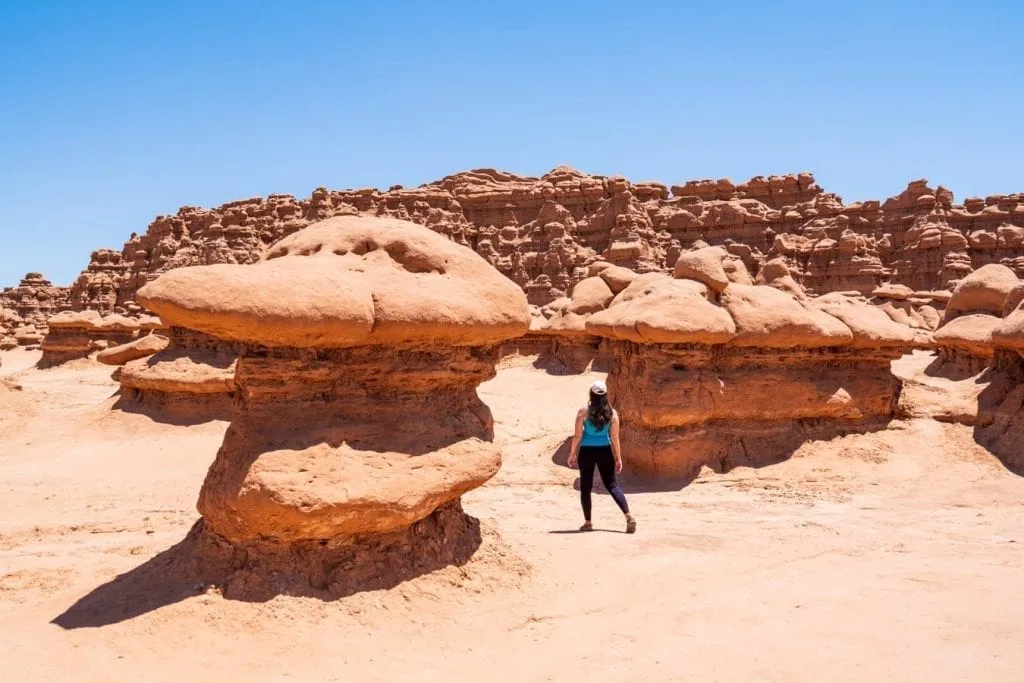 Where to Stay Near Capitol Reef National Park
Capitol Reef National Park is located in a very rural area, but there are a decent number of nearby hotels to consider, particularly in Torrey.
We personally went for a more unique stay when we visited and stayed in a covered wagon!
If you're looking for unique accommodation, Capitol Reef is a great place to look. Yurts, glamping tents, covered wagons, and beyond are fairly easy to come by!
Budget
Broken Spur Inn & Steakhouse — We stayed at the Broken Spur during our time at Capitol Reef National Park and loved the novelty of sleeping in a covered wagon!
For those looking for a well-located property close to the national park with a few more creature comforts, though, the inn does also have more typical rooms available in the main building.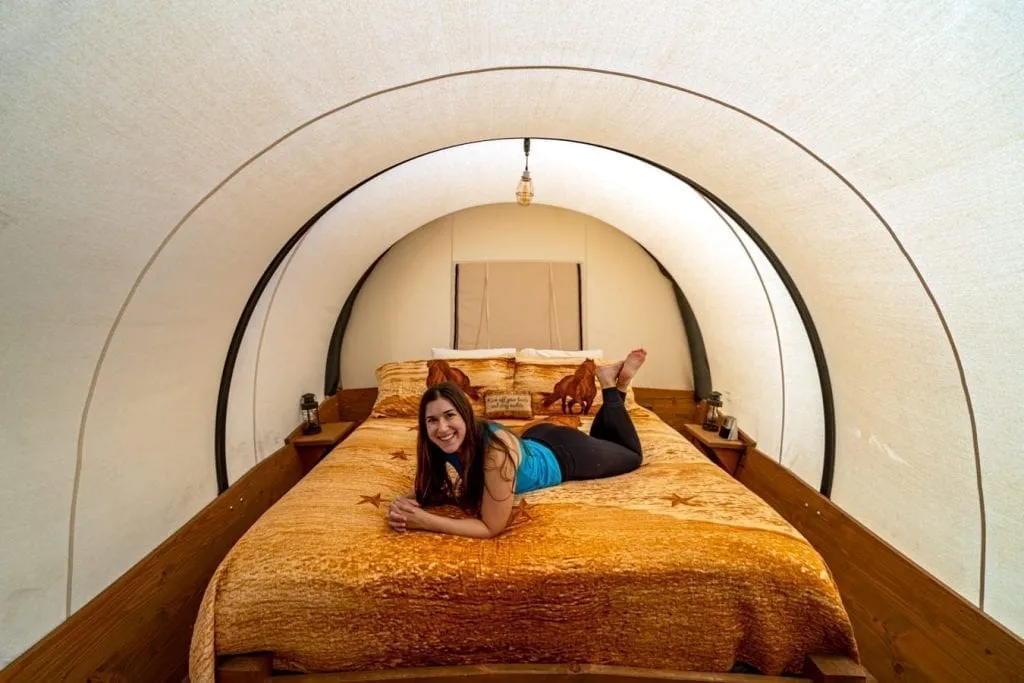 Mid-range
Austin's Chuckwagon Motel — With great reviews and plenty of southwestern curb appeal, Austin's Chuckwagon Motel is a convenient and reliable place to stay near Capitol Reef National Park–and the views from the property aren't bad, either!
Luxury
Capitol Reef Resort — Set on a beautiful property and boasting amenities like a luxurious pool with a view and a fitness center, Capitol Reef Resort is a choose-your-own-adventure style accommodation.
Whether you'd like to glamp in a tent, indulge in a memorable night's stay in a covered wagon, or simply stay in one of the resort's more traditional rooms, Capitol Reef Resort has an option for you!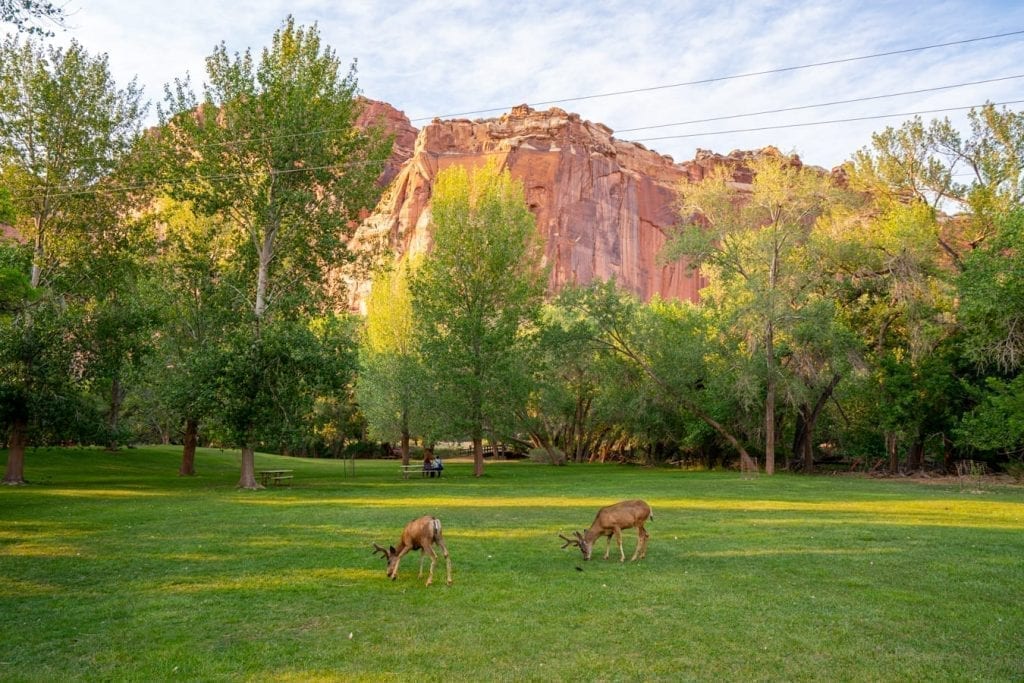 Day 5: Enjoy Capitol Reef National Park.
Many Utah road trips skip past or barely touch Capitol Reef National Park, partially because it's small and partially because it's a bit out of the way, but that's a mistake.
In our opinion, Capitol Reef is incredibly beautiful, and also has the benefit of being less crowded than parks like Arches and Zion!
The scenic drives through the park are stunning, and there are several cool hikes worth checking out, including the popular Hickman Bridge and the Cassidy Arch Trail, so named because it is said that Butch Cassidy once hid out there.
Be sure to also spend some time in the Fruita Historic District: this small village was built by 19th-century Mormon settlers, and the fruit trees there produce some truly remarkable things to eat.
Head to the Gifford House, now a small shop, where you can pick up homemade jams, pies, baked goods, and other desserts that are made from the fruit grown on-site.
The triple-berry pie is one of the best pies we've ever had in our lives, and it makes a delicious post-hike snack!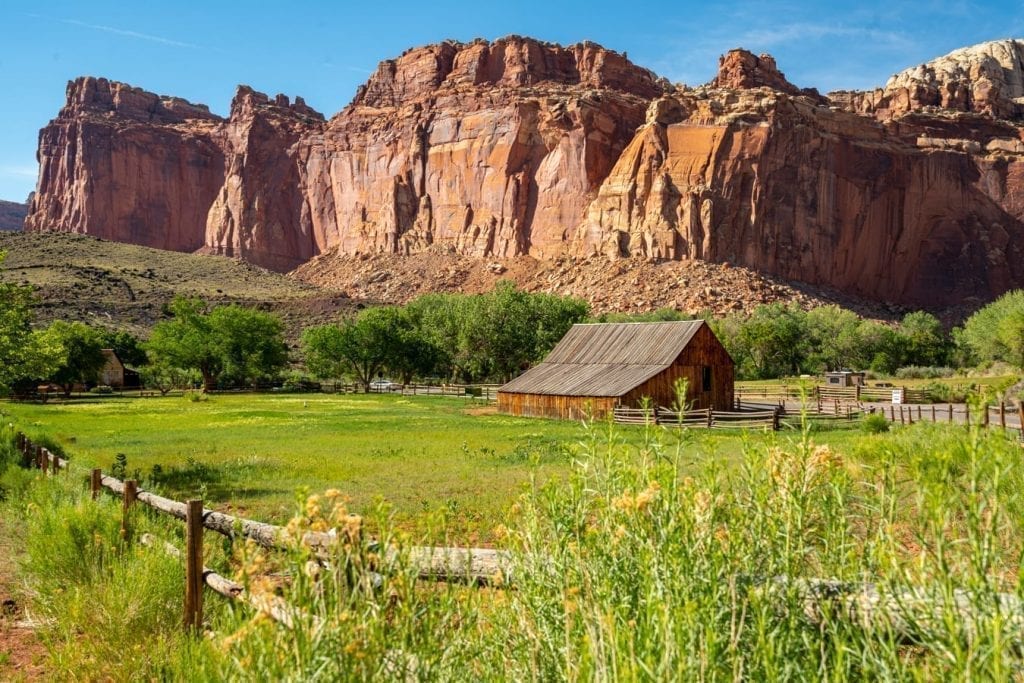 Day 6: Drive to Bryce Canyon National Park via Highway 12 + start exploring.
The scenic route from Capitol Reef National Park to Bryce Canyon National Park along Highway 12 will see you spending most of your driving time in Grand Staircase-Escalante National Monument.
In other words, the views are pretty incredible, and you may want to stop a few times along the way!
Once you reach Bryce Canyon, head directly into the park and start exploring: scenic viewpoints like Inspiration Point and Bryce Point are the perfect way to start exploring the park.
For sunset, head to the aptly-named Sunset Point to watch the hoodoos of Bryce Canyon shift color as the sun goes down.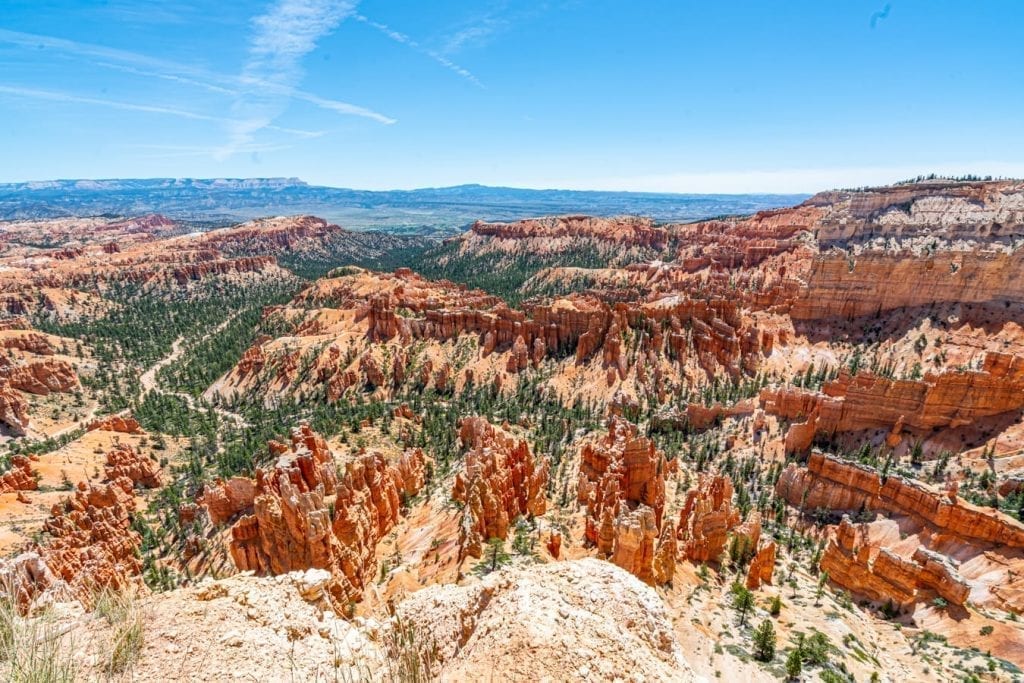 Where to Stay Near Bryce Canyon National Park
Bryce Canyon City is located right outside Bryce Canyon National Park and is the best place to stay when visiting.
Here are a couple of great places to consider!
Budget
Bryce Canyon Pines — For basic, comfortable accommodation with a wildly popular restaurant on-site, Bryce Canyon Pines is an excellent option!
We stayed here during our most recent trip to Bryce Canyon and found it to be exactly as advertised: basic but decent enough for a quick stay.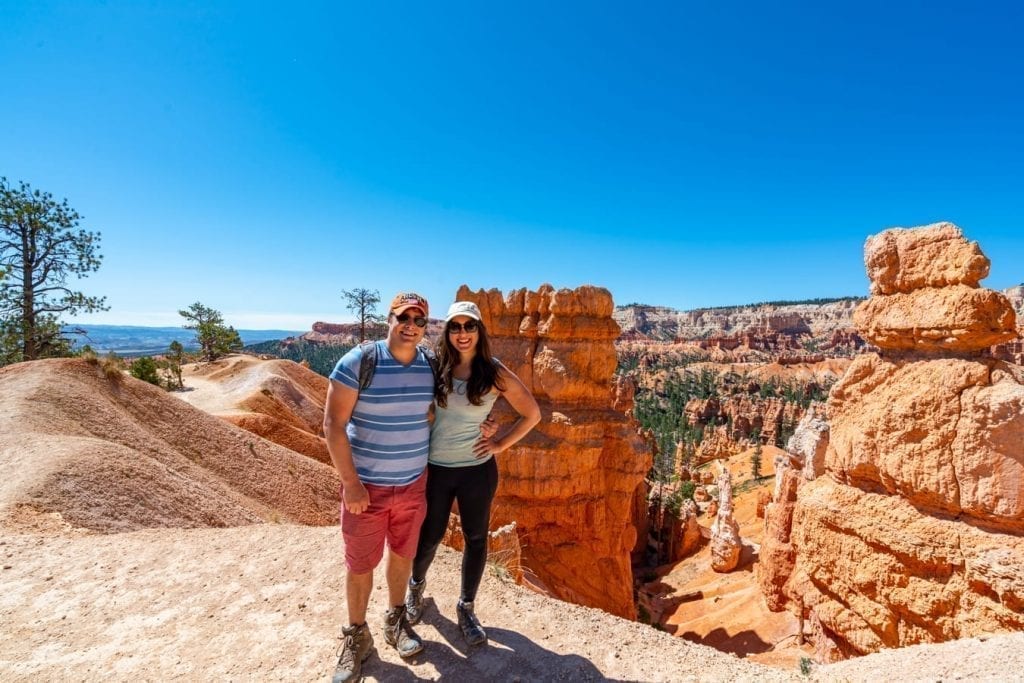 Mid-range/Luxury
Best Western Plus Bryce Grand Canyon Hotel — After staying in literally hundreds of hotels over the last several years, we still count this as one of our most memorable stays–in part because of the hotel's absolutely phenomenal breakfast, and in part because of the excellent location and customer service.
This is our #1 choice of where to stay near Bryce Canyon, and we will always check if it's available before booking anywhere else when we return to the park!
Day 7: Spend the morning at Bryce Canyon before driving to Zion National Park.
This morning, we recommend hiking a combination of Bryce Canyon's most popular trails: Navajo Loop to the Queen's Garden Trail (via Wall Street if it's open). 
If you get a prompt start, you can easily finish before lunch and be ready to head onto Zion, while still getting to see what are arguably the best views in Bryce Canyon first!
Once you reach Zion, if you have the energy for a second hike, consider knocking a short one off of your wish list–but be sure to leave enough energy for tomorrow, when you'll tackle one of the most unique hikes in Utah!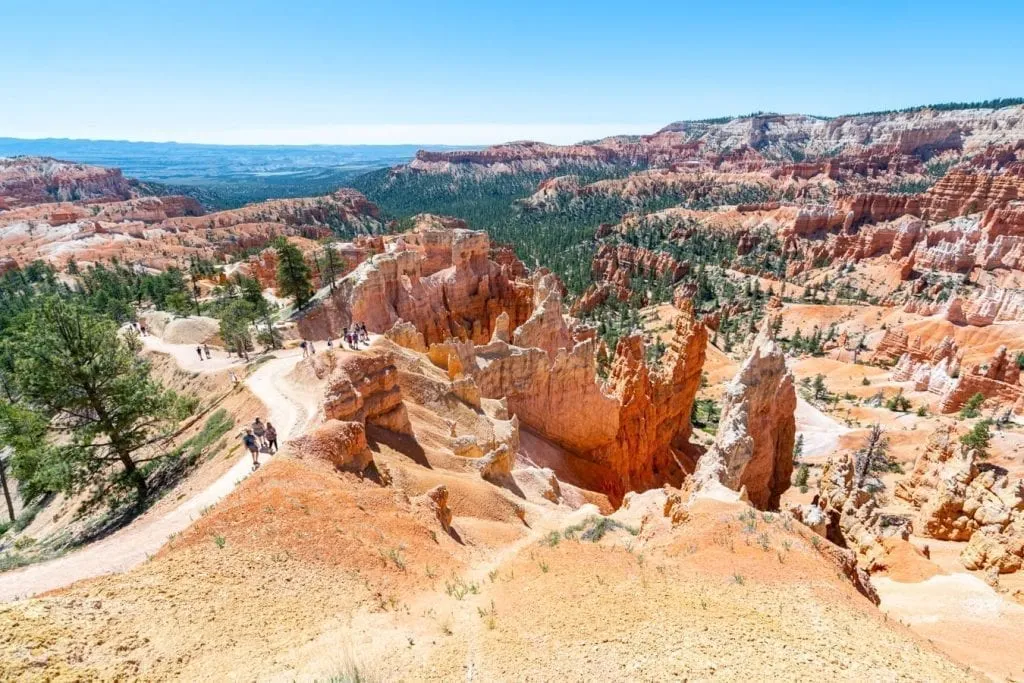 Where to Stay Near Zion National Park
Springdale is the closest town to Zion National Park and the ideal place to stay when visiting–however, like Moab, it is popular and therefore pricey.
If you're on a strict budget, you can also consider looking a bit further out in towns like La Verkin.
However, be prepared for a 30+ minute drive into the park each morning if you stay further out!
Budget
La Quinta Springdale — Located just a few miles from Zion National Park, La Quinta Springdale has comfortable rooms, great reviews, and a beautiful pool to cool off in to go along with its prime location.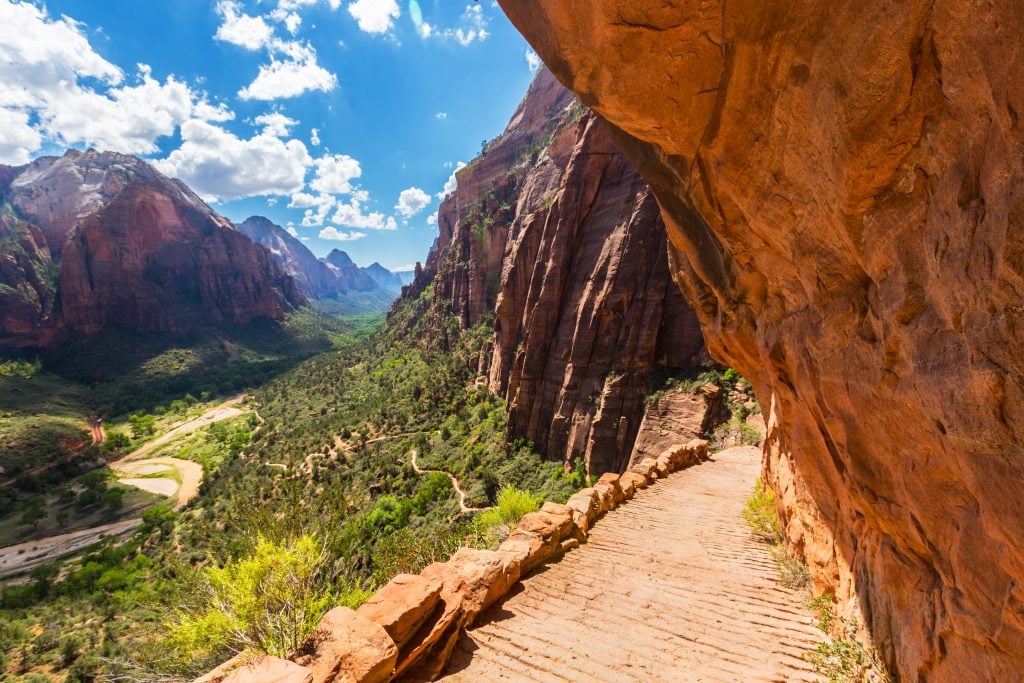 Mid-range
Best Western Plus Zion Canyon Inn & Suites — With fantastic reviews, great amenities, and a prime location in the heart of Springdale, this hotel is a reliable and comfortable option for visiting Zion National Park!
Luxury
Holiday Inn Express Springdale — With beautiful lodge-style architecture and phenomenal reviews, Holiday Inn Express Springdale is located less than 2 miles from Zion National Park and is the perfect place to cool off after a long day of hiking.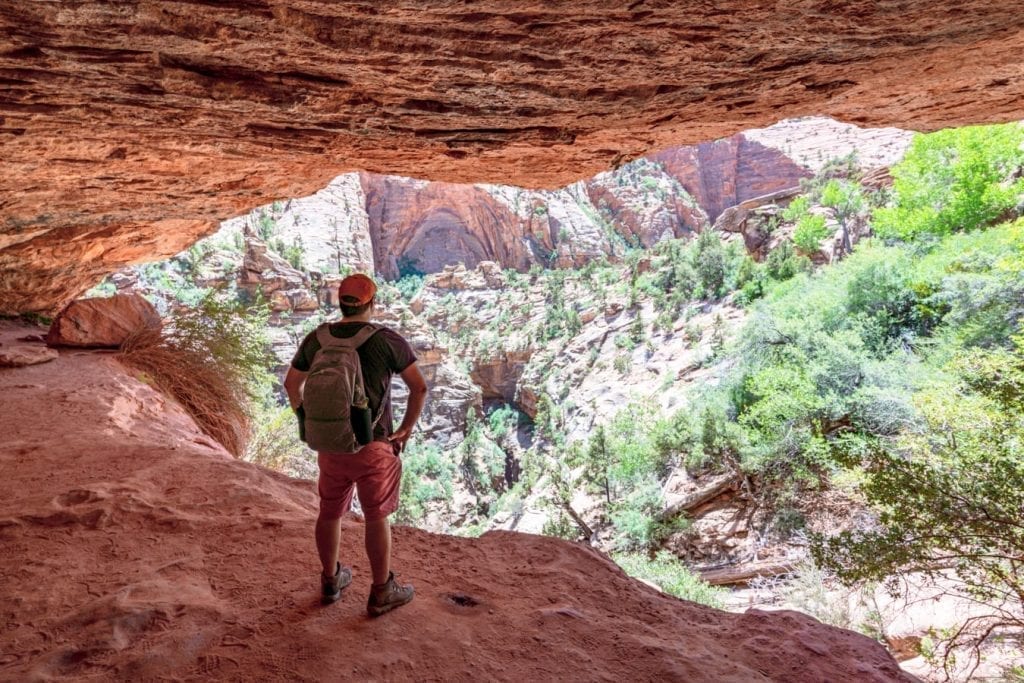 Day 8: Go hiking in Zion National Park.
On your full day in Zion National Park, we recommend tackling one of Zion's two most famous and incredible hikes: Angel's Landing (which requires a permit as of April 2022) or the Narrows.
Angels Landing is a bit terrifying for people like me who are scared of heights, but ends in a positively stunning view of Zion Canyon, and it ranks among the best hikes in the USA for a reason!
The Narrows, in contrast to the soaring heights of Angel's Landing, involves hiking directly in the Virgin River as you descend deeper and deeper into the canyon.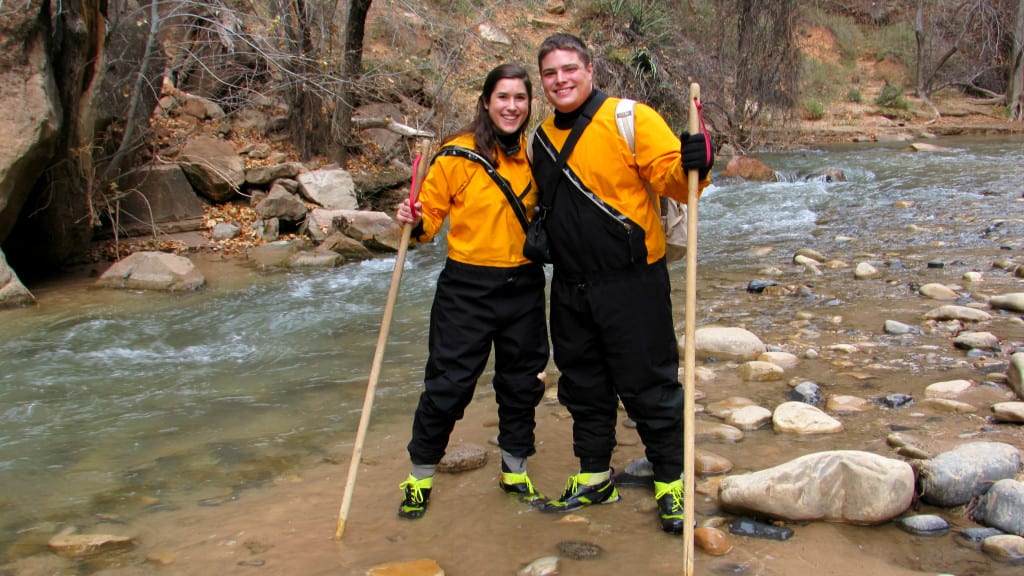 Both are utterly unforgettable, and while you can technically attempt both in the same day, that's really only suitable for very athletic and determined hikers.
Other hikes to consider include the West Rim Trail (if you're up for a big challenge), or if you're lucky enough to nab a permit, the Subway.
Unfortunately, a few popular hikes in Zion, including Observation Point and the Weeping Rock Trail, are closed for the foreseeable future due to large rock falls.
Check here for updates before visiting.
Also, keep in mind that from March to October, you can't drive your private vehicle onto Zion's Scenic Drive–you'll need to catch the shuttle instead!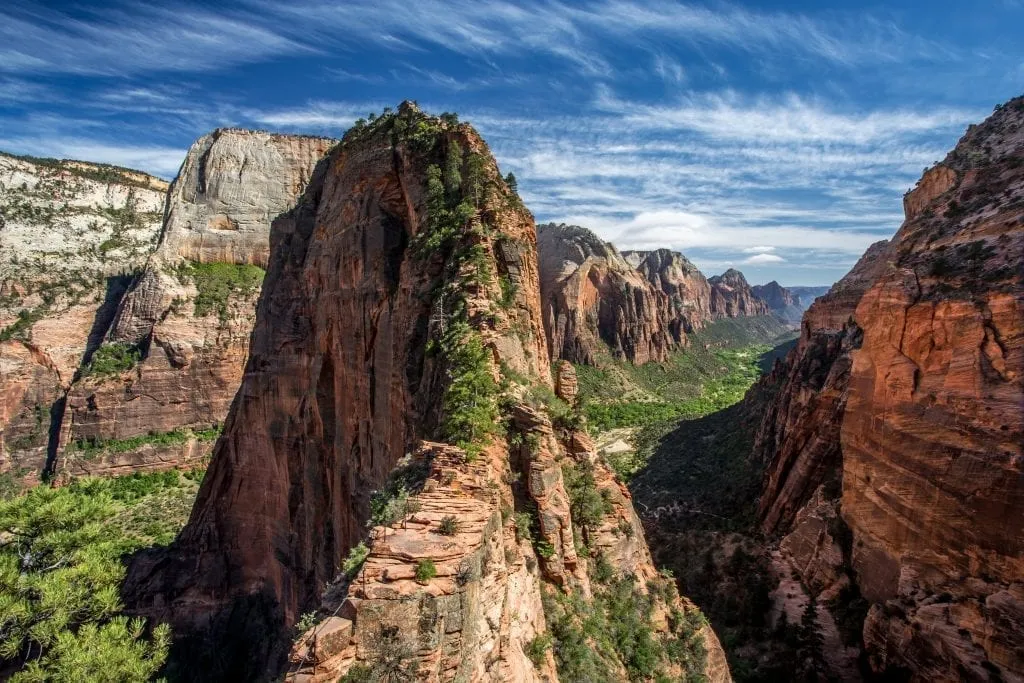 Day 9: Say goodbye to Utah's Mighty Five + head home (or to wherever is next).
On the final day of your Utah national parks road trip, say goodbye to Zion National Park and head home–or to wherever is next!
If you have time for one more quick hike before leaving Zion, we highly recommend the Canyon Overlook Trail for something fast and easy with a great pay-off at the end (and unlike most hikes in Zion, you can drive your own vehicle to the trailhead year-round).
Getting to Utah's Mighty Five (Where to Fly Into + Out Of)
As fantastic and rewarding as a Utah Mighty Five road trip is, this road trip does take a bit of effort to actually start, as there are no major airports in the direct vicinity of Moab.
That being said, it is slightly more convenient to get to/from Zion National Park at the end of the trip.
Of course, there's no rule stating you need to follow this Utah national parks road trip itinerary exactly–depending on your flight schedule and what airport you choose, you may prefer to reverse this trip (though personally, I am partial to starting in Moab if you can).
Assuming you're flying into the region for your trip, there are several cities that would work as a starting point–here are some that we recommend checking flight prices and times for.
Depending on exactly when you're visiting and what your priorities are, the best (and most affordable) airport will vary, but that being said, Las Vegas is a very popular option.
In addition to those listed here, if you plan to extend your Utah road trip into a larger Utah and Arizona road trip and/or southwest road trip, you may want to check prices for Albuquerque and Phoenix as well.
St. George
For sheer convenience alone, St. George is arguably the best airport to fly into for this Utah national parks itinerary.
St George is about an hour from Zion National Park, and a little under 5 hours from Moab.
Las Vegas
Las Vegas is often the cheapest and most convenient option when flying into the US southwest.
Flights are plentiful and typically affordable from a wide variety of initial destinations, and Las Vegas is about 6.5 hours from Moab and less than 3 hours from Zion National Park.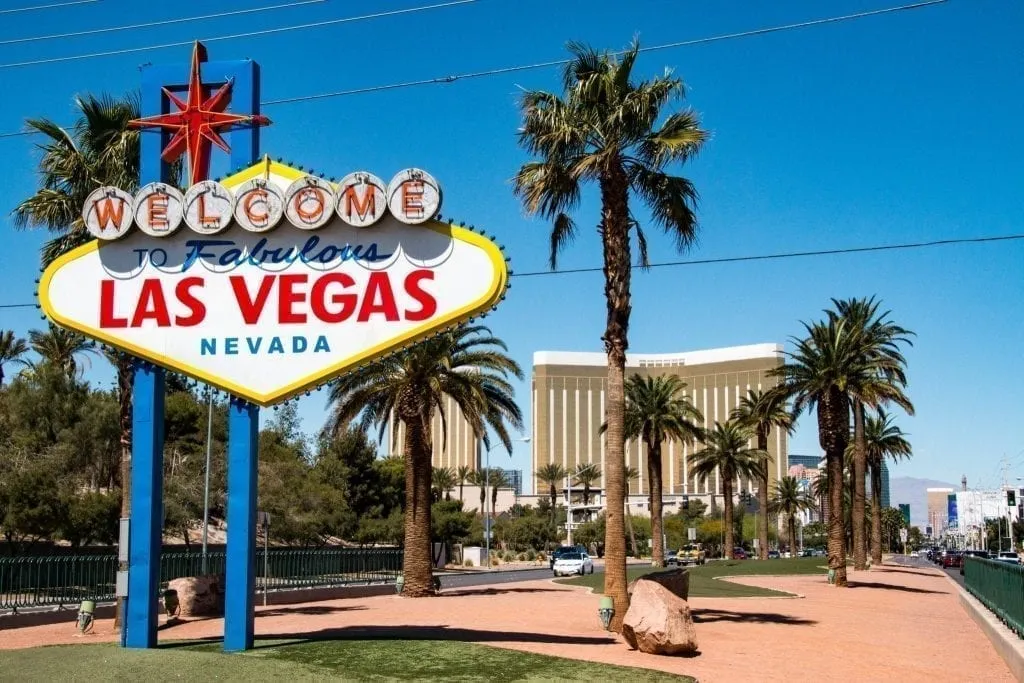 Salt Lake City
Utah's capital city makes a solid starting point and is located under 4 hours from Moab and under 5 hours from Zion National Park.
If you want to extend your itinerary to include northern Utah, SLC is the clear choice for you!
Flagstaff
At more than 5 hours from Moab and 4 hours from Zion National Park, Flagstaff isn't the most convenient airport for this Utah road trip–but it is ideal if you'd like to add a stop at the Grand Canyon to your trip!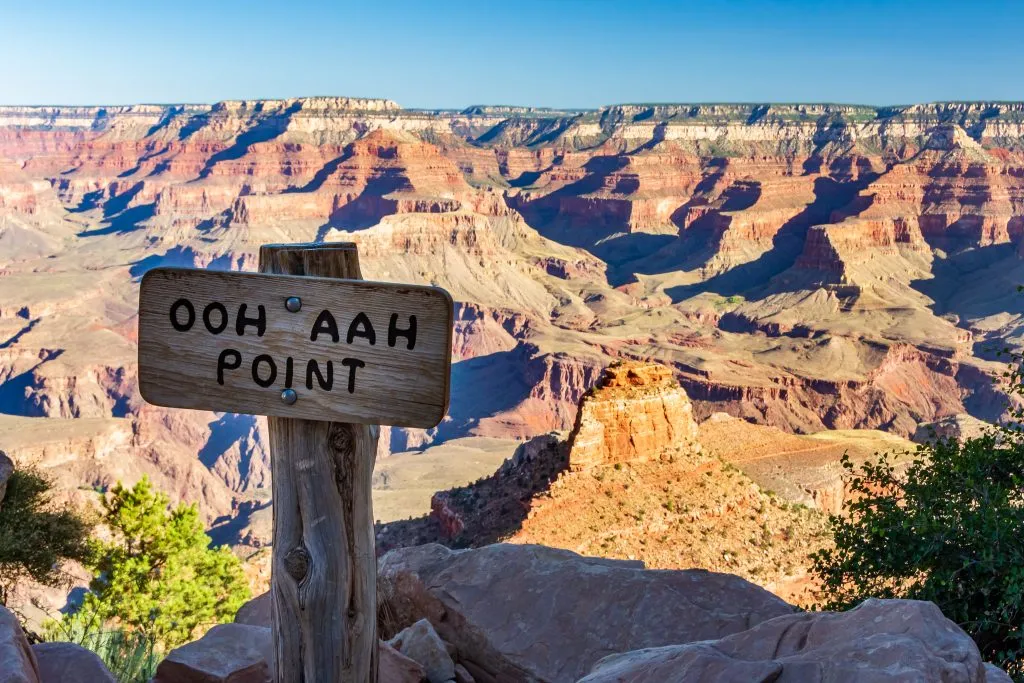 Other Places to Add to Your Utah National Parks Road Trip
Have more time to spend on your road trip in the southwest?
The first thing we would recommend is adding additional time to your favorite national parks–Zion and Arches, in particular, could each use more time, especially for enthusiastic hikers.
Adventurous travelers with access to 4-wheel drive may want to visit other sections of Canyonlands and Capitol Reef, as well.
In addition to extending your time, though, here are a few other places to consider adding to your Utah road trip itinerary!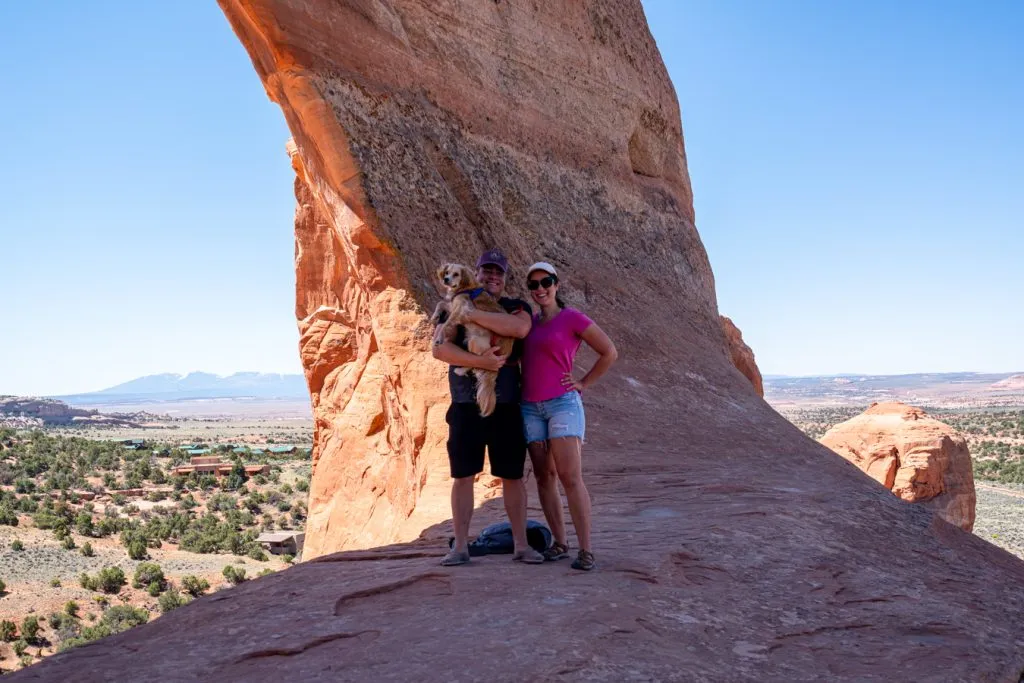 Within Utah
Grand Staircase-Escalante National Monument
This Utah national parks road trip already takes you right through Grand Staircase-Escalante–you'll drive through it on Highway 12 between Capitol Reef and Bryce–but it's well worth spending some time in if you have a chance to spend longer in Utah!
There is plenty of diverse hiking in Grand Staircase-Escalante, but these days it's known for its incredible slot canyons. 
Some of the most popular include Zebra Canyon, Peekaboo Canyon, and Spooky Canyon, where we took this photo: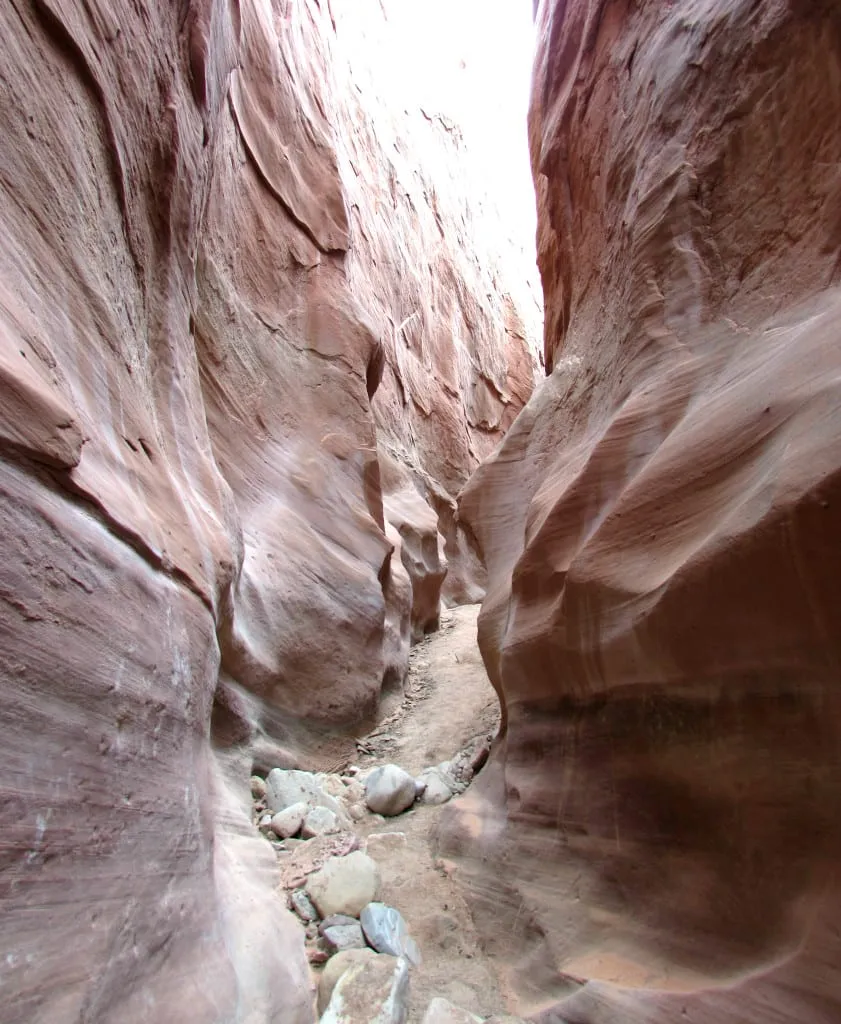 Coral Sand Dunes State Park
Want to see some rolling sand dunes without leaving Utah?
At Coral Sand Dunes State Park, you can–and depending on the light that day, the dunes can indeed look a bit pink.
There are also several other fun things to do in Kanab that are worth checking out after your visit!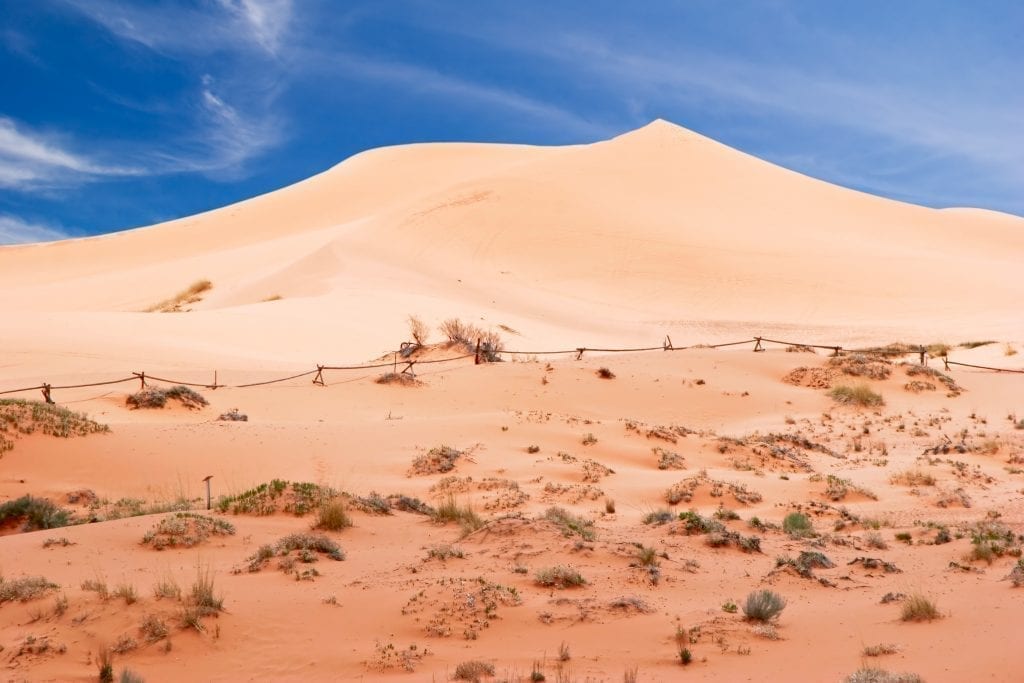 Monument Valley Tribal Park
Situated in Navajo Nation right along the Utah/Arizona border, Monument Valley is known for its soaring rock formations and its status as a popular place to film movies–including, perhaps most famously, Forrest Gump!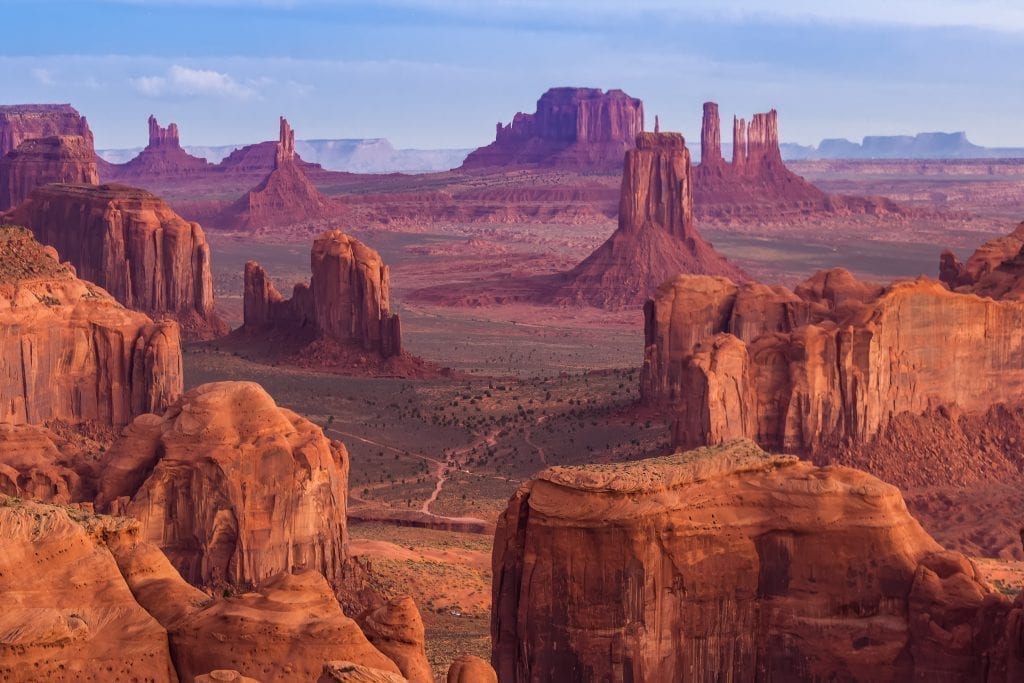 Natural Bridges National Monument
Home to 3 stunning natural bridges, those who fell in love with Arches National Park will also enjoy Natural Bridges National Monument!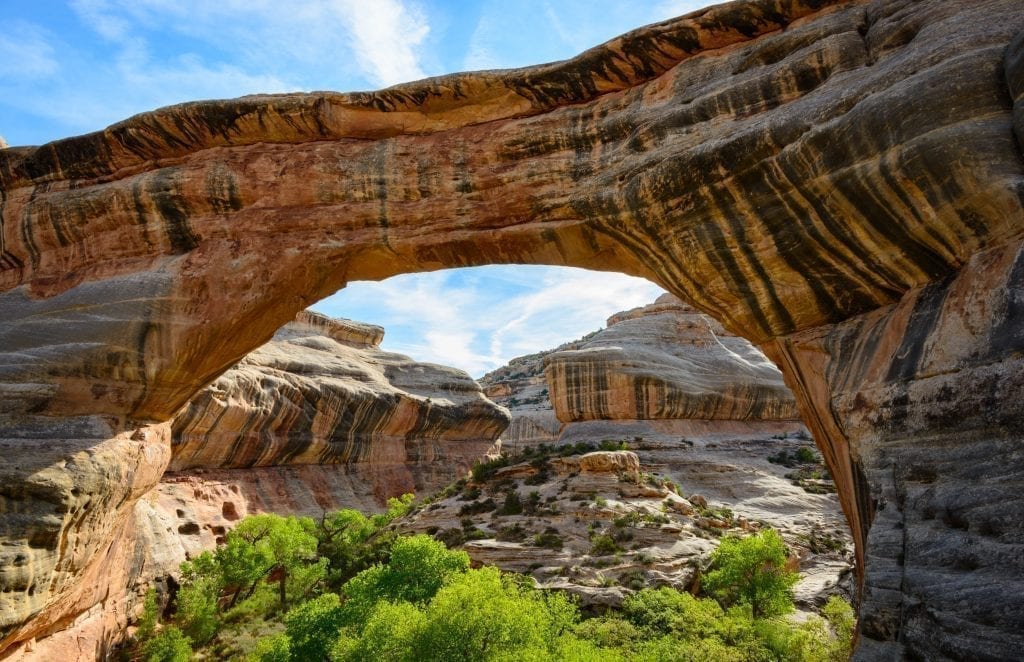 Beyond Utah
The Wave
Located just over the border in Arizona, the Wave is not easy to access–its permit system limits access to just 20 people/day.
If you manage to nab one of the elusive Wave permits, though, it's worth rearranging your road trip itinerary to make it happen!
Valley of Fire State Park
If you fly into or out of Las Vegas, Nevada's beautiful Valley of Fire State Park makes for an excellent stop along the way–even half a day is long enough to see some of the coolest spots in this park.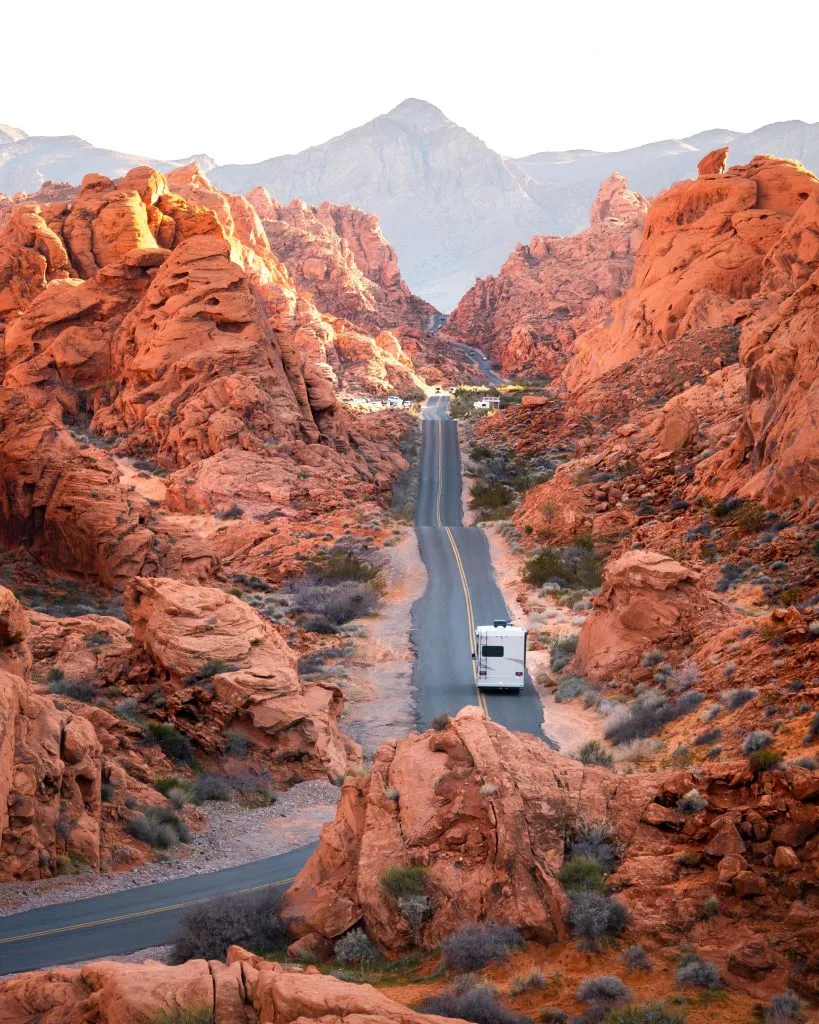 Horseshoe Bend + Antelope Canyon
Hop over the Utah/Arizona border, and you'll immediately find Page, the small, unassuming town that is home to two of Arizona's most popular attractions: Horseshoe Bend and Antelope Canyon.
While Horseshoe Bend can be accessed spontaneously (it's $10 per vehicle to park and visit), visiting Antelope Canyon requires some advance planning and a tour guide. 
The canyon is located on Navajo land, and you can check the availability of tours here, on the Navajo Nation's national parks website.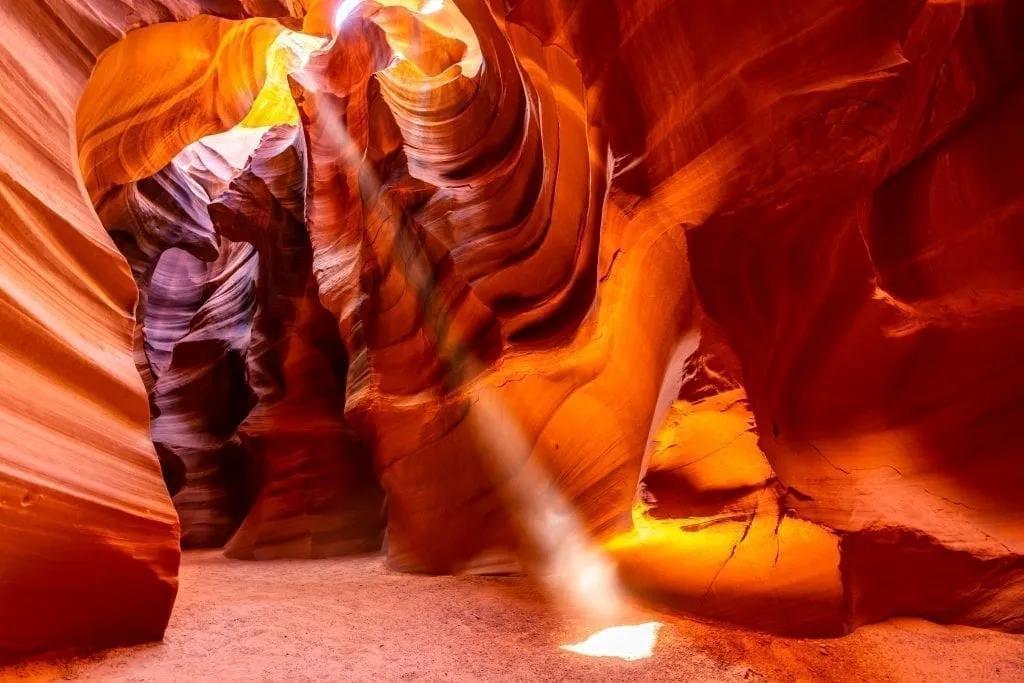 Grand Canyon
Of course, no discussion of places to visit near Utah's Mighty Five could skip over the Grand Canyon in northern Arizona, which is one of the most famous national parks on the planet!
Just be aware of the distance involved: the Grand Canyon may look close on the map, but in order to reach the popular South Rim from Utah, you'll need to drive around most of the canyon!
Essential Tips for a Utah Mighty Five Road Trip
Check to see if you need a reservation.
Starting in April 2022, Arches National Park is piloting a reservation system to enter the park between 6:00 AM and 5:00 PM.
This applies daily between April 3 and October 3, so be sure to book your dates as soon as you can!
Other national parks have also been introducing reservation systems for hikes and even access in the last couple of years (such as Angel's Landing in Zion or the timed access requirements for Rocky Mountain National Park), so it's best to double-check to see what the latest requirements are as you plan your Utah road trip.
Grab an America the Beautiful Pass before getting started.
The America the Beautiful Pass is the USA's annual national parks pass and is priced at $80/year for most travelers (there are discounts available for seniors and military personnel).
The $80/year covers daily use fees for all lands that the National Park Service controls.
And, considering that each of Utah's Mighty Five costs between $20-35/car to enter, you'll absolutely save money on this trip alone by having one!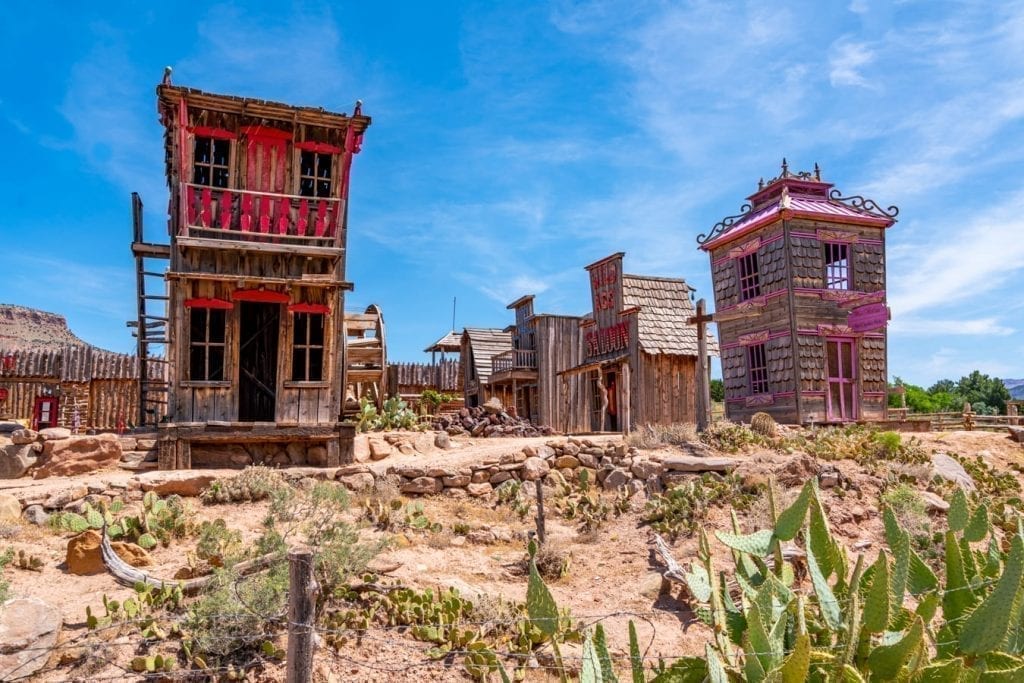 Book your accommodation early!
If you're traveling during high season, and especially on the weekends, it's imperative to book your hotel stays ASAP.
Hotels do fill up, especially in places like Bryce Canyon where there are relatively few choices, and you don't want to be stuck with a less-than-ideal place to stay or an extra-long drive to your park of choice!
We book all our lodging for Utah road trips on Booking.com.
Be prepared for a few dirt roads. 
You don't need a 4-wheel drive vehicle for this Utah national parks road trip (though it would help you reach a few more spots, including Cathedral Valley in Capitol Reef), but you very well might end up down a dirt road or two!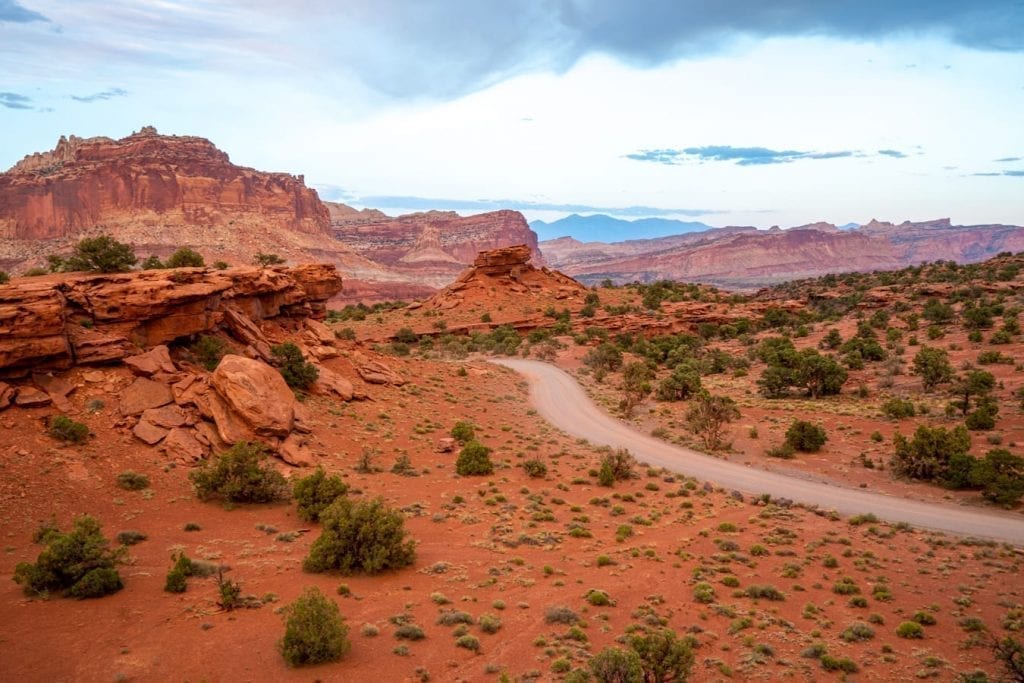 Check on permits if you have your heart set on exclusive hikes.
Some hikes you could potentially complete during your southern Utah road trip do require permits, including the Subway in Zion National Park, the Fiery Furnace in Arches National Park, and the Wave (technically in northern Arizona, but very close to the border).
If you have your heart set on anything in particular, be sure to do a bit of research on how to make it happen before you go.
You'll probably want to do laundry along the way.
This isn't difficult–most towns along this route, including Moab, have laundromats available, but to make life easier, you may want to bring quarters along with you instead of needing to track down cash during your trip!
Watch the weather carefully during your Utah national parks road trip.
The brutal heat of the desert summer, the snowstorms of the winter, and the potential flash floods throughout the year all mean that watching the weather during your Utah road trip is imperative.
Be sure to bring plenty of season-specific supplies when hiking in Utah, and as always, make sure to put safety first during this Utah national parks trip.
Southern Utah Road Trip Itinerary Map
Take This Map With You! Click each highlight to pull up the name of the destination. To save this map to "Your Places" on Google Maps, click the star to the right of the title. You'll then be able to find it under the Maps tab of your Google Maps account! To open the map in a new window, click the button on the top right of the map.
What to Pack for a Utah Road Trip
America the Beautiful Pass — I mentioned this above, but it bears repeating: a national park pass is a must on a Utah national parks road trip!
If you don't have one before leaving, each of the Mighty Five does sell the in-person.
Travel Insurance (For You) — We don't ever suggest traveling without travel insurance–anything can happen, and an epic road trip is definitely a case of better safe than sorry. Check travel insurance policy inclusions and prices for your trip here.
Sunscreen — Keep your skin safe from sun exposure both in and out of the car by adding sunscreen to your road trip packing list!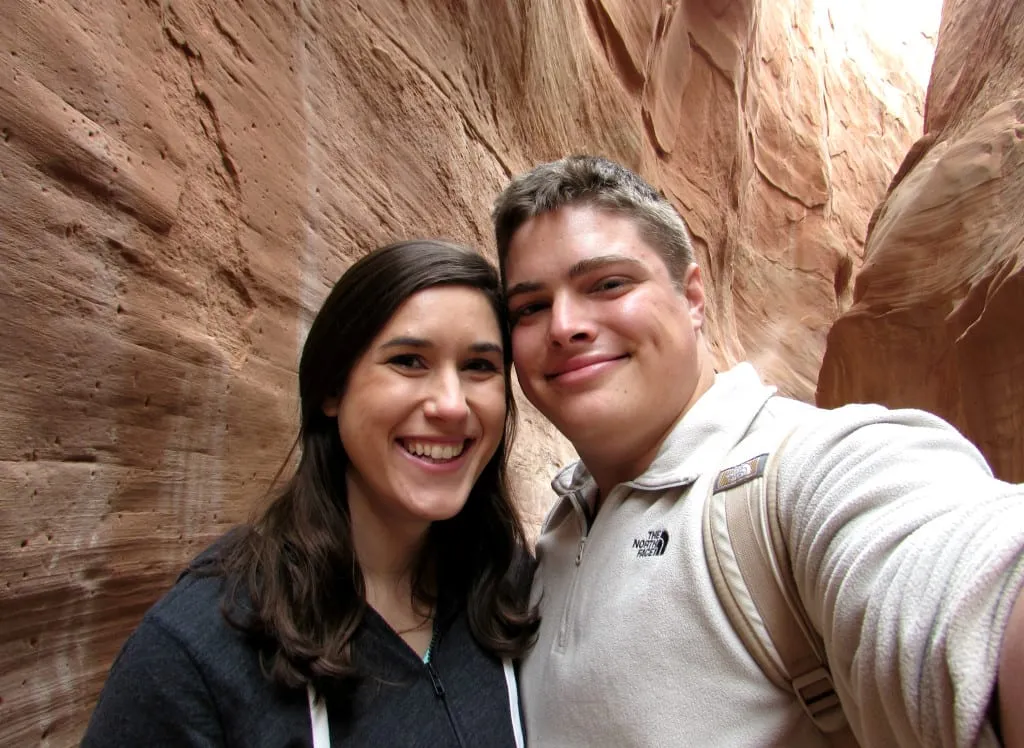 Proof of Insurance (For the Car) — If you're driving a rental car, this may or may not be covered by either your rental company, your credit card, or your travel insurance–but you'll definitely want to know exactly what the expectations are before leaving!
Rental Contract (If Applicable) — If you're renting a car for your road trip, be sure to keep your rental contract handy–we generally keep ours in the glove compartment.
Roadside Emergency Kit — If you're taking your own car on your road trip, hopefully you already have one of these packed and ready to go–but if not, now is the time to buy one!
Basic roadside emergency kits are extremely useful, very affordable, and a great way to stay safe on the road.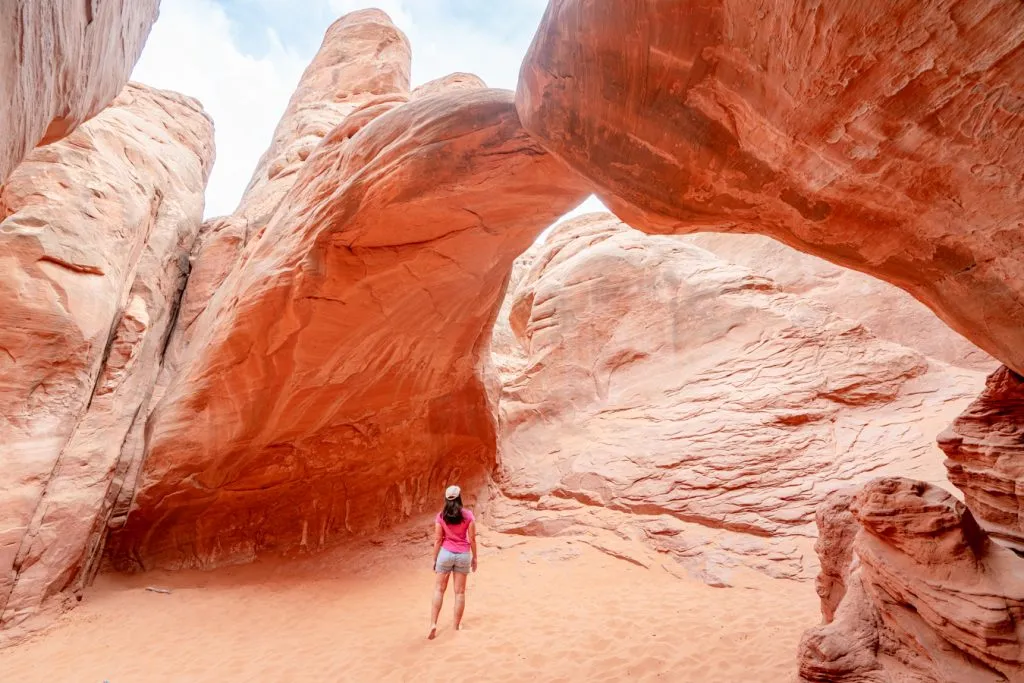 Windshield Shade — During the hot summer months, you'll no doubt come back from a sweltering hike during your Utah road trip to find your car practically boiling.
Windshield shades aren't practical for flying with, but if you're driving your own vehicle to visit Utah's Mighty Five, you'll be glad you picked one up before setting off!
Downloaded Maps — You will undoubtedly lose cell signal at some point during this Utah national parks road trip, so make sure to download your essential maps before heading off!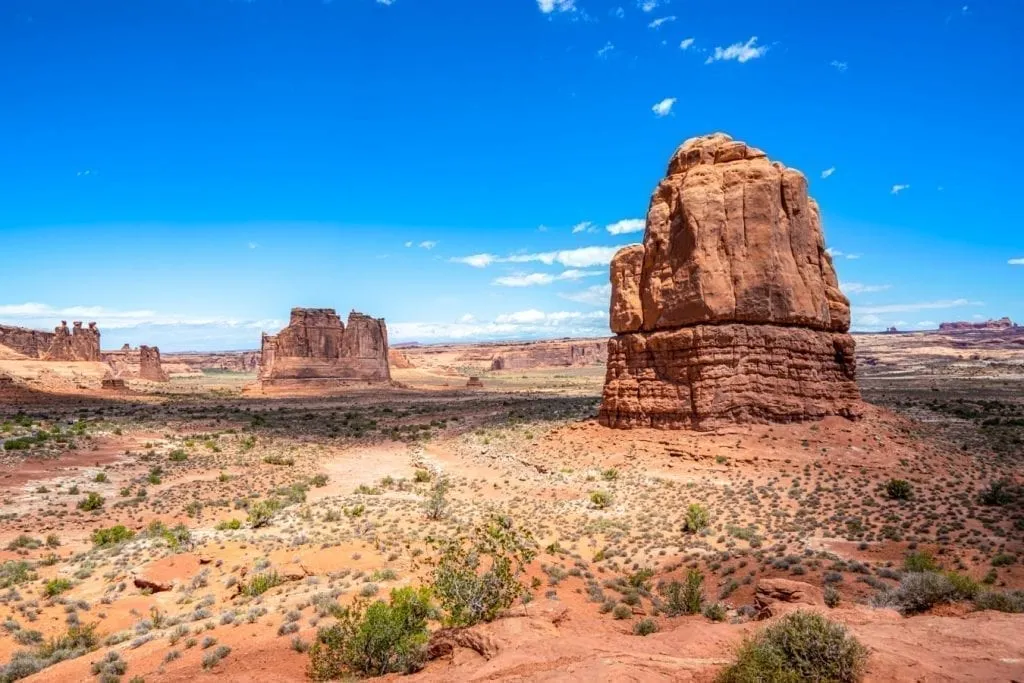 Hand Sanitizer
— Sanitary hands are extremely important on a road trip, especially if you're eating in your car or on the trail, but you may not always have access to hot water and soap–make sure to add some hand sanitizer to your road trip packing list!
Reusable Water Bottle(s) — Cut down on plastic waste, save money, and make sure you don't have to stop for water constantly: a reusable water bottle has lots of benefits on a road trip.
We personally love and use these, and love both the look and the functional design!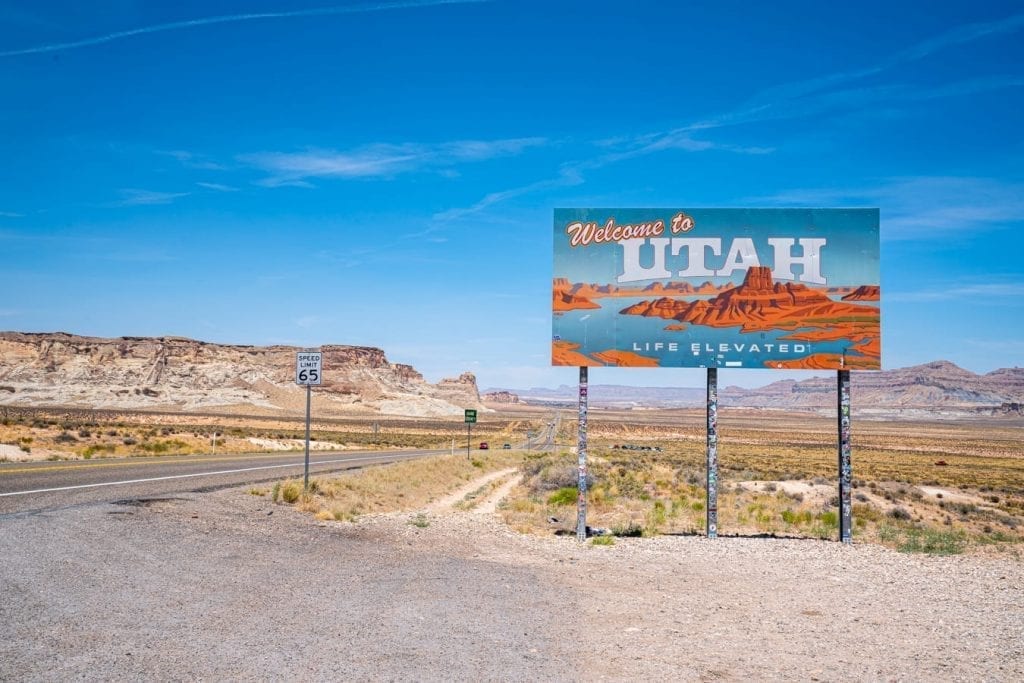 Portable USB Charger
— Limit stress about your phone dying during your long days on the road: add a portable USB charger to your Utah road trip packing list and you'll be good to go.
Extra USB Cables and/or Phone Charging Cables — Whether it's to charge your phone, your camera, or even your portable USB charger, odds are that you'll be glad to have a few extra cables lying around.
Hands-Free Phone Mount — This is especially important if you don't have a reliable co-pilot: the last thing you want to do is be fumbling with the GPS on your phone during your road trip.
Pack a cell phone holder to attach to the car and you'll be able to drive much more safely!