One of our favorite things about eating in Italy is just how diverse and region-specific the food is–and nowhere is that more apparent than when exploring the food in Sicily.
In the last couple of millennia, Sicily has been ruled over everyone from the Greeks to the Arabs to the Byzantines to the Normans, and each one of them left their mark on traditional Sicilian cuisine.
As a result, food in Sicily is varied and surprising, and often distinctly different than what those of us hailing from outside of Italy typically think of as Italian food.
Planning a trip to the region soon and wondering what to eat in Sicily? This Sicily food guide will help!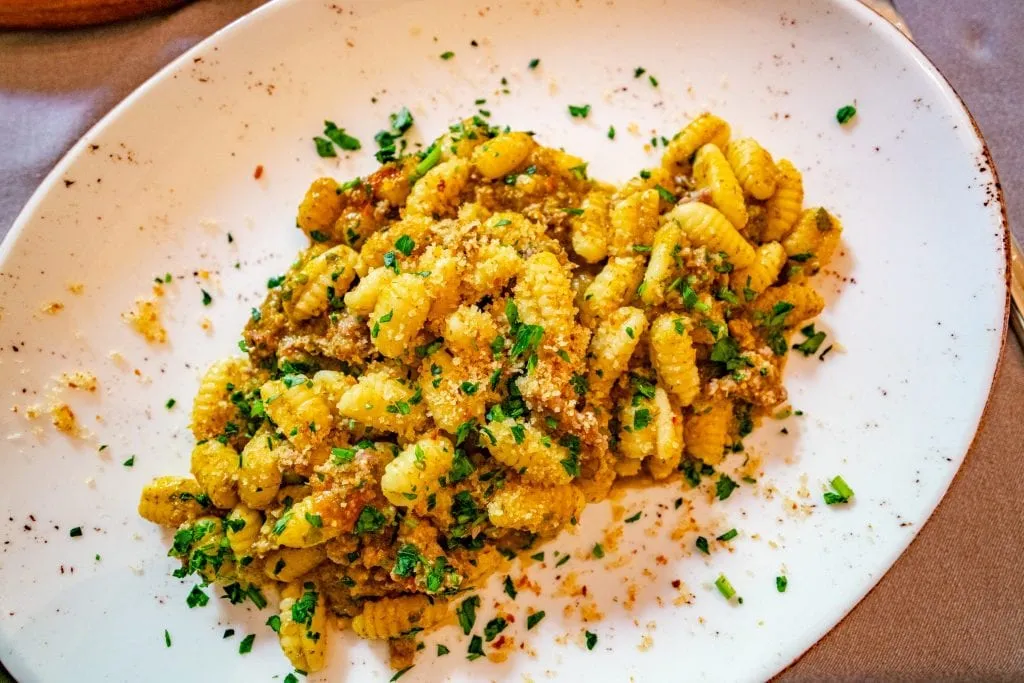 Some links in this post may be affiliate links. If you make a purchase through one of these links, we may earn a small commission at no extra cost to you. Please see our

disclosure policy

for more detail.
How to Try Many of These Sicily Foods at Once
Want to sample several of the best foods in Sicily in one fell swoop, or simply want to be able to try small bites of each so you don't accidentally order something you don't like?
Consider taking a Sicily food tour!
We absolutely adored this food + history combo tour in Palermo and thought it was a fantastic way to orient ourselves to both the city and to Sicilian cuisine.
Not headed to Palermo? This food tour in Taormina, this tour in Syracuse, and this Sicilian street food tour in Catania all get excellent reviews as well.
We love taking food tours as we travel, and try to take them early in our stays in new cities when we can–that way, we walk away with plenty of new favorites to try in local restaurants for the rest of our trip, which tends to lead to far more varied orders and adventurous eating along the way!
Book your Sicily food tour today!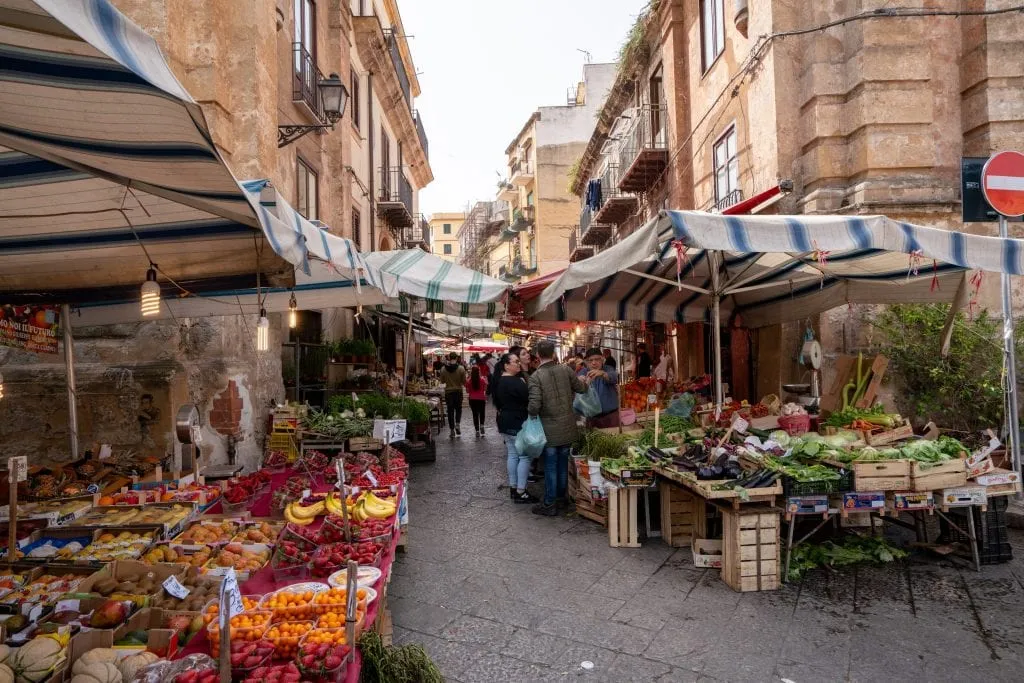 Traditional Sicilian Foods To Try
Don't leave the island without trying at least a few of these traditional foods in Sicily!
Arancini
Arancini are rice balls, stuffed with a filling (often meat), coated in breadcrumbs, and then deep-fried–it's not hard to see why they're one of the most popular Sicilian street foods!
They also vary in shape depending on what part of Sicily you're in: in the east, you're likely to find them in the shape of a cone, and in Palermo, they're more likely to be round.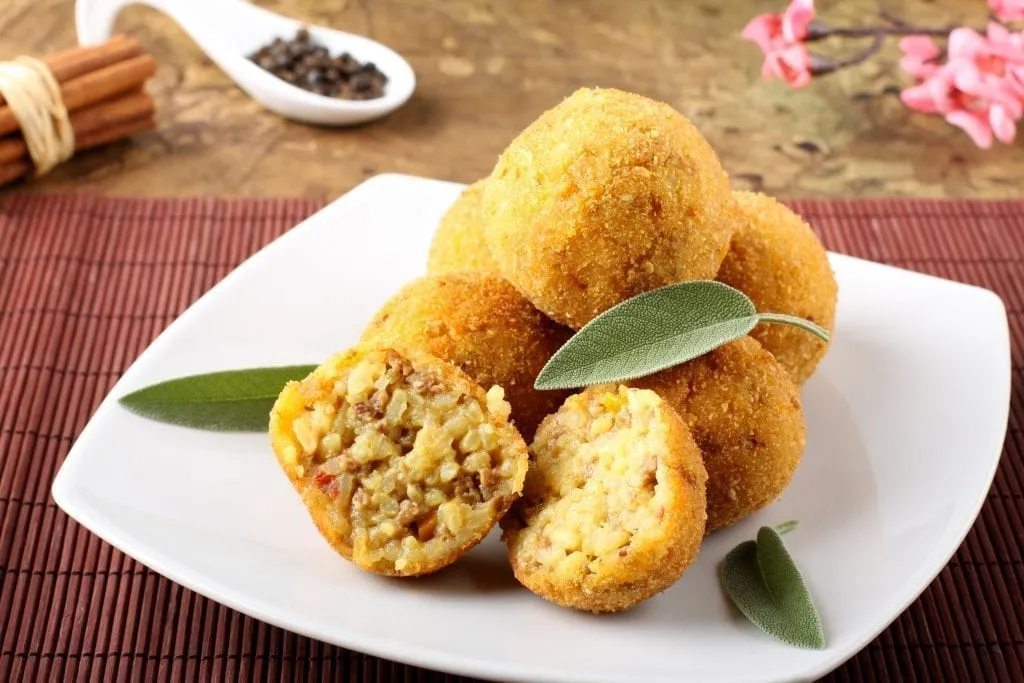 Caponata
Fried and chopped eggplant, capers, olive oil, and assorted other vegetables (the exact recipe can vary, especially by region) make up this side dish in Sicily.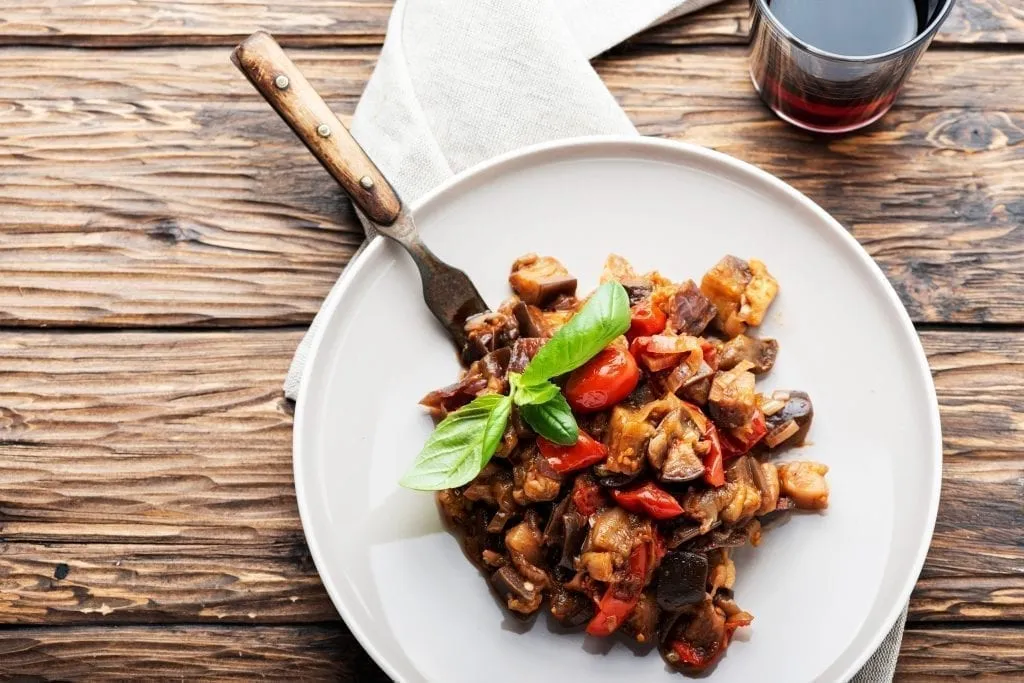 Pane Con La Milza
Pane con la milza is a feature of Sicilian cuisine best left to adventurous eaters, but it is well worth trying if you'd like to thoroughly explore the food in Sicily: fried spleen is stuffed in a soft bun topped with sesame seeds, and then served as a sandwich.
Pasta alla Norma
Sicilians love both eggplant and macaroni–and the popular Sicily food pasta alla norma combines both, along with tomatoes, basil, and ricotta.
Cartocciata
Originally from Catania, you can think of cartocciana as a mini-calzone of sorts, traditionally stuffed with mozzarella and tomatoes, though other varieties are now served.
Pasta Con Le Sarde
As an island, it's no surprise that food in Sicily often features plenty of seafood–and pasta con le sarde is one of the most popular versions.
This pasta dish is topped with anchovies and sardines and is incredibly flavorful.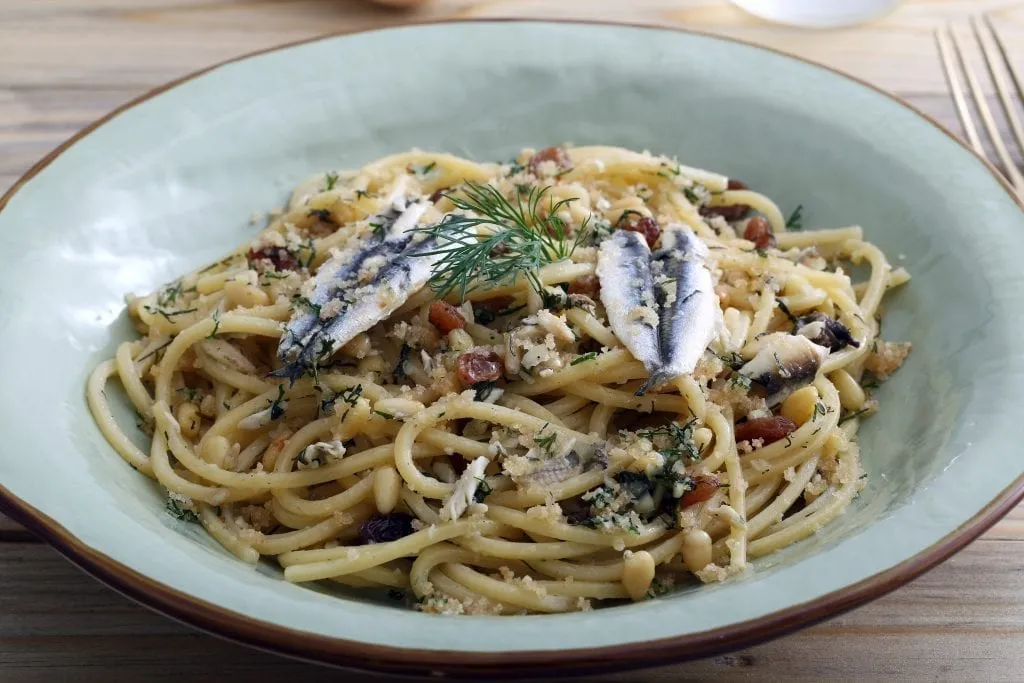 Panelle
Made primarily from chickpea flour, these fried treats are a popular Sicilian street food, especially in Palermo, and are often served stuffed in a bread roll like a sandwich (personally, I love them by themselves–no extra bread required).
Sfincione
Sfincione, put simply, is Sicilian pizza–but it doesn't look anything like the pizza you can find up in Naples.
Sfincione has a very thick, bready crust, and is traditionally topped with onion, tomatoes, and the tiniest dash of cheese–much less than most of us non-Sicilians are used to seeing on pizza.
Sfincione is another popular Sicilian street food, and a must-try when exploring food in Sicily.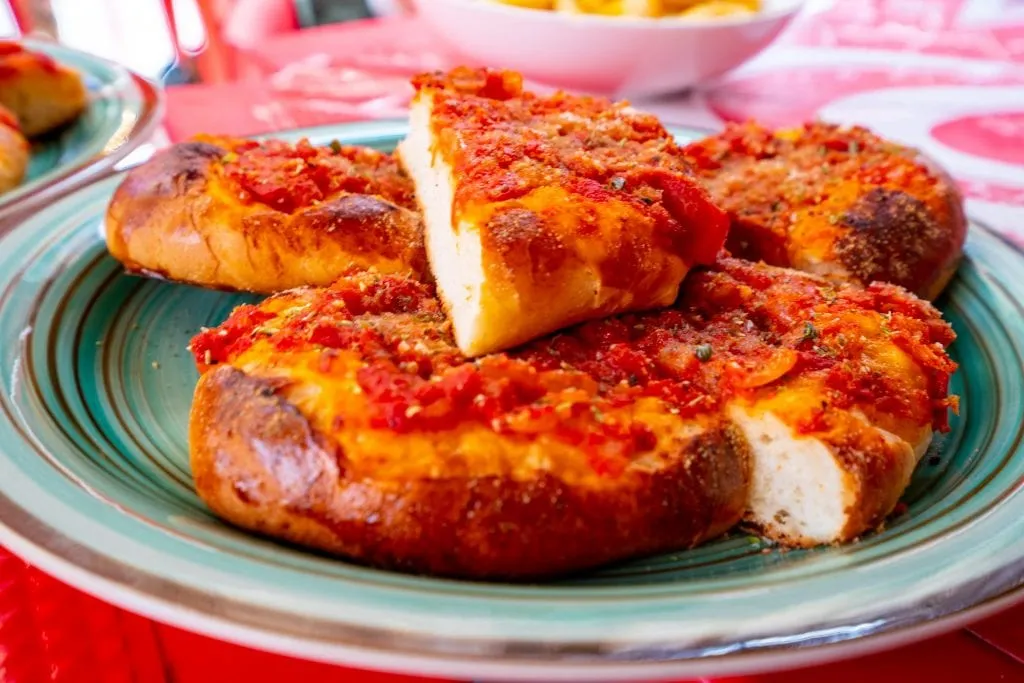 Insalata Siciliana
This popular salad is made with a base of one of Sicily's most popular ingredients–oranges.
While insalata siciliana may contain a variety of additional ingredients, including olives, onions, or fennel, in order to be authentic insalata siciliana the base of the salad must be oranges–not simply lettuce topped with oranges!
Crocché
Similar to French croquettes (notice the similarity in the words?), these deep-fried snacks made from mashed potato and egg are an incredibly popular street food in Sicily.
Oranges
Sicilian cuisine is heavy on oranges, from eating them fresh to using them as ingredients.
Several varieties of oranges grow in Sicily, but the blood orange is often considered the most "Sicilian" of them.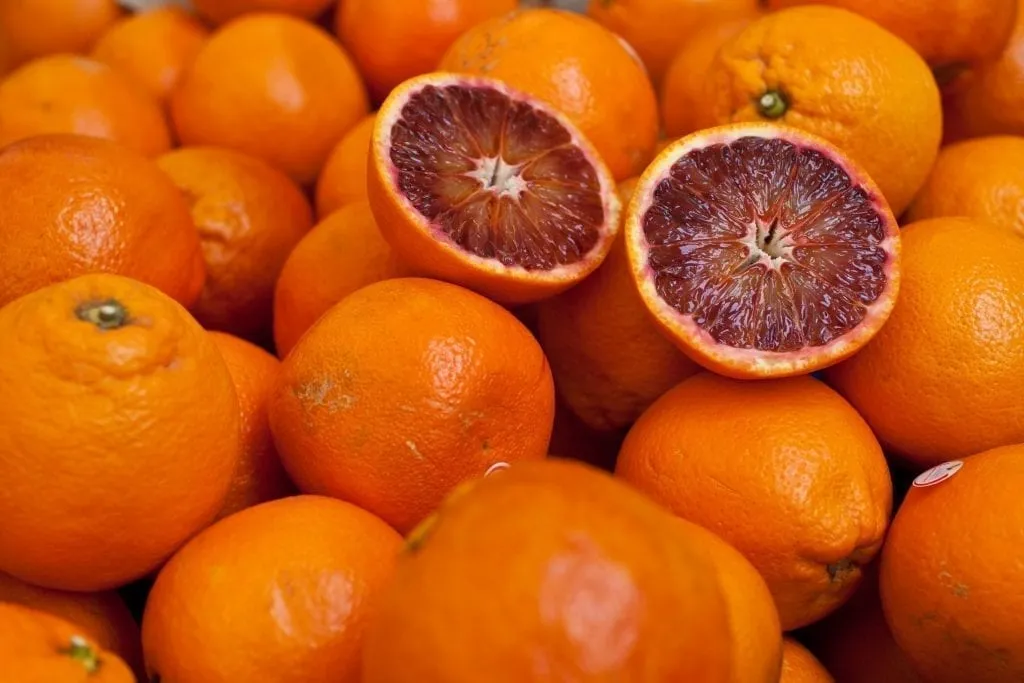 Busiate alla Trapanese
This Sicilian food is made from a combination of long, macaroni-like noodles (busiate) and a Sicilian pesto made from tomatoes, almonds, and basil.
Sweet Things to Eat in Sicily
There is no shortage of delicious Sicilian desserts to try–here are some of the most popular (including one that is sometimes served for breakfast).
Granita
Imagine the best slushie you've ever had in your life. Now make it 10x better, with incredible flavors and a fantastic texture. That's a Sicilian granita.
This semi-frozen dessert is very popular, though the texture and flavors can vary regionally on the island.
Cannoli
Perhaps the most famous of all the dishes in this Sicily food guide, cannoli are made from tube-shaped shells of fried pastry that are stuffed with a sweet filling (typically ricotta).
No trip to Sicily is complete without sampling at least a couple cannoli–the combination of great flavors, a crunchy exterior, and a smooth filling is nearly irresistible.
Cioccolato di Modica
The small Sicilian town of Modica has a big reputation, all thanks to its chocolate.
Cioccolato di Modica continues to be made in the traditional way–that is, by grinding the cacao by hand and by processing it cold.
As a result, cioccolato di Modica is grainy, with a slightly different texture than most chocolate that we eat today, but it is quite tasty.
Cassata
This traditional Sicilian food is one of the best-known desserts on the island and is made from sponge cake soaked through with liqueur or fruit juice, layered with candied fruit and/or ricotta. The cake is then coated in marzipan and topped with yet more candied fruit.
Cassata is one of the richest desserts I've ever eaten in my life–I recommend ordering less than you'll think you'll want, as your eyes will quite possibly be larger than your stomach!
Fruta Martorana
These are traditional marzipan sweets, served in the shape of fruits (or sometimes vegetables).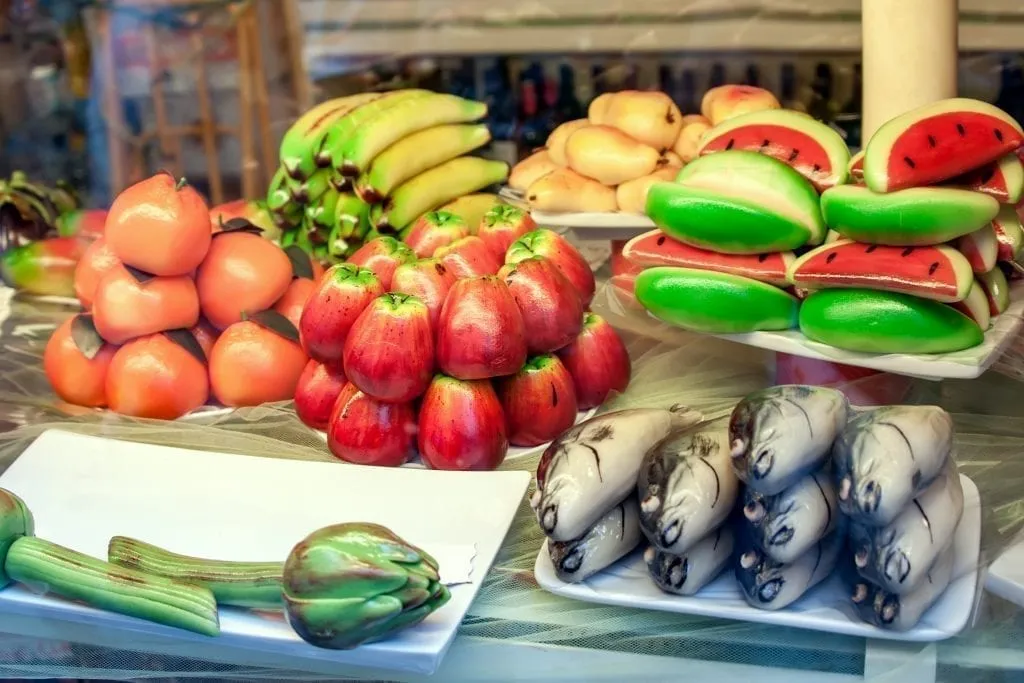 Brioche Con Gelato
How do you improve on Italian gelato?
Stick a huge glob of it into a tasty brioche bun, make an ice cream sandwich, and call it breakfast (no, seriously, that's completely socially acceptable).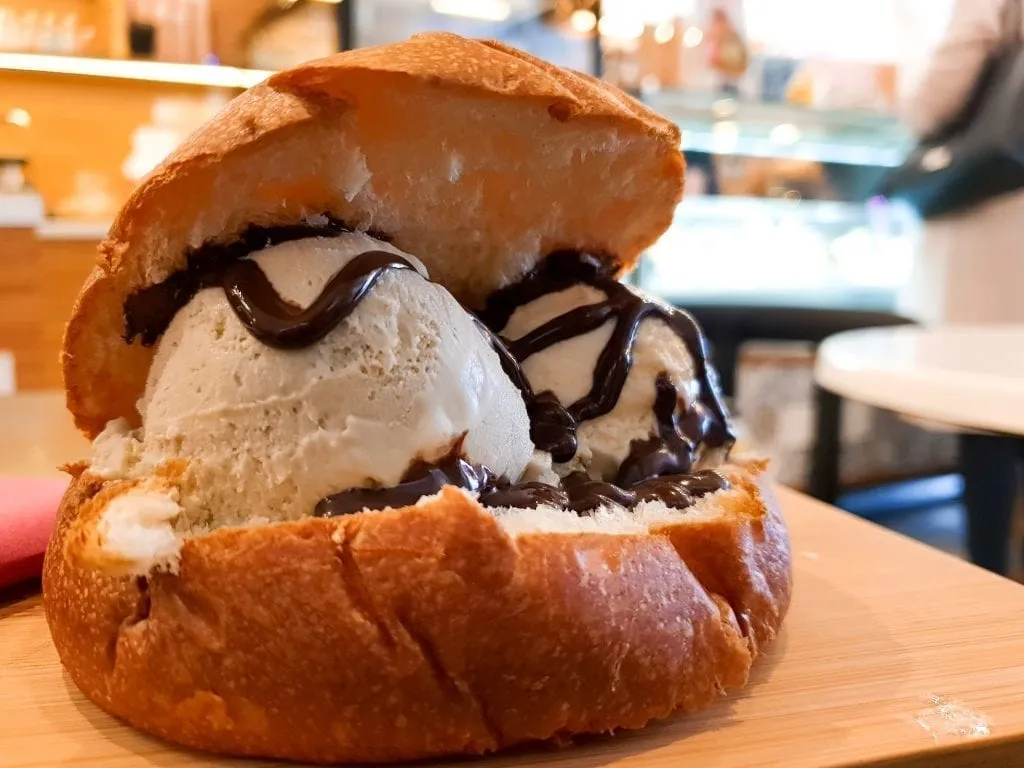 Biscotti Regina
Originally from Palermo, these small cookies are coated in sesame seeds and walk the line between sweet and salty.
What to Drink in Sicily
Fresh Orange Juice
As I mentioned above, Sicily is known for its many oranges–and what better way to enjoy them than with a fresh-squeezed glass of juice?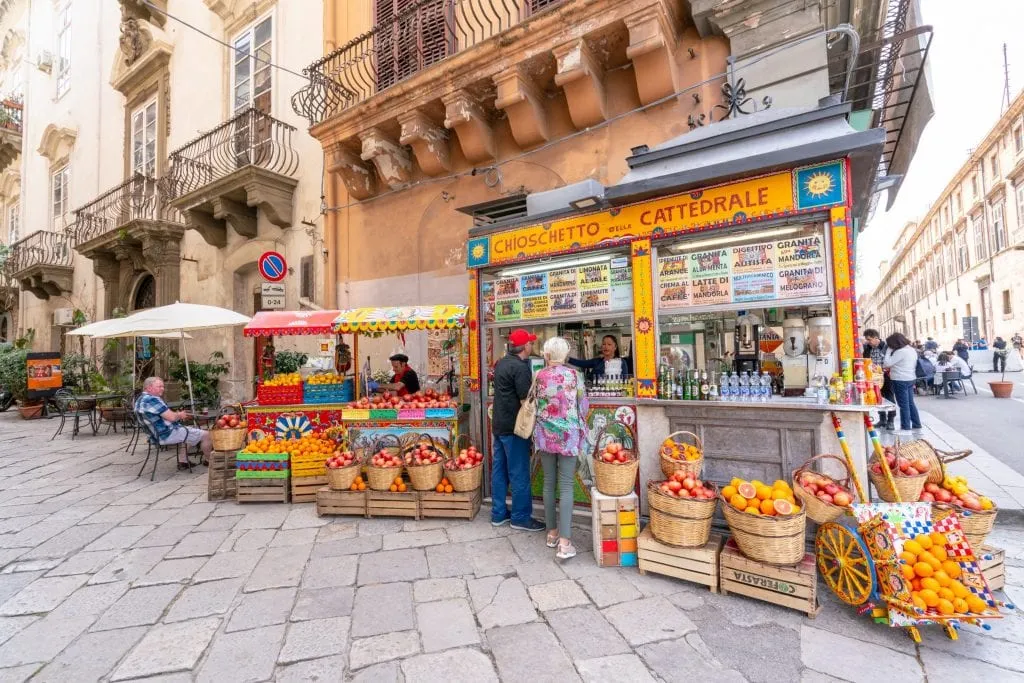 Sicilian Wine
Sicily has a thriving wine industry, from the popular Nero d'Avola down to lesser-known grapes grown on outlying islands.
When exploring food in Sicily, be sure to wash it down with some Sicilian wine!