August 31, 2019
Visiting Peaceful Piran, Slovenia: Fun Things to Do + Travel Guide
Slovenia
Beautiful Piran captured our hearts from the beginning.
This tiny town is set on the tip of the peninsula that makes up Slovenia's modest but lovely coastline, and it's the perfect place to relax. We spent a couple of days here asking ourselves the really hard questions in life, like "Should we eat gelato and then go swimming, or go swimming and then eat gelato?"
Prices are a little steeper than in Slovenia's inland but still less expensive than neighboring Italy–we spent 60 Euros/night for our private room/shared bathroom setup in a hostel (the price did include breakfast), and the going price for a scoop of gelato was a mere 1.20 Euros.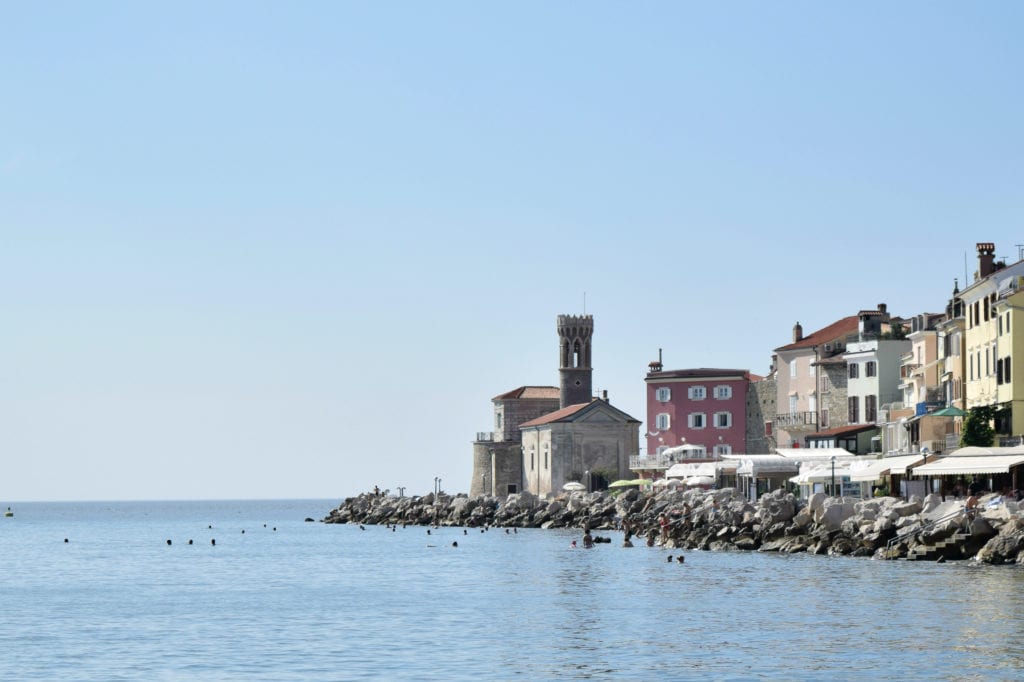 Piran is smaller and less "touristy" than Portoroz, which is a more popular place to stay and has a resort-like feel to it. We loved how quiet Piran was–the place wasn't a ghost town, but there weren't any crowds, either. We didn't have to fight for a view or a place to walk, whether on the rocky coastline, the town walls, or along the beautiful marina.
There are not a ton of world-class things to "do" in Piran–this isn't the type of place that you'll want to run around, guidebook in hand, trying to catch all the sites. Travel to Piran to slow down and soak up the sunshine, with a couple of historic sites thrown in.
There are day trips to Piran offered from Ljubljana, which would be sufficient if you're just looking for a quick in-and-out to catch a few views. We wanted to relax there, though, and were very happy to spend two full days doing so.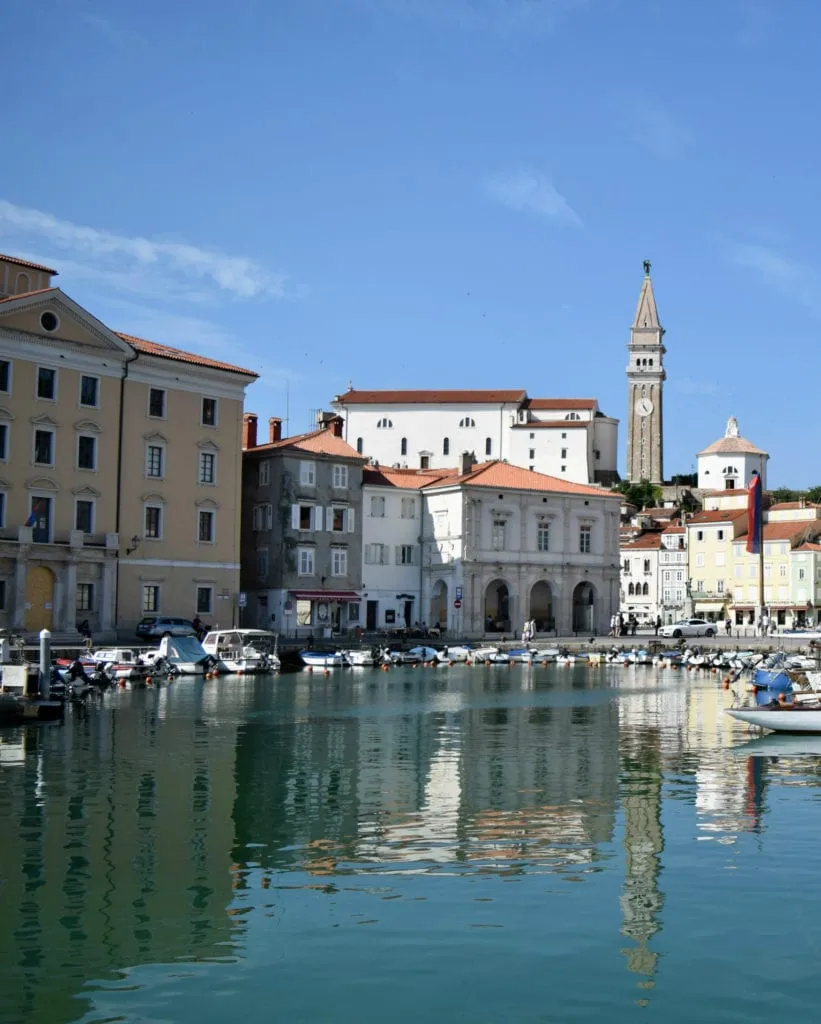 Fun Things to Do in Piran, Slovenia
Walk along the town walls.
A short climb away from the peninsula and up Piran's hills will take you to the medieval town walls. You're able to climb on multiple sections, which aside from being lots of fun, also provides you with incredible views of Piran and the Adriatic Sea.
There are signs for the walls beginning in Tartini Square, so they're not difficult to find, and are absolutely worth the walk–the view from here is the best one that we saw of Piran.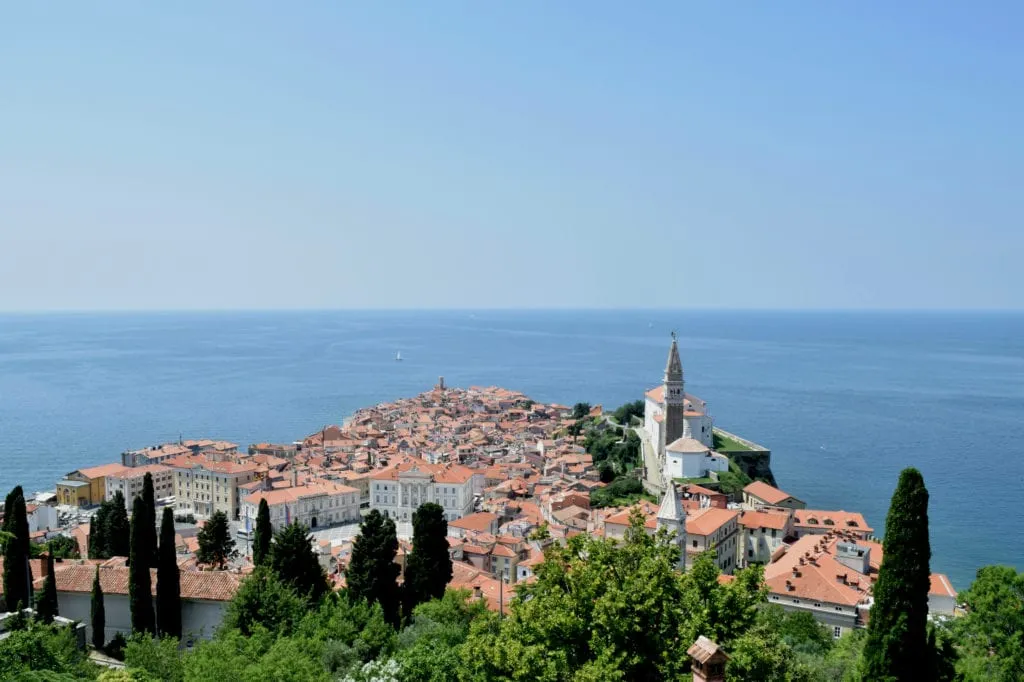 Swim in the Adriatic Sea.
On our first day in Piran, Jeremy and I went swimming at the tip of the peninsula along with most of the other tourists: it's pretty, and the spot has a great view of the town, but the real showstopper came on our second day.
When we walked up to the town walls, we noticed a path that leads to a tiny, rocky ledge that serves as a beach. The water was gorgeous and perfectly clear–not surprising given the beauty of Slovenian beaches in general.
Even better, this area, named Fiesa, was not very occupied–there were about 10-15 people milling around (fair warning: some of them were stark naked), and a group of anchored boats created a pretty, impromptu swimming area. Spending time out there was one of our favorite things to do in Piran, and we loved it.
If we head back to Piran, we'll go straight there and skip swimming on the other side altogether.
Pay a visit to St. George's Cathedral.
This cathedral overlooks the town–you'll be able to see it as you approach Piran, along with the nearby Baptistry and clock tower. You can glance into the Cathedral–it's very pretty–but the showstopper is the view from the hill it sits on.
The view of Piran is beautiful, though not as fantastic as the one from the town walls. If you turn the other way, however, you will have a magnificent view of the sea and coastline, which is definitely worth the walk up the hill.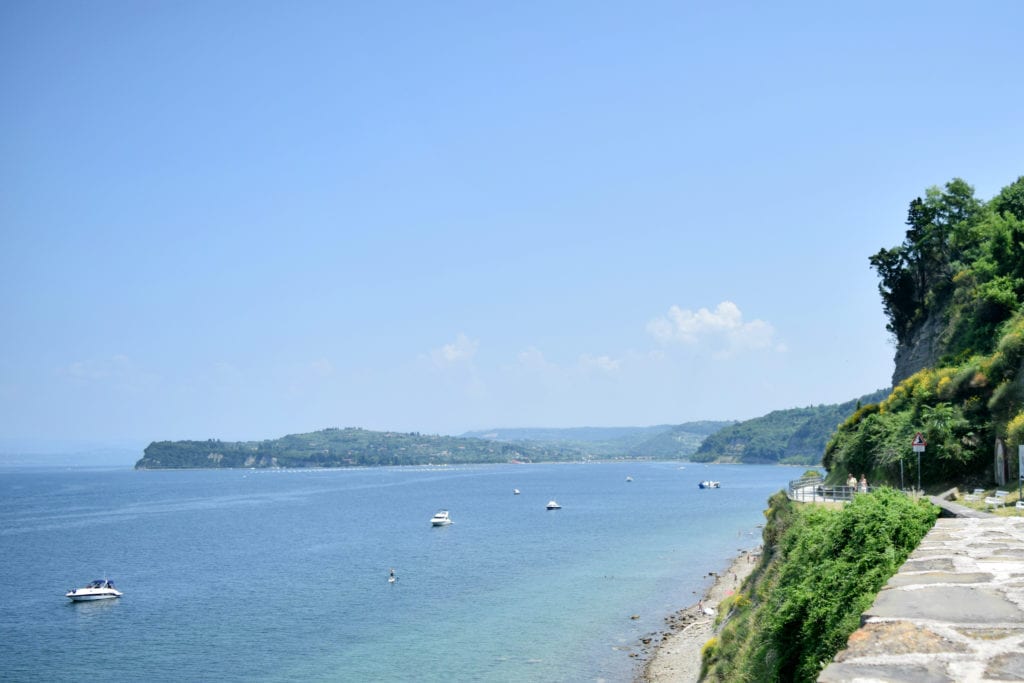 Take a walk along Tartini Square, the lighthouse, and Piran's marina.
Piran has a large and beautiful main square, given its size–if you arrive by bus, Tartini Square will likely be one of the first things you see as you walk into town. Trevisini Palace and Court Palace, along with the town hall, are here.
Directly facing the square is the marina, which is home to some beautiful boats. If you continue walking along the beautiful streets of Piran toward the tip of the peninsula after leaving the square and passing the marina, you'll be able to look back and see those boats framed by the charming buildings of Piran.
Even better, as you keep walking (past the hotels and swimmers–this piece of coast is one of the busier ones), you'll find yourself at the very tip of the peninsula. A pretty lighthouse sits here, which is one of Piran's most photographed spots (it shows up on most Slovenian ads for the town) and is worth seeing.
The lighthouse is directly next to the Church of Our Lady of Health–this church not an attraction I would recommend going out of your way for, but it is worth a peek inside since you'll be right there. It is much less preserved than most churches you see in Europe, which gives it an interesting, decaying feel.
In the hot weather Piran had in June, all of these sites were infinitely more appealing with gelato in hand.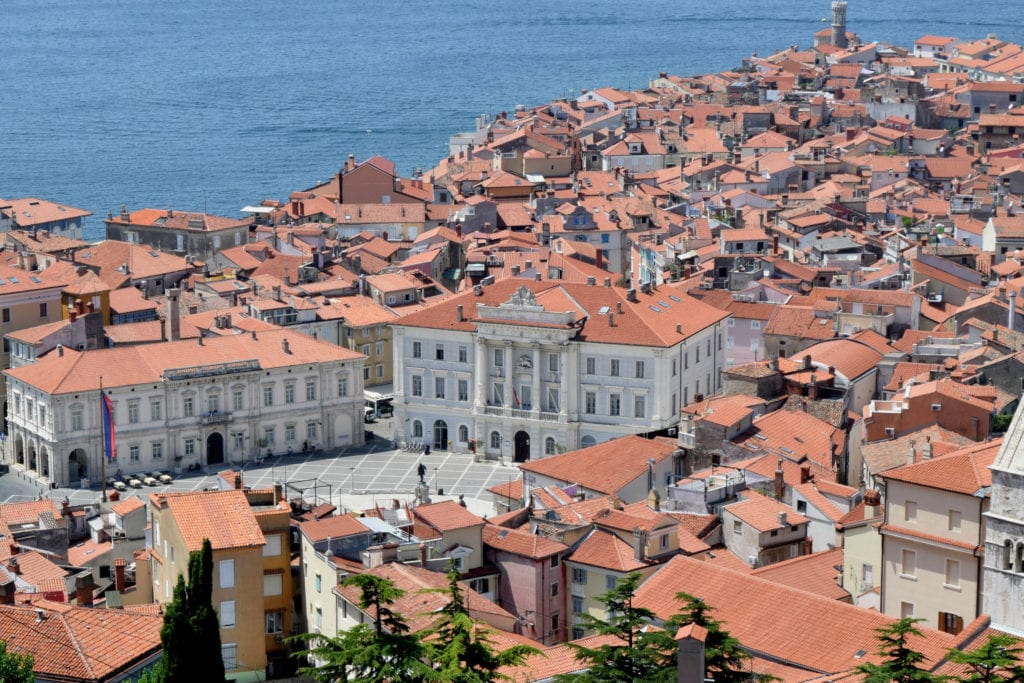 Where We Stayed in Piran
Van Hostel Piran — Piran is a little pricey compared to other places in Slovenia, but we still thought that we got our money's worth at Van Hostel.
We stayed in a private room with shared bathrooms. The bathrooms were always spotless. The air conditioning leaves something to be desired (there aren't units in the rooms, just the hallway), but the location is perfect–less than 3 minutes from the water and right in the center of town.
The breakfast is great, and the hostel's animals are adorable–if you go and see a sweet dog named Stella, hug her for me!
How to Get Around Piran
Walking is the absolute best–and frankly, really only–way to get around Piran.
There are buses that come and leave from the edge of town, beyond the marina. Our hostel, which was fairly "far" from the bus station in Piran terms, was still less than a 15-minute walk away.
Unless you want to visit Portoroz or another nearby town, you shouldn't need any transportation other than your feet for the extent of your stay in Piran.