Slovenia may be a tiny country, but it is, above all else, an intensely beautiful one. This Slovenia itinerary will show you the absolute best highlights of the country on a fun Slovenia road trip!
Slovenia is one of our favorite countries to road trip in Europe: its small size combined with its wildly diverse beauty, ranging from villages dotted with terracotta rooftops on the Adriatic Sea all the way to dramatic mountain peaks in Triglav National Park, make it incredibly rewarding to explore by car.
From stunning Lake Bled to adorable Piran, and from the dramatic beauty of the Julian Alps to the laid-back city of Ljubljana, here's how to spend an unforgettable 7 days in Slovenia.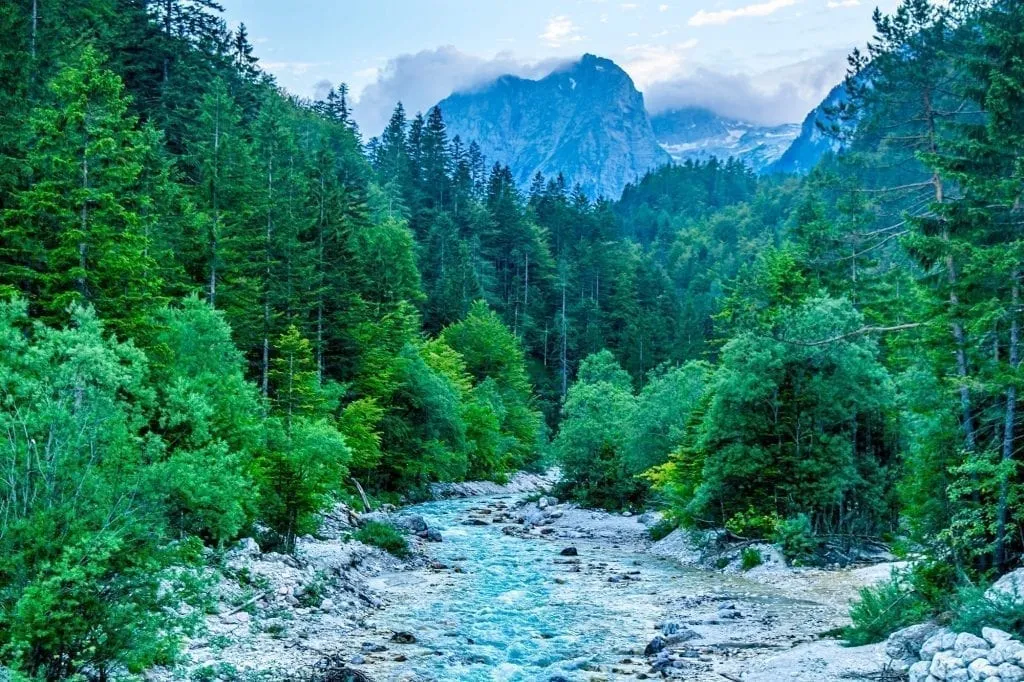 Some links in this post may be affiliate links. If you make a purchase through one of these links, we may earn a small commission at no extra cost to you. Please see our

disclosure policy

for more detail.
How We Structured This Slovenia Itinerary
We've designed this 7 day Slovenia itinerary as a road trip, winding from the capital of Ljubljana, past Slovenia's most beloved mountain lakes, through the stunning Julian Alps, and all the way down to the Adriatic Sea, before looping back to the capital city to catch your plane home.
That sounds like a much further journey than it is–if you drove this Slovenia road trip route straight through without detours or hikes, the driving would only take 6-8 hours–but that's part of the joy of traveling in Slovenia: for such a small country, it is packed with a fantastic array of things to do and see.
While we intentionally started and ended this Slovenia itinerary in the capital city of Ljubljana, as that's where you'll likely fly into on a standalone trip, Slovenia can also be combined with either Italy, Croatia, Austria, or some combination of those for an amazing trip!
If you're heading to Slovenia from outside of Europe, here's a travel hint for planning your itinerary: check the flights to Venice if Ljubljana looks pricey. Venice is only a few hours from Piran and also makes an excellent starting point for this itinerary.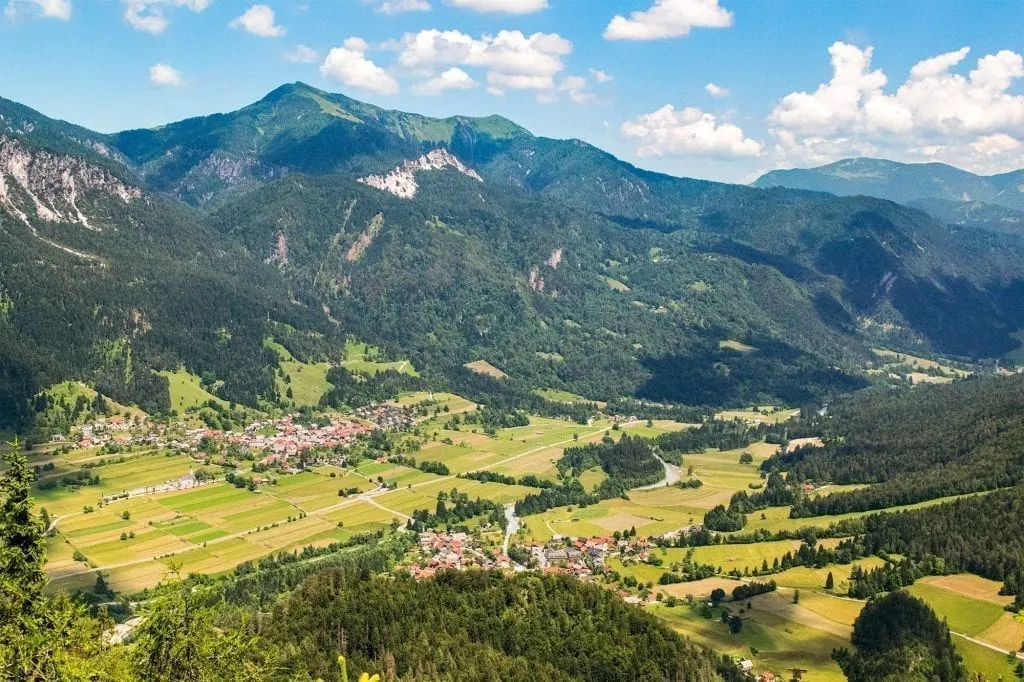 Renting a Car for Your Slovenia Road Trip
For most people, of course, taking a Slovenia road trip will require renting a car.
We recommend renting a small car through Discover Cars, which will allow you to compare the prices and inclusions of multiple companies at the same time and choose the best car for you from there.
For the purposes of this Slovenia itinerary, we recommend picking up a car the morning you leave Ljubljana–there's no reason to pick one up for the night you spend in the city, as parking it will likely be a hassle and you won't need it for exploring the capital.
Check rates & book your rental car with Discover Cars today!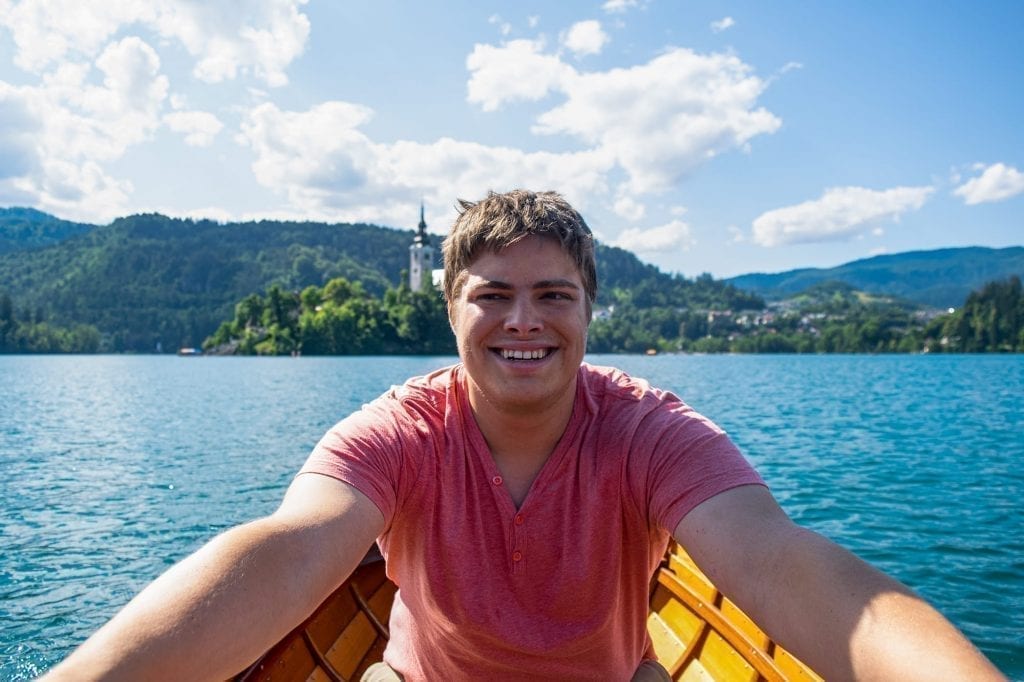 Can This Slovenia Itinerary Work Without a Car?
For the most part, yes.
While we strongly believe that Slovenia is best experienced on a road trip, and you'll absolutely see more of the country by driving yourself, if you can't or would rather not drive, you can still cover the vast majority of the sights included on this Slovenia road trip itinerary through a combination public transportation and guided tours.
If you're not planning to drive, we recommend basing yourself in Ljubljana and traveling from there.
This popular day trip to Lake Bled and Vintgar Gorge and this day trip to Piran, Predjama Castle, and the Postojna Caves will give you a good idea about what options are available for guided tours around Slovenia.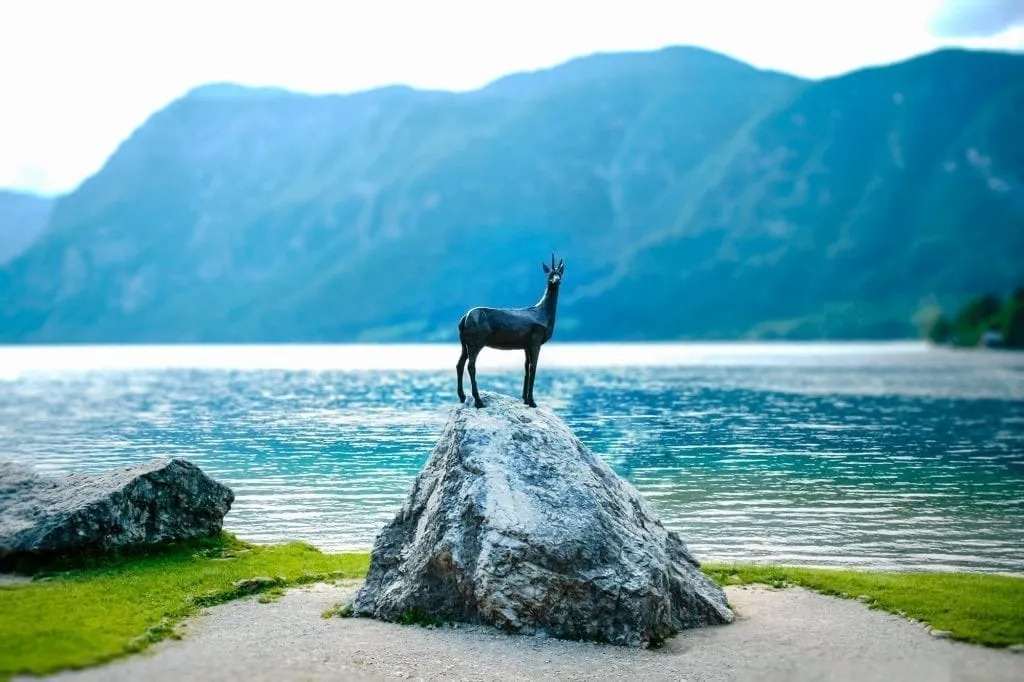 The Perfect Slovenia Road Trip Itinerary
Day 1: Arrive in Ljubljana and start exploring.
If you're flying into Slovenia, you'll almost certainly arrive in the colorful, funky capital city of Ljubljana–and if you're anything like us and basically any of our friends who have visited, you'll immediately become smitten with it.
Ljubljana is an incredibly fun city, full of bustling cafes and interesting sights watched over by the ever-present Ljubljana Castle that looms over it.
While you're there, be sure to check out the incredible (and incredibly intense) street art in Metelkova, snap photos at the Dragon Bridge, soak in the views from the grounds of the castle, and see the colorful Preseren Square.
Right by the square, you'll be able to spot the city's famous Triple Bridge, a unique piece of architecture that feels right at home in Ljubljana.
If you don't have a chance to hit all the places you'd like in Ljubljana today, don't worry–this Slovenia itinerary will loop back to the capital before you leave.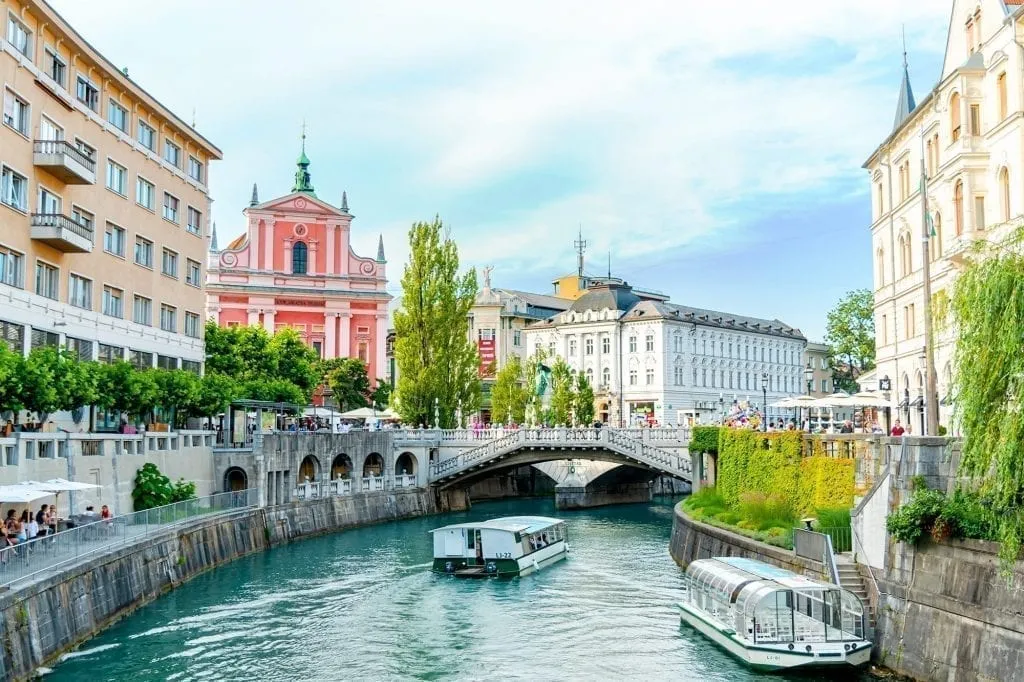 Where to Stay in Ljubljana
Budget
H2O Hostel — For the perfect combination of an ideal location and excellent reviews, while sticking to a budget, look no further than the popular H2O Hostel, located a mere 5-minute walk from the Triple Bridge. With both private room and dorm options, H2O Hostel is a flexible and fun place to stay in Ljubljana.
Mid-range
B&B Petra Varl — Located at the foot of Castle Hill and set in a 16th-century building in central Ljubljana, B&B Petra Varl is located within walking distance of the city's major sights, gets excellent reviews, and beautiful city views.
Luxury
Antiq Palace — Tucked into a quiet courtyard and housed in a former aristocratic home dating to the 16th century, this luxurious boutique hotel is within easy walking distance of Ljubljana's most popular sights and features gorgeous rooms, excellent reviews, and two beautiful courtyards.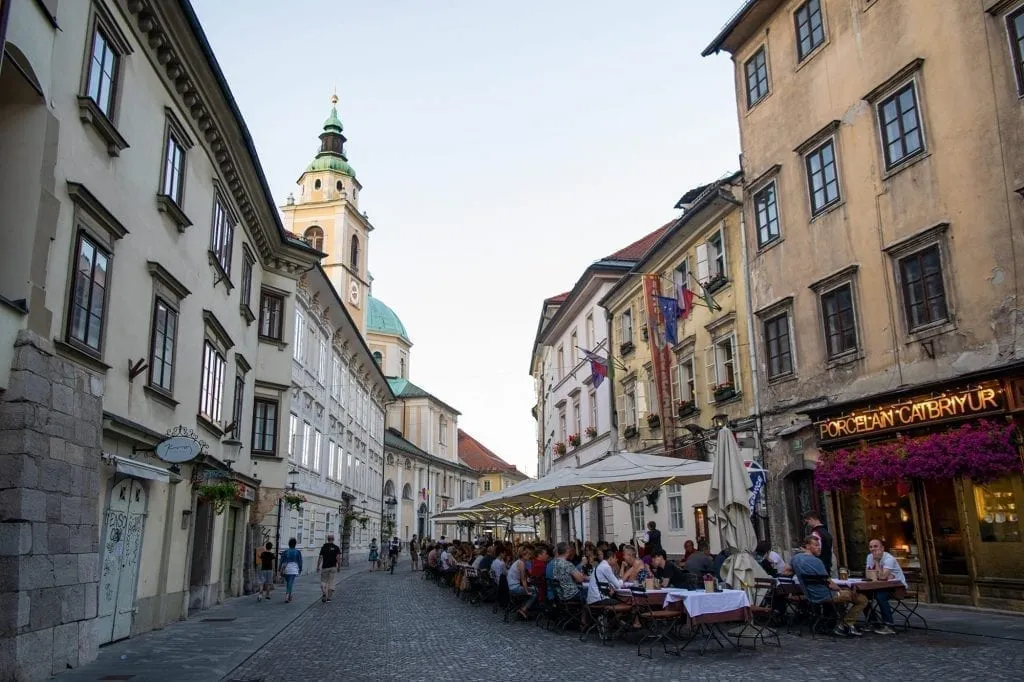 Day 2: Visit beautiful Lake Bled.
If you're actively planning a trip to Slovenia, you've probably already seen Lake Bled about a thousand times in photos. Without a doubt, the view of tiny Bled Island nestled in the center of the large lake is the most famous image of Slovenia.
… And the reality is even lovelier than the photos can convey.
Lake Bled is an incredibly beautiful place that belongs on any Slovenia road trip itinerary.
While you're there, visit Bled Castle for incredible views of the lake, rent a rowboat to head out to Bled Island (and the Church of the Assumption that sits on it), go swimming if the weather permits, sample a tasty piece of Bled Cream Cake, and hike along (or above) the lake.
Where to Stay in Bled
Budget
Villa Mint & Lavender — Featuring excellent reviews and housed in a local home, Villa Mint & Lavender is located within walking distance of Bled Castle and Lake Bled and is a quiet and beautiful place to rest during your time at the lake.
Mid-range
Guest House Mlino — Located right on the shores of Lake Bled, Guest House Mlino has all the features you could hope for in a place to stay in Bled: excellent views, an onsite restaurants, great reviews, and easy access to all the best things to do in Bled–including a boat rental station right in front of the guest house.
Luxury
Vila Bled — As the former summer home of President Tito, you know that Vila Bled is bound to be luxurious–and it is. Set in a gorgeous building right on Lake Bled, Vila Bled offers unparalleled views, spacious rooms, and an onsite restaurant, all tied together with excellent service.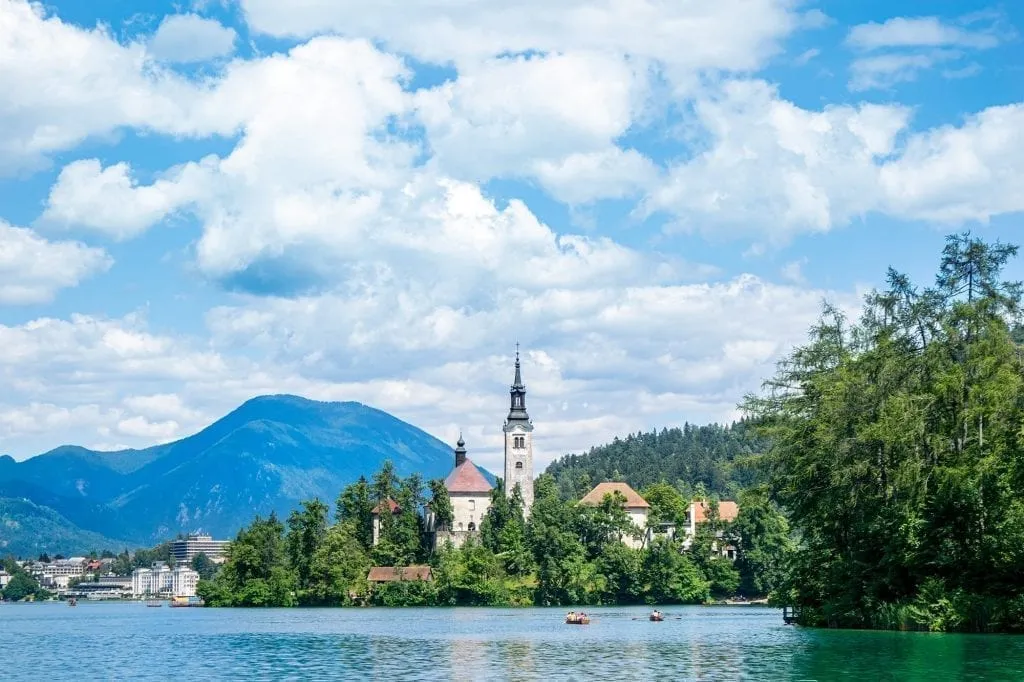 Day 3: Check out Lake Bohinj and the Vintgar Gorge.
Bigger and slightly less manicured than–yet every bit as beautiful as–Lake Bled, Lake Bohinj is the perfect next stop on your Slovenia itinerary.
Whether you want to rent a boat, go swimming, or try out one of the many hikes near the lake, you'll no doubt enjoy your time there.
Personally, we recommend making time for a visit to nearby Savica Falls as part of your day in and around Lake Bohinj. It's easily accessible with a short walk and one of our favorite waterfalls in Slovenia (which is very high praise).
For the second half of your day, also consider heading to the stunning Vintgar Gorge to enjoy a different kind of natural beauty while hiking along its beautiful boardwalks.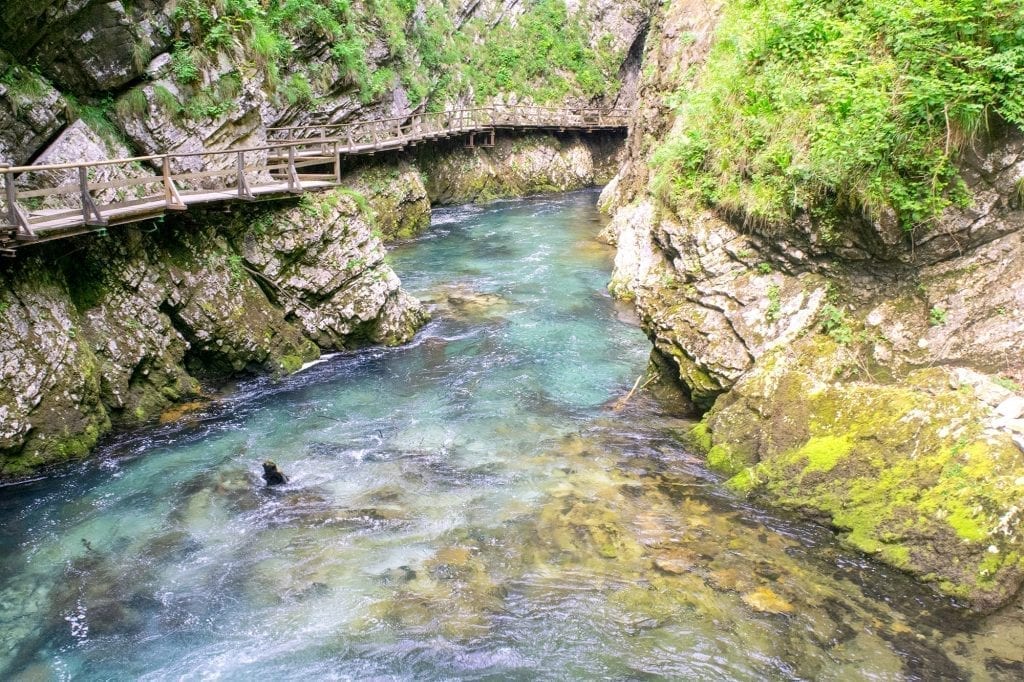 Day 4: Go for a hike in Triglav National Park.
In our opinion, Triglav National Park is among the most stunning national parks in Europe–and we don't say that lightly.
Centered around Mount Triglav, the highest peak in the Julian Alps, the park is expansive and covers everything from the stunning Soca River Valley to the peaks of seemingly endless mountains.
Technically, the third day of this Slovenia itinerary already touches on Triglav National Park–Lake Bohinj is inside its borders–but it's worth setting aside a full day to explore the park with a beautiful hike.
If you'd rather not climb high, look for something in the Soca River Valley, or consider chasing a couple of waterfalls (Pericnik Falls is fairly easy to access and stunning).
If you would like to see the mountains from above, there are dozens of trails to choose from! The photo below is a view of the Vrata Valley we found when hiking toward Sleme from near Mojstrana.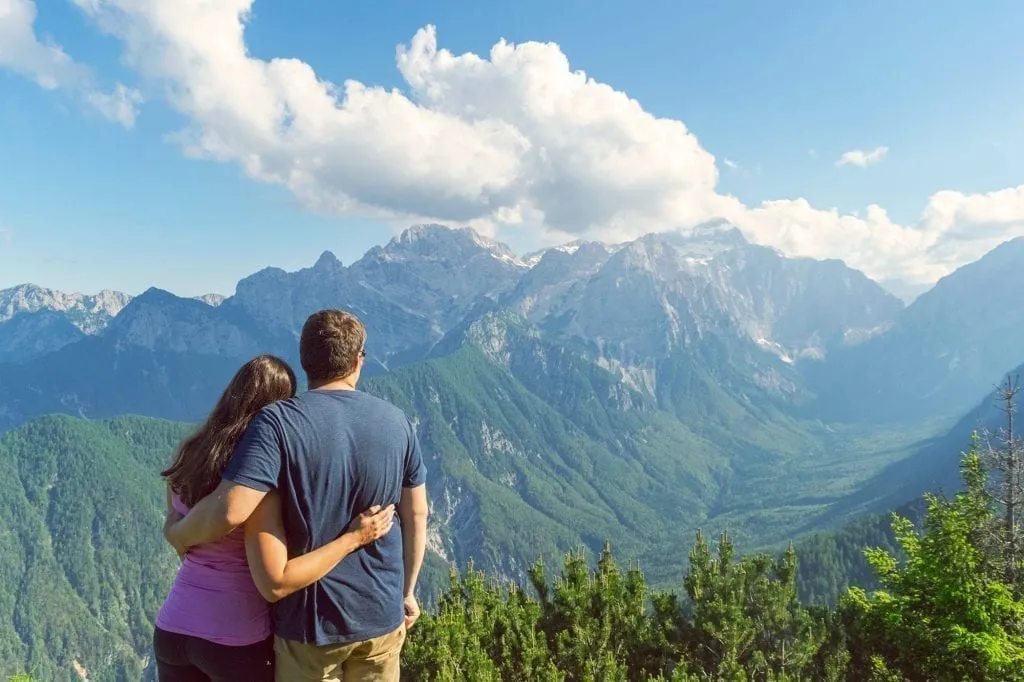 Day 5: Get underground (and visit a castle).
From soaring mountain peaks to incredible caves: the fifth day of your Slovenia road trip is likely to be a complete opposite from your fourth.
Slovenia is home to two popular caves, located about 30 minutes apart by car.
Choose one to explore this morning–personally, we chose to visit Skocjan Caves, which features an absolutely mesmerizing underground river and holds a UNESCO World Heritage distinction.
With a resume like that, you'd think they'd be the most popular caves in Slovenia, but no–Postojna Cave holds that designation. These caves are a bit busier and more developed, but still incredible to visit.
After finishing up your cave experience, head to Predjama Castle to check out another unique feature of Slovenia: a castle built right into the cliffside!
Day 6: Relax in picturesque Piran.
Charming Piran is the jewel of Slovenia's small slice of Adriatic coastline, and the perfect place to kick back and relax as your Slovenia road trip nears its end.
Set on a tiny peninsula that juts into the sea, be sure to climb Piran's town walls during your stay for the best view of its gorgeous setting.
Piran is also an excellent place for a swim in the sea, and for wandering semi-aimlessly up and down the charming maze of streets (you can't get too lost on a peninsula this size!).
Be sure to also check out Piran's beautiful marina, pass through Tartini Square, and visit St. George's Cathedral during your time in Piran.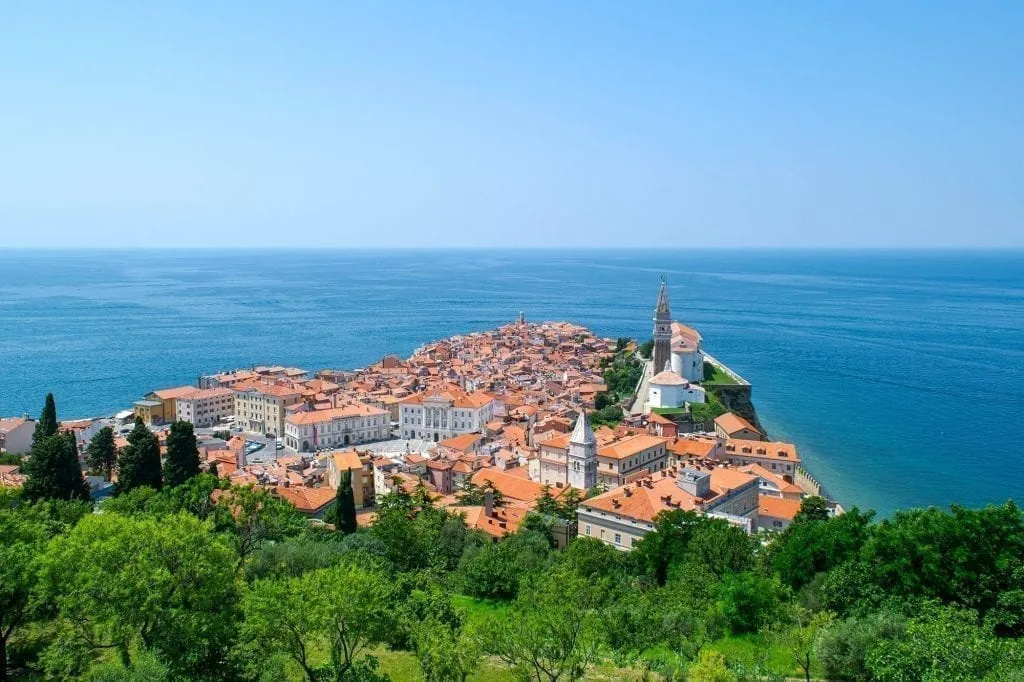 Where to Stay in Piran
Budget
Hostel Pirano — Located in the heart of historic Piran, Hostel Pirano is a reliably comfortable place to stay on a budget in Piran. With excellent reviews and both dorm and private accommodation available, you can't ask for a better combination of convenience and price when visiting Piran.
Mid-range
Hotel Zala Piran — With comfortable rooms, a great included breakfast, and–as of a few years ago, at least–an adorable dog named Stella who lives downstairs, Hotel Zala Piran is an excellent option for mid-range travelers. Though it has undergone a name change since we were there, this is where we stayed in Piran, and we'd be happy to return.
Luxury
Hotel Piran — Set right up against the sea and in the historic center of the city, Hotel Piran is one of the most popular places to stay in the city–and with good reason. With thousands of excellent reviews, swimming access right outside the door, and an included breakfast that guests rave about, you can't go wrong with a stay at Hotel Piran.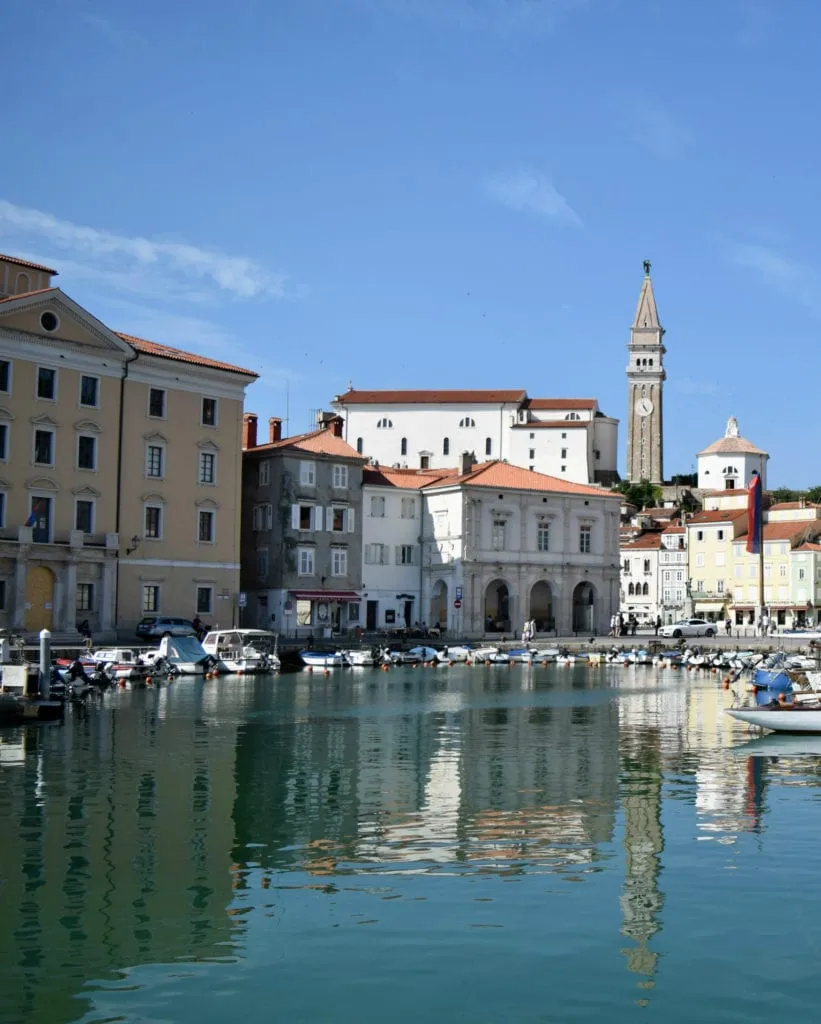 Day 7: Head back to Ljubljana & say goodbye to Slovenia.
As you prepare to say goodbye to Slovenia, make your way back to Ljubljana to turn your rental car in and head home (or to your next destination, as the case may be).
The drive from Piran to Ljubljana is only around 1.5 hours, so if you have extra time on your hands, consider exploring any sights in Ljubljana that you didn't have a chance for the day you arrived in Slovenia.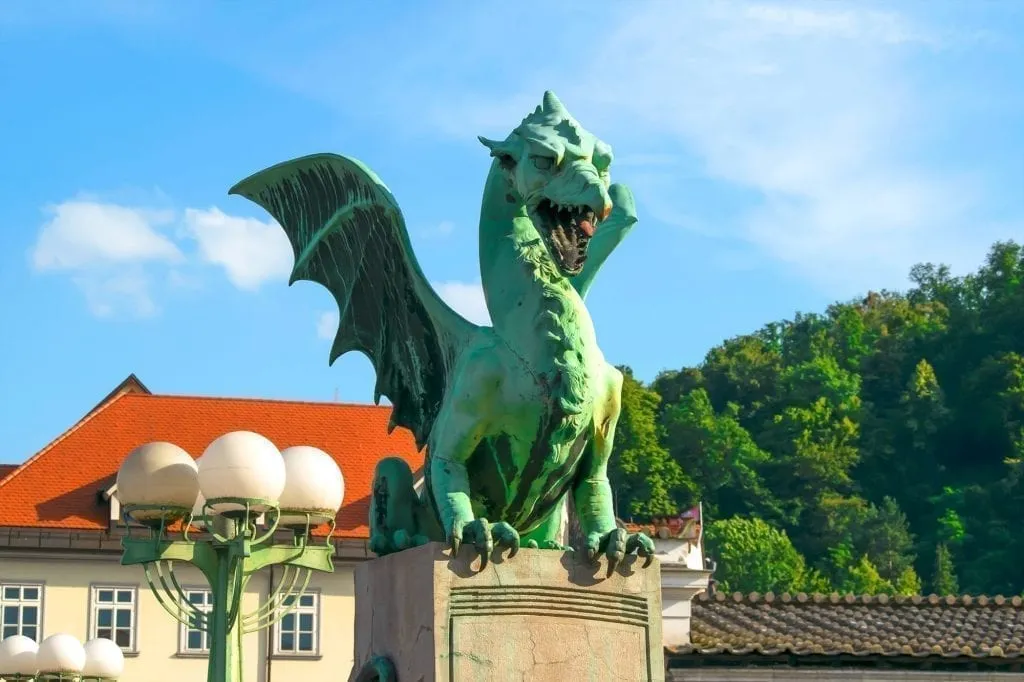 Where to Stay in Slovenia
You'll likely want to move hotels throughout this Slovenia road trip–we'd recommend staying in Ljubljana, followed by staying in (or near) Bled for the next couple of nights, then in Triglav National Park, followed by staying overnight in (or near) Piran.
We've provided recommendations above, but as the potential places to stay when you visit Triglav National Park are so incredibly widespread and varied, that we didn't specify any recommendations.
Personally, we stayed in this apartment near Mojstrana during our time in Triglav National Park and can't recommend the location (or the wonderful Airbnb hosts) enough.
Slovenia Itinerary Map
Take This Map With You! Click each highlight to pull up the name of the destination. To save this map to "Your Places" on Google Maps, click the star to the right of the title. You'll then be able to find it under the Maps tab of your Google Maps account! To open the map in a new window, click the button on the top right of the map.
More Than 7 Days in Slovenia?
If you're lucky enough to have more than a week in Slovenia, our first piece of advice would be to slow down and spend more time in each and every one of the places we included on this Slovenia itinerary, rather than adding on more stops.
Triglav National Park, in particular, can soak up tons of time, especially if you're an avid hiker!
We once spent a week staying inside the park, and still constantly dream about returning to explore the area more thoroughly.
With more than 7 days in Slovenia, also consider heading to Bovec, often dubbed the adventure capital of Slovenia and an excellent place for exploring the Soca Valley, checking out the picturesque Tolmin Gorge, and stopping by the offbeat-but-beautiful city of Maribor.
What to Pack for a Trip to Slovenia
Travel Insurance — We don't ever suggest traveling without travel insurance–anything can happen, and an exciting Slovenia road trip is definitely a case of better safe than sorry. We use and recommend World Nomads for trips to Slovenia.
Travel Adaptors for Europe
— If you're coming from outside of Europe, you'll definitely need adaptors for your electronics when visiting Slovenia.
Comfortable Day Bag — We currently use Pacsafe's sleek anti-theft backpack and love it, but if you don't want to shell out the cash for this trip, that's totally understandable. Just aim for something comfortable to wear, not flashy, and medium-sized–we used a Northface Jester backpack for years and loved it as well.
Pacsafe
 — We can't recommend our Pacsafe
enough: this travel safe is affordable, sturdy, easy to pack, and will help keep your valuables safe in your hotel room (not that you should need to worry much about theft from your hotel room during your trip to Slovenia, but it's better to be safe than sorry!).
Swiss Army Knife
 — Want to open wine bottles in your hotel room, slice cheese from the market, or cut up that baguette from the bakery? You'll be so glad you brought along a Swiss Army Knife!
Water bottle
— You're definitely going to want to carry water with you as you explore Slovenia. Cut down on plastic waste and bring a reusable water bottle instead! Slovenia's tap water is safe to drink and we found that it tended to taste great!
Hand Sanitizer
 — We carry this everywhere, and never been sorry to have it floating around in our day bag.
Travel Journal
 — If you want to keep a travel journal during your Slovenia road trip but can't commit to a huge amount of writing each night, I can't recommend the One Line a Day Journal
enough–I've been using it for more than 3 years now and adore it!
Dry Bag
— Don't worry about bringing your pricey camera in a small rowboat across Bled or out to the water in Piran: bring a dry bag along to keep your electronics safe!
---