Slovenia may be a small country, but it is positively packed with beautiful places to visit!
Cities, castles, soaring mountains, picturesque beach towns, idyllic lakes, and even wine country: whatever kind of beauty you prefer, there's no doubt that you can find the perfect Slovenia travel destination for you.
We've divided these places to go in Slovenia into several different categories to make it easy to find spots to your liking, but as you plan your trip, we highly recommend prioritizing visiting a variety of destinations in order to see a wide swath of the most beautiful places in Slovenia.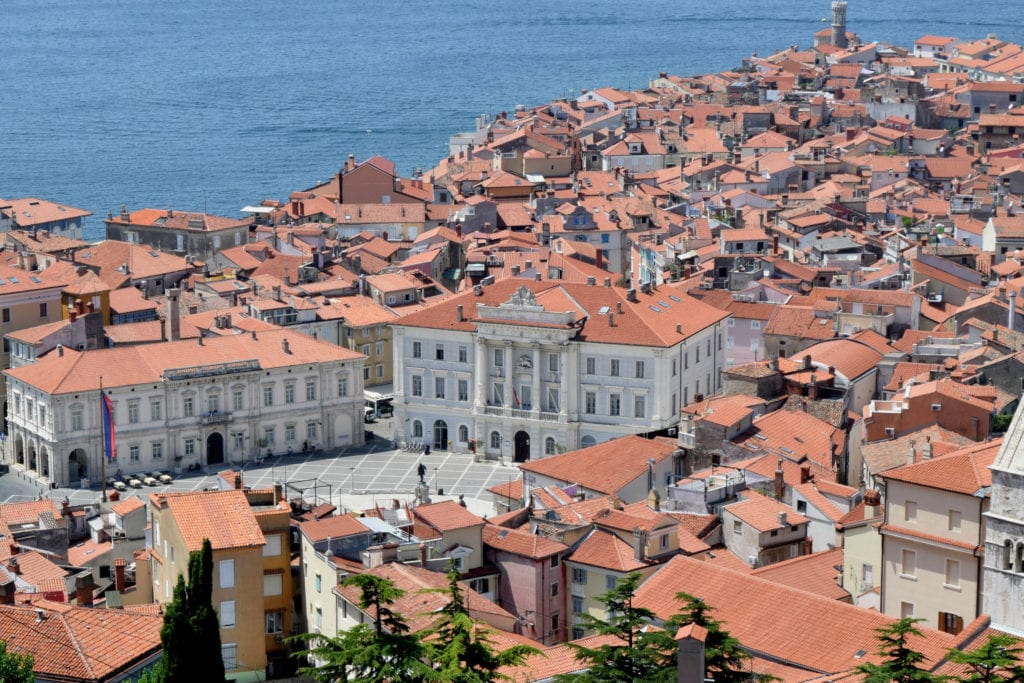 Some links in this post may be affiliate links. If you make a purchase through one of these links, we may earn a small commission at no extra cost to you. Please see our

disclosure policy

for more detail.
Cities + Towns to Visit in Slovenia
Ljubljana
Slovenia's lively, funky capital city is packed full of interesting sights, from the Dragon Bridge to the incredible European street art in Metelkova to Ljubljana Castle that overlooks the city.
If you love visiting offbeat cities in Europe, be sure to start your Slovenia travels with a stay in Ljubljana!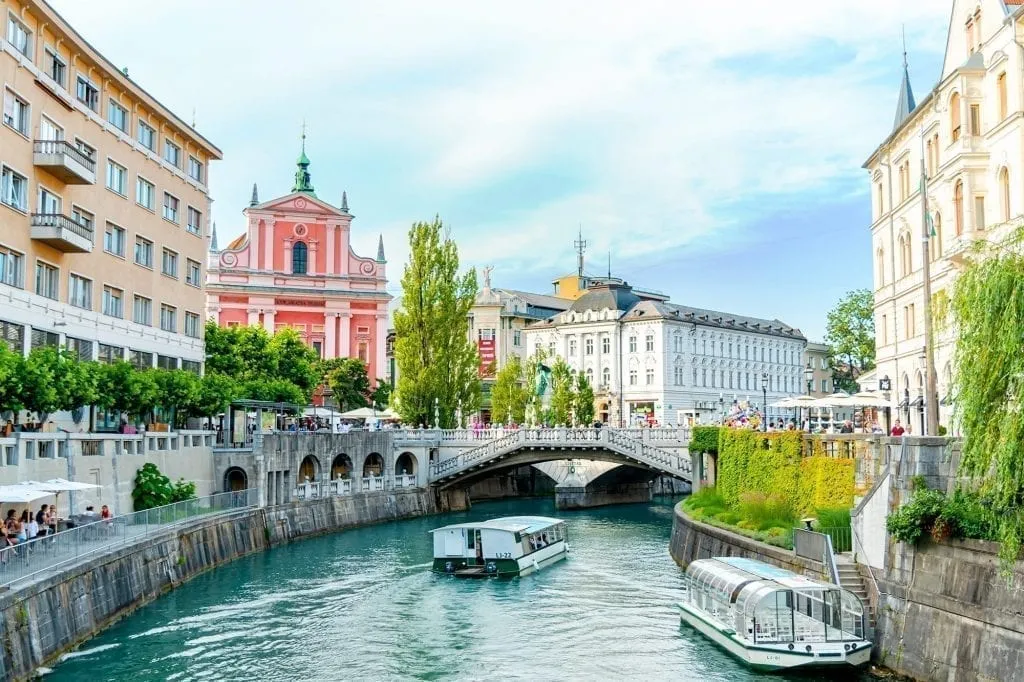 Maribor
Surrounded by hills used for growing wine grapes and packed with colorful buildings and interesting history, Slovenia's second-largest city only gets a fraction of the visitors of Ljubljana–but that's all the more reason to visit.
Piran
Situated on a tiny peninsula that juts into the Adriatic Sea, Piran is the jewel of Slovenia's small slice of coastline and is easily among the most beautiful places to visit in Slovenia.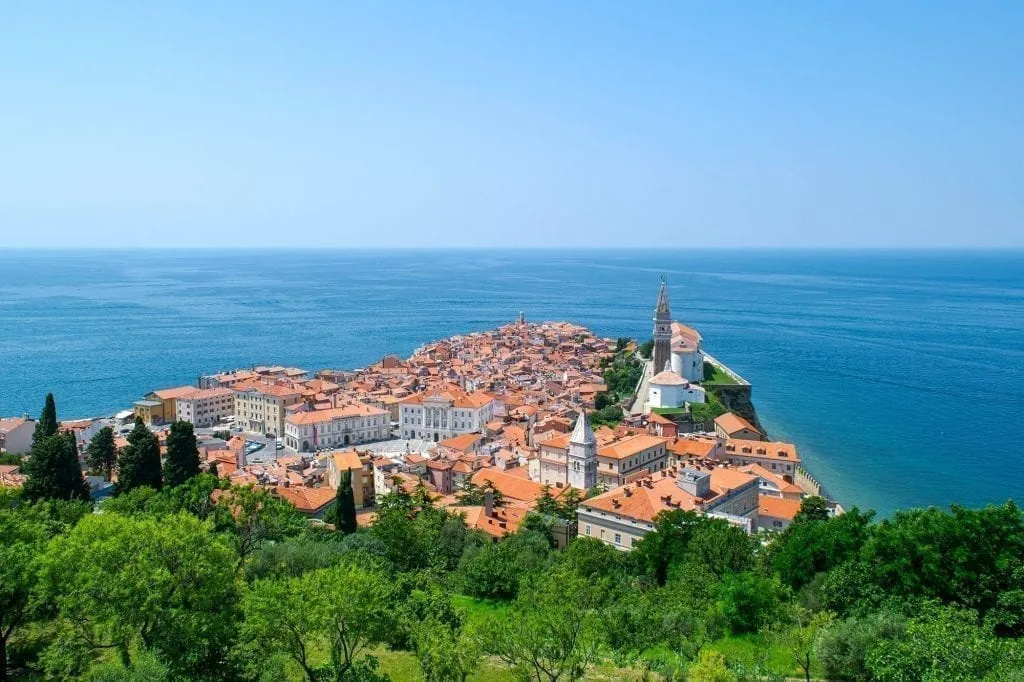 Bovec
Known as the adventure capital of Slovenia, this small town is nestled in the Soca River Valley and is a fantastic base for exploring the river and all it has to offer.
Mojstrana
The small village of Mojstrana is one of our personal favorite places in Slovenia, but this is due less to the village itself than what lies on its doorstep: unparalleled access to the beauty of Triglav National Park and–if you're so inclined–Mr. Triglav itself.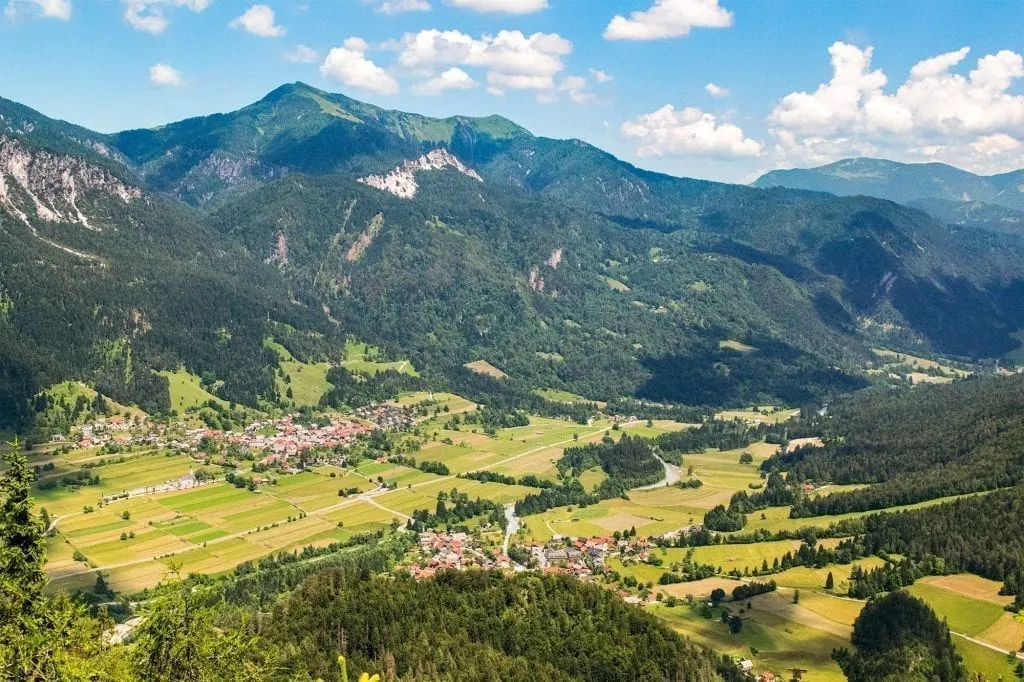 Portoroz
The bigger, more bustling cousin of Piran, Portoroz is a gorgeous resort town along Slovenia's Adriatic coastline, and home to historic spa treatments, a beautiful marina, and luxurious resorts.
Skofja Loka
Easily visited as a day trip from Ljubljana, this fairytale town is located right along the Sora River and overlooked by the picturesque Skofja Loka Castle, which you can tour today.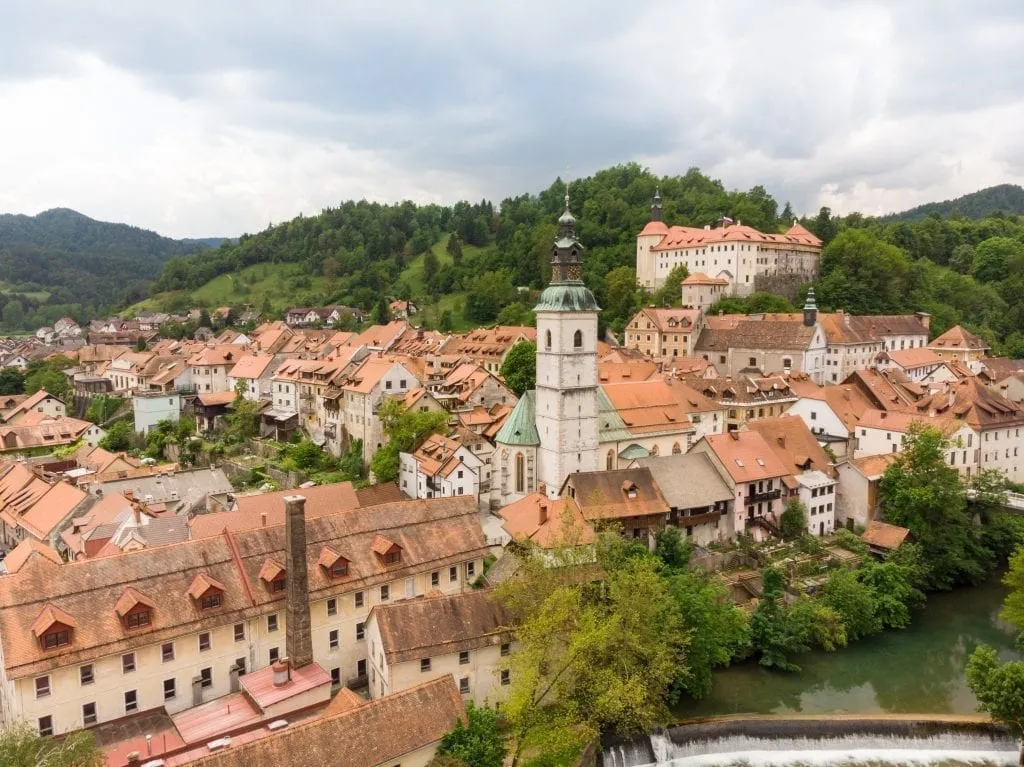 Gorgeous Slovenian Lakes + Waterfalls
Lake Bled
The most iconic of all these places to visit in Slovenia (and a feature on many Europe bucket lists) definitely lives up to expectations!
Beautiful Lake Bled, complete with Bled Island in the center, is absolutely stunning and a fantastic place to visit.
Be sure to rent a rowboat for an afternoon, visit Bled Castle, and seek out the best Lake Bled viewpoints during your visit!
While summer is the most classic time to visit, the fall foliage is also beautiful, and there is still plenty to enjoy in and around Lake Bled in winter.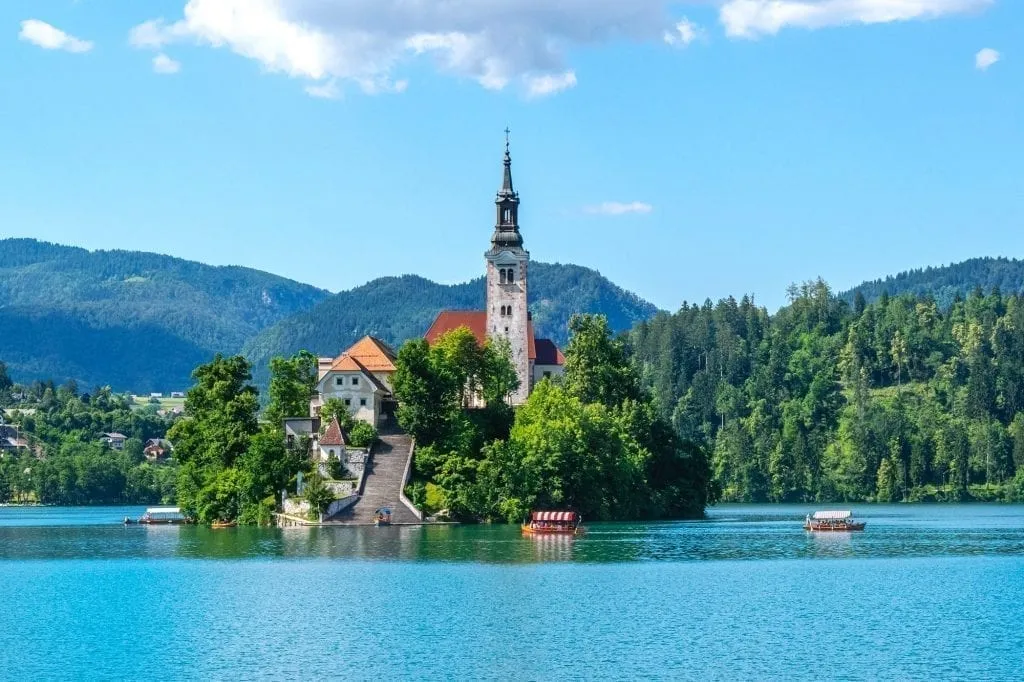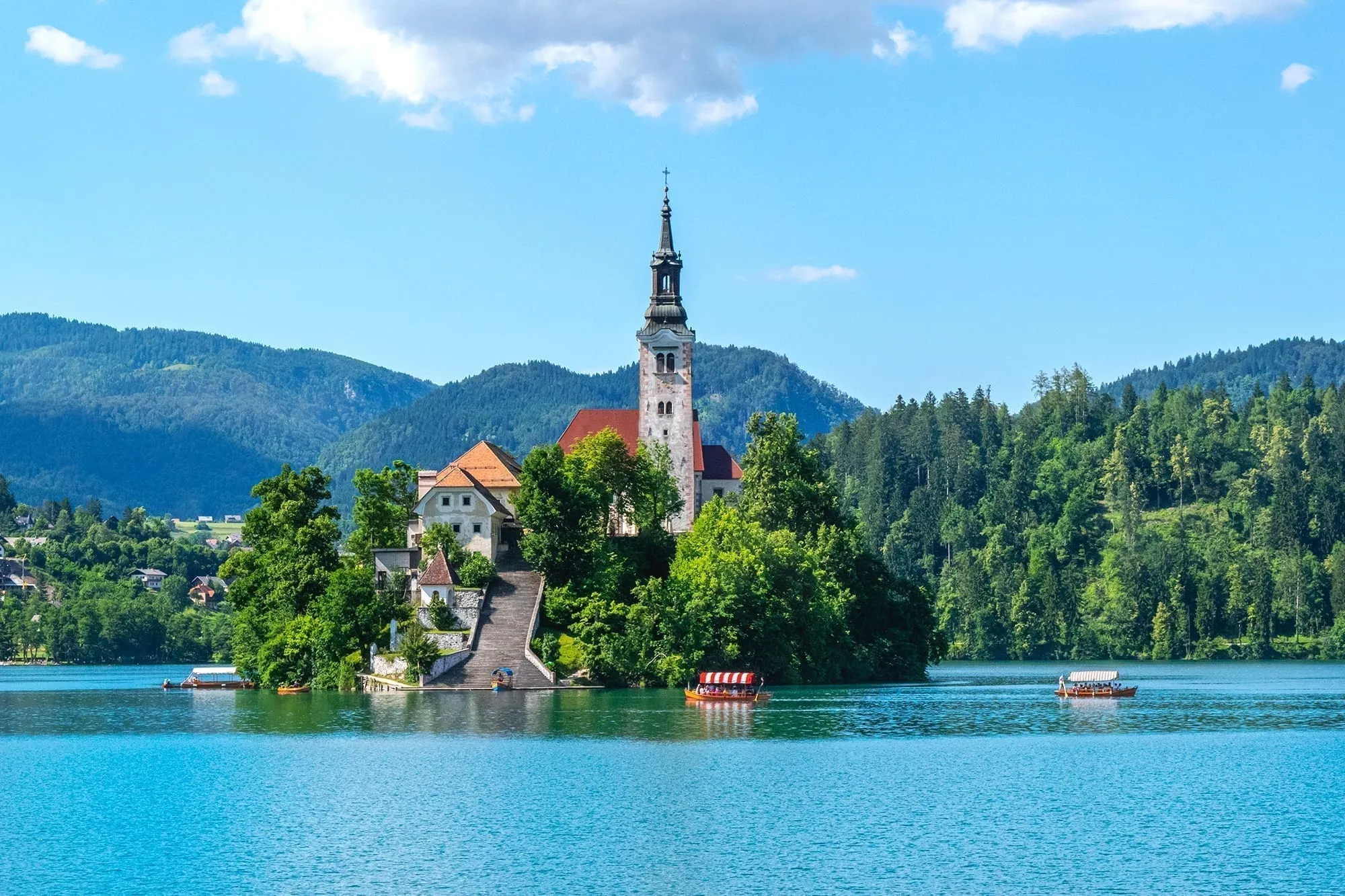 Savica Falls
Located near Lake Bohinj, the beautiful Savica Falls are only a short walk from the road and are an absolutely unforgettable sight.
Lake Bohinj
Less manicured than nearby Lake Bled, but every bit as beautiful, gorgeous Lake Bohinj is an unmissable stop in Slovenia–in addition to swimming and other watersports, the areas surrounding the lake are also popular for hikes long and short.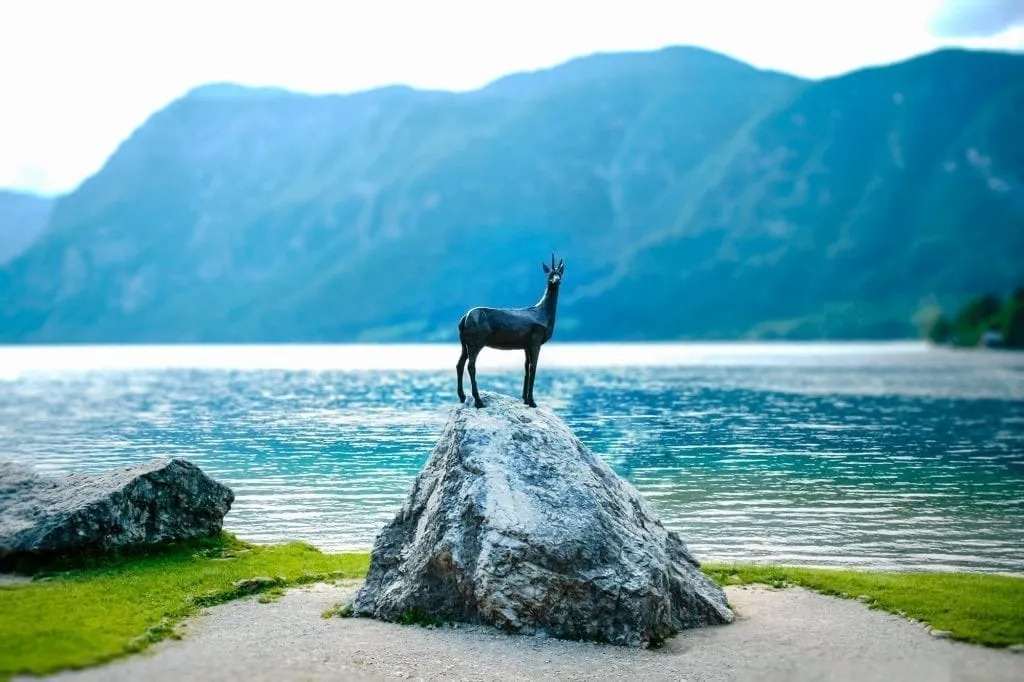 Boka Waterfall
This stunning, multi-step waterfall is surrounded by karst mountains and is incredibly visually striking. To see Boka Waterfall at its best, aim to visit in the springtime when the waterfall is at its most intense.
Pericnik Falls
As one of the highest waterfalls in Slovenia, Pericnik Falls is absolutely beautiful–and unlike many of Slovenian waterfalls, you can climb up and around it to admire it from all angles.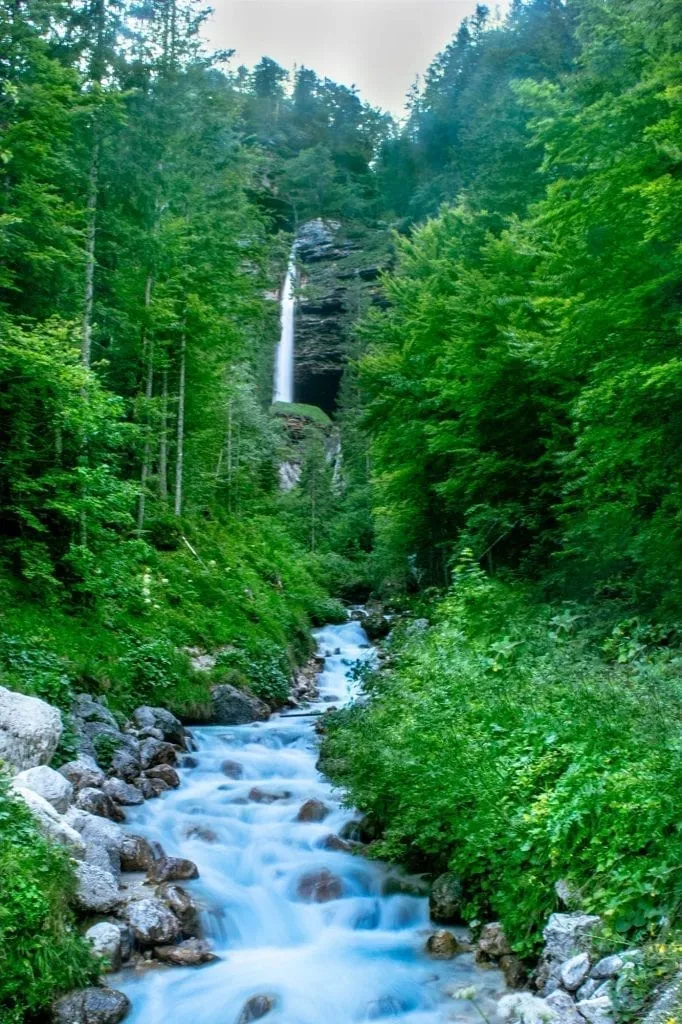 More Beautiful Places in Slovenia
Vintgar Gorge
The brilliant, beautiful blue water of Vintgar Gorge paired with its craggy walls and collection of wooden boardwalks you can stroll down make it one of the most beautiful places in Slovenia.
The boardwalks stretch for 1.6 kilometers, and it's well worth spending the time to enjoy Vintgar Gorge from every angle.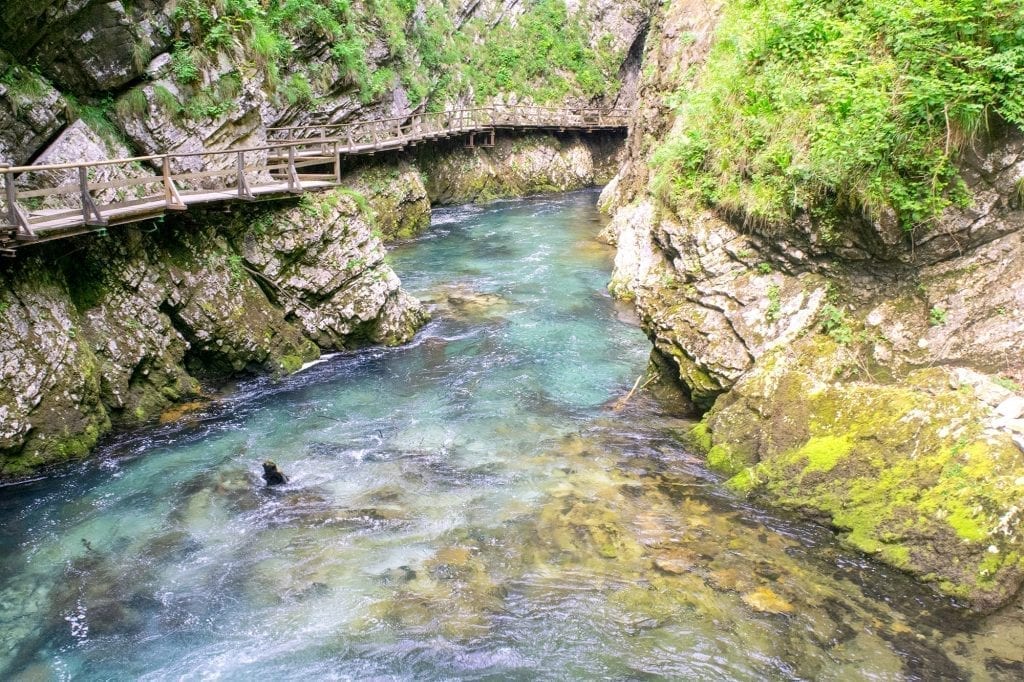 Triglav National Park
The crown jewel of Slovenia's natural beauty lies in Triglav National Park.
The craggy peak of Mt. Triglav itself is a national symbol of Slovenia, and the park includes some of the other best places to visit in Slovenia, including Lake Bohinj, Lake Jasna, many waterfalls, and Vogel, Slovenia's best-known ski resort (and the mountain it was named after).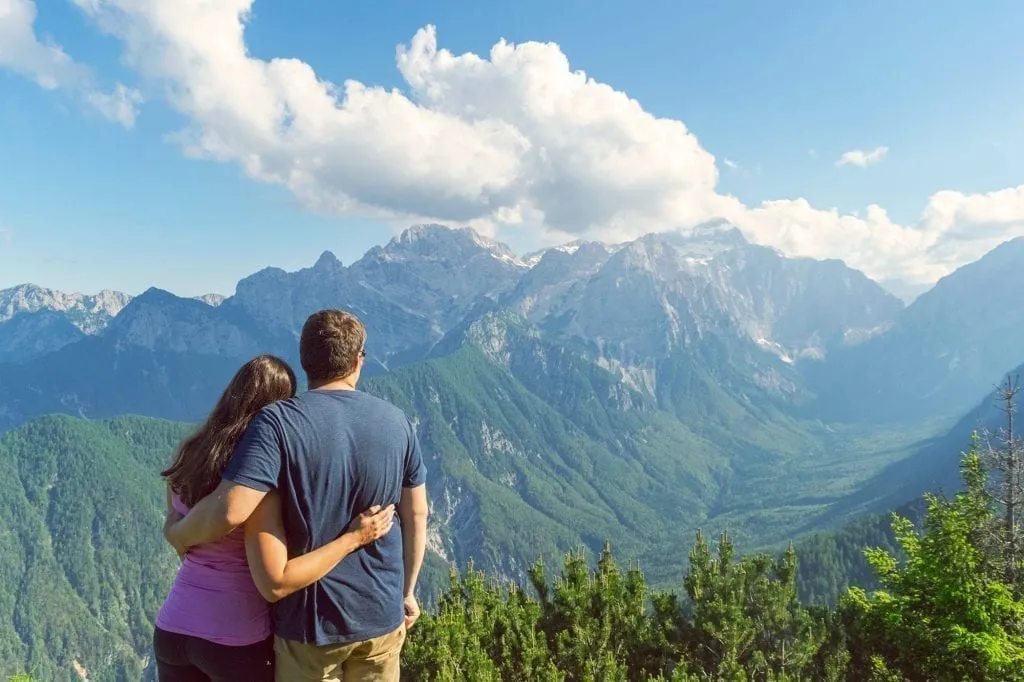 Postojna Caves
The most popular caves to visit in Slovenia, Postojna Caves are beautiful and enchanting, with soaring ceilings and incredible formations. You can also take a train ride through the caves, an attraction that was first launched in the 19th century!
Soca River Valley
The bright blue Soca River is arguably one of the most beautiful rivers in the world–and the Soca River Valley that surrounds it is one of the best places to visit in Slovenia, full of outdoor adventure activities and ways to appreciate the river's beauty, from whitewater rafting to fishing to simply hiking along it.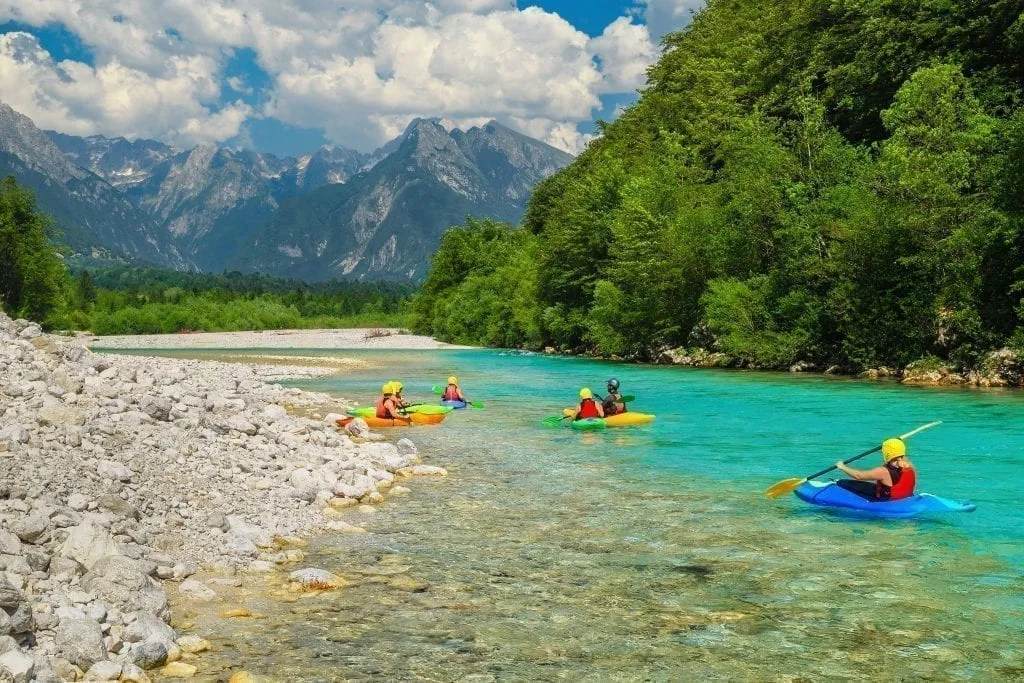 Tolmin Gorge
The ice-blue water of the 1-kilometer long Tolmin Gorge is an unforgettable Slovenian destination–if you're headed to western Slovenia, be sure not to miss it!
Skocjan Caves
Featuring a mesmerizing underground river that will make you feel like you're descending into a fantasyland worthy of Tolkein's Middle Earth and boasting an UNESCO World Heritage designation, the Skocjan Caves are one of the most unique places to see in Slovenia.
Logar Valley
Overlooked by the crisp peaks of the Julian Alps and almost overwhelming in its natural beauty, the Logar Valley in Slovenia is one of those places where the air itself simply feels a bit crisper and lovelier, and it is well worth visiting while in Slovenia.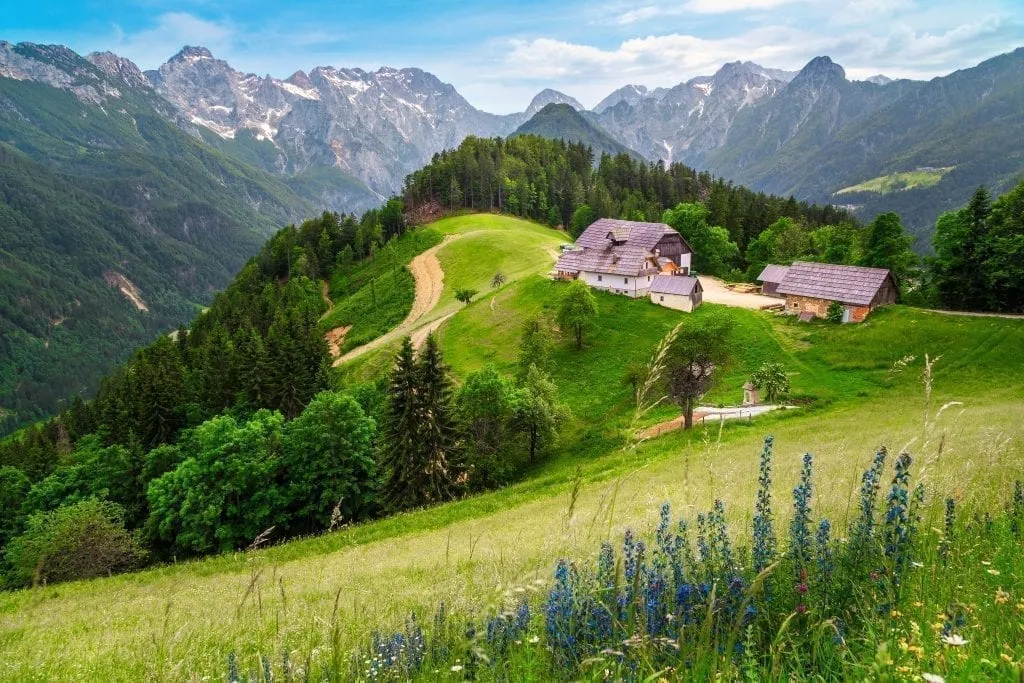 Brda
Often referred to as Slovenia's Tuscany, Brda is a small but celebrated wine region that is well worth visiting, and is packed full of delicious, award-winning wines, stunning countryside views, and lovely villages.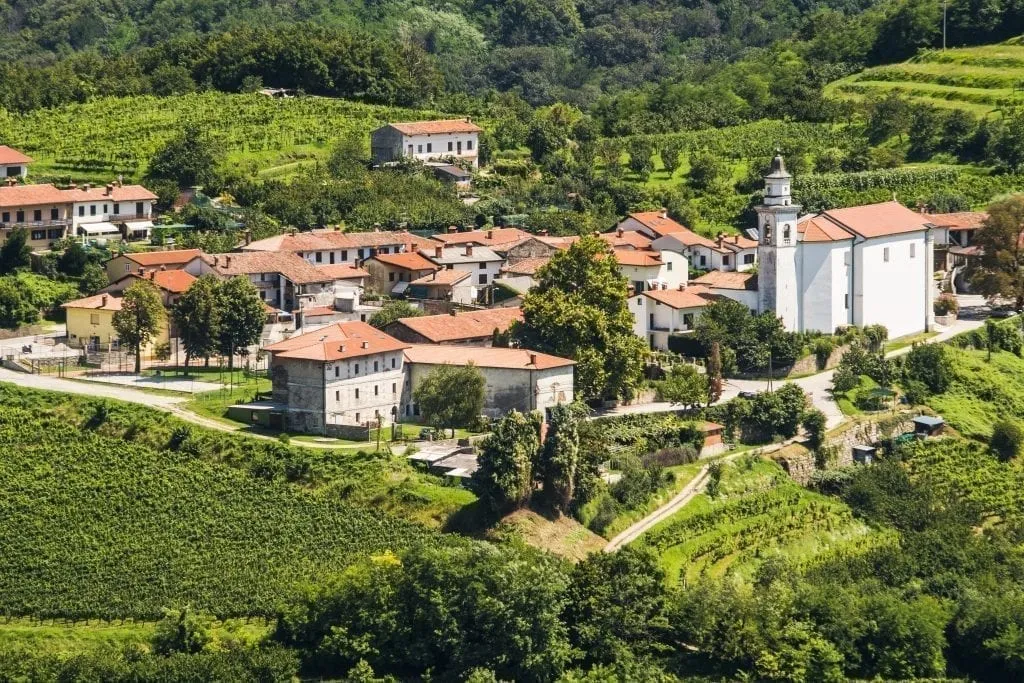 Beautiful Castles to Visit in Slovenia
Bled Castle
Nestled high above iconic Lake Bled, Bled Castle is one of the most popular places to visit in Slovenia–in large part due to the absolutely phenomenal aerial views of Lake Bled and Bled Island that you can soak in from the castle and its grounds.
Predjama Castle
Of all these beautiful places to see in Slovenia, Predjama Castle may just have the most unique setting: this Renaissance-era castle, built in the 1500s on the site of previous castles that had been destroyed, is built directly into the mouth of a cave!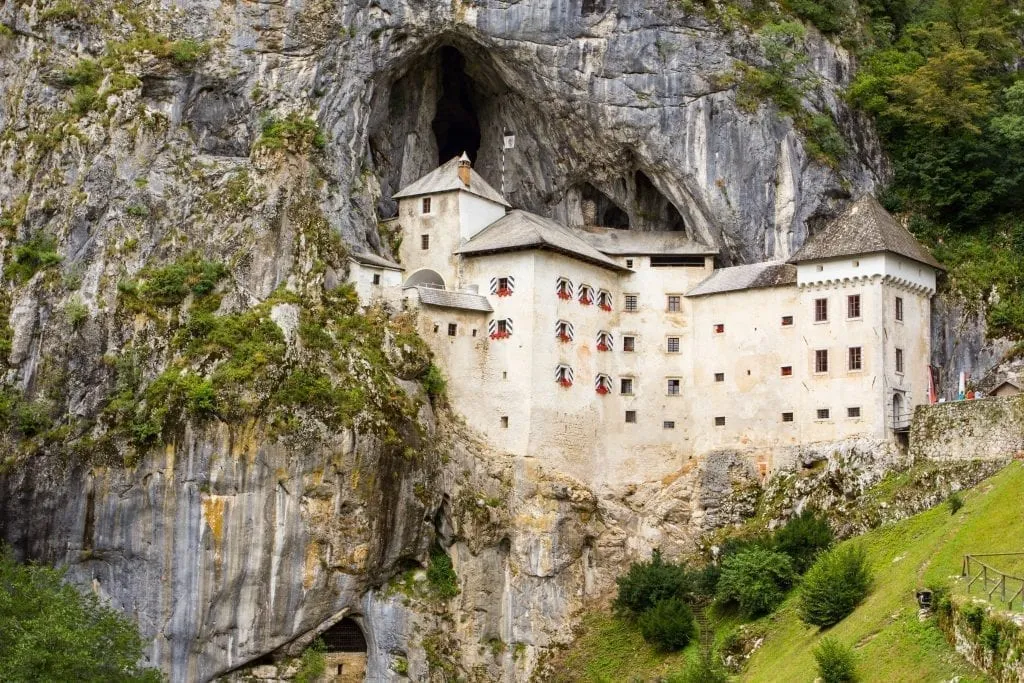 Rihemberk Castle
With a turret dating to the 13th century that is every bit the fairytale image of a castle and an impeccable location on a high hill above the village of Branik, Rihemberk Castle (also known as Branik Castle) is a fantastic place to visit in Slovenia.
Ljubljana Castle
Standing tall above the city of Ljubljana for the last 900 years, Ljubljana Castle is one of the most popular castles to visit in Slovenia today and is accessed by a funicular that will ferry modern visitors to the top of the hill it rests on.
Zovnek Castle
First mentioned in records in the 12th century, Zovnek Castle (or more accurately these days, its ruins) is one of the oldest castles in Slovenia and is accessed by a short hike from the road.
If you're looking for an offbeat and beautiful spot to add to your list of the best places to visit in Slovenia, consider checking out Zovnek Castle!
Map of the Best Places to Visit in Slovenia
---