Situated toward the center of the country and within easy reach of most of the best things to do, Slovenia's charming capital city is a fantastic base for your time in the country–if you so choose, you can visit all of Slovenia's top highlights on day trips from Ljubljana!

While we certainly recommend getting out of the capital city overnight if you can, if you're working with limited time in Slovenia, you'll have no problem hitting up many of the country's gems via Ljubljana day trips.
Here are the best day trips from Ljubljana!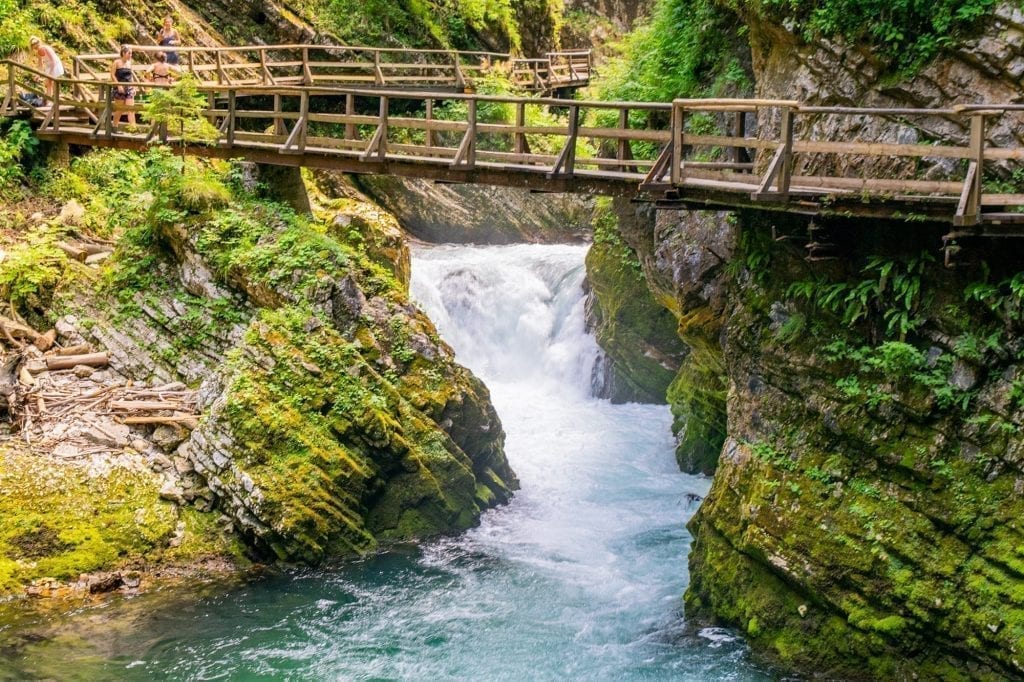 Some links in this post may be affiliate links. If you make a purchase through one of these links, we may earn a small commission at no extra cost to you. Please see our

disclosure policy

for more detail.
Getting Around Slovenia for These Day Trips
While organized day tours from Ljubljana (we'll link well-reviewed options as applicable) and, in some cases, bus service, are excellent ways to get around the country, for many of these day trips, the absolute best way to get around with the most flexibility and ability to experience the destinations on your own terms is to rent a car.
Slovenia is an absolutely fantastic country to road trip, and that stands even in the case of mini-road trips from Ljubljana.
Plus, since in some cases these day trip destinations are close together, having your own rental car will allow you to mix-and-match spots based on your interests.
We recommend renting a small car through Discover Cars, which will allow you to compare the prices and inclusions of multiple companies at the same time and choose the best car for you from there.
Check rates & book your rental car with Discover Cars today!
Cities + Towns to Visit on a Ljubljana Day Trip
Skofja Loka
This fairytale village is one of the easiest day trips from Ljubljana for travelers hoping to discover the country independently, as it's located less than an hour from Ljubljana by bus!
Built along the Sora River and overlooked by the beautiful Skofja Loka Castle, Skofja Loka is one of the most beautiful towns in Slovenia, with a well-preserved medieval center to explore in addition to its castle, viewpoints, and one of the oldest bridges in Europe.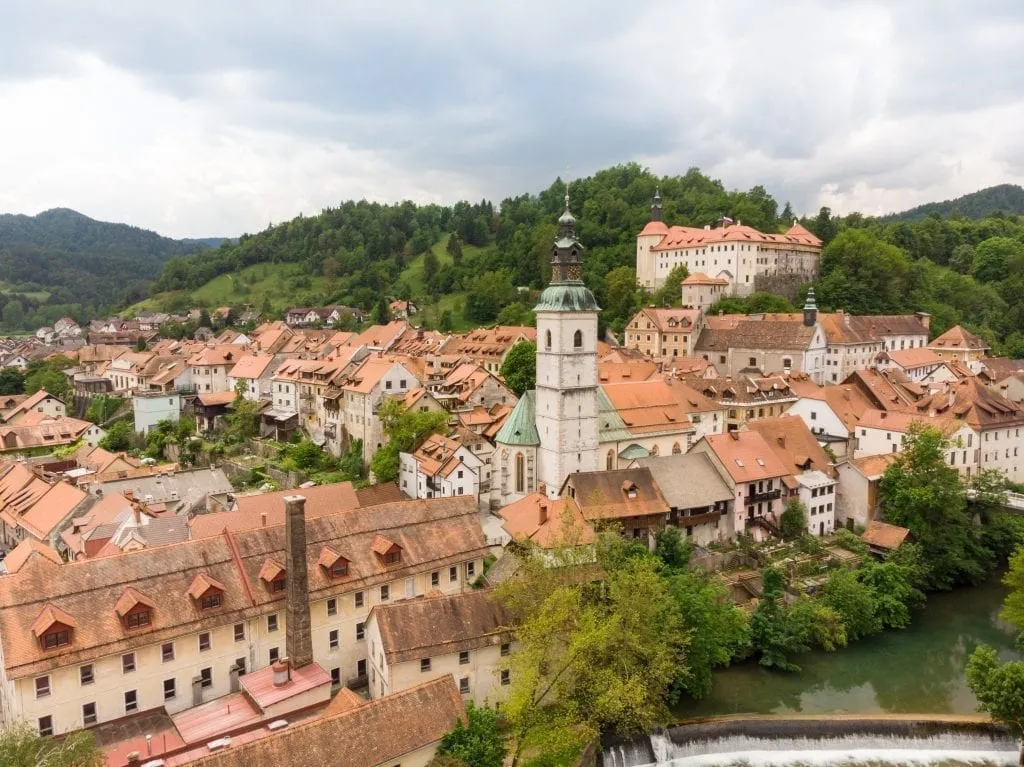 Velika Planina
Without a doubt, Velika Planina is one of the most unique day trips from Ljubljana.
This beautiful, vividly green plateau in the Alps is where you can find the largest herdsmen settlement in Europe, complete with about 140 huts, and strolling among them and through the area makes for an unforgettable Ljubljana day trip.
If you'd like to see the shepherds and herds in action, plan your visit to Velika Planina for sometime between June and September.
Piran
Tiny, charming Piran is the crown jewel of Slovenia's small slice of Adriatic coastline, and is one of our favorite places in the country!
Situated on a tiny peninsula that juts out into the sea, bite-sized Piran is the perfect size for a day trip, as you can hit up most of the best things to do in Piran, including soaking in the views from the town walls, visiting Tartini Square, and strolling along the coast, and still have time to hit the water and swim for a bit, with just a day in town!
If you'd rather not drive yourself, this fun tour combines Piran with a visit to both Predjama Castle and Postojna Cave, and makes for a fantastic day spent exploring Slovenia.
Book your day trip to Piran today!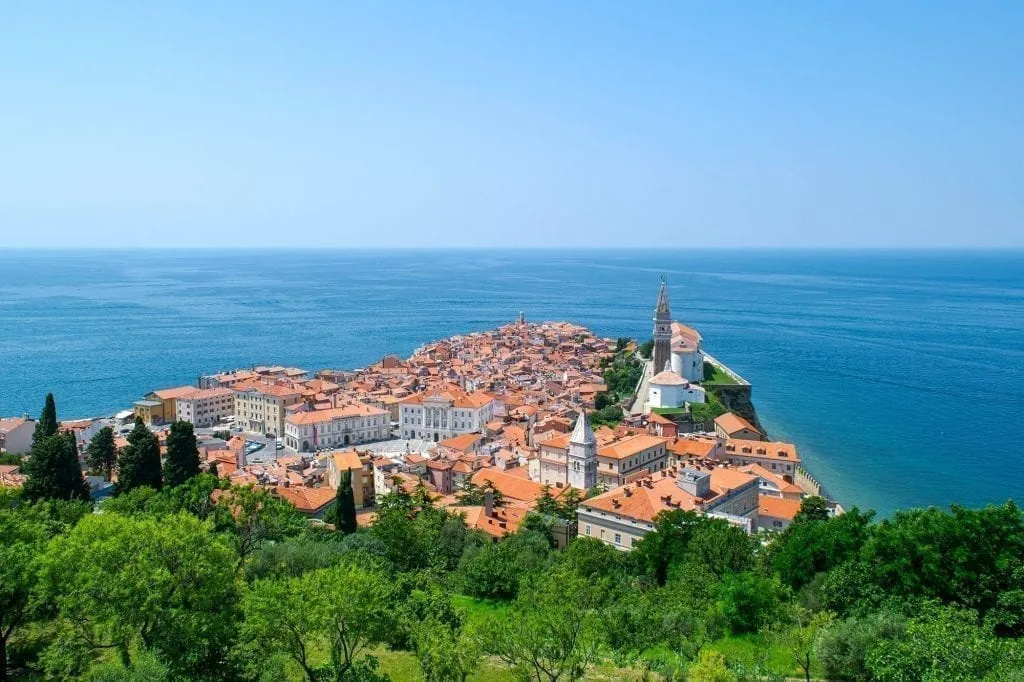 Kranj
Located north of Ljubljana, the small city of Kranj is a fantastic day trip for those looking to enjoy a quieter city in Slovenia (though Kranj is the 4th largest city in the country, it's home to only around 37,000 people).
The best-known feature of Kranj is its series of underground war tunnels built to protect citizens from WWII bombings, which you can tour today.
Kranj is also home to beautiful streets, an interesting ossuary, and a couple of lovely viewpoints from which to admire the city.
Venice
Of all the day trips from Ljubljana listed here, this one is the biggest stretch to make, but Venice is such a bucket list destination that it's worth mentioning!
It takes about 2.5-3 hours to drive from Ljubljana to Venice (be sure to check with your car rental company to ensure your contract allows you to cross into Italy), and we recommend getting an early start to avoid traffic.
Since Venice doesn't allow cars in its center, you'll need to park in Mestre and then take a ferry into Venice's center–but since arriving in central Venice via ferry is a tourist experience in itself, it's hardly a chore!
I'll be quite honest: this is a long, tiring day trip, and it isn't for everyone. However, if you've long dreamed of riding a gondola in Venice, strolling across the Rialto Bridge, marveling at the Bridge of Sighs, and staring in wonder at St. Mark's Basilica, it just may be worth the effort for you!
Want to take a day trip to Venice from Ljubljana, but don't want to deal with the hassle of complex logistics? This well-reviewed day tour is a great option, and will handle transportation for you!
Arrange your day trip to Venice today!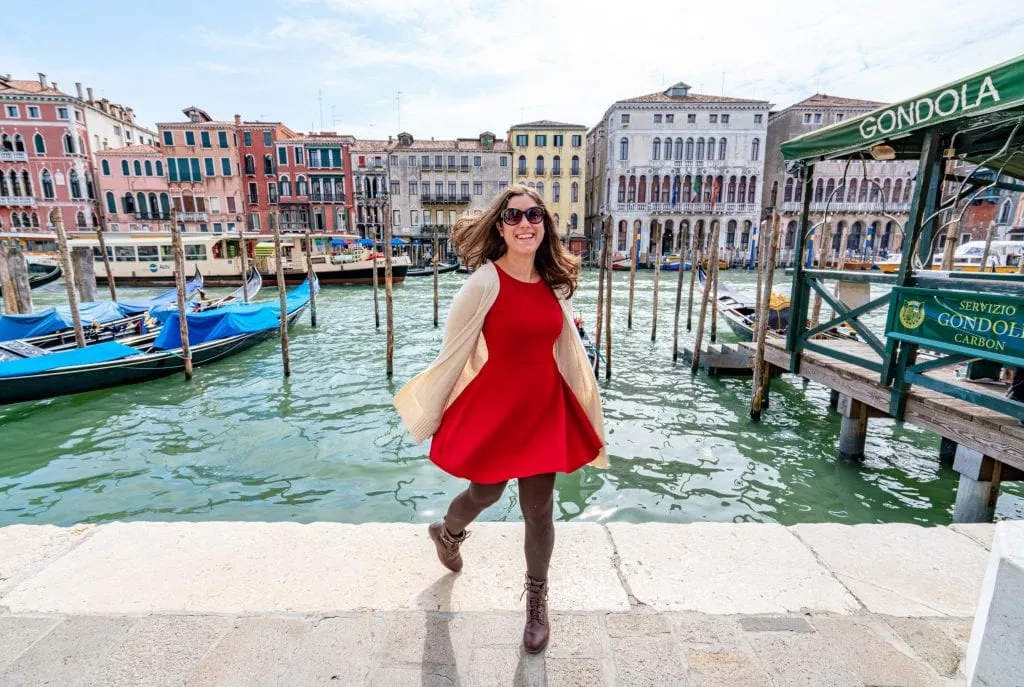 Best Day Trips from Ljubljana for Nature Lovers
Lake Bled
Slovenia's most famous tourist destination is one of the most popular day trips from Ljubljana, and for good reason!
While you're there, be sure to rent a rowboat to experience tiny Bled Island for yourself, visit Bled Castle for phenomenal views over the lake, and relax on the shore.
If you'd like to let someone else handle the organization, this popular day trip also includes a visit to the Vintgar Gorge and a quick look at Skofja Loka, in addition to a tour of Lake Bled.
Book your trip to Lake Bled today!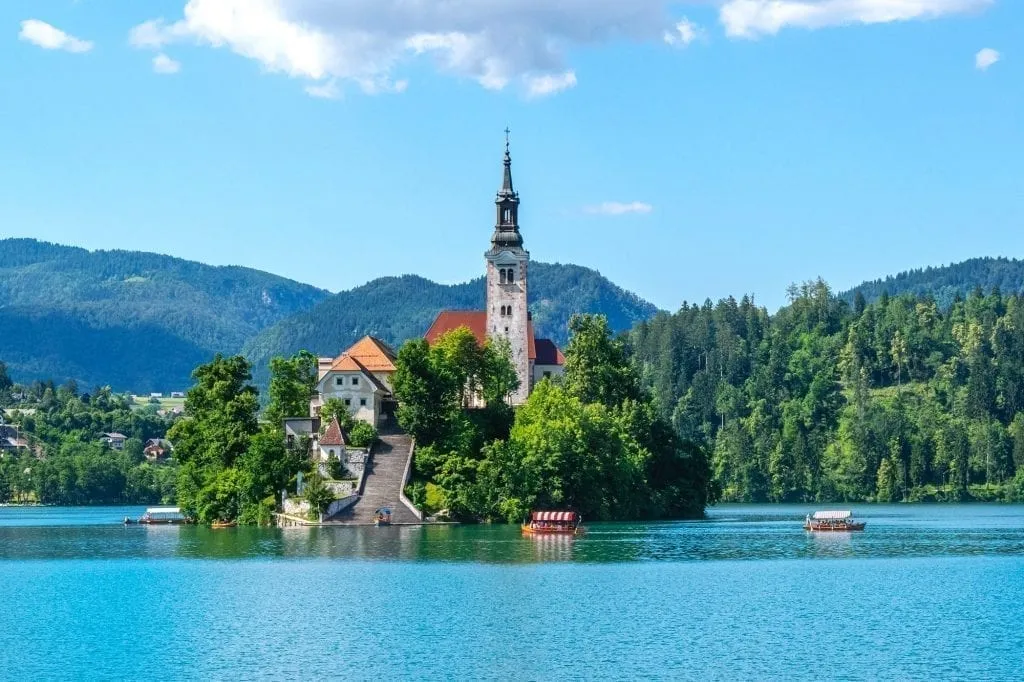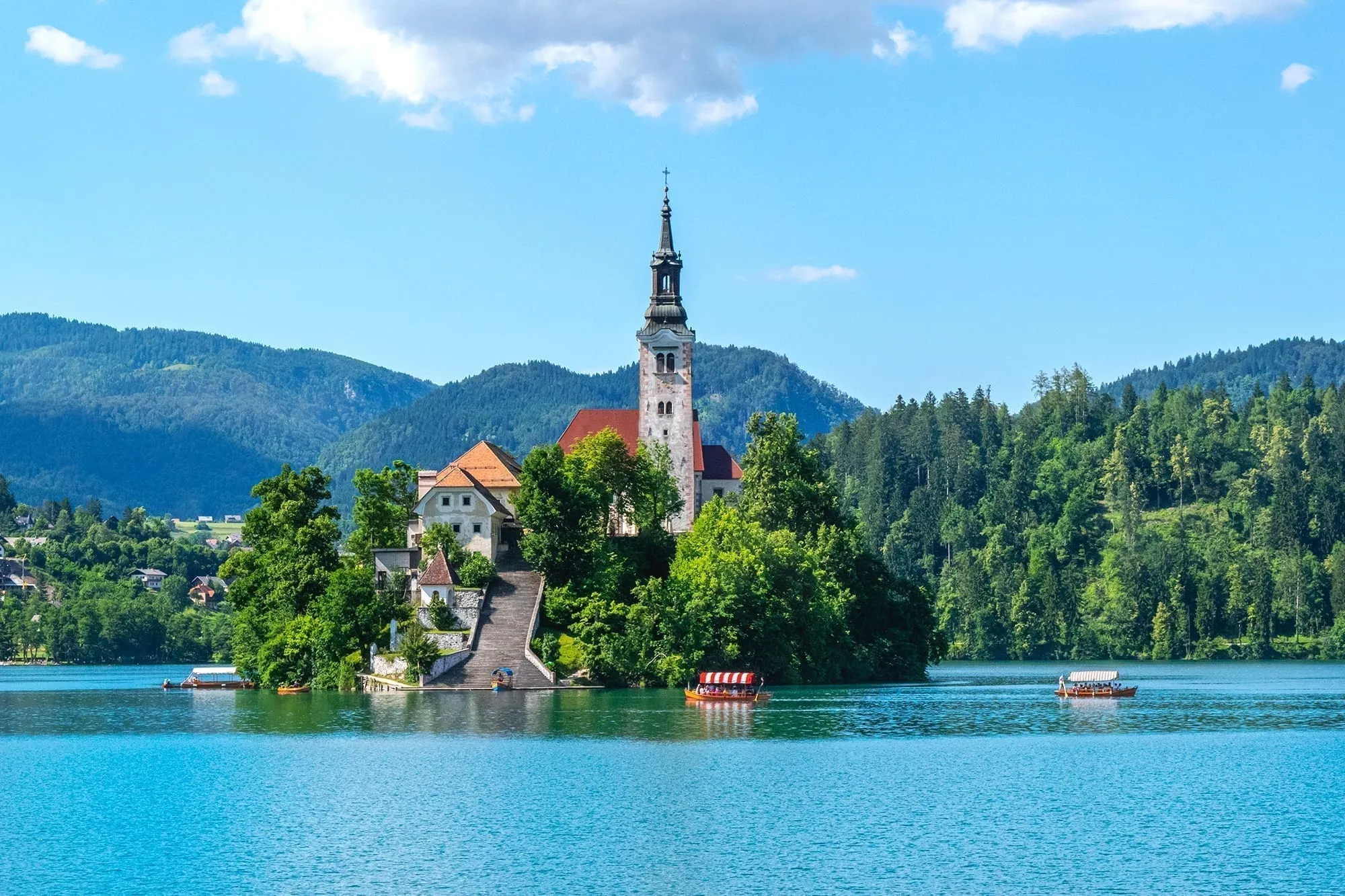 Lake Bohinj
Larger and a bit wilder than Lake Bled, but also incredibly beautiful, Lake Bohinj is another fantastic option for a day out on a lake in Slovenia.
Whether you want to go for a swim, rent a kayak, hike to a viewpoint, or some combination of them all, you can spend a fantastic day at Lake Bled.
We highly recommend making time for Savica Falls, which is located a short drive from Lake Bohinj and is one of our favorite waterfalls in Slovenia.
Like Lake Bled, a day in Lake Bohinj can also be combined with a visit to the Vintgar Gorge, as well!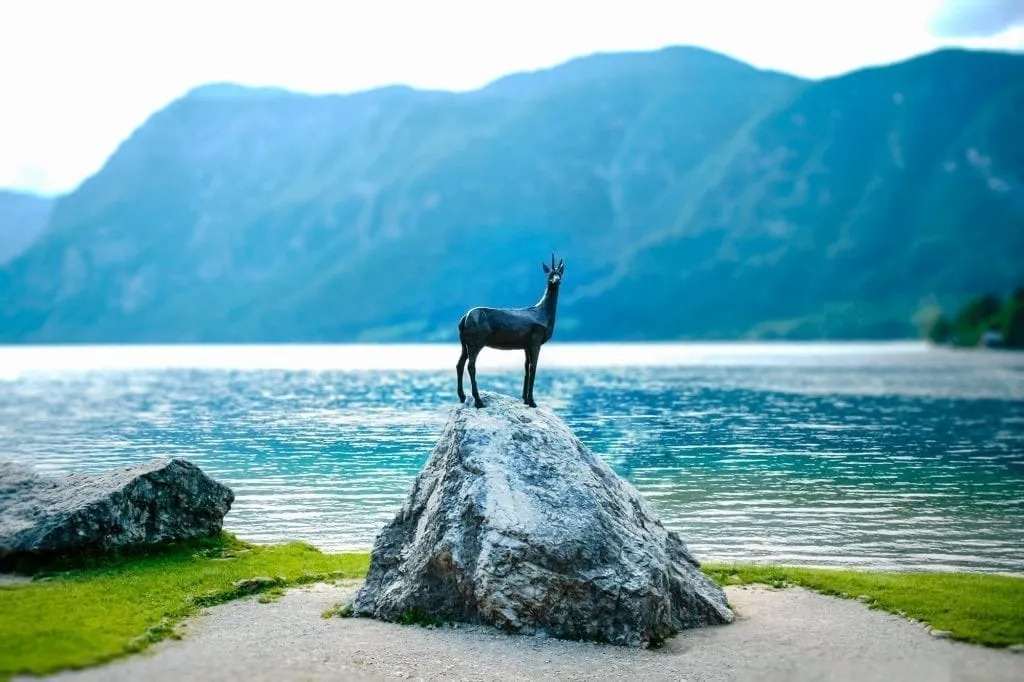 Vintgar Gorge
Filled with the flowing, ice-blue water of the Radovna River that slowly carved out craggy cliffs and a beautiful waterfall over the millennia, Vintgar Gorge makes for a fantastic place to spend a day!
The hike–if you can even call it that–is leisurely, situated along 1.6 kilometers of beautiful wooden boardwalks, and meant more for appreciating beautiful views and relaxing than for physical exertion.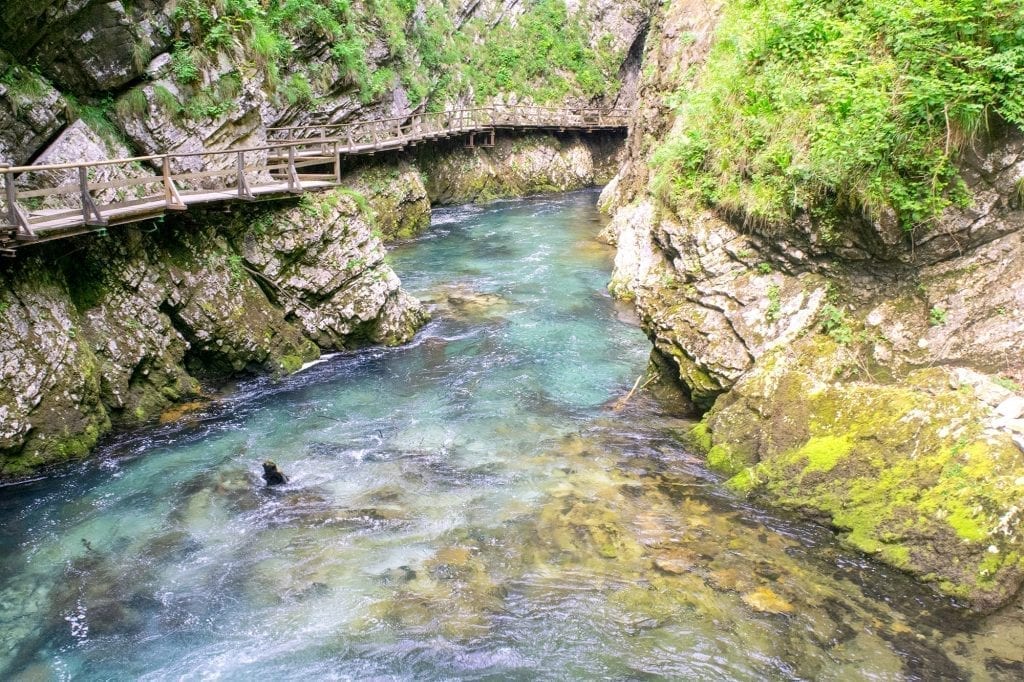 Skocjan Caves
Home to an underground river worthy of a fantasy novel, incredible beauty, a secret waterfall, and a UNESCO World Heritage designation, a visit to the Skocjan Caves is a truly unforgettable experience while in Slovenia.
Horse-lovers will enjoy combining a visit to the Skocjan Caves with a visit to the nearby Lipica Stud Farm, while nature lovers may prefer to spend extra time after their cave tour hiking the trails in and around the cave system.
Bovec/Soca River Valley
Located in the absolutely stunning Soca Valley, Bovec is nicknamed the "adventure capital of Slovenia" for good reason–there is no shortage of unforgettable adventures to have here!
If you have been dreaming of going whitewater rafting in Slovenia, this is the place to do it.
While hiking and waterfall chasing are also perfectly wonderful and reliable options, you can also consider kayaking, and/or canyoning when planning to spend a day in the Soca River Valley!
Book a whitewater rafting adventure in the Soca River Valley today!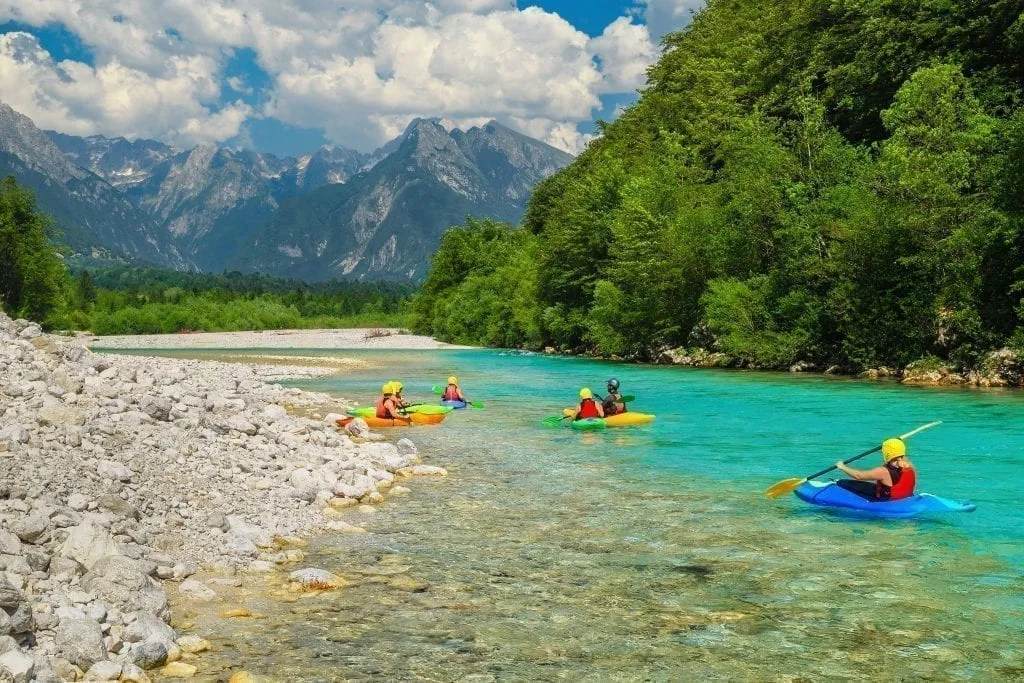 Logar Valley
Known for being one of the most pristine glacial valleys in Europe, the Logar Valley of Slovenia is almost overwhelming in its beauty.
The area is home to gorgeous waterfalls (including the stunning Rinka Falls, where water falls 90 meters over a cappuccino-colored cliff before landing in a turquoise pool), beautiful hiking trails, lush greenery, and delicious food.
If you're looking for idyllic nature, you can't go wrong with heading to Logar Valley on a Ljubljana day trip.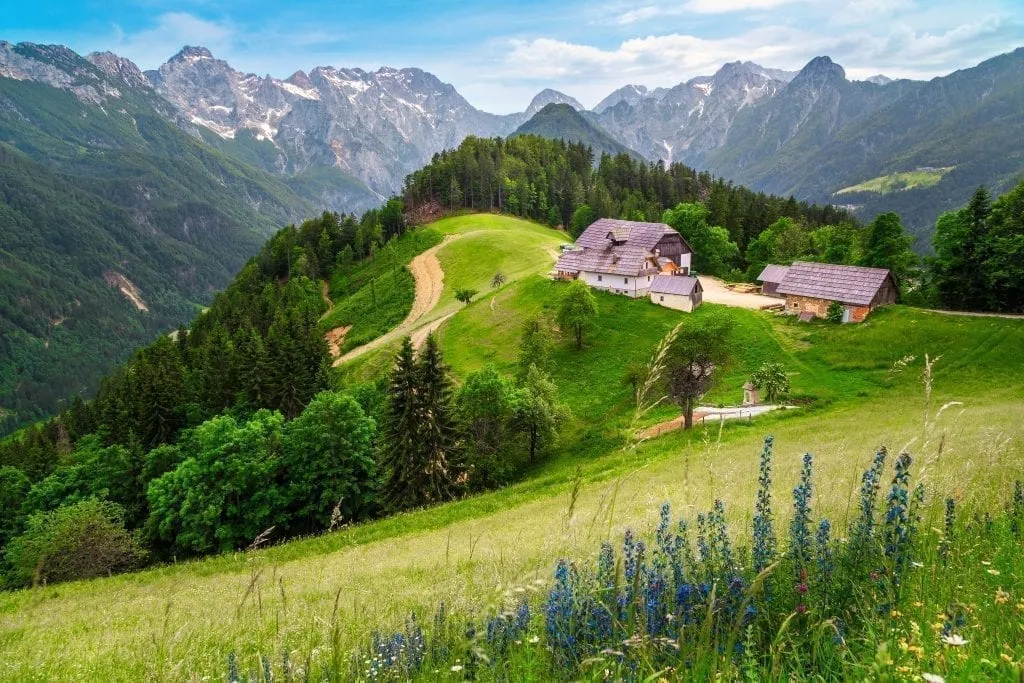 Other Fun Day Trips from Ljubljana
Brda
Tucked into the western corner of Slovenia, Brda is one of Slovenia's top wine regions, earning the nickname the "Tuscany of Slovenia".
With adorable villages, endless rolling hills covered in grapevines, and excellent vineyards to enjoy, Brda makes a fantastic independent day trip from Ljubljana.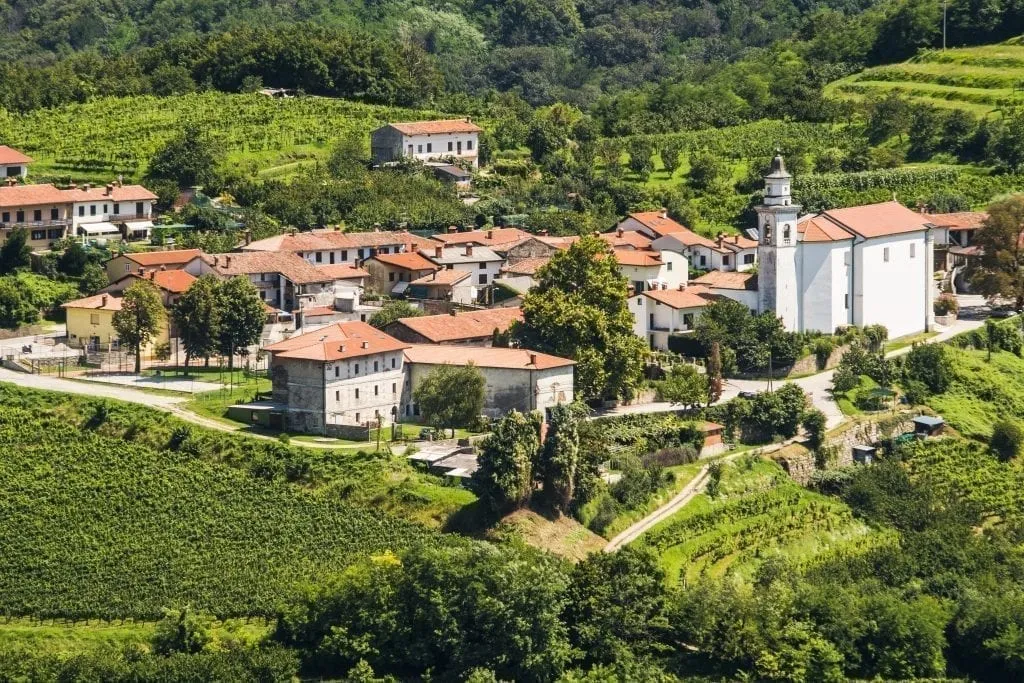 Postojna Cave + Predjama Castle
While several other of these best day trips from Ljubljana can be combined with others–Vintgar Gorge and Lake Bled, for example–Postojna Cave and Predjama Castle seem silly to separate at all, given that each takes less than a full day to enjoy and that they're located a mere 15 minutes apart by car.
Predjama Castle is the most famous (and possibly most photogenic) castle in Slovenia, well-known for its incredible location–it was built right into the mouth of a cave!
Once you finish up there, head to Postojna Cave–the most popular cave in Slovenia–for a train ride through the underworld and some absolutely stunning cave views.
This popular day trip combines both attractions and is a wonderful option!
Book your day trip to Postojna Cave and Predjama Castle today!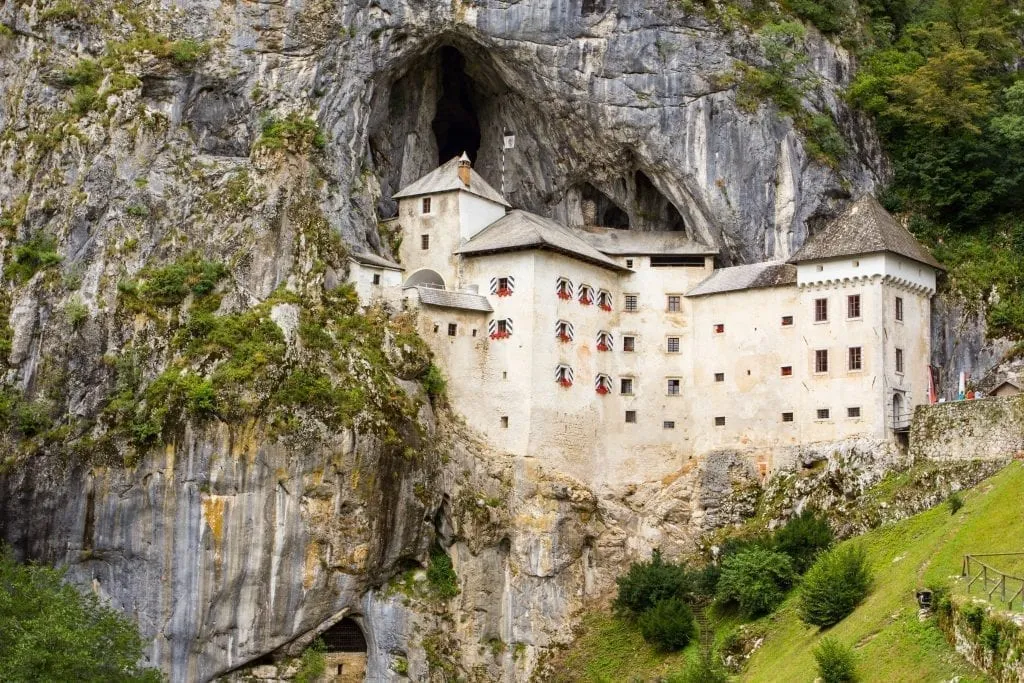 Vipava Wine Region
Located just south of the Brda wine region, and a bit bigger to boot, the Vipava wine region is another of Slovenia's celebrated wine regions, having gained prominence in the last few decades.
If you'd rather not drive yourself–all the better to be able to taste as much as you like, guilt-free–this day tour to the Vipava wine region that leaves from Ljubljana is a great option.
Book your wine tasting tour of the Vipava Valley today!
Map of the Best Ljubljana Day Trips
[gmaps src="https://www.google.com/maps/d/u/0/embed?mid=1vCwhXpFCekSaUlXJ0rW7ZTZ_KIc83b70″]
---