Wondering exactly where to go in Europe this summer? These epic summer destinations in Europe will give you plenty of inspiration!
From classic beach getaways to delightful summer road trip spots to lush islands that shine their brightest from June to August, we've rounded up the best places to visit in Europe in summer.
The Best Places to Visit in Europe in Summer
Andalucia, Spain
Known for its beautiful beaches, the coastline of Spain's Andalucia region is among the best summer destinations in Europe, offering stunning natural beauty surrounded by beautiful villages, along with a hefty dose of that famous Spanish sunshine.
The most famous coastline in Andalucia for European summer getaways is the famous Costa del Sol, located between Malaga and Gibraltar, where you can find some of the loveliest beaches in Europe–for a fraction of what you might pay in nearby France or Italy.
Though Andalucia's inland cities are less ideal places to visit in Europe in summer–beautiful cities like Seville and Granada (home to the famous Alhambra) are scorching hot during the summer months–they can still make excellent additions to a trip to southern Spain if you're willing to brave the heat!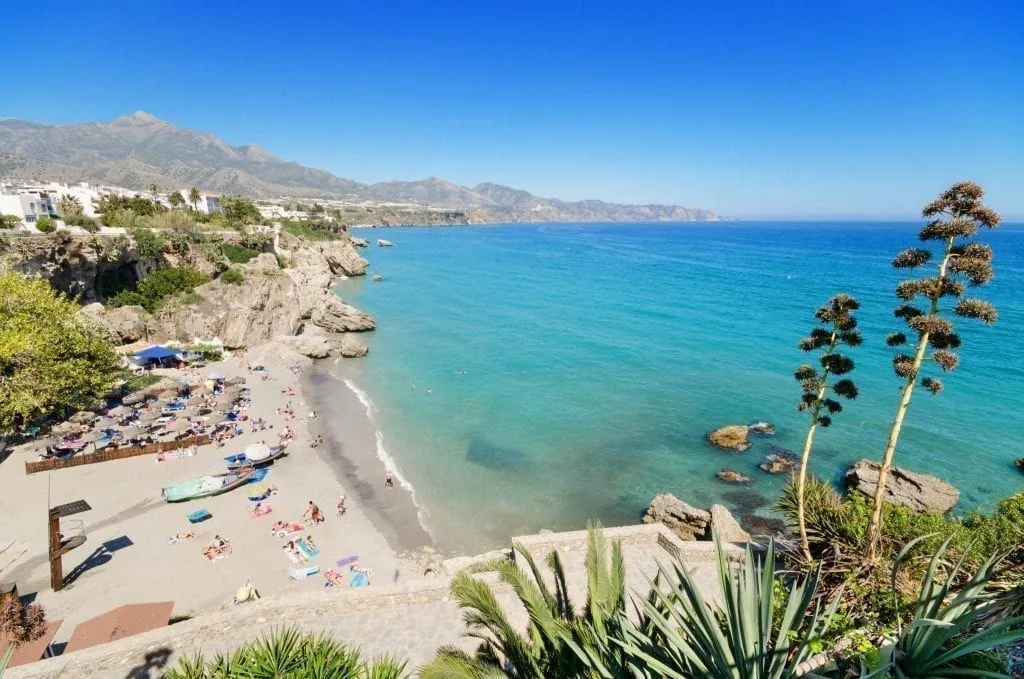 Dalmatian Coast, Croatia
Croatia's sparkling coastline has propelled it from a popular summer destination for Europeans to widespread international fame in recent decades (okay–the coastline and Game of Thrones), and it is easily one of the best places to visit in Europe in summer.
Whether you want to stroll the city walls of Dubrovnik, admire Diocletian's Palace in Split, go swimming off the coast of Hvar or Korčula, or jump on a sailboat and explore some of the coast's whopping 79 islands, there's no doubt that Croatia's Dalmatian Coast makes for a magical summer trip.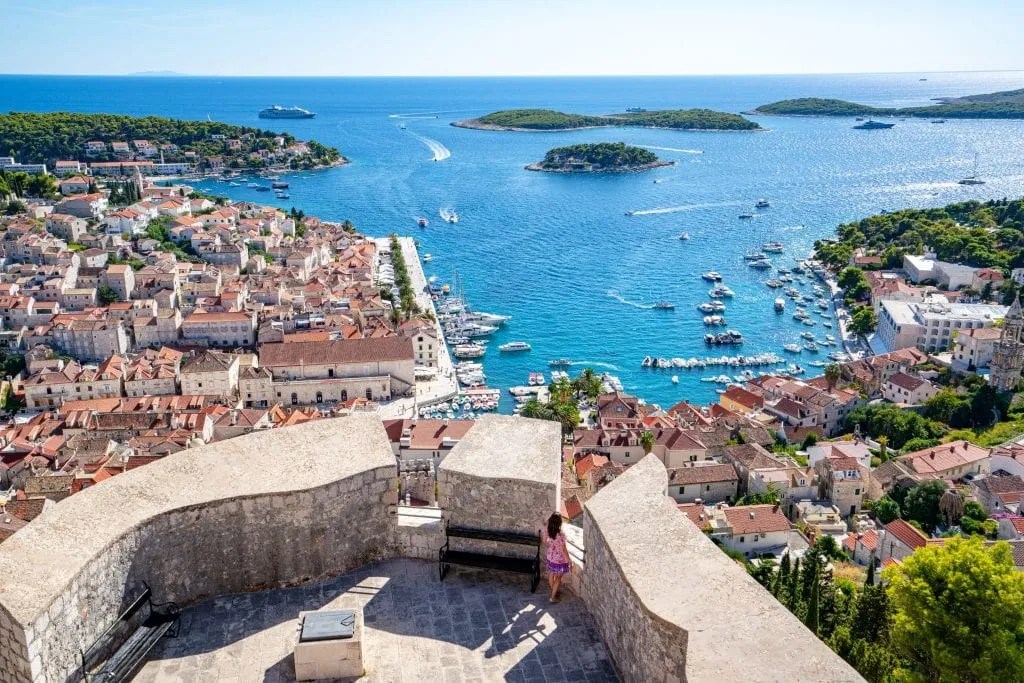 Algarve, Portugal
Located in the southwestern corner of Portugal, the Algarve is a once-secret European summer destination that has rapidly increased in popularity, thanks in large part to its rugged beauty, low prices (which, it must be noted, are rising as fast as its popularity) and its phenomenal rock formations along the coast.
Though you can find charming towns like Lagos, Portugal, and plenty of sandy beaches here, the real attractions are the sea caves, arches, and rocky cliffs that give the Algarve a unique beauty among the other best places to visit in Europe in summer.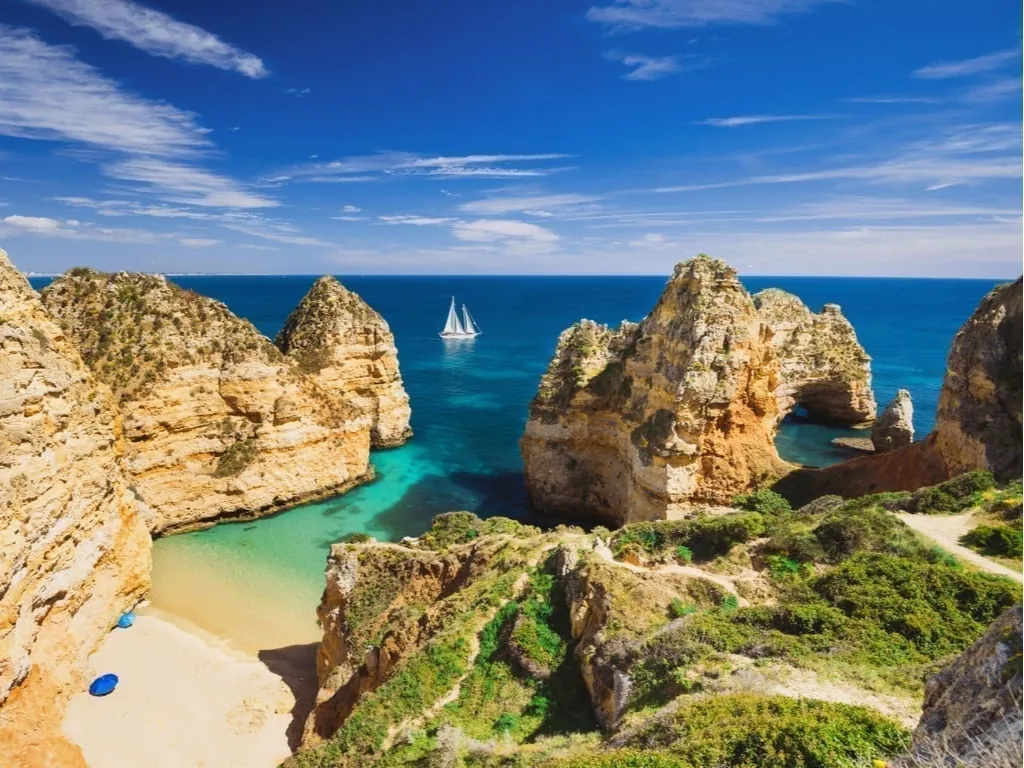 Sicily, Italy
Italy's southernmost region is an absolute delight to visit in summer.
With phenomenal Italian beach towns, excellent food and wine, a stunning volcano, and remarkably low prices (especially as compared to much of the rest of Italy) Sicily makes for a fantastic summer road trip opportunity.
While you're there, don't miss the beaches of Cefalu and Avola, the gorgeous towns of the Val di Noto, the bustling streets of Palermo, or the Greek theatre and beautiful views from Taormina.
Travelers with more time to experience the beauty of Sicily in summer will also want to see Siracusa, the Aeolian Islands, and Agrigento's Valley of the Temples!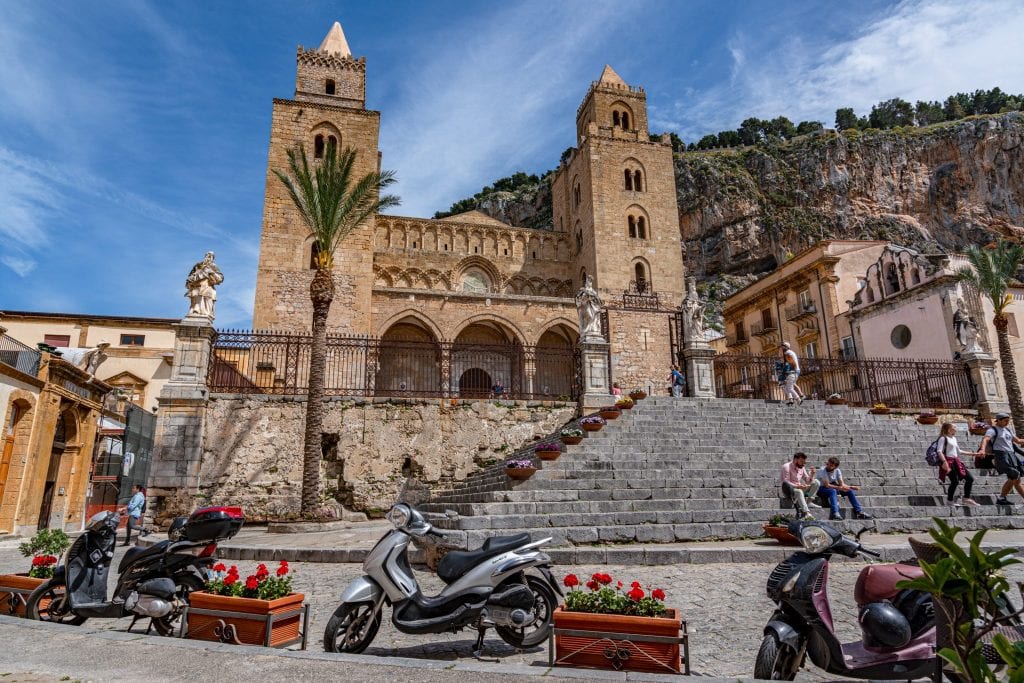 Provence, France
Featuring sprawling lavender fields, delightfully charming small villages, and some of the absolute best farmer's markets around–not to mention plenty of great places to swim like the Verdon Gorge and Calanques National Park–Provence has long been a classic European summer destination for a very good reason.
For the best chance to see lavender fields at their peak, plan your trip between mid-June and mid-July–but even if you miss the lavender fields, Provence still has plenty to offer!
Amalfi Coast, Italy
Italy's premier coastline has been one of the most highly sought-after summer destinations in Europe for thousands of years, luring everyone from Roman Emperors to the stars of Hollywood's Golden Age to modern travelers to its shores with its dramatic cliffs, azure waters, and beautiful villages.
Though not technically part of the Amalfi Coast itself, it's worth mentioning the legendary Capri here, as well: no trip to the Amalfi Coast could be complete without a visit to its most famous next-door neighbor.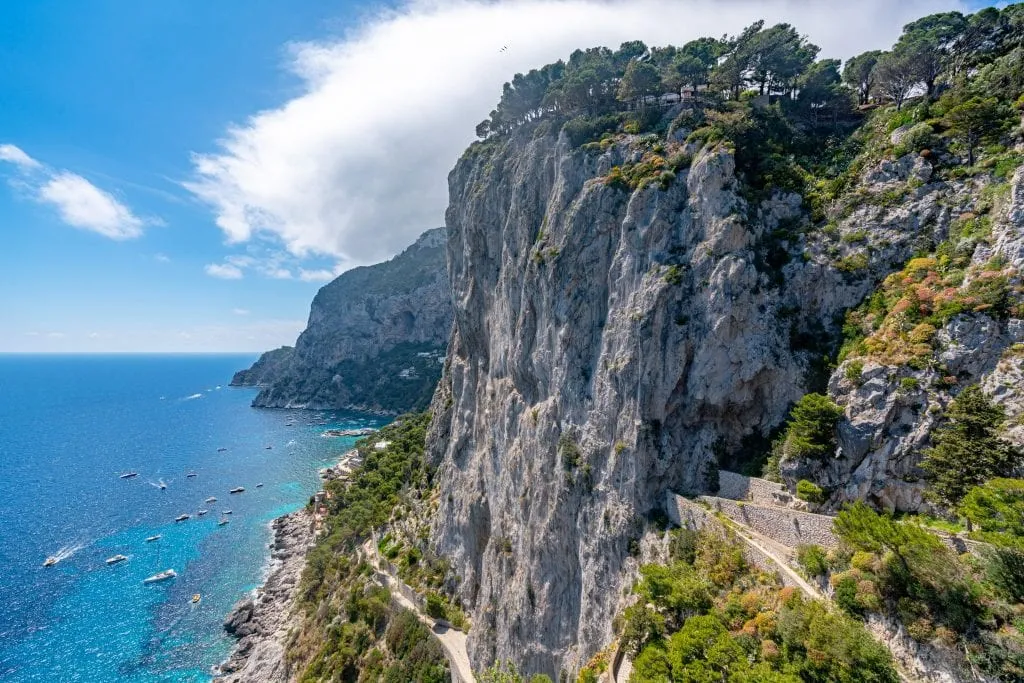 French Riviera
Much like the Amalfi Coast, the French Riviera is absolutely iconic among summer destinations in Europe.
From St. Tropez to Cannes to Nice to Menton and beyond, the French Riviera is known for its exclusive beaches, immense beauty, historic cities, and many, many yachts.
Visitors to the French Riviera can even squeeze in a trip to one of the smallest countries in the world as part of their trip–Monaco makes an easy day trip from Nice!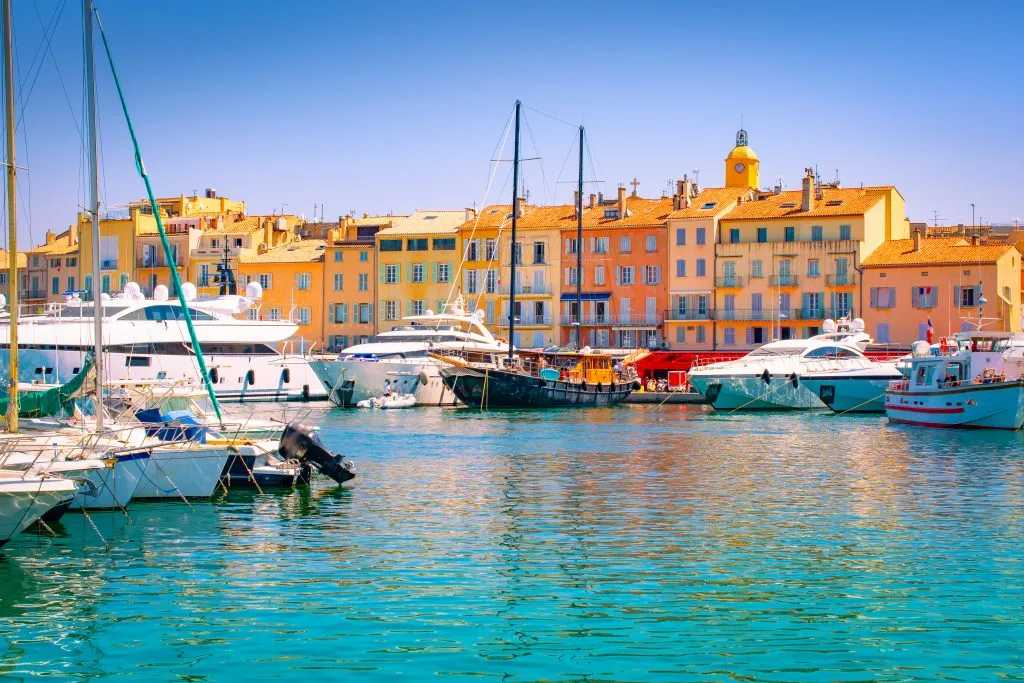 Turquoise Coast, Turkey
Also known as the Turkish Riviera, Turkey's phenomenal Turquoise Coast is located in the southwest of the country and offers gorgeous beaches along both the Aegean and Mediterranean Seas, along with picturesque small towns, majestic ruins (including Ephesus), and almost shockingly low prices as compared to other nearby beach destinations.
Technically, the only part of Turkey that is part of the continent of Europe is a small piece that includes the far west of the country and half of Istanbul.
However, since Turkey in general (especially Istanbul and Cappadocia) are often included on a trip to Europe, we think it's worth including the Turquoise Coast on this list of the best summer destinations in Europe… just in case it tempts you to add it to your plans!
Ireland
Ireland is one of our personal favorite places to visit in Europe in summer!
While it may not be a classic summer destination in a sundresses-and-beach-days sense (I've definitely spent more time wearing raincoats than bathing suits in Ireland during the summer), the Emerald Isle absolutely shines during the summer months, offering the highest chances of sunny days you'll ever see in Ireland, phenomenal natural sights, great food, and adorable villages.
An Ireland road trip is an absolutely amazing summer travel experience, and while popular sights like the Ring of Kerry and Cliffs of Moher will certainly be crowded, Ireland overall can be a great place to escape Europe's crowded beach towns during the summer months–it's very easy to find beautiful places that you can have all to yourself here!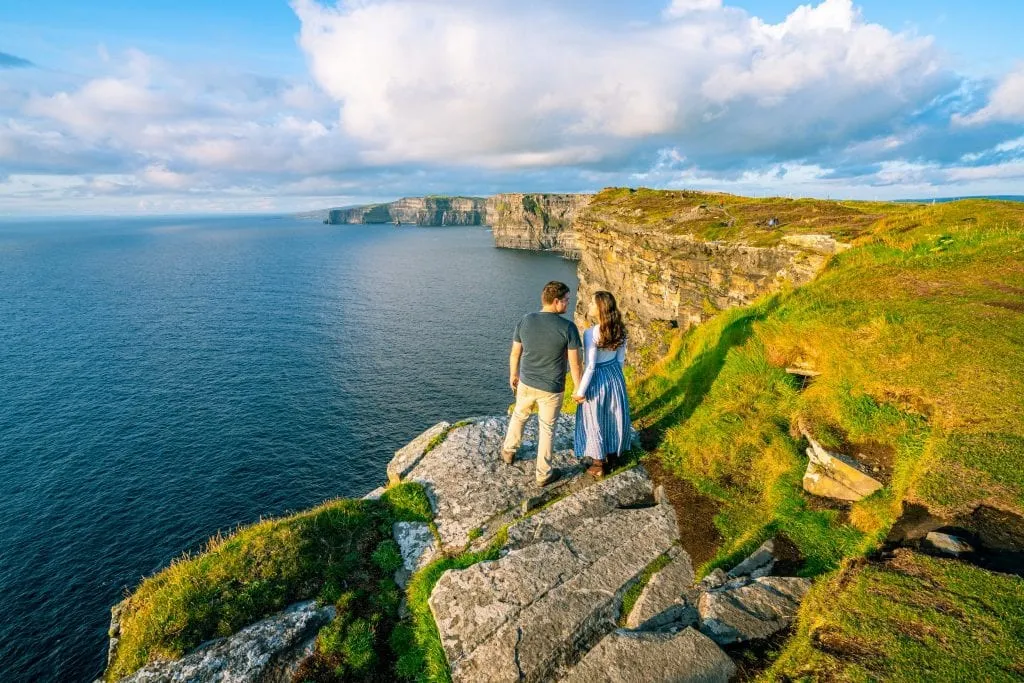 Greek Isles
Boasting a seemingly endless number of islands, a couple hundred of them populated, the many, many islands of Greece are a classic summer vacation opportunity in Europe.
Narrowing down exactly where to go is incredibly difficult, but popular options include Santorini for its classic white-and-blue villages and cliffs, Mykonos for its windmills and famous party scene, Corfu for beautiful water, a touch of Venetian history, and proximity to Albania, and Greece's largest island, Crete, which boasts everything from historical fortresses to some of the best beaches in the country.
For a bucket-list-worthy summer in Europe that you'll never forget, consider renting a sailboat and hitting up several islands by sea (you can charter a boat with or without a captain).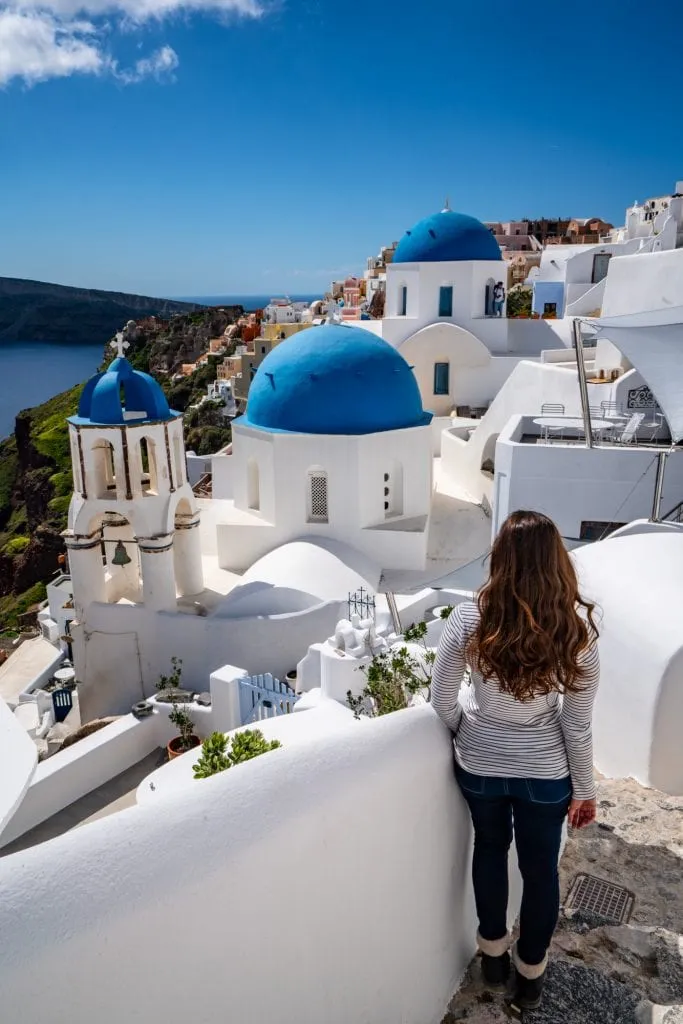 Balearic Islands, Spain
Located off the east coast of Spain, you've no doubt heard of the Balearic Islands Archipelago, even if you've never heard the name before.
This is where you can find the infamous party island of Ibiza, beautiful and popular Mallorca, and slightly-less-known Menorca, among several others.
Even if you're not the partying type, though, Spain's Balearic Islands still have a lot to offer for a summer vacation in Europe, including plenty of quiet corners, epic viewpoints, beautiful beaches, and quiet villages.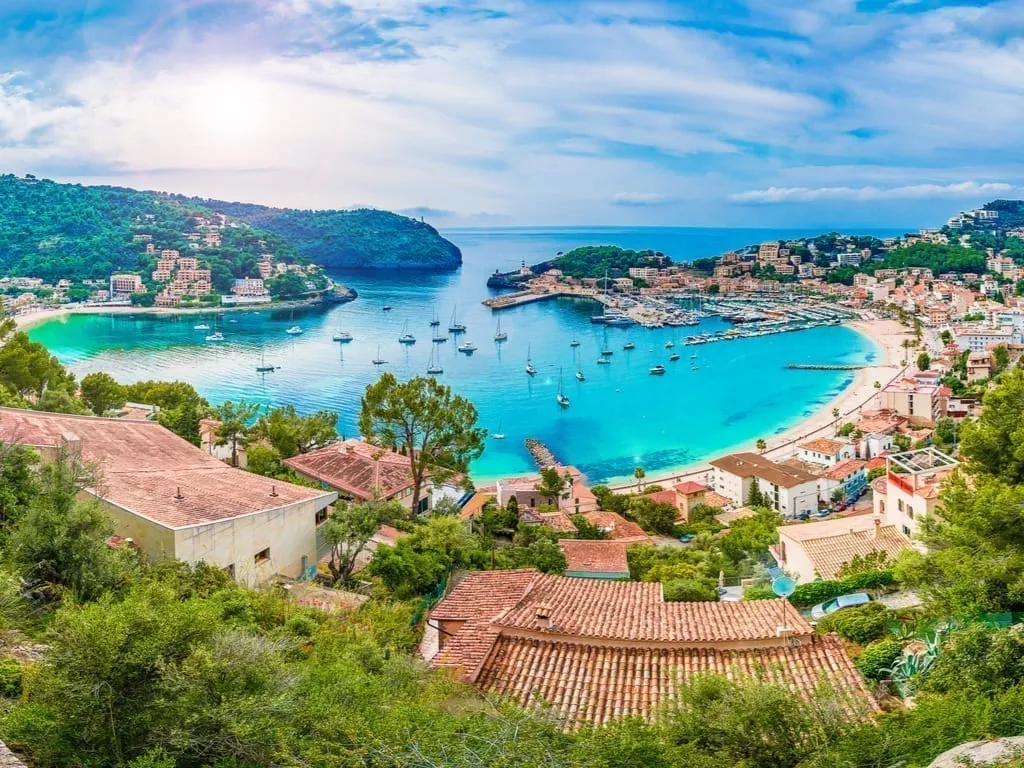 Cinque Terre, Italy
Nestled along Italy's Ligurian coast, the famous villages of Cinque Terre are among the most picturesque places to visit in Europe in summer–as long as you're willing to battle the crowds!
Immensely popular but beautiful enough to be worth the hassle, Cinque Terre is known for its colorful villages, quaint harbors, delicious pesto and seafood, and amazing hiking opportunities.
Head to Monterosso al Mare for the best beach, and Vernazza and Manarola for the best views–in our biased opinion, anyway!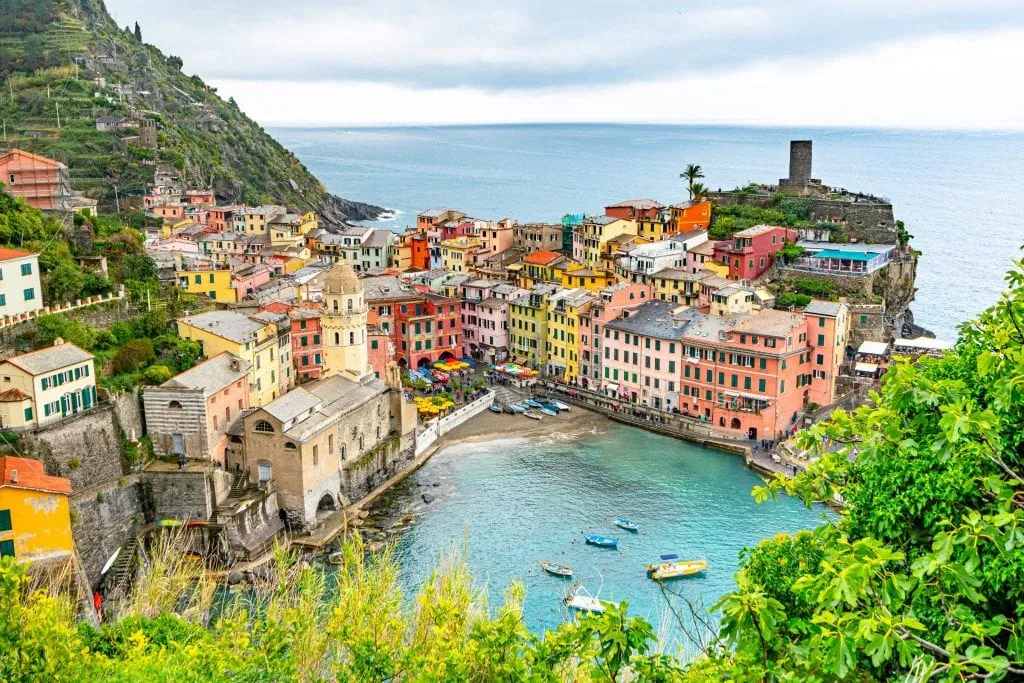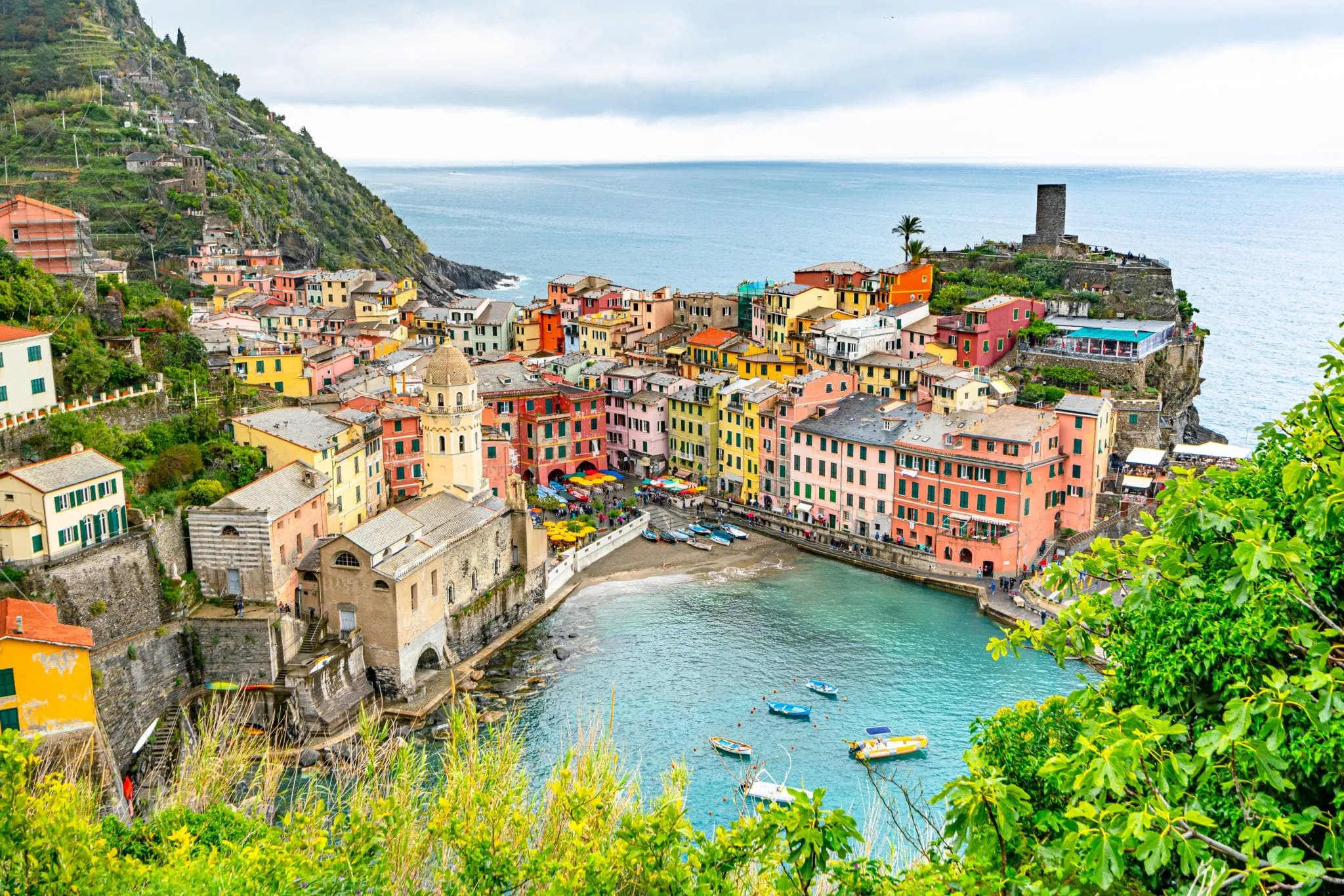 The United Kingdom
From the rugged beauty of the Scottish Highlands to the quiet beauty of the Cotswolds, and from the hustle and bustle of London and the charm of Cambridge to the beaches of Brighton, there is no better time to enjoy (comparatively) warm temperatures and sunny weather in the United Kingdom than during the summer months.
True, the UK doesn't have the best reputation for its weather–but visiting during the summer will absolutely give you the best shot at experiencing beautiful days!
Whether you want to explore one of the best road trips in the UK or enjoy a train journey across the countryside (or both!), you're bound to have a memorable trip.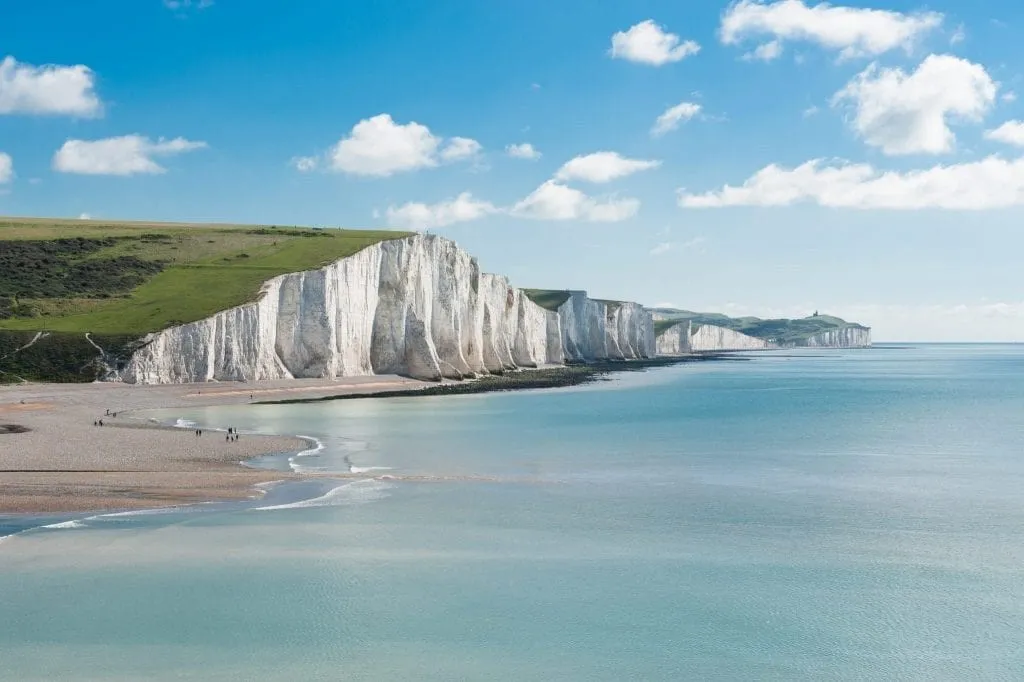 Bay of Kotor, Montenegro
Stare out across the beautiful Bay of Kotor in Montenegro, and you may just think you're looking out over a fjord.
Located within a couple of hours of popular Dubrovnik in Croatia, the towns along the Bay of Kotor feel remarkably similar to its famous neighbor–but with far fewer crowds and much smaller price tags.
Beautiful Kotor (don't miss climbing to San Giovanni's Fortress while there!), Perast, Tivat, and more, all offer a chance to experience a beautiful corner of the Balkans, and while Kotor is increasing in popularity among cruise ships, the Bay of Kotor itself is still a relatively quiet place.
If you set off on a Montenegro road trip this summer, you can even extend beyond the bay–Tara River Canyon and Durmitor National Park are also must-see destinations in Montenegro.
Albanian Riviera
Among all of these places to visit in Europe in summer, the Albanian Riviera is among the most offbeat for travelers hailing from outside the continent.
However, with shockingly low prices as compared to most of these summer destinations in Europe, absolutely stunning beaches, and plenty of beach towns to choose from, the Albanian Riviera has a lot to offer.
While flights into Albania can get a bit pricey (and many arrive in the capital of Tirana, far from the best beaches), Corfu, Greece is easily accessible by air and is located as little as a 30-minute ferry ride from the town of Sardana along the Albanian Riviera!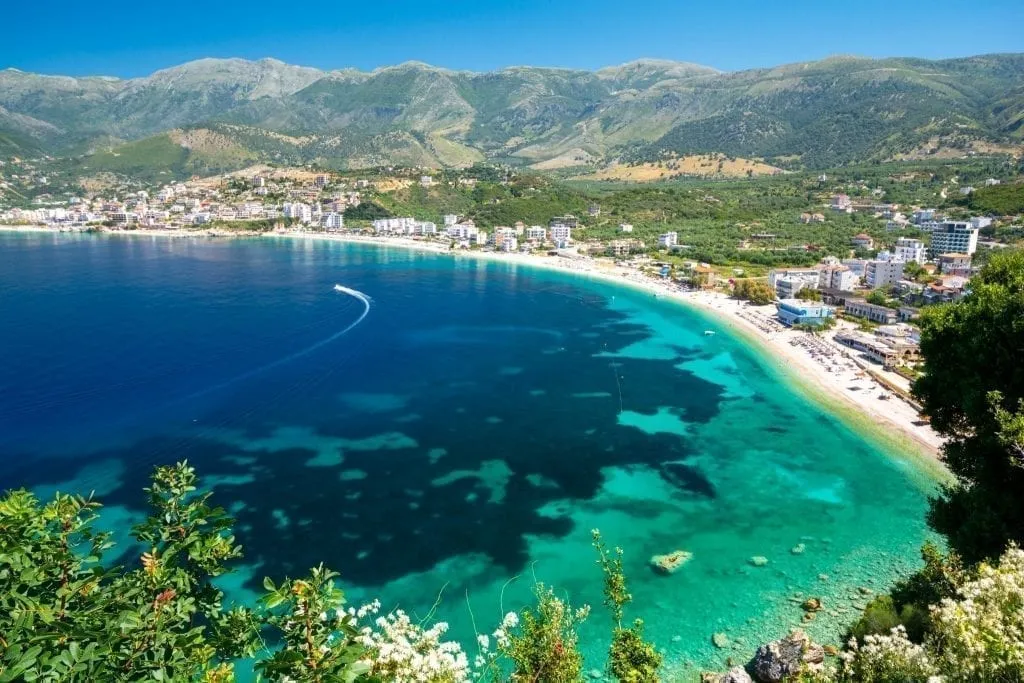 Iceland
Iceland in summer is a land of magic.
This is the land of the midnight sun, natural hot springs, endless fields of blooming lupines, glaciers, unbelievably green landscapes, and of course, the otherworldly waterfalls that the country is known for.
While you won't be able to see the famous northern lights when visiting during summer, midnight sun, easier driving conditions, and slightly warmer weather (you'll probably still need to bundle up a bit, though!) make visiting this stunning country in summer–even if you only have a couple of days in Iceland–a very special experience.
Puglia, Italy
Located on the "heel of the boot", so to speak, the Puglia region of Italy is known for its lovely beaches, whitewashed villages, and delicious food (especially seafood and orecchiette pasta).
While what is arguably its most famous village, Alberobello, home of the trulli, is not on the coast at all, Puglia is generally seen as a beach destination in Europe–and while it has been popular with European travelers for ages, its profile is growing around the world.
Heading to Puglia this summer?
Consider adding a stop in the haunting city of Matera, which is technically located next door in Basilicata but is a common addition to trips to Puglia!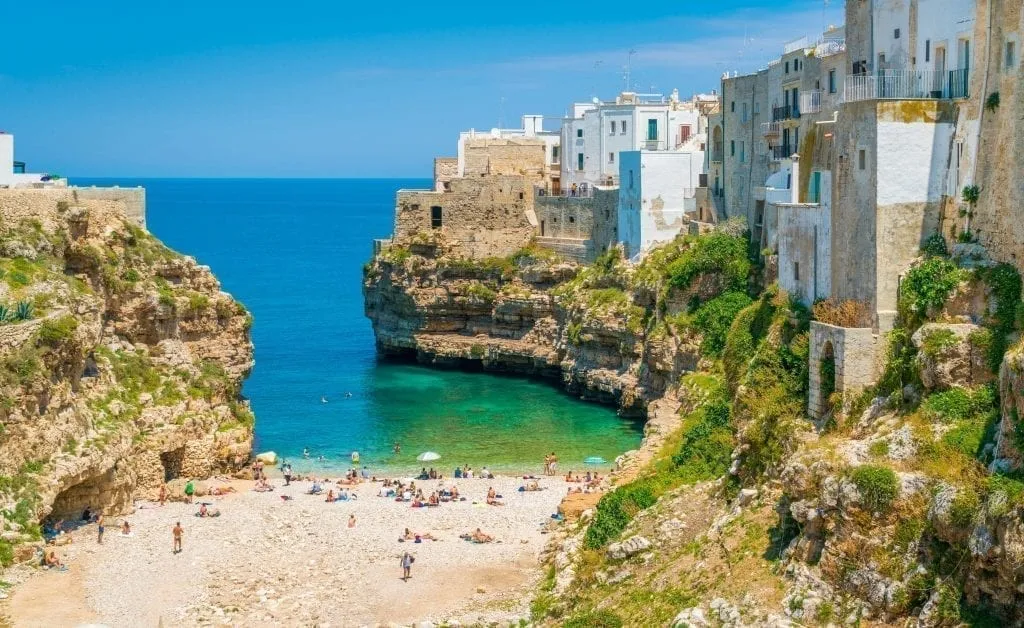 Faroe Islands
Far-flung and remote, if you're looking for an uncrowded, offbeat, and spectacular summer vacation in Europe (and you're not particularly attached to the idea of being warm), consider the Faroe Islands.
This self-governing archipelago of 18 islands is an administrative region of Denmark and is located (very) roughly halfway between Iceland and Norway.
Home to absolutely spectacular ocean views, soaring cliffs, thundering waterfalls, and some of the best bird-watching on the planet (hello puffins!), the Faroe Islands are perhaps the most unique travel destination on this list.
While they require a bit of money (prices are said to be on par with Norway, arguably the most expensive country to visit in Scandinavia) and dedication to experience, they're absolutely magnificent.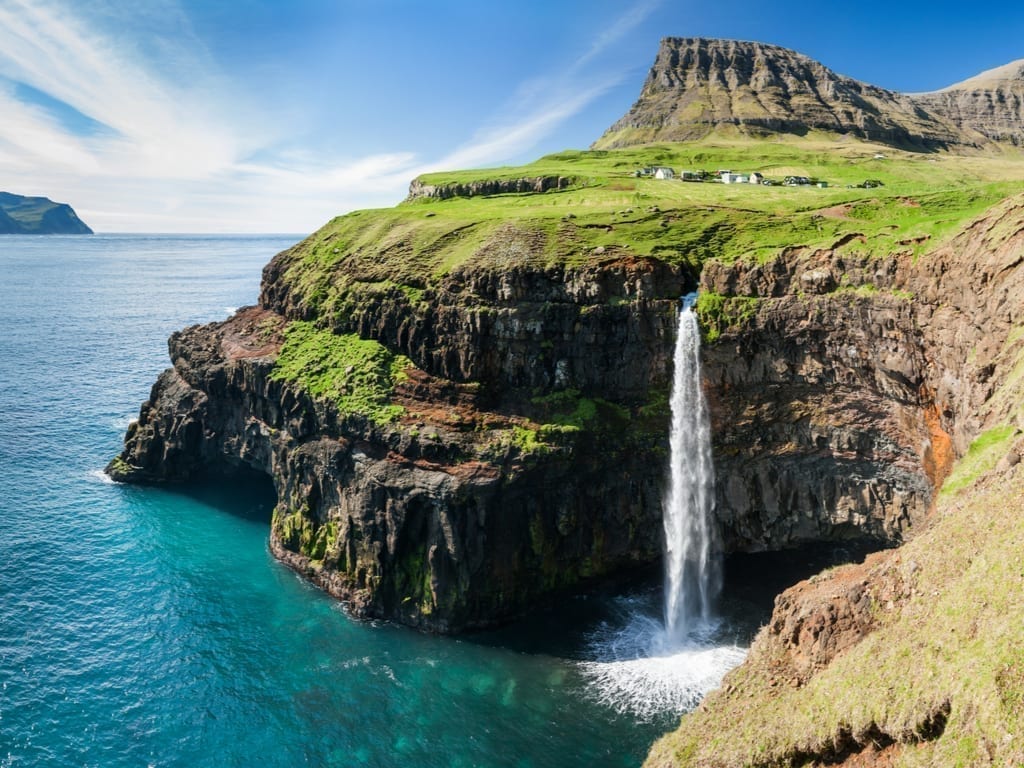 Tips for Exploring Summer Destinations in Europe
Prepare for crowds.
Summer is the busiest and most touristic season in Europe–and that's especially true in coastal destinations like many listed here.
Visiting Europe in summer can be absolutely wonderful, but it comes with heavy crowds and high prices as compared to the rest of the year.
If you're headed to the beach, we recommend avoiding the month of August if you can–this is when many Europeans take their annual beach vacations, and the beach towns are especially busy and expensive then.
Consider the shoulder season.
If you're looking for summer-like vibes in Europe but want to avoid the peak months of June, July, and August, we recommend September over May.
While both can work, September typically has more of a summer feeling in many of these places to visit in Europe than May does, with the added benefit of the water typically being warmer as it has had all season to heat up.
Book ahead, especially if you're traveling to small towns.
Given the heavy crowds we mentioned above, it's expected that hotels fill up more quickly than in other months, too.
For some of these summer destinations in Europe–especially small towns with limited lodging like Cinque Terre, certain Greek islands like Santorini and Mykonos, and the Amalfi Coast, that means it's best to book as soon as you can commit to your dates.
With a limited amount of lodging available and primarily small, family-run properties with a handful of rooms catering to tourists as opposed to large hotels, smaller destinations quickly fill up.
… and not just for hotels.
In addition to hotels, consider booking major attractions ahead of time too–you'll definitely want skip-the-line tickets for major attractions like the Colosseum and Eiffel Tower when visiting Europe in summer, but also consider that more specialized tours or places that limit the number of visitors like the Borghese Gallery and the Alhambra will sell out well in advance. It pays to plan ahead!
We book our skip-the-line tickets and many tours with Get Your Guide and also love the specialty tours offered by Take Walks.
Be cautious of your belongings.
While you should always be wary of pickpockets while traveling (and perhaps even in your hometown), the particularly heavy crowds that populate many of the best places to visit in Europe during summer make hotspots like the Eiffel Tower, Colosseum, Acropolis, etc–basically any major tourist destination where thousands of visitors regularly pass through–even more attractive to savvy pickpockets.
Be extra careful with your valuables when in a dense crowd as you explore these summer destinations in Europe, and consider carrying an anti-theft backpack as well–we use this one and absolutely love it.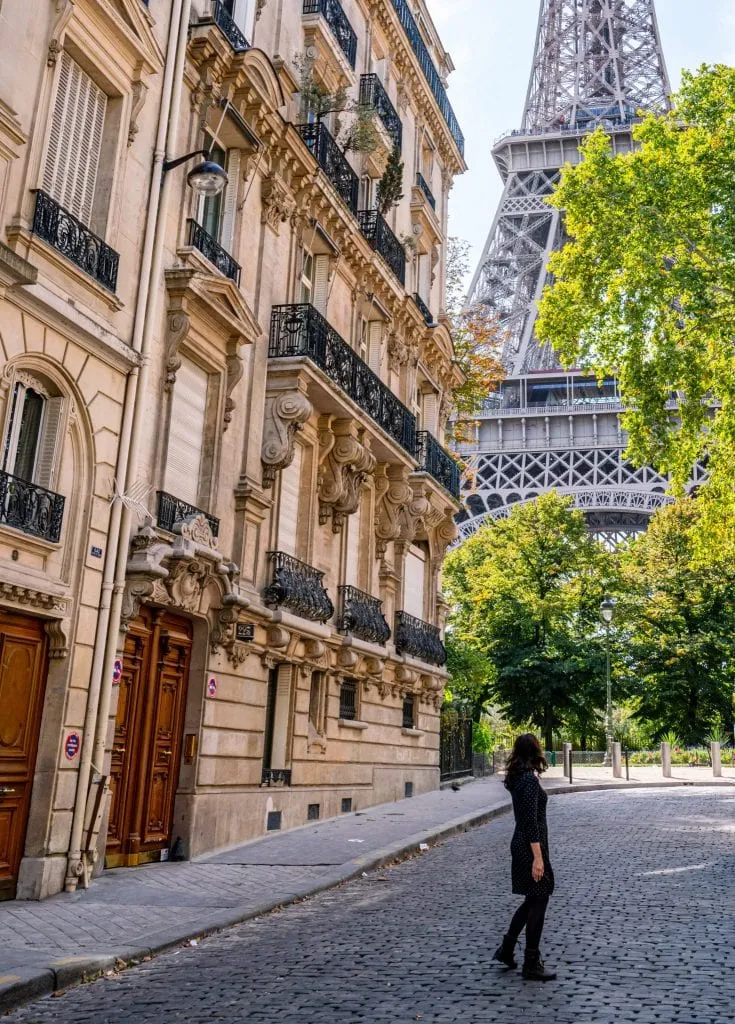 Don't forget sun protection!
And not just for the beaches, either–it's easy to lose track of time and get sunburned walking around beautiful cities, too.
Come prepared with your own hat and sunscreen if you can, especially if you're visiting a beach or coastal area.
You'll pay a pretty penny for sunscreen at the beach!
Consider concentrating your tourism outside of peak hours.
By starting your mornings as early as possible, taking a break in the afternoon (ala a Spanish siesta or Italian riposo), and then picking up your tourism again in the late afternoon/early evening, you can avoid the worst of the heat and crowds while maximizing the more comfortable time of day.
Of course, you don't necessarily need to rest during the afternoon if you don't want to–that can be a great time to hit an air-conditioned museum or relax on the beach!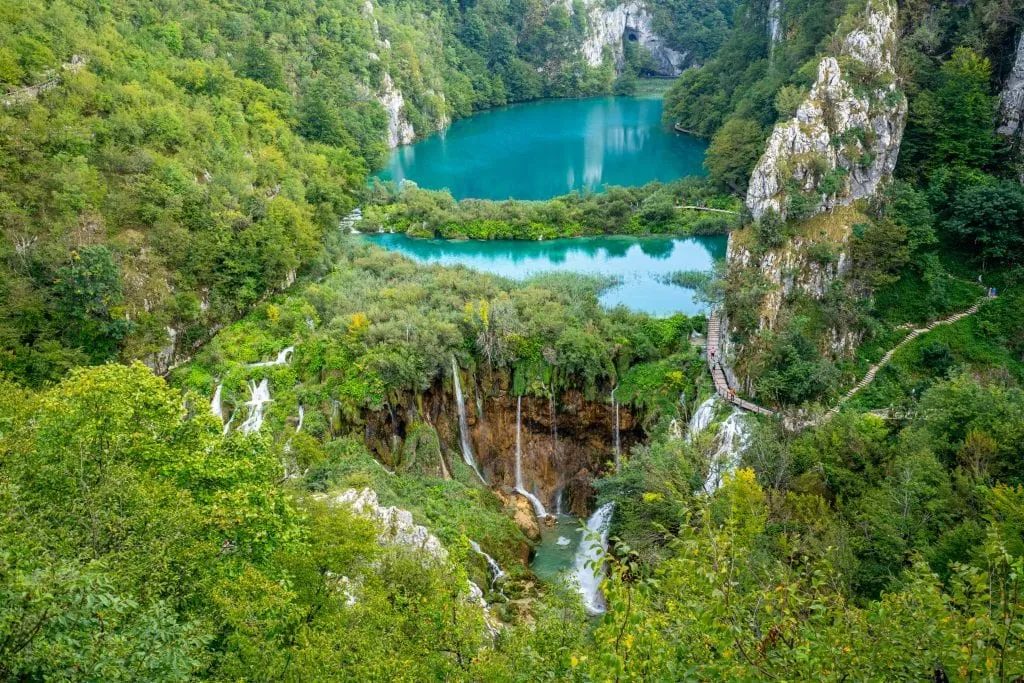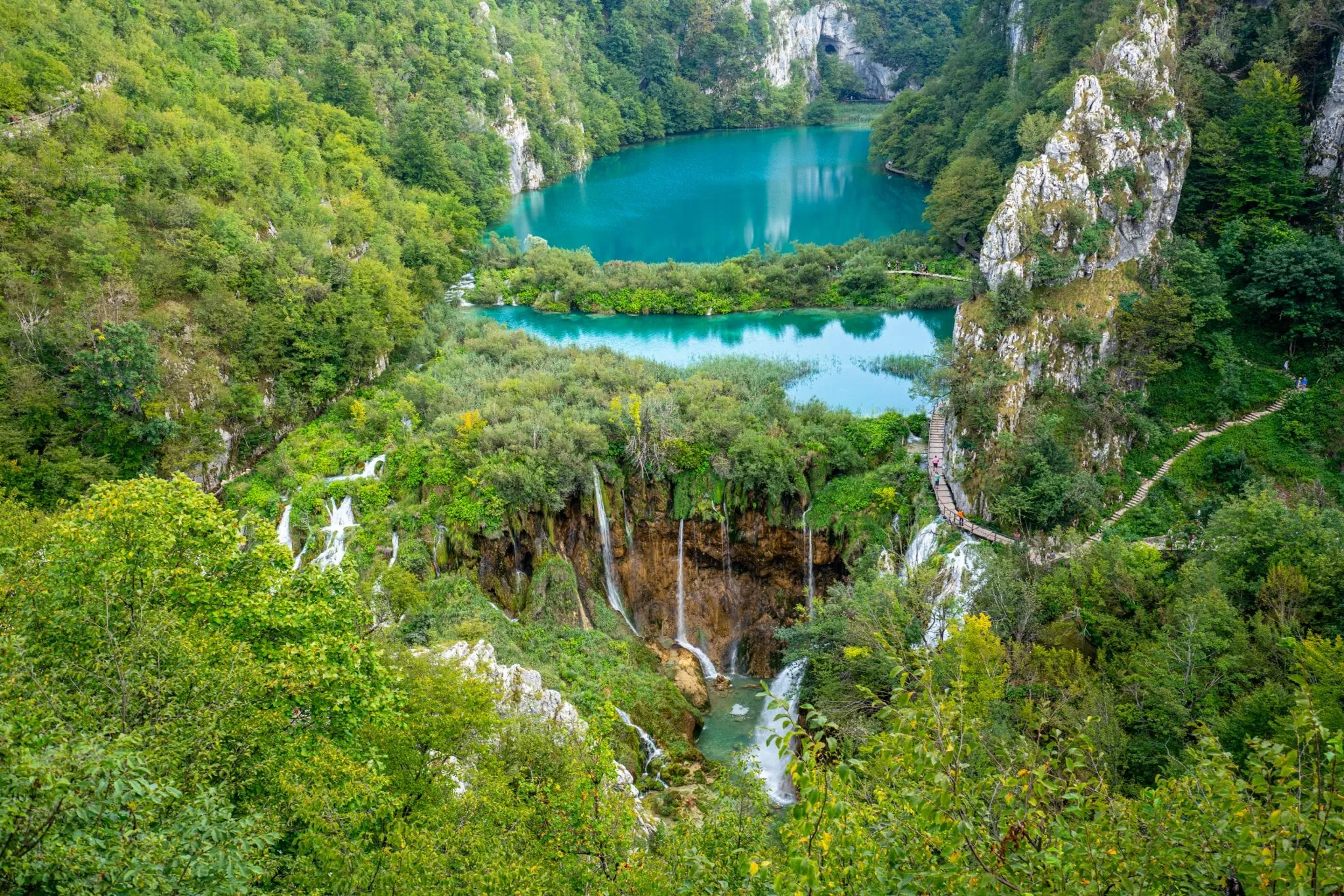 Air conditioning is not a given.
When visiting Europe during the summer, double-check that your hotel or apartment before booking.
Air conditioning isn't always standard when traveling in Europe, but it's often very necessary in our opinion.
Keep church-appropriate clothing in mind.
While the strictness of the dress code varies across the continent, generally you'll want to pack at least one outfit that covers your cleavage, shoulders, and knees for visiting churches.
Men can usually get away with shorts that hit at the knee, but not always.
When touring any of these places to visit in Europe in summer, keep that dress code in mind as you structure your days–it's absolutely no fun being turned away from a tour you expected to take because you dressed for the weather and not the church!