It took about ten minutes after starting our hike up Volcano Acatenango to decide that this was a terrible idea that was all going to go horribly wrong.
Similarly, it took about ten minutes after gratefully returning to the paved road the next day where a van was waiting to drive us back to Antigua to decide that it had all been worth it.
Every moment in between? Well, it was characterized by one of those two extremes. My emotions spent most of the 2 day/1 night trek up Volcano Acatenango mirroring the rumbling Volcano Fuego that we observed during our hike: times of peace and quiet followed by boiling frustration and occasional eruptions.
Some links in this post may be affiliate links. If you make a purchase through one of these links, we may earn a small commission at no extra cost to you. Please see our

disclosure policy

for more detail.
The Good From Our Volcano Acatenango Hike
Hiking Volcano Acatenango rewarded us with some of the most fascinating views that we have ever seen.
The hike leads tour groups up Volcano Acatenango in search not only of a summit and sweeping views of the region but of an up-close-and-personal look with nearby and very active Volcano Fuego.
Several hours into our hike, as we were approaching the campsite, our small group that was hiking Volcano Acatenango together caught our first sight of Volcano Fuego sending billows of smoke into the air–at that moment, all pain and exhaustion were forgotten, and you could literally feel the energy shift to pure excitement. I will never forget that moment–and not just because it provided the adrenaline needed to finish the hike without pain.
Our campsite was set up directly in front of this neighbor, which was happy to cooperate with us.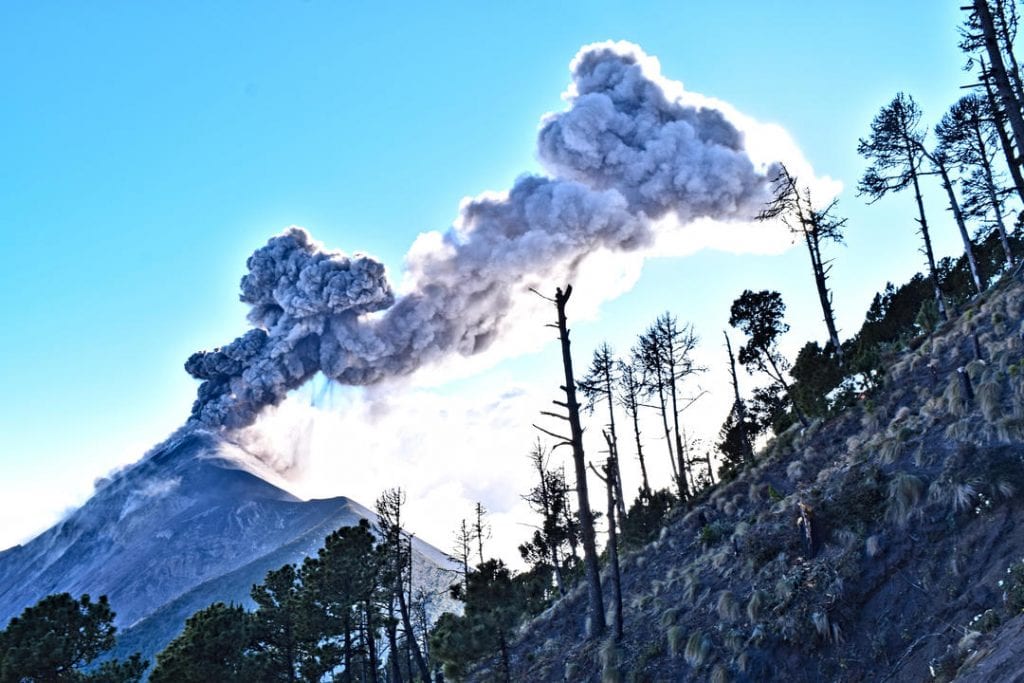 While some tour groups have had disappointing experiences due to a quiet Volcano Fuego or cloudy weather obscuring the view, we were greeted with often clear views of Volcano Fuego and so many eruptions of smoke and fire that I lost track. It was easily upwards of 10 times that we saw Volcano Fuego in action, and that's not even including the deep groaning of the earth that we could hear at night when trying to sleep.
Both sunrise and sunset were incredible to behold, and we found ourselves snapping photo after photo in an effort to capture the beauty.
We hiked Volcano Acatenango with a tour that we booked through our hotel. As in many places around the world, our actual tour group was a hodgepodge made up of people from several booking agencies–and luckily, they were all wonderful.
Group trips are always enhanced when the people get along, and we loved getting to spend portions of our time hiking Volcano Acatenango (not the mention the time around the campfire at night) getting to know people from all over the world.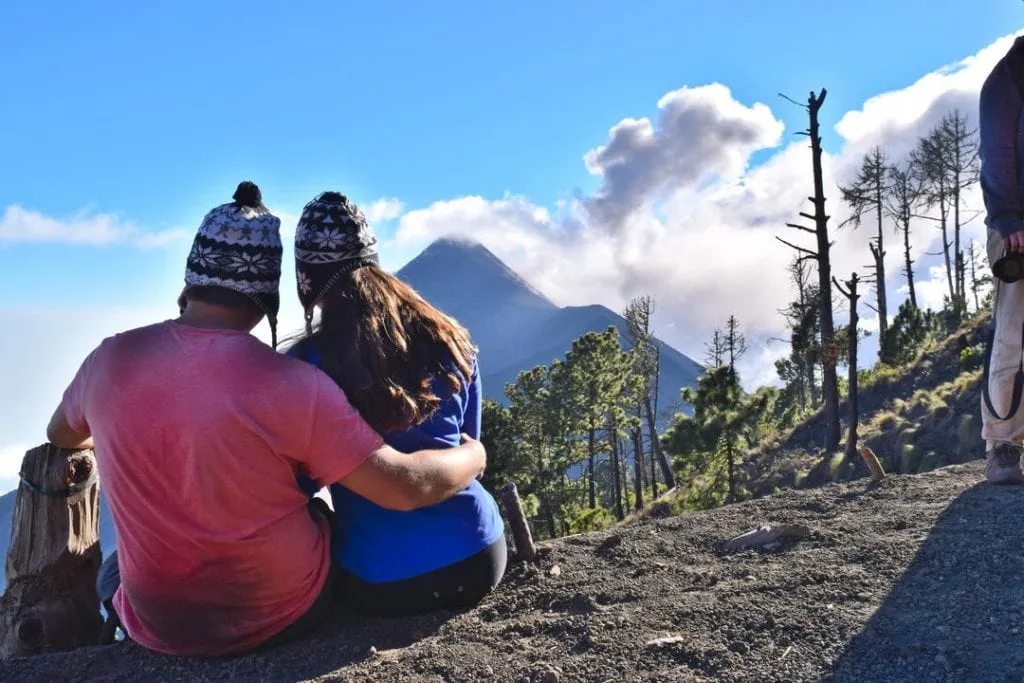 The Bad From Trekking Volcano Acatenango
Without a doubt, hiking Volcano Acatenango was one of the most physically and mentally challenging things that we have ever done. Harder than a 14-mile day hike in the Grand Canyon, harder than our challenging hike in Slovenia, harder than summiting a 14,000-foot peak in Colorado.
The altitude, the incline, the loose pebbles and dirt that made up large swaths of the trail, and our particularly fit group members all contributed to the physical and mental challenges.
My pride was injured more than once, due both to being slower than I like to consider myself as a hiker and also due to falling more times than I care to remember on the way back down. As I type this, I can see scrapes on my hands from catching myself several times.
The worst sting of all? Jeremy and I missed summiting Volcano Acatenango by about 200 meters of incline. While we've decided to let that go and consider the challenge complete, we are not thrilled with missing the official mark.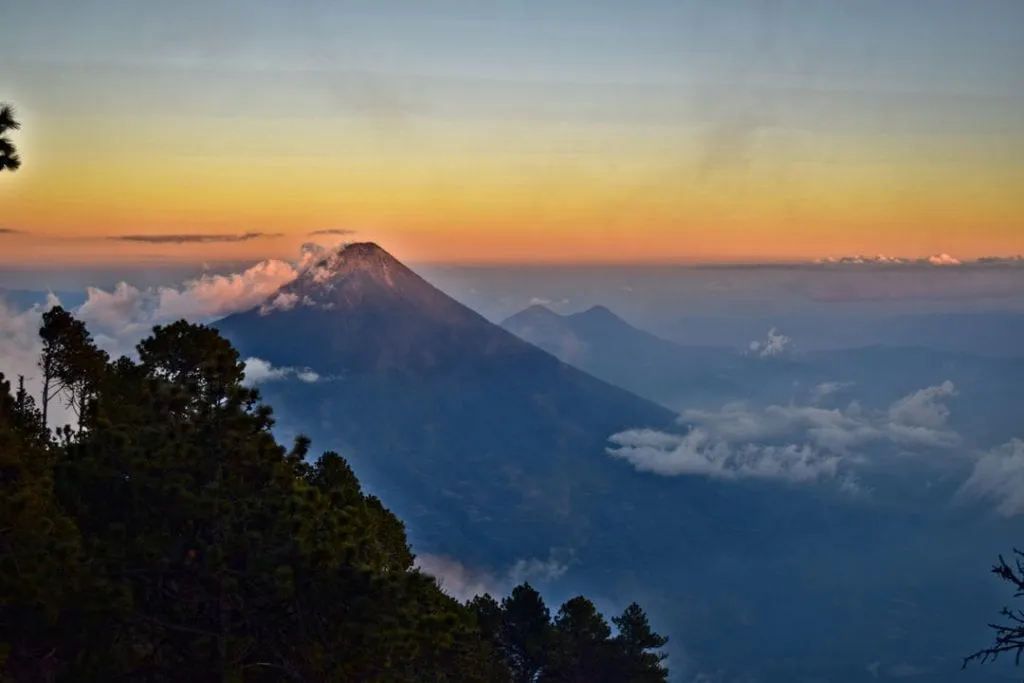 The Ugly From Our Acatenango Volcano Hike
While the guides with us while hiking Volcano Acatenango were kind, the actual organization of the tour made the entire experience less pleasant than it had to be.
This tour is advertised around Antigua as including 3 meals (lunch/dinner/breakfast), guides, sleeping bags, sleeping mats, and tents. Beyond that, though–your information will vary.
We had group members who were not told that they would not be provided with a bag to carry their gear, so ended up strapping sleeping bags to their day packs.
We had group members who were not told that the "meals" were more like "snacks" and that hikers needed to be sure to pack plenty of food of their own.
We had group members (us!) who were not told to bring a flashlight or headlamp for the final portion of the hike before dawn, and therefore missed the summit (yep–it wasn't physical strain that prevented us from going to catch the sunrise at the summit, but the fact that it is literally impossible to climb a volcano when you can't even see your hand in front of your face).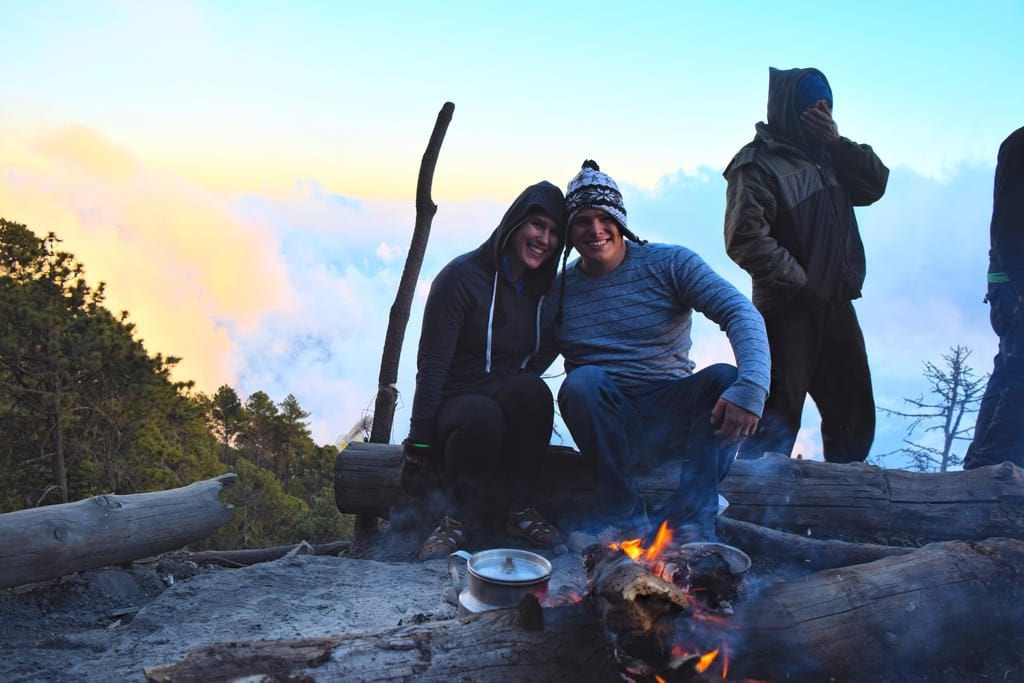 Something all of these miscommunications had in common? The only people who heard about what was actually the case were those who knew to ask those specific questions–for example, Jeremy and I clarified the food situation after I read an account of the hike up Volcano Acatenango from The Girl and Globe.
Even worse, in my opinion, was the lack of safety precautions. Yes, tents, sleeping bags, and mats were provided as advertised–but the sleeping bags were all different weights. Despite the near-freezing temperatures at the top of Volcano Acatenango in January, Jeremy and I were both given summer-weight sleeping bags. To add insult to injury, the zipper was broken on Jeremy's and it refused to stay closed all night.
It made for a very uncomfortable night–and a pretty concerning one, once we learned after the fact that six people had died of hypothermia while hiking Volcano Acatenango just weeks before our hike.
There are a few tour companies in town that cater to higher-end travelers who book in advance (this tour you can book online is run by the reputable Old Town Outfitters, and OX Expeditions is a popular choice)–the price much higher for a similar experience as far as the views and itinerary go, but we have seen that many people leave much more satisfied with their attitude toward safety.
Check out this 2-day Acatenango tour from Old Town Outfitters!
While the experience and views that we had near the top of Volcano Acatenango were incredible, this was easily filed under the "Yeah, it was amazing, and we are never doing it again." group of activities.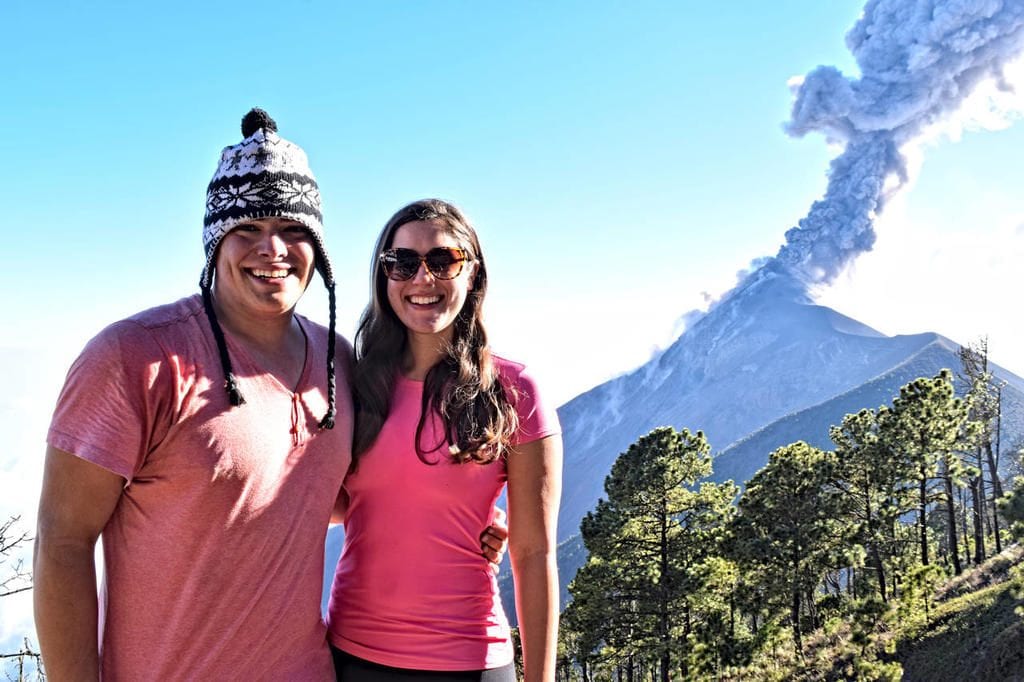 Tips For Your Acatenango Volcano Hike
Rent a hiking stick at the bottom.
When you reach the start of the ascent, hawkers will offer you a hiking stick for 5 quetzales (about $0.60 USD). GET THE STICK. It'll be some of the best money you have ever spent (this goes for other volcano hikes in Guatemala, like Pacaya, as well).
Buy or bring a warm hat.
We bought ours for 10 quetzales (about $1.40 USD) each from the same hawkers we got our sticks from, and spent the entire night saying how grateful we were to have them.
They've also come to many countries with us since (check out our about page to see Jeremy wearing his in the Czech Republic), so they ended up being an amazing deal!
Bring many, many layers.
It is incredibly cold at the campsite–the most comfortable girl among us was the one whose hostel had lent her a large and very fluffy coat. During the day, though, you'll want to remove most of your layers.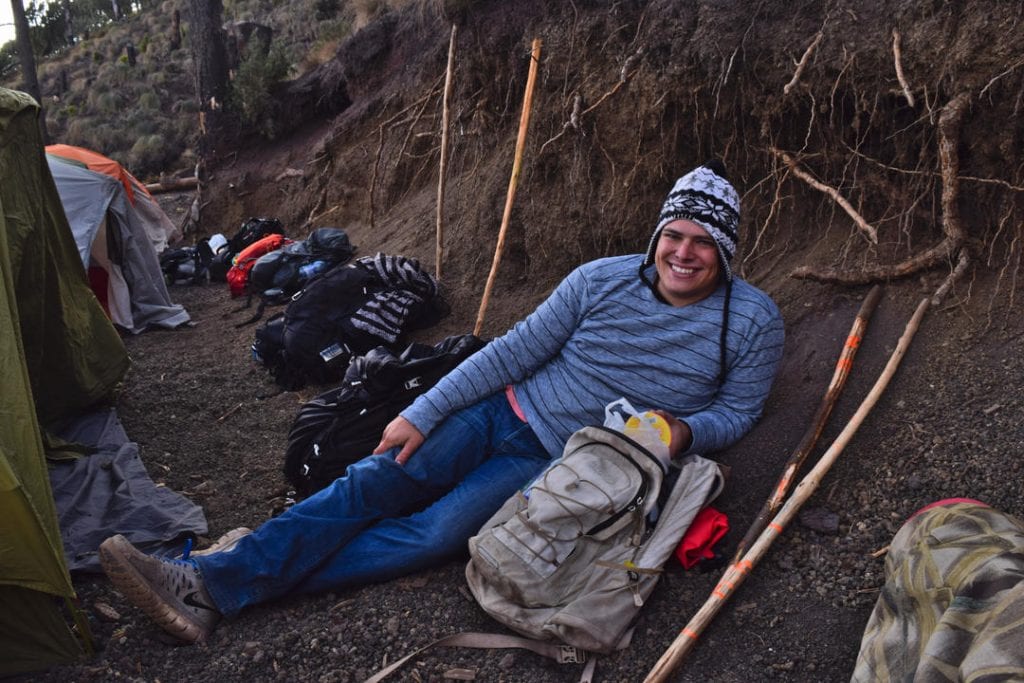 Pack plenty of food.
When we heard that there "wasn't enough food", we still expected to receive small meals–but really, even calling it that was an exaggeration. For a total of three "meals", we each received: a bologna sandwich, a banana so bruised that 80% of our group threw them out without eating them, a cup of instant ramen, a pack of instant hot chocolate, and a small yogurt.
Rather than thinking that food will be provided and you should bring snacks, think about it in the opposite way: you need to provide your food, and they'll provide some snacks.
The going rate for the tour seemed to be 140-160 quetzales.
We had people in our group pay anywhere from 140 to 300 quetzales. The couple that paid 300 quetzales was provided with slightly nicer food, but that was the only difference. Be sure to shop around!
Alternatively, you can pay quite a bit more and book in advance–this tour is run by the reputable Old Town Outfitters.
While you'll pay much more, our understanding is that travelers who book through reputable companies in advance have left much more satisfied–especially with the tour's attitude toward safety–than we or the rest of our group left from our tour.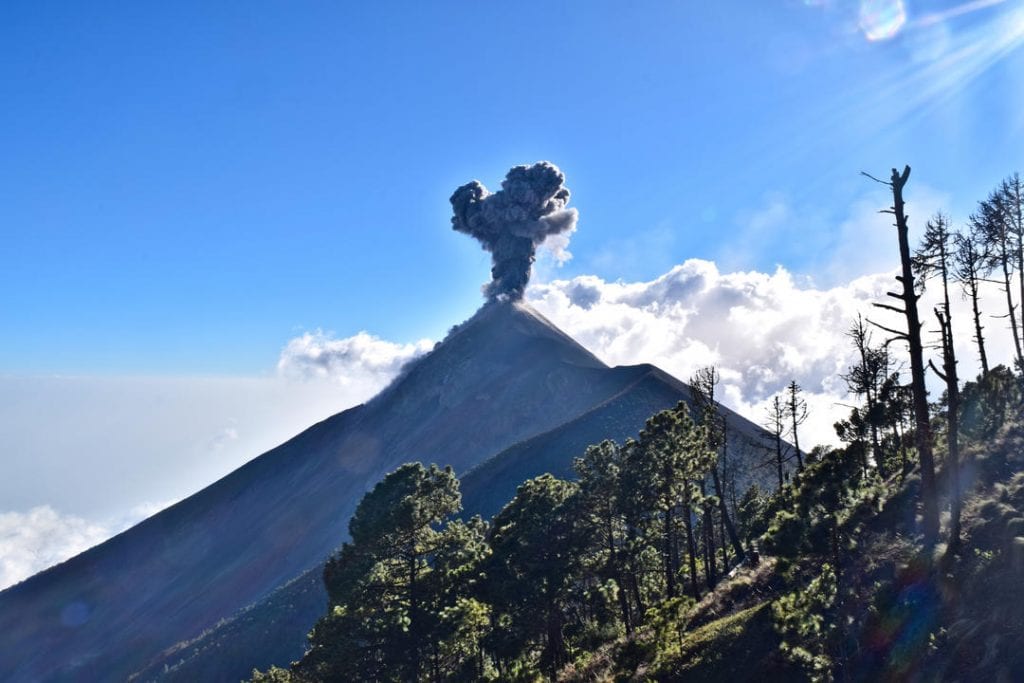 Hire a porter if you need one.
Porters are available to carry your bags up Volcano Acatenango for you. The cost is around 200 quetzales, plus tip. If you're not used to carrying heavy camping equipment up a mountain, it could end up being some of the best money you have ever spent.
You'll want gloves.
We found inexpensive fleece gloves in Antigua's supermarket for just about $2.00 USD.
Pace yourself.
From what we could see, every group had a different pace–some guides stopped more, some less. Some groups had very strong hikers, some didn't.
Because of the variety, one of our tips for climbing Volcan de Acatenango is simply that you'll need to focus on pacing yourself, and, as hard as it is, don't compare yourself to how fast others are going.
Pack as lightly as you can.
Every ounce matters. There is more than enough that you have to bring–don't bother with anything extra.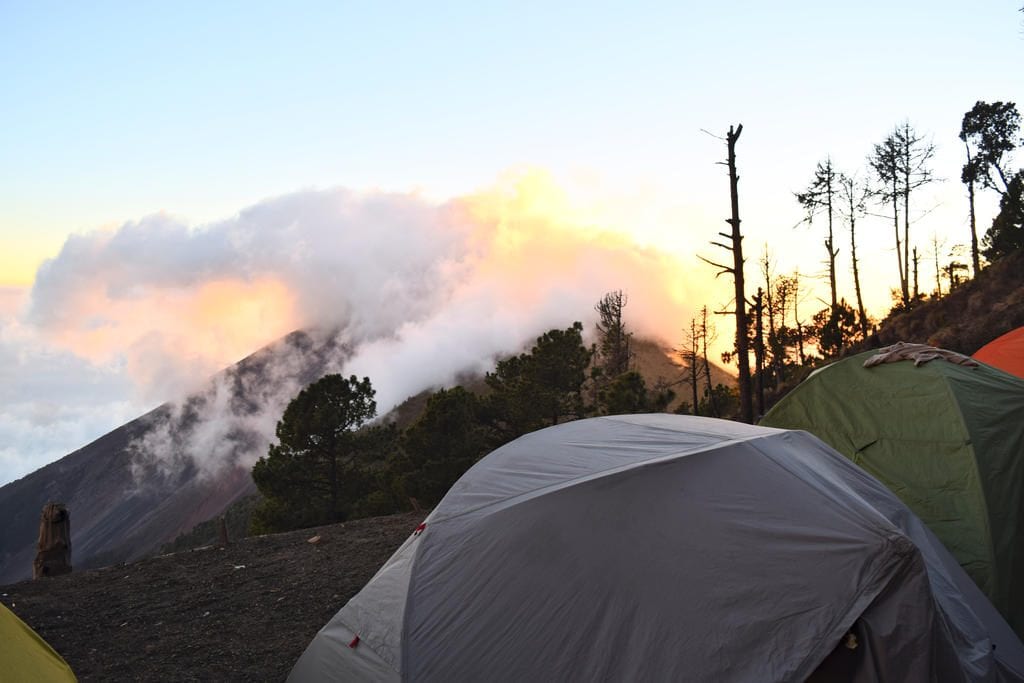 Don't forget about the altitude.
The Acatenango Volcano hike starts at about 1500 meters above sea level and ends just under 4000 meters above sea level. If you're not used to the altitude, you'll be able to tell.
A few days won't be enough to fix everything, but try to spend at least that long in Antigua or somewhere with a similar altitude before hiking Volcano Acatenango if you're used to a lower altitude.
Do NOT wear hiking sandals.
I wore my beloved hiking sandals
, as I do everywhere these days, and while they have been perfect in just about every situation–not here. During the loose rock portions of the trail, I had to stop to dump my shoes out every few minutes, which not only slowed me down but hurt my feet along the way.
If you have hiking boots–this is the place to wear them.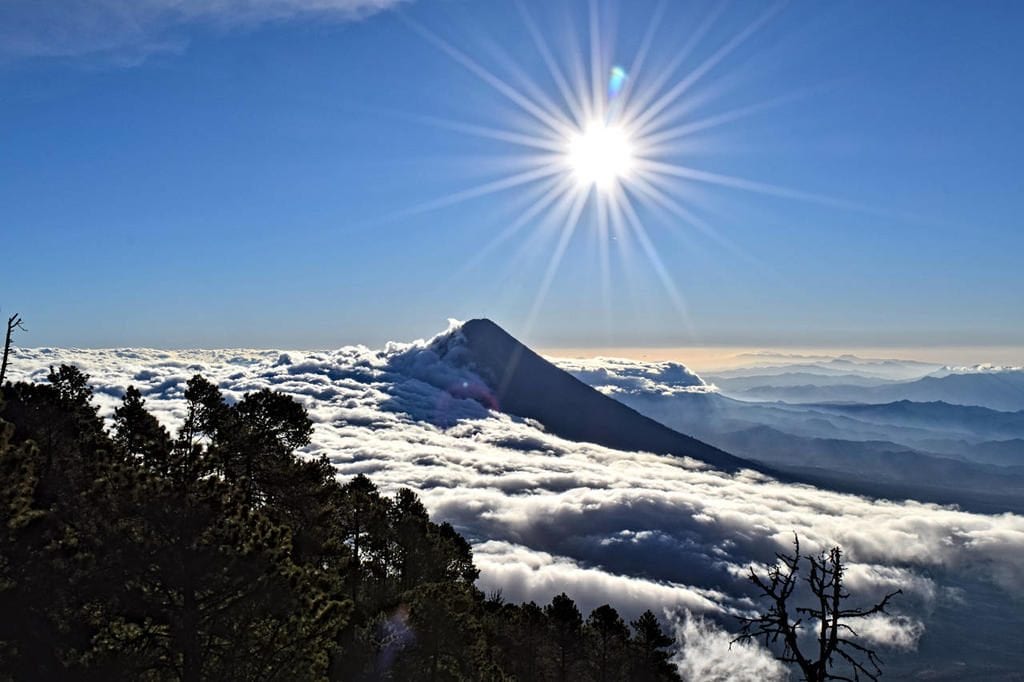 What to Pack for Hiking Volcano Acatenango
Headlamp — A headlamp is absolutely essential to hiking Volcano Acatenango–without one, you'll probably end up not being able to reach the summit in the morning! It still stings a bit that we made this mistake.
Several Layers — It is cold on top of Acatenango! Bring several layers–we had 3-4 each and were still freezing during the night.
Gloves — Both to prevent blisters and to keep you warm–I barely took mine off for the 24 hours we spent on the volcano.
Warm Hat — You don't want to end up summiting without one–ours made the evening so much more comfortable–but I will say that our $1.40 hats that we purchased at the base of Acatenango are still some of our favorite travel souvenirs, so it's up to you if you want to buy a hat in advance!
Hiking Boots — Learn from my mistake: bring. hiking. boots. Not hiking sandals, not casual walking shoes. Boots. You can get away with sneakers if you need to, but your hike will be infinitely more comfortable if you bring boots.
Plenty of Food — Unless you book with a luxury company, the "meal" provided for hikers on Acatenango are really more like snacks: be sure to bring enough water and food that you can sustain yourself comfortably during intense hiking.
Walking Stick — You don't necessarily need to purchase this ahead of time, but be sure to rent one at the base of the hike before starting your climb!