Until we actually set our eyes on Semuc Champey, Guatemala we were not convinced that it was going to be worth the hassle.
Set deep in the jungle and 8 hours in an uncomfortable shuttle away from each Flores (where we started) and Antigua (our intended destination after Semuc Champey), we knew that visiting these pools meant giving up almost two full days of travel to minibus rides, saying goodbye to wifi for 3 days (laugh if you must, but we like our wifi), and, as it turned out, losing almost two full days of electricity.
Though many travelers rave about Semuc Champey, others have not been as impressed–and as travelers who have been known to find things overhyped, we were hesitant to set our expectations high.
Here's what we found when we got to Semuc Champey, along with our advice for what we'd do differently next time, and whether we recommend a Semuc Champey tour!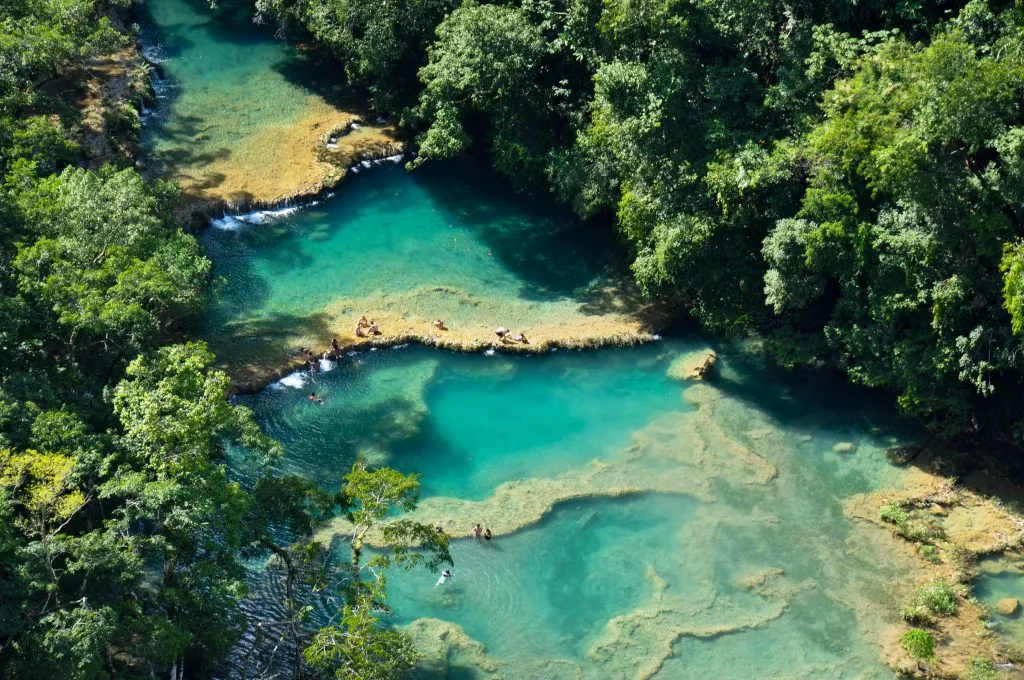 Some links in this post may be affiliate links. If you make a purchase through one of these links, we may earn a small commission at no extra cost to you. Please see our

disclosure policy

for more detail.
What is Semuc Champey, Guatemala?
Semuc Champey is a set of 18 naturally formed limestone pools created by the Cahabon River.
The turquoise color rivals any that I've seen, and the pools practically beg people to jump in and go swimming–which they do, constantly.
Our time there was characterized by a short hike to the overlook, and–more importantly–hours of time spent swimming in the pools, checking out the waterfalls, and soaking up the views.
Semuc Champey is essentially a naturally formed water park sitting in the middle of the Guatemalan jungle, well worth the 50 quetzales (about $6.75 USD) admission price.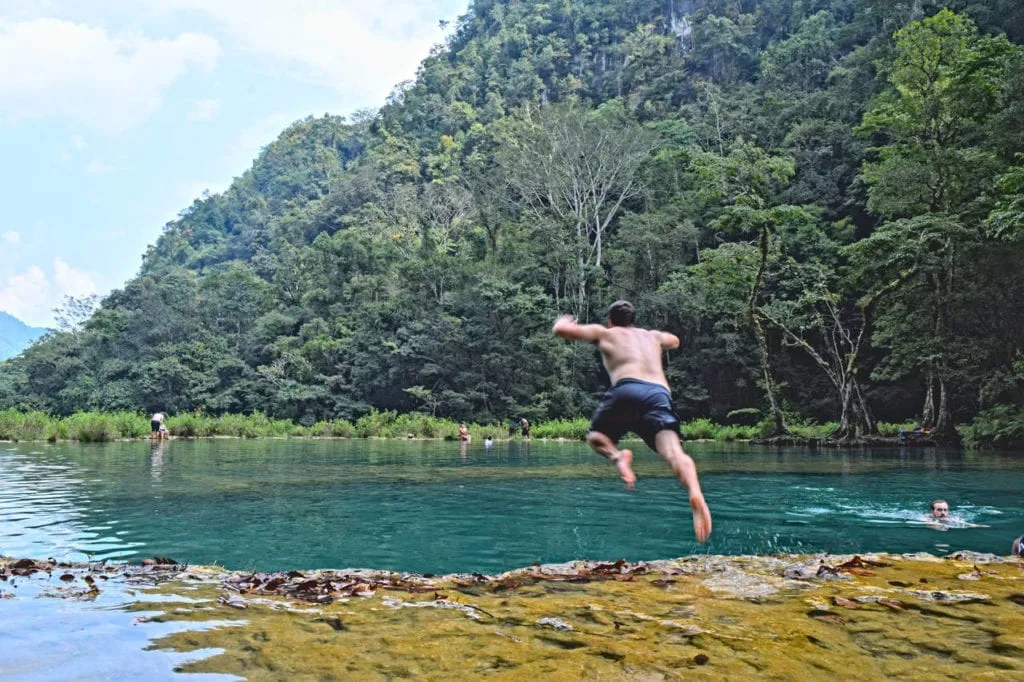 Should You Take a Semuc Champey Tour?
The "typical" way to visit Semuc Champey is on a tour that includes a visit to the pools, a hike to the overlook, a trip through a limestone cave in which you light your way only by a candle, and a few other odds and ends like a chance to jump off a bridge into the Cahabon River and to attempt to climb a small waterfall.
After completing our pricey but wonderful tour of the ATM Cave in Belize less than a week beforehand, we were not interested in either paying for a tour or having our schedule run by a group for a full day, so we decided to try visiting Semuc Champey independently–and we're so that glad we did.
For about half the price of a tour, Jeremy and I hiked to the overlook (it only took us 25 minutes as opposed to the normal estimate of 45 minutes–I suspect this is less a tribute to our fitness levels than the fact we weren't being slowed down by a group), and then returned to the pools to spend hours jumping and swimming in them, relaxing on the shore, and enjoying the views.
Our day visiting Semuc Champey independently was very relaxing and low-key–the exact opposite of what the tour would have been.
While I have no doubt that the tour is wonderful fun for some, the fact is that the hike, the pools, the bridge, and the waterfall are all accessible just by walking up to them (after paying your entrance fee to Semuc Champey to access everything but the bridge).
Though we didn't check out the cave, other travelers told us that it was fairly easy to negotiate a price with a guide on-site, which includes the possibility of nabbing a better price, as well as ending up in a smaller group or even a private tour.
That being said, if you'd like to eliminate the headache of getting to Semuc Champey independently–more on that below–a multi-day tour like this one from Antigua is a great way to simplify your trip.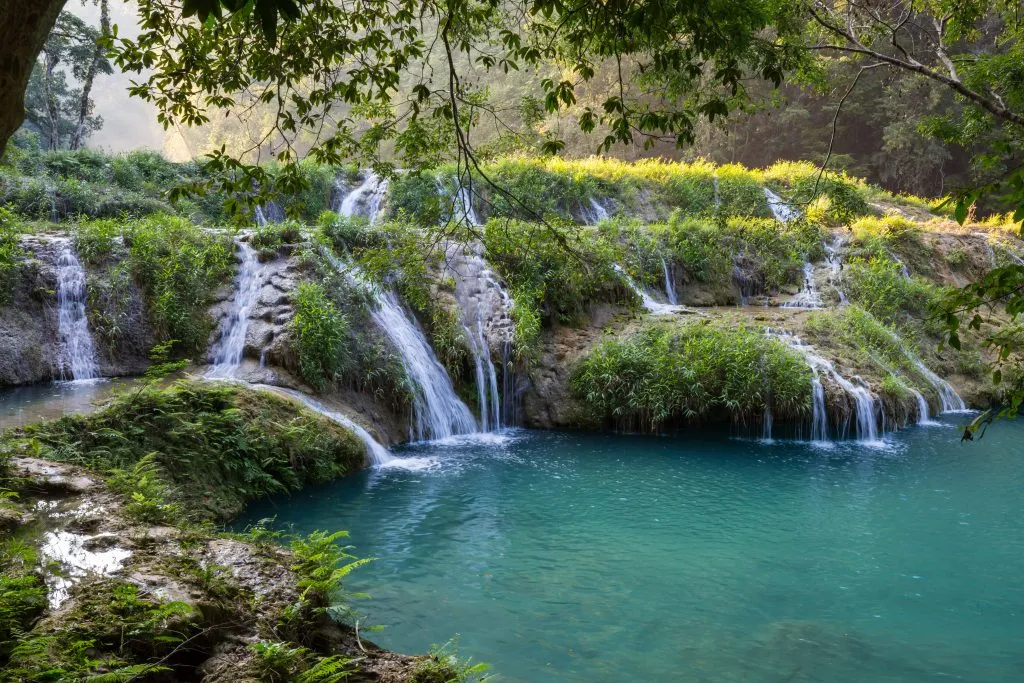 How to Get to Semuc Champey Independently
Like most travelers, we stayed in the town of Lanquin, 30-45 minutes away by pickup truck from Semuc Champey.
Lanquin is the nearest town to stay in, though there are some isolated hotels and hostels that are closer to the river.
At the instruction of the employees at our hotel, the morning of our visit we simply headed to the main road in Lanquin, flagged down one of the many pickup trucks headed to Semuc Champey, paid a fee of 25 quetzales each (about $3.35 USD), and rode to Semuc Champey.
From what we saw and heard, the trucks head back and forth to between Lanquin and Semuc Champey all day, carting tourists, locals, and products for the rural homes, hotels, and shops.
Getting to Semuc Champey via pick up truck seemed like (and for us, was) a very simple process.
True, riding along a mountainous dirt road while standing in the back of pickup truck is not exactly the safest way to travel, but it's also exactly how the tour groups leaving from Lanquin go to Semuc Champey, so we didn't lose any safety by skipping the guide.
Luckily, the trucks go slow! While objectively unsafe, it was a far more comfortable ride than I initially anticipated.
The truck took us directly to the entrance of Semuc Champey, where we paid to enter the park.
There are plenty of food and chocolate vendors near the entrance if you're feeling the need for a snack.
The entrance is also the congregating point for all of the trucks picking up and dropping off riders in the process of getting to Semuc Champey or leaving.
Though the truck we came to Semuc Champey on ended up letting us know that they'd be back later that afternoon, giving us a sure bet on how we would return, we weren't remotely worried–a ride clearly wouldn't be difficult to come by.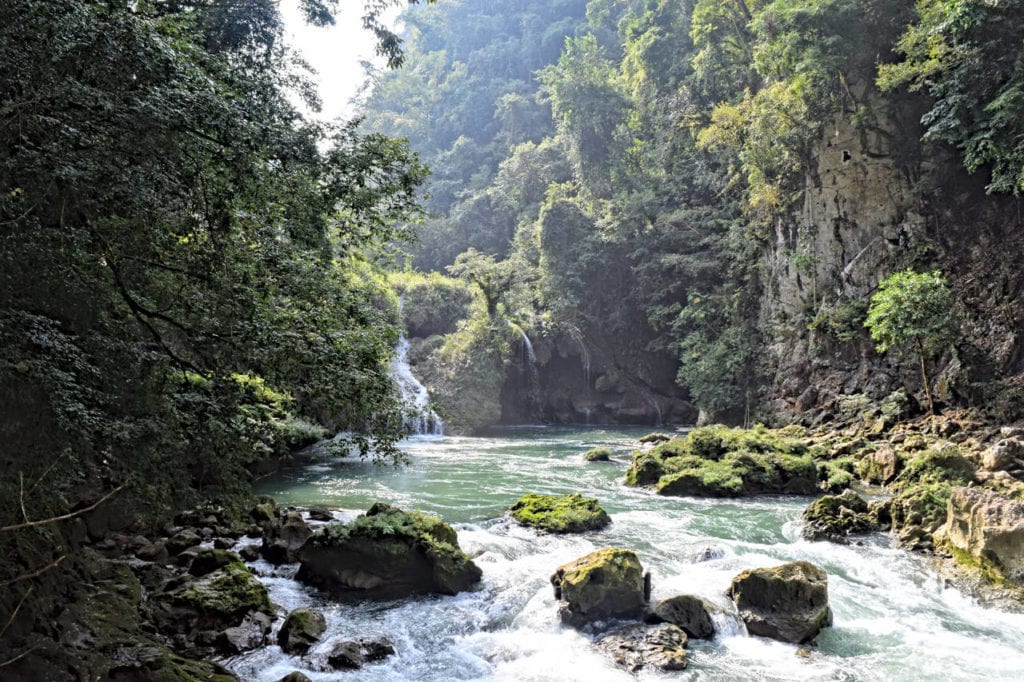 Where We Stayed in Lanquin, Guatemala
Vinas Hotel — Located less than a ten-minute walk from the center of town, the only issue we had here was with the lack of electricity for most of our stay–but there wasn't anything the hotel could do about that.
The room was clean, the property well kept (had the weather been nicer, we would have loved to have taken a dip in the pool), and the restaurant had good food at low prices.
Like virtually everywhere else we visited, we felt safe in this part of Guatemala.
We would not hesitate to stay here again if we returned to the area!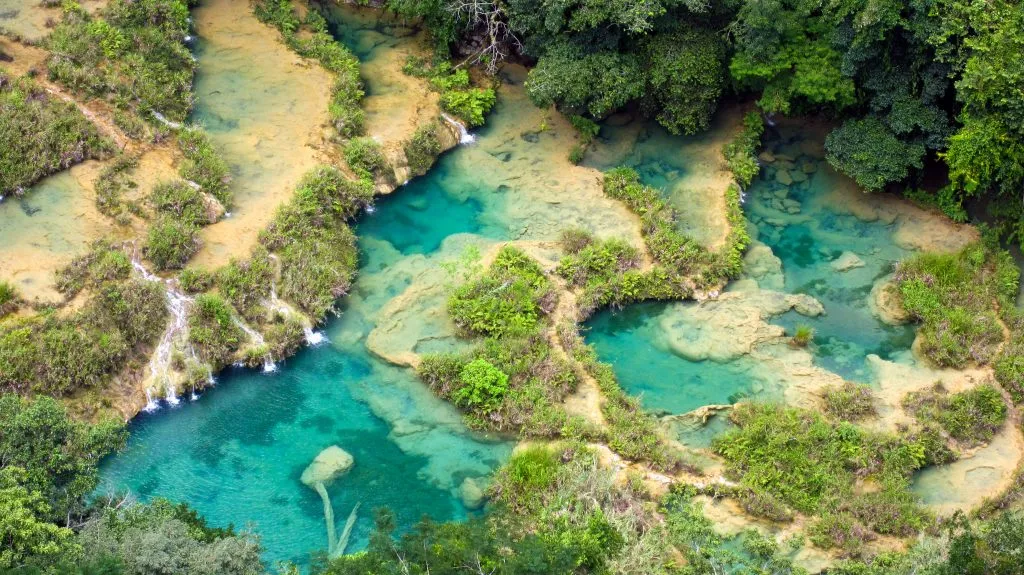 Final Thoughts on Semuc Champey, Guatemala
While our time in Lanquin and visiting Semuc Champey independently came with a few twists and turns, such as losing a significant amount of time with electricity at our hotel and contending with rain and cloudy weather for part of our stay, our time visiting Semuc Champey independently was a complete success.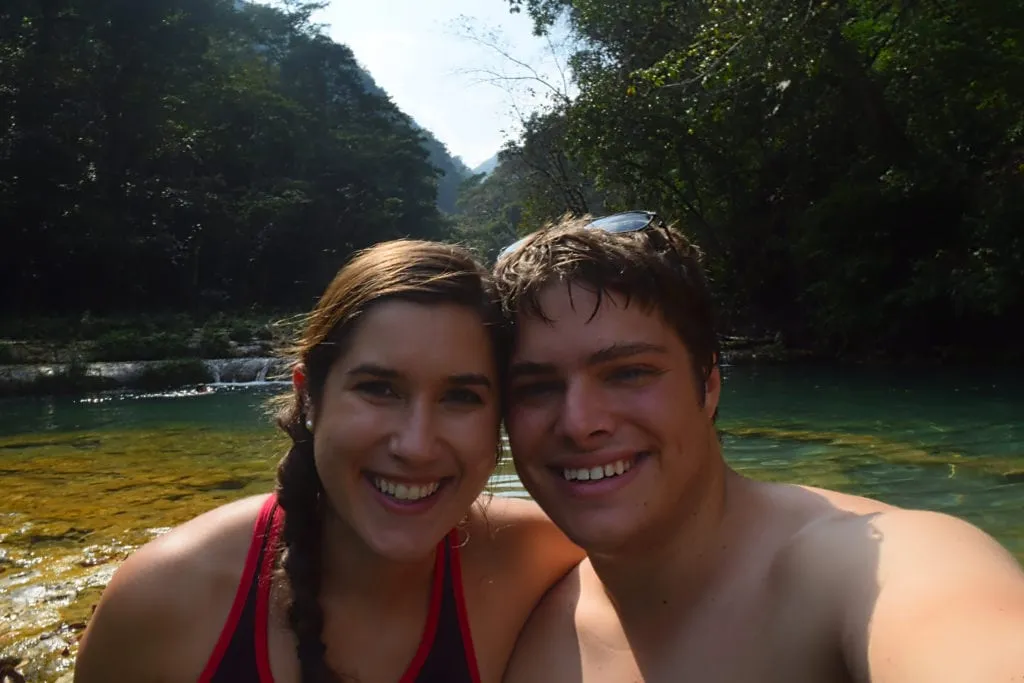 We had an absolute blast relaxing in the pools (while exclaiming more than once that this felt a lot like a Plitvice Lakes National Park we could swim in), stretching our legs on a short hike, and generally reveling in the fact that while Semuc Champey is a fairly well-known place among backpackers, we were ultimately solidly "off the grid" of the world.
After our first night in Lanquin, we even became accustomed to having no wifi, instead reading books and playing multiple rounds of chess at our hotel with a board whose pieces were painted as Mayans and Conquistadors.
Though the logistical issues and time and effort required to get there mean that we likely won't return to Semuc Champey, Guatemala anytime soon, it's very easy to look back on our time there and smile.