Gorgeous volcanos, colorful cities, Mayan ruins, crystal clear swimming holes, dirt cheap prices, and adventure around every corner–if that sounds like your kind of vacation destination, it's time to consider spending 2 weeks in Guatemala.
Set just south of Mexico and west of Belize, there are a seemingly endless number of incredible things to do in Guatemala, all packed into a small, relatively navigable space about the size of Tennessee–and as a bonus, it also boasts the best food in Central America.
Two weeks in Guatemala is the perfect amount of time to start exploring this fascinating country: you won't see everything, but it's enough time to move through several different destinations, and get a taste of what different regions have to offer.
We've put together this suggested 2 week Guatemala itinerary based on our month-long trip backpacking Guatemala and can't recommend this adventurous and beautiful corner of Central America enough.
Here's how to make the most of a trip to Guatemala!
Have More (or Less) Than 2 Weeks in Guatemala?
If you only have one week available, don't worry–you can easily adapt this itinerary for 2 weeks in Guatemala into a shorter trip by focusing on Antigua and Lake Atitlan only.
If you have longer? Rio Dulce and other areas of the eastern half of the country may be calling your name… or you can do what we did and relax on Lake Atitlan for two weeks instead.
Whatever you choose, there's no doubt that you'll leave Guatemala completely overwhelmed by how much excitement it packs into a tiny amount of space.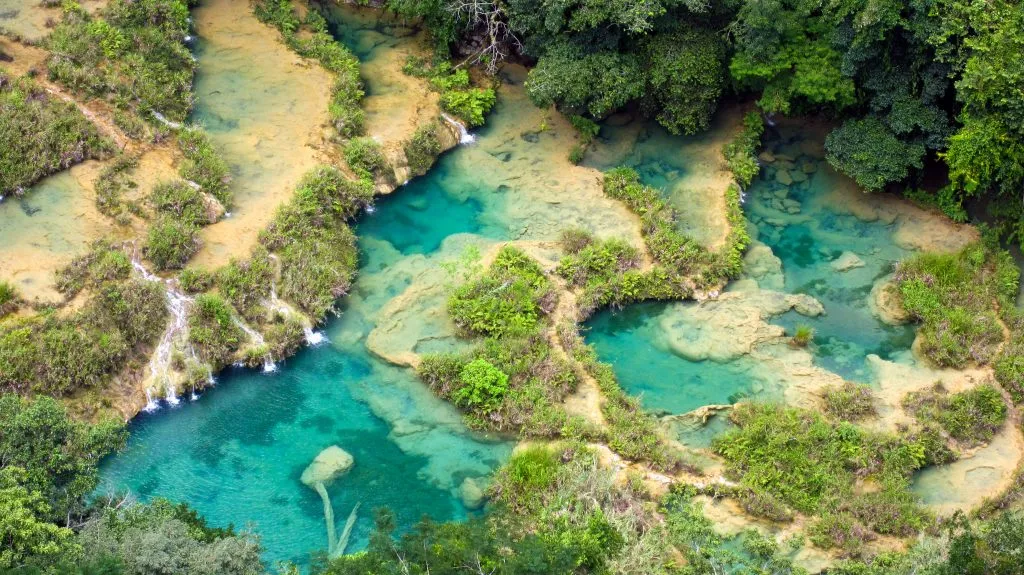 How We Structured This Guatemala Itinerary
This itinerary for 2 weeks in Guatemala only accounts for 11 full days.
Due to a few long days of travel that will be required to get from place to place, we feel it's better (read: more realistic) to plan on having some days dedicated completely to traveling from place to place when trying to see Guatemala in 2 weeks, rather than over plan and end up burning out from trying to squeeze too much in.
The Ultimate 2 Week Guatemala Itinerary
Guatemala Itinerary Stop 1: 2 Days in Tikal + Flores
The Highlights of Visiting Flores + Tikal
Tikal is known as one of the most impressive sets of Mayan ruins in Central America, and as a bonus for Star Wars lovers, it was used as a filming location for A New Hope
.
Sunrise tours are popular here, but for those of us who have difficulty pulling ourselves out of bed hours before dawn, daytime tours, and sunset tours are also available (often for a lower price than the popular sunrise tour!).
I went ahead and noted spending two days here to allow yourself to recover from the journey to Flores and enjoy the small island village–but the island of Flores is very small, so if you have lots of energy and are ready to move on, you could consider spending only one day here instead!
Tips for Visiting Tikal + Flores
Though Flores is the closest touristic town to Tikal and the usual stop along the backpacker trail for people interested in seeing the ruins, it is still about a 2-hour drive each way from the town to Tikal, so be prepared for a long day.
Also, assuming you fly into Guatemala City initially, it is a long day (10+ hours by van or bus, or a very short but expensive plane ride) to get from Guatemala City to Flores–be prepared for that when making your plans.
Alternatively, if you are approaching as a backpacker from Belize, Flores is the first logical stop in Guatemala and will make sense logistically to access.
Travelers coming from Chiapas, Mexico to the north or from Honduras to the south should also be able to find transport directly to Flores, though prepare for long travel times.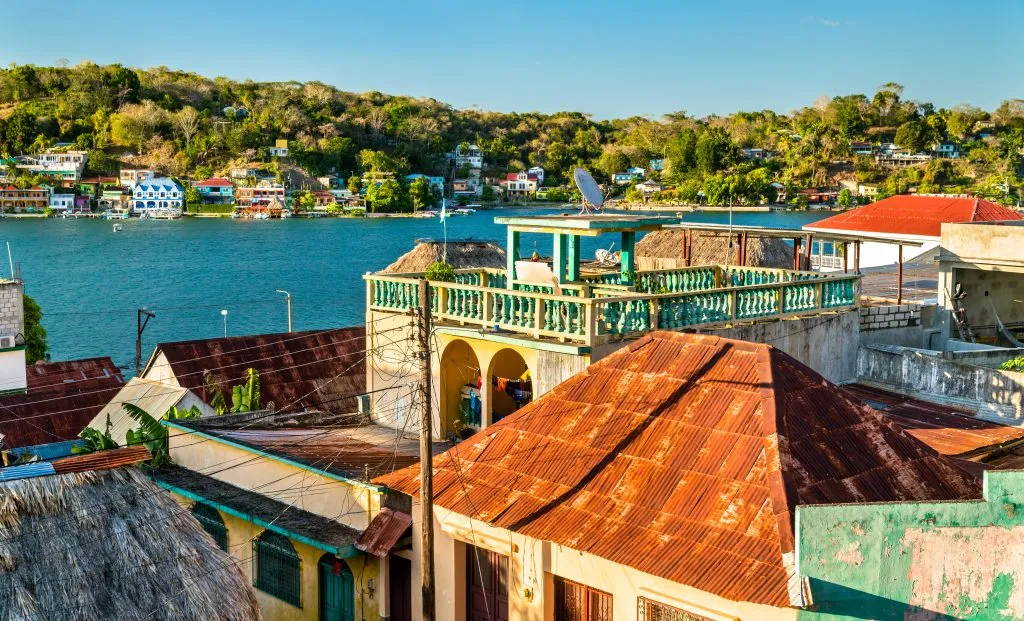 Should you book a Tikal tour in advance?
Flores is a hotspot for Tikal tours–you'll have no problem finding a ride to Tikal on the ground in Guatemala, and you'll absolutely pay less than if you book in advance.
However, if you're on an extremely tight schedule or want to guarantee a detailed tour with a guide who knows their history, this well-reviewed Tikal tour is a great option for you.
Where We Stayed in Flores, Guatemala
Hotel Villa Margarita — If we had to sum this hotel up in a word, it would be "bland".
It wasn't good enough to rave about (and the shower mildly electrocuting me a couple of times definitely dampened any goodwill I felt for the place), but there was nothing terrible about it either.
I would consider this a solid choice for a quick stay in Flores, but don't expect to be wowed.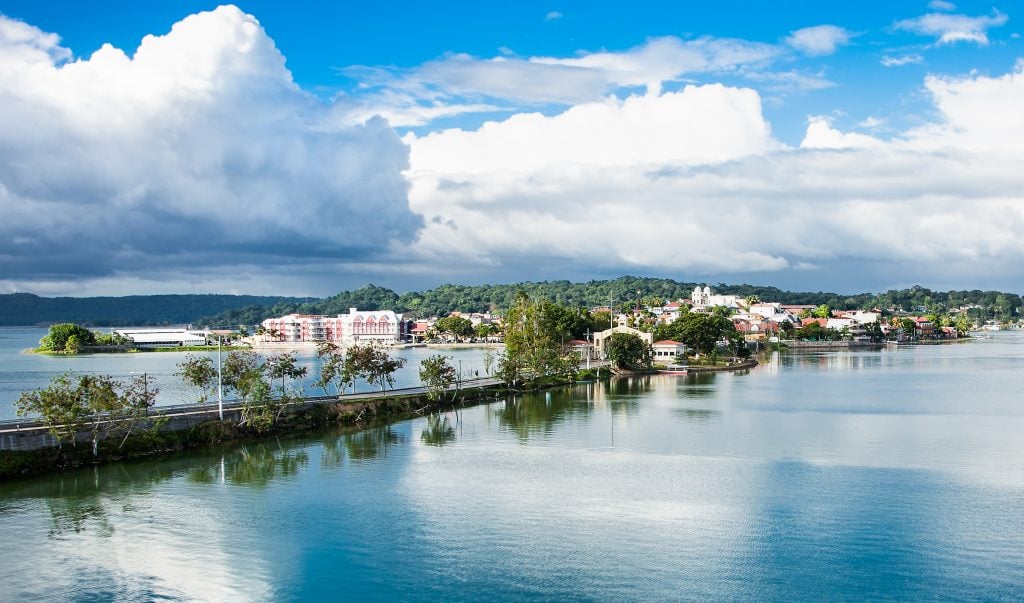 2 Week Guatemala Itinerary Stop 2: 1 Day in Semuc Champey
The Highlights of Visiting Semuc Champey (+ Lanquin)
Semuc Champey is a series of crystal-clear pools and small waterfalls, and the area is known as a traveler's playground.
Stay in the town of Lanquin, and take a tour or simply grab a ride in one of the many nearby pickup trucks/taxis to reach the pools, and spend a day relaxing and reveling in the gorgeous nature.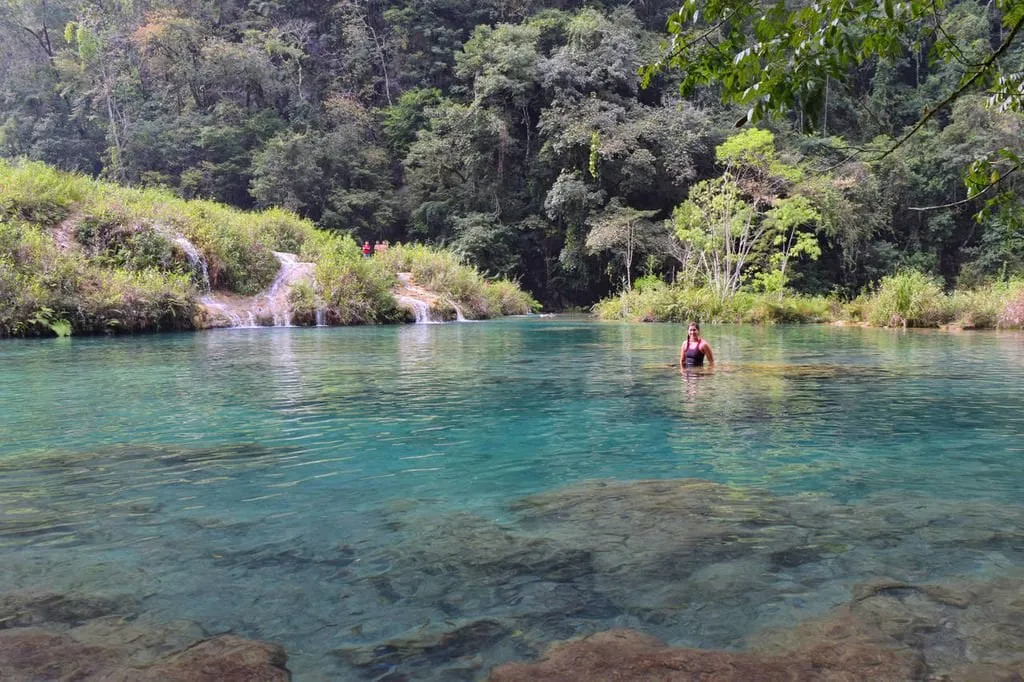 Semuc Champey easily makes the list of most magical places that we found in Central America or even the world–there's an unbelievable, I-can't-quite-believe-I'm-here quality to it that left us utterly enchanted.
Don't be surprised if this is one of your favorite stops during your 2 weeks in Guatemala!
Nearby wet caves can be explored with the help of a guide and a candlestick that you hold in your hand, as well–we didn't try it, but if you're feeling like an adventure, definitely give it a shot!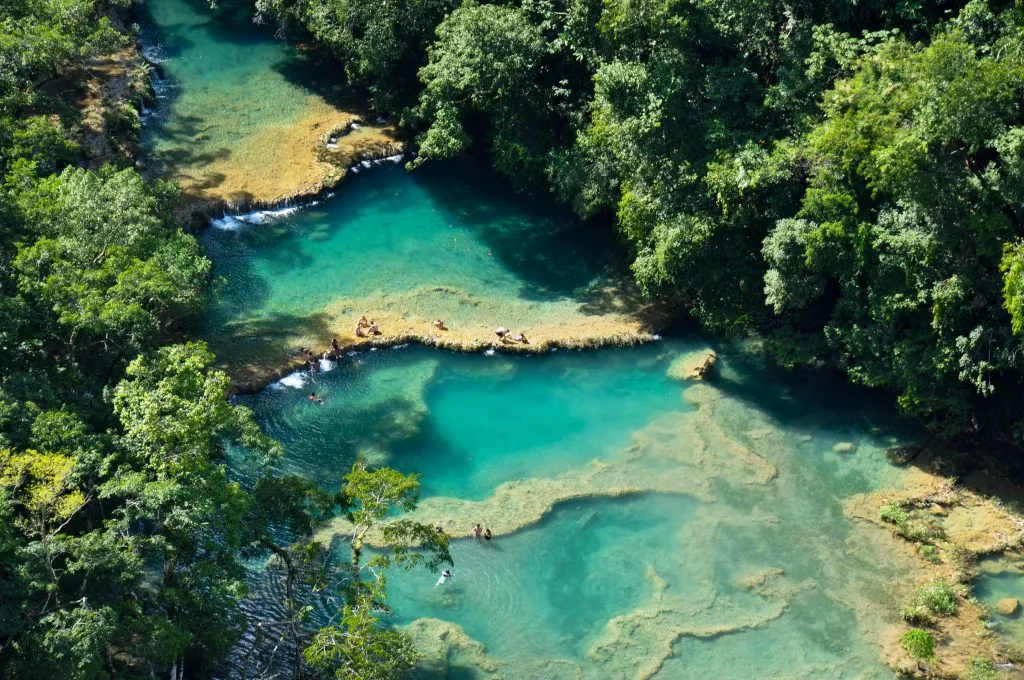 Tips for Visiting Semuc Champey
There are really just no two ways around this: Semuc Champey is a complete headache to get to.
It's approximately an 8-hour shuttle ride from Flores to Semuc Champey, and an additional 8 hours to Antigua once you leave.
The only good thing that can be said for this is that it is at least vaguely on the way to Antigua, and totally worth the trouble.
Lanquin, the nearest village to Semuc Champey (about 30 minutes away), is almost entirely off-grid: it's one of the only places in our travels that we went without wifi, which was bizarre for the first 12 hours or so and very peaceful after that!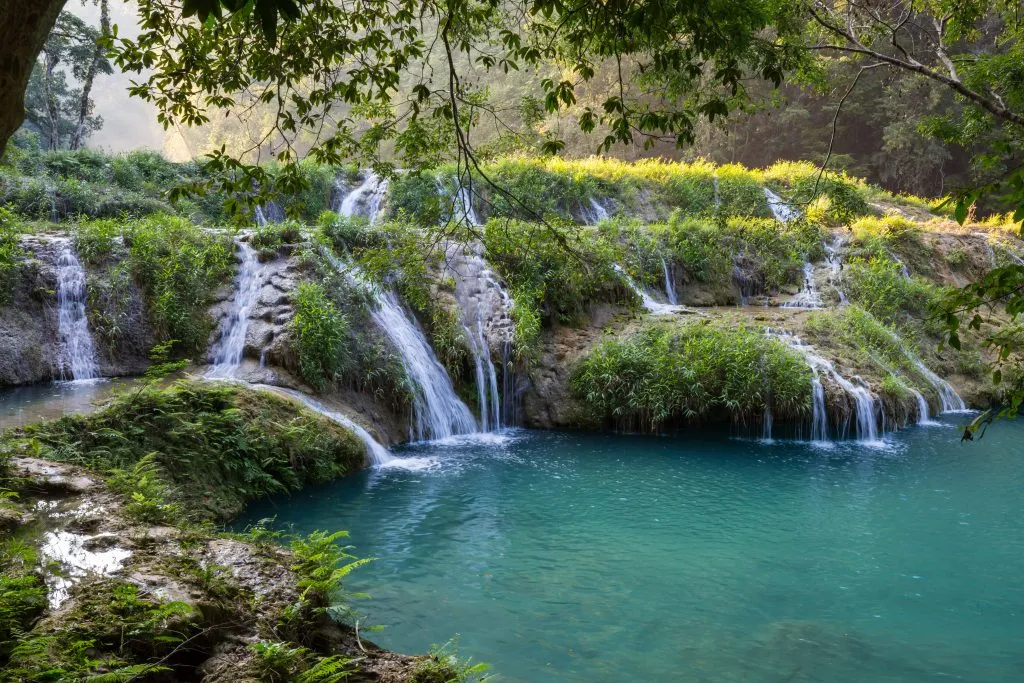 Where We Stayed When Visiting Semuc Champey
Vinas Hotel — Located less than a ten-minute walk from the center of town, the only issue we had here was with the lack of electricity for most of our stay–but there wasn't anything the hotel could do about that.
The room was clean, the property well kept, and the restaurant had good food at low prices. We would not hesitate to stay here again if we returned to the area!
Guatemala Itinerary Stop 3: 4 Days in Antigua
The Highlights of Visiting Antigua, Guatemala
Colorful buildings, cobblestone streets, ruins from the 18th century, plentiful volcano hikes nearby, enormous markets, and more: this is Antigua.
The city is easy to get sucked into, from its hilltop views to the remains of destroyed buildings scattered throughout the town–relics of an 18th-century earthquake that erupted through the then-capital of Guatemala.
While Antigua itself is worth exploring during your 2 weeks in Guatemala itinerary, the real gems lie outside of town: if you're up for an overnight excursion, hike to the top of Volcano Acatenango and–if you're lucky–catch sight of Volcano Fuego erupting next door.
While the hike is far from easy, climbing Acatenango is absolutely one of the best things to do in Guatemala!
If you'd prefer a day trip, consider climbing Pacaya.
Lucky visitors will get to see lava rolling lazily down the volcano, and almost all day trips include a marshmallow to roast with the natural heat.
Jeremy tacked on a Pacaya hike to our time in Antigua in addition to our climb up Acatenango, and he loved the experience!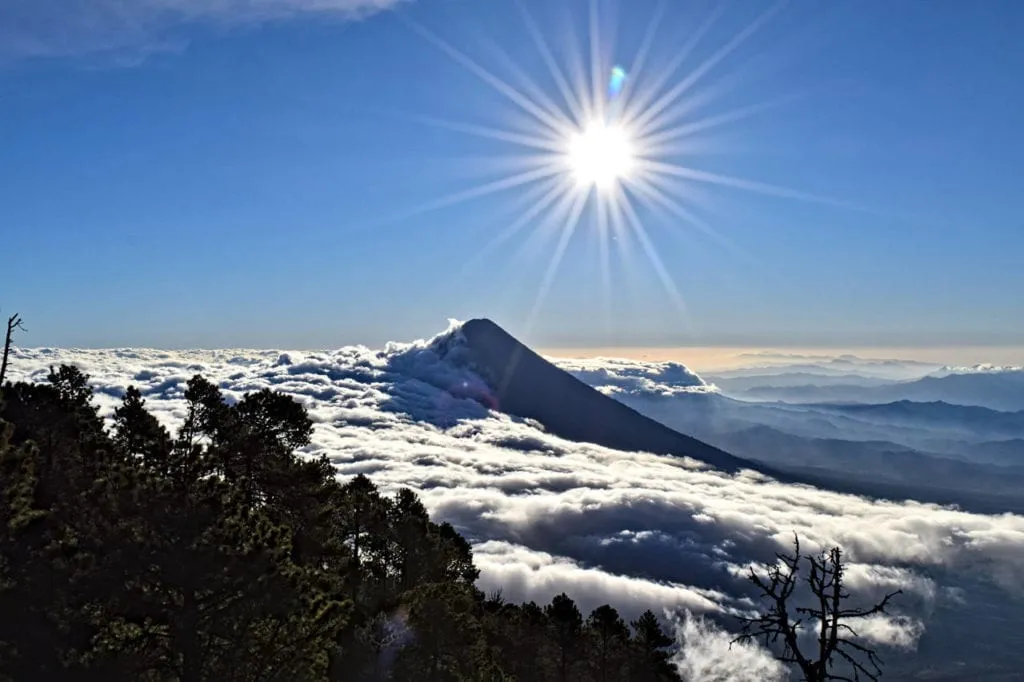 Tips for Visiting Antigua
Antigua is a great jumping-off point for backpacking Central America as a whole–if you're planning to head south to either El Salvador or Honduras via bus after two weeks in Guatemala, Antigua is a great place to plan on leaving from.
If you're flying in internationally, there's also a good chance you'll head from the airport in Guatemala City to Antigua to get started, so keep that in mind as well!
We loved our time in the little city and even returned to hang out a little longer after our time in Lake Atitlan.
Don't come here with an enormous list of things to do (outside of climbing a volcano, that is)–Antigua is a great place to relax and wander through the town center.
As always, be cautious, especially at night–we felt very safe during the day here but uneasy at night, a sentiment many travelers we met echoed as well.
Where We Stayed in Antigua
Sadly, the hostel that we loved so much in Antigua, La Dolce Vita Guesthouse, has permanently closed.
Here are two similar properties we would consider staying at these days, both of which are highly rated, with private rooms, wifi, and an excellent location.
Casa Gitana — Just 400 meters from Antigua's central plaza, you can't find a better location in Antigua. A shared kitchen is also available.
Un Hotel en la Antigua — Perfect for someone who's looking for a quiet place to stay not far from the action, Un Hotel en la Antigua is located a 7-minute walk from the main plaza, while still being located in the heart of downtown Antigua.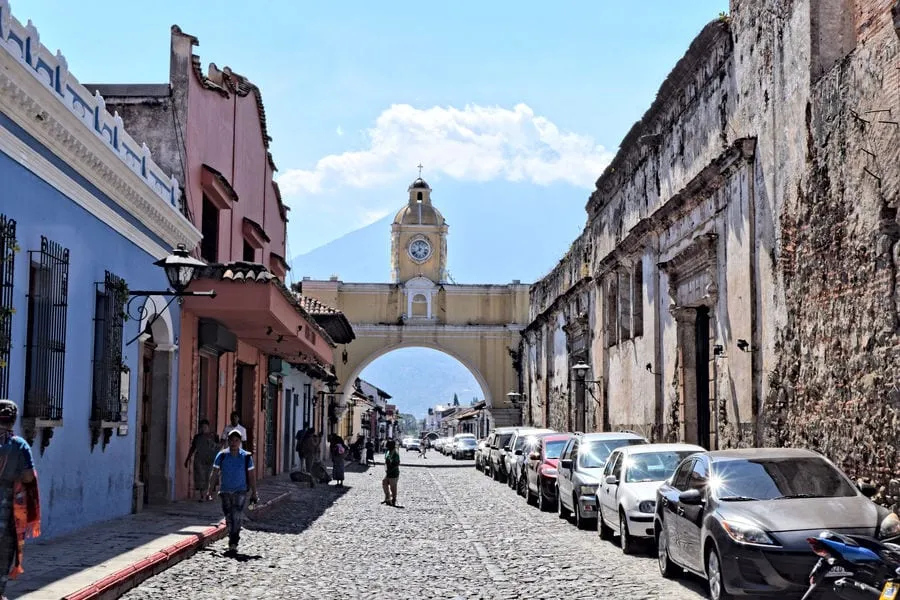 2 Weeks in Guatemala Stop 4: 4 Days in Lake Atitlan
Highlights of Visiting Lake Atitlan
There could be no better way to close out a 2 week Guatemala itinerary than to relax at magical Lake Atitlan.
Beautiful, quiet, relaxing, and literally mystical depending on who you ask, Lake Atitlan has been drawing writers and other artistic types of generations, including the famous Aldous Huxley.
The joy of Lake Atitlan is in its small villages, each with a distinct feel: head to San Pedro to enjoy the biggest, most tourist-centered town, with plenty of restaurants, shops, and tours nearby.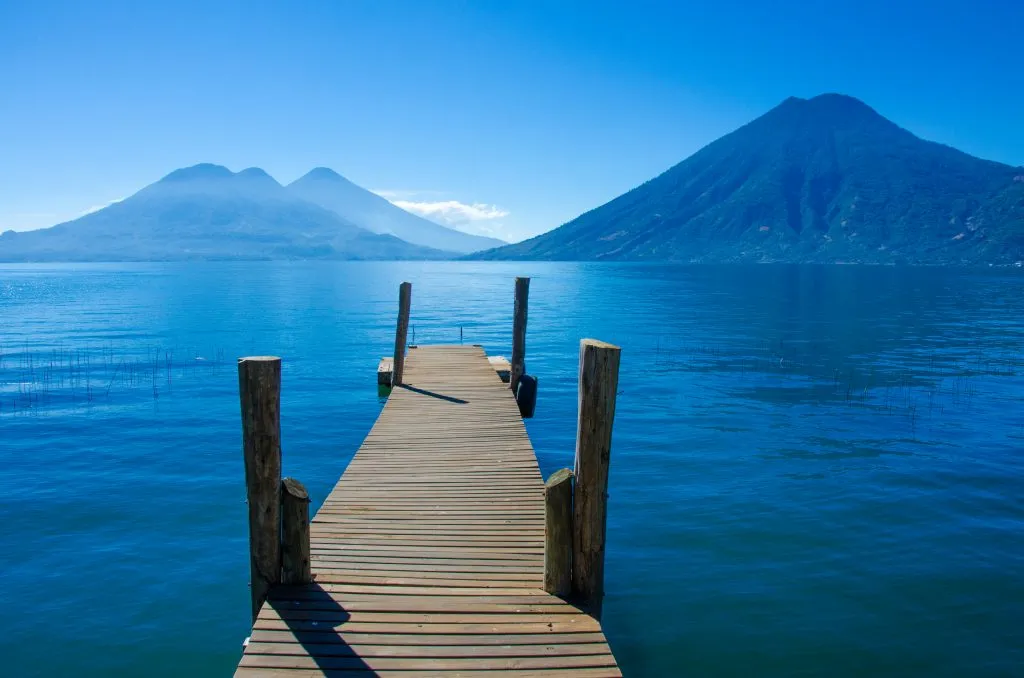 San Marcos is the haven for hippies, where anything from meditation to crystal healing can be found advertised on its many bulletin boards.
Then, there are the smaller villages that see few tourists at all–we stayed at an amazing Airbnb in San Pablo, where no other tourists or tourism infrastructure was nearby.
True, that meant a tuk-tuk ride to one of the other villages for our Spanish lessons, grocery store visits, and horseback riding–but you couldn't beat the view from where we stayed.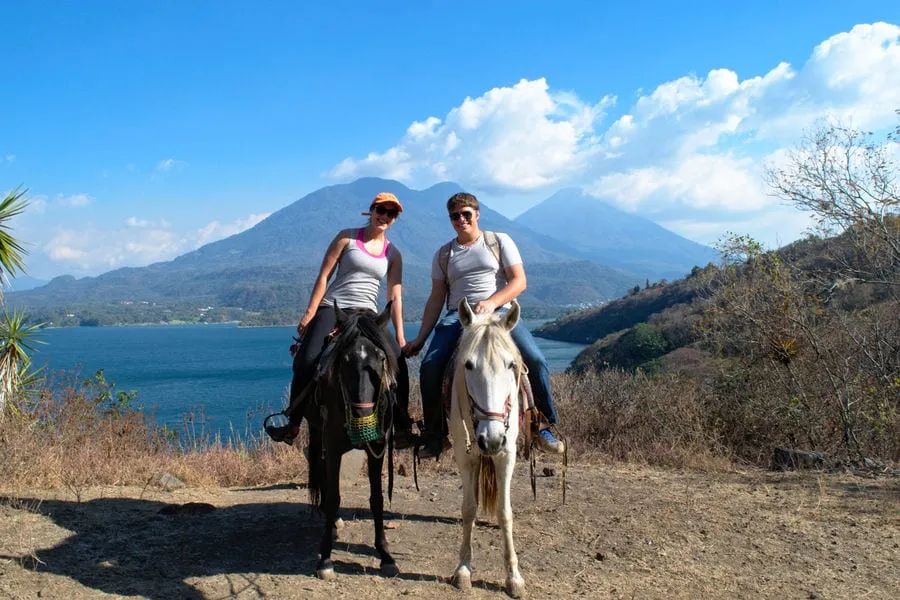 Tips for Visiting Lake Atitlan
What village you stay in on Lake Atitlan will have an enormous impact on your experience–before booking a place, be sure you know where it is and what kind of experience you are looking for.
As what we wanted from this trip was peace and quiet, along with some Spanish lessons, our out-of-the-way spot was exactly what we were looking for.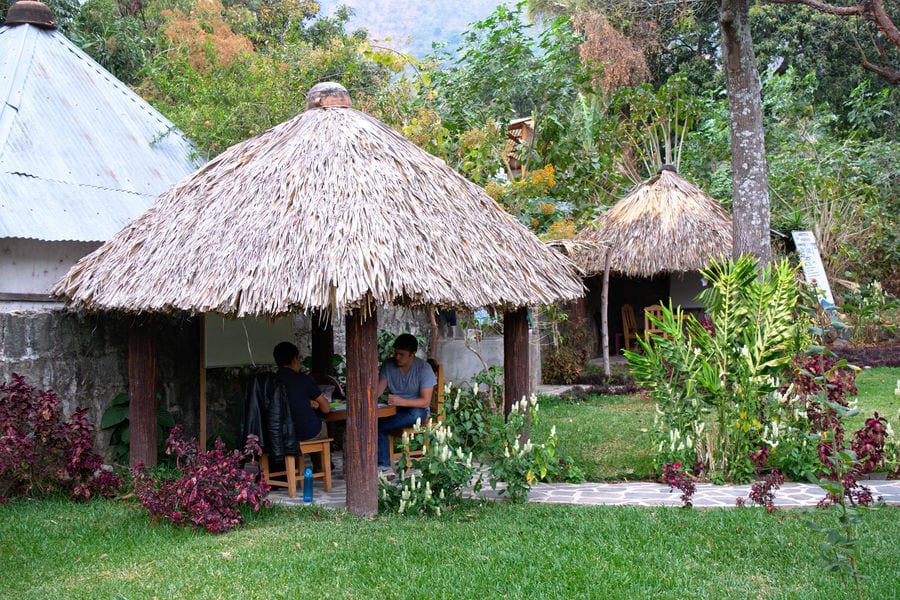 Had we been wanting to hit bars or even eat out for more than an occasional meal, though, the location would have gotten old very quickly.
Also, as a side note: people do swim in Lake Atitlan, but sadly as gorgeous as it is, it's very polluted.
Most people will advise against getting into the water, though even without the warning, we didn't feel a need to try. This is a lake best admired from above.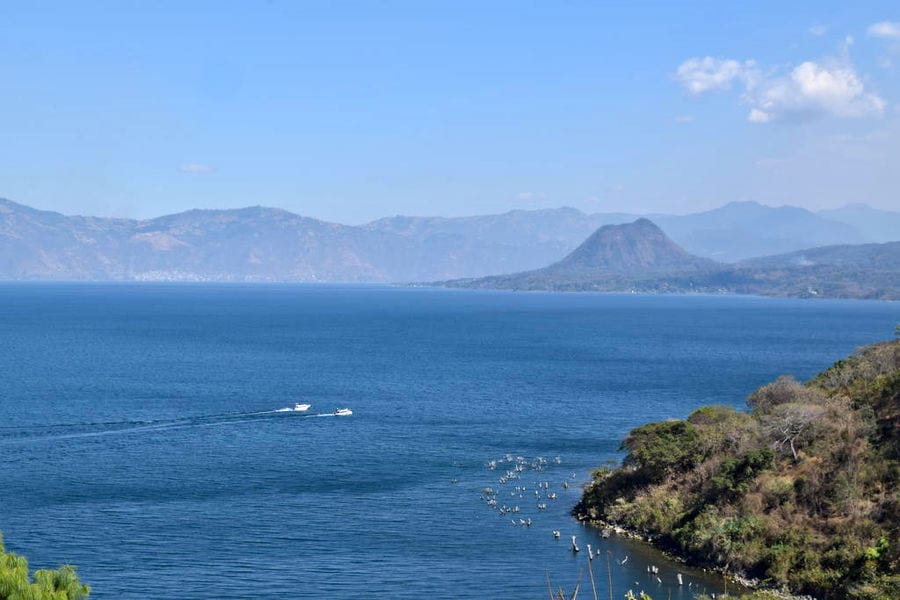 Where We Stayed on Lake Atitlan
Stuart's Airbnb — We loved this bungalow on Lake Atitlan!
The views were incredible, there was plenty of hot water, there was decent enough wifi considering the location, and the host was wonderful. This was an incredibly comfortable place to work and relax.
The downside was that it's in San Pablo, a tiny village on Lake Atitlan with no tourism infrastructure whatsoever.
To experience the best of what Lake Atitlan has to offer to tourists, you'll need to visit some of the other villages by tuk-tuk or lancha.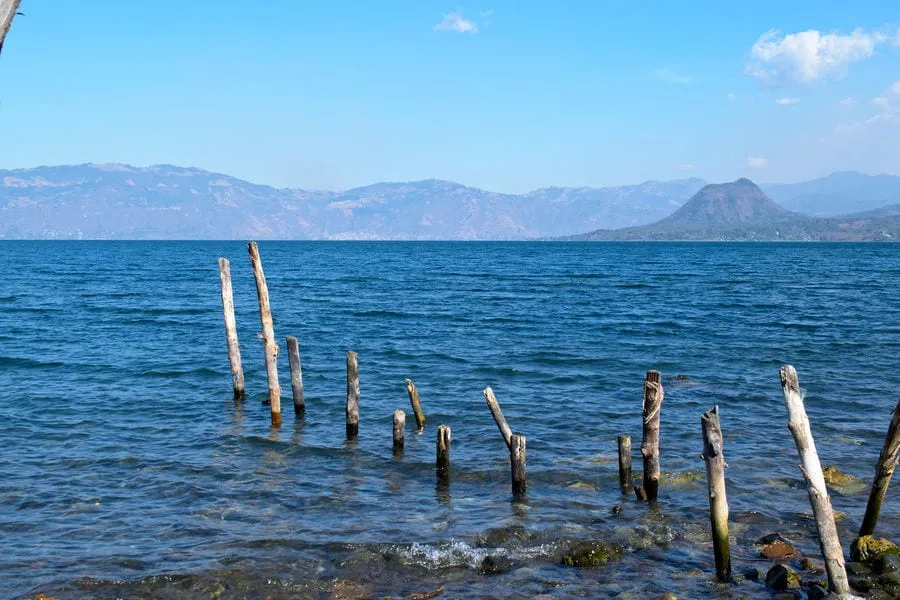 Getting Around During 2 Weeks in Guatemala
Though chicken buses and collectivos are available for cheap, unless you are on a very tight budget when visiting Guatemala, I would recommend using a tourist shuttle for at least the travel to Flores/Tikal (if you're coming from Guatemala City), to Semuc Champey, and to Antigua.
Those distances are long enough as is, you don't want to risk adding significant amounts of time.
We took one collectivo while in Guatemala, from the border to Flores: while we saved some money, 18 humans and two puppies were an incredibly tight squeeze in a 15 passenger van–frankly, we wouldn't bother doing it again.
Within towns and cities, tuk-tuks are readily available in most spots (though oddly not as many in Antigua–not much of an issue, as it's very walkable).
During our backpacking Guatemala, we primarily used tuk-tuks or our own feet to get around within cities and towns and to get between different villages on Lake Atitlan.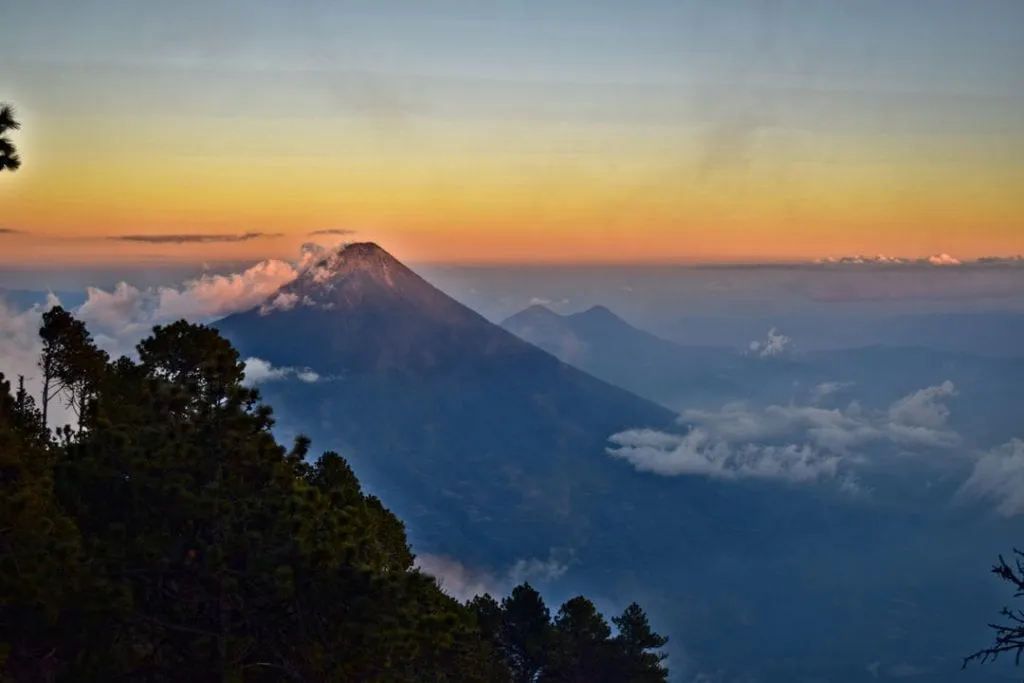 What to Pack for a Trip to Guatemala
Here are a few things we recommend bringing along on your trip to Guatemala!
Travel Insurance — We don't ever suggest traveling without insurance–anything can happen, and this is definitely a case of better safe than sorry.
Traveling to Guatemala is generally safe, of course, but it also likely involves stepping outside your comfort zone and trying out new adventures in a foreign land… where you may or may not speak the language. We use and recommend Safety Wing for trips to Guatemala.
Pacsafe
 — We can't recommend our Pacsafe
enough: this travel safe is affordable, sturdy, easy to pack, and will help keep your valuables safe in your hotel room during your 2 weeks in Guatemala (not that you should need to worry much about theft in your hotels, but it's better to be safe than sorry!).
Comfortable Day Bag — We currently use Pacsafe's sleek anti-theft backpack and love it, but if you don't want to shell out the cash for your 2 week Guatemala itinerary, that's totally understandable.
Just aim for something comfortable to wear, not flashy, and medium-sized–we used a Northface Jester backpack for years and loved it as well.
Steripen — Save money and avoid adding more plastic to the Earth–a SteriPen is a win/win. We've used ours in more than a dozen countries over the years, including all throughout Mexico and Central America, and never gotten sick from the water.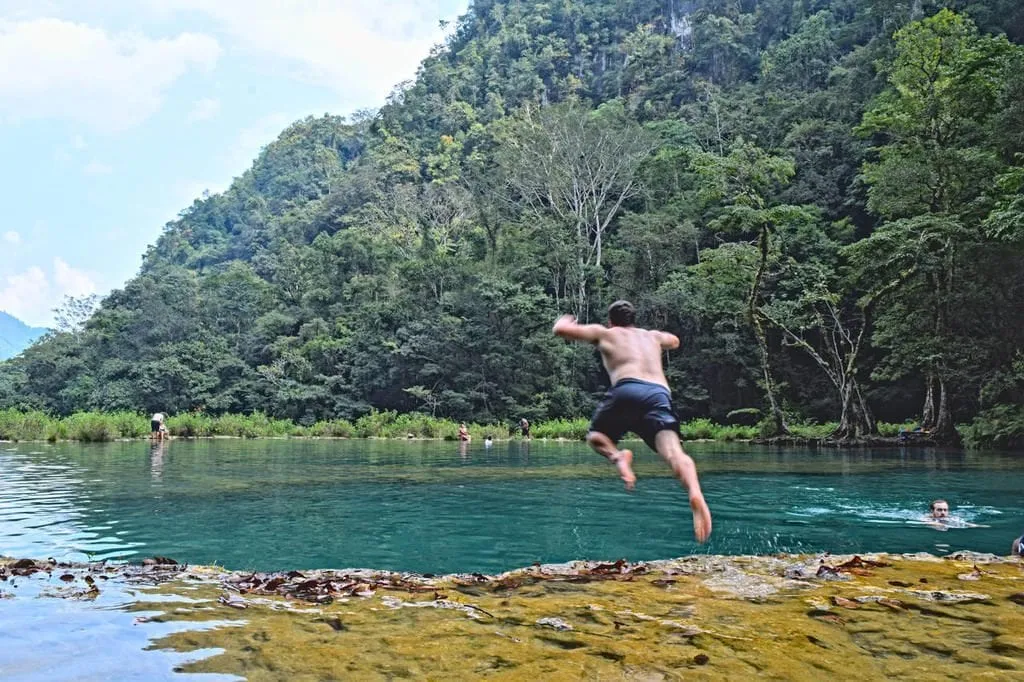 Nalgene
— Goes hand-in-hand with the Steripen: you have to have somewhere to put that clean water when backpacking Guatemala! Opt for the wide-mouthed version in order to make the water sterilization process easier.
Purell Hand Sanitizer
 — We carry this everywhere, and never been sorry to have it floating around in our day bag.