Whether you're looking for coastal views, mountain villages, castles, wine country, or all of the above, one thing is for sure: there is absolutely no shortage of epic road trips in Europe.
Over the past several years, we have absolutely fallen in love with sampling the best road trips in Europe, and have explored parts of more than a dozen European countries by car, including driving from Portugal to Italy and back a few times!
Driving in Europe provides the freedom to find uncrowded corners and offbeat delights, while also ensuring you have a chance to hit up some of the biggest bucket list destinations on the continent.
In the beginning stages of planning a European road trip and not sure where you want to go?
With the help of many other travel bloggers, we have you covered–more than 50 times over!–in this giant guide to the best road trips in Europe.
Once You Pick Your Perfect European Road Trip…
… We'd love to help you plan your trip in more detail!
Here on Our Escape Clause, we've written detailed, step-by-step road trip guides for many of the destinations covered in this giant bucket list, based on our personal travels around the continent.
We'll link them where relevant below, but to see them in one place, you can scroll through all of our road trip guides here.
We also have hundreds of travel guides on specific European destinations on our website.
To peruse by country, you can use our destinations page or the search bar on the top right of the page (on desktop) or at the top of the pop-out menu (on mobile) to find what we've written about the places you're most interested in!
Tips for For Planning to Take a Road Trip in Europe
This travel guide to the best European road trips is already giant, so I'll keep these brief, but here are a few essential tips for planning a European road trip!
Shop around for your rental car.
The best company to rent a car for your road trip in Europe from will likely vary dramatically depending on where and when you're traveling.
Sometimes large international carriers offer the best prices, sometimes local outfits. Sometimes one company has an excellent base price, but terrible rental requirements.
The best way to find your rental car is to search through Discover Cars, which will sift through dozens of companies to find the best combination of low prices and reasonable rental terms for your European road trip.
Browse rental cars for your European road trip today!
Read the rental requirements carefully.
Especially make sure you know how many kilometers you've been allotted (or ideally, if they're unlimited)!
You'll also want to note whether you need to return the car empty or full of fuel, what to do if the car breaks down, and what damages you're liable for in the event of an accident.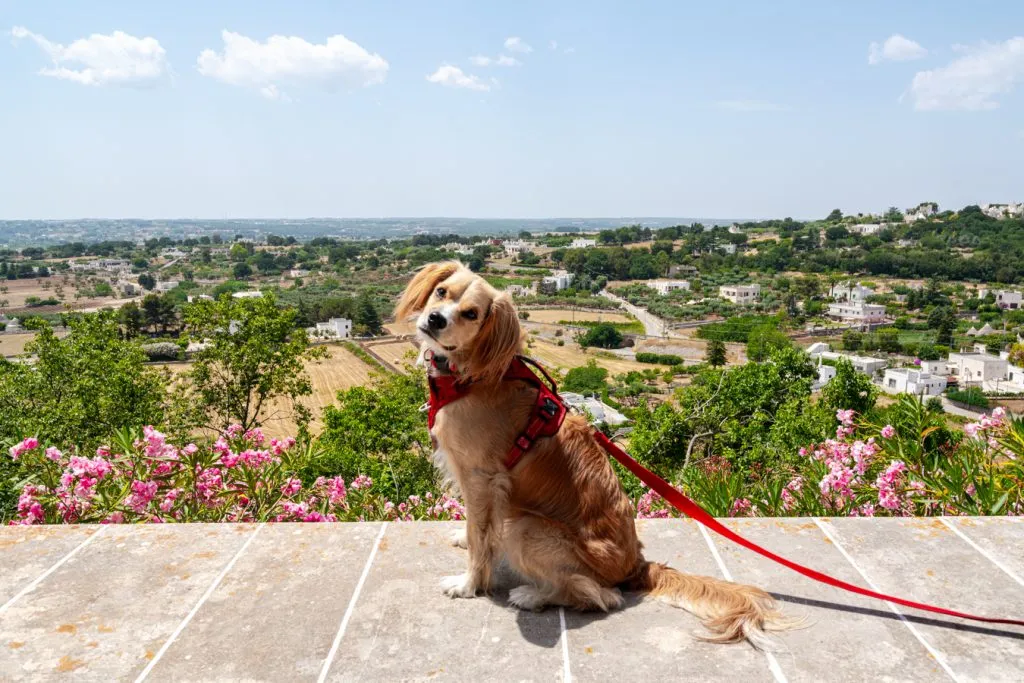 Manuals are cheaper and easier to rent than automatics.
Ideally, you'll want to know how to drive a manual before taking any road trips in Europe.
While most companies carry a few automatic cars for non-European visitors, manuals are standard on the continent and are both far cheaper and much less likely to sell out.
Don't focus on big cities.
Generally speaking, Europe's legendary trains, plus plentiful bus and flight routes, can get you between major cities easier than a rental car.
Plan your European road trips around small towns, natural highlights, and countryside beauty instead.
Plan ahead if you want to rent a car in a competitive area.
Want to road trip Iceland in the height of summer?
If so, be sure to plan ahead: rental cars have been known to sell out!
Booking your rental car in advance is most important in places at a crossroads of extreme popularity and limited availability–like islands, for example.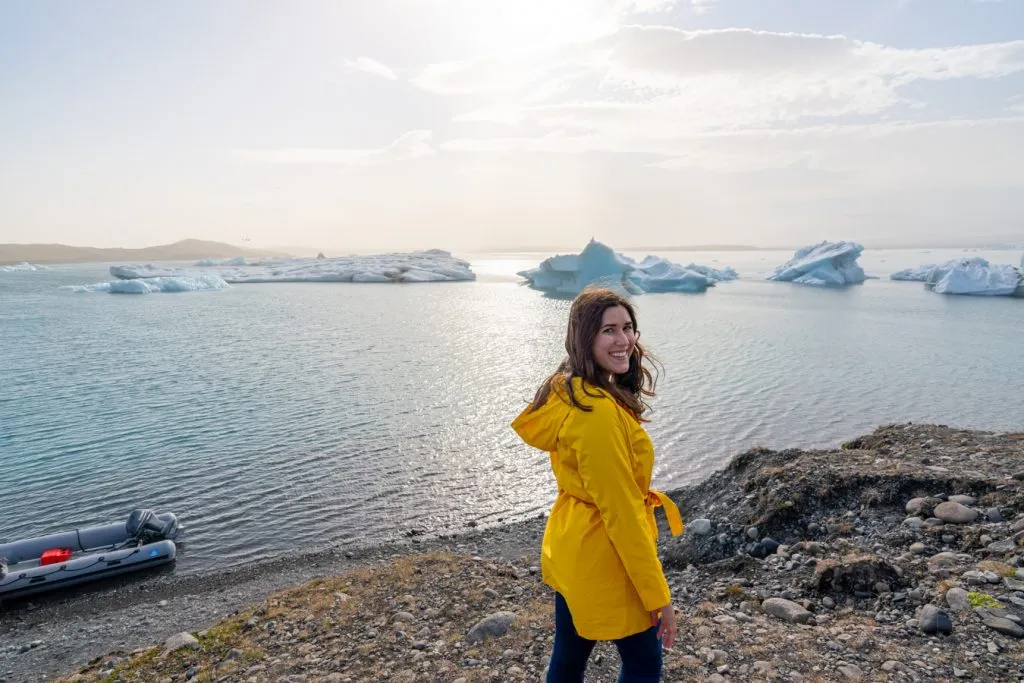 Best Northern Europe Road Trips
Lofoten Islands, Norway
From Michele of The Intrepid Guide
Located in Northern Northern, the Lofoten Islands are a quiet and almost untouched corner of Norway.
Connected to mainland Norway in the north by road, this beautiful archipelago extends out into the Norwegian Sea.
The long highway connects most of the islands by bridges or ferries, making it super easy to get around.
There are countless things to do in Lofoten which range from easy roadside stops to hiking the mountain tops for stunning panoramic views.
Lofoten highlights include seeing the brave arctic surfers ride the waves at Unstad Beach, seeing the bright yellow Fisherman cabins at Nusfjord, watching the Northern Lights reflect in the wet sand at Skagsanden Beach, and seeing the iconic red cabins and cod drying racks on Hamnøy Island.
If you only do one hike, make the Reinebringen Trail.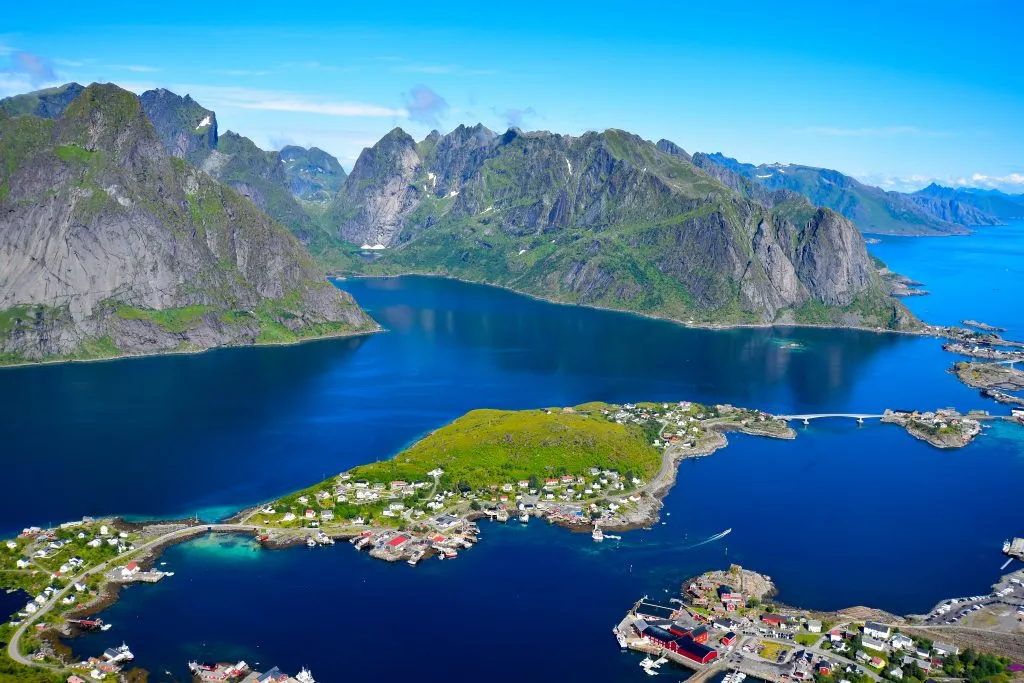 This popular hike leads you to some of the best views you'll ever see and the elevation will make you feel like you're on top of the world.
Start your trip in Svolvær, the region's capital, and work your way down to Å – the most southerly town connected by road.
For the ultimate Lofoten experience, be sure to stay in a traditional fishermen's cabin (rorbuer) and get hygge (Norwegian for 'cozy').
Recommended Road Trip Length
Allow at least 5 days to gently explore Lofoten and take it all in. This is not a place you want to rush!
From Svolvær to Å, it's just 80 miles (129km), so you'll be able to cover a lot of ground during your road trip.
Westfjords, Iceland
From James of Where You're Between
Home to some of the world's most breathtaking landscapes, Iceland, in general, is one of the best countries for road trips in Europe.
Iceland's second city of Akureyri is a fairly easy drive from Reykjavik, though one way to stretch out the journey is to take a multi-day detour through the Westfjords.
Being one of the most remote areas in Iceland means that the Westfjords is also one of the least visited.
Despite this, the Westfjords is one of the most dramatic and spectacular corners of Iceland.
As an added bonus, a detour via the Westfjords also passes through the equally beautiful regions of Western Iceland and Northern Iceland.
Before reaching the Westfjords take a further detour to Snæfellsjökull National Park, wherein true Icelandic style a glacier sits on top of a volcano.
There are countless waterfalls all along the route, including Kirkjufellsfoss, underneath the jagged shard of Kirkjufell Mountain.
Just inside the Westfjords region is Dynjandi, the largest in the whole region at over 100 meters tall.
Much of the Westfjords is made up of mile after mile of sensational landscapes.
The roads often cling to the craggy mountainsides as they peak and trough around the jutting fjords.
Dotted throughout the Westfjord's dramatic landscape are a number of beautiful idyllic towns, such as Flateyri and Ísafjörður.
Sat beneath the sloping mountains and facing the fjords these picturesque towns feel as though they're a million miles away from anywhere.
Iceland's second city of Akureyri also sits on the rim of a huge fjord in the far north of the country.
The nearby town of Husavik is one of the best places in Iceland to go whale-watching, and don't miss the other-worldly landscapes of Dimmuborgir lava fields before you make your way back to Reykjavik.
Recommended Road Trip Length
3-5 days will give you a great introduction to the Westfjords.
From there, you can either explore the region more deeply or combine it with time in the rest of Iceland!
Best Southern Europe Road Trips
Algarve, Portugal
From Nina of Where in the World is Nina
We're not sure what the best part of road-tripping Portugal's Algarve is… the beauty, the cheap car rentals, or the ease of getting everywhere.
Perhaps it's all three that make it one of the best European road trips!
If you fly into Lisbon or Faro, get your rental car booked ahead of time.
If you visit in the off-season, you can get a steal of a price for your car rental and lodging.
On your Algarve road trip, you can work from east to west or vice versa.
An ideal route would start in Lisbon, drive south, and then end in Faro.
You may pay just a bit more to drop the car off in another city but it's well worth not having to backtrack.
The Algarve is known for its incredible beaches, cliffs, coves, and surf.
Some highlights you must check out include the sleepy surf town of Sagres featuring three nearby beaches (Amado is the furthest but best for beginner surfers).
Just thirty minutes east is Lagos, known for its headland views, watchtowers, and perhaps the prettiest view you'll lay your eyes on at Ponta da Piedade.
Take a boat tour to Benagil Cave, or anywhere along the coast, exploring its sandy rock towers that sprinkle the shores.
There are also numerous coastal hikes that are really easy and provide great views. A favorite coastal hike is the Seven Hanging Valleys Trail.
One of the best parts of this Europe road trip is that you don't have to pack up every day!
There's no reason why you can't choose where to stay in the Algarve once, and then not worry about it again since everything is pretty close and you'll have a car.
Suggested Road Trip Length
Your trip should be nothing under three days, otherwise, it would be too rushed!
Five days is a good number and a week would be extremely ideal and you'd probably get to see everything you want and more without being too busy.
Andalucia, Spain
From Tom of The Travelling Tom
A road trip around Andalucia is the best way to see this beautiful part of Spain.
There is no shortage of beautiful places to stop, such as popular Seville, Granada, and Malaga, and lesser-known spots such as Cadiz and Ronda.
Andalucia is full of history and interesting sights. From the towering Puente Nuevo in Ronda to the Moorish palace La Alhambra, the region is arguably the most interesting part of Spain to visit.
History is everywhere you look. Buildings from the Moorish rule of Spain, to Roman baths and amphitheaters. Andalucia is the place to visit if you're a culture vulture!
You will also find loads of activities along the way. One of these is the Caminito del Rey outside of Malaga. It once had the reputation of being the world's most dangerous hike.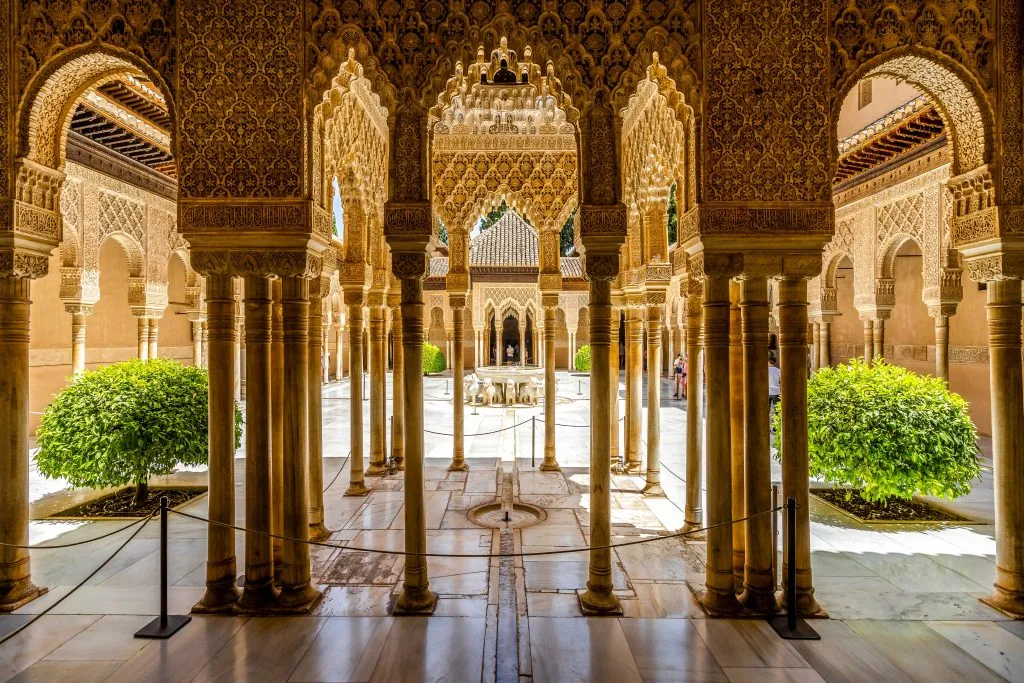 However, the hike on boardwalks overlooking a gorge is a lot safer than it used to be.
Now, you can admire the views instead of worrying whether you'll fall off or not!
Starting from Malaga and passing through Seville, Granada, Cordoba, and Huelva is one of the best routes to take. A detour to Gibraltar is possible as well.
Suggested Road Trip Length
This road trip in Spain can be done in 7 to 10 days depending on how fast you want to go.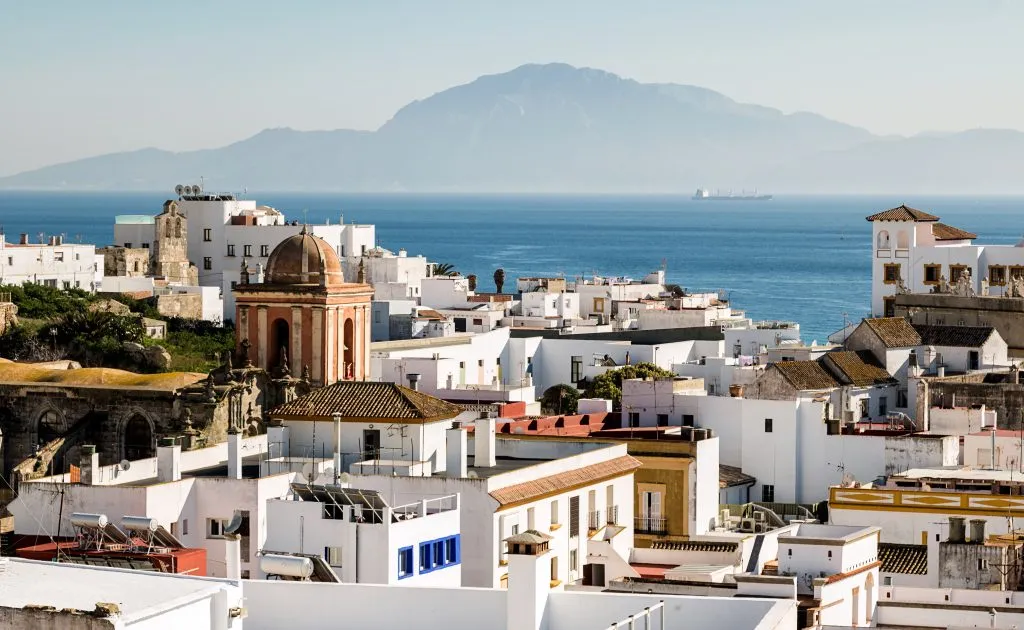 Amalfi Coast, Italy
From Chrysoula of Travel Passionate
Italy's stunning Amalfi Coast is a memorable destination for a road trip as the colorful coastal towns are linked together with wonderful winding roads that meander along the hillside with spectacular sea views along the way.
Not only this, but the beaches, restaurants, markets, and museums en route make the Amalfi Coast ideal for travelers of any age.
Keep in mind, though, that driving on the Amalfi Coast in summer is not for the faint of heart: only undertake this road trip if you're a confident driver!
The whole of the Amalfi Coast has been recognized as a UNESCO World Heritage Site which just goes to show what an incredible destination it is.
Start your Amalfi Coast road trip from Sorrento or Salerno, and work your way down the coast to towns like Ravello, Positano, and Praiano.
The panoramic views you witness as you drive along these coastal roads are absolutely breathtaking so make sure you pull over to take in the views on regular occasions throughout the drive!
While the joy of taking a road trip along the Amalfi Coast is that each journey can be totally unique as you have complete flexibility, there are certain stops that you'll probably want to add to the list to ensure you see some of the highlights.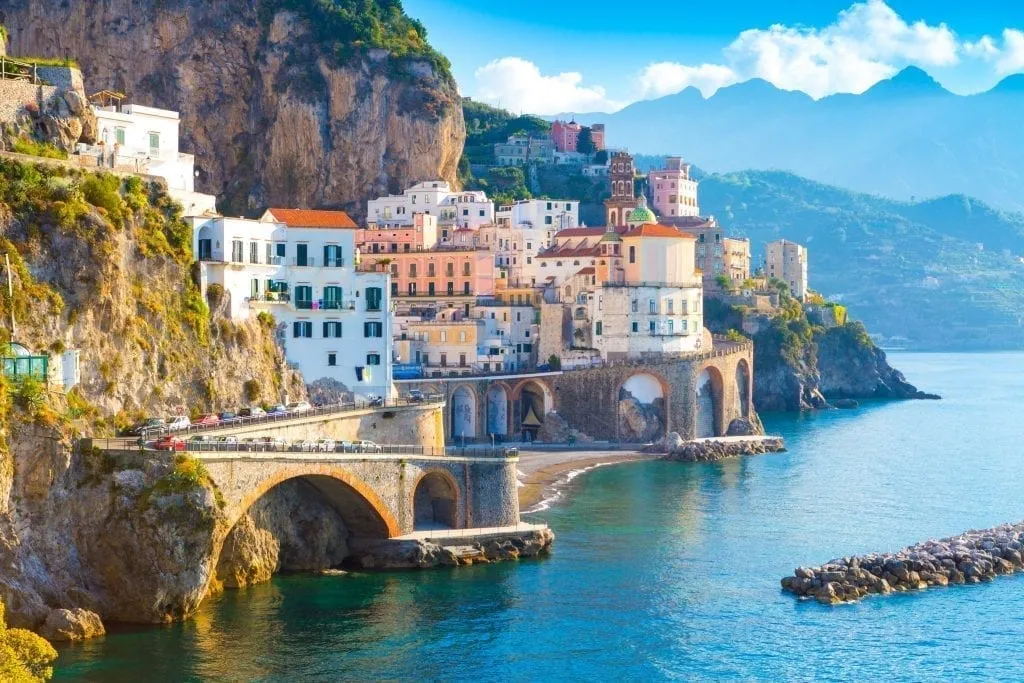 These include Positano (the official starting point of the Amalfi Coast), Furore (the only fjord in Italy), the quaint village of Atrani, and, of course, the port of Amalfi itself.
The Amalfi Coast runs as far as Vietri sul Mare and you can take in as many or as few towns and villages as you wish.
The larger, more northern towns are the busiest and therefore most expensive, so if you'd prefer something a little more relaxing head to one of the smaller villages further down the coast.
Suggested Road Trip Length
You could spend absolutely anywhere from a few days to a few months exploring the Amalfi Coast, but the sweet spot is probably somewhere between one and two weeks.
If you have longer to spend in southern Italy, consider visiting Sorrento, Pompeii, and Capri too as these all have tons of character, culture, and history to explore.
Malta
From Rai of A Rai of Light
There are plenty of places to visit in Malta and a road trip sure is one of the best ways of doing so.
The island is perfectly made to get into your car and head for the open roads (as long as you're confident–the driving on Malta is intense).
However, Malta is small enough to ensure getting lost is not a regular occurrence, while large enough to hold many distinguished features and scenic routes.
From the start point in Sliema don't miss a stop at the Birgu Waterfront for great views of Valletta, before moving on to the picturesque fishing village of Marsaxlokk.
This laid-back village will make you feel as if you've stepped back in time.
Most of the scenic drives in Malta will have the sea featuring in one way or another.
After a stop in Golden Bay, the drive down from Mellieħa to Għadira comes with many good stops along the way, including Għadira Bay and The Red Tower.
On the way back to Valetta, a stop in St. Julian's is recommended.
Recommended Road Trip Length
Malta is just so compact that you really can fit in most of the island on a day-long road trip.
However, it is recommended to increase this to two to four days if you're really keen to take your time and see all that this island has got to offer.
Costa Brava, Spain
From Justine Ancheta of Latitude 41
Translated as "the rugged coast", the Costa Brava blesses northeastern Spain with sandy beaches, medieval villages, and the eccentricities of artist Salvador Dalí.
From Barcelona, head north to Tossa de Mar, a small town where you can get a view of towering medieval walls while basking on Platja Gran, the main beach.
Then spend a day or two exploring the best things to do in Girona, including the 12th-century Arab baths, the well-preserved Jewish Quarter, and the imposing Girona Cathedral.
From there, visit the charming former fishing village of Cadaqués.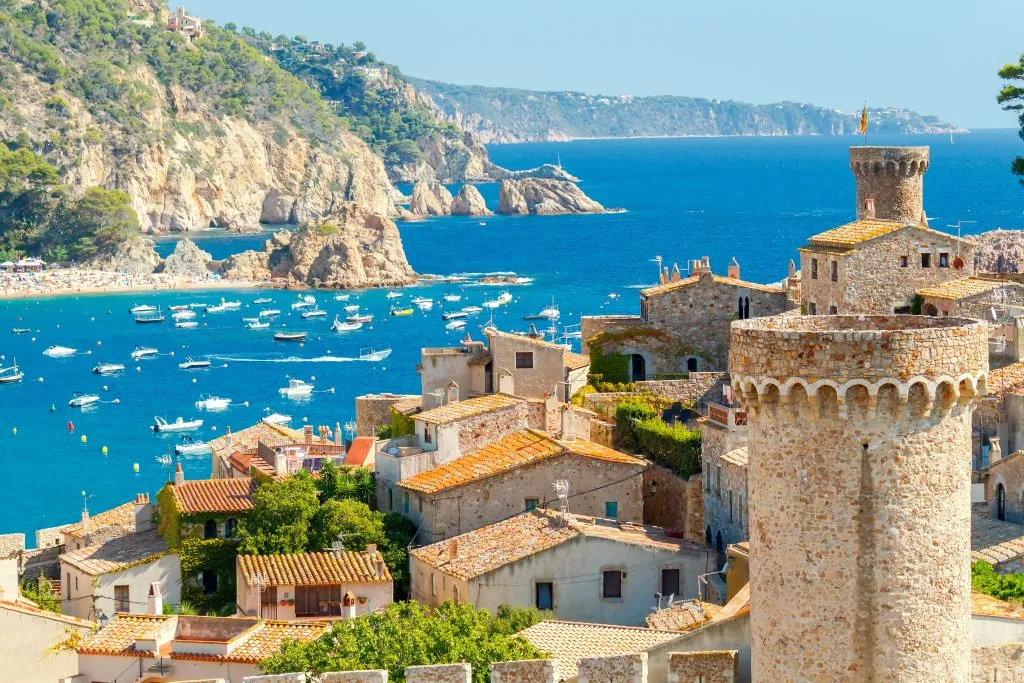 A warning to the driver: the last few kilometers of the road leading up there are narrow and winding, but not dangerous.
However, the journey is worth the scenic beach coves, whitewashed residences, and cobbled streets wrapped up in a sophisticated ambiance.
It's also where artist Salvador Dalí spent his summers and home to the famous Casa-Museo de Salvador Dali.
Next up is Figueres, the birth town of Dalí and home to the quirky Dali Theatre-Museum.
Some of his avant-garde works lie here like his holographic art, stereographs, and the Mae West installation. Also, the artist himself is buried in the crypt.
This European road trip is ideal if you're seeking the warm Mediterranean sun while discovering local Catalan and Spanish art and culture.
Recommended Road Trip Length
Carve in at least seven days to see the magnificent Costa Brava!
Sardinia, Italy
From Hayley Lewis of A Lovely Planet
The stunning Italian island of Sardinia is a fantastic road trip destination, with stunning beaches, incredible scenery, and delicious Italian food.
Start your Sardinia road trip in Cagliari, the island's largest city, and head southwest to Isola di Sant'Antioco, accessed by a mile-long causeway.
This is one of the oldest parts of Sardinia, and is not as frequented by tourists.
Next, drive to Bosa on the east coast. The coastline is incredibly scenic along the way, with rugged hills and sandy beaches.
Bosa is a hillside town filled with quaint colorful houses, and a castle at the center – a must-visit – especially for great views of the town.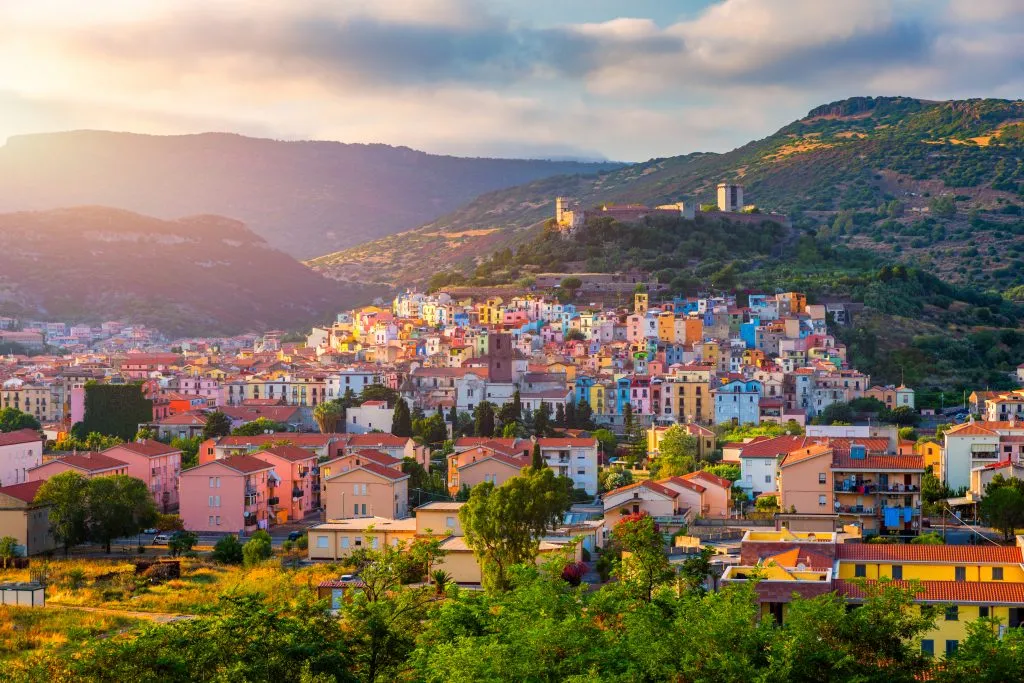 Continue north to Alghero, a town with a strong Spanish influence and striking coastal walls.
North of the town you'll find some of Sardinia's most beautiful beaches – perfect for a few days of relaxing.
Make your way across the island to the west coast, and the town of Cala Gonone, the gateway to Golfo di Orosei – a stretch of incredible coastline accessed by boat or by hiking.
The water here is clear and a striking aquamarine color and the coast is dotted with great little beaches including the famed Cala Goloritze – one of Sardinia's most prized beaches.
There is also an extensive cave network, which you can visit part of, via boat at Bue Marino Grotto, which is filled with striking stalactites and stalagmites.
Before you make your way back to Cagliari for your flight home, be sure to stop at Cala Sinzias, a white sand beach reminiscent of the Caribbean or French Polynesia.
Recommended Road Trip Length
Ideally, it's best to have at least a week to explore all that a Sardinia road trip has to offer.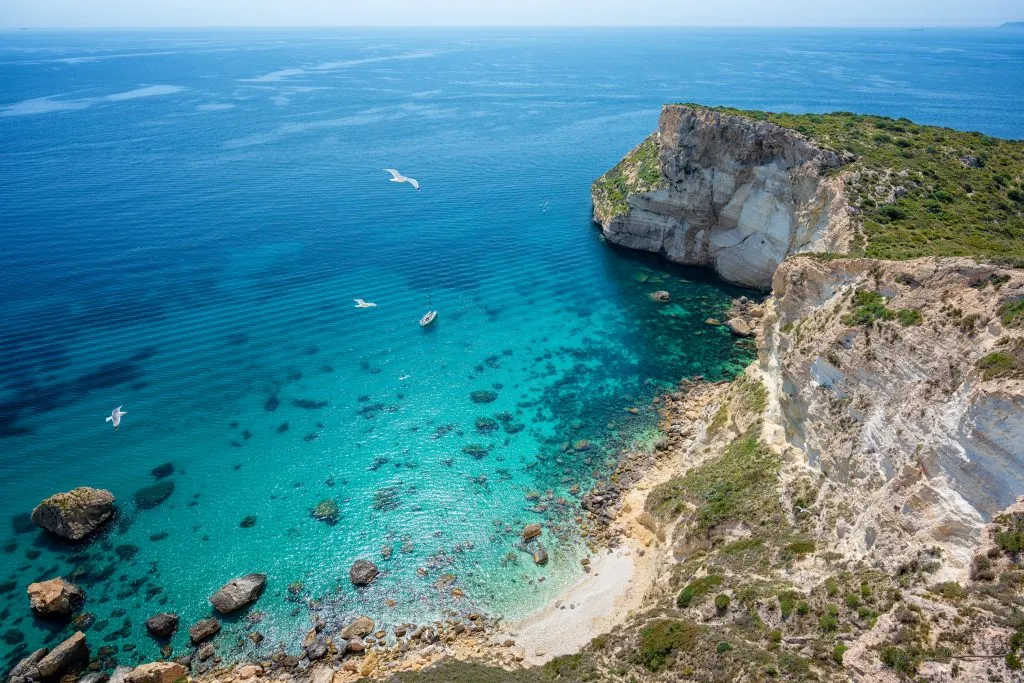 Sao Miguel, Azores, Portugal
From Megan of MeganStarr.com
In the middle of the Atlantic Ocean where the European plates meet the American ones sits the Azorean Archipelago, a group of volcanic islands that are an autonomous region of Portugal.
The largest of the islands is Sao Miguel and you'll find the main airport there, as well as a copious number of things to do.
Sao Miguel is the perfect place to start your Azores itinerary as there is a network of well-taken care of roads that wind around the island allowing visitors to see all of the viewpoints.
This Azorean island is the perfect place for a road trip, and exploring Sao Miguel in-depth by car should take around 3-4 days.
The best place to embark on this road trip is in the capital city of Ponta Delgada.
After visiting the colonial city brimming with architecture constructed with a touch of black, volcanic stones, you should head west where you will have the opportunity to look down into craters of old volcanoes and lakes that now fill them.
Sete Cidades is the most famous and the landscape will blow one's mind.
As you cruise around Sao Miguel by car, you'll have the chance to drive by some attractive black sand beaches and small villages, such as Capelas along the north coast.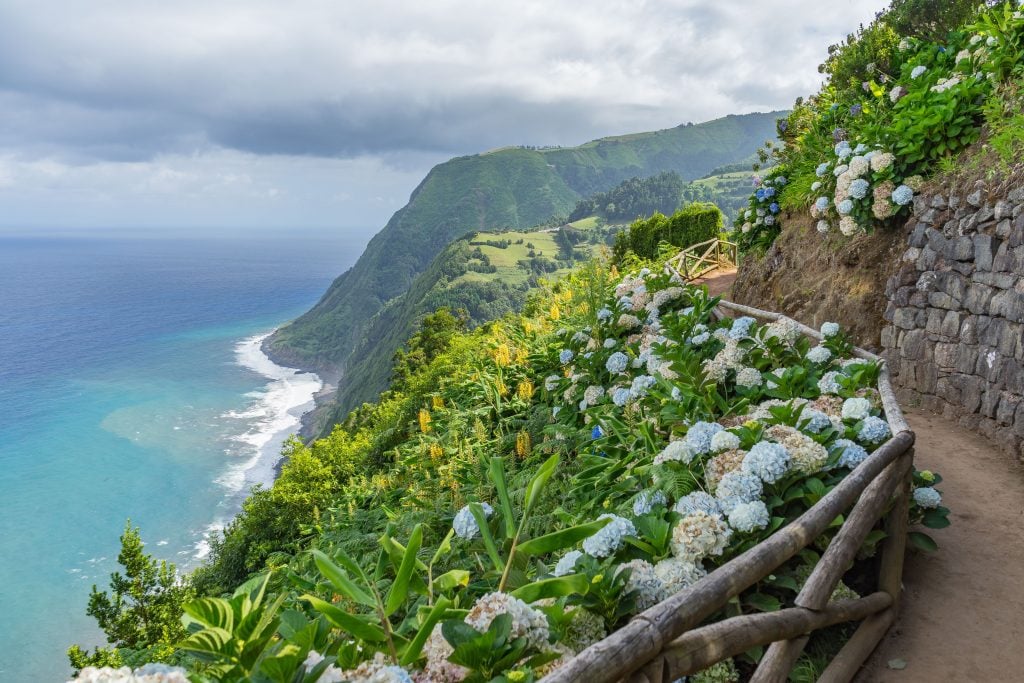 There are several natural pools along this route that you'll want to be sure to tote along a bathing suit and beach towel.
The next place worth tackling on Sao Miguel is the eastern part of the island, where you'll find many hot springs, botanical gardens, and relaxing parks such as Terra Nostra where you can spend time rejuvenating yourself in natural pools heated by geothermal energy.
Another can't-miss thing to do in Sao Miguel is to find a restaurant near Furnas that specializes in 'Cozido das Furnas', a famous Azorean dish that has been slowly stewed by the Earth's underground heat.
Recommended Road Trip Length
There is plenty to do in the Azores and Sao Miguel is an ideal starting point.
Whether you stay there for three or four days, which is the minimum number I recommend, or more, you will definitely be glad you got to experience one of the best road trips in Europe.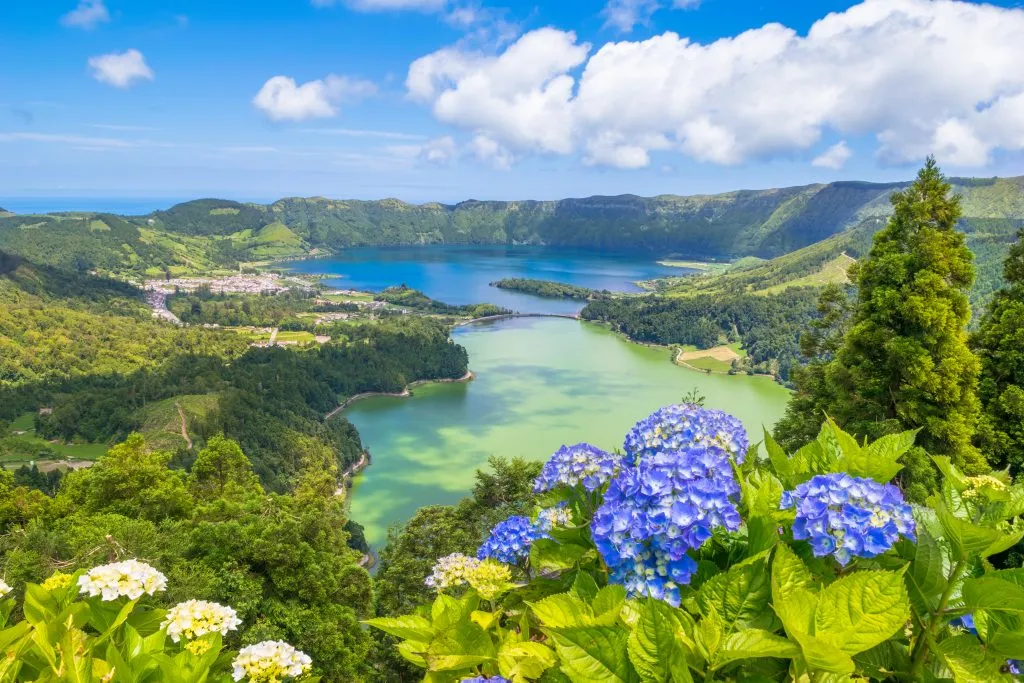 Eastern Sicily, Italy
From Annabel of Smudged Postcard
Sicily is a big island so to do it justice it's worth concentrating on just part of it. Eastern Sicily lends itself particularly well to a road trip.
Fly into Catania and start your Eastern Sicily road trip, starting with a few days spent exploring the beautiful coastal city of Syracuse with its stunning cathedral and fascinating ancient history.
Next up is the Val di Noto where a huge earthquake resulted in many of the cities being rebuilt in an elaborate Baroque style in the 17th century.
Noto and Ragusa are particularly impressive although fans of chocolate might prefer Modica and its interesting chocolate history.
Drive into Sicily's interior for a morning exploring Caltagirone with its incredible ceramic staircase before heading on to Enna.
In the center of Sicily, Enna is a hilltop city like none other with awe-inspiring views across the wheat plains.
Also not to be missed near Enna are the Roman mosaics at Piazza Armerina, which are said to be some of the best-preserved in the world.
From Enna, you'll pass smoldering Mt. Etna before ending the trip in pretty Taormina with its Greek amphitheater and the lovely beaches at Isola Bella below.
Recommended Road Trip Length
This trip will take around 10 to 14 days if you'd like to explore Sicily at a leisurely pace.
The road trip is best undertaken outside of the scorching summer months: the ancient sites are best visited during the milder weather of spring or autumn.
Southern Italy From Puglia to Rome
From Marta Correale of Learning Escapes
The south of Italy is one of the most beautiful areas of the Italian peninsula and a wonderful destination for a European road trip.
Blessed with beautiful weather almost all year round, this is a land of many wonders and rewards the adventurous visitor with stunning coastlines, charming whitewashed villages, and important cultural sites.
This southern Italy itinerary travels from Puglia to Rome, via the little-known region of Basilicata.
Start your trip from the small city of Trani, marvel at its stunning waterside cathedral, and make your first overnight stop in Alberobello.
Famous for its hobbit-like dwellings of UNESCO fame, this is a pretty town with flower-filled alleys and fairy-tale architecture, perfect for slow travelers and photography lovers.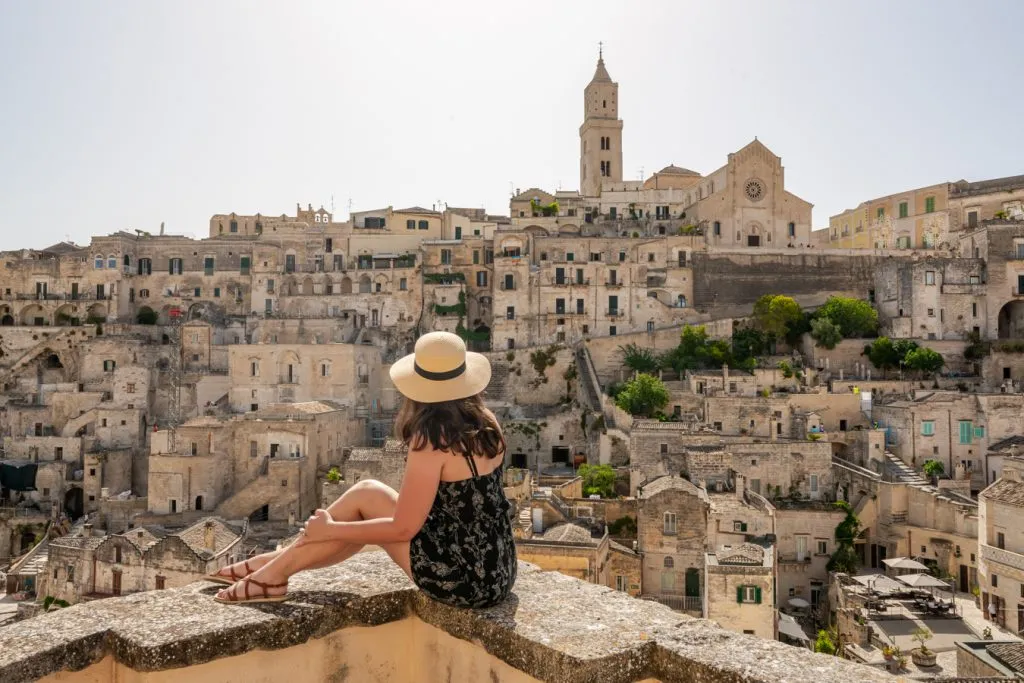 Make unique Matera your second stop and spend a few days taking in the incredible sight that is this city, entirely carved out of rock (sassi).
Explore its rupestrian churches and get pleasantly lost among its labyrinthine city center, beautiful views, and restaurants!
If you book in advance, you may also be able to find accommodation in one of the sassi: these have now been restored and are a unique and romantic place to call home for a few days!
From Matera, drive towards Rome but before diving into the dream that is the Eternal City, make sure you visit the archaeological site of Paestum along the way.
Famous for beautiful Greek temples abandoned among vast green fields, it is one of the most scenic Unesco sites in Italy and one not many visitors know about yet!
Recommended Road Trip Length
This road trip is ideally spread over a week to 10 days and it is particularly suited to those travelers who enjoy cultural sites and getting off the beaten track.
Tenerife, Spain
From Paulina of Paulina on the Road
Some may think of Tenerife as a plain beach and sun destination, but it's much more than that.
There are plenty of things to see and do on this Spanish gem once you get away from the shore.
The best to explore Tenerife is by going on a road trip, which will help you understand how diverse this island is: rocky volcano mountains in the north and golden, sandy beaches in the south.
I recommend starting in Adeje, one of the best places to stay in Tenerife, from here you can make your way up north to Santa Cruz de Tenerife, famous for its Auditorium and carnival.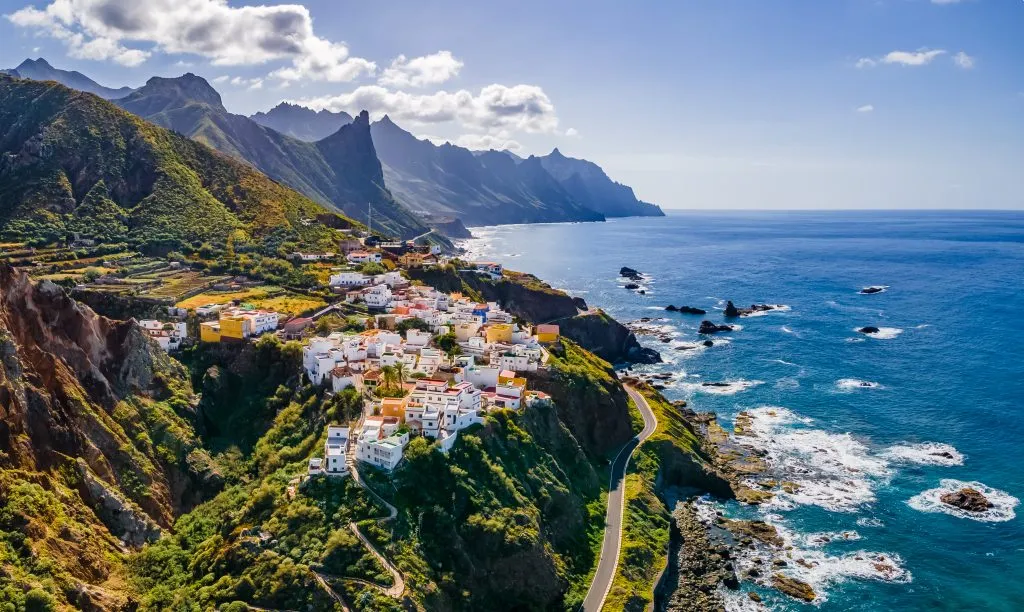 From here, continue to La Laguna, a gem of historic architecture.
This is already the highest point you can get in Tenerife.
From here, drive all the way southwards passing along La Orotava and Los Gigantes.
Recommended Road Trip Length
The island may seem small in size, however, you should at least calculate 2-3 days if you want to explore all its attractions with a road trip.
Terceira Island, Azores, Portugal
From Sylvia of Wapiti Travel
Terceira Island is probably the most spectacular island in the Azores archipelago.
It can be visited as part of a broader Azores itinerary. This European road trip is a versatile vacation that is sure to please hikers and nature lovers.
Since none of the islands is really large, most tourists visit multiple islands in one trip. Island hopping, either by boat or by plane, is part of the charm of a trip to the Azores.
The island was the third to be discovered, hence its name, and it is also the third-largest island of the group.
A few hours is all you need to drive the entire loop, but by just driving around the island you would miss the majority of the impressive sights that are located in the center of the island.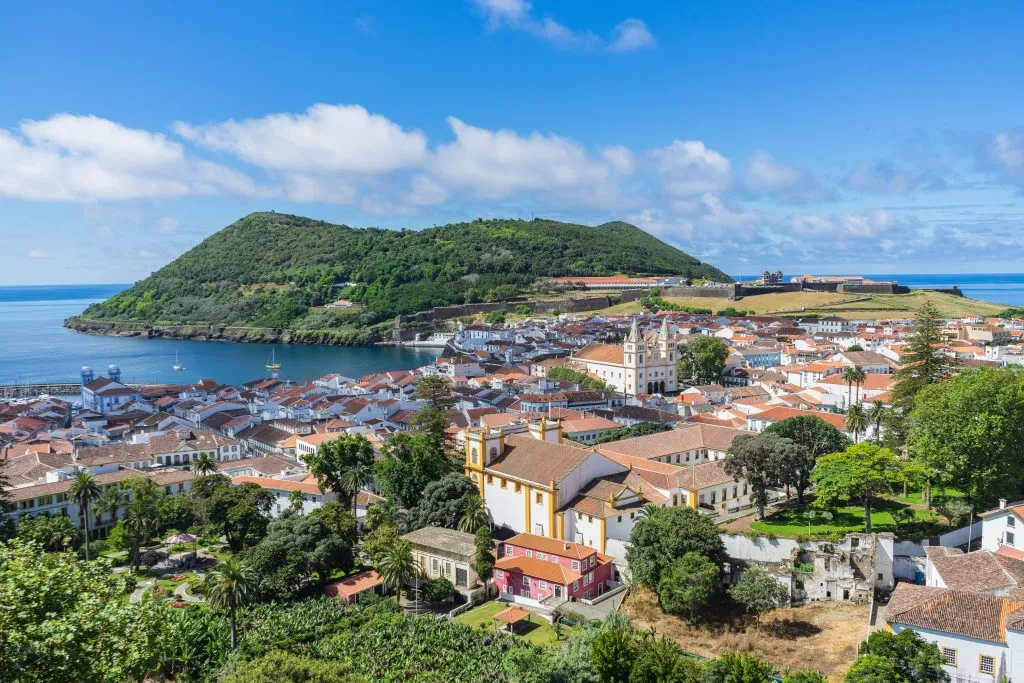 The island is home to two impressive caves. You can visit both in one afternoon leaving ample space to hike the Mistérios Negros trail that starts at the entrance of Gruto do Natal.
The next day you can visit the Furnas do Enxofre, a fairytale-like landscape at the heart of the island.
The island has numerous impressive viewpoints and if you plan your visit in summer you can dive into the countless natural swimming pools to cool off.
Recommended Road Trip Length
Three days is all you need to see all of the highlights of Terceira, which will allow you time to leisurely road trip the island and enjoy all the beauty it has to offer.
Mallorca
From Linn of Brainy Backpackers
A road trip across the Tramuntana mountain range in Mallorca is a must if you visit the small Spanish island.
Starting in Palma de Mallorca, drive straight to Cap de Formentor for breathtaking cliff views.
You should not miss Cap de Formentor's viewpoint, but even more spectacular are the views from an old abandoned building and watchtower up the hill next to the viewpoint.
You can either walk for 30 minutes or you can drive up the narrow road.
The reward is the most mesmerizing view of the entirety of Cap Formentor and Menorca in the distance.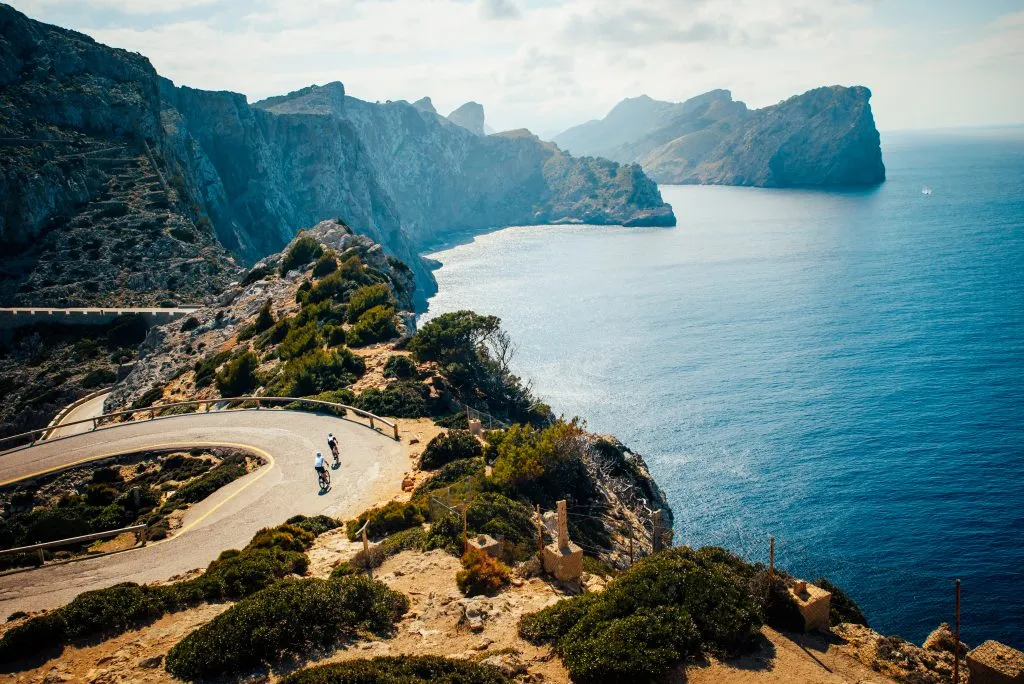 Continue through the picturesque villages of Pollensa, Fortnalutx, Soller, Deia, Valldemossa, and Port Valdemossa.
In Soller, you should leave the car and take the old-fashioned tram down to Port de Soller. This town is a great place to stay the night during your Mallorca road trip.
Recommended Road Trip Route
The route can be done in a day, but it is recommended to spend at least 2-3 days to get the most out of it.
With more time, you can add additional island destinations to sightsee, enjoy the beaches, and go snorkeling in Mallorca!
Lisbon to Porto, Portugal
From Or of My Path in the World
Full of incredible stops along the way, a road trip from Lisbon to Porto is a great and easy way to explore multiple regions in Portugal.
This wonderful route includes quite a few unique landmarks, so it should be on any Europe lover's bucket list.
The first one that shouldn't be missed is Cabo da Roca, Europe's westernmost point.
It provides the most scenic views of the Atlantic coast, and it's the starting point of several hikes alongside it.
There's also a nice bonus of getting a personalized certificate confirming the visit to this unique place.
Another must-see on this road trip is Sintra. It's home to the iconic, colorful, and Insta-famous Pena Palace, but there's a lot more to this town.
Other historical landmarks to visit here include the Castle of the Moors, the Palace of Sintra, and the palace of Quinta da Regaleira.
The fairytale town of Obidos is also worth a visit: be sure to walk the town walls!
And, Portugal's incredible UNESCO-recognized monasteries of Alcobaça, Batalha, and Tomar lie between Lisbon and Porto.
Your road trip isn't complete without a stop at at least one of them!
Recommended Road Trip Length
Not including a few days in Lisbon and Porto, this route can take about 3-4 days.
Northern Spain Road Trip (Bilboa to Santiago de Compostela)
From Jessica of My Feet Will Lead Me
One of the most underrated areas of Europe may just be Northern Spain.
The diverse landscape from San Sebastian to Santiago de Compostela makes for multiple mini destinations in one road trip.
From tiny surf towns to mountain villages, to medieval cities, this region of Spain is an absolute gem.
And because it typically gets overshadowed by Barcelona, Madrid, and Andalucia, there won't be swarms of tourists and prices are very reasonable.
Starting with the autonomous community of Basque Country, this culturally distinct region of Spain is known for its amazing cuisine and especially seafood.
Here, you'll want to get your fix of "pintxos" or bar finger food.
For a lesser-known but incredible sight, visit the little surf town of Bakio and see the Game of Thrones filming location for the Dragonstone castle, known as Gaztelugatxe.
Continuing west to the Principality of Asturias, the Picos de Europa National Park is a dramatic and stunning area of snowcapped peaks, turquoise rivers, tiny traditional villages, and cliffside roads with views that will make your jaw drop.
Head back to the ocean in the Asturias region where seaside villages cling to the dramatic coastline.
There are sandy beaches, rocky and rugged beaches, and jade-colored water.
Visit the capital of Oviedo for architecture and history and if small seaside villages intrigue you more, wind your way down the coast stopping for tapas and drinks in towns like Ribadasella, Lastres, and Cudillero.
Finally come to Santiago de Compostela, the capital of Galicia.
It also is the culmination of the popular pilgrimage, the Camino de Santiago, so you'll see many backpackers with trekking gear. This is a fairly small city with a stunning medieval old town and cathedral. It's a perfect place to spend a couple of days sampling tapas and site seeing.
Northern Spain is perfect for mountain and beach-loving adventurers alike.
Recommended Road Trip Length
You'll need at least a week to adequately cover the small towns, and longer if you want to spend time in the cities of San Sebastian, Bilbao, Santander, Oviedo, or Santiago de Compostela.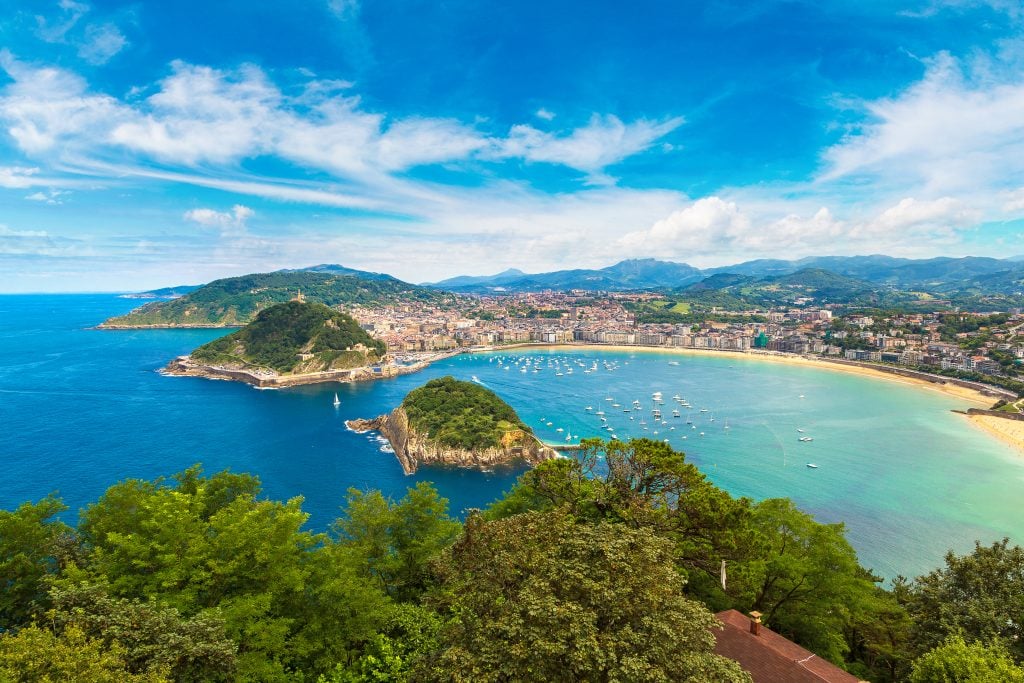 Barcelona to Andorra
From Mar of Once in a Lifetime Journey
Most people drive from Barcelona to Andorra without any stops, arriving at Andorra la Vella in about 2.5 hours.
However, you can also make it a day trip and visit a few of the interesting villages along the way.
Start with a morning stop at Montserrat Mountain. This famous landmark outside of Barcelona is a holy mountain for Catalans and contains the black Virgin of Montserrat.
There is a museum that holds paintings from famous artists such as Caravaggio and Picasso as well as the church which can be visited.
After Montserrat, the next stop should be Manresa. This modern city has a Medieval core that contains a beautiful church, bridges over the River Cardoner and other places worth a visit.
Visit La Seu, the 14th-century basilica that took almost two centuries to build and is a gem of the Catalan Gothic style.
Have lunch in Manresa, the more local a place looks, the better. Most restaurants will have lunch menus for less than 15 Euro, including coffee and usually a glass of wine.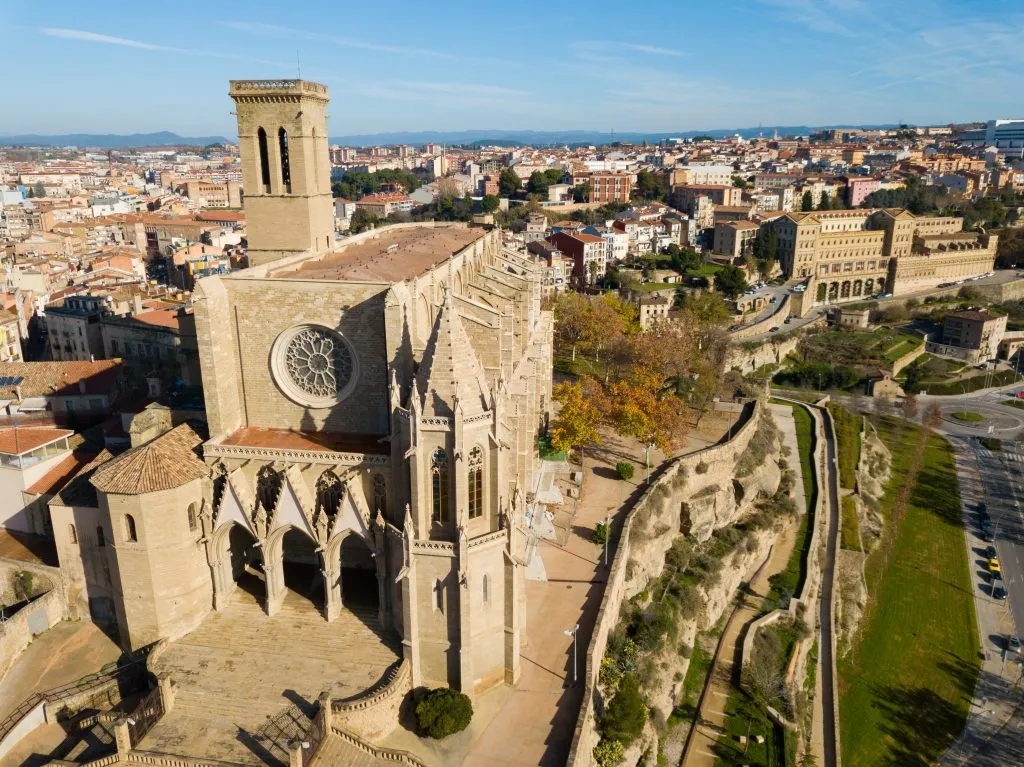 With a full stomach, continue towards Berga, famous for La Patum, a fire festival that takes place every year during mid-June and which sees an explosion of fire, dancing, and drums.
If La Patum is not on, you can learn more at its small museum, and explore this small Medieval village with its entry gate called Portal de la Magdalena.
After Berga, continue to La Seu d'Urgell, the capital of the county of La Cerdanya and the last territory before reaching Andorra.
In la Seu, as the name indicates, you can see a fabulous Romanesque Catedral de Santa Maria, which is one of the most important in Catalonia and has been well preserved.
There is an adjacent museum with Romanesque art pieces and a cloister.
Recommended Road Trip Length
You can comfortably complete this short European road trip in a day.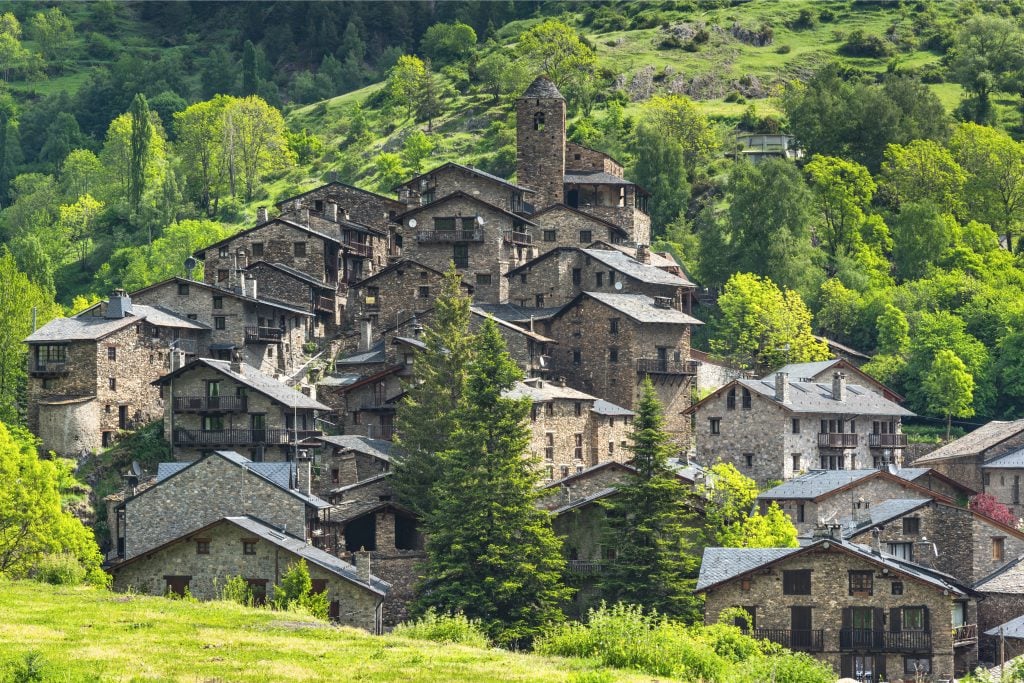 Best Road Trips in the Balkans
Slovenia
From Stephanie of Sofia Adventures
Slovenia is a stunning country, and some of the best places to visit in Slovenia are best reached by car.
While many tourists know to see Ljubljana and Lake Bled, gems like the UNESCO World Heritage site of Idrija, Lake Jansa, and Triglav National Park are can't-miss spots that are slightly more remote.
Start with a day or two in Ljubljana before you pick up a rental since Ljubljana is famously walkable and compact. When you're ready to hit the road, you truly can go in any direction!
Head southwest to Predjama Castle, Skogjan Caves, and the seaside town of Piran, or you can head west to Idrija and the Julian Alps.
Or go northwest to the waterfall-laden paradise of Triglav National Park.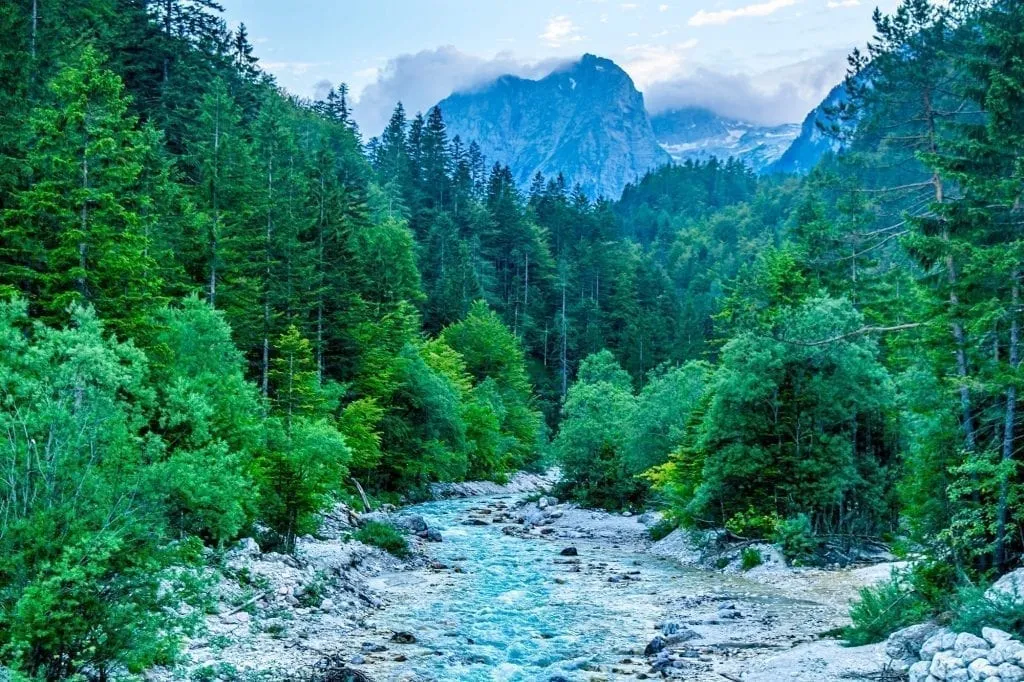 If you're itching to go east, set your GPS to Maribor and enjoy this gorgeous and quiet Slovenian city that too many tourists skip over.
If you're going to be in the country in the wintertime and intend to drive through the mountains or do any skiing, make sure you pick a rental car that can handle the driving terrain!
The mountain roads in the west can be a bit tricky.
Recommended Road Trip Length
You can cover a lot of the country in one week, but give yourself two weeks to enjoy a lazy circuit around this tiny but packed country.
Bay of Kotor
From Emily of Wander-Lush
Petite, affordable, and with only one toll road to its name, Montenegro is a terrific place for a European road trip.
While you can reasonably cover the entire country from mountains to sea in 7 to 10 days, for a slower-paced road trip around Montenegro, I highly recommend honing in on the Bay of Kotor.
Montenegro's crowning jewel, the Boka winds its way along the northern part of the country's Adriatic coast, carving deep coves into its stony mountains.
Eighty kilometers of well-maintained highway hug the shoreline, meaning it takes just over 2 hours to drive around the entire bay.
Along the way, there are plenty of small towns and national parks to stop off at.
Highlights include the town of Kotor, with its UNESCO-listed Old Town, Budva, Sveti Stefan, and Herceg Novi, and Perast, a tiny Venetian town sandwiched between a pretty blue-water bay and towering hills.
One of the best things about this road trip is that because of the short distance, you'll never have to do more than an hour or so worth of driving in a single day.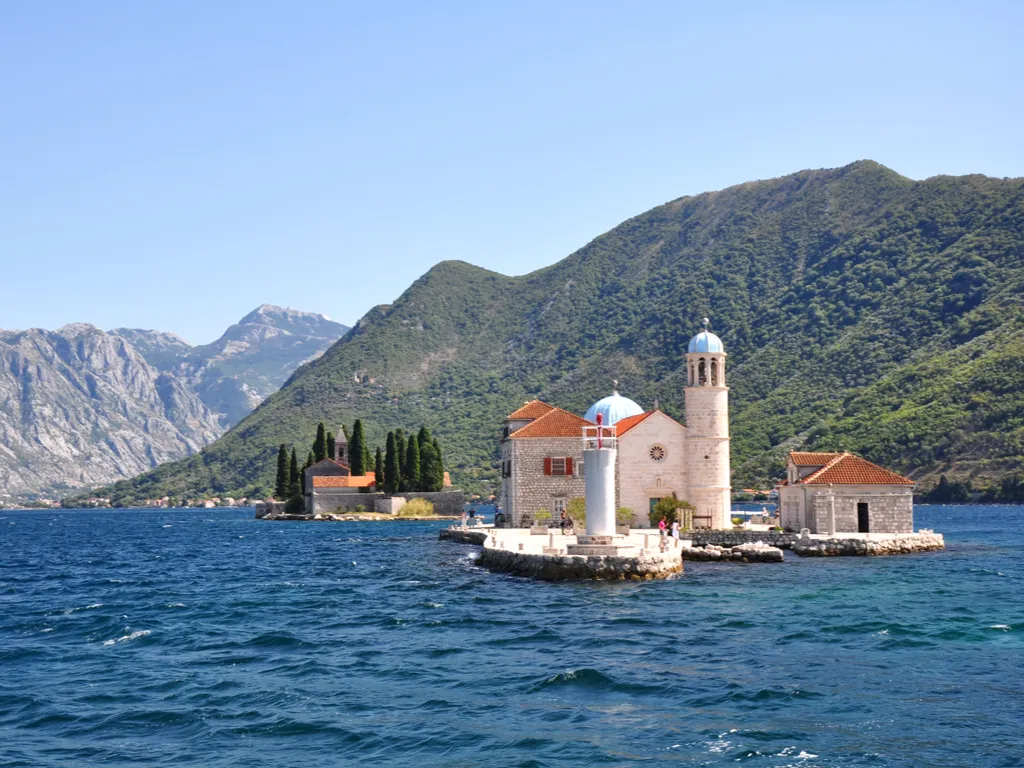 You can easily break up the journey with longer stays in the more laid-back towns (Perast is perfect for this – mainly because it's free from cruise ships).
If you want a change of scenery, it's only a quick detour up the steep hills above the bay to reach Lovcen National Park.
If you're feeling brave, take the Kotor Serpentine, a notorious road that involves 16 hairpin bends.
The views get more and more spectacular with every turn, and there are plenty of places to pull over for a photo once you reach the top.
Recommended Road Trip Length
I recommend setting aside at least 5 full days to do this route, and the towns along the way, justice.
Hvar, Croatia
From Martina of The Global Curious
The island of Hvar, in Croatia, is known for being a stunning, party island laying on the crystal clear depths of the Adriatic Sea.
Some head there to spend a few wild days, others would visit for a couple of hours as a day trip from Split.
But travelers keen to unwind and truly enjoy Hvar could easily spend from 4 to 7 days road-tripping and discovering some of the island's gems.
Hvar's most famous spots can be found in the Old Town and its surroundings, from the cathedral to the Spanish Fortress and a Franciscan Monastery.
If visiting over the summer, the lavender fields up on the hills around Velo Grablje and Brusje are a must, even if you are just passing by!
Camping and off-the-beaten-path enthusiasts can stay in Milna, a tiny villa by the sea with beautiful sunsets and great seafood.
If planning a visit to Croatia's most famous beach, Zlatni Rat on the island of Brac, Jelsa is also a cute little town with a campsite where you can park and set camp.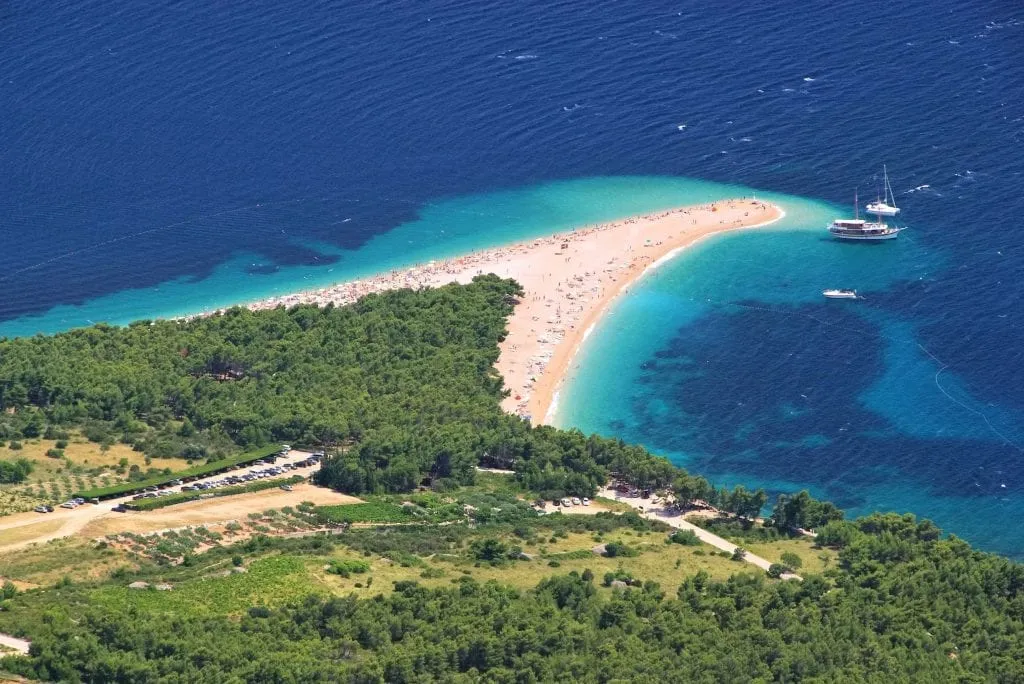 The best of road-tripping is the chance to get to more 'secret' places.
Pitve is definitely one of those! It's a tiny ghost town up in the hills with a population of 69 people.
Getting there is quite fun as you must cross an old narrow tunnel before reaching a settlement full of abandoned stone houses left to nature's will.
Dubovica is also another very scenic beach in Hvar.
Another great idea is not just touring the island but visiting the Paklinski Islands, especially Marinkovac and Jerolim.
To kick start your road trip, catch the ferry in Split, arrive in Stari Grad, and tour the western half of the island. It's also possible to rent a car once you arrive there!
To complete the experience, drive across the island to the East and catch the ferry from Sucuraj to Drvenik.
Once in Croatia's mainland, if you still have time on your hands, drive south for 2 hours and reach Dubrovnik!
Recommended Road Trip Length
Ideally, travelers would spend 5 or 6 nights in Hvar to really explore the island and its surroundings.
The roads are well maintained and although it can get crowded, as soon as you leave the main town, you'll find peace and quiet.
Southern Albania
From Rick of The Road is Life
Albania isn't the first country that comes to mind when planning a European road trip, but if you give it a chance it will prove to be an amazing adventure.
This is a country with both great natural beauty and interesting history.
Towering mountains plummet precipitously into the crystal clear and stunning Mediterranean waters that span the entire west coast and further inland there is no shortage of beautiful UNESCO-listed sites and old towns to explore.
This southern Albania road trip will start you off in the port city of Saranda before visiting the stunning coastal town of Ksamil, with striking azure waters and nearby UNESCO-listed Roman ruins.
Then, head inland, passing by the beautiful "blue eye" lake before heading to the ancient town of Gjirokaster, with its traditional stone-roofed buildings and market.
Hike up to the ancient hilltop fortress for panoramic views of the surrounding mountains and valleys.
Continuing north you can spend the night in a 13th-century citadel situated high above the UNESCO world heritage town of Berat, eating in beautiful local restaurants as you take in sweeping views of mountains and sunset.
Explore the unique town and architecture before getting back on the road for one of the most stunning drives in the world.
After leaving Berat you'll head back to the coast via a winding and amazing mountain road, offering jaw-dropping views out across the Albanian riviera; keeping your eyes on the road is no easy task!
You can have lunch at a mountain-top restaurant overlooking the ocean before heading back down to have your choice of beaches to stay on.
Spend as many days on the Albania Riviera as you please, feasting on fresh seafood (at amazing prices) and enjoying the pleasant lack of crowds compared to mainstream European beachside destinations.
There are multiple ferry trips between Corfu, Greece and Saranda per day so fly into Corfu to save money.
Cars can be rented at Saranda port, consider paying a little extra for a well-known company to avoid scams.
Recommended Road Trip Length
This road trip in Europe can be done comfortably in a week but can be extended for as long as you can handle the sun-drenched beaches, cheap beer, and delicious seafood.
Bosnia and Herzegovina
From Arzo of Arzo Travels
One of the best road trips to take in Europe is through Bosnia-Herzegovina.
This beautiful but definitely underrated country surprises its visitors who venture to enjoy a Bosnia road trip.
Many travelers drive over from Croatia: if so and you come from Dubrovnik or Split, start from Kravica Waterfalls, Pocitelj, and Blagaj.
You can visit all three beautiful places in one day before driving to Mostar which is just a few kilometers from Blagaj.
After spending a day in Mostar it is time to drive to Sarajevo, which makes for a scenic ride.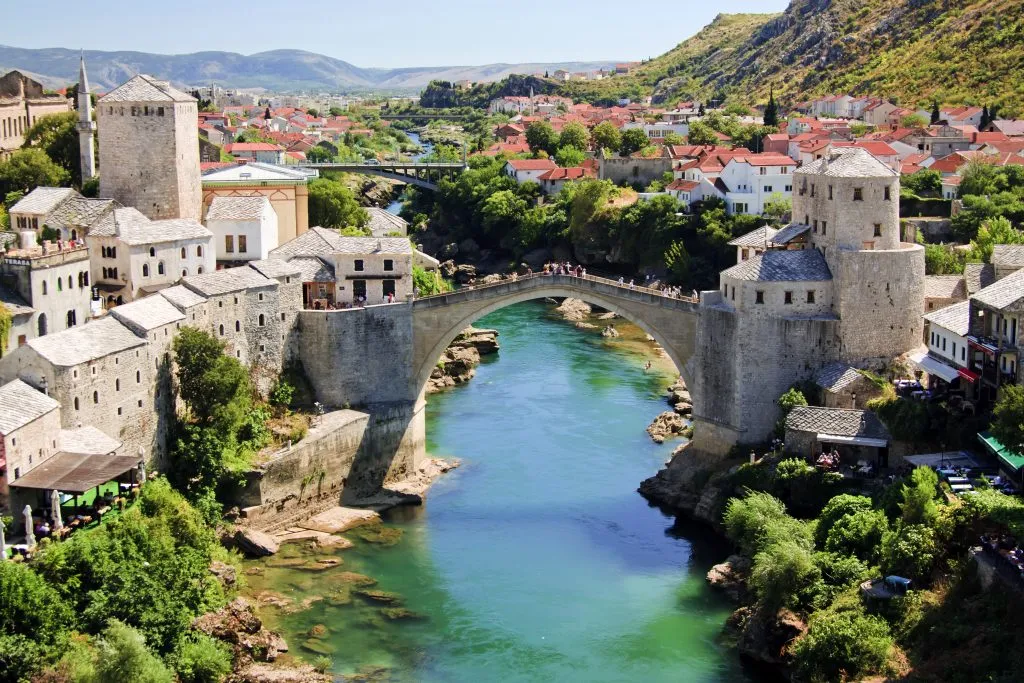 Pass the Neretva River, Lake Jablanica, and Konjic and spend a full day on the road with many breaks.
Sarajevo is a wonderful city where you can spend a day or two before ending your day trip.
Recommended Road Trip Length
For this European road trip itinerary, I would plan in about 5 days.
If you have more time (6 or 7 days), consider driving the M 18 toward Montenegro.
You will get to Bosnia´s longest and deepest canyon – Rakitnica Canyon – where you can do some water sports.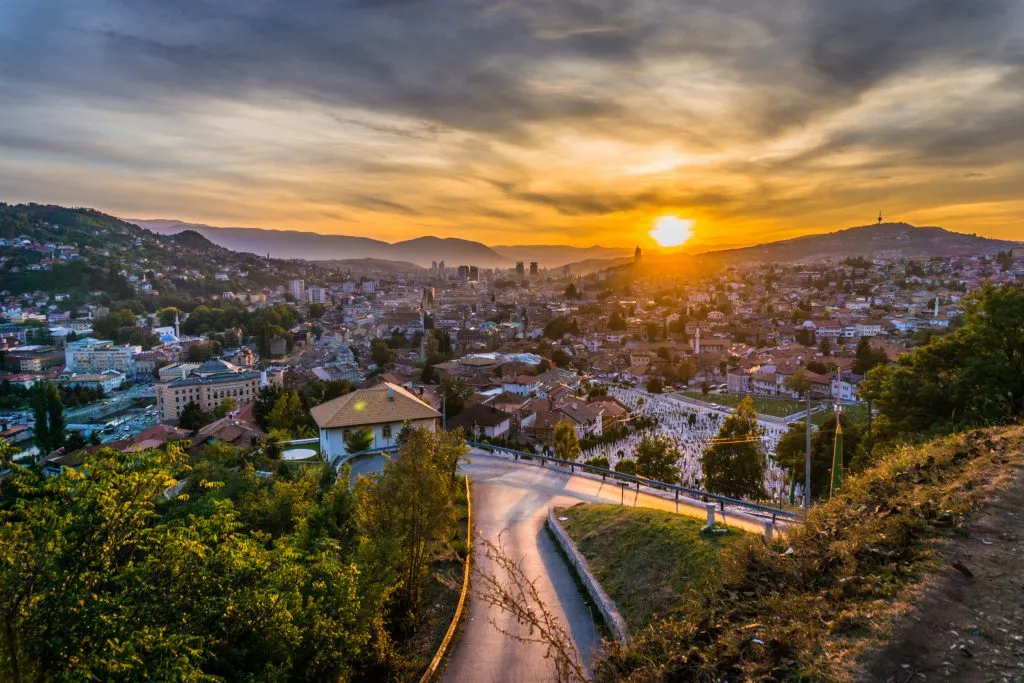 Eastern Crete
From Una of Wandernity
Crete is the largest island in Greece, and it takes several days to visit all of the must-see places on the island.
Renting a car and going on a road trip will make it possible to reach as many points of interest as possible, making Crete a fantastic option when planning a road trip in Europe.
Malia is a great choice for the apartment on the Eastern Crete. It's known as a party location and has a lot of hotels, beaches, and attractions.
A perfect day-trip from Malia is going to Spinalonga Island, Agios Nikolas town, and Richtis Gorge.
Spinalonga island is uninhabited, and tourists can reach the Venetian fortress and ruins of a former leper colony by boat.
You have to be there early to secure a place on a boat, as during the high season there might be queues.
Agios Nikolas is a coastal town with beautiful houses and streets leading from a hill to the seaside.
There is an old harbor surrounded by charming cafes and very photogenic architecture.
Richtis Gorge is a green and lush hiking path ending at the seaside. The hike is around 4 kilometers long one-way.
It has a waterfall in the middle for a refreshing swim before going back up the gorge.
Another day-trip you can make from Malia is to the cave of Zeus, Knossos, and Heraklion.
Knossos is a place famous due to the well-known myth of the Minotaur. Half-man and half-bull, the Minotaur is said to have lived there in a labyrinth, and the ruins which exist today actually look like the labyrinth.
Knossos is a ceremonial and political center of the Minoan civilization and culture, which might be the oldest city in Europe.
Finally, Heraklion has an impressive Koules Fortress built by Venetians. It's a perfect place to go for a walk and see the city from a long breakwater.
Recommended Road Trip Length
Try to spend at least a few days dedicated to Eastern Crete if possible!
As the island is quite big, one way to save time on road trips is to rent an apartment on one side of the island for a few days, and then change the base to the other side.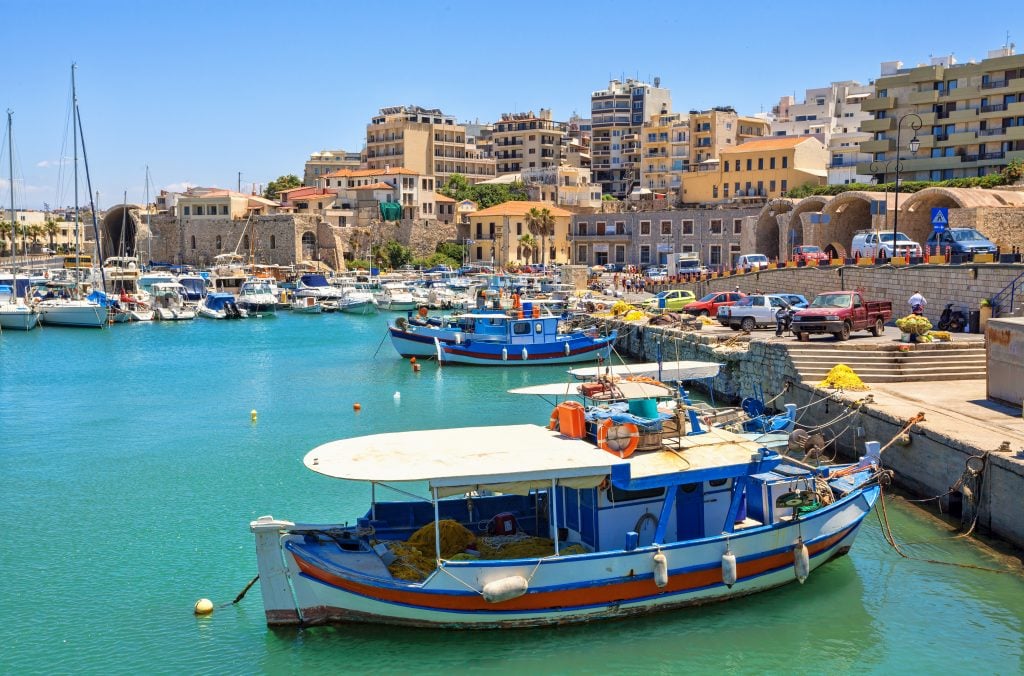 Transylvania, Romania
From Rachelle of Adventure is Never Far Away
With fortress-dotted hills strewn across valleys, quaint medieval towns, and narrow highways slicing through dense forest, road tripping through the countryside of Transylvania is like something out of a fairytale, not a feature that many other corners of the world can boast.
Starting in Brasov, head north towards the vibrantly colorful town of Sighișoara and wander through the maze of cobblestoned streets.
Get lost in the old town city center, which also happens to double as a UNESCO World Heritage site.
Continue northwest to Cluj-Napoca, the unofficial capital of Transylvania, and immerse yourself in the hopping local college nightlife scene.
Travel southwest to the charming town of Hunedoara and visit Corvin Castle, which resembles a real-life version of Hogwarts.
Wander through one of the largest castles in Europe and one of the Seven Wonders of Romania.
Then, start heading east to the city of Sibiu, home to some of the most dramatic houses in all of Europe: the old city center houses have eyes!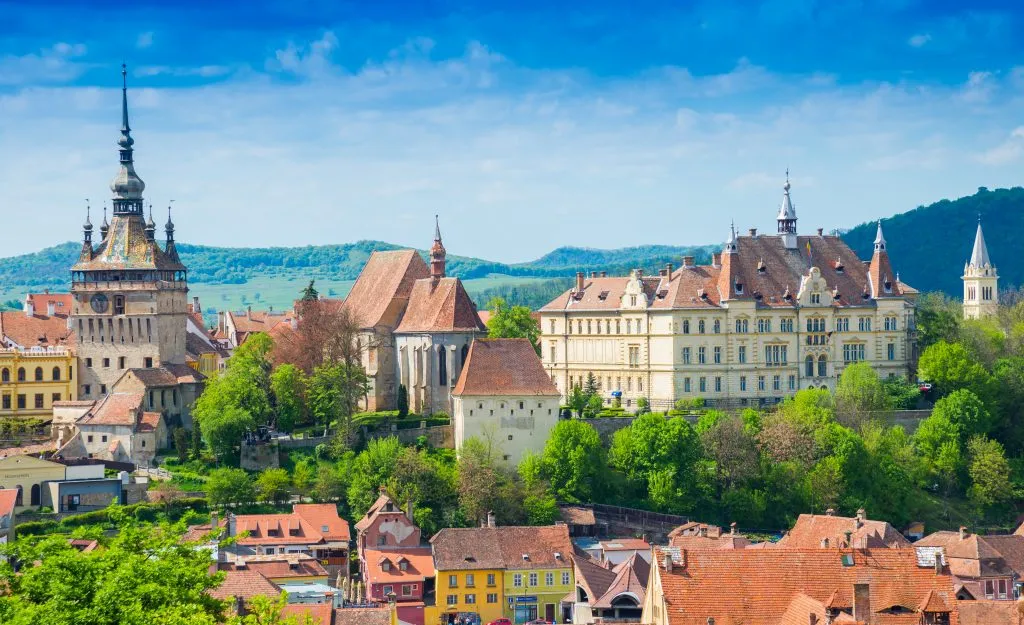 Catch a side-eye stare from the homes as you try your luck walking across the Bridge of Lies.
Finish your road trip through Transylvania by heading east back to Brasov, nestled snugly amongst the mighty Carpathian Mountains.
Transylvania is one of those places that you should visit now before it explodes with tourism. Prices are cheap, the countryside is beautiful (as you will discover on your road trip through Transylvania!), and it's fairly easy to navigate!
Recommended Road Trip Length
Road trippers should allow themselves about 5 days to make the journey, as many of Romania's country roads have slower speed limits and cut through endless villages along the way.
Croatia
From Julie & Zach of Ruhls of the Road
A road trip through Croatia is basically a gauntlet of adventure and absolutely stunning sites!
Start in bustling Zagreb and head through Plitvice Lakes National Park to Split, and finish in the walled city of Dubrovnik.
This adventure is full of unique sites and experiences that you can't find in any other country on earth!
Start your road trip in Zagreb and get your fill of Croatian city life. Head to a local restaurant and pub to get some fuel and prepare yourself for a once-in-a-lifetime Croatian adventure.
The first stop on the road is Plitvice Lakes National Park, which is about as close to the Garden of Eden as you can get.
Explore this paradise for a few days until you are ready to move on. Once you tear yourself away from Plitvice, head to the Croatian coast to Split.
Split is a wonderful coastal town that gives you a truly Croatian experience.
Don't miss wandering through Diocletian's Palace, sampling the fresh seafood, or admiring the views from the promenade.
Relax and recharge in Split before making your drive down the coast to Dubrovnik, Croatia's premier tourist destination.
Dubrovnik's Old Town, used in Game of Thrones as King's Landing, is an ancient walled city that makes for a unique adventure.
You can walk the entire wall, experiencing a city that has been home to so much of Europe's history, and has still never been conquered!
Dubrovnik will be the perfect end to the perfect Croatian road trip.
Recommended Road Trip Length
Plan your trip for one week at least, with a few days in each place, and get ready for the adventure of a lifetime!
Korçë to Përmet, Albania
From Anita of Travelling Balkans
One of the lesser-known drives within Albania and the Balkans is the road trip from Korçë to Përmet.
Korçë is a lively city with the biggest cathedral in Albania as well as the best beer and Qofte (a sort of meatball). There are many great things to do in Korce, so it makes a great starting point!
The road starting here and leading to Përmet, which is a small town known for its slow food movement and being close to the incredible nature spot Bënjë, is one not to be missed.
It winds through forests, small villages, and natural hot pools, and the road sits parallel to the border of Greece.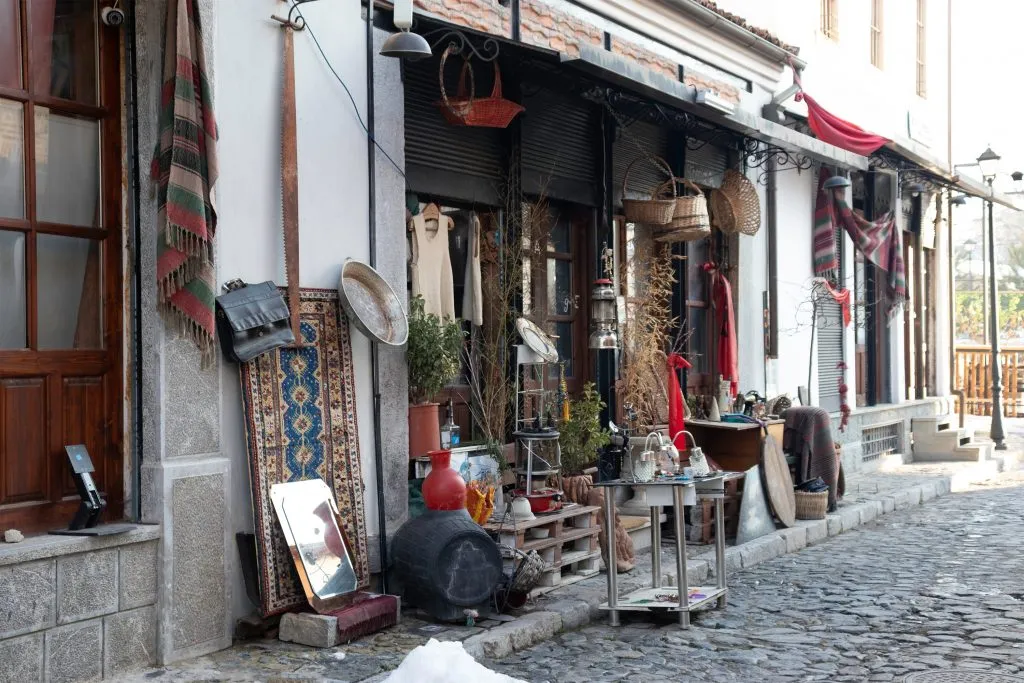 There are also many old bridges along the way which are perfect photo opportunities too. Just beware that you cannot cross safely due to half of the boards missing!
Make sure you stop off at Bënjë which is around 20 minutes from Përmet.
Here you can relax in many hot pools as well as marvel at the Old Ottoman bridge which is a true feature of this area. There is also a canyon and waterfall if you walk directly up the river.
Recommended Road Trip Length
This road trip takes about 4 hours but do allow a couple of hours at Bënjë to relax in the hot pools as well as the various other stops along the way!
Transfăgărășan Road, Romania
From Dominika of Sunday in Wonderland
If you aim to check all the best European road trips from your bucket list, you should definitely visit Transfăgărășan road in Romania.
This picturesque path among the Transylvanian mountains is one of the two most famous roads in the country (just next to Transalpina).
It was called the absolute best road trip in Europe by the Top Gear team, but even without this honor, it has a lot of stories to tell on its own.
The road was built by the Romanian dictator Nicolae Ceaușescu.
Although there were many easiest ways to travel through the Făgăraș Mountains peaks, he decided to build the Transfăgărășan road to show the power of Romanian technology.
The must-visit place during the Transylvania road trip is the Poenari Citadel.
The ruins of the ancient fortress are situated on a high peak which you can reach by climbing ~1500 steps. The castle was the citadel of Vlad The Impaler.
He was the archetype of the famous character of a vampire from Bram Stoker's "Dracula".
There are many more interesting facts about the Transfăgărășan road that you should know like Bâlea Lake or Vidraru Dam. But this trip is something you simply must try on your own.
Recommended Road Trip Length
You can drive the Transfăgărășan road in a day, but be prepared! You'll need to pay extremely good attention when driving, as this is far from the easiest driving in Europe.
Best Western European Road Trips
Eastern Scotland
From Gemma of Two Scots Abroad
There's no denying that Scotland's most popular road trip is the North Coast 500 but there are other routes which are lesser-known, and have historic castles, cute villages, and fewer midges!
Starting in Scotland's capital, collect your car from Edinburgh Airport to avoid the stress of city driving or brave the roads and catch the highlights of the city.
Edinburgh Castle and the Royal Mile, Dean Village, Calton Hill, and of course all the Harry Potter attractions should make your list.
Leaving Edinburgh drive over the Queensferry Crossing to the Kingdom of Fife. Park up at North Queensferry for views of the Forth Bridge which is a UNESCO Heritage Site.
Drive to Culross and walk back in time. Outlander fans might recognize Culross Palace.
Next, head to the ancient capital of Scotland, Dunfermline, and spend the afternoon at the Heritage Quarter and the Dunfermline Carnegie Library & Galleries.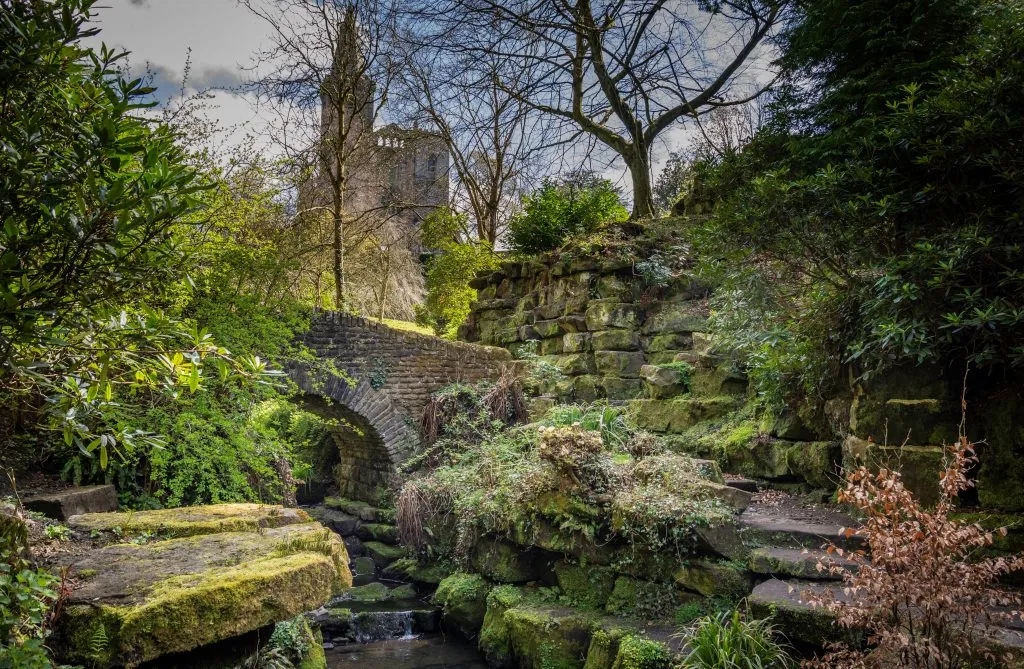 The following morning, enjoy breakfast in Aberdour. Take a stroll along the beach then drive to the East Neuk stopping at Ellie and Anstruther for fishing village feels.
If you like to hike, consider staying in this area of Fife to do part of the Fife Coastal Path or head to St. Andrew's for the night before moving on to Dundee.
From Dundee, head north to the city of Aberdeen stopping at Braemar and Ballater in the Cairngorms National Park.
At Stonehaven, visit Dunnottar Castle, you can't miss it, literally! Arrive in Aberdeen and wander the streets discovering the Nuart street art mural trail all over the city.
On the final day, head up to Slains Castle and on to Bullers of Buchan.
From here, you can turn back to Aberdeen for the night or drive to the gateway of the Scottish Highlands, Inverness.
Recommended Road Trip Length
It's best to set aside a minimum of a week and a half for this road trip, but two weeks is even better.
French Riviera
From Victoria of Bridges and Balloons
Experience the glitz and charm of the world-renowned French Riviera on this road trip along one of Europe's most exciting coastlines.
Though not technically part of France, kick off your French Riviera road trip in Monaco, the fanciest of all the Riviera destinations where you'll be among mega yachts, Lamborghinis, and diamonds aplenty.
For something more quaint, head to the hills and the village of Saint-Paul-de-Vence, a picturesque enclave famous for its art and the great artists who stayed there in the past.
Cannes is your next stop on this France road trip for some time by the beach and, if you time it right, the famous film festival.
St. Tropez is another popular spot for yachts and as such has the glitz that goes with that, but somehow also retains its charm with pretty streets and a laid-back vibe.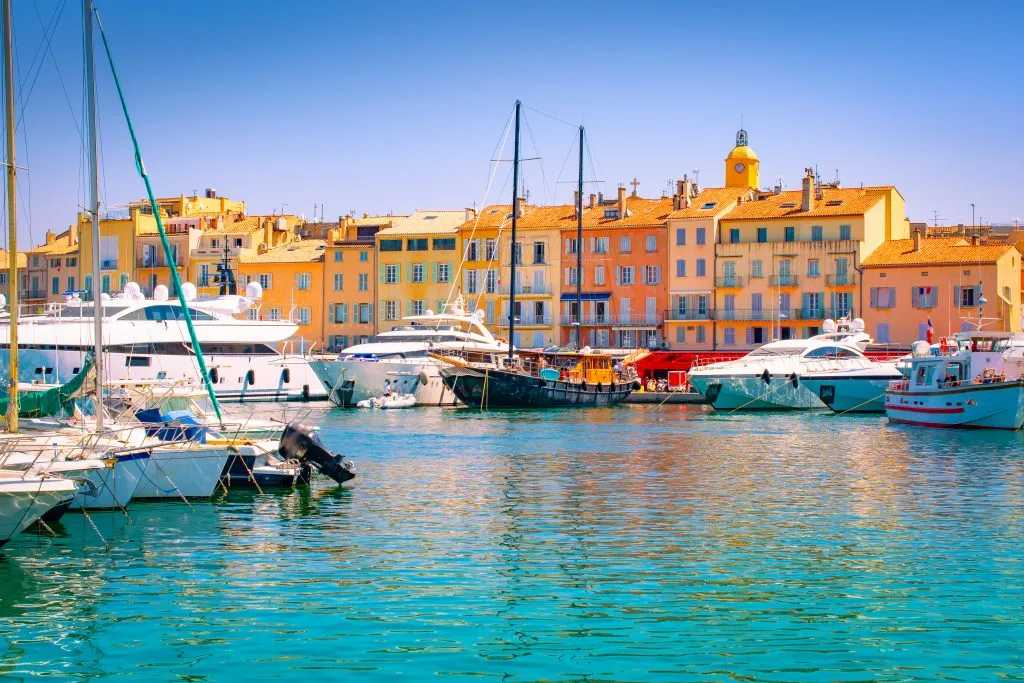 Before your final stop in Marseille, stop at the breathtaking Calanques National Park, one of France's most stunning sights with turquoise water and hidden coves.
And finally, in Marseille, enjoy the vibrant, multicultural port city with all its gastronomic and cultural delights.
Recommended Road Trip Length
Seven days is ideal for this road trip and I recommend going in the springtime before the crowds hit in the summer.
If you want to extend this road trip into more of the best places to visit in the south of France, consider turning inland to the Luberon Valley after visiting Marseille.
Wild Atlantic Way, Ireland
From Allan of It's Sometimes Sunny in Bangor
Probably one of the most iconic road trips in Europe is the Wild Atlantic Way, a 1,553-mile coastal road trip following the west coast along the Atlantic Sea.
It is also a route that connects many of Ireland's more famous tourist attractions which include the Ring of Kerry, the Cliffs of Moher, Connemara, and of course the cobbled streets of Galway.
The route itself can start in either the north in County Donegal or the very south in County Cork which will likely depend on the vantage point of arrival.
For example, from Dublin (2h 50mins) or Shannon Airport (1h 45mins), it may be best to start in the south at Cork, although a more convenient start would be from Belfast in Northern Ireland which is just over an hour from the borders of Donegal.
The overall time it then takes really depends on interests along the way!
With enough time, detours to places like the Slieve League Cliffs and Slea Head Drive are well worth your time.
While it is only an 8-9 hour drive direct from the most Northern Point at Malin Head, Donegal to the most Southern point of Mizen Head in Cork, this time would be at least triple when following the scenic coastal routes.
Recommended Road Trip Length
I would give at least 3 full days for any Wild Atlantic Way road trip, and, for a more leisurely drive visiting the various attractions along the way, I would give a week or so.
Alsace, France
From Elisa of World in Paris
Alsace is one of the best regions in France and there's no better way to explore Alsace than on a road trip.
Alsace is best known for Strasbourg, the capital, and its picturesque villages.
It is also one of the most important French wine regions and there are also beautiful natural sites and impressive châteaux to visit.
Start your trip in Strasbourg, Alsace's capital, to visit Strasbourg's amazing Gothic cathedral and the streets of La Petite France, in the Old Town, with beautiful architecture surrounded by canals.
Head to the south to visit Colmar, the most famous town in Alsace.
Colmar is a great place to taste some of Alsace's typical dishes in one of its traditional restaurants (winstubs).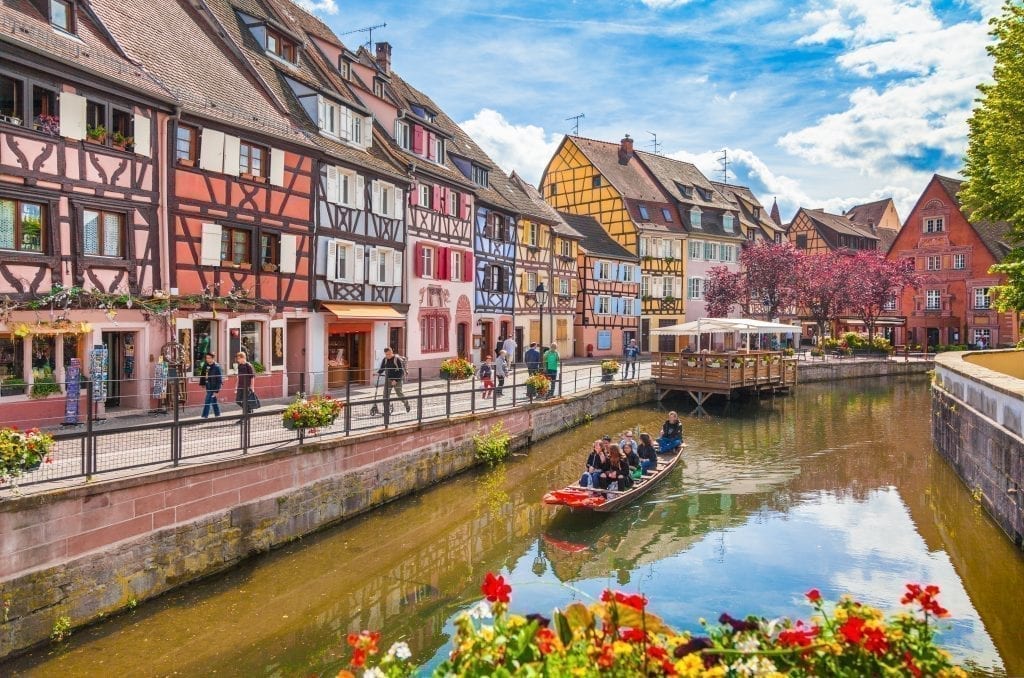 Spend the third day exploring a couple of picturesque towns like Kaysersberg, Riquewihr, or Eguisheim. This may sound like too much but they are really small towns.
Don't leave Alsace without tasting its wines, especially the whites.
If you don't know what to choose, let yourself be guided by the winegrowers and you will be fine.
Recommended Road Trip Length
If you want to hit the road to explore Alsace, a minimum of 3 days is recommended.
This will give you time to visit Strasbourg well (we recommend one full day) plus explore some of the region's picturesque villages and do a couple of wine tastings.
If you are interested in hiking in the Vosges, then a minimum of 4 days will be necessary.
Wales
From Ben Holbrook of Driftwood Journals
The open road, cozy country pubs, and wild horses galore… Wales really is made for those who love road trips in Europe.
Many a visitor to the UK makes the mistake of only visiting Cardiff in their bid to "tick Wales off" their bucket list. Needless to say, they're missing out in a big way.
Instead, what they should really do is hop in a rental car and head straight to the glorious Brecon Beacons National Park.
Located less than an hour away from the English border (via the newly free-to-cross Prince of Wales Bridge), this is a land of endless rolling hills and unspoiled natural beauty.
If you have time then be sure to make a pitstop in the charming town of Abergavenny on your way, aka the Gateway to Wales, followed by a quick stomp up Sugar Loaf Mountain.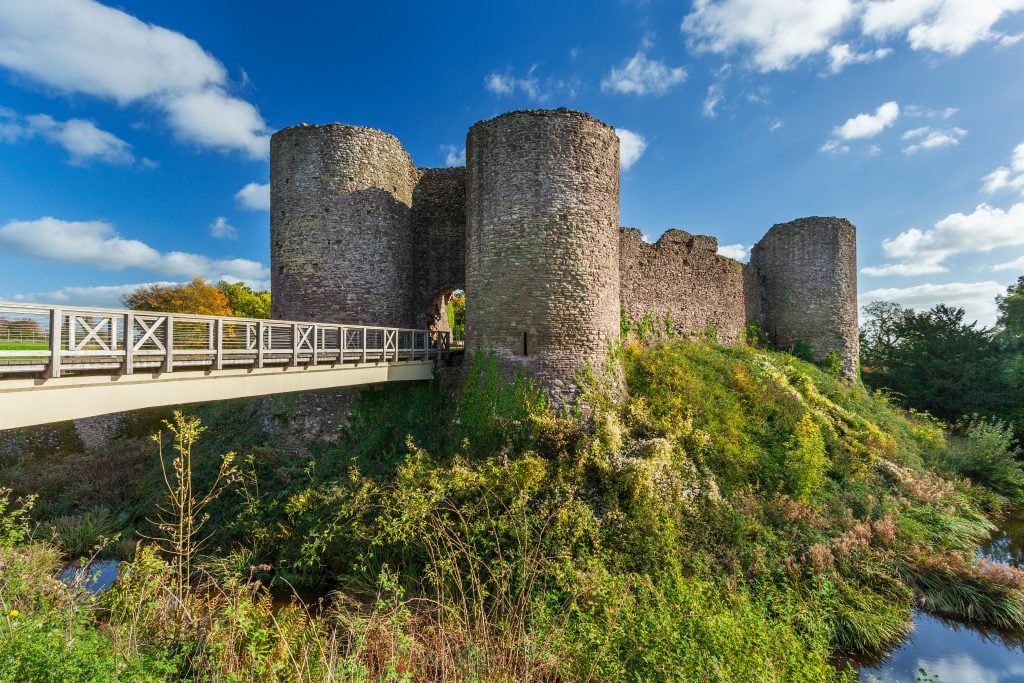 Once in the Brecon Beacons National Park itself, simply let the winding, pine-fringed backroads guide you and stop for photos and picnics at secluded spots along the way, such as the Talybont Reservoir and Usk Reservoir.
Then it's time to wind the windows down, shift into top gear and cruise the inspiring Black Mountain Pass, named one of the greatest driving roads in the UK (made famous by none other than motoring icon Jeremy Clarkson).
From the Brecon Beacons, you can continue west to the rugged Gower Peninsula and/or Pembrokeshire Coast National Park for some of the best surfing and camping in the UK.
And all of this beauty can be reached within just 2 or 3 hours from the English border!
Recommended Road Trip Length
Ideally, set aside at least a few days to explore all that Brecon Beacons National Park and Wales as a whole have to offer.
Brittany, France
From Shelley of Lifejourney4two
A Brittany road trip will introduce you to an amazing collection of destinations.
Brittany, located in the northwest corner of France, has a rich Breton culture and a mix of landscapes that makes a road trip here exciting and varied.
Starting in the historic town of Kerhinet, you can wander through romantic thatched cottages, before moving along to the pretty seaside town of Sarzeau and its moated castle, Chateau de Suscinio, built in the middle ages.
The fabulous Bretagne coastline provides ample opportunity for beautiful coastal walks. Make sure to take time to explore the Quiberon Peninsula with its White Port Arch.
Further along, is the Pink Granite Coast and the seaside town of Perros-Guirec. In Plougrescant, you'll come across an incredible house nestled impossibly between two rocks.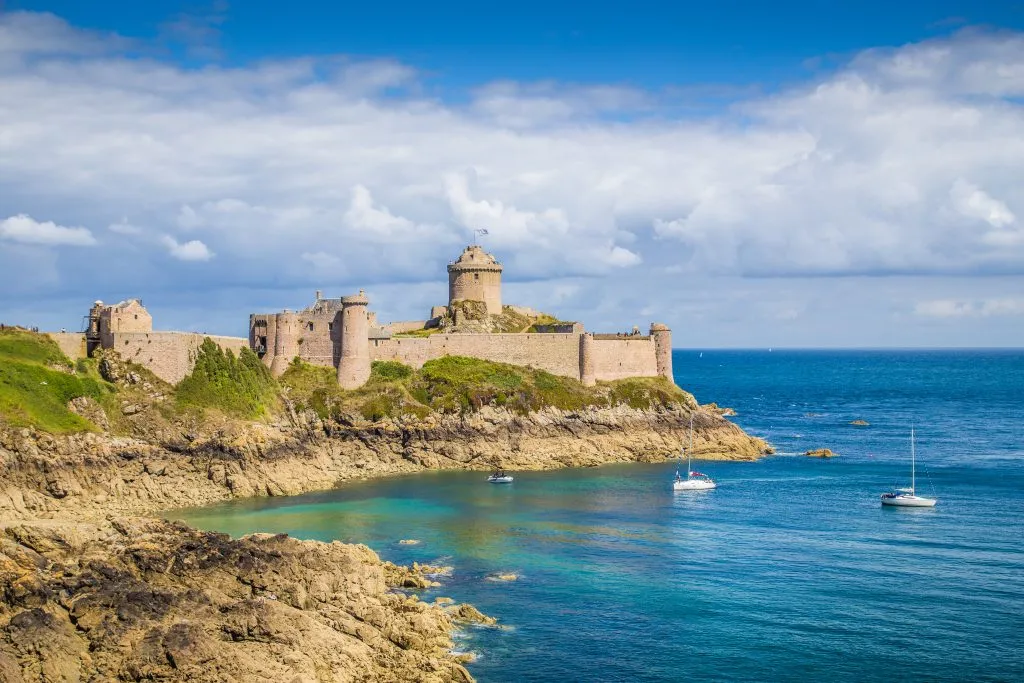 As well as coastal and seaside experiences, this Brittany road trip will have you stepping back in time in the charming medieval town of Dinan.
Set within its old city walls, it is known for its quaint half-timbered houses, cobbled streets, and its array of historical monuments.
Don't forget to sample the local Brittany delicacies such as sweet crepes, savory galettes, and the butter-rich Bretagne Gateau.
Recommended Road Trip Length
Four days will have you traveling about 500km through Brittany and will give you enough time to experience the variety of flavors Bretagne has to offer.
Northern Ireland
From Amanda of Toddling Traveler
Northern Ireland is by far one of the best road trips in Europe.
Between the beautiful scenery and the unique outdoor activities, it's something that needs to be experienced at least once.
The best area for a 1 week road trip in Northern Ireland is the Causeway Coast and Glens, after spending a couple of days in Belfast.
With towns like Cushendall, Ballycastle, Ballintoy, and Bushmills, there are so many great places to stop along the way.
From Belfast, you can make a stop at Carrickfergus for the castle and seaside restaurants.
Between the views of the ocean on one side and the sheep nestled among the cliffs on the other side, there's so much to take in.
Cushendall is a quaint little seaside town with the friendliest people, and it's a great location for sightseeing in Northern Ireland.
From Cushendall, you can drive through the beautiful Glens of Antrim and make a stop at the Dark Hedges for any Game of Thrones fans.
Another famous stop on the Causeway Coastal Route is the Carrick-a-Rede Rope Bridge which takes you a few hundred feet above sea level.
Ballintoy Harbour and Fullerton Arms are two additional stops that are popular with Game of Thrones fans.
From Cushendall, you can change your home base to Bushmills for a change of scenery.
Bushmills Distillery and the Giants Causeway are two sites that shouldn't be missed in that area. For golf fans, Portrush is a popular seaside town that also boasts a world-famous golf course.
If your Northern Ireland road trip allows for more time, spending more time in Portrush or Portstewart is definitely recommended as well.
Recommended Road Trip Length
7-10 days is ideal for a road trip through Northern Ireland, but you can easily spend more time if you're exploring beyond Antrim County.
Loire Valley + Normandy, France
From Brianna of Curious Travel Bug
The Loire Valley and Normandy are two of France's most beautiful areas and combined, they make for a fantastic road trip from Paris.
This European road trip is perfect for those who enjoy the countryside, castles, and adorable villages.
Start your trip by driving to Amboise from Paris.
Amboise is small enough to be walkable and has a scenic chateau that overlooks the town, and a great base for visiting the Loire Valley.
From Amboise, you can visit famous chateaux like Chateau Chenonceau, Chambord, Villandry, and Usse.
After exploring the Loire Valley head towards Normandy and the coast.
A great halfway point to break up the driving is Chateau d'Angers, a massive castle with huge towers.
Stay in the village of Pontorson to visit nearby Brittany, towns like Dinan and Saint-Malo are both worth a visit.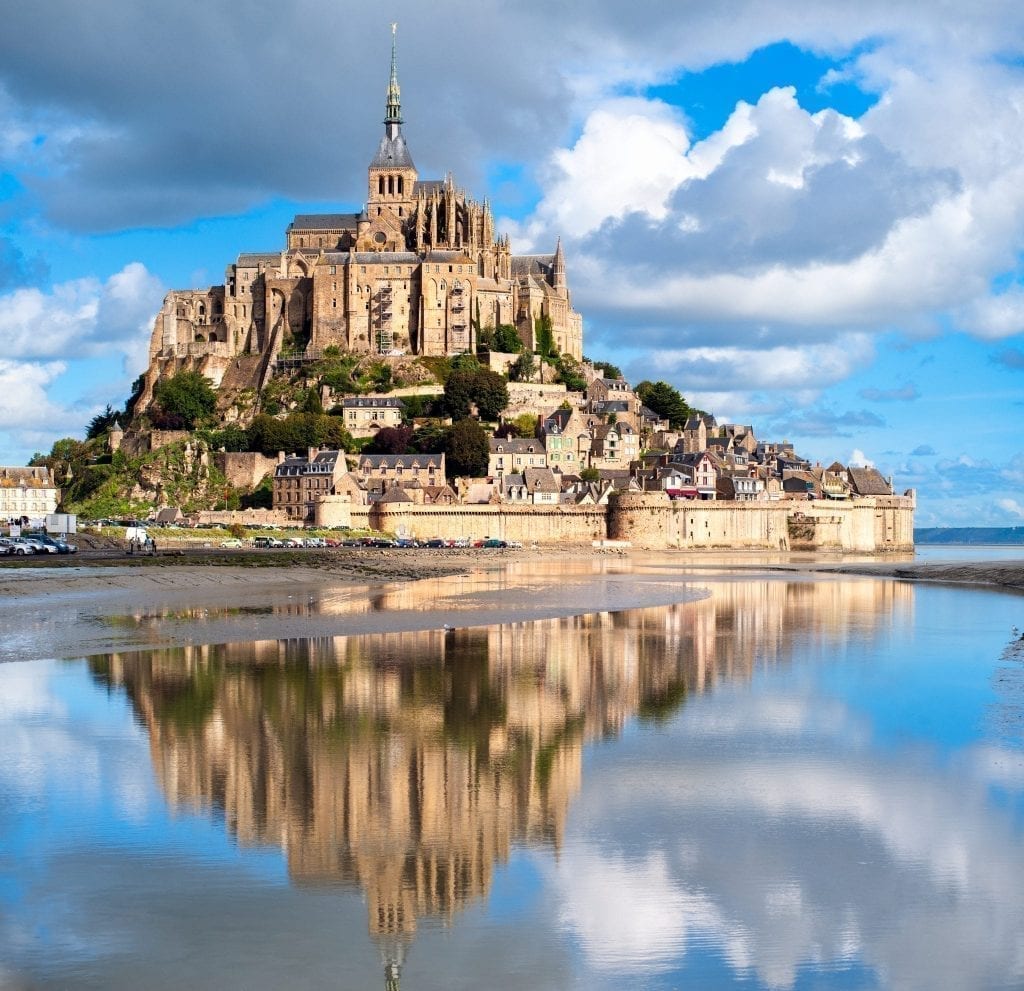 From Pontorson you will be only 20 minutes from the incredible Mont Saint Michel.
Mont Saint Michel is what brings most people to Normandy and it is certainly impressive.
If you can, try to visit both at high and low tides as the contrast between the two is interesting to witness.
Drive further into Normandy and stay in the town of Bayeux. Bayeux is a cute medieval town made famous by both the Bayeux Tapestry and its proximity to the D-Day Beaches.
The D-Day sites are worth spending at least a day exploring.
Finish up your road trip by stopping in the port town of Honfleur to see its cute harbor.
Head back to Paris, stopping en route in Giverny to see Monet's gardens.
Other places to include on your itinerary if you have more time are the city of Rouen and the cliffs at Etretat.
Recommended Road Trip Length
This route requires at least 6 days but you can easily spend much longer exploring both the Loire Valley and Normandy as these areas are rich with history, charming villages, and castles to explore.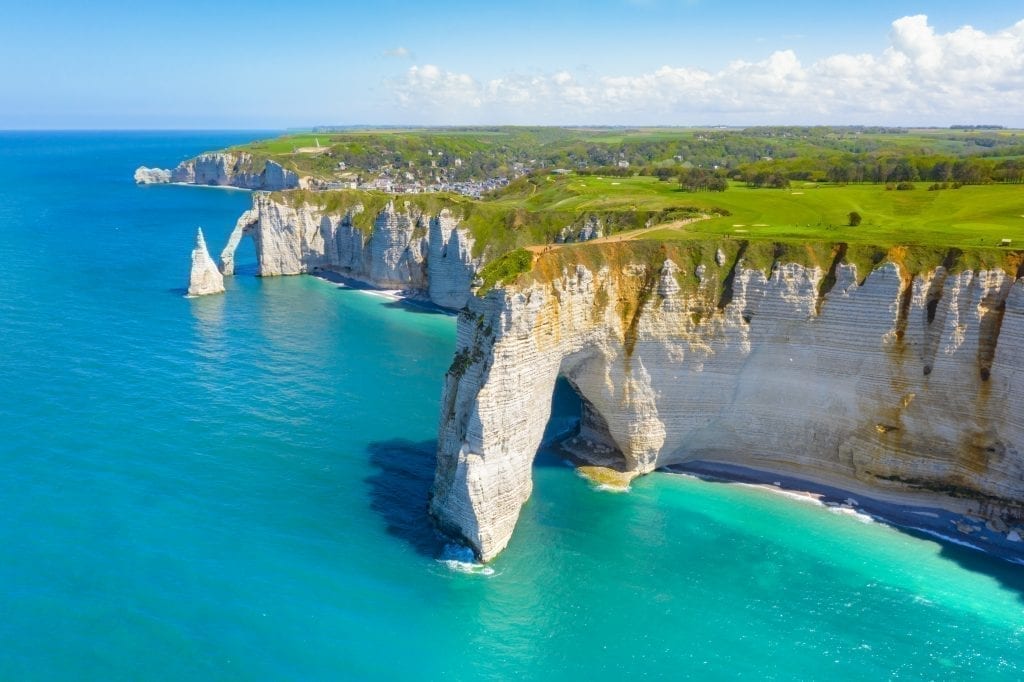 Cotswolds Road Trip
From Laura of Travelers Universe
If you have more than 3 days in London and are ready for a quick European road trip, then a visit to the Cotswolds is a must. No other area in the UK compares to the old-fashioned charm and heritage of the Cotswolds.
When planning your road trip route I recommend you start with the 4 must-see villages in the Cotswolds: Bourton-on-the-Water, Upper Slaughter, Lower Slaughter, and Bibury.
Bourton-on-the-Water has a unique appeal to everyone. It is regularly voted as one of the prettiest villages in England and is famous for its honey-colored stone architecture and idyllic scenes.
The village is known as the Venice of the Cotswolds and it's the perfect place for you to enjoy some relaxing time by the River Windrush.
Upper and Lower Slaughter share an interesting name that could be translated as a 'miry place'.
Lower Slaughter has been very well conserved and walking alongside the stream seems like a trip into the past.
There is no wonder the village has been used for filming productions on several occasions.
Upper Slaughter is equally as charming. Interesting fact – it lost nobody in the First World War and that's why these days it is considered to be a sainted village.
If you are by car, I recommend parking in Bourton-on-the-Water and walking from there, as there is limited parking in the Slaughters.
When it comes to Bibury, everybody will quote William Morris as he famously said that Bibury is 'the most beautiful village in England'.
Well, this should be convincing enough to check it out for yourself.
Don't miss the picturesque Arlington Row cottages, dating back to 1380. Arlington Row is one of the most photographed places in Cotswold.
Recommended Road Trip Route
Try to set aside at least a couple of days to enjoy road-tripping the main villages of the Cotswolds.
Route des Grand Alpes, France
From Kat of Wandering Bird Adventures
One of the best road trips in Europe is the Route des Grandes Alpes, in the southeast corner of France.
It's possible to drive this route by car and stop along the way at one of the many beautiful towns, but a better option is to travel the Alps by motorhome and stop up a mountain in the middle of nowhere.
Technically, the Route des Grande Alpes starts in Lake Geneva and goes south over the highest mountain passes until you reach the French Riviera, but you can easily drive it in reverse if you wish.
Highlights include breathtaking mountain views; the Milky Way at night; going up Mont Blanc in a cable car; exploring picturesque Lake Annecy and the awe-inspiring Gorge du Fier.
Of all the places to enjoy a road trip in Europe, the French Alps are definitely one of the most awe-inspiring!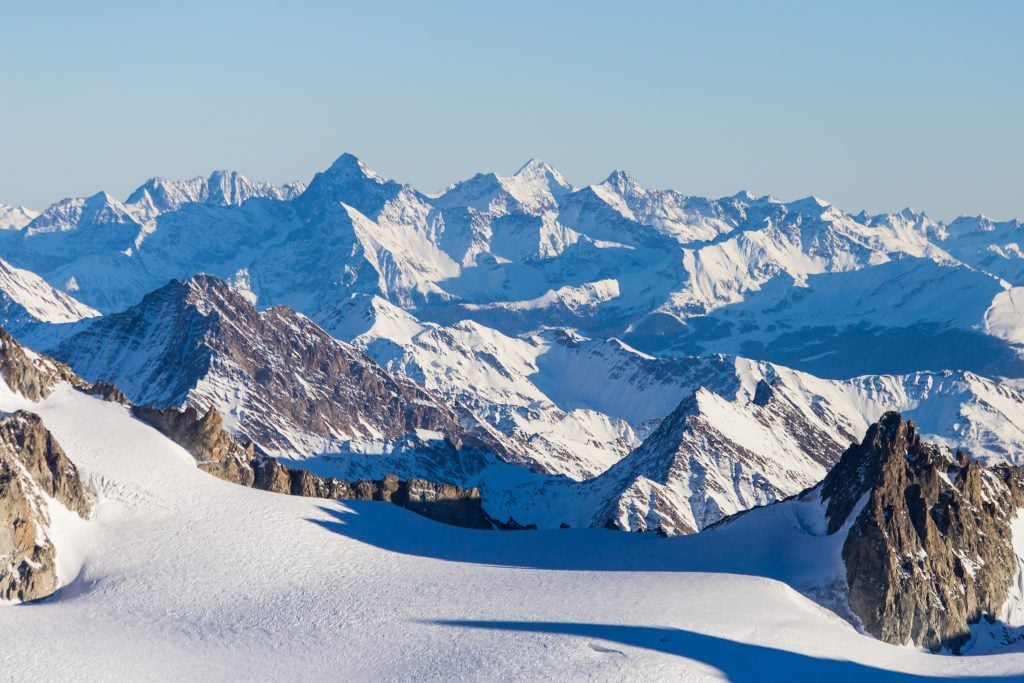 Recommended Road Trip Length
This road trip can take anywhere from 3-5 days and the best time to go is late spring or early autumn, (May/ June or September/ October.)
The reason for this is the weather (winter snow means road closures in the mountains) and also cyclists- you will not believe the number of cyclists who ride up and down these crazy roads!
And that's not including the Tour de France which regularly passes through this route- another reason to avoid July!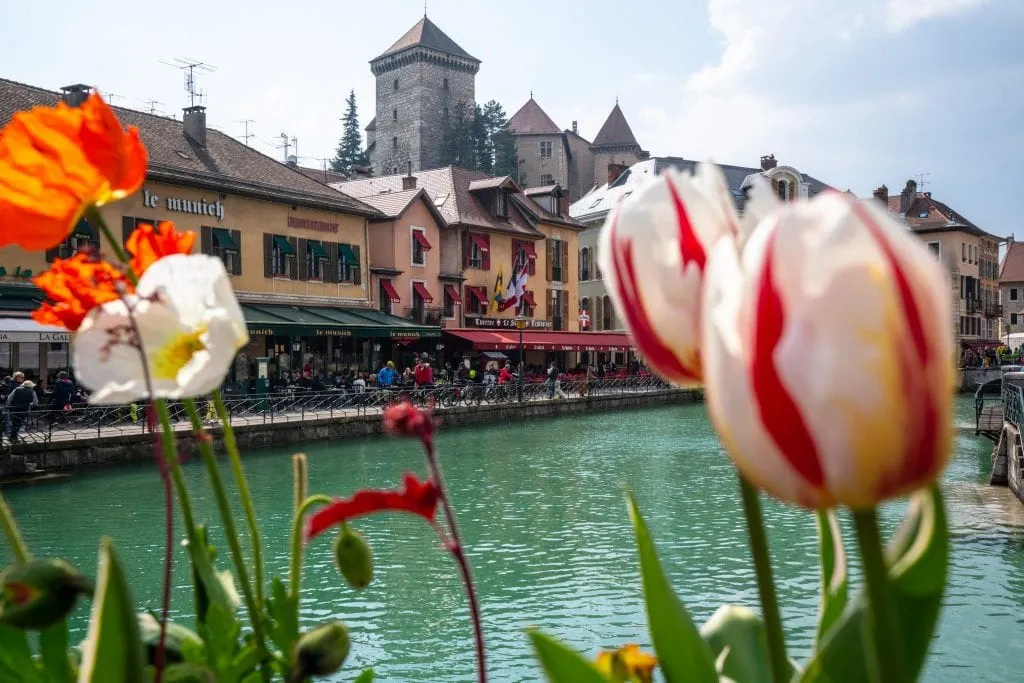 Dublin to Dingle (Cross-Country Ireland Road Trip)
By Jennifer P. (aka Dr. J) of Sidewalk Safari
A road trip from Dublin to Dingle is one of the longest you can undertake in Ireland.
Dingle is one of the most picturesque places in Ireland and is well-worthy of a road trip in itself. However, sometimes getting there is more than half the fun.
Take a road trip to Dingle and use the 5-hour drive to explore lesser-known parts of Ireland on the way.
Start at Birr Castle, a 19th-century house and gardens that was home to the world's largest telescope for nearly 75 years.
Next up, drive to Adare, which is best known for quaint thatched cottages and for being one of the most beautiful small towns in Ireland.
Adare is an ideal road trip pitstop; there are cool things to see and do but not so many things that one is tempted to linger (budget 30-60 minutes).
Listowel is known as the literary capital of Ireland because writers like Bryan MacMahon and John B. Keane once lived there.
Grab a coffee on the colorful square and follow in the footsteps of some of Ireland's best-known writers.
Do not miss Foynes and the Flying Boat Museum! Fun fact: Irish coffee is believed to have been invented in Foynes.
Finally, stop at Belvedere House in Mullingar for its follies.
Follies are large-scale structures that look ancient but are actually modern.
Belvedere House also has a Jealous Wall erected in a feud between two brothers centered around alleged adultery.
Recommended Road Trip Length
Recommended length: 2 days. Take one day en route to Dingle and a second day on the way back to Dublin to cover all the stops referenced.
Montpellier to Toulouse, France
From Maura of Travel Kiwis
The region of Occitanie in southern France has spectacular scenery and diverse history.
Start in the pedestrian-friendly and vibrant city of Montpellier for shopping and French cuisine.
From Montpellier, allow an hour to travel the coastline dotted with pink flamingos to the fishing village of Sete, a perfect place for lunch and fabulous seafood.
One-hour inland is Beziers, one of the oldest cities in France where high above the river Orb sits the Bezier Cathedral.
Bezier is famous for the Orb Aqueduct, which carries the Canal du Midi over the river, and the Fonserannes Locks, a staircase of nine water levels, which traverses the canal.
Half an hour from Beziers is the old Roman town of Narbonne.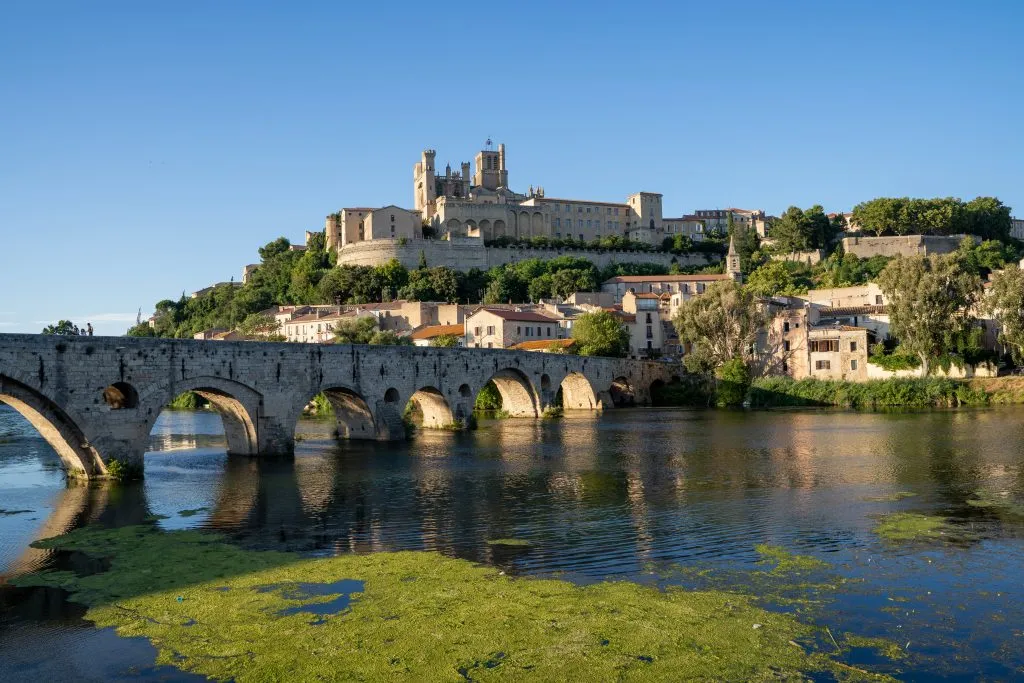 You can explore the Hordeum, a labyrinth of underground warehouses when Narbonne was a Roman port, and view part of the first Roman road in France, Via Domitia.
An hour from Narbonne, overlooking the Aude river, is Carcassonne.
The spectacular UNESCO heritage site Chateau Comtal de Carcassonne is perfect for a short stay. Make sure to try the local dish Cassoulet.
The final stop is Toulouse, the capital city of Occitanie, referred to as the La Ville Rose with its pink terracotta brick buildings.
Visit the Aeroscopia museum to learn more about the Airbus A380, built-in Toulouse; it is the largest airliner in the world.
Recommended Road Trip Length
This route is 276kms taking four hours with no stops. So, take your time and plan a night or two along the way.
Scottish Highlands & Islands
From Jessica of One Girl, Whole World
Exploring deep into the Scottish Highlands and islands with one of the most stunning European road trips you can take.
A 10-day road trip itinerary has gorgeous landscapes, interesting history, hiking options, boat trips and ferries, and few crowds.
There are infinite route combinations, but here is one that's a great combination of landscapes, history, and activity, and avoids long stretches of driving. You can start from anywhere, but Edinburgh or Glasgow is the most common.
Head toward the upper Highlands, covering Glen Torridon, Applecross, and (weather-permitting) driving the famous and slightly nerve-wracking Bealach na Ba pass.
Then spend a few days on the Isle of Skye, possibly hiking the stunning Quiraing and taking a boat trip from Elgol to the misty Black Cuillin mountains.
Then get further out to islands that most tourists rarely visit.
You can take a 90-minute ferry north to the Isle of Harris & Lewis and spend a day or two driving the island and experiencing the turquoise beaches and ancient standing stones.
Once you're back on the mainland, consider hitting beautiful Glen Coe and the Glenfinnan Viaduct (the Hogwarts Express!) in the Highlands on your way west to the tiny Isle of Iona.
Iona has both beauty and some of the earliest Christian history in Scotland, and also a perfect base to take a boat trip to the almost-mythical Isle of Staffa.
Finally, spend a day or two exploring charming Edinburgh at either the beginning or end of your trip.
Recommended Road Trip Length
The length of your visit is flexible, but to cover everything above you should plan for at least 10 days–if you can set aside two weeks, that would be even better!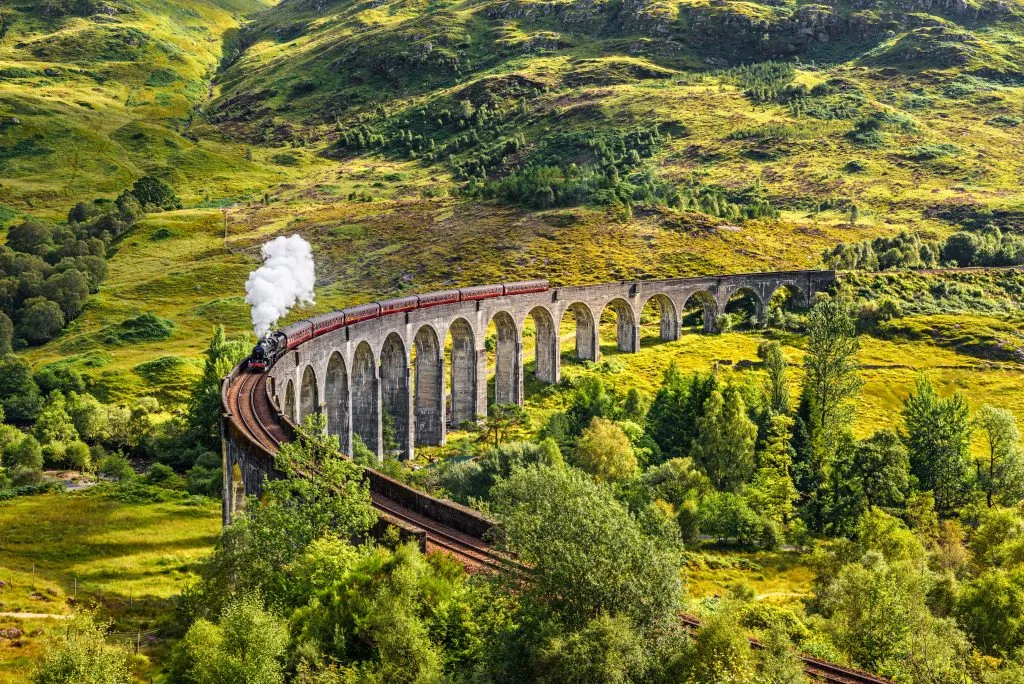 Northumberland Coastal Route, England
From Stuart Forster of Go Eat Do
The Northumberland Coastal Route is a scenic driving route that runs for 48 miles between Blyth and Berwick-upon-Tweed.
The marked route meanders past broad beaches and castles built when this region saw regular raids by cattle rustlers, known as border reivers, and Scottish armies.
If you choose to drive on the most direct route, the A1, the journey between Berwick and Newcastle takes just 75 minutes.
Plan at least a couple of days to pause along the way and take walks to view the castles at Bamburgh and Dunstanburgh.
It's also worth taking a reflective stroll on the golden sand of Alnmouth Beach after popping into nearby Alnwick to shop at Barter Books, England's biggest second-hand bookstore, and see the castle where Harry Potter movies were filmed.
Following the Northumberland coastal route offers opportunities to pause for locally landed seafood at the Fish Shack in Amble or The Jolly Fisherman pub in Craster.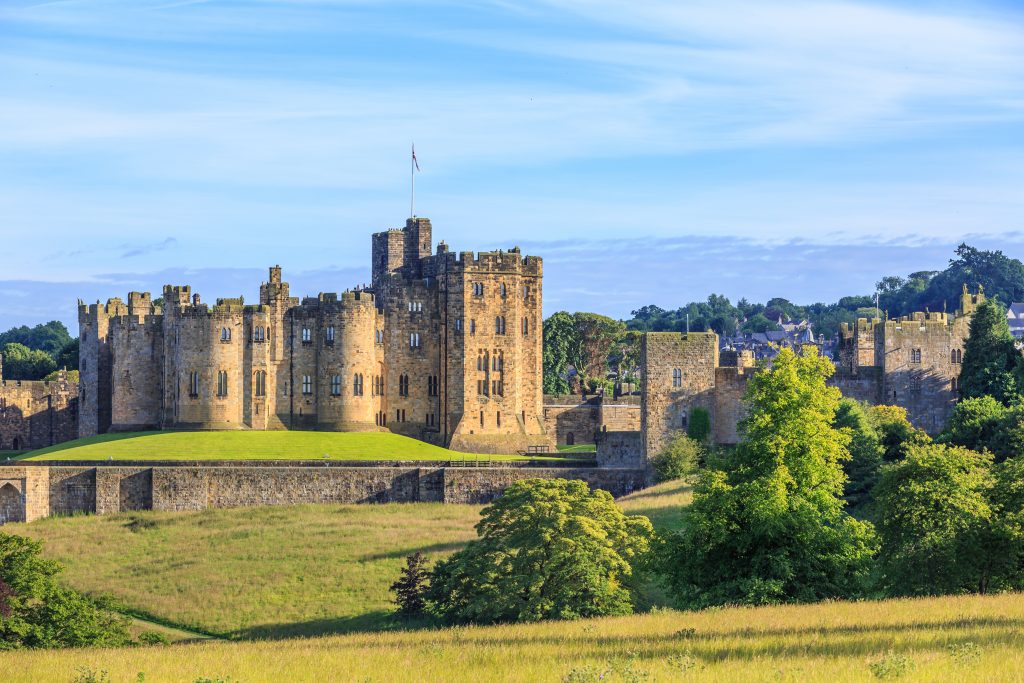 The fishing village of Craster gives its name to traditionally smoked kippers, a local delicacy. Craster kippers pair well with Earl Grey tea, which was first mixed for consumption at Howick Hall, the 19th-century British prime minister's estate in England's most northerly county.
Check the tidal table before driving to or from Lindisfarne, otherwise known as Holy Island.
Many a driver has had to abandon their vehicle in the face of rapidly advancing waters.
Recommended Road Trip Length
We suggest completing this trip in about two days.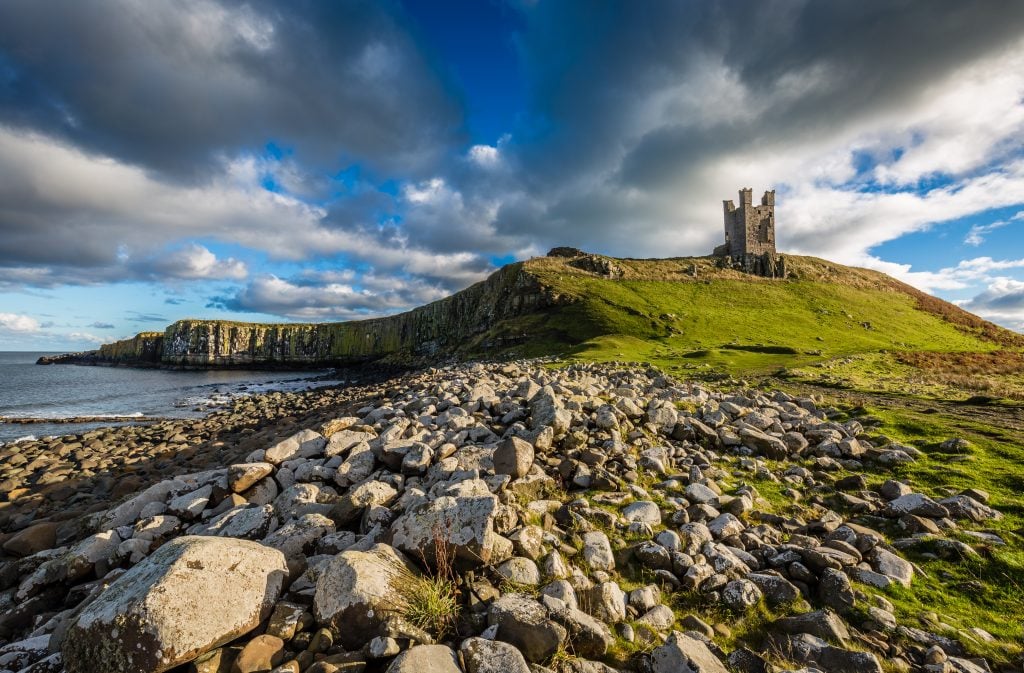 Ring of Kerry, Ireland
From Cath of Travel Around Ireland
One of the best road trips to take in Europe is one in which you visit the Ring of Kerry in Ireland.
Encompassing the Killarney National Park and part of the epic Wild Atlantic Way, this part of Southern Ireland is filled with beauty that will leave you awe-inspired.
This is a popular tourist area of the region and it is best explored by car or motorbike.
Points of interest to stop and explore include the Gap of Dunloe, a beautiful valley snaking through the MacGillycuddy Reeks Mountains.
You cannot drive a car through it, but motorbikes, cyclists, hikers, and joggers can traverse it. There are tourist horses and carts which can take those in cars into the Gap to enjoy its beauty.
At the top of the Gap lies Kate's Cottage, a historic coaching house, now with a restaurant, bar, and craft shop.
Not far from this is Lady's View, affording magnificent views across the Killarney National Park.
You should also take a day to visit Ross Castle and Muckross House, Gardens, and Farms, both of which are steeped in history.
Got a Star Wars fan on your hands? Then a boat trip from the Ring of Kerry to Skellig Michael is a must. It featured in Star Wars VII – The Force Awakens.
Skellig Michel is famous for its 6th to 8th-century Christian monastery and was designated a UNESCO World Heritage Site in 1996.
Another site to visit during your road trip around the Ring of Kerry is Torc Waterfall.
This lies only 7km from Killarney Town and is a beautiful waterfall with a height of 20 meters and a cascade of 110 meters long.
Many of the towns that you pass through are worth stopping in for a cuppa or a meal including Kenmare, Sneem, and Killorglin.
The town with the most choice when it comes to accommodation and eating options is Killarney and should be your starting point when traveling around this stunning part of Ireland.
Recommended Road Trip Length
Killarney, the town at which you should start your visit to the Ring of Kerry, lies 300km southwest of Dublin and it will take you approximately four hours by car to reach this quaint little town.
Although you could drive the outer circuit of the Ring of Kerry in one day, you will need more than a day to visit the many places to stop around this 179km-long circular route in County Kerry.
Best Central and Eastern European Road Trips
Germany's Romantic Road
From Hannah & Adam Lukaszewicz of Getting Stamped
Southern Germany is home to the Romantic Road, a journey from Wurzberg to Fussen that captures both the scenic beauty and beautiful, fairytale castles Germany has to offer.
Start out by stopping at the Wurzburg Residence, a stunning palace with extensive gardens.
Next up is the Neuschwanstein Castle which has many great viewpoints, like Mary's Bridge. Another castle in the vicinity that's worth a stop is the Hohenschwangau Castle.
Those are the most popular stops on this European road trip, but also make sure to stop at some of the charming Bavarian villages along the way, such as Rothenburg ob de Tauber and Würzburg.
Recommended Road Trip Length
For the average tourist, it is suggested to have a three-day itinerary for the Romantic Road.
It's just enough time to see all the highlights on the route.
However, it is up to you to extend the trip by a few extra days if you'd like to explore more villages on the way.
Austrian Alps
From Kati Walzl of Moon & Honey Travel
Austria is synonymous with the Alps. While Austria's cities are easily accessible by transit, its mountains are best explored on a road trip.
If you love hiking and scenic alpine roads, follow this Vienna to Innsbruck road trip anytime between June and October.
Start in Vienna, the capital city of Austria before driving directly to Filzmoos, a small alpine town in the Dachstein mountains.
Here, you can hike to scenic alp huts and explore the Gosaukamm, a subrange of the Dachstein.
After hiking in the Northern Limestone Alps of Salzburg, your road trip continues to the heart of Hohe Tauern National Park, which encompasses Austria's highest mountains.
Drive the celebrated Grossglockner High Alpine Road to East Tyrol. If you want to experience the glaciers of the Vendiger Group, explore the lesser-known Virgental and Gschlösstal valleys.
Next, head west to Mayrhofen, which is the perfect base for exploring the Zillertal mountains.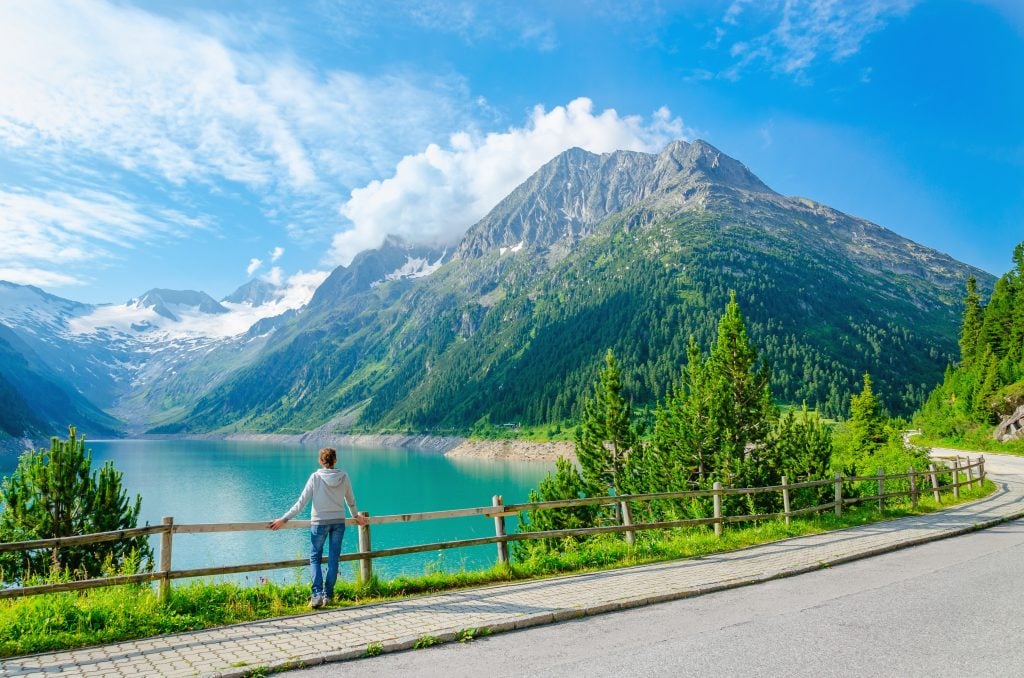 If there's one range that epitomizes "the Alps" this is it.
After a few days in Zillertal, continue your drive to Innsbruck.
If you have more time, drive to Vorarlberg to explore the Rätikon Alps for a few days.
Tip: If you rent a car in another country, don't forget to purchase a "Vignette" before driving on the Austrian "Autobahn" (highway).
Recommended Road Trip Length
You'll need 10 – 16 days to complete this route.
Czech Republic
From Celine of Family Can Travel
While Prague is certainly worth the visit, there's so much more to see in the Czech Republic, and the best way to see it is by planning a Central European road trip.
Plan to make four major stops along the way: Cesky Krumlov, Karlovy Vary, Bohemian Switzerland National Park, and Bohemian Paradise.
The real charm of having a car is not only getting to each of these places but visiting some incredible sights near each of them.
Near Cesky Krumlov, explore the ruins of Hrad Divi.
After visiting the multitude of colonnades around Karlovy Vary, stretch your legs with a hike from Karlovy Vary to the charming town of Loket.
Next, leave the cities behind to enjoy the more natural side of the Czech Republic.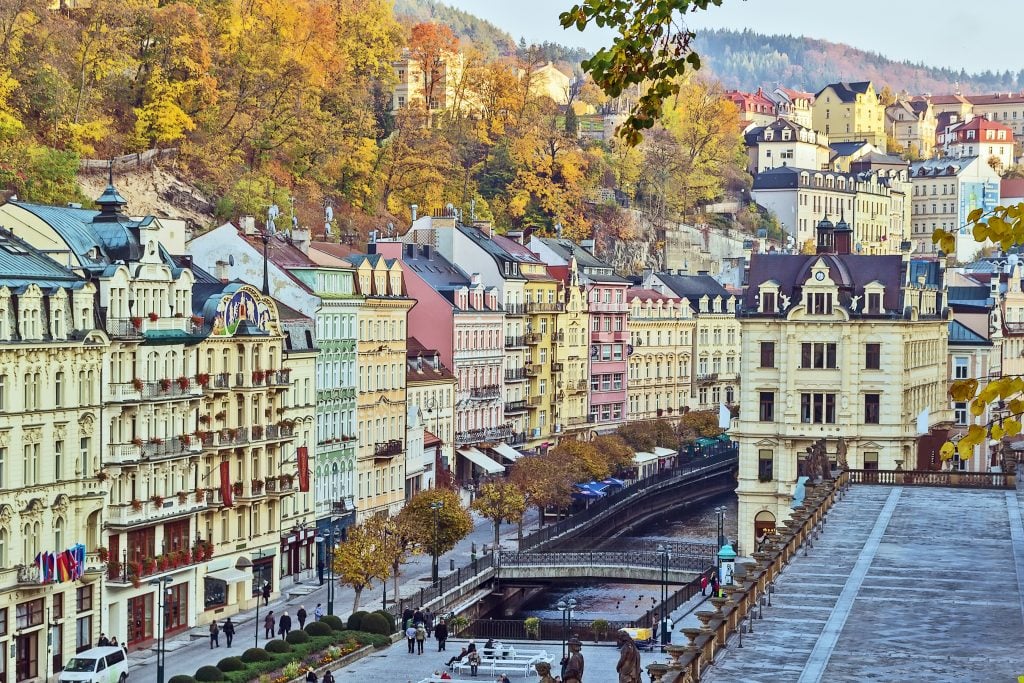 Hiking in Bohemian Switzerland National Park to see the Pravcicka Brana (the largest natural stone bridge in Europe) and then continuing on to the Wild Gorge Loop will give you a real sense of the varying landscapes you can find in the Czech Republic.
If you find yourself with some extra time in Bohemian Switzerland, the Bastei Bridge in Saxon Switzerland National Park (Germany) is only a short drive away.
The Tisa Walls are also worth a stop.
Before returning to Prague, make one final stop in Bohemian Paradise to see Trotsky Castle and the incredible rock formations on the hike from Hruba Skala to Valdstejn Castle.
Recommended Road Trip Length
This Czech Republic road trip could be done in one week, but 10 days would be better to add in a few extra places to visit along the way and truly enjoy all that the area has to offer.
East Germany Castle & Nature Road Trip
From Annemarie Strehl of Germany on the Brain
For an East Germany road trip heavy on castles and natural beauty, start in the gorgeous state capital of Mecklemburg-Vorpommern.
It's one hour away from Hamburg by train (90mins with a car) and there are plenty of things to see in Schwerin.
Its center is simply gorgeous, with typical Baltic houses and historic buildings, and from here, it's a short walk to the fairy tale castle of Schwerin.
It was modeled after French chateaus and has even been featured in Hollywood productions.
From Schwerin, you can easily reach Berlin, where you can stroll around Charlottenburg Palace or Friedrichsfelde Palace.
Those beautiful baroque buildings can make you almost forget you are in a big and busy metropolis.
Complete your visit in the North with a trip down to Potsdam's extensive Sanssouci Castle estate.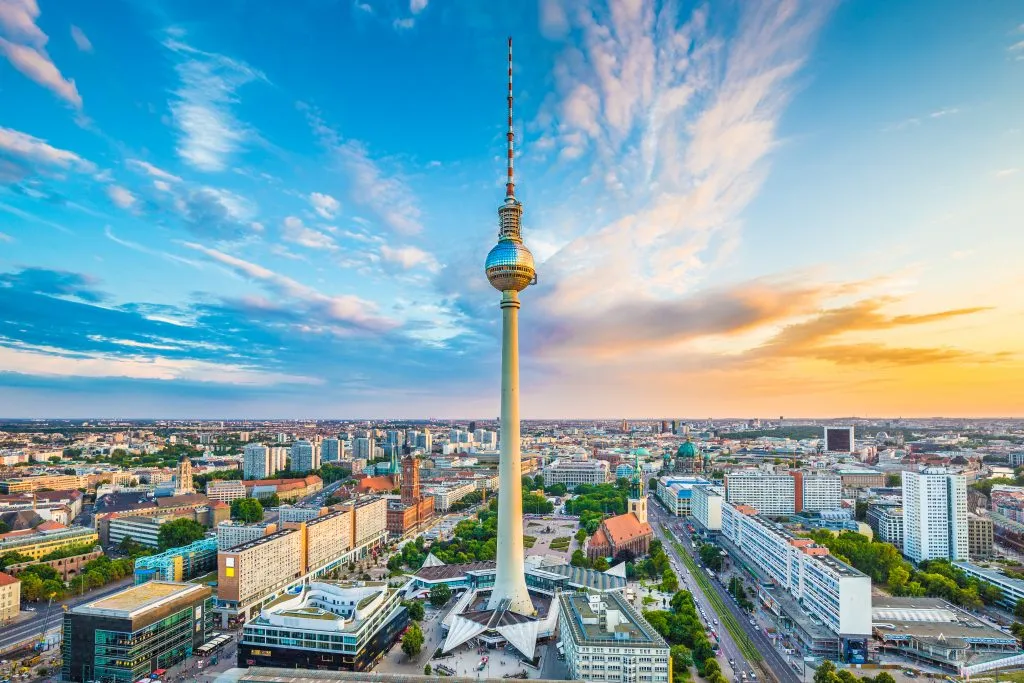 For Dresden alone, you can easily fill a week exploring castles inside and around the city.
Your starting point should be at the Zwinger and move on to the famous Frauenkirche, to name just two iconic attractions. For more castles, check out Pillnitz or Moritzburg.
Complete your journey in the neighboring state of Thuringia and visit charming Jena, Weimar, and Erfurt.
Weimar especially looks straight out of a history book in the best of ways.
Recommended Road Trip Length
In total, such a trip should be no shorter than seven days so you don't have to rush through your destinations.
Driving times are between one to three hours from one place to the next, so it's definitely doable to do one city per day.
However, for places like Berlin or Dresden you can easily schedule in multiple days.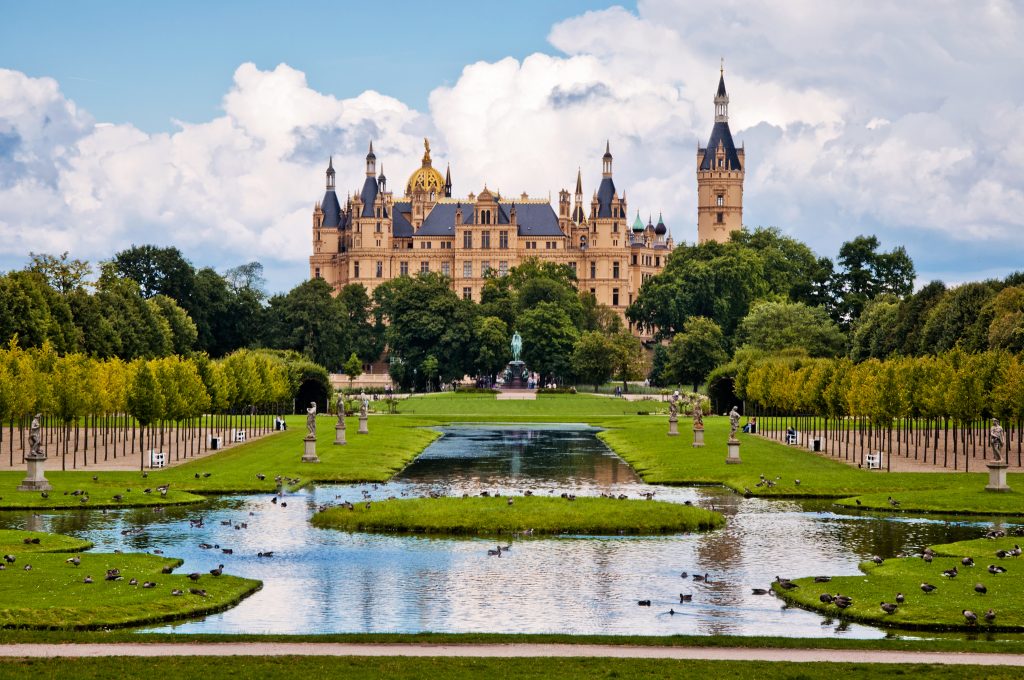 The Italian Dolomites
From Kristen & Jeff Miller of Our Passion for Travel
Fans of jagged mountains, windy roads, and stunning landscapes will rejoice in a Dolomites road trip.
Picking up a car in Verona and heading north, make your first stop in the hillside town of Trento. This stunning town is perfectly wedged in a valley with dramatic cliffs surrounding you.
Choose to spend a night here or head further north to the cute town of Ortisei.
Here, you can excite yourself with some of the winding passes that will take you from blazing sunshine in the middle of summer, up to near-freezing temperatures.
Admire the snow falling off the mountains in the Gardena and Sella Pass.
Later, mix it up with the majestic Lago di Carezza, one of the greenest alpine lakes you'll ever lay your eyes on.
Ortisei is also home to the highest alpine meadow, Alpe di Siusi. Spend a day up top wandering in awe as the lush green grass meets the jagged peaks and rich blue skies.
Leaving Ortisei behind, consider Cortina d'Ampezzo as your next overnight destination.
Not only is Cortina d'Ampezzo home to the future 2026 winter Olympics, but it's well located to explore the surrounding areas.
Lago di Braies is the insta-famous lake, complete with rowboats to fill your feed with.
A short drive from Cortina, you'll find Tre Cime di Lavaredo.
The entry of €30 to the national park may seem steep, but it's about as picturesque as you'll find in this region.
Those jagged peaks you've been admiring are so much closer here, and rip into the sky like daggers.
Recommended Road Trip Length
This road trip through the Dolomites can be done comfortably in as little as 4 days.
It is easily stretched to 2 weeks depending on your pace and how much hiking you're contemplating. Also, be sure to allow time for good weather (it can be temperamental like all alpine regions).
Vienna to Budapest Road Trip
From Pashmina of The Gone Goat
Imagine traversing through stunning countryside covering charming and beautiful towns and some very obscure ones, while crossing the capitals of these three countries Vienna, Bratislava, and Budapest.
Whether you want to start your road trip in Vienna and end it with a weekend in Budapest, or vice versa, a road trip in these places is often brimming with exciting stories, culture, and unique landscapes.
Although the entire trip is approximately 243km and may only take you 3 hours to drive, this trip is best done with a detour spending time in Lake Neusield, Austria, followed by Sopron, Gyor, and Esztergom in Hungary.
If you're feeling adventurous, you can take the other route and pass through Slovakia and see firsthand what it is like to see a new generation of Slovakians who are eager to bring modern elements and street culture to their lives.
You can also stop in Bratislava and casually stroll through the old town while taking in the picturesque views of the architecture.
Compared to its neighboring cities, Bratislava is unhurried and feels small and quiet, and deserves that extra time to slow down, people watch and take in what you can.
Recommended Road Trip Length
The recommended time to spend on this Central European road trip is about 4 to 5 days.
Luxembourg
From Kate of I Live 4 Travel
The small country of Luxembourg is a great place for a European road trip.
It is a country dominated by castles and old towns that you can walk around and some beautiful countryside to hike in.
If you fly into Luxembourg then it is very easy to rent a car.
A trip to Luxembourg would not be complete without a visit to Luxembourg City and here you need to spend a day exploring the old town and visiting the Bock Casemates, walk the Chemin de la Corniche and visit Fort Thungen.
After visiting Luxembourg City head north to visit the beautiful castle of Vianden, the town is worth a walk around and you can always get the chairlift slightly higher up the mountain to get a view of the town and the castle before walking down to visit the impressive castle.
It is worth stopping here for lunch in one of the many cafes in the town.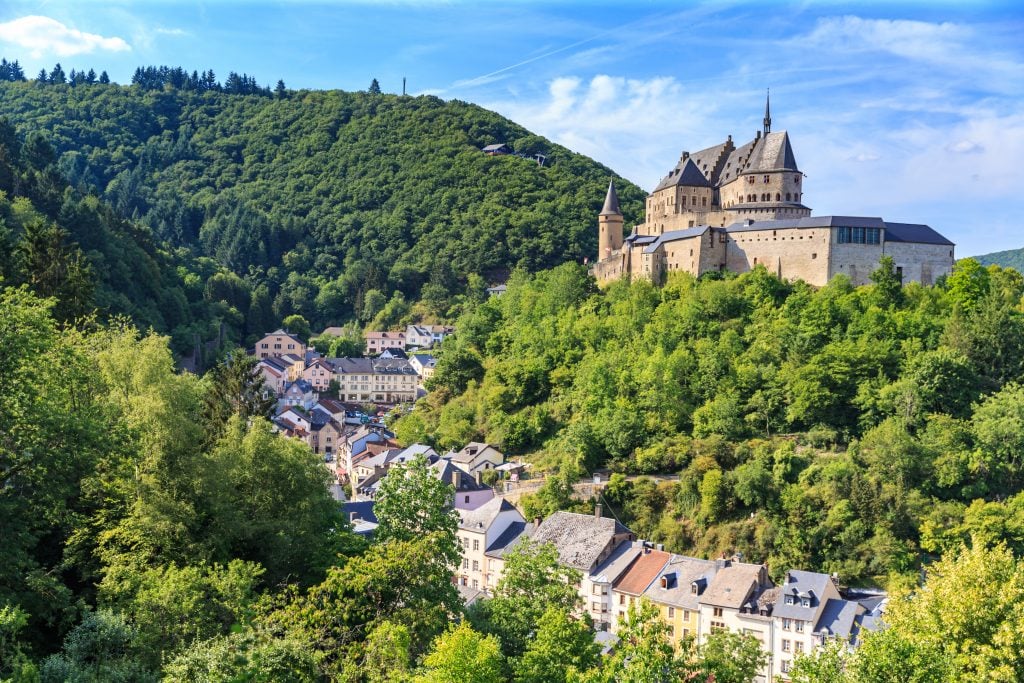 Next drive to Bourscheid Castle, which is only partially restored but has amazing views down the valley.
After visiting Bourscheid head across to the little town of Esch-Sur-Sure, it is in a horseshoe shape and surrounded by a river running along the outside, it is a beautiful town and it's worth a walk up to the ruins of the castle located on the top of the hill in the middle of the town.
If you have a third day then head across to Echternach and hike part of the Mullerthal Trail.
If you do not want a long hike, you can just drive the route and explore the highlights.
Recommended Road Trip Length
The drive through the countryside to these places is stunning and it's recommended you take 2 or 3 days to explore the country of Luxembourg.
Poland
From Dhara of It's Not About the Miles
Looking to complete one of the best road trips in Europe? Consider Poland!
In about 10 days, you can see the best of this northern European country.
Begin your trip in Warsaw, the capital of Poland. Warsaw's Old Town is a UNESCO World Heritage Site.
World War II bombing destroyed quite a bit of the city, but it has been reconstructed.
Apart from Old Town, Powazki Cemetery, the monument to the heroes of the Warsaw Ghetto, and the Presidential Palace are must-visits.
From Warsaw, drive to Krakow where you can visit Market Square, St. Mary's Church, and the famous Wawel Castle.
Old Town Krakow is gorgeous so plan on a walking tour to admire the architecture.
From Krakow, drive to Auschwitz to tour the former concentration camp. It is a UNESCO World Heritage Site.
Next, travel to Wroclaw, with its beautiful Old Town. Market Square has stunning architecture.
From Wroclaw, drive to Torun, one of the best-preserved medieval towns in Europe. Torun is a UNESCO World Heritage Site and the birthplace of Nicolas Copernicus.
Next, drive to the port city of Gdansk, the birthplace of Lech Walesa's Solidarity Movement.
Gdansk has a beautiful Old Town as well. A walking tour of Gdansk Old Town is the best way to experience the sights.
Also do not forget a stop at Westerplatte, where the first shots of WWII were fired.
Return to Warsaw to complete your road trip through Poland. On the way, you can stop at Malbork Castle, the largest castle in the world!
Recommended Road Trip Length
This Poland road trip is best completed in about 10 days.
South Styria Wine Road, Austria
From Lori of Travlin Mad
The South Styria Wine Road in southern Austria is the perfect European road trip for food and wine lovers.
This 44-mile-long patchwork of woodlands, lush rolling hills, and verdant vineyards just an hour from Graz is the southern part of Styria, known as the Green Heart of Austria, and looks more Tuscan than Alpine.
This part of Austria also borders northern Slovenia so combining both as part of a multi-country road trip in Europe is a great idea.
Fall is an especially good time to visit when autumn colors begin to appear in the vineyards and the first wine is being pressed.
People gather outdoors at local wineries along Wine Road drinking stürm wine and roasting chestnuts around a crackling fire.
Through the breeze, you'll hear the unusual clacking sound of the klapotetz windmills spinning slowly through the countryside, designed to ward off birds and other pests who tend to gobble up the grapes.
Food lovers should start their tour with a visit to Vinofaktur Genussregal, the largest store in Styria featuring over 2,500 Styrian wine and culinary products from over 250 regional producers.
For lunch or dinner, local winery-owned buschenshanks are the place to go for platters of local smoked meats and cheeses.
It's all so quintessential Styria and the perfect destination for a fall road trip through Europe.
Recommended Road Trip Length
Though you can complete this European road trip in a day, it's best to set aside at least a couple of days if you'd like to leisurely explore what the wine route has to offer (and allow your designated driver some chances to sample the wine).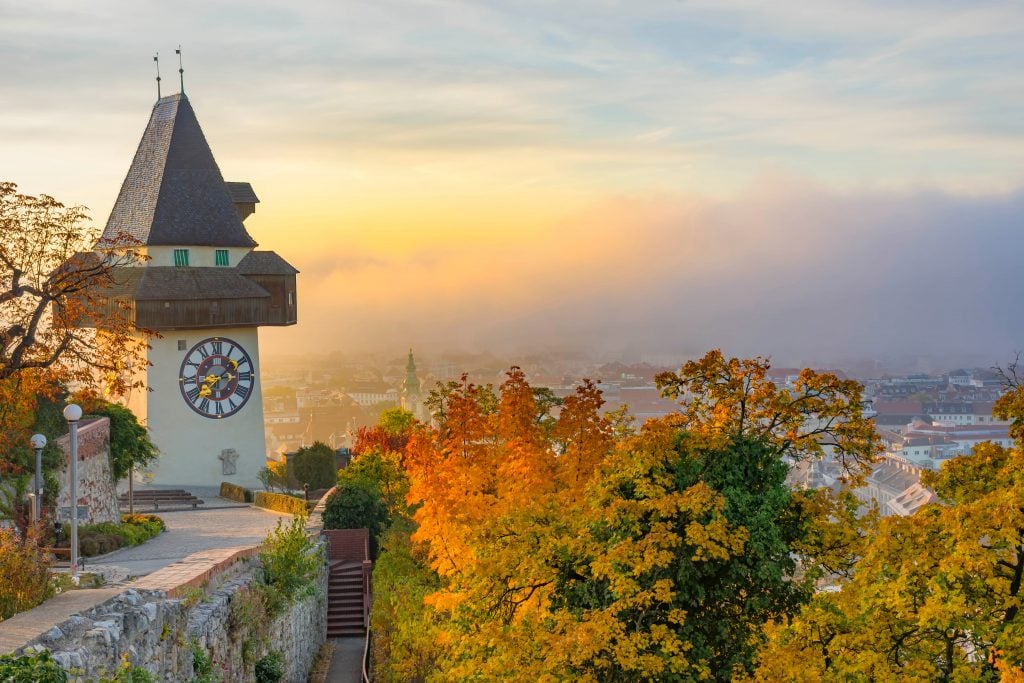 Latvia
From Inma of A World to Travel
There are a surprising number of things to do in Latvia, the beautiful Baltic Republic located in northeast Europe–and it's possible to cross the entire country in six hours!
The road trip itinerary suggested here covers 6 of the wonders of this country, from west to east, starting in the immediate vicinity of the Lithuanian border.
From exceptional natural landscapes to charming villages and large cities, this European road trip itinerary has something for everyone!
Stop first in Liepaja, known for its beaches with dunes and its constant wind, before moving on to Kuldiga, a picturesque village in the Western part of the country.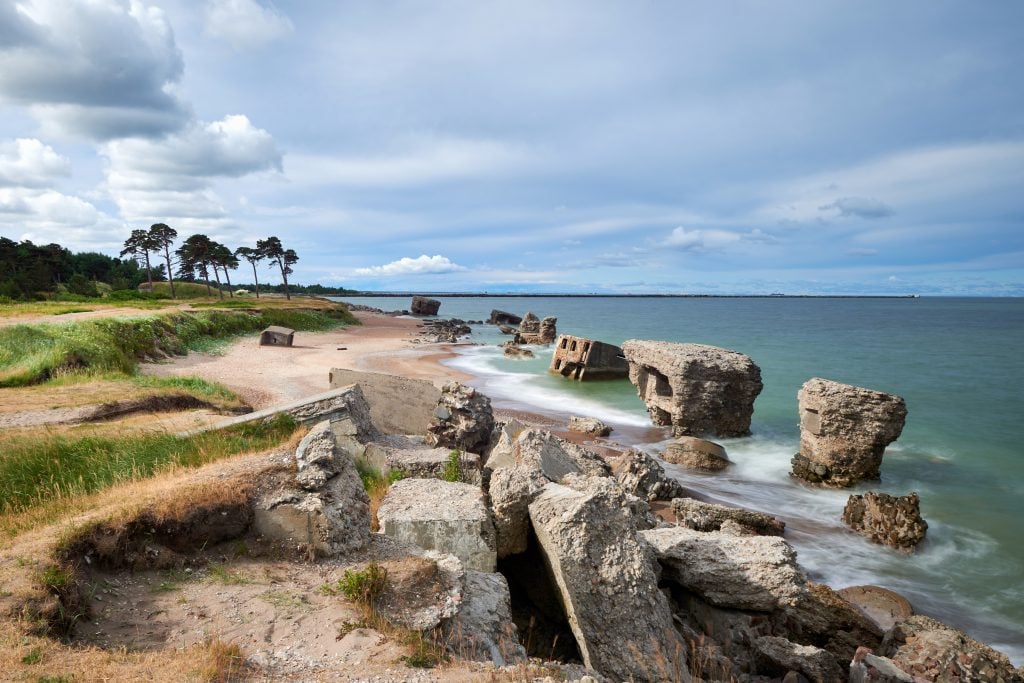 Be sure to make time for the unique Kemeri National Park, where it is possible to practice bog-walking with the right equipment and a guide!
Riga, the capital of Latvia and your next stop on this Europe road trip, needs no introduction. Neither does its historic center, central market, and lively nightlife.
From there, move on to visit Sigulda, a historical village that has lots to offer to lovers of active tourism.
Finally, pay a visit to Gauja National Park, located near the border with Estonia. There is no other place like this in the whole country to go hiking on its many trails.
Recommended Road Trip Length
If possible, set aside about a week to explore this European road trip route through Latvia.
Lithuania
From Jo of Lost Wanders
There's plenty to see in Lithuania other than the trendy capital Vilnius and it's well worth having your own transportation for a road trip in this beautiful Baltic country.
The first stop is the Hill of Crosses near Siauliai to see a unique memorial dedicated to the many unknown deaths of the Lithuanian uprising against Russian rule.
The hill now holds over 100,000 crosses memorializing people from around the globe with more being added daily.
A two-hour drive west uncovers an old nuclear missile silo, one of only three left in the world, that's been turned into a Cold War Museum.
It's located deep within Žemaitijos National Park, down bumpy gravel roads, where you can also get a chance to spot wild animals such as Lynx.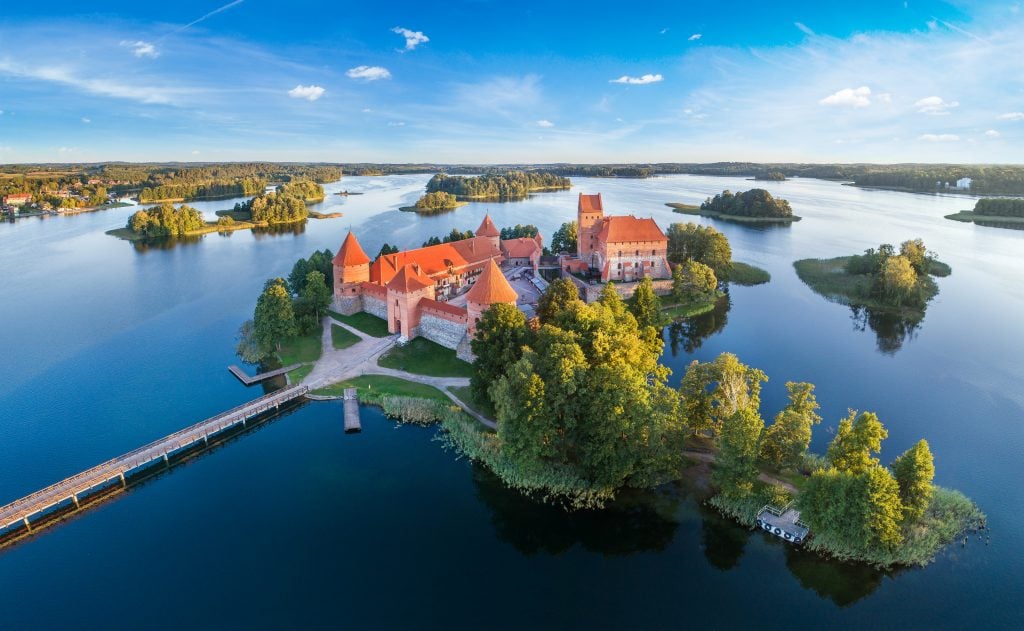 Another hour's drive towards the Baltic Sea, Klaipeda is the base for heading out to the Curonian spit, a large sandbar covering Lithuania's coastline.
The town is famous for its spas and long open beaches.
Back down towards Vilnius, Trakai Castle is a must-see.
If you do just one castle on this trip make it this one. It sits on an island out on a lake where you can pedal and paddleboard in the summer months.
Recommended Road Trip Length
You can do this trip in a week but allow 10 days to 2 weeks to fully see everything and don't miss a couple of days in the capital.
Summer is by far the most favorable time to do this trip, crowds aren't as big as in Central Europe and winters can get very cold for taking northern European road trips!