The landscape surrounding Moab, Utah is known for its soaring rock formations and dazzling sandstone arches, both in and outside of the famous Arches National Park.
Located right along US-191, Moab's Wilson Arch is one of the easiest and fastest arches to visit in the region–and there's a good chance you'll drive right by it when visiting Moab.
Here's how to visit Wilson Arch near Moab, Utah!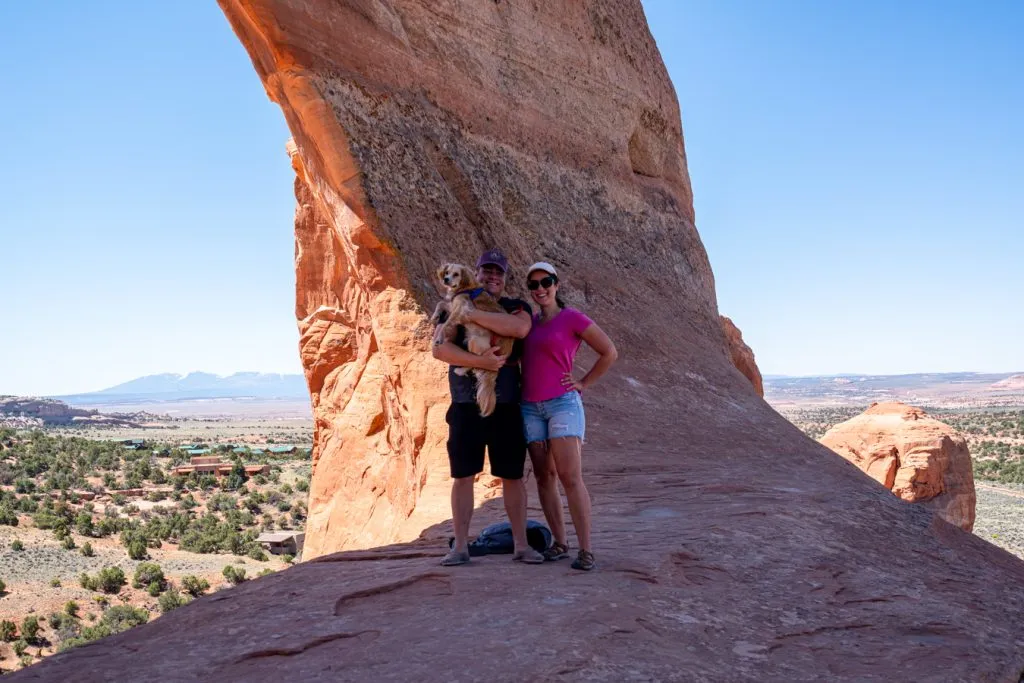 Some links in this post may be affiliate links. If you make a purchase through one of these links, we may earn a small commission at no extra cost to you. Please see our

disclosure policy

for more detail.
What's it Like to Visit Wilson Arch in Moab?
Lots of fun!
At 91 feet long and 46 feet tall, Wilson Arch feels magnificent to stand under–as so many Utah arches do.
This one, however, requires only a very small time commitment to visit.
If you're in good shape and move quickly, you can climb from your car to Wilson Arch in just a few minutes.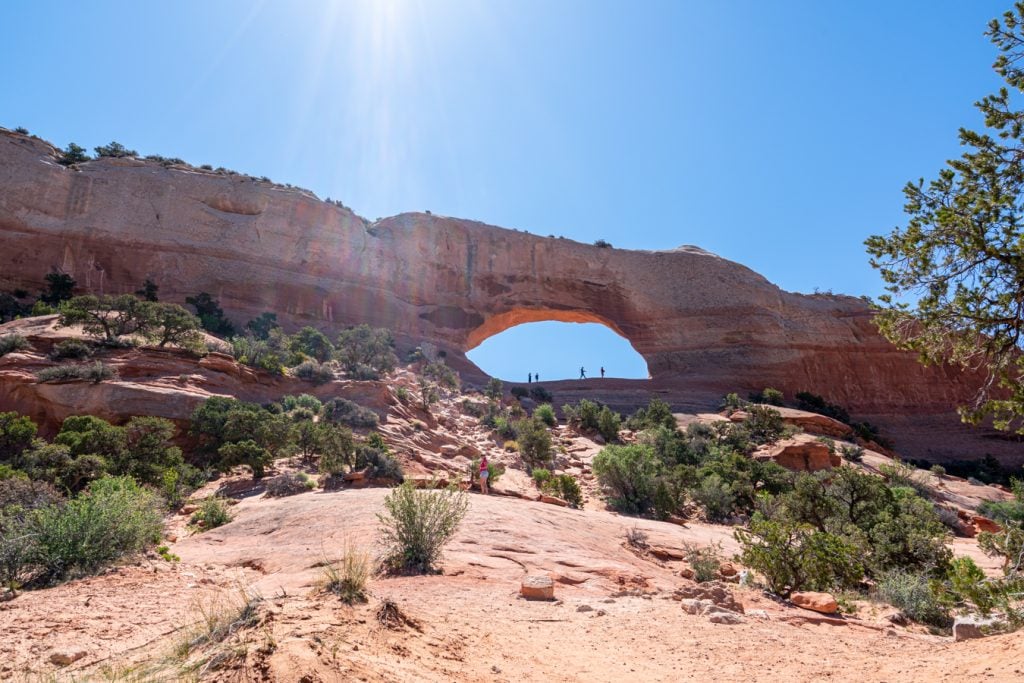 The climb is steep but fairly unchallenging.
You might want to use a hand or two to steady yourself at points, but you don't need any technical expertise.
Once you reach Wilson Arch, you'll have beautiful, almost 360-degree views of the surrounding landscape.
Where is Wilson Arch, Utah?
Wilson Arch is located along US-191, 24 miles south of Moab, Utah.
Its address is 82 East Dogwood, Moab, UT 84532.
Wilson Arch is clearly marked on Google Maps, so if you use GPS to navigate there, you'll be able to find it very easily.
There isn't a parking lot to speak of, but there is a pullout on the side of the highway where you can park to safely access Wilson Arch.
We–like I suspect many others–drove by it several times before finally committing to putting in our GPS as we left Moab so that we didn't accidentally drive past it without visiting again!
FAQ For Visiting Wilson Arch
Is it free to visit Wilson Arch?
Yes, Wilson Arch is free to visit.
Can you see Wilson Arch from the road?
Yes, you can!
Keep an eye out on the east side of US-191, 24 miles south of Moab, and you'll be able to clearly see Wilson Arch.
Is Wilson Arch in Arches National Park?
No, it's no!
Wilson Arch is located on BLM land, making it publicly accessible and free to visit.
Are there facilities at Wilson Arch?
No, there aren't.
As this is more of a roadside stop on public land than a maintained trail, don't expect to see restrooms, water fountains, or anything else (other than some signs) there.
Be sure to bring all the usual essentials for exploring the desert with you, including water and sun protection!
How long does it take to visit Wilson Arch in Utah?
Not long at all!
After parking, you can climb from the roadside up to the arch in just 5-10 minutes, if that.
From there, spend as long as you like admiring the views of Utah's Wilson Arch before heading back down and continuing your Utah road trip.