Laid-back, charming, and full of stunning desert scenery, the small town of Moab, Utah is one of the best bases for outdoor adventure in the Southwest. The sheer variety of fun things to do in Moab is enough to fill several vacation itineraries!
Situated next door to both Arches National Park and Canyonlands National Park, not to mention other gems like Dead Horse Point State Park, visiting Moab is an unforgettable travel experience.
Planning a trip soon and looking for the best Moab activities?
Here's what to do in Moab, Utah!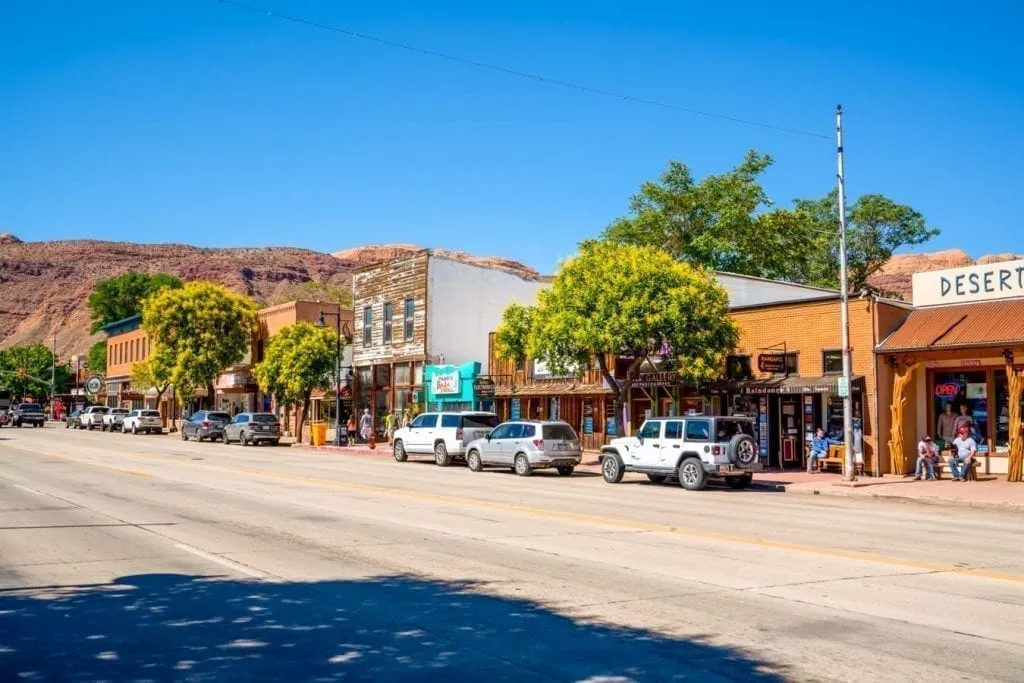 The Best Things to Do in Moab
Hike to Delicate Arch.
Arches National Park is home to 2,000+ sandstone arches, and the rest of the area surrounding Moab is home to many, many more, but none are as iconic as the magnificent Delicate Arch, which has even been featured on the Utah license plates!
Hiking to Delicate Arch is indisputably one of the best things to do in Moab, and at only 3 miles round-trip, the hike can easily be fit into your Moab itinerary.
Not much of a hiker? No worries–there are 2 other viewpoints that you can appreciate the arch from as well, though they don't compare to the experience of standing underneath it!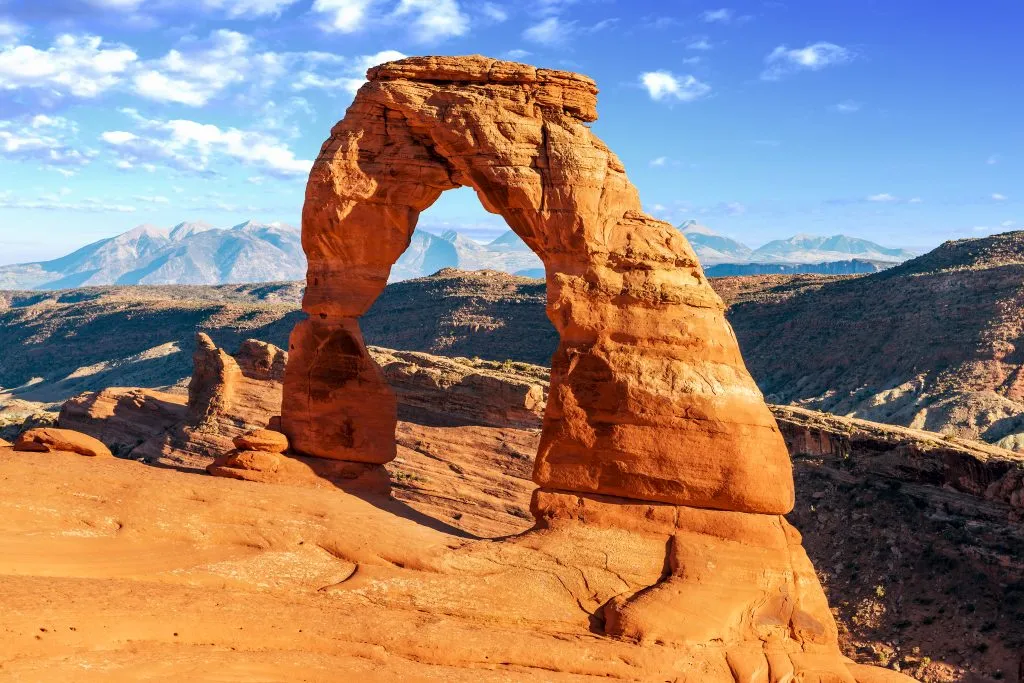 … and explore more arches in Arches National Park.
Of course, your time in Arches NP shouldn't end with Delicate Arch!
For something stunning and easily accessible, check out Double Arch–one of our favorites in the park.
To see a wide variety of the best arches that the park has to offer, hike the incredibe Devils Garden Trail.
For more ideas, check out our guide to the best hikes in Arches NP!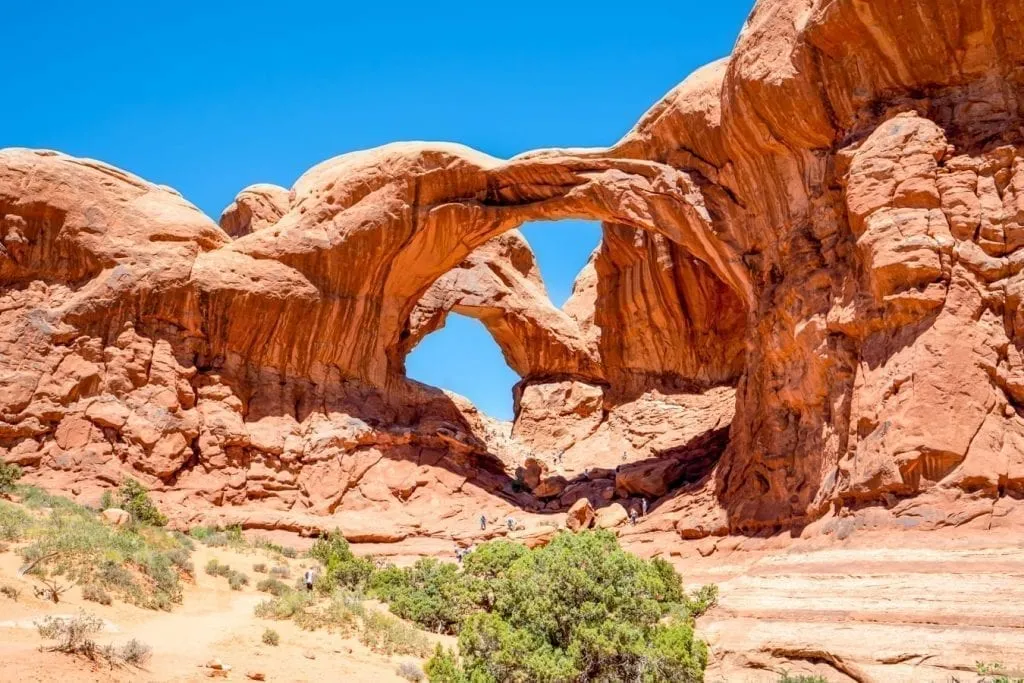 Watch the sunset at Dead Horse Point State Park.
Without a doubt, Dead Horse Point State Park is the most popular place to watch the sunset in Moab–and it deserves the title.
The Dead Horse Point Overlook features a gorgeous view of a bend in the Colorado River, and makes the perfect sunset perch!
The only catch? At $20/car for a 2-day ticket, it's a bit pricey if you only stay for an hour or so.
Consider arriving at the park well before sunset and hiking along one of the Rim Trails to make the most of your ticket. The views are well worth the effort!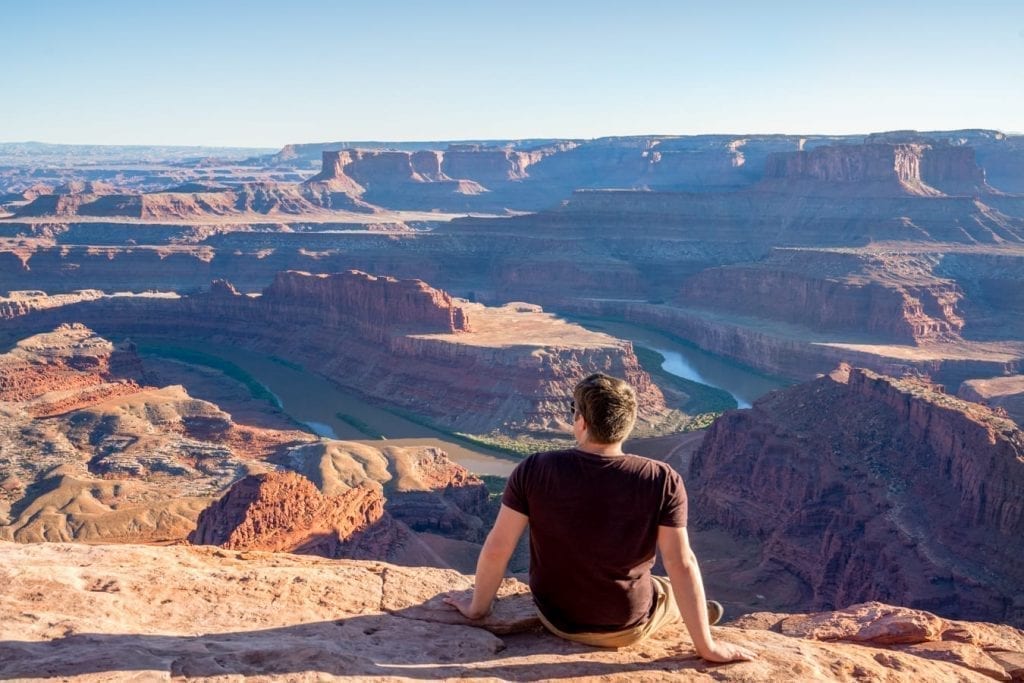 … and watch the sunrise at Mesa Arch.
If Dead Horse Point State Park is Moab's undisputed most popular sunset spot, then Mesa Arch is its opposite: this is the most popular place to watch the sunrise near Moab.
Located in Canyonlands National Park, Mesa Arch is located along an easy 0.7 mile loop trail.
If you choose to set your alarm early to admire the view, you'll undoubtedly be enjoying the view with many photographers and hikers–but the sunrises here are downright magical.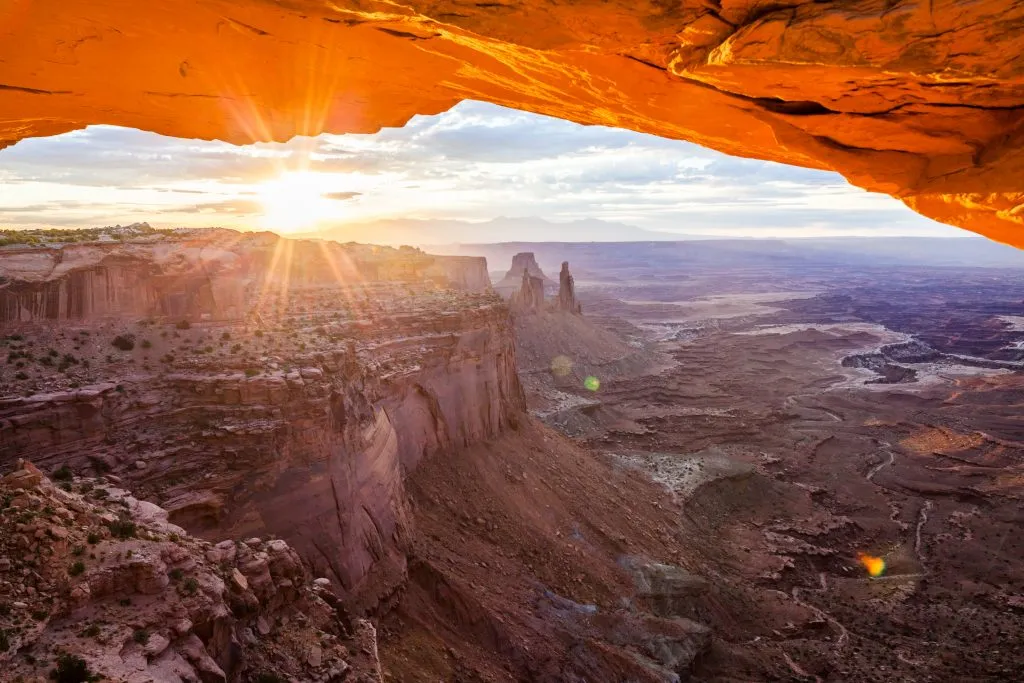 Explore Canyonlands National Park.
Wild, remote, and gigantic are a few words that come to mind when describing Canyonlands National Park: even the drive from Moab to Canyonlands NP constantly reminds you of how isolated the park is.
When you get there, though, it's spectacular to behold. From scenic drives to hikes to viewpoints, visiting Canyonlands National Park is one of the top places to visit in Moab for a very good reason.
The national park is divided into 3 sections: Island in the Sky, the Maze, and the Needles.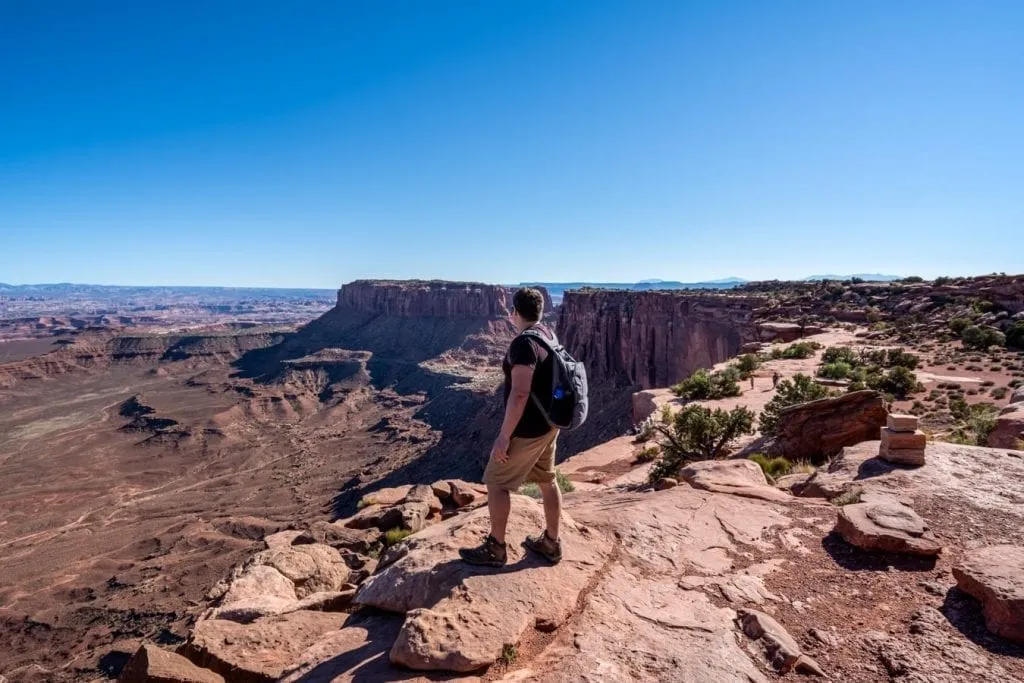 Island in the Sky is by far the most accessible, both in the sense that it is closest to town ("only" a 40-minute drive outside of Moab) and that you can visit without a 4-wheel drive.
If you'd like to visit more remote areas of the park and aren't experienced in remote backcountry explorations, consider booking a tour to help you see the best areas with limited hassle.
Keep in mind that no roads directly connect the park's 3 districts–fully exploring Canyonlands National Park is a project in and of itself!
Moab Travel Tip: If you're simply visiting Island in the Sky as a day trip–the most common way for travelers visiting Moab to explore the park–consider pairing your trip to Canyonlands with your trip to Dead Horse Point State Park, as they are located close to each other.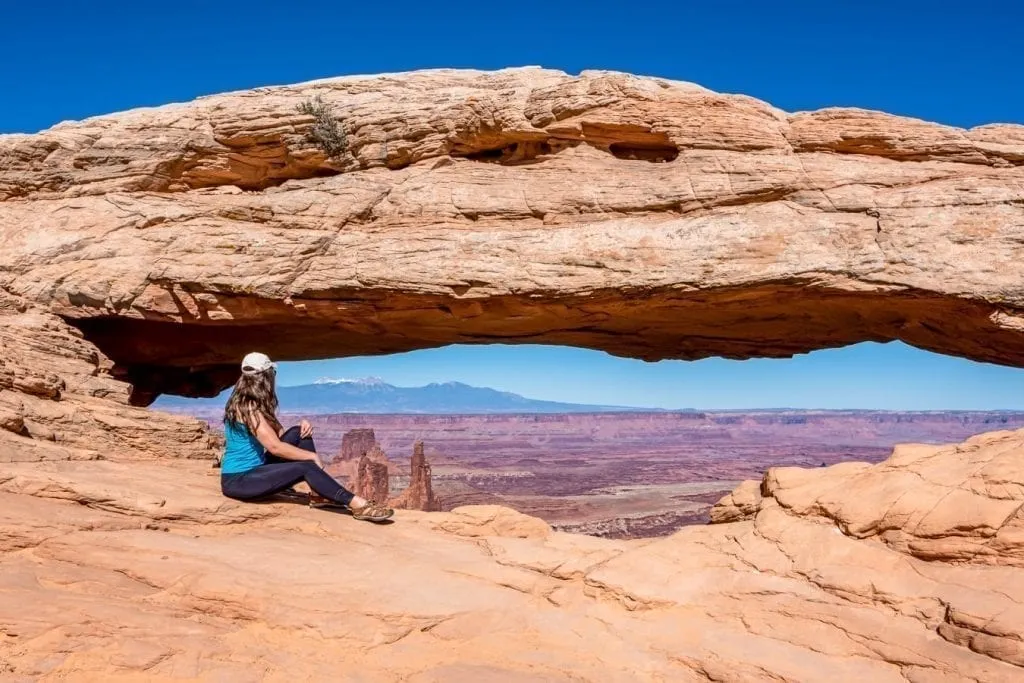 Get beyond the usual sights in Arches and Canyonlands.
Both Arches NP and the Island in the Sky District of Canyonlands NP have tantalizing interesting sights that lurk beyond where typical vehicles can go–and that means those sights have very few crowds.
Want to see these remote spots for yourself without worrying about renting a vehicle or driving? This well-reviewed 4×4 tour will take you there!
Book your 4×4 driving tour of Arches NP and Canyonlands NP today!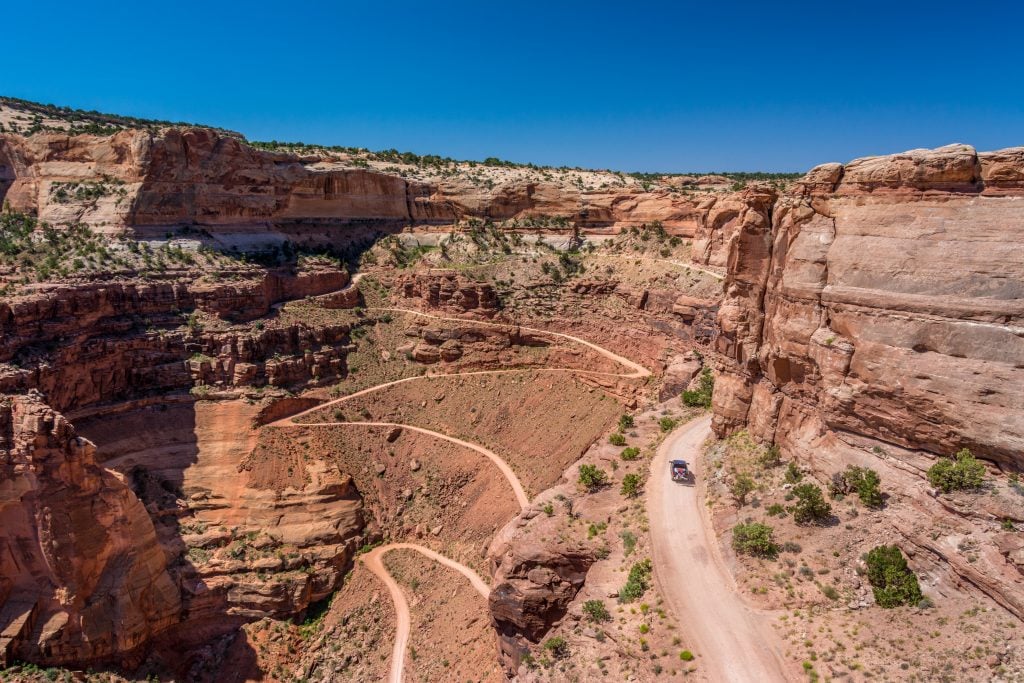 Cool off in Faux Falls.
Faux Falls may be manmade (hence the name), but that's no reason not to appreciate this beautiful waterfall in the desert!
The hike from the Ken's Lake Campground is fairly short, and you can shorten it even further if you happen to have a 4-wheel drive.
In return, the payoff is magnificent: you can walk right up to the falls, and if you like, swim in the small pool below.
… or Mill Creek Falls.
Featuring several small waterfalls and swimming holes along an out-and-back trail that you can complete in under 2 miles, Mill Creek Falls is the perfect place to go hiking in Moab on a hot day–the next place to cool off is always around the corner!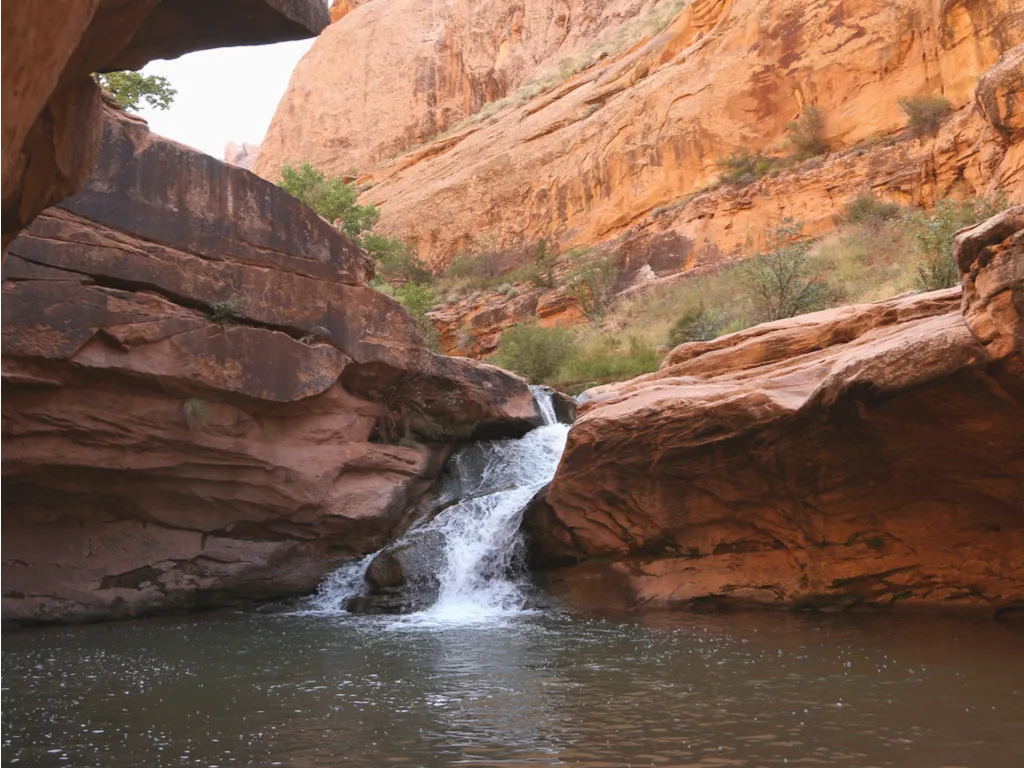 Go off-roading for the day.
Off-roading is one of the top things to do in Moab–the town even hosts a Jeep Week event every year!
Whether you're an expert or a first-timer, Moab has an off-roading adventure to offer.
If you're not familiar with the sport, consider signing up for a tour like this to see what it's all about (and to see just how many epic views are waiting beyond where standard vehicles can reach).
Book your off-roading adventure in Moab today!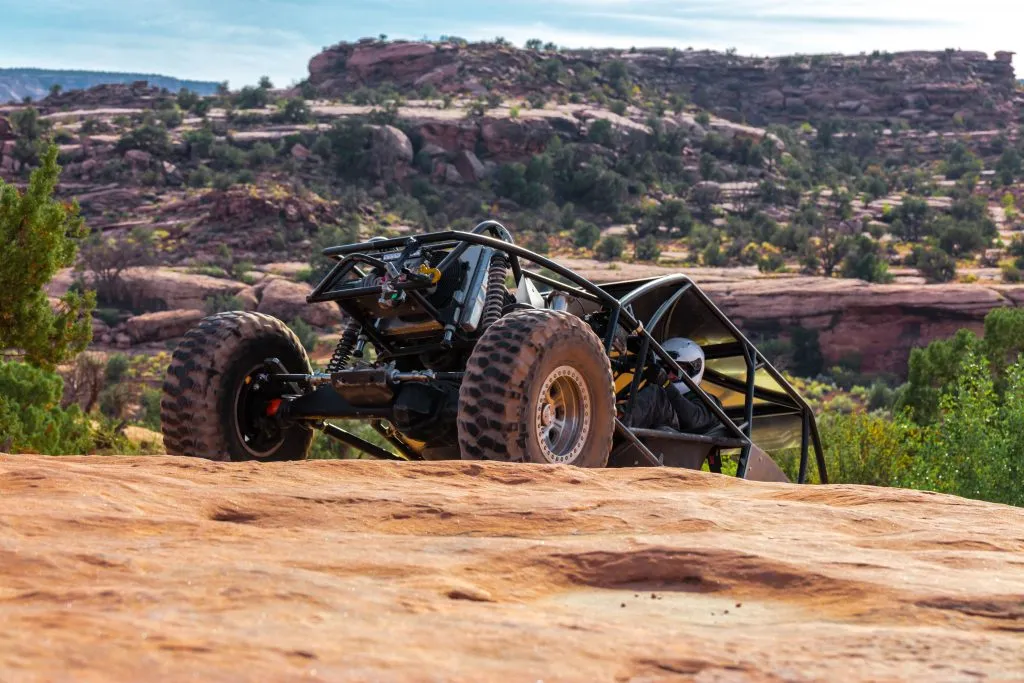 Cruise Moab's scenic drives.
It's no surprise that an area as scenic and remote as the one surrounding Moab is packed with gorgeous short road trips and scenic drive options!
Here are some of the best scenic drives to consider working into your Moab itinerary (excluding the ones inside the national parks, which are also well worth experiencing!).
Potash Road (U-279)
If you hike to Corona Arch, you'll head out of Moab on Potash Road, where the towering canyon walls and beautiful Colorado River will basically ensure that you pull over for a few photo ops along the way!
La Sal Mountains Loop
Heading up into the mesmerizing La Sal Mountains, this drive is beautiful both for its mountain views and for the views of the desert below.
Be sure to check the weather before starting out–it's much colder up in the mountains than in town!
Upper Colorado River Scenic Byway (U-128)
Nicknamed the River Road, you'll find hikes like Grandstaff Canyon, scenic areas like Castle Valley, and even filming locations from Westworld on this scenic drive!
Don't have time to drive much of it? You can get a quick peek of the starting point at Lion's Park!
Dead Horse Point Scenic Byway (U-313)
If you head out to Dead Horse Point State Park for sunset, you'll drive this route automatically–and it's gorgeous!
Hike to Corona Arch.
Located just a 20-minute drive from Moab, Corona Arch is not only magnificent to behold, it's also a hike to an arch that, unlike those in the national parks, you can bring your dog along to!
This free-to-access arch is located along an out-and-back trail that is 3 miles in total.
Consider also detouring to visit Pinto Arch along the way!
We have all the details you need for hiking to Corona Arch here.
Go whitewater rafting.
What better way to experience the Colorado River than with an exciting whitewater rafting trip?
This popular rafting trip is fun for all skill levels, and is a great way to experience one of the most popular activities in Moab!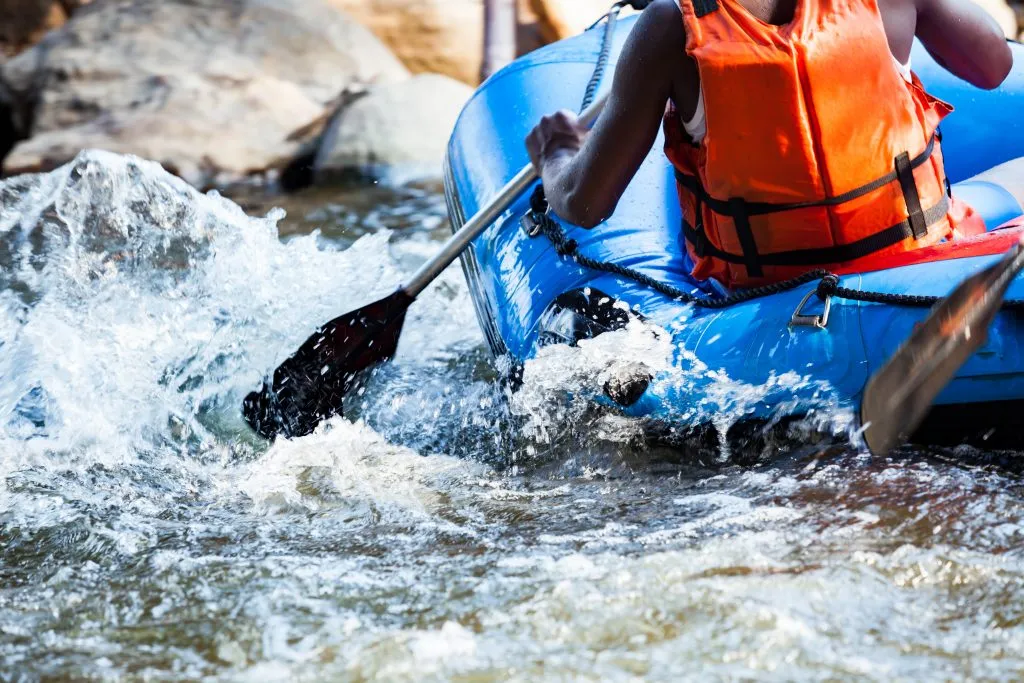 … or enjoy a more leisurely river cruise.
Looking for something a bit more relaxing than exciting, but still want to enjoy beautiful views from the Colorado River?
If so, this sunset cruise is for you!
Book your Moab sunset cruise today!
Pay a visit to Lion's Park.
Located on the edge of town, not far from the entrance to Arches National Park, lies Lion's Park, a free-to-visit, beautiful public park with scenic walking routes and gorgeous views of the Colorado River.
We took Ranger for morning walks here when our hike for the day was going to take us to places that weren't dog-friendly, and we all loved the area.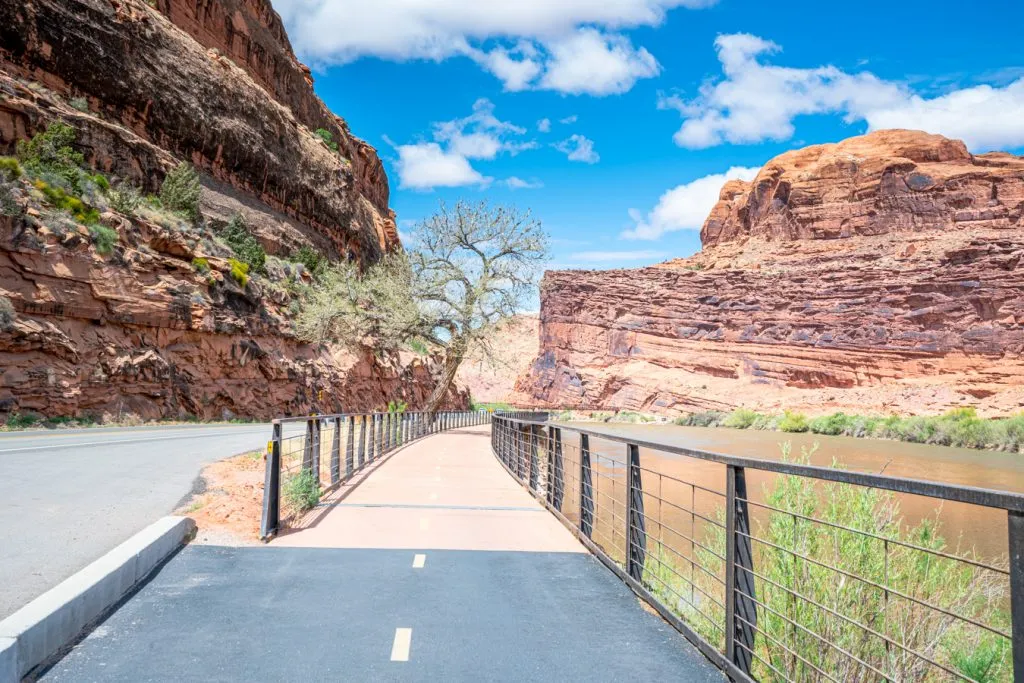 Go ziplining in Moab.
Want to get a birds-eye view of the rocky landscape surrounding Moab?
If so, ziplining is the perfect option!
Explore downtown Moab.
Packed with restaurants, coffee shops, souvenir shops, breweries, and tour companies alike, Moab's small-but-fun downtown center is the perfect place to grab a meal or shop for a souvenir while in town.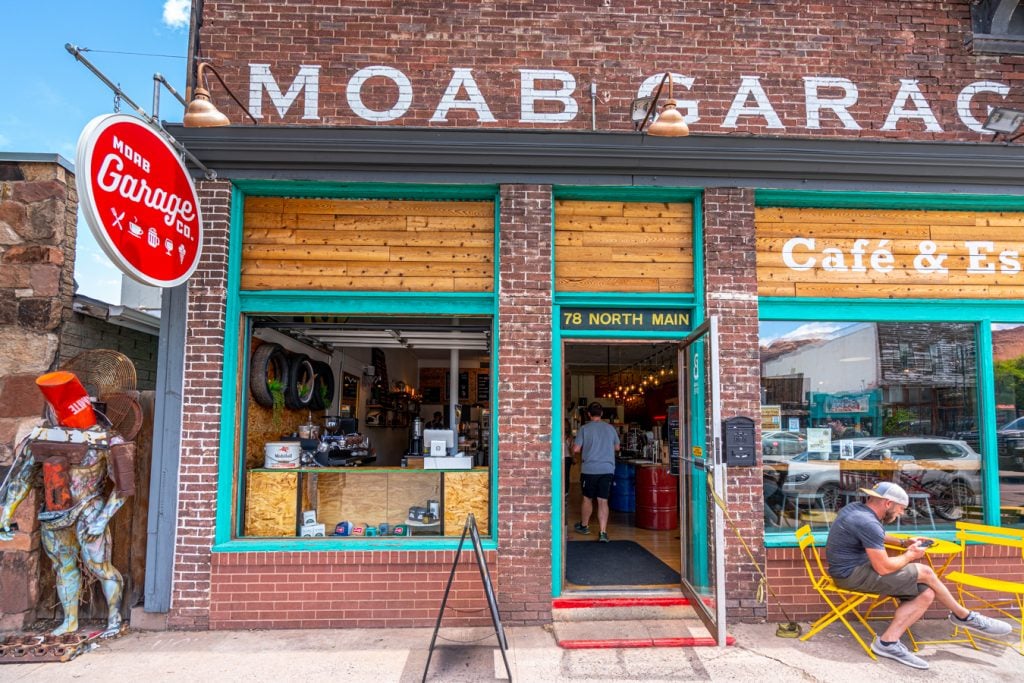 Experience unforgettable views on a scenic flight.
There may be no better way to experience the otherworldly magnificence of the landscape surrounding Moab than to see it from above!
This incredible scenic flight will take you over both Arches National Park and Canyonlands National Park, delivering views you're bound to remember for a lifetime.
Book your scenic flight over Arches and Canyonlands today!
Hike the Fisher Towers trail.
This 5.2-mile, out-and-back trail is an incredibly striking destination–and unlike many of the most popular hikes near Moab, it doesn't feature any arches!
Instead, the Fisher Towers trail features distinct tower-like formations that loom over hikers.
Curious but don't want to commit to a full hike? No worries: this trail is beautiful even if you only complete a portion of it.
Like Corona Arch, Fisher Towers is also dog-friendly!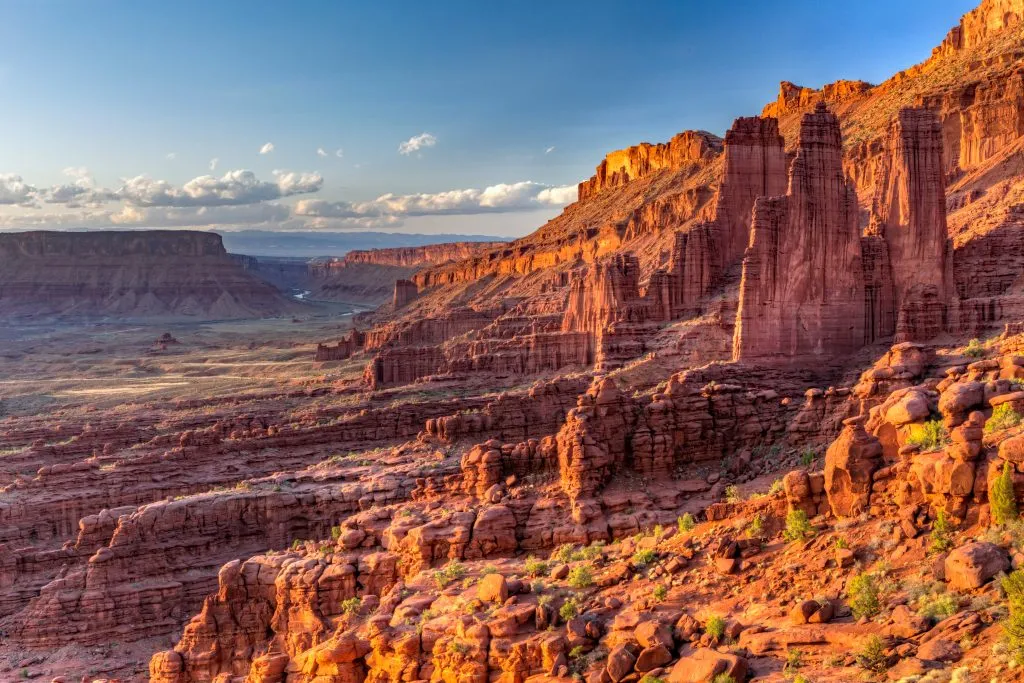 Try your hand at rappelling.
Moab is a popular climbing and rappelling destination, but you don't need to be an expert–or even experienced–to try out one of the top things to do in Moab!
This rappelling tour will take you to hidden corners of the region while giving you an incredibly exciting experience hiking among waterfalls and rappelling down canyon walls.
Book your rappelling tour in Moab today!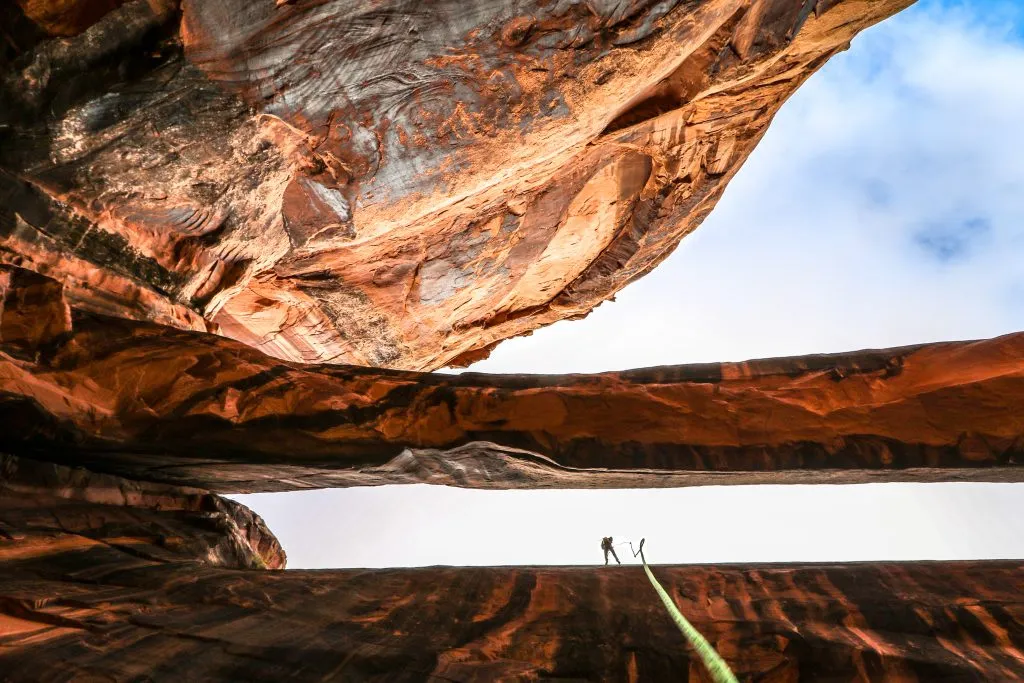 Soak in the views at Wilson Arch.
Located about 30 minutes outside of Moab along US 191-S, Wilson Arch is absolutely gorgeous, and we highly recommend adding it to your list of what to do in Moab… if you happen to pass by on the way in or out of town.
The small loop trail up to Wilson Arch is just over half a mile in total, making this arch less of a hike than a roadside attraction.
That being said, it's a beautiful arch with incredible views and makes an excellent first or last road trip stop when visiting Moab, Utah.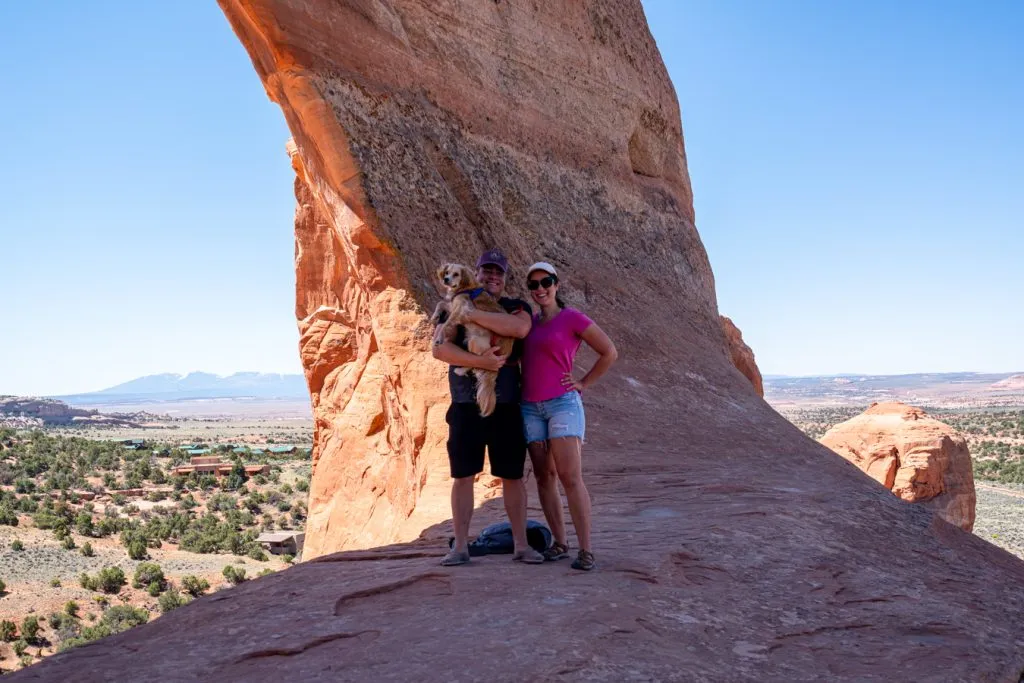 Where to Stay in Moab, Utah
Moab has plenty of hotels and motels to choose from, but fair warning–it's surprisingly pricey for such a casual place, so don't expect to nab a great deal during high season!
Assuming you're not living in a van or RV while road tripping the Southwest, though, you'll need somewhere to stay!
Each of the hotels listed here boasts excellent reviews and a prime location in Moab.
Budget
Red Stone Inn — Centrally located in Moab, the Red Stone Inn feels like a callback to another era of American road trips.
If you're looking for an inexpensive slice of Americana, the Red Stone Inn is a great option–and the swimming pool and laundry services located on-site are a selling point, too.
Check rates & book your stay at the Red Stone Inn!
Mid-range
Comfort Suites Moab — We stayed here during one of our more recent trips to Moab, and couldn't have been happier with the comfortable rooms, exceptional customer service, and great location in Moab.
Luxury
Hyatt Place Moab — Moab isn't exactly a destination that lends itself to luxury, but those looking for some great creature comforts during their trip will find them at the new, swanky Hyatt Place Moab, which is just a few years old!
In addition to its swimming pool, included breakfast, and great rooms, Hyatt Place Moab also boasts an exceptional location on the edge of Moab, just minutes from the entrance to Arches National Park.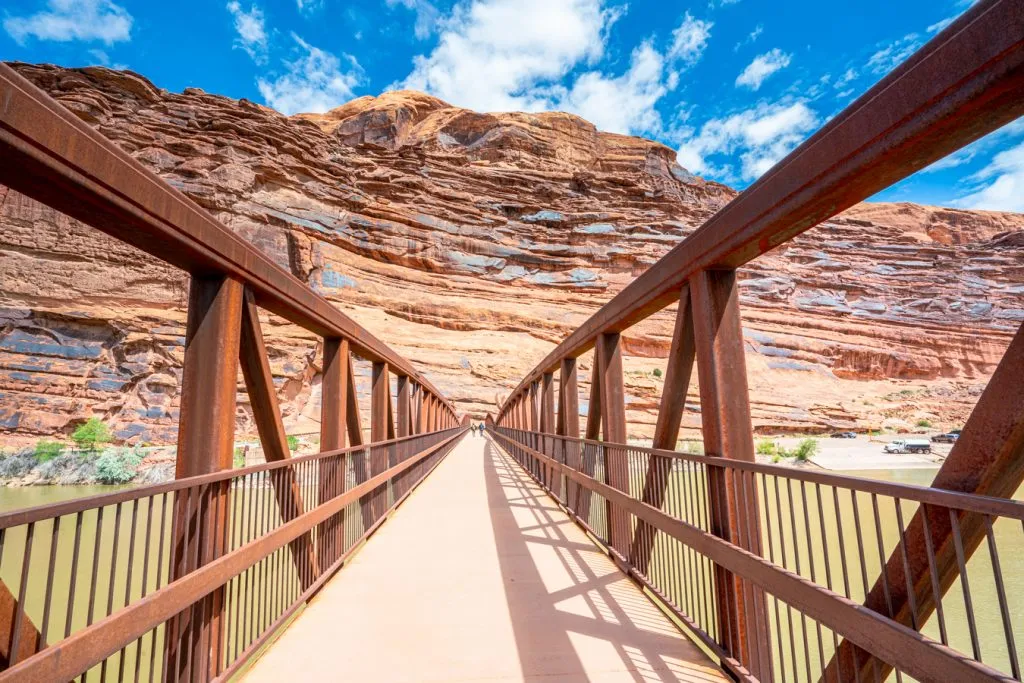 Vacation Rental
My Place Hotel — Need access to a kitchen while exploring the best activities in Moab? Consider the studios at the brand-new My Place Hotel!
We stayed here on our most recent trip to Moab, and loved the kitchen access (though be warned, it's not stocked, so bring your own plates/pans), the view, the extreme cleanliness, and beyond all, the location.
My Place Hotel is located on the edge of town, a short drive from Arches National Park, making it an ideal place to stay for hikers.
It's also pet-friendly, a must for Ranger!
Check rates & book your stay at My Place Hotel!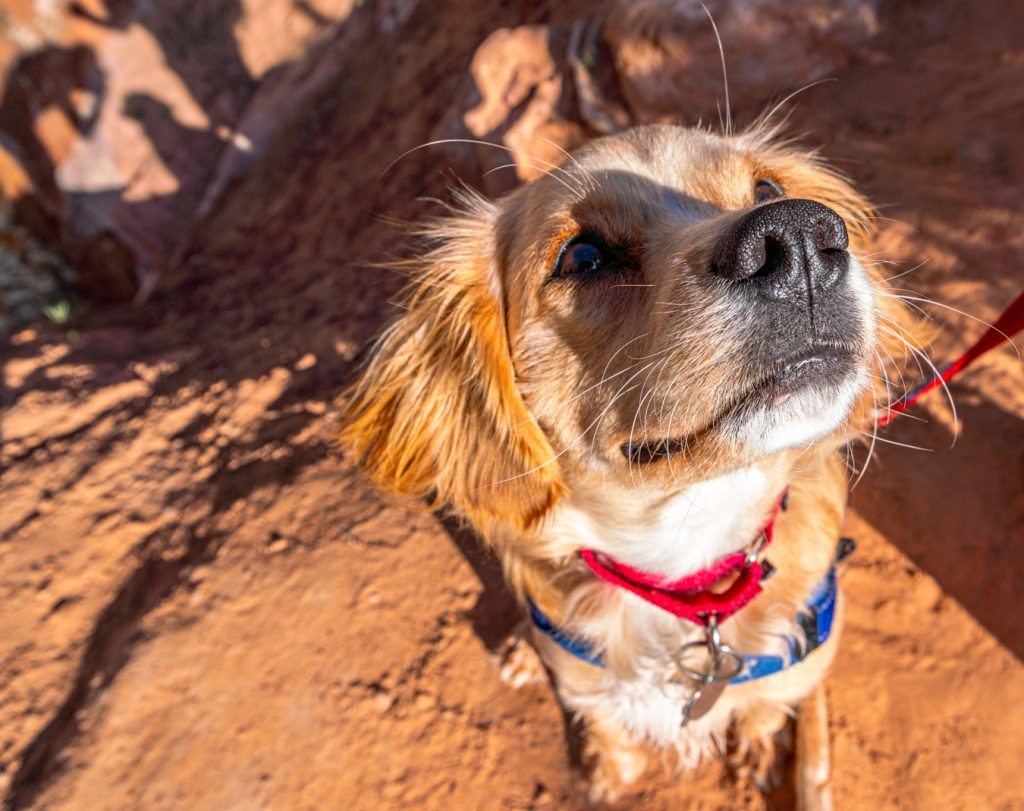 Getting Around Moab, UT
Moab's downtown center is fairly walkable, with more restaurants, souvenir shops, outdoor outfitters, hotels, and tour companies than you could possibly patronize in a single Moab vacation, all reachable on foot.
If you're staying in the center of downtown, you'll likely be able to walk to restaurants and coffee shops throughout your visit, rather than dealing with parking.
Of course, ultimately, Moab is 100% a road trip destination, and you must have a car in order to access its best sights and activities, including everything from the famous national parks to nearby hidden gems.
If you're not planning on driving your own car, we recommend searching for rental cars through Discover Cars, which will sift through dozens of companies to find the best combination of low prices and reasonable rental terms for your road trip.
Browse rental cars for your trip to Moab today!
As for 4-wheel drive? While there are certain things to do in Moab that require one, you can explore the majority of the best Moab activities without one.
If you would like to venture into more adventurous corners, consider renting a Jeep or off-roading vehicle locally for those days, rather than renting one for the entirety of your stay and driving it to Moab.