Positively miniscule and yet utterly delightful, Montefioralle, Chianti may just be the smallest town we've ever visited in Tuscany (which is truly saying something).
Still enclosed in its medieval walls and home to somewhere in the neighborhood of 60-100 people, thoroughly visiting Montefioralle, Italy doesn't take long–but it's well worth the effort.
While Montefioralle's recorded history dates back to 1085, the village is probably much older.
Today, Montefioralle is a fantastic side trip in the Chianti region, whisking you away from the bulk of the wine region's crowds into a quiet and beautiful corner of the country.
Here's what to know about visiting this tiny Tuscan gem, including the best things to do in Montefioralle!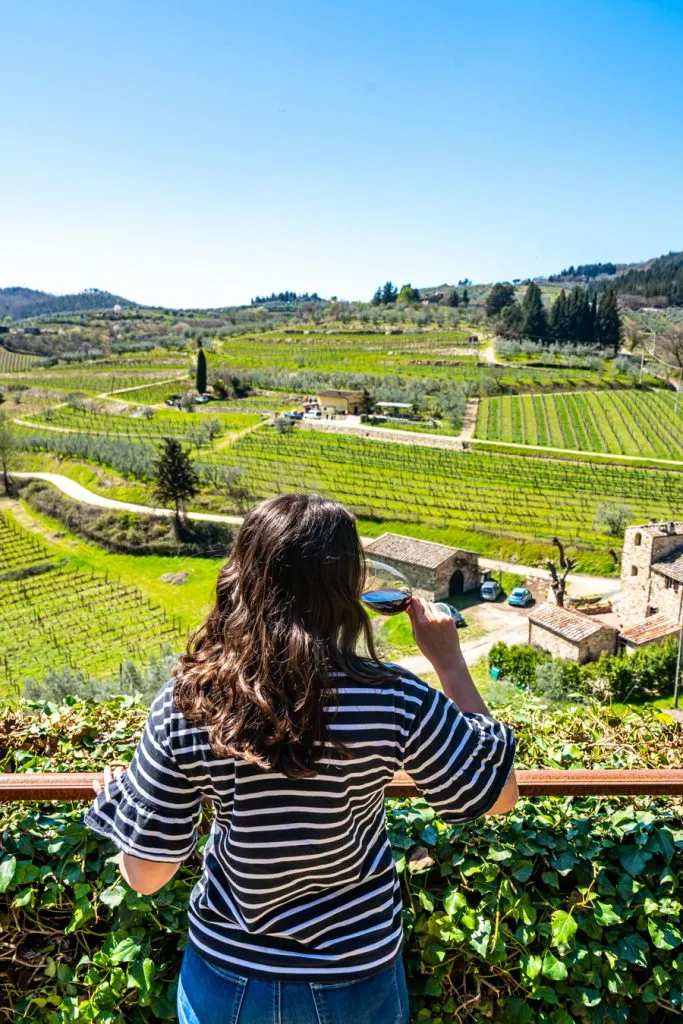 Some links in this post may be affiliate links. If you make a purchase through one of these links, we may earn a small commission at no extra cost to you. Please see our

disclosure policy

for more detail.
Where is Montefioralle, Italy?
Montefioralle lies solidly in Tuscany's legendary Chianti region.
It's about 2.3 kilometers (or a 5-minute drive) west of the famous village of Greve in Chianti, and about 30 kilometers (or a 45-minute drive) south of Florence.
The Best Things to Do in Montefioralle
Given its tiny size, there are very few attractions of note in Montefioralle–but there are a few things you should be sure to do while there!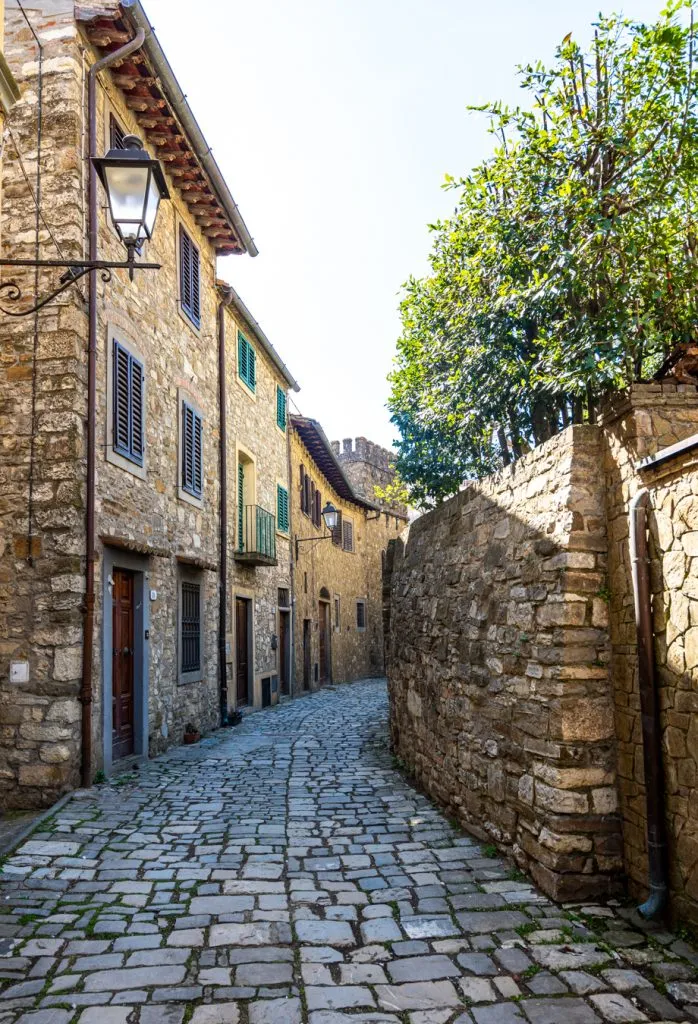 Enjoy a meal with a view.
Montefioralle has exactly 2 restaurants to choose from–but luckily, they both get excellent reviews and feature beautiful views of the Tuscan countryside.
Hours are limited and competition for seating can get fierce during meal times in the high season, so it is recommended to make a reservation if possible.
We absolutely loved our time at Il Guerrino, munching on pasta and sipping Tuscan wine while admiring an absolutely sublime view.
Alberto's (or Tana del Lupo) comes highly recommended as well.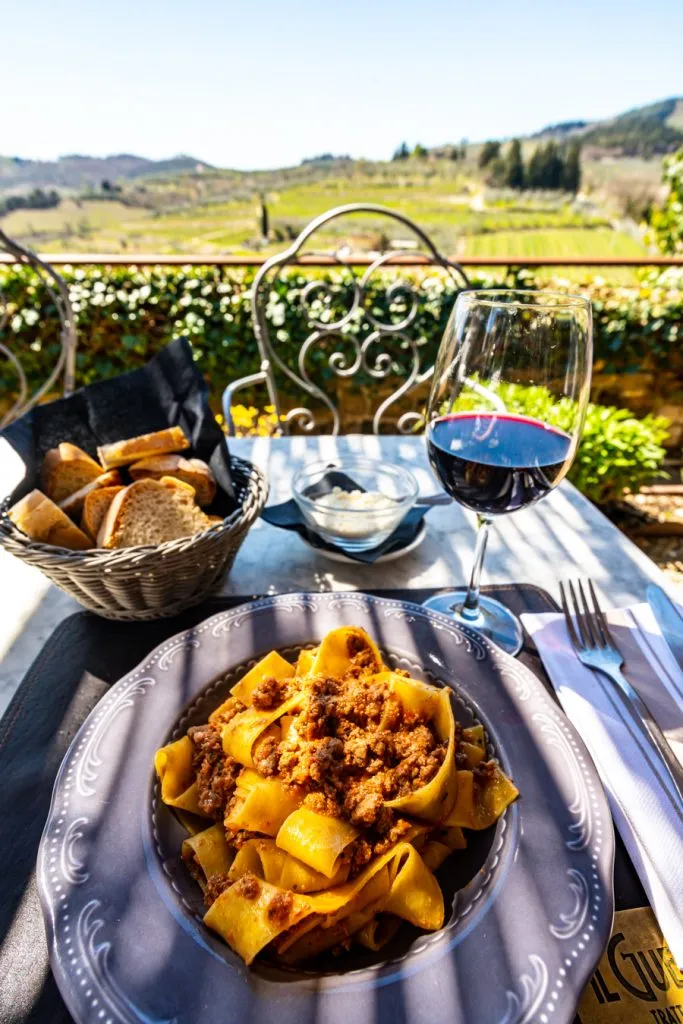 Wander through the fortified town.
The village of Montefioralle as we know it today started as a fortified castle–and it maintains its beautiful walls and many archways along its edge.
Add in gorgeous stone buildings in the typical Tuscan style and wonderful views around nearly every corner, and you have the makings of a delightful place to savor each step.
And, savor them you should: when we walked the full circle around Montefioralle and ended up back at the car park, I was startled to find just how quickly we had made our way through.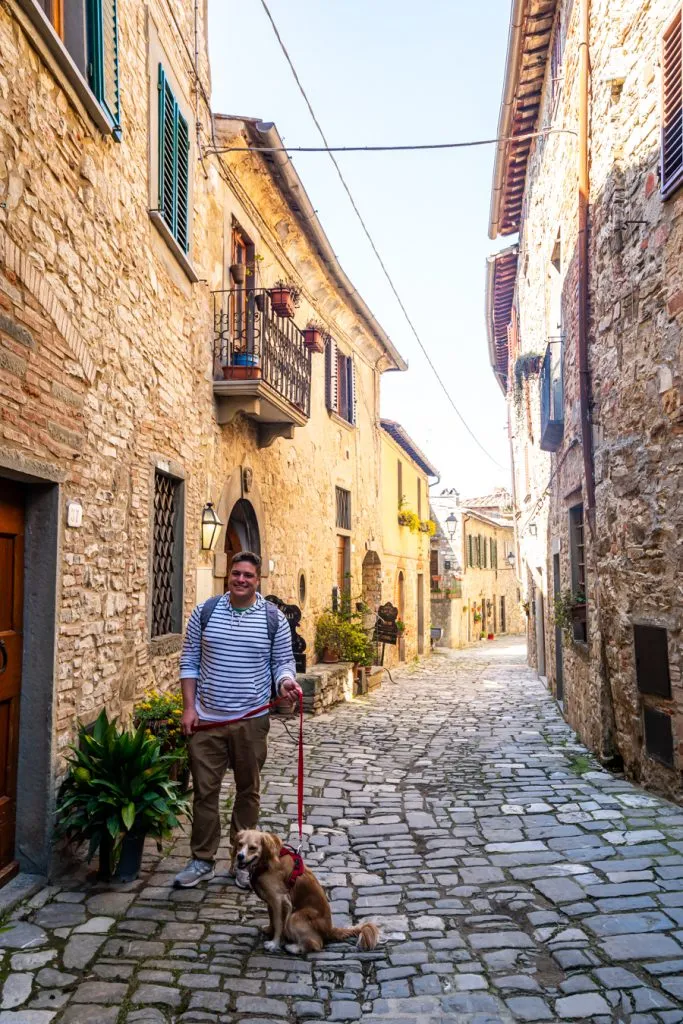 Visit the Church of San Stefano.
You'll need to ascend a staircase to reach Montefioralle's Church of San Stefano, but it's worth the short climb: the views, as to be expected, are wonderful from up here as well.
The church itself has a basic white facade, but it said to have a beautiful interior that was rebuilt in the 17th and 18th centuries.
It was closed when we visited, but we'll simply add that to the list of reasons to re-visit Montefioralle in the future.
Admire spectacular views of Chianti.
No adjective could be a hyperbole when describing the beauty of the Chianti countryside as seen from above on a beautiful day.
Add in an excellent viewpoint in Montefioralle, and you have all the makings of a view that's difficult to tear yourself away from.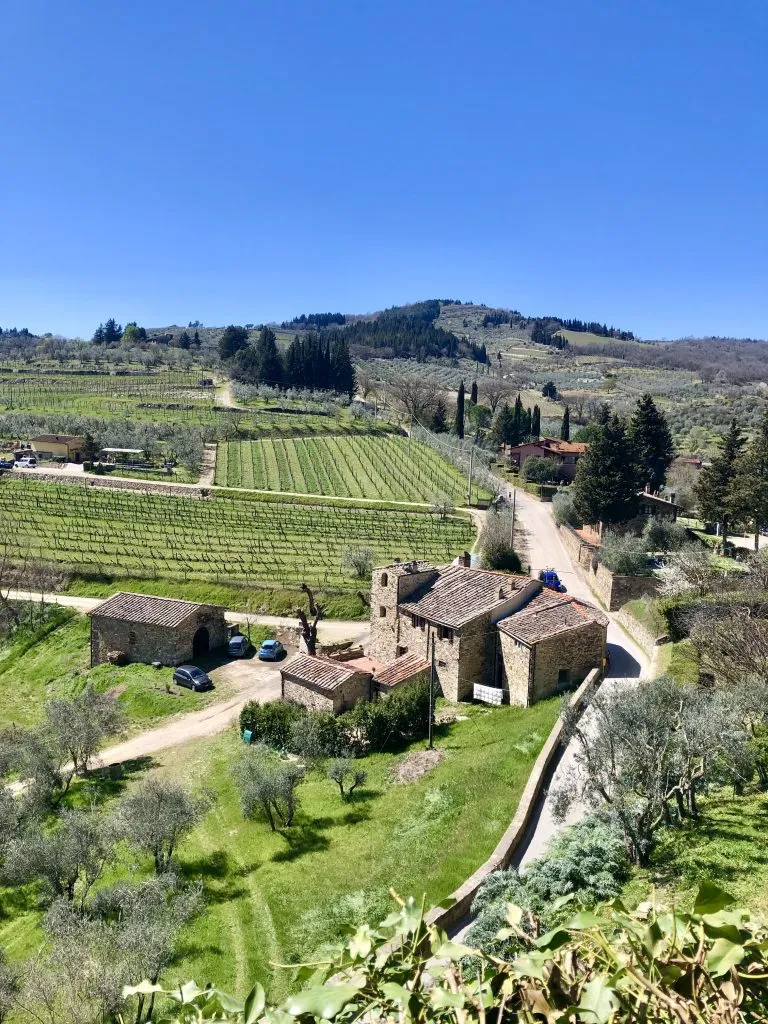 How to Get to Montefioralle in Chianti, Tuscany
There are 3 main options for getting to Montefioralle: drive, join a tour, or navigate the journey by bus and foot.
Here's what know about each option!
Visiting Montefioralle By Car
By far the easiest way to visit Montefioralle is to drive there!
This is how we visited, and I highly recommend it.
Whether you're planning to rent a car for the day to visit a few villages or planning a full Tuscany road trip, if you'd like to drive to Montefioralle, we recommend renting a small car through Discover Cars.
This will allow you to compare prices and inclusions of multiple companies at the same time and choose the best car for you from there.
Parking is available just outside the fortified walls.
Visiting Montefioralle With a Tour
Some tours of the Chianti region include a stop in Montefioralle as well.
Tours generally won't spend too long here, but then again–it is a very small town, and joining a tour also means you will be able to visit nearby wineries without worrying about a designated driver.
This well-reviewed day trip from Florence includes a visit to Montefioralle in its itinerary for exploring the Chianti region!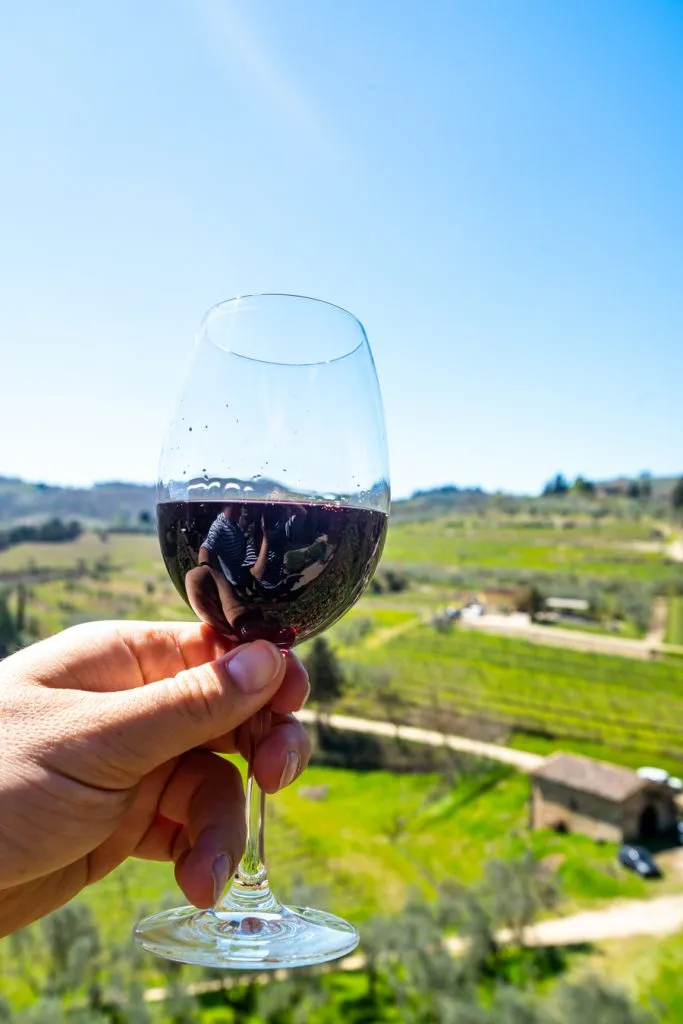 Visiting Montefioralle By Public Transport
To visit Montefioralle by public transportation, you'll first watch to navigate to the village of Greve in Chianti by bus.
From Greve, it is about a 30 minute walk–give or take–up to the village of Montefioralle.
However, it is an uphill walk when heading toward Montefioralle.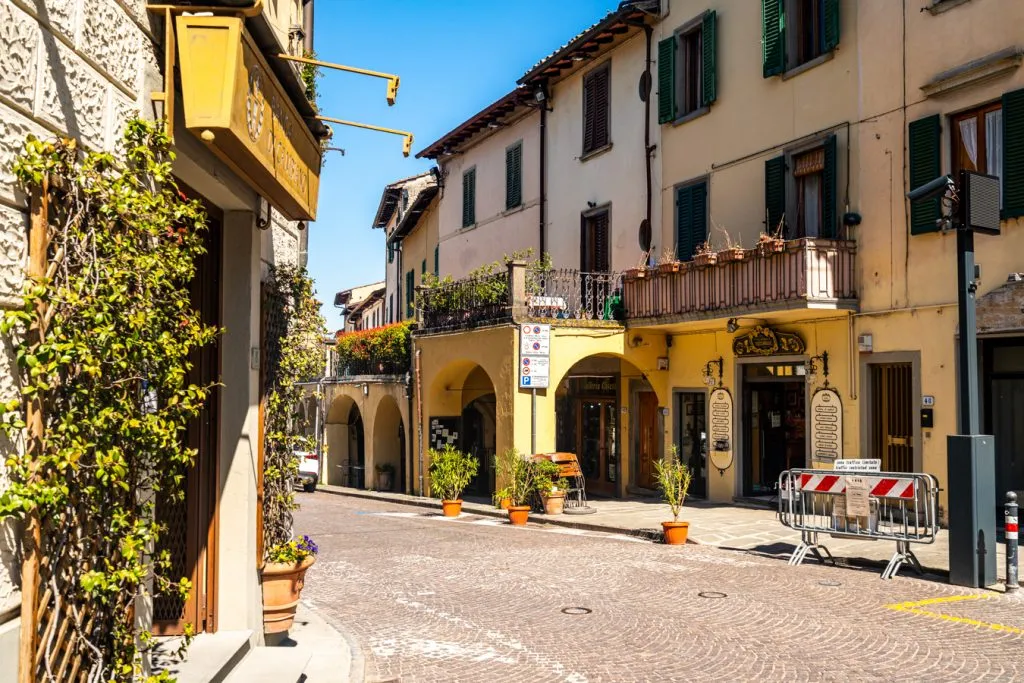 How Long to Spend in Montefioralle
I cannot overstate how small Montefioralle is: this is not a place where you need to worry about being rushed!
With 2-3 hours, you can thoroughly explore all of the best things to do in Montefioralle, including enjoying a leisurely lunch or wine tasting.
Of course, the atmosphere is so delightful that you can certainly settle into a spot with a beautiful view of the countryside and savor the town for even longer.