If you're anything like us, glacier hiking in Iceland ranks near the top of your Iceland bucket list–and after experiencing it firsthand, let me say: it lives up to the hype.
Iceland, in general, is packed with memorable and downright unique travel experiences, from snorkeling between 2 tectonic plates to riding through the countryside on Icelandic horses.
Even with the stiff competition, though, an Iceland glacier hike definitely ranks near the top of our most memorable experiences in Iceland!
From the distinctive crunch of ice under our feet, to the thrill of sipping glacier water directly from the source, to the sad and poignant reminder of our changing Earth illustrated by the long walk to the ice, it's safe to say that we won't be forgetting our Iceland glacier walk anytime soon.
If you're planning a trip to Iceland and are hoping to experience an Iceland glacier hike for yourself, here's what you need to know before you go!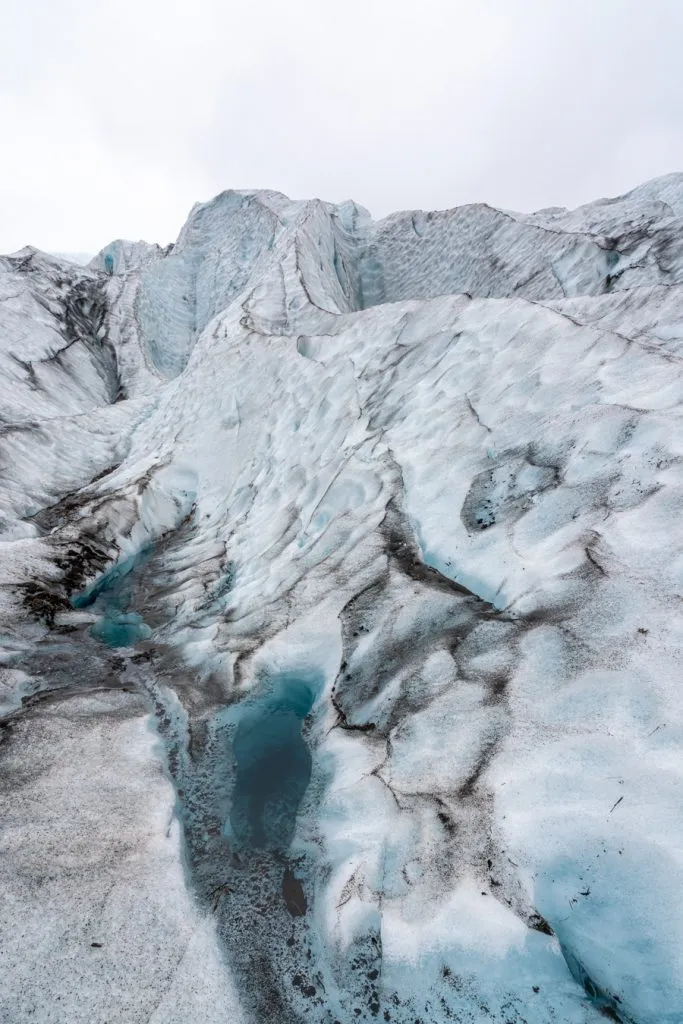 Some links in this post may be affiliate links. If you make a purchase through one of these links, we may earn a small commission at no extra cost to you. Please see our

disclosure policy

for more detail.
What's it like to hike on a glacier in Iceland?
If I needed to sum up our time glacier hiking in Iceland in one sentence, I'd say that it was simultaneously more memorable and much more relaxed than we expected.
The atmosphere of standing on the mighty Vatnajökull Glacier was positively breathtaking, but it was far from physically strenuous.
Our glacier hike (this is the tour we booked–more on that below!) could really be categorized as more of a walk.
"Easy" is in the eye of the beholder, but in our experience, while a glacier walk requires caution, it doesn't necessarily require a particularly elevated heart rate.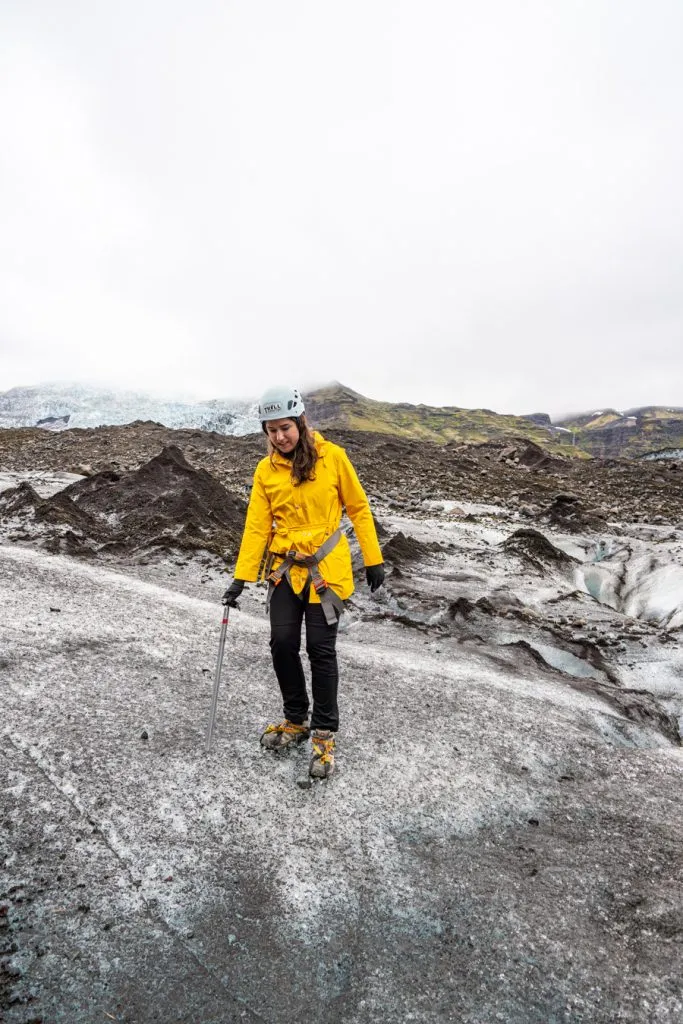 In other words, if you're looking for a workout, a longer tour or an ice climbing experience might be more your speed.
On the other hand, if your goal is to appreciate the majesty of a glacier up close, a glacier hike in Iceland is absolutely right for you.
Unlike our experience snorkeling Silfra, we will almost certainly continue to find ways to get up close and personal with glaciers during our future trips to Iceland!
Personally, touring an ice cave is the #1 reason I'm desperate to return to Iceland in winter.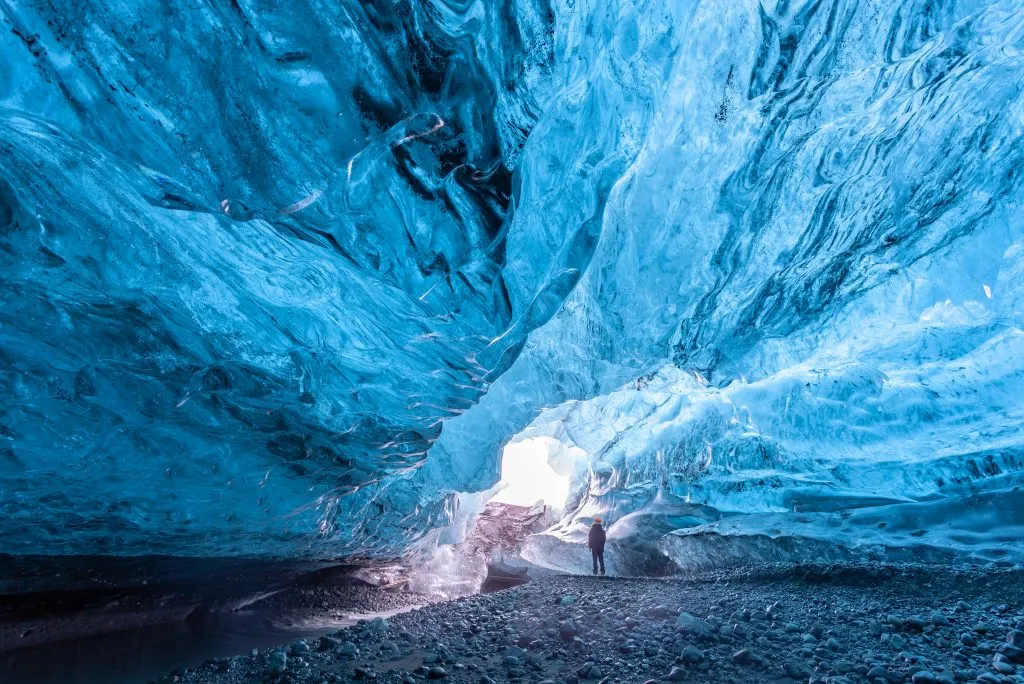 Our Iceland Glacier Tour
We booked this popular glacier hiking tour, which included everything from the necessary safety gear to transport to and from Vatnajökull (from the company's office nearby).
Most importantly, our tour included an excellent, thorough guide who constantly checked on our comfort and safety every step of the way, including providing the most detailed explanation of tying crampons that I can imagine.
From the moment we pulled up to the office to pick up our gear until the moment we said goodbye, we felt completely taken care of.
When it comes to group tours, particularly for unique experiences like walking on a glacier, setting expectations and thorough communication goes a long way, and our tour guide excelled here.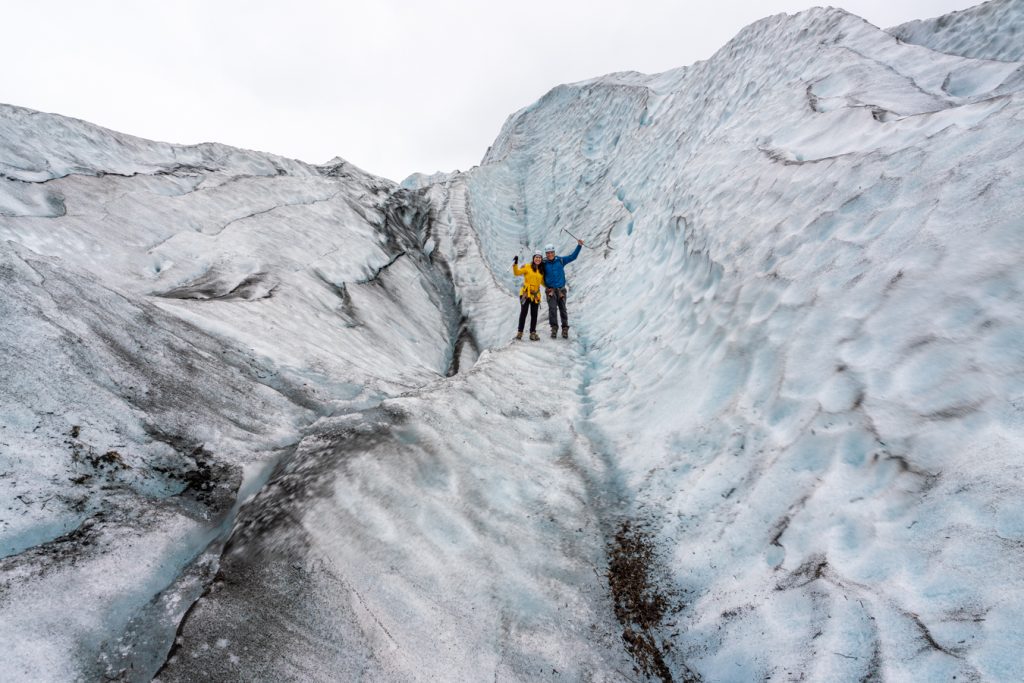 We loved our Iceland glacier tour and would happily recommend it–with one caveat.
Due to time constraints and not knowing how much we would enjoy the experience, we booked a 3-hour tour, which is the most popular option for first-timers.
However, in retrospect, I wish we would have booked the extended 5-hour tour that goes higher up into the glacier instead.
Both are excellent options, but if taking a glacier hike is near the top of your Iceland bucket list, I'd consider opting for the longer tour!
Book your glacier hike in Iceland today!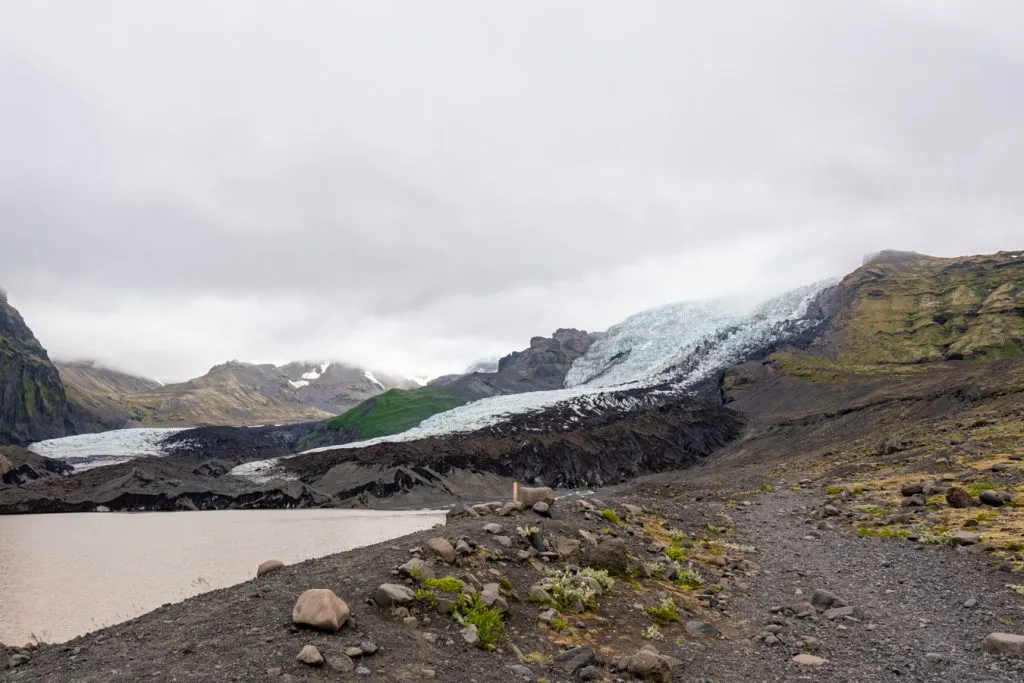 Other Incredible Iceland Glacier Hiking Options
We opted to join a glacier hike on Vatnajökull Glacier, which is one of the most popular places for glacier hiking in Iceland.
Not only is Vatnajökull the largest glacier by volume in Europe, it's also conveniently located right along the Ring Road, close to other famous attractions on the South Coast like the Jökulsárlón Glacier Lagoon and Diamond Beach.
It's a fantastic option, but certainly not the only place for an Iceland glacier hike!
Sólheimajökull, also located in South Iceland and much closer to Reykjavik than Vatnajökull, is also very popular, especially with travelers taking a day trip from Reykjavik.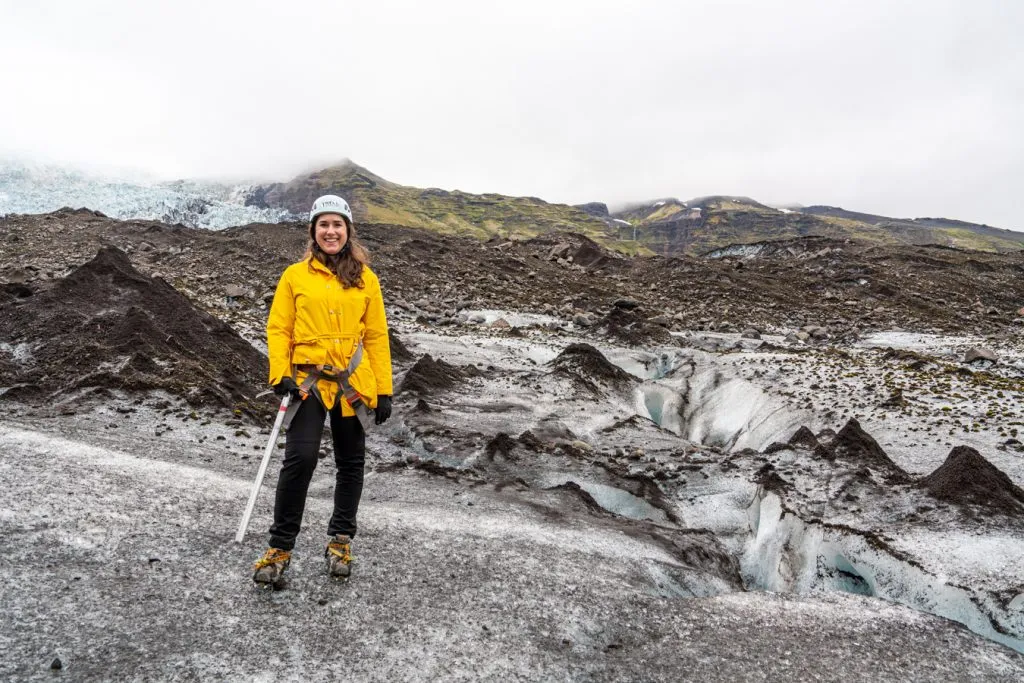 However, Vatnajökull is much larger, has more available places to hike, and those facts combined with its larger distance from Reykjavik mean that it is typically perceived to be less crowded than Sólheimajökull.
During our glacier hike on Vatnajökull, we could see the other occasional tour group in the distance, but we were rarely close enough to hear them, and very much felt like we were (semi) isolated amongst nature.
This glacier hiking blog post focuses primarily on Vatnajökull, as it's where we visited, but we understand that you can expect a similar experience in many ways if you book a glacier hike on Sólheimajökull.
Prefer to give Sólheimajökull a try instead?

This top-rated glacier hiking tour is a great option similar in structure to our experience.

This popular glacier hike from Reykjavik is perfect if you want to enjoy a glacier while basesd in the capital city!
Important Tips for Glacier Hiking in Iceland
Be prepared to spend a large chunk of your tour time getting ready.
Between choosing gear like a helmet and ice pick, fitting and putting on a harness, and learning how to carefully put on crampons step-by-step, it's safe to say that a large portion of your tour time will undoubtedly be eaten up by preparations.
And, all of that getting ready doesn't account for driving to the glacier, or then hiking from the parking lot to the glacier itself–a walk that, sadly, gets a bit longer each year due to the effects of climate change.
All in, I would estimate that we spent about half of our 3-hour tour time on the glacier itself.
While it makes perfect sense and is a necessary part of a safe experience, the amount of time and work that goes into getting a tour group ready to actually set foot on the ice definitely eats into your time on the glacier!
After seeing how much we loved being on the glacier, I wish we would have opted for the 5-hour glacier hike instead.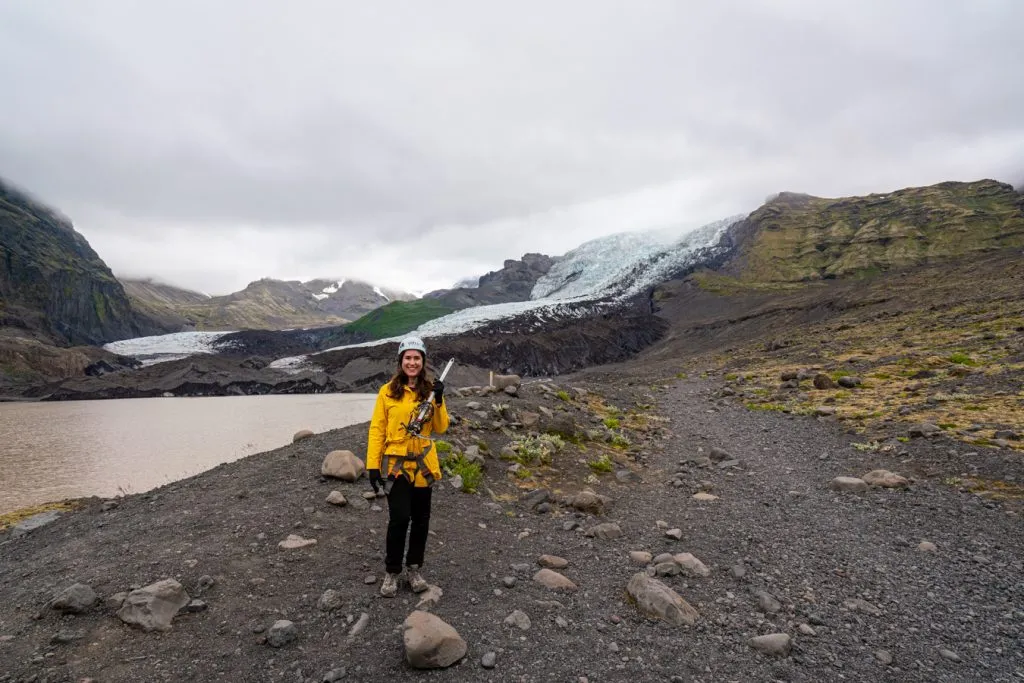 Book your Iceland glacier hiking tour in advance.
As one of the most popular things to do in Iceland, glacier hikes book up fast–especially in the popular summer season.
We highly recommend booking your glacier tour as far in advance as you can if you're traveling during high season!
Book your glacier hike in Iceland today!
Expect a long walk to the glacier.
Once you arrive to start your hike, you'll still have quite the walk to get to the glacier, including over a river on a narrow bridge.
Sadly, the walk gets longer every year as Iceland's glaciers recede.
While you'll put your harness on before starting the hike, your guide will direct you through putting on your crampons once you actually reach the ice.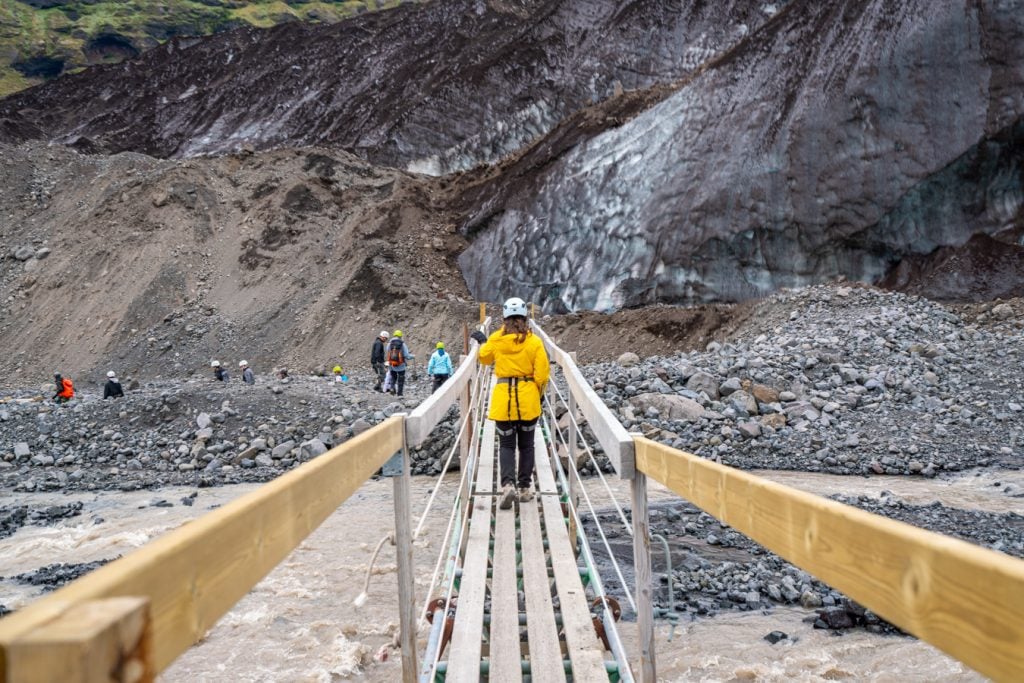 Keep the (lack of) bathroom access in mind.
For obvious reasons, once you're strapped into your harness and driven to the glacier, you won't have additional opportunities to go to the restroom.
As everyone picked up their gear at the office, our guides were emphatic about repeatedly asking guests if they needed to use the toilet one more time.
I can only assume this is because many travelers have had regrets on the ice, so heed their warning!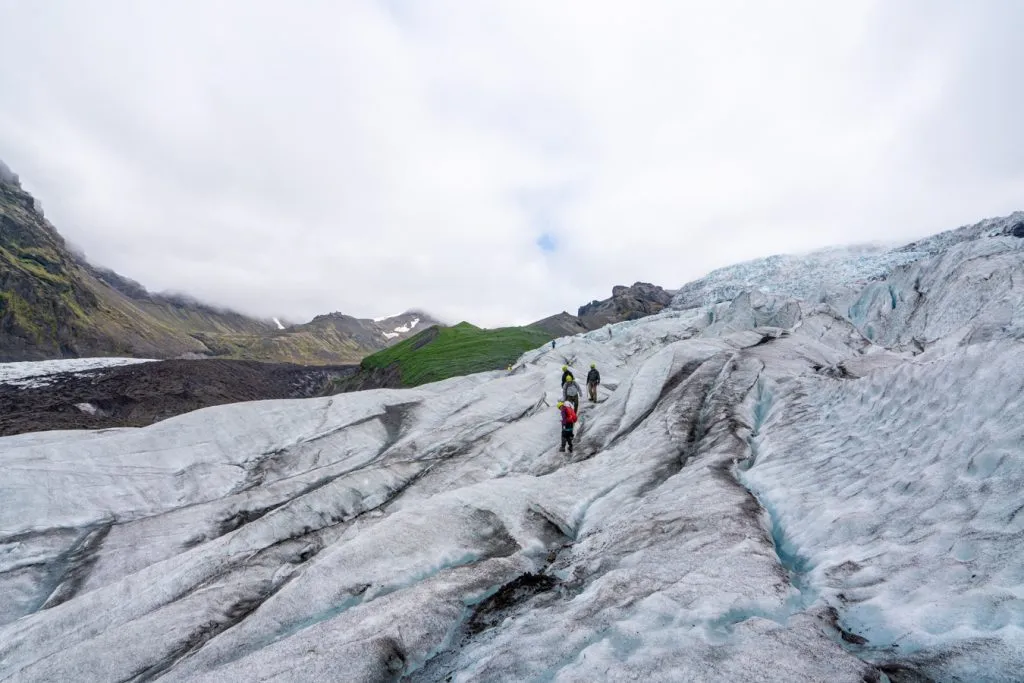 Speak up as you're selecting your gear.
When gearing up–literally–for your Iceland glacier tour, you'll choose crampons, a harness, an ice pick, and a helmet from the supplies at the company's office before hopping in a van to ride over to the glacier.
While you won't put the crampons on until you're on the ice (and they're based on shoe size, so fairly simple to pick), be sure to try on your harness and helmet before leaving.
Make sure that they're 100% comfortable, and don't hesitate to speak up if they're not!
Once you leave the office and head to the glacier, it's too late to change gear.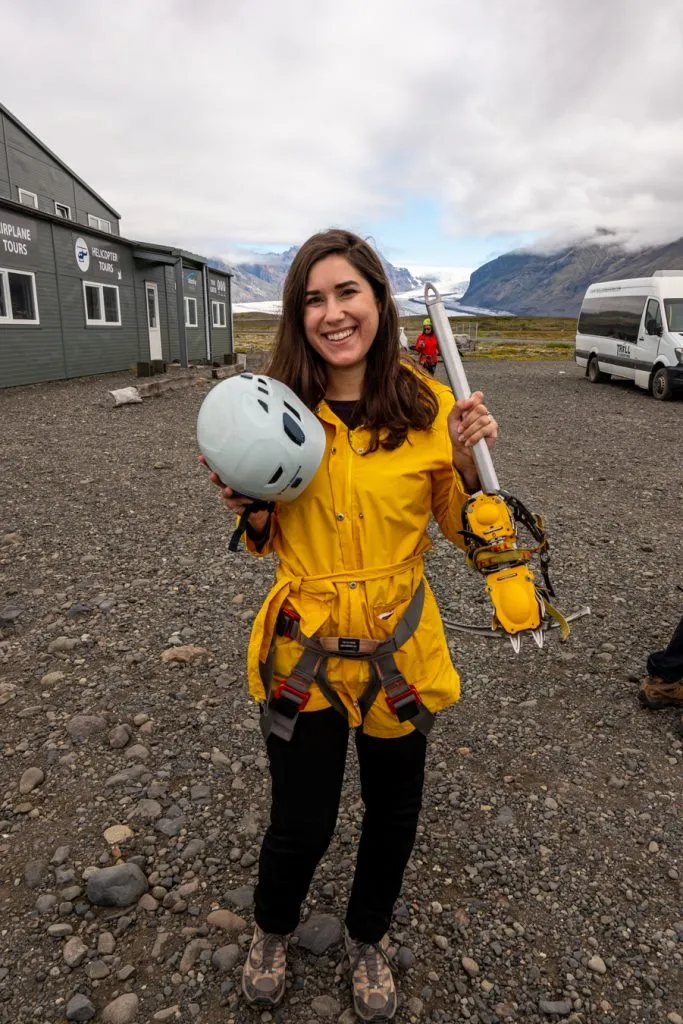 FAQ About Iceland Glacier Hikes
Can you take a day trip from Reykjavik to hike on a glacier in Iceland?
Yes, absolutely–in fact, a glacier hike is one of the most popular day trips from Reykjavik!
However, hiking on Vatnajökull like we did would require a 4+ hour drive each way, so it's not the best option.
Sólheimajökull Glacier is a much more reasonable 2.5 hours from Reykjavik, and the most popular glacier hiking day trip destination from the capital.
What do you need to bring to an Iceland glacier hike?
Other than appropriate clothes (hiking boots, waterproof pants, etc.) and water, it's best to bring as little as possible!
Anything that you can't or don't want to carry for your whole hike will be left in the transport vans, so it's best not to have much with you.
You can carry a backpack on the hike if you wish–Jeremy wore one to carry our camera and water.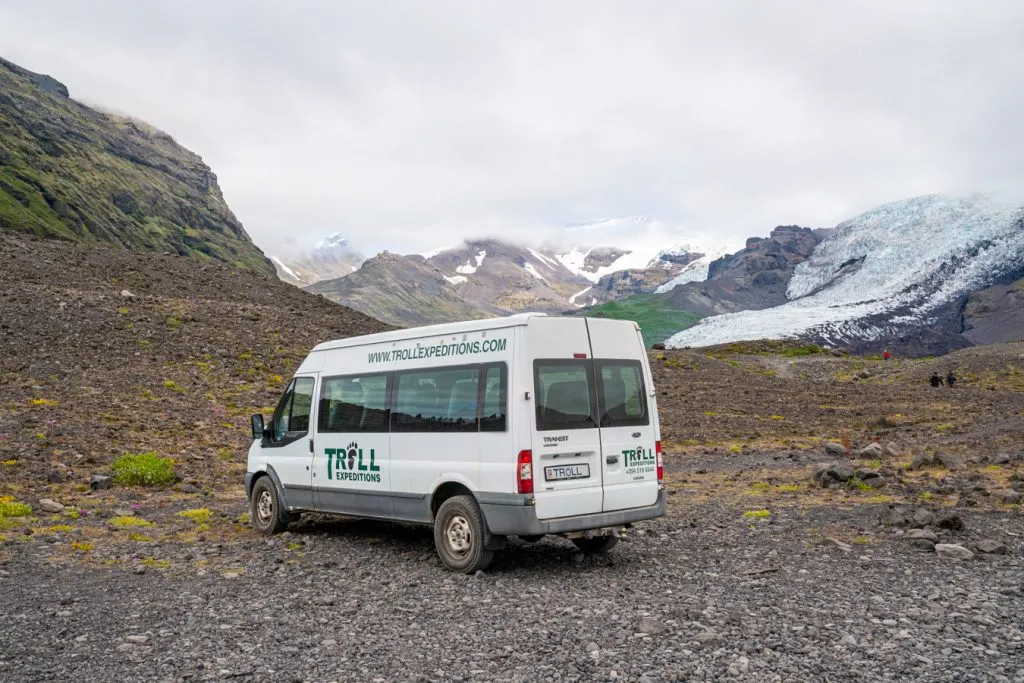 Is ice climbing and/or an ice cave tour part of glacier hiking?
It can be, but not always!
Standard Iceland glacier tours like the popular one we took (and the longer version of the same tour) don't include ice climbing or an ice cave.
However, the vast majority of ice climbing and/or ice cave tours include a glacier hike.
Ice climbing is offered year-round, this popular tour is offered by the same company we hiked with and is one of the best out there.
Touring the ice caves is only offered in the winter, but if you're headed to Iceland then, this is an amazing option (and it's the tour I plan to sign up for when we visit Iceland in winter).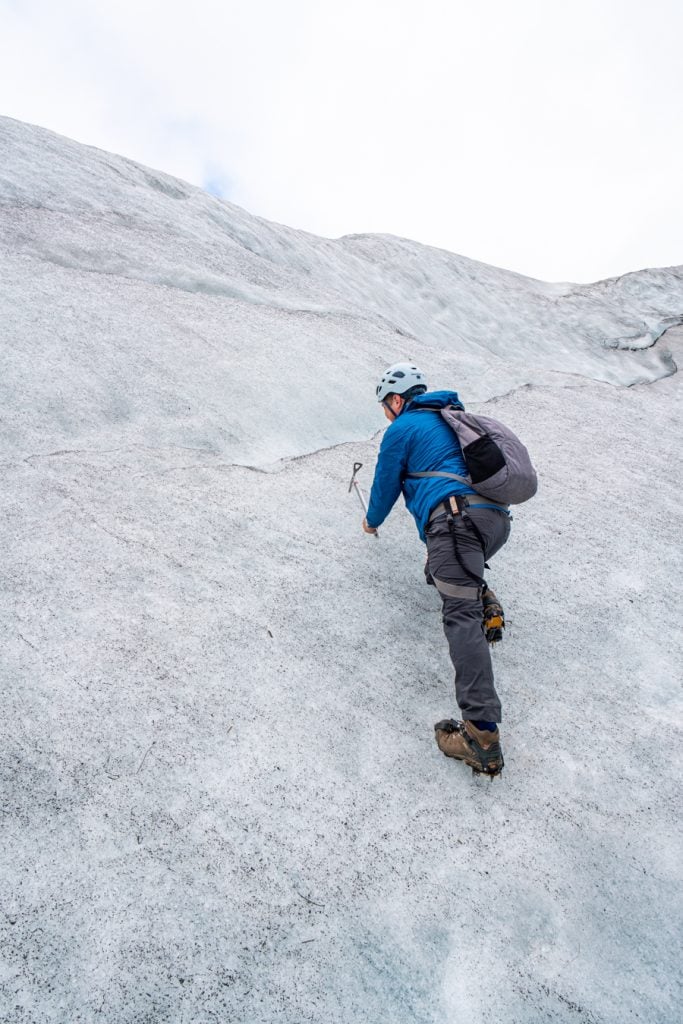 Can you take an Iceland glacier tour year-round?
Yes, absolutely!
We took our Iceland glacier tour during the summer, as part of our Ring Road trip.
However, winter is arguably an even better time to hike on a glacier in Iceland, as the magnificent ice caves are only open from November through March for safety reasons.
Personally, the #1 reason I want to return to Iceland is to get to visit those caves during winter!
Regardless of what time of year you visit, a glacier experience is a fantastic addition to your Iceland itinerary.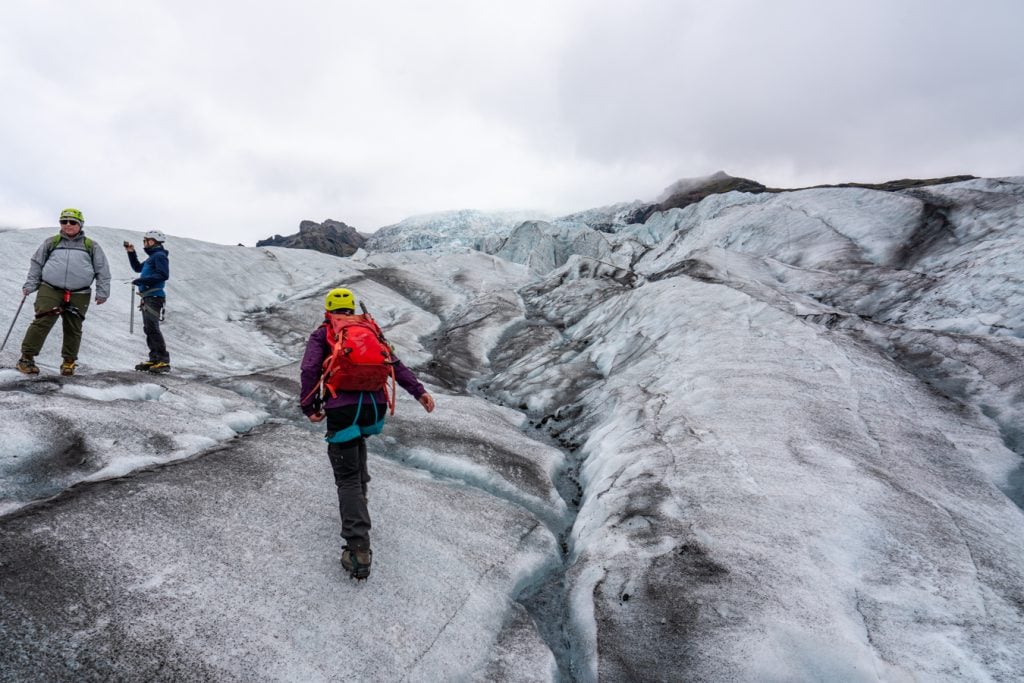 How long does it take to go glacier hiking in Iceland?
That depends entirely on which glacier tour you signed up for!
We signed up for the most popular tour length, which lasts for 3 hours including preparation and time on the glacier.
It was a blast, and we're glad we experienced it, but when we return, we'll probably opt for a 5-hour tour like this in order to get to spend more time on the ice and head further across the glacier.
Specialty tours, like those that include ice climbing, can last even longer.
And, of course, if you're taking a day trip from Reykjavik, you'll need to account for transportation time as well.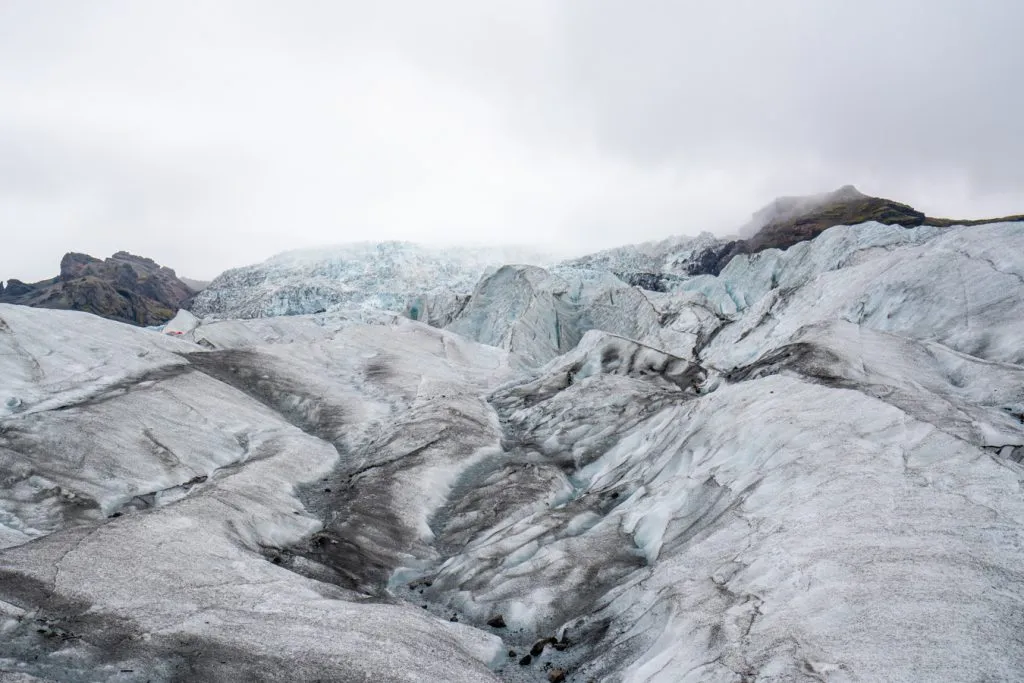 Is it hard to walk on a glacier?
Not particularly, no–not when you're wearing crampons, at least!
We–along with everyone else in our group–tended toward moving slowly and stepping gingerly while on the glacier, but it was actually much easier than we expected.
In terms of caution, you'll of course want to be careful attention to each step.
While it's not hard to walk on a glacier, it can certainly be dangerous if done without proper precautions.
But, in terms of actual physical strain, walking on a glacier required less exertion than walking across a particularly sandy beach.
Can you bring a camera/take photos during an Iceland glacier tour?
Yes, as long as you're comfortable carrying it!
It's not particularly difficult or hike on a glacier in Iceland, but of course, you'll need to watch your step–it's not exactly walking over flat, dry ground, either.
Most people in our group had at least a phone with them to document the experience.
We personally chose to bring both our camera and my iPhone along with us on our Iceland glacier hike, and are thrilled to have the resulting photos and videos.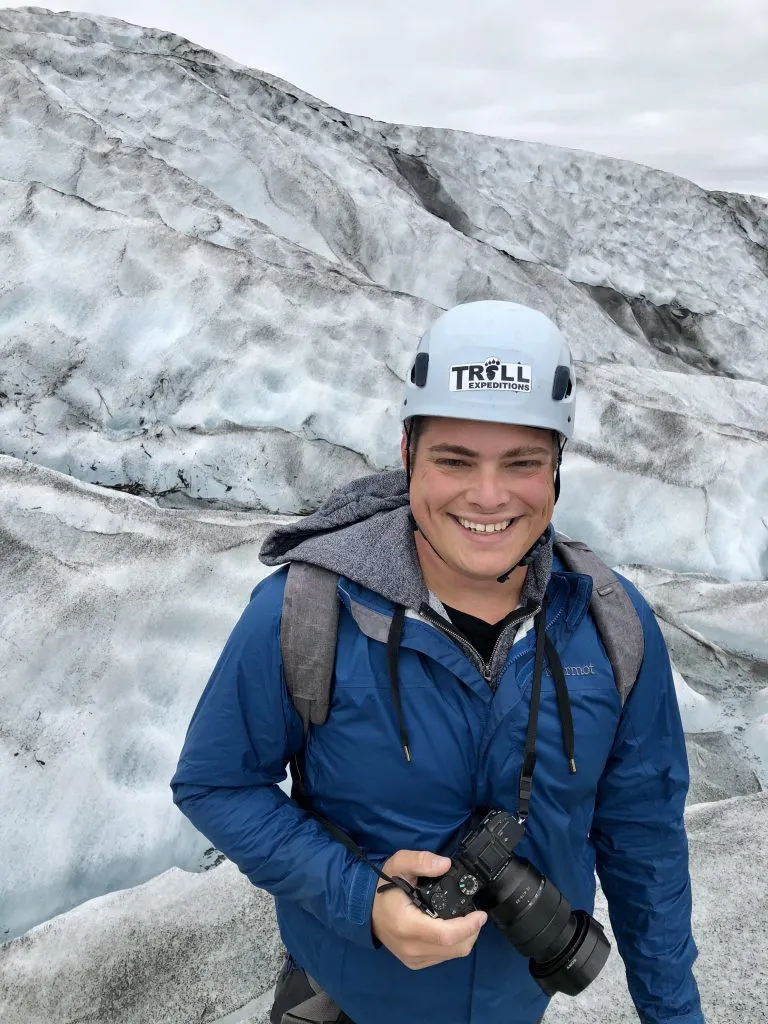 What to Wear on a Glacier Hike in Iceland
When deciding what to wear for your Iceland glacier hike, the most important things to keep in mind are the same as any other day in Iceland: staying warm, and staying dry.
Good hiking boots are highly recommended.
You definitely want sturdy shoes that can easily have crampons attached to them.
Waterproof pants are also often recommended–our glacier hike happened to take place on a warm and dry day, so we may not have really needed them, but I also never say no to wearing fleece-lined anything.
I wore these hiking pants; Jeremy wore these.
A waterproof outer layer is also suggested, along with warm inner layers.
I've had my yellow rain jacket for years and can no longer find it for sale, but this one is highly rated and very similar.
Jeremy wore this one and loved it, it's still in his wardrobe for future trips.
Keep the harness in mind as you choose your pants and jacket: my longer jacket worked with the harness, but something cut higher would have been slightly more comfortable.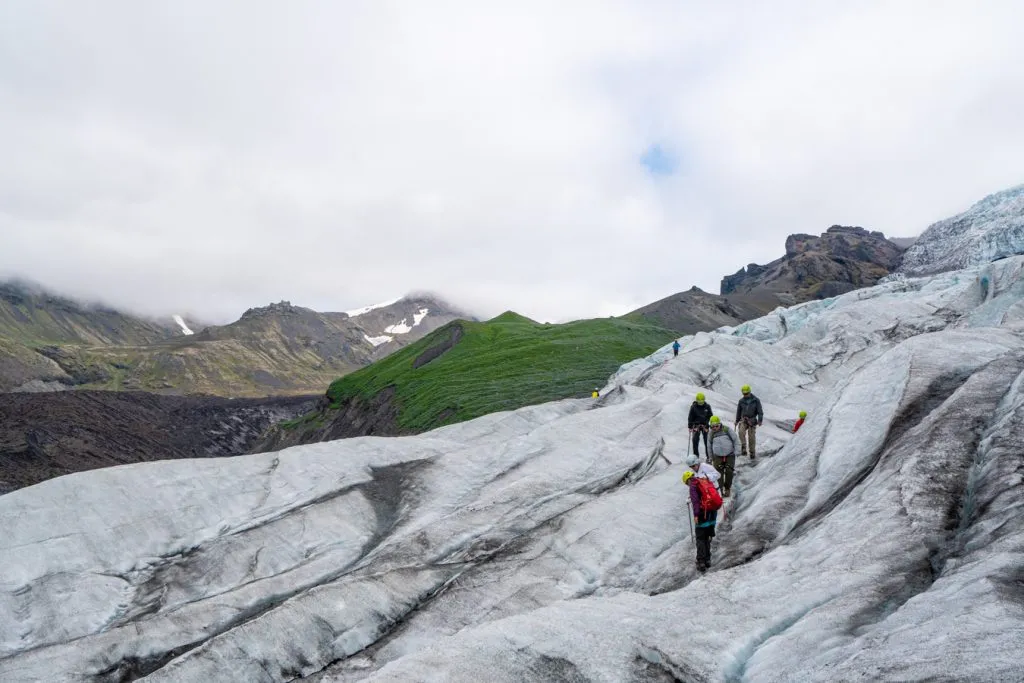 It wasn't a big deal, but it's something to keep in mind as you plan.
Waterproof gloves are frequently recommended, too.
I get cold easily and wore mine most of our hike, but Jeremy put his away almost immediately and didn't see the need for them.
Overall, we were very comfortable during our experience glacier hiking in Iceland, but standard Iceland weather rules apply to getting dressed: you never know what you're going to get, so it's best to be prepared.