Dreaming of fulfilling your own dreams of relaxing Under the Tuscan Sun by renting a villa in Tuscany?
You're not alone!
Whether you're planning a large family reunion or taking a romantic Tuscan honeymoon, renting a Tuscan farmhouse is a dreamy experience.
We absolutely adore traveling in Tuscany, from the heart of Florence to the tiniest villages–and on several trips, we've been lucky enough to experience the region by renting an Italian villa with family!
If you're considering the same, here are some important tips to ask yourself before renting a villa in Tuscany.
… Because I promise, once you get there, you won't want to think about anything even slightly practical!
Practical Tips for Renting a Tuscan Villa
Location is extremely important.
Tuscany is a large region, and when you decide which Italian villa to rent, you're also shaping much of the rest of your vacation.
If you're planning to spend most of your time relaxing on the property, this matters less, but assuming you're hoping to enjoy a traditional Tuscany trip with plenty of hilltop villages, day trips, and adventures, it will matter a lot.
Hoping to stay near Florence?
If so, you'll have towns like San Gimignano, Lucca, Pisa, Volterra, and the Chianti wine region within your grasp.
Dreaming of the Val d'Orcia in southern Tuscany?
From there, day trips like Montepulciano, Montalcino, Pienza, and Saturnia will be more likely to top your list.
Expect at least a few property quirks.
Many Tuscan villas are heavily restored after centuries of use, which gives them their dreamy charm… and a fair number of quirks!
Oddly shaped bathrooms, small beds, and peculiar layouts are all to be expected, and that's before even considering cultural differences.
WiFi, while generally offered these days, may not work particularly well given the solid stone walls.
All of this will serve to make your time in Tuscany very memorable, but be sure to plan on a few surprises.
Do you need a villa… or an agriturismo?
Renting a villa in Tuscany can be an incredible experience, but at its heart, it's really more suited for groups!
Fully restored Tuscan farmhouses–the kind of "villa" most of us dream of when far away from Italy–also tend to be large.
Villas that sleep a dozen people are common, and even ones sleeping 20 aren't unheard of!
If you're a couple or a small family group, then, you might prefer an agriturismo.
These traditional Italian farm stays include many of the same benefits as a villa experience, but with far less space (and depending on where you book, a smaller price tag).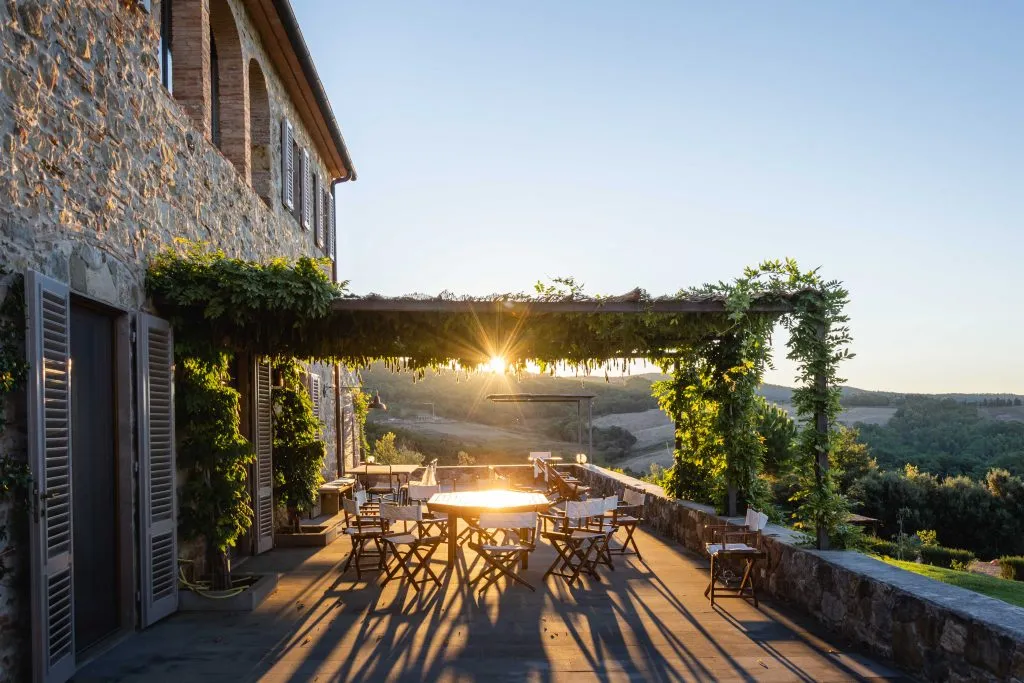 At an agriturismo, you can expect a beautiful property in the Tuscan countryside, and often a pool.
You'll also have staff on-site and often your own small apartment with a kitchenette and/or an on-site restaurant.
Something like this, for example, meets many of the expectations of enjoying the Tuscan countryside, without needing to rent a full villa!
We've stayed in both styles of property many times (and agriturismos themselves range from budget experiences to deeply luxurious ones), and both have their merits.
Be sure to carefully note what is included.
From cleaning fees to extra charges for air conditioning, it's easy to get sticker shock at the end of a visit if you're not sure what you'll be charged right from the start!
If you're looking for a property with an included housekeeping service, pool, breakfast, or anything else of note, be sure to read the listing carefully.
Going over the fine print and setting expectations is the best way to make sure you know what to expect and end your Tuscan farmhouse experience on a high note!
Don't forget about the tourist tax.
Each commune in Italy levies a small tourist tax–usually 1-2 Euros per night, per person, up to a certain number of nights.
So, for example, if you're a couple spending 4 nights in a city with a 2 Euro tourist tax, you would owe 16 Euros: 2 Euros per person (aka 4 Euros per night for you as a couple), for 4 nights.
These taxes are virtually always paid in cash (occasionally higher-end hotels will take it via card, but that's unlikely to happen in the countryside).
These taxes are never paid before arrival–so even if you paid for your hotel in full through a service like Booking.com before checking in, you'll still owe the tax when you arrive.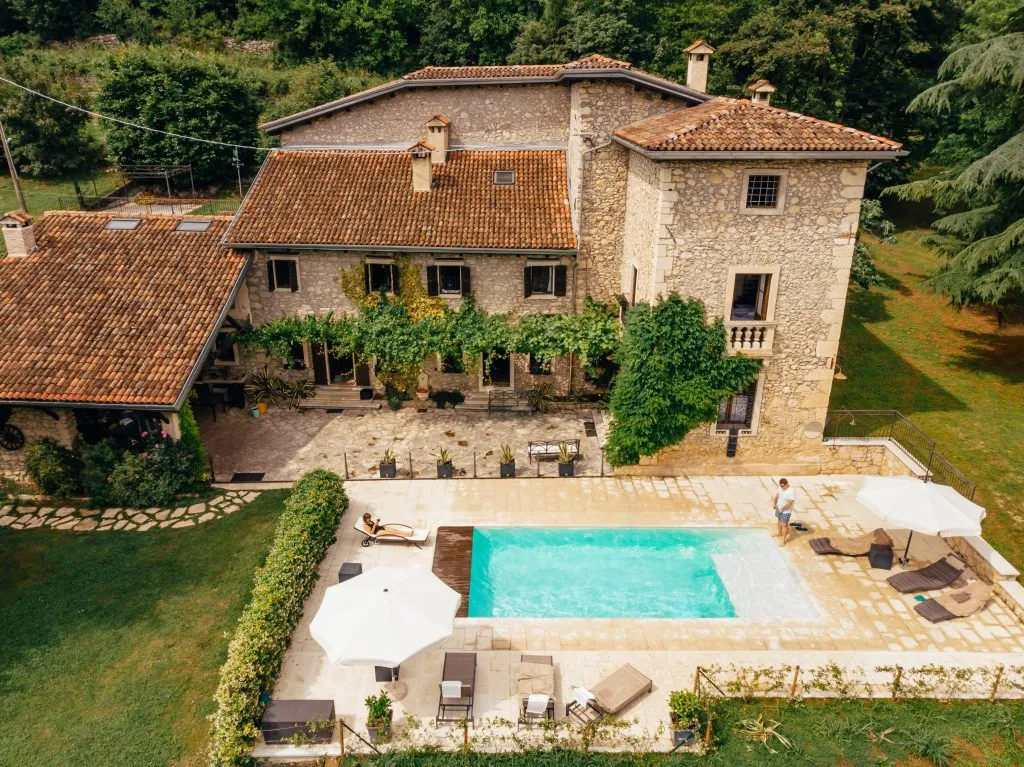 Are there additional experiences you can book?
When choosing which villa in Tuscany to rent, consider what you hope to do there!
Many properties offer additional inclusions ranging from bikes that are available for exploring to chefs that are willing to come to teach a cooking class right in the villa (we did this with our family at a villa in 2019 and it was lots of fun).
If you're visiting during harvest season, be sure to ask if the proprietors know of any nearby vineyards offering harvest experiences!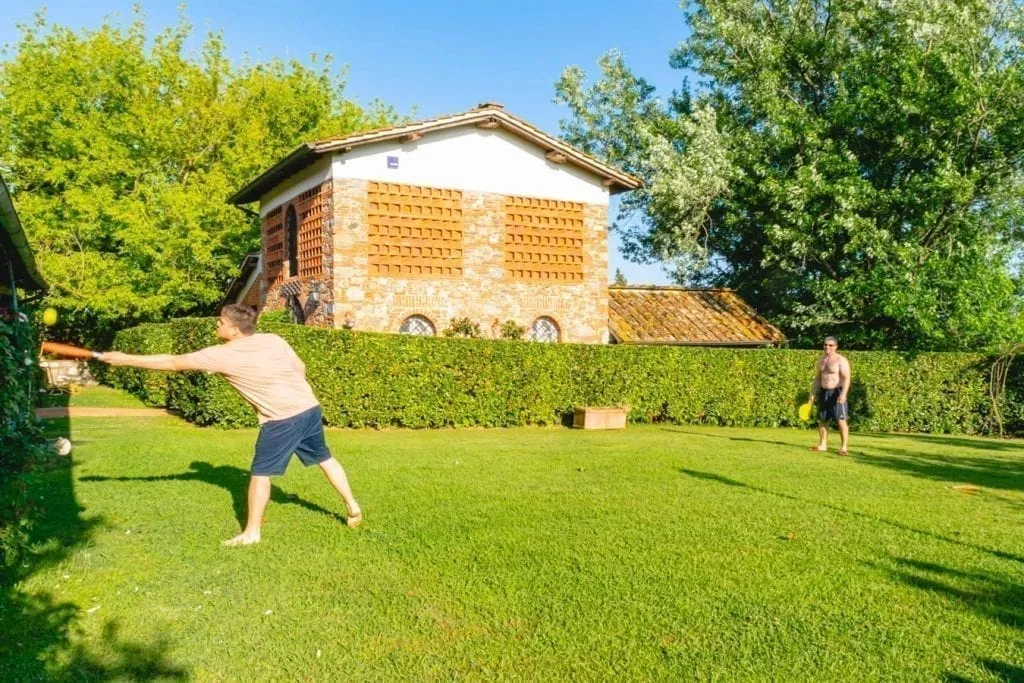 If air conditioning isn't mentioned… there's no air conditioning.
This is a good rule of thumb in all of Europe, and especially in historic countryside houses in Tuscany.
Many properties have air conditioning nowadays, but it's far from a guarantee, and they will absolutely advertise it if it's available!
And, even if there is air-conditioning, it won't be the central a/c that people from the USA are used to.
Expect ceiling units in individual bedrooms and maybe the living room, nothing more.
Luckily, Tuscan farmhouses, with their heavy stone walls, stay naturally cooler than you might expect!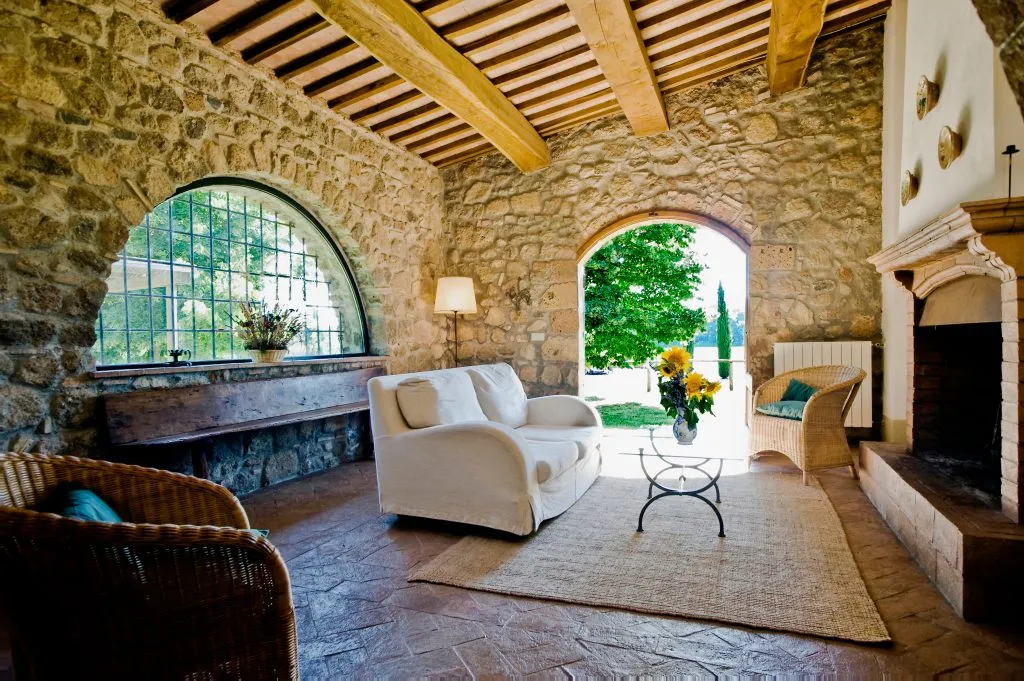 Your life will be easier with an Italian SIM Card.
Renting a full house in the countryside will mean coordinating check-in, check-out, and any other necessities directly with a property manager… who probably will not live on-site!
If you're able to communicate with them directly (Whatsapp is the most common way), your stay will be much simpler.
And, when staying in the countryside, you'll likely want access to a GPS anyway!
You can easily purchase an Italian SIM card for your phone (assuming it is unlocked, of course) at the airport when you arrive.
However, if you'd rather not have to worry about it right when you arrive, you can pre-purchase an EU SIM Card online, as well.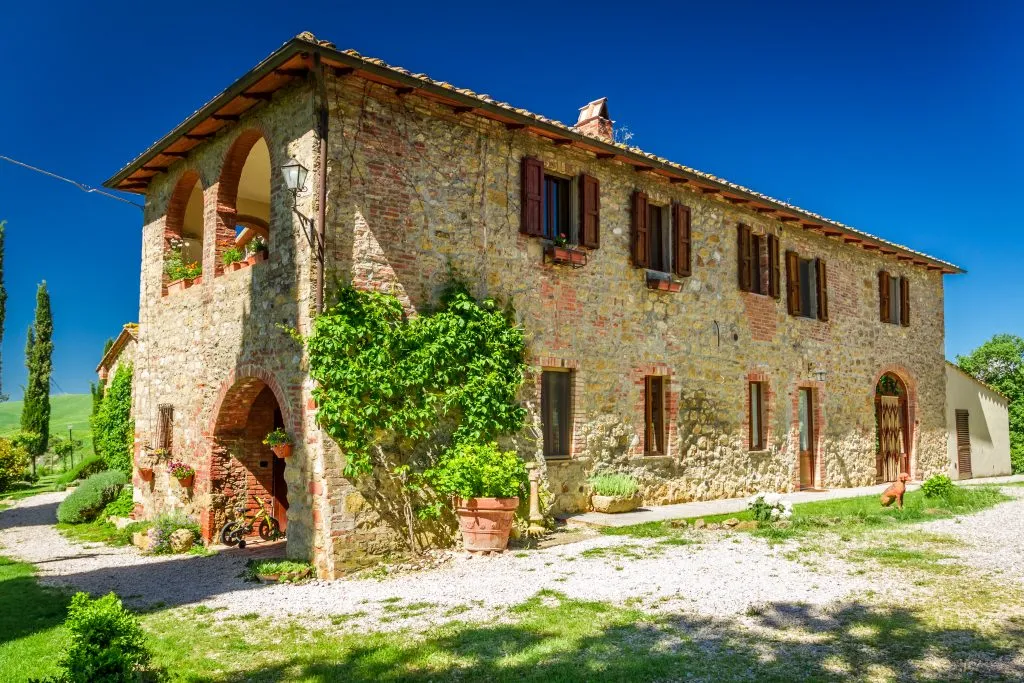 Ask detailed questions about privacy.
When people talk about renting a house in Tuscany, the typical fantasy includes wide-open spaces and plenty of privacy–and those properties absolutely exist!
However, they're not guaranteed: all free-standing homes in the Tuscan countryside tend to be sold as "villas".
And, while that can be an isolated farmhouse, it can also mean a smaller standalone house with other holiday rentals within sight.
If you have a specific travel experience in mind, be sure to ask detailed questions so you know what to expect!
A good place to start is with the pool if there is one: is it private for your use or shared between a few houses?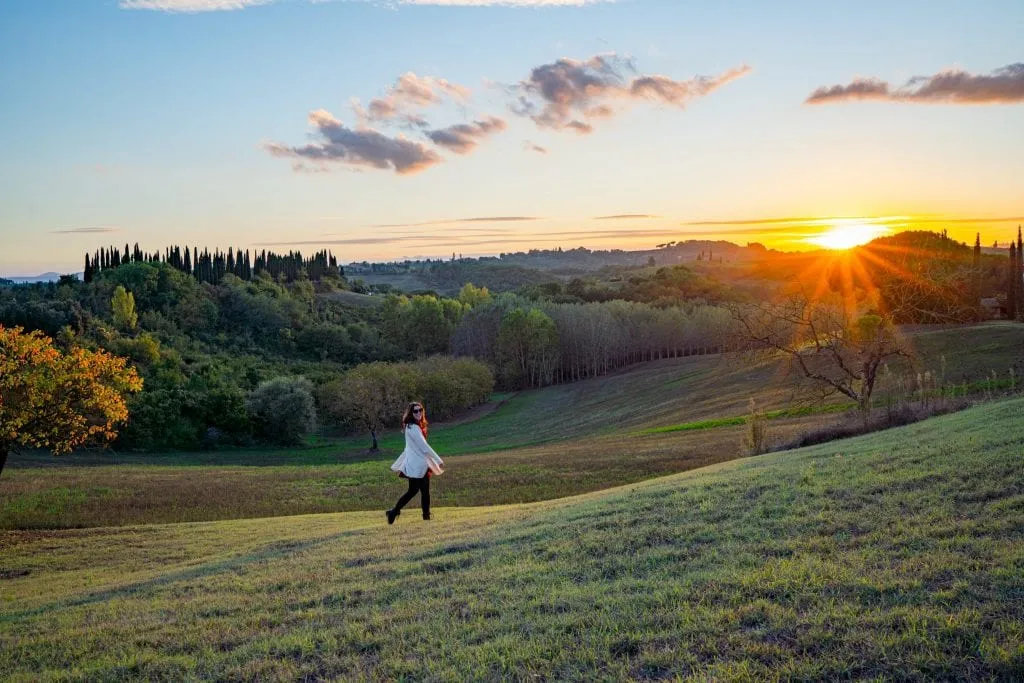 … and about the layout of the property.
Over the centuries, many homes in Italy (and in Europe overall) have been subdivided into apartments.
Today, that can sometimes translate into "villas" that house a few families in one building!
While most of these are sold as agriturismos or simply apartments, it's best to read the fine print and not simply rely on the photos of a beautiful house surrounded by olive trees.
Be prepared to book well in advance.
Like other highly sought-after rental markets around the world, Tuscan villas book up well in advance.
If you're looking for a private, restored farmhouse that can sleep 8+ people, we highly recommend booking at least 6 months in advance!
While you can certainly have an incredible trip to Tuscany with far less lead time, when it comes to villas, the best properties get snapped up quickly.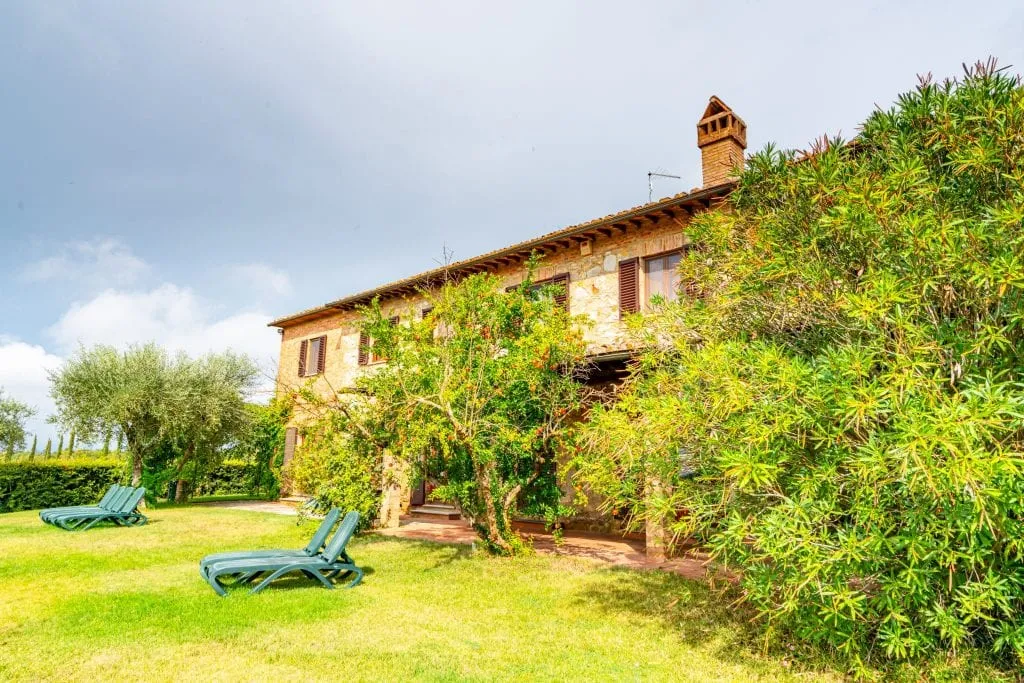 Plan to handle splitting the payment amongst your party.
Splitting payments, generally speaking, isn't nearly as much of a "thing" in Europe as it is in the USA, and that is especially true for high-ticket items like Italian villa rentals!
More than likely, one person will need to be in charge of booking and paying for the property.
If you're going to cook, bring salt and pepper with you.
This is a bit of a random piece of advice, but I can't tell you how often it has come in handy!
When you grocery shop for supplies at the beginning of the week, people are typically good at remembering to purchase essentials like butter and coffee, but we've forgotten salt and pepper an embarrassing number of times.
It's worth noting that some villas will stock essentials, but not all will.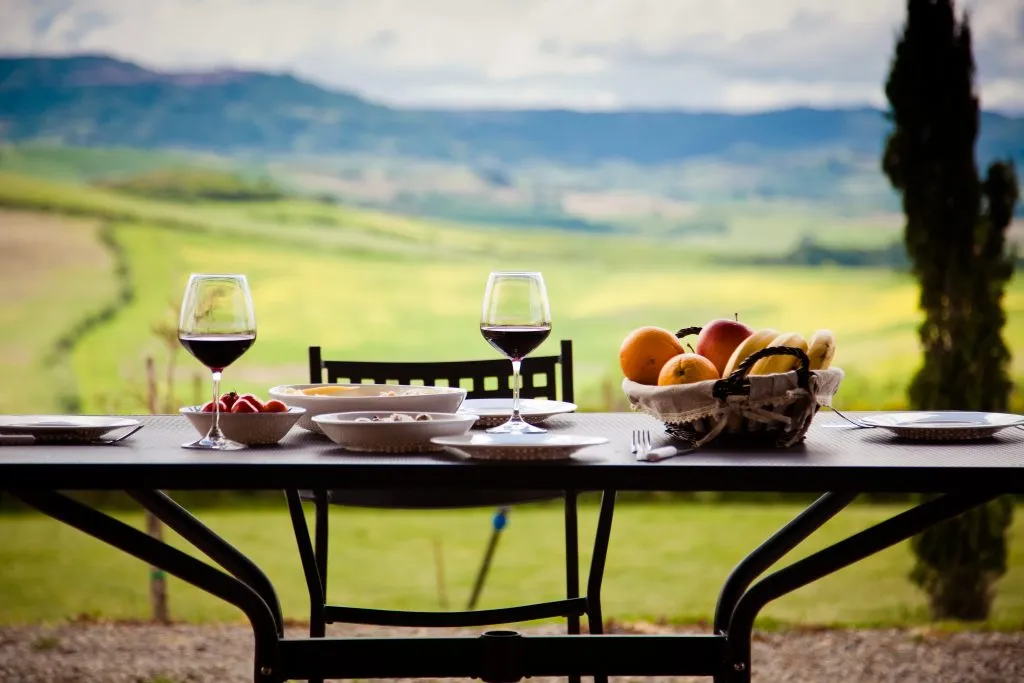 Don't forget to spend time in your villa!
If you're anything like us, once you start researching all of the incredible things to do in Tuscany, it's going to be hard to choose exactly what to do!
While it's always important to be wary of overextending yourself when traveling, that's especially true when renting a villa.
After all, a villa isn't just a place to sleep at night: enjoying it is an enormous experience in and of itself!
We recommend scheduling at least one day where you plan to simply stick around and enjoy the property for most (or all) of the day.
You don't need to cook to make that happen, either: Tuscan picnics of local cheese, olives, cured meats, bread, fruits, and wine are arguably among the best meals you can eat on this planet.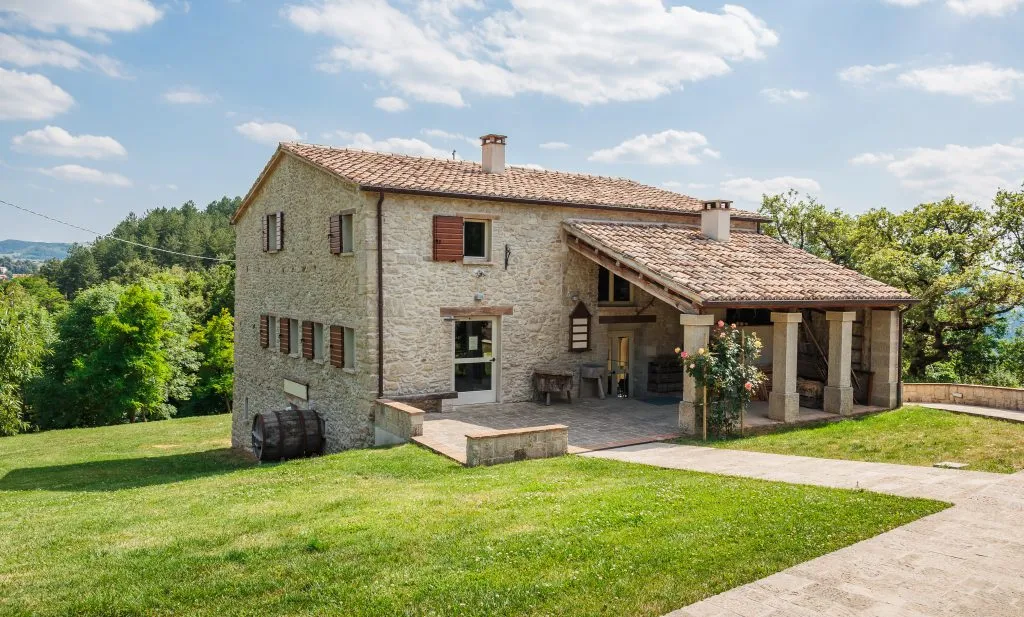 You can think beyond Tuscany, too.
Is Tuscany stunningly beautiful and an incredible place to run away to the countryside for a week (or more)?
Yes, 100%, absolutely–we adore it there, which is why we continue to revisit it over and over again!
However, Italy is home to 20 regions, and there are far more places to get an idyllic Italian villa experience than just in Tuscany.
The nearby regions of Emilia-Romagna and Umbria, for example, offer (in many cases) very similar landscapes with somewhat lower crowds and prices.
Looking to get far off the beaten path and stick to a budget?
Villas in Abruzzo, for example, can be incredible bargains compared to Tuscany and also very relaxing retreats.
There's absolutely nothing wrong with sticking to Tuscany, but if you're having trouble finding the farmhouse rental of your dreams for the right price and/or available dates, you may be surprised by what you can find further afield.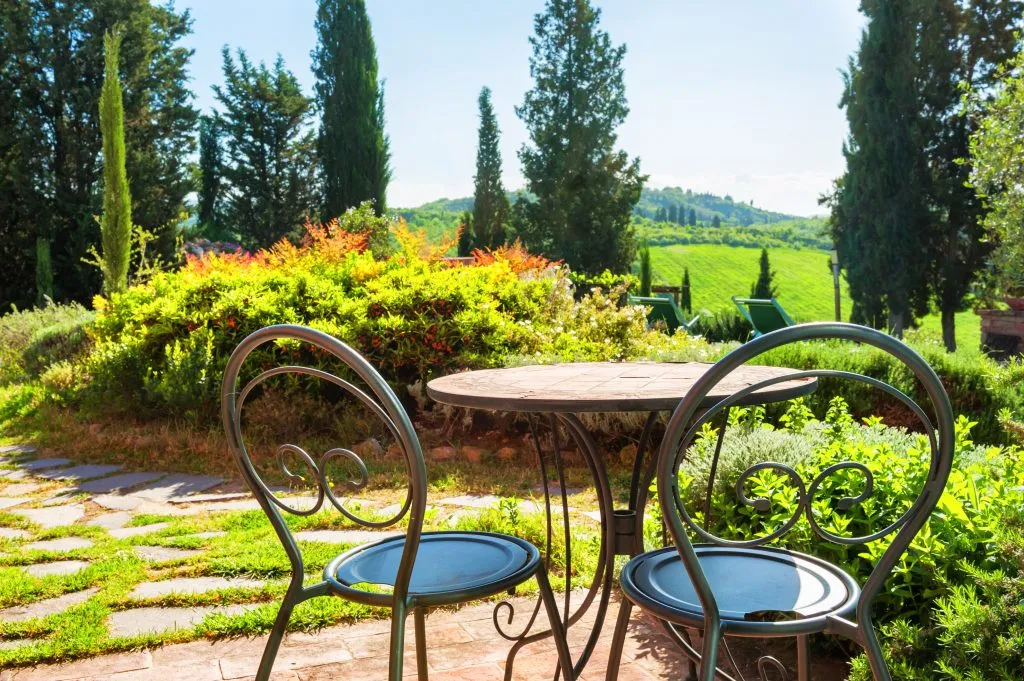 FAQ About Renting a Villa in Tuscany
How much does it cost to rent a Tuscan villa?
How long is a piece of string?
Villas range dramatically in price depending on the time of year, size, location, amenities, and more.
I can say that every time we have rented a villa with family, the total price per couple has come to around 100 Euro a night–in other words, equivalent to a mid-range hotel in many Tuscan cities!
Do I need to stay for a full week?
Not necessarily!
Historically (aka in the pre-internet-booking days), agencies in Tuscany generally rented villas only in 7-day increments, usually from Saturday to Saturday.
However, now, many villas will allow you to book shorter stays if you so choose.
Most will still have a minimum number of nights that you're required to book (especially during high season), but you'll find some options for 3-4 nights now rather than a full 7.
If you're looking for a very short stay, you'll likely have better luck looking at agriturismos.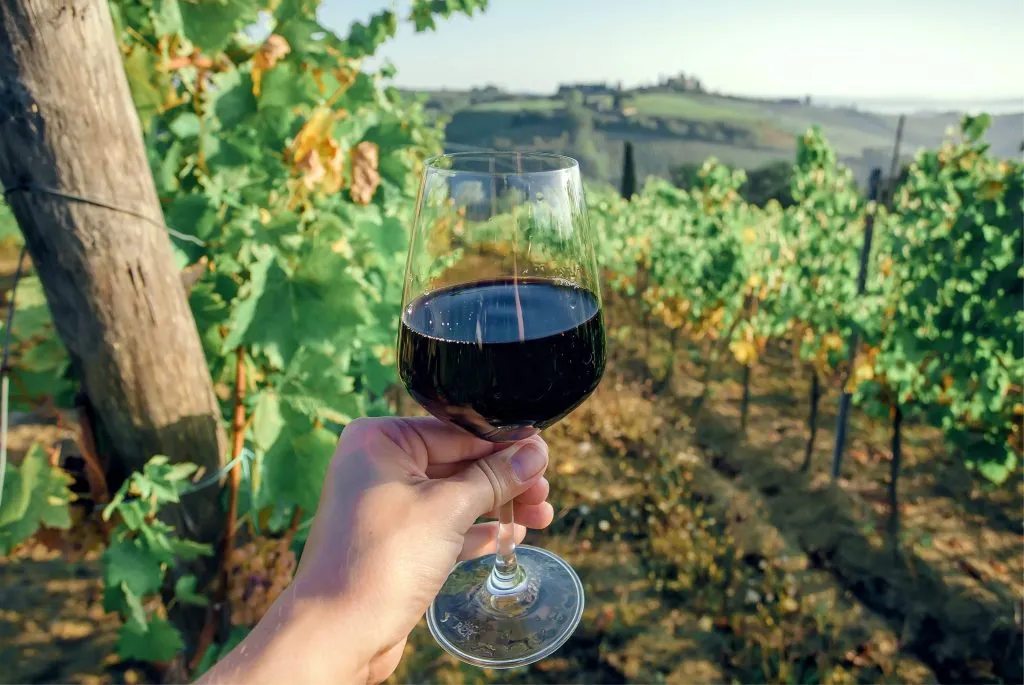 Do I need a car when renting a villa in Tuscany?
Almost certainly, yes.
Villas, by their very definition, tend to be more isolated, and you will absolutely want your own transportation!
We recommend renting a small car through Discover Cars, which will allow you to compare prices and inclusions of multiple companies at the same time and choose the best car for you from there.
We have detailed travel tips for driving in Tuscany in our Tuscany road trip guide.
Check rates and book your rental car with Discover Cars today!
Why is my villa owner charging extra for utilities?
Some villas do charge separately for utilities, especially for electricity or air-conditioning.
This can be done either with a meter read or as a standard price per day and is one of the inclusions (or lack thereof) that you'll want to keep an eye out for when choosing your villa.
Electricity is much more expensive in Italy than it is in the USA, and some owners choose to pass those costs on.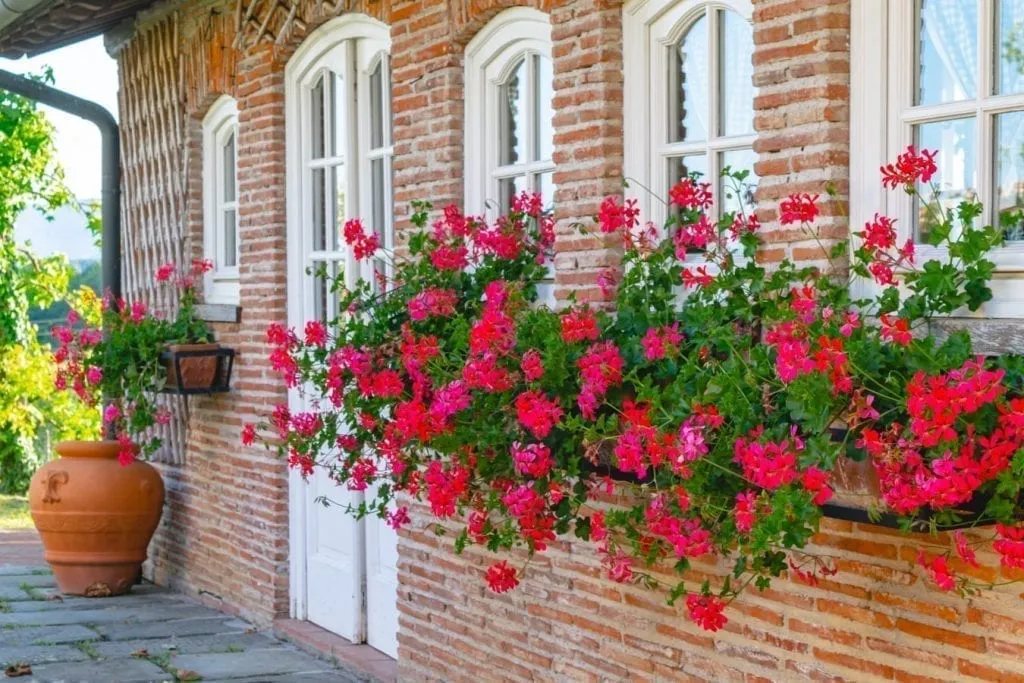 When is the best time to rent a villa in Tuscany?
Deciding on the best time to rent a villa in Tuscany depends a lot on your priorities–and depending on what they are, there's no such thing as a wrong time to visit.
For example, do you need to stick to a timetable?
Does your dream Tuscany trip include frolicking in the pool after hot days of sightseeing, or does it involve visiting during the wine harvest?
How motivated are you by prices?
Essentially, winter will be the cheapest time to visit–it's decidedly the off-season in Tuscany.
Autumn, when the grape (September-October) and olive (late October-November) harvests happen, is our personal favorite time to rent a house in Tuscany.
Spring in Tuscany also has many charms, with blooming flowers taking over the countryside before the summer tourists do.
And finally, there is summer: busy, competitive for nabbing the perfect Italian villa to rent in Tuscany, but beautiful, with long sunny days to enjoy.