Tuscany is an absolutely incredible place: as one of the most sought-after tourism destinations in the world, it holds a certain magic in its villages and grape vines that captivates almost everyone lucky enough to see it.
As the capital of Tuscany, it only makes sense that Florence would enchant its visitors so thoroughly that they're almost afraid to leave, for fear that the city will disappear as soon as they do.
That's how we feel, anyway–as our month in Florence draws to a close, we find ourselves increasingly sad to have to say goodbye to the art, the architecture, the hills, the surrounding villages, the bridges… and the food. Oh, the food.
If Tuscany is a magical region, and Florence is its fairytale capital, the food is its most important draw–impressive, considering that this city is home to the masterpiece (never have I used that word so literally) of Michelangelo's David, the awe-inspiring Duomo, and the charming Ponte Vecchio bridge.
All of those things make us thrilled that we came–but it's the food that will ensure that we continue to return to Florence again, and again, and again.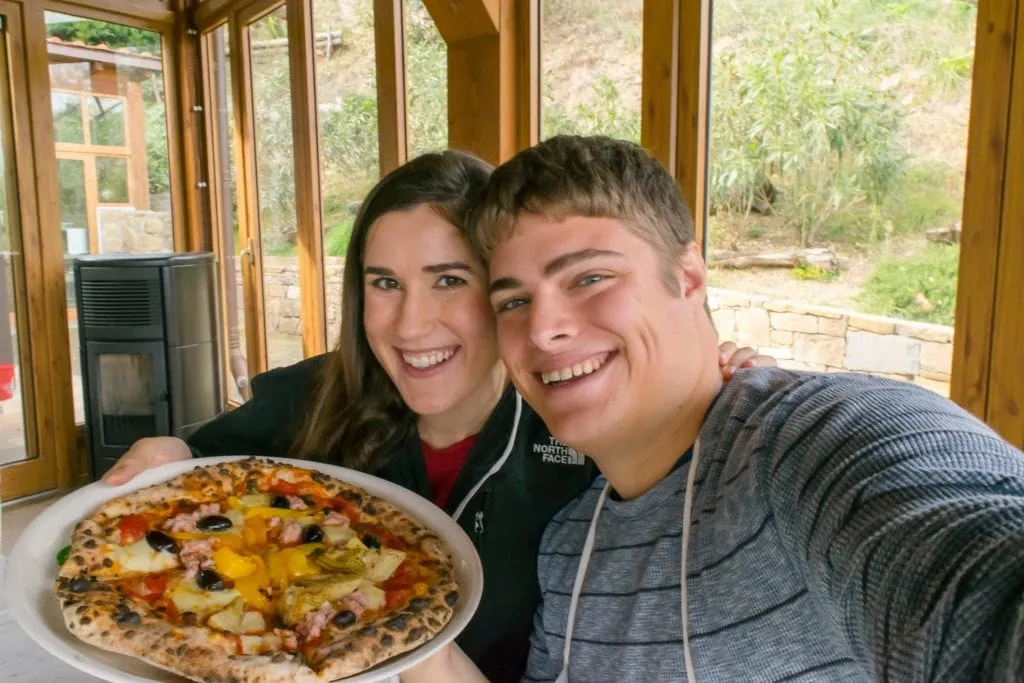 Looking for some amazing things to eat in Florence? Check some of these out.
10 Fabulous Things to Eat in Florence, Italy
Cappuccino
What better way to start the day than with a creamy cappuccino paired with a sweet pastry? The Italians aren't much for a heavy breakfast, but with a morning tradition like that, it's hard to argue with them.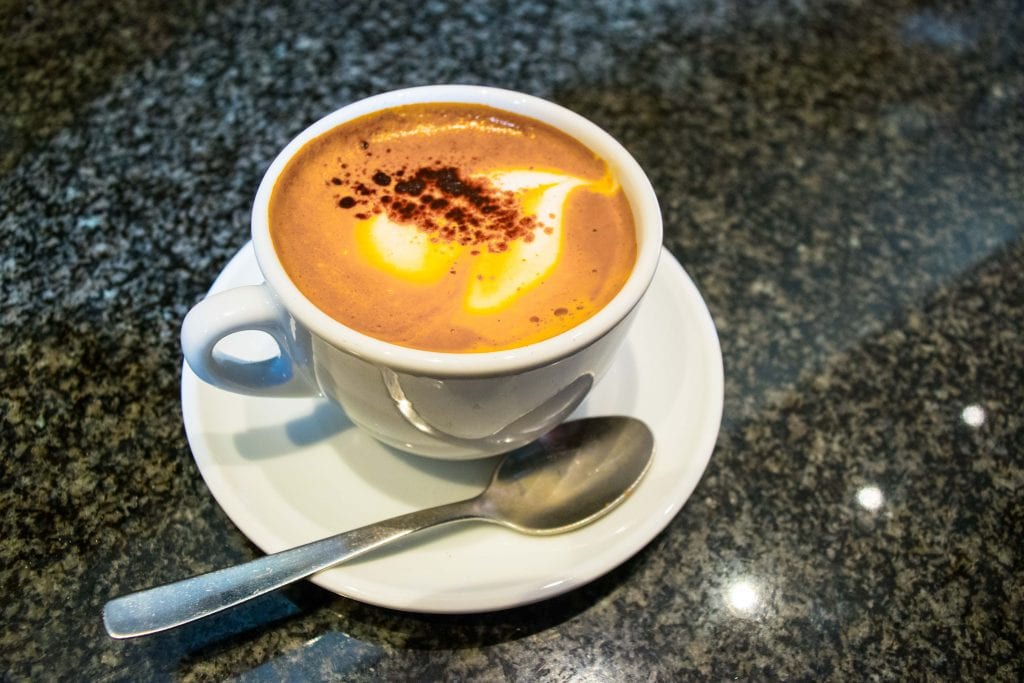 Espresso
Around 11:00 AM, Italians tend to stop drinking cappuccino and switch to espresso, so if you feel like following cultural norms, check your watch before you order!
In Florence, we found that asking for a generic coffee anytime after 11:00 AM resulted in receiving a delicious espresso.
Typically, I don't drink my coffee black, but these were so tasty that I don't ever add a single thing to any of them.
Extra Virgin Olive Oil
I know, I know–olive oil is something to cook with or add to salad, it's not a dish worth calling out on its own.
Typically true… but not in Tuscany.
Olive oil is not only plentiful and delicious here, it's a cultural event.
Because fresher olive oil is considered to be better olive oil, the harvest of olives each fall creates a frenzy to obtain a fresh batch of extra virgin olive oil.
We were lucky enough to be in Florence during the olive harvest this year, and we can now attest that yes, fresher is better–the olive oil we have had this week is both the greenest and the most flavorful that we have ever experienced.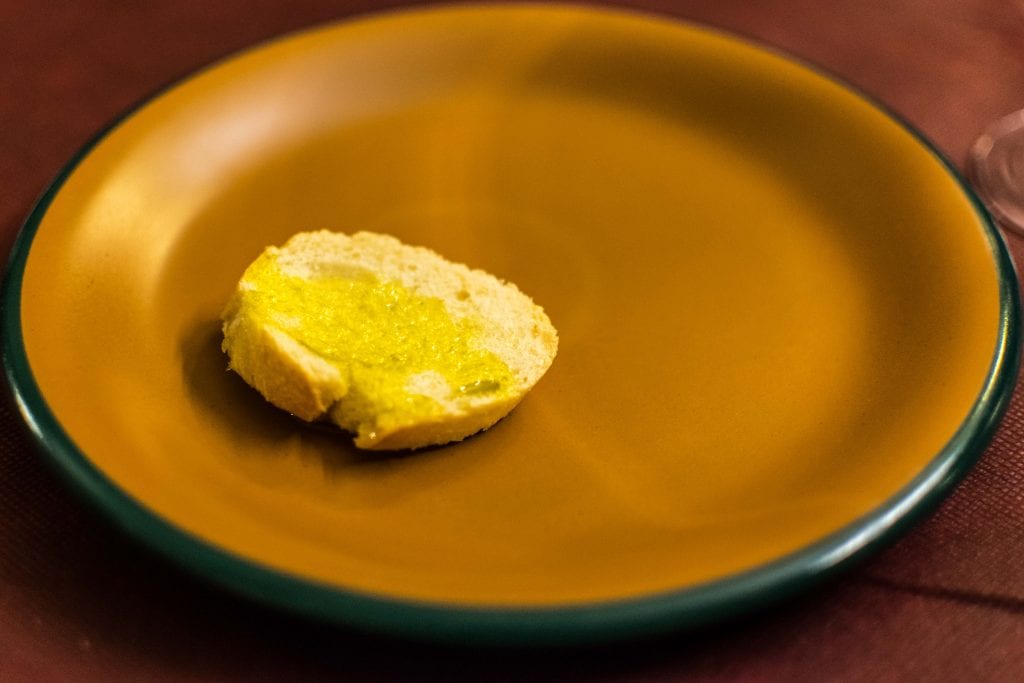 Balsamic Vinegar
During our many food experiences and tastings in Florence, there was a similar tradition that popped up again and again: balsamic vinegar was served as the delicacy that it is, not only on salads or bread but completely by itself on a spoon.
Rich, sweet, and tangy, balsamic vinegar in Florence is in a completely different league than the inexpensive plastic bottles of "balsamic vinegar" available in the grocery stores back home (which are often more caramel than anything else).
We tried and adored several 15-year and 30-year aged varieties while in Florence, but there's no limit to how long balsamic vinegar can be aged–it just keeps getting denser and more valuable over time.
More than once, we heard that 100-year aged balsamic vinegar would be served in an eye dropper–it is potent and valuable enough to justify the eccentricity.
Bruschetta/Fettunta
Is there anything better than classic bruschetta (also known as fettunta in Tuscany)?
Yes, yes there is… there's bruschetta in Tuscany, where the tomatoes are perfectly ripe, the bread is fresh, the garlic is potent, and the olive oil is some of the best in the world.
And hey–compared to many of the other foods available to eat in Florence, you don't have to feel very guilty about the nutritional quality of this one!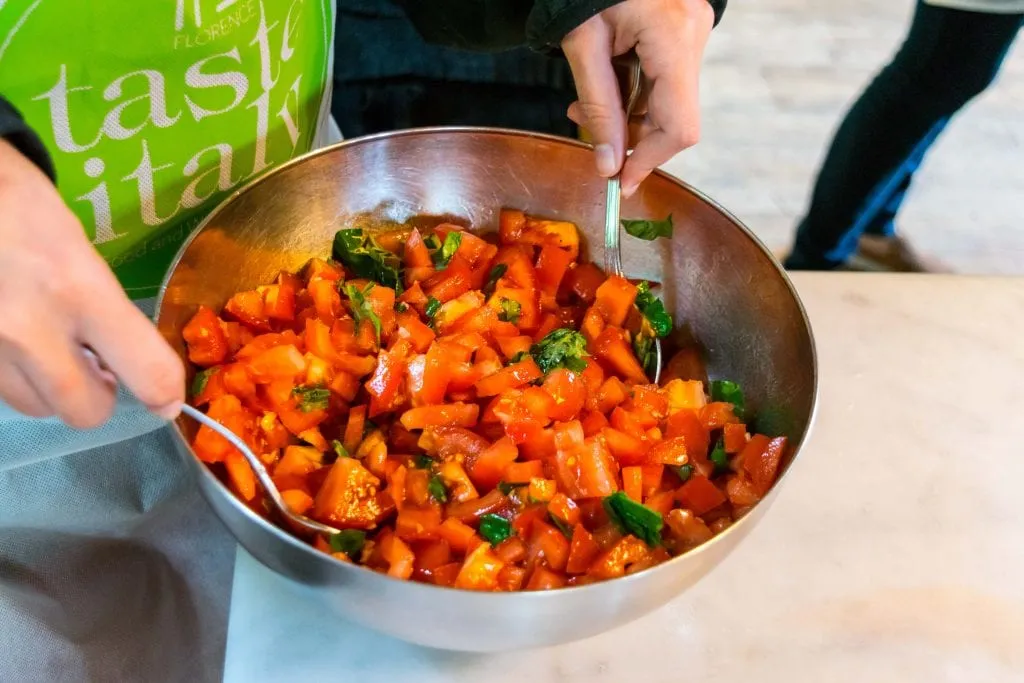 Pappa al Pomodoro
Tomato soup made with old bread that is soaked in the tomatoes until it is soggy–sound a little gross?
You'd think so, but no: pappa al pomodoro is a Tuscan specialty, and it is delicious. Every recipe we tried was a little different, ranging from very liquidy with chunks of bread in it to so thick that it was almost a paste, but they were all tasty.
Truffles
One of the most expensive foods per weight in the world, both black and white truffles grow in abundance in Tuscany, making Florence one of the best places to eat them–on pizza, on bread, cooked into truffle oil… the possibilities are endless.
They say that truffles carry such a specific taste that you either love them or hate them at the first bite–for Jeremy and me, it was definitely love at first taste.
Fresh Pasta
Though clearly traditional to Italy as a whole and not just to Florence, the idea of not adding pasta to your list of things to eat in Florence is a thought that shouldn't even be entertained–it's absolutely delectable, and everything from pasta with wild boar sauce to the simple and classic pasta al pomodoro is available in Florence.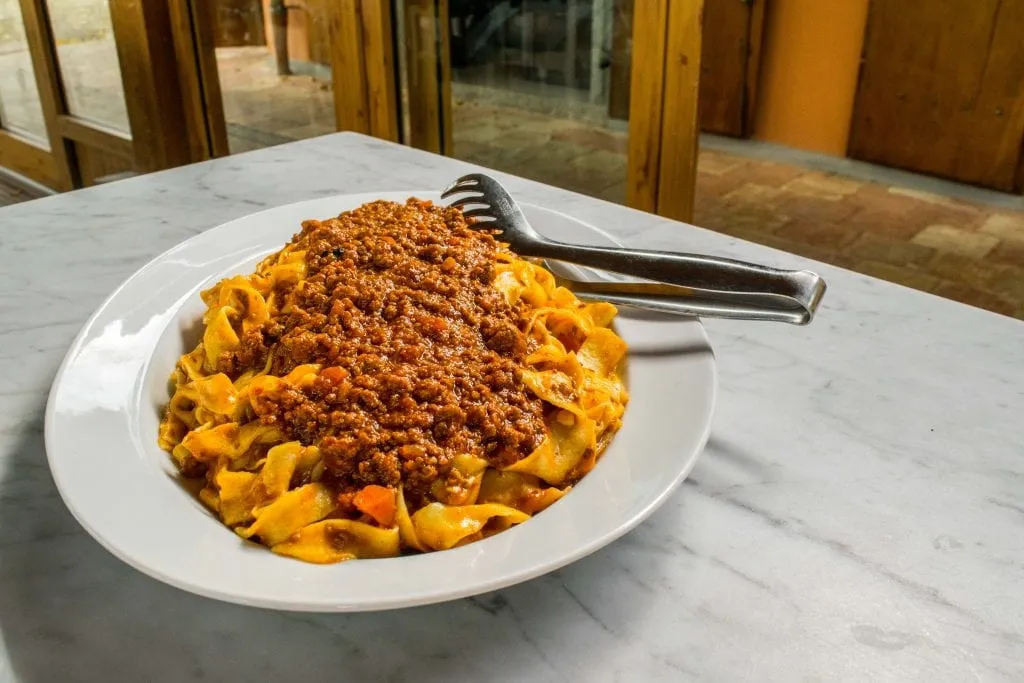 Florentine Steak
One of Florence's most famous dishes, Florentine steak is a specific cut of meat from part of the loin close to the leg, traditionally coming from female cows that have never given birth.
These steaks are enormous (ie, not to be consumed by only one person), and pricey for the area–they're best reserved for a special night out. Typically, Florentine steaks are sold by weight in restaurants.
They are tender, juicy, and very tasty–well worth trying at least once during your trip to Florence!
Chianti Classico
Tuscany is possibly the most famous wine region in the entire world (though the French may argue that), so it comes as no surprise that there are oodles of different types of wine being created in the region–but none are quite so classic (forgive the pun) as the Chianti Classico.
Spicy, dark and delicious, we have yet to meet a bottle of this wine that we don't like.
Defined as containing at least 80% Sangiovese grapes grown in the Chianti region and recognized by its rooster seal, Chianti Classico's are hard to resist and have become one of our favorite wines (even if I do get the urge to quote Hannibal Lector each time I open a bottle, an unfortunate by unavoidable association).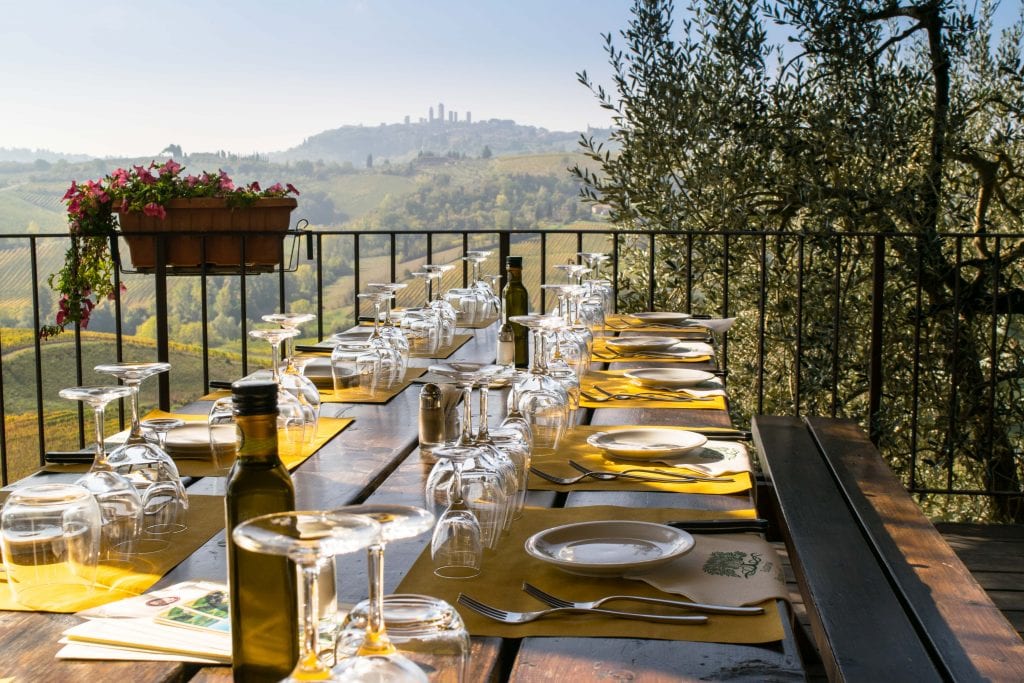 Gelato
There's a bit of a debate about the origins of gelato, but the dessert is most commonly attributed to being created by a Florentine, and there's nothing quite like enjoying a dessert that is famous worldwide while strolling around the city it was created in.
If you're looking for a gelateria with homemade gelato instead of gelato produced off-site, typical advice is to avoid the tempting displays of enormous gelato mounds and aim for a shop that keeps their gelato in the classic silver cans, out of sight.
We're probably the worst people to offer advice about gelato, because our experience is essentially that we have never had a bad scoop in Florence–but Gelateria Edoardo wins points for creative flavors (cinnamon gelato, omg), and Gelateria Della Passera wins points for being creamy, delicious and cheap–just two Euros for a cone with two scoops!
When pricing out a single scoop of gelato in a cone (and get the cone–people who get cups are mysteries to us), 3 euros is fair but a bit inflated for tourists, 2-2.5 euros is good, and anything above 3 euros is to be scoffed at and avoided.
Cantucci Cookies
These crisp almond biscuits remind me of what we think of as biscotti in the USA, but the secret to enjoying them is all Tuscany: served as a dessert, cantucci cookies are dipped into sweet wine (traditionally Vin Santo) and eaten once the wine has soaked into the cookies, softening them.
The resulting taste is fantastic, but they also come with a tradition: according to our host at Tenuta Torciano winery during our day out with Fun in Tuscany, cantucci cookies also have a flirting ritual behind them, which our host shamelessly had Jeremy and I (several glasses of wine into the meal at this point) act out!
There are a lot of foods missing from this list of things to eat in Florence that are a must eat while in Tuscany: Tuscan ragu, aged parmesan cheese (we've been buying 63-month aged cheese at the market), Napoli style pizza… some of these things aren't particularly Tuscan (though they're definitely served here), some there just wasn't room for, but either way: make sure you try all the food you can get your hands on in Tuscany.
6 Food Experiences to Have in Florence
Drink a cappuccino the Italian way.
What's even better than drinking a cappuccino in the morning? Participating in the Italian ritual for doing so.
Rather than sit at a leisurely cafe, head to a bar (aka coffeeshop in American-speak) and order a cappuccino and possibly a pastry of your choice to have standing at the marble counter.
Once you're finished, head over to the cash register and pay.
Voila! You've not only had a fun-and-easy cultural experience with breakfast, you've saved some money, too–coffee almost always more expensive in Italy if you drink it at the table, rather than standing at the bar.
Take a Tuscan cooking class.
We were hosted by Walkabout Florence for an absolutely amazing cooking class in the hills of Tuscany, and we can safely say that it is an experience we will never forget.
Not only was the view incredible (seriously, a farmhouse overlooking Tuscan countryside with a glass wall to best appreciate the view–swoon), but we worked our way through an impressive menu: bruschetta, handmade pizza, roast pork loin and potatoes, tiramisu, and handmade pasta with a homemade Tuscan sauce that we oversaw from beginning to end.
The chef, Isaac, made the perfect leader for coaching us through the traditional Tuscan tricks for getting, as he put it, "the most flavor out of the least work"–a cooking philosophy we can solidly get behind.
It's always hard to know how much "learning" will actually take place at a tourist-style coking class, but in between generous helpings of Chianti Classico we picked up some tips and tricks that will stay with us for years to come–including rubbing down your bread for bruschetta with a whole garlic clove before adding the toppings, something so obvious, easy, and delicious that I don't quite know how we managed without it before.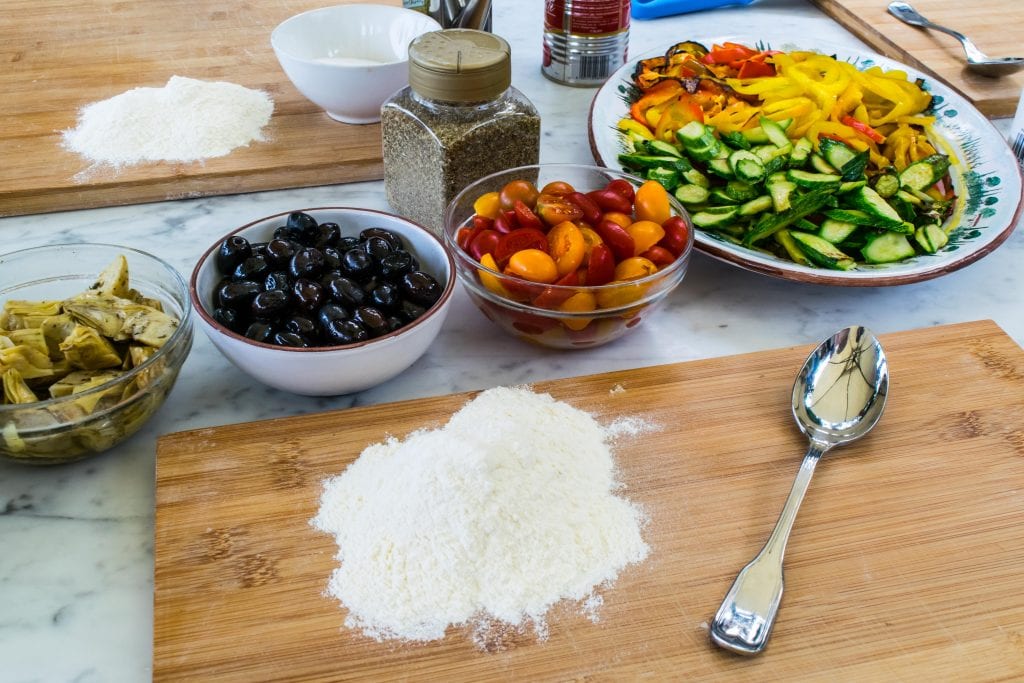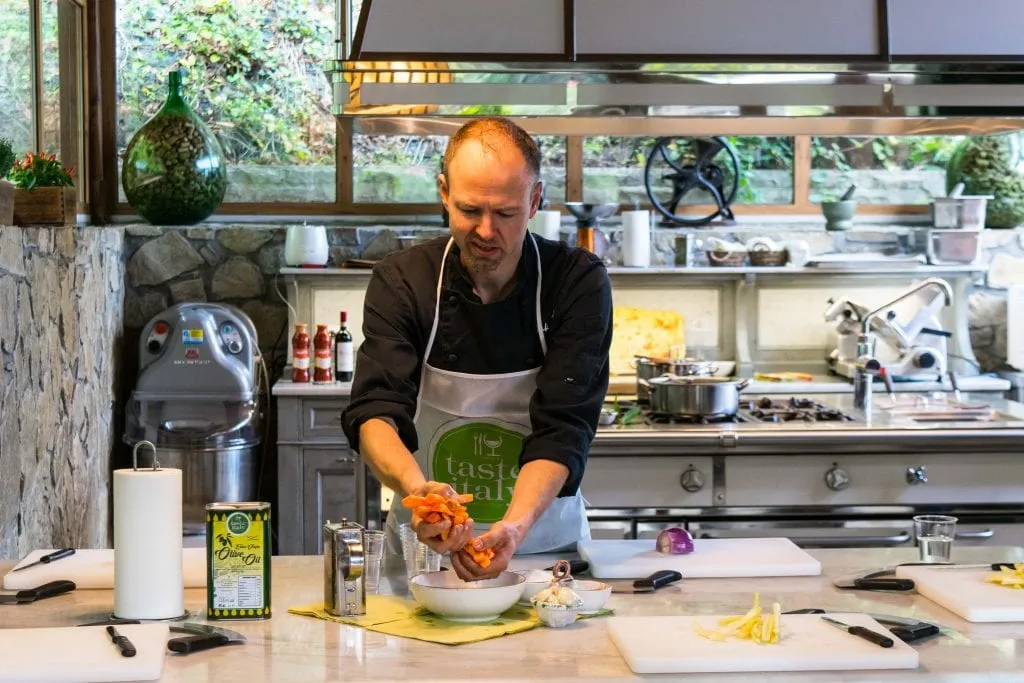 Shop at the Mercato Centrale.
Looking for fresh cuts of meat, fruit, cheese, wine, spices, pasta, balsamic vinegar, olive oil, a plated-and-served meal, or about fifty thousand other food-related things? Head to Mercato Centrale.
We've used the market as our fruit, vegetable, and cheese supplier–along with occasional pasta and fresh pesto supplier–while in Florence for the month, and every time we go in we appreciate the hustle and the bustle a little bit more.
The interior of the market is vibrant and colorful, with interesting sights around every corner. If you're the type to want to walk around taking photos of everything that catches your eye, well–be sure to leave plenty of time in your schedule for wandering Mercato Centrale.
Be sure to plan your visit around their hours: the market runs from roughly 8:00 AM to 2:00 PM Monday-Saturday, with some stalls staying open later. Mercato Centrale is closed on Sundays.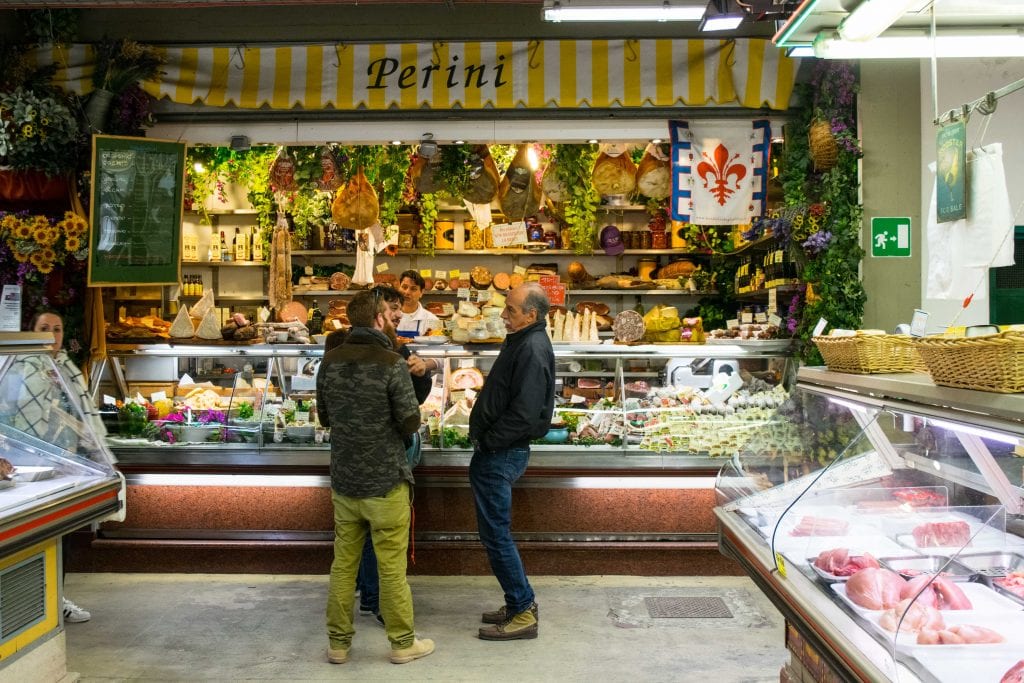 Don't head to Florence without travel insurance! We use & recommend World Nomads for their affordability, ease of purchasing & the clarity of their contract!
Take a walking food tour of Florence.
We were hosted on our food tour of Florence (aka the aptly named "Dine Around Florence" tour) with Walks of Italy, and our charming guide, Julia, made sure that we left even more enchanted with food in Florence than we were when we arrived. It helped that she lived in the Santa Spirito neighborhood our tour focused on–she was a wealth of information both at our stops and between them.
The tour consisted of four official stops (plus one bonus stop Julia made toward the beginning of the tour to show us an uncrowded and gorgeous view of the Ponte Vecchio), all special in their own way: a visit to a meat-and-cheese store for salami, cheese, Tuscan bread and wine; a stop at Enoteca Mondovino for a tour of the most interesting wine cellar we've ever seen and tastings of oils and spreads; a dinner including the famous Florentine Steak; and, of course, we finished with a stop for gelato.
In other words, the "walking" part of the walking food tour of Florence wasn't so much a design choice but a physical necessity.
While all the stops were memorable and special in their own way, it was Enoteca Mondovino that stood out during our food tour of Florence: upon arriving in the wine shop, we were immediately whisked through a locked door and downstairs to the basement, where wines with labels from decades passed sat, dusty but neatly organized.
I even took photos of wines from the year my dad was born and the year my grandparents were married!
When we headed upstairs again (through a different stone staircase than the one we initially came down), we were greeted with a long table in a private room, where we tasted everything from olive oil that was pressed only that day (absolutely amazing, and yes, we bought a bottle) to a truffle spread to 40-year-old Chianti Classico.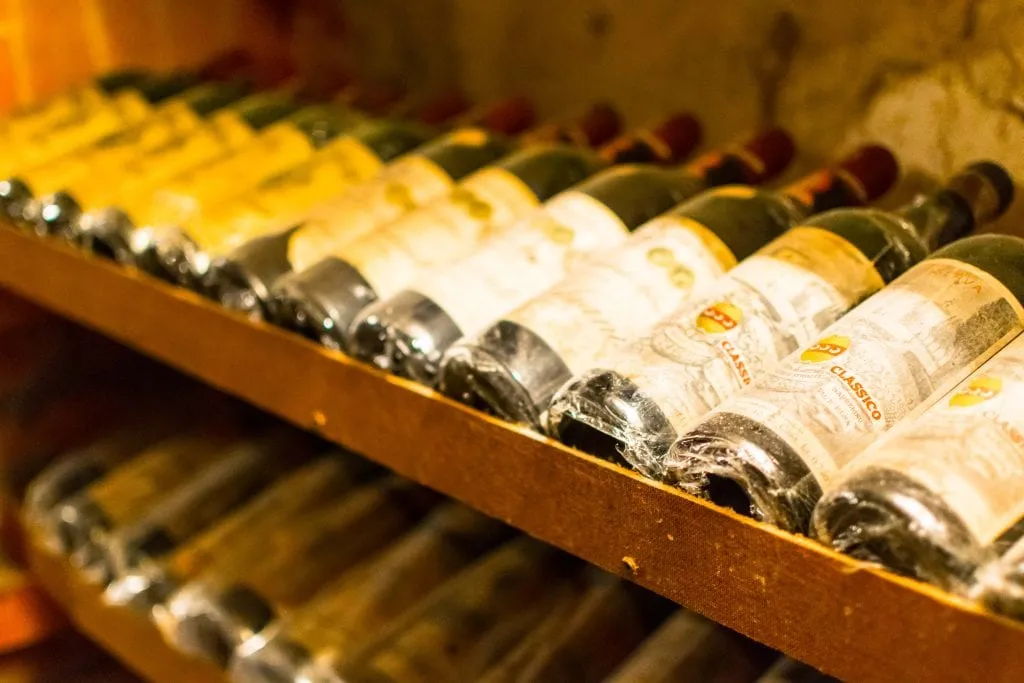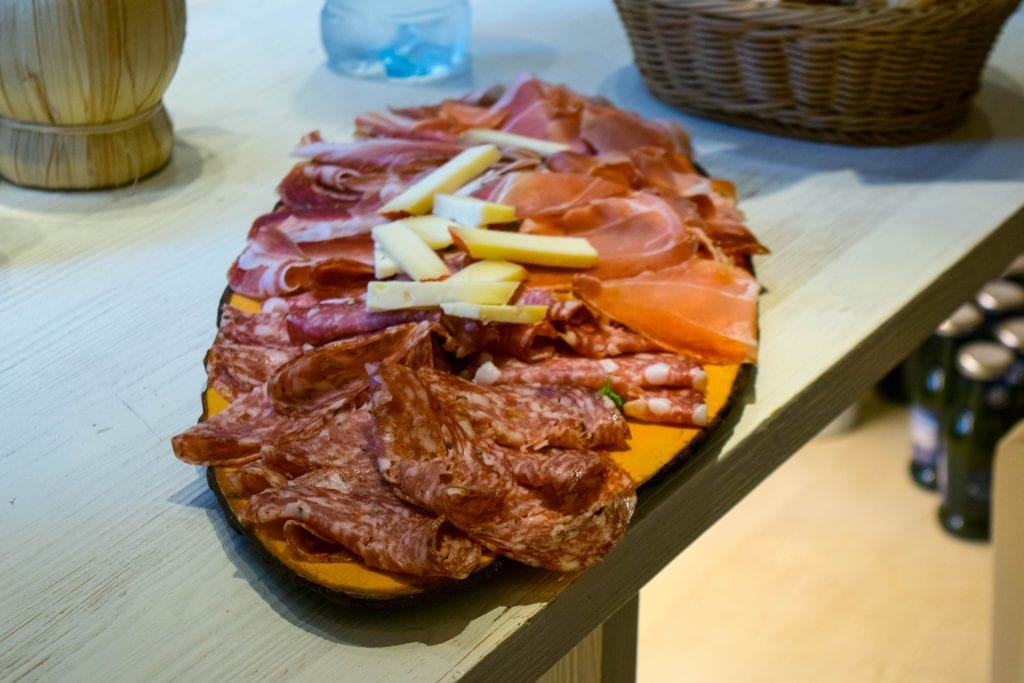 Settle in for a complete Italian meal.
Whether you do it on a tour, at an upscale restaurant on a special night, or simply for a casual lunch out, while experiencing food in Florence be sure to set aside the time (and by time, I mean multiple hours) at least once to work your way through the four traditional Italian courses in a single sitting: antipasto (appetizer), primo piatto (this is where you'll usually find pasta dishes, though it can be other things), secondo piatto (the meat course), and dolce (dessert).
Even then, it's not over–espresso (or to the Italians, simply "caffè") traditionally comes after the dolce course, and an amaro (a bitter shot, such as grappa, to aid digestion) can and may follow the meal.
If all of that still isn't enough food, you can order a cortorno, or side dish, with your secondo piatto, which is usually vegetables.
If you're feeling like a financial splurge, go to a nicer restaurant and have each of your courses paired with a specific wine–you may have to roll yourself home after all that food and wine, but it's definitely a food experience in Florence that you won't forget.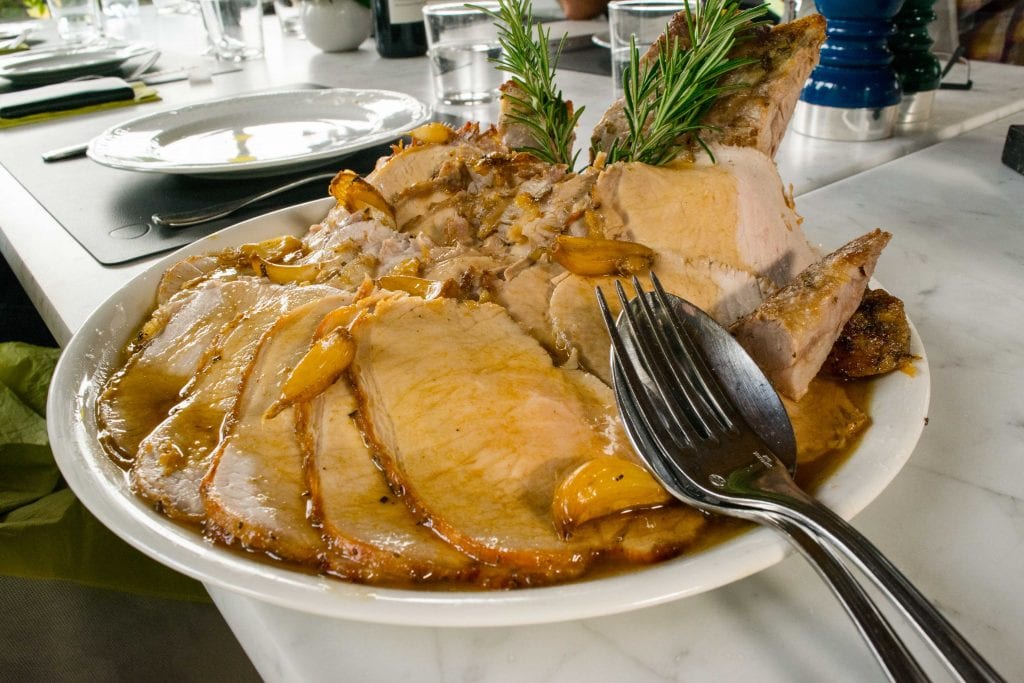 Experience wine tasting in Tuscany at a local winery.
Wine tasting in Tuscany–of all the people in the world who have travel bucket lists, I'd say that this European day trip is probably one of the more common items to see over and over again.
Tuscany is one of the most popular destinations for wineries in Italy, and with good reason!
If you're going to do it, though… do it right.
While we've gone wine tasting in Tuscany before, our most formal and complete wine tasting in Tuscany is the one we did recently near San Gimignano as part of our day hosted by Fun in Tuscany.
After we had already gone horseback riding through the vineyards and visited the adorable town of San Gimignano, we headed to Tenuta Torciano winery for one of the most delicious and memorable wine tastings that we have ever had.
Before we even sat down at the table, the property itself already made sure we would remember it: the winery is home to several of the most interesting looking chickens we have ever seen, one of which our tour guide put on my head!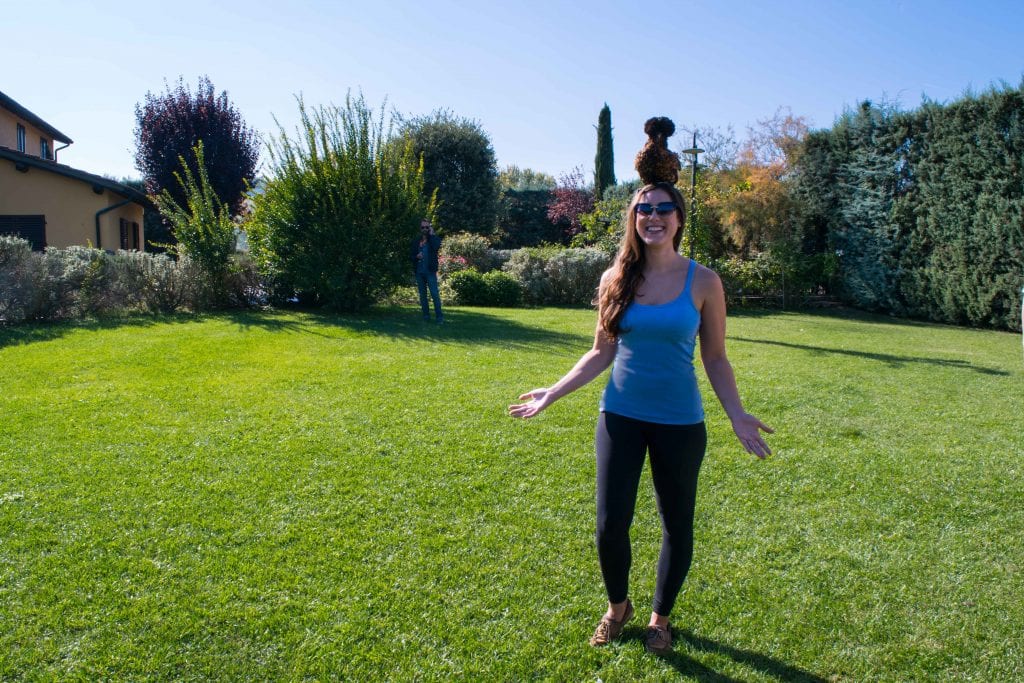 The meal with wine, though, was definitely the highlight of our visit.
Together with our small tour group (just eight people!), we worked our way through eight wines. We also tried some amazing 30-year aged balsamic vinegar, some tasty olive oil, and tasted truffle oil for the first time in our lives–it was served over one of the best lasagnas we have ever eaten, and Jeremy and I are still talking about that dish weeks later!
With all that alcohol, we definitely needed the food: in addition to the lasagna, we had a salami and cheese plate each, a salad (with balsamic vinegar, of course), and some cantucci cookies.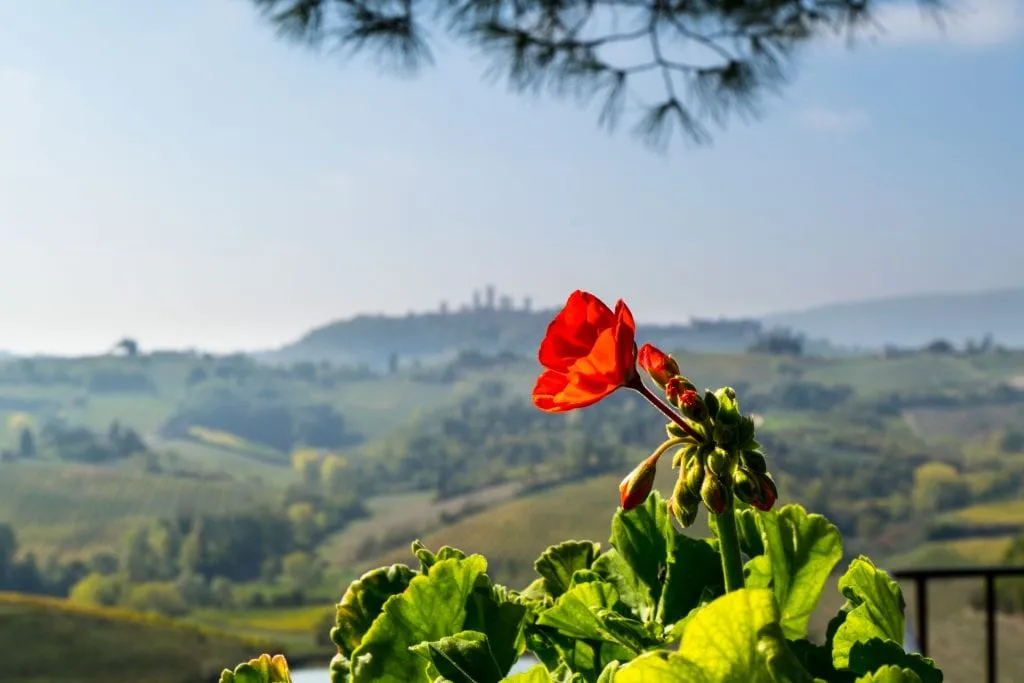 Getting hungry for some of the best things to eat in Florence? I know I'm craving about ten different foods after writing this post, which is impressive because I have enjoyed some generous helpings of Italian food already today!
Our experiences with exploring things to eat in Florence (and in Tuscany overall) have helped cement this city as one of our favorites in the world, and though the food is far from being the only reason we'll come back–it's definitely one of the major factors.
Where to Stay in Florence
Both of these hotels in Florence are midrange in price, boast an excellent, walkable location, and have wonderful reviews–we wouldn't hesitate to stay in either one!
Bargello Guest House — Located in the heart of Florence, this property is only a short (read: less than 5-minute) walk away from some of Florence's highlights like the Palazzo Vecchio. Staying here, you'll be within easy walking distance of the best of what Florence has to offer.
Ghirlandaio Firenze Guesthouse — Housed in a 19th-century building, this guesthouse is tucked away a bit further from the action than the other–which in Florence means that you're still just a 15-minute walk from the Duomo!
If you're in Florence for an extended visit, we loved the small but perfectly located Airbnb Apartment in the Heart of Florence (Never used Airbnb before? Sign up with our link for a discount on your first stay!), but we tend to prefer hotels for shorter stays these days.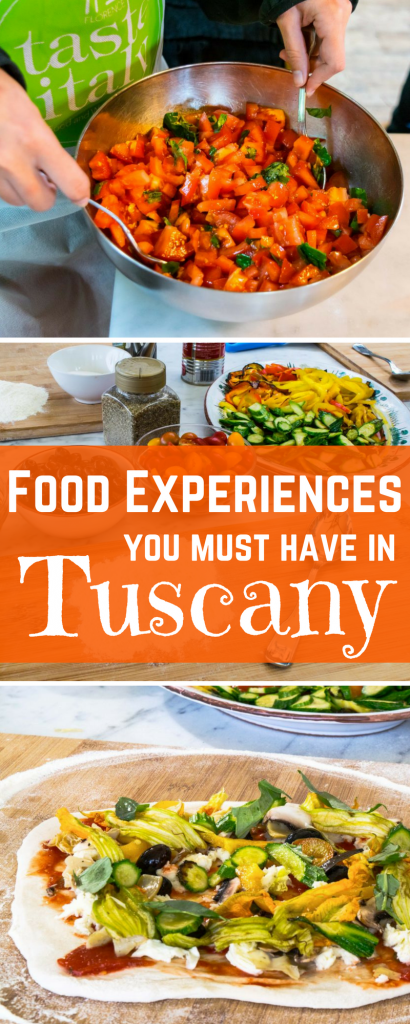 Many thanks to our partners for hosting us on some of our food experiences in Tuscany: Fun in Tuscany for our wine tasting experience as part of our day out with them, Walks of Italy for taking us on our Dine Around Florence walking tour, and Walkabout Florence for hosting us on a cooking class in Tuscany at their farmhouse in the hills surrounding Florence. All opinions are, as always, our own.