Known for its mild and (relatively) sunny winters, it's no surprise that enjoying Lisbon in winter is one of the top getaways in Europe for travelers seeking sunshine during the darkest months of the year.
And, what an excellent one it is: with plenty of fun things to do, and far fewer crowds than you'll find in the city during the busy summer months, the capital of Portugal is a delight during winter.
Whether you're planning a holiday trip in December or escaping the dreary new-year-same-weather vibes of January and February, visiting Lisbon in winter is a great idea.
As an American ex-pat living in Lisbon, I'm well acquainted with the charms of the city during the quieter months–as well as some less-than-ideal realities of winter visits that are worth keeping in mind.
Here's what to do in Lisbon this winter, plus tips on the weather, what to expect when you arrive, and what to pack!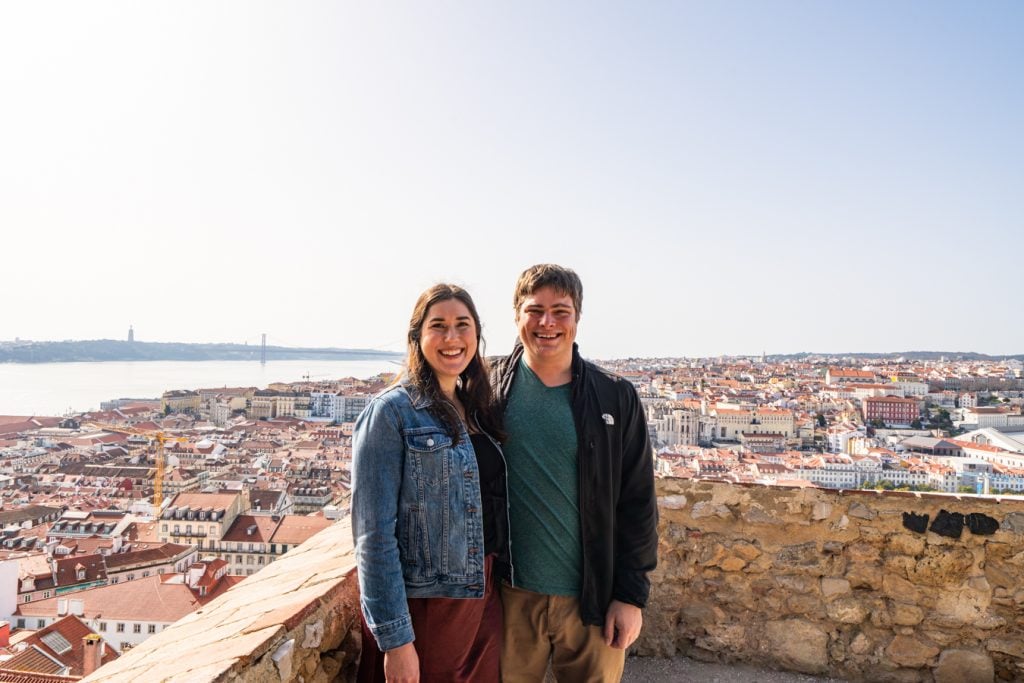 Typical Winter Weather in Lisbon, Portugal
Lisbon's winter weather can typically be categorized as both extremely mild and fairly wet.
December and January are tied for the coldest month of the year, with temperatures reaching an average high of 59°F/15°C.
By February, the temperature is already warming up slightly, with average highs of 61°F/16°C.
The coldest nights of the year come in January, with lows dipping to 47°F/8°C.
December and January are typically the wettest months of the year, averaging rainfall on 10 days each.
November is close behind, though, with an average of 8 days.
When the rain does come, gray, wet weather–often with steady rainfall mixed in with long periods of drizzle–can last for days at a time.
While there's a good chance you'll enjoy some highly sought-after sunshine during your Lisbon winter trip, there's always the chance of the opposite occurring, too.
Come prepared with an umbrella and a handful of indoor activities in mind for rainy days–luckily, Lisbon has plenty of those to offer.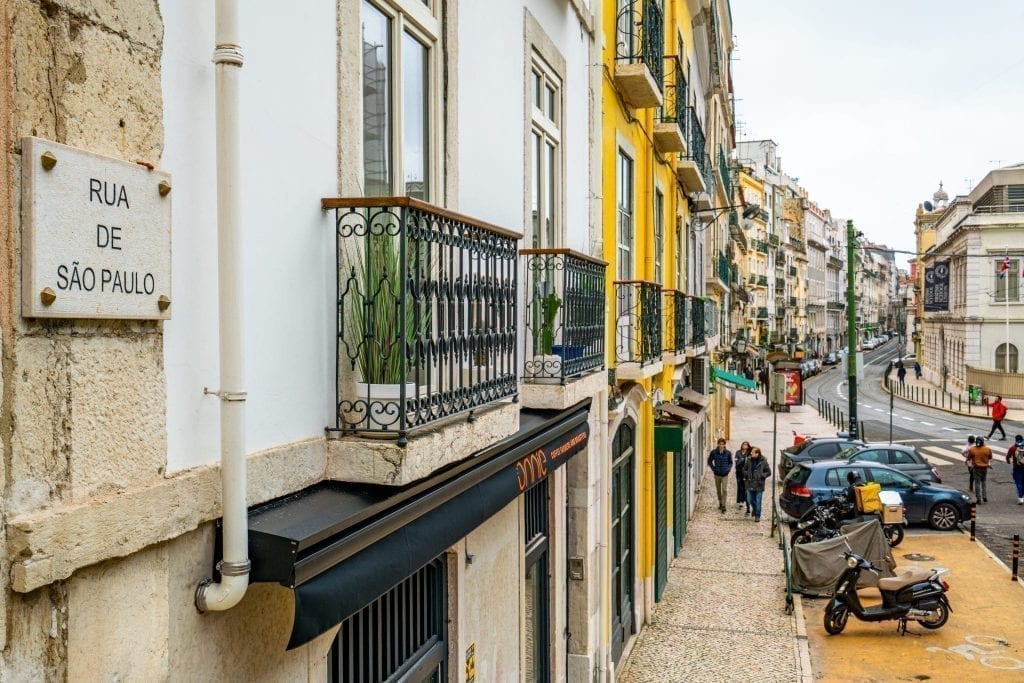 The Best Things to Do in Lisbon in Winter
Lisbon's relatively mild winter weather means that the best things to do in Lisbon in winter are more or less than the same things you would do year-round!
There are a few exceptions, though: first, attractions like Tram 28 are actually potentially pleasant rather than painful, thanks to smaller crowds.
And second, you'll want to keep several indoor activities in your back pocket in case of rain.
Here's what we recommend adding to your Lisbon winter getaway!
Walk the walls of the Castelo de São Jorge.
One of the top attractions in Lisbon, winter is the perfect time to visit the Castelo de São Jorge (in English, St. George's Castle, though I've never heard anyone call it that).
With a history dating back to the Moors and some of the best views of Lisbon from its walls, visiting Castelo de São Jorge is popular for good reason.
… so popular, in fact, that the lines to enter the grounds get incredibly long for much of the year.
The first time we tried to visit, in fact, we turned around and left after seeing the line–and that was in November.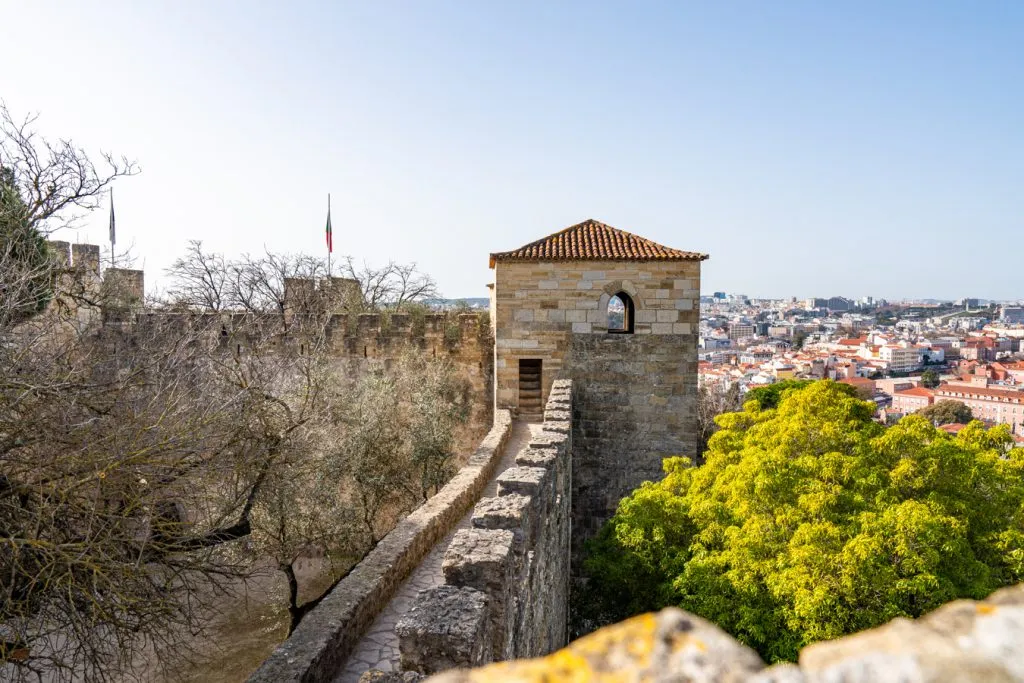 Still, winter sees far fewer crowds, and as the main attraction of the castle is to walk along the ramparts, it's nice to have more elbow room.
Keep in mind that not much is left of Castelo de São Jorge–there are walls, ramparts, views, history, and peacocks.
No interior rooms or furnishings, though, so be prepared for that!
Book your skip-the-line ticket for Castelo de São Jorge today!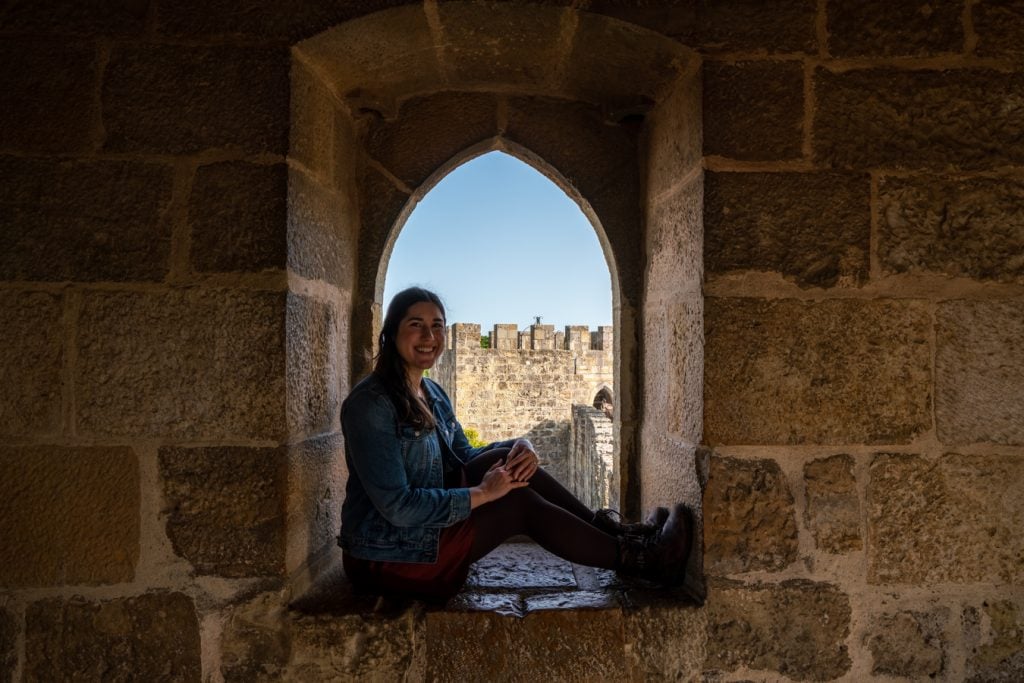 Wander the hills of Alfama.
In 1755, a devastating earthquake struck Lisbon, flattening an enormous portion of the city and causing it to be rebuilt… but not Alfama.
Today, Alfama is the oldest and arguably most picturesque neighborhood in Lisbon, and a must-see when visiting.
This is where you'll find some of the most iconic Lisbon viewpoints and attractions, including a stop for Tram 28, the Miradouro de Santa Luiza, and the Miradouro das Portas do Sol.
As a result, it's also one of the most overcrowded neighborhoods in the summer.
Alfama is also incredibly hilly–exploring the top sights on foot here can essentially be considered a workout, especially if you start from the bottom.
The combination of Alfama's popularity and hills, in other words, makes it the perfect place to explore during the cooler, less congested months of December, January, and February.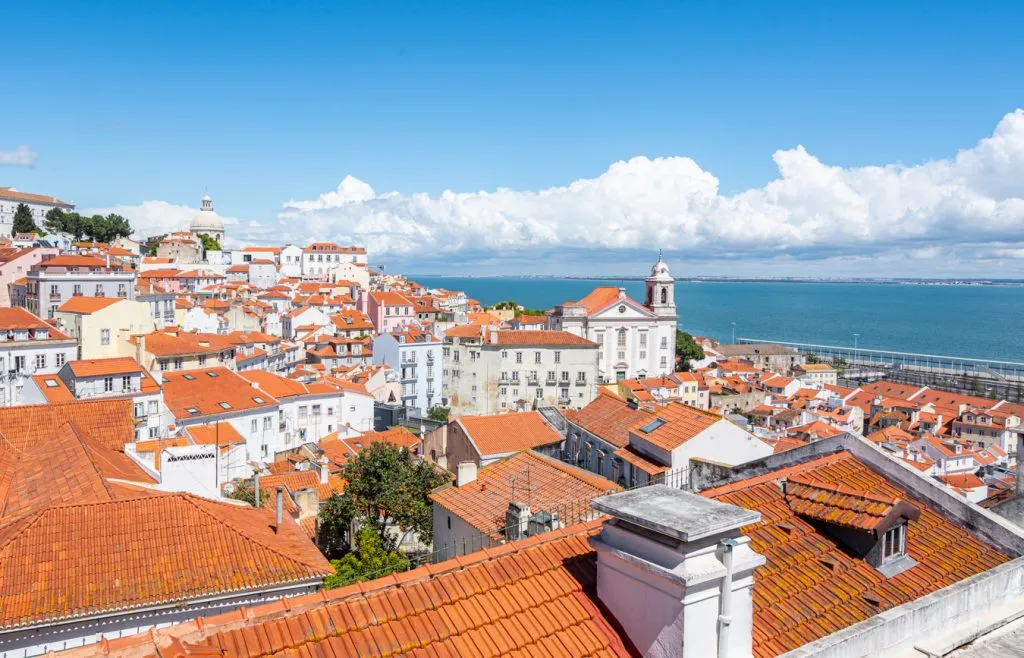 Get acquainted with Portuguese cuisine on a food tour.
Portuguese food and wine is, in my biased opinion, perfect for winter: think warm pork sandwiches, fried cod, and a cherry liqueur that makes me take back everything I ever said about not liking liqueurs.
To sample several dishes at once, while learning about Portuguese food culture along the way, we highly recommend signing up for this Lisbon food and wine tour.
We absolutely loved this tour and experienced it ourselves in a winter-adjacent month (November).
We've also returned to a few of the establishments included in the tour since, which is the sure sign of a successful food tour!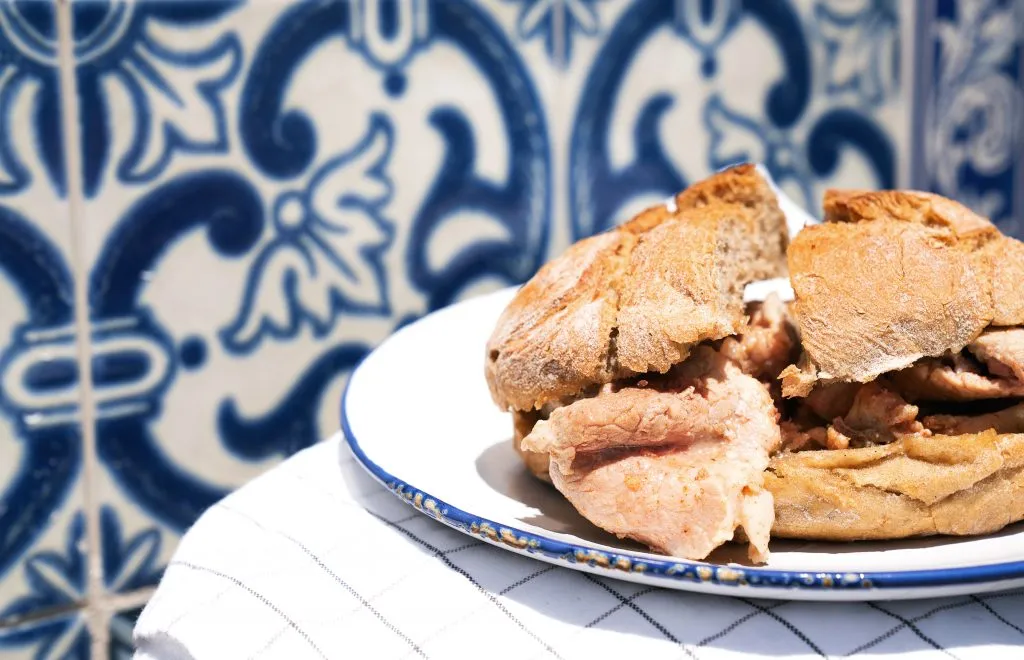 Enjoy the views from Lisbon's many miradouros.
As a city famously built on 7 very steep hills, Lisbon has many incredible viewpoints, or miradouros.
… And you'll typically enjoy a nice leg workout to reach them.
While there are shortcuts around the city ranging from the popular Santa Justa Lift and Elevador da Bica to the very useful escalator inside the H&M in Baixa, there's no doubt that thoroughly exploring Lisbon involves doing some climbing.
And, the mild temperatures brought on by winter are perfect for this!
There is a near-limitless number of excellent views in Lisbon, but it's well worth seeking out the Miraodouro das Portas do Sol, Miradouro de São Pedro de Alcantara, Miradouro da Graça, and the Miradouro da Santa Luzia in particular.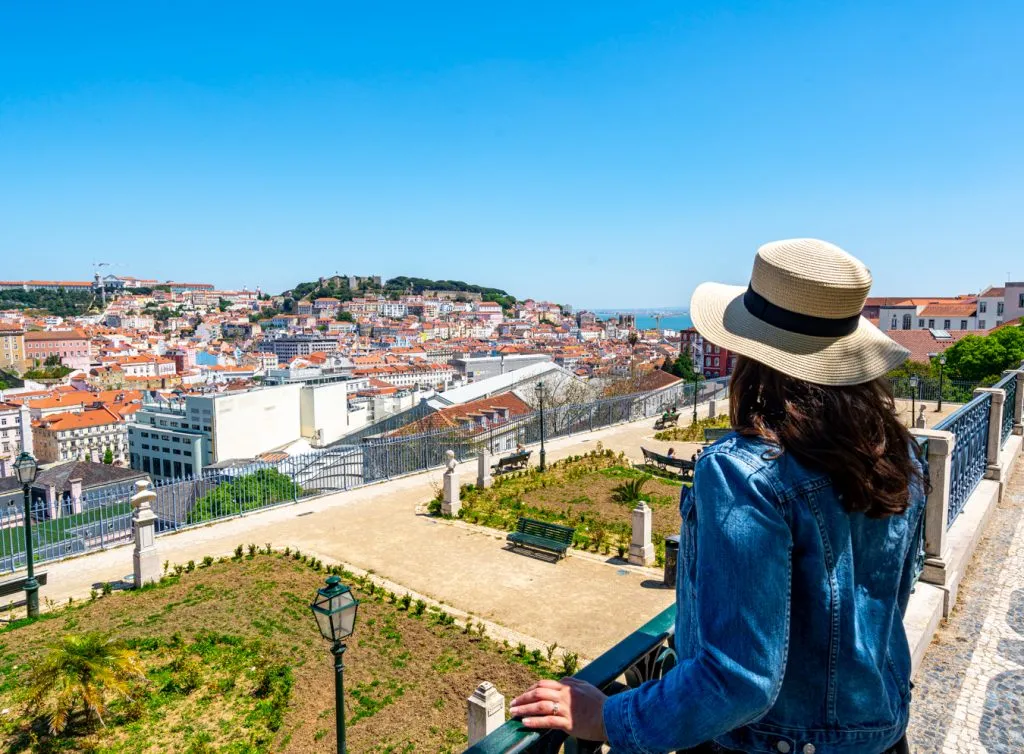 Warm up with a glass of ginjinha.
Ginjinha, also known as ginja, is Portugal's most popular liqueur.
And, as someone who typically doesn't care for liqueurs, let me say–this one is absolutely fantastic, and a great way to warm up during a winter day in Lisbon!
Made with morello cherries among other delights, ginjinha is served in a small, shot-sized glass (which is sometimes made of chocolate), but it is meant to be sipped.
We've tried many brands in Lisbon, Obidos, and beyond, but remain partial to Ginjinha Espinheira (it's fabulous).
For a memorable place to pick up this Portugal memento, head to the popular and centrally located A Ginjinha bar.
Escape the rain at one of Lisbon's best museums.
As a lively European capital city, it's no surprise that Lisbon has some fantastic museums to choose from!
While Lisbon's museums tend to fly a bit more under the radar than in other cities–they don't necessarily make everyone's top-5-things-in-the-city lists the way the Louvre in Paris or the Uffizi in Florence do–they are still well worth exploring.
The National Azulejo Museum, the Museum of Art, Architecture, and Technology (MAAT), the Calouste Gulbenkian Museum, and the Fado Museum are excellent places to start.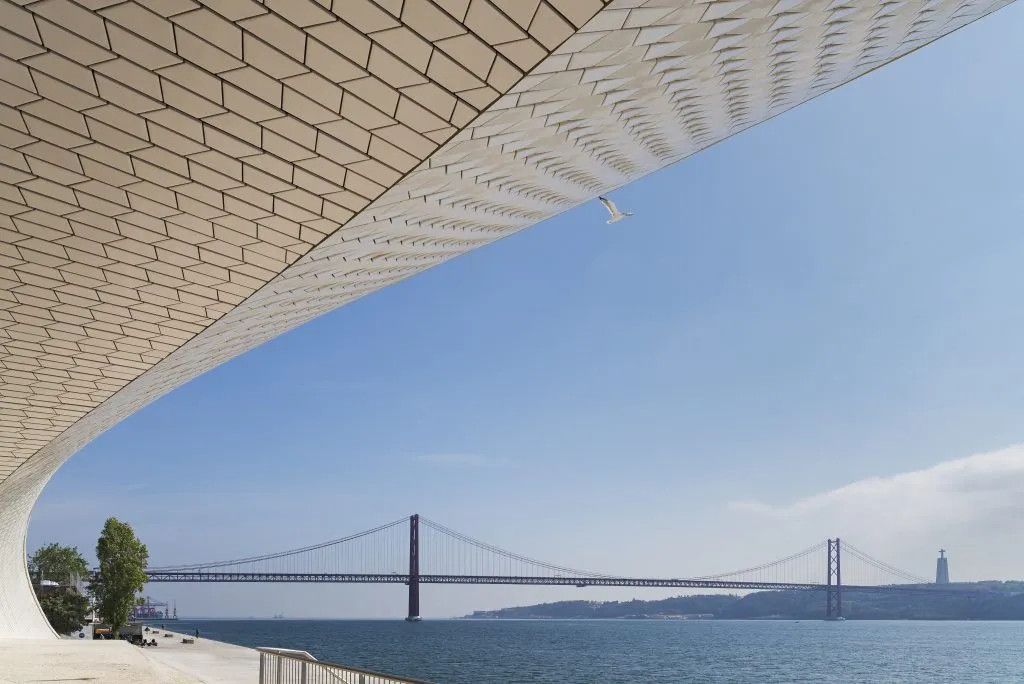 Try your hand at making Portuguese pastries at a pastel de nata cooking class.
Portugal's iconic egg tarts more than live up to the hype, but here's the thing: they don't travel well!
We've personally gotten picky enough that we don't even buy them at bakeries and bring them home, preferring to just go out and get fresh ones whenever the craving strikes.
In other words, if you're going to develop a minor pastel de nata addiction while in Lisbon this winter… going home with the knowledge of how to make them is an excellent plan.
And, as a bonus, a pastel de nata cooking class like this is an incredibly memorable indoor activity for a rainy winter day in Lisbon.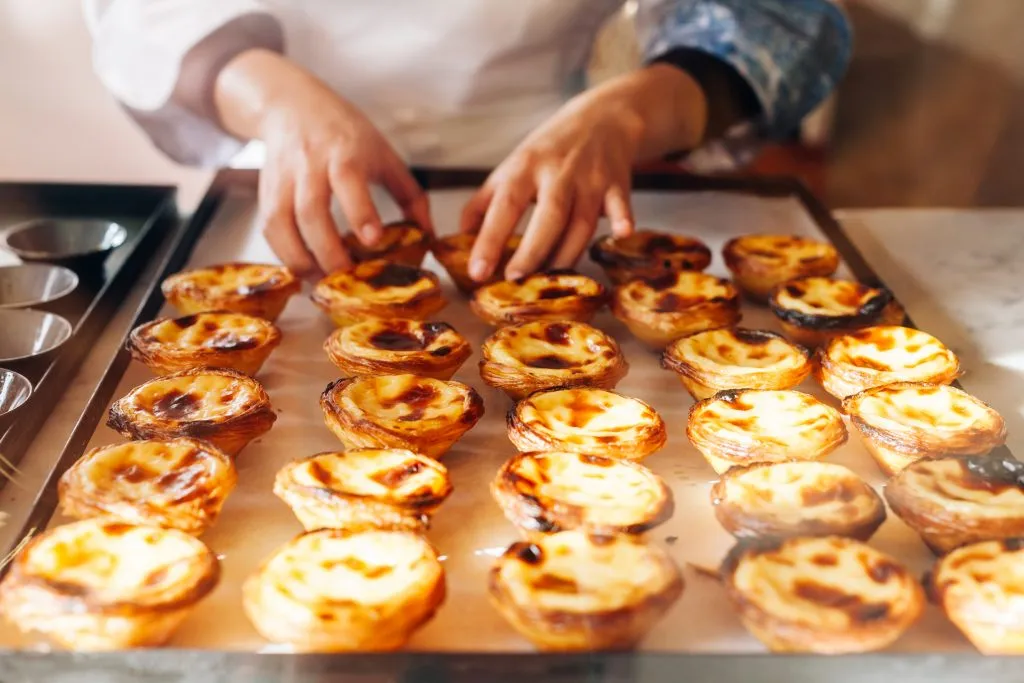 Cozy up at night with a Fado show.
When it comes to music, there is nothing more iconically Portuguese than fado.
Traditionally sung in crowded bars or cafes, fado is meant to describe and inspire deep feelings of mourning and nostalgia mixed with longing.
… Or in other words, the distinctive Portuguese concept of saudade.
If you're interested in experiencing a slice of traditional Portuguese culture while visiting Lisbon this winter, a fado show like this is an excellent way to do so.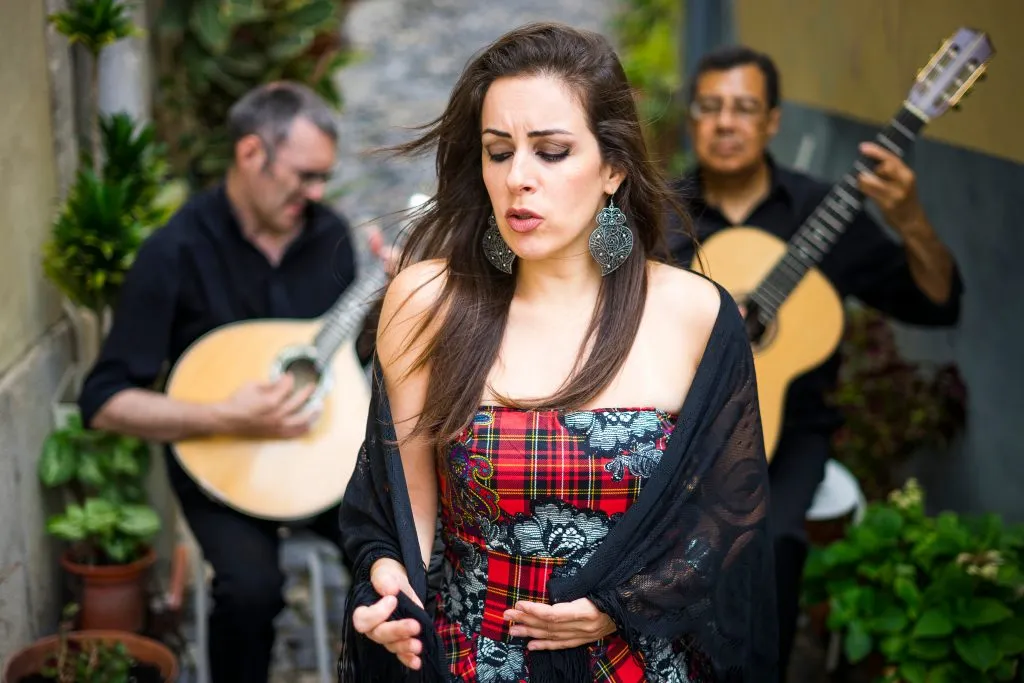 Tour the stunning Jerónimos Monastery.
Dating to the very beginning of the 16th century (almost to the day: construction began on January 6, 1501), the Jerónimos Monastery is considered a prime example of the local Portuguese Gothic Manueline architecture, and is recognized as a UNESCO World Heritage Site.
Packed with stunning detail and more beautiful around every corner, the monastery is a fantastic place to visit at any time of year.
Its status as one of the most popular things to do in Lisbon, though, makes the less-crowded winter an excellent time to appreciate it. Get your ticket in advance just in case there are any lines.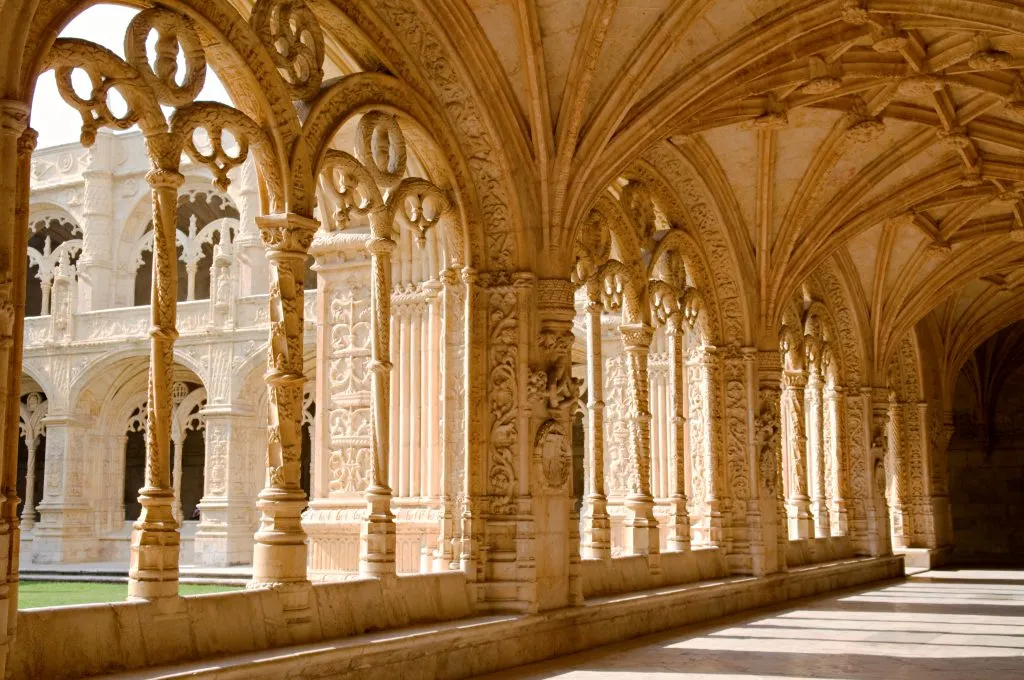 Ride Tram 28 without the crowds.
Lisbon's famous, scenic Tram 28 is often ranked among the best attractions in the city–but it is agonizingly, painfully crowded much of the year.
Many people who live in Lisbon, locals and ex-pats alike, avoid Tram 28 and its giant lines as much as possible!
In winter, though, the crowds ease, and riding Tram 28 can be pleasant again (though it's still best to aim for a weekday rather than a weekend if you can).
If you're visiting Lisbon in December, visit the Christmas markets.
Lisbon's Christmas markets, to be perfectly frank, are not worth traveling here for as compared to the showstoppers in places like Salzburg and Strasbourg–but if you are visiting Lisbon in December, it's certainly worth stopping by!
There are a handful of markets around the city, most notably the Wonderland Lisboa Festival in Parque Eduardo VII (one of our favorite places in the city at any time of year) and the Rossio Christmas Market.
Our friend Brittany has curated a great round-up of Lisbon Christmas markets (some have very brief opening windows).
Take a day trip to Sintra.
Beautiful Sintra, with its magnificent palaces like the colorful Pena Palace, otherworldly Quinta da Regaleira, and historic Moorish Castle–and that's just scratching the surface–is a true fairytale-level destination.
It's very justifiably one of the most popular day trips from Lisbon, and we love it and have visited many times.
… And, we also tend to avoid it during the high season due to the intense crowds, which seem to get heavier every year (and many of our ex-pat friends concur).
That makes winter an incredible time to visit!
It is best to wait for a clear day, as the gorgeous views are a big part of the fun of Sintra.
If you want to cover as much ground as possible, taking an organized day trip to Sintra is very effective at helping you see as much as is reasonable in a day.
Rather travel independently?
No worries: a 40-minute train ride from the heart of Lisbon, an easily navigable bus, and a ticket (we recommend pre-purchasing yours) will absolutely get the job done as well.
Book your day trip to Sintra today!
Check out the Carmo Convent.
Built between 1389 and 1423, the Carmo Convent is a Gothic Church like no other in Lisbon–because it doesn't have a roof!
Destroyed in the infamous earthquake of 1755 and never fully repaired, the church opens to the heavens and is one of my favorite attractions in Lisbon.
There's a small archaeological museum in the back, which features some gorgeous azulejos and an interesting collection of artifacts from around the world.
Most memorably, the archaeological museum is home to 2 Peruvian mummies.
Visit Lisbon's beautiful churches.
While the Carmo Convent is more of a museum than a church these days, there are oodles of more traditional churches to visit in Lisbon!
The vast majority are free to visit, and well worth ducking into as you explore–especially if you happen to be experiencing a dreary winter day.
Some of my favorite Lisbon churches to duck inside include the Basilica Estrela, Igreja de São Roque, Igreja de São Domingos, and the Lisbon Cathedral.
The Igreja de São Domingos is particularly fascinating, as it was damaged in both the earthquake of 1755 and a later fire in the building–and the scars of both disasters are still clearly visible inside.
Where to Stay in Lisbon, Portugal
One of the many advantages to visiting Lisbon in winter is that hotels will be much more affordable than their summer rates–and Lisbon is already one of the more affordable capital cities in Europe!
While there are plenty of excellent neighborhoods to stay in around Lisbon, we recommend picking somewhere central with good transportation connections around the city.
Alfama, Baixa, Chiado, Principe Real, and Barrio Alto are great names to keep an eye out for when browsing places to stay.
For a budget-friendly hostel experience (with private rooms available), the Sunset Destination Hostel is a great, centrally located option.
At a mid-range price tag, you can't beat the location or rave reviews for Tempo FLH Hotels Lisboa.
Looking for a splurge?
The Lumiares Hotel & Spa is part of the much-acclaimed Small Luxury Hotels of the World Collection, and offers stunning views that you won't forget anytime soon!
Tips for Visiting Lisbon in Winter
Prepare for rainy days.
Statistically, it rains about 1 out of every 3 days during winter in Lisbon… but when it hits all at once, it can feel like a lot more than that!
Before moving to Lisbon, we once experienced an unlucky December trip where it rained almost every. single. day. that we were in town.
I have lots of memories of debating with myself just how important it was to leave our sanctuary in order to climb a steep hill in Alfama, in the pouring rain, just to get coffee!
(Answer: very important, apparently).
Basically, be prepared for anything.
Luckily, if you don't end up with excellent weather during your Lisbon winter getaway, there are still plenty of indoor activities to enjoy.
Watch your step when the pavement is wet.
Those pretty stone walkways that you see across Portugal?
Here's the thing… they're incredibly slippery when wet, especially if they happen to have fallen leaves sitting on them.
Named Portuguese pavement (or calçada portuguesa), these walkways are beautiful, distinctive, and a bit of a hazard in the rain.
Watch your step, especially on hills, and opt for shoes with some grip to them!
When you pack, think layers.
Light layers are the name of the game when deciding what to wear in Lisbon in winter.
Depending on the weather, the time of day, and exactly how many hills you've climbed lately, you may find yourself walking around in a t-shirt… or reaching for a peacoat.
Anything heavier than that is unlikely to be necessary, but of course, be sure to double-check the weather before showing up in Lisbon in January without a jacket!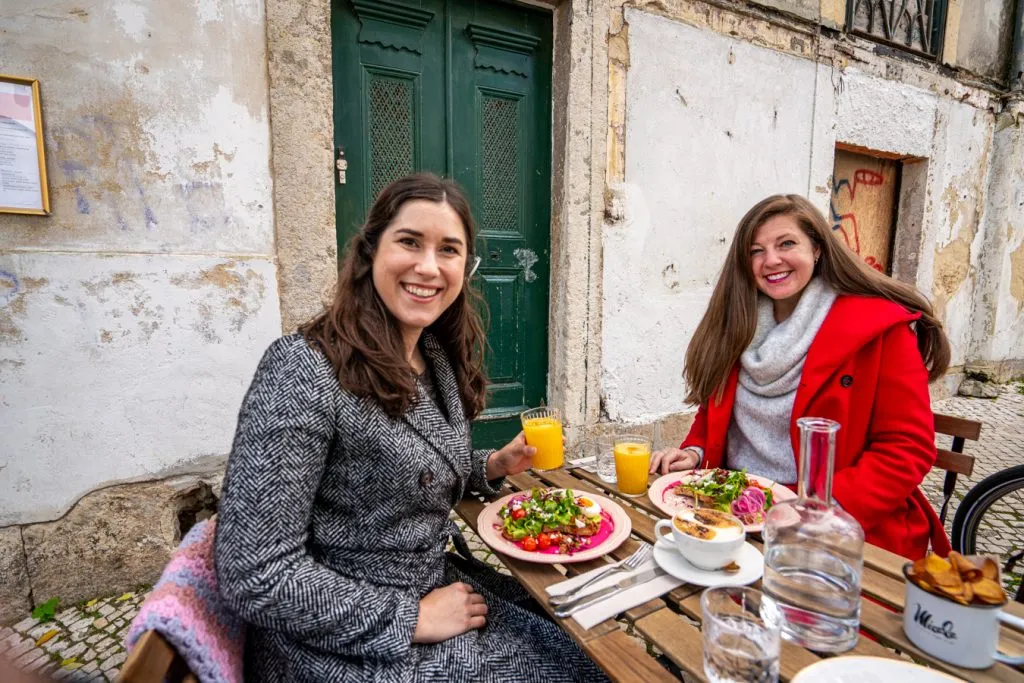 Keep heating in mind when choosing where to stay.
A big plus and minus of Lisbon's year-round mild climate is that central temperature control systems are much less common here than in many places around the world.
In the summer, that means a lack of air conditioning in some hotels… and during winter in Lisbon, it means keeping an eye out to make sure your hotel has heat.
That's not solely because of the temperature, either: Lisbon struggles with dampness, mildew, and mold in many of its buildings over the winter months.
In fact, in many places without temperature control, it's often warmer outside than inside during the day!
It's not a huge problem for visitors, but if you're concerned about dampness in your room or you have allergies, it's best to keep it in mind when deciding where to stay in Lisbon in winter.
Don't come to Lisbon in December for the Christmas markets.
I mentioned this above, but it's worth repeating: Lisbon is a fantastic winter sun destination.
But, while it certainly has Christmas events and decor, it's not what I would call a Christmas destination per se.
If holiday cheer is what you're looking for, Central Europe is going to be more your cup of tea (but of course, you're very unlikely to experience any of the winter sun that Lisbon offers up there).
What to Pack for Winter in Lisbon
Before jetting off to Lisbon this winter, we recommend taking a look at our full winter packing list for Europe.
True, you won't need as heavy of clothes in Lisbon as you will in many parts of the continent over the winter months, but you'll still be enjoying a decidedly off-season trip.
That being said, here are some essentials you should be sure to bring with you during a winter trip to Lisbon!
Travel Insurance — We don't ever suggest traveling without travel insurance–anything can happen, and this is definitely a case of better safe than sorry.
We recommend Safety Wing for trips to Portugal.
Travel Adaptors for Portugal — If you're coming from outside of Europe, you'll definitely want to make sure you can plug in your electronics once you arrive!
Comfortable Day Bag — We currently use Pacsafe's sleek anti-theft backpack and love it, but if you don't want to shell out the cash for this trip, that's totally understandable.
Just aim for something comfortable to wear, not flashy, and medium-sized–we used a Northface Jester backpack for years and loved it as well.
Umbrella — There are very good odds that you'll need an umbrella at least once during a Lisbon winter getaway!
Lotion — Winter travel can be rough on the skin–be sure to pack a moisturizing lotion.
Lip Balm — You know what's not fun? Eating a spicy, salty bifana with chapped lips.
Portable USB Charger — Avoid having your phone die when you're out exploring by throwing a portable USD charger in your day bag!
They also come in particularly handy on long flights.
Hand Sanitizer — You'll be glad you have this when you polish off your millionth pastel de nata during your winter trip to Lisbon, Portugal!