To be honest, we weren't sure exactly what to do in Oaxaca or what to expect from the city before we arrived.
We knew that Oaxaca was known for its delicious food, colorful streets, and access to beautiful ruins. Beyond eating all the mole that we could get our hands on, though, we didn't have much of a plan for our trip to Oaxaca.
The city ended up stealing our hearts–here are the best things to do in Oaxaca that helped us fall in love with the city.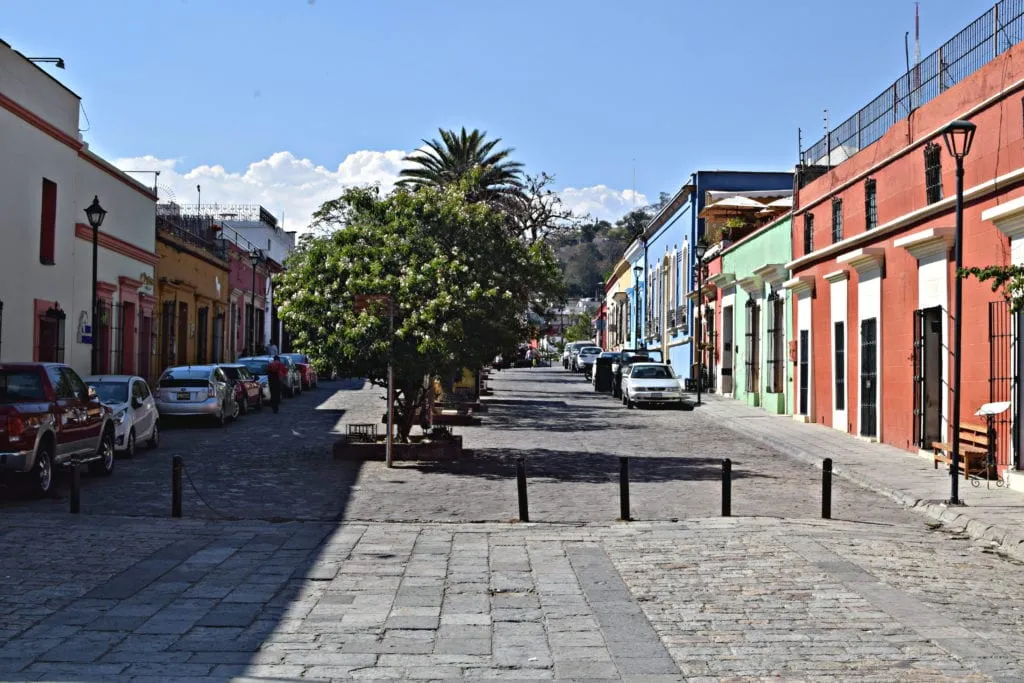 Wander through the center of Oaxaca and visit the Zocalo.
Oaxaca's main square is huge, and is easily the perfect first item to add to a list of things to do in Oaxaca. The gigantic shade trees make it a welcome break from the sun, the balloon sellers throughout the square add eye-catching splashes of color in every direction, and the hawkers are some of the politest that we have come across–they all asked us once, and only once if we wanted to buy anything before moving on.
Prices at the restaurants surrounding the square are a little inflated as compared to other parts of the city, of course–but it's still worth grabbing a meal here just to people-watch in the square.
Visit Monte Alban.
The abandoned city of Monte Alban is, in our opinion, even prettier than Teotihuacan near Mexico City–impressive, given how much we loved the first!
Monte Alban is one of the earliest cities in Mesoamerica, and is believed to have been one of major cultural centers of the Zapotecs. It's one of the most popular things to do in Oaxaca, and it's easy to see why!
You can see mountains on all sides of Monte Alban, and ruins all around you–in every direction, there's nothing but views: the past at eye-level, and the present in the cities occupying the valleys below.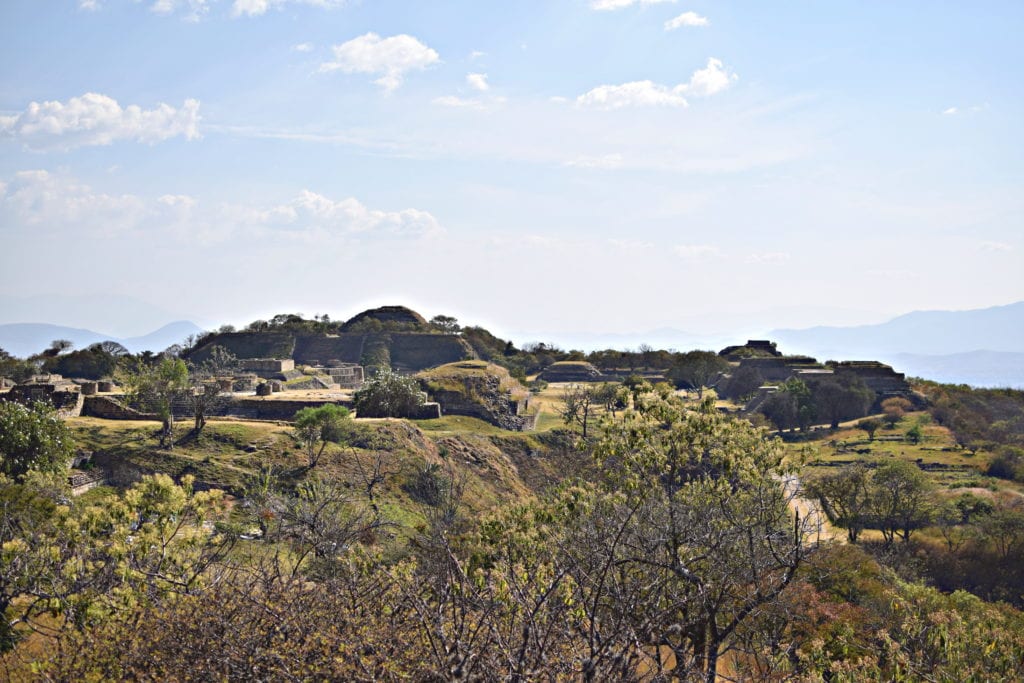 Taste some Mezcal.
I'm not much of a drinker, but I have to admit that touring a Mezcal factory was grand fun! In exchange for listening to a sales pitch at the end of the tour, we were able to see each step of the Mezcal process, from the beheaded corpses of fresh agave plants all the way to the finished product.
The tour finished with a Mezcal tasting (which is not to be confused with Tequila–Mezcal and Tequila are very different!)–our guide was liberal with the pours, and while I stuck with one small taste, Jeremy tried six or seven!
If you're not interested in touring a factory, don't worry: Mezcal is available at just about any restaurant in Oaxaca.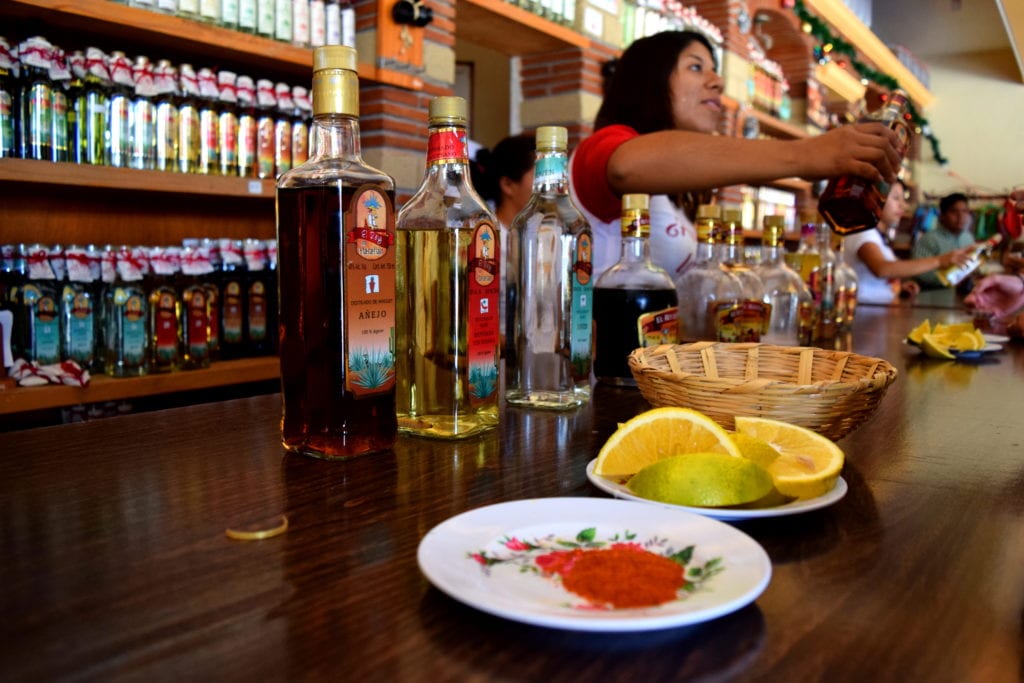 Check out the Templo de Santo Domingo.
Oaxaca's most famous cathedral is located in the north of town and is never absent from any list of the best things to do in Oaxaca–for good reason.
Situated with a small square in front and botanical gardens to the rear, the area surrounding the church (despite its draw for tourists) is much quieter and more peaceful than the Zocalo to the south–a perfect area to relax in.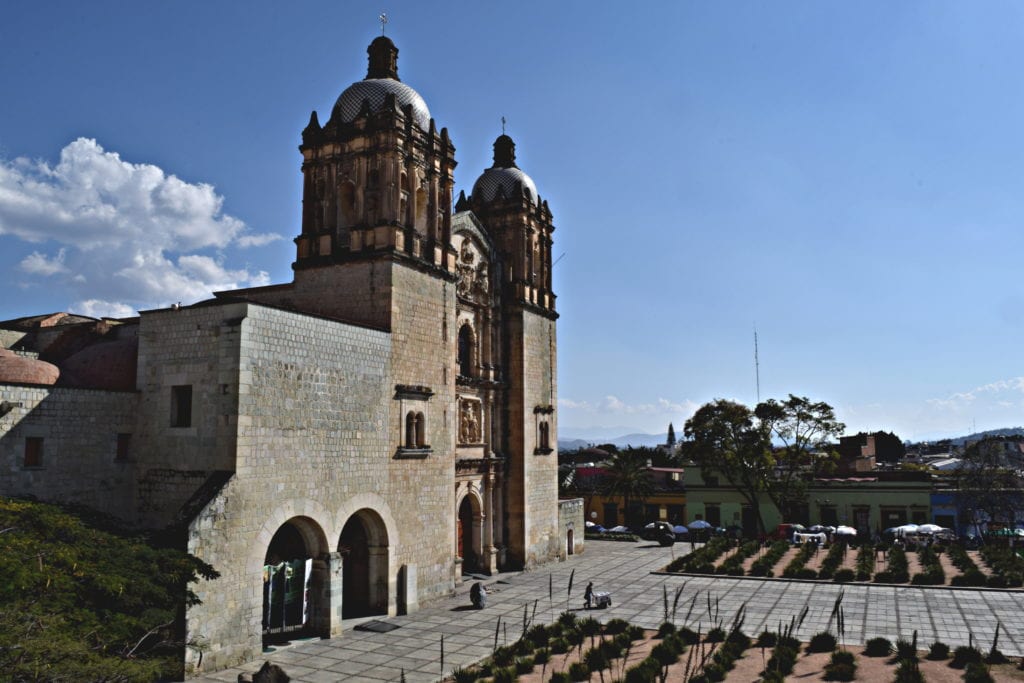 Visit the Ethnobotanic Garden.
Oaxaca's botanical gardens are peaceful and pretty (as all botanical gardens should be), and have a different twist than many flower-focused gardens: a lot more cacti, for one! Located right next door to the Templo de Santo Domingo, it's not hard to find a chance to cross this of the list of things to do in Oaxaca.
Check out the Oaxaca Cultural Museum.
Oaxaca is the most culturally diverse state in Mexico, and it shows in this cultural museum: artifacts spanning many periods and cultures are displayed here, emphasizing individual cultures and, of course, the impact of Spanish colonialism.
The museum is attached to the Templo de Santo Domingo, in what was once the monastery–meaning that the building is a museum artifact itself!
Fair warning: all of the signs in the museum are exclusively in Spanish. I stumbled through the best I could, but Google translate was my friend. I have no doubt that I would have gotten more out of the museum with more advanced Spanish, though the artifacts alone are enough to make it worth stopping by.
Tour Mitla.
It was pure luck that we ended up at Mitla: we visited it as a day trip to several sites, and it was never on our priority list of things to do in Oaxaca. That was a mistake–Mitla absolutely should have been a priority when visiting Oaxaca.
Mitla is a religious and cultural center for the Zapotecs, dating after Monte Alban was abandoned. Our guide referred to the style as "Greek" because of the geometric patterns that dominated what remains of Mitla–the detailed work was mesmerizing.
Sadly, it becomes easy to take the grandiosity of ancient structures for granted during a long trip–the twentieth cathedral is not as remarkable as the first, and so on. Occasionally, though, something strikes me and I spend a few minutes grappling with just how much work had to go into these ancient sites.
Mitla was once such place: as I ran my eyes over each of the tiny stones that made up the walls of room after room (and tomb after tomb, I'm assuming, though we only visited one), the sheer scale of the project captivated me.
Much of Mitla was torn down when the Spanish arrived in order to build the cathedral that now overlooks what is left of the city–but the remains are more than enough to get the idea.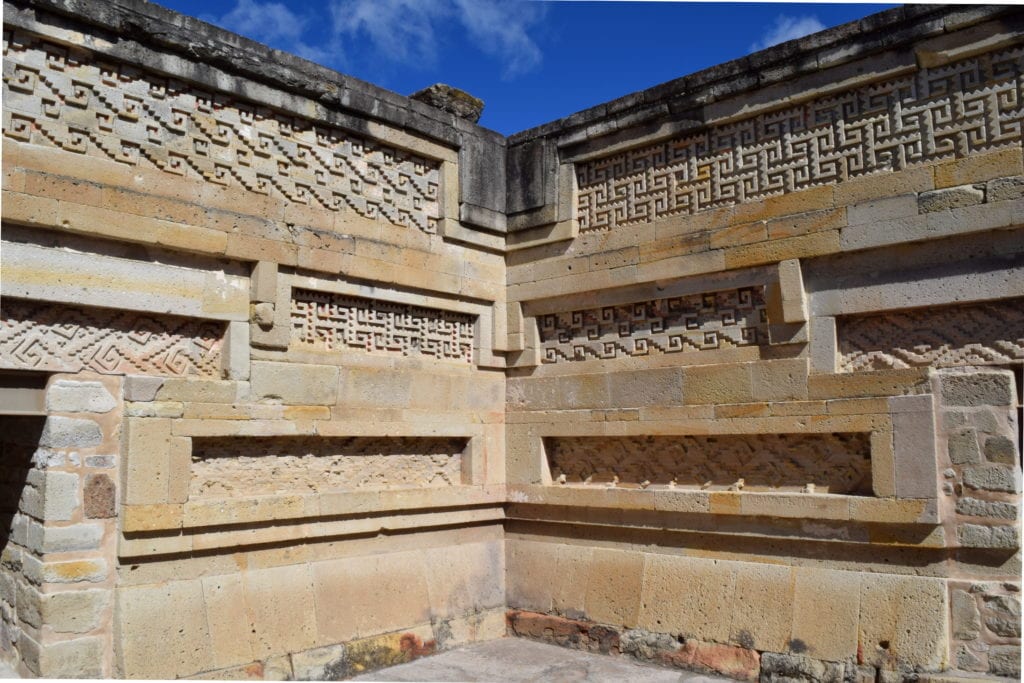 8. Enjoy the festivals.
Oaxaca is well known for its exuberant celebrations, and luckily for travelers, they happen all the time.
Jeremy and I didn't remotely try to plan our trip around any festivals, but that didn't stop us from hearing fireworks going off every night, seeing the Zocalo covered in people dancing a tango or performing on stage almost every night we were there, or stumbling into two different parades.
A little research showed us that we were most likely seeing preliminary celebrations for the Fiesta de la Virgen de Guadalupe and/or the Fiesta de la Soledad–and, of course, Christmas, for which a Christmas tree taller than the nearby cathedral was being built near the Zocalo when we were there.
9. Fall in love with Hierve el Agua.
I saved my favorite of our recommended things to do Oaxaca for last.
Hierve el Agua is a petrified waterfall, and the area you visit in order to view it is filled with pools formed of the same calcium carbonate that created the "falls".
Stand and look forward from the pools, and you will see the gorgeous mountains opening up before you–the view is irresistible.
The area is extraordinarily peaceful, and while there is a small changing area and bathroom nearby, the expected food stalls and souvenir stands are out of sight and a 10-minute hike up a fairly steep hill from where the pools are located, leaving the entire area feeling less commercial than it could.
Sadly, Hierve el Agua is a couple of hours from Oaxaca by car–but it is a must-see. This is, hands down, our favorite thing that we saw while in Oaxaca, and our only regret is that we weren't able to stay longer.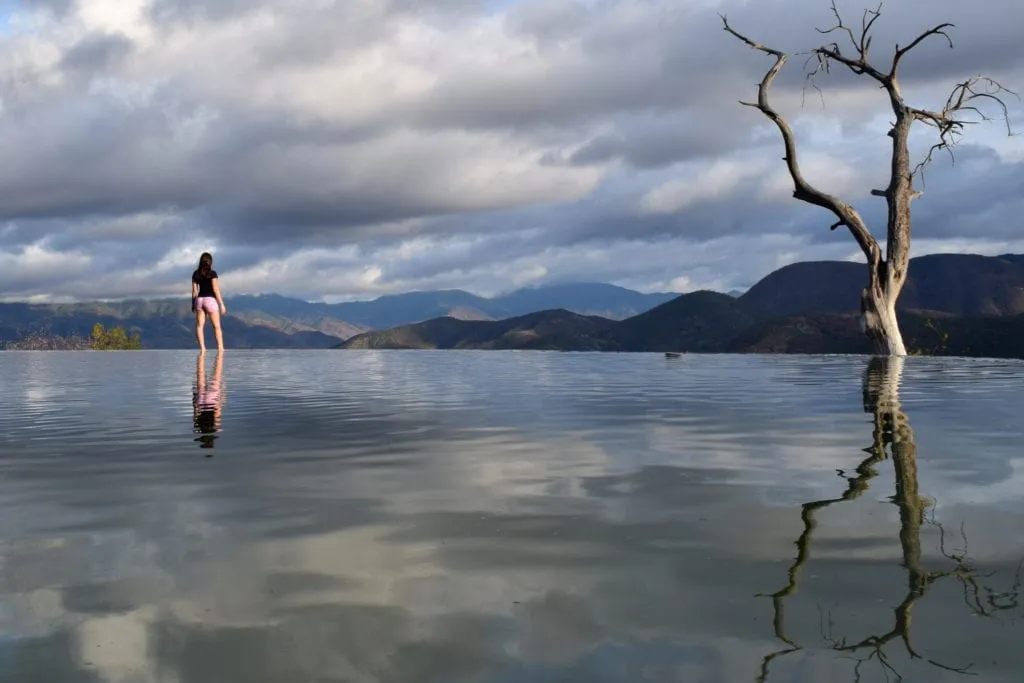 Oaxaca is a perfect stop for dipping a toe into Mexico outside of its major tourism hubs (primarily in Baja and the Yucatan). It feels safe and relaxed, there are fascinating things to do in Oaxaca, the city has plenty of tourism infrastructure without feeling like you've inadvertently joined a group tour with other backpackers, it's easy to get to and get around, and is bursting with culture and history.
Oaxaca–and Hierve el Agua–we'll be back for you.
Group Tours
We took a one day tour from Oaxaca, which included visiting Hierve el Agua, a Mezcal factory, Mitla, a wool rug craftsman, and the Tule tree (the last two aren't on this list because we found them dull–the first is a predictable sales pitch and the second is a large tree that is not worth seeking out on your own). The cost was 200 pesos per person, and included all transportation and an excellent guide for Mitla.
A few other entrance fees (totaling less than $10/person) were required to be paid on the tour, and though not technically "required", the buffet lunch that the tour pauses for is predictably overpriced (about $7/person, but very tasty).
The tour fulfilled our needs and seemed to be available at a similar price from every tourism agency in town.
The downside was our limited time of about one hour at Hierve de Agua–next time we'll consider renting a car and going for the day as it was one of our absolute favorite things to do in Oaxaca, though the mountain roads to access it are very windy–be prepared for a bit of an adventure if you want to drive.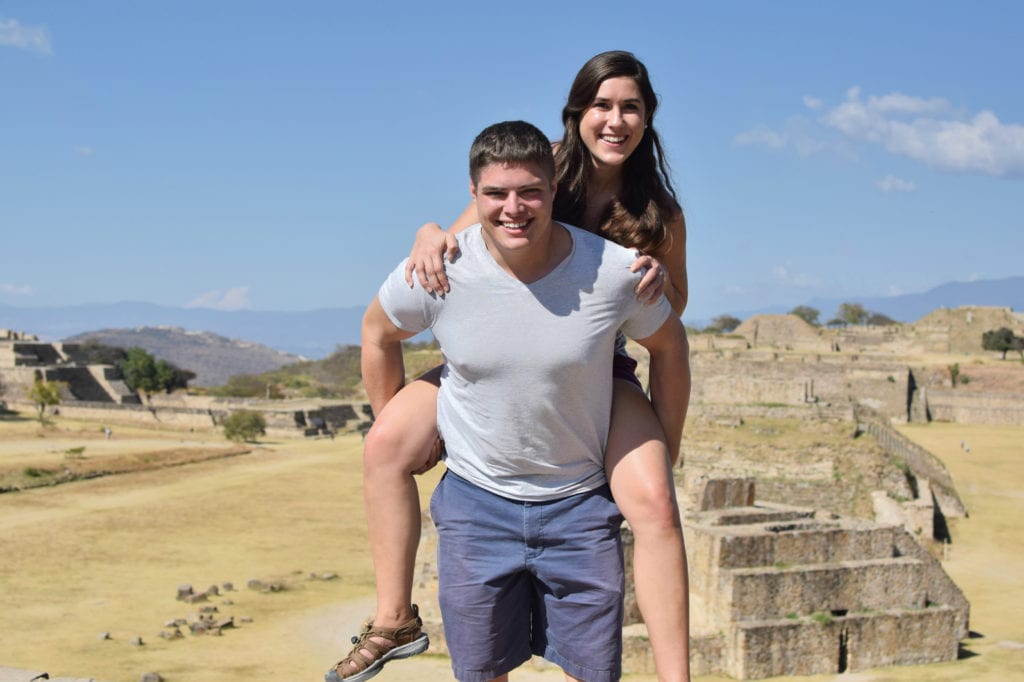 Tours are also available to visit Monte Alban, though I wouldn't recommend taking one unless you really want a guide with you. Monte Alban is about 30 minutes outside of the city, and shuttles that will sell round-trip transportation for 70 pesos/person are everywhere.
The Oaxaca city bus is also an option if you want to stick to a very low budget, but my tendency to get motion sickness made me very grateful for the direct and simple transportation.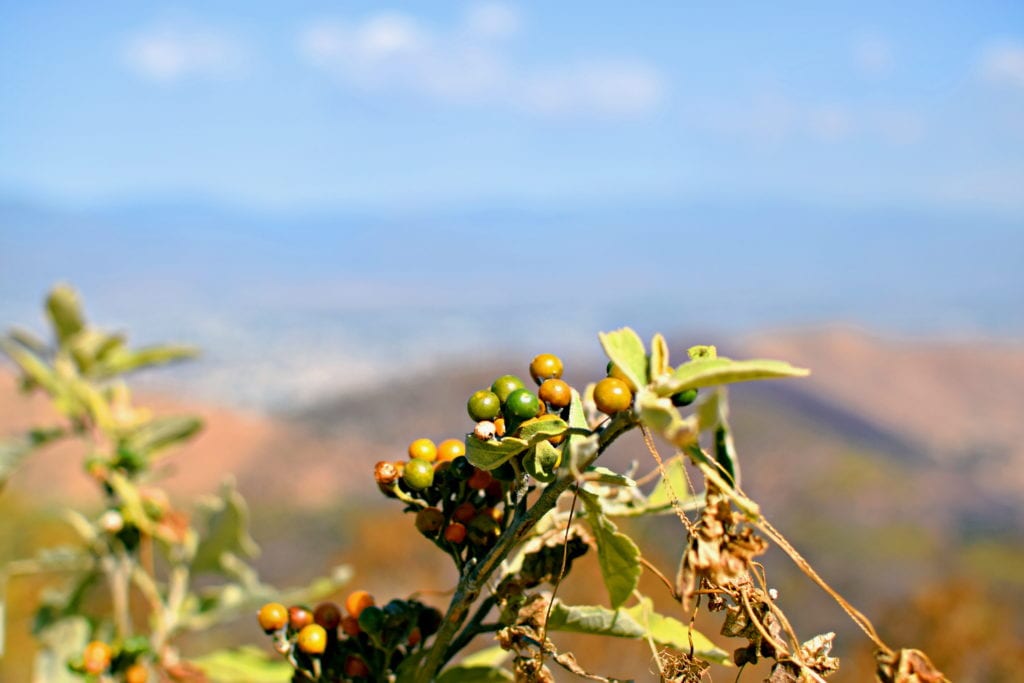 Where We Stayed in Oaxaca
Hotel Oaxaca Magico — This hotel was exactly what we were looking for: clean and in a great location. A budget hotel means a small room, but the 10-minute walk to the Zocalo, daily maid service/replacement of toiletries, and overall smooth experience left the tiny room in the back of our minds. We would be happy to stay here again!
Looking for something a little different? Check out the Oaxaca page on Booking.com for a huge variety of lodging!