Our time in Vilanculos, Mozambique was full of beautiful views, relaxing moments, and plenty of sunshine.
It was also, quite frankly, full of some of our most ridiculous travel moments to date.
Ultimately we didn't really do much in Vilanculos–like in several other beach destinations around the world (Hvar, Croatia, Isla Holbox, Mexico, and Koh Rong, Cambodia all come to mind), we found ourselves happiest when enjoying the views and the relaxed vibes without adding much else to the mix.
Perhaps that's why some of our silliest moments stick out… or perhaps Vilanculos simply did have a higher concentration of weirdness mixed in with its stunning landscapes.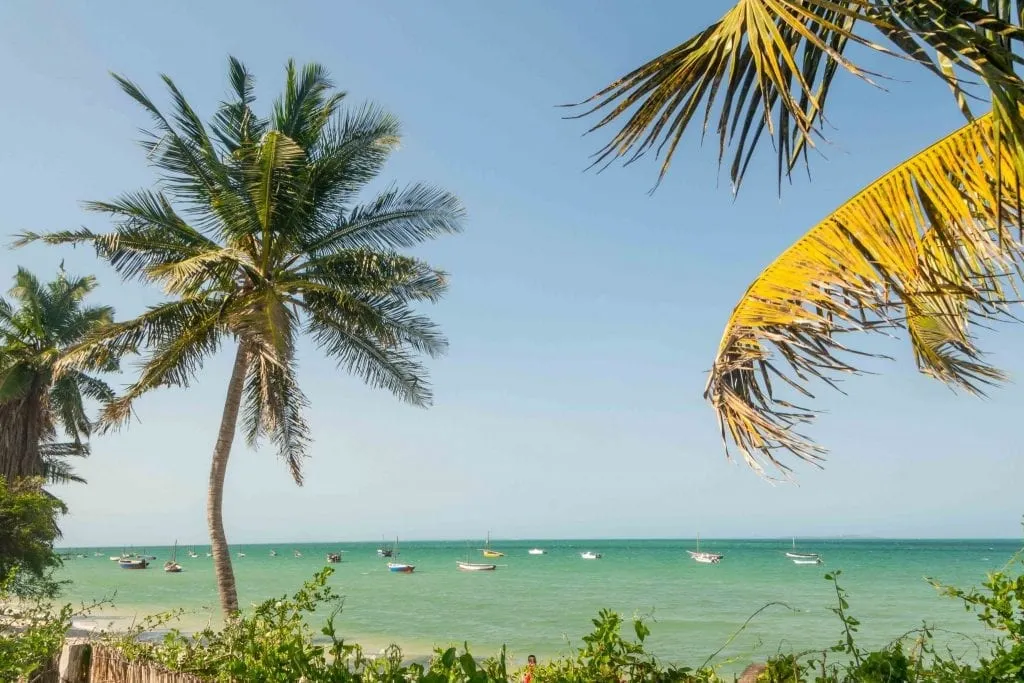 Some links in this post may be affiliate links. If you make a purchase through one of these links, we may earn a small commission at no extra cost to you. Please see our

disclosure policy

for more detail.
Not all of our memorable moments were strange. Some were lovely… but it was a pretty solid mix.
Like, for instance…
… When we set our eyes on the water for the first time.
Imagine the Caribbean Sea with a hundred different shades of blue, ranging from turquoise to indigo.
Now add sandbars that go on as far as the eye can see.
Throw in some colorful sailboats.
Add in rows of idyllic palm trees.
… And that is the beach in Vilanculos.
Shallow and beautiful, the colors of the Indian Ocean are so numerous I lack the vocabulary to identify them all.
It only took one glance as we checked into our hostel to become completely smitten.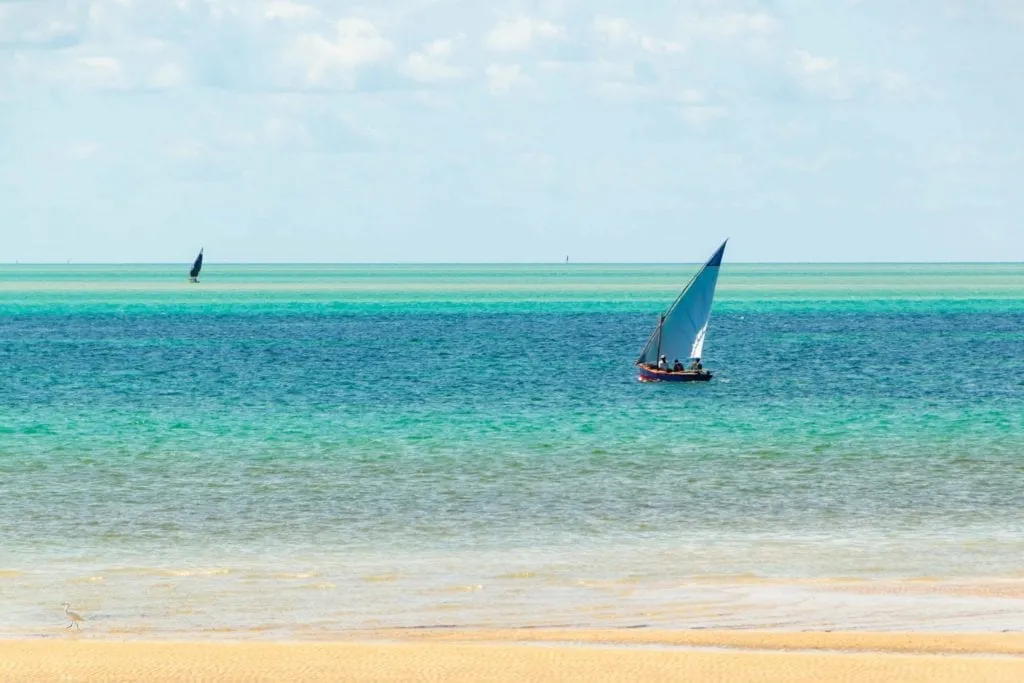 … When Jeremy got broken out of the bathroom with a sledgehammer.
Of all the ridiculous moments we had in Vilanculos, this one takes the cake as the most ridiculous of all.
"Um, honey… I think I locked myself in the bathroom."
That wasn't exactly something I was expecting to hear while half asleep in our front-porch hammock, but alas: the key had broken in the lock.
… Cue me spending 20 minutes speaking to three different employees at the hostel, two of whom I had a significant language barrier with, while attempting to communicate that no, it's not that the bathroom lock is broken and you can fix it tomorrow, it's that my husband is trapped inside.
And, of course, this had to happen on a national holiday when the maintenance crew was off, right?
Eventually, I managed to explain the situation to the manager, and she sent a kitchen employee to help… with a sledgehammer.
Jeremy made it out just fine, but let's just say they had to come replace not only the lock, but the entire door handle the next day.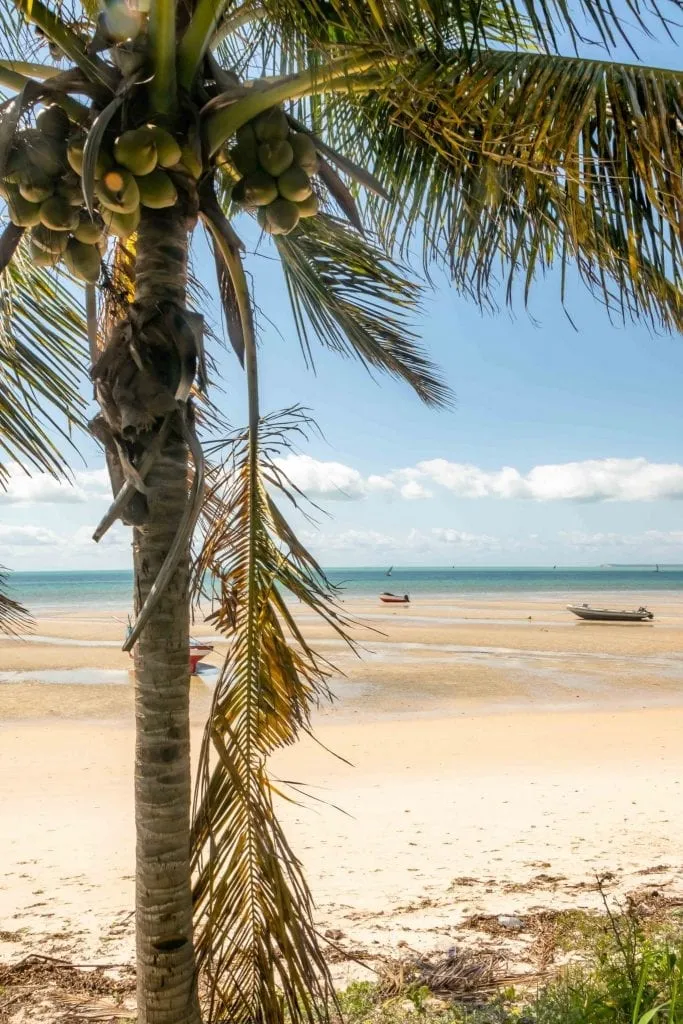 … When we went on the world's worst snorkel excursion.
By the time that I arranged the mask over my face and lowered myself into the water, I was already suspicious
The water didn't seem particularly clear.
The wind had picked up significantly.
This was a completely unscheduled stop on our itinerary, only added in because some people complained about the snorkeling being terrible at our first destination of the day (we didn't even bother trying: the "real" snorkel location was too windy to get to, a fact conveniently omitted by the salespeople and boat crew until we had already paid and been taken a couple hours out to sea).
And, lo and behold, I was right: there were absolutely no fish near this small patch of beach.
Bemused, I stood up in the shallow (and dirty) water and caught the eye of a German guy from our tour group. We shrugged at each other in a kind of bemused incredulity.
"Nothing?"
"Nothing."
By 15 minutes into our 40-minute stop, no one was snorkeling.
Out of around a half dozen snorkelers, a whopping five fish were spotted… in total.
… But also saw some truly epic landscapes.
At least, if our overpriced tour included fishless "snorkeling", it also included the dunes
Stunning, sweeping, gigantic, velvety dunes, made of sand nearly as soft as the silky sand of the Sahara. Dunes that left us feeling tiny. Dunes that continued uninterrupted all the way to the sea, where they met up with a maze of sand bars that stretched out as far as the eye could see.
Warm orange dunes paired with brilliant turquoise water–these were the views we came to Vilanculos for.
We sat for what felt like hours, staring at the sea and the sand. The vastness of it was beautiful, and the emptiness–there was no life beyond us as far as we could see.
We had never been anywhere quite like it before.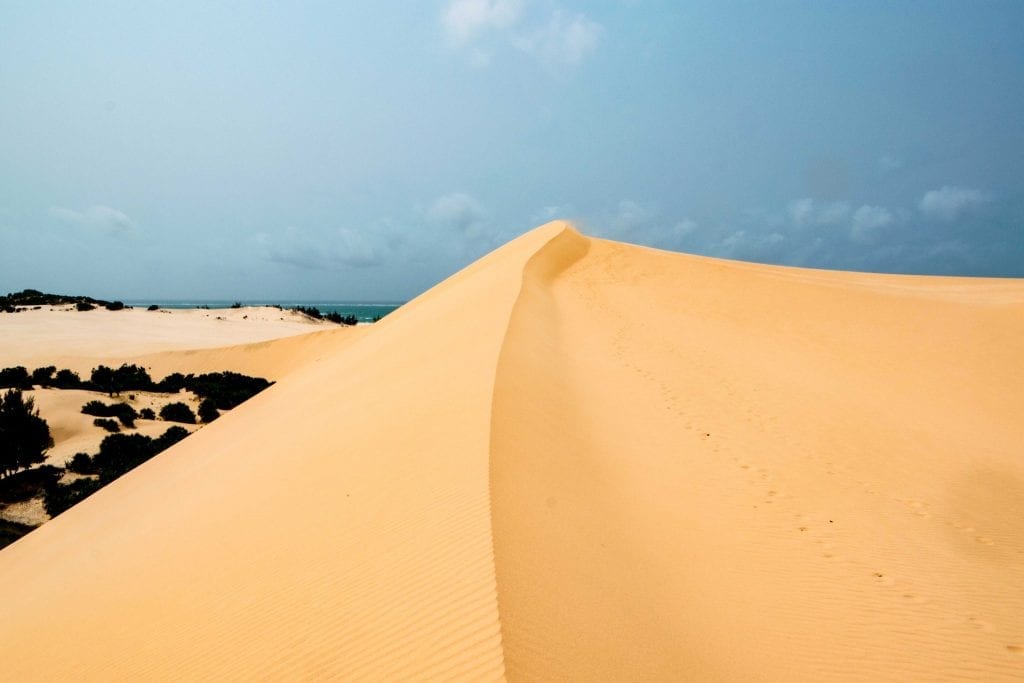 … And got a ridiculously bad sunburn.
We were so careful with the sun in Vilanculos.
Sunscreen everyday, hats and sunglasses when possible, shade where we could find it.
But the dunes. Ah, the dunes.
The warm sun on my back felt magical, the view was too beautiful to leave, and I managed to conveniently forget one of the side effects of the doxycycline we were taking: photosensitivity.
By the time we were heading in for the day, I swear I could hear my skin start to sizzle.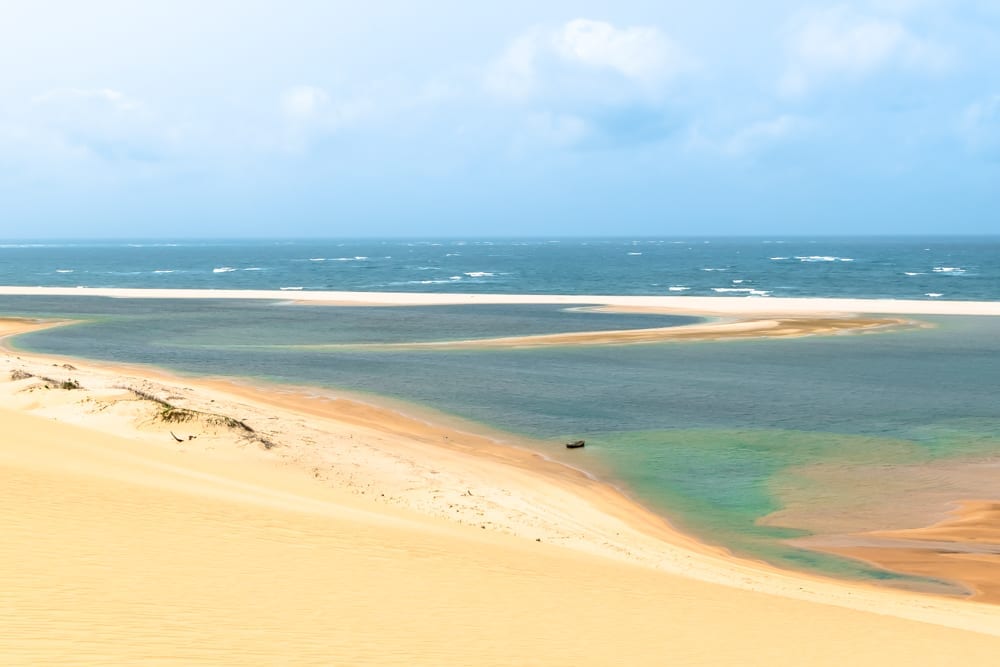 … When an unidentified bug-that-was-probably-a-spider took up residence in our cottage.
Without contacts or glasses, my natural vision can be estimated as somewhere in the range of "uselessly blind".
It's an unfortunate conundrum that has me occasionally browsing the prices for Lasik, but generally it's not much of an issue–until, that is, something blurry and unidentifiable that is probably a very large spider starts speeding toward me while I take a shower.
I tried not to scream as I flew out of the bathroom and into the bedroom, where Jeremy was talking to his grandparents on the phone.
The spider-thing pursued at a speed I considered far too fast.
… And then I screamed (okay, I squeaked, but whatever).
I lost my (blurry) visual on the thing at this point, but according to Jeremy, it attempted to climb up the mosquito net surrounding our bed, was unidentifiable and giant, and then disappeared.
"But don't worry," he assured me, "Our mosquito net did its job–it won't get into our bed!"
Small comfort, if you ask me… but we never saw it again.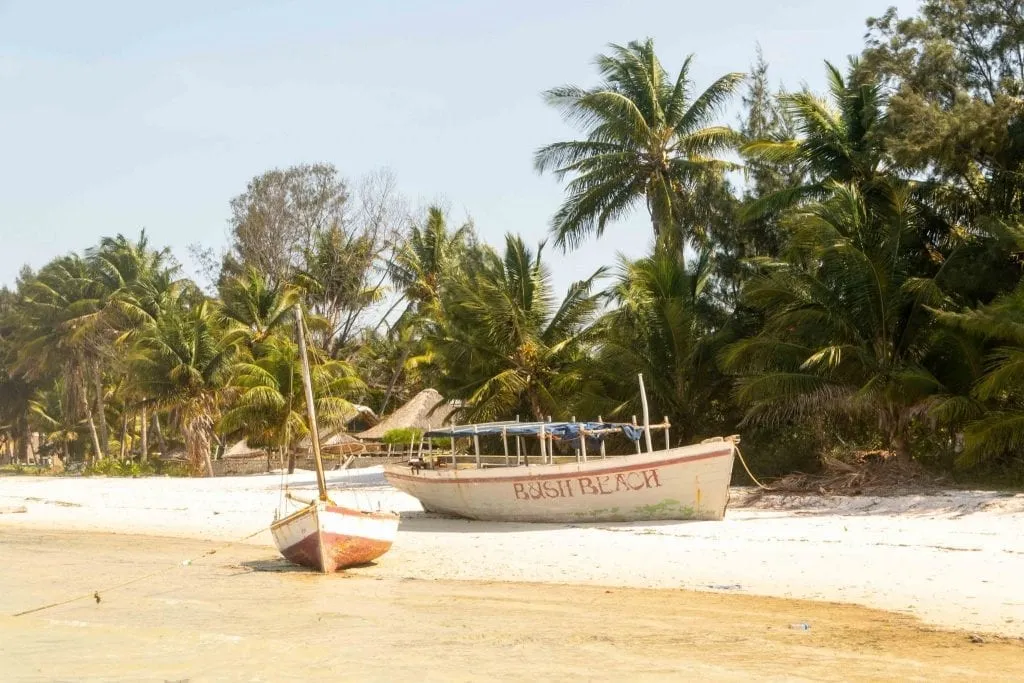 … When we discovered that our hostel had an espresso machine.
Sometimes, when traveling abroad, it's the little things.
On the shores of Vilanculos, one of those little things turned out to be an espresso machine that we noticed halfway through our stay behind the bar at our hostel that was happy to pump out tasty jolts of caffeine to go with breakfast.
In a place where it's more common to find instant coffee than any type of delicious variety, each sip was like a little piece of heaven.
… When we spent hours in our hammock.
The small beach cottage we rented (they billed it as a "chalet" which seemed mighty ambitious) came complete with the best accessory a beach house can have: a hammock.
I lost track of how many hours we each spent swaying gently in the breeze, and I can hardly imagine a lovelier spot to lose track of time.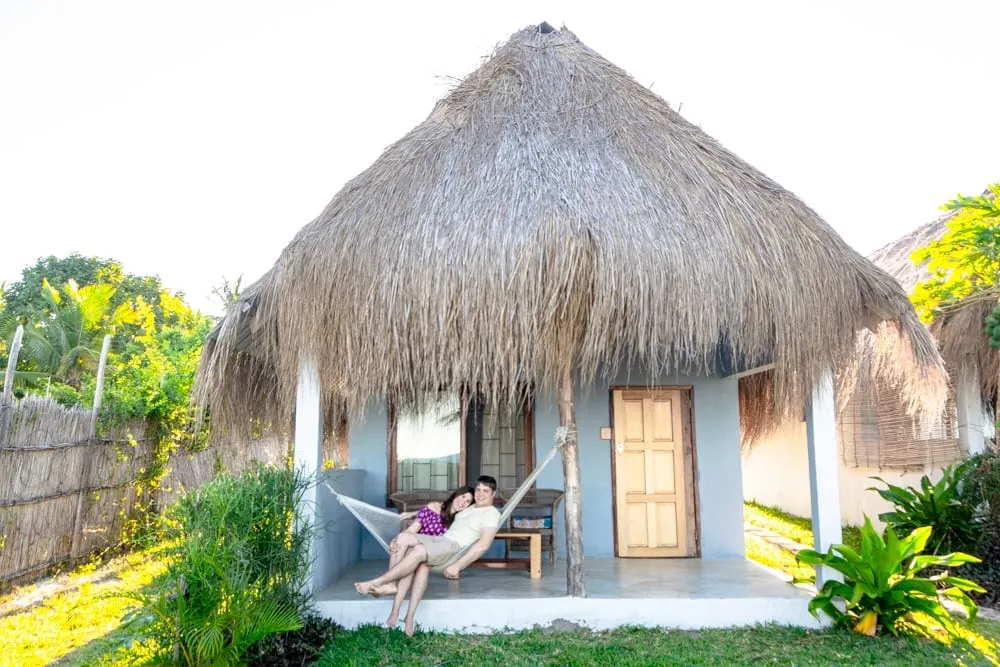 … When we ended up on a different flight than the one we booked.
Vilanculos' airport is easily one of the smallest we have ever been to: with two gates and one tiny security line, it's not exactly a highly trafficked place.
So, when we received our boarding passes for our flight to Johannesburg, we naturally assumed all was well–it didn't occur to us to triple check the time.
After all, what were the odds that we were inexplicably checked into the 13:45 flight instead of the 13:25 flight?
As it turns out, the odds were far too high–a fact that we noticed just as we were getting ready to line up for our plane.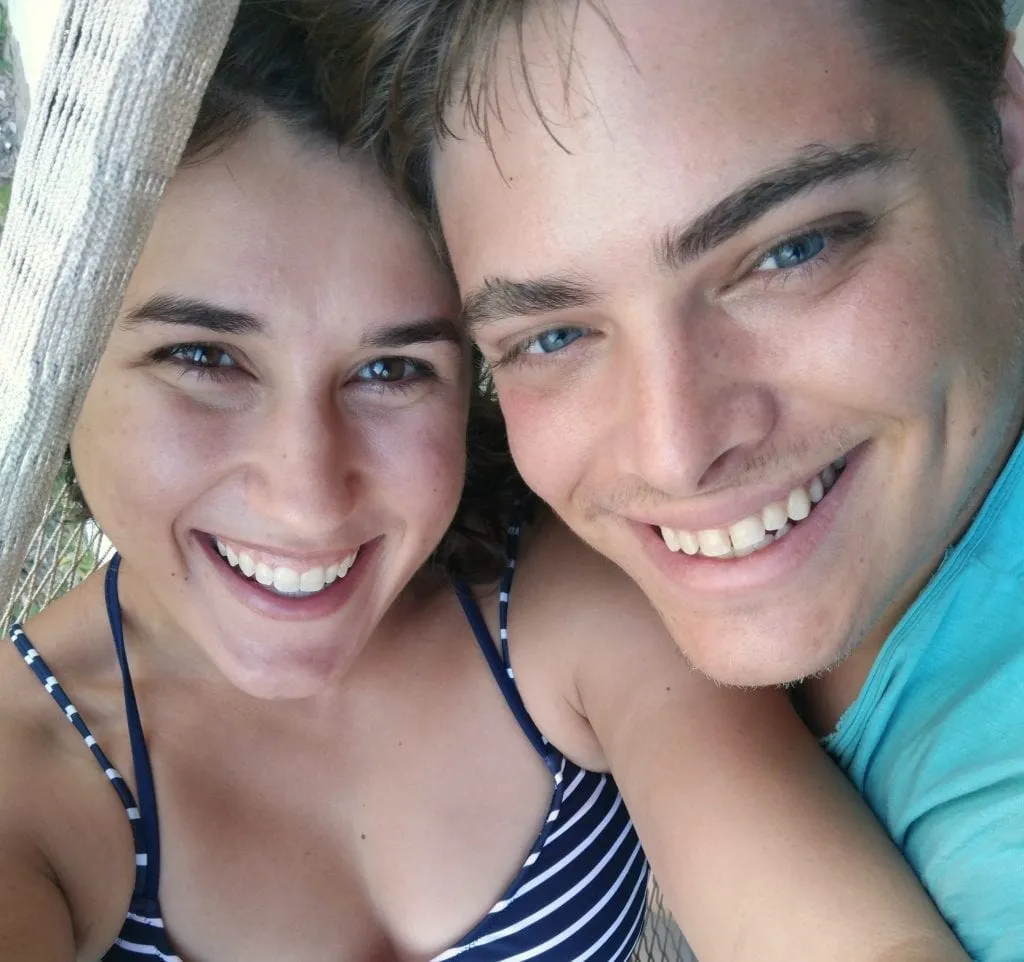 Normally, this wouldn't be a big deal, but we were already anxious about a tight connection in Johannesburg before our flight to Cape Town, and feared that an even later departure time would make our connection downright impossible.
A frantic conversation with the gate agent and someone who was supposedly the gate agent's manager later, we were presented with this non-solution: "Uh, well, we'll try to have your plane depart a little early. And when you get to Johannesburg, run to immigration."
Gee, thanks?
We did end up lucking out and making our connection… but our plane definitely did not leave early, and it was definitely one of those moments that made us glad we tend to carry what is, essentially, digital nomad insurance of sorts.
At least if we were anxious, though, we could be anxious while enjoying some of the best plane views we've ever had.
When I look back at our time in Vilanculos, Mozambique, I find myself smiling–despite the fact that several of our most memorable moments there clearly didn't see us smiling at the time.
Despite the hijinks and ridiculousness (I will never, ever forget watching Jeremy being broken out of a hotel bathroom), Vilanculos was still an incredibly relaxing place, and we are so glad that we made a last-minute decision to trek out to this beautiful spot on the Indian Ocean.
It also made us incredibly excited to explore more of Africa–perhaps Namibia, Kenya, or Tanzania will be next.
Where We Stayed in Vilanculos
Baobab Beach Resort — We enjoyed our time at Baobab and are happy to recommend it to anyone passing this way while backpacking Africa. The property is beautiful and right on the beach, the restaurant is solid and serves breakfast, and did I mention the beach views? The management was helpful and present, and we wouldn't hesitate to return here if we came back to Vilanculos.