When it came to researching our trip to beautiful Tofo, Mozambique–the tiny backpacker enclave set on the east coast of the country–I quickly discovered what it must have been like for travelers planning vacations in oh, say, 2006 or so.
It's not that there was no information about visiting Tofo (technically named Praia do Tofo) online, there just… wasn't a lot, and quite a bit of it seemed to be contained to forum posts dating back at least a couple of years.
Very few bloggers seem to visit Tofo, and those that have tend to be the ones we consider far more offbeat and adventurous than ourselves.
Why, then, did we decide that we simply had to trek out to this minuscule beach town that was, to put it simply, a pain in the ass to get to?
Well, this:
Some links in this post may be affiliate links. If you make a purchase through one of these links, we may earn a small commission at no extra cost to you. Please see our

disclosure policy

for more detail.
Beautiful beaches that were rumored to be nearly deserted, epic scuba diving, the presence of great sea creatures like manta rays and whale sharks (and–as we discovered once we got there–humpback whales), delicious seafood at low prices, and the sheer adventure of it all drew us toward Tofo.
Tofo, and Mozambique in general, is not exactly a popular vacation spot for those of us hailing from North America–until recently, I had never even heard of this tiny little town.
Curiosity and proximity tempted us into trying it out, and we are glad that we did.
Considering planning a trip to Tofo, Mozambique? Here's what to know before you go–including exactly how to get there, a task that consumed more than a few hours of our own planning time!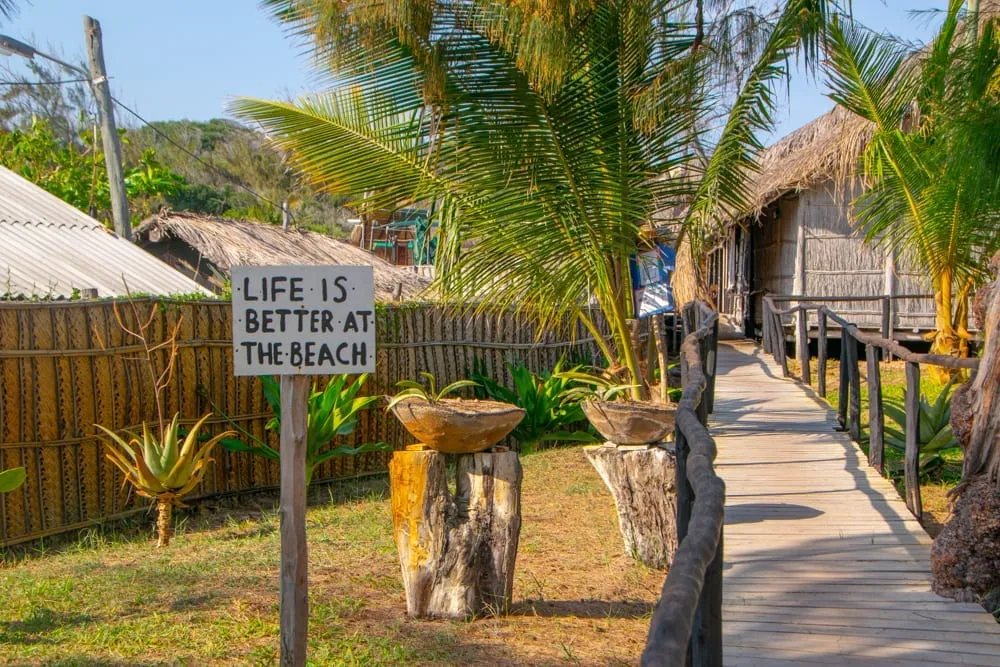 The Best Things to Do in Tofo, Mozambique
Go scuba diving.
Most people who visit Tofo come for the scuba diving–including us.
Sadly, a combination of side effects from doxycycline (anti-malarial medication) and seasickness kept me from diving as much as I would have liked, but Jeremy absolutely adored it–especially the manta ray he spotted right after descending on one dive!
Visiting Tofo was our first chance to experience the Indian Ocean, and getting to jump right in and go diving in it was incredibly special.
Head out on an ocean safari.
Tofo is known as one of the best places in the world to spot whale sharks. As a bonus, humpback whales, dolphins, manta rays and more may also be hanging around when you pay a visit to Tofo, Mozambique!
Whether you're a diver or not, be sure to set out on at least one ocean safari to discover what sea life you can experience close to the surface!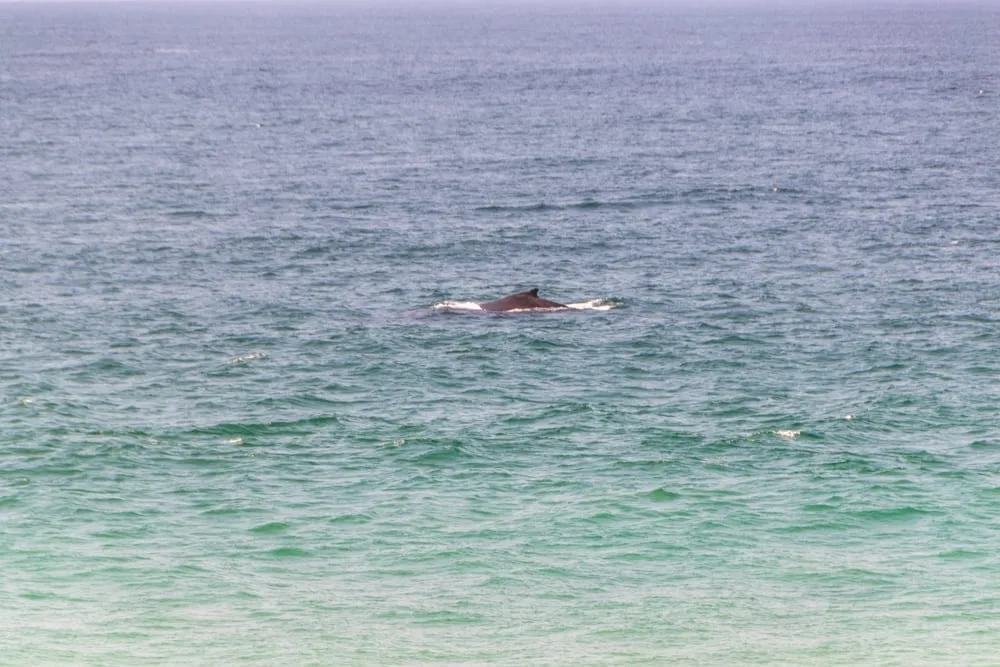 Eat inexpensive lobster (and other excellent seafood).
Fresh seafood is the hallmark of Tofo's cuisine, and from grilled red snapper to lobster to peri peri chicken and beyond, there is plenty to choose from (usually at very competitive prices).
A plate of lobster, including sides, usually runs around $12-15 USD in Tofo.
Try your hand at surfing.
Tofo can get gorgeous rolling waves–if you've ever wanted to try your hand at surfing, Tofo is a great spot to learn.
Rent a quad bike and hit the sand dunes.
Tofo's sand dunes are beautiful, and renting a quad bike is a great way to explore them–you may even find a small deserted beach or two (not that the main beach of Tofo is exactly what I would call crowded!).
Do nothing. Seriously.
Our favorite thing to do in Tofo very quickly became… nothing.
With limited internet access and a beautiful empty beach at our doorstep, we found ourselves killing hours relaxing in front of the water, admiring the view while reading and casually spotting whales in the distance.
It was incredibly relaxing to slow down, get into a very chilled out routine, and enjoy the charms of Tofo without feeling like we needed to be rushing off to explore something else.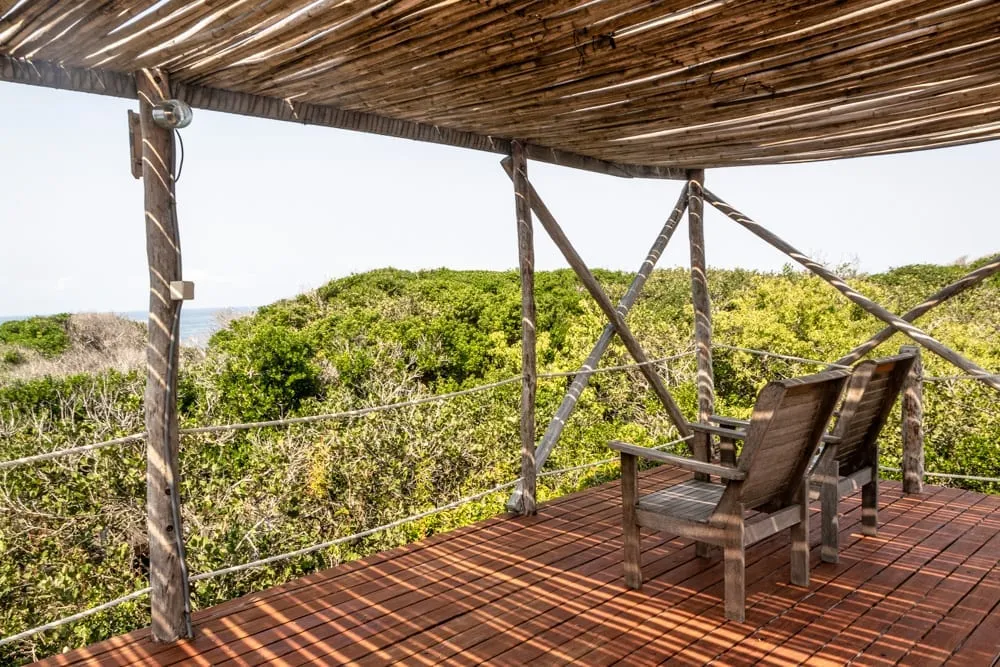 What to Know Before You Go to Tofo
Tofo is incredibly small.
This really cannot be overstated.
Tofo consists of roughly half a dozen streets, all made of sand, with most businesses catering to the tourism sector.
Despite the clear tourism focus, Tofo still felt sleepy almost to the point of emptiness when we visited in early September–word on the street is that things pick up significantly when South African students are on holiday, but words like "quiet" seem to be unanimously popular among the (admittedly few) blogger trip reports we've read.
The nearest ATM is 5km away.
There's no public transportation in Tofo outside of chapas and buses running to the city of Inhambane about 30 minutes away, so we've deduced that the most popular ways to get to the ATM are hitchhiking (common in Mozambique), seeing if your dive shop has anyone running up to the ATM (assuming you're a diver), and using part of your time with a rented quad bike to top off your stash of cash.
Personally, we're of the opinion that the easiest way to handle cash in Tofo is to get your hands on some before you arrive–it's one less thing to worry about in a place that you likely won't want to worry about anything.
The touts can be quite aggressive.
This can be true of any tourist destination, of course, but we did find the touts located on the main beach near the market to be particularly persistent in Tofo, often following us and other tourists around for several minutes when we attempted to shake them off, and in one case, getting far too physically close to me when we tried to leave.
Sometimes they headed off at the first sound of being told "no" in Portuguese (the local language), other times, not so much.
Outside of these touts, however, we generally found the locals to be very laid back and kind–this annoyance at the touts is certainly not a judgment on Mozambican people as a whole.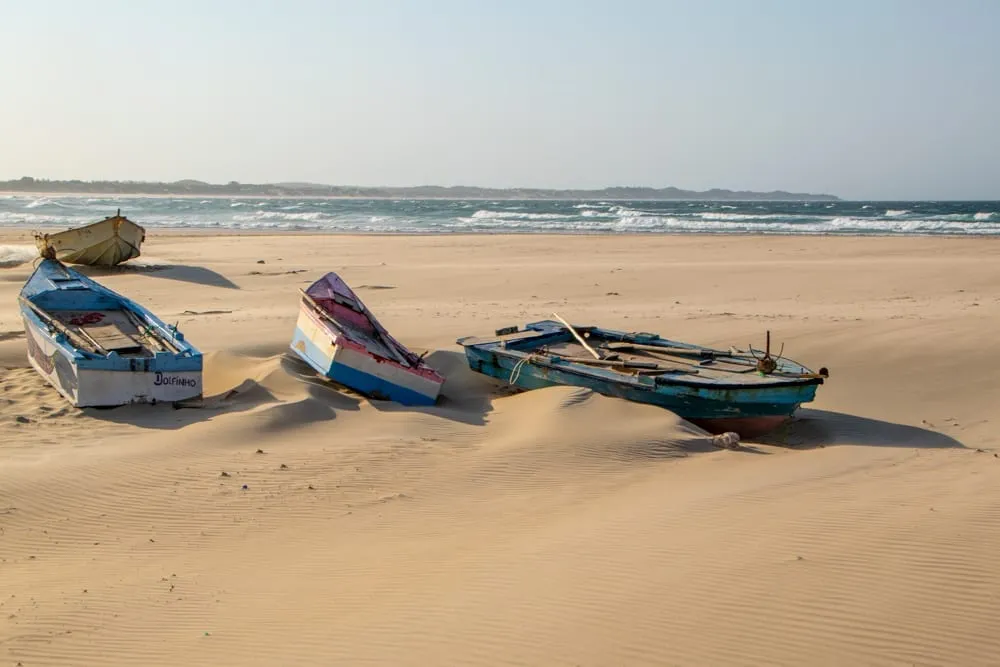 Malaria is a real concern, especially in the summer.
Mozambique is one of the riskiest countries for contracting malaria in the world.
In other words, while we've never taken anti-malarials before, we clearly knew that visiting Mozambique–including Tofo–was the time to start.
Speak with your doctor to find the right drug for you–we ended up on the popular, inexpensive, effective, and annoying (you have to take it for four weeks after leaving the malaria zone) doxycycline, and unfortunately, we both experienced some side effects.
It's worth it to avoid malaria, though.
Regardless of what drug you choose to take, be sure to cover up, stay inside at dawn and dusk, sleep under a mosquito net, and wear bug spray at all times (go for the deet, seriously).
We visited Mozambique toward the end of winter when you are less likely to encounter mosquitos, and we both still ended up with a few bites while in Tofo despite taking all precautions.
Southern Right & Humpback whales are around from June to October.
We honestly had no idea about this before coming to Tofo, so it was quite delightful to arrive and realize we could enjoy whale watching from the deck of our hotel!
Each winter, Humpback whales and Southern Right whales migrate north from Antarctica to mate and give birth–so not only can you spot adult whales, toward the end of winter, you can see calves as well!
As amazing as watching the whales from the beach is, our best whale-spotting moment was, hands down, when a mother and calf approached our dive boat in curiosity, getting within 20 meters of our small rubber boat!
I don't think I ever fully appreciated how enormous and majestic whales are until that moment.
Don't rely on wifi.
Many hotels and hostels in the area advertise wifi, but most of them don't get good reviews for it: either the wifi won't be working, or it won't spread across the whole property (with many beach bungalows and campgrounds in town, most properties are over a widespread area). This issue seemed to stretch across all hotel price points.
The good news is that the 3G data works perfectly. If you want to stay connected while in Tofo, we recommend picking up a SIM card.
How to Get to Tofo, Mozambique
From Johannesburg
Bus to Maputo + Local Bus or Chapa to Tofo
This is probably the most popular method of getting to Tofo from Johannesburg among those on a backpacker's budget.
Intercape buses run from Johannesburg to Maputo.
From there, you would need to spend a night in Maputo, and pick up a chapa (a chapa is a highly uncomfortable van, stuffed way past the number of people that should be in it, that leaves only when it is full and stops along the way–in other words, they're dirt cheap transportation… and also incredibly unpleasant) or local bus at the Junta bus station the following morning.
Fatima's, one of the most popular budget properties in Tofo, also has a sister hostel in Maputo, and offers a service that is often touted as a "shuttle". Per the information I received when I emailed them, they do not have their own shuttles, but they do facilitate getting to Maputo's Junta bus station and negotiating the price of a chapa for you if you buy their service.
The total time it would take to get to Tofo from Johannesburg in this scenario is about two days: one day for the Intercape bus, one night in Maputo, and around 12 hours to get from Maputo to Tofo (though this is highly variable).
If you get to Maputo and Tofo seems like too much of a journey to bother with, you can also take a look at Praia do Bilene for a coastal escape a bit closer to the capital!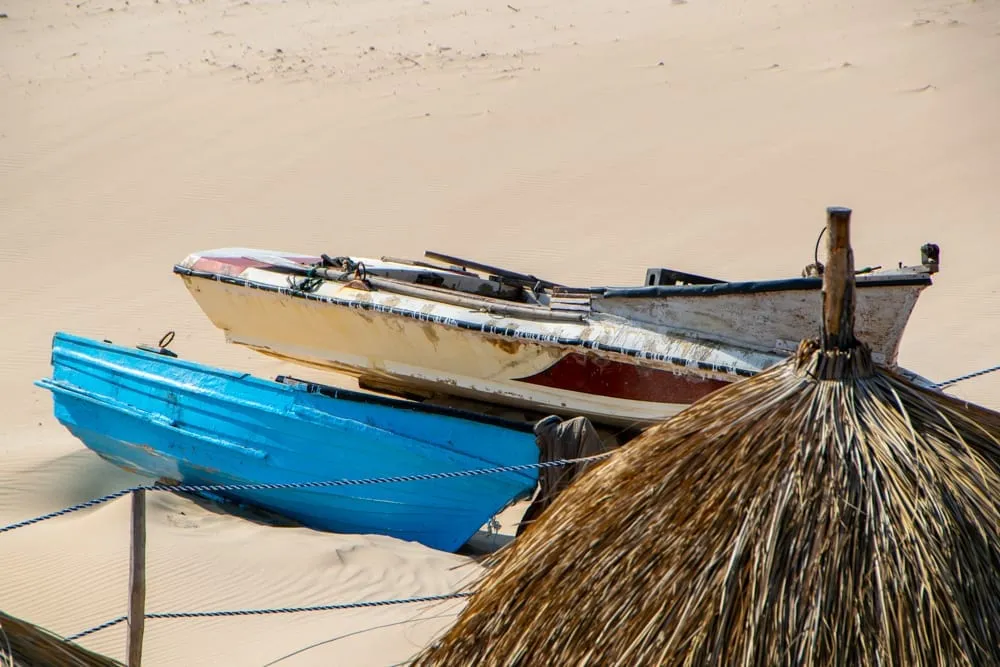 Direct Shuttle from Johannesburg
We arrived in Tofo via a direct shuttle with Tours2Moz, run by the incredibly competent Zelma, and we cannot recommend her service enough.
This shuttle only runs once a week, so you may need to plan ahead (we just flat got lucky with the timing, to be honest), but it's the perfect combination of avoiding the expense of flying and the hassle of chapas.
The shuttle picks you up at the Johannesburg Airport at 1am, and comes complete with neck pillows and fleece blankets.
You then drive straight to Tofo, stopping only for gas, snack breaks, and the border, where Zelma helps facilitate visa on arrival applications for anyone who needs them.
We pulled into Tofo around 3pm, which Zelma says is average, for a total transport time of about 14 reasonably comfortable hours.
I cannot overstate how happy we were with the service, especially after being stressed about how to get to Tofo.
From Maputo
Local Bus or Chapa
If you're coming to Tofo from Maputo, the chapa system I outlined above is the cheapest way to get to Tofo, and you can follow the same pattern.
Average transport time is supposed to be around 12 hours, but since the chapas only leave when they're full and stop to pick people up whenever they can, the travel time can vary dramatically.
Private Transfer
Many hotels in Maputo can arrange private transfers for you from the hotel to Tofo. Prices vary, but I understand that the going rate is around $150 USD one way, give or take.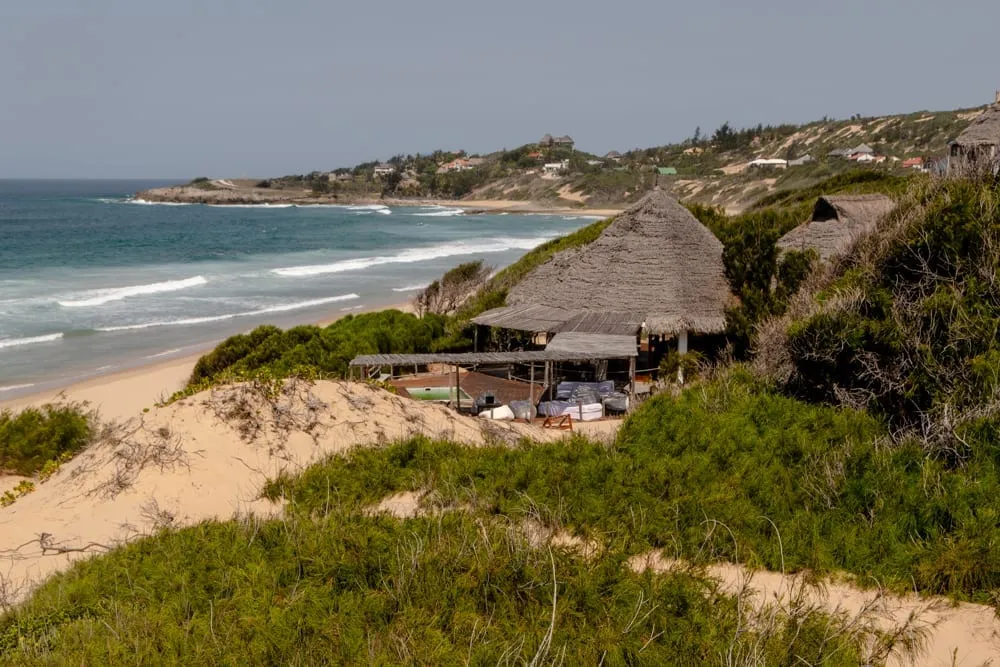 From Either Johannesburg or Maputo
Self-Drive
I'll be quite honest: plenty of people self-drive to Tofo safely, but we wouldn't ever want to bother with the hassle.
Speed limits are slow, road conditions are not great, directions can be confusing (at one point during our transfer I think we took a detour through a road that was still under construction?), and the police officers have a reputation for enthusiastically pulling over tourists and extorting money from them.
If you have experience driving in southern Africa (outside of South Africa) and want to give it a shot, you certainly won't be the first.
If you're not already comfortable driving in rough conditions, however, I'd strongly recommend finding another way to get to Tofo.
Please be aware that if you do decide to self-drive, most rental car companies in South Africa will not allow you to take their cars into Mozambique, and those that do will generally require advance notice and an additional fee.
Fly
Flights run regularly from both Johannesburg (often with a layover) and Maputo to Inhambane, a coastal city about 30 minutes away from Tofo.
Flying is, unsurprisingly, both the fastest and most expensive way to get to Tofo.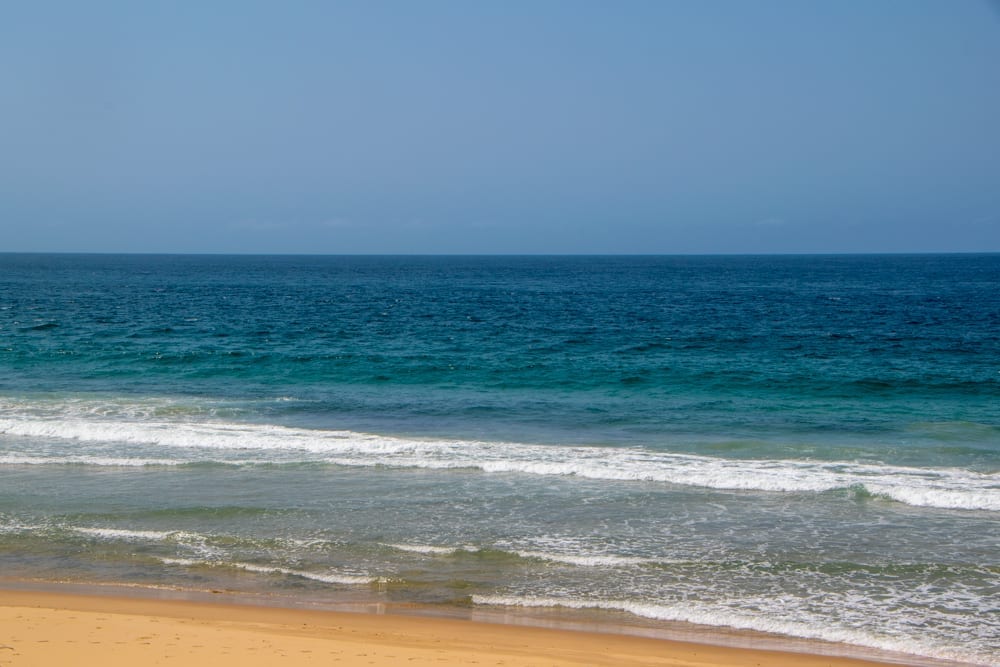 Make Sure to Buy Travel Insurance for Tofo
We don't ever suggest traveling without insurance–anything can happen, and this is definitely a case of better safe than sorry. Traveling to Tofo is generally safe, but it also likely involves stepping outside your comfort zone and trying out new adventures in a foreign land where you probably don't speak the language.
We use and recommend Safety Wing for trips to Tofo, and got a lot of peace of mind from having our policy active during our trip.
What to Pack for Tofo
Pacsafe Travelsafe 12L GII Portable Safe
— We bring our Pacsafe everywhere these days, and we loved the peace of mind it brought in Tofo!
This packable safe can be stuffed full of your valuables (electronics and passports in our case) and quickly secured to the most sturdy thing in the room (usually a pipe).
It's our favorite way to keep our belongings safe in hotel rooms around the world, and it's especially useful in places where we go diving (and therefore leave absolutely everything of value behind).
Malaria Medication — As I mentioned above, Mozambique is one of the riskiest places in the world when it comes to malaria. Malaria is extremely prevalent, accounts for an enormous number of deaths, and is not to be taken lightly–especially here, where the strains can be particularly brutal.
Be sure to speak with your doctor before coming to decide on the right prophylaxis for you.
We both took doxycycline, one of the most common (and inexpensive) malaria prevention medications. We both had some side effects (mostly nausea), but it was worth it to stay safe.
Bug Spray
— Everyone needs to make their own choices when it comes to bug spray safety, but for us, it was all about the deet in Mozambique.
Sunscreen
— Tofo is very small, and like most beach towns, supplies like sunscreen come at a hefty markup… if you can even find any here.
Plan ahead and bring your own, it will save you both money and the hassle of locating some on the ground.
10L Dry Bag
— If you're planning an ocean safari trip, you're likely going to want to bring your camera and/or phone on board–but the rubber boats you see in Tofo are also prone to getting extremely wet.
Store your electronics in a dry bag onboard, and you can be sure to transport them safely and easily.
Sunglasses & Hat — Necessary beach accessories all over the world.
Nalgene
& SteriPen
— I'll be honest: we ended up buying some bottled water here because, while we trust our Steripen to keep us safe, the smell of the water at our hotel was unpleasant.
Other visitors to Tofo haven't all had the same concerns, though, so it might depend on where you stay. If you're comfortable with a Steripen system, I recommend bringing one and seeing how things go when you get here.
Casual, Comfortable Clothes — Tofo is the kind of place where a simple sundress might make you feel overdressed–this beach town is laid back and casual to the extreme.
Think shorts, t-shirts, flip flops, and bathing suits–nothing more formal is required.
Meticais — If you can get your hands on some Mozambican meticais (the local currency) before arriving in Tofo, your life will be easier for it: the only ATM is located 5km outside of town, and rumor has it that you may need to try multiple ATMs before you find one to work with your card.
Keep in mind that the Mozambican metical is a closed currency, so you can't usually change them outside the country.
If you're flying into Maputo, we recommend picking up some local currency at the airport. Otherwise, the land border is a great spot.
Any Dive Gear You Need — If you own any of your own dive gear, you'll definitely want to bring it to Tofo: diving is one of the major draws of the area!
Dramamine Non-Drowsy Naturals
& Sea Bands
— If you're prone to seasickness in the slightest and planning on hitting the water in Tofo for diving, an ocean safari, or both, definitely come prepared and be ready to pull out all the stops.
Combined with the nausea I experienced from the doxycycline, I found the choppy water nearly unbearable from a motion sickness standpoint (though to be fair, we did travel during a windy season).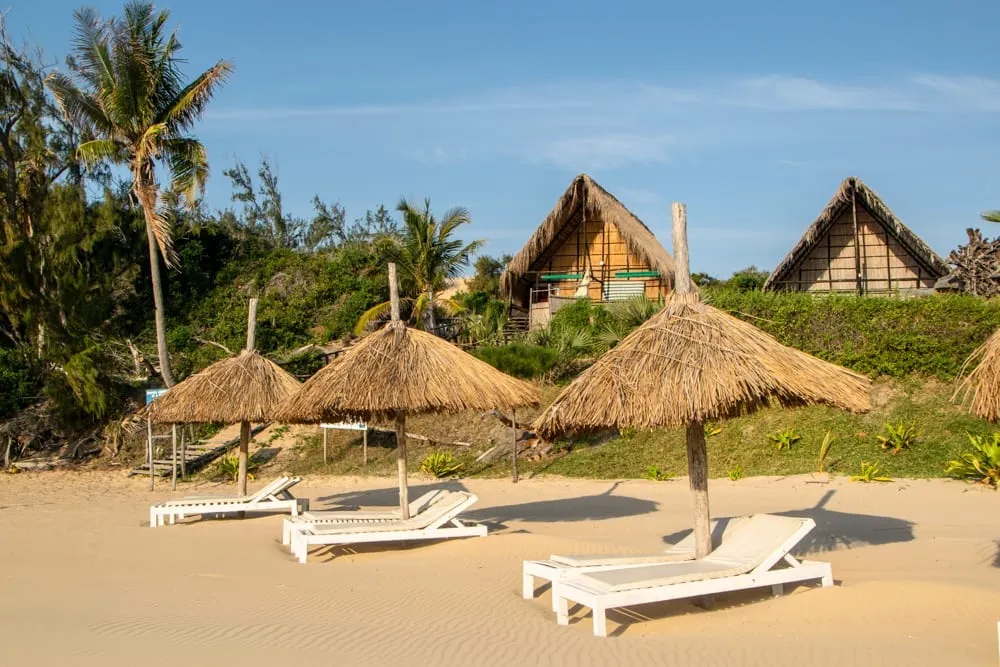 Where To Stay in Tofo, Mozambique
Budget
Mozambeat Motel — Boasting far better reviews than most budget properties in the area, the Mozambeat Motel offers a great breakfast, a short walk to the beach, excellent decor, and an onsite pool.
The only downside? You're a little more than a kilometer from town.
Fatima's Nest — Fatima's Nest is the go-to hostel in Tofo, partially because of their great branding and the fact that they have a sister property in Maputo where they can arrange the chapas to Tofo for you (as discussed above).
The hostel has incredibly mixed reviews, with some big fans and some passionate detractors.
Midrange
Varandas do Indico — We stayed at Varandas do Indico during our time in Tofo, and feel comfortable recommending it based on its excellent location (right on the beach and a short walk to town), beautiful views, large rooms, thick and effective mosquito nets over the beds, and sweet staff.
Less enthralling was the musty bedding (and I have literally never complained about bedding before in my life–it smelled) and never-quite-clean bathroom, but part of that is likely par for the course when kicking back at a humid beach destination with limited air conditioning.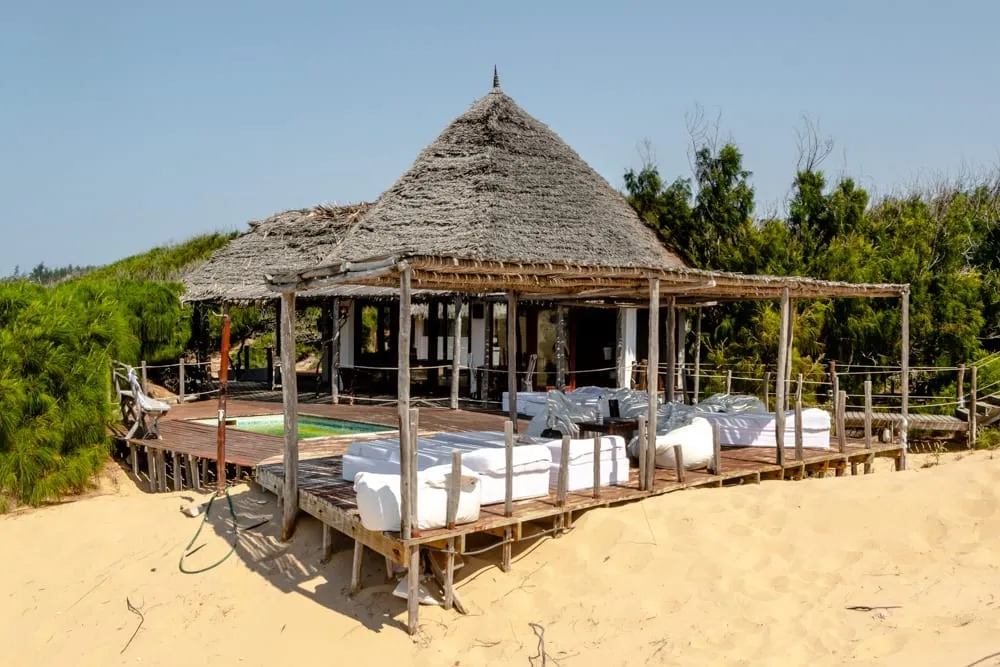 Casa Barry Beach Lodge — While we didn't stay at Casa Barry, we did end up spending quite a bit of time there–their restaurant is right off the most populated part of the beach, and the property is in an absolutely prime location.
Reviews are solid, and their property is lovely!
Luxury
Hotel Tofo Mar — Located right on the beach in the center of the action (well–as much action as there is in Tofo, anyway), Hotel Tofo Mar is a great option for those who want a quiet retreat or romantic getaway without being far from town!
Paradise Dunes — Boasting an excellent location, great reviews, beautiful decor, and stunning views of the sea, Paradise Dunes is the perfect spot in Tofo for the visitor who wants a little more luxury in their stay.