There are occasionally moments when I think to myself that our obsession with travel has led to a less-than-healthy appreciation for sleep, and our 20-hour layover in Cairo was definitely one of those times.
If I was paying more attention to sleep cycles than sarcophaguses, the thought of turning an already exhausting journey from Paris to Johannesburg into a multi-day event in order to spend one day in Cairo and "save" approximately $100 in flight costs might have seemed a tad ridiculous.
And frankly, it was… but we don't regret it a bit.
During our long layover in Cairo, we might have become exhausted to the point of being mildly incoherent by mid-afternoon, but we also got to enjoy a small taste of Egypt, admire relics from King Tut's tomb, see dozens of 5,000-year-old mummies up close, climb into a pyramid, take touristy photos in front of Giza, hang out with a camel, and stroll through the Egyptian Bazaar–all for incredibly affordable prices.
It was worth every second of heavy eyelids and sore feet, and we would do it all over again tomorrow.
Here's what we saw during our one day Cairo layover (and how you can do the same).
Some links in this post may be affiliate links. If you make a purchase through one of these links, we may earn a small commission at no extra cost to you. Please see our

disclosure policy

for more detail.
The Best Things to Do in Cairo in One Day
Visit the City of Giza.
The pyramids of Giza standing tall and surrounded by sand dunes–if there's one image that we all know of Egypt, it's this one. Visiting the pyramids of Egypt is on many bucket lists of travelers around the world, and we are no exception!
True, less well-known is that fact that you can see the skyline of Cairo quite clearly from the pyramids and that a Pizza Hut commands one of the most epic views of Giza, but in the age of the internet, even these facts aren't a surprise to as many visitors as they once were.
We were blown away by our time at the pyramids–our guide, Bossi, did a fantastic job explaining the history and snapping dozens of photos for us, and we were so glad to have her along.
We relished the opportunity to climb on the Great Pyramid, to descend inside one of the smaller pyramids belonging to a queen (Bossi called it an Egyptian sauna, which was accurate–it was so humid in there, we started sweating almost immediately), to admire the views of Giza from afar, to wander through the remains of temples and to check out the Great Sphinx in person.
Side note–anyone else grow up with the completely mistaken impression that the Great Sphinx was female? Just me?
In case there's anyone else out there making that error, the Great Sphinx represents the King who had it built, and is decidedly male. Live and learn.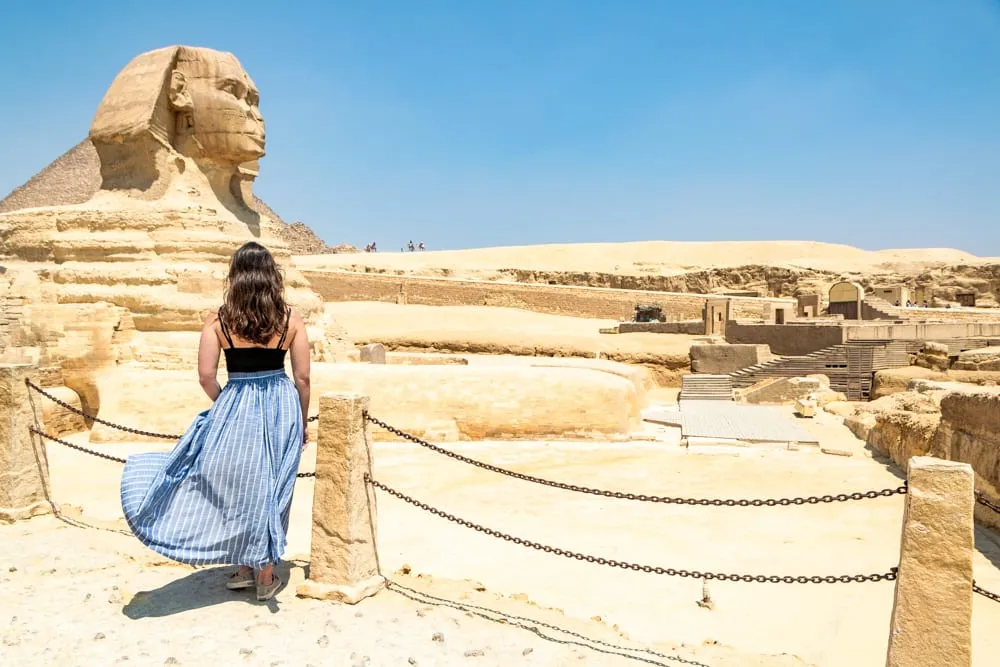 Explore the Egyptian Museum.
Home to around 120,000 artifacts of ancient Egypt–the bulk of them stunningly well-preserved–this museum caused our jaws to hit the floor more than once.
From a statue of a Pharaoh that is believed to have been carved with diamonds to the enormous number of (heavily gilded) objects belonging to the famous Tutankhamun (aka "King Tut") to the dozens of actual mummies, this was a museum like no other we have ever been in. It alone would absolutely worth spending one day in Cairo!
The building itself is large and beautiful, dating back to the early 20th century, but it is also a bit rundown, lacks the kinds of upscale amenities (like a/c) that you would expect for a museum of this level of importance, and has shockingly few barriers between patrons and many 5,000-year-old artifacts.
To that end, Cairo is currently building a new museum next door to Giza in order to hold some artifacts, and based on the construction we saw, it's going to be enormous (2021 update: the opening of the new museum is tentatively slated for June 2021).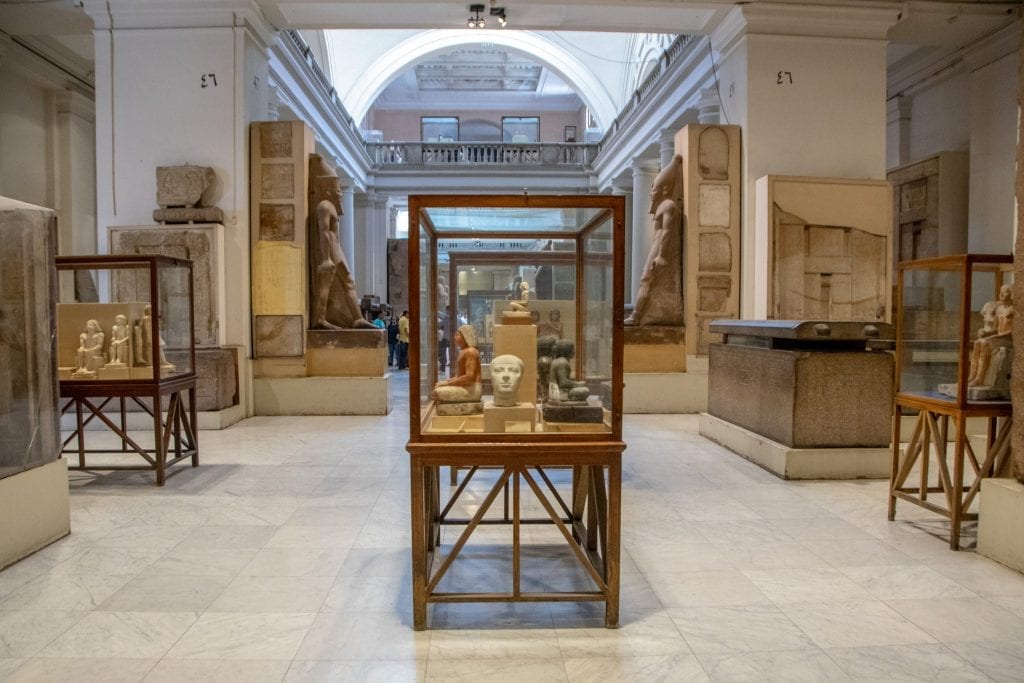 Explore the Egyptian Bazaar.
What would a visit to Egypt be without a quick trip to a bazaar?
With limited time during our one day Cairo layover and no luggage to tuck things into, we weren't interested in making any purchases, but we loved walking around, photographing the beautiful shops and stalls, and of course, stalking all the cats we could find.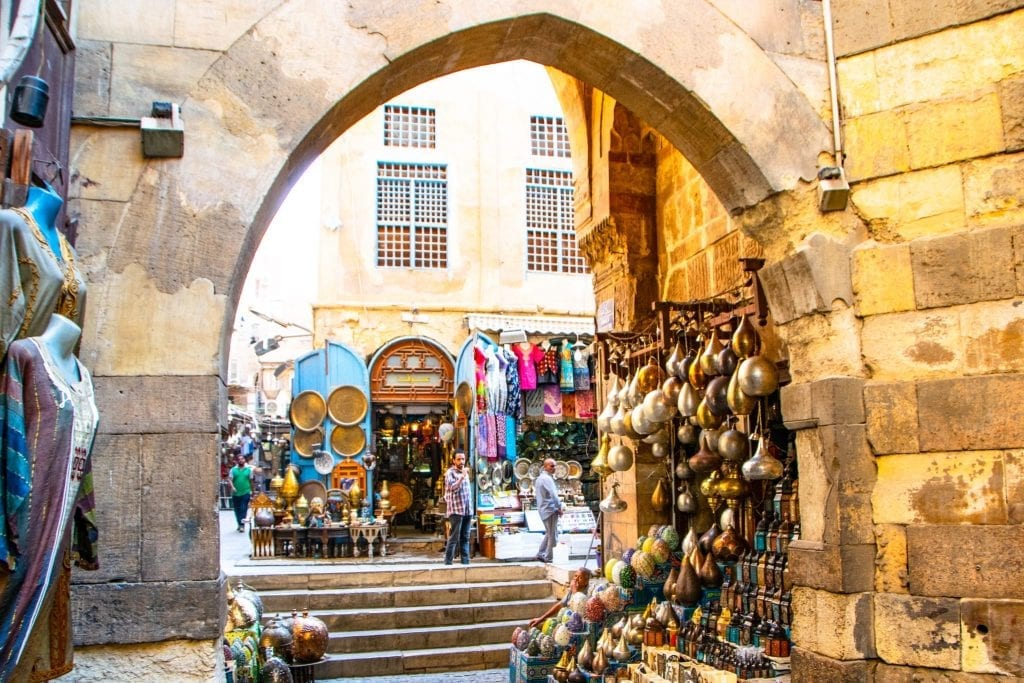 Other Cairo Stops to Consider
If your Cairo layover is a bit longer than ours (or simply doesn't involve a 3am arrival time that leaves you exhausted), you may also consider adding the Step Pyramid of Sakkara (which predates the pyramids in Giza!) or the ancient Egyptian capital of Memphis to your list of things to see in during a layover in Cairo.
This popular tour includes stops at the Step Pyramid and Memphis in addition to Giza!
Our Incredible One Day Cairo Tour (That You Should Book!)
Typically, we wouldn't consider booking a tour simply to see a city's most famous and touristic highlights–travel infrastructure will generally be in place to accommodate those, and Cairo is no exception.
That being said, booking a tour for our long layover in Cairo was an extremely good decision, and we would recommend it to anyone (and no, our tour wasn't sponsored–just a great success!).
There are a few reasons that we recommend a tour in this situation:
You don't have to worry about handling logistics.
Could we have used Uber or Cairo's metro system to get around to the major sights, waited in line for tickets ourselves, negotiated prices alone, and successfully seen the highlights of the city?
Sure.
But there's no denying that having a private driver who knew where they were going, access to a car with a/c in it, and a guide who knew the lay of the land made our one day in Cairo far less stressful–and those services alone would have been worth the price of the tour.
The culture of ancient Egypt is worthy of a guided tour.
Both Giza and the Egyptian Museum, while incredible, have a distinct lack of signs and contextual information available onsite.
The context that our tour guide was able to provide, from disagreements between Pharaohs to cultural quirks to timelines, enriched the experience of our layover in Cairo immeasurably.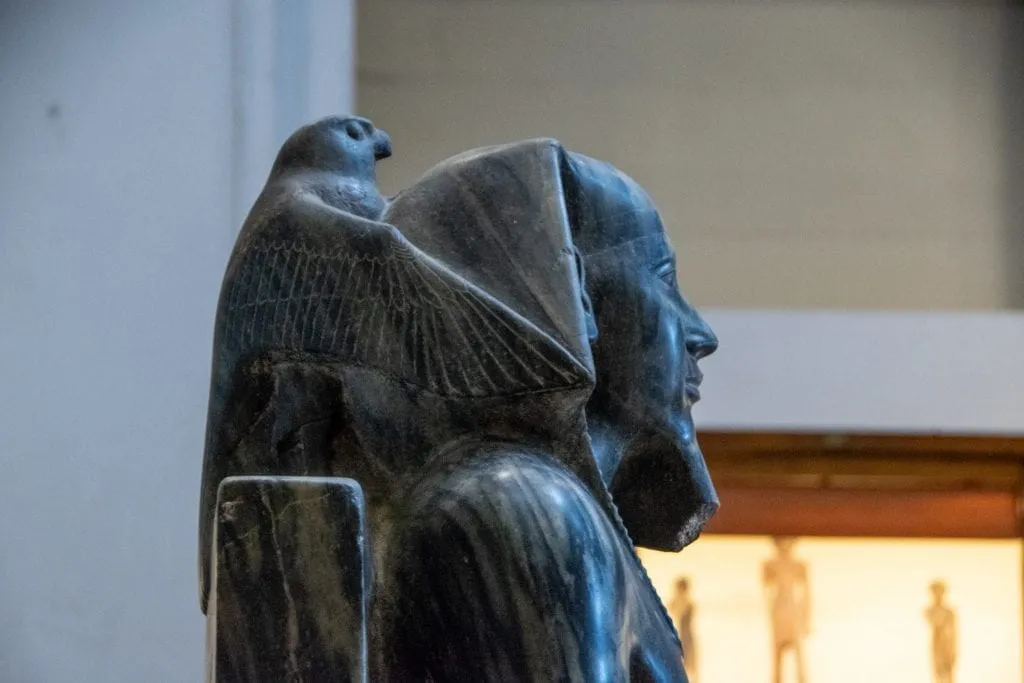 Having a tour guide will keep the touts at bay.
While we are well used to shaking off touts and aggressive salespeople these days, it was certainly far more relaxing to spend our time in Cairo not having to worry about saying "La shokran" 9,999 times to men selling everything from pyramid figurines to taxis.
The mere presence of a tour guide kept the persistent salespeople away, and while we didn't end up wanting to purchase anything, Bossi made it clear that she was happy to jump in and help negotiate if needed.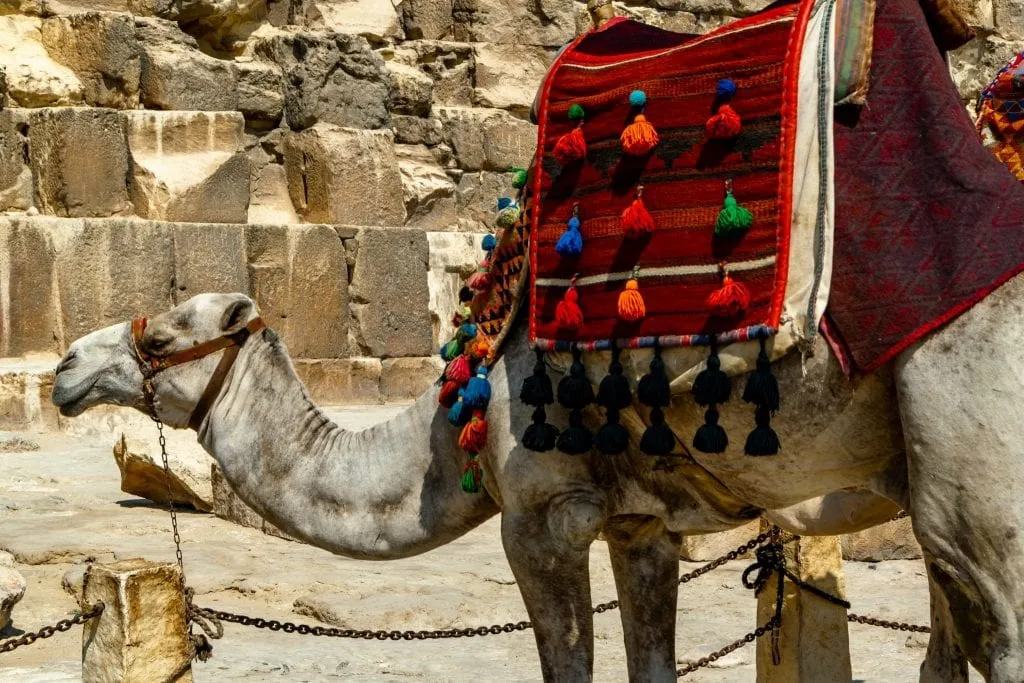 I've mentioned our tour guide, Bossi, a few times, but I just really can't overemphasize how impressed with were with this tour.
She holds a MA in Egyptology and is obviously extremely passionate about it–her knowledge in the Egyptian Museum alone was practically encyclopedic.
We also had the benefit of having her all to ourselves, but groups are reported to stay small with this company regardless of the time of year. Bossi also kept us in snacks and drinks and was completely open to moving at our pace.
Our tour only included one "buying stop", which was a papyrus paper demonstration, and even that was very low-pressure and over in the blink of an eye (and the short presentation, while clearly a sales pitch, was genuinely interesting).
If we return to Cairo, we would not hesitate to book this tour again, and can happily recommend it to anyone passing through Cairo for a day.
With a longer layover in Cairo and more time to spend on an Egypt itinerary in general, we'd probably also consider tours to explore the area more in depth.
We'd love to go to Memphis to explore more Egyptian temples and do a food tour in Cairo, for example!
Book the same tour that we enjoyed in Cairo today!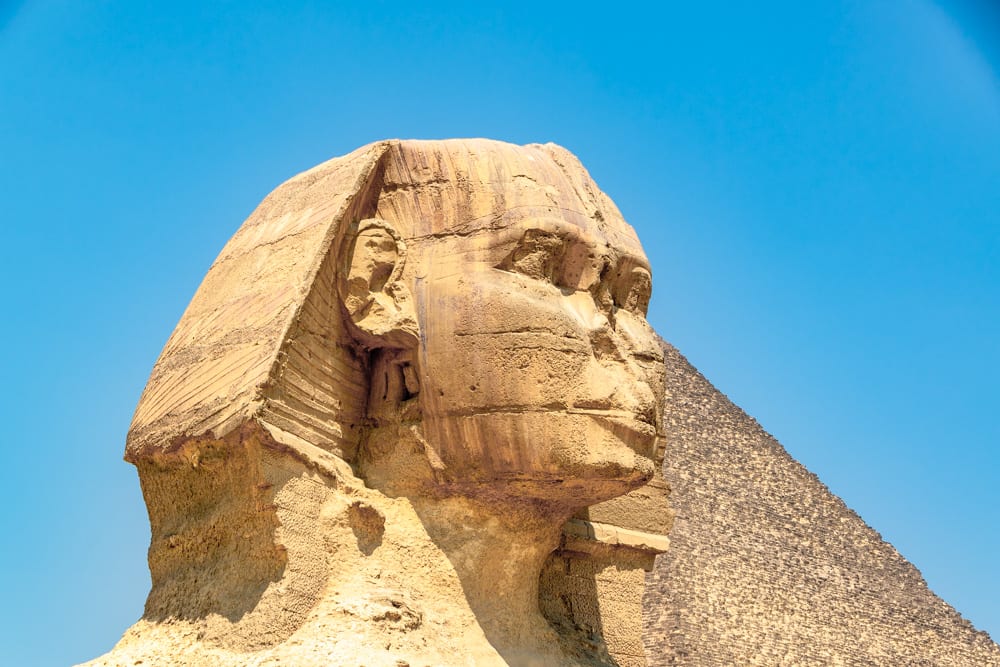 How to Get Around During a Long Layover in Cairo
Cairo is an enormous, sprawling city, but it is surprisingly easy to navigate–especially when you only have time to head to the most famous attractions.
The metro is supposed to be clean and very simple to use, but with only a short time available for our Cairo layover, we didn't consider using it.
Uber is popular in Cairo, with prices being among some of the least expensive we've ever seen. We used Uber to travel back to the airport at the end of our Cairo layover and found it just as straightforward as Uber is in every other city.
On our way from the airport to our hotel at roughly 4:00 AM, we took a taxi as we had trouble finding the designated Uber pick-up spot at the airport.
We were hesitant to jump into a cab, and highly recommend negotiating well and keeping an eye on the directions, but our cab driver ended up being not only honest but exceedingly kind, driving around several extra minutes to find our well-camouflaged hotel without asking for another penny.
We'd still recommend using Uber when you can, but our successful cab ride definitely made for a very heartwarming first experience in the country and immediately made us eager to come back for a longer trip and explore more of the epic things to do in Egypt.
Where We Stayed During Our Cairo Layover
Eco Inn Cairo — Despite only spending a whopping four hours there during our long layover, we loved this little hotel!
The decor was beautiful, the included breakfast tasty, the view off the deck lovely, the room enormous, and the owner incredibly kind!
The only (small) downside was that the hotel's entrance can't be seen from the street and it can therefore be a bit difficult to find, but one quick phone call to the front desk solved that–even at around 4am, a cheerful receptionist picked up and immediately sent an employee down to the street level to escort us upstairs.
Staying at Eco Inn Cairo was a great experience, and we would not hesitate to book it again.