Visiting Paris in August often gets a bad rap.
Too hot, too crowded with tourists, too empty of locals–the list goes on.
True, Paris isn't the only city to have this reputation when discussing the best time to visit Europe–but its reputation does tend to scream the loudest.
And you know what?
It's all (outdated) hogwash.
Paris in August is wonderful!
Some links in this post may be affiliate links. If you make a purchase through one of these links, we may earn a small commission at no extra cost to you. Please see our

disclosure policy

for more detail.
Sure, yes, okay, the lines for big tourist attractions like the Louvre, the Eiffel Tower, and the Arc de Triomphe might be insane.
And, yes, you'll pass plenty of closed-up restaurants and shops with notes on the door that say something to the effect of "At the beach, be back in September".
(It is, though, a reason to avoid European beaches and mountain towns in August if you're looking for quiet–the cities are much quieter!).
… But none of that is a reason to avoid visiting Paris in August.
Because in addition to long lines and closed restaurants, Paris in August also has plenty of sunshine (which is not to be taken for granted in Paris), blooming flowers, and, oh yeah, it's Paris.
There's no bad time to visit Paris!
Planning your own August getaway to the City of Lights?
Here's what to expect… plus our best tips for making the most of it.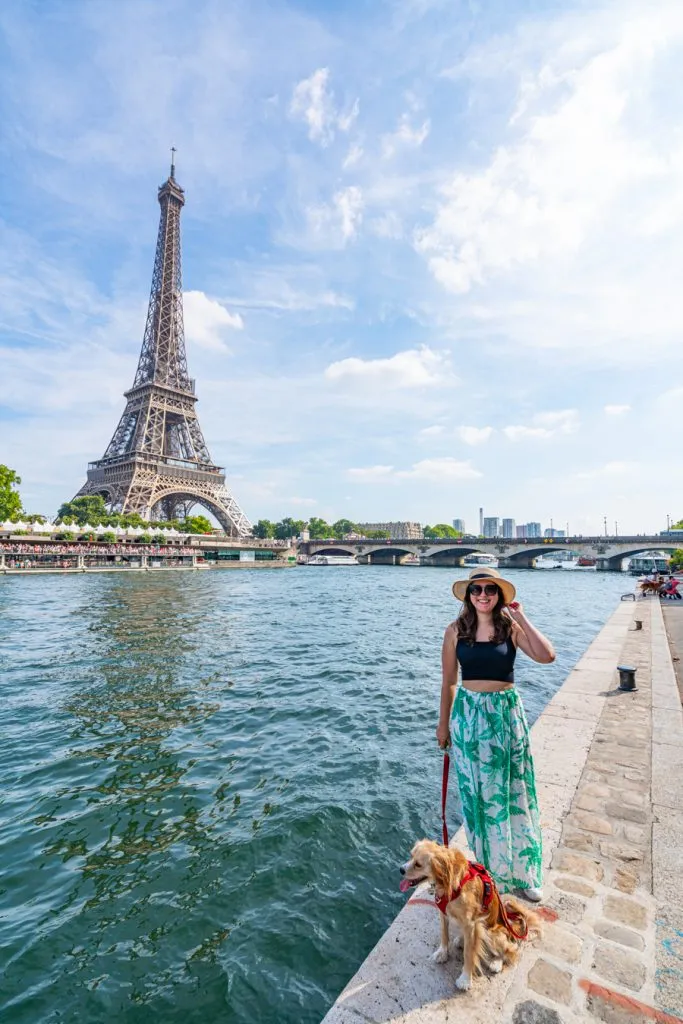 Why You Should Visit Paris in August
August is one of the sunniest months of the year in Paris.
Summertime in Paris brings sunny weather, and August is no exception!
While you can never count on sunny days in Paris (the city is known for its clouds, after all), the odds are much better in the summer than at any other point of the year.
We were lucky enough to have six bright, sunny days complete with blue skies during our first August visit to Paris, and we were absolutely giddy as a result!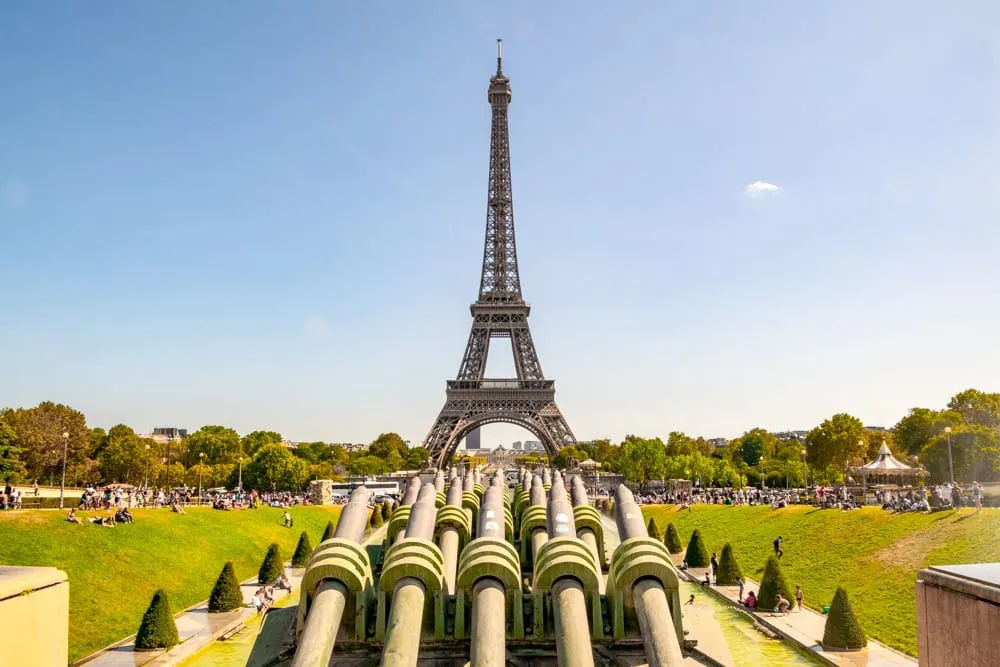 The heat is (usually) not that bad.
Average high temperatures during August in Paris run around 25 degrees Celsius/77 degrees Fahrenheit… in other words, for Jeremy and I, absolutely perfect weather.
The month can be humid, so keep that in mind, but that's merely a minor inconvenience.
Paris has experienced some severe heat waves in recent years, with temperatures soaring up to 40 degrees Celsius/100 degrees Fahrenheit.
However, that's no more likely than arriving during an unfortunate cold snap or rainy week during other seasons, so it's no reason to avoid planning your first trip to Paris in August.
After all, if the worst happens, Paris is full of wonderful things to do in less-than-ideal weather!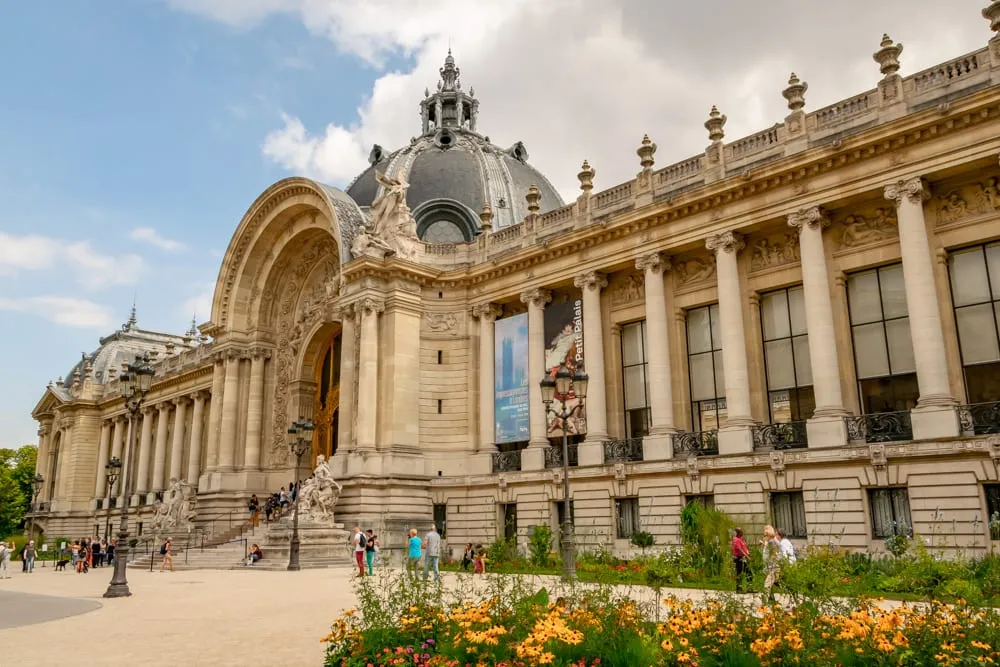 You can hit the beach!
The Paris Plages, or beaches set up along the Seine, run through mid-August.
If you arrive in the first half of the month, you will have the opportunity to sunbathe on the Seine!
Is it a little quirky?
Sure, but it's also a fun opportunity to do as the locals do and experience a truly seasonal attraction in Paris.
The general rule of thumb is that the plages come down after the first half of the month, but they were still up at the end of our visit in the third week of August.
All the major sights are open and ready for business.
When guidebooks and articles talk about Paris being closed for business in August, they are absolutely not talking about the major touristic highlights–those are all a little too busy in August!
Scroll through any list of the top 20, 30, or 50 things to do in Paris, and you can be reasonably confident that none of them are closed for vacation, and everything from normal tickets to private tours are available as options.
And, for that matter, those guidebooks are a bit outdated!
While August is still vacation season for Parisians, escaping the city is no longer as ubiquitous as it once was.
August in Paris means that you can catch a movie in the park.
Outdoor movies are a popular pastime in Paris in August, and the easiest place to find them is at the Parc de la Villette.
Movies are screened regularly from late July through late August and are shown in their original language.
Even if you don't speak French, you may get lucky and find an English-language film available during your August visit to Paris.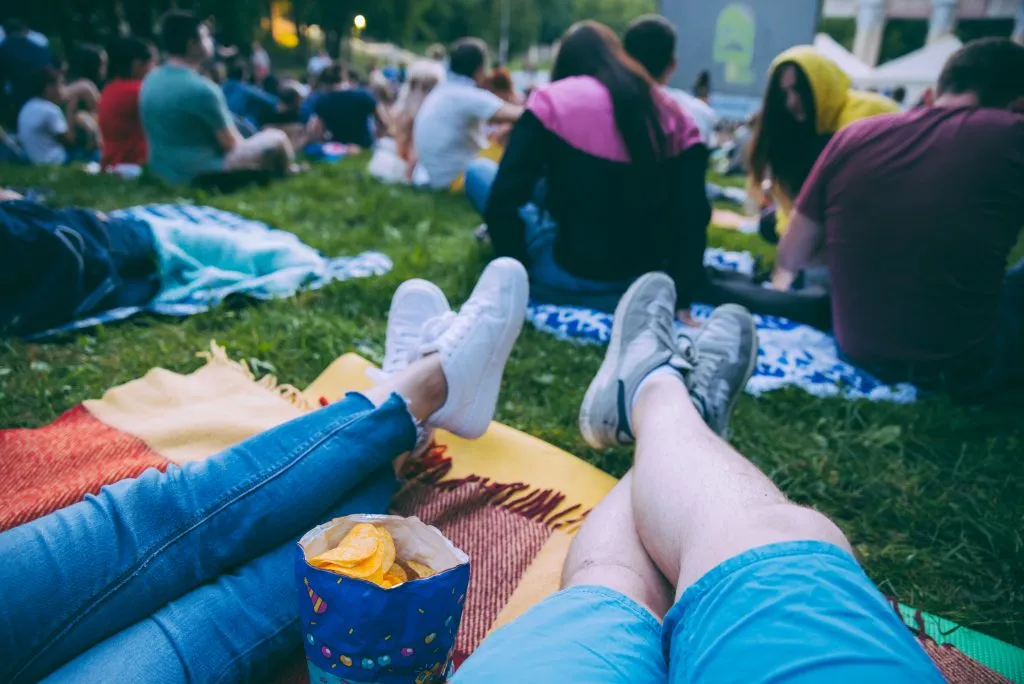 The smaller streets of Paris are a little quieter–take the opportunity to explore!
Though the tradition of locals abandoning the city entirely for the month of August to hit the beach has abated a bit, many Parisians do still go on vacation during this time.
If you duck away from major touristic areas, you're likely to find some shockingly quiet small streets in Paris.
We spent hours during our August trip to Paris wandering around Marais, the Latin Quarter, and even the quieter streets of Il de la Cite, snapping photo after photo on adorable lanes that we often had all to ourselves.
August in Paris can mean excellent picnics.
Picnics are a classic Parisian pastime, and August is the perfect month to partake!
Grab a baguette, some cheese, and fruit, plus some eclairs or macarons for dessert, and hit up a park, a shady bench, or even the banks of the Seine for a relaxing meal.
Follow it up with some time in the sunshine reading one of the best novels about France, and you have the makings of a perfect summer day in Paris.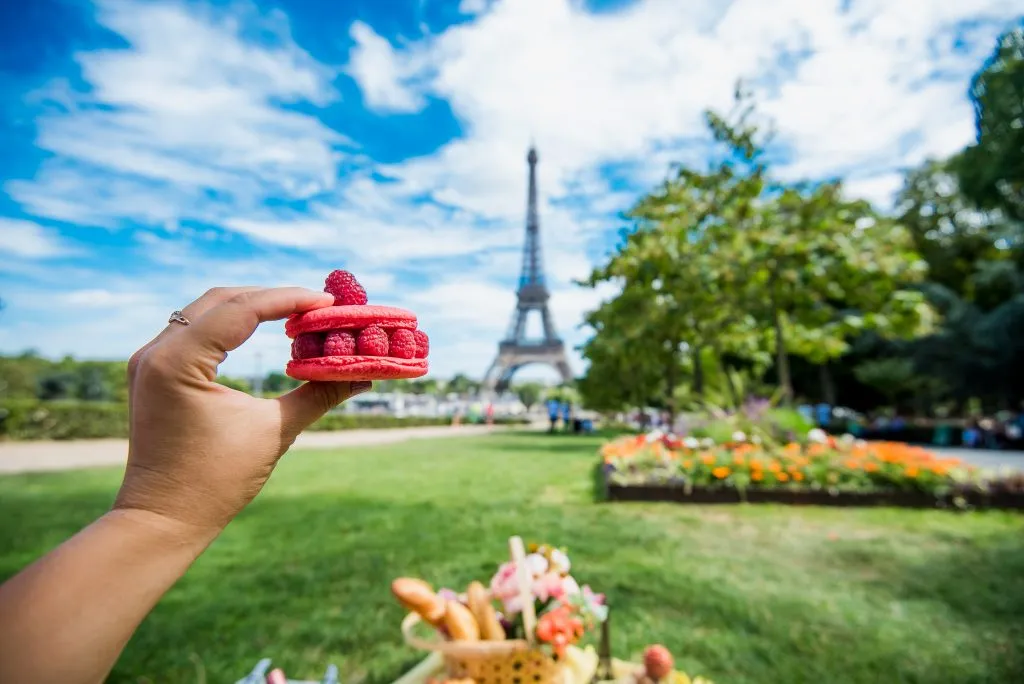 As a bonus, picnics make it easy to stick to dietary restrictions–traveling to Paris while gluten-free, vegetarian, or with an allergy?
If so, then picnics are an excellent option!
Just be careful with that champagne–each arrondissement in Paris sets its own rules for public drinking.
Many people still bring wine to their picnics, but they tend to be discreet.
Along with picnics, August in Paris is also a fantastic time to explore outdoor French markets–what better way to enjoy a picnic than to make even picking out the ingredients an adventure?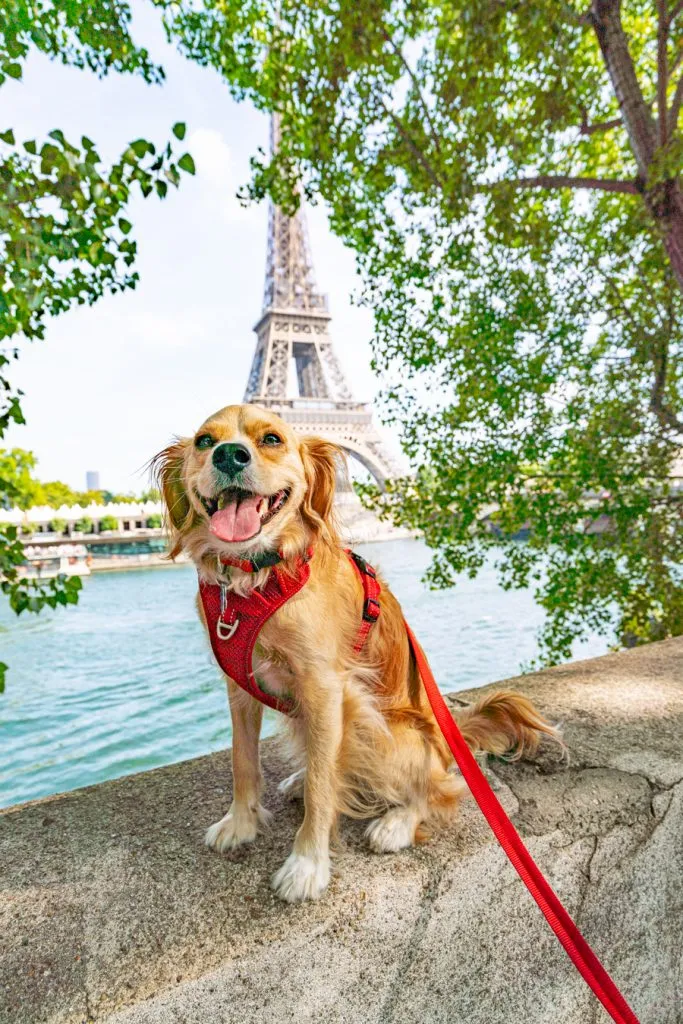 Tips for Enjoying August in Paris, France
Skip-the-line passes are your best friend.
In the era of smartphones and constant wifi access, I will never understand why people choose not to buy skip-the-line passes.
With a few clicks on Get Your Guide, we strolled right past an hour-long line at the Arc de Triomphe, a sizable line at the Palais Garnier, and a that-looks-miserable-I-don't-even-want-to-know-how-long-it-is line at Versailles… for literally the exact same price listed on the door.
And no, none of those visits were sponsored–we just don't like lines!
Especially when visiting Paris in August (I'm not exaggerating when I say the line to get into Notre Dame was at least 10x longer in mid-August than it was in mid-March), we strongly recommend booking tickets to any major sights that you're interested in before heading out.
Hitting a lot of museums during your trip to Paris in August?

Consider purchasing a Paris Museum Pass, which includes skip-the-line access to several of Paris' most iconic sights!
Prioritize sights where blooming flowers reign.
We have now strolled through the gardens of Versailles in both January and August, and let me tell you… the difference is astonishing.
If you have your heart set on visiting nearby places like Versailles or Giverny, this is the time of year to do it!
At the very least, be sure to pay a visit to the Luxembourg Gardens in Paris–they are beautiful in August, and a great place for a picnic, too!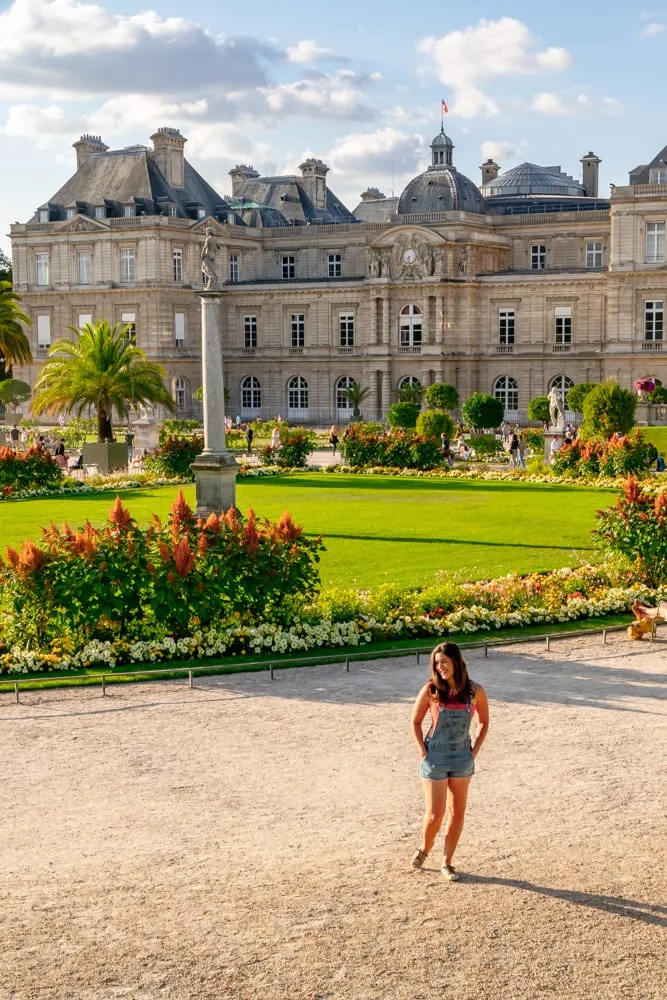 Look up when the evening hours are for the museums.
If you're blessed with sunny days during your August visit to Paris, you may find it as hard as we did to pull yourselves into an art museum for the day–but they're still worth visiting!
The Louvre and the Musee d'Orsay, along with some smaller museums, usually offer evening hours once a week.
Check out when those are, and consider planning your museum visits for after the sun goes down.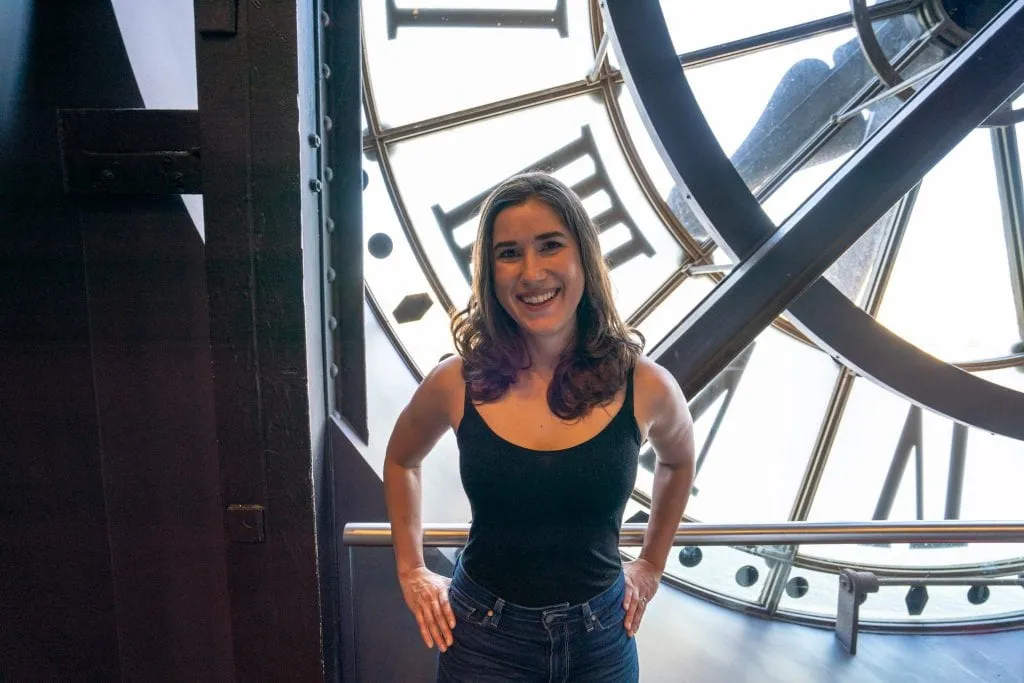 Don't get your heart set on any one restaurant.
… Because yes, many businesses still do close during August in Paris.
It's not so many that you'll ever be hard up for food options–at a glance, the city mostly runs as normal–but if you have your heart set on a specific place to eat, you may walk away disappointed.
Keep an eye on the weather.
The weather in Paris is notoriously unpredictable, and while the odds are good that you'll have beautiful weather during an August visit to Paris, always check the weather before setting out for the day.
Cloudy days can be reserved for museums, while sunny days are best for viewpoints and gardens!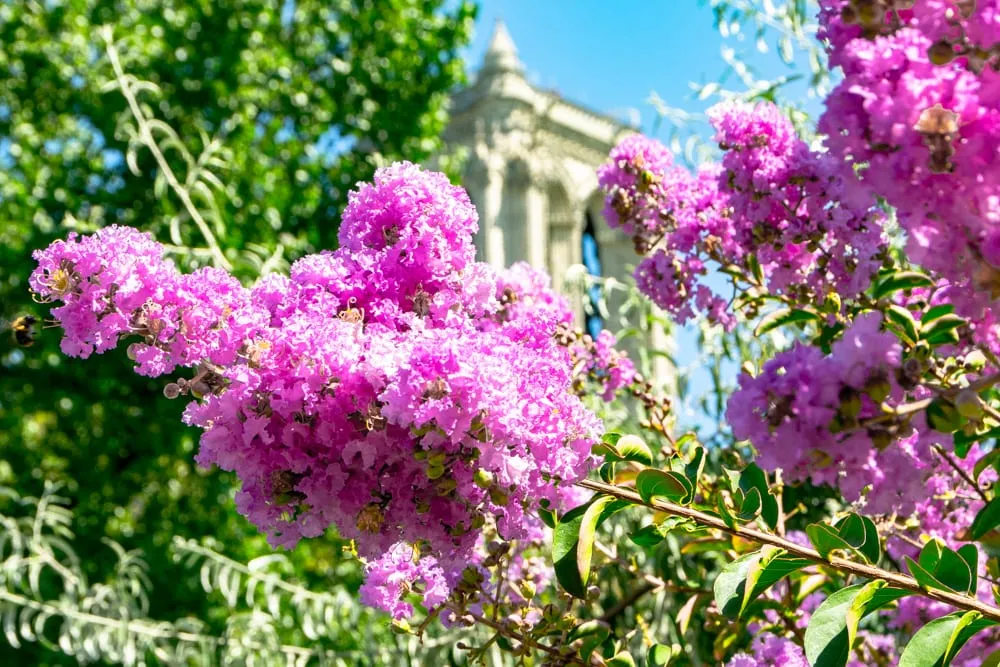 Walk, walk, and walk some more.
Our favorite moments during our visit to Paris in August were all outside.
In fact, despite intending to visit a couple more museums during this trip, we could never tear ourselves away from the beautiful weather long enough to do it!
Paris in August is made for exploring on foot.
Take your camera, hit the streets (Marais, Montmartre, the Latin Quarter and Il de la Cite are all beautiful areas that are perfect for photo walks), and see how many beautiful things you can find.
If the weather is beautiful, ignore the metro and commit yourself to at least a couple of hours of walking each day.
This is often how we get between major sights in Paris, and that's doubly true on beautiful summer days!
Have we convinced you to give Paris a try in August yet?
Even a quick stopover in Paris is worth it!
We were completely giddy during our time in the city: even though we had Paris visited more than once already, seeing Paris at the height of summer was a wonderful experience that we will happily repeat in future Augusts to come.
Favorite summer moments from our first August trip to Paris included lounging in the Luxembourg Gardens, wandering the streets of Marais, checking out Marie Antoinette's Hamlet at Versailles, enjoying the warm breeze on our faces while we snacked on macarons and espresso at outdoor cafes, and enjoying a peaceful stroll in the Pere Lachaise Cemetery.
… And that's just what we did outside!
Our trip to Paris in August left us even more enchanted with Paris than before, and that, I have to say, is quite an impressive feat.
Read More About Visiting Paris
Ready to plan your trip to Paris in more detail?
You can browse all of our France blog posts here, or check out these Paris guides:
---