Oh, Belize: you were beautiful, you were home to one of our favorite tours to date, and you were very expensive for your region–our travel budget for Belize was far steeper than nearby countries!
We intentionally planned a shorter stay in Belize than in neighboring Mexico and Guatemala, because we knew that the cost of a trip to Belize would stretch our spending goals.
Even with forewarning, however, the high prices in Belize came as a bit of a shock after a little over six weeks in Mexico–and as a result, we severely limited our excursions there.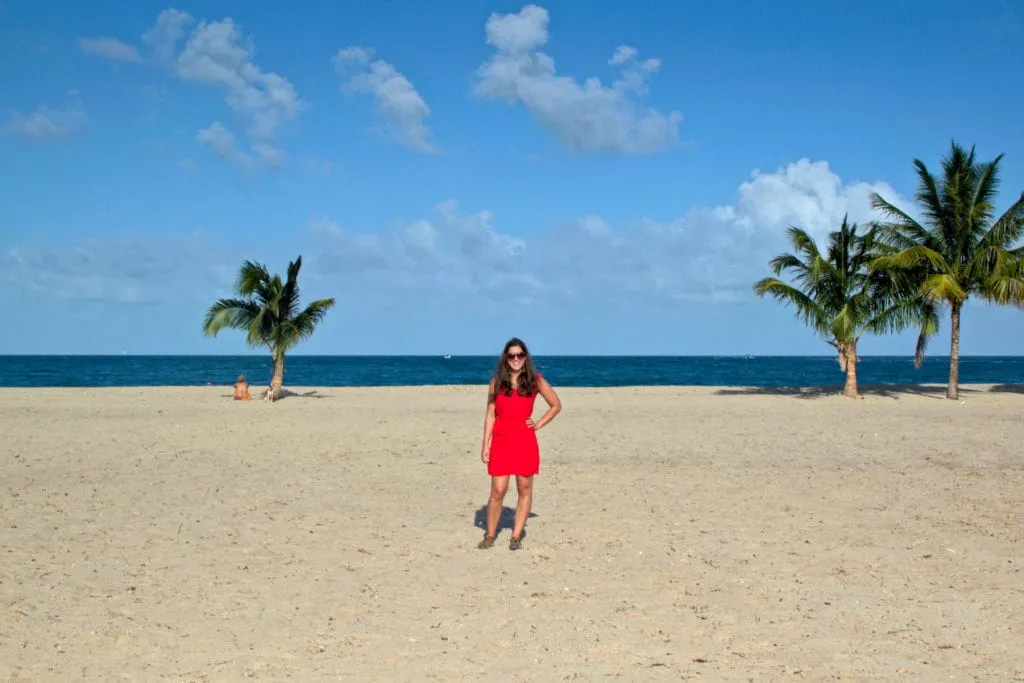 Some links in this post may be affiliate links. If you make a purchase through one of these links, we may earn a small commission at no extra cost to you. Please see our

disclosure policy

for more detail.
Trip length: 12 full days
Total cost: $1085.29, $90.44/day, $45.22/person/day
All prices are in USD.
Lodging: $534.48 for 12 nights, average of $44.54/night
We stayed one private room in a hostel in Placencia for $54.50/night and a room at a budget hotel with air conditioning and an ensuite bathroom in San Ignacio for $34.58/night.
Where We Stayed in Belize
Placencia: Sailfish Resort — Our opinion of the Sailfish Resort is one of extremes. The good: the property was well-kept, the staff very nice, the wifi excellent, and the resident puppy (Einstein) was adorable. The bad: No a/c, the smallest room we've ever stayed in (and that's saying something!), and shared bathrooms that required us to walk outside, down a flight of stairs and to the back of the property to access them–not a lot of fun in the middle of the night, especially if it's raining like during three of our nights there.
Our verdict? Just like Placencia, the Sailfish Resort was nice enough in some areas, but too expensive ($54.50/night USD for a private room) for what it was.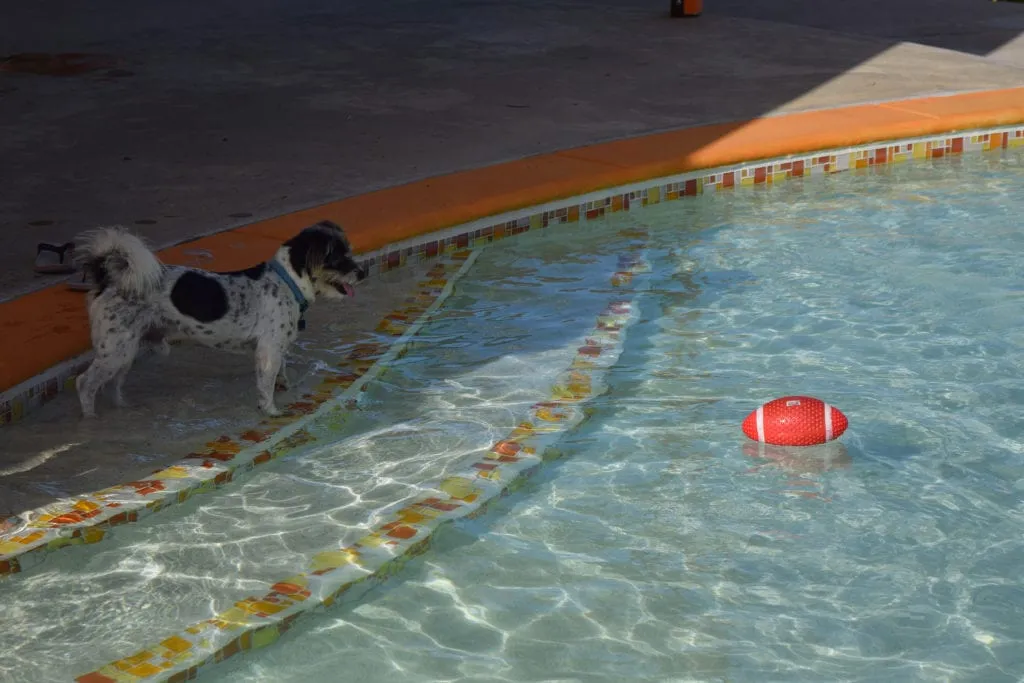 San Ignacio: Acropolis Maya Hotel — For the most part, The Acropolis Maya Hotel was exactly what we would expect of a budget hotel: clean but not luxurious and in a decent location. The owner was friendly, and cleaning happened about once every other day.
The major downside? A/C is NOT included in the price, despite being listed that way on Booking.com. We were able to negotiate the cost down some due to the confusion, but it left a very bad taste in our mouth when we left.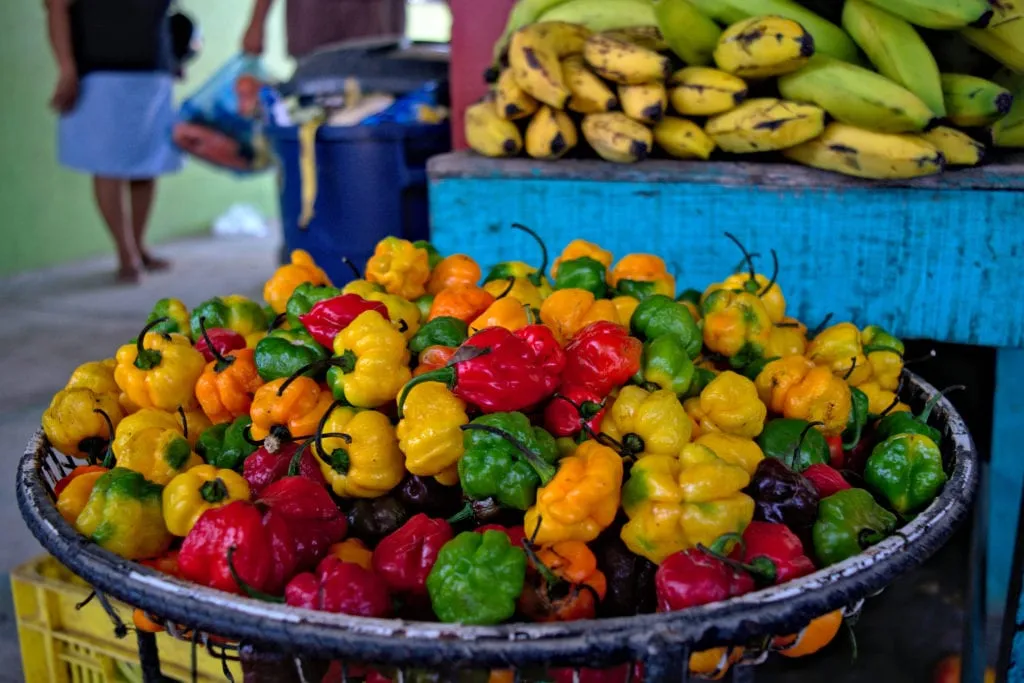 Transportation: $37.00
We only used two rounds of transportation while in Belize: a bus from Belize City (where we arrived from Mexico) to Placencia, and one from Placencia to San Ignacio.
We were able to walk everywhere that we needed to go in both destinations, which was a bit of a relief for our Belize travel budget.
Restaurant Food: $197.08
Food was very pricey in both Placencia and San Ignacio, though slightly more so in Placencia–we usually spent $15-20 for the two of us to eat a meal.
We did find some delicious street food near the outdoor market in San Ignacio, which offered much better value than traditional restaurants.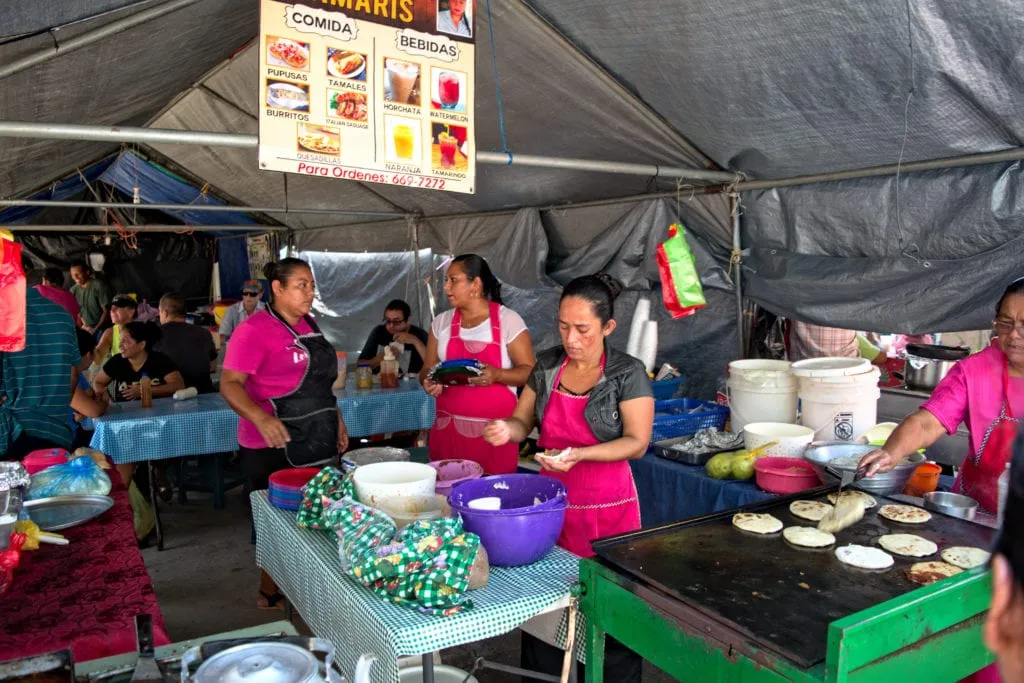 Groceries: $69.68
Our grocery costs were mostly confined to Placencia, where the sticker shock drove us to try to avoid the restaurants. Food was much more expensive than in the USA–think 2-3x the price for many items.
Being such a small country, Belize imports much of its food, which I imagine contributes to the higher prices.
Including restaurant meals, $11.12/person/day of our Belize travel budget went to food.
Tours & Excursions: $205.55
Due to watching our travel budget for Belize carefully, we limited how many activities we took part in while there, and sadly, didn't sample any of the incredible dive sites in Belize.
We took exactly three tours/excursions: $10 to visit Calah Pech, $18 to tour the Green Iguana Sanctuary in San Ignacio, and a whopping $177.55 for the ATM Cave tour.
The ATM tour was incredible and worth the price tag, but it also ranks as the most expensive single-day excursion we've done since starting our travels in May 2016.
San Ignacio, the jumping-off point to the ATM Cave, though, was absolutely our favorite stop in Belize–if we return, we'll plan a longer stay there, and maybe check out ruins like Xunatunich as well.
Miscellaneous: $41.50
Luckily, a 12-day trip didn't lead to many miscellaneous expenses–$1.50 on Krazy Glue to repair my cell phone case and $40 on Belize exit taxes is all that fell into this category.
One of the things that we try to keep in mind while writing budgets is not only numbers but value–I wrote recently that one of my favorite things about our recent trip to Mexico was that it was not only affordable but that we got so much for our money.
On a similar note, places like Paris may be more expensive than places like Bangkok, but the value Paris provides still makes it worth visiting (which is not to say Bangkok doesn't also offer value of its own!).
At this point in our lives, Belize didn't strike the right balance of cost and value for us. On a long-term trip like what we are on, we couldn't bring ourselves to, for example, experience Belize's diving, when Honduras' much more affordable diving is just ahead in our future and our incredible experiences diving on Koh Tao are not very far in our past.
Outside of the diving (which is admittedly supposed to be legendary), we couldn't find much that made Belize distinct enough to warrant spending oodles of time in one of Central America's most expensive countries.
It's worth noting that current exchange rates also impacted our Belize travel budget: the Belizean dollar is pegged to the USD at a 2:1 ratio. While the USD currently being very strong is obviously something that we generally benefit from, it made the price contrast with Mexico (whose peso is at one of its lowest points against the USD in the last few years) very obvious.
Based on what we've seen tour companies advertising and people we have met on the road, it seems popular to visit Tikal in Guatemala as a 1-2 day trip from Belize–but I feel the opposite. For a long-term traveler or someone who is on a budget, I'd argue that it's better to focus your travels on eastern Guatemala and take a 1-2 day trip to Belize to see the ATM cave!