Our visit to the Marrakech tanneries was, without a doubt, our worst travel experience in Morocco and the worst experience of our RTW trip so far. Frankly, I'm rather embarrassed to be sharing our time as victims of the Marrakech tannery scam–this is a great example of many travel mistakes on our part.
But, alas–a travel blog that only discusses the good things about travel is not much of a travel blog at all, and the unfortunate story of our visit to the Marrakech tanneries belongs here, even though we loved the city overall.
The tanneries (open-air factories where leather is processed and dyed by hand) are supposedly a popular tourist spot in Marrakech–there are signs for them throughout the souks, and you can't walk 20 feet without a local jumping out and saying "Tanneries? Tanneries?" in the hopes of leading you there for a fee.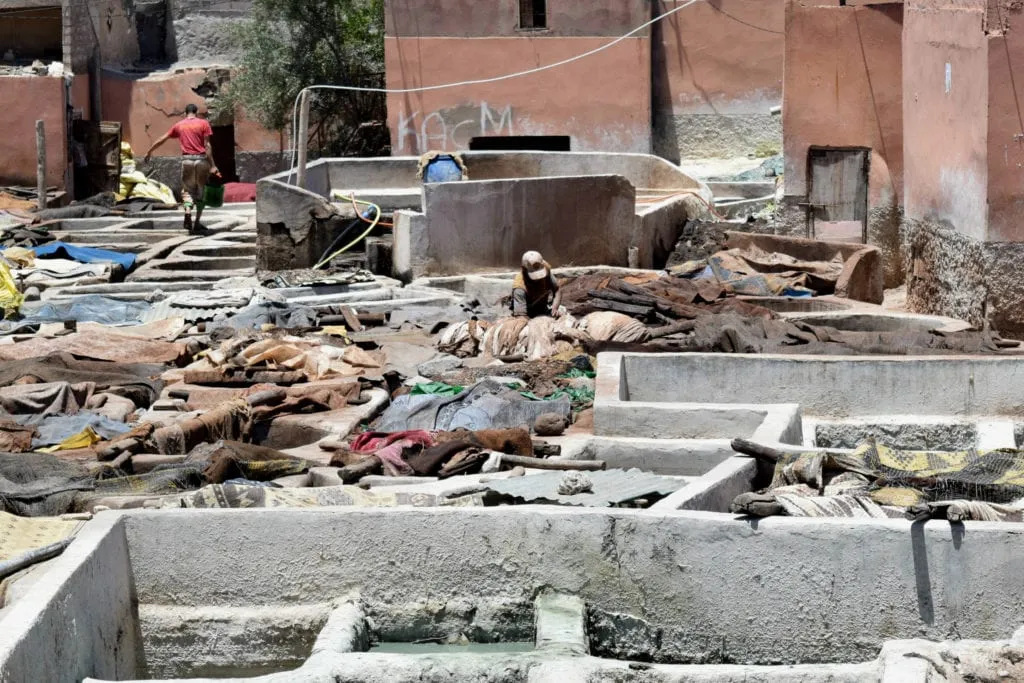 Some links in this post may be affiliate links. If you make a purchase through one of these links, we may earn a small commission at no extra cost to you. Please see our

disclosure policy

for more detail.
Our first mistake was not doing enough research: we had heard about the tanneries in Marrakech from both a friend and from every tourist map in the city–but independent research would have prepared us much better for what was to come.
As we set off for the tanneries, the atmosphere shifted almost immediately from that in the souks: this was not a "good" area of town. The women and children in the streets started disappearing and were replaced by increasingly aggressive men demanding to take us to the tanneries.
"No guide! No money!" they shouted at us.
"Wrong way! I take you!" they called every time we hesitated ever-so-slightly over a turn.
We started to feel lost: our phone (that we kept trying to avoid looking at) said we were headed the right way, but could this be it? It seemed right, but this was not a tourist area. There were no other obvious tourists in sight.
As it turns out, we wouldn't spot another tourist until well after our tannery visit was over.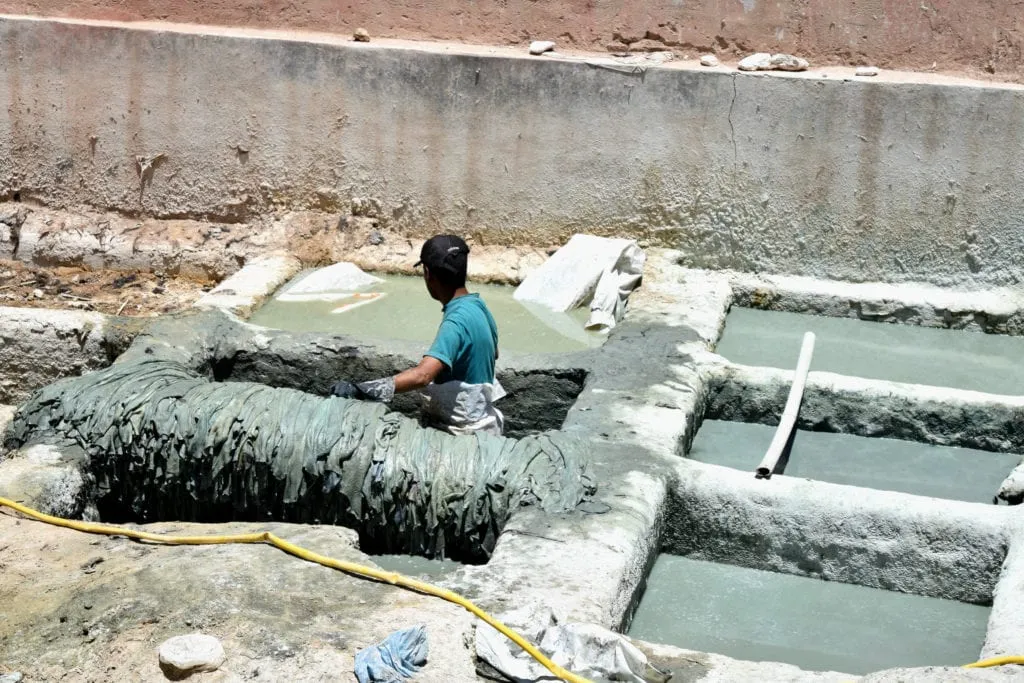 Increasingly uneasy, we shook off four more "not-a-guides", and unhappily tolerated one who insisted on walking beside us… until he wanted us to turn down a side street. "Wrong way!" he called as we continued on, (correctly) trusting Google. He persisted: "They're closed! I take you!" before eventually melting away.
We were relieved to be free of him, but we were now unescorted marks: enter Orange-Hands-Guy from the left.
Orange-Hands-Guy was smoother than the others. He kept pace with us. He presented his orange palms as "proof" that he "worked" in the tanneries (possibly true). We didn't like him, we wanted him gone–but he kept insisting that he was "taking" us to the tanneries.
"No guide! No money!"
So here's our conundrum: everyone knows not to follow the "guides" in Morocco. But what happens when they follow you? Orange-Hands-Guy didn't have us take any turns–he just pursued us down the path that we were already following.
If we stopped, he stopped. Repeated declines of assistance only resulted in further insistence of "No guide! No money!"
We should have turned back, frankly. Turned back and just considered the whole thing a loss.
But, we didn't. Instead, before we could even decide our next move, Orange-Hands-Guy handed us off to Specter-Guy: the rail-thin, very tall, very old man who shoved mint into our hands and introduced himself as the "manager" of the tanneries who would give us a "tannery tour".
He obviously wasn't a manager, and here comes our next mistake: we did not discuss a price.
Stupid. Stupid, stupid, stupid. We know this game. We know to always agree on a price first. Believe me, this was not the type of shop to have a sign with the cost of a tour.
Looking back, I can only justify this insanity by the fact that (1) we were so relieved to actually find the tanneries and not end up lost that we didn't react fast enough, and (2) these people are very smooth with their scheme.
Specter-Guy walked us through two tanneries: the Berber tannery and the Arabic tannery. They were interesting, and the smell was not as bad as people profess it to be (we gave up on the mint after a couple of minutes). The "tour" lasted maybe 15 minutes, followed by a visit to a shop selling leather goods.
We expected that play: we drank our mint tea, firmly refused to buy anything, and left with a slightly-soured Specter-Guy, who was trying unsuccessfully to maintain his "friendly" attitude in the wake of our refusal to buy goods.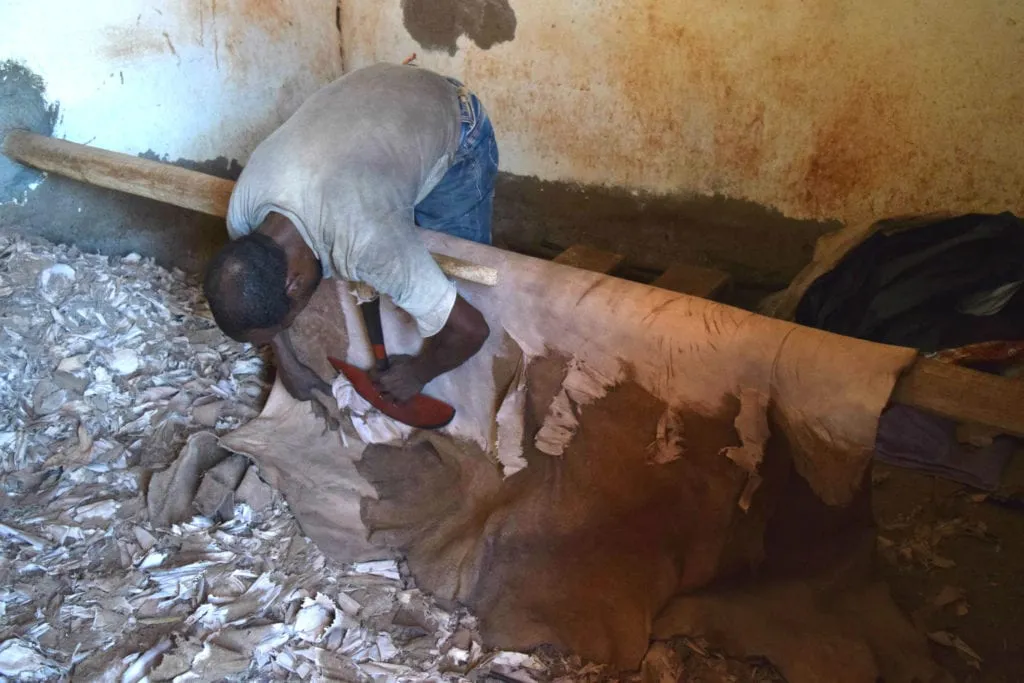 And then the fun began.
Because who was waiting for us on this narrow and deserted side street? The one and only Orange-Hands-Guy, of his "No guide! No money!" fame.
Uh-oh.
It's not like we didn't know that we were being scammed up until this point. But seeing him waiting there sent a chill up my spine: this was a very organized group. Orange-Hands-Guy on one side, Specter-Guy on the other.
Specter-Guy demanded his payment: 200 dirham ($20 USD). The going rate was unknown to us at that time (another mistake, but FYI it's $2-3 USD per our riad), but we knew 200 dirham was a rip-off.
We offered 100 dirham.
"No, 200–these are poor people, help poor people." Specter-Guy raised his voice, Orange-Hands-Guy got a little closer: the intimidation was well underway.
Fine… 200. We were irritated, but at that point, we just wanted out of there.
Now, I would like to draw a careful picture: we were extremely isolated on this small road. No other tourists were nearby. There was us, Orange-Hands Guy, Specter-Guy, and a few other tannery buddies milling around in the background.
Orange-Hands-Guy gestured for us to follow him back to the "Big Square [Jemaa el-Fnaa]".
Our options were limited: we could follow him (on the correct path per Google maps). We could walk past Specter-Guy, past the tanneries and other tannery workers, and try to go back the way we came. Or, we could go down another side street that was even more isolated.
Yikes.
We walked in the correct direction, Orange-Hands-Guy shadowing us.
"That's okay!", we implored. "We have a map. We don't need a guide! No, thank you. Non, merci. La, shokran."
"No guide! No money!" he repeated.
Right.
So, off we went: us trying to shake him, him refusing to let us go. Our minds were racing to assess the situation: "Are we in danger? Should we make a scene? Should we go back?"
We held hands and hoped.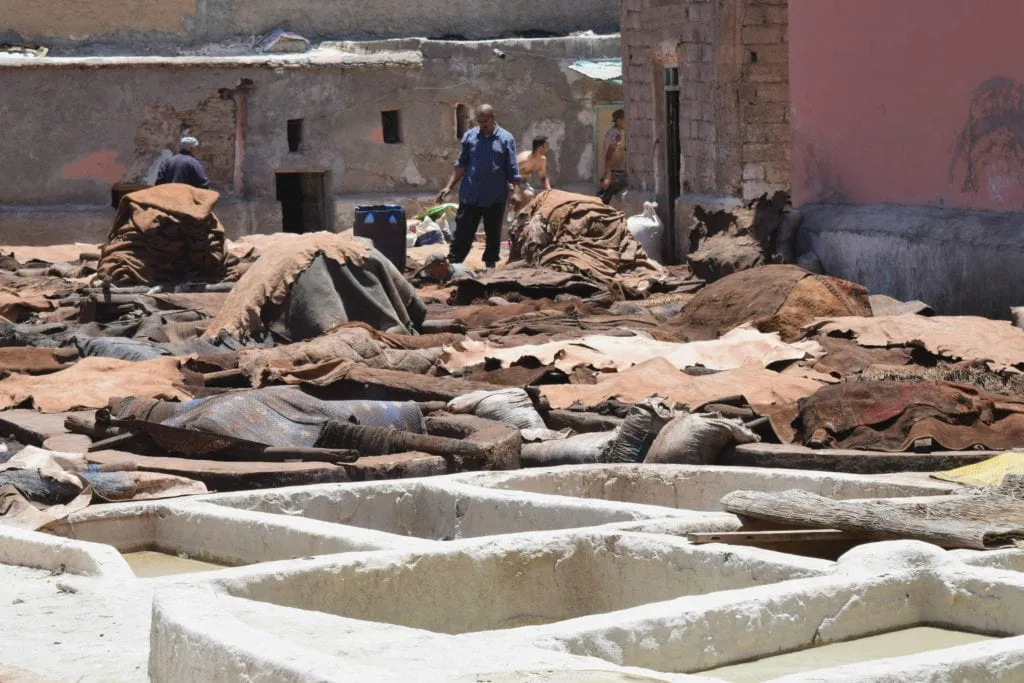 Orange-Hands-Guy suddenly pointed through a gate: "Jardin Majorelle!"
Um, no.
We knew that wasn't Jardin Majorelle, because it's on the other side of town and we can read a map. But, we could see palm trees and manicured grass through the gate, and there are many gardens in Marrakech. Stopping here would give us an opportunity to ditch Orange-Hands-Guy much sooner than dealing with him being on our heels all the way until the "Big Square", so we decided to go in and try to outwait him.
Bad idea. Bad, bad idea.
Why? Because as soon as we walked through the gate, it became clear: this was a "garden" of some kind, but no one else was there. We were completely alone.
"Now you pay me." Orange-Hands-Guy declared, switching up his lines.
We refused. We didn't need a guide, we said no, you said no money, go away.
"500 dirhams [$50 USD]."
"No."
… And then four of his friends showed up.
Cue escalating panic.
We tried to walk away, they forcefully pursued–touching Jeremy's shoulder, pushing up against us: "Pay the man! Poor people. Help poor people. He help you. Pay!"
At this point, I made a fight-or-flight decision that worked, but I'm still not sure was smart: I screamed.
"HEY! BACK. OFF."
It worked… sort of. They stepped back, and we started power walking back the way we came.
"Why so angry?" they now demanded, "Why you scream?"
They were stunned, but they weren't fully giving up: Orange-Hands-Guy was now insisting on 200 dirham.
Jeremy shoved 10 dirham ($1 USD) in his hand, and we fled to the sound of the men screaming insults: out of the "gardens", around the corner, and luckily, quickly ended up back on the main road. We dove into the first taxi we found (and agreed on a price first) and hurried back to Jemaa el-Fnaa, back to the tourists, back to safety.
Our adrenaline was still high, but we were able to take a few deep breaths in the car: it was over.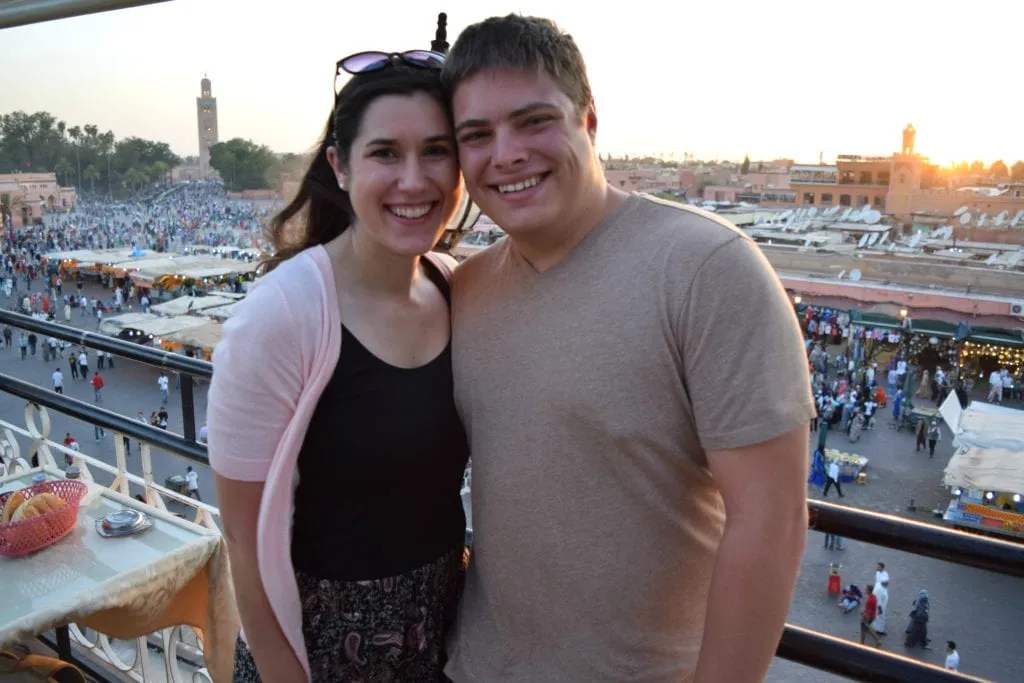 Falling victim to the Marrakech tannery scam is, without a doubt, one of the most unnerving things to happen in our travels–and objectively, it wasn't even that unnerving!
This was in the middle of the day, the monetary amount was small, and while intimidation was the name of the game, were we in any real physical danger? Were those men going to mug us?
Honestly, I'm still not sure, but I'm leaning toward no. I later looked up the Trip Advisor reviews for the tanneries, and while they tell our story 100 different ways, I didn't see any accounts of actual violence.
I reflected seriously on these events after they happened, and can divide my reaction into three sections: growth, indignation, and empathy.
Our experience with the Marrakech tannery scam helped us grow a lot as travelers: we made many mistakes (not turning back when things started to get weird, having too much money visible in Jeremy's wallet which limited our ability to haggle after the "tour", not researching what to expect more thoroughly, being rushed into not agreeing to a price for the tour upfront), and I certainly hope that we will not make any of them again.
I must admit, I am still somewhat indignant: these men stole from us through intimidation. They intentionally made us feel unsafe and threatened to get our money, and it kind of worked. Frankly, I'm not sure if I'm more annoyed by the first or the second.
But, at the end of the day, I am trying to have empathy.
It stings to be swindled, regardless of the monetary amount. But their attempts to guilt us aside, these really are poor people. That $18 means very little to us, but it may impact the lives of their families. All I can do is hope that while these people were cruel to us, that they are decent people within their communities who used the money well.
Because of that, I have (mostly) let it go.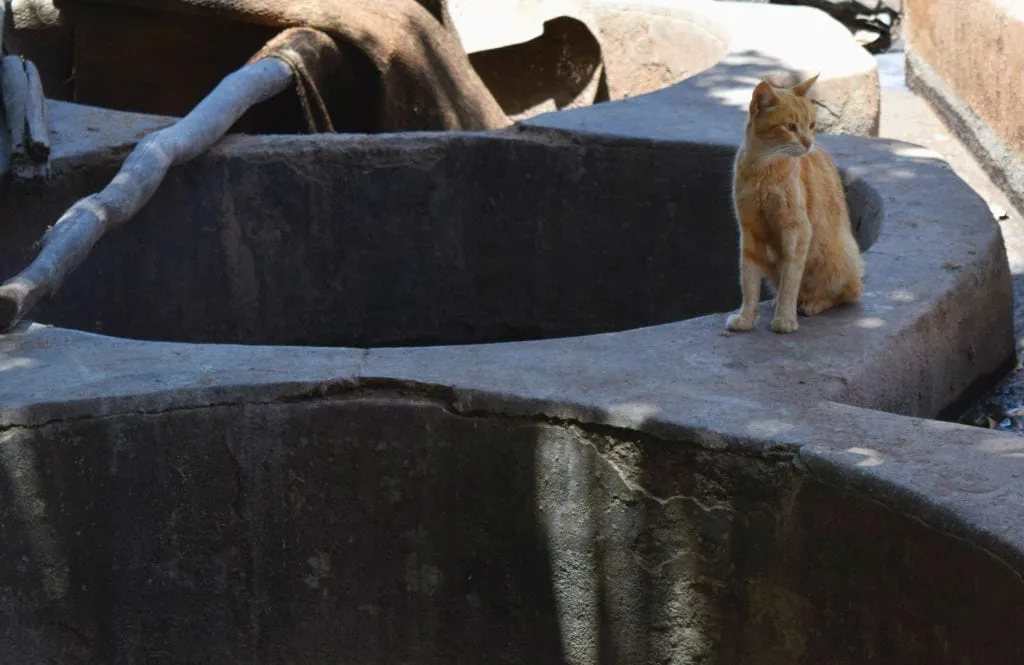 If you want to avoid the Marrakech tannery scam, this is what we suggest.
Reconsider visiting the tanneries.
The tour was interesting enough, but it was not fascinating. Even without all of the madness surrounding getting in and out, the attraction itself was fairly mediocre–and not quite as photogenic what you might imagine, and definitely less so than the impressive Marrakech souks.
If you don't have a huge interest in leather, you're not missing much, and I'd consider leaving the tanneries off of your Marrakech itinerary.
Go in a group.
I cannot begin to express how much safer I would have felt in a group of six or eight here–and definitely, definitely, don't go alone.
Put a few dirham in your front pocket, and leave your wallet secure.
This applies to a lot of situations, but I would definitely advocate for practicing this Marrakech travel tip here.
Go during the middle of the day.
This is definitely not a crack-of-dawn or evening activity.
Take a taxi if you can.
Taxis in Marrakech are pretty affordable: $2-4 anywhere in the medina, and well worth the price to avoid being hassled by the "guides".
Get your own guide.
You can hire guides to take you through Marrakech for a half or full-day, and your riad will likely be able to help you find someone "legit". They will help you explore the city, and will keep you insulated from the "not-a-guides", especially near the tannery area.
If you've chosen to stay in one of the best riads in Marrakech, they should be able to put you in contact with a trusted guide.
Take extra caution as a solo female traveler.
While I didn't travel to Morocco alone, I know many women who have–and all of them struggled with harassment in Marrakech. Brush up on solo female safety tips for Marrakech before going, and definitely, don't head to the tanneries alone!
Don't visit Morocco without travel insurance! We use and recommend Safety Wing for their affordability, ease of purchasing & the clarity of their contract!