It may require several lifetimes to discover all there is to do and see in the City of Lights, but 2 days in Paris, when planned well, is definitely long enough to start diving into the city (especially if you're willing to end your weekend in Paris with some very sore feet).
This 2 day Paris itinerary is designed for those who want to see as much of the city as they can in only a couple of days–someone who's setting off on a weekend trip to Paris or is squeezing 2 days in Paris into a longer trip to Europe and has to balance their desire to see this city with several others on their itinerary.
We'll cover most of Paris' top highlights in this weekend in Paris guide, moving at a pace fast enough to keep you slightly tired and wondering about your next cafe break (luckily there's no shortage of cafes Paris), but slow enough that you'll get to amble a bit and appreciate the beauty and charm of what is widely considered the most romantic city in the world.
Ready to plan your 2 days in Paris? Here's what we suggest.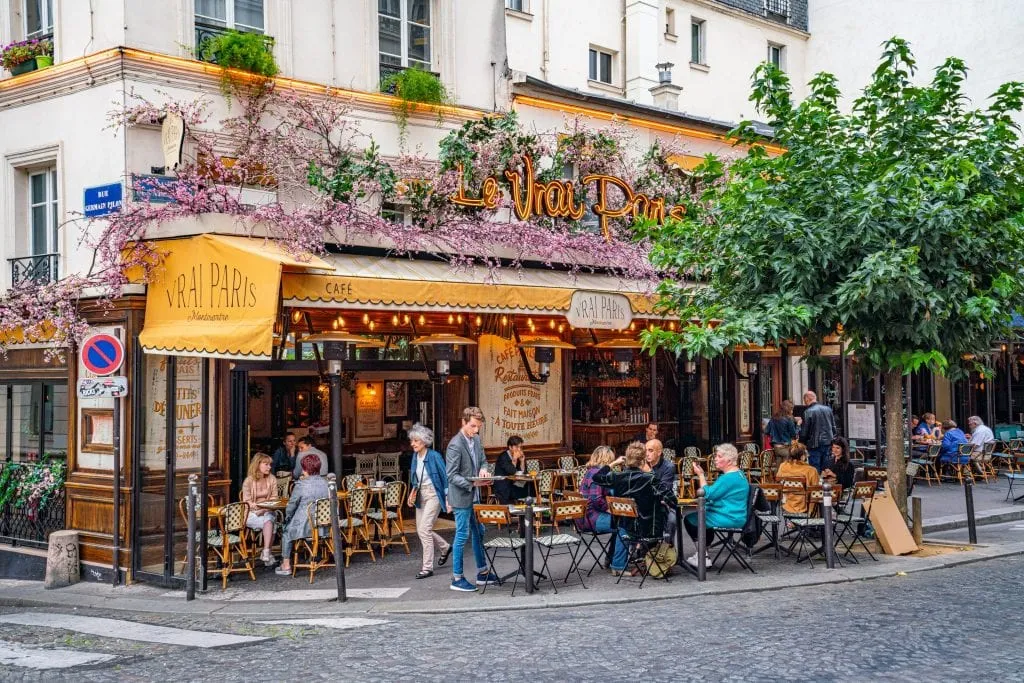 Some links in this post may be affiliate links. If you make a purchase through one of these links, we may earn a small commission at no extra cost to you. Please see our

disclosure policy

for more detail.
Day 1 in Paris: Il de la Cite & Classic Paris Sights
Start your morning on Il de la Cite, near Notre Dame.
Even though Notre Dame isn't available for visits for the forseeable future due to the tragic April 2019 fire, its convenient location on Il de la Cite means that it's still the perfect place to kick off 2 days in Paris–and even though it is wounded at the moment, it's still worth stopping by to see.
If you'd like to take a semi-normal-looking photo of Notre Dame, head over to the corner of Quai de Montebello and Rue de la Cite, near the Pont de Coeurs–from there you can clearly see the (mostly undamaged from this angle) front of the cathedral and its towers.
After a quick look, though, it's time to head off: with only a couple of days in Paris, there's a lot to cover on day one!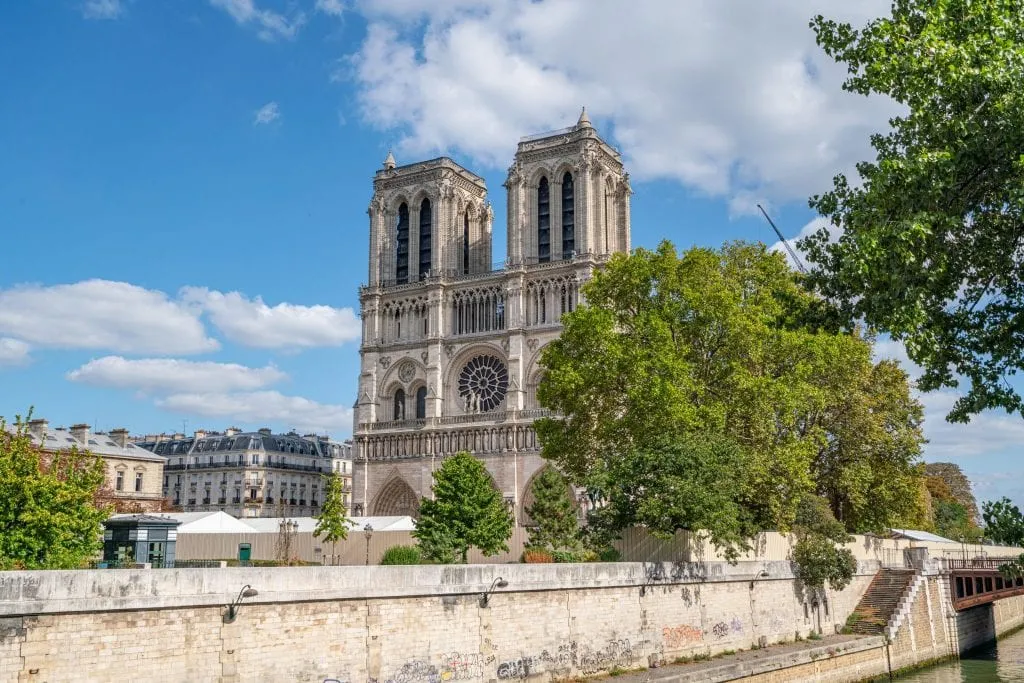 Duck into Shakespeare & Company.
Located right across the Seine from Notre Dame, Shakespeare & Company is the most famous English-language bookshop in Paris, stuffed full of gorgeous books, beautiful decor, and even a cat (her name is Aggie and she is adorable).
Once the haunt of Lost Generation writers like Ernest Hemingway and F. Scott Fitzgerald, and later (in its current location), the gathering place of writers like Langston Hughes and Ray Bradbury, Shakespeare & Company has a storied history that includes many famous names, an eccentric owner or two, and even a closure during the Nazi occupation of France.
While inside, be sure to check out the view of Notre Dame through the second floor window and purchase a book (they'll stamp the title page with their seal at checkout for the ultimate Paris souvenir).
However, make a note to avoid snapping photos inside during your weekend trip to Paris, however tempting it may be. They are explicitly forbidden.
Grab a coffee & pastry to start your day.
Having checked a couple of sights off your list, it's officially time for a light French breakfast of a delicious coffee and pastry.
Here are a few cafes nearby (and by nearby I mean practically hidden in plain sight) that you may want to check out.
Odette
Famous for its beautiful building nestled into the corner of a cobblestone street, Odette makes an excellent (and photogenic) choice for grabbing breakfast on your first morning in Paris.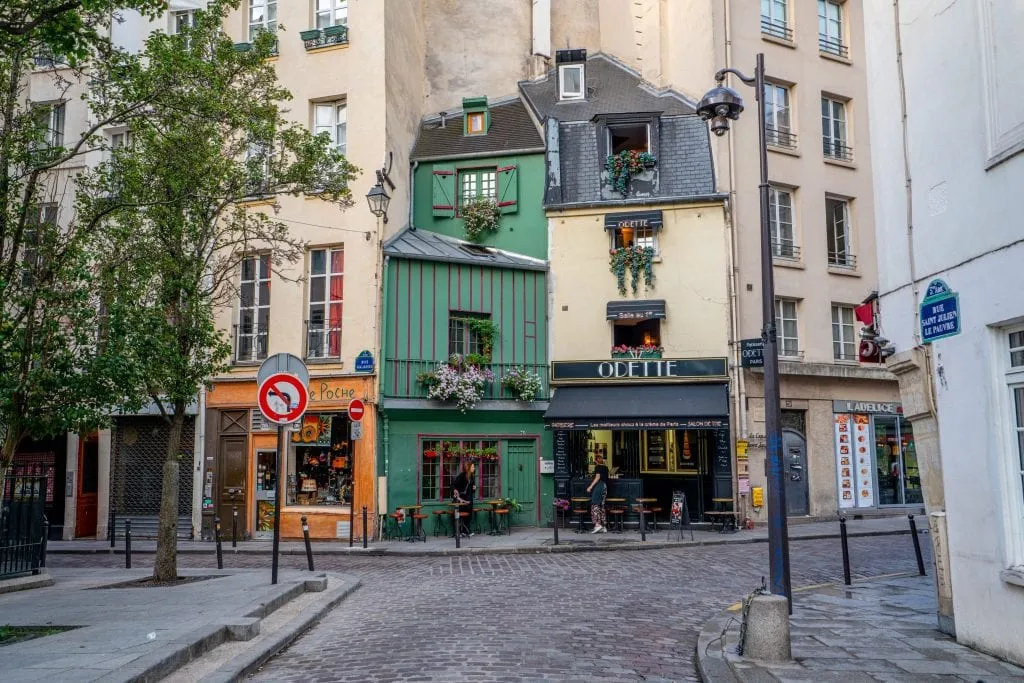 Shakespeare & Co. Cafe
Surprisingly affordable and home to delicious coffee, if you want to keep your 2 day Paris itinerary simple this morning, head next door to Shakespeare & Company for breakfast at their popular cafe by the same name.
Au Vieux Paris d'Arcole
This one is more for the photo snappers and late risers among us, as it doesn't open until noon, but Au Vieux Paris d'Arcole is worth mentioning as an option here: famous for its gorgeous wisteria, this Parisian cafe is practically next door to Notre Dame and is incredibly charming.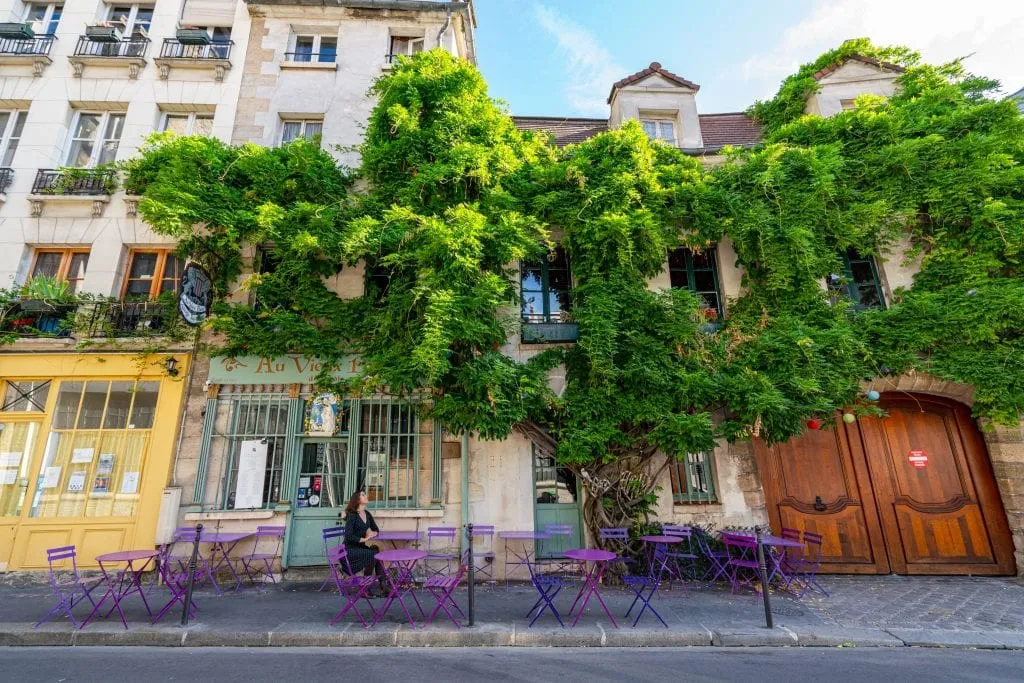 Stop by the oldest clock in Paris.
En route to Sainte-Chapelle during your 2 days in Paris, be sure to make your way past the Tour de l'Horloge on the side of the Conciergerie.
Here you'll be able to take a peek at the oldest clock in Paris, which was installed in the 14th century, is still ticking along to this day, and also happens to be incredibly beautiful.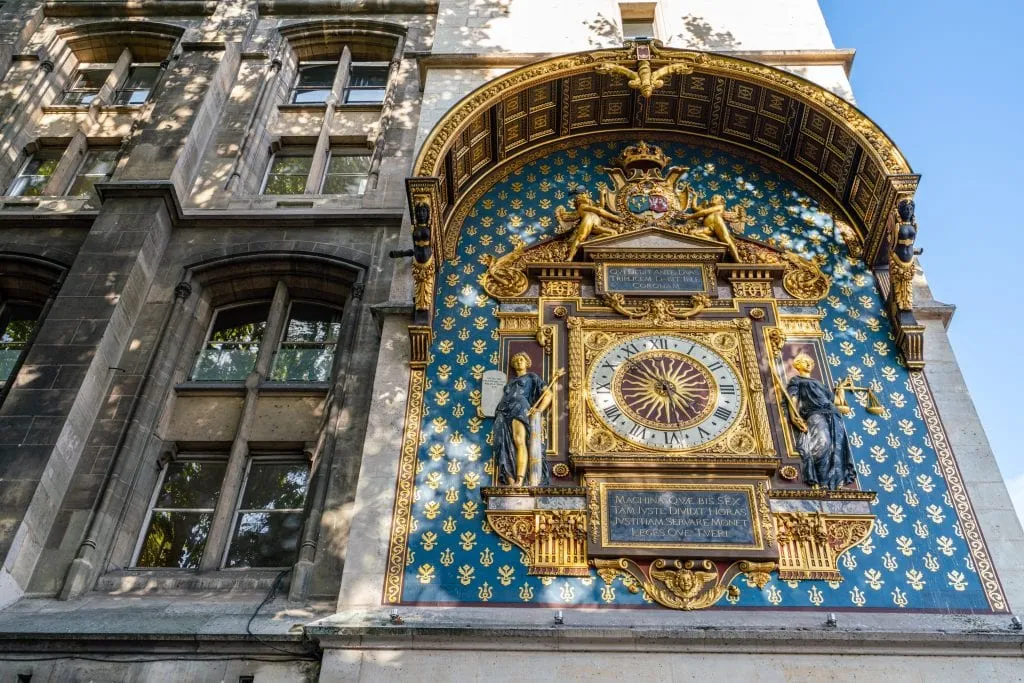 Marvel at the stained glass of Sainte-Chapelle.
Soaring ceilings that reach 15 meters high and walls made almost entirely of intricate stained glass: the upper chapel of Sainte-Chapelle almost defies belief, and it is, in my opinion, one of the most magnificent houses of worship anywhere on the planet.
Built in the 13th century to house an impressive collection of Christian relics (including the Crown of Thorns, which now typically lives at Notre Dame), Sainte-Chapelle is a Gothic masterpiece.
The stained glass tells detailed stories from the Bible, and also happens to be around 70% original–truly impressive when you consider the number of (often violent) changes Paris has endured since it was built.
The lines for Sainte-Chapelle can get rather long, and it's perfectly easy to book a skip-the-line ticket in advance for no extra cost. We absolutely recommend doing so, and it's exactly how we most recently visited the chapel.
Book your skip-the-line tickets for Sainte-Chapelle today!
Stroll to the Luxembourg Gardens.
Created by Marie de Medici and modeled after the Boboli Gardens in Florence (if you're familiar with Florence, no doubt the name Medici rings a bell–the family was a Very Big Deal in Florence for hundreds of years), the Luxembourg Gardens are home to the stunning Luxembourg Palace and all kinds of quiet Parisian life–it's impossible to visit without running into plenty of people reading, relaxing, or strolling through the flowers.
If you'd like to stray away from the beaten path when exploring the gardens, consider keeping an eye out for the beautiful Medici Fountain or looking for the garden's beehives!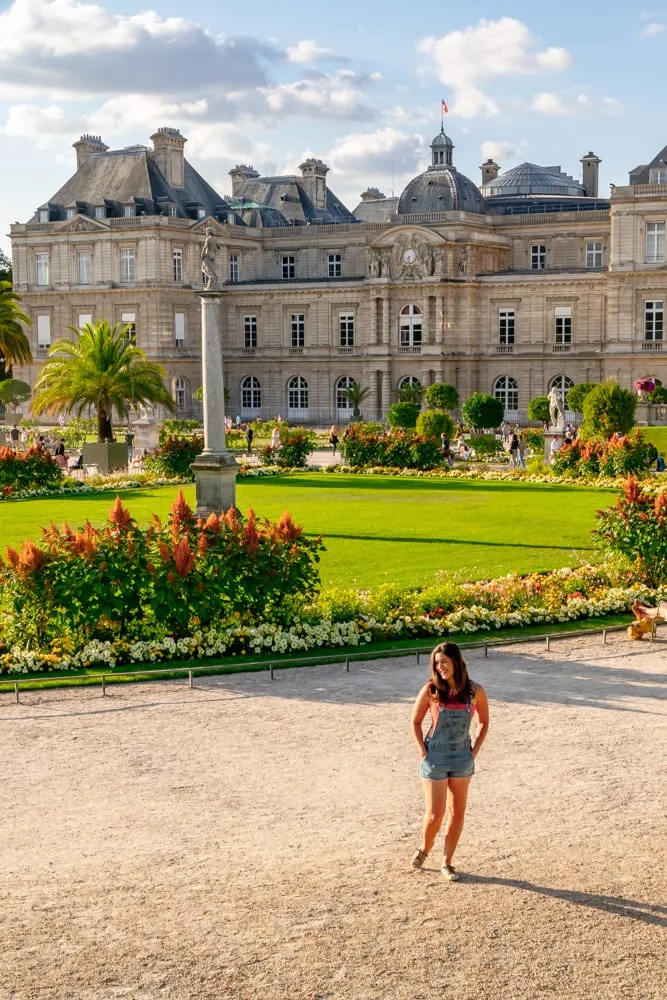 Hop the metro to the Palais Garnier.
In my opinion, a weekend in Paris really isn't enough time to justify a trip out to Versailles, but it is easy enough to explore the next best thing!
The Palais Garnier, aka the Paris Opera House, is gilded, glamorous, and gorgeous–and it's also home to its very own Hall of Mirrors.
Sure, it's not quite as big as the one at Versailles (fun fact: did you know that when the Versailles Hall of Mirrors was built, that mirrors were so expensive it would have been cheaper to cover the walls in diamonds instead?), but it is incredibly beautiful and well worth visiting.
During your visit to the Palais Garnier, you'll also be able to tour the regal staircase, check out the theatre itself, and to step out of the beautiful balcony.
Buy skip-the-line tickets for the Palais Garnier today!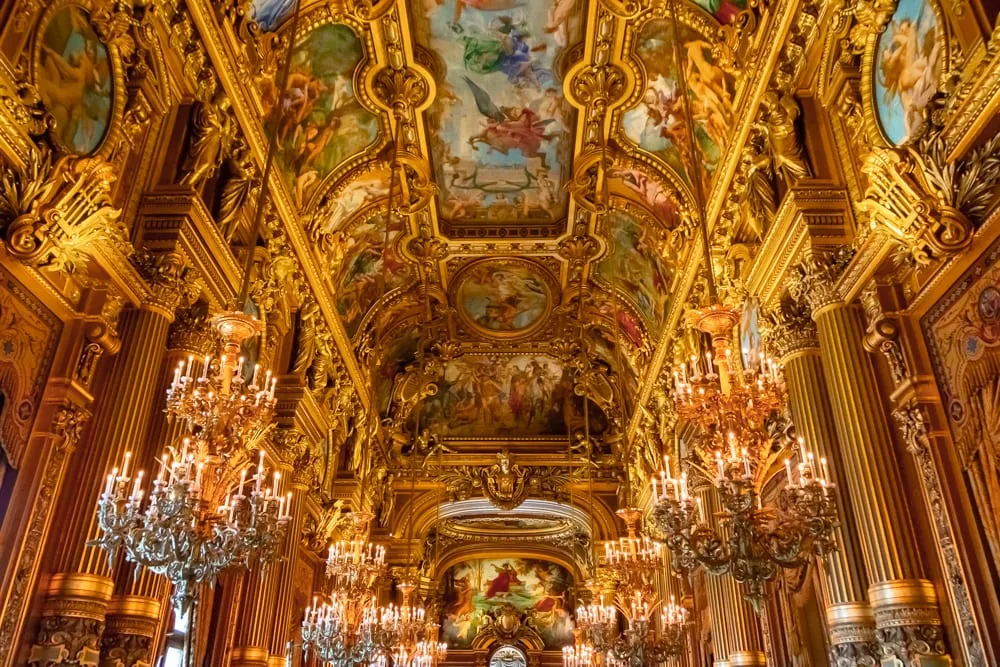 Check out the rooftop view at Galeries Lafayette.
The 7th-floor rooftop terrace of the Galeries Lafayette department store boasts lovely views of the city, including an up-close-and-personal view of the Palais Garnier and a clear view of the Eiffel Tower–and as a bonus, it's completely free to visit.
On your way up, you'll be able to admire all the glitz and glamour of one of Paris' most prestigious department stores.
Be sure to check out the interior of the gorgeous dome–it's set right above the ground-floor cosmetics department.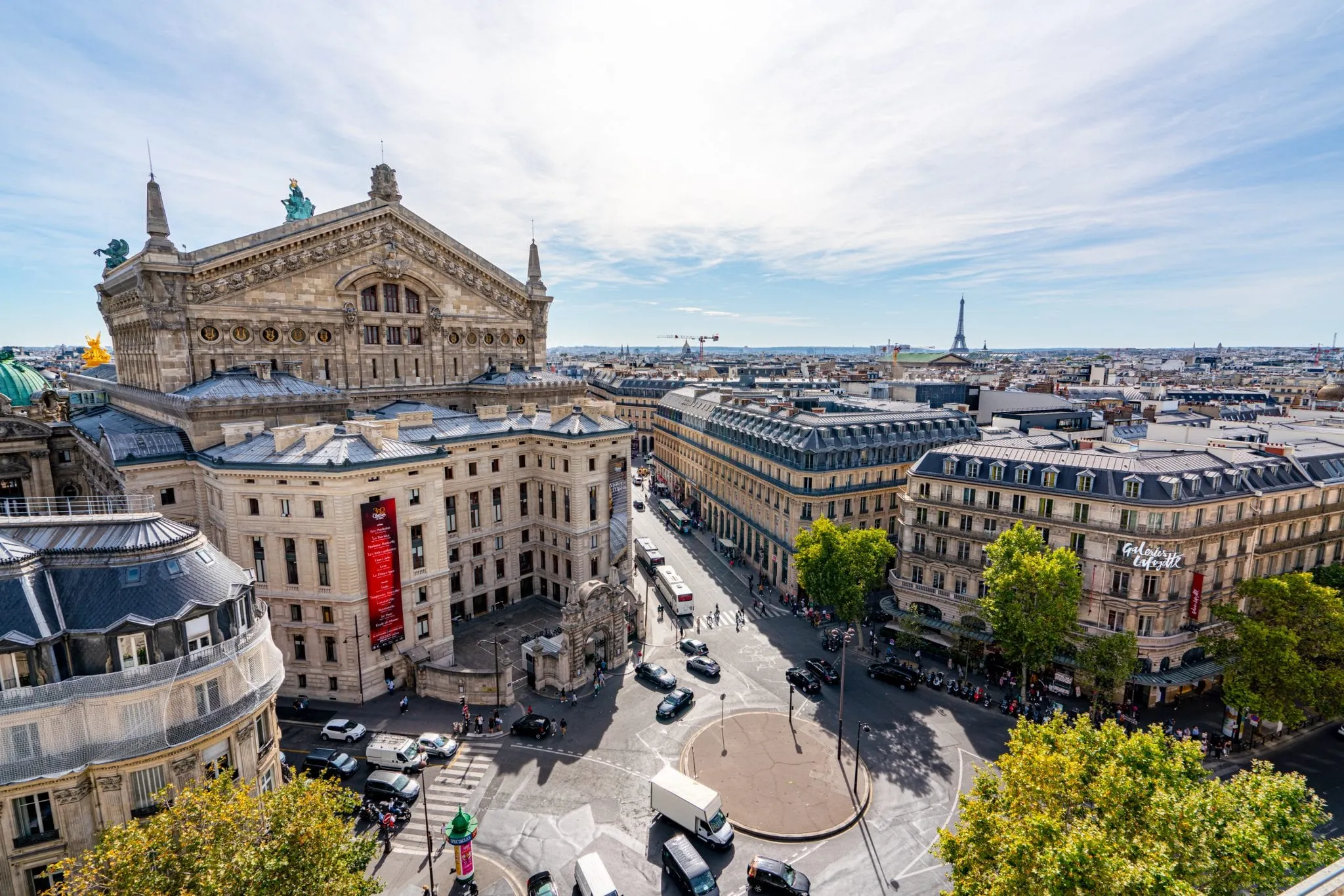 Optional: visit the Passage des Panoramas.
Depending on what time it is, you may or may not have the time or inclination for this next stop, and I wouldn't say it's entirely necessary. However, if you're up for it, walking about 10 minutes out of the way to visit the Passage des Panoramas is a great addition to your 2 days in Paris itinerary.
Paris is full of covered passages, essentially interior shopping-centers-slash-walkways that function as a shortcut from one street to the next (while also providing shopping opportunities and a chance to stay out of the famously bad Paris weather).
Each remaining passage has its own attitude and whimsy, with some dedicating themselves to certain kinds of wares, but the Passage des Panoramas has a couple of things going for it: opening in 1799, it's one of the oldest covered passages in Paris, and many of the original storefront facades have been maintained, giving it a beautiful charm.
Head to Trocadero for Eiffel Tower views & a beautiful sunset.
At this point, you'll want to hop on the metro again.
Now that your weekend in Paris is almost halfway over, it's time to see the most famous view in the city: that of the Eiffel Tower from Trocadero.
This is the perfect place to watch the sunset over Paris, and while you'll undoubtedly be sharing the view with hundreds of others, the spectacle really isn't to be missed.
If you'd like to search out some other views of the Eiffel Tower, consider a stroll from Trocadero in the direction of the tower, passing the Trocadero Carousel and the Seine itself, while heading toward the spot where Rue de l'Universite practically dead-ends into the Eiffel.
Along the way, you'll find plenty of unforgettable views.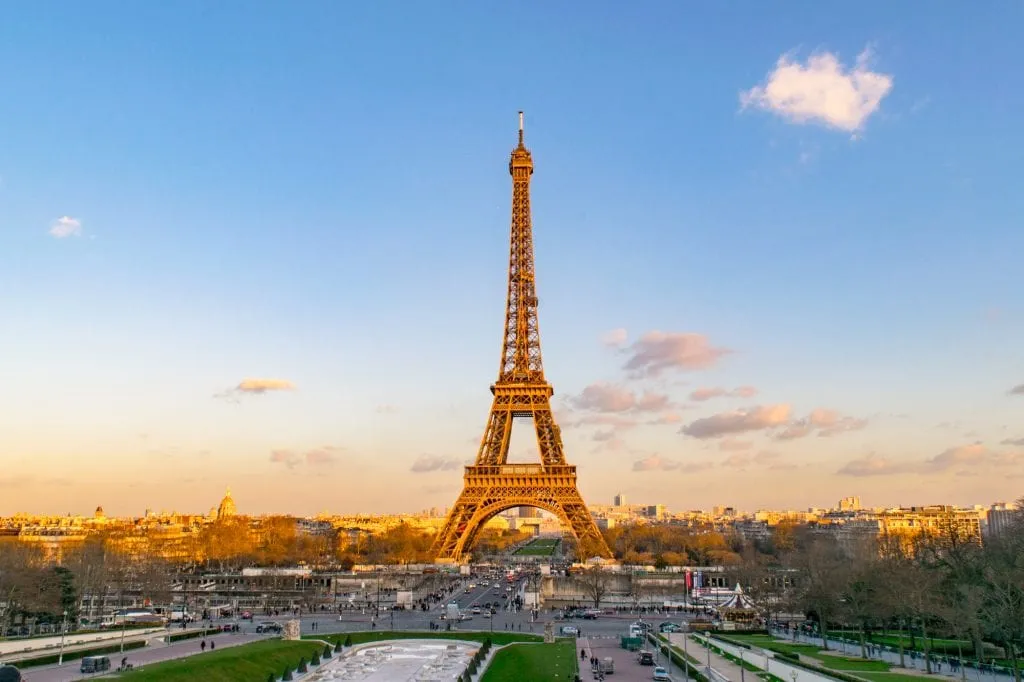 Optional: head out on a Seine river cruise.
Not ready for your couple of days in Paris to be halfway over?
If you need more Parisian views in your life, this is a great opportunity to rest your feet while continuing to see more sights by relaxing on a Seine river cruise.
I wouldn't necessarily say it's something you just have to do–if your feet are holding up fine (though don't forget you have a whole second day of Paris sightseeing ahead) and you're allergic to crowds, you might prefer a long walk along the Seine instead–but a river cruise is a fabulous way to see Paris from another angle while, after a long day of navigating the city independently, you kick back and let someone else do the heavy lifting for a bit.
Some Paris passes also include a Seine river cruise, so if you've already paid for one, be sure to take it!
This Seine river cruise includes dinner onboard and gets rave reviews!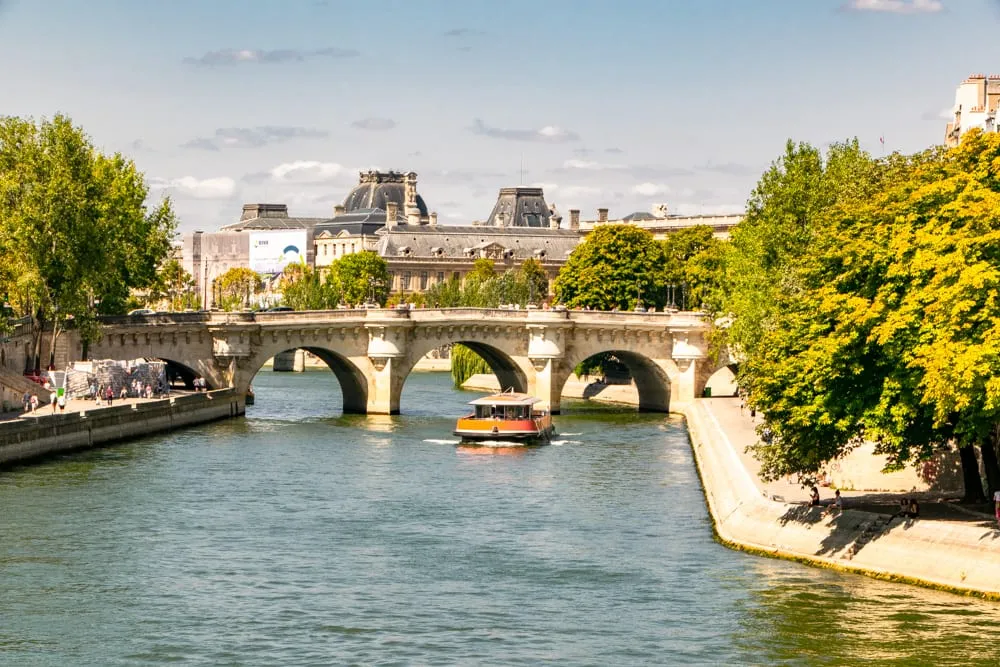 Day 2 in Paris: Montmartre, Arc de Triomphe & the Louvre
Head to Montmartre to start your morning.
With only 2 days in Paris to work with, you won't want to head to many far-flung neighborhoods, but there is one exception: Montmartre.
Home to an artistic culture that thrived during the Belle Epoque, one of the prettiest basilicas around, incredible views of Paris, gorgeous winding streets, and excellent cafes, a trek out to Montmartre is the perfect way to start the second half of your weekend trip to Paris.
That being said, we do recommend getting an early start to ensure you have enough time to see everything you'd like without being rushed.
Admire the view from Sacre Coeur.
The view of Paris from Sacre Coeur, whether you're talking about from the front of the church or from the top of it, is far-reaching and phenomenal, and it's the perfect place to start your morning.
Be sure to see the inside of the basilica as well as the exterior, and if you're up for it, check out the view from near the carousel at the bottom of the hill near it as well.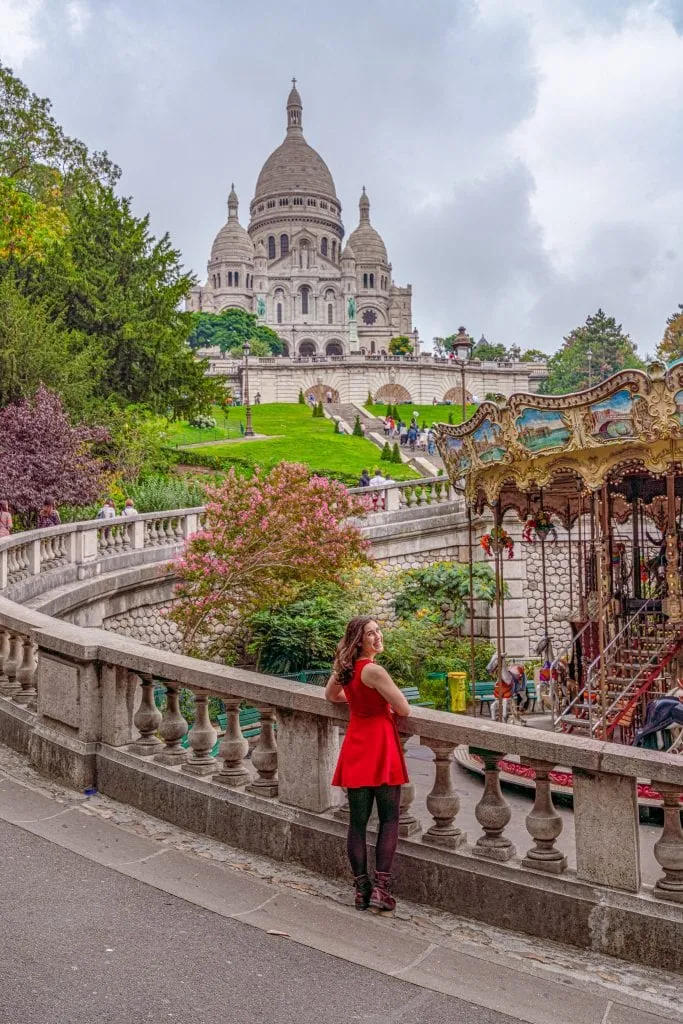 Check out Paris' most famous optical illusion.
If you stand on the hill while climbing up to Sacre Coeur and look to the right, you'll see a red brick building jutting out into the view.
With a twist of the camera, this spot becomes the famous sinking house of Montmartre–which is, of course, not actually sinking at all.
Visit the Place du Tertre.
As the congregation point of artists in Montmartre, this square bustles all day long with visitors and artists alike. You'll see works as varied as impressionist oil paintings to plenty of caricature artists willing to draw a cartoon version of you for a fee.
Lined with cafes and quite colorful, the square is very touristy these days–but it's still a fun place to stop by when exploring Montmartre, even if you do have only a weekend in Paris.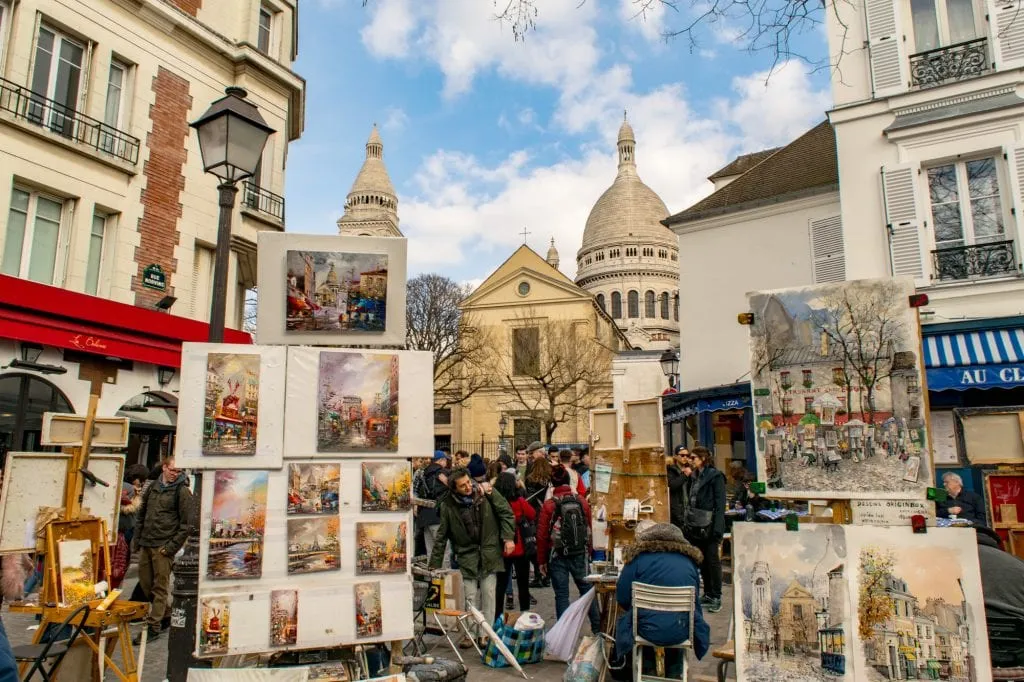 Stroll the streets of Montmartre & check out its famous cafes.
Montmartre's winding streets combine with its steep hills for some absolutely gorgeous views, and it's worth taking an hour or two during your Paris weekend trip to explore them somewhat aimlessly.
Here are a few things to keep an eye out for (or make a beeline for, depending on your priorities): colorful Le Consulat Cafe, La Maison Rose (the Instagram-famous pink cafe that Picasso was a patron of), Montmartre's few surviving windmills, Vignes du Clos Montmartre (the small, private vineyard in the middle of the city), and Rue de l'Abreuvoir, which may just be one of the prettiest streets in Paris.
If you're a fan of the movie Amelie, you can find plenty of filming locations for the movie here as well!
As you get ready to head back toward central Paris for the final afternoon of your 2 days in Paris, head toward the Moulin Rouge for a (very quick) photo op and also to get yourself headed in the right direction geographically.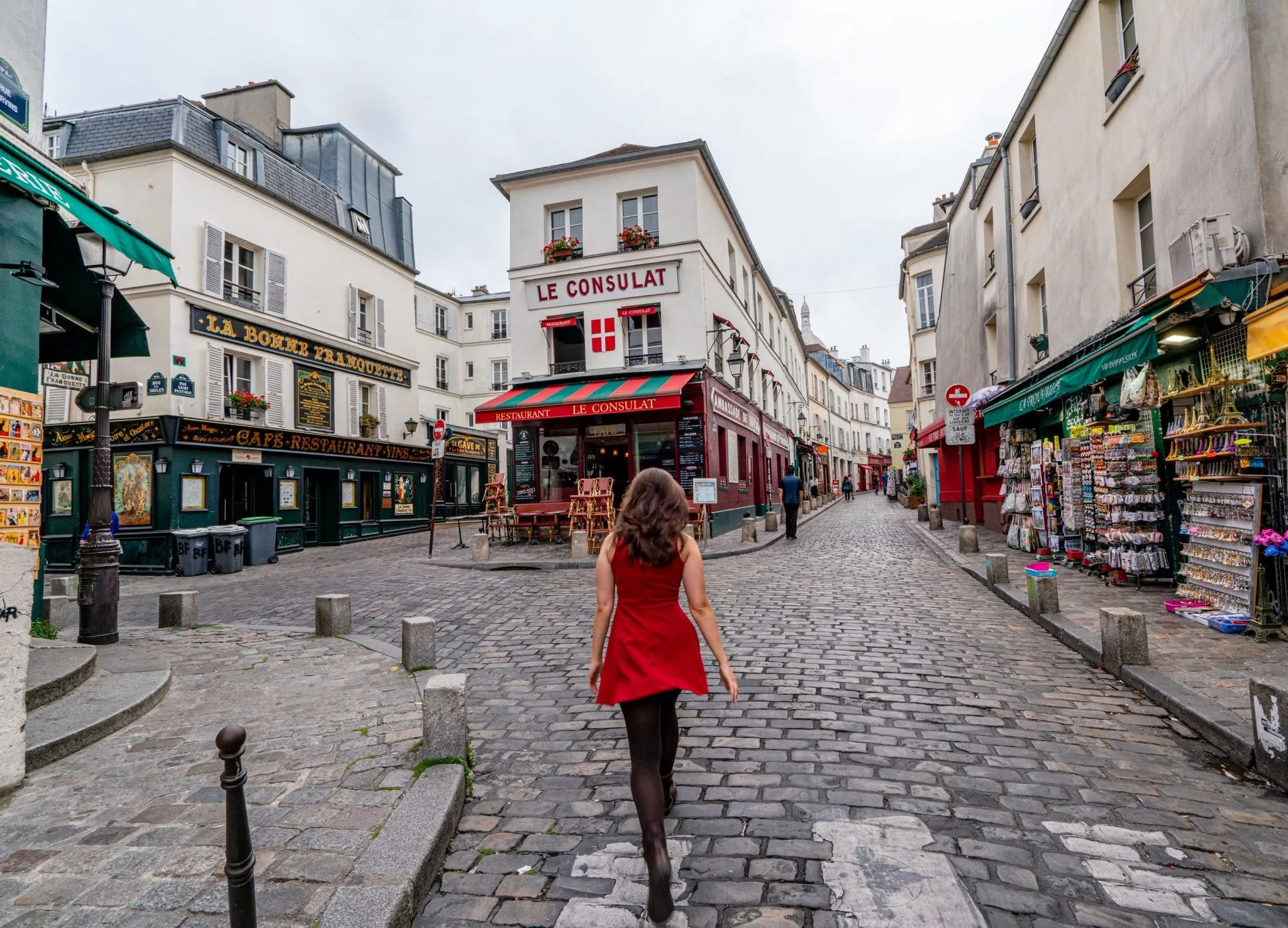 Grab a typical Parisian lunch.
No 2 days in Paris is complete without a hearty Parisian meal, and your sightseeing is taking you in the direction of two tasty, affordable French restaurants perfect for lunch.
Option one: Bouillon Chartier, which is a bit further away (in the 9th, about a 25-minute walk back toward central Paris from Moulin Rouge) but also in my opinion, slightly tastier and cozier.
Option two: Bouillon Pigalle, which is located practically next door to the Moulin Rouge and perfect for those too starving to wait.
Both restaurants are affordable, casual, and well-reviewed, so order a couple of courses and dig in!
Bear in mind that as both of these spots are popular with locals and tourists alike, you'll want to get there as close to opening as you can, which is 11:30 AM for Bouillon Chartier and 12:00 PM for Bouillon Pigalle.
Take the metro to the Arc de Triomphe.
From the cozy streets of Montmartre to the wide avenue of Champs-Elysees: after you wrap up lunch, it's time for the next part of your 2 days in Paris: visiting the Arc de Triomphe!
Now that, sadly, the rooftop of Notre Dame is not an option for viewing the Paris skyline, we can say without a doubt that the top of the Arc de Triomphe is home to one of our absolute favorite views of Paris.
If your legs aren't already completely exhausted from navigating the hills of Montmartre this morning, we absolutely recommend heading to the top!
Like many sights around Paris, the lines can get incredibly long here–but skip-the-line tickets are very affordable and very easy to purchase online, so we recommend grabbing them before you arrive.
Even if you have zero intention of climbing any more stairs than absolutely necessary for the rest of your weekend in Paris, you'll still want to admire the Arc de Triomphe from the ground: it's a truly impressive structure.
Grab your skip-the-line tickets for the Arc de Triomphe today!
Stroll down the Champs-Elysees.
Ambling down Paris' most famous avenue is quite the experience, with everything from giant department stores to glamorous designers to Disney lining the streets.
As you walk down the street, be sure to look back once in a while to check out the Arc de Triomphe behind you!
Walk to the Louvre while sightseeing along the way (or take the metro).
To walk from the Arc de Triomphe to the entrance to the Louvre the scenic way (so swerving down to the Pont Alexander III and then more-or-less following the Seine up to the Tuileries Gardens) takes a bit under an hour.
If your feet are up for it and you have enough time left in the day, we absolutely recommend it: if you set your GPS first for the Pont Alexander III and then the Louvre Pyramids, you'll stroll down the Champs Elysees, check out what is possibly the prettiest bridge in Paris, walk past the Grand Palais and Petit Palais, and amble through the Tuileries Gardens.
However, if you're in a hurry or just plain tired of dragging yourself all over Paris, you can also easily hop the metro from the Arc de Triomphe and head directly to the Louvre.
Explore the Louvre.
There's nowhere quite like the Louvre: as the largest art museum in the world, it truly has some of (read: a lot of) everything.
In the Louvre, time and geography are at your fingertips: paintings, sculptures, and artifacts from all over the world are present.
The collection is magnificently diverse. Stroll through the apartments of Napoleon III (the Louvre did used to be a palace, after all), and along the foundation of the Louvre as it once stood (because yes, it was a fortress even before a palace).
Admire world-famous works like the Mona Lisa and the Venus de Milo, and then decide for yourselves whether they're really the best examples of art in the place.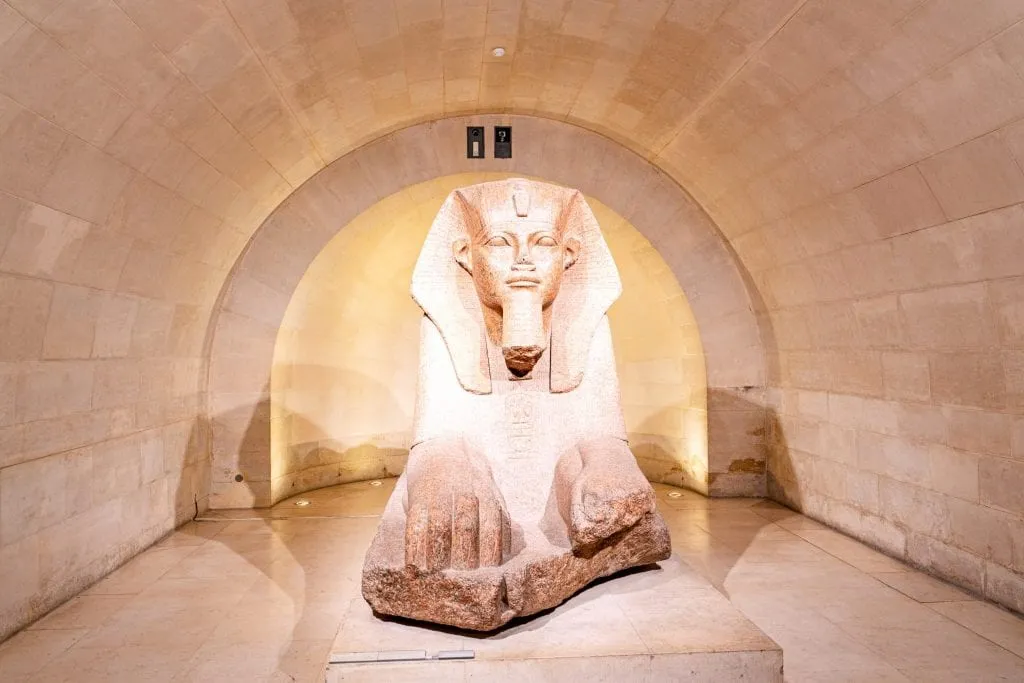 There's truly no way to see all that the Louvre has to offer in one visit or twenty–so we recommend picking 2-3 things you'd like to see, ensuring you get to those, and then leaving the rest up to fate… or booking a tour.
It took us three visits to the Louvre before we booked a tour, and wow do we wish we had done it sooner.
This epic tour had small group sizes and was perfect for us given that we'd already visited the museum before, mixing iconic pieces (I doubt you could find a Louvre tour anywhere that won't show you the Mona Lisa) with incredibly impressive works I'd never seen before, giving us context all the way.
Our guide, Oliver, was magnificent, and we can absolutely recommend the experience. This is the tour we took, or if you prefer something a bit less quirky, this one is a great option from the same company.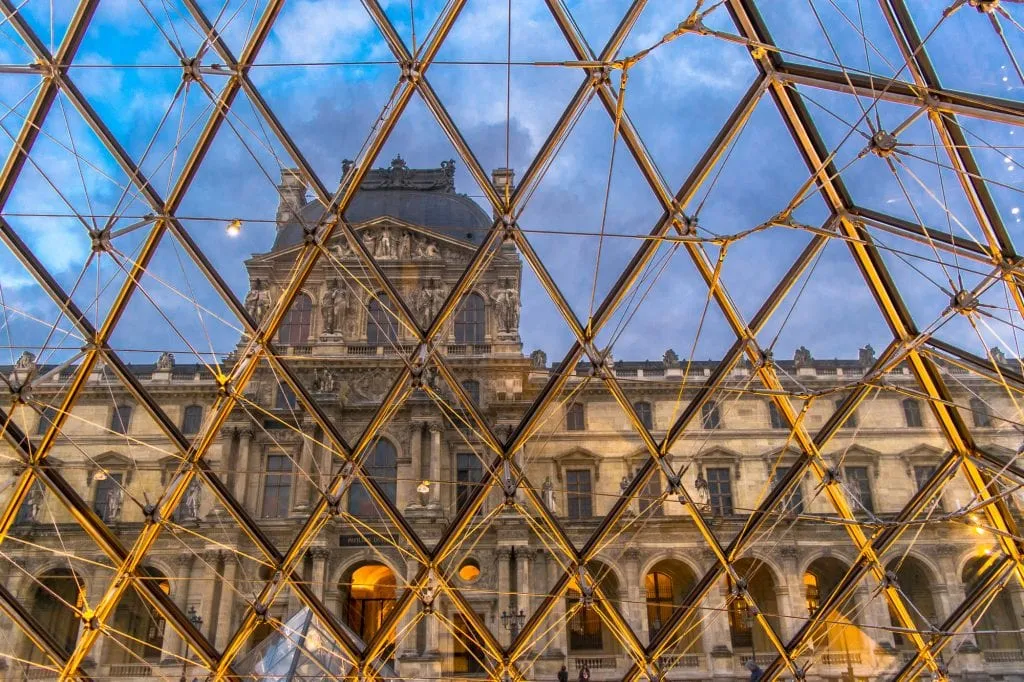 If you prefer to explore independently, luckily, the Louvre helps you out there: they've published these handy visitor trails to help you find some of the most popular spots in the museum and help you explore in a certain amount of time.
Whether you book a tour or not, though, one thing is certain: you need tickets before you arrive, and you need to book them ASAP–or they will be sold out. On our most recent visit, we learned that it's now regular practice to tell visitors trying to buy tickets on-site later in the day that they were completely sold out, and pre-purchased tickets with a set entrance time are rapidly becoming the new norm at the museum.
It makes sense, of course–the Louvre is one of the most popular tourist attractions on Earth–but it does mean that you'll be well served by planning in advance a bit for this one.
Book your visit to the Louvre today!
You can get timed skip-the-line tickets here, book the same amazing tour we took here, or book another well-reviewed tour of the Louvre here.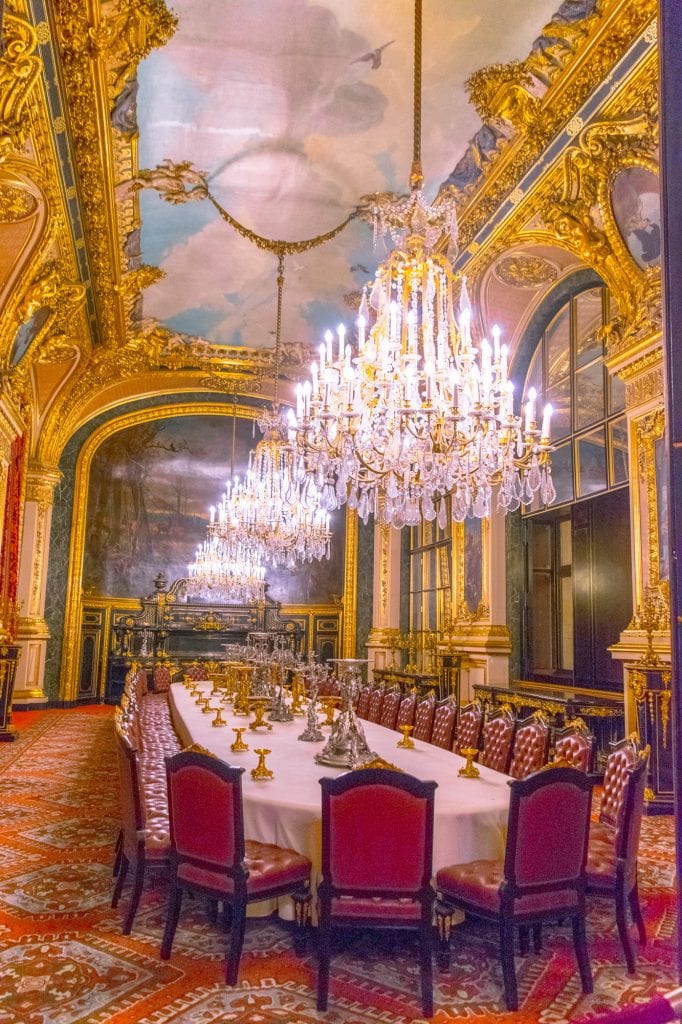 Stop by the Colonnes de Buren or grab hot chocolate at Angelina.
Once you wrap up at the Louvre, you'll probably have time during your 2 days in Paris for just a tiny bit more sightseeing.
If you're searching for popular Paris photo spots, this is a great time to stop by the Colonnes de Buren in the Palais Royale–they're free to visit and fun to see in the evening, when there will be plenty of people hanging out (and even working out–we've seen everything from group lunges to kids playing soccer) nearby.
After you finish at the Colonnes de Buren, the Galerie Vero-Dodat is just around the corner and is another one of Paris' beautiful covered passages, so you can consider swinging by there for a quick look as well.
If you're done seeing the sights and simply want to sit down and indulge, famous Angelina is a short walk away, ready to serve you a steaming cup of their legendary hot chocolate.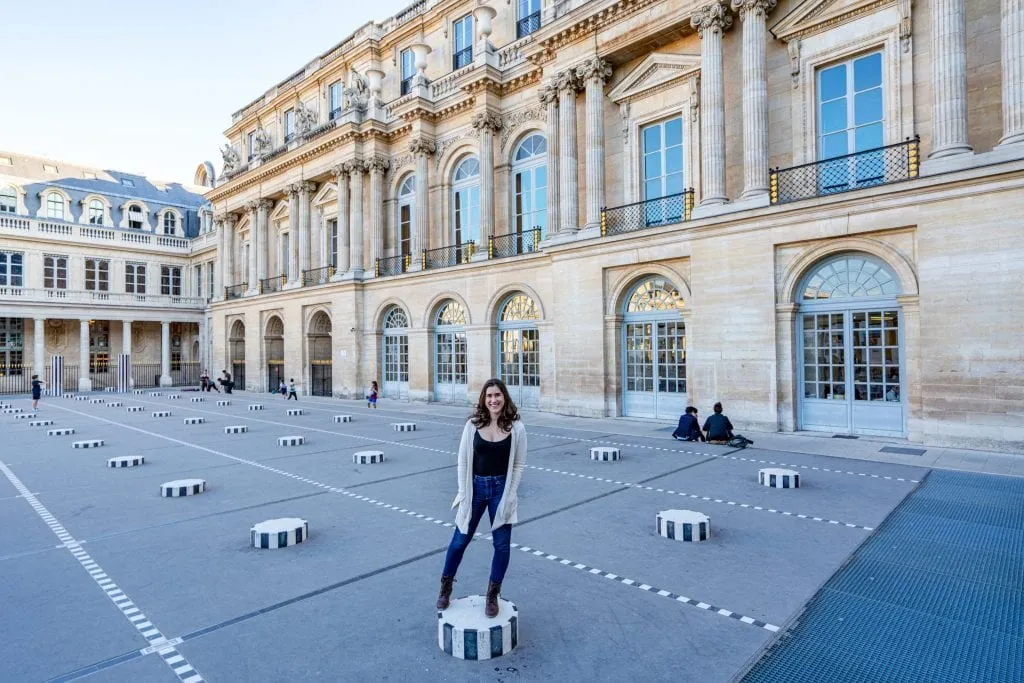 Close out your 2 days in Paris with an evening stroll past your favorite sights.
As your weekend in Paris comes to a close, odds are that you're not ready to return to your hotel for the night–and we recommend spending some time after dark enjoying one of our absolute Paris pastimes: wandering the city.
Where exactly you decide to walk will likely depend on a couple of factors, most importantly where your hotel is and what sights in Paris you can't bear to leave without experiencing again, but here are a few ideas: walking along the Seine and crossing the Pont des Artes to see Il de la Cite sparkling ahead, enjoying the Louvre Pyramids as they're lit up at night, soaking in the twinkling lights of the Eiffel Tower, or, for movie buffs, strolling over to Saint Etienne-du-Mont to see the Midnight in Paris steps at probably-not-quite-midnight (but at least after dark).
Where to Stay for 2 Days in Paris
With only a quick Paris weekend trip to work with, you'll want to prioritize staying fairly central and/or near a metro stop (depending on budget) during your 2 days in Paris.
Ideally, aim to be near a metro stop and also within walking distance of some of the places to visit in Paris in 2 days covered here.
Each of these hotels gets solid reviews and is in a great location for your 2 days in Paris, and should give you a feel for what prices will be during your stay (it probably comes as no surprise that hotel prices in Paris fluctuate wildly depending on the season, and are generally high overall).
Budget
Hotel Bellevue Montmartre — We chose to base ourselves in Montmartre for one of our more budget-friendly trips to Paris, and were completely satisfied with our choice!
The room itself was clean and unremarkable, but the real benefit of Hotel Bellevue Montmartre (other than the price tag) is what you find when you step outside the door: though the hotel is set on a quiet street, it's a mere 5-minute walk from Sacre Coeur and a 10-minute walk from a metro that is ready and willing to whisk you away to anywhere you wish to go in Paris, and you can't ask for a better location for the price.
While it's not quite as easy for this 2 days in Paris itinerary as staying closer, it will allow you to save a bit of cash and also to be near all the beautiful things to see in Montmartre!
Mid-range
Hotel Abbatial Saint Germain — We loved, loved, loved this cute boutique hotel in Paris, mostly because of its truly unbeatable location less than a 10-minute walk from Notre Dame and therefore an easy walk away from much of the attractions of Il de la Cite (and a metro stop, of course).
Despite the super central location, the streets outside were still quiet at night, a huge benefit, and the views during the day lovely.
The customer service was excellent, the bed cozy, and the room, while still very small by global standards, a bit roomy compared to what we've gotten used to in Paris.
We'd be happy to stay again!
Le Clos Medicis — Located on a beautiful, quiet street just a 5-minute walk from the Pantheon and Luxembourg Gardens (plus a metro stop that connects directly to the RER B line), Le Clos Medicis is an excellent mid-range hotel option in the perfect Paris location.
While the rooms are the typical small rooms of Paris, the hotel was extremely comfortable, the customer service lovely, and did I mention the location? Being so well-located in Paris has spoiled us for future trips.
One small quirk? They don't allow any food in the rooms. It wasn't a big deal for us, but if you're planning on buying any groceries or takeout during your weekend in Paris, this might not be the hotel for you.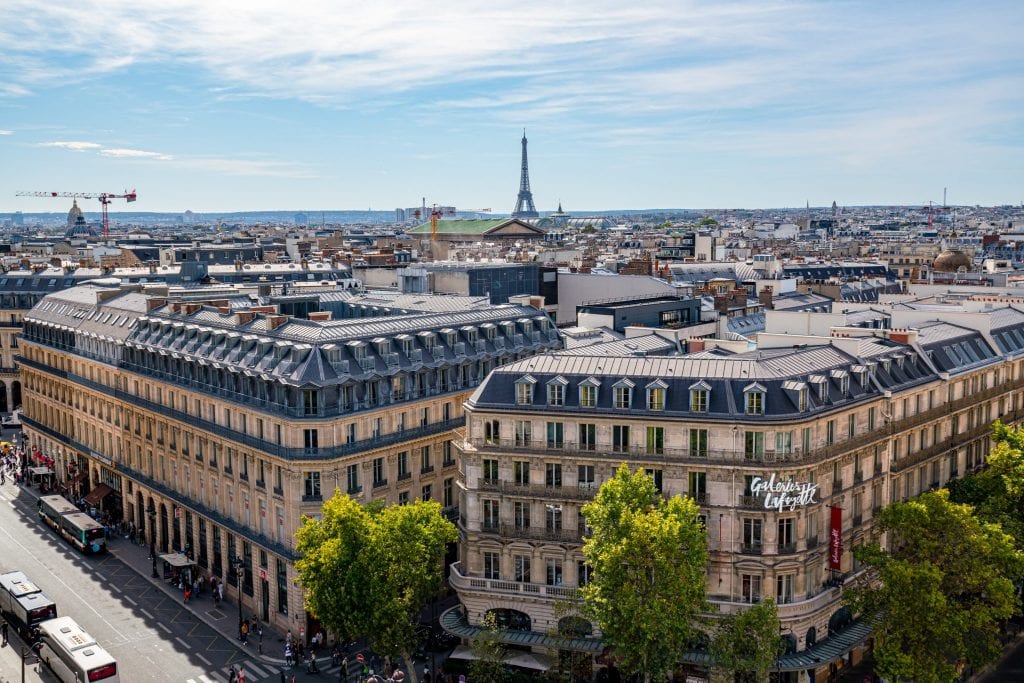 Luxury
Relais Christine — For opulent luxury in the heart of the city, consider a stay at Relais Christine for your weekend trip to Paris!
Located in a 17th-century mansion just a short walk away from Notre Dame and boasting beautiful decor, you couldn't ask for a better location to be pampered like Parisian royalty.
2 Days in Paris Itinerary Map
Take This Map With You! Click each highlight to pull up the name of the destination. To save this map to "Your Places" on Google Maps, click the star to the right of the title. You'll then be able to find it under the Maps tab of your Google Maps account! To open the map in a new window, click the button on the top right of the map.
More than a weekend in Paris?
If you have more than 2 days in Paris–perhaps a long weekend in Paris instead of a standard one, for example–you certainly won't run out of things to do!
If you love museums, consider heading directly to the Musee d'Orsay, the Orangerie, the Centre Pompidou, or the Musee Rodin.
Paris' smaller museums are also delightful to explore, and many of them are even free to enter! Consider hitting up the Museum of Romantics, the Counterfeiting Museum, or the Musee Curie, which is dedicated to the renowned scientist Marie Curie.
Those looking to shop have plenty of options, from designer boutiques to shops in the covered passages to quirky options like the Vanves Flea Market.
Other cool things to see in Paris like the catacombs, the Rue Cler street market, the Conciergerie, Abbey Bookshop, plenty more covered passages, the Pere Lachaise Cemetery, and more, are all options with more than a quick weekend trip to Paris.
For those looking for a taste of France outside of Paris, a day trip to Versailles, Giverny, or Fontainbleau is an excellent way to escape the city for a bit.
Suffice it to say that a lifetime wouldn't be long enough to discover all the amazing sights in Paris–but when planned well, 2 days in Paris is long enough to get a great start.
Getting Around During 2 Days in Paris
This Paris itinerary assumes that you'll be using a combination of walking and the well-connected Paris metro (paired with the occasional RER train) to get reach these places to visit in Paris in 2 days.
Paris' metro is one of the densest metro networks in the world, and it's incredibly efficient at helping you move around the city. Generally speaking, the metro is not only cheaper but faster than taking a car/taxi between destinations.
We recommend purchasing a carnet, or set of 10, metro tickets at a time, which gives a nice discount without requiring that you purchase a full-day pass. The tickets are usable by whomever, so if you're traveling with a group, you can just purchase one set for everyone and then replace them whenever they're used up.
Be sure to keep your ticket handy while riding the Paris metro–it's not impossible that your tickets will be checked by a conductor at some point during your weekend in Paris.
What to Pack for a Weekend Trip to Paris
With only a weekend in Paris to work with, the key to packing for your 2 days in Paris is to pack light and bring comfortable, classic clothes that you look (and feel) great in.
Trust us–you don't want to be climbing the hills of Montmartre in brand-new sandals or boots, no matter how adorable they might be!
Here are a few things you should definitely bring on your Paris weekend trip.
Travel Insurance — We don't ever suggest traveling without travel insurance–anything can happen, and this is definitely a case of better safe than sorry. We use and recommend World Nomads for trips to Paris.
Travel Adaptors for Paris
— If you're coming from outside of Europe, you'll definitely need adaptors for your electronics once you arrive for your 2 days in Paris.
Pacsafe Travelsafe 12L GII Portable Safe
 — We bring this with us everywhere these days. Simply place your important belongings inside before you leave for the day, string it around the sturdiest thing in the room (the base of the toilet or a pipe under the sink is a good option), and voila! You're good to go.
Umbrella
— Option A: Plan on buying an umbrella when it starts pouring down rain. Option B: Plan ahead and buy a (probably much sturdier) umbrella before leaving. Option C: Hope you get lucky with the weather. This is Paris, after all–coming prepared for rain is definitely the best bet.
Money Belt — This is up to you: we no longer use one, but if you're more comfortable having your passports on your person while exploring Europe this fall, you can consider bringing one. We used to use this one
 and had no complaints. These days, we prefer just to leave valuables in our Pacsafe
during the day.
Travel Journal
 — If you want to keep a travel journal during your fall trip to Europe but can't commit to a huge amount of writing each night, I can't recommend the One Line a Day Journal
 enough–I've been using it for more than two years now and absolutely love it.
---