When snapping photos amongst the crowds at Trocadero or jockeying for position in order to admire the Mona Lisa, you just may be tempted to start exploring Paris off the beaten path–and with good reason!
While Paris is one of the most touristed cities on the planet, welcoming, by some estimates, more than 40 million visitors in 2018 alone, it's also an expansive, many-layered city, full of quiet streets and interesting spots far away from the crowds of the Eiffel Tower or the Louvre.
If you're ready to go off in search of this secret Paris–the one where you can take plenty of moments to breathe and where you can seek out some of the many, many hidden gems in Paris–this is the offbeat Paris guide for you.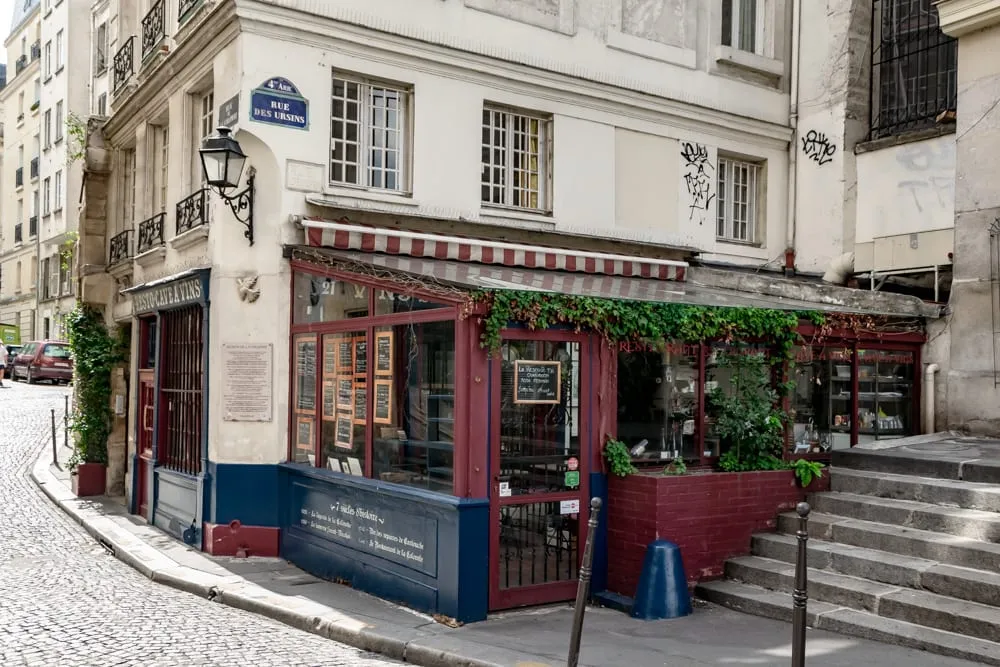 Some links in this post may be affiliate links. If you make a purchase through one of these links, we may earn a small commission at no extra cost to you. Please see our

disclosure policy

for more detail.
Some of these off the beaten path Paris spots are better hidden than others–if you've done a lot of research or visited the City of Lights before, odds are you're familiar with at least a few of them–but even veteran visitors will likely find a couple of new-to-them secret Paris spots here.
To help you discover Paris off the beaten path for yourself and avoid getting (too) lost, we've also included a map of all of these hidden gems in Paris at the bottom of this post.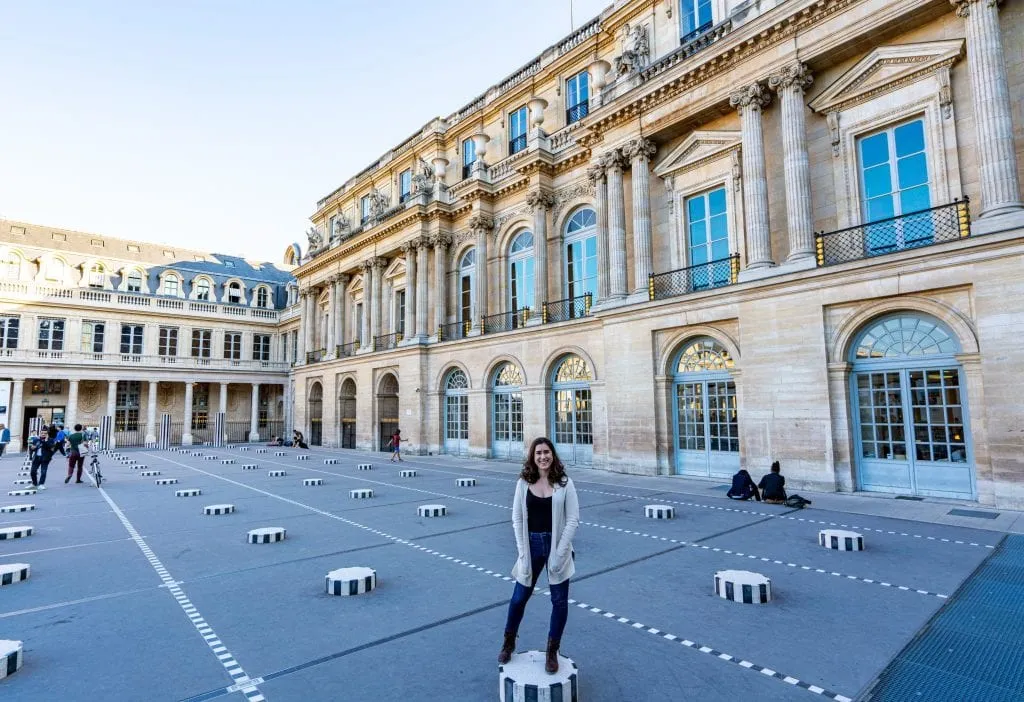 25 Epic Hidden Gems in Paris
29 Avenue Rapp
Tucked amongst far less flamboyant buildings on wide, manicured Avenue Rapp, No. 29 looks more like a building from Barcelona than Paris!
Built at the turn of the 20th century, this Art Nouveau building features numerous statues, including Adam and Ever carved onto either side of the top of the main door frame.
Definitely stop by this building for a quick photo op when exploring Paris off the beaten path!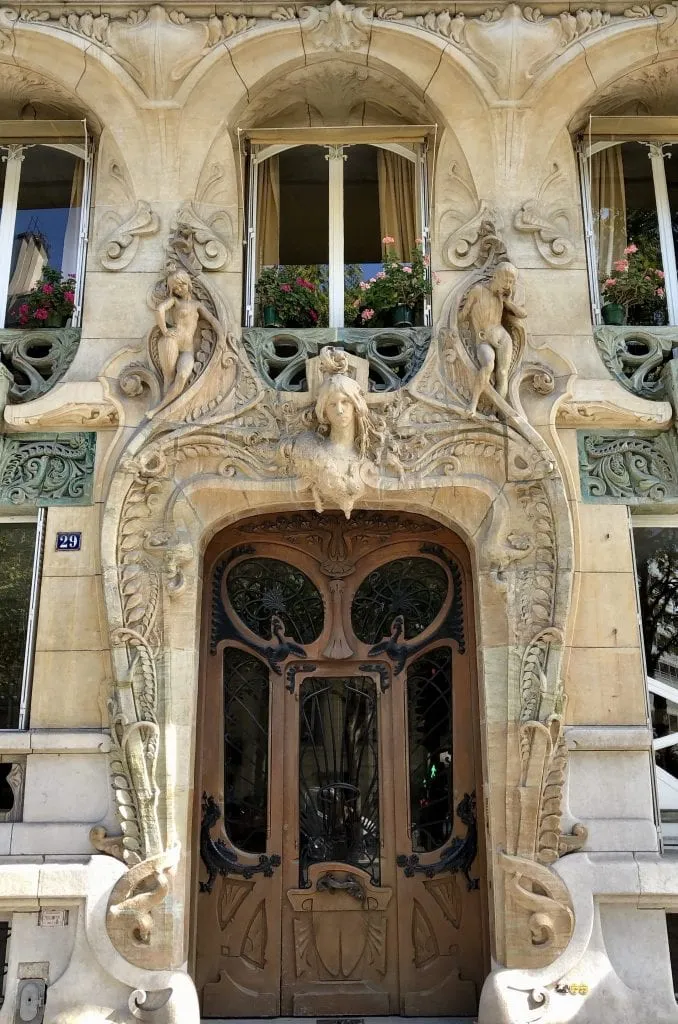 La Conciergerie
Though it is located on Il de la Cite with so many iconic Parisian buildings, La Conciergerie flies under the radar of Paris tourism as compared to its neighbors Sainte-Chapelle (which is part of the same complex) and, of course, Notre Dame.
La Conciergerie has served many purposes over the centuries, including as a medieval palace, but it is perhaps best known these days for its use as a prison.
During France's Reign of Terror, thousands of people were held inside the dungeons of Conciergerie, including Marie Antoinette.
The building is open to visitors and definitely worth touring while on Il de la Cite.
Tour de l'Horloge
This tower is located on one corner of La Conciergerie, and is worth stopping by for what sits on its outer wall: the oldest clock in Paris!
Absolutely gorgeous and incredibly easy to visit, it's definitely worth checking out this (still functional) 14th-century clock when you're looking for hidden gems in Paris.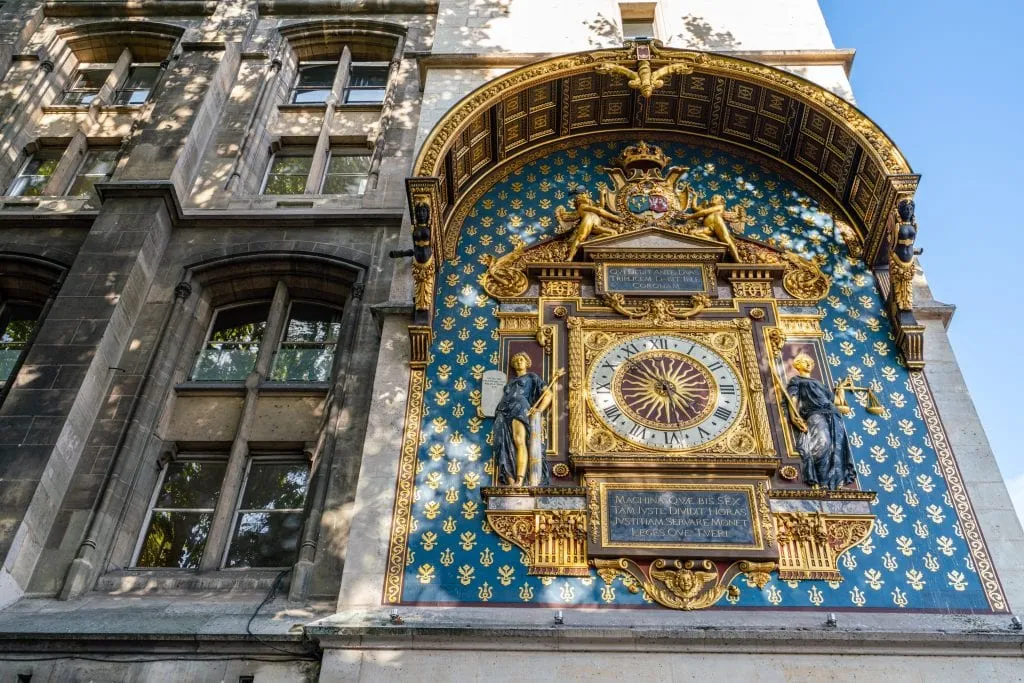 Paris Catacombs
Buried far beneath the quiet streets and manicured avenues of modern Paris sit the piled up remains of 6 million people–and visiting them is definitely among the most unusual things to do in Paris.
Built in the 18th century, this ossuary is made up of bodies emptied from overflowing cemeteries in Paris, and is located in old quarries underneath the city.
Visiting the Paris catacombs is undoubtedly a fascinating experience, but fair warning–if you're not a fan of getting up close and personal with millions of human skeletons, it's probably not the tour for you.
Want to visit the Paris catacombs?

Book your skip-the-line tickets here or in-depth guided tour here!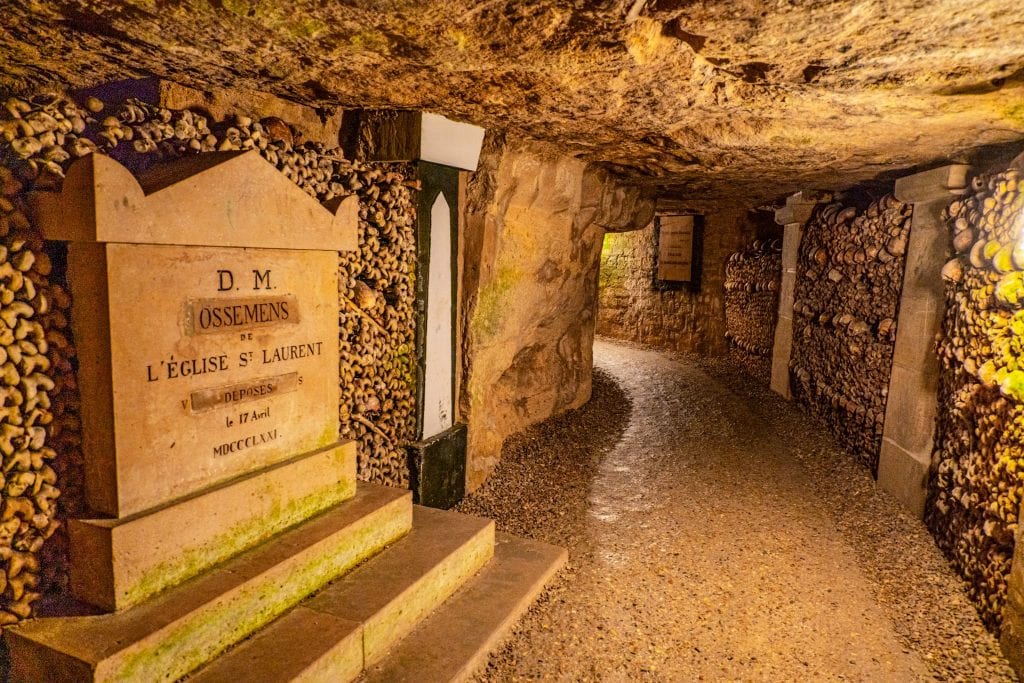 Rue Cremieux
Colorful Rue Cremieux is one of those Paris hidden gems that is perhaps a bit less hidden every year, thanks to the rise of Instagram-fame for this Notting Hill look alike–but you're still quite unlikely to stumble across this street in the 12th without looking for it.
If you do venture out this way, be sure to be respectful of the property of residents and stay off of their porches and away from their windows–this is, at the end of the day, a quiet, residential place.
Stohrer
Want to visit the oldest patisserie in Paris?
Welcome to Stohrer, which was founded by King Louis XV's pastry chef himself–Nicholas Stohrer.
The patisserie dates back to 1730, and while it has a few locations now, the historic shop at 51 Rue Montorgueil is the one to head to when exploring Paris off the beaten path!
Nicholas Flamel's House
The oldest domestic building in Paris dates back to 1407 and once held a very famous resident–the alchemist Nicholas Flamel, who is indeed a real person and not just a Harry Potter character (though it's safe to say the actual Nicholas Flamel lived a bit of a shorter life than his 665-year-old fictional counterpart).
Flamel is said to have carried out many of his experiments here, and today, the building holds a restaurant named after him.
Even if you're not planning on eating, it's still worth coming by: the front of the building is covered in carved symbols, and it very much looks like the type of place a legendary alchemist would choose to live.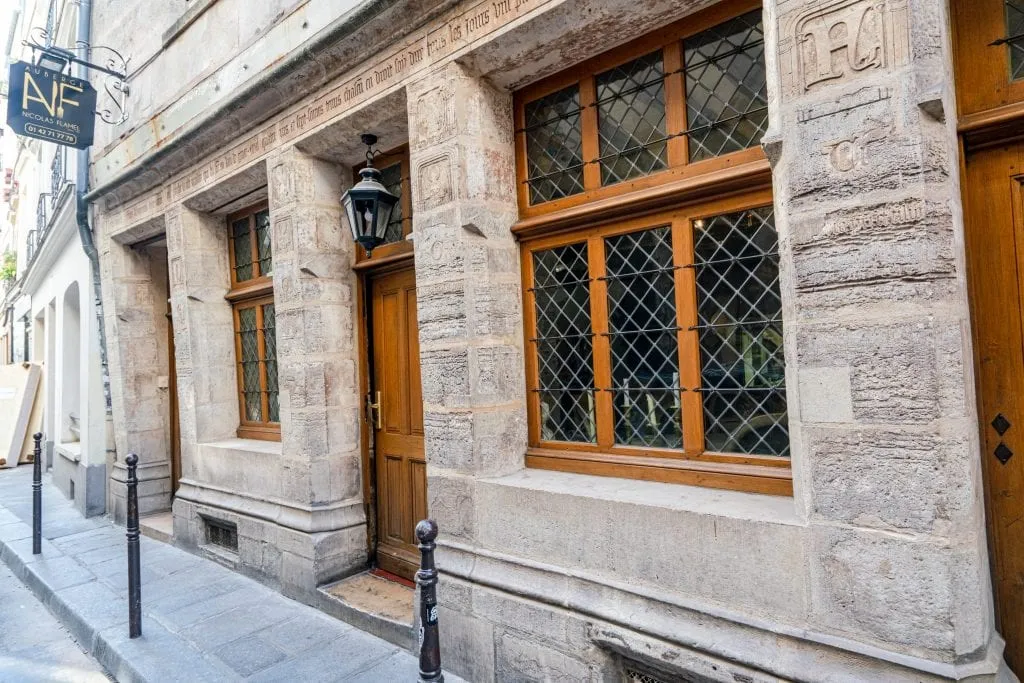 Great Mosque of Paris
Built in a Spanish-Moorish style, the Great Mosque of Paris is not only a beautiful place to visit in the city, it's a place with plenty to do: want to visit a hammam, check out a library, or sip a mint tea?
You can do all of that here–in between admiring the beautiful mosaics and minaret, of course.
Canal Saint-Martin
For a decidedly more local feel than a stroll along the Seine, head to Canal Saint-Martin.
At 4.5 kilometers long, Canal Saint-Martin was originally the brainchild of Napoleon and connects the Seine to northeast Paris via waterway.
The edges of the canal are dotted with shops, restaurants, gardens, and, of course, plenty of places to sit and relax.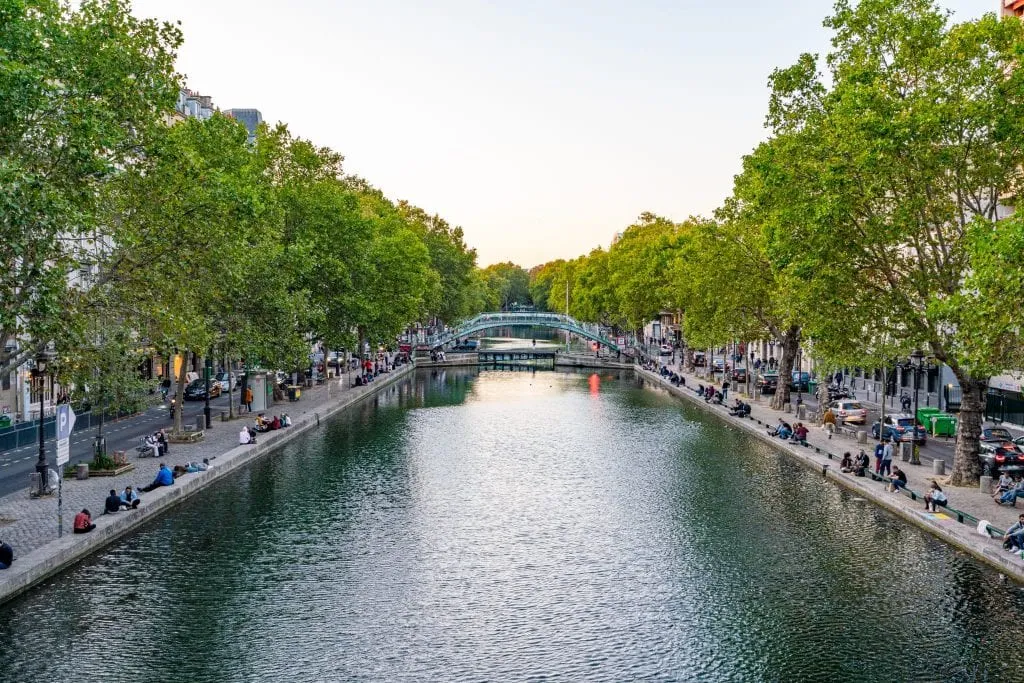 Le Clos Montmartre
A tiny winery in the middle of the city–sounds like just the kind of whimsical detail you would find in Montmartre, right?
While sadly the interior of the oldest winery in central Paris is closed to the public, as you're exploring Paris off the beaten path, be sure to make your way to the picturesque edges of Le Clos Montmartre.
Built in the 1930s, this is still very much a working winery and produces around 800-1000 bottles of wine each year.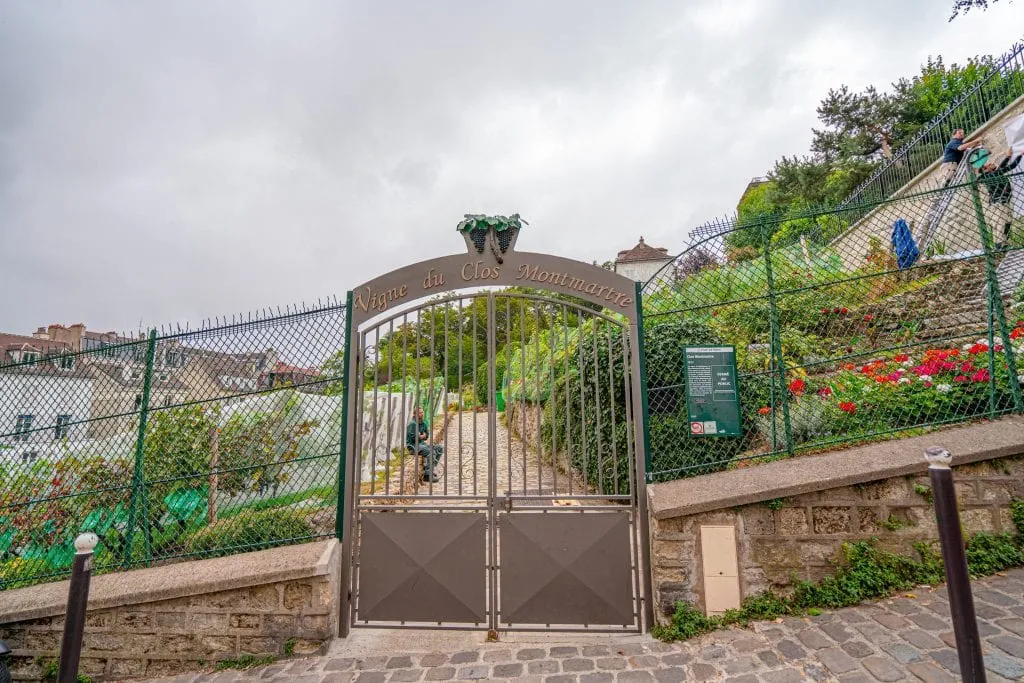 Museum of Counterfeiting
Among all the tiny, offbeat, secret Paris museums (and there are many), the Museum of Counterfeiting just may have the most interesting concept.
Made up of a collection of over 500 pieces of counterfeit merchandise, from pharmaceuticals to handbags, the Museum of Counterfeiting is a fascinating look into the fake.
While many items are donated, others are (legally) acquired from the police or customs, making this growing collection quite the quirky one.
Abbey Bookshop
Though nearby Shakespeare & Company gets all the fame, Abbey Bookshop–which is, incidentally, located less than a 5-minute walk from Shakespeare & Company–is also a delightful English-language bookshop and well worth checking out when exploring Paris off the beaten path.
Positively overflowing with books of all kinds, Abbey Bookshop is quirky, beautiful, and an incredibly fun place for book lovers to explore.
Montmartre Cemetery
Less-well known than the Pere Lachaise Cemetery, Montmartre Cemetery is nonetheless just as interesting and (almost) as beautiful.
Take a stroll here when exploring Paris off the beaten path and you'll likely come across the final resting place of many of the artists who once called Montmartre home, including Alexandre Dumas and Dalida.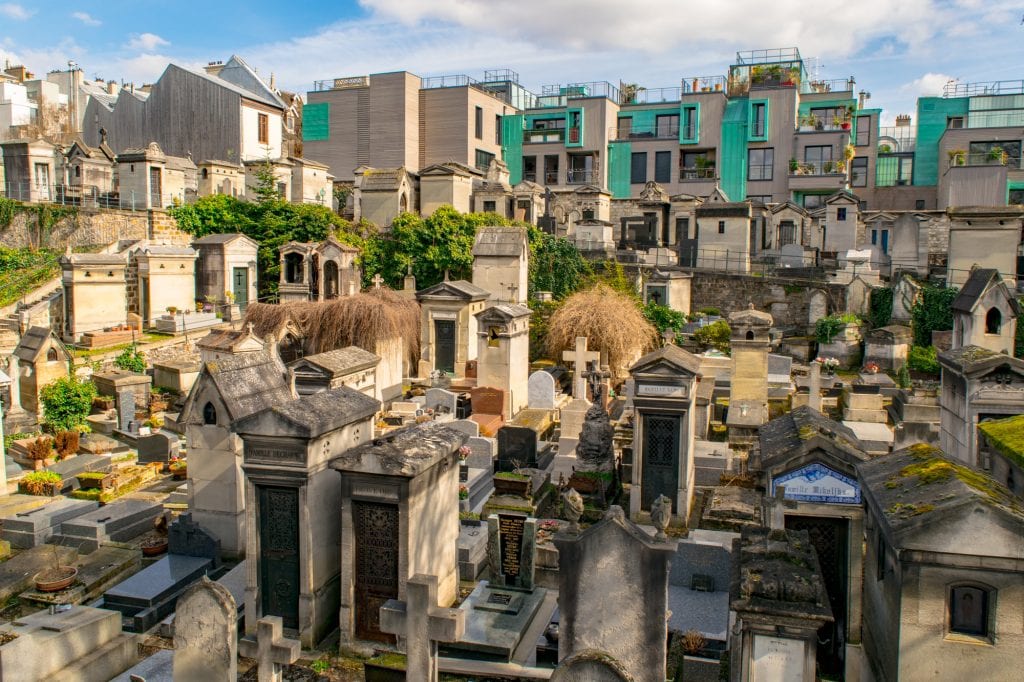 Petit Palais
Despite being located only a short walk away from the world-famous Musee d'Orsay, the fine arts collection at the Petit Palais remains a bit of a secret Paris spot… which is too bad, because this collection is free to visit!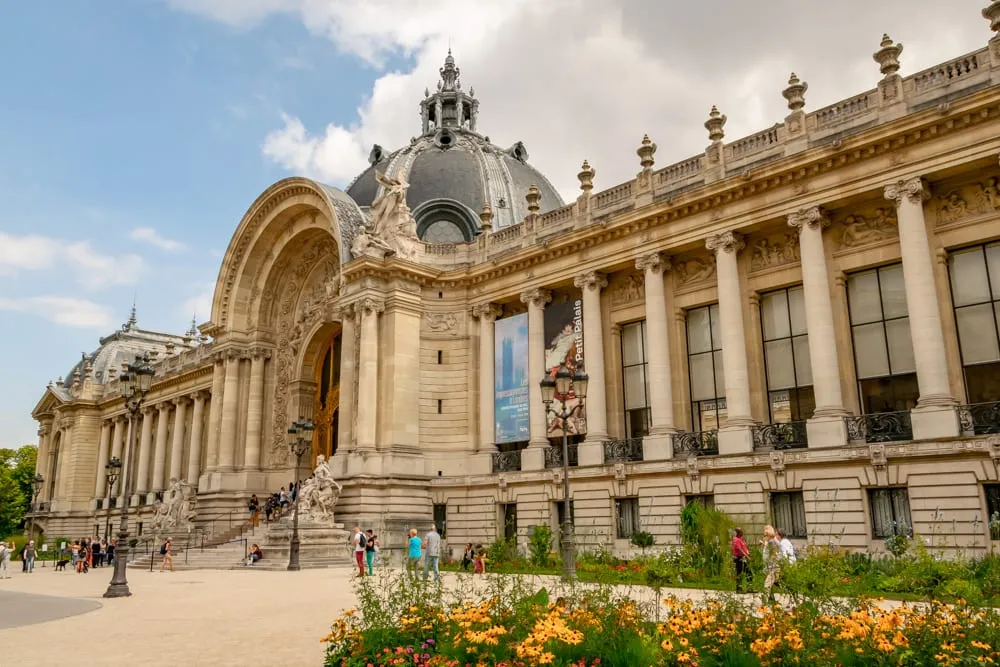 Fairground Museum
One of the most fascinating and eclectic of all of Paris' hidden gems is the Fairground Museum, home to a large collection of pieces dedicated to 19th and 20th centuries performing arts–think antique carousels, equipment used in carnivals, and plenty of Belle-Epoque-era party supplies.
The museum is available by pre-booked tour only, but if you're interested in the glitz and glamour of antique showbiz in Paris, it's well worth a visit.
Galeries Lafayette Rooftop Terrace
Perhaps one of the better-known of these secret Paris spots, but still often unknown to first-time visitors, is the 7th floor Galeries Lafayette rooftop terrace that is home to one of the best free views of the city!
With the Eiffel Tower in clear view and a perfect close-up angle of the Palais Garnier, there's no reason not to visit one of the city's most beloved department stores when looking for hidden gems in Paris–and the stunning interior dome is worth checking out too.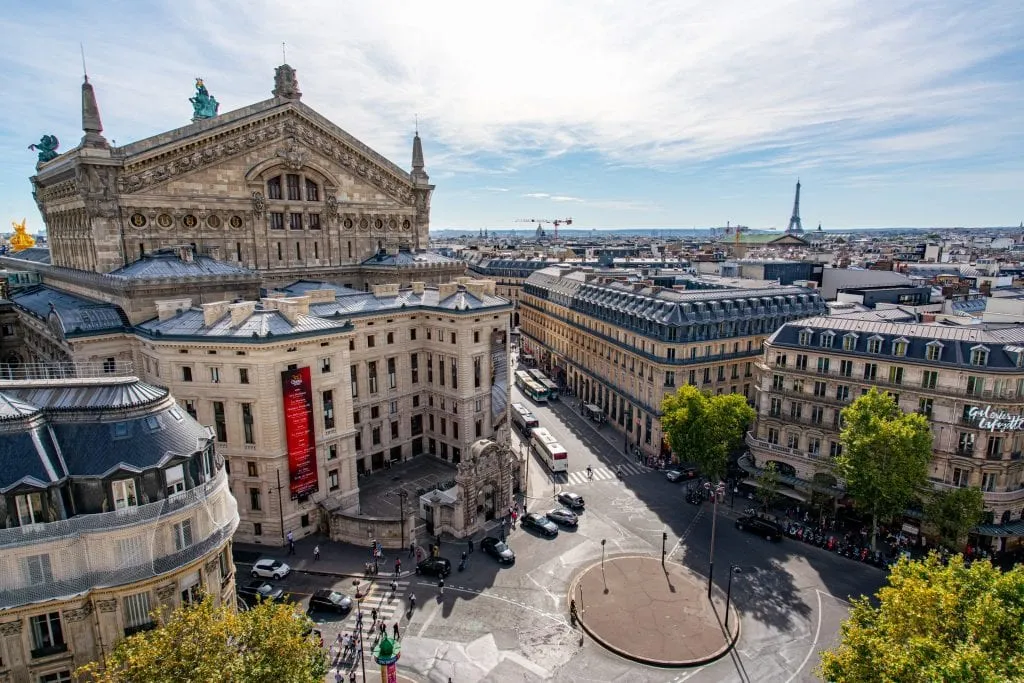 Church of Saint Sulpice
As the second-largest church in Paris (after Notre Dame, of course), the Church of Saint Sulpice is a quiet respite from the crowds of Paris' most popular churches, while also being stunningly beautiful and free to visit.
Be sure to check out the interesting gnomon, which was built to help determine astrological events based on the position of the sun, and is best noticed today by the brass line cutting across part of the floor of the church.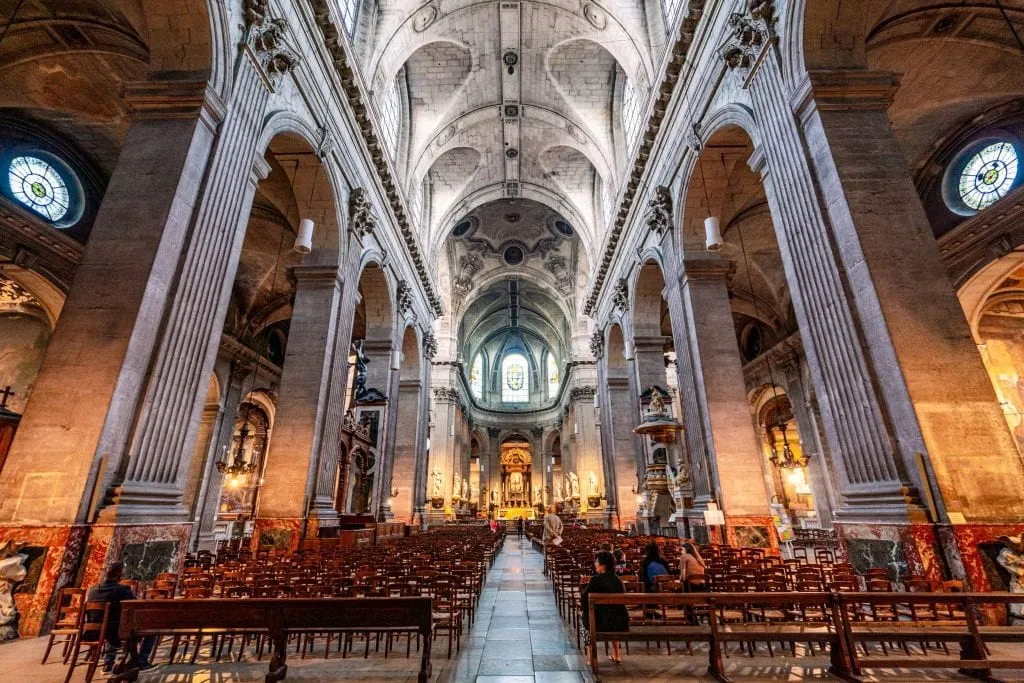 Pont des Arts
While the Pont Alexander III is arguably the most famous (and most beautiful) bridge across the Seine, the Pont des Arts has one of the best views, facing the tip of Il de la Cite.
Come by at sunset for some of the best views!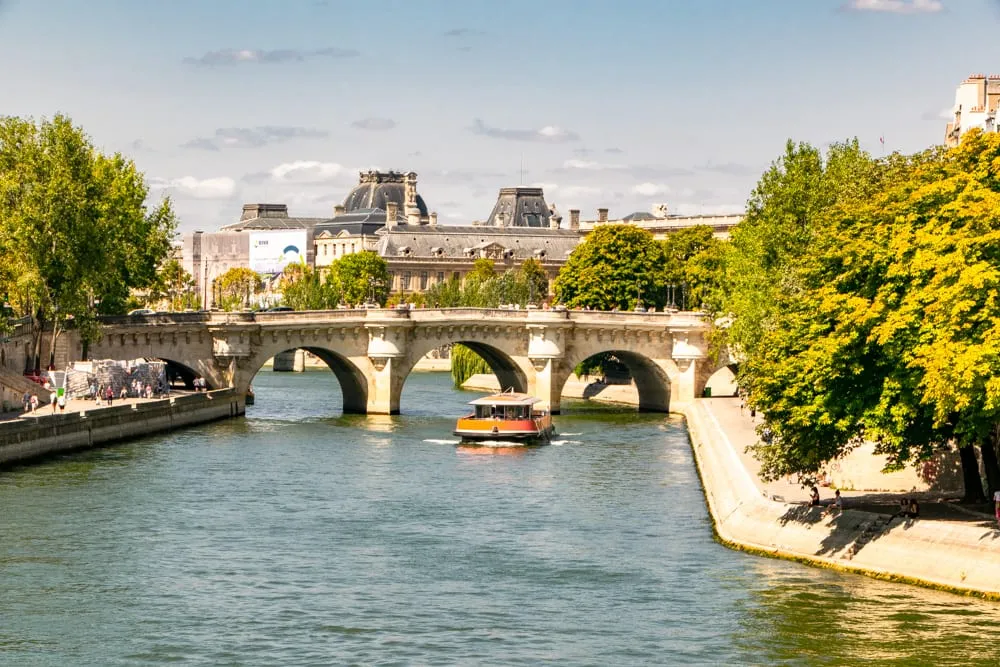 Museum of Romantic Life
This small house museum is tucked away in a quiet corner that feels more like a village than the center of Paris–and yet, it's located in the 9th at the base of the hill that Montmartre rests on top of.
Dedicated to all things romantic, the museum hosts a small collection of art, much of it relating to George Sand, and a picturesque garden where you can sip a cup of tea.
The permanent collection at the museum is free to visit, and it's the perfect place to catch your breath and rest for a moment while also enjoying one of the most peaceful hidden gems in Paris.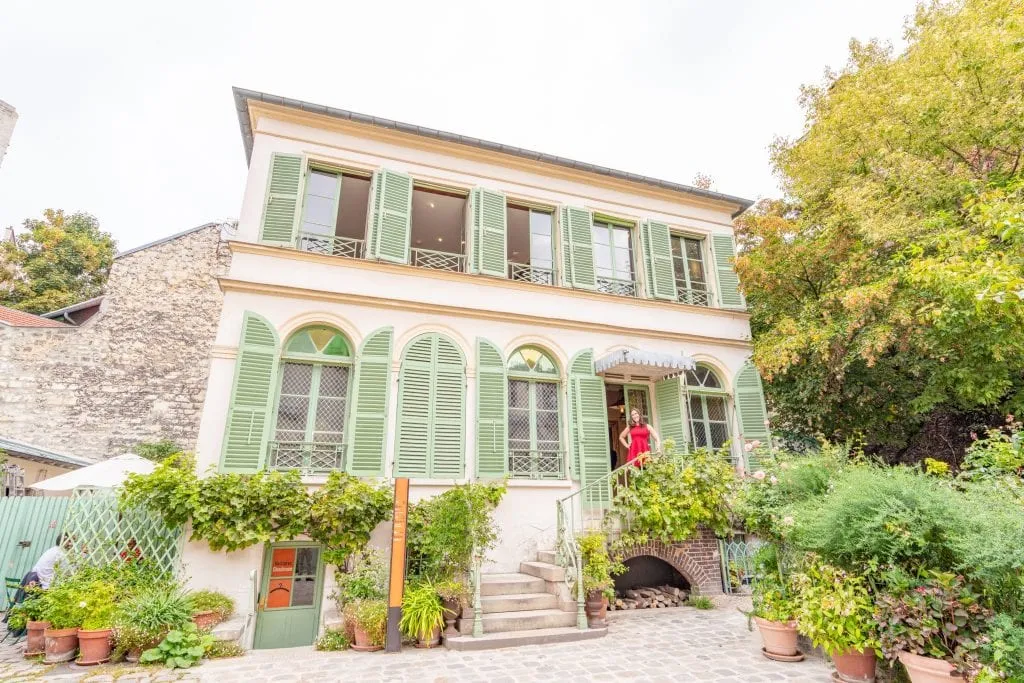 Vanves Flea Market
While enormous Clignancourt is usually touted as the most popular flea market for visitors to Paris, the slightly-more-secret Vanves flea market is an excellent, less-overwhelming alternative.
Boasting a large array of small, quirky goods that are easy to carry with you when it's time to leave Paris, perusing the 350 or so stalls at Vanves flea market is the perfect offbeat Paris sightseeing experience on a Saturday or Sunday morning.
Be sure to bring cash if you think you might like to pick up a souvenir!
Beehives in the Luxembourg Gardens
The beautiful Luxembourg Gardens may be best known for their blooming flowers and being the home of the lovely Luxembourg Palace, but since the 19th century, beehives have also called the gardens home.
There's a beekeeping school onsite, as well as plenty of bee boxes.
You can find them in the southwest part of the garden, near the entrance off of Rue de Fleuris.
No. 3 Rue Volta
No. 3 Rue Volta is a bit of a strange place, with a claim to fame that has since been disproven.
Once thought to be built in the 1300s and touted as the oldest house in Paris, it has since been discovered that this is not the case, and rather, it was built in the 1600s by a wealthy family who simply wanted it to look like it was from the Middle Ages.
Personally, I like the true story even more than the first–even in the 1600s, people were still looking to the past for architectural inspiration (when they could afford it, anyway), and No. 3 Rue Volta is still worth adding to your list of hidden gems in Paris.
Located in Le Marais, the house is located on a quiet street, boasts beautiful wooden beams, and looks entirely distinct from anything surrounding it.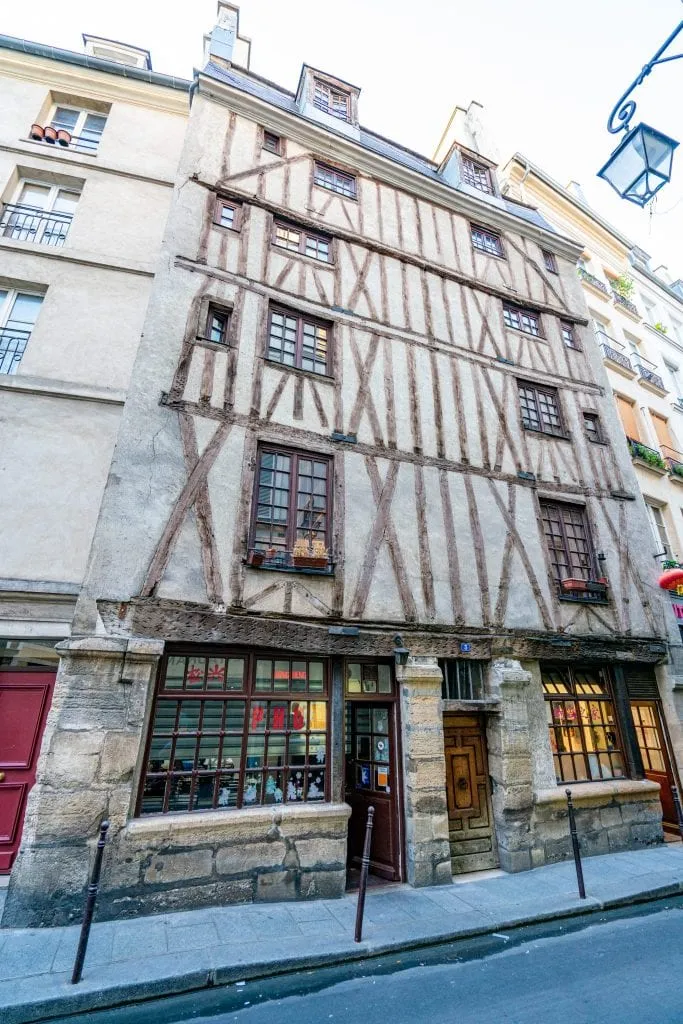 Musee Curie
Located in the former laboratory of Marie Curie, this small museum focuses primarily on the work of Marie Curie, her family, and her coworkers.
Marie Curie was a fantastic scientist and holds plenty of records to this day, including being the first woman to win a Nobel Prize and the only person to win a Nobel Prize in two different sciences–in other words, if you're looking to get off the beaten path in Paris, there are far worse people to learn about when you do.
Covered Passages of Paris
Paris' covered passages aren't secret Paris spots as much as they are, quite literally, hidden gems–if you don't know what you're looking for, it's incredibly easy to walk right by the entrances to these gorgeous shopping arcades without ever knowing what beauty waits inside.
Built primarily in the 19th century, the covered passages are home to a delightful array of shops, galleries, restaurants, and more, each with their own personality and focus.
There are around 20 in all these days, but if you're busy exploring Paris off the beaten path and want a few to put on your radar, we can suggest Passage des Panoramas as the oldest (it dates to 1799), Galerie Vero-Dodat for an easy-to-access location and lovely interior, and Galerie Vivienne for a downright beautiful space (be sure to stop by the gorgeous Librairie Jousseaume if you visit).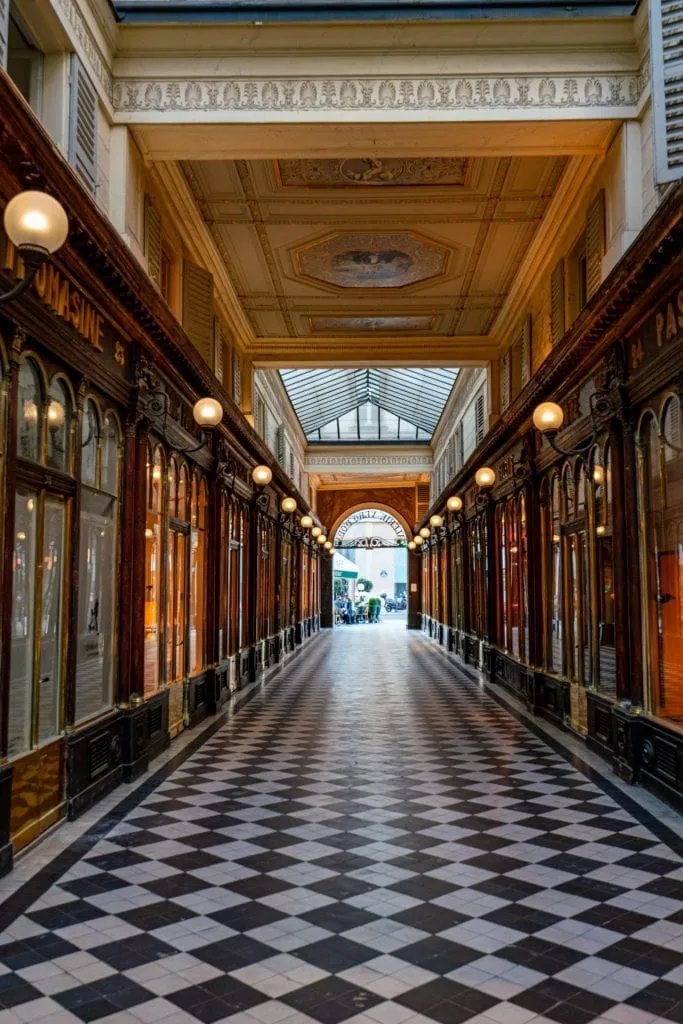 Map of Secret Paris Spots + Hidden Gems
Getting Around Paris Off the Beaten Path
Just like visiting the more iconic parts of the city, exploring Paris off the beaten path is best done primarily by metro and by foot, a testament to the true density of Paris' metro system.
Unless you're going to be taking several rides on a single day, generally the most cost-effective way to use the metro to get between these hidden gems in Paris is to buy a carnet (or set of 10) metro tickets, which can then be used by anyone in your group and then simply replaced when you run out.
---