There are so many reasons that Savannah, GA is one of my favorite cities in the USA: its beauty, walkability, and incredible food scene are all big reasons… and so is the enormous collection of Savannah coffee shops to visit.
Looking for a laptop friendly workspace? There are plenty of options. A quick grab-and-go espresso? Easily done. Fantastic lattes served alongside the perfect brunch? Check.
Researching this blog post was simultaneously incredibly fun and incredibly energizing–the amount of coffee I drank in the process was arguably a bit excessive, but, no regrets.
Here are the best coffee shops in Savannah to check out on your next trip!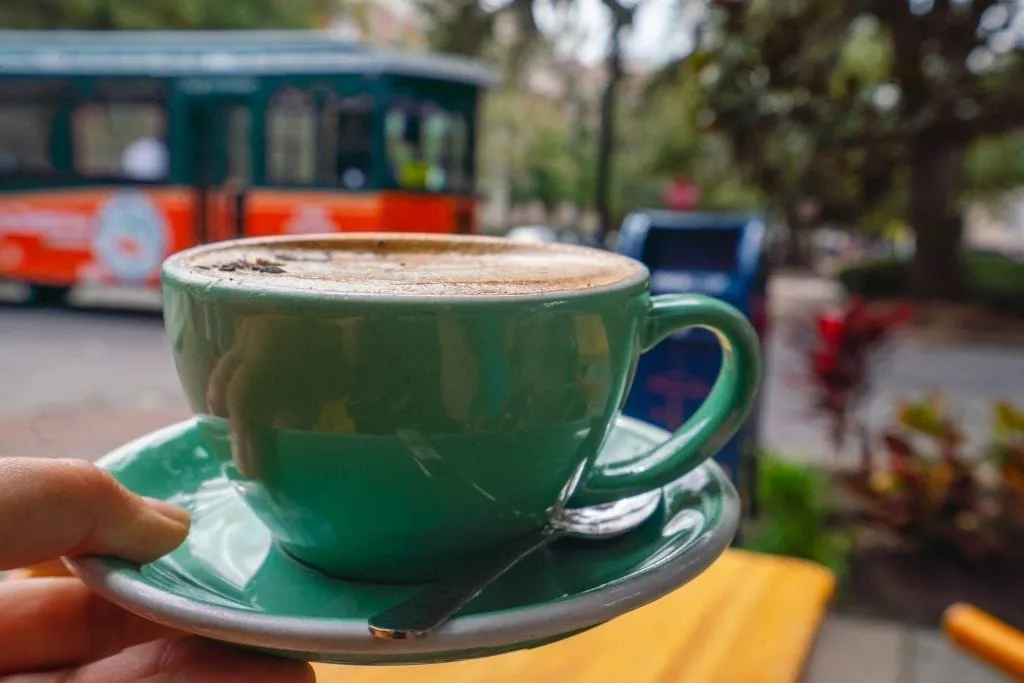 Some links in this post may be affiliate links. If you make a purchase through one of these links, we may earn a small commission at no extra cost to you. Please see our

disclosure policy

for more detail.
Gallery Espresso
Address: 234 Bull Street
Arguably the ultimate Savannah coffee shop, Gallery Espresso has it all: an extensive menu, a cozy mix of furniture to enjoy inside, outdoor tables, plenty of room to plug in a laptop and work, and local art displayed on the walls.
It also happens to be located along one of the prettiest streets in Savannah at the corner of one of its most beloved squares (Chippewa Square, AKA the Forrest Gump square).
Oh, and they also serve delicious baked goods (I'm partial to the chocolate ganache cake and carrot cake, though fair warning, both are incredibly rich).
Hoping to enjoy the atmosphere beyond the morning hours?
Consider coming back in the evening to enjoy a glass of wine.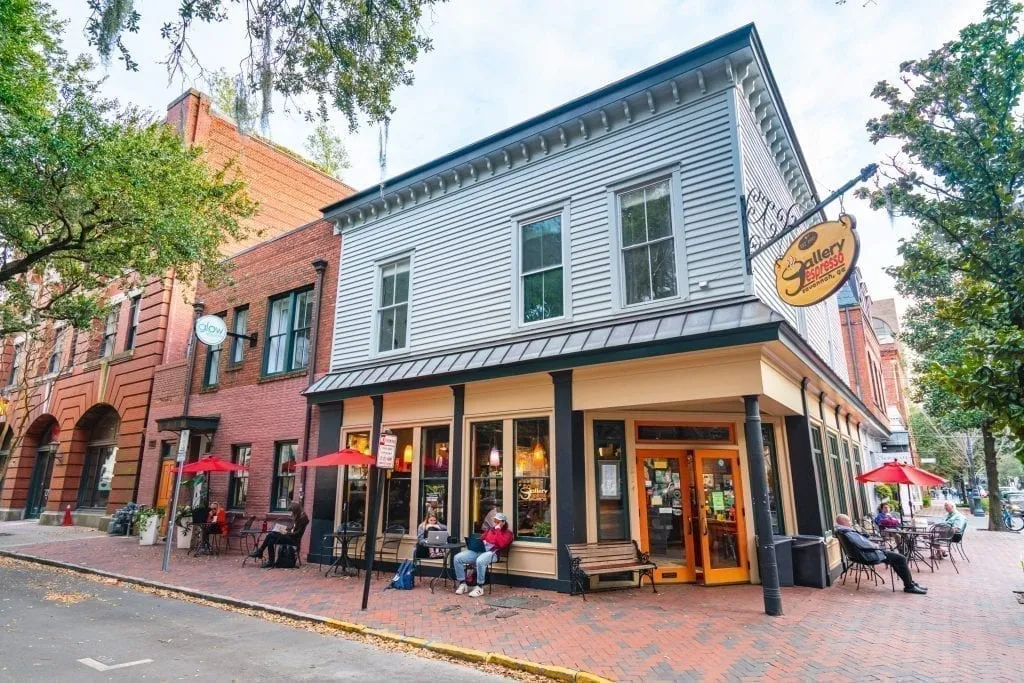 Mirabelle Savannah
Address: 313 Abercorn Street
Elegant and charming, Mirabelle Savannah serves up delicious coffee and decadent waffles.
There is some seating available inside, but the small tables out front that overlook the Cathedral Basilica of St. John the Baptist are the better place to enjoy the brew if you ask me.
Or, even better, stroll a couple of steps down the road to Lafayette Square.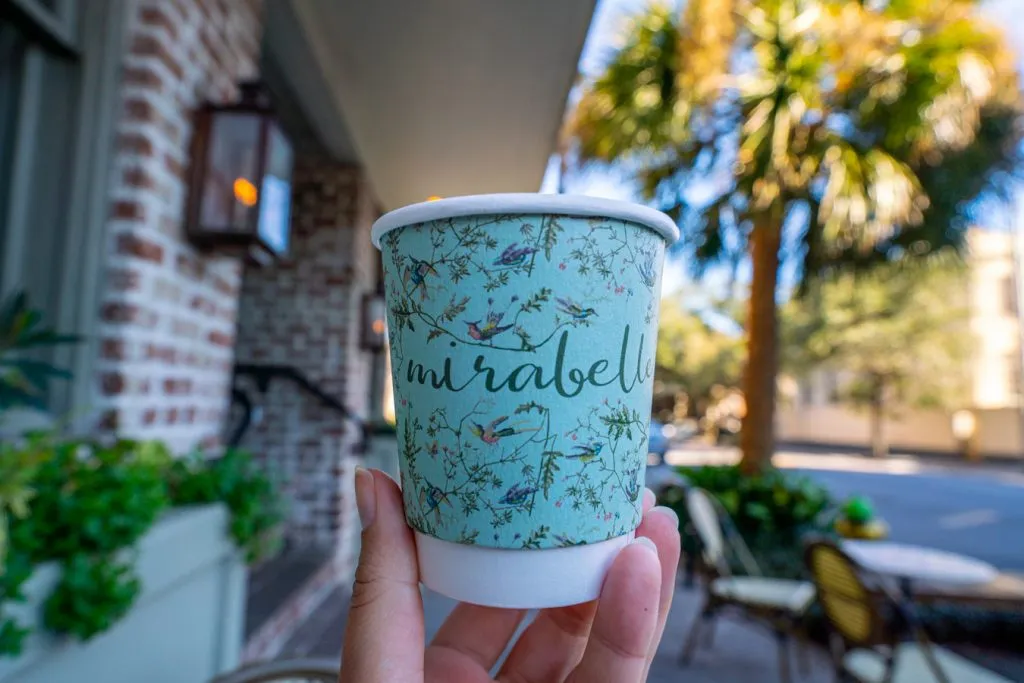 Vic's Coffee Bar
Address: 15 E River Street
Looking for a jolt of caffeine when on River Street?
Step inside Vic's Coffee Bar–part of Vic's on the River, one of the most beloved restaurants in Savannah–to enjoy their Italian-style coffee bar.
Coffee, alcohol, and desserts are all on the menu.
The Paris Market & Brocante Cafe
Address: 36 W Broughton Street
From Italian-inspired to French-inspired: The Paris Market & Brocante is one of the most delightful boutiques on fashionable Broughton Street… and it includes a cafe!
Once you finish browsing the eclectic and beautiful selection in the market (don't forget the basement!), head over to the elegant Parisian-style cafe for a coffee and a macaron (or two).
In addition to excellent coffee and treats, the space itself is simply gorgeous–Architectural Digest called it "the most beautiful coffee shop in Georgia" for a reason.
Savannah Coffee Roasters
Address: 215 W Liberty Street
A local favorite, Savannah Coffee Roasters has been roasting their own beans since 1909, and they are an absolute staple in the city.
In addition to excellent coffee, this Savannah coffee shop also has plenty of space to spread out inside and out–feel free to bring your laptop and get some work done.
They also serve a full menu each day, including breakfast options, baked goods, sandwiches, and salads.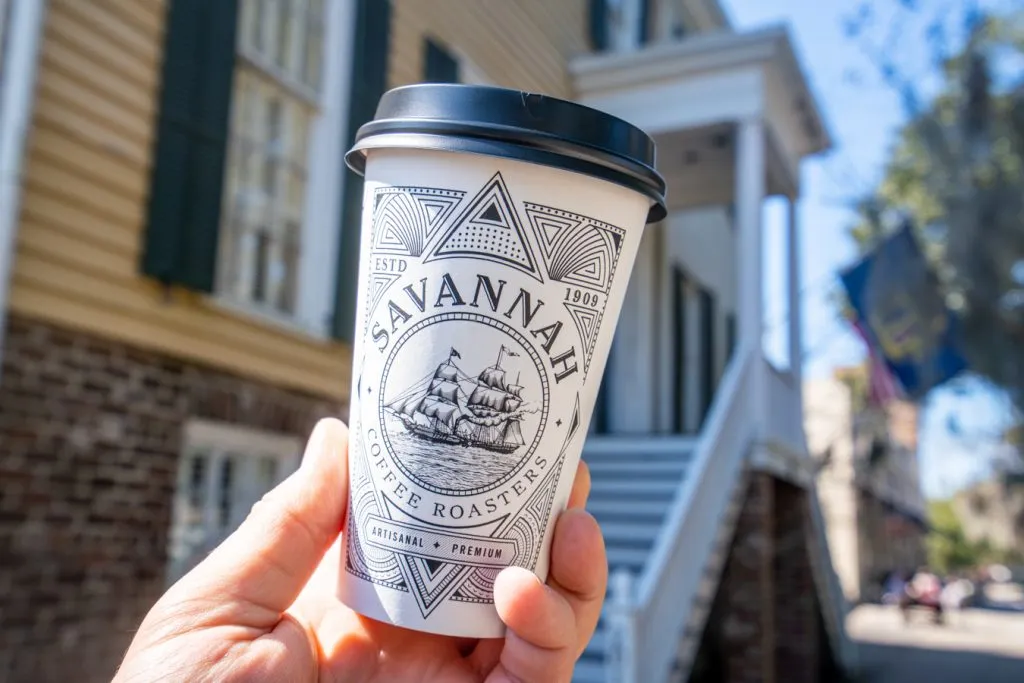 Mate Factor
Address: 401 E Hall Street
This absolutely beautiful tea and coffee shop in Savannah focuses primarily on–what else–mate, but also serves up wonderful coffee and baked goods in a charming, wood-coated setting.
Mate Factor is a bit out of the way for most visitors to Savannah (and the prices reflect that).
You likely won't find it unless you set out looking for it intentionally, but at under a 10-minute walk from Forsyth Park, visitors hoping to find a more offbeat Savannah cafe will love it.
Art's Cafe
Address: 345 Bull Street
Walk into Art's Cafe, and you'll immediately see what makes this one of the most unique coffee shops in Savannah: there's a double-decker bus inside! Since Art's is owned by the Savannah College of Art and Design, whimsy is hardly a surprise, but the bus is definitely eye-catching.
You can even sit on the top deck of the bus, if you're so inclined–but if there's not room, there's plenty of seating both inside and out as well.
The coffee is solid, the prices reasonable, and you can grab sandwiches, smoothies, and acai bowls here as well.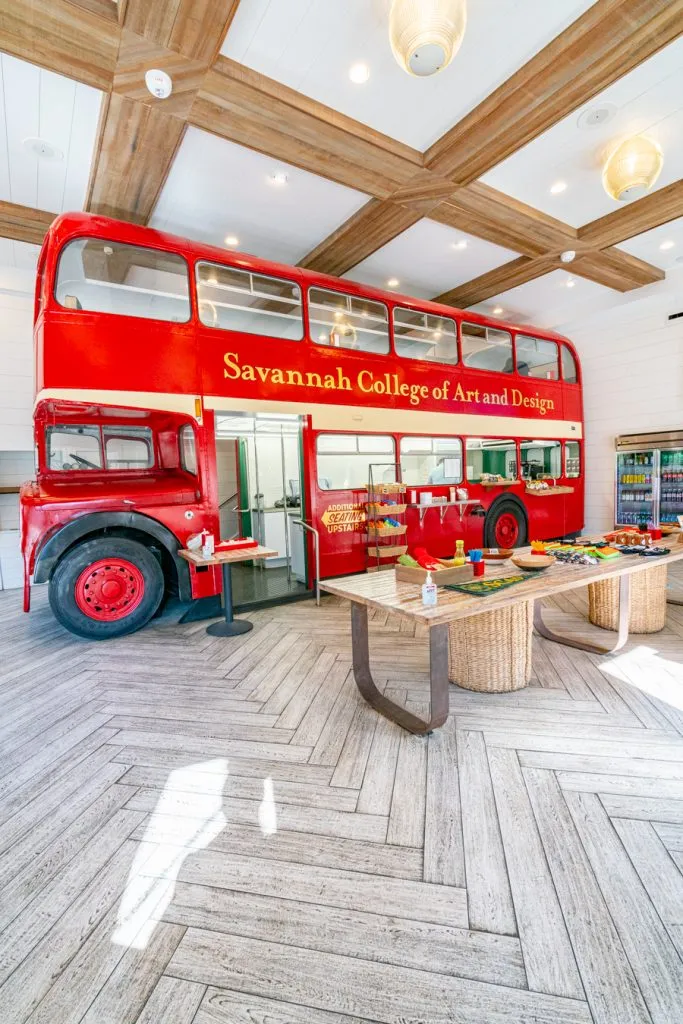 Franklin's
Address: 5 W Liberty Street
One of my personal favorite coffee shops in Savannah, Franklin's has both some of the best espresso and some of the friendliest baristas in town!
Add in absolutely gorgeous decor, a great selection of food, and a transition into a wine bar in the evenings (Franklin's stays open until 9:30 PM on weekdays, 10:00 PM on weekends–exceptionally late for a Savannah coffee shop), and you have a delightful addition to any trip to Savannah.
There is some limited seating indoors, as well as small outdoor tables, but this is less a place to work than a place to linger over a delicious drink.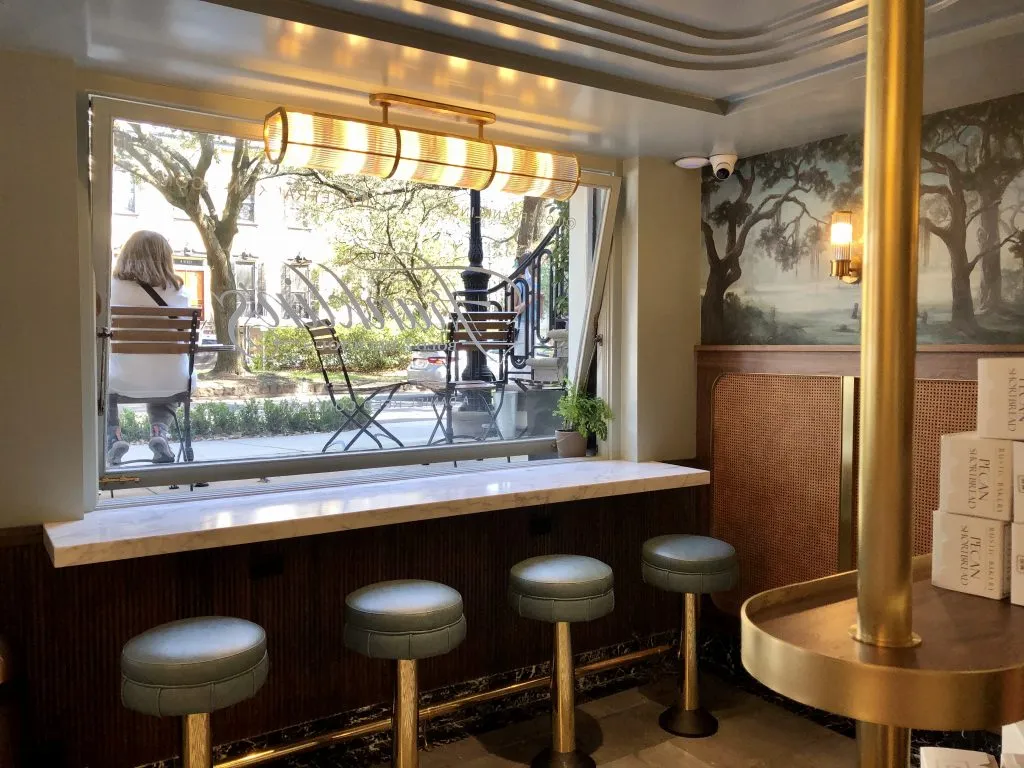 The Sentient Bean
Address: 13 E Park Avenue
Located just across the street from the south edge of Forsyth Park, The Sentient Bean serves up fair-trade coffee and vegetarian food, with a huge focus on sustainability.
In addition to excellent coffee, food, and a fantastic location, I have to say that The Sentient Bean also has one of the best coffee shop names I've ever seen.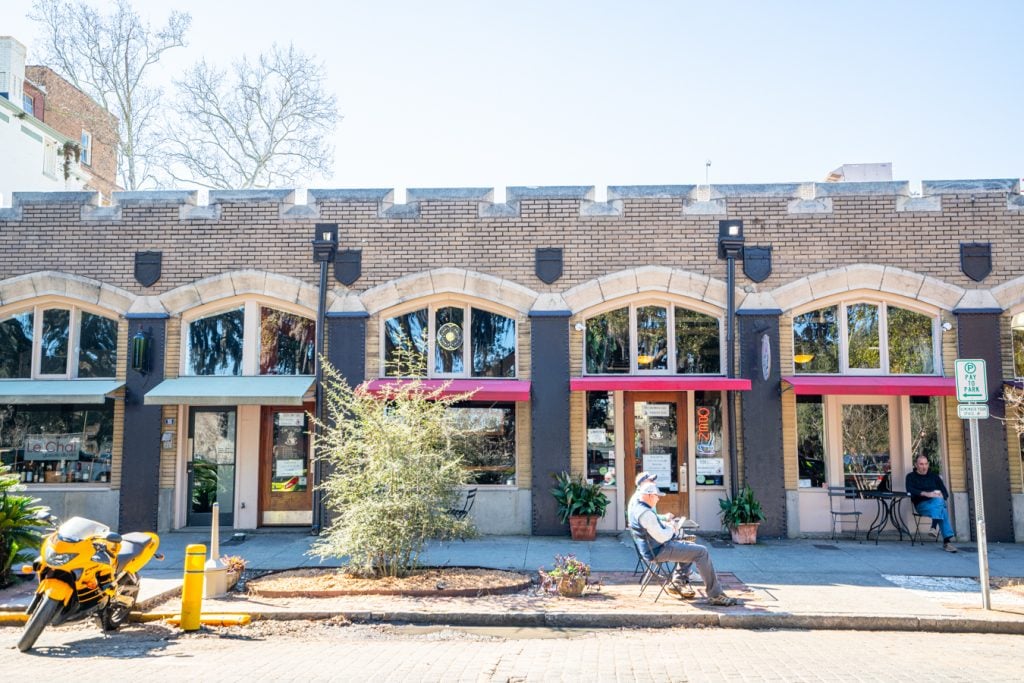 Foxy Loxy Cafe + The Coffee Fox
Address: 1919 Bull Street / 102 W Broughton Street
How's this for an unexpected combination: Savannah coffee shop, bakery, and… TexMex cantina.
Sound odd? Well, at the delightful Foxy Loxy Cafe, it absolutely works: be sure to try the horchata latte (so good!) or the Mexican mocha while you're there to stay on-theme with your coffee.
The Foxy Loxy Cafe is a bit out of the way for visitors exploring Savannah's historic district on foot, though, so if you can't make it down there, be sure to stop by their conveniently located sister location, The Coffee Fox, on Broughton Street.
(P.S. — The popular vegan cafe in Savannah, Fox & Fig Cafe, is also associated with them!).
Origin Coffee Bar
Address: 356 Martin Luther King Jr. Boulevard
Spacious and modern with complex, delicious coffee drinks: what more could you ask for when taking a break in Savannah?
In addition to serving up elegant coffee, Origin Coffee Bar is also a great place to work or study for an afternoon.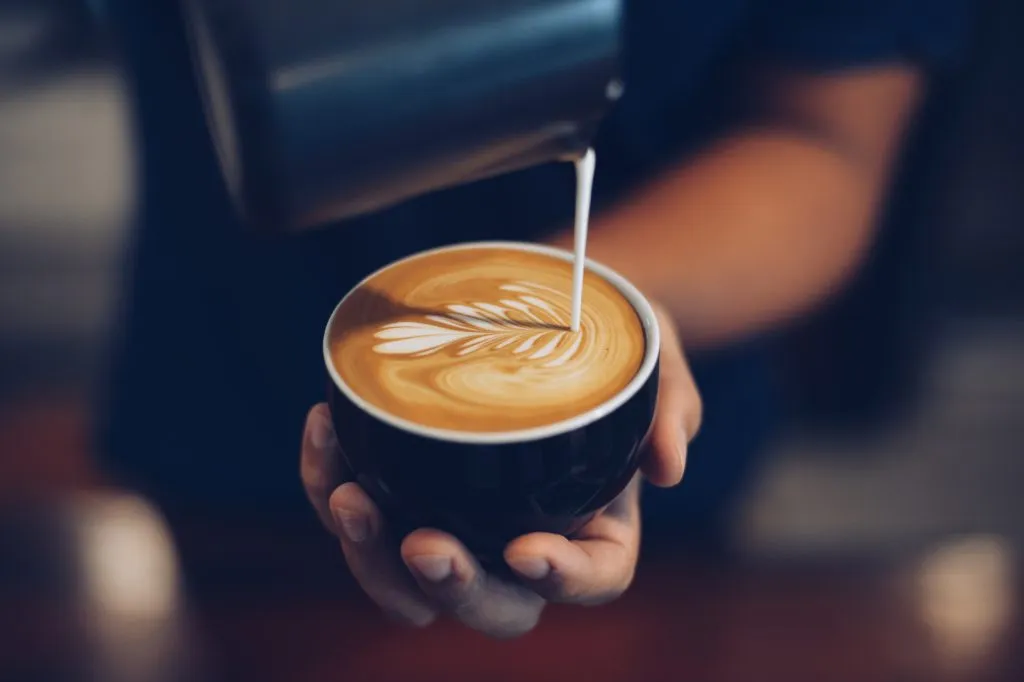 The Collins Quarter
Address: 151 Bull Street
No guide to the best coffee shops in Savannah could possibly leave off The Collins Quarter!
Much has been written (some of it by me) about the absolute delight that is their spiced lavender mocha latte–I don't consider a weekend in Savannah truly kicked off until I have my first one.
That being said, their Madagascar vanilla latte is also one of the best coffees I've had anywhere in the world.
I've listed the address for their first location here, but their secondary location inside Forsyth Park is also an excellent place to enjoy a latte.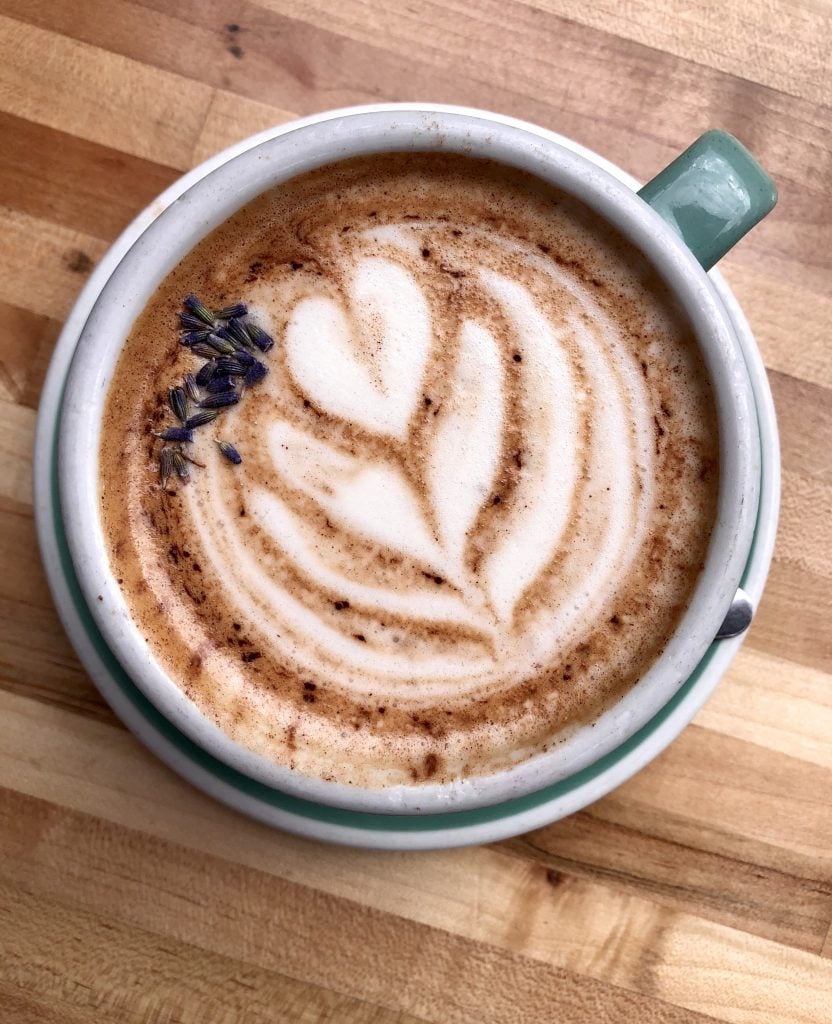 Cup to Cup Cafe
Address: 140 Abercorn Street
As the cafe location of Savannah's own Cup to Cup Coffee Roasters that supplies many coffee shops in Savannah and beyond, you can count on Cup to Cup Cafe for a delicious cup of coffee.
The cafe itself is laid-back and unpretentious, and the pastries good-not-amazing–but for an excellent drink made with care, add this Savannah coffee shop to your list!