Beautiful Savannah is one of the most photogenic cities in the entire USA–so it's no surprise that there are dozens of incredible Savannah photo spots to choose from!
No matter how many times we go back to Savannah, we'll never tire of either taking pictures in Savannah it or eating our way through it, and this guide to the most instagrammable places in Savannah pays homage to both.
Be sure to add some of these gorgeous photo spots in Savannah to your list… and to make sure that your camera is charged before heading out to explore the city, because once you start snapping photos in Savannah, it's hard to stop.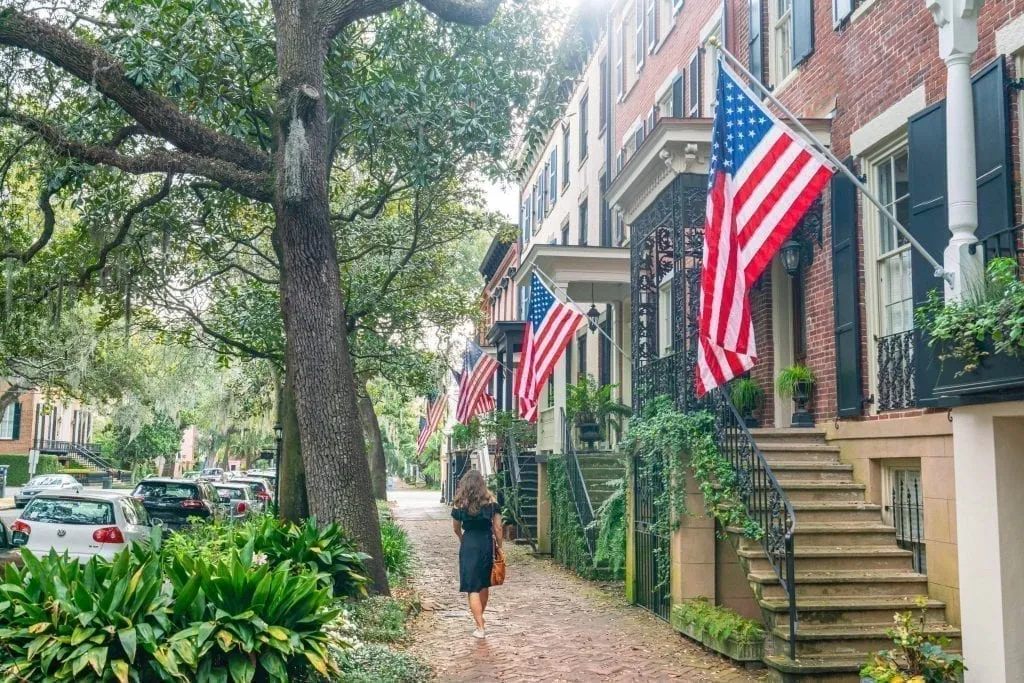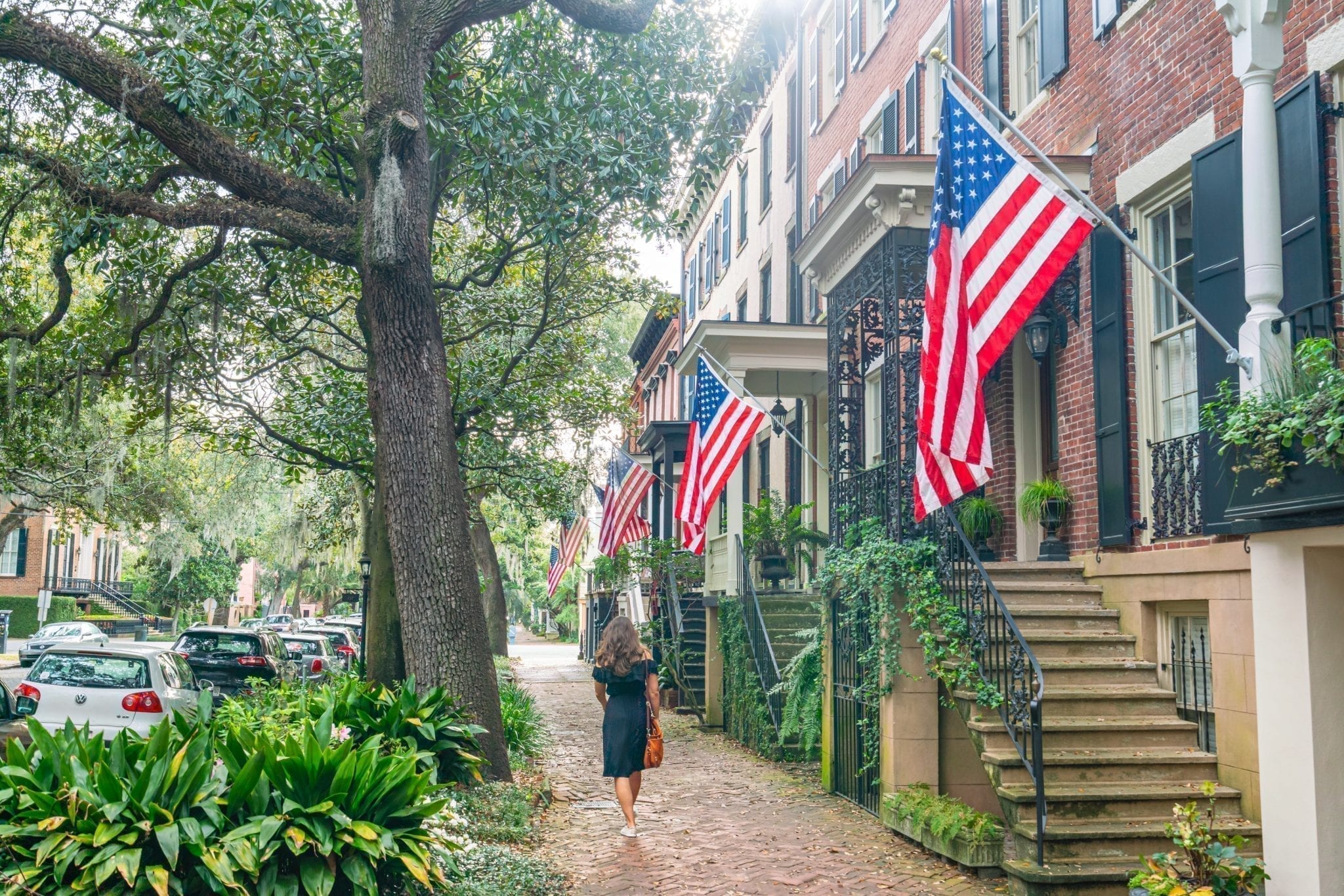 Some links in this post may be affiliate links. If you make a purchase through one of these links, we may earn a small commission at no extra cost to you. Please see our

disclosure policy

for more detail.
The Prettiest Savannah Photo Spots
Photogenic Parks, Squares + Natural Beauty in Savannah
Forsyth Park
With its wide green spaces and plethora of oak trees dripping Spanish moss, beloved Forsyth Park is one of the most iconic Savannah photo spots–especially its beautiful fountain!
The fountain is on the north side of the park, but as you wander south, you'll find plenty of other beautiful details worthy of photographing, including a small blooming garden and historic homes lining the park.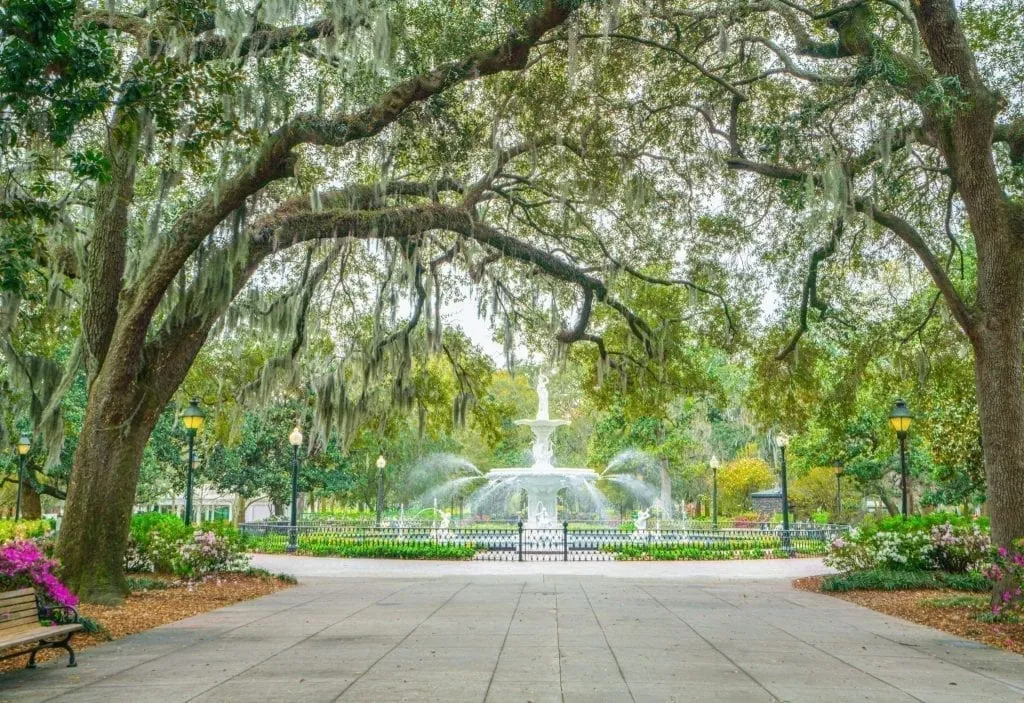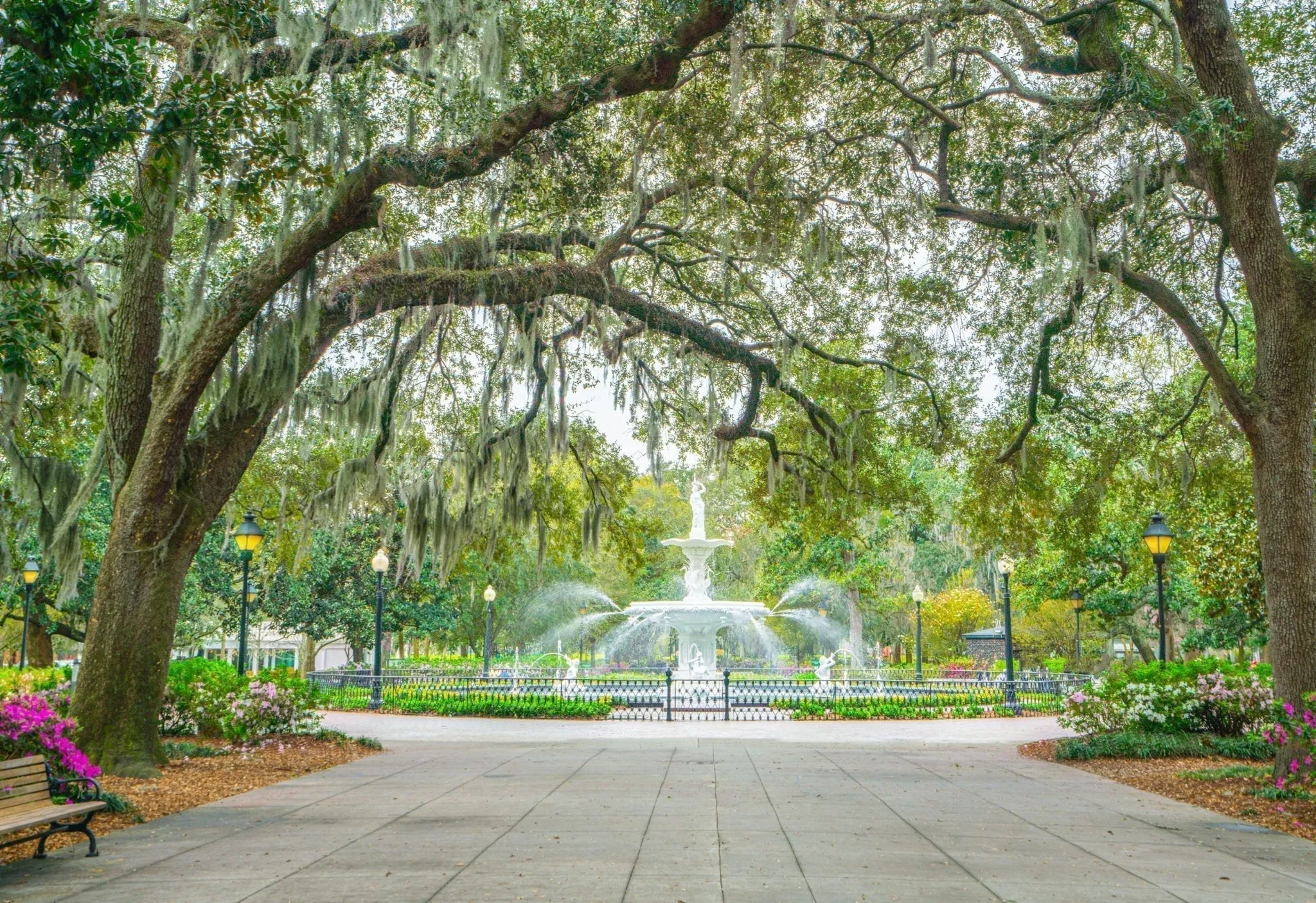 Savannah's Town Squares
Of Savannah's original 24 town squares, 22 remain, and each and every one of them is an incredible place for photography in Savannah.
Some of our favorites include Lafayette Square, with its gorgeous fountain, Johnson Square, with its view of City Hall, Monterey Square, home to the Mercer-Williams House, and Chippewa Square–but more on that one below.
Everyone's opinion varies, though, and can change with each stroll through town!
We recommend visiting as many of Savannah's town squares as possible when photographing Savannah.
Chippewa Square
Even though I already mentioned Savannah's town squares in this guide to where to take pictures in Savannah, Chippewa Square deserves a special highlight.
Chippewa Square was the filming site of Forrest Gump's bench scenes (the iconic bench is now located in the Telfair Museum).
It's also flanked on one side by the Historic Savannah Theatre and on another by the haunted Foley House Inn: no matter where you turn here, you'll be confronted by something beautiful.
Is it any surprise that Chippewa is one of our personal favorite squares in Savannah?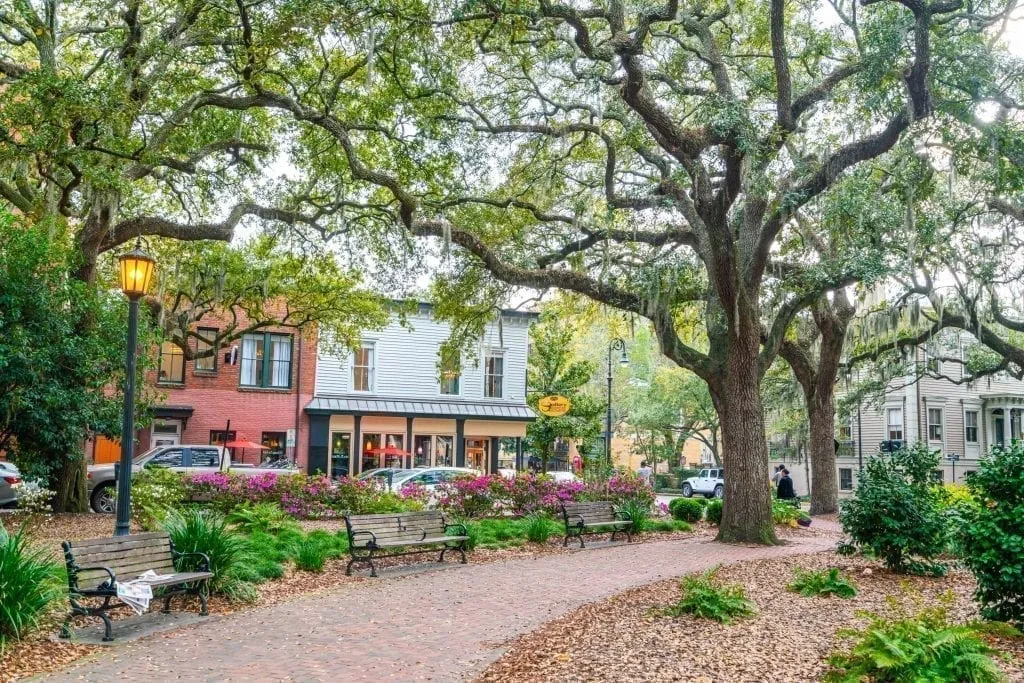 Bonaventure Cemetery
A cemetery may not sound like an incredibly photogenic place, but in the case of Bonaventure, it certainly is!
Between the impressive art decorating the graves, the beautiful oak trees, and the scenic location on a bluff of the Wilmington River, Bonaventure Cemetery is a stunning place to (respectfully) take photos in Savannah.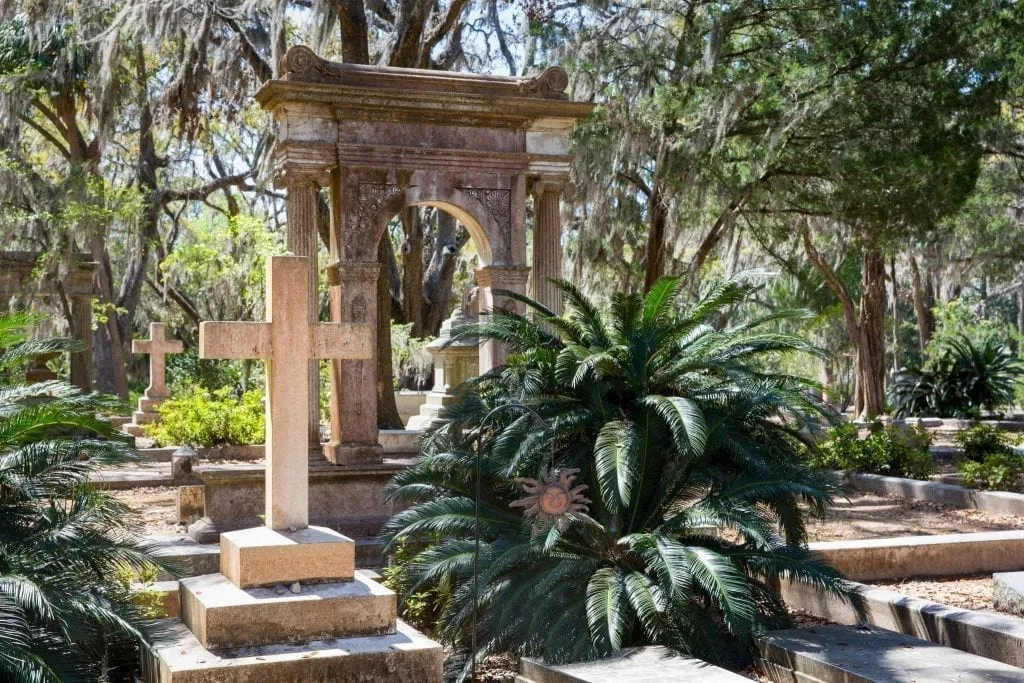 Tybee Island
I hesitated on whether to include Tybee Island on this list of the best photo spots in Savannah because it is a 20-30 minute drive away from the historic district.
However, if you're looking to soak up some sun and enjoy the beach, there's no doubt that you can find incredible places to take photos on Tybee, including on its beautiful beach and at (or if you're willing to make the climb, from on top of ) its beautiful lighthouse!
Wormsloe Plantation's Driveway
The stunning oak-lined driveway of Wormsloe Plantation is a dream to photograph–and if you choose to park your car at the front and only visit the first part of the very photogenic driveway, it's free to visit (personally, we feel the tour of the actual site isn't worth it–but checking out the oak trees at the entrance sure is!).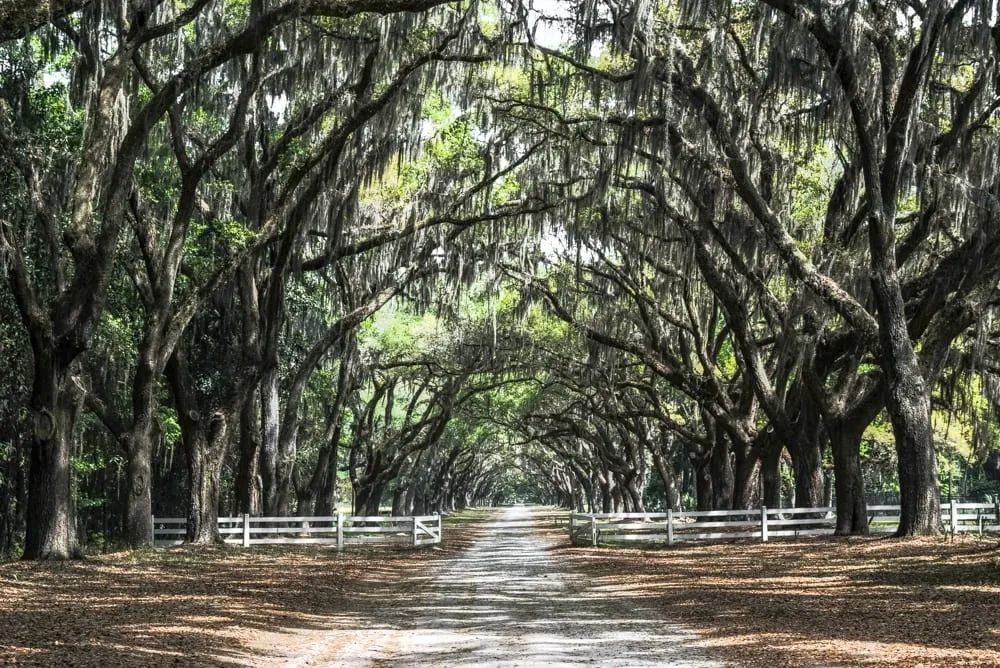 Dreamy Architecture-Focused Photo Spots in Savannah
Jones Street
Quite possibly my personal favorite of all these Savannah photo spots, Jones Street has been called the "prettiest street in America", and once you stroll down it, it's not hard to see why.
If you have a tendency to want to slow down to snap photos of every gorgeous home, staircase, and unique detail in sight, plan to be here a while because there is more beauty with every step.
Rainbow Row
Not quite as brilliantly colorful as Charleston's more-famous Rainbow Row, Savannah's version still offers plenty of photography potential.
These Victorian row homes are pastel beauties and are definitely worth visiting, but be sure to be respectful of the residents here when photographing Rainbow Row.
Cathedral of St. John the Baptist
Built at the turn of the 20th century, the Cathedral of St. John the Baptist ranks among the most stunning houses of worship we've seen in North America!
And, while the exterior is lovely, the interior is where the beauty of this cathedral truly shines.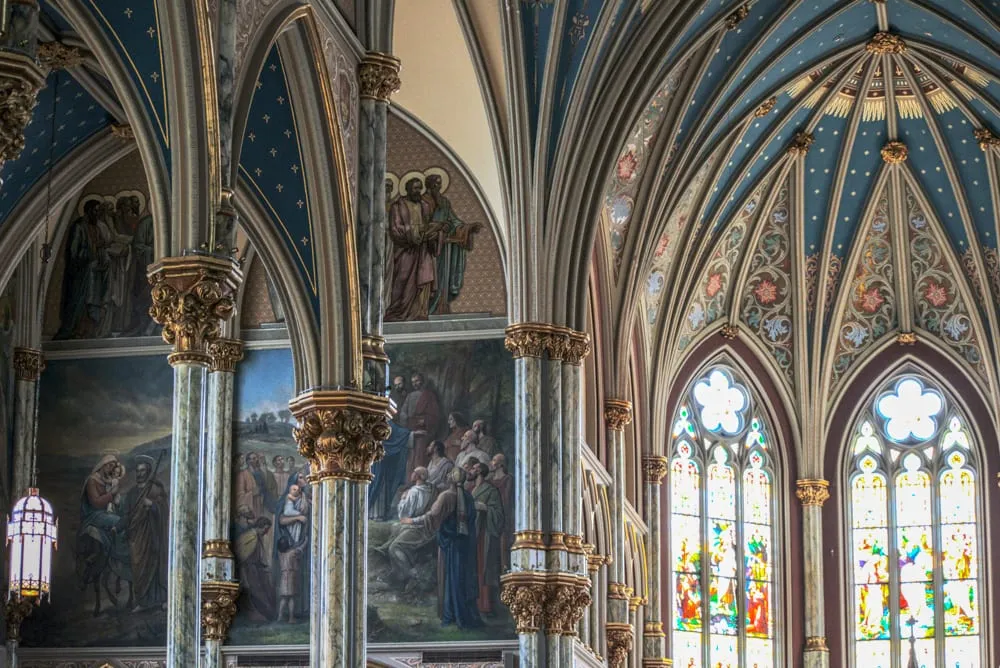 Oglethorpe Avenue
The stately, shaded Oglethorpe Avenue is home to some of Savannah's loveliest homes and buildings. 
A stroll here will take you past the Telfair Museum, The Collins Quarter, Husk, Colonial Park Cemetery, and more!
Savannah's Historic Theater Signs
The Historic Savannah Theatre may be the best known of Savannah's classic theaters, but the SCAD Theater (located next door to Leopold's) and the Lucas Theater are also worth photographing!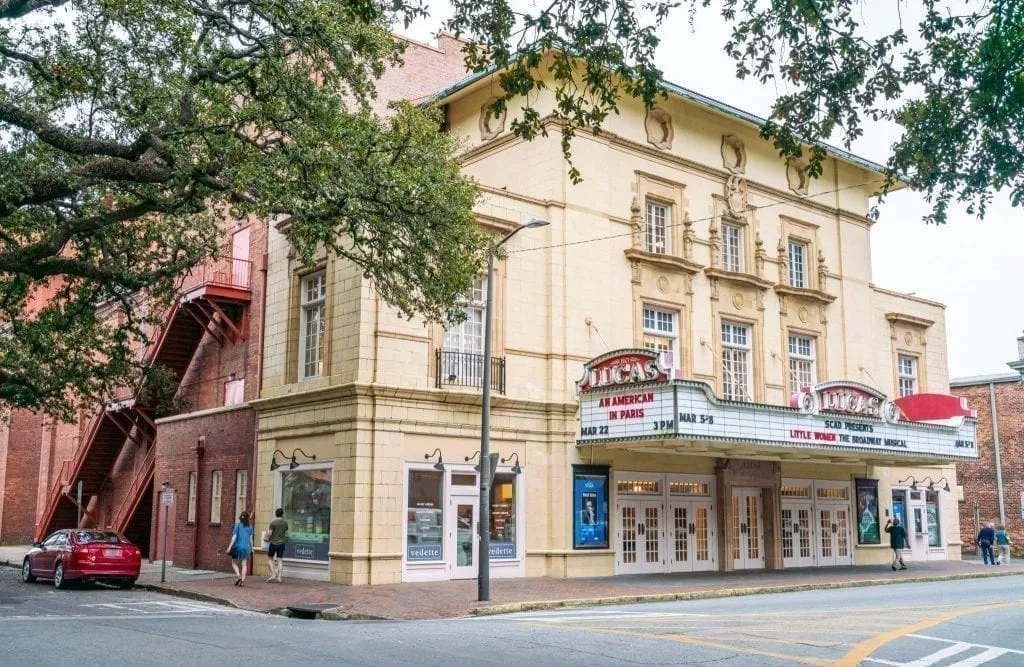 Liberty Street
One of Savannah's major thoroughfares, Liberty Street is lined with historic mansions and mature oak trees, making it a positively stunning place to snap photos in Savannah.
Foley House Inn
Rounding up all of Savannah's photo-worthy hotels and bed and breakfasts would be require Savannah photo guide in and of itself, but I'm partial to the Foley House Inn for its beauty, incredible views over Chippewa Square, and the fact that it's said to be haunted.
In fact, the Foley House Inn is featured on many of Savannah's ghost tours!
Savannah's Historic Homes
Savannah is bursting at the seams with absolutely stunning historic homes, ranging from ones that, like the Mercer-Williams House, are museums today, to those that are still private homes and apartments.
By wandering through the historic district, you'll undoubtedly find plenty of gorgeous homes to photograph beyond what we have outlined in this Savannah photography guide!
Shopping + City Life Instagrammable Places in Savannah
City Market
This warehouse-district-turned-tourist attraction is home to plenty of shops, restaurants, and instagrammable corners!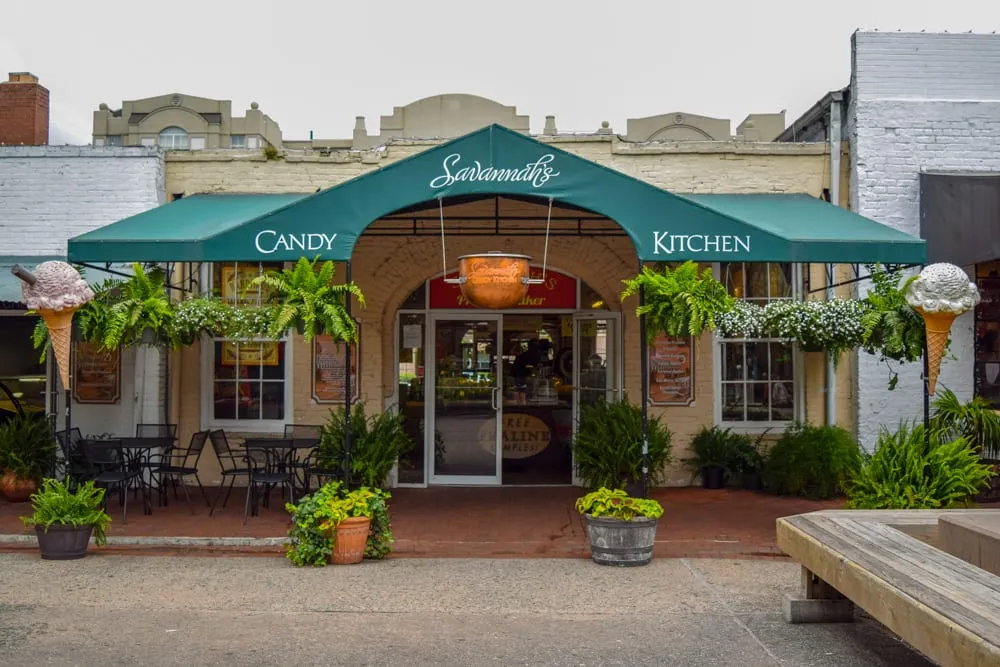 Alex Raskin Antiques
Housed in an 18th-century mansion and positively stuffed to the gills with everything from art to furniture–including wares spilling out onto its many balconies–Alex Raskin Antiques is packed with five floors worth of photogenic details, and an incredibly fun place to snap photos in Savannah.
Be sure to step out on the back balconies of the higher floors!
The higher you climb, the better your view over nearby Forsyth Park will be.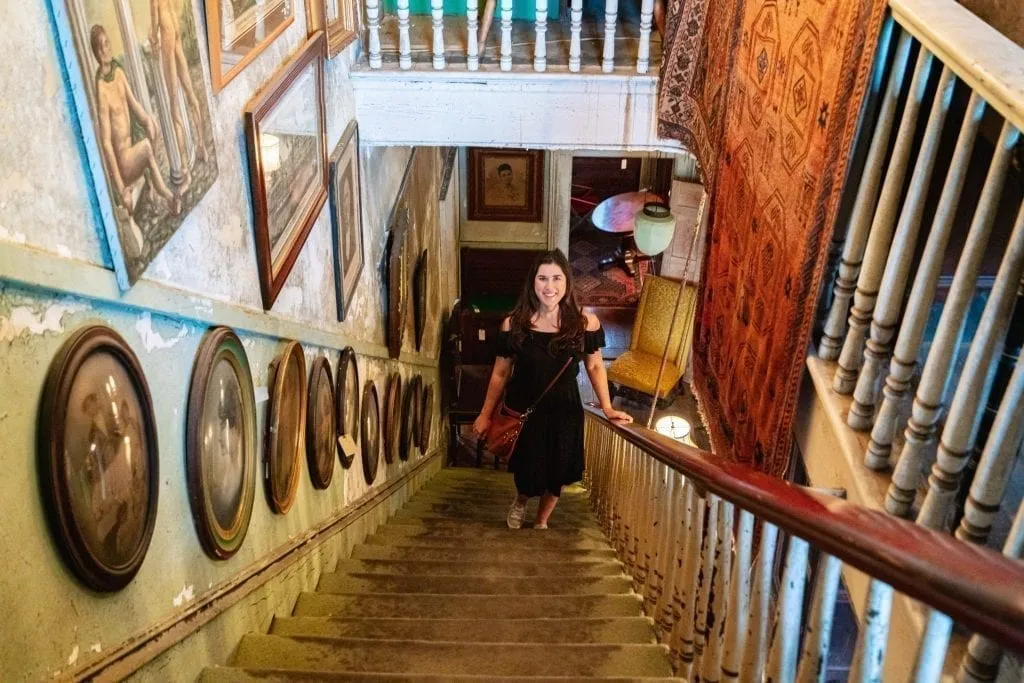 The Paris Market & Brocante
This eclectic shop is stuffed with treasures, from French soaps to art to antiques.
Be sure to duck into the beautiful basement and to mosey on over to the incredibly photogenic French-style cafe when visiting!
River Street
Located–where else–right along the river, Savannah's River Street was once the center of its trade and one of the busiest ports in the region.
Today, it is known for its photogenic restaurants, bars, and lovely cobblestone paving.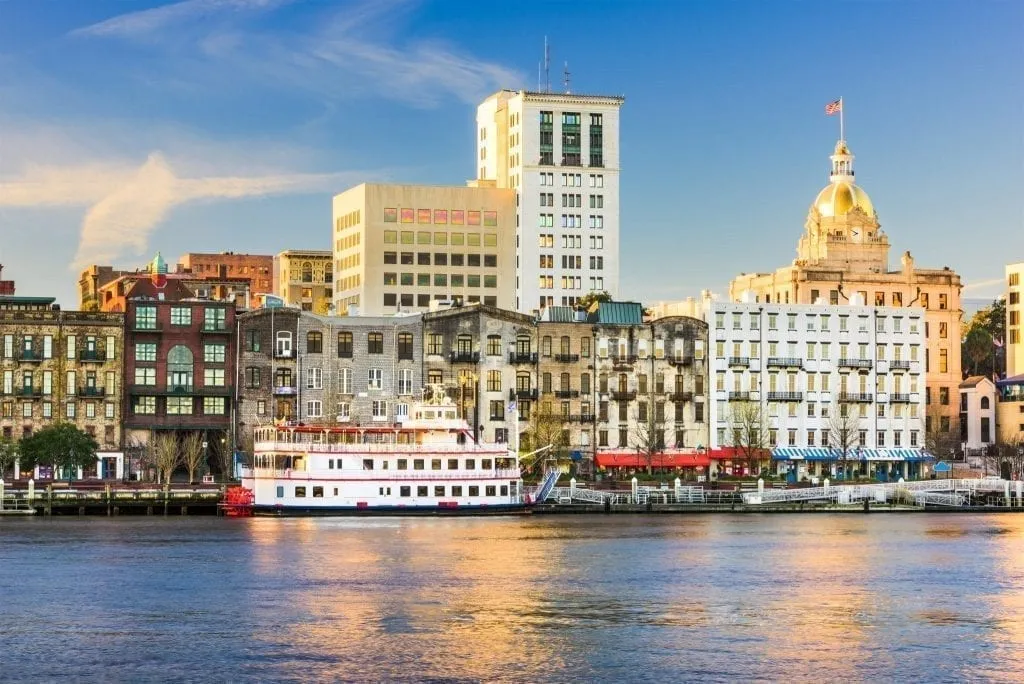 Broughton Street
Savannah's main shopping street is home to several locations on this Savannah photography guide, including the Paris Market and Leopold's Ice Cream–but the street itself is gorgeous and well worth snapping photos of!
Be sure to keep an eye out on Broughton Street for the lovely brick Marshall House when seeking out instagrammable places in Savannah.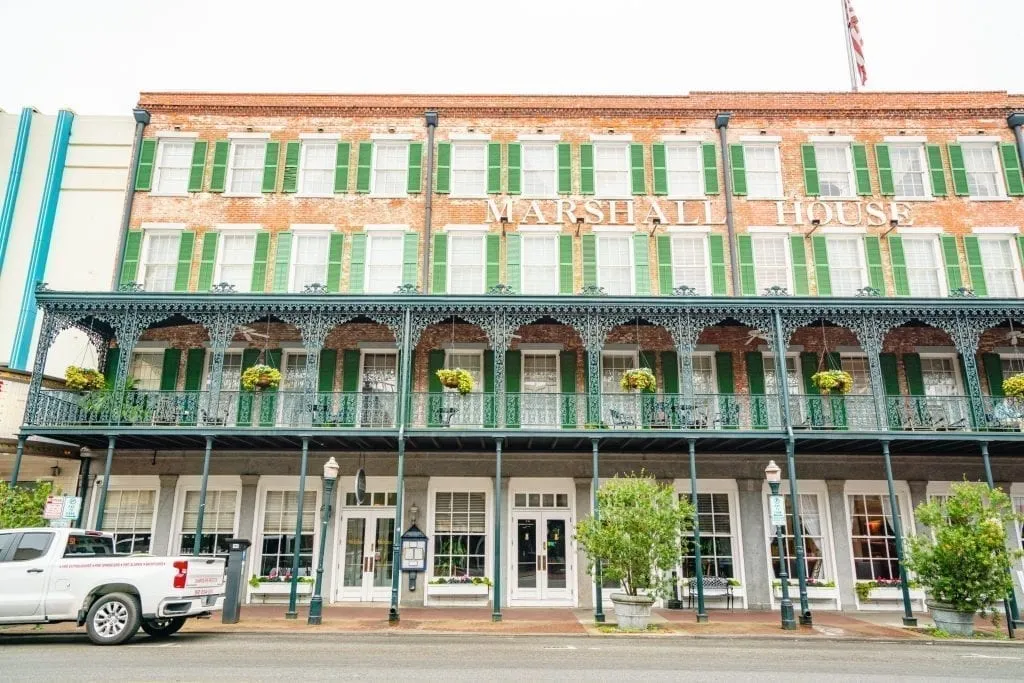 Savannah Riverboat
Whether you take a cruise or simply snap photos of the boat from River Street, there's no doubt that Savannah's riverboat is incredibly instagrammable!
Food-Focused Savannah Photo Spots
The Collins Quarter
With a bright and gorgeous interior, famously delicious (and photogenic) brunches and coffees, and excellent location right on Liberty Street, The Collins Quarter is definitely one of the most instagrammable places in Savannah in addition to being one of its best coffee shops!
If you don't make it to the Liberty Street location, don't worry: their location in Forsyth Park is just as adorable.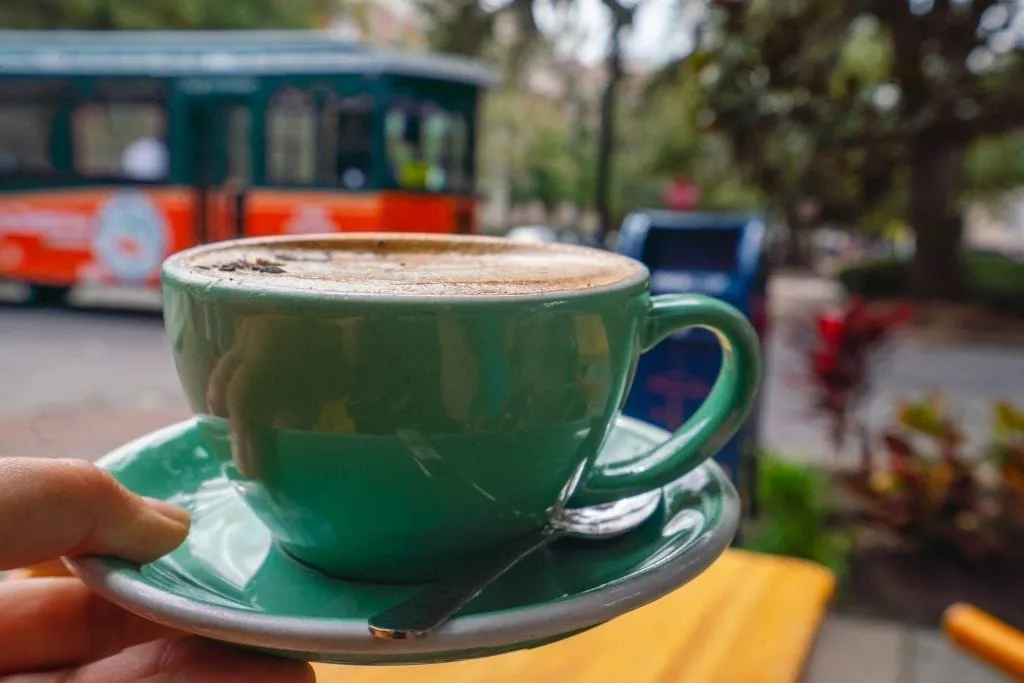 The Grey
Housed in a repurposed Greyhound bus station and one of the most popular new(er) restaurants in town, reservations are a must to eat at The Grey–but word on the street is that you can sometimes grab a seat at one of the two bars and order up an excellent cocktail at the last minute.
Leopold's Ice Cream
Between its colorful exterior and its iconic ice cream, beloved Leopold's is a must-photograph–and must-taste–place in Savannah.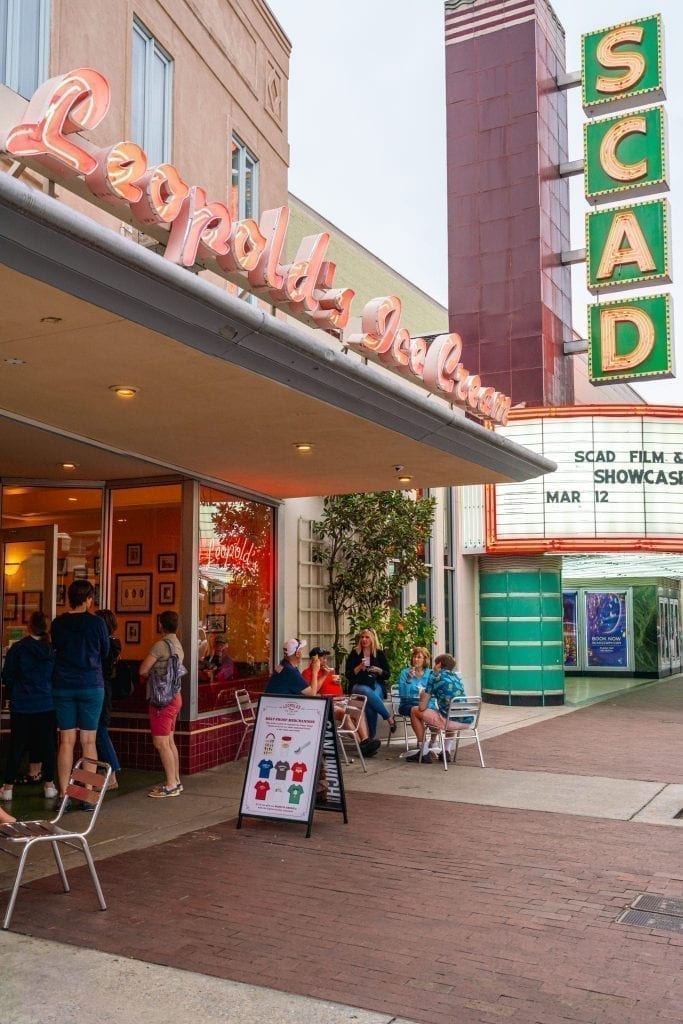 Olde Pink House
Eating your heart out in beautiful restaurants definitely ranks among the best things to do in Georgia, and Savannah's classic Olde Pink House is one of the prettiest restaurants of all!
The bright pink exterior of the Olde Pink House definitely ranks among the best Savannah photo spots–but so does its interior, especially the stunning ballroom-turned-dining-room!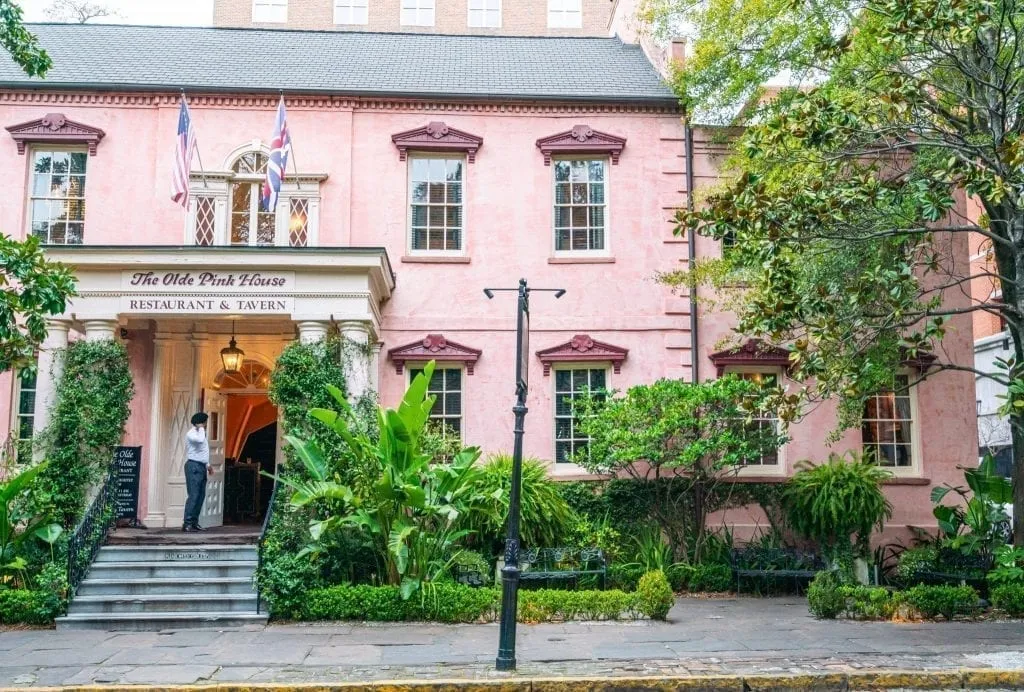 Savannah's Colorful Candy Stores
Our favorite picks are the Savannah Candy Kitchen in City Market and River Street Sweets on River Street.
Both stores are positively bursting with color (and even more importantly, might just hand you a sample of a fresh, still-warm praline when you walk in).
Husk
While the original Husk is located in Charleston, the Savannah location is housed in an absolutely dreamy spot right on Oglethorpe Avenue that's definitely worth snapping photos of!
Map of the Best Photo Spots in Savannah